Mitchell's Talking Smack Report! (11/21/20)
Say YES! YES! YES! to Talking Smack!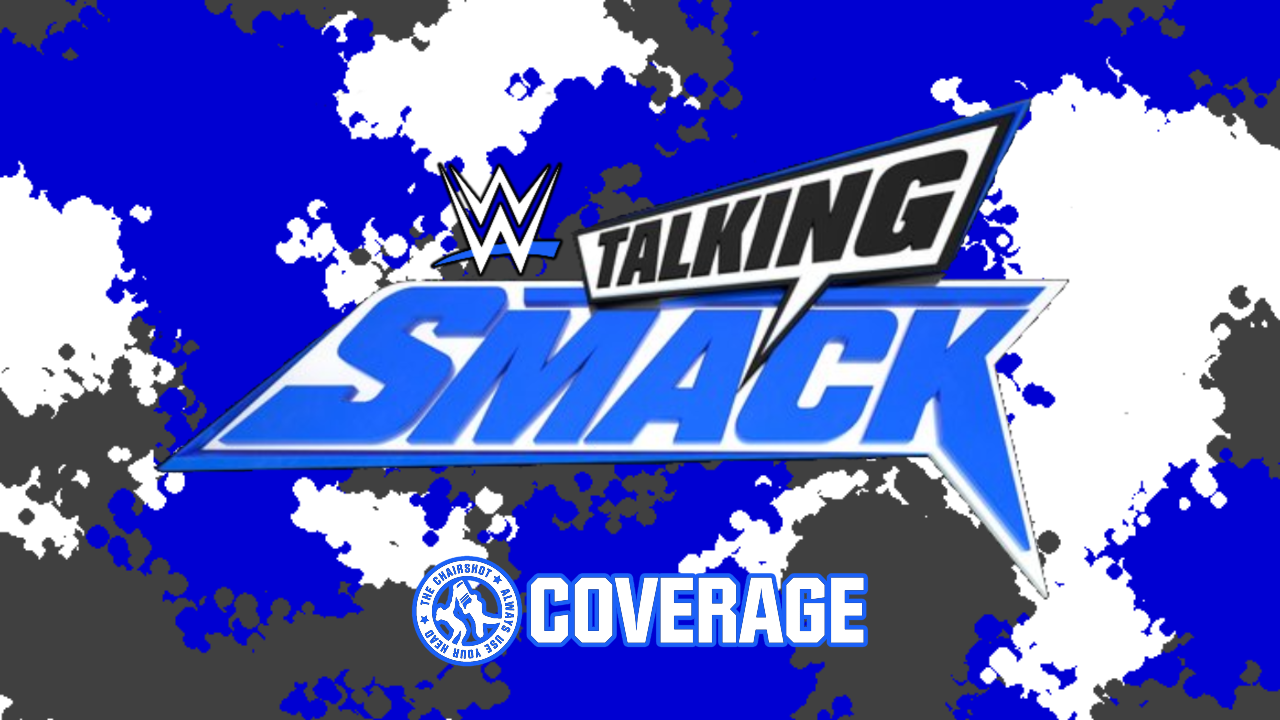 Daniel Bryan returns to Talking Smack!
And he's not the only one! The SmackDown Tag Team Champions and Bayley are also back for this special pre-Survivor-Series episode!
Kayla Braxton and Paul Heyman welcome us back to the show!
Survivor Series is Sunday and it has the "big fight feel." Heyman says it's fight weekend, we're counting down the hours. Heyman is in no mood. Kayla apologizes for not properly introducing him, either. This is Paul Heyman, he serves as the Special Counsel to the Reigns-ing, which is intentional, Defending, Undisputed Universal Champion, Roman Reigns. Heyman thanks her for that, she did a good job. Better than Renee and Charly, but that's not saying much. Kayla moves to business, the contract signing between Roman and Drew McIntyre, champion VS champion- WRONG. She must've gotten bad info. This isn't champion VS champion, and this drives Heyman out of his mind.
"Ladies and gentleman, anybody who tells that the advertising for this Sunday is champion VS champion, that's false advertising." This is champion VS a title holder. There is a difference. "Drew McIntyre is a temporary placeholder in the history books with the WWE title around his waist. And that's by design. But Roman Reigns will reign as a champion for as long as he deems it appropriate, or at sometimes, even inappropriate." Roman was born to reign. "Since he came out of his mother's womb, this child was destined to be your champion. Groomed to be a champion. Raised to be a champion. Trained to be a champion. Counseled to be and stay a champion." Roman isn't a title holder, he is a true champion.
You see, there are wrestlers, and there are sports entertainers. There are managers, and there are Advocates and Counsels. There are movies, and there are films. There is a prestige to being a champion. Ronan carries that prestige for all of the WWE. Raw, SmackDown, NXT and all of sports entertainment. McIntyre is the second-best talent in the WWE, the second best superstar, the stand-in for Roman when we need someone. Heyman knows this is not politically correct, but McIntyre is a babysitter of a belt. "Roman is your champion, and he's honored to be so." Kayla already knows Heyman's prediction, but Heyman says it's always a spoiler. Roman either uses the guillotine to make McIntyre tap out and pass out, or he gets the 1-2-3.
Well moving on to something more unexpected on SmackDown, Buddy Murphy beats Seth Rollins! It means so much for Murphy, but it also means Rollins could be affected going into Survivor Series on Team Raw. Er, SmackDown. Kayla says she's not used to this intense Heyman, she's a bit off. But Rollins, going into Survivor Series, he might be off his game because of this loss. Heyman says that no matter what happens among the other nine, JEY USO will establish himself as a big star in WWE. And if Heyman may be so bold to these family matters, Jey better do that. Kayla thanks Heyman for that start, and Heyman says "You're welcome." But speaking of making a name for themselves at Survivor Series…
The Street Profits join Talking Smack!
Heyman says it is a pleasure and an honor to have Montez Ford and Angelo Dawkins here. They take their seats and Kayla congratulates them on SmackDown's victory. Just a taste of Survivor Series in that 8 Man Tag, but now they must be feeling good going into their match with The New Day. Yes, and "you're welcome," New Day. The Profits put them on their backs and got the W. The New Day didn't say "thank you" but still. No one is used to this tone of Profits, but they're "big on manners." Heyman is, too, he was raised to be a gentleman. Amen to that.
The Profits have been open about the respect they have for the New Day, but does that still hold true this close to Survivor Series? Most definitely. The New Day are ten-time champions for a reason. The Profits know what they're up against with Kofi and Woods. But the Profits will bring the smoke, the swag like nobody can, like it has and always will be. Respect does not come and go. The day shows up, then it's tomorrow. Sometimes sunny and shiny, sometimes rainy and gloomy. But that day always turns into tomorrow. The Profits are that tomorrow. That will be seen at this historic Survivor Series, where the Profits continue, continue, CONTINUE. Say it from the gut! CONTINUE!
But the New Day is short changing the Profits as "kids." They're underestimating things, but they saw what the Profits can do. And so at Survivor Series, the Profits will continue to show they're #TheBestoftheBest of the best, of the best. Kayla loves talking to superstars going into their matches to see if there's any nerves. The Profits are talking big, as they should, but is there even a little concern? Possibly the best team ever. Well she sounds nervous. Does Dawkins look like the LA Clippers? The Dallas Cowboys? The Atlanta Falcons? No, he looks like one half of the SmackDown Tag Team Champions!
Heyman is thinking he's the "Heel" and yet Kayla asks things like that. Heyman puts it this way: The Street Profits VS The New Day, at Survivor Series. "There may be in the future, many more matches between these two teams. There will only be one first. When Survivor Series is over, and tag team history is written, which team emerges with the victory at Survivor Series?" Dawkins wants to be with Paul here. #JewThatCanDo, that is true. But Dawkins lists it off: New Day, old day, sunny day, rainy day, next day, yesterday. Profits are up! Heyman adds that means Profits are up for SmackDown! Talk to 'em, Paul! Heyman is an honorary Profit right now. They get Ford his cup, and he hands it to Heyman. WHOA~! What is in there? Fire, not soon retired! The Profits head out, and next is another superstar headed to Survivor Series…
Bayley joins Talking Smack!
The Role Model is considering "the fire" but Heyman tells her to reconsider. He won't go into detail, but he's allergic to olives. Oh… Bayley still takes a sip. Kayla appreciates that Heyman covers the bases on stuff like this. "You're welcome."
But focusing on Bayley, Heyman says the show is all the better to have her. Kayla and Bayley shake hands, everyone wants to shake the "Captain's" hands! Kayla congratulates Bayley joining the Women's Team, by just being named. Everyone else had to compete in a qualifying match, but not her. That's because if you look back in the "Rolodex" of the last 500+ days, every single SmackDown, every PPV, and she's the longest reigning SmackDown Women's Champion in history. That qualified her enough to be EL CAPITAN! It's official because she says it is official. But a surprise guest is here! Another member of the team, who earned her way on, it is Natalya! She had many chances, and Bayley likes this sassy Kayla.
Natty wants to speak, she compliments Heyman and Kayla and says Bayley is okay. But now she's getting on Bayley's case for not earning her way to the team. Natty has earned everything, as the winningest woman ever. Check the facts. And Natty is the most experienced woman at Survivor Series. She earned her spot, unlike Bayley. Bayley isn't saying Natty isn't worthy, she's just saying it took her longer. Right, Kayla? They can text later. Kayla doesn't want to be in the middle of an argument, but cohesiveness is so important this Sunday. But they aren't quite there yet, will that change. Natty and Bayley say they are good, they are the veterans. But Captain Bayley says that this is new for Bianca Belair, Ruby Riott and Liv Morgan. Together, they can get it done. Team Raw has nothing on them!
With their leadership, especially Natty as #BOAT, Best of All Time, they can sail their way to victory. Bayley laughs and Natty gets upset. They need to be on the same page. They are, but which book is Natty reading, though? Well, Team Raw isn't all that united, either. Natty and Bayley say they're just having these little quarrels. They've never been a team before so there is no chemistry. But their leadership skills will "sail" their way to victory. Natty is the #BOAT, she sails everywhere. But Bayley is the "Row" Model. Natty won't get the leader spot just by calling Heyman handsome. If only more women drank from that red Solo cup to feel that way. Natty says Heyman is stylish. Bayley is stylish! Natty is the #BOAT! Bayley doesn't follow 2 Paws! There! BLOCKED!
Captain Bayley wants Kayla to see them out, it is time to go and train. Kayla suggests they definitely talk this out, the match is tomorrow. #BOAT, most winningest woman! Bayley says Natty is looping. They both apologize to Heyman and take their leave, and tonight's final guest is here!
Daniel Bryan joins Talking Smack!
Bryan says it's best not to enter until the other guests have properly left. And Kayla can tell Heyman is containing himself in regards to Bayley and Natty. But Bryan goes off topic. Today is a very important day. November 21st is Brie's birthday. To Brianna Danielson, she is the sun that Bryan's word revolves around, and without her, he wouldn't be here today. She is a wonderful mother to their two beautiful children, and he loves her more than words can say. Kayla loves that, but then Bryan points out that also means it's Nikki's birthday, but "Nicole" isn't getting that heartfelt of a speech. She's a great sister-in-law and they have fun.
Kayla loves the positive energy, and wishes happy birthday to the Bella Twins as well. Is Heyman not a romantic? This is a no win situation, but also a must lose. Heyman will not compliment on Bryan's love for Brie. So is he not a romantic? Bryan says it is that many people see Heyman as disingenuous. That is one of the problems. But Bryan says it is interesting. He likes to look at the root of a problem. That's the fun of society, right? We all point to a subject and go, "Is that the problem?" Who knows, not everyone is that kind of educated.
But just talking about SmackDown, Bryan isn't sure how well they know Jey Uso, but he's known Jey for years. When Bryan was a host of Talking Smack, he and the Usos had a rap-off! Bryan knows he was so cool and hip and "with it" and "Jiggy with it." Kayla is laughing at Bryan trying to be cool dad. Bryan says he and the Usos had fun. The whole locker room, when Jey main evented against Roman at Clash of Champions, everyone was so proud! When Jey was at Hell in a Cell and never said "I Quit" until Roman did something to Jimmy, everyone was proud of him. Here is a guy that everyone knew was so talented, one of the best, but only knew as "just a tag team wrestler," he showed everything he brings to the table. Everyone loved Jey because Jey respected everyone.
But then it's so strange. Suddenly, Jey stops treating people with respect. He had someone in his ear. There are root causes, and Bryan won't place blame as a lawyer or whatever. But… You look and correlate things about when certain people stopped being good people, you'd be surprised. Bryan isn't pointing fingers, but… He will say this about Heyman. Bryan likes Heyman. Heyman may be a liar, but despite that, he's also a genius. Since Bryan was a kid, he's seen Heyman make people better and he was proud of that! Heyman would be with Brock Lesnar, strong and proud! You could tell Heyman was a genius, the best at what he did!
"Except for now, he doesn't have that same kind of confidence." Heyman almost has his head down. And that Jey has some self-esteem problems, too. So what Bryan once thought was a Heyman issue, might be something different entirely. But that's still not what Bryan wants to talk about. Bryan beat Jey, with a "small package" cradle. Bryan says he's got a perfect small package. In some circles, he was known as Mr. Small Package. Both legs hooked. He thanks Neil Malanson, he taught Bryan cradles like that. But this isn't satisfying. Bryan said there is a devil on his shoulder, and that devil is speaking so loudly and so clearly, reminding Bryan of things. Brie had to watch her two kids while Bryan could barely move, while Bryan was stuck in a hospital.
Bryan wants us to ask, do you think he is satisfied winning with just a small package? "I'm not a lawyer. I'm not somebody who's gonna give you definitive answers." Bryan will let us answer this question for himself. Heyman defends himself now that Bryan heads out. If you want to talk packages, Heyman knows who has a small package and who has a big package. But Kayla gives us the outro, see you at Survivor Series!
---
My Thoughts:
A great episode here, a lot of good energy. Heyman had a really good promo on "Champion VS Champion," and he did great playing off the Profits. Natty being a surprise guest during Bayley's segment was good, but obviously with the excitement having worn off, Natty's no longer on Bayley's side like she was on SmackDown. Daniel Bryan's entire segment was amazing, including Heyman's facial expressions as Bryan built him up, to tear him down. The way Bryan's talking, he might have to deal with Roman before he gets his shot at the Intercontinental Championship against Sami Zayn. Also I just realized with Kayla pointing it out, it's been "Reignsing" not "Razing," which should have been made much clearer when Heyman first started saying it. It also seems way too goofy for Heyman to making such a pun when we're supposed to see Roman as this Samoan sociopath in charge of the family.