News From Cook's Corner 11.9.20: Alex Trebek
With a ton of things happening in and around the wrestling world this week; Cook breaks down the bigger stories to him! Come on in to Cook's News Corner!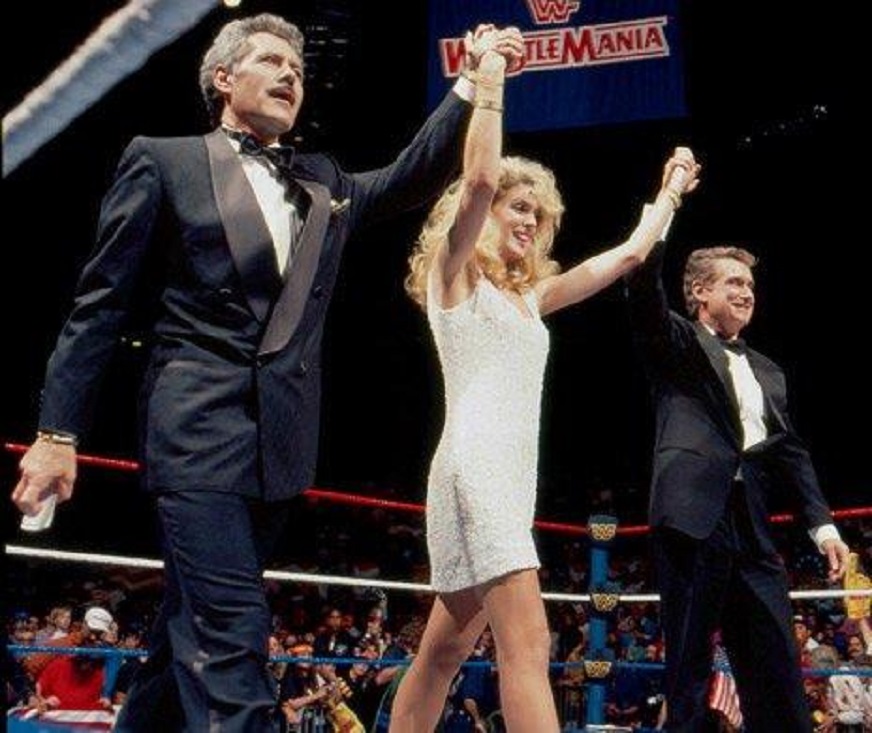 Hi, hello & welcome to News From Cook's Corner! The good news is that I'm not doing this column from a bunker. Things seem to be running as normal after the election so far. We'll see if things keep going that way, but for right now I don't think I have to worry about looking over my shoulder for "Second Amendment people" or slow-driving pickup trucks with way too many flags on them.
Listen, those of you that have known me for a long time or follow me on Twitter know where I stand politically. I don't feel the need to belabor my viewpoints here in my rasslin' columns because people click on rasslin' columns to hear about rasslin'. Things have changed since the days where I would click on Eric Szulczewski's columns to read his rantings about anything other than wrestling, with some wrestling mixed in here and there. Chris Hyatte did a lot of that too, though his spiel was less political.
Of course, my political viewpoint pops up from time to time here because pro wrestling forces my hand. After all, the family that runs WWE includes an individual that is involved in raising money for the 45th President of the United States' political endeavors. Families often don't agree on politics (I'm the black sheep in mine due to politics), but from everything we can tell, the entire McMahon family was solidly behind the current President that won't be the President after 12 PM on January 20, 2021. Maybe not the entire family, I can't speak for Shane's or Stephanie's kids.
This will lead to news stories I will be commenting on in 2021, assuming I'm still allowed to comment on things here. Andrew Yang has already expressed an interest in combating that whole "independent contractor" business WWE insists their wrestlers are. We shall see.
The point I'm kind of getting to here is that politics ends up being involved in everything. It's tough to avoid, no matter how certain people want their entertainers/writers/athletes/prostitutes to avoid having political opinions. Folks are going to think things. If they have an outlet, they'll use it. A lot of people get mad at this. They tell athletes to "stick to sports", or in the case of basketball players, to "shut up and dribble". Usually, it's because they're mad at the athletes for not being part of their political party that doesn't welcome folks of the athletes' background. It's a sticky situation.
Sometimes, we get mad at entertainers or athletes or writers or whoever because they're completely uninformed in things outside of their specialty, and it's easily proven so. I'll offer up Rick Pitino as my example. Many sports coaches fall into this category too. If you want to talk basketball strategy, there are few better at breaking it down than Rick Pitino. If you ask Rick Pitino about anything else in the world, he has no idea what's going on. Completely oblivious. The dude had no idea what kind of shady shit was going on in his program, which was only a key part of his job.
Or, at least, he wanted us to think he had no idea.
Which is problematic as well. Louisville finally had to fire the guy when the amount of violations got to the point where "either this guy thinks he's above the law, or he's asleep at the wheel". Either way, he had to go. Joe Paterno, another good example. Often, when somebody is really great at one thing, their focus on that one thing takes away from everything else. So if you ask them about something else, they don't have a clue.
Chris Jericho is a great example of that.
Jericho is a great entertainer. He's continually re-invented himself in pro wrestling to remain relevant. He got a hit song finally. Dude can run a podcast, host a show, commentate on wrestling. I have nothing bad to say about Chris Jericho as an entertainer.
But when he veers off into other things, he runs into problems. I mean, if the man wants to support the out-going President, that's his prerogative. He's not the only person to do it, certainly not in pro wrestling. I would simply prefer that he not lie about it. Don't tell me that you're not a political person when you're donating more money to a political campaign than most of your fans make in a year. Don't come out here and espouse ridiculous ideas like "omg how has it ever taken this long to declare a winner" when it's easily disproven. By your old tag team partner, who cut promos in WCW about the 2000 election!
I don't care if Chris Jericho likes Donald Trump and the entire family because they're nice to him, and that's all that he cares about. You still have to be smart enough to realize that when you're donating to political campaigns…YOU'RE A POLITICAL PERSON! Nobody with functioning brain cells is going to buy your claims otherwise.
Still…it's not the end of the world! Most of us wrestling fans are willing to look the other way as long as you entertain us! Just don't insult our intelligence!
Shut up and wrestle, Chris.
Full Gear Results!
AEW held its final PPV of 2020 on Saturday night. In case you missed it, here are some of the major things that went down…
Moxley vs. Omega is the next AEW Championship program: We knew it would come to this eventually. There's a reason Kenny kept that tweet from right after last year's Full Gear event pinned.
I lost and doctors won't clear me for TV.

The problem is that you left me alive and I'll be back.

I win. #AEWFullGear #AEW

— Kenny Omega (@KennyOmegamanX) November 11, 2019
Now Moxley has to deal with a very, very confident Kenny Omega that's on quite the roll as of late. Including a big win over Adam Page that lived up to most peoples' hype. It's going to be a problem for him, especially after being put through hell by Eddie Kingston. I expect a title change here, it's just a matter of when it's going to happen.
The Young Bucks finally win their championship: Another one of those things that you knew had to happen eventually. I didn't care much for the build, but if you like Young Bucks matches you probably really enjoyed the heck out of their match with FTR. I saw some people that really didn't, which is nothing new. They're always going to be divisive.
The victory also led to the image of Hangman Page looking forlornly at the ring from the entrance way while Omega & the Bucks celebrated. Poor kid.
This image, man. This image. pic.twitter.com/dwdwukQH7C

— Craig from ProWrestlingMusings.com (@CraigPWMusings) November 8, 2020
Darby Allin won the TNT Championship: It was a bit of a surprise, as Cody had just won the TNT Championship back from Mr. Brodie Lee one month ago. Titles other than WWE's 24/7 Championship don't change hands that frequently these days. Darby's reign might not last too long either, as he got beat up pretty good by Ricky Starks & Brian Cage after the match.
We'll get to more news concerning Cody here in a little bit.
MJF Joins the Inner Circle: It was a rough way for Chris Jericho to end a rough week for him on a personal level, with MJF proving his mean streak & working his way into Jericho's group. It won't be long before MJF becomes the Rock to Jericho's Faarooq. Part of the Circle of Life, I suppose. Members of the Inner Circle not named "MJF" went 0-2, with Sammy Guevara losing an Elite Deletion match to Matt Hardy that didn't exactly get rave reviews from the public.
We did get appearances from Gangrel & Hurricane Helms though, so that was nice.
Don Callis Announced & Was Acknowledged as an Impact Wrestling EVP: We probably shouldn't be reading too much into this. Kenny Omega wanted him on his match for a couple of reasons. He & Don have been tight forever. More importantly for the purposes of the show, nobody does a better job hyping up Kenny Omega on commentary than Don Callis. Don would be a great addition to Kenny's emerging conceited persona. I don't expect to see him every week, but I could certainly see Callis on the big shows, specifically for Omega's match. Like he used to do for ECW back in the day, and like he does for Impact right now.
There's no reason to think that Callis is testing the waters for a permanent jump, he seems happy with what he's doing behind the scenes at Impact. That being said, we shouldn't get too excited about the idea of AEW and Impact possibly interacting more. Even though I can think of some Impact names I'd like to see make an appearance or two on Dynamite like we've seen the NWA women doing.
Its fun to see a little crossover now and again. No need for a silly invasion angle, but some more Impact folks appearing could be beneficial for both sides, like the NWA's relationship with AEW has been so far. I wouldn't mind seeing some good brothers hook up with some of their old friends from Japan. Nor would I mind some of the women crossing over, as Impact has a good number of outstanding female workers & AEW has a bunny with quite the history with Impact. Again, not trying to get hopes up too much, just saying that some beneficial business could be had.
Those were some of the major happenings on Full Gear. The show's getting good reviews, so hopefully Blockbuster Video will have it available for rental soon.
Cody Is Cody Rhodes Again
Ok, so Cody lost the TNT Championship. The week wasn't a total loss…He got his last name back! Cody Rhodes made his official debut at Full Gear, meaning he is 0-1 in AEW under the Cody Rhodes name. Maybe he should go back to being just Cody? We'll see if the Rhodes family name ends up being a curse instead of a blessing.
Cody had a lot of interesting things to say on Full Gear week, as he usually does before a PPV. He again expressed his desire to retire from in-ring competition at the age of 40, and also spoke of a future political career. Apparently Cody would love to run for the Senate, representing his home state of Georgia. I wouldn't put too much stock into these things, as he also said he had no interest in using the Rhodes name in wrestling.
Then again, maybe that makes it more likely he'll go into politics? I don't even know what to think anymore. This whole year's been an endless blur.
Kylie Rae Officially Steps Away
Speculation over Kylie Rae's future in wrestling came to an end last week. Kylie announced that she is no longer a pro wrestler and is currently unwell. The status of Kylie's mental health had been hinted around before but not really discussed at length, largely because it would be irresponsible to speculate on such things. None of us really know what's going on there, so why should we speculate? Even most of us Internet writers can show some responsibility from time to time.
Impact Wrestling previously instructed their workers to not comment on Kylie, which is the smart thing to do. Even though they originally got a lot of criticism from people for advertising the BFG match up until it didn't happen, apparently they really thought that it was going to happen. I assume they would still like to do business with her if she returns, so it's in their best interest for everybody on their side of things to butt out.
All we can do is hope Kylie gets well. Whether she returns to wrestling or not is irrelevant. What matters is she gets well, which we all know is a lot easier said than done. Best of luck to her.
Who Was Alex Trebek?
I don't know if Alex Trebek was a huge wrestling fan or not. However, I do know he appeared at WrestleMania VII, and that's enough for me to talk about him here in this column.
Alex Trebek at WrestleMania 7 with @JakeSnakeDDT. #RIPAlexTrebek pic.twitter.com/Wp8SEuIc0q

— Ryan Satin (@ryansatin) November 8, 2020
We all remember WrestleMania VII, right? Sure we do! Originally scheduled to be held at Los Angeles's Memorial Coliseum, it was moved to the Sports Arena due to low ticket sales terroristic threats. Like most WrestleManias, it was chock-filled with celebrities. The show was so big it needed three co-hosts! Trebek was one, along with Regis Philbin & Marla Maples. They all played a part in the main event pitting the Iraqi turncoat Sgt. Slaughter against Hulk Hogan. Marla was the guest timekeeper, Regis was on commentary with Gorilla & the Brain, and Trebek served as ring announcer. Alex also interviewed Demolition & Jake the Snake during the show.
Of course, Alex Trebek's involvement in pro wrestling for one evening is one of the least remembered things about him. We all knew & loved him as the host of Jeopardy!, which currently airs before WWE SmackDown on my local Fox affiliate. I don't mean too much disrespect to Michael Cole when I say that going from a show hosted by Trebek to a show hosted by Cole is like going from ice cream to horse…well, you know.
Trebek was like Jim Ross in his prime. Or Gordon Solie or Lance Russell. The right host at the right time with the right product. Sometimes things just click. Trebek hosted a ton of game shows before (and during) Jeopardy!. That one clicked. Lightning in a bottle.
Thanks so much for reading, and keep reading & listening to all of our great content here at The Chairshot. Until next time, keep your stick on the ice.