Andrew's Impact Wrestling Results & Match Ratings: 12.1.2020
With Final Resolution about a week and a half away, Impact needs to set the table. Let's see how the stories play out for the Impact Plus Special!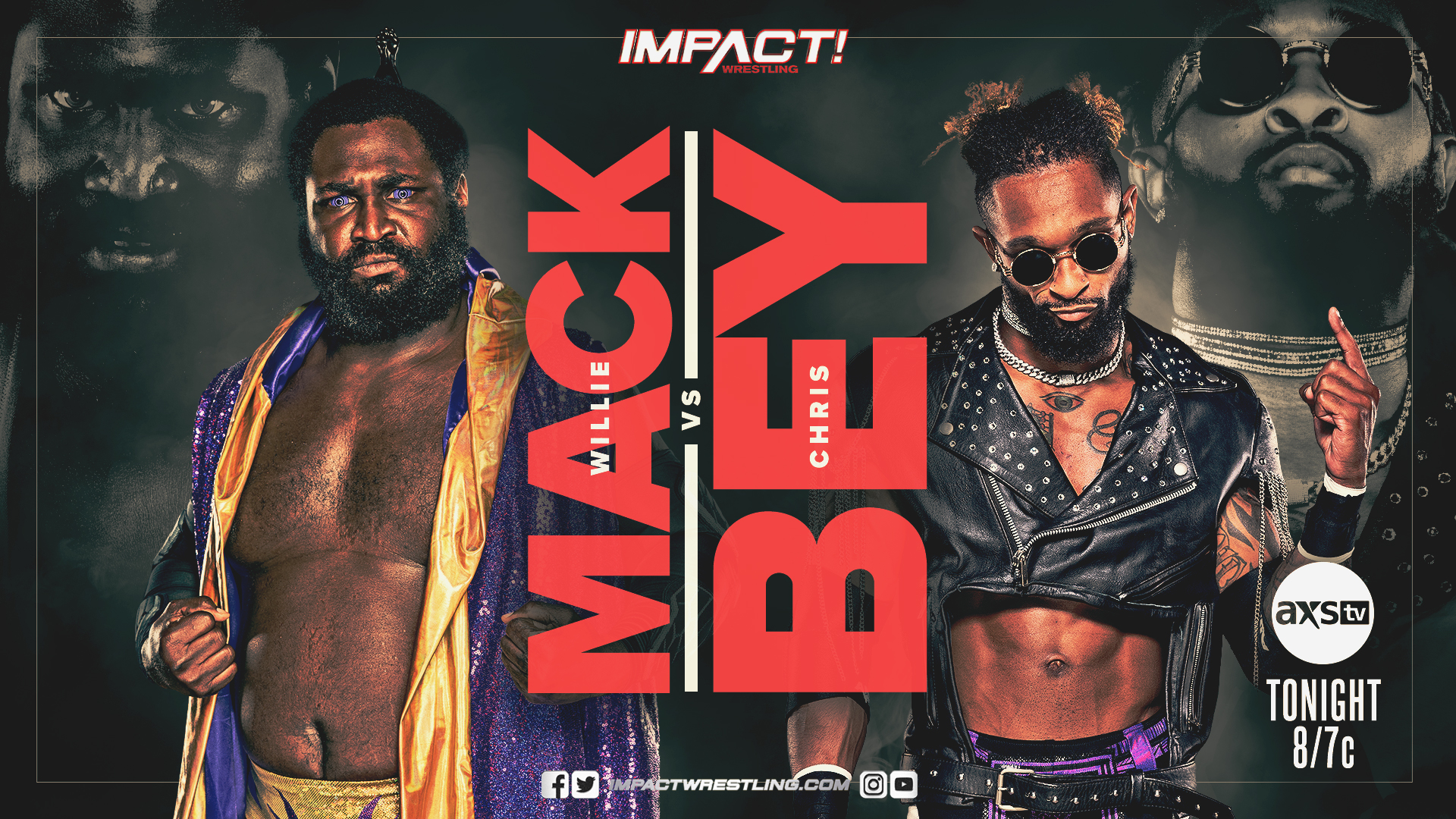 With Final Resolution on the horizon, we should start seeing Impact Wrestling figuring out how to make the stories work. Between Ethan Page getting embarrassed last week, Brian Myers insulting TJP, Shamrock knocking out D'lo and Deonna making a deal with the devil; we just had a lot of stories in limbo last week.
This week should help us out with a couple of those stories. Also, what's gonna happen with Larry D since he admitted to shooting John E. Bravo?
Let's kick off with a damn good promo from Ethan Page, then get to the show!
A FIRED UP @OfficialEGO has challenged @MachineGunKA to a match at #FinalResolution! #IMPACTonAXSTV pic.twitter.com/MLnPqiJAR4

— IMPACT (@IMPACTWRESTLING) December 2, 2020
Ratings:
Motor City Machine Guns vs XXXL: Guns win via Skull and Bones – *** ½
Knockouts Tag Tournament: Renee Michelle & Killer Kelly vs Jazz & Jordynne Grace: Jazz wins via Jazz Stinger – **1/2
Johnny Swinger vs Cody Deaner w/ Cousin Jake: NO CONTEST
X Division Championship: Crazzy Steve vs Rohit Raju (c): Rohit retains via Double Leg Cradle – ***
Willie Mack vs Chris Bey: Willie Mack wins via Stunner – ***
Results:
Motor City Machine Guns vs XXXL
The Guns start off hot before XXXL even have their jackets off, which is smart for the smaller team. Acey and Larry turn around an early flurry, go for the Irish Whip to the center, Guns hooks arms, dosey doe, and turn it all around. A few nice dives from Shelley and Sabin give them some momentum, Shelley comes off the top rope with the Macho Man-esque Double Axe Handle, but the size helps Larry slow things down.
A lot of this match turns into the Guns trying to pepper in 4 or 5 moves, quick tandem strikes, Poetry in Motion, but one counter from the bigger men equalizes the match. Acey uses the logic of beat a mofo with another mofo and throws Shelley into Sabin for XXXL to start imposing their strength and size advantage.
Larry and Acey make a Shelley sandwich, Acey kills him with a Senton, but Sabin breaks up the pin. After a quick flurry, Shelley hits Sliced Bread #2 on Acey as the other team members get tagged in. Sabin keeps the offense fast and furious, quick strikes, DDT, tandem Flatliner/Dropkick, but Larry puts the breaks on Sabin's next attempt and Acey gets tagged in. A very close near fall was a tandem Leg Drop/Neckbreaker, XXXL tries to make a Sabin sandwich, but Sabin fights through it all, rolling away from big problem spots and trying to stay ahead. Shelley gets tagged in, Drop Toe Hold/Bulldog, Double Superkicks, nice tandem fun, SKULL AND BONES finishes Larry for the Guns!
.@ScottDAmore has SUSPENDED @ShamrockKen. #IMPACTonAXSTV @TheSamiCallihan pic.twitter.com/0iqy7JsANX

— IMPACT (@IMPACTWRESTLING) December 2, 2020
Knockouts Tag Tournament: Renee Michelle & Killer Kelly vs Jazz & Jordynne Grace
Kelly and Jordynne start off to mostly a stalemate, lots of trips and counter cradle attempts which ends in the respect smile and tag out. Sadly for Renee, her and Jazz are definitely not at the level. Jazz dominates early, tags Jordynne back in and then Renee finally low bridges the middle rope and takes a few short cuts. So Renee is playing up more of the bombshell cocky heel, but she does apply decent aggression in her moves.
After the commercial, Renee still has the upper hand, tags in Kelly and Kelly starts taking it to Jordynne. Renee and Kelly have a couple quick tags, just beating on Jordynne. Kelly is starting to show a little more personality, almost coming off like a female Ilja Dragunov. Very smiley, but wild eyed and violent. Jordynne manages to land a Spinebuster for space, brings Jazz back in and Jazz works in the nice comeback. I do love when Kelly catches both punches and headbutts the other woman. She makes it look good, and the wild disposition she likes to give off is perfect. Renee breaks up the Grace Driver pin attempt, Jazz dumps Renee, Jazz tagged in, Renee blind tags, Renee almost takes advantage of the unknown tag, but Jazz turns it into the Jazz Stinger and picks up the win!
ImpactPlus Flashback Moment: Final Resolution 2010, Generation Me vs Motor City Machine Guns (c), TNA Tag Team Championship Full Metal Mayhem Match
Tenille and Kaleb, with a K, approach Alisha and actually almost seem like they are trying to move forward with this team idea, but Lish is ignoring them and waiting for something. She sees her target and jumps on Sami Callihan going crazy. Security break it up and Tenille and Kaleb just pull the ole "We see you're busy, we'll touch base later" kinda thing. Amusing, not sure where it's going though.
Johnny Swinger vs Cody Deaner w/ Cousin Jake
Hmm a random unadvertised mid/lower card match…OH LOOK Eric Young and Joe Doering! Not surprised, but I like how Swinger tried to buddy up with them before Joe hits the Two Handed Chokeslam.
EY continues his "World belongs to us" rant, I'm really curious where this is going. I'm happy to see Joe in Impact again, but I really want to see him in a real match, not just these run in squash angles.
"Next week I will prove to @TheEricYoung that I am not a nobody."

We've never seen this passionate side of @CodyDeaner before. #IMPACTonAXSTV @JakeSomething_ pic.twitter.com/V7Ok3mhKAS

— IMPACT (@IMPACTWRESTLING) December 2, 2020
Deonna comes out to the ring with Kim to try and bait out Su Yung, so Father James Mitchell can get his hands on her to solve this Su issue. Deonna calls Su out directly to discuss her contractual rematch. Su hits the ring and James Mitchell's music plays. Mitchell tells Su she will pay for her sins, the Bridesmaids show up at his behest and head to the ring to collect Su. Deonna hits Cosa Nostra to help out the bridesmaids and Su is carried to the back.
.@MachineGunKA has ACCEPTED @OfficialEGO's challenge at #FinalResolution! #IMPACTonAXSTV pic.twitter.com/ctHUt3oLXO

— IMPACT (@IMPACTWRESTLING) December 2, 2020
Hmm…is Karl making real references or just being funny?
X Division Championship: Crazzy Steve vs Rohit Raju (c)
Steve tries to take Rohit by surprise with a few early rollups, then he transitions to some of his more erratic moves, hits his version of the Upside Down, but Rohit thankfully starts stabilizing. The commercial break kicks in, and Rohit seems to keep the advantage.
Rohit blocks an attempted counter from Steve, hits a suplex that he holds and then hits a nice Fisherman's Suplex Hold, but only for two. Rohit seems to be getting progressively more aggressive, but not losing his focus. Any time Steve almost finds an opening, Rohit finds a way to counter. Steve fights out of a Double Wristlock, but Rohit knocks him back down. It's not until Steve eats a kick and then slowly hits the rise from the grave kind of spot to start a comeback. Stun Gun and Diving Crossbody give Steve a near fall.
Steve charges, Rohit catches him with the Flying Knee, Steve then grabs a Russian Leg Sweep, transitions into a Modified Triangle Armbar, but Rohit finds the ropes. Rohit stuns Steve with another knee, Steve charges, attempts a Sunset Flip, Rohit sits down and grabs the ropes to pick up the win!
.@RealTSteelz and @HoganKnowsBest3 will have the money for @FALLAH1 NEXT WEEK! #IMPACTonAXSTV pic.twitter.com/VOzLlxuTAa

— IMPACT (@IMPACTWRESTLING) December 2, 2020
Willie Mack vs Chris Bey
Bey does a really good job at pissing off Willie early on. Bey tries to use his athleticism to get an edge, but Willie keeps up with him and smothers the flame early. It's not until Bey takes a small shortcut by grabbing Willie's foot while he's on the apron, which allows him to catch Willie entering the ring and go after the knee. A low Dropkick looks to be part of the story of the match moving forward, and we get the last commercial break.
Bey works the knee, Willie fights back a bit, tries to shake it off, catches Bey mid Crossbody, but Bey flips off the shoulder and then Chop Blocks the knee to go right back after the target. A Single Leg Crab helps to keep Bey in control, but Willie rolls and then fights off his back to try and get back in the match. There's some solid back and forth, Bey goes for a leg trip and Jacknife Cover, for only two, then we see a big Code Red attempt, but Willie kicks out at 2.
Willie struggles to his feet while Bey measures, a slap in the face seems to wake up Willie, Pop-Up Forearm Smash and the Stunner put Bey away.
Moose attacks Willie after the match, Rich makes the quick save, Rich's music starts to play as Moose smiles and Rich yells at Moose, but Bey comes out of nowhere to hit the Art of Finesse (Oscutter), and he stands over the champion holding the belt.
Overall Score: 7.25/10
Now this was a solid episode, with a good bit of storytelling as well as solid in ring action to keep different fans engaged. Bey throwing his hat into the title picture, rather emphatically, is a nice way to lengthen the Moose build. Alisha going HAM on Sami is an angle to heat Eddie and Sami back up. Deonna not understanding what she's set into motion is great and the Motor City Machine Guns getting some momentum rolling could make for a huge new year.
Let's also not overlook two great promos from Ethan Page and Cody Deaner. Page has a great delivery and character where he's brash yet not overly so. Cody's promo, while we've seen it before where the enhancement talent feels like they shouldn't be treated as a joke, the fact he brought up real history and seemed to make the feeling real was really cool. Plus Jake knowing to lay back was realistic, cause if you're buddy is venting, you don't try to talk over them.
Lots of little things were nice, hell even Killer Kelly and Renee Michelle did fairly well in a short stint and on the losing end. Kelly I would love to see more of from an all around perspective and Renee held her own. It would be nice if they got signed relatively soon.
AJ's WrestleMania 37 Night One Results & Review 4/10/21
AJ continues with the WWE coverage this Mania week! Night 1 of WrestleMania may have been rain delayed; but did that dampen the excitement?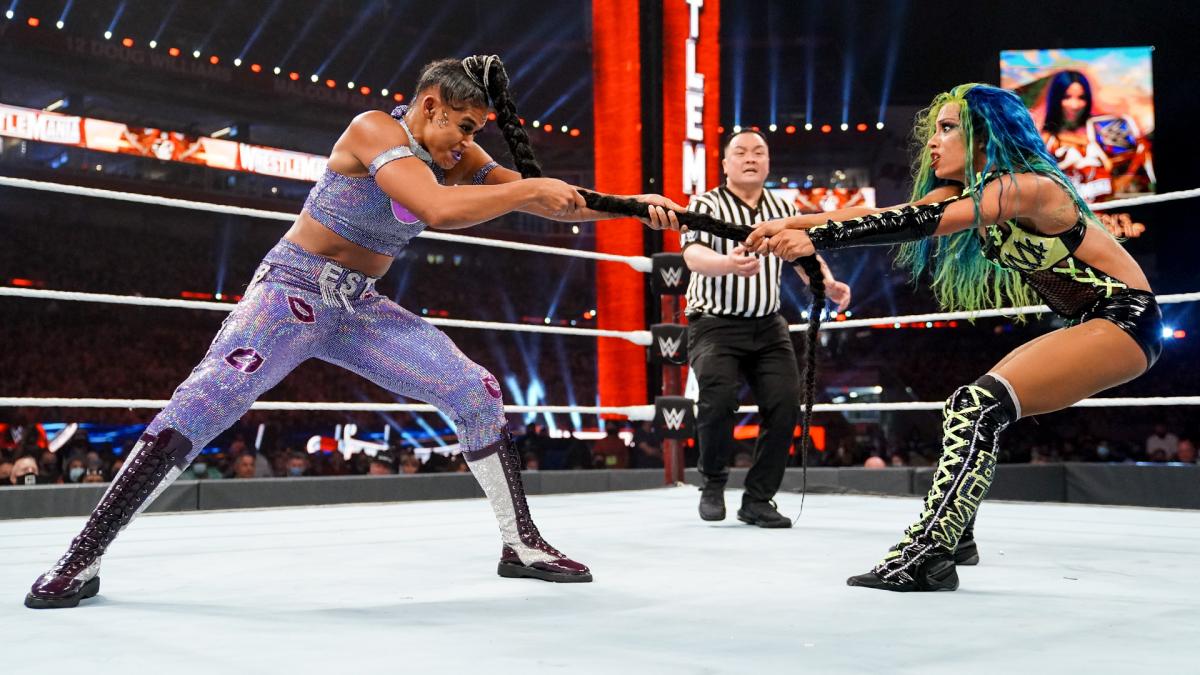 Ladies and Gentlemen, boys and girls. Children of all ages… WrestleMania is finally upon us once again and this time we are for real going to have it at my champion Tampa Bay Buccaneers stadium, Raymond James  and we get fans involved! We will hear the cheers, the boos and of course the ugly in the whole the but it's still the grandest stage of them all. We have some decent matches for night one that will take place, sadly a thunder storm but if we know Vince McMahon, that's not going to stop him.
Welcome to the Thirty-Seventh installment of WrestleMania!!!!!!!!
Results:
Drew McIntryre vs Bobby Lashley(c) for the WWE Championship:  Bobby Lashley wins via Hurt Lock – ****  – TITLE DEFENSE!!!!!
Tag Team Turmoil: Naomi & Lana vs Carmella & Billie Kay vs The Riott Squad vs Dana Brooke & Mandy Rose vs Tamina & Natalya: Tamina wins by last Elimination the Riott Squad – ** ½
Seth Rollins vs Cesaro: Cesaro wins via Gotch Neutralizer – *** ¼
AJ Styles & Omos vs The New Day(c) for the WWE Raw Tag Team Championships:  Omos wins via Two-Handed Chokeslam – *** – TITLE CHANGE!!!
Steel Cage: Braun Strowman vs Shane McMahon: Braun Strowman wins via Running Powerslam – ** ¼
Bad Bunny & Damien Priest vs Miz & John Morrison: Bad Bunny wins via Electric Chair Crossbody combination – *** ¼
Bianca Belair vs Sasha Banks(c) for the WWE SmackDown Wom0n's Championship: Bianca Belair wins via KOD – **** – TITLE CHANGE!!!
Review:
Drew McIntyre vs Bobby Lashley
Both men try to get a strength advantage with a Collar & Elbow tie up before breaking it and going to holds now and still getting even ground. Now both men get some fighting in the corner going, delivering punches and strikes until they go to the outside where Lashley takes control and ragdolls McIntyre into the barricades before tossing Drew back in. Lashley keeps the onslaught on Drew and gets a quick pin attempt for a one and continues to get the beat down on the former champ. Lashley gets a lot of steam going as he goes to do another shoulder tackle into the corner, only to miss and Drew targets the arm of Bobby. Momentum shifting into Drew's favor as Drew getting things going for him, suplexes and strikes galore as he goes for the Future Shock DDT. Lashley puts Drew into the corner to get separation but Drew catches the strike attempt and catches lashley into Northern Lights Suplex for a nearfall.
Bobby gets a reversal into a slam, a near fall and both men get some signature moves in. Drew hits the Glasgow Kiss and Bobby hits back with a one handed Spinebuster. After another near fall, Drew gets caught in a Hurt Lock but gets out of it quickly as they both go to the corner. Drew getting the swing this time and lands a good ol' Alabama Slamma for a near fall of his own before trying to set up a sky-high superplex to the champion. Lashley fights off the attempt as Drew gets a Kimora Lock in to weaken the arm, Lashley fights him off again, catching Drew into a Tree of Woe but Drew sits up to launch Bobby in a Belly- To Belly. Lashley hits another one armed Spinebuster until Drew kips up and tells him to bring it, delivering a trifecta of Future Shock DDTs for a two count.
Drew in shock but goes to the corner, doing the countdown to the Claymore but Lashley rolls out of the ring. Drew tapping into a little bit of Undertaker and does a Tope Con Hilo to take MVP and Bobby out and takes Lashley back to the ring, setting up for something in from the top. Lashley catches the challenger and goes to apply another Hurt Lock but Drew runs out of the way to stun Lashley. As Lashley goes to do another Spinebuster, Drew rolls it into a Kimura Lock, perfectly on before Lashley inches slowly to the ropes to kick out. Lashley now, getting his aggression out, taking it to McIntyre in the corner until Drew gets separation, going for another Claymore until MVP distracts the former champion and misses the Claymore for Lashley to get the Hurt Lock in. Drew looked impressive to break out but Lashley didn't break when Drew pushed off the corner and passes out from the pressure.
Tag Team Turmoil
Naomi & Lana vs Carmella & Billie Kay to start off the gauntlet style matchup as Naomi and Lana take the early advantage against Carmella. Carmella gets a tag onto Billie Kay but the advantage is still Lana and Naomi. When all four get in for chaos, Billie Kay goes for a roll up and beat Naomi and Lana for the next team to come out…
Riott Squad come out and take it to Billie early on but Carmella gets a tag and starts a beat down against Liv Morgan. Ruby breaks up the pin attempt but as Billie goes for the same pin attempt, the ref catches it and the Riott Squad get a tag and the advantage as Billie Kay gets brutalized, pinned and Carmella starts to beat up Liv before the next team come in…
Dana and Mandy come out and Ruby fights the two alone from the beat down as the fresher team gets things going and Liv barely gets a break of a pin attempt as Mandy and Dana work Ruby's neck now. As Mandy cuts the ring off from Ruby, Ruby starts to fight out of the corner and gets Liv into the match now as they start the beat down of Mandy Rose. As the Riott Squad lose the advantage, Rose and Brooke get some damage with a superplex and Swanton combination but Liv gets a reversal on Dana and get the pinfall.
Natalya and Tamina are the last two to get in the match up and start the powerhouse assault on the Riott Squad. The two getting the best of the most tenured tag team in the whole match up as Liv tries to break out of their grasp. Ruby gets the tag and hit the codebreaker/senton combination to Tamina only for a two though and Tamina gets the advantage back, gets the tag to Natalya and they hit a Hart Attack. Natalya looks to get the Sharpshooter but changes her mind and tags Tamina in for the Superfly Splash to get the Day Two Tag Team Championship opportunity.
Seth Rollins vs Cesaro-
Cesaro goes quick into the offense with an Uppercut and goes for the Swing early but Seth rushes out and panics with Cesaro getting more and more of a beat down. Cesaro getting a good amount of offense going as Seth starts to target Cesaro's arm and starts to pick things up after with his Superplex/Falcon Arrow combo after getting distance. Seth getting cocky again as he tries to take it to Cesaro but the Swiss Cyborg gets his strikes in again, taking down Seth with Uppercuts and goes for the swing again constantly, first time gets countered into a cradle, second time Seth gets to the ropes but the third time is the charm for nine rotations of the Swing and Sharpshooter. Seth breaks out of the hold and moves out of another Uppercut attempt from the corner, hurting Cesaro's arm again as Rollins gets his high offense in, knees, Slingblades and a 360 Splash but nothing keeps Cesaro down. Seth tries for a ripcord knee but Cesaro changes it into a Neutralizer and a two count. Rollins crawls to the ropes and gets his legs grabbed again for yet ANOTHER Swing but flips out of it, into a Pedigree but fails to get the victory again.
Rollins gets his speech in about being God as he hits Cesaro in time to set up the Curb Stomp. Rollins gets caught into a Uppercut (second best Stomp counter) and takes Rollins spinning, first with a no handed Airplane Spin, Giant Swing and finishes it with a Neutralizer.
(Now get my Red and Pewter out of my sight on Rollins. They are winners unlike you tonight, Seth.)
New Day vs AJ Styles and Omos-
We… are getting Omos to start off against Kofi…? Oh no. New Day goaded AJ to start.
Kofi and AJ using their speed to go off and do some of their big moves or attempt them as AJ thinks he gets an advantage but Kofi gets it, with a slam and near fall, teasing AJ after a beat down as the champs get frequent tags, even getting a Unicorn Stampede off before Xavier holds AJ down for a bit. They keep teasing Omos to tag in but to no avail, New Day beating AJ down more. Kofi goes to tease AJ to get to tag AJ but tags Woods in to cut him off from tagging Omos. After a flurry from AJ to separate from Woods, Kofi tags himself in and fights AJ from tagging the big man in until AJ separates himself from the two and realizes, "I can tag the big man…? I CAN TAG THE BIG MAN!"
Omos comes in and Xavier can't knock Omos down as Kofi tries to tag in and chop down the big man as The New Day… well to quote the remake of The Longest Yard… they shit themselves. Omos dismantles and smashes The New Day in the ring. Omos basically is breaking them apart as AJ flings over Omos for a Phenomenal Forearm and Omos two handed Chokeslams Kofi down for the win… Jesus Christ. They made him look like a billion dollars in the ring tonight.
Braun Strowman vs Shane McMahon-
As Braun comes in second, Elias and Ryker goes and beats Strowman down with chairs before the bell and Shane tells them to bring Braun in for it to start.
Shane grabs one of the chairs and beats Braun down with the chair over and over, going for a quick win and escaping but Braun, limping, stops Shane and taking more strikes from Shane for a good amount, limping and weakened as Shane breaks sheet metal from the top of the cage to continue the beat down and near fall. Braun now taking the fight to Shane as he stops Shane from escaping and tossing Shane into the cage walls over and over as Shane gets Braun's hands now before getting squashed between the cage walls. Braun gets the full advantage in the match until his legs give out from earlier and Shane slides out, doing a swinging DDT and setting Braun up to go from Florida all the way to Cali with the Coast to Coast for a second near fall. Ryker and Elias climb the outside to get Shane out but Strowman runs into the cage to loosen all three of them. More offense goes on before Shane gets away and climbs out almost until he pisses off Braun and… gets caught, pulling the cage apart and dragging Shane back in. Braun getting a bright idea as he props Shane up on the cage, going up himself before Braun launches Shane off the cage and climbs back in, stumbling and standing up for himself and everyone who was bullied that's watching before hitting a Running Powerslam for the win.
We get a small break for the cage to be taken down to honor the inductees to the 2020 Hall of Fame, Shatner, Liger, JBL, The Bella Twins, The British Bulldog, Titus O'Neal with the Warrior Award and the New World Order, Waltman, Hall, Nash and Hogan.
Bad Bunny & Damien Priest vs Miz & John Morrison-
Priest and Miz start it off and Miz goes to the corner and goads Bunny to come in and tags in as they walk around a little bit and Miz being an ass saying he can get the first shot as Bad Bunny pops Miz down. Bunny actually goes for a waist lock as Miz swings wild, Bunny ducks and gets another jab in before Miz gets pissed off and both of them trade blows in the corner of the ring before Miz gets the advantage, taking Bad Bunny into one corner and gets cocky a little before getting countered and Bunny flings Miz down with an arm drag. Miz rolls out and gets caught INTO A LA MAGISTAL AND A NEAR FALL! Miz had to get cheap after a a short pep talk with Morrison as Bad Bunny showing he's better than Enzo with the rope spot. Bunny gets the advantage again as he slides under the ropes and does a well done Tilt-A-Whirl Head Scissor on Miz before tagging Morrison and getting some control in the match for M&M.
Miz gets back in and taunts Damien Priest by putting Bad Bunny in a headlock, inches away from Priest until Bunny gets some fight in him, dropping Morrison from the apron and almost getting to Priest, countering Miz's stop with a Sunset Flip but getting beaten down after the pin attempt. Miz and Morrison take it to Bunny on the outside a bit. Morrison gets tagged in and taunts Booker T with a Spinarooni (A perfect one at that) as the tag to Miz gets in and Priest tries to get the crowd amped up. Miz cheap shots Priest and takes the ref's attention away as M&M just keep embarrassing Bad Bunny with kicks in the corner. Miz gets cocky again and goes for his signature clothesline in the corner but Bunny stops him, dropping Morrison's attack from the apron and hits a Tornado DDT onto Miz as he finally tags Damien Priest.
Damien goes to both men with his speed and strength, suplexing Miz into Morrison and hitting a chokeslam into a nearfall as all four men now get in the ring. Stereo Falcon Arrows, Damien Priest getting his step up Tope Con Hilo and Bunny with a crossbody. Priest gets Miz into the ring and Miz counters it into a Skull Crushing Finale into a pinfall. Bad Bunny goes to break it up and almost gets a tag in before Morrison pulls Bunny down. Bad Bunny having none of it from Morrison, hits a God Damn Destroyer as Priest props Miz up, gets the tag and lands a crossbody on the Miz for the win.
(Okay… Bad Bunny actually impressed me. Showed he cared. I give him props for that. I really do.)
Bianca Belair vs Sasha Banks-
Both women size each other up for Collar & Elbows and Sasha shoves Bianca down, getting the trash talk started before Bianca kips up and shows a good amount of her –est's, being Strong, Quick, Fast against Sasha as Sasha gets annoyed and gets caught by Bianca, rolling her out of the ring as Bianca goes to the outside. After some fighting on the apron, Sasha goes for a good suicide dive attempt but Bianca catches her and carries her to the ring as the match gets back to the ring. Bianca gets her usually offense going but Sasha actually grabs the hair of Bianca during the cartwheel and takes control this time around, getting her edge back and weakening the challenger. Sasha takes her to the corner and goes for the double knee attempt from the apron before Bianca catches her and drops her on her shoulder as they both go to the outside. Bianca's hair gets caught by Sasha and Bianca takes control on the outside before the ref gets to 8 and both come back in. Bianca showed off her strength this time after a cradle attempt and does an impressive amount of time on a stalling suplex. Sasha keeps using Bianca's hair to try to stop her after the Suplex but Bianca uses her hair as a ripcord effect into a clothesline. Sasha gets beat down from a Standing Shooting Star and getting propped into the corner as Belair goes for a 450 attempt from the top rope and Sasha counters, getting the momentum change momentarily.
Bianca catches some of Sasha's high speed offense and does powerbomb pinfalls as Sasha kicks out of the first two, reversing the third with an X-Factor and taking control back with a Tornado DDt for another near fall. Banks now goes to the top for a Frog Splash. Sasha gets her anger and ruthlessness to wrap Bianca's hair around her opponent into a Bank Statement and somehow, Bianca powers through and gets to the ropes before Sasha starts stopping on Bianca's face after the break. Banks keeps going with the trash talking but Bianca shoves her into the corner post with some Shoulder Tackles and sets her up for a Superplex. Sasha fights her off and attempts a cartwheel kick before Sasha grabs the feet into a Tree of Woe position to land a Meteora. Sasha misses the first one, goes to a knee strike from the Tree as Bianca sits up so Sasha lands knees first into the turnbuckle and eats a 450 Splash for a near fall. Sasha tries to get control again after but gets whipped in the midsection with Bianca's hair and after a fight to swing around, Bianca grabs Sasha up and lands the Kiss Of Death to win her first Women's Championship in WWE.
Overall Score: 8/10
Well not too bad for the first fan attended event for WWE… barring NXT of course. Bad Bunny showed he can actually care about wrestling, wasn't expecting a Canadian Destroyer… or I guess Puerto Rican Destroyer. Cesaro gets his moment, Bianca gets her moment. AJ Styles is now a Grand Slam Champion and every match except for the Tag Team Turmoil thing was pretty solid. I actually can't wait for night two of Mania. Did it match Stand and Deliver Night One? No. That is still the best match of the week so far but they brought a good amount of fire this night and held a candle to Night Two all things considered. Well we have one more day for me to do Mania Week writing so let's see if Night two can live up to Night One.
Just… people stop wearing my Bucs colors and lose in the process. Seriously. Disappointed me tonight Seth and New Day.
WWE 24/7 Championship Results & Report! (4/10/21)
BEHOLD! The Night Panther!!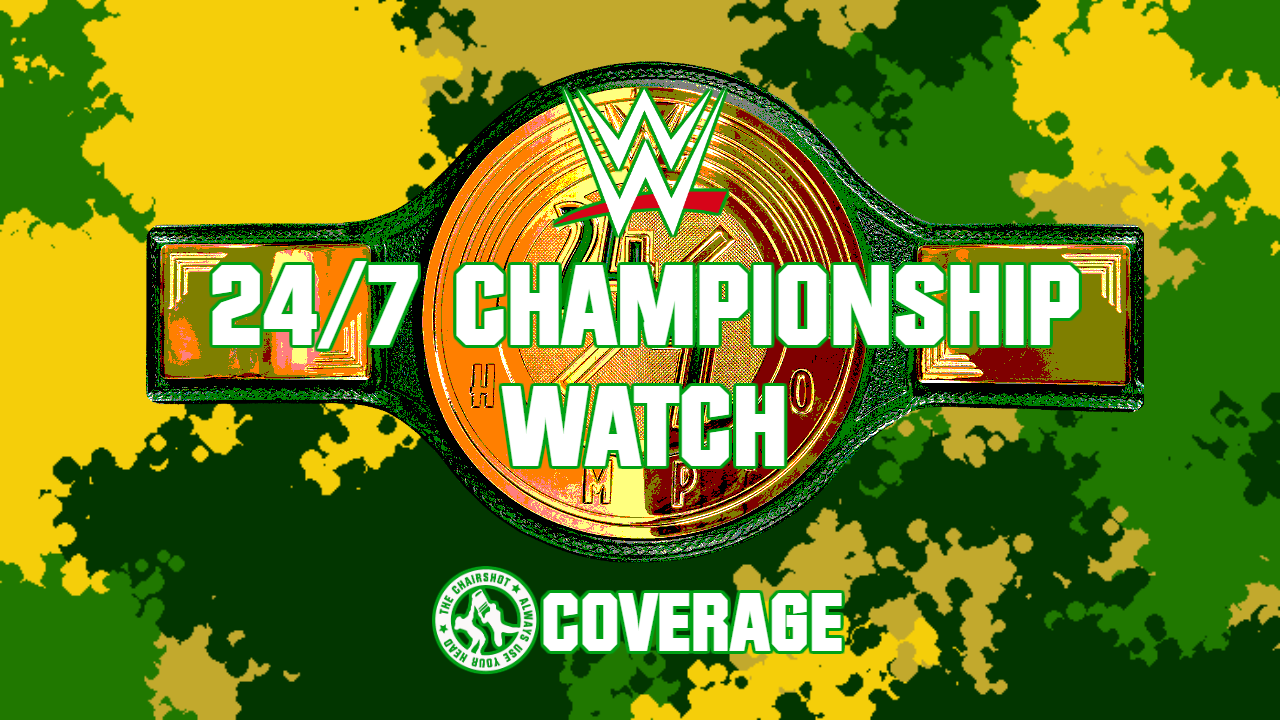 It's the epic conclusion to the Legend of the Night Planter!
Mild-mannered Old Spice salesman, Joseph Average, finds himself in the middle of an incredible WWE 24/7 Championship prophecy! But is he hero or villain?
OFFICIAL RESULTS
WWE 24/7 Championship Picnic Panic: R-Truth VS Akira Tozawa & Night Panther; Truth retains the title.
PLAY BY PLAY
R-Truth is having a picnic.
"This is just not your ordinary picnic. We eatin' good." And after spraying some Old Spice Night Panther, they're smellin' good, too! But Akira Tozawa is sneaking up to snatch Truth's snacks! Truth goes to reach for some, sees Tozawa, and Tozawa says, "Say cheese~!" What's Tozawa doing at Truth's picnic?! And with Ninja Referee (Drew Gulak) and the Night Panther! Truth finds he's outnumbered! Tozawa and Ninja Ref Gulak grab Truth, and Truth says, "Oh no! Say it ain't so, Joe!" He went from Average Joe, to Average Ninja! But if you go full ninja, you go evil. But, Joe's not evil…
Tozawa shouts, "ATTACK!" But stand back, there's a Hurricane comin' through! A hurricane? Truth's insurance covers that. But what is he doing here? What's he doing here? Everyone knows that hurricanes and night panthers are mortal enemies. Truth confirms. And yet, here Joe is, ruining Truth's picnic with his baby. Wazzupwiththat?! Night Panther, attack!! Night Panther punches at Hurricane but is blocked and counter punched! Truth breaks free of the kung-fu grip, and hurries with Hurricane to the Truth Cave! AWAY~!
The ninjas pick themselves up and Tozawa blames Night Panther for this. But he tried…! Tozawa takes away Night Panther's seemingly endless blackbelt. Was this Yokozuna sized? But Tozawa doesn't care what the prophecy says, Joseph Average is NOT the Night Panther! The "HAH! HAH! HAH!" turns into laughter at Joe's failure, and Joe runs away in shame. Ninja Ref Gulak tries to talk with Tozawa but he won't hear it. Will Tozawa ever get the 24/7 Championship away from Truth? Will Joseph Average redeem himself? Or is there truly someone else who the Night Panther mantle is meant for?
---
My Thoughts:
Not quite as conclusive as I thought, but this was a pretty great next part to this story with Eric Bugenhagen, aka Ricky Buge, aka The Buge, now Joseph "The Night Panther" Average, who may not even be the Night Panther anymore. I like that we got The Hurricane in this, and if it weren't for the divide of WWE and AEW, I would love if the cinematic wrestling universe got Matt Hardy involved with this title. Having a brand deal feels right up the "Big Money Matt" gimmick's alley. I hope Buge returns and proves himself as the Night Panther, or even just as Joseph Average. This is the kind of fun this title needs to be having either way.