Mathew's Top 25 Matches of 2020: #25-21
The official start to Mathew's Top 25 matches! Starting at the bottom, peep 25-21!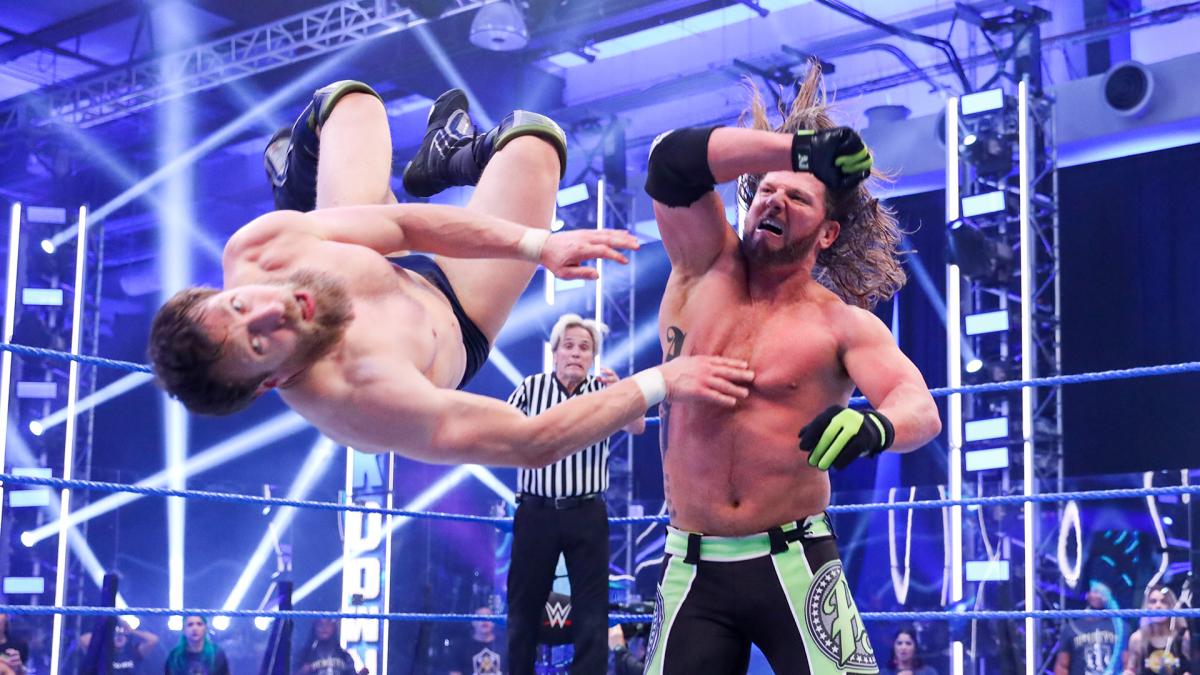 Welcome to the Top 25 Matches of 2020! I'm sure you all have seen the honorable mentions in the previous article and probably thinking to yourself, "what could be on this list?" Well, we're about to find out together. This has been a rough year for all of us, especially with American wrestling…and I guess the pandemic. This year will be a little bit different due to the circumstances as I usually do two top matches per wrestler but that'll be lifted for this year, especially with a certain wrestler.
Let's get down to it, shall we?

25. Kenny Omega and Adam Page vs. Young Bucks (AEW Revolution 2/29/2020)
– It's no secret to those that know me that I'm not a big fan of AEW and find it to be very mediocre. However, I will give credit where credit is due whenever a good match is involved and this is the best AEW match they've produced. The build-up to the match has also been really well done with the tension between all four of them along with the tease of a possible betrayal between the champions. Once the match happened, they gelled well and gave us a good half hour of entertainment.

You're probably asking yourself, "why is this in here and not Golden Lovers vs Young Bucks when that happened two years ago?" While it is true that it basically is the same match in terms of story, just a different partner for Omega. The real main difference for this is that this one was less sloppy compared to the other one and that was what hurt the quality of the match for me personally. Even though I'm not the biggest fan of the Bucks and Omega, this was still a great match and Adam Page is someone I am a fan of, so I was glad to see he was able to keep up with their style of wrestling. Good storytelling, emotion, the conclusion, all-around fun time.

24. Daniel Bryan vs. AJ Styles (WWE SmackDown 6/12/2020)
– This was for the final round of the Intercontinental Championship and this was a match I didn't expect to get the amount of time as they did since I was gonna assume they would give them ten minutes on television. I'm glad that's not the case as they were able to deliver their best match together in the WWE. All of their matches have been enjoyable together and this match is just another one added to the books. It would go on for a half-hour and it made the title seem a little important like how it used to be back in the day, it reminded me of those matches.

The two may be getting up there in age but they have shown that they can still go and show why they're WWE's best in-ring workers. We got an actual wrestling match out of it and there was no dusty type of finish of anything, it was clean and that's what made it better. When AJ finally won the Intercontinental Championship, I did have a small glimmer of hope that we would be getting these types of matches for the title. Unfortunately, that doesn't seem to be the case as it didn't last too long but they did try it at the beginning, so that was at least. We were able to get one of the best matches for the title in a long time and that's something fans will remember.

23. Charlotte Flair vs. Io Shirai vs. Rhea Ripley (NXT Takeover: In Your House 6/7/2020)
– NXT was another brand that has been a mixed bag compared to its glory years but this is what happens when you try to force change its magic to try and compete. There was been some great matches from time to time but the rest of the matches on this list were just better than NXT's best. One match, however, was lucky enough to get on the list and it was the NXT Women's Championship between Charlotte Flair, Rhea Ripley, and Io Shirai. I know a lot of people hate Charlotte from how much she gets pushed but it's hard to argue that she is one of their top stars in the company. You had two of NXT's best women with Io and Rhea going against WWE's biggest female star, and they were able to get a great match out of each other.

Io Shirai was someone who reinvented herself over the past year instead of being another foreign babyface like Asuka and Kairi Sane before her, so she was able to get the slow build during all of that and it came into a full circle. All three of them would deliver great action and they would pull the surprise by giving Io Shirai the victory since people would assume Charlotte would either retain for a one-on-one rematch with Rhea down the road, or Rhea would get it back to redeem herself but that's thankfully not the case. Io has worked hard in WWE and I know people said she should've won the title years ago but this moment felt more perfect to work her way up through the ranks and reinvent herself rather than getting it soon as she stepped into their doors. Great match and the right person won that night.

22. Undisputed Era vs. Imperium (WWE World's Collide 1/25/2020)
– If this had a proper build-up and were able to do long-term storytelling, this probably would've been one of the best matches of the year with the story alone before getting into the match. We had the top heel factions of NXT and NXT UK battling it out for brand supremacy to see who was the real top heel faction. The two invaded their respective territories to help hype up the match for the past month at the very least. This alone was enough for the fans to get invested in it and to nobody's surprise, the payoff in the short-term of things was worth it. Everyone involved in this match looked like a star and it made Imperium feel like they were exactly on their level, which is something you needed to do for this type of match.

The one big takeaway in this match was the unfortunate injury that occurred to Alexander Wolfe, causing him to be taken out for the rest of the match. Despite being a man down, WALTER would make up for the slack and wrecked everyone during his comeback after being taken out by UE. WALTER would get the win for his team, showing the world that Imperium is something you need to be watching. Undisputed Era is already well-established stars, so they didn't need the win here to get over since they were already over. The right team won that night and we had a great match out of it, making all of Imperium look good in the process.

21. Kazuchika Okada vs. Kota Ibushi (Wrestle Kingdom 14 1/4/2020)
– Honestly, this match in general almost didn't make the list, and if it wasn't for the fact that I watched this live in the Tokyo Dome, high chance this wouldn't be on here. This was the biggest match in Ibushi's career than when he fought Nakamura five years ago and this was when he won his first G1 Climax leading into this match. The entrance Okada had before he came out was godlike, especially when you're in the crowd to experience it live, it was just incredible and you know you have a star right in front of your eyes. Watching it on the television days after it happened would show the flaws of the match with how they paced it out.

But I'm not gonna talk about that version of the match and gonna focus on my live experience with it instead as I go forward with talking about it. The atmosphere for this match was intense, the moves were crisp, the story for it was top-notch between the two of them together. This was their best match together on a bigger level, and it showed that Kota Ibushi could potentially be an IWGP Heavyweight Champion. Kota would fail to win the match but still left a big impression on the fans, even coming close to winning. Kota is in the main event of the same night but against Tetsuya Naito, so let's see if he can bring it home or at the very least, deliver another classic.

This will conclude the first five matches of my list and very excited to show the next five tomorrow. Till next time!
King's WrestleMania Rewind: Charlotte Flair vs. Asuka from WrestleMania 34
Chris king is back with one of the most underrated matches in WrestleMania history–Charlotte Flair vs. Asuka!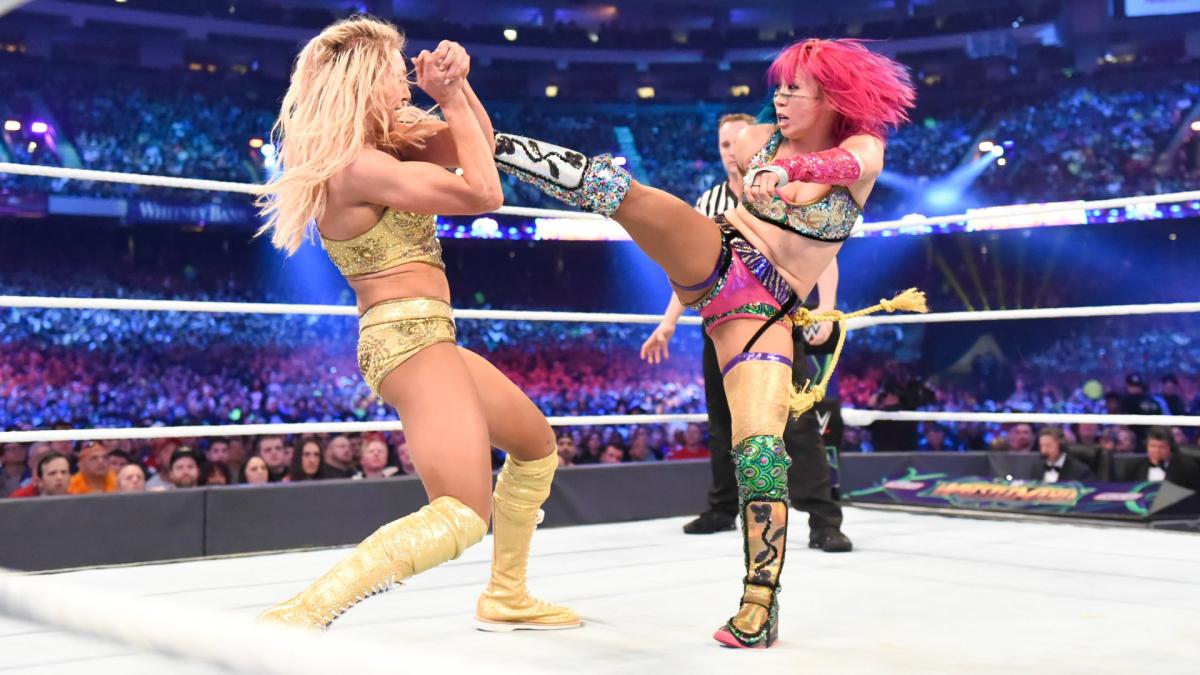 Chris king is back with one of the most underrated matches in WrestleMania history–Charlotte Flair vs. Asuka!
We look back at Charlotte Flair vs. Asuka at WWE WrestleMania 34. 'The Empress of Tomorrow' put her unprecedented and historic undefeated streak of 914 days on the line against 'The Queen's' SmackDown Women's Championship.
For years, this was considered a dream match while Asuka dominated the roster in NXT, while Flair won numerous championships on the main roster on both Raw and SmackDown. The Empress made her long-awaited debut on the September 11th episode of Raw and began to tear through the competition.
Asuka outlasted all twenty-nine other women in the historic first-ever Women's Royal Rumble match to challenge for the title of her choosing. At Fastlane, she made her choice.
The WWE Universe was so excited for this match myself included. Both superstars delivered a fantastic performance on the Grandest Stage of Them All executing counter after counter. Asuka showed off some nasty-looking kicks to her opponent, and Flair hit a thunderous Spanish Fly off the top rope. Flair was seconds away from defeat at the hands of The Empress but she locked in Figure Eight and Asuka was forced to tap out.
I can't even begin to explain how shocked I was at this outcome, as nearly everyone expected The Empress to continue her undefeated streak and walk away with the women's title. This controversial decision was the downfall of Asuka's momentum. She would ultimately win the SmackDown Women's Championship at the 2018 TLC pay-per-view in the triple-threat ladder match.
Fast forward to this year when Asuka has recently returned with her Japanese-inspired persona Kana. Kana is dangerous and ruthless and is heading into a championship with Bianca Belair at WrestleMania 39. The Empress has regained all her momentum and is highly favored to walk away with the Raw Women's Championship. Let's hope that Asuka and Belair can tear the house down and deliver an A+ grade match both women are fully capable of.
King: Dominik Mysterio Needs To Do This At WrestleMania
Chris King is here with what WWE should do with Dominik Mysterio at WrestleMania in his long-awaited match against his father Rey Mysterio Jr.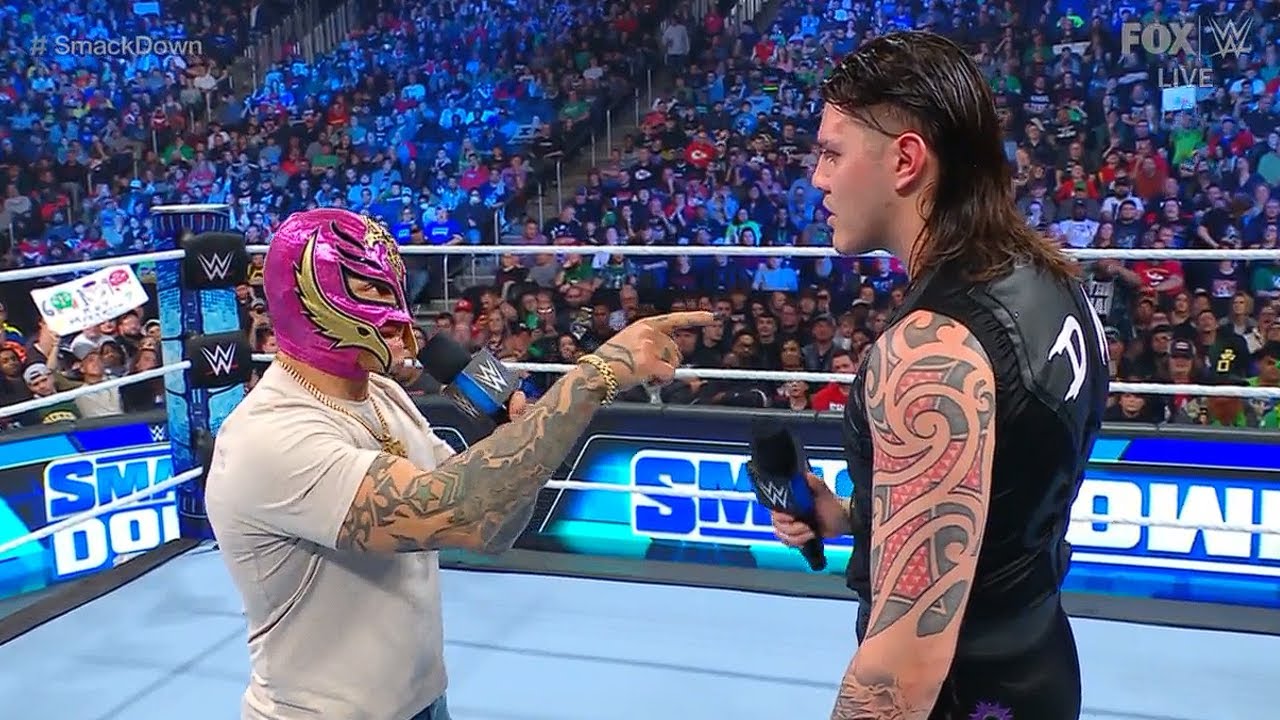 Chris King is here with what WWE should do with Dominik Mysterio at WrestleMania in his long-awaited match against his father Rey Mysterio Jr. 
On this week's episode of Friday Night SmackDown, Rey Mysterio finally snapped and beat some sense into his disrespectful punk-ass kid Dominik. The member of the Judgement Day came out to push his father again for a match on the Grandest Stage of Them All, this time with his mother and sister at ringside. The ungrateful punk told his mom to "Shut Up," as a father even I wanted to jump through the screen and whoop his ass.
Back in October of last year, Mysterio made the emotional decision to possibly quit the company but, instead, Triple H persuaded the Lucha libre superstar to move over to SmackDown to avoid his son. This came after Dominik shockingly turned on his father at Clash at the Castle. Mysterio did everything he could to refuse his despicable son's challenge for Mania but, a man can only be pushed so far. Mysterio will be inducted into the 2023 WWE Hall of Fame and I expect Dominik to embarrass his father during his speech to further this personal feud.
Yes, the WWE Universe hates Dominik and wants to see him get the ever-loving crap kicked out of him but, this feud is missing a special ingredient to capitalize on the biggest heat possible. Throughout this feud, Dominik has made mention of the legendary Eddie Guerrero on several occasions going back to the "iconic" 2005 feud.
I know WWE might not want to go this route but, Dominik MUST come out to Eddie Guerrero's theme at Mania. The disrespectful punk needs to come out in a lowrider to garner nuclear heat. It doesn't matter if The Judgement Day comes out and causes interference for Dominik to get the win, all that matters is that both superstars get the biggest payoff of this nearly year-long feud. Just imagine the Roman Reigns heat after he defeated The Undertaker and multiply that by ten. Dominik portrays the perfect heel and he truly is the missing ingredient that The Judgement Day needed to grow and evolve into a top faction.