Mitchell's Talking Smack Report! (12/18/20)
Talking Smack on FS1 for one night only!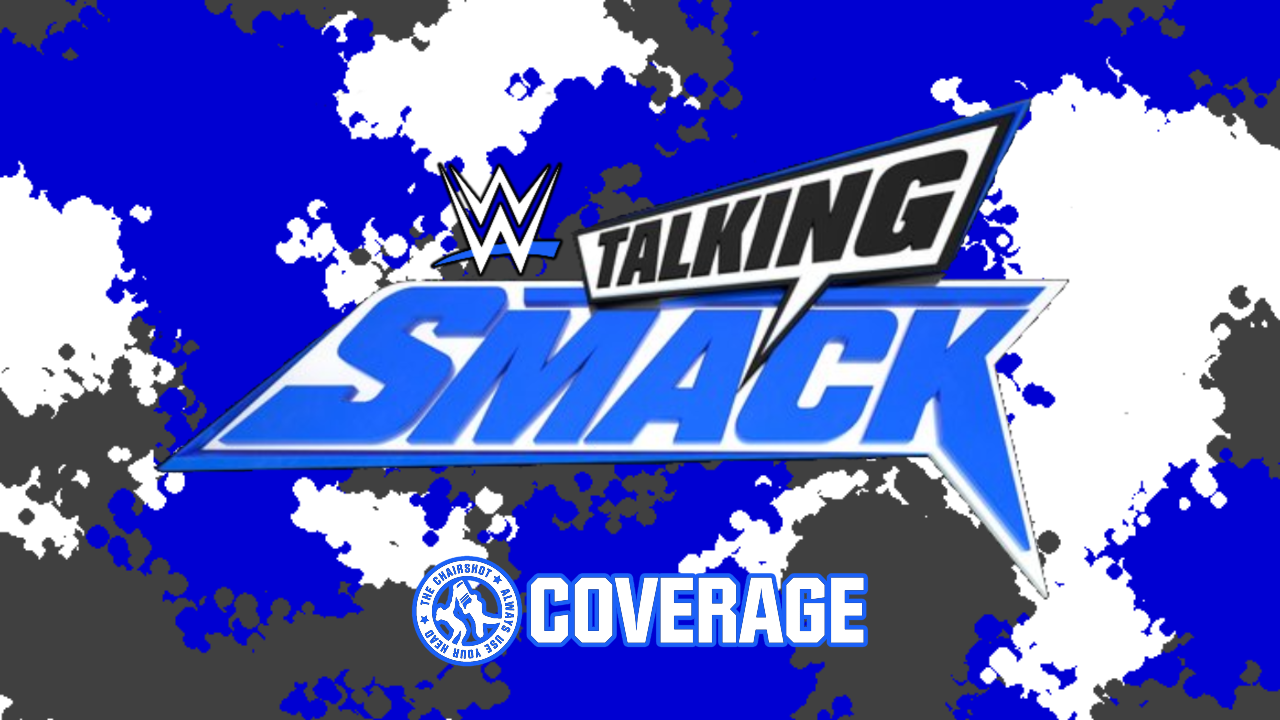 Can you dig Talking Smack, SUCKAAAA?!
SmackDown was on FS1 for this week, and so will Talking Smack! FS1 will have Carmella, Bayley, the Street Profits, Kevin Owens and special guest cohost, BOOKER T!
Kayla Braxton welcomes us back to the show!
This is a very special LIVE edition of Talking Smack after the final SmackDown before the final WWE PPV of 2020! Her special guest cohost is the two-time, two-time Hall of Fame inductee, BOOKER T! He is ready to give us caviar dreams and champagne wishes! But the usual cohost, Paul Heyman, walks up a bit earlier than expected. Kayla brings up how things ended on SmackDown, with Kevin Owens emerging from being buried. Booker says Kevin is reminding him of Rocky Balboa, getting beat on and beat on but never stopping! Heyman should let it go with this situation.
Kayla gives a quick run down of who the guests are, from Carmella one more time before her rematch with Sasha Banks, plus Bayley, The Street Profits and if possible, Kevin Owens. Heyman is almost ready, and Booker knows Heyman is never short on words. Booker and Heyman shake hands and Heyman sits on the other side of Kayla this time. Booker says it's fine that he's a little late, and Kayla is sure he has a "rant" prepared. Is that what he's been reduced to? Well it's what he does. No he doesn't, and he doesn't have one prepared. But if he were to rant, he'd… Surprisingly, Heyman is having a hard time putting this into words!
"We have an athlete, a fighter, a very capable man with lethal hands and lethal feet, to use his body as a weapon." That man stands after beating after beating, after beating, from the Universal Champion! Not just any man but THE man in the WWE! Kevin still says he will be champion or die trying! Heyman says Kevin is not a masochist but a MARTYR! All because Kevin won't give into fear. "I fear Kevin Owens. Because I fear what Kevin Owen sis going to bring out in Roman Reigns." Heyman makes that clear. As scared as Heyman is of Kevin, he is more afraid of Roman! Not because of the short fuse and the Samoan blood, but because Roman is a very dangerous man! Roman is just as willing to make Kevin pay a price and go through whatever suffering necessary.
Heyman quotes Franklin Delano Roosevelt in saying "We have nothing to fear but fear itself." Heyman disagrees with that. "We have Roman Reigns to fear." Kevin better bet his ass that if he makes it home from TLC, he will have learned to FEAR Roman Reigns. Kayla isn't sure if that was a rant, but that was a powerful monologue. But from one championship match to another, our first guest is the UNTOUCHABLE challenger to the SmackDown Women's title!
Carmella joins Talking Smack!
Booker says Mella is looking good. Mella says of course she is. Did you see what she did to Sasha? She smashed her with another bottle of champagne. Kayla apologizes and will get her a replacement bottle. Not quite as pricy but- Then keep your money. But Mella is looking good and feeling confident. Just look at her! But not for too long. But Sasha ruined her toast! Sasha tried to be sneaky but Mella was a step ahead of her. She had way more bubbly to spare, and it was all for her!
Kayla asks Booker and Heyman if they have advice for Carmella. She has been champion once before, so any tips on how to be champion again? Booker says Mella just needs to be ready. One thing she and Sasha have in common, aside from hair, nails and make-up all perfectly flawless, which Heyman agrees with, it's that Sasha has a high IQ. Mella might not match that, actually. He invites Mella to say if he's wrong. Mella counters by asking, "How many times has Sasha successfully defended a title against Charlotte Flair? How many times has she beat Asuka?" Not as much as Mella! But Sasha has a lot of history, part of big moments in the WWE, while Mella hasn't.
Oh really? Who was the first Ms. Money in the Bank? And technically the second, too! Mella is so upset that Booker would say such things! Mella cashed in successfully on Charlotte Flair, then successfully defended the title against Flair! Then she defended her title twice against Asuka! And is a two-time WWE 24/7 Champion, a winner of the Women's WrestleMania Battle Royal, and a Mixed Match Challenge winner! Who is the history maker here? Booker says that was a great retort. Kayla says Sasha says Mella isn't in the same league, but Mella counters with, "How many times has she smashed a bottle of champagne over me?" Sasha doesn't carry champagne…
That's because Mella outsmarted Sasha, that's what! Mella vows to win the title on Sunday and be a two-time SmackDown Women's Champion! Then she'll call Booker up and tell him she made history again! Kayla wishes Mella luck and apologizes for the disrespect, they did not mean it. Mella says she doesn't need luck, and doesn't want them staring at her butt as she walks away. But will Mella be walking away with the title after TLC?
Talking Smack returns from break!
Before the Street Profits join the show, we go to Jay Glazer's interview with the Most Electrifying Man in ALL of Sports Entertainment!
Jay Glazer talks with The Rock!
It was on One Glass with Jay Glazer that Dwayne Johnson told him, "When I first started in the WWE, I was this good guy, 'Babyface,' fresh out of University of Miami, I was told 'You gotta go out there and you gotta smile!'" But he knew that the fans knew he wasn't genuine with the smile and character. They'd shout something like, "YOU F***IN' SUCK!" and he'd just have to smile, give a thumbs up and say, "Thank you! I know I do!" But when it came time to become a bad guy, a "Heel," he asked Vince for just two minutes on the mic on Raw. There was a group at the time, Nation of Domination, led by Ron "Farooq" Simmons, perhaps the greatest Florida State football player ever.
Vince gave Rock his two minutes with NOD, and Rock was on live TV, which is saying a lot for back then because Raw was only TWO hours. Glazer is surprised because that is very bold to go to the boss as a rookie and ask for the ball. Exactly. Rock told Vince that if he sucked, that's on him, he'll never talk again. "The Rock" was born as he told the fans, "I heard chants of 'Rocky Sucks.' Well Rocky Maivia is a lot of things, but 'sucks' isn't one of 'em!" The Rock now says it wasn't a White thing, it wasn't a Black thing, it's just a respect thing, and he earned it by talking smack. It was that moment when the crowd said, "That's real. What he just said, that's real." And the rest was history. There was no going back from being authentic.
NOW The Street Profits join Talking Smack!
Montez Ford & Angelo Dawkins are "permanent residents" of the show and Kayla likes that. Profits talk smack, so being here is second nature. They got to talk some smack after retaining the SmackDown Tag Team Championships, and that is also something they do so Kayla isn't sure why anyone was surprised. Ford says they are the only tag team not to be pinned for the Raw Tag Team or the SmackDown Tag Team titles. Ford is still sore, though. Those ribs got beat up. Heyman confronts Kayla on why anyone would be surprised, but that's what she said, we weren't.
Booker knows he's a special guest himself, but he wants Heyman's honest thoughts on the Profits. Heyman says they are the most important, transformative tag team in the WWE. No one on Raw beat them, and no one has beaten them on The A Show, SmackDown! Raw is inferior because it does not have Roman as the top champion, and it does not have the Profits as the tag team champions. Undefeated on Raw, undefeated so far on SmackDown! Beat teams decisively, like a first round knockout in UFC! Heyman is a huge fan of the Profits. Did he have some of the "happiness" tonight? Heyman tells Booker about that stuff. It'll definitely make you a Profits fan.
Wait, Sami is barging in? He has two Sami Awards! And he gets a mic to say this is NOT for the Profits, sorry. Sami doesn't want to ruin anyone's night like how his night was ruined. But- Wait why is Kayla laughing? Well, the awards are just Sami's action figure- NO, they were hand sculpted in Brazil! Don't you laugh at them! But as the first and only two-time Sami Award Winner, Sami Zayn should be celebrating and making our nights better. But he wants to know one thing, everyone please shut up! Sami is a champion, too! He just wants to know how he was ROBBED of the third Sami Award for Superstar of the Year?
Dawkins brings up how Sami had his own awards show and he got awards. No, no, Sami simply hosted the Sami Awards, as represented by "the will of the people." Well, then how did he lose the third? It was stolen from him because Big E was somehow on standby! Can Booker help Sami figure this out? Booker was going to be the Lifetime Achievement Sami Award winner. Booker says he has no idea how it happened. Sami wants Booker to look him in the eyes and say that! To review, Sami won Comeback 2020 and Match of the Year 2020. The Profits are laughing, despite Ford's bad ribs.
Booker asks what is going on here. Kayla says this is the best Sami has ever looked. If only he had three. Dawkins knows if they had the Street Profit Awards, the Street Profits would've swept. Sami is usually above this, but he'll point out how awful Dawkins looks right now. Sami is dapper, Ford is in a suit, but Dawkins is garbage! This should be the best night of Sami's life! Booker stays out of this, aside from the fashion sense. Heyman knows people in the production truck but cops to them not liking him. Kayla says Big E must have his ways.
Sami says Big E is obviously watching. One Sami, two Sami. Sami is coming for Big E, and heads are going to roll! Dawkins congratulates Big E on that Superstar of the Year Sami, though. Wait, Sami left his mic behind! This is why the production team doesn't like Heyman! But as a reminder, the Slammys are coming, so get your votes in!
Talking Smack shares Charlotte Wilder's interview with Sasha Banks.
2020 may have been rough in many ways, but it was still The Year of the Boss! Sasha herself recounts how she was WWE Women's Tag Team Champion, Raw Women's Champion, and now SmackDown Women's Champion. She won every title in one year, and is the only woman to pin Drew McIntyre, because he ended up involved with her match against Asuka. At only 28, Sasha has accomplished so much!
Charlotte Wilder goes into detail about the actual timeline of Sasha's 2020. It was Friday Night SmackDown on June 5th that she defeated Bliss-Cross for the Women's Tag Team titles. What was the difference between the first time and the second time being tag champion? "I felt like the second time was even more delicious." Sasha got to get it off Alexa and Nikki! It felt amazing showing the world that Sasha was going to take over the company!
Then, on July 27th on Monday Night Raw, Sasha defeats Asuka for the Raw Women's Championship and became #TwoBeltsBanks. What was her favorite part of her record-breaking fifth title reign? It was everything from on screen to backstage that she beat Asuka! All Sasha wanted to do was have fun over the Summer, and all of that with Asuka, Bayley and being Two Belts Banks was the most fun. Then fast forward to October 25th, Hell in a Cell, her grudge match with Bayley to become the third-ever Women's Grand Slam Champion. What's next? If there are more records to break, that's what she's after. Sasha wants to be CEO of the WWE! Will Stephanie McMahon have something to say about that?
Talking Smack returns to Kayla, Heyman and Booker!
Kayla braces Heyman for talking about how SmackDown ended. Any thoughts given Kevin is ready for a fight? There were moments Kayla was watching where she worried Kevin wouldn't be able to make TLC this Sunday. Booker says the way it began was fired up. Jey hits Kevin from behind, and Booker asks Heyman man to man. Let's just be real about Roman. He's privileged, right? To come from a really good background and upbringing, the kid who had the college football experience, the guy who was in the lead.
But then he looks at Kevin, someone like Booker who came from nothing, from a place where the lights would be turned off, there would be rats and roaches and whatever else, never wanting to go back to that. Kevin has scratched and clawed to get here, and has nothing to lose. "That could be the most dangerous opponent for a guy like Roman Reigns, being in this position come Sunday." Just saying.
Heyman agrees, Kevin is very dangerous, perhaps the most dangerous challenger, and someone who comes from nothing. But no, Kevin is not the poster boy for WWE, nor is he the stereotypical WWE superstar, which makes that unorthodox style "so damn dangerous." How far will that push a Division I athlete, with the Samoan upbringing and warrior culture, like Roman? Roman has had four WrestleMania main events, it would've been five if Roman chose to, but he didn't like how WWE was treating him so he set an example for who is THE MAN in the WWE. And then his first night back, he became THE champion in WWE. And that man will be pushed past his limits by Kevin. God help Kevin against Roman this Sunday.
Kayla says that while we're about to go to break again, she wants to ask out of respect, Kevin will still be joining the show. Does Heyman want to stick around for that? Is Heyman some cliché 1980's manager? Gotta scurry away~! No, Heyman wants to have a talk with Kevin. There's nothing Kevin could do to Heyman that'd match what Roman will do to Heyman if Heyman ran away. Plus, if things get out of hand, Booker is here and Booker will save him.
Talking Smack returns with Bayley!
Bayley is excited as she mockingly sings Bianca Belair's theme. But she says that's not mocking! "Imitation is like, the biggest form of flattery!" Bayley is a fan of Bianca's. Kayla isn't fooled, but congrats on the win. Bianca put up a fight, though. Bayley said Bianca is overrated, but surely she thinks differently now, right? Bayley asks when did she ever say something like that? An interview? A tweet? Was Kayla snooping on her texts? Kayla can't place it but she's pretty sure Bayley's said something like that before. Bayley said just today that Bianca has all the potential in the world. She will be a star someday, but not tonight! Not against the longest reigning SmackDown Women's Champion in history!
Kayla asks Booker his opinion. There's no way Bianca is done with Bayley, right? She is the EST for a reason. Booker says he was never a big fan of Bayley, but he always knew that while Bayley wasn't great at anything, she was good at everything. Ooh, that's a good one! But that is a compliment, and Booker has seen this transformation. All she does is win, win, win no matter what! Bayley likes that, too! Booker says getting a win over Bianca, it shows Bayley is on her p's and q's, and is still a step above Bianca. It was GOODT!
Kayla asks what Heyman is doing sitting like that, leaning on the desk. "Admiring a great talent." And someone who should still be SmackDown Women's Champion! DING DONG, HELLO! That is what Bayley was hoping to hear! Bayley is Heyman's favorite, and she should be a cohost for Talking Smack. Kayla wants to stick with the subject at hand, but Bayley would love replacing Kayla. Kayla says this position is filled. But Bayley is a "Role Model," but what does that mean?
Bayley wants us to look at all of SmackDown this past year. The were only two people who have held the SmackDown Women's Championship in 2020. Yes, Sasha has it now but for like a little time. Bianca wants after Bayley for a reason. She is the annoyingest for a reason! It is because she knows if she wants to be at the top and ever have her eyes on the prize, she's got to go through a top dog, a general, a veteran, a captain, a history maker! Bayley was there to see Bianca's tryout, and Bianca was the one admiring Bayley! She's seeing a lot of Bianca in Heyman right now. Just in the eyes. Maybe some day, but not today! Bayley won! Kayla thanks Bayley for her time and congratulates her. Bayley will go celebrate now.
Talking Smack returns again!
And the only guest left is Kevin Owens. He makes it to the table, walks over to Heyman, and asks Kayla if he could borrow her seat for this. She obliges and sits on the other side of Booker. Kevin looks at Heyman and offers a handshake. Heyman hesitates but he figures he'll just get hit if he doesn't. But if he does shake hands, Kevin could reel him in, put him through this table, and it's a glass table. Kevin promises he wouldn't put Heyman through a table. But if he doesn't want to see the table up closer, just shake his hand. Heyman shakes Kevin's hand, and Kevin asks Heyman to do something for him that will be very hard for him to do: just listen. Then after, Heyman can say whatever. But for now, listen. Heyman agrees to do that.
"Paul, I know you always say nothing but the truth. But earlier on this Talking Smack, you lied." Because Heyman doesn't fear what Kevin brings out in Roman on Sunday. Kevin knows Heyman is scared, but he's scared because he's followed Kevin's career for a very long time. Well before WWE. Heyman is scared because he's seen Kevin endure things that nobody should, when the stakes were nothing compared to what they are at TLC. What Heyman fears is the fact that what Kevin said at the end of SmackDown is true. "You know I'll stop at nothing to take the Universal title back. You know that except for my wife, my kids and my parents, there is nothing I am not willing to sacrifice to get that title back."
Kevin tells Paul that he has a message for him. Heyman likes to be the innocent messenger, and Kevin will humor him. Kevin has a message Heyman needs to give Roman. Make sure Roman understands that he is in trouble. "Because after tonight, as important as winning the Universal title back is to me, beating… beating Roman Reigns is even more important." Does Heyman understand? He does. And Kevin says he lied, because he won't let Heyman reply.
Normally, he'd let Heyman have his rebuttal, but Kevin has neither the interest nor the patience to hear him speak. And if Heyman tries to speak, Kevin will knock the teeth out of his mouth and down his throat. So just don't, okay? "Just shut up, process what I've told you just now, find Roman, and give him my message. Please." Heyman nods and Kevin holds his hand out again. Heyman flinches, but then shakes Kevin's hand. Then Kevin thinks. "Remember what I said? Not a word. But do me a favor. After I beat Roman on Sunday and I take the Universal title, you've got my number. Call me. Then we can talk." Is Kevin giving the Special Counsel a way out after he breaks the Head of the Table?
Talking Smack returns once more, to make TLC predictions!
For the SmackDown Women's Championship, Sasha Banks and Carmella face off one more time! Then another TLC match for the WWE World Championship, Drew McIntyre defends against AJ Styles! And for the first time anywhere, it will be The Fiend VS Randy Orton, in a FIREFLY INFERNO MATCH! But of course, Kayla asks what that even is. Booker has no idea, why is she asking him? But Bray Wyatt, the Fiend, anything he does, Booker wants to be far away from. Kayla says Randy Orton, one of the most decorated superstars ever, but he might have wanted to leave this one alone. Booker says if anyone is capable of handling that match, it's Orton.
Any thoughts from Heyman? He's still contemplating Kevin's ultimatum. So moving on, the world title TLC match! This has been McIntyre's year but Styles doesn't care. If anyone as capable as Styles, "that's my guy!" but Booker knows McIntyre has made 2020 his year. Booker says McIntyre will retain. Heyman doesn't want to talk about this match, either. That's fine. We heard from Carmella earlier, Booker gives her an A+ on her hair and make-up, but for the title, it's all Sasha. And now Heyman is getting annoyed that Kayla wants to ask him.
But then about the one he both does and doesn't want to talk about, the Universal Championship TLC match, Roman VS Kevin. Heyman is giving up and taking off his earpiece. Booker says this is big stuff. Lay it on us, Paul! "Thanks for your help." Heyman's done, this week's special Talking Smack is done, watch TLC this Sunday!
---
My Thoughts:
This was a very good Talking Smack, and not just because it was an hour long live on television. I expected more out of The Rock having a part to play in this, but it was just a replay of his interview with Glazer reviewing the origins of The Rock. Everyone was hoping this would be him teasing a program with Roman or just a return to the ring at all, but I do like his line about being authentic and there's no going back. That is probably a lesson to be learned in entertainment, even past wrestling. We got really good segments out of all the guests tonight, and Booker was a great addition for the night. It worked out since Heyman was preoccupied in his own way because of what happened on SmackDown tonight.
Mella had a good enough segment, and I like that Booker said she's the one having to catch up to Sasha, for her to then refute with her own accolades. I hope for TLC, the assistant isn't as active and we get a match worthy of two accomplished women. The Profits had a good segment, but I'm surprised Sami crashed it. They had good banter, and Sami of course furthers the idea that he and Big E will have a title match soon enough. And Kevin had a great segment, that I honestly wished finished the show completely, with a great tease that he'd gladly be a Heyman Guy if it meant Heyman ditching Roman.
With Sami and Kevin both on the same brand again, I really hope one day they reunite and go for the tag titles. It'd be great story as Sami and Kevin have been frenemies forever, but Kevin is the one who has been on good terms with the Profits, and it'd be about loyalty to his oldest friend. And also about Kevin finally becoming a Grand Slam Champion.
News From Cook's Corner 4.12.21: The E-S-T of the I-W-C
Cook taking the long week/weekend and assessing some fun aspects that came to the forefront! Check out the news!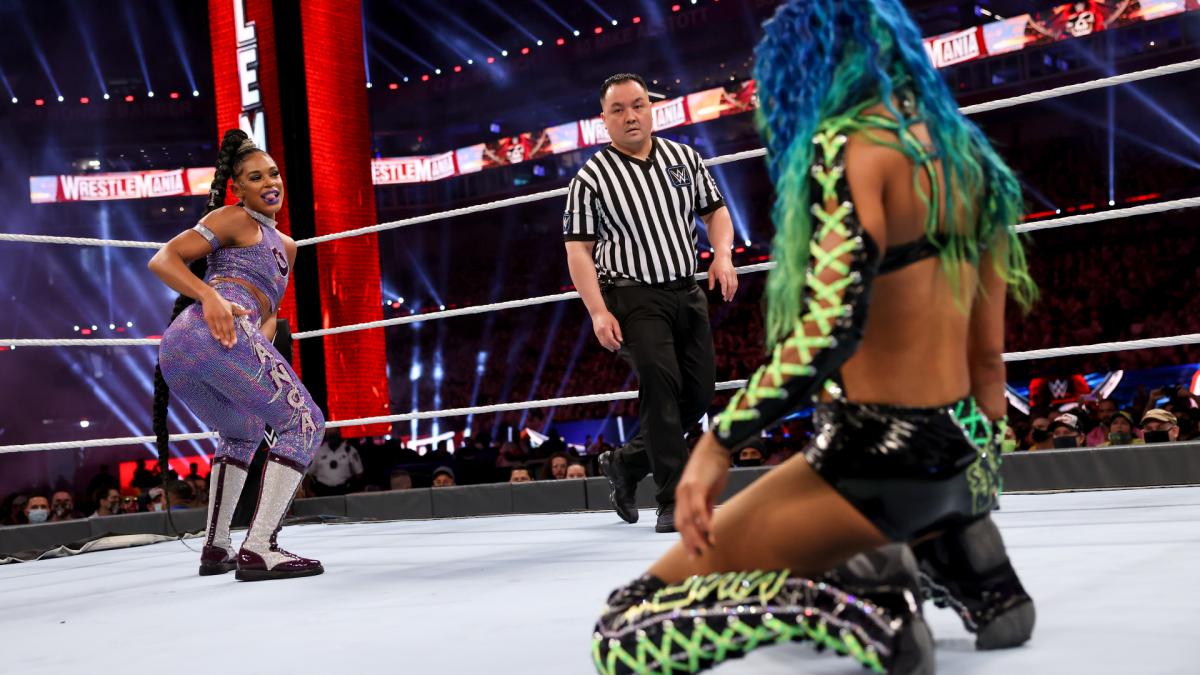 Hi, hello & welcome to News From Cook's Corner! It's been a bit of a weird week for me. While the rest of you are celebrating WrestleMania or the cornucopia of WM Weekend shows, I'm stuck working very long shifts at a job I've given notice at. So I'm a lame duck while wrestlers in Tampa are swimming in the rain like ducks. Kind of ironic, I suppose.
What that means for this column: Haven't finished the show. Watched Night One through parts of Sunday, watched the Broken Skull Sessions with Chris Jericho since I didn't get home in time to watch Night Two from the beginning. Kind of awkward since this is a news column getting posted the day after WrestleMania, but hell, I've written about stuff I haven't been watching for decades now. Gotten really good at faking it, though my exes would disagree with that notion.
(What can I say? When you're single for most of your life and getting older, sometimes you try to act like things are working in a relationship when they really aren't. Fortunately I'm over all this now and am quite happy with life as a spiritual eunuch. I'm not really sure how any of this is relevant to the column, just riffing here to fill space and give you a little update on how things are going. Those who were around back in the day remember I was quite emo about the lack of female attention. Now I've kinda had my fill and am good with it, though my friends try to make me think I'm not. I think we've riffed enough now and can start with some wrestling news.)
Anywho, here's the news!
New Announcers For Raw?
WWE likes to shake things up on multiple levels after WrestleMania most years. Sometimes that involves a change in the announce booth, and that seems to be on tap this year. WrestlingInc reported that former ESPN host Adnan Virk will be joining Raw's announce team starting this Monday, replacing Tom Phillips on play by play. Andrew Zarian added that Corey Graves will also be moving over to Raw, replacing Samoa Joe. No word yet on if this means Graves will be working both shows, or if Joe will be moving to SmackDown, or if Joe will be moving back into the ring, or if Phillips will be moving to NXT UK, NXT India & whatever other NXT pops up in the next couple of years.
Many folks I know like to make a big deal of these things, as they feel announcers are crucial to the overall enjoyment of a show. I used to as well, but the more I watch these things the less I think that they're that critically important to the sports or sports entertainment presentation. Sure, it's nice to have a legend of the business, or a dynamic presence in their prime, on the microphone talking about the action. It can get the die-hards through some rough seasons, or some less than compelling in-ring action. Does it really affect viewership? I don't think so. It's not like Los Angeles Dodgers fans stopped following their team after Vin Scully retired. On the flip side, it's not like the 50+ wrestling fan demographic has flocked to AEW Dynamite to listen to Jim Ross or Tony Schiavone.
It's what the people are talking about that matters, not the people talking about it. Which a lot of us in the talking & the writing business could stand to remember from time to time.
Why did the Hurt Business break up?
It's the question that was on everybody's minds right after Shelton Benjamin & Cedric Alexander were sent packing by Bobby Lashley & MVP. Why split them up? It was a stable that was working pretty well together, seemingly getting over with the public in the right way, and added a lot of options to Bobby Lashley's act as WWE Champion.
The answer seems to be the same answer behind every other decision WWE makes. Cause Vince McMahon said so. He decided that Alexander & Benjamin didn't deserve a push, which is pretty consistent with how their runs with WWE have gone, and that was that. Really not that surprising when you think about it. Somebody talked Vince into giving them a chance, Vince didn't see it working the way he wanted it to, and then you had King Corbin backing up Lashley for an episode of Raw.
It's a shame for Alexander & Benjamin, but it's not in the least bit surprising. We'll see if somebody else can talk Vince into giving them a chance down the road. Until then, the checks will clear.
Damian Priest Barely Made It To WrestleMania
I remember finding it kind of odd when Miz vs. Bad Bunny was announced for WrestleMania. It'd been reported for months that Miz & Bad Bunny would compete in a tag team match at the show, with John Morrison & Damian Priest as their respective tag team partners. It eventually got made into that, but what was with the pause?
Turns out that Priest had a back injury and wasn't cleared until the days leading into WrestleMania. Which is really lucky for him, as one of the points of this whole thing was to get him over. At least I think it was. Now we got everybody talking about how Bad Bunny was the best debut wrestler since Pat McAfee, which really wasn't that long ago but now feels like it happened multiple years ago.
Don't know what the odds are on Bunny & McAfee main eventing a future WrestleMania, but I rule nothing out these days.
Becky Lynch & Ronda Rousey Back Soon?
Nothing
Is
Guaranteed
Here
Tonight
Only
Now
Eternally pic.twitter.com/1snol8vvTC

— The Man (@BeckyLynchWWE) April 9, 2021
That's the word according to WWE President Nick Khan, who told Colin Cowherd as such on his radio show last week. Quite the scoop for Cowherd, who was once detested by fans for making fun of Eddie Guerrero after he died & calling wrestling fans "booger-eaters". Now, he's got WWE executives appearing on his show. Makes me feel better about getting WWE executives on my non-existent show one of these days.
Becky teased a WrestleMania Night One return on her Twitter account, but as usual with her social media teases, nothing came of it. Dave Meltzer mentioned in the Observer that at one point there were plans to have her show up in a truck during a Bayley talk show segment, but obviously the plans for a big truck were shifted to Bad Bunny. Gotta say that it feels like a misfire not having Becky return at WrestleMania in front of the live crowd if she's coming back anytime soon. If she's not, no big deal, but if she's a Night After WrestleMania surprise in the ThunderDome, it's not the same as bringing her out in front of 25,000 people.
As for Ronda, she was rumored to be coming back for this year's WrestleMania when it was taking place in Los Angeles. Dunno if that means she'll be back for WrestleMania two years from now or not.
Dabba-Kato Returns
DABBA KATO IS BACK!!!!!

Why is he dressed like Stalin though? 🤨#Wrestlemania pic.twitter.com/Yri1WohKey

— ❦ ꫝꪗ᥇𝘳𝓲ᦔ ❦ (@TheHybridEnigma) April 12, 2021
Surely you remember Dabba-Kato from his time on Raw Underground. The big fella hadn't been seen after the end of those segments until Sunday night, where he re-debuted as Commander Azeez & helped Apollo Crews win the Intercontinental Championship. I would say this pretty much guarantees that he'll be in line for a big push at the expense of Crews, but it's not like the rest of Retribution has done anything since they dropped Mustafa Ali like a bad habit.
Here's my question: The guy's first name is Babatunde. Why don't they just go with that? It just rolls off the tongue. No need to give him stuff like Dabba-Kato & Azeez when "Babatunde" is right there.
Mox vs. Gage?
PARADIGM SHIFT from Jon Moxley to Nick Gage THROUGH THE LIGHT TUBES #rSpringBreak pic.twitter.com/XgJYRtziTB

— Tripping Balls (@IsThisWrestling) April 10, 2021
The biggest news to develop from GCW's Collective weekend involved Jon Moxley making a surprise appearance to confront Nick Gage after Gage re-gained GCW's championship. Moxley had wrestled against Josh Barnett on another GCW show during the weekend, but this was the first time Moxley & Gage had crossed paths since their glory days in CZW. I don't know if they consider their CZW days "glory days", but it seemed like a good phrase to use there.
One expects that it'll lead to a match between Mox & Gage for GCW, which would be a pretty big deal for them given Mox's drawing power and the fact that Gage will be the subject of a Dark Side of the Ring episode this season, which starts next month. I also wouldn't rule out a Nick Gage appearance in AEW, as Tony Khan is a huge fan of people from that era of CZW & AEW has seen nearly everybody else in the business not contracted by WWE make an appearance at some point this year.
That's all I've got for you right now. Later this week we'll do a Fave Five for April, maybe pick up the Top 5 Quarterbacks by Franchise gimmick where we left off, and whatever else I can think of for wherever else I can think of. Thanks for reading, and keep your stick on the ice.
Mitchell's Talking Smack Report! (4/10/21)
A WrestleMania edition Talking Smack!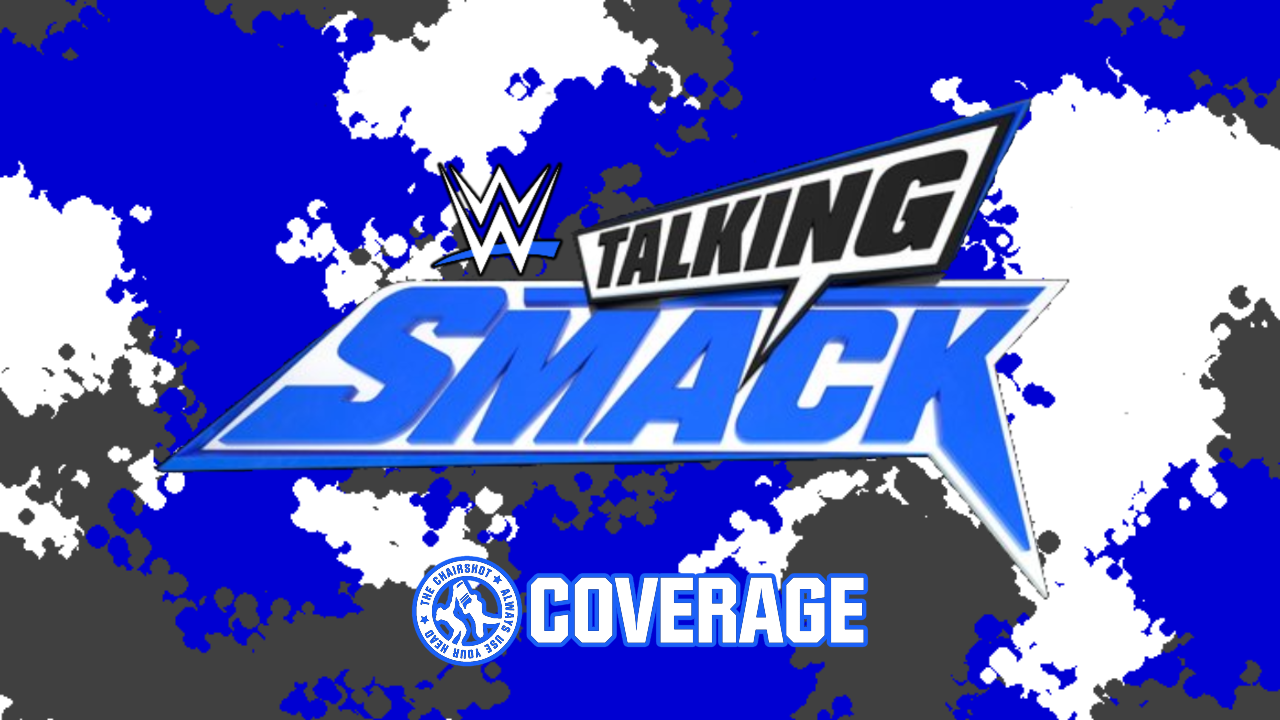 The Grandest Talking Smack of Them All!
Just hours before WrestleMania 37 starts its two night adventure, we have one last round of Talking Smack, and it's RATED R with EDGE!
Kayla Braxton welcomes us back to the show!
It is the morning of WrestleMania 37, night one! Kayla's so excited, and before we talk about tomorrow night's Universal Championship Triple Threat, what are Paul Heyman's thoughts about Jey Uso winning the Andre the Giant Memorial Battle Royal? Heyman is extremely proud of #MainEventJeyUso, "the rightful winner." Jey is a giant of talent and he proved it by winning the most prestigious annual battle royal that happens on WrestleMania Weekend. True, and yes, it is Mania Weekend. Kayla knows the real focus is on night two and the Triple Threat match, Roman Reigns VS Edge VS Daniel Bryan.
And after last night, where is Roman's head at? Is he at his most confident? Is he worried after hearing from Edge and Bryan? Heyman seems confused by her line of questioning. He will say this, little disrespect as possible. Heyman is ready for Edge, but let's get to it! The Rated R Superstar is tonight's guest! Kayla says the cohost doesn't get to do that, only she, the main host, gets to do that. Plus, Edge isn't the first guest, he'll be here later on. For now, we go to commercial.
Talking Smack returns, and Heyman speaks to us.
"It's WrestleMania Weekend. I get a little carried away sometimes. My apologies." Kayla makes a snide remark about the "sometimes." But Heyman tries again. "Ladies and gentlemen, the Rated R Superstar, EDGE!" No! He's not here yet! Maybe they should mute Heyman just in case. Kayla wants Heyman to relax, we've got a weekend of action to get to. Let's talk tonight, WrestleMania Night One's Women's Tag Team Turmoil! Friday was extremely heated, but what does Heyman think? The Riott Squad, Mandy Rose & Dana Brooke, Tamina & Natalya, Billie Kay & Carmella, Naomi & Lana.
Heyman says you could choose anyone from this match, where they all want to be Women's Tag Team Champions. Do any of THEM think Daniel Bryan legitimately tapped out Roman Reigns? Can we please talk about their match, not Roman's? Heyman rants on, but Kayla says people are very excited for Tag Team Turmoil. Look at the chaos from last night! The winners of tonight's match face Nia Jax & Shayna Baszler tomorrow night for the titles! Heyman says Kayla made a great point! Thank you, Kayla, he is now HOOKED. But with that out of the way, the RATED R SUPERSTAR-
NO. Kayla will make a deal with him. She'll bring out Edge if he talks about one other match. They shake hands, and she brings up Cesaro VS Seth Rollins! Rollins' return brought up issues and Cesaro was the one that voiced it. How would Heyman handle someone like Cesaro? Someone who, in Rollins' opinion, disrespected him and his "positive" message. What would Heyman do if he were in Rollins' shoes?
Heyman isn't in Rollins' shoes. He's in Heyman shoes, as the Special Counsel to the Reigns-ing, Defending, Undisputed, Uncontroverted WWE Universal Heavyweight Champion, THE main event of WrestleMania, Roman Reigns, who will defend his title in a Triple Threat against both Edge and Daniel Bryan, where Roman has to beat either Edge or Bryan, but doesn't have to lose to lose the title. And Heyman is supposed to talk about the King of Swing, Cesaro, and the Visionary, Rollins? They shook on it. Who will win? Can he at least say that?
The winner will be the winner. And that winner might be in line for a match with the Universal Heavyweight Champion, the winner of THE main event of WrestleMania, Roman Reigns. Kayla says it is up to her when Edge shows up. If Heyman won't cooperate, they can drag this out all episode. Aw, is Heyman being a bad boy? Will Kayla spank him for misbehaving? Kayla wonders what else there is to talk about. Kayla is going to move things along, and Heyman is sarcastic about putting viewers first for once. They WILL have the Rated R Superstar on Talking Smack, after the break.
Talking Smack returns and this is the moment we've been waiting for.
Kayla welcomes to Talking Smack, the Rated R Superstar, one third of the main event of WrestleMania, EDGE! Edge walks right up and takes his seat, and he says hi to Kayla. Edge looks at Heyman, Heyman sits up and looks at Edge. Heyman smirks, and congratulates Edge. He offers a handshake, Edge takes it, and Heyman says he means it. This is Edge's dream. THE main event of WrestleMania. Of course, Edge had this dream in 2020 when he shocked everyone and returned in the Royal Rumble. But who took him out of that dream? Roman Reigns. Roman eliminated Edge from the Rumble, stopped his dream dead in its track.
But to Edge's massive credit, he spent another year working towards the dream again. And this year, with all the odds against him, Edge started the Royal Rumble, outlasted 29 other hungry participants, and his dream prevailed. Here he is, when no one ever thought he would be. WrestleMania Weekend, THE main event. Heyman offers his respect and admiration to a degree that no words can convey. Edge smiles and says "Paul E," living dangerously out here. For weeks, Heyman has talked such an immense pile of crap about Edge, but Edge gets it. Edge is here, so it's a different story. Edge appreciates that. Roman cuts Heyman's checks as his hype man. Heyman's gotta feed his kids, and Roman is the meal ticket as "Head of the Table."
But does Heyman know what Edge does to tables? Edge is the godfather of the TLC match. He puts people through tables and obliterates them. Heyman is talking about Christians but Heyman is Jewish and Edge is Agnostic so what the hell was that about? And then he said Edge would crap his pants out of fear? But Edge can look past all of that because oddly, these two have a lot in common and a lot of people wouldn't realize that. Edge and Heyman didn't have a path carved for them, open to them into the industry. No, Edge and Heyman are of the same cloth. They fought to get into this industry.
Heyman faked his credentials! He snuck into Madison Square Garden so he could pick the brains "of the grand wizard, Captain Lou Albano," and took some of the best wrestling photos in the history of this industry! Edge went to Maple Leaf Gardens, stood at the back door and waited for Demolition, Tito Santana, George "The Animal" Steele, just so he could brush up against their greatness and understand what it took to get this, his dream! Then Edge would sneak in and ask to set up chairs, just to get that close to the ring and touch the canvas and feel it! So he could feel the ropes! Any indie show that came to town, Edge set the ring up and the chairs, just to give himself two minutes in there. Just so he could feel what it was like. Edge knows Heyman understands that!
And Heyman of all people knows what Edge is about. Heyman was one of the first to give Edge a chance. Heyman knows what Edge can do "when the governor has taken off." The SmackDown Six happened because Heyman had faith in Edge! Heyman knew Edge could have a match with Eddie Guerrero that lives on today in people's minds! That Edge could team with Rey Mysterio and set the world on fire with possibly the greatest tag team match of all time! Heyman agrees, that is true. Edge then asks Heyman, that knowing all of this, and having such an understanding, does Heyman truly feel like Edge should have fear in him? That Roman tells Heyman the truth?
Roman came out and talked about holding it down for 30 weeks. Edge has been holding it down for 30 YEARS! Those were taken away from him for nine, and he fought with every ounce of his being, of his soul, to get back here! Edge cools off to say he appreciates Heyman, and he understands what Heyman is doing. But Edge is never, ever going to agree with him. Heyman deep down doesn't, either. Edge sets his mic down to let that sink in, and we go to break.
Talking Smack returns, and Edge is still at the table.
Heyman pats Edge on the shoulder, and says Edge's theme song has this line, "You think you know me?" Heyman does know Edge. Heyman knows he knows Edge. Heyman knows nothing is going to stop Edge, and that is what scares Heyman. That's why now that we're here at WrestleMania Weekend, Heyman might crap his pants. Heyman's father taught him the story of the carrot and the stick. You dangle the carrot in front of the horse because that's what it wants. That is the lure. Nine years, 364 days ago, Edge was forced into retirement. "My GOD, no one can write this story!" Ten years to the DAY, Edge main events WrestleMania in a Universal Championship match, the spiritual successor to the title he never lost.
And if Edge wanted to go public and show the world all the messages he received that very night, how many of his contemporaries wrote to him, "I'm so sorry. Oh my God, this is a tragedy! How awful this is! How terrible this is! I'm sorry, I wish this wasn't happening to you." How many? Not Heyman. Heyman can't help but chuckle when he thinks back, because he wrote, "Great promo, kid. First day of your miraculous comeback to live out your dreams." And Heyman didn't hear from Edge for about two days and thought he upset Edge. Edge finally wrote back, "Paul, my dream is to main event WrestleMania. And I will live out my dream, I promise you."
Heyman does know Edge. Heyman knew nothing would ever stop Edge from living that dream. Not a fused neck, not a number of surgeries, not the advice of doctors, not even his wife's pleas to stay out of the ring. Heyman knew nothing could stop Edge from living out his dream. "You know what happens tomorrow night? You live out your dream. You do. And the best part of it is, everyone gets to share that moment with you. Because in front of a LIVE crowd, you will stand in the ring, in the main event of WrestleMania, and the ring announcer will say, 'Ladies and gentlemen, one of the contenders. In this corner, the winner of the 2021 Royal Rumble, Edge!'"
And what happens next? Ding ding ding, because Edge has lived his dream. He made it to the main event, but reality will BITCH SLAP him across the face, because in another of those corners, it isn't the carrot. That is when the horse realizes the carrot is soured. Across the ring is the stick, ROMAN REIGNS. Roman is the reality that Edge will witness when he wakes up from his dream. Here's the problem: Heyman does know Edge. And Heyman knows that if there is a breath left in Edge's body, nothing will stop him from becoming Universal Champion tomorrow night.
But Heyman also knows Roman Reigns, and what being Tribal Chief means to him, and what being Head of the Table means to him, and what being the End All Be All means to him, and what being WWE Universal Champion means to him. Heyman knows that if Roman has to take that last breath from Edge's body, that's what he'll do. Heyman knows it'll be a massacre. It'll be a beating so bad, Edge needs to understand what Roman is capable of. Roman's in his prime, at his best, and that he is merciless! It's to the point to where when Edge gets home and tells his children what it means to go for their dreams, and then hugs them tight, he won't be able to feel it! Roman will take that from Edge! That is how bad it'll be.
Heyman does know Edge, and likes him, respects him, admires him, and wishes his children aspired to be like him and live out their dreams at all costs. But the price Edge is going to pay to live a dream, Heyman says that is not worth it. Heyman gives Edge a hug, and says, "I am so sorry for what Roman Reigns will do to you tomorrow night. I'm sorry." Heyman pats Edge on the back and says he is sorry it has to end this way for Edge. Heyman wishes he could stop this, but he can't. There's no counsel Heyman can offer Roman that will stop him from doing what he has to do to stop Edge. Heyman takes a deep breath and sits down, but Edge gets his mic back.
Edge pats Heyman on the back and head, and is forehead to forehead as he says, "Paul. I once crawled over to make the cover in a match while my arm was turning gray and smoking and bubbling from second degree burns, with barbed wire punctures in my stomach, and thumbtacks lodged into every part of my body, AFTER diving face first into a flaming table, just to mark my territory and to show that I belong in the main event of WrestleMania. I did all of that just to show that I deserve to be in the main event of WrestleMania. So what do you think I will do, and what depths do you think I will find, when I am in the main event of WrestleMania?"
Thanks for the warning, Edge appreciates it, but Heyman knows what Edge is capable of because he sees it in Heyman's eyes and smells it coming off of him. Edge is not normal, Heyman, and you know that. See you tomorrow, see your Tribal Chief and Bryan, and Edge will take back what is HIS. Edge backs away to storm off the set. Heyman is stunned silent, and Kayla has no idea what to say. Will there be no words come THE main event of WrestleMania Weekend?
---
My Thoughts:
WOW, this was an awesome episode. Only one guest in Edge, but both he and Heyman just put on a masterclass of promos. It does help that there's a lot of history here but the passion was great, too. Heyman was great with how impatient he was, and how he kept trying to redirect to the Triple Threat, and then both he and Edge had even great emotional looks as they went through their interaction. I just knew Heyman was going to turn things from putting Edge over to burying him as he put Roman over.
They did forget Bryan is in the mix, but something makes me think that's the point. This was "meant" to be Roman VS Edge, they still see it as such, Bryan could still be the fall guy so there's a winner without weakening Roman or Edge. Bryan can respond just by firing off first and tearing into both guys early in the match. But Edge bringing up that insane Hardcore match with Mick Foley, and a Triple Threat being No Disqualifications by default, I almost hope things escalate to where tables, chairs, and whatever else shows up and adds to this match, as it is the biggest match and it'd fit how big they've been hyping it up.