News From Cook's Corner 12.28.20: Brodie Lee
It's Monday. You know what that means.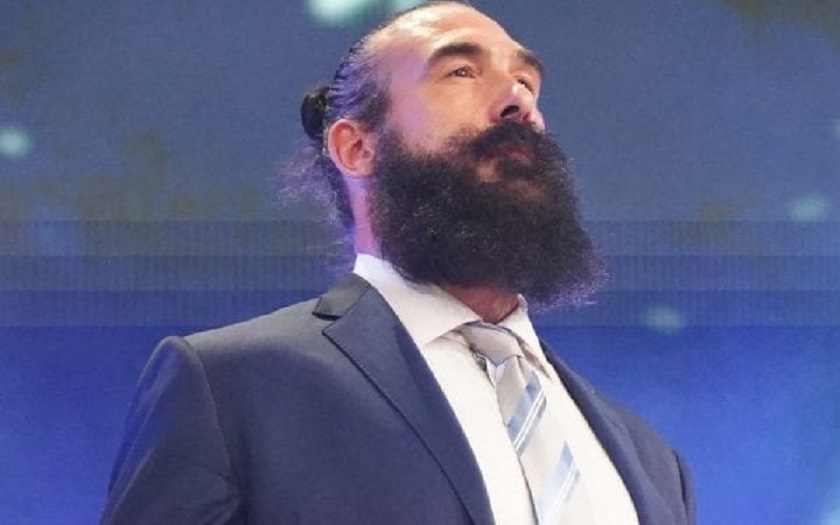 It's Monday. You know what that means.
Another edition of News From Cook's Corner! I hope you all had a Merry Christmas & some Happy Holidays, even though, as usual, we have a lot of death & despair to talk about here. I'd like to talk about other things too, but I am not the one that makes the news. Not high up enough on the totem pole to do that.
We can talk about some of the positive things going on in life before collapsing into death & despair. My Bengals have won two straight games since the last edition of the Corner, more games in a week than they managed in the four months prior. Hey, you take them when you can get them, especially when one is against the Pittsburgh Steelers. Some will say they should be tanking for draft position this time of year, but I figure if you're Zac Taylor and your coaching record through two seasons is what is, you're probably better off having the team show some level of improvement than getting a higher draft pick.
Not that the Brown family has ever made a habit of firing coaches early in their reign, but you never know! I know if I was an older NFL owner and I had the feeling I might not have many years left to win something important, I'd be more likely to give up on a struggling coach early. Just saying!
In more positive news, the Louisville Cardinals got their one victory they get over the Kentucky Wildcats in men's basketball every ten years or so. I swear this rivalry seemed to feel a little bit closer, but maybe I was drinking more when I was kid. Not that it was a terribly impressive showing to beat a 1-6 team by three points, but you take these wins over UK when you can get them. Bragging rights the next 365 days, and since there wasn't a football game this year they can't lord that over us either.
You know what? 2021 might end up being all right.
And now, our last News From Cook's Corner of 2020.
My Next Move
Let's start off with some personal news this week. We all like personal news, right? Ok, here's the deal. There's a pretty good chance I won't be doing this whole wrestling writing thing much longer.
You might be asking why. The answer is pretty simple. I need to pay the bills. Granted, my largest bills these days are to the liquor store, but I still need to pay them. Writing about wrestling on the Internet doesn't pay the bills, unless you're Jeremy Lambert or Jeff Harris or somebody like that.
So, I have a regular job. I don't want to divulge too much information there, but the bottom line is that my professional situation doesn't bring me the personal happiness I desire, and there's little evidence that it ever will. See, old people told me that you weren't supposed to like work. I'm starting to think they're wrong.
What makes me happy? Wrestling, and kinda writing. The writing thing is difficult, but it's a challenge I often enjoy. Unfortunately, as I already stated, writing about wrestling on the Internet doesn't pay the bills. Luckily, I have found a job that can combine my passions, pay the bills, and extricate me from my current situation.
That's right, WWE is looking for a lead writer! I believe I am just the man for the job, as a look at the posting on LinkedIn will prove…
* Manage a team of Writers/Producers to build compelling stories that capture a global audience fitting multiple demographics
I know I have a solid fanbase in countries across the globe. Britain, Finland, Turkey, the Philippines. Men, women & children love my work. I think I've got this part down.
* Lead writing team discussions in brainstorming and laying out weekly episodes and long-term storylines
You guys have heard me lead discussions before. Who betta?
* Responsible for the development of clearly defined yet emotionally sophisticated characters for a diverse group of WWE Superstars through thought provoking, captivating, and creative storylines
Do you know anybody more emotionally sophisticated than me? I've got so many issues I should be writing a magazine. Got so much baggage I need a porter to help carry it. Not to mention, I've provoked all kinds of thoughts from people over the years.
* Edit in-ring promos and backstage segments submitted by writing team members for continuity, character consistency, storyline progression and final punch-ups
My middle name is Continuity. I'm also a pretty darn good speller.
* Compile, write, edit, and take ownership of the drafts for their respective shows weekly, including all promotions, graphics, replays and pop culture references
Easy peezy lemon breezy. I've been taking credit for other peoples' work for years!
* Constructively mentor and critique individual writers to help develop growth and foster a positive team environment
Ask Tony Acero what a mentor I've been to him. Or, maybe just assume I've been a good one and don't ask him about it.
* Incorporate consumer insights and social media to deliver impactful storylines that are consistent with the WWE and Talent Brands
Does anybody know the consumer better than me? I've been consuming way too much WWE product for like thirty years now.
* Deftly pitch ideas and stories to executives in weekly creative meetings
If my middle name wasn't already Continuity, it would be Deftly.
* Produce and direct Talent in a live television environment on a weekly basis
That can't be too hard. WWE independent contractors take direction pretty well. Or else they're gone!
* Collaborate with internal WWE departments as liaisons for the Creative Writing Team
There's something I've always wanted to be: A liaison. Its always sounded fun to me. I don't really care what I'd be liaisoning for, I just want to be one.
* Travel weekly to live taping of RAW or SmackDown as well as Pay-Per View events.
I haven't properly traveled anywhere terribly interesting in years, so this sounds like fun!
So that's what I would be doing. Now, what kind of qualifications do I need to meet?
* 5+ years of TV/Film writing and production experience
I've always thought of my columns like movies. Like how Vince & Dusty always saw wrestling. "We making movies, daddy!"
* Experience supervising a writing team and leading a writer's room
I think most writers feel like they're in a room full of writers when they're by themselves. Or is that just me? Do I need to see somebody about this?
* Experience in all aspects of Live TV production a plus
I was part of my elementary school's news broadcast in the fifth grade. That should cover me, right?
* Knowledge of WWE shows, talent, storylines, and audience demographic/psychographic
Come on now!
* BA/BS in Film, TV, Drama, Media Studies, Communications or similar field of study or proven experience in lieu of degree
I think we can all agree that Political Science & Drama might as well be the same thing these days.
* Located in NYC/Stamford, CT area OR open/able to relocate
So you're asking me to move out of Kentucky. WHERE DO I SIGN?
Hate to say it, but it looks like you guys won't have me around here much longer. Once I remember my LinkedIn password, this job is as good as mine. It's been nice knowing most of you, and I wish a few of you luck!
NXT Going Patless
The Wrestling Observer reported that Pat McAfee won't be seen on NXT for quite awhile, possibly not until Spring 2021. WWE made the call on this one, and although a reason isn't cited in the report, I am making the wild-ass guess that they're trying to make his appearances special. Which makes sense, but he's also the best talker they have on the show. As much as we like Pete Dunne, Oney Lorcan & Danny Burch, none of those guys have ever been in conversation for best talker in their own residence, much less NXT. It'd be a lot easier for them with Pat by their side.
Who would have thought a few months ago that I would be griping about the lack of Pat McAfee on NXT? 2020 has been weird, y'all.
Kylie Returns…to Cameo
We all know that Kylie Rae officially stepped away from pro wrestling a couple of weeks after no-showing Impact Wrestling's Bound For Glory event. She stated that she was currently unwell and needed some time away. Hopefully it's a good sign that she returned to Cameo this week and is offering video messages for $55. Maybe it's just a sign that she needs some money.
Either way, it's nice to see Kylie doing something in the public eye and hopefully it goes well for her. Like I said back when this went down, her mental health is more important than her wrestling career.
Danny Hodge
The man that most old-timers would tell you was the greatest pure wrestler to ever step in a ring passed away last week at the age of 88. Danny Hodge was never defeated while competing at the University of Oklahoma, in fact he was never taken off of his feet. A three-time NCAA Champion and silver medalist at the 1956 Summer Olympics, Hodge was trained in the professional style by Ed "Strangler" Lewis & Leroy McGuirk, and immediately became the top junior heavyweight in the business.
He spent most of his career as the NWA Junior Heavyweight Champion in the days when the ability to work in the ring was more important than having a fireball personality. Obviously, most of Hodge's career wasn't captured on film, but there are some clips you can find on YouTube. While he did some touring as champion, Hodge spent most of his life in Oklahoma and held his greatest number of championships in McGuirk's promotion.
Hodge's strength was attributed to having double tendons in his hands. He was known for being able to crush apples with one hand, a feat he was still showing off in his eighties.
Danny Hodge passed away today. Danny was a champion and frontier in both amateur and pro wrestling, and one of the reasons I entered into pro wrestling. He paved the way for amateurs to make the transition. Thank you Mr Hodge! #RIPMrHodge! https://t.co/XU7Vqe1wwN

— Kurt Angle (@RealKurtAngle) December 26, 2020
Angle is the one guy old-timers think could have hung with Hodge in his prime, which is certainly saying something.
Mr. Brodie Lee
This isn't how things were supposed to end.
The man known as Brodie Lee early in his wrestling career showed so much potential as he drove through the Northeastern independent wrestling scene like a big rig. Whether it was CHIKARA, CZW, Dragon Gate USA, ROH or any other fed he worked, Brodie Lee showed he had the potential to make it to the top of the wrestling industry. He stood out from the pack. Not just because he was 6'5 & 275 pounds, but that sure helped his chances.
WWE signed him, sent him to FCW for development. Luke Harper became Bray Wyatt's right-hand man in the Wyatt Family. He didn't have to change his look, in fact I'm pretty sure he wore the same tank top for most of his wrestling career. The Wyatt Family took WWE by storm early on, and wasn't quite like anything people had seen before.
"Send us someone, just don't send anyone you want back."
Of course, these groups don't last. They always split up. Fans hoped that Luke Harper would get a chance to be a singles star. Many saw the potential…but they didn't have the power to make it happen. The people that did have that power didn't see it. They didn't "get" Luke Harper. There were some moments. Harper did hold the Intercontinental Championship for 27 days. He did have a memorable match with Randy Orton on a PPV that people thought might lead to big things. Hell, the Bludgeon Brothers team with Rowan was fun for what it was.
Eventually, it reached a point where we all knew that Luke Harper had reached his ceiling in WWE. We had faith that he could bust through that ceiling somewhere else.
"You are not the first out of touch old man to not believe in me. But I will make damn sure you are the last."
The Dark Order was a concept that AEW really wanted to work, but really wasn't working. Evil Uno & Stu Grayson were/are a great tag team. Alex Reynolds & John Silver were fine additions to their group. It wasn't clicking. The final AEW show of 2019 ended with the Dark Order doing one of the least convincing beatdowns of babyfaces anybody had ever seen. They became a meme. Most wrestling feds would have given up on those boys & either disbanded the faction or given them the heave-ho down the card to irrelevancy.
Instead, AEW decided that Brodie Lee needed to be the Dark Order's Exalted One. Many of us thought it could be Matt Hardy. There was a time where Marty Scrull could have been the leader, which would have worked given his history with the Elite. Instead, it was Mr. Brodie Lee.
To be honest, some of the Dynamite sketches fell a bit flat. A little too on the nose with the comparison to another Mr. that runs another company. Mr. Brodie really found his place on Being The Elite. That was where Mr. Brodie's minions acted like complete idiots, and Mr. Brodie had to punish them for being complete idiots. Most of my biggest fits of laughter in 2020 came when Brodie would have to react to stupid things that John Silver, Alex Reynolds, Evil Uno or other members of the group did.
Good shit, pal. I couldn't wait until Brodie came back from his recent absence and punished his minions for all the stupid things they'd been doing lately. I mean, these Dark Order folks been acting silly ever since Brodie lost the dog collar match & the TNT Championship to Cody. Surely, Mr. Brodie would have plenty of papers to throw at them once he returned.
The only problem is, he's not going to return. A non-Covid related lung issue led to Jon Huber's death at the age of 41. He leaves behind a wife and two young sons, which is a greater tragedy than anything we can talk about in a wrestling column. In wrestling columns, we talk about things like how Brodie Lee passed just when he was about to reach his full potential. When he was about to become one of those "Legends" that we talk about forevermore.
The more I read on Twitter, the more I realize that people within the wrestling business were already going to talk about Brodie Lee forevermore. Even if he didn't reach certain kayfabe levels that wrestling fans thought he deserved to reach, most people in wrestling already thought of Brodie as a legend. He was just one of those guys that people loved. Even if an office didn't get him, even if he didn't have multiple world championship reigns, he was still a guy that brought a lot of emotion out of people.
Whether you're a WWE or AEW supporter, or you're a fan of a certain brand of indy wrestling here in the USA, you probably got something out of Jon Huber. Whether you were a fan of the Big Rig, or Luke Harper, or Mr. Brodie Lee, you got the best he could give you. The shame of it all is that he had so much more to give. As a wrestler, a husband, a father, a human being.
You never know when it's your time. When Brodie had that dog collar match with Cody, nobody watching had any idea it'd be the last time they'd see Brodie Lee wrestle.
My response when I heard the news was "What. The. Fuck.", and that's still my take on the whole matter.
Thanks for reading. Until next week, keep your stick on the ice.
King's WrestleMania Rewind: Stone Cold VS. Scott Hall (WrestleMania X8)
Chris King is back with another WrestleMania Rewind, looking at the NWO's Scott Hall battling Stone Cold Steve Austin at WWE WrestleMania X8 from Toronto!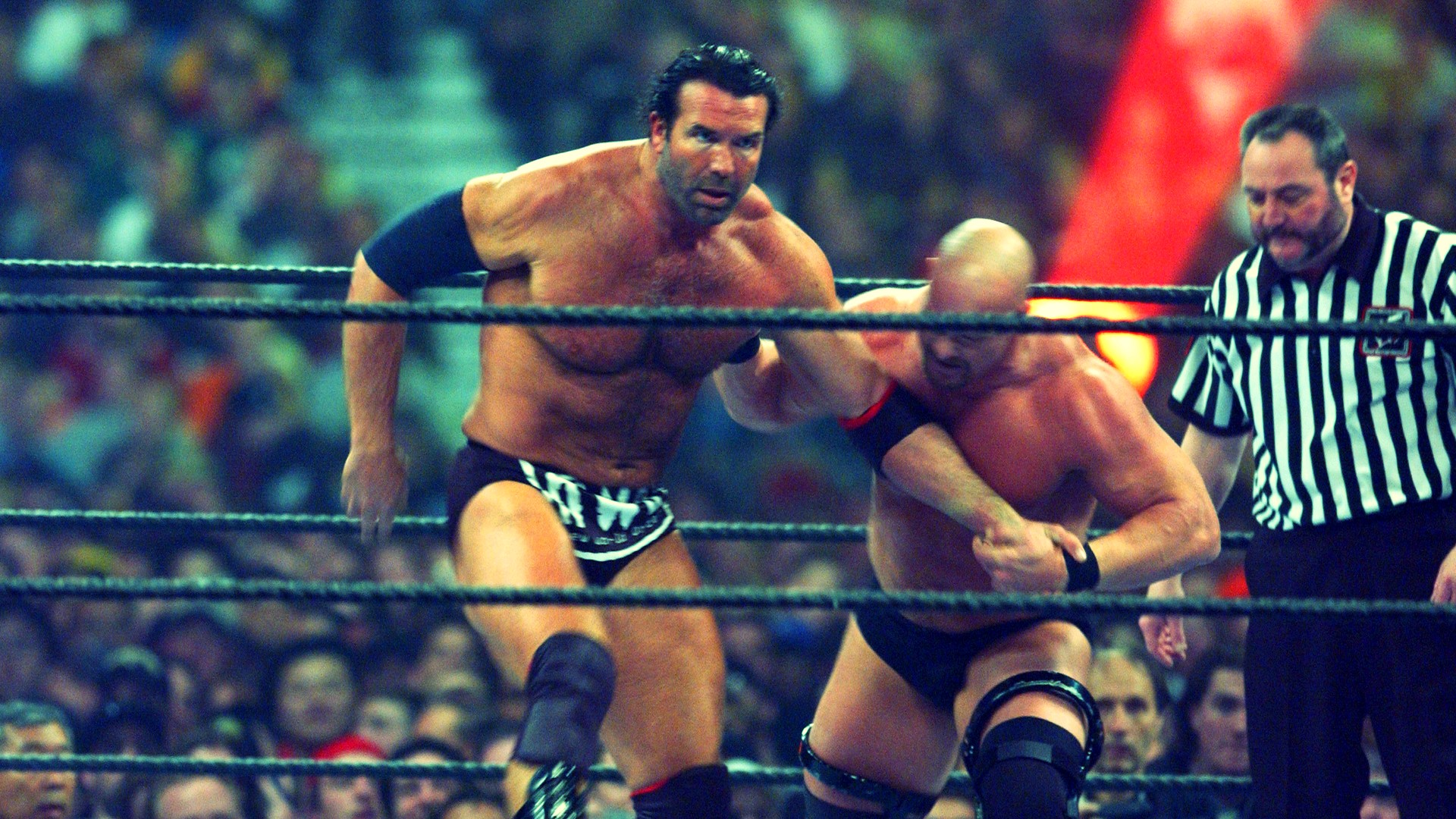 Chris King is back with another WrestleMania Rewind, looking at the NWO's Scott Hall battling Stone Cold Steve Austin at WWE WrestleMania X8 from Toronto!
Chris King is back this week with another edition of WrestleMania Rewind, where he is rewatching all the past Mania matches and feuds. This week you're in for a treat as we look back at 'Stone Cold' Steve Austin vs. Scott Hall at WrestleMania X8.
In late 2001, Vince McMahon bought out his competition WCW and acquired the rights to a plethora of talent including Booker T, Eddie Guerrero, Chris Benoit, and the iconic trio known as NWO. Hulk Hogan; Kevin Nash, and Scott Hall were hell raisers, and what better way to make a name for yourself than take out the two top superstars in the WWE The Rock, and Stone Cold?
The NWO cost Austin his chance at becoming the Undisputed Champion at No Way Out during his match with Chris Jericho. Adding insult to injury, the NWO spray-painted 'The Texas Rattlesnake' with their brand logo just like they did in WCW. As you can imagine, Austin was pissed and out for revenge against the group and primarily Scott Hall.
Hall would challenge Stone Cold to a match at WrestleMania 18. Both superstars beat the living hell out of each other leading up to this highly-anticipated match for who runs the WWE.
The glass broke and Stone Cold made his iconic entrance, and black and white NWO covered Halls' entrance alongside Kevin Nash. With the odds stacked against 'The Toughest S.O.B' could Austin or NWO prove their dominance? Sadly the NWO  broke up that very night when Hulk Hogan came to the aid of his adversary The Rock after their 'iconic' dream match. Stone Cold would ensure the victory with the Stunner. Hall would perform an Oscar-worthy sell over the finisher.
What a time to be a wrestling fan in the 2000s when nothing was impossible for WWE. Who would've thought WCW would go out of business and Hogan would make his long-awaited return to WWE?
King's WrestleMania Rewind: Seth Rollins vs. Kevin Owens (WWE WrestleMania 36)
Chris King takes a look at the most underrated WWE WrestleMania matches, and starts off with Seth Rollins battling Kevin Owens at WrestleMania 36!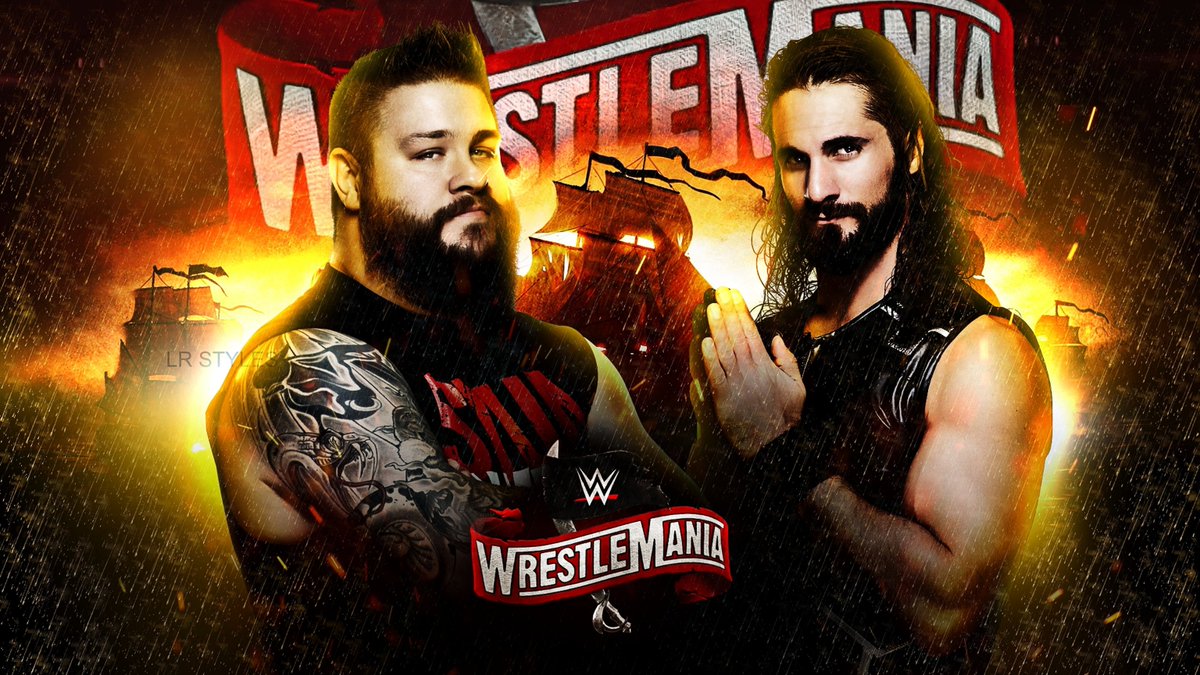 Chris King takes a look at the most underrated WWE WrestleMania matches, and starts off with Seth Rollins battling Kevin Owens in the WWE Performance Center at WrestleMania 36!
Chris King is starting a new series heading into WrestleMania season dubbed WrestleMania Rewind. Each week he'll be going back and sharing his insight over underrated matches at the Show of Shows. First up, is Kevin Owens vs. "The Monday Night Messiah" Seth Rollins at WrestleMania 36.
At the 2019 edition of Survivor Series, Rollins sacrificed himself during the men's traditional match allowing SmackDown to ultimately gain the victory. The following night the self-proclaimed Messiah, berated the whole roster but KO was not having any part of it. Owens quickly became a huge barrier in Rollins' cause for the greater good. The Authors of Pain attacked Owens with Rollins' character in question.
Owens finally had enough of his rival's mind games and torment and challenged Rollins to a match on the Grandest Stage Of Them All. Rollins mockingly accepted his challenge and the match was made official for night one of WrestleMania. Owens came out of the gate beating the holy hell out of the Monday Night Messiah trying to achieve his long-awaited moment at Mania but, Rollins tried to steal a disqualification victory by using the ring bell.
Owens hellbent on revenge provoked Rollins into turning their encounter into a no-disqualification contest where the fight could be taken all over the empty arena. The highlight of the match, was when KO used the WrestleMania sign to deliver a thunderous senton bomb through the announce table. Owens would secure the victory with a Stunner in an incredible match. Despite having no crowd during the pandemic era, both KO and Rollins put on an intense performance under the brightest lights.
In my personal opinion, this was a great feud that helped both superstars in their transformation as compelling characters for years to come.