NXT Minus 6: Sexist Pigs
Dakota Kai recently eviscerated a troll on Twitter. So Brad takes a look at some of the quality women's division work and general highlights from this past NXT!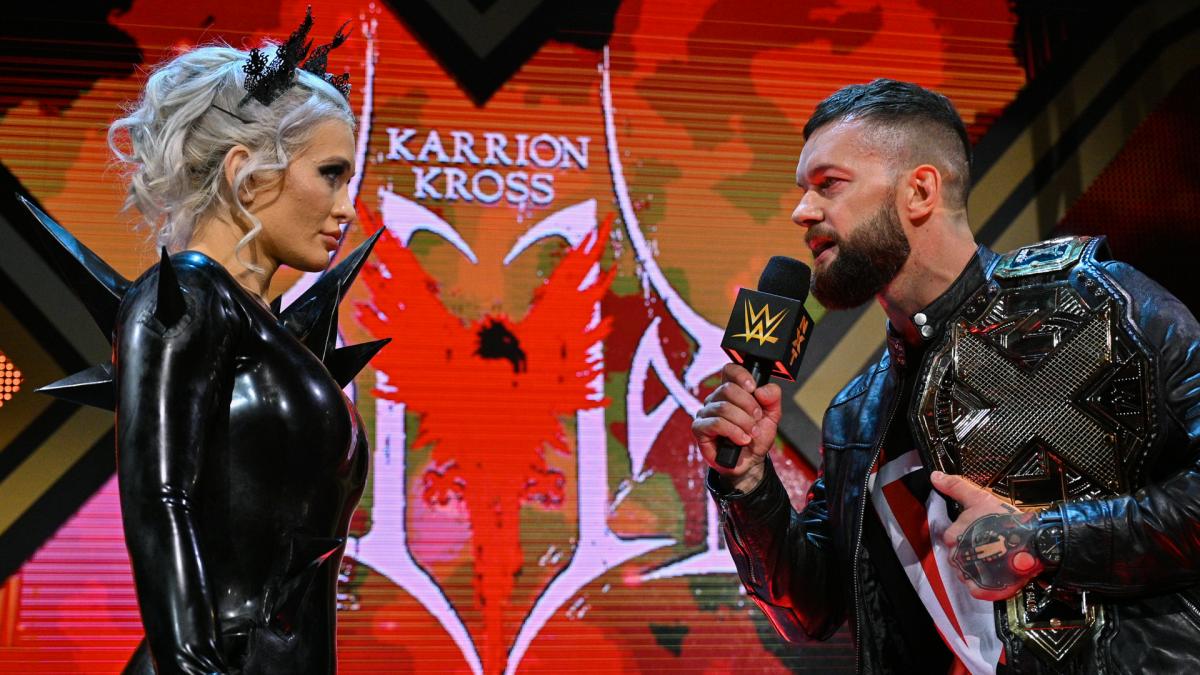 The stereotype has always been that male wrestling fans are sexist pigs. In 100 years, has anything changed?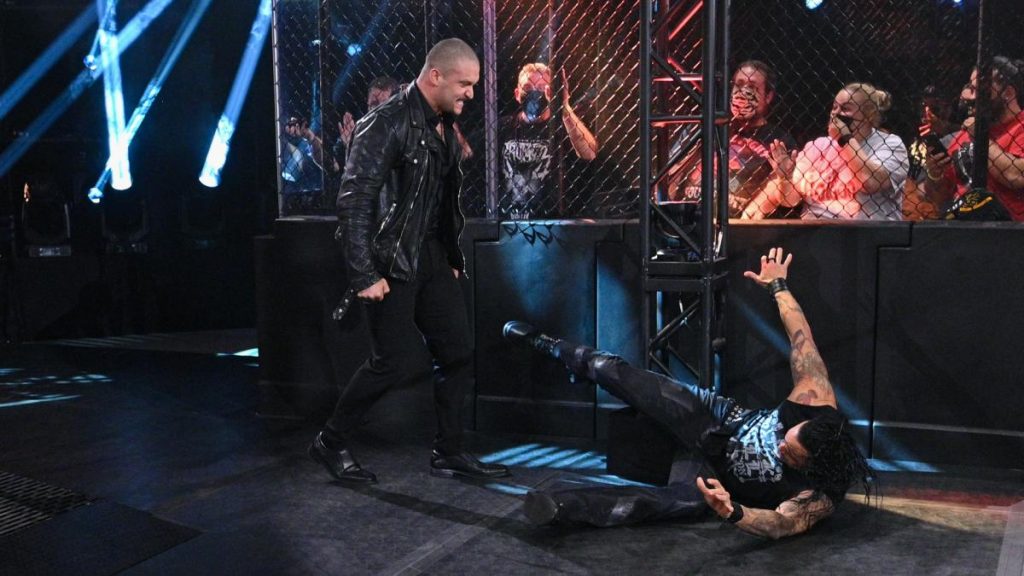 6. Poor Damian Priest. NXT spends all year building him as the next big thing, and now they stick him in a feud he can't win. Karrion Kross is an unbeatable monster who can't work a match longer than 8 minutes. I don't see this ending well for the infinite archer of rock & roll.    
5. I'm a Xia Li fan. I wasn't a fan of this mystery torture angle. But if you watched the promo closely, for a brief moment Xia flashed this crazy grin that said she was starting to enjoy the beatings. Now I can't wait for her to return & start kicking peoples' heads off.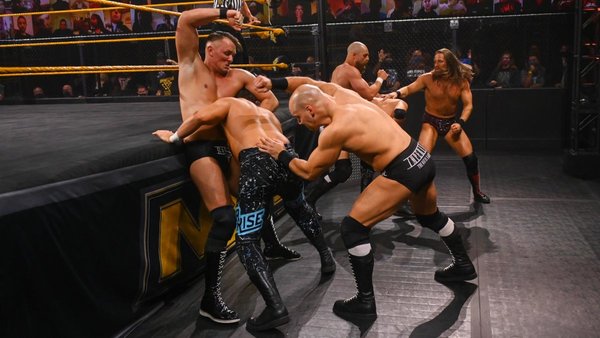 4. The tag team division has been disappointing this year. Undisputed Era hasn't done much. Fandango is blah. Dain/Maverick went AWOL. Then Wednesday night happened, and NXT made up for months of neglect. Ever-Rise is growing on me. I could watch Imperium versus Grizzled Young Veterans every day. As an added bonus, Dain & Maverick are back! The tag team division is fully loaded, and life is good again.
3. Back in March, Raquel Gonzalez made her return to deafening silence. She attacked Tegan Nox, leaving the world to ask "Who are you???" This week, she defeats Ember Moon, a former women's champion, clean in the main event. I feel like Mr. Annoying Indie Music Guy, but I liked Reina Gonzalez & I'm happy to see her get a chance to shine.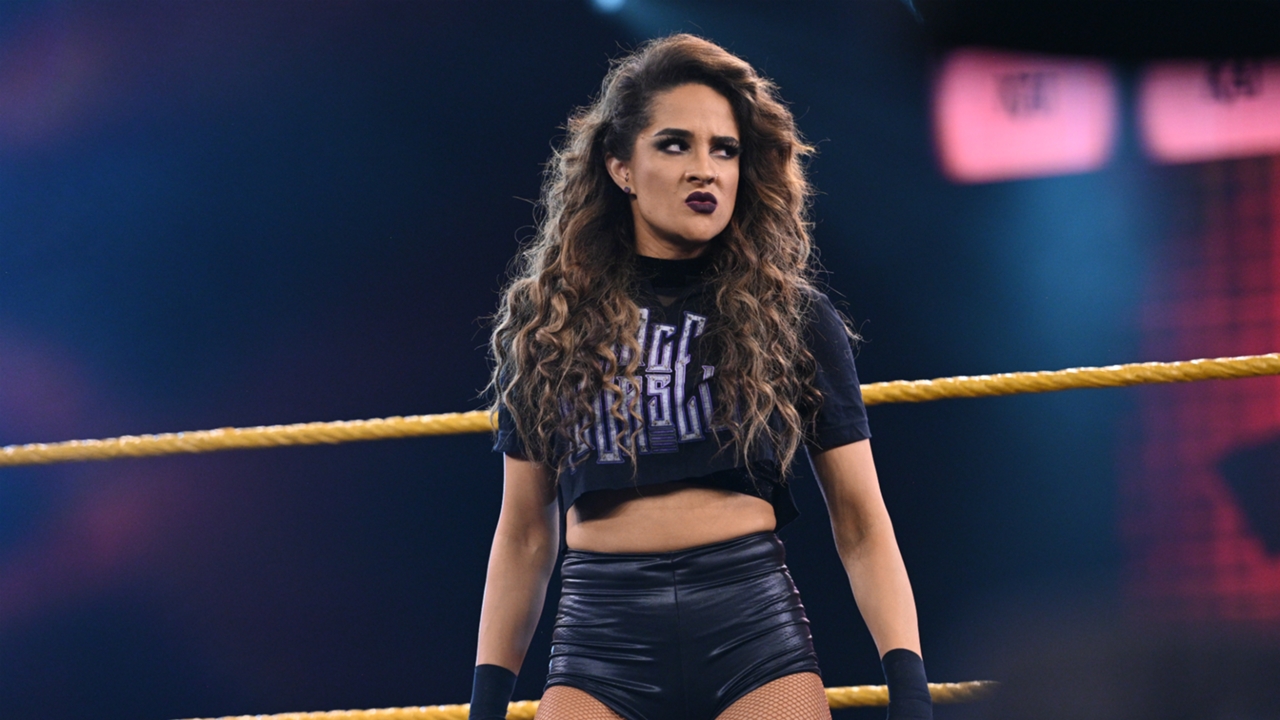 2. Earlier this week, some troll dummy took shots at the NXT women's division, and the comment had nothing to do with in-ring product. Dakota Kai shut the troll dummy down as easily as she kicks an opponent in the face. Now more than ever, I'm a Dakota Guy. But that's not the end of the story… 
1. Male wrestling fans have historically been stereotyped as sexist pigs. Admittedly, that's been accurate…until now. The support for Dakota Kai in her recent Twitter squash match has been overwhelmingly positive. Men are speaking out against the troll dummy who tried to fight above his weight class. No one is telling Kai that she overreacted, just smile and get over it. I get a sense that men actually understand Kai's frustration with the troll dummy. It's been a slow turn, but maybe men are starting to get it. As a man with a mom, sister, wife and daughter, I appreciate all the men making an effort to be something other than a sexist pig troll dummy.
Cook's AEW Revolution 2021 Gambling Picks
Time to gamble on wrestling! Steve Cook is here with your AEW Resolution gambling picks–for entertainment purposes only of course!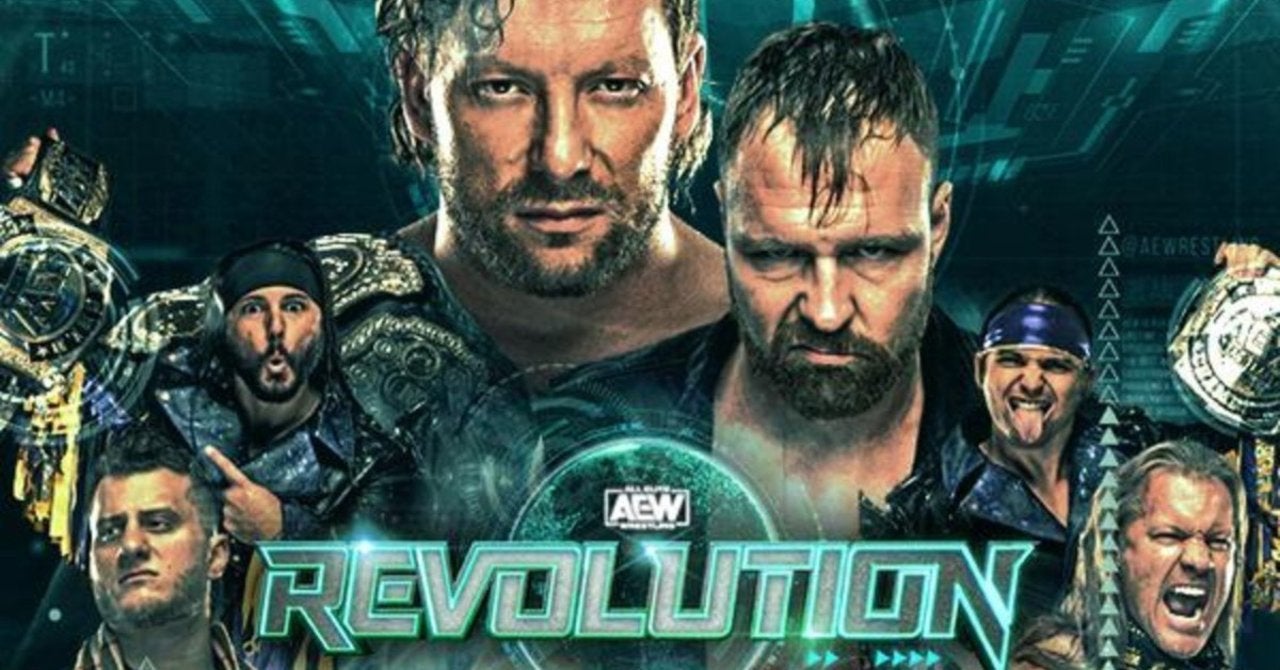 Time to gamble on wrestling! Steve Cook is here with your AEW Resolution gambling picks–for entertainment purposes only of course!
All Elite Wrestling is presenting Revolution this Sunday. Sunday Sunday Sunday. Gotta keep that in mind since they usually run on Saturdays. They didn't this time because of various boxing & UFC events, but ended up booking themselves against the NBA All-Star Game. No, I don't know why the NBA is bothering with an All-Star Game either, but they are!
I liked AEW doing their PPVs on Saturday, as that's a better night for most of their viewers for an exceptionally long wrestling show. This card's pretty stacked, with an 8PM Eastern start time I can see it stretching past midnight. Which is a lot better for most people on a Saturday night. (Doesn't affect me, my work schedule changes every week with no rhyme or reason and I never have a Sunday off. It's a wonderful life!)
I went to BetOnline to find some odds on these matches and had mixed success. Granted, some of these matches were just booked, and others have moving parts. I'm doing the best I can here, people, I'm only one man! As usual, lines are subject to change, and this column is purely for entertainment purposes.
Buy In Match
Thunder Rosa & Riho vs. Dr. Britt Baker D.M.D. & Reba
Wow you're really going to make bruised and battered Reba get in there with a former champ and a deranged dumb ass? The #CONSPIRACY lives on. @AEW @TonyKhan @KennyOmegamanX pic.twitter.com/629AAeSEvu

— Dr. Britt Baker, D.M.D. (@RealBrittBaker) March 4, 2021
Kind of an unfair match here from a kayfabe perspective, as Reba is not officially a wrestler and has also been beat up a bit lately. Unless Dr. Baker is allowed to find another partner, you have to give Thunder Rosa & Riho the advantage here.
The one thing that could go against them: Is Thunder finishing up now that the NWA is re-starting? If she is, I could see her eating one more pin from Dr. Baker. Nah, either way it'll probably be Riho getting the win.
Casino Tag Team Royale
Bear Country vs. Alex Reynolds & John Silver vs. Evil Uno & Stu Grayson vs. Santana & Ortiz vs. The Butcher & The Blade vs. Private Party vs. Top Flight vs. Pac & Rey Fenix vs. Varsity Blondes vs. Matt & Mike Sydal vs. SCU vs. Natural Nightmares vs. Chaos Project vs. Gunn Club vs. Dark Order's 5 & 10 vs. Possibly More
It has all broken down ahead of #AEWRevolution!

REMINDER: The Countdown to #AEWRevolution begins immediately following Dynamite pic.twitter.com/JNpRIn91FV

— All Elite Wrestling (@AEW) March 4, 2021
The winners here get a Tag Team Championship match at some later date. Considering we just had a gigantic tag team battle royal to get Chris Jericho & MJF a title shot at this show, deciding the next contenders through a Casino Tag Team Royale seems a bit repetitive to me. But it's a nice way to promote their new casino app game, so there's that.
Picking a winner in this thing is pretty much like picking one number on a roulette wheel. There are a few teams you can write off pretty much right away, but that still leaves a bunch of possible picks. I think Pac & Rey Fenix could be a pretty fun team to get a title shot, so that's who I'd go with here. Not going to complain if they go with one of the Dark Order teams instead, or use this to get SCU their big title shot to continue the Christopher Daniels angle that I think is still on-going. I think I'd go with Daniels & Kazarian if there were odds on this thing, simply because it's the easiest way to tell that story.
AEW Women's Championship Match
Hikaru Shida vs. Ryo Mizunami
#AEWWomensTournament I won 🏆
Thank you so much for your support 😊✨

I was at the mercy of Nayirah's non-standard power, but everyone's cheers and feelings of not giving up led me to the victory! ️

The party isn't over yet 🔥#AEW #AEWDynamite pic.twitter.com/sWHuPPlwII

— 水波綾 (Ryo Mizunami) (@mizunami0324) March 4, 2021
I have to figure that Shida would be the huge favorite whenever odds get posted for this, and she's going to win so it's not going to be worth betting on. No disrespect meant to Ms. Mizunami, who is a solid in-ring competitor, but I don't see her being the one to take the title off of Hikaru Shida.
Now, if somebody reports in the next couple of days that Ryo is staying here for the next six months, my opinion on this might change. Otherwise, it's Shida all day.
Face of the Revolution Ladder Match
Cody Rhodes vs. Scorpio Sky vs. Penta El Zero Miedo vs. Lance Archer vs. Max Caster vs. TBA
.@CasterShow has now entered The Face of the Revolution ladder match, with still one spot to be filled which will be announced by @TonyKhan.

REMINDER: The Countdown to #AEWRevolution begins immediately following Dynamite pic.twitter.com/W2cTsn0cjV

— All Elite Wrestling (@AEW) March 4, 2021
I haven't seen odds posted on BetOnline, but apparently some books are offering this so you can bet on Cody Rhodes or "The Field". If that's the case, you have to take "The Field", don't you? Especially when there's a mystery guy! The winner gets a shot at the TNT Championship, and Cody can always find another way to get a title shot.
If you can't pick "The Field" and each wrestler is an option, I'd look at Scorpio Sky as a solid choice that should get a favorable price for your wallet. He hasn't wrestled in a couple of months due to injury, but he's been doing a podcast and was acting pretty darn heelish on commentary this week. He's targeted the TNT Championship in the past, and he'd probably have a pretty darn good match with Darby Allin. Of course, there's always the mystery guy too, who they might want to have go over on his debut. I'll stick with Sky as the best way to make money if you can't take "The Field".
Of course, all of this can be voided out if Cody just wants a new nickname.
Best Friends (-160) vs. Miro & Kip Sabian (+120)
"Will you wrestle us at Revolution? Y N Maybe, circle one xo " – @SexyChuckieT & @OrangeCassidy to @ToBeMiro & @TheKipSabian

WATCH #AEWDynamite NOW on @TNTDrama pic.twitter.com/0fZUswOwJr

— All Elite Wrestling (@AEW) February 25, 2021
Trent's out of the picture, so Chuck Taylor & Orange Cassidy are the Best Friends in question here. Easy to see why Orange would be a betting favorite here, as he's one of the most popular people in AEW and has a pretty good win-loss record. I think things go a different way here, as Miro looks ready to step up & become the monster people think he should be, and Kip Sabian deserves some revenge for Charles & Orange ruining his wedding. Go with Miro & Kip Sabian here.
Big Money Match
Adam Page (-350) vs. Matt Hardy (+225)
Adam Page should be sued for slander! This is BS, @tde_gif! pic.twitter.com/dg4qejWNF1

— MATT HARDY (@MATTHARDYBRAND) March 4, 2021
Having Hangman lose to Matt Hardy doesn't make a ton of sense here in 2021. I can make an argument for Matt winning because his spending Hangman's money could be pretty amusing, and Hangman being sad over losing his money would be a pretty typical state of affairs. There's also the matter of all these people Matt has helping him these days.
Maybe throw a few bucks on Matt Hardy if you're feeling froggy, could pay off for you. Personally, I'd rather see Dark Order spending all of Matt's money on BTE. They could finally get a new table for their lair!
Street Fight
Darby Allin & Sting (-450) vs. Brian Cage & Ricky Starks (+275)
THE STINGER SPLASH!!!!!! @Sting #AEWDynamite pic.twitter.com/SZ0r1ygeOC

— All Elite Wrestling on TNT (@AEWonTNT) February 25, 2021
I'd like to be able to make an argument in favor of Team Taz here, but there's really not one to be made. Sting should win every first match he has in a promotion, and he & Darby will come out on top in what will apparently be a cinematic masterpiece. Hopefully AEW does a better job on this one than the Tooth & Nail match!
AEW World Tag Team Championship
The Young Bucks (-250) vs. Chris Jericho & MJF (+170)
So sick of these two pumpkin patch kids running around acting like badasses.

This Sunday we're taking them OUT.

New Tag Champs!

— Maxwell Jacob Friedman™️ (@The_MJF) March 4, 2021
Tony Khan said this will be the opening match, and it should be a doozy with a good amount of emotion behind it. What Jericho & MJF may lack in flashiness & in-ring appeal, they make up for with personality, cleverness & chicanery. If this was a WWE show, I'd pick them without a problem, as Jericho had a pretty crazy amount of random partners he won championships with. Here in AEW, I think the Young Bucks are going to wait to lose to an actual tag team before dropping the belts. We've got an eventual Bucks/Good Brothers match pitting company champions against each other to build to, I assume.
How Jericho & MJF lose the match will be the story going forward for them. Miscommunication? Involvement from somebody else? One of them just gets beat? Time will tell.
AEW World Championship Exploding Barbed Wire Death Match
Kenny Omega (-550) vs. Jon Moxley (+325)
Are you ready for this Sunday, March 7th at #AEWRevolution?
Step inside the exploding barbed wire deathmatch
Watch #AEWDynamite NOW on @TNTDrama

Reminder: Countdown to #AEWRevolution begins immediately after Dynamite. pic.twitter.com/pmy8Y7KG5v

— All Elite Wrestling (@AEW) March 4, 2021
You would think that Moxley would get more love from the bettors, as something like an Exploding Barbed Wire Death Match seems more his speed than Omega's. That just goes to show how little people believe that Kenny Omega can lose the championship at this time. He just seems destined for one of those never-ending reigns, doesn't he? I have to agree with the public on this one, as I don't see Kenny Omega losing this match.
I do see Kenny Omega getting his ass kicked pretty bad during this match. He's not losing the title though.
Steve Cook's Fave Five: March 2021
Cook gives us his quick snapshot of early storylines that might be the important things through the month of March!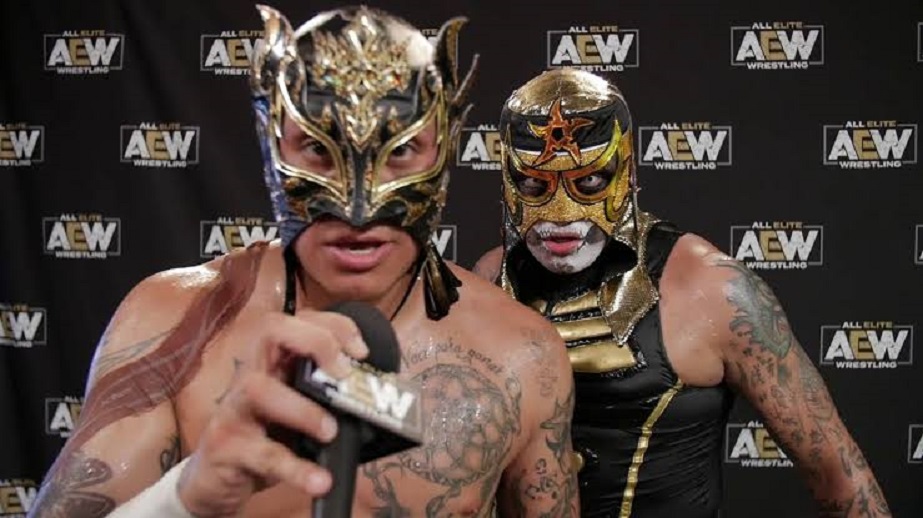 It's March! You know what that means.
It's time for me to channel my inner Booker T and list my Fave Five in the world of wrestling! This list could very well change tomorrow, or whenever this ends up getting posted, but I only type it out once each calendar month. Consider it a snapshot in time.
5. Cameron Grimes
People have been telling me about Grimes for years, going back to his stint with Impact Wrestling. I never really saw it. Decent enough competitor, sure, but he always seemed like Just A Guy to me. Now that he hit it rich on the stock market, he's the most entertaining part of NXT.
Get rid of Finn Balor & Adam Cole and put the strap on Grimes! TO THE MOON!
4. Shane Taylor
One of my criticisms of ROH television over the past several months has been a lack of defined characters. As fun as Pure Wrestling is, everybody involved in the tournament & the division tend to sound the same. Then, with a lot of the main guys, it's tough to tell whether they're good guys, bad guys, or shades of grey. There's a place for shades of grey, but it's tough to be interested in a TV show where you don't know who to root for.
Shane Taylor's presentation suffered from this for me for awhile. I wasn't too familiar with his work pre-pandemic, so I've been getting to know him along with the rest of the ROH talent. From what I can gather, he was working one of those deals where the promotion didn't really want to promote him, which can either make one very popular or largely ignored. The promotion tended to treat him like a heel. Either way, Shane looked pretty darn good in his matches, working a physical style that appeals to fans like me. Apparently it appeals to other people as well, since Taylor was the #1 choice of the fans to get a shot at Rush. Taylor was screwed this time around, but now has a story to sink his teeth into. Nothing wrong with that.
3. Tully Blanchard
2021 is quickly becoming the year of the olds. WWE has seen Goldberg & Edge emerge as top championship contenders. Keiji Muto won the GHC Heavyweight Championship. Tommy Dreamer celebrated his birthday by challenging for the Impact Championship. Sting will be taking part in a street fight this weekend.
Age is only a number, and Tully's number is a little higher than these other men. He also spent more time out of the ring. Nearly fourteen years since he had any kind of match, but he went into Wednesday night with all guns blazing. J.J. Dillion was in the corner. Tully was wearing his classic robe & the silver US Heavyweight Championship, while FTR donned the classic NWA World Tag Team Championships. All the old school feels were being had before the match, and after the match as well, when Arn Anderson looked on from the entrance and flashed that familiar hand signal.
From one generation to another… Top Guys do Top Guy things. ✌️ #AEWDynamite #AEWonTNT pic.twitter.com/Qr0mOy5InG

— TDE Wrestling (@tde_gif) March 4, 2021
Tully had plenty of talent around him to make the match work, but he hit his spots well. Marko Stunt's good to have around so he can take a slingshot suplex. JJ got to give his shoe to somebody to use. It ended up being a fitting tribute on the night of Jim Crockett Jr.'s passing, and maybe a sign that Tully's got a little more left in the tank. (Multi-man would probably be for the best though, I'm not as confident that he can hang with Kenny.)
2. Bobby Lashley
As expected, The Miz joined the likes of Ivan Koloff, Stan Stasiak, the Iron Sheik and other men whose world championship reigns merely existed to get the title from one person to the other without having them face off. In the case of Bobby Lashley, it's because they didn't want him to beat Drew McIntyre for the title, so their eventual match will be a first-time (in this particular WWE run) meeting. It makese sense, and Miz played his part well, as you'd expect.
Now is Lashley's time, and one can wonder why it took so long. The guy looks like what'd you'd expect a WWE Champion to look like. Huge. Powerful. Dominant. He fits the prototype of what Vince McMahon would have seen as an appropriate champion back in the day. Is there anything there that Vince wouldn't like?
Bob seems to be on a collision course with Drew at WrestleMania, and that should be a pretty solid piece of business.
1. Rey Fenix
Every match Rey Fenix is in, it can easily be match of the night 🔥 pic.twitter.com/wVyauFh9iV

— The Real One (@WWEREALONE) February 18, 2021
I don't know who the "best in the world" is, but Rey Fenix is the most exciting wrestler currently gracing televisions & other viewing devices. All he does is go out there and deliver every time he's out there, if you see him listed on a card you know it's going to be a good match.
AEW seemed a bit slow to capitalize on Fenix's abilities, but since 2021 began we've seen the masked man getting bigger matches. His win-loss record hasn't been the best, as he's come up short against Kenny Omega & Lance Archer and eaten the pin in some multi-man matches. He's still making people take notice, and I'd be surprised if Fenix doesn't jump up to the next level sometime this year.
My favorite wrestler to watch right now, which is how one tops a list like this one.