Rob: Enough with the Ratings Talk!
A very popular topic with the IWC since AEW airs against NXT and RAW has had historic low viewership. Do you share Rob's exhaustion?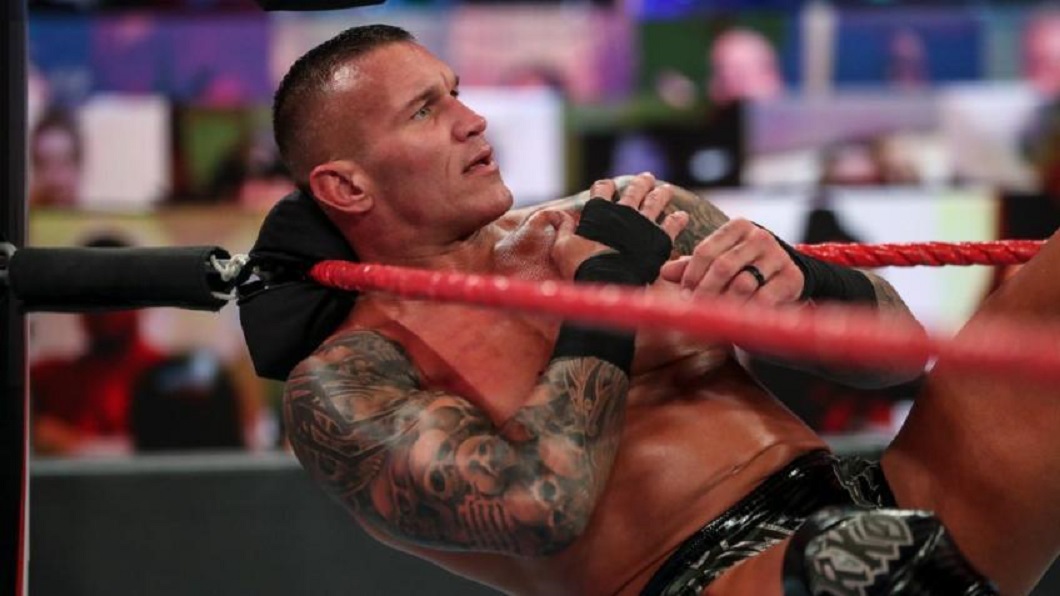 So here we are, back to ratings talk.  Why?  Because things have gotten extra stupid over the past few weeks. It started off with two excellent weeks for AEW Dynamite where they rolled out Shaquille O'Neal to start hyping a future match, had a World Title match where Kenny Omega defeated Jon Moxley to become champion and revealed his alliance with longtime friend and Impact Wrestling producer Don Callis, and gave us the surprise return of Sting to pro wrestling on TNT where he used to star on WCW Monday Nitro in a truly magical moment.  The numbers soared, dwarfing rival NXT on USA and prompting that esteemed journalist Bryan Alvarez to tweet that NXT was 'in the mud'.  Now why someone who does not work for AEW would be tweeting so triumphantly to provoke people is beyond me, but that's what he does.  But he didn't stop there; he felt the need to share with us that last week's AEW Dynamite did better ratings demo numbers than Monday Night Raw did this week.  Never mind that Raw was up against Monday Night Football and an address by President-Elect Biden while Dynamite was up against…….the usual Wednesday night cable fare that it faces every week.  But he was not done, because then this past Monday night happened.
This Tuesday may have been the peak for stupidity in wrestling ratings talk.  You see, RAW had it's 'worst night ever' and that launched a thousand bad takes from Alvarez to damn near every clickbait site to random people on Twitter.  Alvarez gleefully guessed that Dynamite this week would beat all three hours of RAW since the total viewership number was so low this week.  And then………plans changed, I guess.  Dynamite fell from 995,000 viewers to 806,000 this week and more importantly dropped hard in the demo numbers, so hard that all three hours of the Worst Ever Raw audience number rated better.  So now for this week at least Bryan Alvarez is, in his words, in the mud.  And completely by his own doing!  But this week should have demonstrated once and for all the sheer stupidity of both Wrestling Twitter and narrative pushing buffoons like Alvarez and his boss Dave Meltzer when it comes to the subject of TV ratings.
There are a few rules that always apply to ratings talk.  Here they are:
Most of the people who make hay about them are lying, ignorant, or both
90 percent of the ratings related tweets are people trolling for engagement
What actual TV people say matters, not dirtsheet writers
If you spend a whole day tweeting about ratings you're a dork
Ratings are not a reflection of quality (see cable news)
Now let's look at these 'worst ever' numbers.  For each of it's three hours RAW did 1.627 million, 1.512 millon, and 1.441 million viewers.  The three hours finished 6th, 10th, and 12th in the cable TV ratings for the night.  It's the 1.441 that's getting all the attention.  The Monday night game was a nailbiter that was tied late in the fourth quarter and had a lot of exciting plays.  It was the best Monday night game of the season, easily, and it did 12 million viewers.  The top 3 shows were the game itself, the pregame show on ESPN, and the Sportscenter that immediately followed.  Monday Night countdown, the pre-pregame show, was 9th.  As for the rest of the top 12 four shows on CNN either carrying or talking about Biden's address were there at 5, 7, 8, and 11.  The only show in the top 12 that wasn't about football or Joe Biden was Below Deck on Bravo that finished 4th.  By contrast AEW Dynamite finished third on Wednesday night with 806,000 viewers and demo numbers lower than all three hours of RAW.
What does all that mean?  Well, half the total viewers and a lower demo number (.32 for Dynamite vs .44, .42, and .38 for the three hours of RAW) was enough to get them third place on Wednesday whereas on Monday those same numbers would have put them in 16th, and that's if we're being generous and saying that they wouldn't lose any viewers to Monday Night Football (it chops a few hundred thousand off of RAW, no reason it wouldn't do something proportional to Dynamite).  The short version is that more people watch cable TV on Monday and there's more competition for viewers right now, so you don't have to score as high on Wednesday night to finish higher in the ratings.  RAW has been up against the biggest show on all of cable every week, several other shows that feed directly off of it, and the first night of the week for cable news in a year with a pandemic, protest marches galore, and presidential election coverage and still manages to get all three hours in the top 12 every week.  Dynamite runs against………..the third WWE offering of the week, some other standard cable fare, and night three of the weekly news coverage.  So it finishes third but with a smaller audience and demo numbers against far lesser competition.
So what do we take from all this?  The same thing I've been telling you to take from it ever since Dynamite went on air, that ratings talk is dumb because every one of these shows from RAW to Dynamite to NXT to Smackdown on Fridays to MLW and Impact Wrestling on their respective channels is doing what their channel needs to do for them.  And that's all that matters.  I told you before that TNT didn't have one show that finished in the top 150 on Wednesday night before Dynamite debuted and that all that they needed was to regularly make that list while not costing the network too much money.  I told you that outside of RAW, USA Network had Todd Chrisley and nothing else so as long as NXT charted on Wednesday night at all they'd be safe no matter how they fared against Dynamite.  And finally I and many others here at the Chairshot have told you that as long as RAW remains in the top 5 to 10 every week they are in no danger on Mondays.  Right now there is no evidence of that changing anytime soon so all this Wednesday Night War talk is a bunch of nonsense ginned up by charlatans and people desperately seeking attention on the internet, as is all the gloom and doom on Monday night talk.  It is literally trolling for dollars and traffic.
And now for the last rule on my list.  For years the internet wrestling discourse has gone like this in several places:
Dirtsheets/podcasts/YouTube guys rant about how RAW sucks, predict impending doom for WWE
Some people disagree
Ranters point to ratings as proof that they are indeed right, because if it was so good the ratings wouldn't be going down
Those who disagree try to put things in proper context regarding ratings, and get called WWE stans or bootlickers or enablers
Rinse and repeat
Now look, nobody (and I mean nobody) is saying that all three hours of RAW are perfect every week.  It's a three hour show, it has ups and downs throughout.  But proclaiming that it is terrible and then pointing to declining total viewership numbers, as if those aren't down for everything  because people don't watch TV live like they used to, as proof of your take is a joke.    But it speaks to an ongoing issue the IWC displays on an almost daily basis: the need for validation of our fandom.  It's why so many people use the Attitude Era as a reference point.  It's not enough for you to watch a show and like it; no, if wrestling is not a topic for common folk to discuss lovingly then they must be doing it wrong.  If it's not out there at the forefront of pop culture then it's failing.  No, not really.  When it had it's biggest footprint you had four of the biggest mainstream attention getters and money draws ever working at the same time – Stone Cold Steve Austin, the Rock, Hulk Hogan, and Randy Savage. They literally had a guy on every Monday who was so talented a performer that he would go on to become the biggest movie star in the country a decade later.  That my friends is what we call an anomaly.
Another thing is that if you go back to whatever period you consider to be the good old days and read what was being said about the WWE (or WWF) then, it's very similar to what you see being said now.  Dave Meltzer has said or implied that Vince McMahon doesn't know what he's doing in 1985, and in 2002, in 2020, and all points in between.  Seriously you can read some of his reports from 2002 and they sound like they were written in 2020.  It's not uncommon to see people on Twitter pine for the days when things were better in 2016, which is really rich when it's still fresh in our mind how much people were trashing it then.  Regardless of how good bad the shows really are these guys write and say the same things year in and year out, whether it was the middle of the boom period or the dark times in 2007 after Chris Benoit's murder/suicide came really close to taking he business down.  The business would so much bigger if Vince didn't have his head up his ass……pick a year and Dave or one of his contemporaries is saying something like that.  Is that really true though?  Is a clueless man the most successful in the business, or is it just that these gus don't like what he does?
The reality is more like what we have now.  Everyone knows pro wrestling exists but most people don't watch it and can't name but maybe a few people who are active today.  But the major companies can still find avenues to make good money regardless.  WWE is posting higher revenues and profits now than ever.  AEW is on prime time every week on TNT.  Impact's owners, Anthem, bought a whole TV network (AXS TV) so they had somewhere to broadcast them.  MLW has re-upped and is looking to expand on the BeIn network.  The indie scene was doing well before COVID hit.  So as fans we have little to worry about for the time being, and absolutely nothing to prove.  Ratings in every case are good enough to keep every company on TV, and they all know how to scale their operations to be profitable.  So what are we fighting for?  Do you really need people to co-sign what you watch to feel good about it?  If you do, get some help and learn to accept that you're a wrestling fan which means you're a bit of a weirdo by society's standards.  Deny it all you want but if you got this far then you've read over a thousand words about TV ratings numbers for shows about fake fighting.  So yeah, you're a bit out there just like the guy who wrote it.  But who cares!  Be who you are and enjoy this stuff for once, will ya?
NXT Minus 6: About that Cole-O'Reilly match…
It was the Takeover match that held the most promise. Where did it go wrong?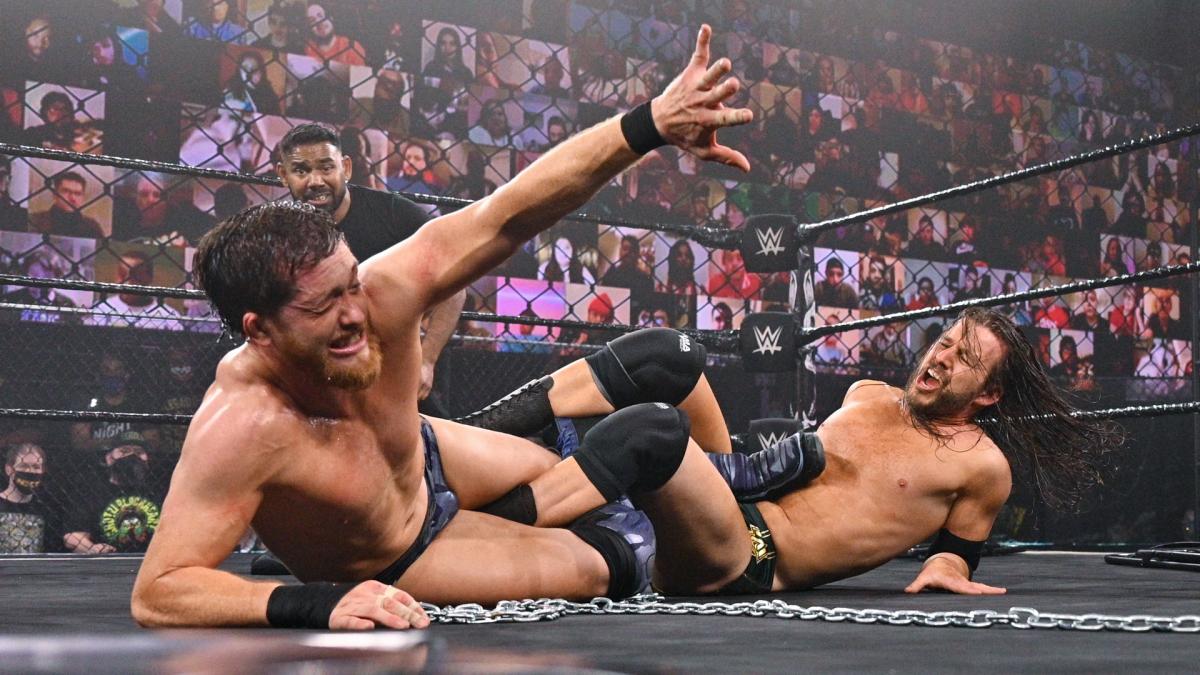 It was the Takeover match that held the most promise. Where did it go wrong?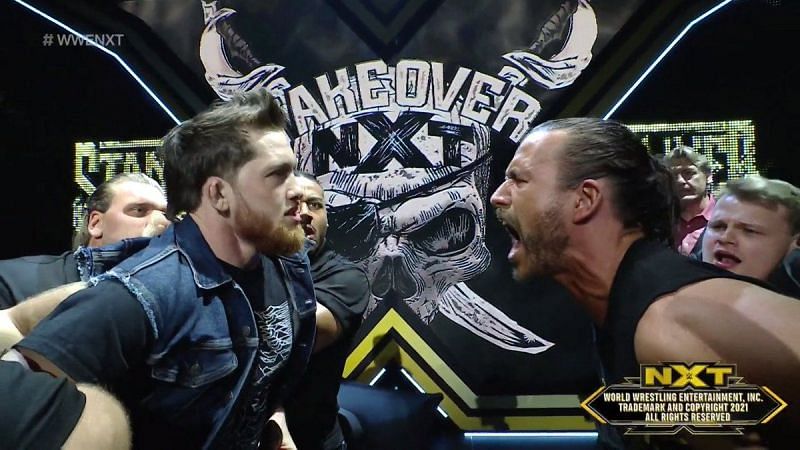 6. I was jacked to 11 for Adam Cole versus Kyle O'Reilly. I was ready to give it a Tokyo Dome 6 stars. MOTY before the bell rang. A masterwork of storytelling. I correctly predicted it would be an unsanctioned match. Then the action started, and it quickly became "be careful what you wish for because you just might get it."
5. After the first few acts of violence, it was apparent that the problem with the match would be the stipulation. The last NXT unsanctioned match was Johnny Gargano versus Tommaso Ciampa in 2018. That was 3 short years ago, but things move quickly in today's world. There is very little chance an unsanctioned match can deliver the level of violence it promises as long as NXT is on the PG-13 Peacock.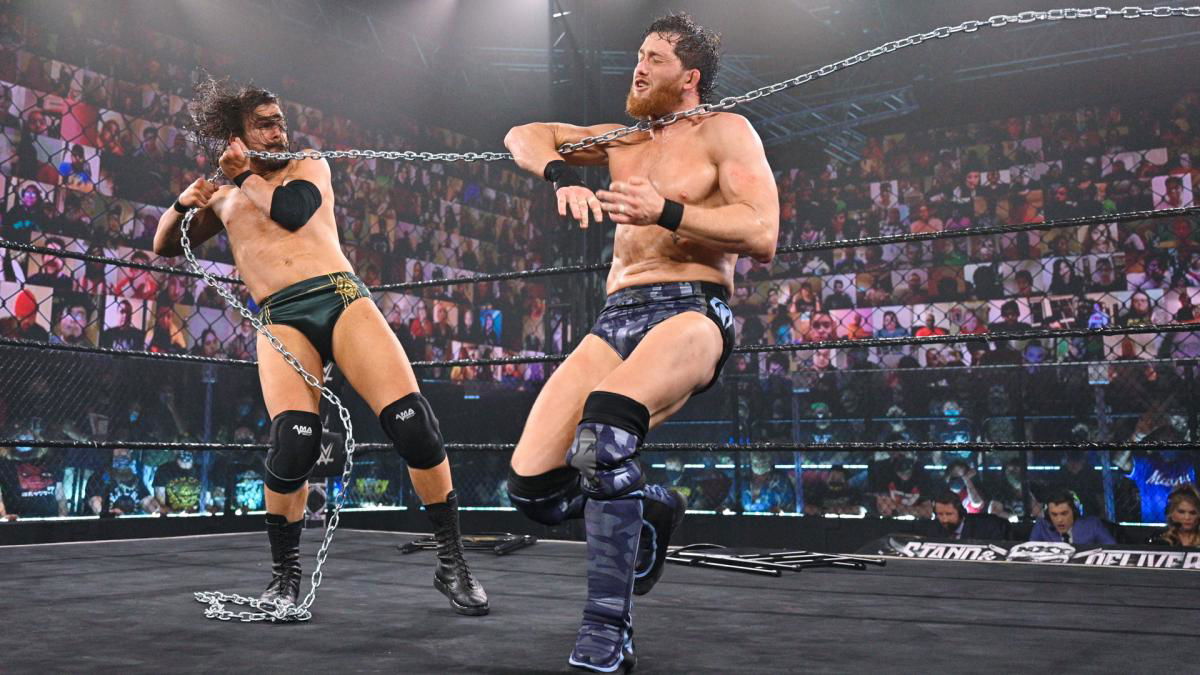 4. Fans are losing their minds over all the content Peacock is leaving on the cutting floor. A lot of it was offensive and would never work today, but that's not the point. The fact is there's only so much violence Peacock's parent company NBC will tolerate from wrestling. Take the chain, for example. Other than the clothesline, it was practically useless. O'Reilly tried to make it work, but it fell flat. In an unsanctioned match, 20 feet of heavy duty chain should be all you need to decimate another human being.

3. Maybe I'm a victim of my own wrestling memory. An unsanctioned match in Memphis in the 80's would have been a bloodbath. Someone would have been hung over the top rope with the chain around his neck. Whipped across the back. Hog tied. Someone would have wrapped it around their fist for a few stiff shots to their opponent's forehead. But that goes back to my original point. None of that would fly today even if NXT was only on the WWE network.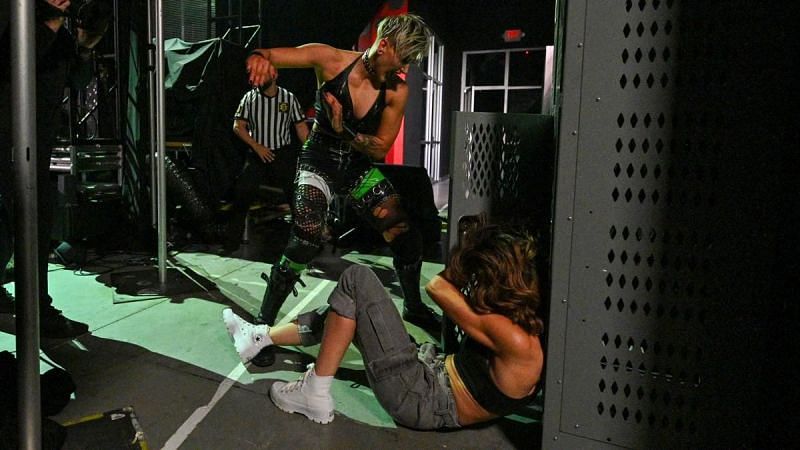 2. I'll go so far as to say the only violent-promising stipulation that interests me is Falls Count Anywhere. There is zero drama in wrestlers pulling chairs from under the ring. The chance to use the naturally occurring environment as a weapon still holds a world of suspense. Someone is going through windows, walls, off the stage, over the guardrail, stuffed in a locker. Honestly, I'm tired of people getting hit in the stomach with folding chairs. Of all the ways to hit someone with a folding chair, that's the least practical. 
1. I'm sorry to say Kyle O'Reilly versus Adam Cole didn't deliver what I expected. Maybe I'm in the minority. Maybe I don't need over-the-top violence to entertain me. Maybe I don't need wrestling to keep pushing the envelope. Five of my top 6 matches of 2021 are straight up wrestling matches. Maybe all I need is two (or three or four) strong characters and a good story. Damn, I sound old. 
Andrew's Top 5 Matches: Week Ending 4/11/2021
WrestleMania week is back in the usual form with a whole lot of wrestling, and not a lot of sleep. The article was delayed a little to allow for me to try and watch as much as I could given other coverages and plans I had. See what you think about the Top 5!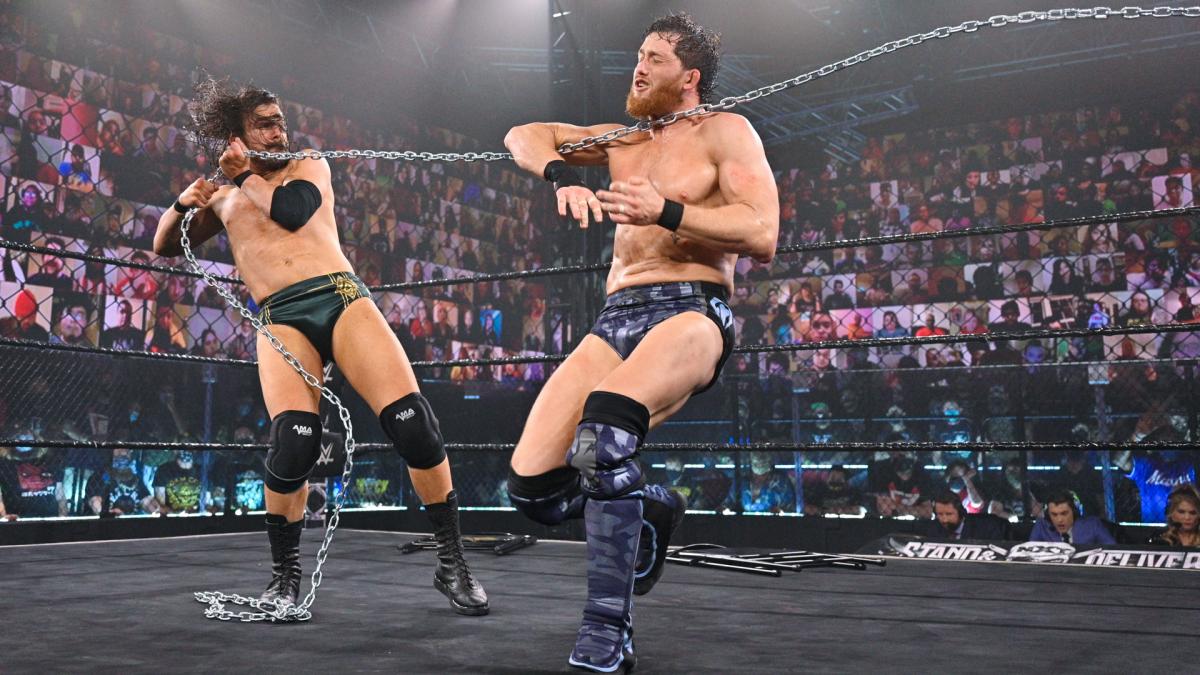 WrestleMania week is back in the usual form with a whole lot of wrestling, and not a lot of sleep. The article was delayed a little to allow for me to try and watch as much as I could given other coverages and plans I had. See what you think about the Top 5!
Firstly, we have to assess which match won March, and what our current Match of the Year Pool looks like!
MOTY Pool:
January: NJPW New Beginning Nagoya: NEVER Openweight Championship: Shingo Takagi (c) vs Hiroshi Tanahashi
February: NXT Vengeance Day: North American Championship: Johnny Gargano (c) vs Kushida
March: NJC 3.21.21: NJC Finals: Will Ospreay vs Shingo Takagi
Shingo managed to stack the deck a little bit, and he pulled off having one of his matches win March! So we're starting off with 2021 Year of the Dragon, and with another Ospreay match on the horizon, well – let's hope that this week's Top 5 blows some doors off!
The winning match from last week was AEW's retirement tussle, AEW Dynamite: Christian Cage vs Frankie Kazarian, which might get lost in the wash this month, but we'll see!
Now we get to the Top 5!
Quick Top 5:
NXT Stand & Deliver Night 1: NXT UK Championship: Walter (c) vs Tommaso Ciampa
Rating: **** 3/4
NXT Stand & Deliver Night 2: Unsanctioned Match: Adam Cole vs Kyle O'Reilly
Rating: **** 1/2
WrestleMania 37: Cesaro vs Seth Rollins
Rating: **** 1/4
WrestleMania 37: SmackDown Women's Championship: Bianca Belair vs Sasha Banks (c)
Rating: **** 1/4
AJPW Champion Carnival 4.9: Zeus vs Kento Miyahara
Rating: **** 1/4
Honorable Mentions:
AJPW Champion Carnival 4.10: Jake Lee vs Suwama
Rating: ****
NXT TakeOver Stand & Deliver Night 2: NXT Championship: Finn Balor (c) vs Karrion Kross
Rating: ****
WrestleMania 37: WWE Universal Championship: Roman Reigns (c) vs Daniel Bryan vs Edge
Rating: *** 3/4
Impact Wrestling Hardcore Justice: Mystery Partner Triple Threat Tag Match: Ace Austin & Madman Fulton vs TJP & Fallah Bahh vs Josh Alexander & Petey Williams
Rating: *** 3/4
NXT TakeOver Stand & Deliver Night 1: NXT Tag Team Championships: MSK vs Grizzled Young Vets vs Legado del Fantasma
Rating: *** 3/4
AJPW Champion Carnival 4.11: Zeus vs Suwama
Rating: *** 3/4
WrestleMania 37: WWE Championship: Bobby Lashley (c) vs Drew McIntyre
Rating: *** 3/4
IMPACT!: Eddie Edwards, Willie Mack & Rich Swann vs Good Brothers & Kenny Omega w/Don Callis
Rating: *** 3/4
AJPW Champion Carnival 4.10: Shinjiro Otani vs Kento Miyahara
Rating: *** 3/4
Bloodsport 6: Josh Barnett vs Jon Moxley
Rating: *** 1/2
AJPW Champion Carnival 4.10: Shuj Ishikawa vs Zeus
Rating: *** 1/2
Impact Wrestling Hardcore Justice: Hardcore Wars: Team Dreamer (Tommy Dreamer, Eddie Edwards, Rich Swann & Willie Mack) vs Team VBD (Eric Young, Rhino, Joe Doering & Deaner)
Rating: *** 1/2
AJPW Champion Carnival 4.11: Kento Miyahara vs Shotaro Ashino
Rating: *** 1/2
WrestleMania 37: WWE United States Championship: Sheamus vs Riddle (c)
Rating: *** 1/4
Impact Wrestling Hardcore Justice: Title vs Career: Knockouts Championship: Jazz vs Deonna Purrazzo (c)
Rating: *** 1/4
AJPW Champion Carnival 4.9: Yuma Aoyagi vs Shinjiro Otani
Rating: *** 1/4
WrestleMania 37: Bad Bunny & Damien Priest vs Miz & John Morrison
Rating: *** 1/4
WrestleMania 37: Kevin Owens vs Sami Zayn
Rating: ***
NXT TakeOver Stand & Deliver Night 1: NXT Women's Championship: Io Shirai (c) vs Raquel Gonzalez
Rating: ***
NXT TakeOver Stand & Deliver Night 1: Pete Dunne vs KUSHIDA
Rating: ***
IMPACT!: Matt Cardona vs Jake Something
Rating: ***
AJPW Champion Carnival 4.11: Shuji Ishikawa vs Yuma Aoyagi
Rating: ***
Impact Wrestling Hardcore Justice: Doc Gallows w/Karl Anderson vs Black Taurus w/Rosemary & Crazzy Steve
Rating: ***
WrestleMania 37: WWE Raw Women's Championship: Asuka (c) vs Rhea Ripley
Rating: ***
AJPW Champion Carnival 4.9: Suwama vs Kohei Sato
Rating: ***
Impact Wrestling Hardcore Justice: Number 1 Contender: Knockouts Hardcore Gauntlet: Rosemary vs Tenille Dashwood vs Jordynne Grace vs Alisha Edwards vs Havok vs Su-Yung
Rating: ***
NXT TakeOver Stand & Deliver Night 2: NXT Crusierweight Championship Unification: Santos Escobar vs Jordan Devlin
Rating: ***
Impact Wrestling Hardcore Justice: Crate American Bash: Johnny Swinger vs Matt Cardona
Rating: ***
WrestleMania 37: WWE Raw Tag Team Championships: AJ Styles & Omos vs New Day (c)
Rating: ***
3t. AJPW Champion Carnival 4.9: Zeus vs Kento Miyahara
Zeus and Kento have had great wars. There was a point a few years ago where Kento was Zeus' hurdle, but after beating him for the Tag titles, he then gathered momentum. Zeus has beaten Kento for the Triple Crown before, has beaten him in the Carnival, and this has been one of the best rivalries of the last few years in current AJPW. Kento is of course the current generation Ace, and everyone knows that; but given Zeus' track record and Kento's stagnation the last year since losing the Triple Crown to Suwama, we could get something interesting.
The match starts with their usual sarcastic respect to one another during breaks and outside the ring moments. Given that they've had 2 5 Snowflake classics in the last 3 years, this had a lot to live up to. But at no point did it feel like retreading, since they are both in different positions comparatively, this felt like a whole new book, not an additional chapter. Zeus landed a lot of power spots while Kento combated everything with his Knees.
Kento's usual attack of Blackouts from different angles rocked Zeus pretty hard. Zeus ate a few, grabbed a Chokeslam and they both landed for a rest spot. Zeus drives Kento into a corner, goes for an Outside-In Brainbuster and starts trying to end things. Kento goes for the Shutdown Suplex, Zeus fires out, a few big Lariats and a Jackhammer from Zeus…AND ZEUS WINS!
Winner: Zeus via Jackhammer
3t. WrestleMania 37: SmackDown Women's Championship: Bianca Belair vs Sasha Banks (c)
Bianca catches some of Sasha's high speed offense and does powerbomb pinfalls as Sasha kicks out of the first two, reversing the third with an X-Factor and taking control back with a Tornado DDt for another near fall. Banks now goes to the top for a Frog Splash. Sasha gets her anger and ruthlessness to wrap Bianca's hair around her opponent into a Bank Statement and somehow, Bianca powers through and gets to the ropes before Sasha starts stopping on Bianca's face after the break. Banks keeps going with the trash talking but Bianca shoves her into the corner post with some Shoulder Tackles and sets her up for a Superplex. Sasha fights her off and attempts a cartwheel kick before Sasha grabs the feet into a Tree of Woe position to land a Meteora. Sasha misses the first one, goes to a knee strike from the Tree as Bianca sits up so Sasha lands knees first into the turnbuckle and eats a 450 Splash for a near fall. Sasha tries to get control again after but gets whipped in the midsection with Bianca's hair and after a fight to swing around, Bianca grabs Sasha up and lands the Kiss Of Death to win her first Women's Championship in WWE.
Winner: Belair via KOD
3t. WrestleMania 37: Cesaro vs Seth Rollins
This truly is the biggest match in Cesaro's career–but it's also one that would further cement Rollins as a Hall Of Famer.
I've been picking Cesaro here as I can imagine Rollins wants to make him in this one match.
Also, surprised that we haven't seen everyone wearing white tonight, as we typically see a lot of at WrestleMania. It's a welcomed change, I did all the black gear.
Nice to see that the Big Swing is a part of the match's storytelling.
Corkscrew Splash! Seemed less effective that way–but more impressive.
Fans REALLY want to see Cesaro get the win, and I am with them.
Stomp into European Uppercut + 23 Rotation Big Swing + Neutralizer = CESARO WINS
Winner: Cesaro via Gotch Neutralizer
2. NXT Stand & Deliver Night 2: Unsanctioned Match: Adam Cole vs Kyle O'Reilly
Kyle grits his teeth, gets a chair, turns it upside-down, and gathers up the chain. What is Kyle creating in his mind? Kyle brings the chain to the corner, piles it on, and then gets the chair. Kyle puts that chair around Cole's leg, and then heads for the corner. Kyle flounders his way up the corner, but Cole gets up and uses that chair to SMACK Kyle off the top! Kyle falls to the mat, Cole gets sits the chair upside-down, and drags Kyle up. Cole puts Kyle in the ropes in the corner, gets around the corner and climbs up. Cole says he is always going to be better than Kyle! But Kyle LOW BLOWS Cole!! Payback for a moment ago, and Kyle gathers the chains again!
Kyle wraps his leg up in the steel, locks it in, and aims at Cole! Cole is on the chair, STEEL GUILLOTINE KNEE!!! Cover, KYLE WINS!!
Winner: Kyle O'Reilly via Steel Guillotine Knee
1. NXT Stand & Deliver Night 1: NXT UK Championship: Walter (c) vs Tommaso Ciampa
Ciampa not letting this momentum going to waste as he attempts a Fairy Tale Ending but gets coutner into a pin from Walter. Ciampa kicks out and actually lands the Fairy Tale Ending for another two count. Ciampa keeps going with the rapid offense but gets caught into a Sleeper Hold. Tommaso breaks it by manipulating Walter's weakened hand and breaks out of the hold only to get a German Suplex and a heavy Lariat that Stan Hanson would love for a two. Walter tries to get strength back into his hand and goes for a powerbomb but Ciampa now counters it, biting Walter's hand and putting him into a Fujiwara Armbar, pulling the fingers back of the champion until Walter goes to the ropes to break it. Walter LOOKS WEAK as Tommaso tries to go for Widow's Bell but Walter backs up to break the attempt from the apron. More fighting continues on the apron as they get to the top rope. Ciampa finally gets an advantage as he uses and Air Raid Crash from the top rope for another near fall.
Both men begin to get up and start a chopping contest until Walter decides to use his weight advantage to get an upperhand, pinning Ciampa down in a knuckle lock but his hand gives out, breaking it. Walter going to any length to win and stomps on Ciampa head, going for back to back powerbombs to take Ciampa down only for another two count and frustration rising. Walter grabs Tommaso for another Sleeper but make sit a Sleeper Suplex and to make sure the match is sealed, he hits one last Chop to retain his United Kingdom Championship.
Winner: Walter via Chop
Thoughts:
Well damn, we had a lot of damn good to great matches this week. Some stuff I missed since I had some fill in coverage I needed to do, but it was nice to see Mania week back in old form. Do I agree with my rankings on the fact that Walter vs Ciampa should win the weeek? Yes I do. But arguments can be made for nearly any of the Top matches.
So this should be an interesting fight to see what ends up winning the week.