Sting is Back!
Sting returned to TNT and a WWE rivals ring! What does this mean for AEW, Impact (with the implied corossover) and wrestling in 2020?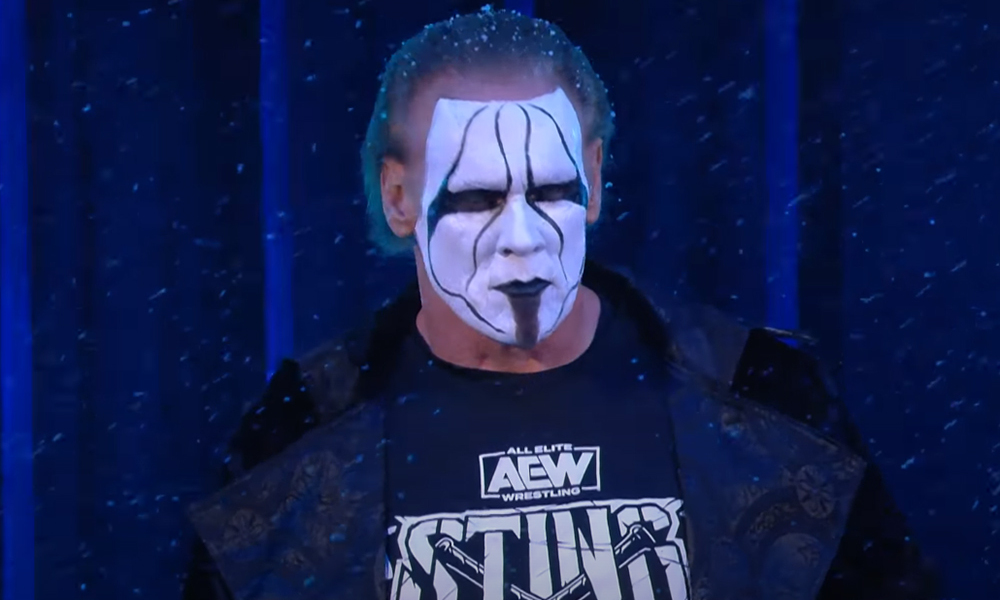 What does it all mean?
So the big surprise of the Winter is Coming themed episode of AEW Dynamite was the return to TNT wrestling television of none other than Sting.  In what was a rare surprise nowadays (the TV appearance itself, not him coming to AEW) Sting showing up popped a lot of people and took over the twitter timeline this Wednesday. Sting stood face to face with Darby Allin in what was a cool visual and elicited a Nitro-esque (in a good way) call from Tony Schiavone.  For a few moments it was 1997 all over again.  And even as someone who has been very critical of AEW since their inception I kept any hateration I may have had at bay and didn't crap on the moment that a lot of my friends were enjoying.
But now that the moment has passed, it's time to start asking questions and firing off takes.  After all Sting did not show up for a one shot, he's going to be here for a while.  So just what am I thinking, and asking here?  Let's see:
Is he gonna wrestle?
Sting signed what is being called a full time, multiyear deal to work for AEW.  That it's being called that and he's not being lumped in with the other legends there (Jake Roberts, Arn Anderson, Tully Blanchard, and Taz) suggests to me that he is going to get in the ring again.  We know that he was bummed out with the way his last match, at WWE's 2015 Night of Champions vs Seth Rollins, went.  (If you don't know or remember he took a buckle bomb from Rollins and it shot his neck and back to hell, leaving him barely able to get through the match).  And we also know that he chose not to have surgery because in his words it would have rendered him unable to work again,  Now it seemed like a bit of a pipe dream, a long shot that he would be able to go again but ultimately harmless.  But it sure looks like him getting back in the ring is about to be a reality soon.
At 61 years old with a jacked up neck and back, isn't this a really bad idea?  Well………you can talk me into being ok with it if he doesn't take any bumps.  If he swings his bat, gets a hot tag, throws some punches, and hits a Scorpion Death Drop he'll probably be alright.  But will he be able to resist the temptation to show he can still do full service wrestling work?  I hope so because if not (warning: AEW criticism incoming) he is in the wrong company to save him from himself.  Just look at Matt Hardy as I did a few months ago here.  I think there is a safe pathway for him to see some action but I until I see it followed I remain skeptical that the great enabler Tony Khan is going to hold him to it.
What's it mean for everyone else?
Sting is starting off in some kind of deal with Darby Allin; probably a mentor/partner to start with, but who knows?  And Cody Rhodes looks to be involved as well.  Now the sales pitch to skeptics about this kind of thing is that the old guy will give some kind of rub to whatever youngster he's working with, and when it's all said and done the younger guy will benefit from the association.  The track record on that is spotty at best.  The optimal scenario is something like Evolution where HHH and Ric Flair gave the space for Randy Orton and Batista to grow into bigger roles.  But what happens too often is that the older guy gets himself over while the younger guy is just kinda there to do the physical work.  And to be honest that's already been an issue in AEW with Taz and Roberts in particular regularly overshadowing their proteges.
And what of the rest of the roster?  Dynamite is only two hours long and here's another guy who's going to eat up time that could be used by someone else.  AEW already has a too many people, not enough time problem and throwing even five minutes a week to Sting only makes it worse.  And then there's the issue of overshadowing the rest of the show.  My timeline was on fire for Sting's return, then subsequently went cold for the main event of the show, a heavily advertised World Title match between champion Jon Moxley and Kenny Omega.  Omega has been getting a multiweek character reinvention as he's teased a return to his Cleaner persona, the match got the full contract signing treatment last week and yet nobody on my timeline seemed to care until the finish.  Sting is very likely to pop a rating spike in his segment but God help whoever has to follow him, especially in the very next segment.
What's it mean for Dynamite?
If it wasn't clear before then it should be now what the strategy is here.  Khan is going all in (see what I did there?) on maxing out every potential ratings point every week.  Chris Jericho was the first piece a year ago, along with judiciously spreading out the members of the Elite across the show.  Bringing in name guys like Roberts and Taz is another piece, then bringing in more recently departed WWE guys like Matt Hardy, Miro, Brodie Lee and FTR.  And now there's Sting.  The point is to carpet bomb the two hours with these guys to keep people from changing the channel to NXT or something else.  With no real ticket sales to speak of due to COVID and not expanding the pay per view schedule the play is to max out on television revenue.  Which to be fair is probably the right strategy in the short run.
But that doesn't bold well for the women's division or for any of the more developmental talent there.  Khan has said that he is meticulous about ratings down to the quarter hour and is going with who draws. That's been used as justification for minimizing the women's time on Wednesdays, and is going to affect a lot of the guys too in that anyone who shows they can't keep up is likely out and relegated to AEW Dark.  Will there come a point where the proverbial torches get passed to guys like Allin, Private Party, etc?  That's the million dollar (and maybe million viewer) question.  But if I had to guess guys Sting is not here to pass any torches no matter what he says.
Final thoughts (for now)
Good for Sting.  He wanted to be a regular, felt he had something to offer, and didn't want to settle for a WWE Legends deal.  And secured himself what is probably a real nice sized bag to close out his active career.  Sting never was really a WWE guy so this really isn't out of the ordinary for him.  I hope he's smart enough to not take any unnecessary chances.  And I hope that we're all realistic with our expectations of him.  As for AEW, well…….this should put the nail in the coffin about them revolutionizing the business.  That just is not happening here.  Now who knows maybe they thought about that at first but they've decided their best path to success is to get well known people on their show and ride the wave of people who are fatigued or disgusted with the WWE and are more than happy to see someone else do it, even if they are largely doing a lot of the same things.  It is what it is and the game is the game.  Now we just got to see how well it works.
King's WrestleMania Rewind: Stone Cold VS. Scott Hall (WrestleMania X8)
Chris King is back with another WrestleMania Rewind, looking at the NWO's Scott Hall battling Stone Cold Steve Austin at WWE WrestleMania X8 from Toronto!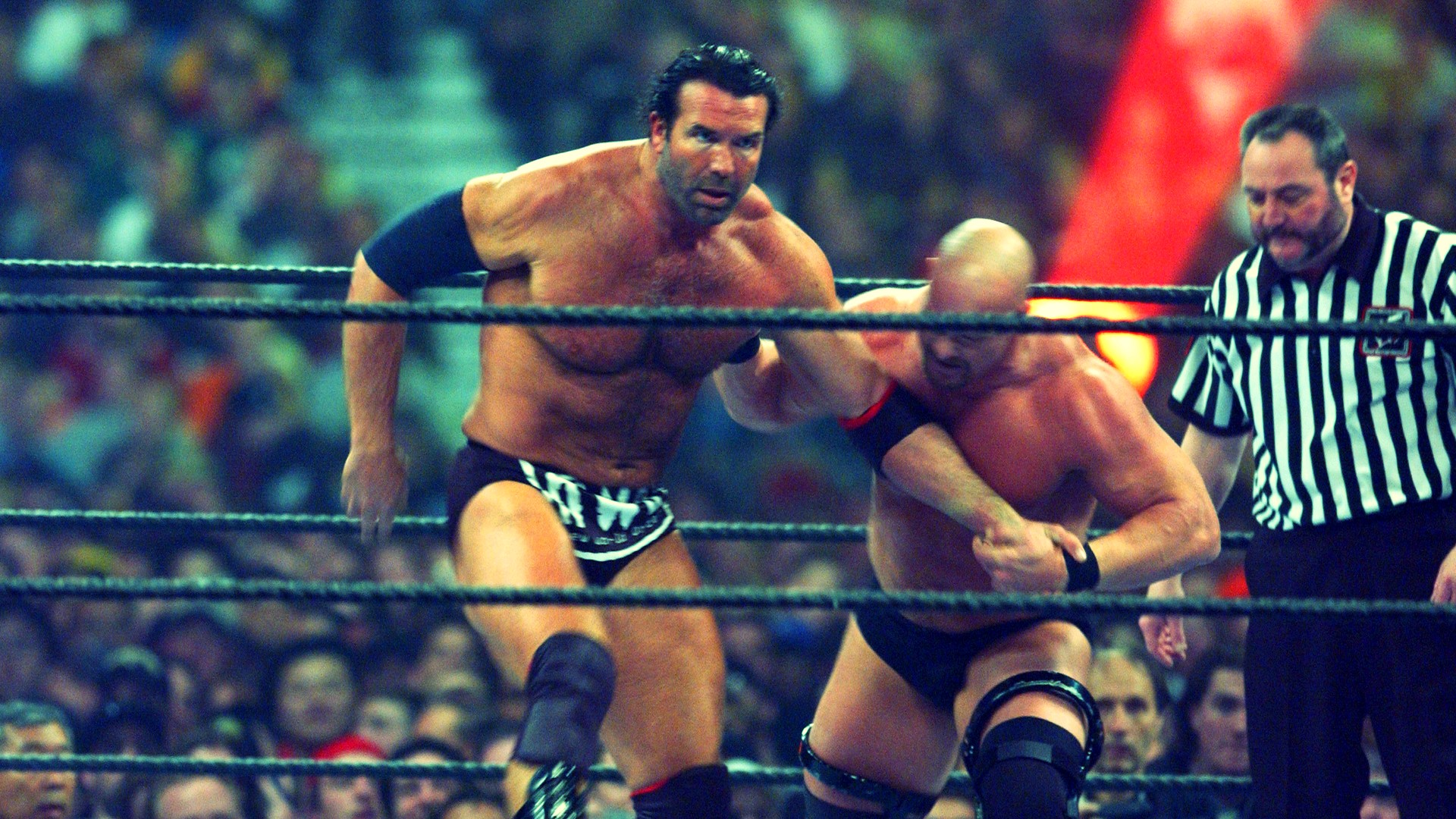 Chris King is back with another WrestleMania Rewind, looking at the NWO's Scott Hall battling Stone Cold Steve Austin at WWE WrestleMania X8 from Toronto!
Chris King is back this week with another edition of WrestleMania Rewind, where he is rewatching all the past Mania matches and feuds. This week you're in for a treat as we look back at 'Stone Cold' Steve Austin vs. Scott Hall at WrestleMania X8.
In late 2001, Vince McMahon bought out his competition WCW and acquired the rights to a plethora of talent including Booker T, Eddie Guerrero, Chris Benoit, and the iconic trio known as NWO. Hulk Hogan; Kevin Nash, and Scott Hall were hell raisers, and what better way to make a name for yourself than take out the two top superstars in the WWE The Rock, and Stone Cold?
The NWO cost Austin his chance at becoming the Undisputed Champion at No Way Out during his match with Chris Jericho. Adding insult to injury, the NWO spray-painted 'The Texas Rattlesnake' with their brand logo just like they did in WCW. As you can imagine, Austin was pissed and out for revenge against the group and primarily Scott Hall.
Hall would challenge Stone Cold to a match at WrestleMania 18. Both superstars beat the living hell out of each other leading up to this highly-anticipated match for who runs the WWE.
The glass broke and Stone Cold made his iconic entrance, and black and white NWO covered Halls' entrance alongside Kevin Nash. With the odds stacked against 'The Toughest S.O.B' could Austin or NWO prove their dominance? Sadly the NWO  broke up that very night when Hulk Hogan came to the aid of his adversary The Rock after their 'iconic' dream match. Stone Cold would ensure the victory with the Stunner. Hall would perform an Oscar-worthy sell over the finisher.
What a time to be a wrestling fan in the 2000s when nothing was impossible for WWE. Who would've thought WCW would go out of business and Hogan would make his long-awaited return to WWE?
King's WrestleMania Rewind: Seth Rollins vs. Kevin Owens (WWE WrestleMania 36)
Chris King takes a look at the most underrated WWE WrestleMania matches, and starts off with Seth Rollins battling Kevin Owens at WrestleMania 36!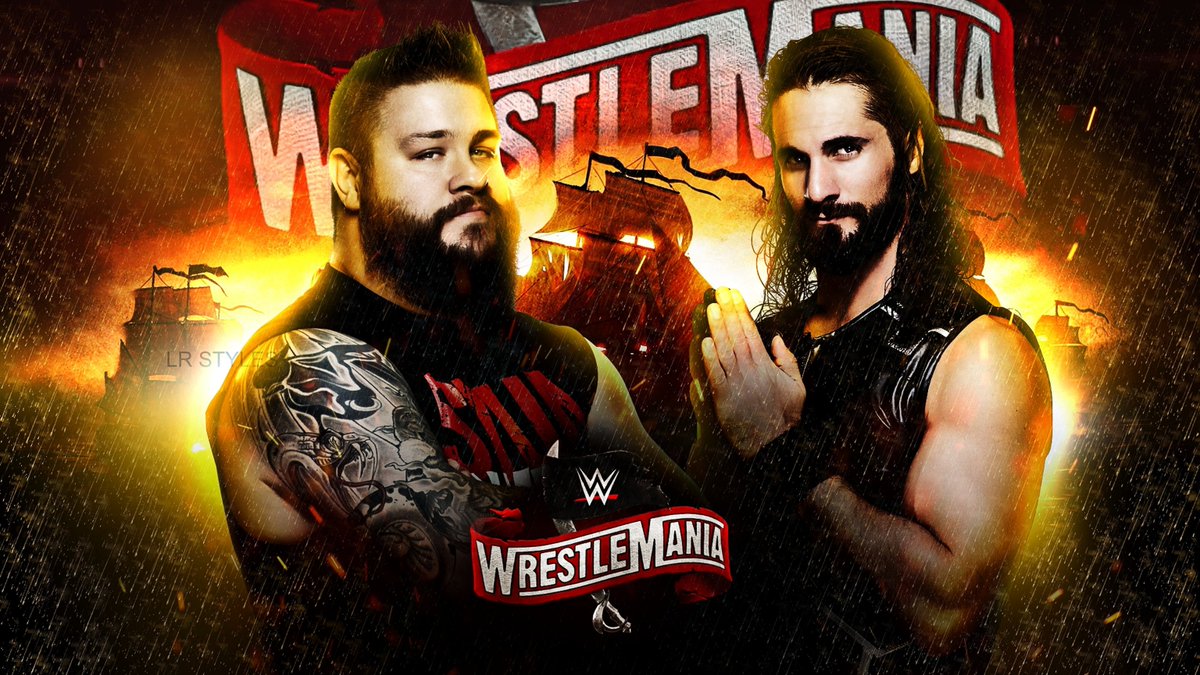 Chris King takes a look at the most underrated WWE WrestleMania matches, and starts off with Seth Rollins battling Kevin Owens in the WWE Performance Center at WrestleMania 36!
Chris King is starting a new series heading into WrestleMania season dubbed WrestleMania Rewind. Each week he'll be going back and sharing his insight over underrated matches at the Show of Shows. First up, is Kevin Owens vs. "The Monday Night Messiah" Seth Rollins at WrestleMania 36.
At the 2019 edition of Survivor Series, Rollins sacrificed himself during the men's traditional match allowing SmackDown to ultimately gain the victory. The following night the self-proclaimed Messiah, berated the whole roster but KO was not having any part of it. Owens quickly became a huge barrier in Rollins' cause for the greater good. The Authors of Pain attacked Owens with Rollins' character in question.
Owens finally had enough of his rival's mind games and torment and challenged Rollins to a match on the Grandest Stage Of Them All. Rollins mockingly accepted his challenge and the match was made official for night one of WrestleMania. Owens came out of the gate beating the holy hell out of the Monday Night Messiah trying to achieve his long-awaited moment at Mania but, Rollins tried to steal a disqualification victory by using the ring bell.
Owens hellbent on revenge provoked Rollins into turning their encounter into a no-disqualification contest where the fight could be taken all over the empty arena. The highlight of the match, was when KO used the WrestleMania sign to deliver a thunderous senton bomb through the announce table. Owens would secure the victory with a Stunner in an incredible match. Despite having no crowd during the pandemic era, both KO and Rollins put on an intense performance under the brightest lights.
In my personal opinion, this was a great feud that helped both superstars in their transformation as compelling characters for years to come.