Val: Kota Ibushi is Not leaving Wrestle Kingdom a Champion
With Kota Ibushi receiving a pity shot at the championships, Val discusses his chances of leaving victorious!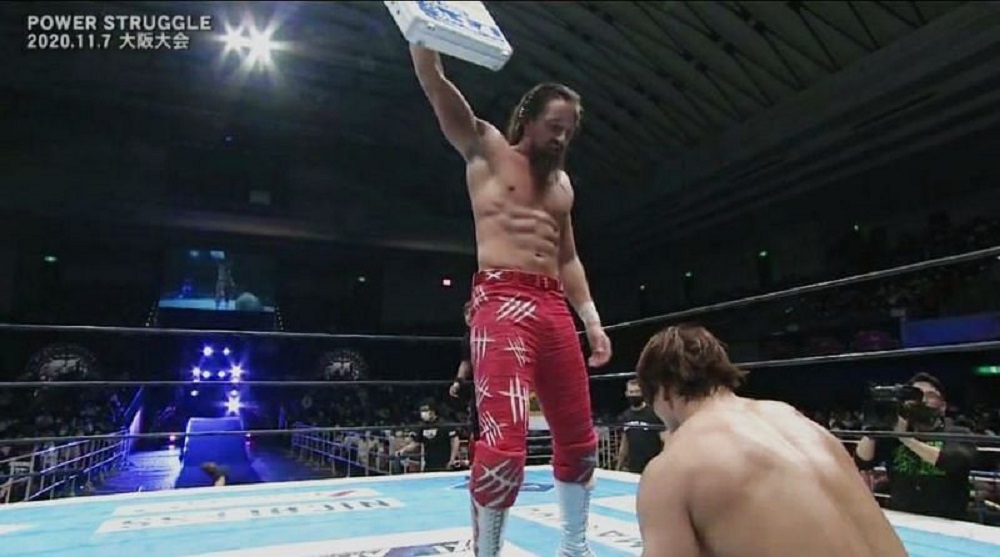 Wrestle Kingdom season is upon us, ladies and gentlemen ! The biggest show in all of Japanese wrestling is coming up soon, and once again, one of the questions surrounding this year's two nights event regards New Japan's Golden Star.
Will January 2021 be the time for Kota Ibushi to become the top champion, or as he says it, God ?
For the second year in a row, Kota Ibushi has won the G1 Climax and earned the right to take part in the main event of Wrestle Kingdom. However, following a loss to Jay White during the tournament, the latter earned himself a shot a getting the briefcase, and the contract to claim the spot Ibushi had won. History making moments and decisions are what followed. First, Switchblade defeated Ibushi, not without cheating, to take the Golden Stars's chance at redemption away from him, leading to Jay getting an IWGP double titles match on January 5th.
However, double IWGP champion Tetsuya Naito offered Ibushi another chance at the double gold. Therefore, Naito and Ibushi, two men with their own wish to beat the hell out of Jay White, will face off for Naito's titles on January 4th. The winner gets to face the Bullet Club leader the next night.
With all of that said : Here is why Kota Ibushi is NOT concluding his own "redemption arc", if we can call it that, next January.
The very first thing I would like to point out is Ibushi's record at Wrestle Kingdom, more specifically in championship matches. Ibushi competed in seven of them, and only managed to win once so far. His only championship win (or successful defence) in the Tokyo Dome was against Prince Devitt for the IWGP Junior Heavyweight championship, which he finally managed to capture (and hold it for the longest amount of time of all his three reigns) after his third try on New Japan's biggest stage. Keep that in mind, we might get to use that information later.
Then, let's look at the current situation we are facing. As said prior, the set-up is now clear. Ibushi is fighting a former friend now turned foe in Tetsuya Naito, for New Japan's two top titles, and the winner of that match then has to go against Jay White. The story is rather simple : Naito last year managed to make his wish come to fruition, and hit a complete homerun by claiming all the gold, leaving his future opponent empty handed after his first G1 Climax win. That makes, sort of, one score to settle with Naito, but of course, Ibushi also has a score to settle with White. One could easily be tricked into thinking that, finally, Ibushi will get the long-awaited title win he should get. However, things are more complicated than that. The current story we are witnessing, at this point, does not quite yet feature Ibushi as its protagonist. Let's say we are transitioning into that Ibushi being featured in that spot, and it will all start at Wrestle Kingdom : Just not how you might think it will.
Leading into Wrestle Kingdom 15, Tetsuya Naito's arc as IWGP double, but most importantly Heavyweight champion, the top champion in New Japan, is not finished. In what is now his third IWGP Heavyweight championship reign, Naito still has yet to make more than one successful defence. He couldn't do it in 2016, losing the belt back to Okada in Osaka at Dominion. He couldn't this year either, again at Dominion, when a the newest Bullet Club member EVIL of all people defeated him. Keep the Osaka-Jo Hall show factor in mind, as well. Needless to say, that after YEARS of not pulling the trigger on the actual championship win, taking Naito three tries to finally win the gold in the Tokyo Dome, we are now reaching hist third try to make it past this second defence, where he always lost previously.
In this current arc where Naito gets over all of his past hurdles, the other consistent bit of story to be told has been the feud with Bullet Club, and most importantly Jay White, starting after last year's G1. In what has almost been a year and a half where not only Jay, but the likes of KENTA and EVIL as well, have been a constant pain in the bottom for Naito, is there any other conclusion than a Naito vs White match for the double gold ? These two opened the double gold dash last January, remember. Wouldn't it be logical to have them move on to be the main act in this year's run at the IWGP titles ?
Where does this leave Ibushi then, you might ask ?
We are reaching the interesting part of this piece, where I tell you what may be next for Ibushi following yet another crushing loss in the Dome.
As said prior, this loss to Naito would only be the beginning for Ibushi. As showed earlier, a common trope of New Japan's booking for its top stars relies on the saying known as "third time is the charm". It took Okada three tries to defeat Tanahashi in the Tokyo Dome. It took Naito three tries to win the Heavyweight title in the same venue, and as mentioned above, he is on his way to try to make it past one successful defence next January for the third time. Even Ibushi already went through that process during his Junior Heavyweight days. His match with Naito, which he shouldn't even have gotten if you think about it using a straight line of thinking; will be his second try to win the Heavyweight, without forgetting the Intercontinental title on the biggest stage.
My take on the matter is that there will be a third time where Ibushi gets a chance to win a Heavyweight championship match at Wrestle Kingdom, but as opposed to Naito who always had to enter as the challenger until now, Ibushi might as well enter that third try as champion. Yes, you read this right. I believe Kota Ibushi has strong chances of entering Wrestle Kingdom 16 as IWGP Heavyweight champion. I can even tell you he would most likely face G1 Climax 31 winner Jay White in such a scenario.
Lastly, I now want you, who is reading this piece, to remember the last time Naito and Ibushi wrestled one on one. Dominion in Osaka-Jo Hall, for the Intercontinental championship. Naito reclaimed the title he had lost in Madison Square Garden to Ibushi. Even though Naito managed to have the Osaka fans cheer for him again, the venue remains cursed for him regarding the Heavyweight title, as said prior. Seeing Wrestle Kingdom rematches at Dominion is far from uncommon at this point, after all, and wouldn't that make the perfect conclusion in that regard ?
Ibushi winning the title in such a set-up would even somewhat echo Kenny Omega's title win against Kazuchika Okada, as both would have happened in the same venue. That one is for you, Golden Lovers fans.
On that note, this is where this article reaches its end ! Now, tell me, what are your thoughts on Kota Ibushi's odds of leaving the Tokyo Dome with all the gold ? Did this piece convince you ?
Greg DeMarco's WWE WrestleMania Saturday Stream Of Consciousness
It's WrestleMania Saturday, and Greg DeMarco is here to see what WWE can deliver to us all!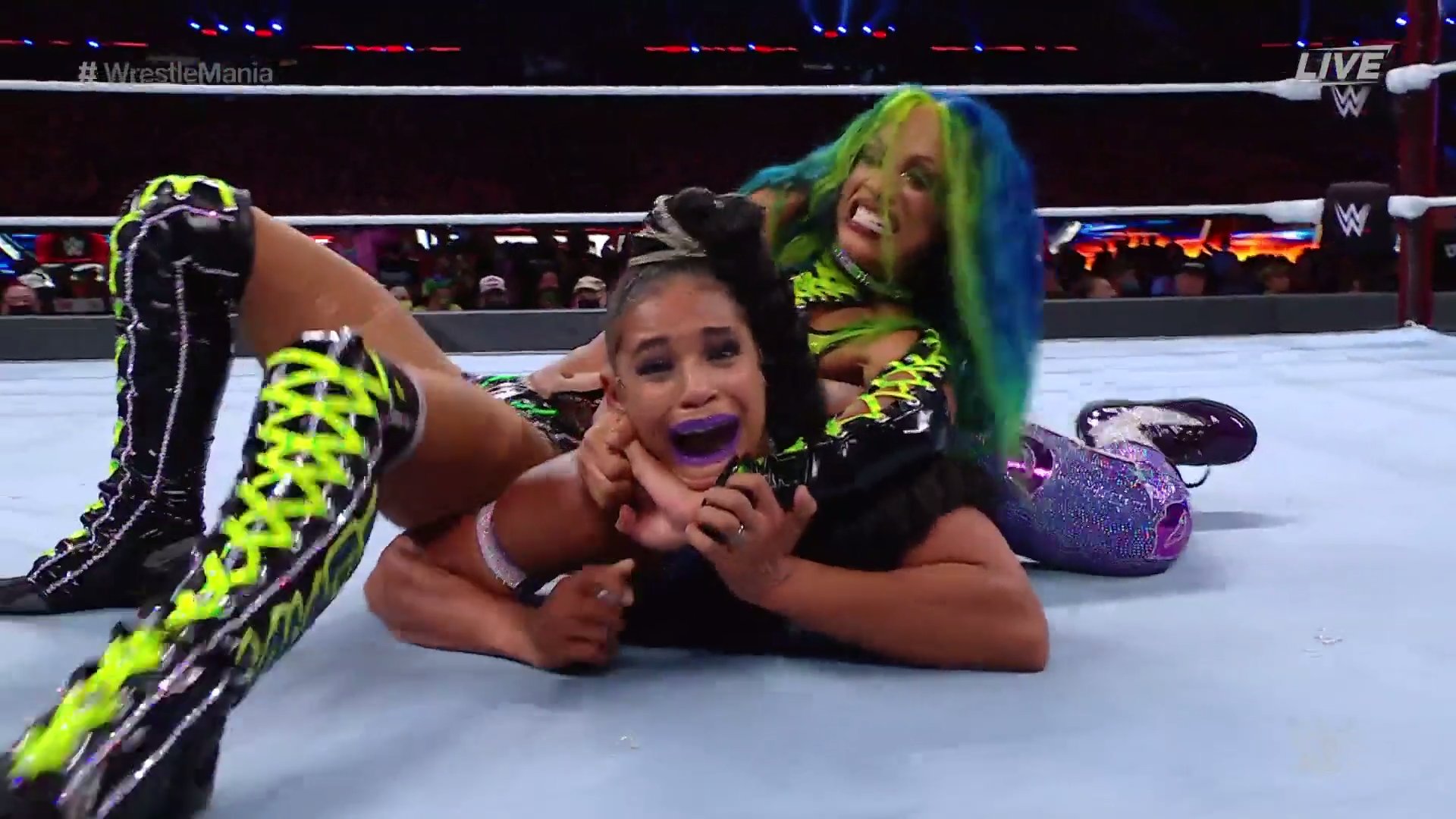 It's WrestleMania Saturday, and Greg DeMarco is here to see what WWE can deliver to us all!
WWE WrestleMania is the Showcase Of Immortals, and it's also when the WWE gets to showcase itself. With no reliance on part-timers to be found, WrestleMania Saturday features a historic main event and a ton of potential. Will it meet that potential? Read on to see what Greg DeMarco thought in real time!
(Extended) Opening Moments
Fantastic job picking up where they left off last year, and updating it for now.
Loved seeing the talent on the stage, and you could see how emotional they were.
Now, we have the rain delay. And I have to say…this is amazing. Seeing them cut promos on the fly with no script, no bullet points, no preconceived/pre-produced
Shane McMahon killed time for Bobby Lashley and Drew McIntyre, who crushed it. The New Day was fantastic, Braun Strowman did his best, Kevin Owens cut what is basically a shoot promo. So well done.
No script. No producers. Best promos I've seen in a LONG time.

— Greg DeMarco (@ChairshotGreg) April 11, 2021
Titus O'Neil and Hulk Freakin' Hogan
Do we really need Hulk Hogan at this point?
I feel for Titus, but I give him all the credit in the world for not slapping the shit out of Hogan right there.
WWE World Heavyweight Championship: Drew McIntyre vs. The Almighty Bobby Lashley (champion) w/MVP
Drew McIntyre deserves this entrance more than anyone. And you can see the emotion on his face.
Lashley needs pyro to go off when he points.
That stage looks awesome, by the way.
How do you not focus on Bobby Lashley's MMA experience when it finds it's way into the match? That has to be off limits, otherwise you know Joe would bring it up.
I don't know who does Drew's beard work, but they did him no favors.
Amazing throws and even a Northern Lights Suplex–Drew pulling out the entire moveset tonight!
Commentary team standing in front of the table, monitors probably out. They're doing a great job with this.
Crowd SOLIDLY behind The Hurt Lock.
BOB WINS!
Winner and STILL WWE World Heavyweight Champion: Bobby Lashley
Bob doesn't kick out of the Claymore, but Drew also doesn't escape the Hurt Lock. Well done all around.
Tag Team Turmoil: Lana & Naomi vs. Carmella & Billie Kay vs. The Riott Squat (Ruby Riott & Liv Morgan) vs. Dana Brooke & Mandy Rose vs. Natalya & Tamina
I bet this gets cut short for time. I am glad they're getting introductions.
We start with Naomi & Lana vs. Carmella & Billie Kay.
Billie Kay & Carmella eliminate Lana & Naomi, which makes no sense.  I have a feeling The IIconics will be back together come WWE Draft season.
The Riott Squad should really win this thing.
MATCHING TIGHTS! MATCHING TIGHTS! MATCHING TIGHTS!
Little confusion there, eh? The Riott Squad survives!
Welp, that was going well until Natalya & Tamina won. But I have a feeling Nia Jax & Shayna Baszler are retaining.
Winners: Natalya & Tamina (advance to WrestleMania Sunday to challenge Nia Jax & Shayna Baszler for the WWE Women's World Tag Team Championships)
Seth Rollins vs. Cesaro
This truly is the biggest match in Cesaro's career–but it's also one that would further cement Rollins as a Hall Of Famer.
I've been picking Cesaro here as I can imagine Rollins wants to make him in this one match.
Also, surprised that we haven't seen everyone wearing white tonight, as we typically see a lot of at WrestleMania. It's a welcomed change, I did all the black gear.
Nice to see that the Big Swing is a part of the match's storytelling.
Corkscrew Splash! Seemed less effective that way–but more impressive.
Fans REALLY want to see Cesaro get the win, and I am with them.
Stomp into European Uppercut + 23 Rotation Big Swing + Neutralizer = CESARO WINS
Winners: Cesaro
I can't tell you how happy this makes me, seeing one of my all time favorites get the duke here.
I had a feeling Seth wanted to put him over, and he truly did.
Credit to Corey Graves for going off script in how he put Cesaro's win–and career–over.
Kayla Braxton Interviews The Dirty Sawgs
Dolph Ziggler and Bobby Roode putting in hard work to put over a match when they aren't on the card. That's impressive.
Raw Tag Team Championships: Champions The New Day (Kofi Kingston & Xavier Woods) vs. AJ Styles & Omos
Remember when everyone thought they broke up The New Day? WrestleMania was the perfect time to have Big E doing that intro the way he did.
New Day is one of the acts who benefits most from having fans present.
Omos wrestling in street clothes actually makes perfect sense.
The gear in this match is 🔥🔥🔥
Especially love AJ's silver gear
Great POP for Omos after AJ literally carried this thing.
Omos' moveset is super simple–it's actually what it should be.
Korfi Kingston???
And we have our new Andre The Giant.
Winners and NEW Raw Tag Team Champions: Omos & AJ Styles
Perfect debut for Omos, and AJ doing some amazing work here. Very well done.
Steel Cage Match: Shane McMahon vs. Braun Strowman
It's time for the match that came together because Shane called Braun stupid.
I know much of Wrestling Twitter doesn't want to see this, but Braun is over with the kids and casuals, and Shane is over with the adult casuals. This match makes perfect sense.
Shane McMahon is a horrible professional wrestler.
Shane McMahon should be a horrible professional wrestler.
This one is for the kids and casual fans, see:
Yup. My kids are glued to the TV to see how far Braun can shot put Shane.

— Mary-Helen Clark (@MHClark2617) April 11, 2021
Jerry Lawler is terrible at this commentary thing.
See, Shane lost because he did something stupid. It's storytelling.
Braun is insanely over, and this match was way better than anyone will want to give it credit for.
Winner: Braun Strowman
Hall Of Famers
Nice touch having X-Pac come out first for the NWO, since it's his only induction.
The Miz & John Morrison vs. Bad Bunny & Damian Priest
The Miz should always have his standard WrestleMania entrance.
The crowd is already hyped for Damian Priest and Bad Bunny before they enter. This match could make Priest a huge star.
Hell of an entrance for Bad Bunny, and it showcased the jealousy part of the angle.
Franky Monet's husband might steal this match.
Bab Bunny obviously trained, but he focused on his spots. Apparently running the ropes and getting tossed through them wasn't part of the curriculum,
That said, this is more than worth the cost–exposure is insane. He's perfect for WrestleMania.
Priest FINALLY Gets tagged in and kills the crowd with his stupid pose. The guy can be a big star, they just need to strip away a few things.
He may not be good at running the ropes, but he can sure hit  Falcon Arrow.
And now he hits a Canadian Destroyer???
The right guys won, that's for sure.
Winners: Bad Bunny & Damian Priest
Michael Cole has no one he can compare it to?

He obviously didn't watch Pat McAfee wrestle Adam Cole.
Bad Bunny was great. Pat McAfee was better, but Bad Bunny was fantastic and perfect for this spot.
Smackdown Women's Championship: Bianca Belair vs. Champion Sasha Banks
Love that WWE treated this like a true main event, with the entrances, pyro, and more.
And the crowd is doing their part as well, making both women get emotional.
Sasha Banks is elevating her game as a performer, despite already being one of the best. This is her biggest night.
That was the greatest Suicide Dive of Sasha Banks' career, too.
Bianca Belair walking up those steps with Sasha in a Press Slam is one of the most impressive feats of strength I have ever seen.
Sasha Banks is the Shawn Michaels of the women's division.
Double Jump Tornado DDT? I LIKE IT.
Jet Pack DDT?
This isn't just a great match, it's great storytelling.
Twitter will hate this, but this is the WrestleMania 31 story.

Bianca = Roman Reigns
Sasha = Brock Lesnar

And they're telling it with brilliance.

— Greg DeMarco (@ChairshotGreg) April 11, 2021
And Bianca gets the win! Michael Cole thought Sasha kicked out, so maybe there was a screw up. At least that's what Meltzer will tell us. Great match.
Winner and NEW Smackdown Women's Champion: Bianca Belair
When you factor in the rain delay, this clocks in at just over 3 hours. Very well done by WWE. Very well done.
Overall Impressions
Plenty of memorable moments on a card that is all about memorable moments. From Bob Lashley retaining to Bianca Belair winning, plus Cesaro's big moment and Bad Bunny delivering, this show had it all. Hopefully WrestleMania Sunday can live up to what Saturday delivered.
Kevin Owens vs. Sami Zayn: Get Your Popcorn
Chris King is back as he runs down why he believes Kevin Owens vs. Sami Zayn at WrestleMania is a potential show-stealer.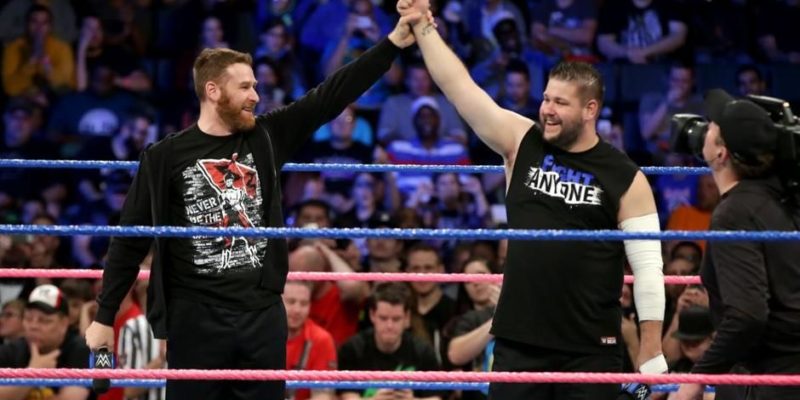 Chris King is back as he runs down why he believes Kevin Owens vs. Sami Zayn at WrestleMania is a potential show-stealer.
Kevin Owens and Sami Zayn are simply incredible performers and storytellers in the ring. Every time they are on the opposite side of each other they create magic. I did a little history lesson on their almost twenty-year rivalry, going back to their days in Ring of Honor and PWG where it all began. Heel Owens to me is a stone-cold killer, he's out for one purpose to be the best. Zayn has found out the hard way what happens when you get in his way.
Poor Zayn didn't learn his lesson and dropped his guard in NXT when KO made his in-ring debut at NXT TakeOver: R Evolution. Owens utterly destroyed his so-called best friend and hit a vicious Pop-up Powerbomb onto the apron. KO then went on to defeat Zayn two months to the day of his debut at NXT TakeOver: Rival to capture the NXT Championship. Owens beat the living shit out of Zayn that night, to the point where the officials have to physically stop the match.
Zayn once again came rushing back for another chance to best his bitter rival but was demolished yet again. Dammit Sami just stay down and live to fight another day. This time Samoa Joe had to stop KO from causing more carnage to Zayn. We would not see the former NXT champ until months later at the 2016 Royal Rumble, where he would cost Owens the WWE World Heavyweight Championship.
The two bitter rivals would fight again during the ladder match at WrestleMania 32 for the Intercontinental Championship, where Zayn would cost Owens the title. At the 2016 Payback pay-per-view, they would do battle again, Zayn would lose yet again. Zayn and Owens would square off one final time at Battleground in another hellacious battle, except this time Zayn finally got his comeuppance after two Helluva Kicks.
Over the past few years, Zayn and Owens have been on the same page, and shockingly enough the same team. The two best friends would come full circle again after Zayn returned to Friday Night SmackDown because of the pandemic. Zayn has been spurting all of this nonsense about this huge conspiracy going on around him for months now. Owens has been unsuccessfully challenging for the Universal Championship but ran into his friend backstage.
A few weeks ago, Zayn attacked his rival, for being paranoid I guess was his excuse. Owens however didn't care and goaded him into a match at this year's Mania. Owens and Zayn are about to create history and fulfill a lifelong dream of having a match on the Grandest Stage of Them All. I can only imagine how incredible this. the moment will be for those two, and the WWE Universe is honored and privileged to be able to experience it.
I'm very thankful that WrestleMania is two nights now because these two wouldn't be given the appropriate amount of time if they were crammed into a seven-hour event. Please just give Owens and Zayn fifteen to twenty minutes, and let them create magic in the ring.