Adam's Royal Rumble 2021 Results & Review
Royal Rumble is upon us! AJ is the trivia king, so what kind of nuggets can he mine from this evenings' festivities?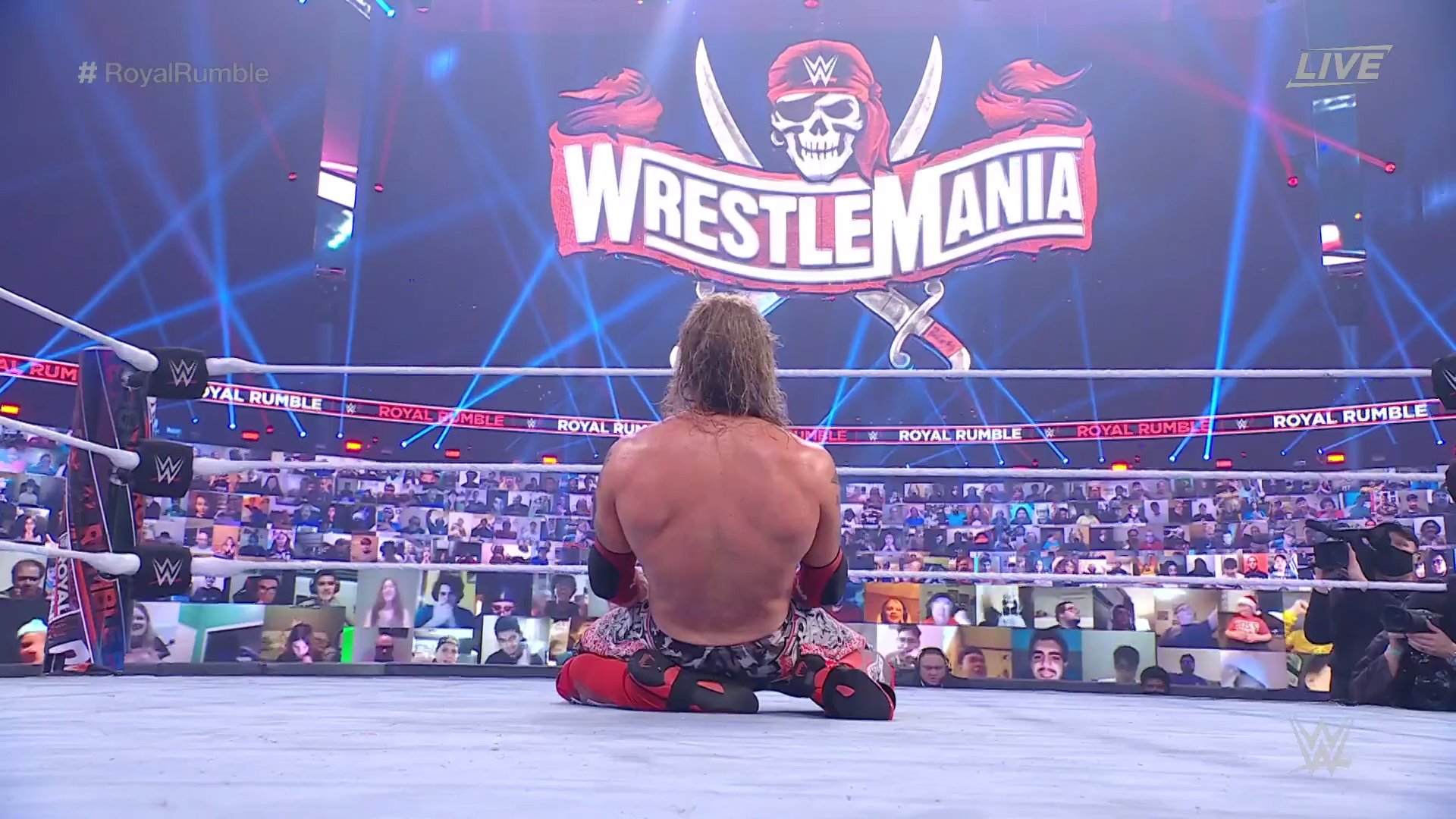 "Attention all viewers! The first stop to WrestleMania is arriving so we ask that the two people that have their tickets come aboard once the night is over."
The Royal Rumble starts off in a big way and it's only going to get bigger going forward. Will we have a new Champion at the end of the night? Will we see massive surprises in the Royal Rumble Matches? It's the Road to WrestleMania and we will see who will stand as the only one and get a championship opportunity at the Show of Shows.
Ratings:
Goldberg vs Drew McIntyre (c) for the WWE Championship:  McIntyre wins via Claymore – TITLE DEFENSE!!!! – **
WWE SmackDown Women's Championship: Carmella (w/ Reginald)  vs Sasha Banks (c): Sasha wins via Bank Statement: TITLE DEFENSE!!! – ** ¾
WOMEN'S ROYAL RUMBLE MATCH:  Bianca Belair (#3) wins last eliminating Rhey Ripley (#14) – **** ¼
Last Man Standing: Kevin Owens vs Roman Reigns(c) for the WWE Universal Championship: Roman Reigns is the Last Man Standing: TITLE DEFENSE!!! – ** ¾
MEN'S ROYAL RUMBLE MATCH:  Edge (#1) wins last eliminating Randy Orton (#2) – **** ½

Results:
Goldberg vs Drew McIntyre
McIntyre basically says screw this and headbutts Goldberg and Spears him outside of the ring to get a slight advantage but Goldberg in normal Goldberg fashion, reverses Drew into the steps and Spears him through the barricade. Goldberg goes in to wait for Drew, gives him a jackhammer and Drew kicks out. Goldberg is in disbelief but regains himself in the corner, setting up for the Spear again. Goldberg rushes to the corner, misses Drew and gets hit with a Claymore after the sidestep. 1.2.3.
Drew retains. Has a moment with Goldberg to which Goldberg said "You passed the test." And hugs him.
Carmella vs Sasha Banks
Ahem… I'm good now that the bell rang um…
Sasha goes for an early victory with a quick Bank Statement but Carmella rolls out to trash talk with Reginald. Sasha takes early control with the arm but after some hell shenanigans, Carmella takes control back and beats down Banks. After Carmella gets cocky with Banks on the top rope, she Meteoras Mella, taking the control back for the time being but, Sasha is injuring her knee in the process. Carmella takes Banks out of the ring but, Reggie catches her and gets kicked out. Carmella goes full Sasha Banks with a Suicide Dive. Mella makes a comeback after the removal of Reginald. Sasha gets some separation after a Code of Silence and tries to dive on Mella but gets catches her with a superkick and goes for a near fall.
Carmella goes to take her time and pick up Sasha after the pin attempt but Sasha grabs Carmella's arm and gets her in the Bank Statement for the submission victory.
Big E and Xavier Woods are backstage talking about Woods' defeats to Retribution thrice. Sami Zayn comes to interferes and questions why they are being an injustice to his views but Kofi comes back to burn him like Ashton Kusher and roast Sami Zayn out of the room.
Women's Royal Rumble
We start with Bayley and Naomi at 1 and 2. Naomi takes it to Bayley early on and has them going at it for a while until we get…
#3: Bianca Belair
Belair goes to attack Bayley and try to eliminate her early, using her strength and athletic ability to take Bayley out until she turns and attacks Naomi and now…
#4: Billie Kay
Naomi and Bianca now take care of Bayley in the corner as Billie goes to the announce table with headshots in her hand and joins them on commentary as Bayley nearly eliminates Bianca. As Bayley takes care of the other two…
#5: Shotzi Blackheart
Billie runs over to get Shotzi to be her teammate until he gets shot with the tank as Shotzi fights the others in the ring, running wild. As we get our ring filled up…
#6: Shayna Baszler
The new tag title champion tries to come to ring again as Billie tries to get her alliance with someone but Baszler… isn't having it. Baszler goes to take care of business as we still have all women in the ring…
#7: Toni Storm
Billie recruits… doesn't work. Toni taking care of business and fighting everyone off until Shayna eliminates Shotzi from the rumble…
#8: Jillian Hall
Well there is our first surprise and Billie joins her and getting Jillie and Billie and doing well…
#9: Ruby Riott
Ruby rushes in and as Billie and Jillian take care of Naomi in the corner, Ruby has a fight with Toni Storm and stopping Ruby's early surge until Billie Kay saves Riott from Toni's attacks. Billie and Jillian Hall are helping Ruby for the time being…
#10: Victoria
And before we had Bianca Belair, there was Victoria as the OG EST of WWE. Taking it to Naomi as we have more fights going on in the ring…
#11: Peyton Royce
Peyton goes and takes it to Ruby Riott, almost eliminating her as we get the IIconic reunion until Ruby Riott comes back and Widow's Peaks Bayley as Victoria shows her how it's actually done…
#12: Santana Garrett
Goes to take it to Ruby and Toni as the ring fills up more and more and another near elimination for Ruby Riott and now Bianca Belair gets a near elimination too…
#13: Liv Morgan
Liv comes in quickly and saves Ruby right away from near elimination and getting the Riott Squad to team up and eliminate Jillian Hall as Billie Kay finishes it and gets eliminated by the Riott Squad…
#14: Rhea Ripley
And if there was a time to clear the ring… this is probably the time as the Nightmare Returns, eliminating Toni Storm (I guess that wraps up that rivalry) and Victoria gets eliminated by Shayna Baszler with a hanging Kirafuda. Rhea takes it to Santana Garrett and gets her eliminated after she tries to save herself for so long…
#15: Charlotte Flair
Huh… 14 and 15 being last years… eh whatever. We get it WWE. Charlotte surprisingly goes after Rhea. Peyton was about to be eliminated but Ruby Riott until Bayley slides under and does Apron Powerbomb to Ruby to eliminate her…
#16: Dana Brooke
Dana goes to take out a lot of superstars with a Senton and give some breaks as the fights go on. Liv nearly eliminated by Bayley but Peyton Royce finishes off Liv Morgan with a Superkick…
#17: Torrie Wilson
As we hear King shouting that Torrie comes back, Torrie comes in quick and fights everyone. Dana tries to eliminate Rhea but Rhea catches her and powerbombs dana Brooke out and take Dana out of the Rumble…
#18: Lacey Evans
Well… Charlotte sees who it is and sees it's her robe from early tonight. Naomi tries to take it to Charlotte but she just smacks her away and attacks Lacey right away, taking it to the outside as they both go under the bottom rope. Charlotte eliminates Peyton because you don't mess with someone who is pissed off and Baszler eliminates Peyton and Bianca eliminates Bayley…
#19: Mickie James
Mickie goes to fight Charlotte right away as we still have 7 people in the ring…
#20: Nikki Cross
I guess new music for Nikki and she takes out Naomi for now (Waiting for Alexa) as she takes the fight to a lot of competitors…
#21: Alicia Fox
I swear… King is going to need a new pair of jeans as Alicia comes out but… Truth comes out too. Being chased out with the 24/7 championship…
NEW 24/7 CHAMPION: ALICIA FOX

#22: Mandy Rose
I guess… Alicia can get rolled up and pinned for the title along with surviving elimination as Mandy tosses her out and Truth rolls her up…
NEW 24/7 CHAMPION: R-TRUTH!

#23: Dakota Kai
Dakota goes for Rhea right away as she just takes it to Rhea as we get more near eliminations. Lacey gives a Women's Right to take Mickie James out of the ring…
#24: Carmella
Mella tries to regain herself from the Women's Championship match as she rehydrates. Rhea goes and eliminates Dakota and Mandy Rose as Carmella takes her time to get in until Nikki Cross comes to eliminate her. Carmella goes to eliminate Nikki instead and Reggie saves Carmella a lot…
#25: Tamina
Reginald gets super kicked by Tamina and Mella gets eliminated from the rumble as tamina and Rhea fight in the center of the ring as Bianca tries to eliminate Naomi from the ring. Naomi's feet didn't touch as Lacey knocks Bianca down and pulls her hair to reenter…
#26: Lana
It's Lana Day!!!! …oh are we not allowed to do this? I mean Baszler is still in but… TRIES TO ELIMINATE RHEA RIPLEY?! Wow. Sound idea but no eliminations for now…
#27: Alexa Bliss
Aww she's so sweet. She wouldn't hurt a fly right? Oh God, everyone is dismantling her now and… the smile… is now gone. Harley Quinn comes out and by Harley Quinn, I mean Rhea Ripley in her Harley gear eliminates Alexa Bliss right away…
#28: Ember Moon
Ember takes it to everyone in the rumble and hits a good amount of Eclipses, back over and over…
#29: Nia Jax
 Nia and Baszler go and start cleaning house. Baszler gets rid of Lacey and Ember Moon. Nia goes for Naomi and the Tag Champions stand tall. Nia and Tamina havea small Samoa Family moment before she turns on Tamina and the champs eliminate Tamina before… ATTACKING EACH OTHER! Rhea gets involved with Baszler as Nia turns and eliminates Shayna Baszler! As Nia says she had to do it, Lana tries to get a measure of revenge. Nia bull rushes Lana and eliminates herself as Lana pulls the ropes…
#30 Natalya
She gets attacked by the Tag Champs and they come back in to dismantle Lana some more and leave shortly to bring Natalya in the ring.
We have everyone in the ring…
Natalya attacks Lana after consoling her and eliminates her. Flair, Neidhart, Belair, Ripley the Final Four.
Natalya tries to eliminate Belair and focuses on Ripley after, getting eliminated by Belair herself. Ripley and Belair are taking it to Charlotte and makes it a slug fight shortly after with Charlotte and Rhea. Rhea and Bianca go and eliminate Charlotte. Rhea and Bianca are the last two and after some cheekiness of the two, they come back in the ring and both nearly eliminating the other until they come in and go for the double hair spot to knock each other down. Near elimination after near elimination until Bianca clotheslines Rhea over the rope and wins the Women's Royal Rumble!
We get some fun after with some backstage fun and review of the day and… Peter Rosenburg attacks R-Truth and um… NEW 24/7 CHAMPION! PETER ROSENBERG. I agree with Corey Graves. David Arquette has been redeemed for the WCW Championship. We need us some McAfee now. That would be more entertaining than Rosenberg.
Kevin Owens vs Roman Reigns
As always in Owens' fashion, Hockey fighting starts the match and after some dodging of finishers, each men hit old moves, Roman with a Superman Punch to take Kevin down and Kevin gets up to do a Pop-UP Powerbomb for Roman to get knocked down. They go to the outside and another big move from Roman with a Spear to take Owens to a seven before grabbing the steps and taking it to Owens. After more attacks with the step and knocking Owens down and gets a five count. Owens turns it around and uses the ThunderDome LED Boards and Steel Steps to try to get Roman down. After more fighting in the "crowd", Roman is down for five until Owens takes out Roman's legs with a chair before Reigns gets up and gives Kevin a taste of his own medicine. Owens gets up and stuns Roman though and goes to take him off the higher level as Roman reverses and Superman Punches KO to throw him through the tables below as Owens gets up at the count of nine before limping to the backstage area.
As the ref asks if Kevin Owens wants to continue, Reigns comes in with a Golf Cart and lays Owens out. After more fighting, Roman goes to insult Owens by lifting his head up and talking to Kevin Owens' relatives and incites Owens to take Roman out with a powerbomb and frog splash to go through a table. Roman just barely makes it to nine as he stands up and now limps and is dazed. Kevin Owens uses more weapons in the back to make sure Reigns is down as he notices something from WCW's playbook. Owens gets on top of a forklift and does a Senton through the table. Reigns somehow beats the count at nine but stumbles back from that.
They come back from the backstage area and Roman gets dragged out and stirs himself up to nine again before Kevin Owens tries another Pop-Up Powerbomb before Reigns catches KO with a Superman Punch for distance and a spear through the LED Board. Kevin Owens gets to nine after that but Owens rolls off the platform and stands up staggering, burning his arm on a spotlight as he regains his composure.  Reigns talks more and gets into a fist fight with Owens until Owens stuns Roman and uses the handcuff Roman was going to use to keep Roman down. As the ref counts in front of Roman, Roman grabs the referee and tosses him into a post nearby and stop the count. Reigns beats down Owens as Heyman goes over to unlock him. Reigns goes to put KO into a guillotine choke and Kevin Owens is down for the ten count.
Men's Royal Rumble:
We start things off the same way we enjoyed last year, Edge and Orton. Rated RKO. Edge wastes no time and attacks Randy from the beginning at the ramp and dragging him to the ring as the bell finally rings. Randy tries to separate himself from Edge but Edge gives chase and beats down Orton outside of the ring. Edge tosses Orton into the steels and knocks him into the barricades and announce table as he punches at Randy…
#3: Sami Zayn
Orton goes to get separation and get back in the ring as Sami Zayn shoulder blocks Edge in the knee and beat Edge down, getting a two on one started, damaging his legs and arm from his past injuries…
#4: Mustafa Ali
Zayn and Orton stand to stop him at first but they go after Edge again, taking the Hall of famer out, akin to what he said on Legend's Night the beginning of the year…
#5: Jeff Hardy
I wonder if he is going after Edge for all the yea—Oh wow, Edge has help. I guess they made up from the Ladder spot from Mania 17. Hardy tries to take the heels out and down as Zayn talks some smack to Hardy as Orton mindtricks him and RKOs Zayn then Ali until he gets hit with a Spear from Edge, the two going to the outside of the ring. Edge attempts to put Rarndy through the table turns into an RKO attempt. Edge hits Edge-O-Cution on the table and starts the fight with a steel chair…
#6: Dolph Ziggler
As Dolph comes down and eliminates Jeff Hardy, refs separate Edge and Orton, getting Edge back in to fight them. Dolph goes to Zig-Zag Edge and lives to fight longer…
#7: Shinsuke Nakamura
Dolph gets fired up and goes for Shinsuke off the bat as Nakamura fights off Zayn and Ziggler. Referees take Orton to the back (not eliminated though) because of Edge's attacks…
#8: Carlito
AYEEEEEE WE GOT HIM! CARLITO RETURNS TO THE RUMBLE! Shinsuke takes his apple and tries to bite the apple. I guess Shinsuke doesn't know that's not cool because Carlito hits the backstabber and takes it to everyone in the ring…
#9: Xavier Woods
Woods runs in and jumps Mustafa Ali for the beat downs these past few weeks and we get some more people in. Only Hardy eliminated…
#10: Big E
Big E coming in and dismantling Sami Zayn and taking Mustafa Ali down as Woods comes in and helps Big E take down Big E, hitting the Midnight Hour and eliminating Sami Zayn and targeting Mustafa Ali…
#11: John Morrison
Morrison gets in and starts fighting Edge as Woods keeps fighting Ali, nearly eliminating him. Ziggler nearly eliminates Woods. Both Ali and Woods on the outside on the apron as Ali eliminates Woods and Big E, chokes Ali out of the ring…
#12 Ricochet
Laughing at Ali as he walks back as Ali takes to the sky and takes out the competition, starting a good fight with Edge with the aerial offense but Morrison coming in to show him who did it first as we have a Lucha Underground Champion rematch between them…
#13: Elias
Elias comes in and outpowers Ricochet and Morrison before fighting Carlito. After a little scuffle, Elias takes out the legend and does the most uncool thing and eliminate Carlito from the rumble…
#14: Damian Priest
Priest comes in and takes out Elias and Ricochet in the middle of the ring, focusing in on Morrison with his agility in his Rumble debut. He moves in and eliminates Elias from the Rumble as Edge and Priest size each other up…
#15: The Miz
Well Morrison doesn't have to worry anymore now that Miz is here but… notices Bad Bunny's DJ setup after their little spat with him backstage and destroys the set before M&M fight off people. As Bad Bunny comes out to distract Miz and Morrison. Damien Priest actually comes up and eliminates the two as Bad Bunny does a slightly better crossbody than Snoop Dogg…
#16: Riddle
Riddle goes and thinks its NXT again because Damien Priest gets attacked by Riddle and Nakamura and Riddle have a slug fest of their own…
#17: Daniel Bryan
Comes in like a bat out of hell and gets Priest and Nakamura with running corner dropkicks as Edge and Riddle are about to be eliminated next but escapes…
#18: Kane
Kane increasing his record of Rumble Entries as he takes it to people in the ring with Chokeslams from Hell and an elimination to Ziggler and Ricochet for eliminations number 44 and 45 as Daniel Bryan sees Kane and wants a hug for Team Hell No. They hug but Kane has been here for a while… Chokeslam to you too. Priest and Kane get a stare down as the big men fight each other and Priest eliminates him…
#19: King Corbin
More big men come in and Corbin takes it to Riddle and Bryan then finally eliminating Shinsuke Nakamura shortly after…
#20: Otis
OH HE HUNGRY AND WANTS TO GET THINGS GOING! Scooping and slamming Priest, Corbin and Big E with ease with a nice little "Oh yeah!" and hitting the caterpillar on Priest. Otis looks like he's going for a Vader Bomb but Corbin goes in and eliminates Otis from the rumble…
#21: Dominik Mysterio
He has a removable hood now! Thank the Lord! He goes to fight off Corbin and Corbin gets an early advantage until he uses Corbin's momentum against him and eliminates the King with a Head Scissor…
#22: Bobby Lashley
Well Riddle sees his opponent later on for Lashley's US Title before Lashley rushes in and eliminates Dominik and Damian. The staredown between the US and IC Champions is palpable as they goes back and forth before Riddle gets his in against Lashley…
#23: Hurricane Helms
I mean… he came in before but… we can't get Gregory or Sugar Shane? Okay… Trying to chokeslam Big E and Lashley but… He really can fly because he's eliminated from the rumble…
#24: Christian
Oh cool Christian… OH WAIT CHRISTIAN!!!!!!!!
Lashley eliminated from the Rumble from everyone in the ring. Christian hits the Unprettier to Big E as Edge and Christian coming back and beating down EVERYONE in the ring…
#25 AJ Styles
AJ comes in and fights Edge and Christian. Measuring for the Phenomenal Forearm but Edge ducks it and hits the Spear to AJ as more fighting ensues around the ring…
#26: Rey Mysterio
Sadly, no Dominik but we get a new endorcement. Omos comes in to save AJ and actually REACHES IN AND PALMS BIG E OUT OF THE RUMBLE MATCH FROM THE FLOOR! So AJ is looking good right now…
#27: Sheamus
Sheamus comes in and dismantles everyone in the ring, Brouge Kicks and Irish Curse galore as the ring is getting more and more fatigued. Rey goes for a 619 but Omos catches Rey and manhandles him out…
#28: Cesaro
Cesaro rushes in European Uppercuts for everyone in the ring except for the Bar. Sheamus instead gets a Giant Swing and nearly eliminated. Cesaro rushes in and goes for another swing on Daniel Bryan…
#29: Seth Rollins
Yeah but Riddle is in the ring? Will he get eliminated before Seth comes in? Maybe even eliminate him himself. But Claudio Casignoli takes on Tyler Bla—Cesaro takes on Seth Rollins as we await… number… 30…
#30: Braun Strowman
Braun comes in and dismantles everyone, nearly eliminating AJ Styles but Omos catching him again as Strowman eliminates Sheamus, AJ and Cesaro. Edge and Christian come in a double spear Strowman so all men are down and all men are in the rumble.
Bryan and Riddle take shots at each other as the first ones up and Daniel wins his brawl as Edge comes in and tries to fight Bryan, getting a knee in and nearly eliminating Edge. Christian comes in and fights for a bit until he gets a dropkick in his face. Riddle and Daniel have a technical matchup in the ring after and takes down Riddle with a diving dropkick. Rollins on the outside comes in and takes Daniel Bryan out of the rumble match. OHHHHH AND NOW RIDDLE AND ROLLINS AT IT. MA GET THE CAMERA! Riddle jumps over and Rollins stomps him out of the rumble. Rollins tries to recruit Braun to his side but he refuses as E&C try to take out Braun after but taking a beatdown of their own. Braun and Christian get eliminated from behind as Seth comes in to do it. Seth gets thrown over by Edge so Edge wins?
Nope Randy returns, RKO time! RKO out of nowhere and goes to toss Edge out but Edge reverses it and takes Orton out of the Royal Rumble! January 31st must be Edge's lucky number on Royal Rumbles for his second Rumble win!
Overall Score: 7.5/10
Well we have Bianca coming in to win it like most of us thought, we have another Hall of Famer and/or Candian winning from #1 on the men's side with Edge… I know the Women's Tag Titles switched hands but that was preshow and even WWE themselves don't really count the preshow majority of the time as the show. I can say I am pleased with the matches. The WWE Title Match was every typical Goldberg match so we aren't too shocked there and if the referee didn't stop the count in the Universal Championship match for that critical botch, it would have looked a lot better but… at least the Rumble matches didn't disappoint! That's what actually matters! The Road to WrestleMania has begun and we have Edge and Bianca as our first to guarantees in WrestleMania 37 at Raymond James Stadium. Who knows what will happen for the next few weeks on RAW, SmackDown and even NXT with their involvement. Will Damien Priest, Shotzi, Santana along with others get called up? Well that's why we have shows for the next few weeks so stay tuned to see what goes on for WrestleMania plans to unfold.
Mitchell's WWE WrestleMania 37 Results & Report! (4/11/21)
Who wins THE WrestleMania main event?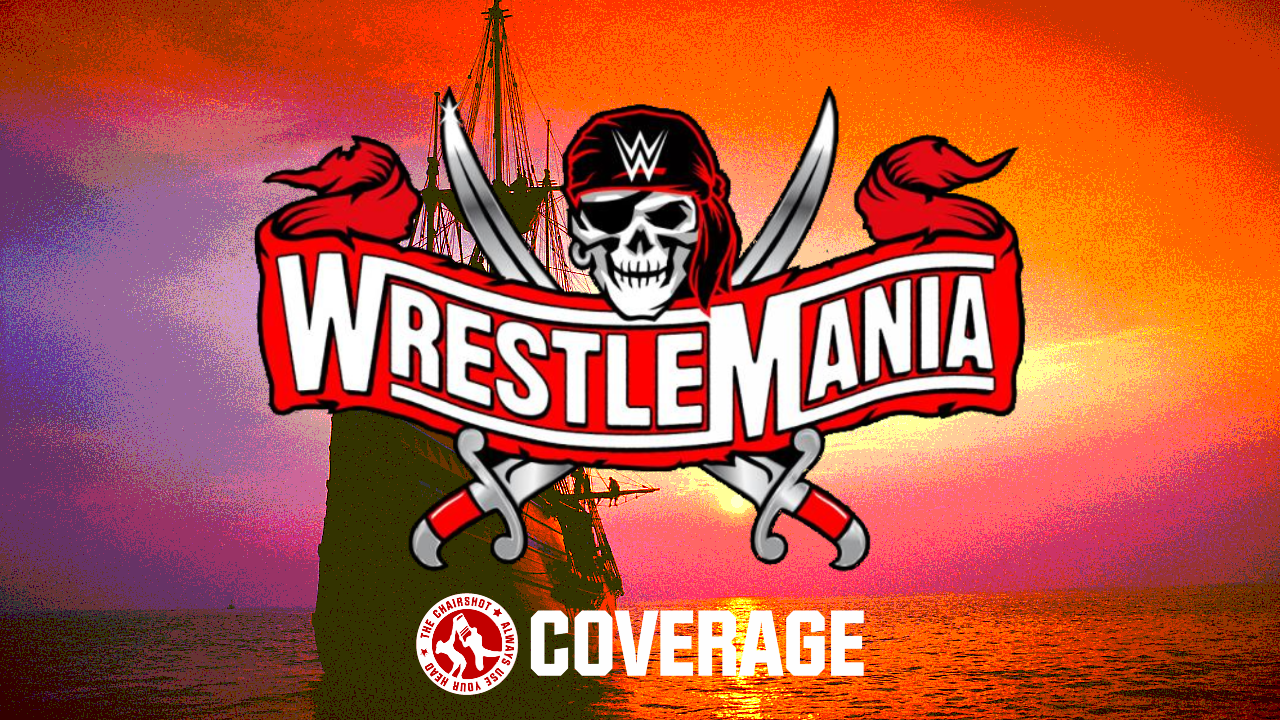 WrestleMania 37's two night adventure reaches its conclusion!
After an epic first night, how can WrestleMania 37 possibly get any greater? Perhaps with Daniel Bryan VS Edge VS Roman Reigns for the Universal title! Will the Head of the Table still be at the helm of the WWE?
OFFICIAL RESULTS
Randy Orton VS The Fiend w/ Alexa Bliss; wins.
WWE Women's Tag Team Championships: Nia Jax & Shayna Baszler w/ Reginald VS Natalya & Tamina; win and
Kevin Owens VS Sami Zayn; wins.
WWE United States Championship: Matt Riddle VS Sheamus; wins and
WWE Intercontinental Championship Nigerian Drum Fight: Big E VS Apollo Crews; wins and
Raw Women's Championship: Asuka VS Rhea Ripley; wins and
WWE Universal Championship Triple Threat: Roman Reigns w/ Paul Heyman VS Edge VS Daniel Bryan; wins and
PLAY BY PLAY
It's the WrestleMania 37 Night Two Kickoff Show!
Join Kayla Braxton, Booker T, Jerry "The King" Lawler, JBL and Peter Rosenberg for yet another round of discussing, analyzing and predicting the action tonight!
Sonya Deville joins the panel again!
Does anyone really understand the implications of the Nigerian Drum Fight? It might just be Apollo Crews who understands. His power and his culture are going to define what happens tonight. Booker asks, "What do I look like? Chopped liver?" Well okay, he would know, yes. Booker says this goes back a long time ago, the Zulu nation and the Mandingo. This will play out in front of the world so the world needs to understand, and Booker says Apollo will make you understand. Sonya wishes she'd heard more about this. But Jerry wants to know why it's drums. Booker asks, "What do you do to a drum?" You beat it. Exactly!
Rosenberg says the bottom line is, Apollo is in control. Big E may be on the kick of being in his hometown- JBL asks why Rosenberg's hands are everywhere. But the point is, Apollo knows what this is about because this is his match. Booker says this will be a great night for everyone back home. JBL and Jerry can't say anything without getting canceled, so they will agree with him.
AJ's WrestleMania 37 Night One Results & Review 4/10/21
AJ continues with the WWE coverage this Mania week! Night 1 of WrestleMania may have been rain delayed; but did that dampen the excitement?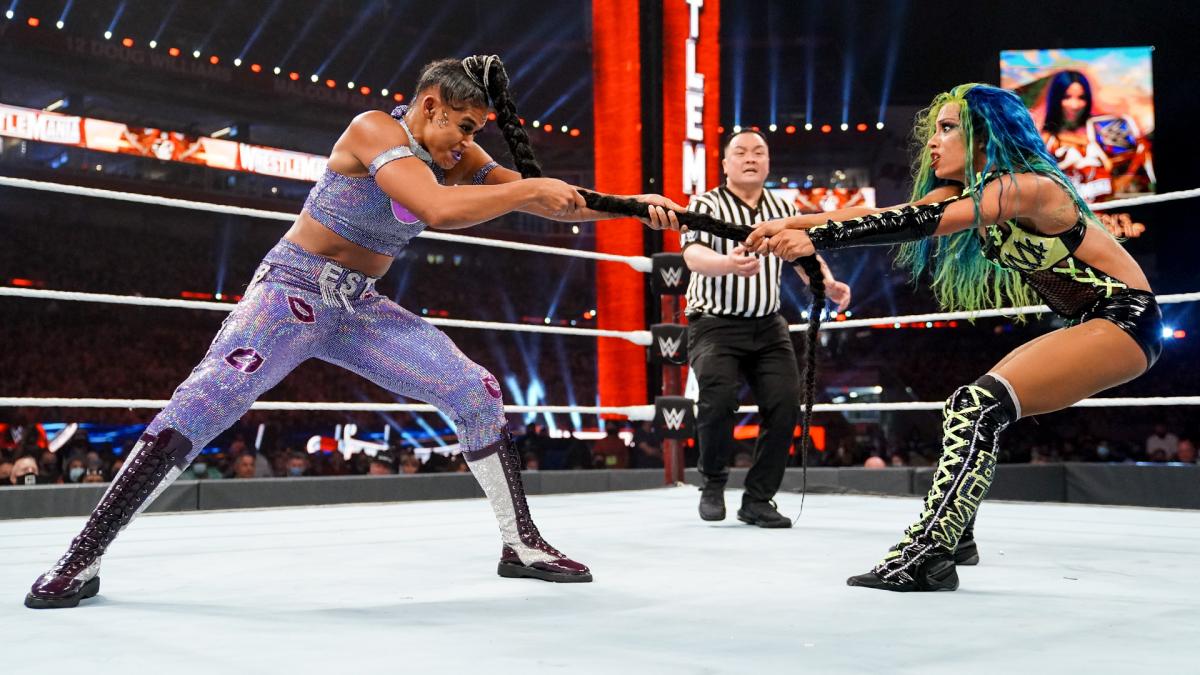 Ladies and Gentlemen, boys and girls. Children of all ages… WrestleMania is finally upon us once again and this time we are for real going to have it at my champion Tampa Bay Buccaneers stadium, Raymond James  and we get fans involved! We will hear the cheers, the boos and of course the ugly in the whole the but it's still the grandest stage of them all. We have some decent matches for night one that will take place, sadly a thunder storm but if we know Vince McMahon, that's not going to stop him.
Welcome to the Thirty-Seventh installment of WrestleMania!!!!!!!!
Results:
Drew McIntryre vs Bobby Lashley(c) for the WWE Championship:  Bobby Lashley wins via Hurt Lock – ****  – TITLE DEFENSE!!!!!
Tag Team Turmoil: Naomi & Lana vs Carmella & Billie Kay vs The Riott Squad vs Dana Brooke & Mandy Rose vs Tamina & Natalya: Tamina wins by last Elimination the Riott Squad – ** ½
Seth Rollins vs Cesaro: Cesaro wins via Gotch Neutralizer – *** ¼
AJ Styles & Omos vs The New Day(c) for the WWE Raw Tag Team Championships:  Omos wins via Two-Handed Chokeslam – *** – TITLE CHANGE!!!
Steel Cage: Braun Strowman vs Shane McMahon: Braun Strowman wins via Running Powerslam – ** ¼
Bad Bunny & Damien Priest vs Miz & John Morrison: Bad Bunny wins via Electric Chair Crossbody combination – *** ¼
Bianca Belair vs Sasha Banks(c) for the WWE SmackDown Wom0n's Championship: Bianca Belair wins via KOD – **** – TITLE CHANGE!!!
Review:
Drew McIntyre vs Bobby Lashley
Both men try to get a strength advantage with a Collar & Elbow tie up before breaking it and going to holds now and still getting even ground. Now both men get some fighting in the corner going, delivering punches and strikes until they go to the outside where Lashley takes control and ragdolls McIntyre into the barricades before tossing Drew back in. Lashley keeps the onslaught on Drew and gets a quick pin attempt for a one and continues to get the beat down on the former champ. Lashley gets a lot of steam going as he goes to do another shoulder tackle into the corner, only to miss and Drew targets the arm of Bobby. Momentum shifting into Drew's favor as Drew getting things going for him, suplexes and strikes galore as he goes for the Future Shock DDT. Lashley puts Drew into the corner to get separation but Drew catches the strike attempt and catches lashley into Northern Lights Suplex for a nearfall.
Bobby gets a reversal into a slam, a near fall and both men get some signature moves in. Drew hits the Glasgow Kiss and Bobby hits back with a one handed Spinebuster. After another near fall, Drew gets caught in a Hurt Lock but gets out of it quickly as they both go to the corner. Drew getting the swing this time and lands a good ol' Alabama Slamma for a near fall of his own before trying to set up a sky-high superplex to the champion. Lashley fights off the attempt as Drew gets a Kimora Lock in to weaken the arm, Lashley fights him off again, catching Drew into a Tree of Woe but Drew sits up to launch Bobby in a Belly- To Belly. Lashley hits another one armed Spinebuster until Drew kips up and tells him to bring it, delivering a trifecta of Future Shock DDTs for a two count.
Drew in shock but goes to the corner, doing the countdown to the Claymore but Lashley rolls out of the ring. Drew tapping into a little bit of Undertaker and does a Tope Con Hilo to take MVP and Bobby out and takes Lashley back to the ring, setting up for something in from the top. Lashley catches the challenger and goes to apply another Hurt Lock but Drew runs out of the way to stun Lashley. As Lashley goes to do another Spinebuster, Drew rolls it into a Kimura Lock, perfectly on before Lashley inches slowly to the ropes to kick out. Lashley now, getting his aggression out, taking it to McIntyre in the corner until Drew gets separation, going for another Claymore until MVP distracts the former champion and misses the Claymore for Lashley to get the Hurt Lock in. Drew looked impressive to break out but Lashley didn't break when Drew pushed off the corner and passes out from the pressure.
Tag Team Turmoil
Naomi & Lana vs Carmella & Billie Kay to start off the gauntlet style matchup as Naomi and Lana take the early advantage against Carmella. Carmella gets a tag onto Billie Kay but the advantage is still Lana and Naomi. When all four get in for chaos, Billie Kay goes for a roll up and beat Naomi and Lana for the next team to come out…
Riott Squad come out and take it to Billie early on but Carmella gets a tag and starts a beat down against Liv Morgan. Ruby breaks up the pin attempt but as Billie goes for the same pin attempt, the ref catches it and the Riott Squad get a tag and the advantage as Billie Kay gets brutalized, pinned and Carmella starts to beat up Liv before the next team come in…
Dana and Mandy come out and Ruby fights the two alone from the beat down as the fresher team gets things going and Liv barely gets a break of a pin attempt as Mandy and Dana work Ruby's neck now. As Mandy cuts the ring off from Ruby, Ruby starts to fight out of the corner and gets Liv into the match now as they start the beat down of Mandy Rose. As the Riott Squad lose the advantage, Rose and Brooke get some damage with a superplex and Swanton combination but Liv gets a reversal on Dana and get the pinfall.
Natalya and Tamina are the last two to get in the match up and start the powerhouse assault on the Riott Squad. The two getting the best of the most tenured tag team in the whole match up as Liv tries to break out of their grasp. Ruby gets the tag and hit the codebreaker/senton combination to Tamina only for a two though and Tamina gets the advantage back, gets the tag to Natalya and they hit a Hart Attack. Natalya looks to get the Sharpshooter but changes her mind and tags Tamina in for the Superfly Splash to get the Day Two Tag Team Championship opportunity.
Seth Rollins vs Cesaro-
Cesaro goes quick into the offense with an Uppercut and goes for the Swing early but Seth rushes out and panics with Cesaro getting more and more of a beat down. Cesaro getting a good amount of offense going as Seth starts to target Cesaro's arm and starts to pick things up after with his Superplex/Falcon Arrow combo after getting distance. Seth getting cocky again as he tries to take it to Cesaro but the Swiss Cyborg gets his strikes in again, taking down Seth with Uppercuts and goes for the swing again constantly, first time gets countered into a cradle, second time Seth gets to the ropes but the third time is the charm for nine rotations of the Swing and Sharpshooter. Seth breaks out of the hold and moves out of another Uppercut attempt from the corner, hurting Cesaro's arm again as Rollins gets his high offense in, knees, Slingblades and a 360 Splash but nothing keeps Cesaro down. Seth tries for a ripcord knee but Cesaro changes it into a Neutralizer and a two count. Rollins crawls to the ropes and gets his legs grabbed again for yet ANOTHER Swing but flips out of it, into a Pedigree but fails to get the victory again.
Rollins gets his speech in about being God as he hits Cesaro in time to set up the Curb Stomp. Rollins gets caught into a Uppercut (second best Stomp counter) and takes Rollins spinning, first with a no handed Airplane Spin, Giant Swing and finishes it with a Neutralizer.
(Now get my Red and Pewter out of my sight on Rollins. They are winners unlike you tonight, Seth.)
New Day vs AJ Styles and Omos-
We… are getting Omos to start off against Kofi…? Oh no. New Day goaded AJ to start.
Kofi and AJ using their speed to go off and do some of their big moves or attempt them as AJ thinks he gets an advantage but Kofi gets it, with a slam and near fall, teasing AJ after a beat down as the champs get frequent tags, even getting a Unicorn Stampede off before Xavier holds AJ down for a bit. They keep teasing Omos to tag in but to no avail, New Day beating AJ down more. Kofi goes to tease AJ to get to tag AJ but tags Woods in to cut him off from tagging Omos. After a flurry from AJ to separate from Woods, Kofi tags himself in and fights AJ from tagging the big man in until AJ separates himself from the two and realizes, "I can tag the big man…? I CAN TAG THE BIG MAN!"
Omos comes in and Xavier can't knock Omos down as Kofi tries to tag in and chop down the big man as The New Day… well to quote the remake of The Longest Yard… they shit themselves. Omos dismantles and smashes The New Day in the ring. Omos basically is breaking them apart as AJ flings over Omos for a Phenomenal Forearm and Omos two handed Chokeslams Kofi down for the win… Jesus Christ. They made him look like a billion dollars in the ring tonight.
Braun Strowman vs Shane McMahon-
As Braun comes in second, Elias and Ryker goes and beats Strowman down with chairs before the bell and Shane tells them to bring Braun in for it to start.
Shane grabs one of the chairs and beats Braun down with the chair over and over, going for a quick win and escaping but Braun, limping, stops Shane and taking more strikes from Shane for a good amount, limping and weakened as Shane breaks sheet metal from the top of the cage to continue the beat down and near fall. Braun now taking the fight to Shane as he stops Shane from escaping and tossing Shane into the cage walls over and over as Shane gets Braun's hands now before getting squashed between the cage walls. Braun gets the full advantage in the match until his legs give out from earlier and Shane slides out, doing a swinging DDT and setting Braun up to go from Florida all the way to Cali with the Coast to Coast for a second near fall. Ryker and Elias climb the outside to get Shane out but Strowman runs into the cage to loosen all three of them. More offense goes on before Shane gets away and climbs out almost until he pisses off Braun and… gets caught, pulling the cage apart and dragging Shane back in. Braun getting a bright idea as he props Shane up on the cage, going up himself before Braun launches Shane off the cage and climbs back in, stumbling and standing up for himself and everyone who was bullied that's watching before hitting a Running Powerslam for the win.
We get a small break for the cage to be taken down to honor the inductees to the 2020 Hall of Fame, Shatner, Liger, JBL, The Bella Twins, The British Bulldog, Titus O'Neal with the Warrior Award and the New World Order, Waltman, Hall, Nash and Hogan.
Bad Bunny & Damien Priest vs Miz & John Morrison-
Priest and Miz start it off and Miz goes to the corner and goads Bunny to come in and tags in as they walk around a little bit and Miz being an ass saying he can get the first shot as Bad Bunny pops Miz down. Bunny actually goes for a waist lock as Miz swings wild, Bunny ducks and gets another jab in before Miz gets pissed off and both of them trade blows in the corner of the ring before Miz gets the advantage, taking Bad Bunny into one corner and gets cocky a little before getting countered and Bunny flings Miz down with an arm drag. Miz rolls out and gets caught INTO A LA MAGISTAL AND A NEAR FALL! Miz had to get cheap after a a short pep talk with Morrison as Bad Bunny showing he's better than Enzo with the rope spot. Bunny gets the advantage again as he slides under the ropes and does a well done Tilt-A-Whirl Head Scissor on Miz before tagging Morrison and getting some control in the match for M&M.
Miz gets back in and taunts Damien Priest by putting Bad Bunny in a headlock, inches away from Priest until Bunny gets some fight in him, dropping Morrison from the apron and almost getting to Priest, countering Miz's stop with a Sunset Flip but getting beaten down after the pin attempt. Miz and Morrison take it to Bunny on the outside a bit. Morrison gets tagged in and taunts Booker T with a Spinarooni (A perfect one at that) as the tag to Miz gets in and Priest tries to get the crowd amped up. Miz cheap shots Priest and takes the ref's attention away as M&M just keep embarrassing Bad Bunny with kicks in the corner. Miz gets cocky again and goes for his signature clothesline in the corner but Bunny stops him, dropping Morrison's attack from the apron and hits a Tornado DDT onto Miz as he finally tags Damien Priest.
Damien goes to both men with his speed and strength, suplexing Miz into Morrison and hitting a chokeslam into a nearfall as all four men now get in the ring. Stereo Falcon Arrows, Damien Priest getting his step up Tope Con Hilo and Bunny with a crossbody. Priest gets Miz into the ring and Miz counters it into a Skull Crushing Finale into a pinfall. Bad Bunny goes to break it up and almost gets a tag in before Morrison pulls Bunny down. Bad Bunny having none of it from Morrison, hits a God Damn Destroyer as Priest props Miz up, gets the tag and lands a crossbody on the Miz for the win.
(Okay… Bad Bunny actually impressed me. Showed he cared. I give him props for that. I really do.)
Bianca Belair vs Sasha Banks-
Both women size each other up for Collar & Elbows and Sasha shoves Bianca down, getting the trash talk started before Bianca kips up and shows a good amount of her –est's, being Strong, Quick, Fast against Sasha as Sasha gets annoyed and gets caught by Bianca, rolling her out of the ring as Bianca goes to the outside. After some fighting on the apron, Sasha goes for a good suicide dive attempt but Bianca catches her and carries her to the ring as the match gets back to the ring. Bianca gets her usually offense going but Sasha actually grabs the hair of Bianca during the cartwheel and takes control this time around, getting her edge back and weakening the challenger. Sasha takes her to the corner and goes for the double knee attempt from the apron before Bianca catches her and drops her on her shoulder as they both go to the outside. Bianca's hair gets caught by Sasha and Bianca takes control on the outside before the ref gets to 8 and both come back in. Bianca showed off her strength this time after a cradle attempt and does an impressive amount of time on a stalling suplex. Sasha keeps using Bianca's hair to try to stop her after the Suplex but Bianca uses her hair as a ripcord effect into a clothesline. Sasha gets beat down from a Standing Shooting Star and getting propped into the corner as Belair goes for a 450 attempt from the top rope and Sasha counters, getting the momentum change momentarily.
Bianca catches some of Sasha's high speed offense and does powerbomb pinfalls as Sasha kicks out of the first two, reversing the third with an X-Factor and taking control back with a Tornado DDt for another near fall. Banks now goes to the top for a Frog Splash. Sasha gets her anger and ruthlessness to wrap Bianca's hair around her opponent into a Bank Statement and somehow, Bianca powers through and gets to the ropes before Sasha starts stopping on Bianca's face after the break. Banks keeps going with the trash talking but Bianca shoves her into the corner post with some Shoulder Tackles and sets her up for a Superplex. Sasha fights her off and attempts a cartwheel kick before Sasha grabs the feet into a Tree of Woe position to land a Meteora. Sasha misses the first one, goes to a knee strike from the Tree as Bianca sits up so Sasha lands knees first into the turnbuckle and eats a 450 Splash for a near fall. Sasha tries to get control again after but gets whipped in the midsection with Bianca's hair and after a fight to swing around, Bianca grabs Sasha up and lands the Kiss Of Death to win her first Women's Championship in WWE.
Overall Score: 8/10
Well not too bad for the first fan attended event for WWE… barring NXT of course. Bad Bunny showed he can actually care about wrestling, wasn't expecting a Canadian Destroyer… or I guess Puerto Rican Destroyer. Cesaro gets his moment, Bianca gets her moment. AJ Styles is now a Grand Slam Champion and every match except for the Tag Team Turmoil thing was pretty solid. I actually can't wait for night two of Mania. Did it match Stand and Deliver Night One? No. That is still the best match of the week so far but they brought a good amount of fire this night and held a candle to Night Two all things considered. Well we have one more day for me to do Mania Week writing so let's see if Night two can live up to Night One.
Just… people stop wearing my Bucs colors and lose in the process. Seriously. Disappointed me tonight Seth and New Day.