Andrew's Genesis Results & Match Ratings 1.9.21
The first Genesis since 2018! This one feels more like Destination X since it's all around the Super X Cup! Do we get another solid ImpactPlus App event?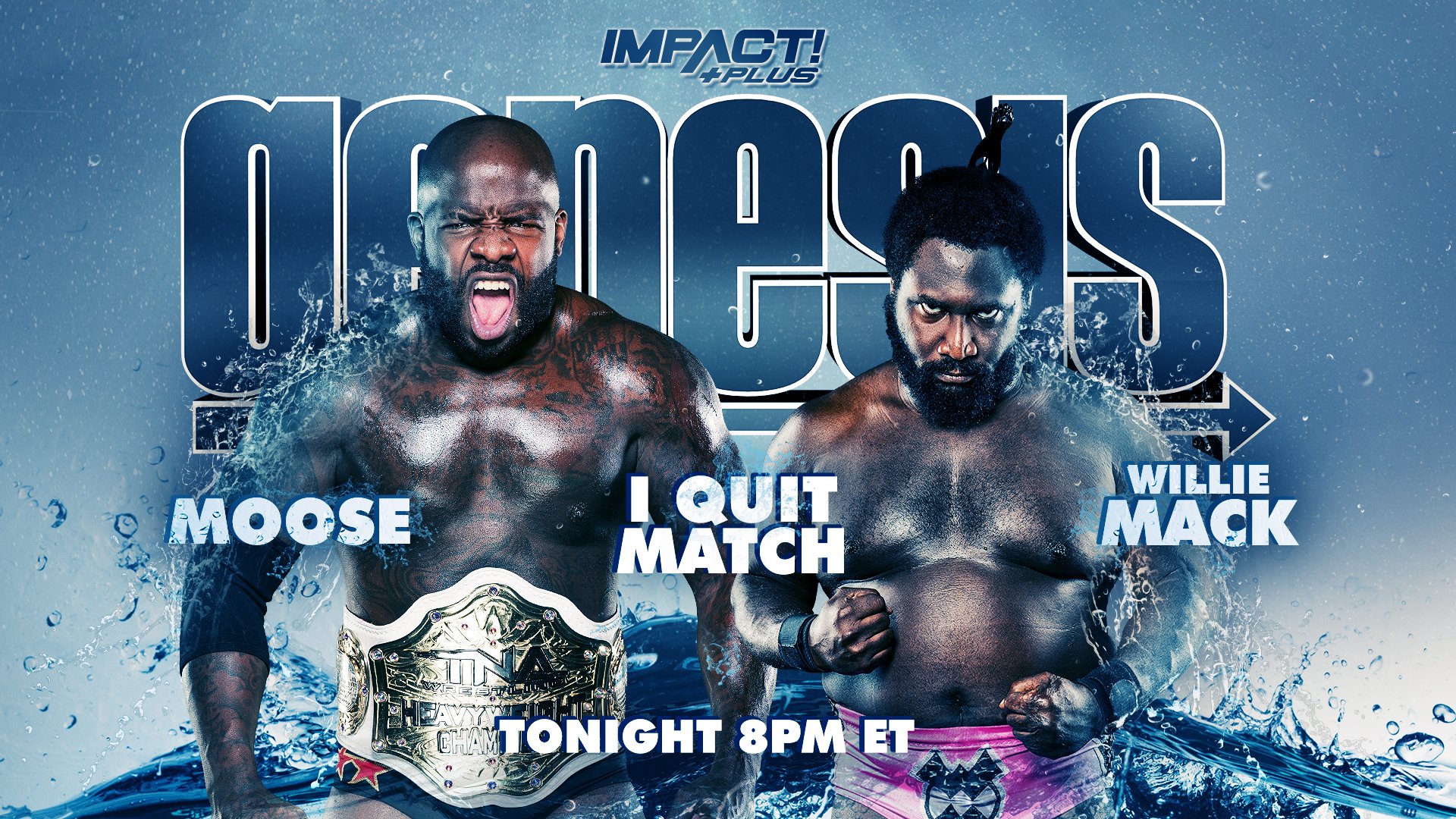 Genesis this year feels like Destination X with having the entire Super X Cup as the main attraction! We also get a generational battle between Jazz and Jordynne Grace. Main evented with the blood feud I Quit match with Willie Mack and Moose!
Now much like I tweeted, Blake Christian is who I'm looking most forward to in this X Cup. He's been a beacon in the murky landscape of NJPW Strong, and he's had decent tournament runs this past year. Ace Austin will most likely win the tournament since he needs something to re-establish himself after a few tough losses to end 2020; but I can still hope for Blake.
Also I've really been enjoying Moose during this whole TNA Champion reign and since his interaction with EC3. He's found a great persona and even stepped up his in-ring ability. So this could be a surprisingly fun event.
Let's find out!
Ratings:
Super X Cup: Ace Austin vs Suicide: Ace wins via The Fold – ** ¾
Super X Cup: KC Navarro vs Blake Christian: Blake wins via Elia – ***
Super X Cup: Cousin Jake vs Daivari: Jake wins via Blackhole Slam – **
Super X Cup: Crazzy Steve vs Trey Lamar: Steve wins via King Kill 33 – *** ¼
Super X Cup: Cousin Jake vs Ace Austin: Ace wins via Springboard Corkscrew Fold – *** ¾
Super X Cup: Blake Christian vs Crazzy Steve: Blake wins via 450 Draping Splash – *** ½
Jordynne Grace vs Jazz: Jordynne wins via Reverse Cradle – *** ½
Super X Cup Finals: Ace Austin vs Blake Christian: Ace wins via Flash Fold – ****
I Quit Match: Willie Mack vs Moose: Willie Mack wins – **** ½
Results:
Super X Cup: Ace Austin vs Suicide
Part of the entertainment is that each X Cup participant get a promo before the match. But for Suicide it was a combination of D'Amore, Sabin and Shelley. So it was nice for some inside baseball, like Sabin saying he's pretty sure it was Christopher Daniels and still might be!
As for the match, it starts off with Ace not realizing who he was facing. He tried to do the paper cut, but Suicide wears gloves so it didn't do a damn thing. The action was back and forth with a lot of Fulton making his presence known but not physically getting involved, just being a constant distraction.
Hard to really say more than this was just decent back and forth, some nice spots, but Ace gonna be a heel and win thanks to a distraction from Fulton and then The Fold. So to no one's surprise, Ace wins the first round.
Super X Cup: KC Navarro vs Blake Christian
The promos in the beginning really helped show Blake as the typical humble white meat babyface, and Navarro as the brash mouthy arrogant one. No one is really a heel, but Navarro came in with a Pringles can on his shoulder.
Early on we see Navarro trying to prove to Blake that he's just as good, if not better than him with mirroring certain moves. Then we get some solid Junior style action with Blake doing a lot of standing acrobatics from Shooting Stars to Planchas, and Navarro was looking for openings. Blake's style is very calculated Junior risks, and I love how he throws the hesitation Dropkick to a seated opponent. Navarro did well enough, but he was always punching a little above his weight.
Super X Cup: Cousin Jake vs Daivari
This was a match that Jake needed since Cody got some character progression and he got left behind.  The issue comes from the fact that this was a slower more classic style of match; which didn't really work super well with the fact the first two were faster paced in the same tournament.
Slower work where Daivari took advantage of positioning and Jake's over eagerness at times, but he started working on the legs too late. Jake had enough power to hit the Blackhole Slam and pick up the win.
Super X Cup: Crazzy Steve vs Trey Lamar
Trey did really good comedy work in this match. Crazzy Steve's antics kept him rattled, the stuffed monkey had him freaked and Steve used that to his advantage. So early on there wasn't much wrestling, but good entertainment.
Trey really showed up in this match. Steve had a few bigger moves than usual, like the Avalanche Russian Leg Sweep and a grounded Cobra Twist, but Trey was the star in defeat here. He looked great, his facials were solid (except for a weird tongue flick he did while having Steve in a headlock). But either way, this kid could be something special.
Super X Cup: Cousin Jake vs Ace Austin
Finally we get a great meshing of styles, with a little bit of a hint towards a possible future encounter with Madman Fulton and Cousin Jake. Watching Jake's power and Ace's ingenuity was fantastic. Buckle Bombs, catching Ace out of midair, big Slams and Michinoku Drivers, but the fact that Ace won with a variation on The Fold was really great from him.
This is just a really well wrestled match, Fulton did a great job playing bodyguard and not being as obnoxious in the wrong spots as the first match. Great stuff.
SPRINGBOARD FOLD SENDS @The_Ace_Austin TO THE FINAL! #Genesis pic.twitter.com/WM68LvHG4H

— IMPACT (@IMPACTWRESTLING) January 10, 2021
Super X Cup: Blake Christian vs Crazzy Steve
Steve utilized a different part of his crazy kit here by interacting more with his monkey than his opponent. Lots of conversations and even a friendly hug between Steve and Blake.
Blake seems slightly confused but it doesn't really throw him too far off. Things start slow until Blake accidentally kicks the monkey out of the ring. Then Steve goes a little crazy…err…crazier? Steve did a great job in helping to display Blake's kit, a nice Split Legged Moonsault and the 450 he used as the finish. Blake looks like a solid challenge for Ace, but you gotta wonder if they're gonna continue breaking down Ace or if this was manufactured to get him some momentum.
450 SPLASH IN THE ROPES SENDS @Air_Blake2234 TO THE SUPER X-CUP FINAL! #Genesis pic.twitter.com/AGXXCzLgrY

— IMPACT (@IMPACTWRESTLING) January 10, 2021
Jordynne Grace vs Jazz
Things start off respectful, but then both women get to slugging it out. Some powerful charges to knock one another down, haymakers and we get a nice women's Hoss fight. Jordynne has an early advantage, but Jazz trips her up on the apron, then starts laying forearms across her face and just dominates for a few minutes.
Jordynne manages to absorb a Butterfly Suplex and stop the follow up move, sweep the leg and now we get some high impact attacks from Jordynne.  Spinebuster, Vader Bomb, an Aja Kong style backfist, and really great power couldn't quite finish off Jazz. Jazz drops Jordynne on her face (on purpose) and it's really close in the waning moments of the match. Jazz runs Jordynne into the ropes, O'Connor Roll, Jordynne rolls through and picks up barely a 3 count! Hard hitting, and pretty fun honestly.
Super X Cup Finals: Ace Austin vs Blake Christian
Blake comes out holding his ribs, reminiscent of the Lion's Break Tournament, so even though I would like Blake to win; it's leading more to an Ace win.
Surprisingly, this is a hell of a match. Ace was on the receiving end of a ton of offense, even when there was a dodge, it was close and cool. Big high flying attempts like Corkscrew Sentons, 450 Splashes, Blake went for Elia again and missed. There was a really solid locomotion cradle spot, which has a small hitch but not enough to look sloppy.
At the end we see Ace go for the card, but Blake grabs the hand and crumples it between. They go back and forth trying to push one another off with their legs, in that Lucha rolling arm lock spot. But as Ace pushes back, Blake stands, and before Blake can do anything; Ace follows the momentum, twists and hits The Fold for a win out of nowhere.
This was a tremendously great match, showed a lot for Blake in the loss and validates some of Ace's ego returning.
I Quit Match: Willie Mack vs Moose
This had all the tones and feelings of the grudge match that it was. Willie and Moose went hard early, kept trying to intimidate one another and get in each other's heads to get a quick quit. But this was not going to be over quickly and it was paced well, and the moves were meticulous, and the way they went from calling the referee in early to pushing him out of the way; just trying to inflict more damage was great.
Moose hit an Avalanche Go To Hell through a table, but Willie wasn't going to die. Willie got some momentum a bit later, told Moose he'd have to kill him and that was a bit of foreshadowing. Moose was covering the TNA title belt and just chucked it at Willie's head to give himself some space. Moose did make a reference to his EC3 match when he flipped off Willie right before a chairshot, but the point was the ending. Moose takes control, wraps the chair around Willie's neck and goes to kill him, chair into chair style.  Rich Swann runs out and screams "What do you want", Moose stares at him blankly and Rich says he'll give him a title shot if that's what he really wants, just stop the madness. Moose puts the chair down, and says "Thank You, I Quit".
Overall Score: 8/10
This card did a great job at slowly building up. First round matches got us to where we needed to be, and they were mostly serviceable. Jake looks to still be reeling, which makes for a solid story of him finding his stride and figuring it out through the year. Blake Christian is a damn star, even though he was runner up, he stood out the most. Ace gets back on track, but we need more Blake in Impact Wrestling.
Jazz definitely brought it tonight as well. The finish was close enough to still leave a small question, but she threw the stiff shots and made that match a hell of a fight. Moose however, proved why he was the main event and also why he's one of the most improved wrestlers of the last year or so. Moose was never bad, but always lacked something and needed others to bring him to a good match. We got a grudge match, fantastic violence and the fact that Moose had a very specific goal, so once he got what he wanted, the match no longer mattered and he ended it on his terms. Just complete genius.
Surprisingly great ImpactPlus event from Impact Wrestling. Now we get to see if Hard to Kill lives up to Genesis!