Andrew's Impact Wrestling Results & Match Ratings 1.5.21
New Year, so Impact is finally back to normal shows! Can Jazz and Jordynne Grace move on to the Knockouts Tag Finals? Will Sami and Eddie end their rivalry or just continue to stoke the fire?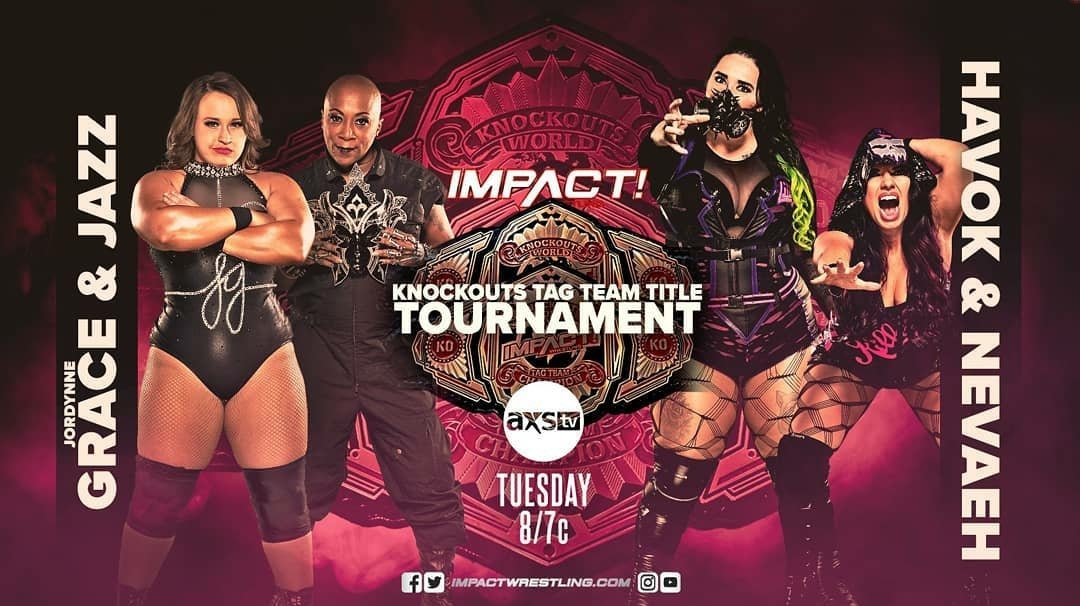 The first real Impact Wrestling in a couple weeks and we've got two things of note! We learn who the other team to make the finals of the Knockouts Tag Tournament are and we might get a resolution to the Sami Callihan/Eddie Edwards saga!
Beyond that we might have something X Division related since the Super X Cup was recently announced, Moose has to kill an extra for tearing his suit and I guess there's more AEW cringe we have to sit through for the sake of ratings.
Allow Impact the opportunity to knock on your door…or…be the door…be the opportunity…OH SHOVE IT! Watch the show and this clip is another highlight of how well Tenille and Kaleb have been able to utilize their new personalities.
.@TenilleDashwood is knocking on @WeAreRosemary's door but she didn't get the answer she wanted. #IMPACTonAXSTV @kalebKonley pic.twitter.com/SD2X94pLjH

— IMPACT (@IMPACTWRESTLING) January 6, 2021
Ratings:
KC Navarro vs Blake Christian vs Ace Austin w/Madman Fulton vs Crazzy Steve: Steve wins via King Kill 33 – ** ½
Cody Deaner & Joe Doering vs Rhino & Cousin Jake: Cody wins via DDT – ** ¾
Jordynne Grace & Jazz vs Havok & Nevaeh: Havok wins via Tombstone Piledriver – *** ¼
3 Minute Challenge: Moose vs Matthew Palmer: Matthew Palmer lasts the 3 minutes – N/A
Sami Callihan vs Eddie Edwards: No Contest – ***
Results:
KC Navarro vs Blake Christian vs Ace Austin w/Madman Fulton vs Crazzy Steve
We get a Super X Cup preview, or at least 4 of the competitors. This was really just done to establish that Ace is a favorite and to showcase Blake and KC a little. Blake definitely showed out, and I'm aware of how good he is from his time on NJPW Strong as well as his decent run in this past year's Super J Cup.
Ace pulled out a nice Fosbury Flop, but Steve wasn't taken seriously from the start, and turned up to play spoiler. As the other three were basically ignoring him, he set himself up to take advantage and hit the King Kill 33 for a surprise momentum win!
Sami cuts a decent promo basically warning Eddie about the carnage later and telling Alisha to not show up to the ring.
We get another cringy AEW "paid" commercial. The only thing that makes these entertaining is Schiavone.  Followed up by some Callis, Omega and Good Brothers on the bus. These are getting so dumb to the point where they are almost amusing in how terribly amateur they are. I usually like videos under the amateur category, but this ain't quite there yet.
.@KennyOmegamanX, @The_BigLG, @MachineGunKA and @TheDonCallis are family for life. #IMPACTonAXSTV pic.twitter.com/OyxXODdj28

— IMPACT (@IMPACTWRESTLING) January 6, 2021
Cody Deaner & Joe Doering vs Rhino & Cousin Jake
Cody Deaner comes out with a whole new American History X style. So a maniac, a bald dude and a cowboy…if this don't scream hailing from a red state, I don't know what does.
We see the new more aggressive Cody, and he dominates a fairly reluctant Jake. Jake keeps trying to appeal to Cody's senses, but he just eats a beating for it. Doering comes in for a little bit of offense  then we head to a commercial. Coming back, Cody is legal again but Jake finally gets a little space to tag in Rhino.
Rhino stabilizes things a little, brings Jake back in, and then we see Eric Young's usefulness. A distraction and Cody with the low blow right in Jake's Deaner Beaners! DDT after the low blow and the red hat warriors win the match!
Tommy Dreamer comes out to stop the post-match beat down and challenge them to a trios match at Hard to Kill. Solid promo from Dreamer, but it's nothing he hasn't said the last 5 years.
.@DashingChrisBey and @HakimZane are looking to get to the bottom of the Manik mystery. #IMPACTonAXSTV @MegaTJP pic.twitter.com/WpjHUCGNyf

— IMPACT (@IMPACTWRESTLING) January 6, 2021
Jordynne Grace & Jazz vs Havok & Nevaeh
Nevaeh bumped around a lot to make Jazz and Jordynne look great, but Havok was a big difference maker. This was a great back and forth struggle since neither woman is petite or weak. Jazz pulled off her jab/cross combination, it looked like her and Jordynne were gelling when they knocked Havok down together for a near fall, but it was short lived.
Havok dumped out Jordynne, ate a little offense from Jazz and then Tombstoned her into the mat.
I'm a little surprised Jazz at the pin, but with how Jordynne reacted, I think it's just leading to a singles match between Jazz and Jordynne.
.@SuperChrisSabin, @fakekinkade and @GottaGetSwann aren't about to let @KennyOmegamanX and The Good Brothers walk around IMPACT as if they own the place. #IMPACTonAXSTV pic.twitter.com/R4zafWdusP

— IMPACT (@IMPACTWRESTLING) January 6, 2021
Well we see Jazz and Jordynne, and it's all love. Jordynne hypes up Jazz for not missing a beat and asks her, respectfully, to have a match at Genesis. Jazz agrees, this should be a good one.
Introducing Susan. #IMPACTonAXSTV @realsuyung pic.twitter.com/i46NraO4l3

— IMPACT (@IMPACTWRESTLING) January 6, 2021
Japanese Sarah Palin???
3 Minute Challenge: Moose vs Matthew Palmer
Well this was an amusing enough squash, where Moose was toying with his food. So when there was about 20 seconds left, Willie Mack showed up to distract Moose and help the jobber win!
Adds nice heat to the I Quit match and it's always nice to see the jobber win occasionally.
QUIET! @OfficialEGO wasn't happy with The Karate Man's advice and a #HardToKill challenge was issued. #IMPACTonAXSTV pic.twitter.com/Xx0ayxJ1pa

— IMPACT (@IMPACTWRESTLING) January 6, 2021
Karate Man versus Ethan Page at Hard to Kill!? NO WAY! Too much Cobra Kai for Ethan Page.
Sami Callihan vs Eddie Edwards
Eddie drags Sami out of the back immediately and the fight begins with little hesitation. We get a heavy outside brawl, and this is supposed to be a normal match. The referee keeps trying to implore them to bring it in the ring, so the match can officially start, but it's a hardcore match for the most part.
Chairs, ring bells, baseball bats, guardrails, all of the usual basic "extreme" fixings. After they beat the hell out of one another, Sami throws Eddie in the ring, he follows, the match officially starts; and we get successive elbows and forearm smashes. The drive to the corner, Eddie rains down elbows, the ref tries to break it up, Eddie pushes him. Sami switches the position, rains down his own elbows, then he pushes the referee. They move to the center of the ring trying to gauge the other's eyes out, the ref tries to stop things, they push him down in tandem.
The referee is sick of this, declares a no contest and stomps off. A little more action, before Eddie grabs the baseball bat and looks to make good on the eye injury from a few years ago. But Sami pushes his phone, reveals that Alisha is locked up in a warehouse area, and Eddie runs off. We go to a cinematic portion where Eddie finds her, but Ken Shamrock is lying in wait for the ambush.
Eddie gets beat down, tied to the caged area with barbed wire and left limp while Alisha is increasingly more pissed off. We're not done here, but it did reintroduce Ken Shamrock.
Overall Score: 7.25/10
 This actually did a few things quite right to correct awkward early missteps. The fact that Swann and the Guns poked fun at the Bullet Club members, charged at the bus and generally tried to take some control of their own damn show; it showed at least some fire to not allow AEW to run roughshod just to spike ratings. Also I've learned that the Good Brothers particular style of toilet humor makes Omega's terrible acting and spastic approach more tolerable, at least to me.
Joe Doering finally had official in ring action, Jazz is set for a decent profile singles match with Jordynne, the Knockouts Tags will be won by a legit team, Willie got a small edge on Moose and Sami went to lengths to make sure that the Eddie Edwards feud is far from over.
Genesis should actually be entertaining, even though I really don't like an Impact special the week before a PPV. But, setting up things for Hard to Kill seems to be coming together nicely. OH, and – WHAT THE F@|< is a Susan?!