Andrew's Impact Wrestling Results & Match Ratings: 1.12.21
The Go Home to Hard to Kill! After The Good Brothers made an appearance on Dynamite; do we see any new AEW talent invade Impact before the PPV?
Coming off a Genesis event that ended with some nice matches and story wrinkles, we come into the Go Home for Hard to Kill! The Impact PPV that will feature Kenny Omega in the main event.
We will probably see something looking like a end to the feud between Eddie Edwards and Sami Callihan, Cody Deaner gets to work out more of his new persona and we might finally see Joe Doering murder someone! Deonna Purrazzo has her hardest challenge to date with Taya Valkyrie, which could be one of Taya's last matches in Impact if contract questions are to be believed. Rohit Raju and Chris Bey will try to get one step closer to unmasking and unseating the current X Division champion Manik.
Let's also not forget we get the finals for the Knockouts Tag Titles at Hard to Kill! Inactive for 7 1/2 years, we'll get a new champion since ODB and Eric Young! Take a look at the redesigned titles, then lets get to the show!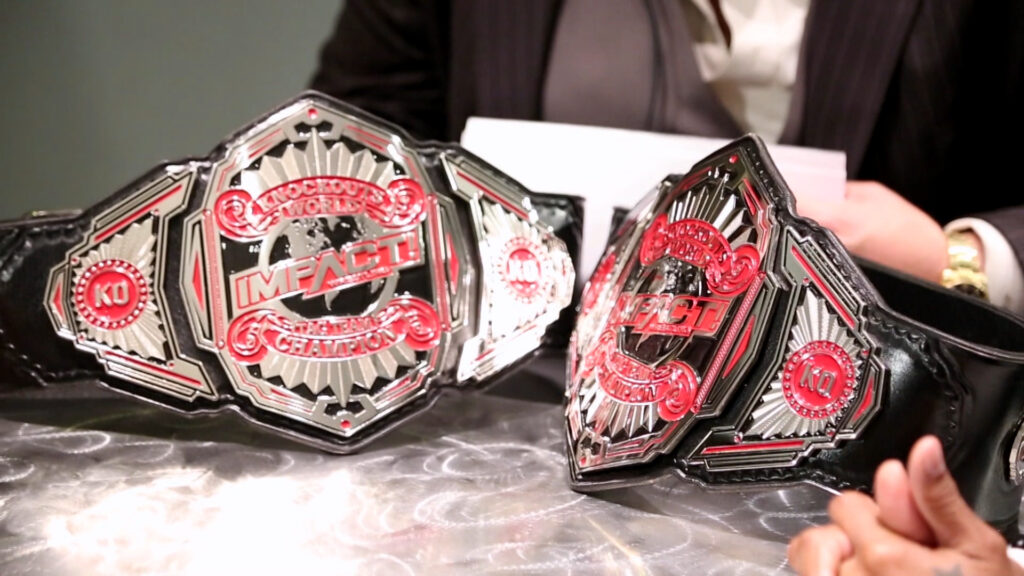 Ratings:
Taya Valkyrie w/Rosemary vs Kimber Lee w/Deonna Purrazzo: Kimber wins via Double Leg Cradle – ** ¾
Rohit Raju & Chris Bey vs Manik & Suicide: Bey wins via Art of Finesse – *** ¼
Deaner w/Eric Young & Joe Doering vs Tommy Dreamer w/Rhino & Cousin Jake: Deaner wins via DQ – *
Tenille Dashwood w/Kaleb vs Rosemary: Rosemary wins via Spear – ***
Moose vs Matthew Palmer: Moose wins via Referee Stoppage – *
Rich Swann vs Karl Anderson: Rich wins via School Boy – *** ½
Results:
Taya Valkyrie w/Rosemary vs Kimber Lee w/Deonna Purrazzo
Kimber comes out with instructions and goes right after Taya. Kimber is one of the few Knockouts that Taya isn't significantly taller or stronger than. Taya kept fighting from the back foot, but Kimber showed some really good aggression and the ability to keep the pressure believable.
Taya started turning things around after she got the knees up to counter a Swanton, but Deonna had a few tricks up her. Taya has Kimber seeing shadows, and Deonna puts her hand on the ropes. Rosemary tries to back Deonna back up the ramp, but before she can do any real damage we see…Susan?!
Susan has Deonna hold her glasses, and she cold cocks Rosemary and they start the beatdown. They hold Rosemary to watch the ring, Taya gets distracted with what's going on outside, so Kimber grabs her, trips her up and sits down into a cradle.
If the cradle wasn't a little awkward/sloppy then this would've rated higher. Honestly not terrible in-ring and story stuff.
.@KennyOmegamanX and The Good Brothers want momentum heading into #HardToKill on Saturday.#IMPACTonAXSTV @The_BigLG @MachineGunKA @TheDonCallis pic.twitter.com/PWyw4BiOSt

— IMPACT (@IMPACTWRESTLING) January 13, 2021
God I hate these stupid paid ads. Tony Khan is not tolerable to listen to, not even from a smarmy heel perspective; he's just an annoying human. Schiavone of course makes this palatable, but Khan is more cringe than uWu voice.
Rohit Raju & Chris Bey vs Manik & Suicide
The heels take it to TJPs two masked personas! Early on it takes the masked marvels a little bit of time to recover, but when they do we see a lot of signature poses and maneuvers. Pump kicks, lead to planchas and springboards and we just get a lot of good fun from Manik and Suicide while Bey and Rohit keep things grounded, aggressive and story driven.
Rohit is hell bent on taking off Manik's mask and that does cost him at different points. Suicide goes for Suicide Solution, but Bey hits the Art of Finesse for the pinfall! Manik avoids the pinfall, but his opponents technically pick up momentum.
Deaner w/Eric Young & Joe Doering vs Tommy Dreamer w/Rhino & Cousin Jake
Well Cody Deaner went full WWE and done lost his first name! It's not a name I would pick, but I guess Cody was already taken by someone else.
While not a bad match to add more interaction between the participants of the 6 man at Hard to Kill, it was really not anything to talk about. Rhino and Doering got caught interfering and thrown out, but then after a few moves Deaner and Jake have a moment. Jake tries to reason with him, Deaner smacks him so Jake takes him out.
Disqualification happens and we get a brawl eventually between all six when Rhino and Doering return.
Tenille Dashwood w/Kaleb vs Rosemary
Tenille applied her usual level of quirky humor to this match. She tried to offer friendship in the beginning, but got sucked in to a little bit of a rag doll from Rosemary. Which continued for a little bit until Kaleb got involved and Hairsprayed Rosemary early in the match.
That gave Tenille a near fall, but the match kept rolling along. Solid action mixed in with Kaleb's own bumbling because he would've been more useful if he put his phone down. When it looks like Rosemary is about to win, Kaleb hits the apron, but Crazzy Steve appears behind him to even the odds. Kaleb manages to sneak the hairspray in to Tenille as Steve runs him off. Tenille is shaking the hairspray but Rosemary sees her, tilts her head and Tenille gets sheepish. Rosemary turns the hairspray on Tenille.
So hairspray plus a Spear equals Rosemary wins. We get a nice little tease to maybe an official Decay reunion. I guess only time will tell.
With The Motor City Machine Guns, @KennyOmegamanX and @The_BigLG all banned from ringside, @GottaGetSwann gets @MachineGunKA man to man tonight. #IMPACTonAXSTV pic.twitter.com/gKTxdGO1c4

— IMPACT (@IMPACTWRESTLING) January 13, 2021
Moose vs Matthew Palmer
This was a match for Moose to prove his sadistic side and take advantage of a weaker challenger that got one over him last week. Palmer gets occasional flurries, but it's not believable. Commentary bills him as out of his depth and he's just an example.
Since the match was intended to make Moose seem vicious and just murder the poor enhancement talent, it did its job. But at no point was the finish in doubt.
Rich Swann vs Karl Anderson
The entire time Kenny's been in the picture, they've put a lot of spotlight on some of Karl's singles accolades in Japan. So it should come as no surprise that Karl actually came in with a plan and dominated for a good portion. Karl focused on the shoulder and it worked really well for him.
Rich was selling and getting caught by Shotgun kicks and a bunch of other moves, but at least proving to be resilient. Rich manages to catch Karl as Karl starts looking to finish things. A few nice strikes, the over the shoulder back kick and finally Swann's got something. Karl does stabilize and look for the Gun Stun, but Rich ducks the Gun Stun with a School Boy Rollup and that's the match!
After the match we get a dressing room brawl between all six heading towards Hard to Kill.
THEY'RE NOT WAITING UNTIL #HardToKill!

A CHAOTIC brawl ensued between @KennyOmegamanX, The Good Brothers, @GottaGetSwann and The Motor City Machine Guns as IMPACT went off the air. #IMPACTonAXSTV @SuperChrisSabin @fakekinkade @MachineGunKA @The_BigLG pic.twitter.com/56r4FcC9CC

— IMPACT (@IMPACTWRESTLING) January 13, 2021
Overall Score: 6.25/10
So this was a mixed bag of either predictable matches or solid to good matches. But the segments between were filler video packages recapping stories, and the fact that we got an old TNA or current AEW finish to the episode of a brawl…just because, it's a played out ending. With that, the episode felt like it was decent, but nothing really special, even though it was a Go Home. To be fair, Hard to Kill probably had all the needed hype off of the card itself, so I'm not sure what more they could've done, but something more clever than a dressing room attack to send us home would've been cool.
Again, this doesn't really take away from Hard to Kill, an the announcement of Eddie Edwards vs Sami Callihan being a Barbwire Massacre match is…okay? I mean the last one Impact did was between oVe and LAX; and honestly, it wasn't that great. I have a little more faith in Eddie and Sami, but death matches are usually all sizzle and no steak in the States. So it doesn't add anything to Hard to Kill for me, but who knows, maybe it peaked some CZW fans attention somewhere.
Hard to Kill should be a good PPV and here's to hoping that there's no awkwardness because it'll be live (they tend to have audio issues or something technical happens) and please no stupidity with AEW talent. If any more show up, I hope it's logical and actually kind of cool.