Andrew's Wrestle Kingdom 15 Day 1 Results & Match Ratings
Wrestle Kingdom tries to kick off the NJPW year right, by tying up all the 2020 shenanigans in a bow! Has Naito bitten off more than he can chew? Does Ospreay cement his new Empire? Will G.o.D. break the tag title reign mark? Let's find out!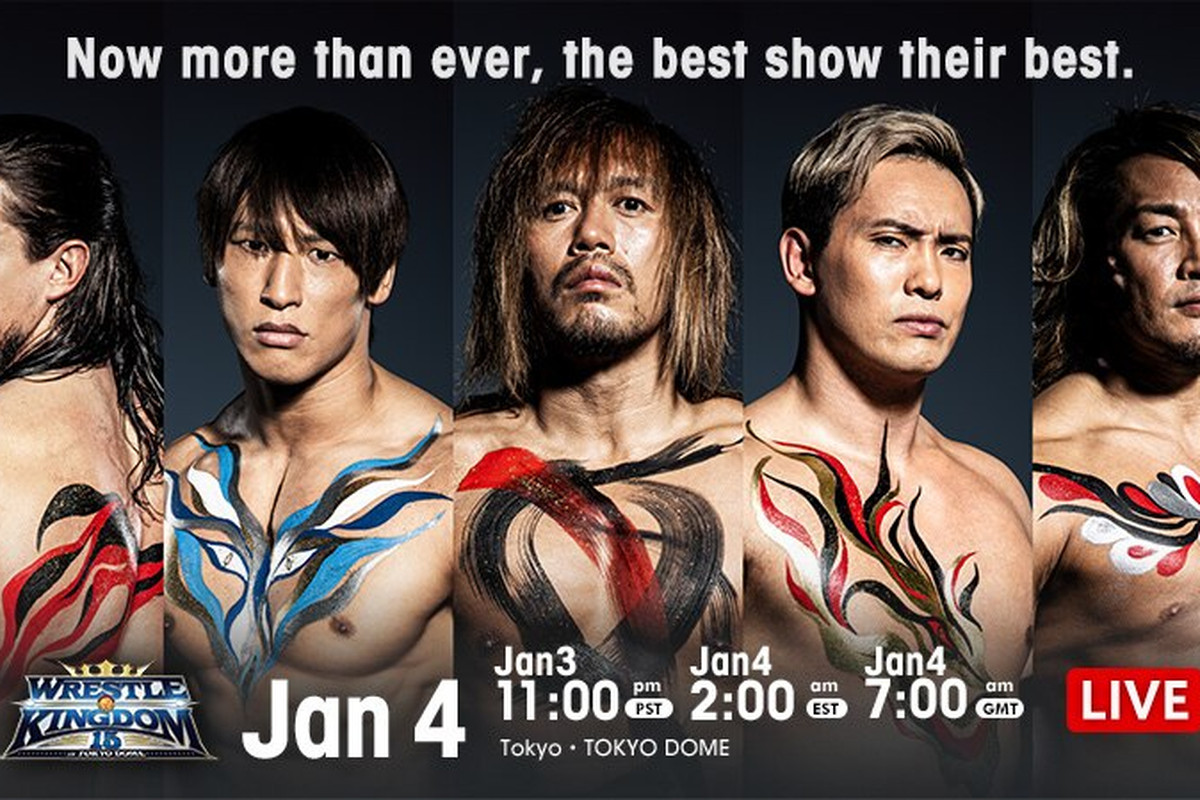 The first day of an event, where I hope it goes back to being one day moving forward. 2020 was an awkward year for New Japan, and since Wrestle Kingdom is the culmination of the previous year's stories; it makes complete sense that it looks awkward itself.
A roster and card that is exposed from quarantine limitations really should take a step back and reassess how they do their biggest event next year. But with all that said, there are some things to look forward to.
Ospreay and Okada have a lot of history and a known ability to put on quality matches, so that should be entertaining from an in-ring perspective. Ibushi and Naito might kill each other, so that has its own entertainment value. Satoshi Kojima gets one more chance at a decent sized match and the tag title match will either be a mess or pretty damn entertaining with all the heel shenanigans.
Is it a blockbuster card? No. Does it set your imagination ablaze? Not even close. But it has potential to still be entertaining.
Let's check it out!
Ratings:
KOPW 2021 New Japan Ranbo: BUSHI, Bad Luck Fale, Chase Owens & Toru Yano move on to the four way tomorrow!  @34:40 – ***
#1 Contender for IWGP Junior Heavyweight Championship: El Phantasmo (Super J Cup Winner) vs Hiromu Takahashi (BOSJ winner): Hiromu wins via Huricanrana @17:46 – *** ¼
IWGP Heavyweight Championship: Dangerous Tekkers (ZSJ & Taichi) (c) vs Guerillas of Destiny w/Jado: Loa wins via Ape Shit @19:18 – *** ½ – TITLE CHANGE!!!
IWGP US Title Briefcase Rights Match:  KENTA (c) vs Satoshi Kojima: KENTA retains via Go 2 Sleep @14:12 – ** ¾
Hiroshi Tanahashi vs Great O-Khan: Tanahashi wins via High Fly Flow @17:13 – *** ¼
Kazuchika Okada vs Will Ospreay w/Bea Priestley: Okada wins via RAINMAKER @35:41 – **** ½
IWGP Heavyweight & Intercontinental Championship: Tetsuya Naito (c) vs Kota Ibushi: Ibushi wins via Kamigoye @31:18 – **** ¼ – TITLE CHANGE!!!!
Results:
KOPW 2021 New Japan Ranbo
Chase Owens was giddy to be number one, until he saw number 2 was Tomohiro Ishii. Owens is actually holding his own against Ishii and then Minoru Suzuki's music plays for number 3. Suzuki's entrance takes so long, that it feels like he barely starts and then we get some Blue Justice music! Coming in at six is…Toa Henare. Okay, this is the first name that doesn't really match up to what we already have.
Speaking of wrestlers most likely not going to win, here comes Hirooki Goto at 7! Suzuki and Nagata tunnel vision super hard on their personal rivalry nearly eliminate themselves, but Toa Henare comes in with Double Lariats to knock off the two legends and pick up the first 2 eliminations! Yujiro Takahashi, the best thing about him without Pieter is his entrance music, so…he peaked. Henare tries to reignite his attempted feud with Ishii, but after a quick combination, Ishii catches him and dumps him out onto the floor. The YOSHI-HASHI is 9.
Togi Makabe enters to try and break up this weird teammate heavy lineup in the ring. Makabe comes in angry, clears out Goto and YOSHI-HASHI together, as Ishii and Makabe go full 2016 on each other! Oh one of the few times you hear Tomoaki Honma's music for 11th! Makabe gets his GBH partner. Honma saves Makabe two different times, and then they start trading strikes as Hiroyoshi Tenzan's music plays! Tenzan and Honma gang up a little on Makabe, dump him out and we got a little taste of allegiances of GBH past. Now it's Rocky Romero at lucky number 13! DOUKI comes out next as not a lot is going on in the ring. Rocky cuts off DOUKI, hits a few Forever Lariats, but the pipe gets used and DOUKI is eliminated. SHO comes out while DOUKI tries to get his heat back, and SHO saves Rocky from the beatdown. 16 is BUSHI! Yujiro gets caught charging at BUSHI, so he eliminates himself in a way. You hear the classic Tiger Mask music as Tiger Mask IV comes out! Fale hits the ring, they were saying he politic'd to be last, so maybe this is the final entrant!
Fale eliminated Ishii while Ishii was trying to get Owens. But now Gabriel Kid comes out as Honma gets eliminated. Tenzan is next to fall after a lot of teamwork with Honma. Yuya Uemura comes out next for the 20th name. Rocky, SHO and Tiger Mask get eliminated by Fale as they try and chop down the tree…and fail. Yota Tsuji is the 21st entrant. All of the Young Lions try to gang up on Fale, but it's not expected. Toru Yano comes out seemingly last! Kid, Tsuji and Uemura get eliminated fairly quickly. So Toru Yano makes it to the final four as he's walking to the ring. BUSHI vs Chase Owens vs Bad Luck Fale vs Toru Yano for the trophy tomorrow.
For a Rumble this was fine, if not bloated. But surprisingly it was a little more serious than most Japanese Rumbles.
Riki Choshu comes out to kick off the official main card, with his little grandson in his arms! He hypes up the crowd just to kick off the show, nothing crazy announced.
#1 Contender for IWGP Junior Heavyweight Championship: El Phantasmo (Super J Cup Winner) vs Hiromu Takahashi (BOSJ winner)
Phantasmo continuing with his elite douchebag antics, where he walks around demanding to see Liger to put his jacket on him, to which Hiromu hits a Diving Dropkick to start off the action fast. Sadly for Hiromu, he attempts his Sunset Bomb, but ELP blocks it and manages to flip out of it. Lights up Hiromu a little and then hits him with a Sunset Bomb on the outside.
ELP starts to really dominate most of the action for a few minutes. An interesting move where he lays Hiromu on the top rope then uses Hiromu's body as the rope for the Arabian Moonsault style of move. ELP does his rope walk, and finally Hiromu mounts some offense. Hiromu pulls off a Dynamite Plunger, ELP fights back with a Peach Sunrise style of reverse Piledriver, but the back and forth is definitely interesting. ELP uses a ton of former BC mannerisms, with the Kenny Omega rise of the Terminator, a Styles Clash, but the first big near fall is after ELP bumped the referee "accidentally". A succession of closed fists, with a low blow followed by a Super Frankensteiner and Frog Splash, gave a bit of a hold your breath moment before Hiromu kicked out at 2.
Tons of counter moves roll throughs, a really nice sequence for the last few minutes of the match. Hiromu winning with a legitimate Huricanrana is a nice change that the finishers aren't always needed. Immediately icing his hand though, Hiromu will be nursing a small injury tomorrow against Ishimori.
IWGP Heavyweight Championship: Dangerous Tekkers (ZSJ & Taichi) (c) vs Guerillas of Destiny w/Jado
Well this started off "interestingly" as was discussed on Outsider's Edge. Taichi was utilizing a lot of chokes on Tama, ZSJ joined in for a few double team chokes, before Jado trips up Taichi to allow G.o.D. to cheat a bit, get in solid offense and then return the chokes in kind.
It takes this match a hot minute to get over the cheating in stereo, but once we see Tama and Loa pull off the old Faces of Fear Aided Powerbomb, the energy picks up and we get some fun. As ZSJ said during the match, "It's the fucking Tokyo Dome".  Some nice transitions towards attempted tandem moves, pulling off signature moves, but it of course ends in heel fashion. Taichi looks to set up for the Super Kick, Jado hits the ring, Taichi and DOUKI take out Jado, but Tama has the Iron Fingers. Tama hits the upper cut, Loa hits Ape Shit and G.o.D. are the seven time champions while Taichi sells dead so much so that DOUKI literally carries him out on his back.
Prior to the rights holder match, we get a video package. Moxley is standing in a NJPW USA/NJPW Strong ring, with the US Title and basically saying he's coming after the winner, instead of the usual other way around.
IWGP US Title Briefcase Rights Match:  KENTA (c) vs Satoshi Kojima
This was definitely a hybrid of major puro styles. It started off like a typical Bullet Club match with a lot of stalling and misdirection from KENTA. Going after Tenzan to try and bait out Kojima and giving things an interesting pace. Once Kojima started landing some offense, that's when we saw a little bit of the King's Road pacing of storytelling in the ring.
Kojima's machine gun chops definitely rang a certain way to KENTA, but he fought back pretty matter of factly. KENTA was almost screwed over by his personal desire to use the briefcase again, since Kojima knocked it out of KENTA's hands with a lariat and threw some literal haymakers as he started head hunting.
KENTA was able to get distance with a few well place Busaiku Knees, and then eventually hit Go 2 Sleep to end the 3rd generation wrestler's bid at one more return to glory.
Hiroshi Tanahashi vs Great O-Khan
The match started off uniquely since O-Khan went to the ground and showed off a lot of his amateur ability with a lot of movements reminiscent of Antonio Inoki, even doing the Cobra Twist later on in the match.
Early on Tanahashi was trying to find a rhythm and wasn't even able to Skin the Cat, which allowed for O-Khan to look pretty dominant for a good portion of the match. O-Khan showed a few variations of the claw hold and had his moments, but as soon as we saw Tanahashi pull off some old classics, like Skin the Cat, a Dragon Suplex and the Twist and Shout, things seemed to be heading a certain way.
Two High Fly Flows gave Tanahashi a hard fought victory, but a victory none the less.
Kazuchika Okada vs Will Ospreay w/Bea Priestley
We see an Okada we haven't seen in a while from the start of the match. Okada pulls off a Tope con Hilo, Heavy Rain, and there's a ton of references to previous matches. Ospreay did a great job keeping up early on and accelerating the aggression when he tried to pull up the mats to expose the wood.
Ospreay did show a more calculated attack, but so did Okada. Okada focused the back to try and take away the Stormbreaker, while Ospreay attacked different from different angles, but trying to stay ahead in the mind games. There was a beauty in what Ospreay did, since he took a few moments from the Kenny Omega saga, which seemed to spark a different Okada.
Respectably, Ospreay also wanted to beat Okada in the ring, so after a Brainbuster through ringside tables, Ospreay threw Okada back in the ring to try and win without any doubt. Oscutters, Spanish Fly, Money Clips and Tombstones, there was a lot of fun moments. We got to see Okada tap into who he used to be. The goading kicks to a downed Ospreay are a side of Okada that we haven't seen in a long time.
Ospreay nearly pulled off a big upset when he got out of the Money Clip, hitting a Tombstone and Rainmaker of his own, but that wasn't enough, but it did evoke something else. Almost as if Okada realized the Money Clip gimmick isn't worth trying to continue to make work, he fought back, hit the Fire Thunder Driver that we haven't seen in a while, and then kills Ospreay with a RRRAAIINNMMMAAAKKKERR! God I missed that move.
Odd booking that The Empire is 0-2 on January 4th. Would've been big for the new stable to get a win over a standard bearer of New Japan, but I guess now is not their time.
IWGP Heavyweight & Intercontinental Championship: Tetsuya Naito (c) vs Kota Ibushi
This had all the trappings of their previous encounters, from dangerous looking spots, slightly mistimed spots, but a lot of flashy and impressive violence. Early on we saw a few spots on the outside, where Ibushi slipped, it threw off the timing of the sequence and that marked the first time Ibushi's head skipped off of something.
Naito tried to slow things down like his G1 matches, usage of the leglock Full Nelson, the back elbows and generally just trying to weaken the neck for Destino. Ibushi pulled out a lot of attempts, the Outside In German Suplex, Apron attempts at murder and even busted out the Phoenix Splash again, but missed that one.
Rough match, hard fought, both had a lot to prove, and it was evident from the fact that it took Ibushi 3 Kamigoyes to win this match. The last one coming off an exposed V Trigger to stun Naito and open him for the last necessary shot.  A damn good match that suffered if for no other reason than it followed a 30 minute match which took risks that were executed a bit more cleanly.
Overall Score: 7/10
Well hot damn that was an odd show. The Ranbo was a bit more serious in execution but really threw in no one that most people care about beyond Yano for the 4 Way. Hiromu and ELP definitely fell a little flat as an opener, maybe if the crowd could've been more vocal it would've seemed better, but wasn't as good as it should've been.
G.o.D. and Tekkers executed a fairly solid match, it's always just weird when you have two heel teams try to out heel each other.  Kojima put on a damn good showing for having little more than a week really to prepare for the fight with KENTA. The Moxley message at least allows us to get the damn belt off of him and stop with part time champions.
The Empire has fallen flat to begin with, but it did achieve one thing; reminding Kazuchika Okada who the hell he is. Ospreay brought us The Rainmaker back, so I guess that's an accomplishment at least. As for the show in general, it was alright. Our last two matches were very good, but the fact that they were so damn long made for some odd perspective.
My biggest question is: Does Kota Ibushi go down as a 1 day champion?
Mitchell's AEW Dark Results & Report! (3/6/21)
A Dark Dozen before Revolution!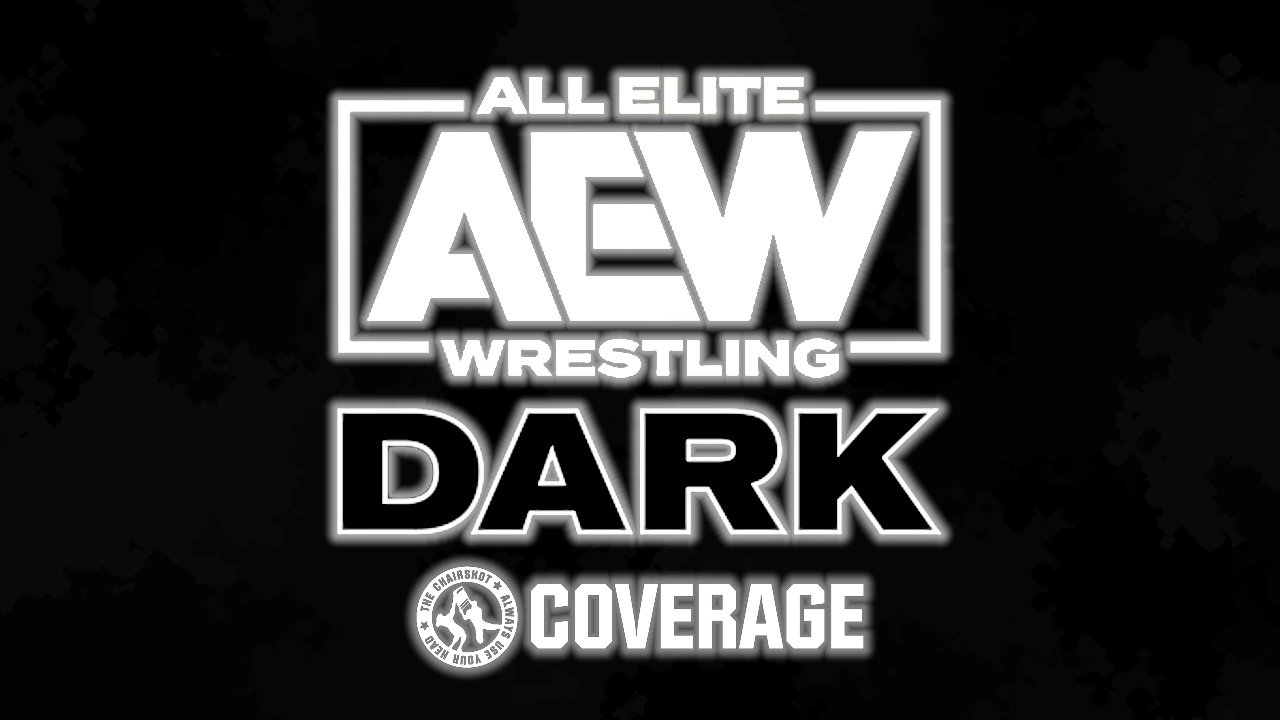 It's a bonus Dark before AEW Revolution!
AEW Revolution is coming, but there is still some Dark to get through! Will the Murderhawk Monster be rolling into that Face of the Revolution Ladder match?
OFFICIAL RESULTS
The Natural Nightmares VS Cezar Bononi & Peter Avalon; The Natural Nightmares win.
Chuck Taylor w/ Orange Cassidy VS JD Drake; Chuck wins.
Penta El Zero M VS Azriel; Penta wins.
Lance Archer w/ Jake the Snake VS John Skyler; Archer wins.
Ricky Starks & Brian Cage w/ Hook VS Angel Fashion & Fuego del Sol; Starks & Cage win.
Jack Evans w/ Angelico VS Jake St. Patrick; Evans wins.
The Gunn Club VS M'Badu & D3; wins.
Thunder Rosa VS Tesha Price; Rosa wins.
Bear Country VS Ryzin & Cameron Stewart; Bear Country wins.
Preston Vance & Alan Angels w/ The Dark Order VS LaBron Kozone & Vary Morales; Vance & Angles win.
Tay Conti VS Leila Grey; Conti wins.
The Sydal Brothers VS Chaos Project; The Sydal Brothers win.
PLAY BY PLAY
The Natural Nightmares VS Cezar Bononi & Peter Avalon!
Dustin Rhodes & QT Marshall are ready for the Casino Tag Battle Royal, but so are the Brazilian V8 and "Pretty" Peter! Who builds some momentum before running into the Revolution?
The teams sort out, Bononi starts with Dustin, and they circle. Fans rally for Dustin but PPA tells them to shut up. Bononi and Dustin tie up and Bononi shoves Dustin to a corner. Dustin comes back to headlock but Bononi powers out. Dustin rams Bononi but Bononi stays up and shakes his head. Dustin runs again, he dodges Bononi's clothesline to ROCK him with an uppercut! Dustin wrenches and puts Bononi in the corner, QT tags in and Dustin whips QT in to forearm smash! QT feeds Bononi to Dustin's POWERSLAM! Fans fire up as QT ROCKS Bononi, whips him, but Bononi reverses. QT holds ropes, BOOTS Bononi, but Avalon gets a cheap shot in!
Bononi then stomps away on QT at the ropes! Tag to Avalon, they mug QT, and Avalon CHOPS! Avalon clubs QT to the other corner, wrenches and whips him corner to corner, and QT bounces off buckles. Avalon stomps QT but fans rally up. Bononi tags in, they mug QT again, but QT hits back! Bononi knees low and throws hard back elbows! Bononi dares QT to reach for Dustin, but QT throws body shots. Bononi throws elbows but QT handsprings for a NEURALIZER! Bononi staggers and Avalon tags in to drag QT from Dustin. QT boots Avalon away and hot tags to Dustin! Dustin dodges Avalon and rallies with clotheslines! Dustin whips and back drops Avalon!
Bononi gets in to kick low, then he whips Dustin. Dustin stops and uppercuts Bononi! Dustin CLOBBERS Bononi, and gets Avalon with a POWERSLAM! Dustin drags Avalon up but Bononi clubs him! QT gets in to ROCK Bononi with haymakers! Bononi knees low, throws QT out, but Dustin clotheslines Bononi out! Dustin dodges Avalon to hit a BULLDOG! Cover, Dustin & QT win!
Winners: The Natural Nightmares, by pinfall
The Natural is fired up because he and the Gift are ready for the Casino Tag Battle Royal! But will they win it and become contenders?
Chuck Taylor w/ Orange Cassidy VS JD Drake!
The Kentucky Gentleman and Freshly Squeezed will be in for a fight with the Superbad and Best Man! But first, can Chuck get through a scrap with Scrap Metal?
The bell rings, Chuck and JD circle and tie up, and JD puts Chuck on the ropes. The ref calls for the break, JD goes to chop but Chuck dodges! Chuck and JD reset, tie up, and Chuck waistlocks. JD pries free to a keylock but Chuck goes to hook a leg. JD blocks that but Chuck wrenches through and gets a headlock. JD powers out and throws Chuck to a corner, then runs in. Chuck dodges, hits an arm-drag and grinds JD down. JD fights up, fans rally, and JD pulls air to whip Chuck away. Chuck comes back and JD runs him over! Things speed up, Chuck hurdles over and arm-drags JD again! JD gets up but Chuck dropkicks him out! JD is frustrated, but Chuck goes out to pursue.
Chuck goes around the way, but JD pops him up against ropes to DECK him! JD takes a moment while the ref and Cassidy check on Chuck. JD then drags Chuck up to bump him off buckles and ROCK him with a right! JD puts Chuck in, and drops a senton! Cover, TWO! JD stomps Chuck to ropes, chokes him against the ropes, but lets off as the ref counts 3. JD brings Chuck up to CHOP him, then stalks him as he crawls. JD stomps Chuck's fingers, throws haymakers then whips, and clotheslines to a falling headbutt! Cover, TWO! JD drags Chuck into a chinlock and digs his knee in. Cassidy rallies the fans and Chuck fights back with body shots.
Fans rally, JD shoves Chuck and atomic drops to a SHOTGUN BOOT! Cover, TWO! JD gets annoyed, drags Chuck up and CHOPS him! Chuck grits his teeth and CHOPS back! And CHOPS again! JD fires up but Chuck ducks to CHOP again! Chuck whips, JD reverses but Chuck reverses back to feed him SOLE FOOD! Chuck runs and BOOTS JD down! Fans fire up, Chuck drags JD up and whips but JD goes up and over. JD runs in but into a Sexy Chuckie Knee! Chuck gets JD for an URENAGE! Chuck double guns, Cassidy kinda double guns, and Chuck goes up top to MOONSAULT! JD moves and elbows Chuck away!
JD hops up top and leaps for a FLYING LEG LARIAT! Cover, TWO! Chuck lives but JD is right on him with a POINT-BLANK LARIAT! Cover, TWO! JD grows frustrated but fans fire up. JD goes to the corner, gives a thumbs down and climbs up. Chuck shoves him down onto his scrap metal! Chuck drags JD back for a SUPER AWFUL WAFFLE!! Cover, Chuck wins!
Winner: Chuck Taylor, by pinfall
That was a big win for the Kentucky Gentleman! But then Penelope Ford struts out on stage? And KIP SABIAN attacks from outta nowhere! Chuck goes after Kip but Miro grabs Chuck for a cobra clutch! Miro thrashes Chuck while Kip chokes Cassidy! Chuck fades out and Miro throws him down! Fans boo but Miro gets a mic. "Wake up, Charles! You're not done." He splashes water all over Chuck, and Miro tells him today is a day to learn. Chuck should've come talk to Miro like a man, but he ran to the office like a little boy! Chuck could've been something but now he's just wasting their time!
Miro is better than Chuck and Cassidy, he should be AEW World Champion, but they're taking up his precious time! Miro doesn't need to be answering notes to make matches! So for that, Chuck is going to see his little friend get what Chuck will get at Revolution! Kip drags Cassidy up, Miro gives the shin kicks, then a BEST KICK! Cassidy is in a daze as he's down on the stage! Miro tells Chuck will get twice as bad on Sunday! Will Miro & Kip break the Best Friends for good?
Penta El Zero M VS Azriel!
The third point of the Death Triangle is back! And though he'll surely want revenge on Kenny Omega and his Biz Cliz, he's going into the Face of the Revolution Ladder match! Will Cero Miedo strike fear into everyone with his Dark return?
The bell rings and Penta circles with Azriel. They tie up, Penta shoves Azriel, and then gets him to a half nelson, spin, hammerlock and a trip. Penta rolls Azriel but Azriel kips up to arm-drag Penta! Penta arm-drags back, then runs. Azriel bypasses but Penta CLUBS him and CHOPS him! Penta swaggers over, CHOPS Azriel in the corner, then whips him to ropes. Penta SPINEBUSTERS, but Azriel headscissors and swings to throw Penta away! Things speed up, Azriel rolls back but into a PENALTY KICK! Penta and fans fire up, and Penta swaggers as he stalks Azriel to a corner. Penta KICKS out a leg! Azriel clutches the knee, but Penta drags him up to put him against ropes.
Penta lets off to CHOP Azriel down! Penta drags Azriel up, whips him but Azriel dodges and RANAS! Azriel arm-drags again, and dropkicks Penta to a corner! Azriel runs but into a SUPERKICK! Azriel runs back in but misses, and Penta goes for a monkey flip but Azriel puts him on the top rope. Penta blocks Azriel's haymaker, Azriel blocks the boot, and then Azriel DECKS Penta off the top! Penta goes to the floor, Azriel builds speed and FLIES! Direct hit and Azriel fires up! Azriel goes to the ring, puts Penta in and climbs back up, to leap INTO A SUPERKICK! Penta looms over Azriel, drags him up, and clubs him on the back.
Penta shouts CERO MIEDO in his face, runs, but Azriel knees him in the ropes! Azriel whips, knees Penta again, then whips for another knee! Azriel whips to wrench and knee again. Azriel wraps Penta into a cobra clutch for a BACKBREAKER! Cover, TWO! Azriel grits his teeth, goes to the top rope, and FROG SPLASHES, onto knees! Penta drags Azriel up, pump handle half nelson for the PACKAGE DRIVER! Cover, TWO!?! Azriel survives and Penta can't believe it! Penta drags Azriel back in, CERO MIEDO for the true package. Azriel slips out, Penta mule kicks and runs, SPRINGBOARD DESTROYER!!
But Penta isn't done there, he's going to make Azriel pay! DARK ARMBAR!!! Cover, Penta wins!
Winner: Penta El Zero M, by pinfall
Not only is Penta building momentum, he's proving his edge is as sharp as ever! Will Penta do even worse to the others in order to become the Face of the Revolution?
Big Swole speaks!
"There's a word going around that Big Swole is 'underutilized.' Nah, I'm under valued! I've scratched and clawed through Crohn's Disease to become a contender. And when I did, I was met, nah, nah, I was slapped in the damn face with a tournament announcement for something that I have already earned!" Swole knows that the rankings are reset every year, but she was 38-hot about this! SO much, she took time off. And she kept thinking, "It doesn't matter. The results of the tournament doesn't matter. But it does."
Swole is genuinely happy for Ryo Mizunami, and she'll encourage everyone to watch as the "number one contender" takes on Hikaru Shida. And then whoever is champion after Revolution, congratulations! You're a champion in debt! They owe Swole, and you don't wanna owe Swole! Swole will "fight errybody and they momma to get what's mine!" After Revolution, payment is due, and Swole's price is gold! No more playing around, Swole's going after the top spot! But will it be the Full Metal Warrior or Aneki that will be facing the REAL #1 contender?
Lance Archer w/ Jake the Snake VS John Skyler!
The Murderhawk Monster is also heading into the Face of the Revolution Ladder match, and is ready to remind AEW that #EverybodyDies! Will the Southern Savior be no different in the Dark?
The bell rings and Archer circles with Skyler. They tie up, and Archer throws Skyler right down and kicks him to a corner. Archer bumps Skyler off buckles, ROCKS him with a forearm, then digs his knee into Skyler's head. The ref counts, Archer lets off, but he drags Skyler up to CLUB him back down! Archer sits Skyler up to CLUB him again, and then paces around. Skyler gets up but Archer choke grips. Skyler pulls Archer's hair, kicks a leg, then fires off forearms! Skyler CHOPS away on Archer but he doesn't flinch! Skyler kicks a leg, headlocks, but Archer powers him to a corner. Archer runs in, Skyler dodges, runs back in and uppercuts! Skyler runs and hits another uppercut!
Skyler wants the hat trick but Archer BOOTS him down! Archer then runs to DERAIL Skyler! Fans fire up as Archer dares Skyler to get up. Skyler crawls, Archer puts him in a corner and runs in to back elbow! And then again! And then again! Archer pushes Skyler aside to talk to the camera that this will be nothing compared to Sunday. Archer turns around, Skyler hits back, but Archer DECKS him! Archer drags Skyler up for a full nelson SLAM! Cover, TWO!! Skyler actually survives and Archer applauds him. Archer drags Skyler back up, and TWO HAND SUPLEXES Skyler to a corner!
Skyler flounders up, Archer runs in, but Skyler boots him! Skyler hops up top but Archer ROCKS him with an uppercut! Archer drags Skyler out in the inverted crucifix, for the BLACKOUT BOMB!! Cover, Archer wins!
Winner: Lance Archer, by pinfall
Jake gets a mic and says, "Lance, what have you gotten us into?" Six men, one is a mystery, but does it really matter? Jake likes surprises, don't you? That's what she said. But you put five men in the ring with Archer, and one of them being Cody Rhodes, Jake and Archer want to make him scream in pain. But how horrible, his wife is pregnant! That makes Jake weep. But what doesn't bother Jake is taking what they thought was theirs and making it his! Archer takes the mic to say AEW will either give it to them, or they'll take it. It has been a LONG year since debuting in AEW, and the TNT Championship was always meant to be his.
Archer is very, very happy Cody is in the match, because Archer is going to take Cody's daughter's daddy away from her. There will be no Daddy's Little Girl. And all the other bodies in the ring, get in Archer's way, he dares you! Nothing will stop Archer from taking the brass ring, putting Darby in pain like he's never felt before, and becoming the rightful TNT Championship! Archer doesn't care if you're qualified or a random surprise, #EverybodyDies! Will the Murderhawk Monster be the Face of the Revolution?
Ricky Starks & Brian Cage w/ Hook VS Angel Fashion & Fuego del Sol!
Team Taz keeps trying to take the fight to Sting and Darby Allin but they keep getting checked. The Street Fight is coming, will the #AbsoluteMachines use the Fashionable Hombre and Fire of the Sun for a warm-up before Revolution?
The teams sort out, Starks starts with Fuego and circle. Fans rally for Fuego as he ties up with Starks but Starks waistlocks to slam him down! Starks brags that he didn't even take the chains off, but Fuego fights up. Fuego reaches back, and flying-mares! Fuego mule kicks, runs but Starks scoops for a BIG back suplex! Starks strikes a pose, drags Fuego up, and suplexes. Cage tags in during the delay, then takes the hand-off into a stalling suplex! Cage holds Fuego up for a count of 10 before slamming him down! Fans boo but Cage soaks up the heat. Cage drags Fuego up, whips and CLOBBERS him with an elbow!
Cage drags Fuego back up, scoops him and uses Fuego for bicep curls. Fans boo but Cage tosses Fuego, only for Fuego to hot tag Fashion! Fashion runs, lariats, but Cage stays up! Cage runs, Fashion dodges to kick, kick and leap, into a SLAM! Fuego runs in but into a FLAPJACK! Starks gets in to SPEAR Fuego inside-out! Cage mule kicks, suplexes Fashion and holds him up, for a DRILL CLAW!! Cover, Team Taz wins!
Winner: Ricky Starks & Brian Cage, by pinfall
And it was that easy! But of course, things will be very different at Revolution. Will the #AbsoluteMachines take the sting out of the Icon and the Relentless?
Jack Evans w/ Angelico VS Jake St. Patrick!
The Hybrid2 are going into the Casino Tag Battle Royal, but the mouthier half is tuning up on his own. Will Evans win for both him and Angelico so they can be contenders?
The bell rings and Evans circles and ties up with JSP. Evans wrenches to a wristlock, then shifts through to drop toehold. Evans floats to a facelock, JSP fights his way up, and JSP back drops free! Evans gets a headlock but JSP powers out, only for Evans to run him over! Things speed up, JSP hurdles then drops to dropkick! Cover, TWO! Fans rally as JSP runs in and uppercuts Evans! JSP snapmares and runs to PENALTY KICK! And DOUBLE STOMPS! Cover, TWO! JSP grows frustrated already but he drags Evans up to uppercut! JSP whips Evans to a corner, Evans handsprings through and comes back to SCREW HIGH KICK! Fans boo but Evans is pissed with JSP.
Evans drags JSP up, throws big knees, then wrenches JSP to a whip, and BIG gamangiri! STANDING SKY TWIST! Cover, TWO! JSP survives but sputters to a corner and Evans is after him. Evans throws haymakers, wrenches and whips, but JSP reverses to run in and uppercut! JSP rolls and runs back in, but Evans sends him into buckles! Evans somersaults back to a Pele, then drags JSP down to a KIMURA! JSP clasps hands to resist and the two move around. JSP gets a ropebreak with his foot! Evans lets go and drags JSP up but JSP mule kicks, front kicks and enziguris, but Evans ducks the buzzsaw, only to get the second! Cover, TWO!!
JSP fires up, fans rally with him, and he drags Evans up to ROCK him! JSP whips Evans to ropes, Evans holds ropes to stop, and then Evans boots JSP to go to the apron. Evans kicks JSP low, slingshots up and over and backslides to then bridge! TWO, and Evans can't believe it! JSP fireman's carries to GO TO KICK! And then a FALCON ARROW! Cover, TWO!! Evans survives and JSP is shocked! Fans fire up as JSP goes to a corner. JSP climbs up top, but Evans hurries to jump up behind! SPIDER GERMAN! Evans sits back up and adjusts to leap, 630 SENTON! Cover, Evans wins!
Winner: Jack Evans, by pinfall
Evans from the Heavens came crashing down on JSP and has the momentum! But will it help TH2 become THE #1 contenders?
The Acclaimed drop another new single!
"Ladder match, ladder match, make the haters sadder match! All the fans cheering for me, 'Get up on the ladder' match! Ladder match, ladder match, quiet down the chatter match. Going for the gold but you know my name is Platinum Max! Ladder match, battle raps, creatin' all these bets like my kids, call 'em Cabbage Patch. They wanna beat me, they gonna need a magic act. Cody's only it it cuz he's got big leagued by the Shaq Attack. Facts are facts, Platinum Max, damn Cody how you not embarrassed? Tony Khan's the Biden, you just Kamala Harris. Yep, vice-president. So what if fans are never rootin? Cody's the office, he's no Face of the Revolution!
"Speaking of faces, we got Penta, yo, this guy is frontin'. He's wearin' paint and a mask, must be hidin' somethin'. Why you scared, man? What happened to the Cero Miedo? Platinum Max, I rock the ice and you got cero fuego! Scorpio, I read your horoscope and then died of boredom. If you won the title shot, you'd trade it for a pair of Jordans. I ain't scared of Lance, choke him with ponytail. I am with the Acclaimed, Platinum Max, I'm the holy grail!
"Ladder match, ladder match, make the haters sadder match! Say a little prayer like their name is Burt Bacharach. Think you gotta chance, man? I gotta laugh at that. Going for the gold but you know my name is Platinum Max!" Once again, Catser is dropping bars, but will Platinum not get the gold as easily?
The Gunn Club VS M'Badu & D3!
Billy's boys are teaming up as a duo again, but against the Nigerian Warrior and Prince of Roma! Will the Gunn Club still be hitting the mark on behalf of the Nightmare Family?
The teams sort out, and after rock-paper-scissors, Austin starts with D3. They circle, tie up, and D3 waistlocks. Austin headlocks free, but D3 wrenches out. Austin gets a hammerlock, D3 spins through and whips but Austin goes up and over. Things speed up and Austin trips D3 to then hit a Throwback! D3 hurries and tags M'Badu in! Austin is wary but he ties up with M'Badu. M'Badu shoves Austin away and Colten tags in. Colten and M'Badu tie up, and they're in a deadlock so they break. They go again, M'Badu gets the arm but Colten wrenches back. COlsten ducks the haymaker and runs, then slips out of the scoop. Things speed up. Colten hurdles and dropkicks M'Badu!
Tag to Austin, Colten whips him and to uppercut M'Badu! Austin keeps going, but M'Badu catches him for a POWERSLAM! Cover, ONE!! Tag to D3, he clubs away on Austin, then eggs him on. Austin throws body shots but D3 uppercuts and neckbreakers! Austin flounders, D3 puts him in the corner. D3 kicks Austin's ribs, tags in M'Badu, and they mug Austin. M'Badu fires up, runs corner to corner and SPLASHES! Austin staggers and swings but is probably seeing double. Austin falls over, M'Badu covers him, ONE!! M'Badu tags D3, they drag Austin up and double whip.
Austin holds ropes, kicks M'Badu but he runs into D3's slingblade, to counter it into a BACKBREAKER! M'Badu runs in but Austin dumps him out, hot tag to Colten! Colten rallies on D3 with big clotheslines! M'Badu tags in but Colten dodges to neckbreaker! Fans fire up with Colten as he runs and SPLASHES D3! Then SPLASHES M'Badu! Then scoops D3 for a tilt-o-whirl SLAM! M'Badu whips but Colten throws him out and Austin dropkicks him down! The Gunn Brothers double whip D3, for the 3:10 TO YUMA! Cover, the Gunn Club wins!
Winners: The Gunn Club, by pinfall
Whether just two or the whole trio, the Gunns are shooting on all cylinders! Will they and Papa Gunn be sharp towards some kind of title opportunity?
Thunder Rosa VS Tesha Price!
La Mera Mera didn't get to accomplish her 2021 resolutions in the AEW Women's Title Eliminator Tournament, but there's still time! She's going to get her shot at Britt Baker in the Revolution Buy-In, will Tesha be paying the price of admission?
The bell rings and Rosa circles with Price. They tie up, go around, and Rosa gets around to waistlock. Price sits down, pries at the hold and tells the ref to go away and stop bothering her. Rosa rolls Price to a lateral press, TWO! Rosa has a full nelson, Price fights up and pries free to arm-drag Rosa! Fans rally as Price feels proud of herself. She and Rosa circle, approach, and Rosa kicks low to CHOP hard! Rosa has Price in a corner, CHOPS her again, and then stands her up to bump off buckles. Rosa whips but Price blocks so Rosa ROCKS her! Price still reverse the whip to kick low and roar at Rosa. Price runs, goes up the ropes and flying arm-drags Rosa away!
Price runs, Rosa dodges and comes back for a hard arm-drag to a lateral press, TWO! Rosa whips, Price reverses but Rosa rolls her and shotguns her down! Fans fire up while Price is furious, but Rosa is on her with BIG forearms! Rosa whips corner to corner, Price goes up but Rosa catches her to an ELECTRIC CHAIR DROP! Cover, ONE!! Price survives but Rosa has her right into a CROSSFACE! And then the Rings of Saturn! With a leg hook! Price endures, tells the ref to shut up, but Rosa rolls her around to a cover, TWO! Rosa drags Price up, elbows her in the corner and elbows her again, to then run corner to corner, only for Price to dodge!
Price goes around the way to handspring KICK Rosa! Rosa avoids the bulldog to SNAP GERMAN! Rosa fires up and fans follow her. Price staggers up, Rosa runs in at the corner and A-List Lariats! Rosa dumps Price down to hit a SWINGING METEORA! Price panics, Rosa has her on ropes for the BASEMENT DROPKICK! Cover, TWO!! Price is showing what she's worth but Rosa just runs again. Price drop toeholds Rosa into ropes! Price is shrieking as she goes to the apron and ROCKS Rosa with a forearm! Cover, TWO!! Price is furious but Rosa fires off fast hands! Rosa scoops for the THUNDER DRIVER! Cover, Rosa wins!
Winner: Thunder Rosa, by pinfall
The Thunder rolls into Revolution! Will she and Riho be able to shut the Dentist's mouth once and for all?
Bear Country VS Ryzin & Cameron Stewart!
Bronson & Boulder are rolling as of late, and they're ready to roll right into that Casino Tag Battle Royal at Revolution! Will this match be but a speedbump on their road to the top?
The teams sort out and Ryzin starts against Bronson. They circle, approach but Ryzin dodges and laughs at Bronson. Bronson grabs his finger and bends it! Ryzin throws haymakers but Bronson just smirks. Bronson tosses Ryzin to a corner, fires off body shots and clubbing forearms! Bronson fires up and fans fire up with him! Bronson whips Ryzin and hits a SPINEBUSTER! Ryzin sputters as Bronson runs but Ryzin gets away to tag out to CMS! CMS runs in but Bronson CLOBBERS him! Bronson runs and drops a BIG bear elbow! Bronson drags CMS up, CLUBS him, then has him in the corner to tag Boulder.
Boulder drags CMS up, TOSSES him to the open corner, then throws big back elbows and clubbing clotheslines! Boulder whips corner to corner, CMS rebounds into a BIG back drop! Boulder drags CMS back up, puts him in the corner and tags Bronson. Bronson whips Boulder in to SPLASH CMS! Boulder feeds CMS to Bronson's elbow! Fans fire up and Bronson feeds off it as he looms over CMS. Bronson drags CMS up, CMS fights back with body shots, but Bronson blocks the whip. Bronson whips CMS, Ryzin tags in, CMS sunset flips and Ryzin runs in! CMS avoids the worst and both he and Ryzin kick Bronson. They double whip, but Bronson breaks through, and Boulder CLOBBERS CMS & Ryzin!
Fans fire up as Boulder lines up CMS and Ryzin for a DOUBLE SCOOP SLAM! Boulder makes sure they stay stacked as he tags in Bronson. Bronson climbs up, Boulder Electric Chair lifts him, and they hit the BEAR COUNTRY SPLASH! Double cover, Bear Country wins!
Winners: Bear Country, by pinfall
But wait! Here comes Bunny Allie! That can only mean the "wolves" aren't far behind! And here they are! Blade BLINDSIDES Boulder, Butcher ambushes Bronson, and they beat the Bears down with CHAIRS! They SMACK and SMACK and SMACK away on Bronson & Boulder, and Bunny laughs more like a hyena! Blade digs his foot into Boulder's face while Butcher gets in Bronson's face! The "wolves" sit Boulder up for Bunny to slap and slap and stomp! Referees rush out to stop this, but the damage has been done! Blade tells the Bears to do themselves a favor and stay off Revolution! But will The Butcher & The Blade still find themselves lost in Bear Country soon enough?
Preston Vance & Alan Angels w/ The Dark Order VS LaBron Kozone & Vary Morales!
Number 10 didn't make it into the Face of the Revolution Ladder match, but he and Number 5 can still climb up the tag team rankings! Will they be rolling strong with the rest of the Dark Order going into Revolution?
The teams sort out and Vance starts with the Ring Warrior, Kozone. They circle, Kozone goes for a leg but Vance avoids the grip. Vance nods, knowing this is serious. They tie up, Kozone headlocks and throws punches! Kozone runs but into an elbow. Vance dodges the back hand to ROCK Kozone back. Vance whips, Kozone reverses but the pounce isn't enough to knock Vance over! Vance hip tosses, but Kozone comes back to ROLLING ELBOW! Kozone gloats but Vance BOOTS him down! Vance lets Kozone tag Morales in as he tags in Angels. Angels runs Morales over, things speed up, and MOrales follows to run Angels over!
Things keep moving, Angels drop but the hip toss is blocked to a headscissors! Morales dodges Angels but Angels headscissors back! Morales arm-drags, Angels arm-drags, but the dropkicks cancel out! Much respect between the teams, but then Morales tries to ambush! Angels was ready, he dropkicks Morales down and gets upset with Morales. Angels climbs up to rain down lefts. They count, and Angels makes sure to top it off at five! Tag to Vance, he whips Angels in to clothesline Morales, then scoops Morales, SHOTGUN FALL AWAY COMBO! Fans fire up as Vance looms over Morales. Vance brings Morales up to suplex and stall, for a count of 10!
Morales staggers to a corner, Vance whips him corner to corner then runs in to clothesline! Vance whips back the other way, but Morales boots back this time! Morales hops up to flying missile dropkick! Hot tags to Kozone and Angels! Angels rallies on Kozone, then dodges to enziguri! Angels kips up while Kozone staggers to ropes. Angels says, "This is gonna suck!" CROSSBODY against the ropes! Angels then DIVES to take out Morales! Fans fire up with Angels as he goes back to Kozone, dodges him and fireman's carries! SAMOAN DRIVER! Cover, but Morales breaks it! Vance gets in and hits Morales with a SPINEBUSTER!
Vance tosses Morales, Angels tags him in, and they give Kozone the WING SNAPPER to the hammerlock, INVERTED RAINMAKER! Cover, The Dark Order wins!
Winners: Preston Vance & Alan Angels, by pinfall
Whether it's 5 & 10, 3 & 4, or the OG, Uno & Stu, the Dark Order is ready to dominate the Casino Tag Battle Royal! Will the AEW World Tag Team Championships #JoinDarkOrder one way or another?
Tay Conti w/ Negative One VS Leila Grey!
The Brazilian Blackbelt could not overcome the Native Beast in the Women's Title Eliminator Tournament, but she can always fight her way up the rankings! Will the stop the #UnstoppableDanger in Grey's Dark debut?
The bell rings and Conti circles with Grey. They tie up, Grey pushes Conti away and shows off her dance moves. Conti and Grey tie up again, Conti headlocks and grinds Grey down. Conti shifts around, wrenches the arm, but Grey throws Conti by her hair! Conti kips up to wrench and hammerlock and get the headlock back! Grey stomps Conti's feet, gets the headlock in return, but Conti powers out. Conti kicks and BOOTS, then waistlocks Grey. Grey back hands but Conti ducks that to throw Grey around! Conti sits Grey up to KIKCK her in the chest, then KICK her again! Conti even blows a kiss, but Grey ducks the buzzsaw, only to get the HEEL KICK!
Grey bails out, Conti pursues while Negative One trolls Grey. Conti throws forearms on Grey, puts her in the ring, and pursues. Grey swings but Conti counter punches! Conti whips Grey to a corner, runs in but Grey dodges and Conti POSTS herself! Grey KCIKS away on Conti, then digs her boot in! The ref counts, Grey lets off to snapmare Conti and Negative One is having a fit! Grey runs to basement dropkick! Cover, ONE!! Grey drags Conti up, "You think you're better than me?!" Grey pie faces Conti, Conti CHOPS her! Conti throws forearms, throws Grey around with sayanagi once, twice, three times!
Conti whips but Grey reverses, but Conti goes to the apron and Grey gets buckles! Conti climbs, leaps over, and runs back in to BOOT Grey! And KNEE! Conti drags Grey out to the HAMMERLOCK DDT! Cover, Conti wins!
Winner: Tay Conti, by pinfall
Conti stays strong in the absence of her best friend, Anna Jay, and celebrates with Negative One! Will they manage to convince more members of the AEW roster to #JoinDarkOrder?
The Sydal Brothers VS Chaos Project!
Two more teams who are entering the Casino Tag Battle Royal are battling it out for final momentum! But will Matt & Mike be able to overcome the Original Death Dealer and SNAKEMAN in this Dark main event?
The teams sort out, Mike starts with Serpentico and they circle. Fans rally up, Serpentico and Mike approach, but Luther attacks! Matt gets in but Serpentico clubs him down! Luther clubs Mike, then whips Serpentico, but both Sydals go Matrix! Then the Sydals double dropkick Chaos Project down! The Sydals double whip Serpentico to drop toehold and basement dropkick! Cover, TWO! Mike throws EuroUppers, then tags in Matt. Serpentico is on the ropes for the DRAPING DOUBLE STOMPS! Mike scoops Serpentico for the SNAP SIDEWALK SLAM! Cover, TWO! Matt stomps Serpentico, throws his knee in, but Serpentico throws body shots. Serpentico runs, into an elbow!
Tag to Mike, and they set Serpentico up again for more DRAPING DOUBLE STOMPS! Mike snapmares Serpentico, and hits a STANDIN MOONSAULT! Cover, TWO! Serpentico flounders and Luther shrieks but Mike CHOPS Serpentico. Mike throws a headbutt, whips but Serpentico reverses. Luther gets a cheap shot but Mike kicks him back! Serpentico scoops, Mike sips out to scoop and MICHINOKU DRIVER! Cover, TWO! Mike CLUBS Serpentico, whips him corner to corner, then runs in only to be put on the apron. Mike blocks the forearm but Luther anchors his feet! Serpentico hotshots Mike and then Luther THROWS him into railing!
The ref reprimands Luther and Matt hurries over but Luther puts Mike in. Serpentico runs for an ax handle drop! Cover, TWO! Serpentico drags Mike up, tags Luther in, and they mug Mike. Luther chokes Mike on the rpoes, the ref counts and Luther throws Mike down at 4. Luther stomps Mike, whips him into the corner and throws a hip check! Tag to Serpentico, and Luther whips him in for a splash! Serpentico is fired up but Luther SPLASHES him and Mike! Then Luther BOWLS Serpentico into Mike! Serpentico rains down rights on Mike, then drags him up. Fans rally, Luther tags in and Chaos Project mugs Mike again.
Luther snap butterfly suplexes and drops a knee on Mike. Tag to Serpentico while standing on Mike's head! Serpentico is again use as the weapon, ATOMIC LEG DROP! Luther pushes Serpentico to run and BULLDOG SPLASH him onto Mike! Cover, TWO!! Serpentico drags Mike over to tag Luther in. Luther stomps Mike, kicks him to ropes, then brings him up again. Luther CLUBS Mike, snapmares him down and clamps on a chinlock. Mike endures, fights up, and throws body shots. Mike runs but Luther BOOTS him down! Luther just drags Serpentico in, he feeds Mike to Serpentico, to then run, LARIAT to Serpentico to force the DDT! Cover, TWO!
Luther drags Mike up and puts him in a corner. Luther stomps Mike, throws haymakers, then tags in Serpentico officially now. Luther scoop slams Mike, then scoop slam SENTONS Serpentico onto Mike's knees! Mike saves himself but Luther stomps him down! Luther drags Mike up, Mike slips out of the back suplex to dodge and hot tag! Matt rallies with big kicks on Chaos Project! SOBAT for Luther, WINDMILL for Serpentico! Matt brings Serpentico around to scoop, FISHERMAN BUSTER! Cover, TWO!! Serpentico survives but Matt keeps close. Matt drags him up but Serpentico fireman's carries back! Matt fights free, Luther runs in, but gets the JAWBREAKER SLICE COMBO!
STANDING MARIPOSA for Serpentico! Cover, TWO! Fans rally up, Matt reels Serpentico into the Russian Leg Sweep, and COBRA CLUTCH STRETCH! Luther CLOBBERS Matt! Mike runs in but Luther swings on him. Matt SUPERKICKS to the splits! Matt and Mike coordinate, Mike climbs but Serpentico fights free to avoid the cartwheel! Matt KNEES and ROUNDHOUSES Serpentico, Mike joins in, they DOUBLE LIGHTNING SPIRAL!! Cover, the Sydals win!
Winners: The Sydal Brothers, by pinfall
Lightning doesn't strike twice, but it does strike twice over! Will Matt & Mike make major waves in the tag team battle royal? Will they become contenders in the blink of a third eye?
---
My Thoughts:
A pretty good Dark, though at just over 90 minutes, I don't think any of these matches were all that long. I will say, Tesha Price's dramatic behavior in her match was pretty funny and it kinda works as a character trait. I also liked that Bononi and Avalon put a twist on their entrance with Bononi towing Avalon on his heart bed. Miro attacking Chuck after his match was a good, last minute way to build things for their tag match, and I almost hope that Cassidy "won't be able to compete" at Revolution, and just as it looks like Chuck might be in a handicap match, Trent returns! That way, Trent can get his own payback on Miro, and the Best Friends move on from the Best Man and Kip in one fell swoop.
Another highlight was Big Swole giving us a great promo for her story. I was hoping someone at some point in AEW would bring up how they are doing these tournaments and battle royals and ladder matches when THE RANKINGS ARE SUPPOSED TO MATTER. While tournaments, battle royals and ladder matches are lots of fun, if you say the rankings matter, that the win-loss records matter, then you use that as priority. Swole should've been facing Shida for a PPV, and then either the tournament finals happened on the same PPV, or was just setting someone up for after the PPV. Shida VS Mizunami will still be great, but I appreciate that Swole is hangry for her opportunity.
My Score: 8/10
Mitchell's New Japan Cup Results & Report! (3/6/21)
New Japan Cup, day 2!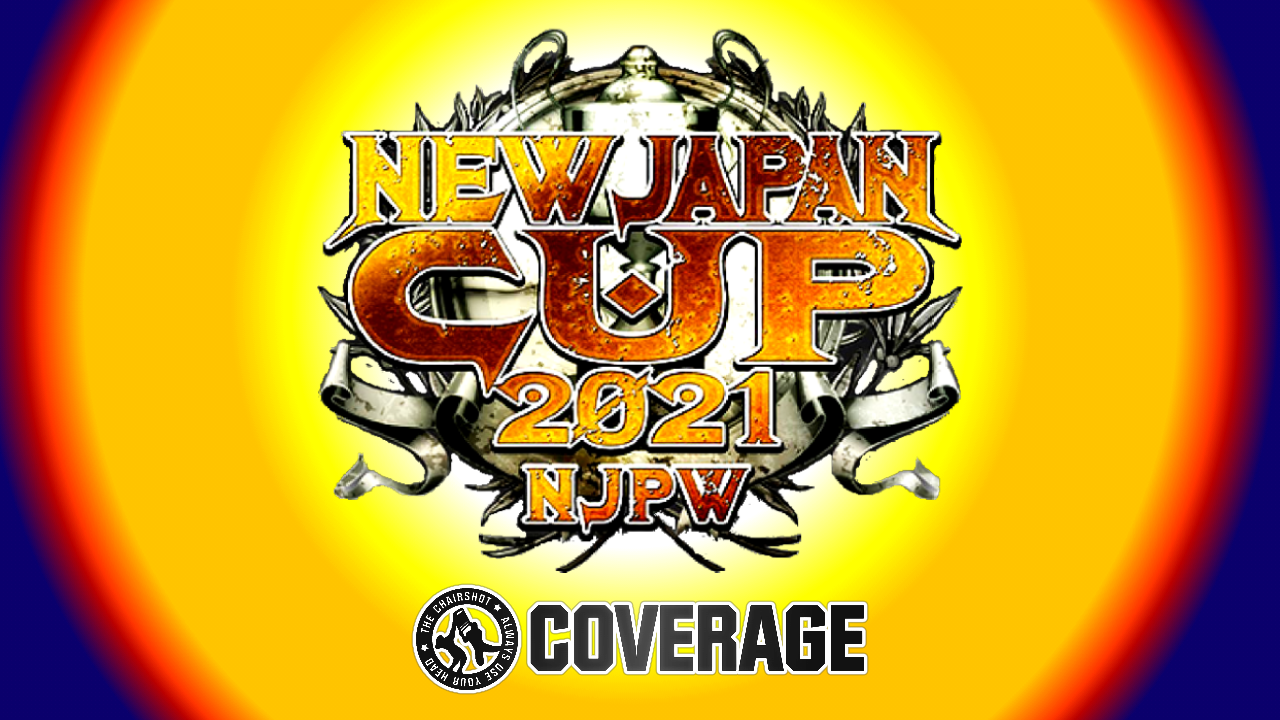 Will the Rainmaker redeem himself in the New Japan Cup?
Kazuchika Okada vows that it is time he returns to the top of NJPW! But this is only round ONE of the 2021 New Japan Cup! Can he make it to the end?
NOTE: NJPW no longer wants to feed AXS TV now that it is with Anthem and Impact Wrestling. But never fear, I will cover NJPW in the spirit of AXS in providing the most important matches of the show.
OFFICIAL RESULTS
Six Man Tag: Los Ingobernables de Japon VS The United Empire; The United Empire wins.
2021 New Japan Cup Opening Round: Tomoaki Honma VS Minoru Suzuki; Suzuki wins and advances.
2021 New Japan Cup Opening Round: Juice Robinson VS KENTA; Kenta wins and advances.
2021 New Japan Cup Opening Round: Kazuchika Okada VS Shingo Takagi; Takagi wins and advances.
PLAY BY PLAY
Six Man Tag: Los Ingobernables de Japon VS The United Empire!
Tetsuya Naito lost in the first round of the NJCUP, Bushi couldn't win the IWGP Junior Heavyweight Championship, but Sanada is still in the running! Will LIJ be a powerful obstacle in the way of Great-O-Khan, Jeff Cobb & Will Ospreay?
But as soon as LIJ gets in the ring, the Empire attacks! Cobb throws Bushi out while Ospreay goes after Sanada, and Khan keeps Naito in the ring to revisit their recent NJCUP match. The bell rings, Khan drags Naito around but fans rally up. Khan clamps onto Naito with a chinlock but also adds his claw into it! Sanada sends Ospreay into railing while Naito and Khan brawl with forearms! Khan ROCKS Naito then Mongolian Chops him at the ropes. Naito reverses the whip to atomic drop, Bushi dropkicks the legs out and Naito basement dropkicks! Fans cheer and Naito grabs Khan's ponytail! Naito drags Khan around by it, fans rally up and Khan grabs the ropes.
The ref counts, Naito lets off but tags Sanada in. Sanada climbs up and drops ax handles on the ponytail! That still tweaks Khan's head and fans fire up again. Sanada drags Khan up while Ospreay protests, and Sanada headlocks to punch Khan down. Sanada throws haymakers, brings Khan up for clubbing elbows, then tags in Bushi. Bushi clubs Khan, drags him up by the ponytail, and bumps him off buckles. Bushi CHOPS Khan, puts Khan's leg on ropes and dropkicks the leg out! Cover, TWO! ans rally, Bushi drags Khan around and tags in Naito. Naito clubs Khan, drags him up and cravats for a standing neck wrench. Khan endures, reaches for the Empire, but Naito keeps him away.
Khan throws body shots but Naito throws an elbow, into a standing katagatami! Khan kicks a leg out and drags Naito down! Cobb and Ospreay attack Sanada and Bushi! They brawl on the outside, Naito gets a ropebreak but Khan holds on! Khan cranks on the hold, the ref reprimands and counts, and Khan lets go at 3. Brawling continues outside but Khan drags Naito around to stomp away on the leg! Naito clutches his knee and fans rally up, but Khan drags him up first. Khan tags Cobb in, the Empire mugs Naito, and Cobb gives Naito a headbutt! Naito ends up in a corner, Cobb whips him out to whip him back in hard! The Empire likes that and Cobb scoops Naito to carry him around.
Cobb taunts LIJ by holding Naito out to them, but then throws in knees! Cobb puts Naito in the Empire corner, tags in Ospreay, and then sets Naito up for Ospreay's DRAPING DOUBLE STOMPS! Ospreay BOOTS Sanada, Cobb RAMS Naito back into the corner, and Ospreay digs his boot in. The ref reprimands and counts, Ospreay lets off to throw haymakers and more stomps! Ospreay digs his knee in, the ref reprimands and counts, but Ospreay lets off again. Ospreay snapmares and wraps Naito up in a chinlock. Ospreay grinds Naito down, fans rally up, and Naito endures. Khan keeps ropes away from Naito but the ref reprimands.
Ospreay drags Naito away, cranks on the chinlock then shifts to a facelock. Khan tags in, and Mongolian Chops Naito on the back! Khan drags Naito up for more Mongolian Chops! Khan mockingly asks what's wrong and he eggs Naito on. Fans rally, Naito throws haymakers and forearms! Khan knees low, whips, but Naito reverses to tornado, only for Khan to block the DDT! Naito fights out of Khan's grip, elbows him, then spins him for a neckbreaker! Both men are down and fans fire up! Naito sits up but Khan follows. They both go to their corners, hot tags to Sanada and Ospreay! Sanada rallies, whips but Ospreay reverses, only for Sanada to reverse back and RANA!
Sanada dropkicks Cobb away, then blocks Ospreay's boot to trip him! Sanada ties Ospreay up in Paradise! Fans fire up as Sanada encourages them to get loud. Sanada runs in and dropkicks Ospreay out of Paradise! Cover, ONE!! Fans rally for "SA-NA-DA!" as he drags Ospreay up. Sanada fireman's carries, Ospreay elbows free and waistlocks, but Sanada resists the lift. Sanada elbows free, runs in but Ospreay puts him up top! Ospreay tucks him in, for CHEEKY NANDOS! Ospreay hurries and tags in Cobb! Cobb runs corner to corner to LEAPING back elbow! Cobb scoops Sanada, pops him up into the suplex, holds him up, but Sanada reverses to snap suplex!
Fans fire up again as Cobb goes to a corner. Sanada crawls and hot tags Bushi! Bushi runs corner to corner but Cobb dodges. Cobb runs in, Bushi slips out and swing kick shim away! Bushi goes up, missile dropkick! Bushirooni! Cobb runs back at Bushi but into a basement dropkick to the legs! Bushi basement DDT's and covers, TWO! Fans rally and Bushi brings Cobb up. Cobb throws forearms, whips Bushi to a corner, then runs in, but Bushi dodges! Naito rocket kicks and leg sweeps, COMBINACION CABRON! LIJ whips Cobb, Sanada elbows and snapmares, for a TRIPLE BASEMENT DROPKICK! Cover, TWO!
Naito dropkicks Khan down but Ospreay drags Sanada out. Bushi has Cobb, but no Fisherman Screw! Ospreay hits PIP PIP CHEERIO on Bushi! Sanada dropkicks Ospreay, but Khan BOOTS Sanada! Naito dropkicks Khan's legs out, then dodges Cobb, only for Cobb to LARIAT him! Cobb goes back to Bushi as fans rally up. Bushi kicks, Cobb blocks then ducks the enziguri but not the mule kick! Bushi runs in, but the Code Break is blocked and popped to a GERMAN SUPLEX! Cobb drags Bushi up, reels him in and hits a TOUR OF THE ISLAND! Cover, the Empire wins!
Winners: The United Empire, by pinfall
The Hawaiian Hulk is building up power and momentum towards his NJCUP battle with Evil! The Dominator is also already in, and the newly deemed "Global Kingpin" Ospreay has his battle tomorrow, March 7th! Will the entire United Empire advance towards the finals?
2021 New Japan Cup Opening Round: Tomoaki Honma VS Minoru Suzuki!
These two have been warming up in tag matches and finally get to throw down 1v1! Will Everyone's Kokeshi be able to knock the Meanest Man in the World out of the tournament? Or will Suzuki brutalize and leave him behind while going for the IWGP World Heavyweight Championship?
The bell rings and fans rally up already. Suzuki and Honma stare down, but then Honma shoves and CHOPS! And CHOPS! Suzuki CHOPS, Honma CHOPS, it's a CHOP fight! Fans rally as the CHOPS fly harder and faster! Neither man is backing down, but Honma does get the edge! Honma CHOPS and CHOPS then DOUBLE CHOPS! Suzuki eggs Honma on, Honma CHOPS and then scoops Suzuki to slam him! Honma fires up and runs, but Suzuki dodges the kokeshi! Honma gets mad and tries again, but again Suzuki dodges! Suzuki gives toying kicks to Honma and fans rally up. Suzuki throws knees and forearms and Honma goes to a corner.
Suzuki throws body shots, whips him corner to corner but Honma reverses. Honma runs in but Suzuki boots him. Suzuki slips to the apron, and catches Honma's arm to a DRAPING ARMBAR! The ref counts, Suzuki lets go at 3 and then drags Honma out to join him. Suzuki whips Honma into railing! Suzuki slaps Honma then throws forearms and elbows! Suzuki puts Honma's head through railings and pulls him back against the top bar! The ref reprimands and counts but Suzuki stops at 3. Fans rally but Suzuki puts Honma in a cravat! Suzuki grinds Honma down, the ref reprimands but Suzuki holds on until the ref counts. Suzuki stands Honma up and RAMS him into railing!
Suzuki digs his knuckles into Honma's eyes! Commentary is really close to the action but Suzuki leaves Honma behind as the ring count climbs. The count is already 10 of 20 as the fans rally. It passes 15, Honma stands at 18 and gets in at 19.5! Suzuki drags Honma into a facelock, then shifts to a chinlock stretch! Suzuki digs a knee into Honma's back as he pulls him back! Fans rally as Honma endures, and Honma fights, only for Suzuki to crank harder on the hold! Honma reaches with feet and gets the ropebreak! Suzuki lets go and eggs Honma on. Suzuki gives Honma more toying kicks but Honma rises as fans rally again.
Honma throws forearms but Suzuki laughs them off. Suzuki eggs Honma on then ROCKS him! Honma wobbles, Suzuki ROCKS him again! Honma wobbles and falls over! Suzuki runs to PENALTY KICK! Honma stays seated up!? Suzuki PENALTY KICKS again but Honma just gets stronger! Suzuki runs, Honma blocks the kick, elbows it, but swings into Suzuki's grip! Honma spins through and gets Suzuki for a DDT! Fans rally up as both men slowly rise. Honma reels Suzuki in but Suzuki throws elbows, only for Honma to power through and hit the back suplex! Cover, TWO! Fans rally up and Honma CHOPS Suzuki to a corner!
Honma CHOPS more, and more, and then whips Suzuki corner to corner. Honma runs in to back elbow then hit a BULLDOG! Honma fires up to hit the KOKESHI! Fans fire up again as Honma dares Suzuki to get up. Suzuki rises, Honma runs, but Suzuki ducks the lariat to waistlock! Honma counters with a facelock, but Suzuki wrenches the arm! Suzuki ducks Honma's haymaker, back hand, and fires off SLAPS! And kicks and clubbing elbows! Honma falls over again but Suzuki brings him back up. Suzuki reels Honma in as fans rally up, and that only angers Suzuki more. Suzuki Gotch holds but Honma resists the lift! Suzuki powers through but Honma flails his legs!
Honma powers up to back drop Suzuki over! Suzuki gets up and he looms over Honma. Suzuki gives more kicks but Honma eggs him on! Fans rally as Suzuki stomps but Honma growls. Suzuki fires off slapping palm strikes and big forearm shots but Honma just gets stronger! Honma ROCKS Suzuki with a right! Suzuki comes back to palm strike, but Honma POINT-BLANK KOKESHIS! Both men are down again and fans fire up! Honma rises, drags Suzuki up and throws more forearms! Honma has Suzuki in the corner but now Suzuki eggs Honma on. Suzuki leans into the forearms as Honma throws them, no guard at all! Honma headbutts!
But Suzuki roars, so Honma throws more forearms in the corner! The ref wants Honma to let off but Honma ROCKS Suzuki again! Honma clubs Suzuki at ropes, brings him up to the top rope backwards, then clubs him more. Honma climbs up behind Suzuki and fans rally up. Suzuki resists, throws elbows, then cravats Honma to grind him down! Fans still rally but Honma ends up tumbling to the apron! Suzuki adjusts, brings Honma up, but Honma RISING KOKESHIS! Suzuki falls, fans fire up and Honma climbs! Honma leaps for a FLYING KOKESHI! Cover, TWO! Suzuki survives but fans rally for Honma!
Honma drags Suzuki by a leg, and hooks him up with the step-over deathlock! Suzuki resists the crossface but Honma still tries. Honma gets an arm in it for a chicken wing STF! Suzuki endures, Honma shifts to a cover, TWO! Fans rally again as the two stand. Honma brings Suzuki around to scoop but Suzuki slips out to get the sleeper hold! Honma snapmares Suzuki away and throws a LARIAT! Suzuki stays up with pure anger, and he eggs Honma on! Honma runs and LARIATS, but again Suzuki stays up! Suzuki ROCKS Honma with a palm strike, Honma wobbles, but he powers up! Suzuki SMACKS him again, Honma staggers back, but he powers up to ROCK Suzuki in return!
Suzuki throws a forearm, Honma returns it, and again! Fans rally as these two pick up speed again! Suzuki laughs as things get faster, and he ROCKS Honma, to then ROCK him again! Honma wobbles around and staggers to a knee! Honma stands as fans rally, but Suzuki ROCKS him a third time! Honma wobbles and Suzuki seethes, but the two keep going! Forearm for forearm, Honma wobbles and stumbles about again but he comes back to palm strike. Suzuki ROCKS Honma, and again, and then palm strike! Suzuki gets Honma in the SLEEPER! Fans rally as Honma manages to stay standing! Honma turns red and Suzuki squeezes tighter!
The ref checks, the hand drops once! The hand drops twice, but Suzuki turns Honma around! Gotch hold, but Honma's second wind helps him resist! Suzuki KNEES Honma, and reels him in, but Honma makes it a GANNOSUKE CLUTCH! Cover, TWO!! Honma runs into palm strikes and haymakers! GOTCH PILEDRIVER!! Cover, Suzuki wins!!
Winner: Minoru Suzuki, by pinfall (advances to the next round)
Honma gave it his all, but in the end, it wasn't enough! Will Suzuki take the Cup and then the IWGP World Heavyweight Championship?
2021 New Japan Cup Opening Round: Juice Robinson VS KENTA!
The Flamboyant One and Fang Revived are back in Japan in time for the Cup! But who moves on towards the next round and faces Suzuki?
The bell rings and Juice has fans rally up. Juice and Kenta circle, tie up, and Juice uses leverage to power Kenta to ropes. The ref calls for the break but Kenta turns things around and pulls Juice's hair! Kenta brings Juice into a headlock, Juice powers out but again Kenta pulls hair. Kenta grinds the headlock but Juice powers up to power out, only for Kenta to again get the hair. Kenta grinds Juice down and talks trash, but Juice throws body shots. Juice powers out but Kenta rams him with a shoulder. Juice stays up, Kenta eggs him on but then pulls Juice's hair. Juice powers up to back suplex high and hard! Fans fire up as Juice drops the back senton! Cover, TWO!
Fans rally as Juice keeps cool. Juice drags Kenta up, JABS, CHOPS, and whips him to a corner. Juice wrenches, whips corner to corner, and then runs in to clothesline Kenta down! Fans fire up with Juice as he runs corner to corner again, but Kenta bails out before the cannonball. Kenta walks around the way, the ref keeps Juice in, but Kenta grabs the ring bell! Finlay tries to tell the ref as Juice storms over, but Kenta CRACKS Juice with the ring bell! Kenta gets in to drop knees on Juice's head and then dig knuckles into the eye! The ref counts, Kenta lets off at 3 and Juice gets to ropes. Kenta goes after Juice to choke him and claw his eyes!
The ref counts, Kenta stops at 3, and Juice checks his eye. Kenta drags Juice up to throw him out of the ring, and then he pursues. Kenta drags Juice up and whips Juice hard into railing! Juice slumps down and Kenta digs his face into railing! The ref reprimands, Kenta stops and Juice crawls away. Fans rally up but Kenta traps Juice's head in between the gate and railing! Kenta squeezes tight but stops as the ring count starts. Kenta drags Juice up at 7 of 20 and puts him in at 10. Kenta stomps Juice, throws haymakers, but Juice gets up! Kenta throws more haymakers then rakes at Juice's eye! Juice gets to a corner, the ref reprimands and warns Kenta.
Fans cheer the ref while Kenta drags Juice up. Kenta headlocks and punches Juice, then scrapes Juice's face on ropes! The ref counts and Kenta lets off. The ref checks Juice's eye while Kenta makes up his mocking clap rhythm. Kenta boots Juice down then clamps on a facelock. Kenta grinds Juice down but fans rally up. Juice fights up, fights out, but Kenta claws Juice's eyes! Kenta runs but Juice hits a SPINEBUSTER! Fans fire up as both men are down! Kenta gets to a corner, Juice rises and runs in, but Kenta boots him away! Juice fires up, runs back in and clotheslines! Juice whips Kenta corner to corner, runs in and clotheslines again!
Juice keeps moving to LEAPING LARIAT Kenta down! Fans fire up and Juice watches Kenta rise. Juice pumps up and fans clap along. Juice JABS, JABS, JABS, then powers up, but Kenta claws his eyes! Juice claws Kenta's eyes in return! The ref reprimands, Juice headbutts Kenta to a corner! Juice runs in but Kenta boots him! Kenta hops up, reels Juice in and hits a tornado hotshot! Kenta climbs up while Juice staggers, and he hits a FLYING CLOTHESLINE! Cover, TWO! Kenta clamps onto Juice's arm but Juice flails and gets the ropebreak! It's not Game Over yet! Fans rally, Kenta drags Juice up and reels him into a waistlock.
Juice elbows free, runs, but Kenta BOOTS him! Kenta runs but into Juice's boot! Juice fires up and runs, but Kenta sends him out! Kenta runs to BOOT Juice off and at the railing! Kenta goes out to fetch Juice and drags him up. Kenta goes to bump Juice off the timekeeper's table but Juice blocks to bump Kenta! Juice powers up but Kenta dumps him up and over onto the timekeeper's table! Fans rally but Kenta drags the table aside to get Juice up. Kenta rains down rights, the ref has him back off and Kenta goes back to ringside while Juice slowly rises. Kenta climbs the corner?! Juice hurries to stop him with a body shot and a headbutt! Juice has a target and he grabs Kenta!
Kenta rakes Juice's eyes and clubs him down! Juice staggers away, Kenta goes to the apron and leaps, into Juice's arms! Juice moves Kenta around, fireman's carries, and DEATH VALLEY DRIVERS Kenta to the floor!! Fans fire up as both men slowly stir. The ring count begins again and reaches 10 of 20 before Juice puts Kenta in. Juice drags Kenta back up, reels him in, and lifts, for a RUNNING POWERBOMB! Cover, TWO! Kenta survives and but Finlay coaches Juice up. Juice fires up and brings Kenta up. Juice chicken wings and turns Kenta, but Kenta rolls Juice up! TWO, and Juice runs at Kenta, only to be put on the apron!
Kenta drags Juice through the ropes for a DRAPING DDT! Fans rally and Kenta rises first. Kenta goes to one corner, Juice is in the other. Kenta runs in to JUMPING BOOT! Kenta keeps moving, HESITATION DROPKICK! Kenta climbs up the corner while Juice is down, but Juice avoids the double stomps! LEG LARIAT! Both men are down, fans rally up again! Juice and Kenta stir, and Juice stands first! Juice drags Kenta but Kenta gets the arm! Juice rolls out of the hold but Kenta BOOTS him! Juice fires up, Kenta blocks the clothesline but Juice ducks the back hand! Juice fireman's carries Kenta to the JUICE BOX! Cover, TWO!! Kenta survives and Juice is beside himself!
Fans rally up and Juice gets to his feet. Juice drags Kenta back up, reels him in and chicken wings, but Kenta slips through to fireman's carry! Juice fights off to chicken wing and turn, but Kenta slips out again to fireman's carry! GO TO- NO! Juice blocks and rolls Kenta up, TWO!! Juice powers up but Kenta blocks the left Hand to BACK HAND! Kenta fires off palm strikes over and over, but he swings into the chicken wing! Kenta elbows out, but the back hand is caught! Juice swings, Kenta ducks, but the RIGHT HAND O' GOD hits! Juice drags Kenta up, chicken wings and turns, but Kenta slips out again! Kenta drags Juice down, hooks up the arm and gets the crossface! GAME OVER!!
Juice endures, moves around, but Kenta cranks way back! Juice taps, Kenta wins!!
Winner: Kenta, by submission (advances to the next round)
And it was indeed Game Over for the Flamboyant One! Will the Fang Revived sink his teeth into Suzuki next round?
2021 New Japan Cup Opening Round: Kazuchika Okada VS Shingo Takagi!
The Rainmaker said at Castle Attack that it's about time he returns to the top of NJPW! But in his way is the Dragon! Will Takagi end Okada's road back to redemption already? Or will Okada slay the dragon and head back for the gold?
The bell rings, and fans rally up already for "O-KA-DA!" "TA-KA-GI!" Okada gets the clap-clap-clap-stomp going already while he stays back in the corner. Takagi is patient, and he waits as Okada steps forward. They circle, feel out the grapple, but Okada backs off to focus. They tie up right away, Okada powers Takagi to ropes, and Red Shoes calls for the break. Okada lets off and fakes the chop to pat Takagi. Takagi ROCKS and CLUBS and CLUBS Okada back! Fans cheer as Takagi toys with Okada. Takagi brings Okada up, Okada fires off forearms and elbows! Okada reels Takagi into a headlock, but Takagi throws body shots. Takagi powers out, rams Okada but both men stay up!
Fans cheer as Okada runs, and he rams Takagi! Takagi stays up and eggs Okada on. Okada runs, rams Takagi, then drop toeholds on the rebound to elbow drop Takagi's back! Okada is after Takagi at the ropes, brings him up and throws forearms. Takagi goes to a corner, Okada heads over and throws back elbows. Okada throws more elbows, then brings Takagi around for a neckbreaker! Cover, ONE! Okada keeps his cool, clamps onto Takagi with a chinlock, and digs his knee into Takagi's back. Takagi fights up, gets a ropebreak with a foot, and Okada lets go quickly. Okada keeps close, brings Takagi up and elbows him again.
Okada snapmares and runs to then basement dropkick Takagi out of the ring! Fans fire up, Takagi gets annoyed and the ring count begins. Takagi takes his time, and gets back up on the apron at 9 of 20. Okada keeps his distance but then Takagi dares Okada to come out after him. Takagi continues to take his time, and the count restarts. Okada gets impatient, Takagi gets on the apron but draws Okada in to drag him out! Takagi bumps him off apron, and again, then whips Okada, only for Okada to reverse and send Takagi into railing! Okada reels Takagi in, puts him on the apron, but Takagi fights off to RAM Okada into railing! And then RAM him into the apron!
Takagi fireman's carries to SNAKE EYES Okada off the apron, and then kick to DDT! Fans fire up and Takagi flexes as he looms over Okada. The ring count starts again, Takagi drags Okada up and puts him in the ring. Takagi slingshots to STOMP Okada! Takagi digs his knee into Okada, then stands on him, but steps off as Red Shoes counts. Takagi kicks at Okada, drags him up and throws forearms into the back! Takagi whips and KNEES Okada against ropes, then runs to run Okada over! Fans fire up with Takagi and they clap "TA-KA-GI!" "O-KA-DA!" again. Takagi drags Okada up, suplexes, and drives Okada down hard! Cover, TWO!
Takagi clamps onto Okada with a chinlock and grinds him down. Okada endures, fans rally up, but Takagi shifts. Okada fights up, throws body shots to fight free, but Takagi DOUBLE CHOPS him down! Takagi mockingly asks what's wrong and eggs Okada on. Takagi brings Okada up, Okada throws forearms back! Takagi ROCKS Okada with one! Takagi brings Okada up, Gory Especial, but Okada fights it! Okada gets the arm for the MONEY CLIP! Takagi powers Okada to a corner and is free, then runs but into a BOOT! Both men are down and fans fire up again! Fans rally as Takagi and Okada stir. Okada stands first and fires off forearms.
Okada whips, Takagi reverses but Okada ducks and ELBOWS Takagi down! Okada fires up and the fans fire up, too! Okada whips Takagi to a corner, runs in and elbows him, then kicks to DDT! Cover, TWO! Okada keeps his focus while fans continue to rally. Takagi gets to ropes, then a corner, and Okada storms over. Okada hoists Takagi up top, but Takagi boots him away! Takagi runs but into an uppercut! Okada runs but into the elbow! JAB! LARIAT! Takagi fires up and the fans fire up, too! Takagi drags Okada up again, and reels him in for a LARIAT! Takagi is copying Okada's style and LARIATS him down again!
Takagi scoops and slams Okada and goes to a corner, also formula Okada! For the FALLING ELBOW! Takagi keeps moving and mocks the Rainmaker pose, to then double gun flex! Takagi drags Okada up, wristlock ripcords but Okada stops the steal with a BOOT! Okada fires forearms, throws EuroUppers, but Takagi blindside LARIATS! Takagi runs, but into a FLAPJACK! Both men are down again and fans are thunderous now as the two stir! Okada sits up, Takagi follows and the two go forehead to forehead. Okada forearms, then again, but Takagi fires up to forearm back! Okada eggs Takagi on so Takagi hits again! They go back and forth, faster and faster and fans rally up!
Takagi gets the edge, ROCKS Okada, and brings him back around to whip. Okada reverses but Takagi holds ropes to avoid the dropkick! Okada avoids the sliding lariat, but Takagi gets Okada in a fireman's carry! Okada slips off, Takagi elbows him away, blocks the boot and clotheslines! Takagi runs, Okada catches him for the MONEY CLIP! Takagi fights out, Okada goes to backslide, but Takagi counters to NOSHIGAMI! But Takagi can't make the cover! Fans rally up, Takagi crawls over, and fires himself back up. Okada slowly rises, Takagi runs but into the dropkick! Okada gut wrenches to a TOMBSTONE! Okada gets the arm for MONEY CLIP!
Takagi endures and fans rally up again. Okada cranks on the hold but Takagi reaches with his legs, and gets the ropebreak! Okada lets go quickly and both men are down again. Fans rally up, Okada stands first, and he hobbles over to Takagi. Okada drags him up, scoops and slams him, then goes to the corner. Okada climbs slowly and Takagi hits him first! Takagi climbs up, clubs away on Okada's back, then talks some smack as he drags Okada up. Okada resists but Takagi gets him up for the SUPERPLEX! The fans are thunderous again as both men writhe from that impact! Takagi rolls over towards Okada, sits Okada up, and hits a SLIDING LARIAT! Cover, TWO!
Fans cheer but Takagi grits his teeth. Takagi gets the fans rallying with "OI! OI! OI!" Takagi gets up, runs again, but Okada ducks the lariat to backslide! Takagi rolls through, Okada reels him in but Takagi avoids Rainmaker to pump handle! MADE IN JAPAN!! Cover, TWO?!? Okada survives and Takagi can't believe it! Fans are thunderous as Takagi catches his breath. Takagi drags Okada back up, reels Okada in and pump handles again. Okada clubs free of that but Takagi POINT-BLANK LARIATS! Fans rally, Takagi kicks at Okada then drags him back up. Takagi gives Okada forearms from all sides, then ROCKS him!
Okada leans against ropes, Takagi whips but Okada reverses and dropkicks! Okada grabs at Takagi's arm and gets the MONEY CLIP! Takagi endures, fights up, but Okada gut wrenches for the SPINNING TOMBSTONE! Back to MONEY CLIP! Takagi endures as Okada squeezes tight! Takagi fights up again, reaches out for ropes, but Okada drags him back to a back2backbreaker! And back to the MONEY CLIP! Takagi is turning red and is fading as Okada squeezes as tight as he can! Red Shoes checks on Takagi, the hand drops once. But Takagi gets a second wind now and he powers towards ropes, starts to fade again, but still gets a ropebreak! Okada lets go and fans are thunderous again!
Okada catches his own breath while he stands up. Okada grabs at Takagi but he resists. Takagi throws body shots but Okada stomps Takagi down. Takagi grits his teeth and rises, but Okada SHOTGUNS him! Takagi's right up to LARIAT! Okada stays up!? Okada gets Takagi's wrist, and reels him in for a LARIAT! Okada is going to show Takagi how it's done as he brings Takagi up, but swings into a full nelson! Okada breaks free, catches Takagi for a spin but Takagi swats the discus! Takagi ripcords, PUMPING RAINMAKER!! Cover, TWO!!! Okada survives and the fans are electric! Takagi gets to a corner, fires himself up by smacking the padding, and then aims at Okada.
Okada rises as Takagi runs in, to PUMPING BOMBER! But Takagi isn't done, he pump handle fireman's carries, but Okada slips off! Okada ducks the back hand to back drop, and sit on Takagi! Cover, TWO!! Takagi stays close to Okada and brings him up, but Okada gut wrenches again! Takagi fights free, and hits a BACK SUPLEX BACKBREAKER! That was rough, even for Takagi! Fans rally up again, Takagi drags Okada up and runs, for MAX PUMPING BOMBER!!! Cover, TWO?!?!? Takagi can't believe it but this is the Rainmaker fans have come to know! Takagi fires up and drags Okada back up to the pump handle fireman's carry.
Okada fights free again, ripcords, but into the pump handle! LAST OF THE DRAGONS!!! Cover, Takagi wins!!!!!
Winner: Shingo Takagi, by pinfall (advances to the next round)
This is almost unbelievable! Okada called his shot at Castle Attack, but falls in the first round!! The Dragon slays Okada, and the Rainmaker's return to the top stops already! What does this mean for the rest of Okada's 2021? Takagi gets the mic to speak! "Ota Cityyy~!" It feels really good to have won. But seriously, that was a tough match! Takagi hopes everyone enjoyed the match, and Takagi tells Okada that he's one tough opponent. But the winner here is Takagi.
Takagi can tell NJPW is entering a new era, and Kota Ibushi is the champion after the 49th Anniversary. Takagi thinks the world title is going to be pretty awesome. But in the NJCUP, Takagi vows to make this his time! Ibushi better be ready to defend that new belt against Takagi! Will the "Pumping Maker" be heading for the top now that he's beaten one of the best in the world?
---
My Thoughts:
A great event, especially the NJCUP matches. The Empire keeps winning in solid Six Man Tags, and with Cobb finishing it off. Cobb is going to build momentum all week until he faces Evil on 3/11, that's a given. Ospreay has momentum for his match, too, but it'd be a great twist if he lost to Tenzan after getting a big head. Honma VS Suzuki was really good, perhaps a touch better than Kenta VS Juice, but maybe it was just all the brawling and wobble selling. I figured Suzuki would win, and it makes sense for Kenta to win against Juice. Just something about pacing felt better in Honma VS Suzuki.
Okada VS Takagi is probably match of the week, and is so far leading the way as best match of the opening round. It's going to be really hard to beat that, especially because Takagi won! I really thought there was going to be a moment for Okada to turn things around, but that's huge for Takagi to win. Takagi also has a lot of guts for copying the Rainmaker formula, but I wonder if this is some kind of Okada seal of approval that Takagi won here. Takagi VS Goto is going to be another great match given their NEVER Openweight Championship matches in the past, but I would think Takagi keeps winning until the semifinals now. The Suzuki VS Kenta winner faces Takagi on 3/16, Takagi can totally beat Kenta but Suzuki is a harder choice. But if there's a chance we could get Takagi VS EVIL, I hope NJPW gives us that.
My Score: 9.3/10