Andrew's Wrestle Kingdom 15 Day 2 Results & Match Ratings
Four title matches and kicking things off with the KOPW 2021 Trophy 4 way! Does Jay White ruin Kota Ibushi's feel good story? Can SANADA finally win a match that matters? Will Yano become back to back KOPW winner?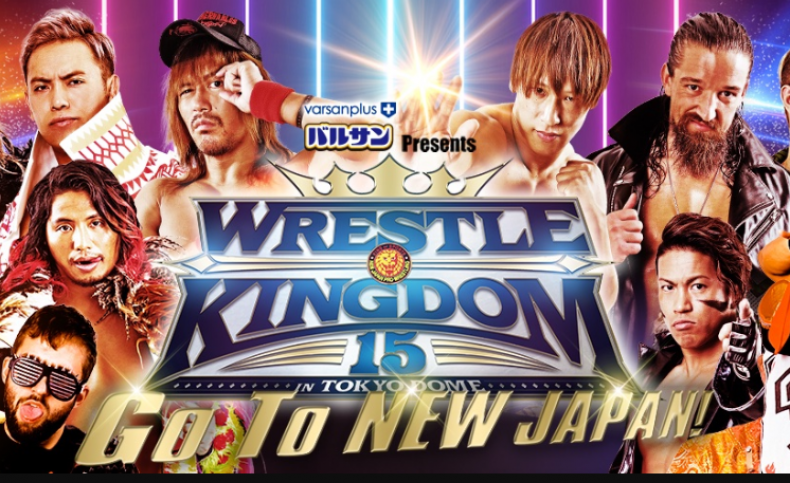 After day one finish strong, if not a little head scratching, what do we get for day 2? Two men are running back big matches; so we get to see if their gas tanks run out.
Honestly, instead of the KOPW match I wish we got a few of the Stardom matches to open the show instead of being Live only. But what do you expect when you put Fale, Chase and BUSHI in a match…am I supposed to really care?
Aside from that, the rest of the card has a ton of potential. Cobb and Shingo could be great if Cobb tries. SANADA and EVIL is a toss-up, Hiromu and Taiji are always good, then we have the main event. Jay White makes most things entertaining even it's just from things he says during the match.
Let's get to it!
Ratings:
KOPW 2021 Trophy 4 Way: BUSHI vs Chase Owens vs Toru Yano vs Bad Luck Fale: Yano wins via Grenade Launcher @7:34 – ** ¼
IWGP Jr Tag Team Championship: El Desperado & Yoshinobu Kanemaru (c) vs Master Wato & Ryusuke Taguchi: Desperado retains via Pinche Loco @13:20 – ** ½
NEVER Openweight Championship: Shingo Takagi (c) vs Jeff Cobb: Takagi retains via Last of the Dragon @21:11 – *****
EVIL vs SANADA: SANADA wins via Moonsault @23:40 – *** ¾
IWGP Jr Heavyweight Championship: Hiromu Takahashi vs Taiji Ishimori (c): Hiromu wins via Time Bomb #2 @25:31 – **** ½ – TITLE CHANGE!!!
IWGP Heavyweight & Intercontinental Championship: Kota Ibushi (c) vs Jay White: Ibushi retains via Kamigoye @48:05 – **** ½
Results:
KOPW 2021 Trophy 4 Way: BUSHI vs Chase Owens vs Toru Yano vs Bad Luck Fale
The match begins with classic heel tactics when Yano and BUSHI want Fale and Chase to start. So they go for the Too Sweet, which turns into a finger poke of doom, forcing everyone in to break up the pinfall.
After that, it's a lot of the Bullet Club duo trying to pick apart Yano and BUSHI, with BUSHI looking fairly impressive fighting back…all things considered. The end is simple, they do the Grenade Launcher, but Fale breaks up Chase's pin, then Chase breaks up Fale's pin and they start arguing. Yano takes advantage of the arguing and the Bullet Club duo going after the referee, to hit stereo low blows, and then pin the still downed BUSHI.
It happened, Yano is back to back winner and I guess it was a thing to open with. Sure.
IWGP Jr Tag Team Championship: El Desperado & Yoshinobu Kanemaru (c) vs Master Wato & Ryusuke Taguchi
Taguchi got exploited a little during this match when Kanemaru and Despy focused on the knees. Wato also looked to get a little lost at different points during the match. So this was a weird watch.
Early on it was basic enough with Taguchi getting his knees worked over, but generally a back and forth affair. It felt like it started to drag when Taguchi started doing his usual shtick with the Nakamura references and Funky Weapon stuff. Without feeding off laughter or more vocal support of the crowd, it comes off weird.
A wonky Tiger Feint, a late pin break up, we've really seen the larger events be a little "too big" for Wato at this point in his career. So the champions retain thanks to breaking down the veteran and Wato just making too damn many mistakes.
NEVER Openweight Championship: Shingo Takagi (c) vs Jeff Cobb
I had personal reservations about if this was going to be a Shingo match or one of those Jeff Cobb matches that don't live up to his potential, but just wow.
We started early on with a bit of an attempt to outdo one another. They traded power, they traded agility spots and it was just an impressive mixture of styles. Cobb tapped into a few Eddie Guerrero moments with his version of the 3 Amigos and then the Black Tiger Bomb. Cobb focused on Shingo's back quite a bit, but Shingo persevered.
Takagi tried to stand up and trade before deciding it was best to focus the knees. Thanks to his pivot, when Cobb managed to pull off Tour of the Islands, Cobb couldn't go for the cover right away since he landed heavy on the knees. This allowed for Takagi to get close enough to the ropes to break the pin and kick out on the follow up attempt at the pinfall.
Just never stopping with the action, big swings, big power, and this match was a lot of fun. Cobb really stepped up to meet Shingo's energy and intensity, and it's a good thing intermission is right after this, because this is probably match of the night. Takagi rocks Cobb with a Pumping Bomber, and then hits Last of the Dragon to retain the title. Just wow.
EVIL vs SANADA
A match where SANADA wanted to prove he could beat EVIL his own way. It definitely had all the designs of a normal SANADA match where he'd fall short, but he may have finally evolved his style to look less imbecilic against heels.
Early on the classics were there, SANADA places EVIL in the Paradise Lock, hits the Misawa feint, they did the catch the foot and throw it to the referee spots. It was much like many of their previous encounters, but I will say this did feel a little more important. EVIL still has this weird obsession with throwing people so hard into the barricade in front of the time keeper it sends him flying, and I'm not sure why, but it's a solid enough heel distraction for him to do his Homerun Chairshot.
Togo got involved numerous times and as per LIJ tradition, no one comes out to help; but SANADA seemed to have it under control. Yes the last bump into the table for Togo was a little goofy, but I did appreciate the sell on EVIL's face after the fact. EVIL also showed a slightly higher gear after that spot, and if he could figure out how to harness that, maybe he'd be more enjoyable.
Either way, EVIL looked to try and salvage a win with a lot of referee throwing, but SANADA was smart to it, blocks the low blow, hits Everything is…SANADA. Then a Pop Up Cutter and Moonsault actually starts the year off with a win for SANADA!
IWGP Jr Heavyweight Championship: Hiromu Takahashi vs Taiji Ishimori (c)
Early on we had some great speed and call backs. Taiji flipped out of the Sunset Bomb like ELP did, but Hiromu adjusted and turned it into an Apron Bomb. Then Hiromu tried the long ramp run Shotgun Dropkick, but Taiji countered that with a side step and sitting out into a slam.
This match was built off of their previous matches, previous matches from the year and stable members' tactics throughout 2020. Big moves like Canadian Destroyers came at the end of sequences to allow for a small breather while both men were recovering. Taiji tried to focus the shoulder/arm of Hiromu, and worked through a few different submissions; only for near falls though.
Every punch had a counter, except a decent length sequence where Hiromu just got back up and ate elbows from Taiji for what felt like 2 or 3 minutes straight. Taiji had his frustrations to take out on Hiromu, since Hiromu was lauded over the reigning champion during the BOSJ tournament. So the insult made this match much more personal.
One last gasp of a submission attempt from Taiji gave him a shot at retaining the title, but Hiromu fought through, hit a Corkscrew Flatliner and then Time Bomb #2 to win the title!
IWGP Heavyweight & Intercontinental Championship: Kota Ibushi (c) vs Jay White
The match started off like many other Jay White matches, with a lot of powdering, mind games and chatter. Everything in the match built off the past year and the previous interactions between the two. We got a glimpse of Jay pushing him to Murder Ibushi levels, and Jay did a great job at trying to counter punch the unpredictable Ibushi.
Ibushi challenged White's manhood during an exhaustive exchange where even Gedo was telling Jay not to swing. A change of gear when Ibushi pushed Red Shoes, giving Jay the opening for a low blow; but Jay then made it his personal goal for the next minute or so to get revenge for Red Shoes. Jay's running commentary is part of the enjoyment of this match. Even Jay avoiding his usual heel tactics when he tells Red Shoes not to count, as he was calling Ibushi to get back into the ring.
A Kamigoye and Phoenix Splash nearly put the match away for Ibushi, but Gedo pulled out Red Shoes and the match got dicey since this was around the 40 minute mark. Jay catches Ibushi with a Blade Runner, but Ibushi becomes the first person to kick out of the Blade Runner. A Kamigoye to the back of Jay's head and then an exposed knee Kamigoye finally finished this match!
It was long, emotional, fairly epic, but there were a few spots (looking at you super long and stupid Avalanche Sleeper Suplex tease spot) that didn't quite work, but it was a great match.
Overall Score: 8.75/10
Okay so New Japan really needs to start pulling the leash on so many lengthy matches, but I'd be lying if I didn't say they all paid off.  Every 20+ minute match was entertaining, did well, and this night was what Wrestle Kingdom should've been all along. The openers were forgettable, but the matches that were supposed to impress, did a damn good job.
With SANADA coming out after Ibushi's win, it's nice to see the EVIL/SANADA match was basically a number one contender match.  Makes you wonder if the reign of the Golden Star will burning bright, or fizzle out. Hiromu aims to elevate the Junior Division this year (which it really needs something). But maybe we can start working towards separating the Intercontinental and the Heavyweight now. I'm really completely over this double gold stupidity.
New Years Dash usually starts setting the year's storylines into motion, so now we'll get to see where everything is headed. All in all, Wrestle Kingdom finished strong after having a lot of early question marks. I'd love for SANADA to beat Ibushi, but I really just need to see NJPW get back on track and keep some consistency.