Cook: Breaking Down The 2021 NFL Conference Championship Games
This weekend is Conference Championship Sunday in the NFL, and Steve Cook is here to break it down and tell you what's going to happen–and why!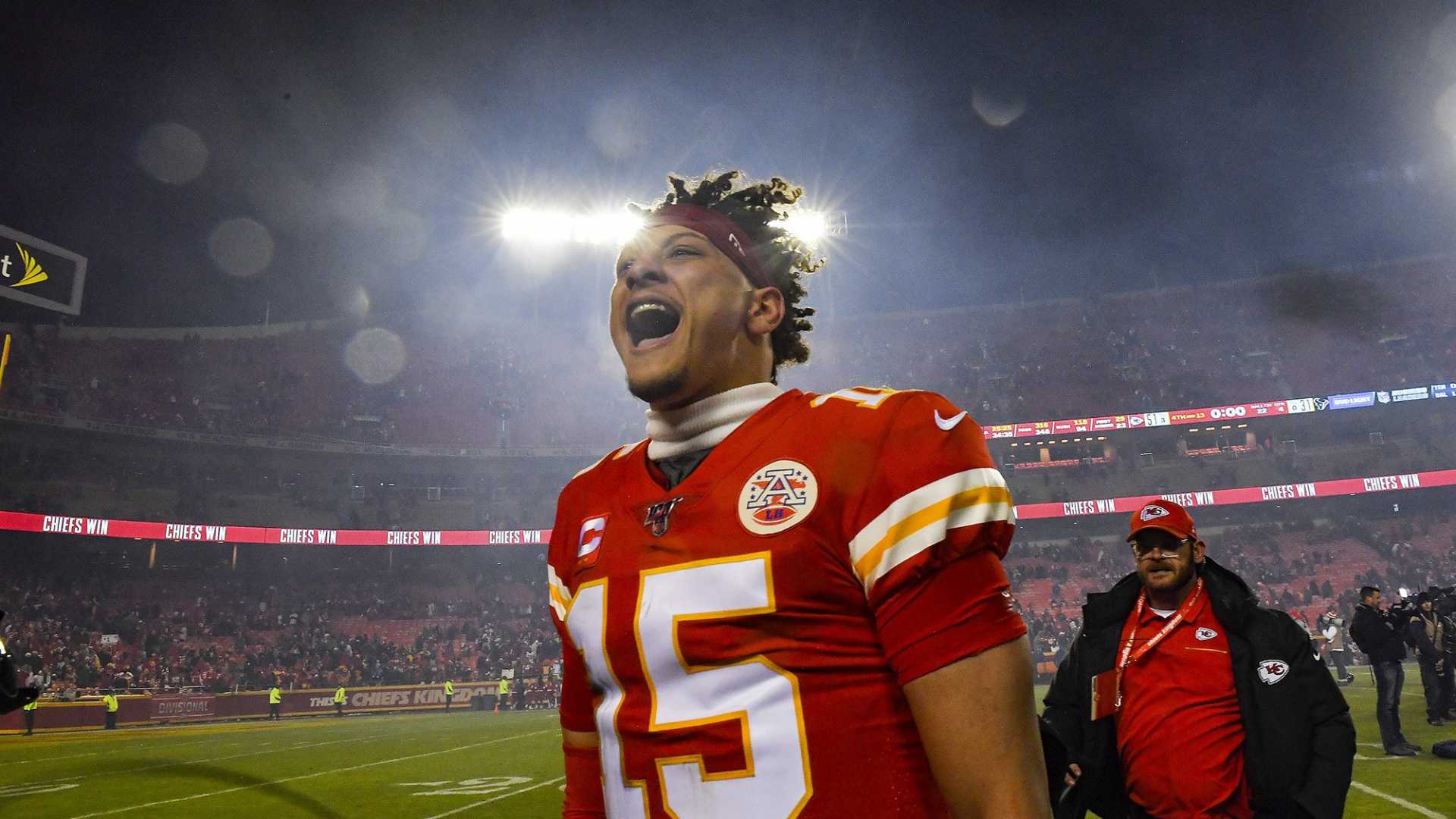 This weekend is Conference Championship Sunday in the NFL, and Steve Cook is here to break it down and tell you what's going to happen–and why!
No matter what happens this Sunday, we already know what the theme of Super Bowl LV will be. The NFC will be represented by one of the greatest quarterbacks of all time, theoretically in the final years of their career. The AFC will be bringing one of the best young quarterbacks of today, looking to take that torch out of the hands of the old guard. All us writers have to do now is fill in the names. Pretty sweet, isn't it?
Before we get there, we need to do this first. One game pits two of the fellas in that GOAT conversation against each other. The other has two of the fellas looking to get in that conversation someday. Hell, one of them is already in that conversation according to some. Let's break it down!
Sunday, 3:05 PM: Tampa Bay Buccaneers at Green Bay Packers
I'm sure the twittersphere will only have kind things to say about this gesture. Everybody gets a high five! https://t.co/tWA8o3YIIQ pic.twitter.com/LadOvYbnws

— Tom Brady (@TomBrady) January 18, 2021
When I was a kid, there was a pretty interesting stat about the Tampa Bay Buccaneers. The Bucs lost their first twenty-one games that took place with a kickoff temperature below 40 degrees. Granted, most Tampa Bay teams during that time period were pretty miserable, things didn't really get cooking there until Tony Dungy arrived in the late 90s. Tampa's record isn't much better now, but that's at least partially because they haven't played many cold weather games since 2002, when divisions realigned. Instead of making the trek to Chicago & Green Bay every year as part of the NFC Central, they're going to Atlanta, Charlotte & New Orleans every year.
You kind of have to throw out everything you think you know about the Buccaneers. Only consider what you know about Tom Brady. He's been pretty good in cold weather games over the year. Antonio Brown: also pretty good in cold weather games. These aren't your father's Buccaneers, even if Tom Brady was playing against your father's Buccaneers back in the day.
Going to Lambeau Field is never easy though. The Packers looked good in their first playoff appearance this season, Aaron Rodgers was clicking on all cylinders against the top-ranked LA Rams defense. Tough to pick against them, except for one important thing:
I already picked against Tom Brady last week.
I didn't want it to happen, but it's undeniable now. Tom Brady's going back to the Super Bowl and winning it once again. Why would anything else happen? Brady will throw a couple of touchdown passes, Rodgers will fall flat on his face, and the Golden Boy will retake his spot on top of the mountain. It's what the NFL wants, and it just might be what the NFL needs.
Cook's Pick: Tampa Bay Buccaneers
Sunday, 6:40 PM: Buffalo Bills at Kansas City Chiefs
The Chiefs refusing to rule out Patrick Mahomes for the Conference Championship like… pic.twitter.com/hhwwRjuQDy

— TPS (@TotalProSports) January 20, 2021
Kansas City might have a problem. Patrick Mahomes suffered a concussion during Sunday's game against Cleveland, leading KC to almost lose to the Browns. I'm sure Chad Henne is a nice guy, but he's not Patrick Mahomes. Should Mahomes miss the AFC Championship game, the Chiefs won't be beating the Bills and advancing to play against Tom Brady.
You'd like to see Buffalo make it past the Chiefs and return to the Super Bowl for the first time since Super Bowl XXVIII. Josh Allen has had a great season throwing the ball to Stefon Diggs among others. It'd be a great story, and the idea of the underdog Bills going against big bad Tom Brady has a nice ring to it.
You have to pick the Chiefs though, especially since it seems like Mahomes is playing. If Mahomes isn't playing, pick the Bills.
Cook's Pick: Kansas City Chiefs
So it'll be Mahomes trying to take the torch from Brady. NFL pundits might declare Pat the greatest QB of all time if he wins. Enjoy Championship Weekend!
Cook's Top 5: Atlanta Falcons Quarterbacks
Steve Cook continues his look at each NFL franchise's best QBs with his Top 5 Atlanta Falcons quarterbacks!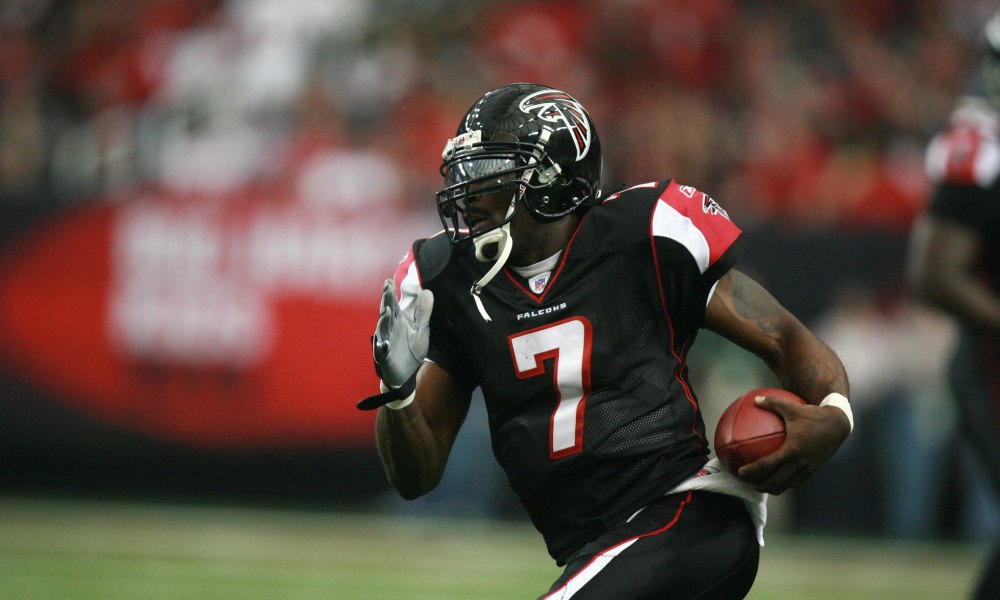 Steve Cook continues his look at each NFL franchise's best QBs with his Top 5 Atlanta Falcons quarterbacks!
We continue our look at the Greatest Quarterbacks of each NFL franchise with another humdinger of an assortment of talent. The Atlanta Falcons have made two Super Bowl appearances during their existence, winning neither. Their first couple of decades were mediocre at best, but the 21st century has seen a reversal of fortune. The Falcons have at least seemed relevant more seasons than not.
Today we look at the top 5 Falcons quarterbacks of all time.
5. Chris Miller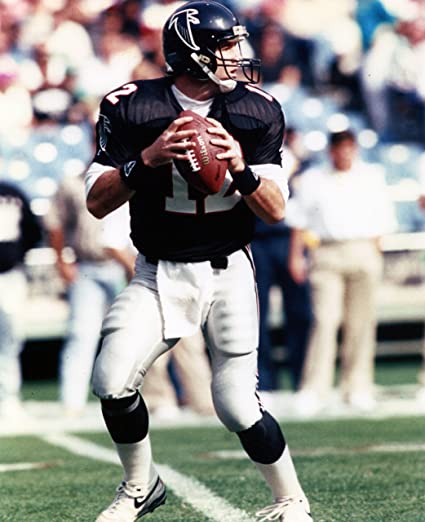 Taking a look at Miller's numbers gave me one thought: there could have been something there. He certainly wasn't bad, with the exception of two really bad performances that consisted of his rookie season, Miller had decent enough numbers for a not so great collection of Falcons teams. He still has the third-most passing yards & is tied for the third most passing touchdowns in Falcons history.
Things improved through Miller's time there. 1991 was his best season, throwing for over 3100 yards, getting 26 passing touchdowns and making the Pro Bowl. It seemed like Miller had a future…until two severe knee injuries led to his departure from Atlanta. He signed with the Rams in 1994 and dealt with a new recurring problem: concussions. Miller suffered 5 concussions in 14 months, with nasty side effects that led to him retiring from football.
He attempted a comeback with the Denver Broncos in 1999, but a concussion early into his tenure there led to him going back into retirement. Miller could have lived up to the high expectations people had for him coming out of Oregon, but we'll never know.
4. Chris Chandler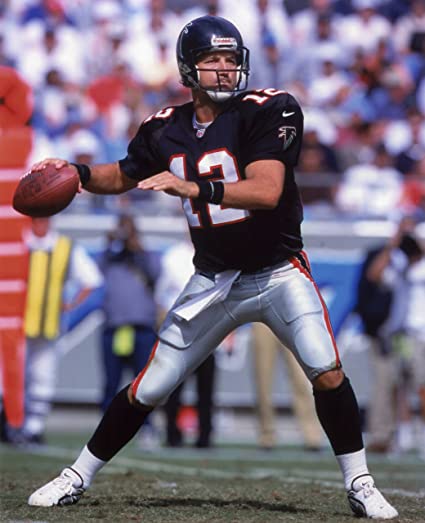 Prior to arriving in Atlanta, Chandler was the definition of a journeyman. He played for five teams in the first nine seasons of his career. Chandler couldn't catch on anywhere until he signed with the Falcons and obtained the coaching services of Dan Reeves. Business picked up then.
Chandler made the Pro Bowl in the 1997 & 98 seasons. 1998 was the season of the Dirty Birds' 14-2 regular season and trip to the Super Bowl, where they got the honor of laying down for John Elway in his last game.
The Falcons & Chandler came back to earth in the years afterward, and it was decided to bring in a new young arm. After a year backing Chandler up, it was Michael Vick's team. Chandler went on to the Bears & Rams in completely forgettable stints.
Chandler can say something that only one other man can: he quarterbacked the Atlanta Falcons to the Super Bowl.
3. Steve Bartkowski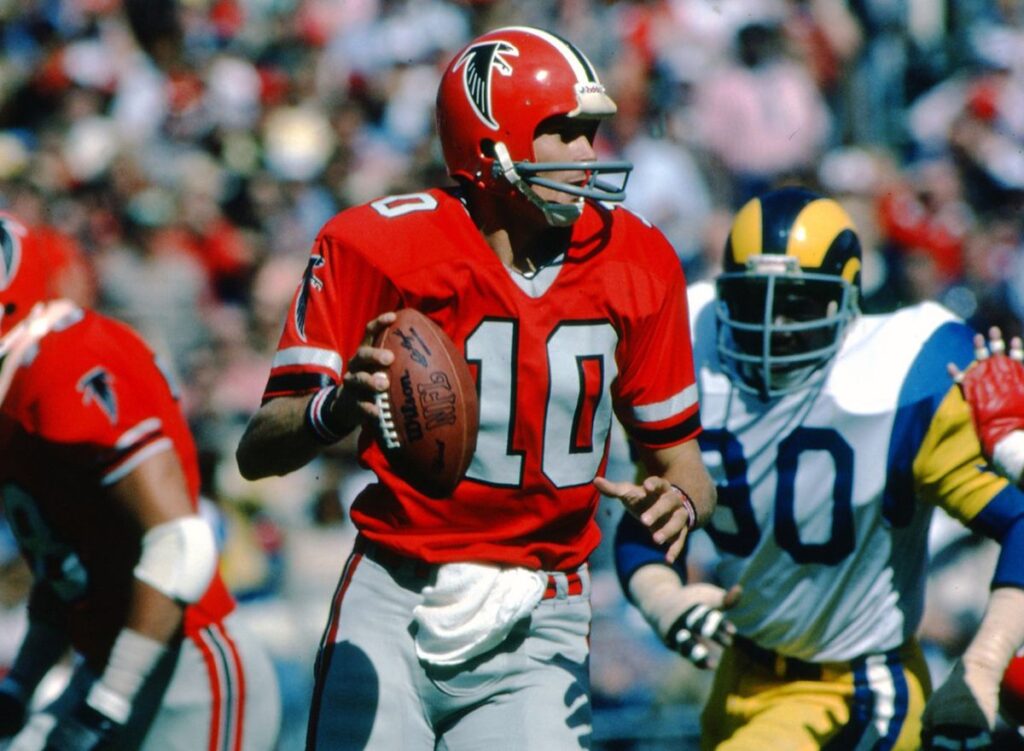 Like most NFL franchises, the Falcons got off to a slow start. Ok, maybe a bit slower than most. Atlanta struggled through their first few seasons, trying to find a way to become relevant. Then, as now, one of the best ways to become relevant is to draft a franchise-level quarterback.
Atlanta found theirs with the first pick of the 1974 NFL Draft. Steve Bartkowski, who had led the nation in passing during his senior season at Cal. Bartkowski would make the Pro Bowl in 1980 & 81, and would take the Falcons to their first playoff appearance in 1978. The Falcons were such an afterthought at this time with a revolving door of head coaches, that even getting to the playoffs was one heck of an accomplishment.
Bartkowski lasted eleven seasons with the Falcons before ending his career with the Rams in 1986. He would have played more games and racked up more stats if not for the seven knee operations he went through during his career. His QB record with Atlanta was only 55-66 and he only had two winning seasons, but It's hard to see too many people from that era doing much better with those teams.
Up until the Falcons found their current quarterback, Steve Bartkowski held every relevant Falcon passing record. He sits on the team's board of directors, is part of the Falcons Ring of Honor and has had his jersey retired. It was a pretty solid run, and up until this century the best in Falcons history.
2. Michael Vick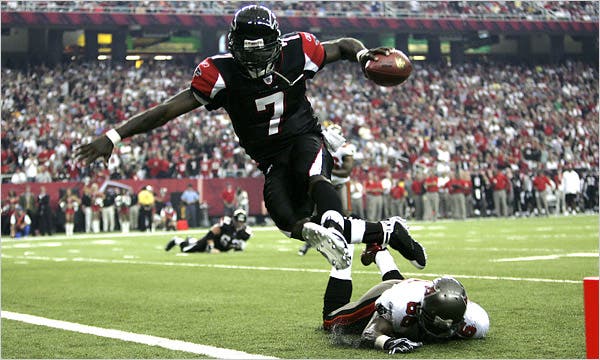 Many have chosen to leave Vick off of their lists of great players due to the situation that led to his departure from Atlanta. The dogfighting ring. Don't get me wrong, it was disgusting and Vick got what he deserved for taking part in it.
That being said, Vick has shown regret for his actions and has avoided further problems since. Football has shown a tendency to be more forgiving than other sports, people aren't outcast forever or denied consideration for the Hall of Fame for a mistake. Vick's play while wearing an Atlanta Falcon uniform was notable, and you can't really tell the story of the Atlanta Falcons without mentioning him. Other than Vick, the only Falcon that ever really got mainstream coverage was Deion Sanders.
You might argue that I shouldn't rate him over Bartkowski due to Steve's importance to the franchise's early days. I can only say that Vick was the most exciting quarterback I ever watched up until seeing Lamar Jackson at Louisville. What Vick lacked in passing yardage (his besy season in that category is 23rd in Falcons history), he made up for with the rest of his game.
Honorable Mention: Jeff George
George was considered an absolute bust after getting drafted first overall by the Colts in 1990. They couldn't wait to get him out of the city after getting to know him, and the Falcons would do the same after two pretty solid seasons. George did throw for over 4,000 yards in 1995, and guided the Falcons to the playoffs for the first time since 1991. If George hadn't made June Jones mad, he might have been in Chris Chandler's spot for the Falcons' first Super Bowl trip.
1. Matt Ryan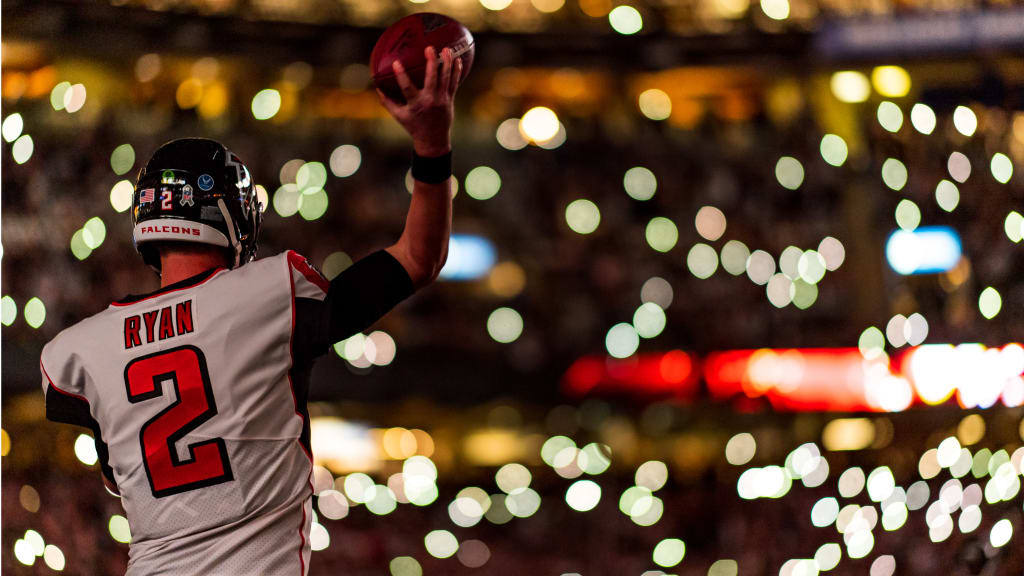 Ryan arrived in Atlanta from Boston College as the third pick in the 2008 NFL Draft. In the ensuing years, Ryan has gone on to shatter every Falcon passing record and see the team through more success than any previous quarterback. He's played in eighty-two more games than any other Falcons QB. Completed nearly 3,000 more passes. 193 more touchdowns than second place. Over 32,000 more passing yards. Ten of the top eleven passing yardage per season totals belong to Matty Ice.
It's not really fair to compare Ryan to his fellow Falcons. Where does he compare with his current peers? He's never led the league in touchdowns or passing yards. He's been to four Pro Bowls and was a first-team All-Pro in 2016. That was Ryan's best season to this point, culminating in Ryan becoming the first Atlanta Falcon to win the Most Valuable Player award. There was also a trip to the Super Bowl that the Falcons should have won. You know, considering they were up 28-3 and all that. The Falcons had a winning record each of Ryan's first five seasons, which was the first time they managed to have five straight winning seasons.
Ryan will be thirty-six years old when the 2021 season starts. His current contract will expire after the 2022 season. Will the Falcons keep him around so he can keep adding to his Atlanta legacy? Time will tell.
3 Man Weave: JJ Watt, NBA All-Star Weekend
UFC 259 will see three titles defended in one evening, JJ Watt to the Cardinals and NBA All-Star weekend peek the interests of 3MW this week.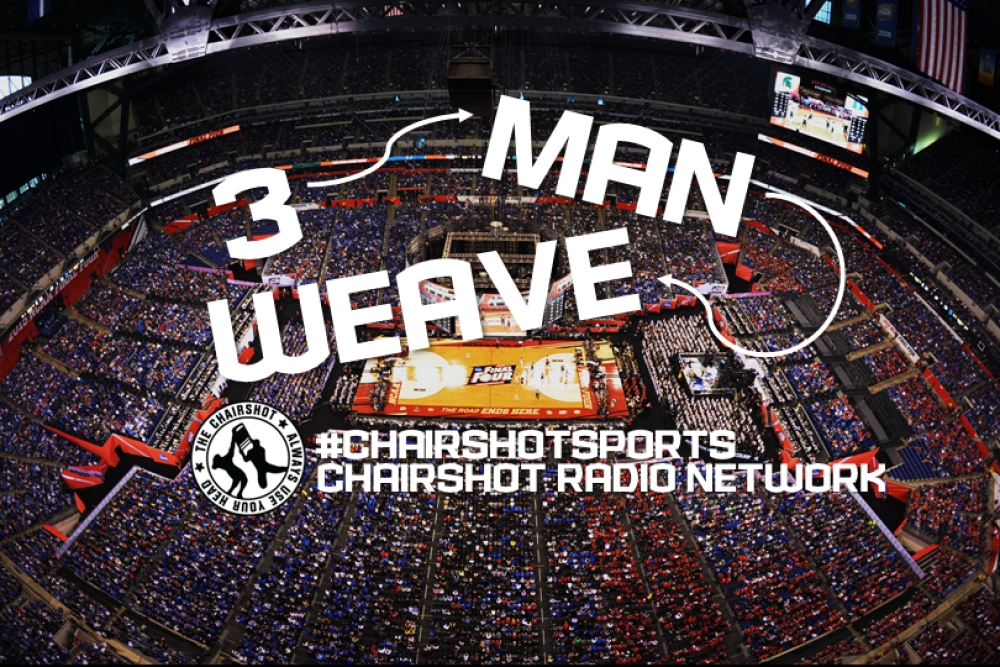 UFC 259 will see three titles defended in one evening, JJ Watt to the Cardinals and NBA All-Star weekend peek the interests of 3MW this week.
#ChairshotSports presents 3 Man Weave. Join Rey Cash @itsreycash PC Tunney @PCTunney and Christopher Platt @therealcplatt as they give their unique perspectives into the American and global sporting landscapes. This week on @3_ManWeave…
JJ Watt Sign w/ Cardinals
UFC 259
NBA All-Star Weekend
For the latest, greatest and up to datest in everything pro wrestling, sports and entertainment head to TheChairshot.com ALWAYS #UseYourHead
About the Chairshot Radio Network
Created in 2017, the Chairshot Radio Network presents you with the best in wrestling and wrestling crossover podcasts, including POD is WAR, Women's Wrestling Talk, The #Miranda Show, Badlands' Wrestling Mount Rushmores, The Outsider's Edge, DWI Podcast, Bandwagon Nerds, the Greg DeMarco Show, 3 Man Weave, Five Rounds, Turnbuckle Talk, The Reaction and more! You can find these great shows each week at theChairshot.com and through our distribution partners, including podcasting's most popular platforms.
---
The Chairshot Radio Network


Your home for the hardest hitting podcasts and radio shows!
Listen on your favorite platform!
iTunes  |  iHeart Radio  |  Google Play  |  Spotify
Listen, like, subscribe, and share!