Mathew's Top Matches of 2020: #5-1
Mathew caps off his Top 5 with his first ever allowed Top 5 Hat Trick! I think we all know who deserves the honor, but the fun is seeing the match order! Check out 5 through 1!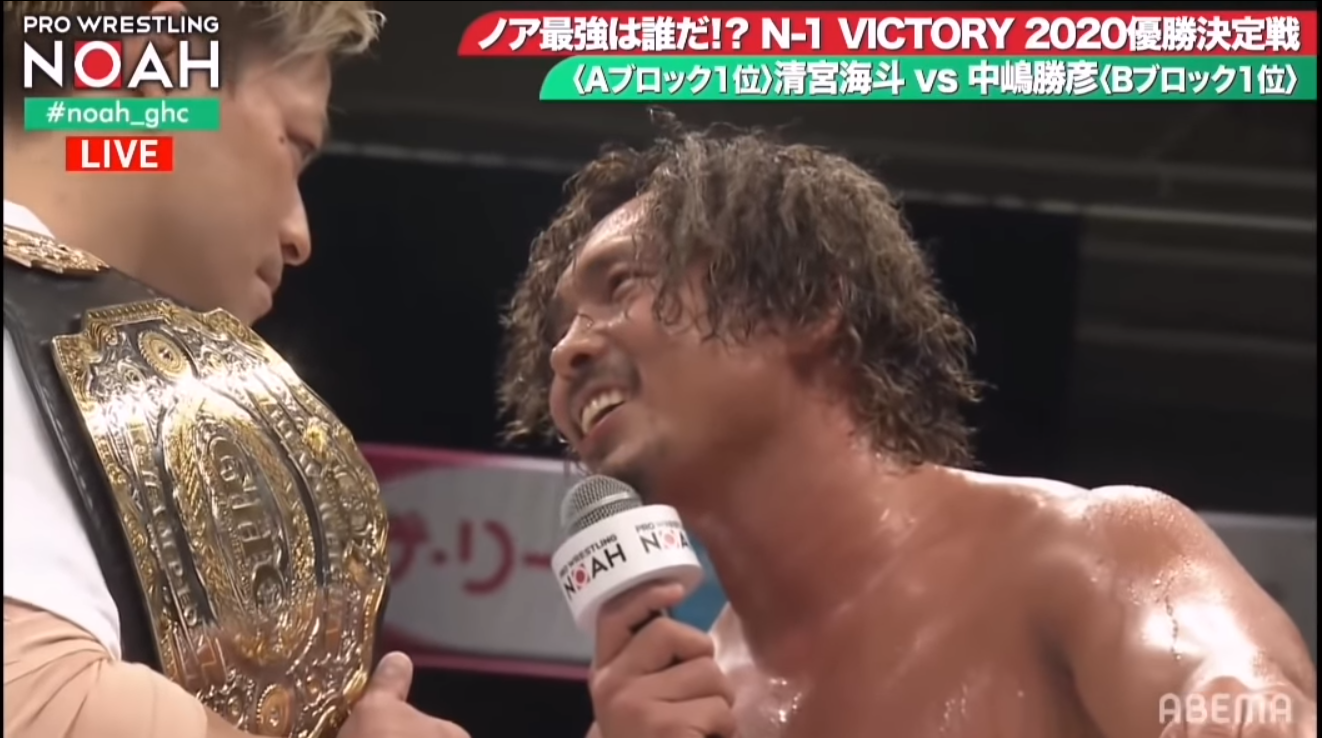 This is it, everyone. It's time to bring this countdown to a close with our final five matches. It's been a fun ride but now we gotta bring this to a close. So many great matches this year but these five are what I considered the best for the year. What are they? Let's find out.
Previous Lists
5. Go Shiozaki vs. Kenou (NOAH The Chronicle Vol.3 8/10/2020)
– Go and NOAH makes their return to the list as we had a big match for the final show in Yokohama Bunka Gymnasium as he takes on GHC National Champion, Kenou. Six days before the event, Kenou defeated Go's partner, Katsuhiko Nakajima to win the championship, he would then make a challenge to Go, telling him that he wants to have a winner take all match. With both the GHC Heavyweight and National Championships on the line, a lot of fans were speculating what the outcome would be since it would've been too son for Kenou to drop the belt and people were enjoying Go's reign that they didn't want it to end just yet. A lot of possible outcomes can happen and just that alone was to make fans excited to see what would actually happen.
The match itself was another excellent title match for both of them as this screamed a big main event match even with the six days of hype in between them, it made it seem like it's been going on for months. The match itself ended in a sixty-minute draw, meaning no titles changed hands and this was the best possible outcome of this match. It protected both of them without losing, made them both look credible, and gave the fans a fantastic match to close out the venue. Both of them are still their respective champions and this match made them come out as bigger stars that day than they already were. A fitting chapter for 2020 and these two men,
4. Kento Miyahara vs. Zeus (AJPW Champion Carnival 10/5/2020)
– Once again, All Japan Pro Wrestling would make its way into my top five and for the second time, it's the finals of the Champion Carnival. The finals this time around is between Kento Miyahara and Zeus. These two also made it into my top 5 two years ago, and it's no surprise to see them on here once again since they always work so well together. Neither of them was the Triple Crown Champion this time around but the two would fight in this Champion Carnival to find out who would face the champion. Kento trying to reclaim his title to get back on top and we have Zeus wanting to get gold back after two years.
Their match was just as good as their big match two years ago but this one was slightly better in a story perspective of things. This was a new side of Zeus that we've seen as he was more aggressive in this match, which was something we've seen during the whole tournament but this was kicked into a higher gear. Kento also held his ground to send both Zeus and himself to their limits. Zeus would also kick out of the Shutdown German Suplex Hold, one that not many have done in All Japan, leaving Kento shocked. Zeus would eventually hit a Jackhammer onto Kento, winning the Champion Carnival while defeating his rival. While Zeus failed to win the title from Suwama, he still gave us another memorable Carnival and the best All Japan match this year.
3. Kazuchika Okada vs. Tetsuya Naito (NJPW Wrestle Kingdom 14 1/5/2020)
– Of course, this match was going to make it to my list, this was still the best match New Japan produced this year and it was only on their second show. I will admit that this probably would've been lower to 5 or 6 but since I was there for this match live, the experience for it was indescribable. There was a lot of long-term storytelling involved in this match as this was the third time they fought at Wrestle Kingdom, with their big main event match happening two years ago with Naito losing and leaving a lot of fans outraged due to how popular he was. Naito would be stuck with the IWGP Intercontinental Championship and would eventually decide to make the belt useful as his next goal was to be the double gold champion. This was when they decided to do a winner takes all type of match at Wrestle Kingdom for the second day where the winners of their respective title matches would fight for both titles, leading to Kazuchika Okada defending the IWGP Heavyweight Championship against the IWGP Intercontinental Champion, Tetsuya Naito.
We finally get the rematch that fans wanted and Naito getting to be apart of the Tokyo Dome main event once again, the story they've built for years was all coming down to this specific match. There were a lot of close calls in the match, fans getting worried that Naito might lose once again but suddenly, the crowd would erupt when Naito finally defeats Okada at the Tokyo Dome and won the IWGP Heavyweight Championship at the event. His dream was finally realized and his celebration wouldn't last long as KENTA knocked win out, getting mega heat for ruining Naito's moment. While the booking of the double gold has declined but this is the match that people will remember when it actually mattered.
2. Go Shiozaki vs. Katsuhiko Nakajima (NOAH The Chronicle Vol.4 11/22/2020)
– Go appearing twice in the top 5? Well, he's earned it and I did say there was someone that was an exception to the two-match rule, and can you blame me? The man has had an incredible year with each match topping his previous match. This was a match that had a long time coming. Once Axiz failed to win the GHC Tag Team Championships, Nakajima would betray his partner by attacking him after the match, dissolving Axiz and would align himself with Kongoh. The last time they fought in singles action was last year with Go defeating Nakajima, which was what lead to him to challenge for the GHC Heavyweight Championship, and even winning it on January 4th, 2020. Nakajima wanted to take the belt from him but for him to do that, he would need to win the N1 Victory, which he would be able to, and one of the more anticipated matches this year would happen.
This match was absolutely brutal, Nakajima made sure that his former partner would suffer in this match from how stiff he was. Go has been banged up from all the big title matches he's had that it even lead to people being concerned for his health and to take a break. Go wouldn't resist as he would also deliver a stiff contest to Nakajima, a lot of tension built up here during the match and it was to show that Nakajima deserves to be back in the main event scene. However, Go would pull through and delivers a Gowan Lariat to Nakajima, retaining the title for the 5th time by barely surviving. People thought Nakajima would finally win the belt but it seems like his time to get it is not right just yet. This would've been my number one match if this next one didn't happen down below.
1. Go Shiozaki vs. Takashi Sugiura (NOAH The BEST 12/6/2020)
– That's right, for the first time on my countdown list, a single wrestler has appeared on my Top 5 three times with two of their matches being back-to-back. Remember how I said Go's title matches keep elevating in quality and storytelling with each defense? Well, this was his next defense after the one with Nakajima and this happened about two weeks later. Go's story during this year was talking about how he is NOAH, defeating the biggest names NOAH had to offer and he would have one more test to solidify that claim, having to defeat Takashi Sugiura as this one final test. This was another match that hasn't happened in over a year but this time, it would be for the GHC Heavyweight Championship with Go's story coming to full circle and Sugiura wanting to reclaim the title again.
The striking in this match was incredible, Sugiura is still one of the best wrestlers over 50, showing he can go as if he was fifteen years younger. The two would destroy each other just as much as the match between Go and Nakajima but this kicked it up to eleven. Just seeing Sugiura going full-on killer mode near the near towards Go made people think that his reign could be in jeopardy. Go would find the fighting spirit when he hits multiple Gowan Lariats with Sugiura not falling, not going down without a fight but Go delivers one more Lariat, sending him down and getting the victory. This match showed that he is NOAH like he has claimed to be during 2020 and he has absolutely earned it with the incredible year has had. NOAH was my promotion of the year and it also had my favorite match, wrestler, and title reign with all in one person, Go Shiozaki.
That will conclude our Top 25 Best Matches list, I am thankful that you all took the time to share this journey with me as we now head into 2021. Let's see who will make it in next year's list.
Expect more coverage this year since the Covid era made it difficult for me to write but now with things possibly slowing down, time to get back into the swing of things.
King's WrestleMania Rewind: Stone Cold VS. Scott Hall (WrestleMania X8)
Chris King is back with another WrestleMania Rewind, looking at the NWO's Scott Hall battling Stone Cold Steve Austin at WWE WrestleMania X8 from Toronto!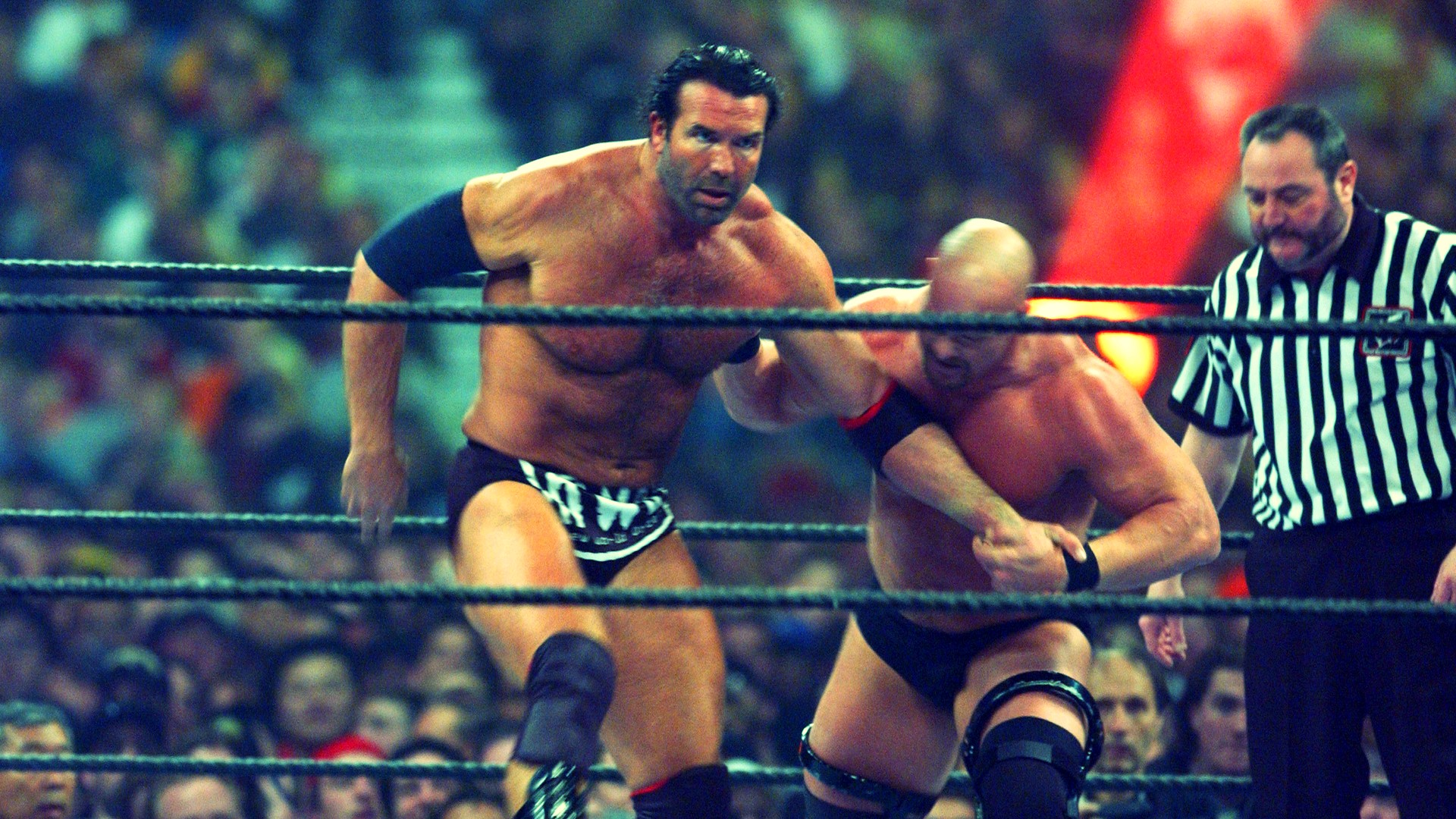 Chris King is back with another WrestleMania Rewind, looking at the NWO's Scott Hall battling Stone Cold Steve Austin at WWE WrestleMania X8 from Toronto!
Chris King is back this week with another edition of WrestleMania Rewind, where he is rewatching all the past Mania matches and feuds. This week you're in for a treat as we look back at 'Stone Cold' Steve Austin vs. Scott Hall at WrestleMania X8.
In late 2001, Vince McMahon bought out his competition WCW and acquired the rights to a plethora of talent including Booker T, Eddie Guerrero, Chris Benoit, and the iconic trio known as NWO. Hulk Hogan; Kevin Nash, and Scott Hall were hell raisers, and what better way to make a name for yourself than take out the two top superstars in the WWE The Rock, and Stone Cold?
The NWO cost Austin his chance at becoming the Undisputed Champion at No Way Out during his match with Chris Jericho. Adding insult to injury, the NWO spray-painted 'The Texas Rattlesnake' with their brand logo just like they did in WCW. As you can imagine, Austin was pissed and out for revenge against the group and primarily Scott Hall.
Hall would challenge Stone Cold to a match at WrestleMania 18. Both superstars beat the living hell out of each other leading up to this highly-anticipated match for who runs the WWE.
The glass broke and Stone Cold made his iconic entrance, and black and white NWO covered Halls' entrance alongside Kevin Nash. With the odds stacked against 'The Toughest S.O.B' could Austin or NWO prove their dominance? Sadly the NWO  broke up that very night when Hulk Hogan came to the aid of his adversary The Rock after their 'iconic' dream match. Stone Cold would ensure the victory with the Stunner. Hall would perform an Oscar-worthy sell over the finisher.
What a time to be a wrestling fan in the 2000s when nothing was impossible for WWE. Who would've thought WCW would go out of business and Hogan would make his long-awaited return to WWE?
King's WrestleMania Rewind: Seth Rollins vs. Kevin Owens (WWE WrestleMania 36)
Chris King takes a look at the most underrated WWE WrestleMania matches, and starts off with Seth Rollins battling Kevin Owens at WrestleMania 36!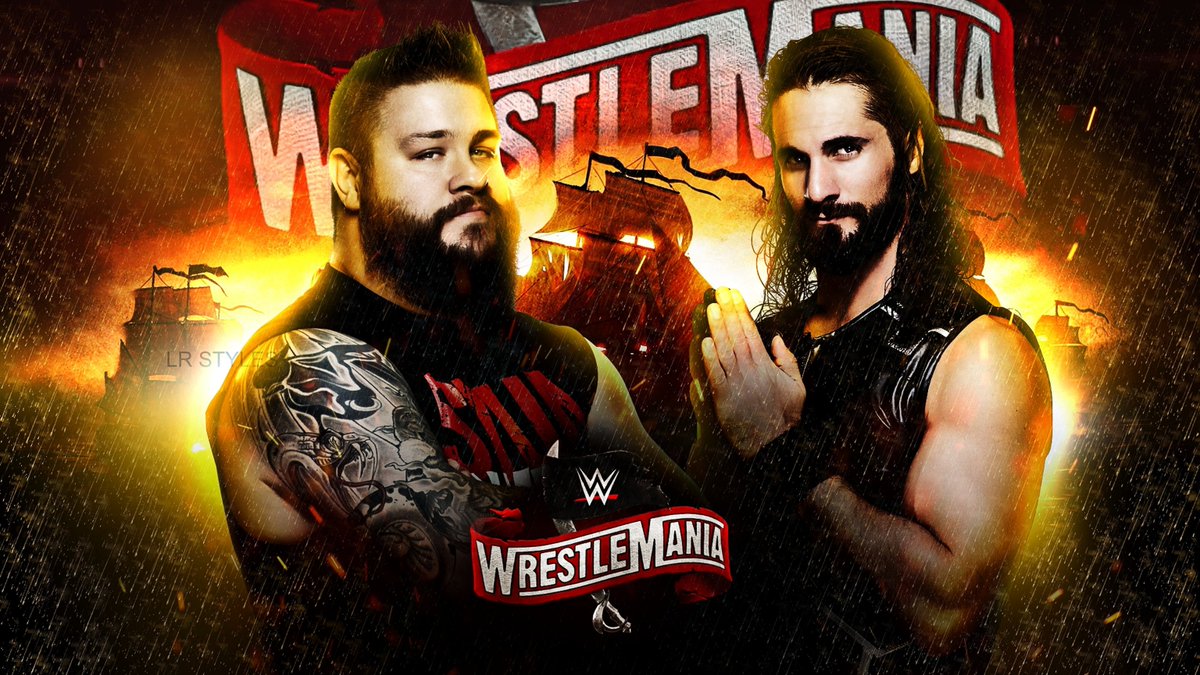 Chris King takes a look at the most underrated WWE WrestleMania matches, and starts off with Seth Rollins battling Kevin Owens in the WWE Performance Center at WrestleMania 36!
Chris King is starting a new series heading into WrestleMania season dubbed WrestleMania Rewind. Each week he'll be going back and sharing his insight over underrated matches at the Show of Shows. First up, is Kevin Owens vs. "The Monday Night Messiah" Seth Rollins at WrestleMania 36.
At the 2019 edition of Survivor Series, Rollins sacrificed himself during the men's traditional match allowing SmackDown to ultimately gain the victory. The following night the self-proclaimed Messiah, berated the whole roster but KO was not having any part of it. Owens quickly became a huge barrier in Rollins' cause for the greater good. The Authors of Pain attacked Owens with Rollins' character in question.
Owens finally had enough of his rival's mind games and torment and challenged Rollins to a match on the Grandest Stage Of Them All. Rollins mockingly accepted his challenge and the match was made official for night one of WrestleMania. Owens came out of the gate beating the holy hell out of the Monday Night Messiah trying to achieve his long-awaited moment at Mania but, Rollins tried to steal a disqualification victory by using the ring bell.
Owens hellbent on revenge provoked Rollins into turning their encounter into a no-disqualification contest where the fight could be taken all over the empty arena. The highlight of the match, was when KO used the WrestleMania sign to deliver a thunderous senton bomb through the announce table. Owens would secure the victory with a Stunner in an incredible match. Despite having no crowd during the pandemic era, both KO and Rollins put on an intense performance under the brightest lights.
In my personal opinion, this was a great feud that helped both superstars in their transformation as compelling characters for years to come.