Mishal: Thank You, Jon Huber
Mishal takes some time to reflect upon, and be thankful for, the career and amazing life of Jon Huber (Brodie Lee/Luke Harper).
Mishal takes some time to reflect upon, and be thankful for, the career and amazing life of Jon Huber (Brodie Lee/Luke Harper).
The past 24 hours have been a whirlwind of emotion for any wrestling fan.
Death is never an easy event to tackle, regardless of who you are. It's an unexpected, sudden and harsh reminder of just how short life is, but more importantly how suddenly it can be taken away without even the slightest of warnings. More than anything it provides a reality that the life we all live is never as constant or safe as we'd like it to be, and when we least expect it, the things that add so much value in their small bursts can just vanish in the blink of an eye.
And that's how the last 24 hours feel, like a blur, something that simply doesn't feel real despite the harsh reality we must all force down.
2020 has been filled with loss, more for some than others. Whether it's friends, families, loved ones from your social circles, celebrities, idols, mentors or even pets, loss has been a common theme we can all relate to during these exhausting times. Some of us have even lost the capability to live as freely as we were once used to, others are forced to restrict their lifestyles because of the hazard they could represent to older generations of people around them, and I think it's all of this that makes yesterday's developments so much more devastating.
The wrestling world has been no stranger to loss in 2020. From the legendary Pat Patterson, Kamala, 'Soulman' Rocky Johnson, Road Warrior Animal and now, Jon Huber, to us WWE & AEW fans, known as either Luke Harper or Brodie Lee, respectively.
No matter how or when we knew him, no matter the character he portrayed, no matter the promotion he was signed under at the given time we reference or which side of the wrestling aisle he sat at, Jon Huber's death stings in many ways I wasn't expecting it to. I've been watching him steal the show in every ring he's set foot in since the days of CHIKARA, where he went to war against the likes Claudio Castagnoli (now known to us as Cesaro) or Bryan Danielson (who we know as Daniel Bryan) amongst many other names I won't mention here. And ever since my first introduction to him as a young wrestling fan, he always stood out to me as an oddity different from all the others around him. The Brodie Lee character was always intimidating because not only was he amongst the biggest men in the room, he was also amongst the most agile in that room as well. Placing a character of such size and agility into the squared circle is never a joke as it breaks the mould of the prototypical big-man the business so frequently tries to sell to us. Generally, men over 6 foot 6 are normally presented as being all about the size, a more limited move set without the variety someone in a lower weightclass would possess, but not Brodie.
Brodie Lee was one of wrestling's few exceptions, in the vein of the likes of The Undertaker, Brock Lesnar, Sheamus, Braun Strowman or Keith Lee, a mammoth of a man towering over smaller opponents that could mimic any of their offense that would normally give them an advantage. He was a talent, a special one at that, one that always made the man across from him look good even in loss.
My early exposure to Brodie Lee was a unique one because of that distinct look his character presented, an attire and posture that wasn't too frequently seen in the business. Beyond the odd, calculating stare laid a swiss army knife of tricks out of the wrestling handbook that nobody could be prepared to see, which was displayed in spades as his career grew to the heights we saw it in his later years.
His WWE debut brought a tonne of eyes to the character that had previously not been exposed to his work prior which made for a world of potential for him to grow. And despite his run under the WWE banner being somewhat mixed from many fans perspectives, I'm just glad the wider mainstream world of professional wrestling got to see his talents first hand, regardless of the hiccups his character may have had. Brodie, now known as the unpredictable Luke Harper, tangled as part of The Wyatt Family with both Bray Wyatt & Erick Rowan, a group which has become one of the most iconic in the modern-day era of professional wrestling. It turned out that being a member of cult obsessed with purifying the talents they faced in the ring would be the ideal fit for Luke Harper at the time, even with the limitations it brought his character down the road.
Harper would start stealing the show not just as a stable, but in singles competition, taking part in some of the most underrated matches of the last half decade I can think of. Many singles matches against the likes of Randy Orton, Dolph Ziggler, Dean Ambrose, AJ Styles, Roman Reigns and a criminally overlooked match against Dominik Dijakovic that doesn't receive near the level of attention that it should have at the time are just prime examples of how good the man was at being a professional wrestler, at embodying the character he played for a good portion of his career.
For the longest time Luke Harper was a part of the most overlooked moments of the last number of years in WWE, including some of the best angles the company created on each given year he competed in. He was, and still is referred to as one of the most overlooked competitors that WWE just never used to his fullest potential despite some real highs in a career under the brand many felt never reached the levels it was capable of.
But that's where AEW comes into the fold.
As devastatingly brief as his work with AEW was, few would ever contest that this was the point where Brodie Lee started coming into his own element entirely. Portraying "The Exalted One" didn't just give him the perfect gimmick to bounce off of following a WWE run that left much to be desired, as well as positioning himself as the saviour of The Dark Order, a stable that up to that point was barely clinging onto relevancy due to the influx of talent the company was receiving at that point in time.
Brodie, however, grabbed the bull by the horns and thrust The Dark Order into a position in which it received significant attention on the card, including spotlights in the AEW World Title scene, as well as an incredible squash match which saw Brodie topple Cody Rhodes to claim the AEW TNT Title in dominating fashion. Brodie's title reign didn't last as long as many would have wanted it to, but it did accomplish a multitude of things; memorable matches against talent such as Jon Moxley, Cody, Dustin Rhodes & Orange Cassidy, bringing relevancy to a previously forgotten unit in AEW, re-establishing himself as the star he simply wasn't regarded as with the competition and presented us a character that had endless potential down the line if the circumstances had been different.
While the length of his tenure is certainly disappointing when we reflect, what he accomplished in the short space of time he was in AEW is remarkable. Proving not just to us, but more importantly to a number of other industry leaders that he was what they doubted him to be, a star, and a master of his craft.
Up until this point this article has been a brief run-through of the career of Brodie Lee, Luke Harper or the man himself Jon Huber and just highlight of how much quality came out of such an under-appreciated character. But more than anything, it should teach us all one thing, how quickly we can lose someone that all of us, fans, friends, family or otherwise hold near to our hearts.
The life of Jon Huber will be remembered for many things. He'll be remembered for being a father, a husband, a great friend to many around him, an incredible entertainer to the fans no matter the opponent across him, a champion worthy of more than he even accomplished, a superstar capable of achieving the highest of highs and having met him on a few occasions at live events when they existed, a stand-up guy who welcomed everyone like they were a member of his family. Jon Huber's death is a bleak reminder of the times we live in when all the things we value are at risk and just how devastating a loss can feel when someone forges a connection with you regardless of your location on this planet. And I'll admit, the weight of losing him didn't hit me until the minute I read about it.
Having met and seen him perform in the ring on more than one occasion, there's no doubt of the kind of person Jon was, and that's why the pouring out of emotion is so unlike anything we've come to see in the small community that professional wrestling bolsters.
What we all need to remember is that death is never the end of our journey, for many it's a brief pitstop. For others death doesn't define your ending, the impact you make following it keeps the spirit of the person alive longer than his or her own lifespan can. And without question Jon is going to be talked about long, long after this heartbreaking period.
I think I speak for everyone, fan or otherwise when I say thank you to Jon, for making us laugh, scream, cry, stare in awe at his abilities, but most importantly, for bringing us together at a time when we couldn't be more divided as a community in general.
Rest in power Jon Huber, you'll never, ever be forgotten.
King's WrestleMania Rewind: Stone Cold VS. Scott Hall (WrestleMania X8)
Chris King is back with another WrestleMania Rewind, looking at the NWO's Scott Hall battling Stone Cold Steve Austin at WWE WrestleMania X8 from Toronto!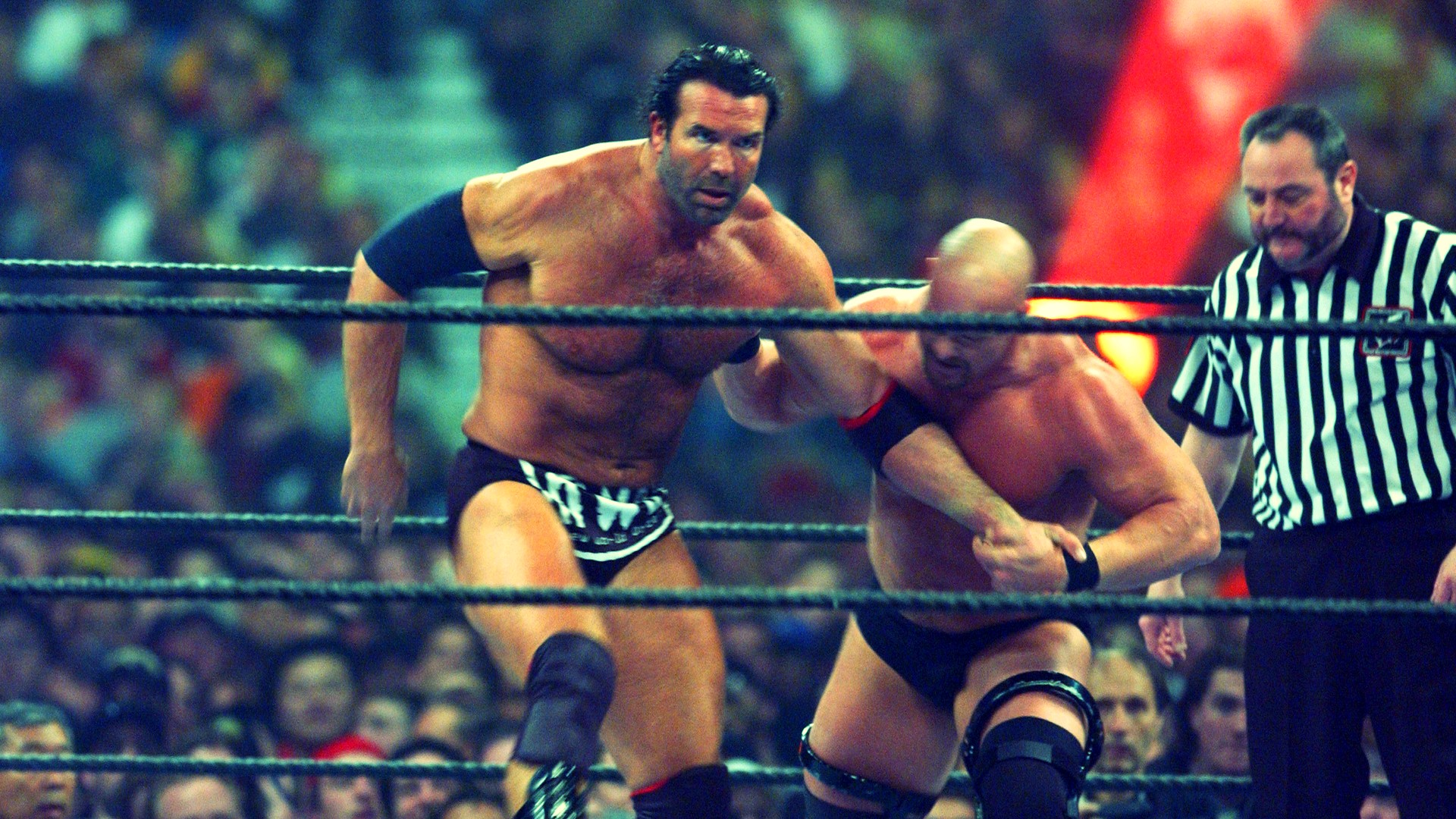 Chris King is back with another WrestleMania Rewind, looking at the NWO's Scott Hall battling Stone Cold Steve Austin at WWE WrestleMania X8 from Toronto!
Chris King is back this week with another edition of WrestleMania Rewind, where he is rewatching all the past Mania matches and feuds. This week you're in for a treat as we look back at 'Stone Cold' Steve Austin vs. Scott Hall at WrestleMania X8.
In late 2001, Vince McMahon bought out his competition WCW and acquired the rights to a plethora of talent including Booker T, Eddie Guerrero, Chris Benoit, and the iconic trio known as NWO. Hulk Hogan; Kevin Nash, and Scott Hall were hell raisers, and what better way to make a name for yourself than take out the two top superstars in the WWE The Rock, and Stone Cold?
The NWO cost Austin his chance at becoming the Undisputed Champion at No Way Out during his match with Chris Jericho. Adding insult to injury, the NWO spray-painted 'The Texas Rattlesnake' with their brand logo just like they did in WCW. As you can imagine, Austin was pissed and out for revenge against the group and primarily Scott Hall.
Hall would challenge Stone Cold to a match at WrestleMania 18. Both superstars beat the living hell out of each other leading up to this highly-anticipated match for who runs the WWE.
The glass broke and Stone Cold made his iconic entrance, and black and white NWO covered Halls' entrance alongside Kevin Nash. With the odds stacked against 'The Toughest S.O.B' could Austin or NWO prove their dominance? Sadly the NWO  broke up that very night when Hulk Hogan came to the aid of his adversary The Rock after their 'iconic' dream match. Stone Cold would ensure the victory with the Stunner. Hall would perform an Oscar-worthy sell over the finisher.
What a time to be a wrestling fan in the 2000s when nothing was impossible for WWE. Who would've thought WCW would go out of business and Hogan would make his long-awaited return to WWE?
King's WrestleMania Rewind: Seth Rollins vs. Kevin Owens (WWE WrestleMania 36)
Chris King takes a look at the most underrated WWE WrestleMania matches, and starts off with Seth Rollins battling Kevin Owens at WrestleMania 36!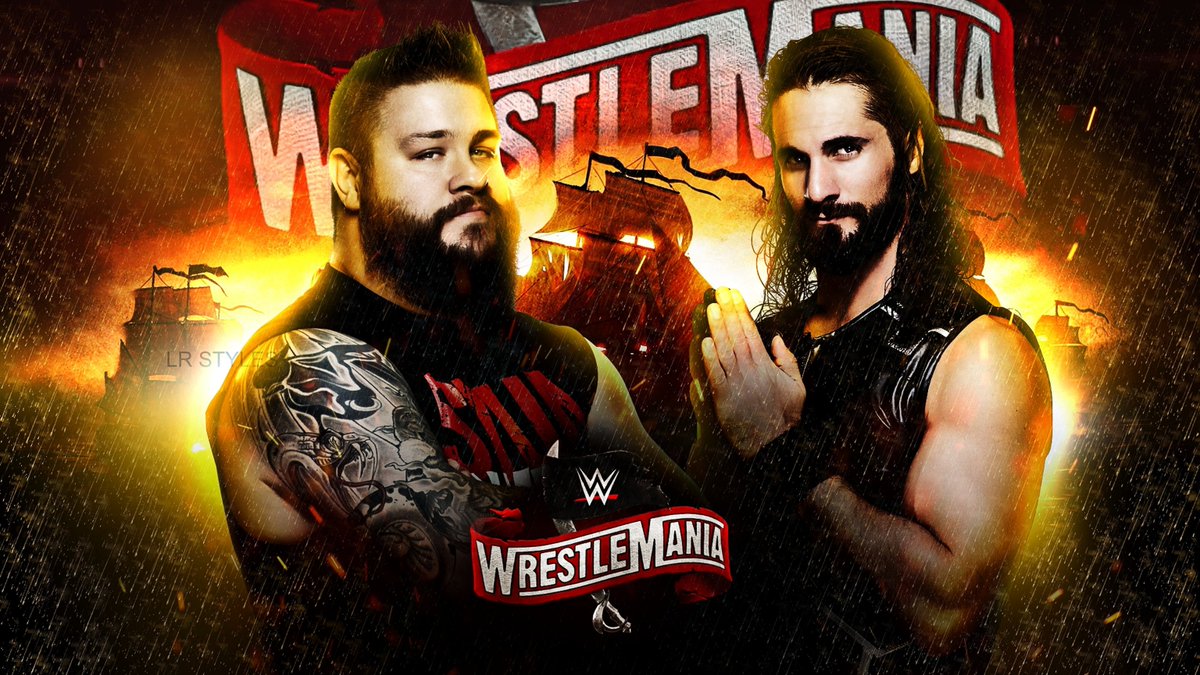 Chris King takes a look at the most underrated WWE WrestleMania matches, and starts off with Seth Rollins battling Kevin Owens in the WWE Performance Center at WrestleMania 36!
Chris King is starting a new series heading into WrestleMania season dubbed WrestleMania Rewind. Each week he'll be going back and sharing his insight over underrated matches at the Show of Shows. First up, is Kevin Owens vs. "The Monday Night Messiah" Seth Rollins at WrestleMania 36.
At the 2019 edition of Survivor Series, Rollins sacrificed himself during the men's traditional match allowing SmackDown to ultimately gain the victory. The following night the self-proclaimed Messiah, berated the whole roster but KO was not having any part of it. Owens quickly became a huge barrier in Rollins' cause for the greater good. The Authors of Pain attacked Owens with Rollins' character in question.
Owens finally had enough of his rival's mind games and torment and challenged Rollins to a match on the Grandest Stage Of Them All. Rollins mockingly accepted his challenge and the match was made official for night one of WrestleMania. Owens came out of the gate beating the holy hell out of the Monday Night Messiah trying to achieve his long-awaited moment at Mania but, Rollins tried to steal a disqualification victory by using the ring bell.
Owens hellbent on revenge provoked Rollins into turning their encounter into a no-disqualification contest where the fight could be taken all over the empty arena. The highlight of the match, was when KO used the WrestleMania sign to deliver a thunderous senton bomb through the announce table. Owens would secure the victory with a Stunner in an incredible match. Despite having no crowd during the pandemic era, both KO and Rollins put on an intense performance under the brightest lights.
In my personal opinion, this was a great feud that helped both superstars in their transformation as compelling characters for years to come.