Mitchell's Raw Talk Report! (1/11/21)
Raw Talk will be mighty!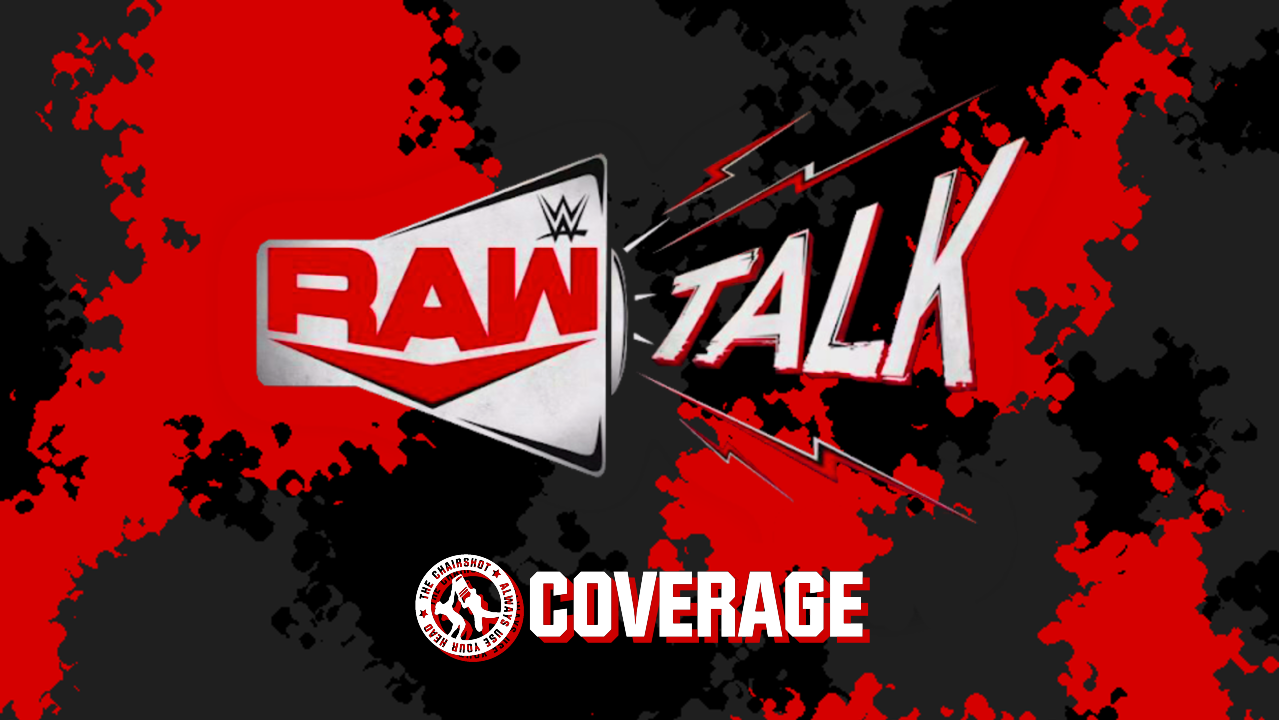 The All Mighty United States Champion is on Raw Talk!
Raw Talk (almost) always has the WWE 24/7 Champion, but now it has the WWE United States Champion! Bobby Lashley is here, along with MVP!
R-Truth and Sarah Schreiber welcome us back to the show!
Usually it's Charly Caruso and #CharTruth, but Sarah is substituting in with the "ever-entertaining, talented, FORTY-SIX time 24/7 Champion!" Sarah asks permission to pet the title and he allows it. But if they're not CharTruth, then they have to be something else. Truth Saram? Like serum but… not. But whatever their combo, they're hear to talk some truth. Truth says Charly is visiting her mom for Thanksgiving. Right… We're just a little past that, but anyway, on to tonight's Raw!
Firstly, did Truth expect the Legend Killer, Randy Orton, to fight a legend in The Game? And what else did we see? A FIREBALL was fired from Alexa Bliss! Truth watches back the footage, Orton was talking trash to HHH but then Alexa Bliss returns and shoots the fireball right at him. It seems when he didn't set her on fire, she decided to set him on fire! She's starting to creep Truth out. Sarah says it does make sense, though, when Alexa has lost it all. She lost the Firefly Fun House because of Orton, she lost The Fiend because of Orton, and has nothing left to lose. Truth agrees with that, but why the fireball? Why!? And it has all but blinded Orton right there. Is he okay? Do we hope he is or isn't? HHH just confronted Orton for being awful, but then this happens. This is getting hot quite literally.
But other major news from Raw was that the WWE World Champion, Drew McIntyre, has tested positive for COVID, is quarantining, but still accepted Goldberg's challenge for the title! That's going to be good! Truth is going with McIntyre, but he knows Goldberg is Goldberg. McIntyre is a fighter, though! A Scottish Warrior, sword and all! Excalibur or what? Um… Well, a thrilling and terrifying night overall, but we need to get to our first guest, the Lethal Lothario!
Angel Garza joins Raw Talk!
Garza has a question for Sarah first. "Why are you so lonely?" Is she lonely? She has Truth here. And hello, don't just blow past Truth! Garza tunes all that out and says he's brought something for Sarah: a rose. Well, she knows he's offered a rose to a lot of different ladies, and even once before to her. Yes, and she left him hanging. Also, Truth is putting gummy worms all over Garza as a reminder of the Bogeyman spooking him on Legend's Night. Sarah accepts the rose, and then asks Garza how he feels about having lost the WWE 24/7 Championship to Truth. Who? Garza only sees Sarah.
Truth keeps trying to get Garza to acknowledge the gummy worms, and Sarah asks if Garza isn't disheartened by the loss. Garza says he's only focused on Sarah. They can look at each other in the eyes and- Well, last week, Garza was trying to flirt with some of the legendary ladies, such as Torrie Wilson. Garza denies that but Truth points out how Garza also thought he had a chance at Card B and Ariana Grande, but then Bogeyman and Truth had the last laugh. Garza only acknowledges the gummy worms in offering them to Sarah, and she politely declines. Is he not discouraged at all after last week? Just a little. But when Garza sees Sarah, everything else is gone.
Well while Garza is romantic and sweet, cute even- Truth points out she's letting the flower droop. Garza throws the gummy worms away and Sarah is sensing tension between him and Truth. Are there any refs around? Truth says Garza is mad that he didn't get Cardi, he got the Bogey. Sarah asks if Garza was expecting the Bogeyman and Truth says nope, he was hoping for Cardi B! Garza gets mad at Truth and wants him to lose so he can be alone with Sarah. Whoa, did he forget what show it was? Maybe Garza should go. Well there was no chair over on the other side! Right, sorry.
Sarah wants to ask Garza about his expectations in 2021. Apparently he wants a woman but he can't get one, he's too much of a player! Garza says 2021 is HIS year. For…? You'll see. Truth says that's not likely. Now have more gummy worms. Sarah, stay away from him, he's a player! Moving on, someone else irresistible is the Irresistible Force!
Nia Jax joins Raw Talk!
Sarah asks how Nia is doing and Nia says she's doing well. Nia and Shayna had a good win but Nia seemed upset she didn't get the win herself. No, that's not it. It isn't? No, it isn't. Nia isn't sure what Sarah and Truth are getting at, but just because their hair is that high doesn't mean they can look down on Nia. Nia doesn't mind if it was her or Shayna who got the win, it was that they got the win. It was just a bit surprising. Sarah brings up the Royal Rumble is coming, and that is every superstar for themselves. Are they preparing for that as a team? Nia thinks Sarah has some horns under that hair, she is definitely starting something.
Truth says Sarah is asking legit questions and Nia agrees, it is every woman for themselves. Nia has a good history in the Rumble matches, and Truth should remember that. Remember what happened when she went after him? Truth says Nia apologized, but she doesn't remember that. She never apologizes. So she and Shayna are on the same team, same path, et cetera? They were so dominate- ARE dominate! The hair gel is getting to Sarah. Rumble season is everyone for themselves, tonight threw Nia off balance, but they're a team. They've come a long way from when they started as a team. Shayna did great last week all alone, even though she lost. But as a team, they won.
But this is the Royal Rumble! They're gonna be tight? Would Truth trust Nia at the Rumble? HELL NO. Well, Shayna and Nia were tag team champions, are they still after those belts? Wow, Sarah is coming out hot! Nia and Shayna always have eyes on the prize, but when it comes to the Rumble, when one of them wins, they're going to WrestleMania! And Truth, be careful, you might not make it to the Rumble. Truth says he'll be too worried about his baby. But would Nia and Shayna work together in the Rumble for a moment? We'll wait and see. Uh oh, that means they will fight. Friendship is DONE. Shut up, Truth!
Well, Mandy and Dana have been very resilient to the animosity. What did Nia think about Shayna's loss? It seemed like Shayna didn't care about winning, she just wanted to kill. If Shayna turns it on, she could take out most of the other women. Not all, but most. Shayna has that killer instinct, brought it tonight. She might've been down on the mat a little too long last week, but that's not the point. If she brings it, it's done. Sarah thanks Nia for her time, Nia insists she never apologized to Truth, even now, and Nia heads off. And lastly, the Hurt Business is here!
MVP and Bobby Lashley joins Raw Talk!
MVP says they've got this on lock and Truth agrees. It was a busy night tonight but tonight, the Hurt Business was winning. MVP says it is business as usual. MVP points out the spot on his suit, that is Matt Riddle's "DNA swatch," his blood. Riddle's people will get the dry cleaning bill. Send it to Batman because Matt's the Riddler. MVP doesn't care to understand what Truth is talking about. But the United States Champion isn't losing any time soon. Lashley could even add the 24/7 Championship if he wanted to. MVP references Truth's usual confusion by saying Lashley could use "Nelson from the Simpsons" on Truth to get it, too.
Speaking of that, Truth wants to talk with them. What Lashley did to Riddle, the Hurt Lock, that's the exit ramp. A full nelson submission victory and Lashley wins. Luckily the ref was paying attention this time. Yes, the last time it happened, the ref missed it. MVP says the ref messed up that time, and doesn't want anyone defending it. Just because he's a WWE referee, he's above reproach? Lashley speaks up to say that he beat up a real fighter. Riddle didn't win back then, and he didn't win against MVP tonight. Not really! MVP says Riddle can win a match but he still lost the fight. So congrats, bro, you won by DQ!
Was MVP shocked by that challenge? No, Riddle is an idiot! Nothing Riddle does surprises MVP. MVP says Riddle and Truth are the same, they're both "idiot savants." Truth takes that as a compliment. But Riddle has been a thorn in the side of the Hurt Business since coming to Raw, and clearly Hurt Business isn't investing in Riddle's ideas. Lashley says Riddle is more a roach. Hurt Business has big plans for 2021 so they're not wasting time with Riddle and the Bronuts and whatever other nonsense he comes up with. Truth says Lashley could probably chow down and put away a lot of Bronuts, though.
Lashley and MVP get up and get in Truth's face. Truth just wants an apology for Lashley putting him in the nelson like 100 times! One little apology won't hurt the Hurt Business! Just one. MVP says Lashley won't punch Truth in the mouth yet, and the show will end here. MVP wants Truth to apologize, and Truth apologizes. Sarah just has one more question. The Hurt Business has the United States and Raw Tag Team Championships, what does MVP have his eyes on? MVP says the US title IS their gold. Truth speaks up again and MVP gets mad!
MVP asks Truth what he just said and Sarah does her best to remain calm. Lashley pulls MVP away and they spare Truth. Truth says this is why they can't have Hurt Business back! Sarah does her best to smooth everything over, and thanks us for tuning in to this week's Raw Talk.
---
My Thoughts:
A fairly good episode of Raw Talk, and perhaps more than just McIntyre had to quarantine because of his positive test. Charly Caruso being the primary interviewer for Raw and therefore being frequently in close proximity, it'd make sense she would quarantine as a precaution. Sarah Schreiber did alright, though I would've thought Kayla got the nod to fill in since she hosts Talking Smack. But again, Sarah did alright, her part at the end could've been a bit more flustered but we can kayfabe that as her being more professional and able to handle a stressful situation.
Going into this, I thought Garza should've closed so he and Truth could end Raw Talk on a 24/7 Championship match. But starting it off with Garza was fine. Garza tuning out Truth until he just couldn't hold back his frustration was a good way of doing his segment, and this will definitely lead to another 24/7 Championship "match" at some point, which I think will be a bit of fun. Nia had a decent segment, mostly her trying to stir up trouble with Sarah, but her passive aggressive comments toward Shayna were a good detail. Hurt Business had a good segment because of how angry they got with Truth, as Charly has always been warning Truth about. I hope Charly gets to point that out to Truth when she returns.
And while MVP said Lashley having the US title was enough for him, I really do think MVP should become 24/7 Champion to get at Truth, but then also it's a great set-up where MVP has the other members as bodyguards so that he can hold onto the belt for a long time, and perhaps set a record in length of reign. That won't be so hard, as Rob Gronkowski was the longest reigning at a recognized 57 days, aka two months. So MVP could have Hurt Business protecting him for two or three months, set the record, then he loses on like the 60th night to Truth or another star that's their rival.