Mitchell's Talking Smack Report! (1/9/21)
Talking Smack is GLORIOUS, AGAIN!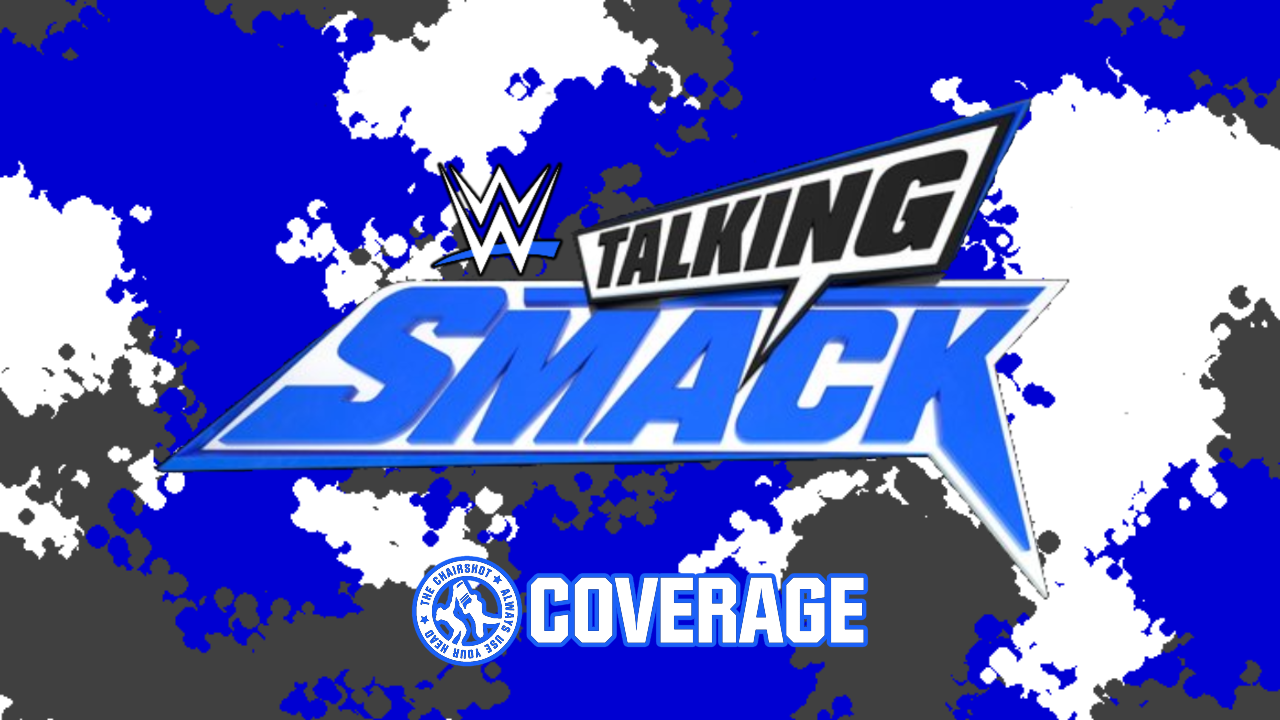 The Dirty Dawgs are top dogs of SmackDown!
Robert Roode and Dolph Ziggler are the NEW SmackDown Tag Team Champions! But that doesn't mean they're done talking smack! What will they have to say about their win over The Street Profits?
Kayla Braxton welcomes us back to the show!
It was a wild SmackDown and with a crazy finish as ADAM PEARCE is now #1 contender to the WWE Universal Championship! Of course, that was because Jey Uso and Roman Reigns got involved, attacked Shinsuke Nakamura, and made Pearce the winner. But BREAKING NEWS, Nakamura will get his revenge by taking on Jey Uso next week on SmackDown! And there are new tag team champions in Roode & Ziggler, they'll be here later on, and we saw Big E defend his Intercontinental Championship technically twice. Apollo Crews will be here shortly, as well. Kayla also points out two women who declared for the Women's Rumble this year, Bayley and Bianca Belair. Two top contenders to be sure, what a SmackDown!
Kayla takes a breath and introduces Paul Heyman, and this is the first time they've talked since last week. She has had time to cool off, hopefully he took that time to reflect on what he said to her, his cohost. Heyman says he forgives Kayla. He understands the pressure she must be under, working next to him, and how accomplished he is over the last 30 years. But she has to get over it. The way she was unprofessional to Jey Uso is upsetting, but he won't have her apologize and embarrass herself further. Though Heyman is THE Special Counsel to the Universal Champion and an experienced Advocate, he will advocate for Kayla.
On behalf of Kayla and Talking Smack, he apologizes to Jey for Kayla's unprofessional passive aggressiveness and use of gossip. Why not just have Kanye out here to talk about his issues! So Heyman appreciates Kayla helped clear the air, her apology is accepted and she is forgiven, let us move on with the show. Kayla says she is not doing "this" with him this week. Doing what? Whatever Heyman is doing. Kayla has been on this show longer than him, he is the cohost. Heyman tells Kayla to take the tone out of her DAMN VOICE with him right now! Tensions are high, but the first guest walks out to diffuse it.
Sonya Deville joins Talking Smack!
She's here just in time to break things up. Heyman says hello again and Kayla needs water. Kayla apologizes that Sonya didn't get the proper introduction and welcome to the show. There are things to talk about, but Kayla says Sonya is always fashionable and she looks snazzy. Is this dolphin blue? Yes, dolphin blue suit, a great three-piece. Now to business. How does it feel to be back? Never felt better and she almost thought it wasn't going to happen. But 2021 will be the Year of Deville, and the Year of SmackDown. She is so excited for the show but she can only reveal so much now that she's management. Kayla knows she talked with Adam Pearce, anything on that?
Sonya says this is just a natural fit, and she and Pearce will be a good duo. Sonya wants women to get opportunities, everything will be moving upward, and that's all she can say. Kayla says it is a natural fit. Sonya is bossy- No, a leader. Kayla doesn't want to offend. But Sonya is a fighter first, so it's hard to imagine Sonya doesn't want to be away from the ring. Heyman gives Kayla credit for switching on the fly like that. Sonya is a bit creeped out by all this. But Kayla says that Sonya might be the authority now, but she caused quite the stir in returning. Well not to be cocky, but Sonya causes a stir everywhere because of how she walks and talks.
But Sonya says she is not bossy and will not abuse her authority. "Bossy" has a bad tone, and Sonya knows Kayla well enough to know they don't get along. They don't get along…? But Sonya knows Heyman gets it as they're both from the Northeast. She even said "How you doin'" when she sat down. Kayla hands this over to Heyman but Heyman acts like she's just passing the buck. Sonya critiques Kayla's outfit, and as the best-dressed on SmackDown, she knows. This is a rather abrupt end, but as part of management, Sonya will definitely see Kayla soon.
Robert Roode & Dolph Ziggler join Talking Smack!
The NEW SmackDown Tag Team Champions are back on Talking Smack and Heyman gives them congratulations. Kayla wants a Dirty Dawgs shirt and Ziggler says they can get her one. A medium, right? Maybe after the holidays now. But they're back to back on Talking Smack and now they have the hardware. Congratulations! Yes, Ziggler saw the scheduling and saw that the Street Profits already had a celebration segment for Talking Smack, and then that got scratched out. "Thanks for assuming what would happen." Kayla blames Heyman as a fan of the Profits. Ziggler asks if Heyman has the pencil again. Is this Philly? Heyman says if he had the eraser, do you think Kayla would still be here?
Kayla asks Heyman to be professional. Heyman is being professional, he congratulated them. Heyman pretends to be Kayla as he congratulates the champs and notes how they defeated the then undefeated Street Profits, who never lost on Raw or SmackDown. YAY~! Not even a mazel tov! Because Heyman kept going on about Sonya! But to keep on track, not to discount anything that happened out there, there is some question because of what they did to the Street Profits last week that maybe the Profits weren't at 100%. Heyman says it's strategy. Does that take any satisfaction away from winning?
Is she kidding? Why would they be disappointed? Everyone assumed the Profits would win, they had to change their plans, this company isn't behind the Dirty Dawgs, so they made their own opportunities. Heyman sarcastically says the Profits should get the belts back because of how Ziggler and Roode planned ahead. But even Ziggler and Roode said this is what they do and Kayla says it wasn't justified. Heyman agreed it wasn't justified, Ziggler and Roode were upset, but Heyman added that it was successful! That was strategy, and the Dawgs beat the Profits! The Profits have been dominant in all the tag divisions they've been in, but who beat them? Ziggler & Roode. How? With a strategy. Should they give the belts back after that? Boy is Kayla on a roll.
Kayla asks Heyman be a good cohost for once. But Ziggler and Roode beat the Profits, are the Profits in the rear view? Heyman tries to talk over Kayla by sarcastically complimenting her. Ziggler and Roode say they're enjoying this. Then they take care of asking each other questions. "Robert, as a new tag team champion, as someone who has worked hard over all these years, made your own opportunities, especially last week, and didn't force the team that you beat into any match," how does it feel to get what you deserve? It's so fulfilling. To set out a goal and to accomplish that goal in a way they did, Roode loves it! They're the A-Team, because Roode loves it when a plan comes together.
And the Profits were HANDED the SmackDown titles, they just traded belts! Ziggler asks if Kayla ever brought up how the Profits were handed the titles. Or did she just praise them as being great and fun? Kayla asked it once, like anyone would or should. Well it's 2-1 by Ziggler's count. Kayla is good, Heyman is great. Kayla congratulates them. FINALLY! Nine minutes into their segment! Are we done? That's fine, the Dawgs have places to be. Kayla asks they take their mics, Ziggler purposefully slides the mic to the far side as he and Roode head out.
Apollo Crews joins Talking Smack!
Heyman and Kayla welcome him to the show, and she knows Apollo may not be in the best spirits. SmackDown didn't go Apollo's way, but Kayla hopes he knows that we all saw a different side of him and realized that this story is far from over. Apollo is surely disappointed, so Kayla will give him a chance to talk about what happened. "Emotions, a lot of emotions. Happy is not really one of them." Apollo had it won, or at least he thought. The draw, the instant rematch, Apollo was trying to take advantage of an opportunity that may have never been put before him again. Apollo is disappointed that he had this won and then lost.
The WWE is where he is supposed to be, but he let himself and his family down. He's just disappointed. Apollo has nothing more to say because he can't figure out what to say. Big E won fair and square, it is what it is. Then where do they stand, Apollo and Big E, as friends? Apollo says he wants the Intercontinental Championship, that is why he's here. When he's in the ring, he's a competitor. He wants another rematch! Apollo is demanding it! Friendships aside, it's not about him and Big E, it's about the title and that is what Apollo wants. Apollo isn't worried about friendship, he is after titles. That's what he's here for and that's what he wants to do.
Kayla notices Heyman's expression and asks he speak his mind. Heyman wants Apollo to hear him out. And if Apollo wants to hit him after, then okay. "It's nice that your emotions are running high." Apollo and Big E aren't friends, they're competitors. Apollo has regrets because he screwed up. The person he screwed hardest was himself. And here's why. "You went into the ring tonight as a challenger, and you pinned the champion's shoulders. True or false? Now admittedly, it was a double pin. No questions asked, correct? But you did pin the champion! Did you leave with a title? No. What happened? 'Oh, we have to restart the match.' Why? The match was over, you pinned the champion."
So either Apollo is co-champion with Big E, or Apollo is in position to train for another week, month, year, however long it takes to step back into the ring with Big E to be the UNDISPUTED Intercontinental Champion. Because once you pin the champion, the claim is DISPUTED. Hence the difference in those words. What did Apollo do? He let emotions get the best of him, let the friendship with Big E get in the way, and let his dreams slip through his fingers because he's a gentleman and respects Big E. Let Big E kick down your door, take your food, "make love to your wife and raise your children for you," because that's what you're doing. Would Big E let Apollo do the same? No. But that's how it feels because you're trying to take Big E's dreams and glory away.
Only one man can be Intercontinental Champion, only one can win and the other will lose. Apollo may not like it, but his children know that their father lost. Heyman knows Apollo isn't a loser. Apollo is a champion, as much as Big E is, and has every right to claim that title. Apollo let that go because he's the nice guy. But he isn't here to make friends but to make money, have the glory, and build on a legacy for his family. If you want free counsel from THE Special Counsel, Heyman says Apollo is sitting here a wannabe and will leave here a wannabe. Come back here in a couple weeks with the title like a man! Apollo is seething, but he seems to accept what Heyman has said. What will Apollo do with this motivation?
---
My Thoughts:
A very good Talking Smack here. Kayla and Heyman carried things from last week as well as "last night" and it was very effective. Sonya had a quick segment, but there really isn't much to say when she only just got back and her role is still being defined. But it'd make a lot of sense if she was in charge of the Women's Division to lighten the load on Adam Pearce. Or even replace him if he's going to get bodied by Roman Reigns at the Royal Rumble…
Ziggler and Roode had a good segment, I like the detail Ziggler put in about Talking Smack already assuming it'd be the Profits back to celebrate. I hope they also take over the "Champions' Lounge" the way the Profits did from Cesaro & Nakamura. Apollo's segment was great because he was showing just enough passion, and then Heyman got to give another great promo for Apollo to give a great reaction. A Heel Apollo that is motivated and aggressive will be very good for him as SmackDown moves forward. Apollo and Big E had a great "double header" so a feud between them will build them both up and definitely get the Intercontinental Championship feeling like the workhorse title again.