Mitchell's WWE Backstage Report! (1/30/21)
Backstage is back, alright~!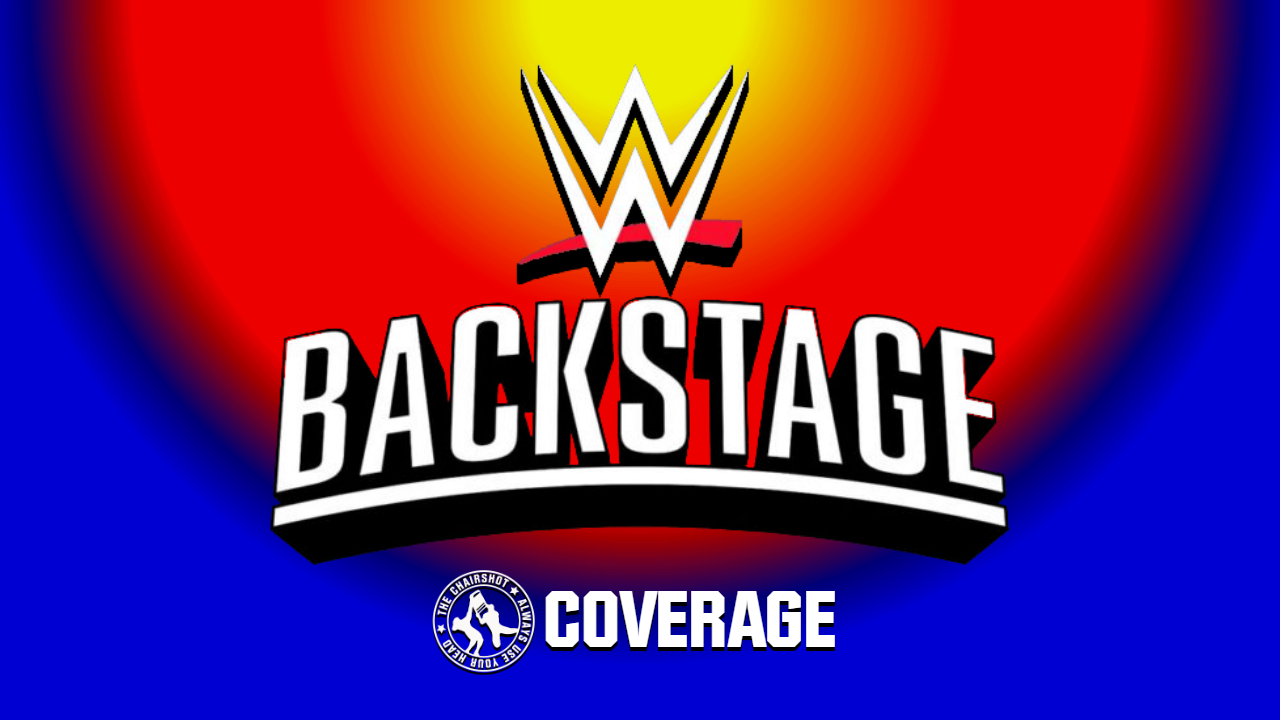 It's a Royal Rumble special edition of WWE Backstage!
Don't worry, it's not a dream! WWE Backstage returns for a Royal Rumble special! They'll reveal to the world who will enter the Men's Rumble match FIRST!!
Renee Paquette welcomes us back!
And she can't do this alone! She has the two-time Hall of Famer, BOOKER T! "Can you did that, SUCKAAA?!" It's GOODT to be back! And then, the Wayne to Renee's Garth, it's PAIGE! Runway strut! The show starts now, "spin it up!"
Everyone is looking good and feeling good for tonight's special where there will be a match for the 30th spot in the Women's Rumble match between Tamina and Natalya! Then they will reveal the first two spots for the Men's Rumble! But first, let's catch up. Renee is radiant as a "large and in charge" mother to be, but that means there's no room in the Fox budget for Christian or CM Punk.
But the Royal Rumble match is an opportunity to catapult oneself to new heights. Here is where things stand as we're just a day away! Video package shows highlights of superstars in the Men's and Women's Rumbles as narration explains what Renee already said: it is the one night where everything can change for the one male and one female superstar lucky enough, strong enough and tough enough to outlast 29 others! And those winners will punch their tickets to WrestleMania's main events!
Just last year, The Rated R Superstar, EDGE, made an incredible return after nine years away, and he was among the final three! Then the Queen, Charlotte Flair, won big last year and could go back to back for the first time in Women's Rumble history! Or will a former champion like Bayley or Alexa Bliss step back into the spotlight? Will it be feast or famine for the Head of the Table, Roman Reigns, as he goes against Kevin Owens in a Last Man Standing Match? And Drew McIntyre's "Claymore Kick Heard 'Round the World" is what started his road to Mania, and he took the WWE World Championship from Brock Lesnar! Now he's against another living legend in GOLD~BERG~! Who is the one who will point at the WrestleMania sign when it's all over?
The panel discusses Reigns VS Owens!
Five years, Kevin won his one Universal Championship, but this is more than just for the title. Roman has been doing his best work ever since showing his true colors. What are Booker's thoughts? "One would think the ball is in Roman Reigns' court, from the outside looking in." But Booker looks at Kevin and sees the changes in and out of the ring. Kevin is preparing differently, and that is the only luck he'll have against Roman. Kevin's body has transformed and Kevin has everything to prove to himself, and no one else. He can go out there and do it! Even with the streak Roman's on? Booker knows Roman's on a hot one, but haven't you heard, "Any given Sunday?" It could go this way, that way, and it could be Kevin's win with that one big move. And it's Mania season!
Paige adds that she's been a big fan of Roman's, and everyone is like, "Finally!" At one point it was boring, but Roman wasn't really invested. Now Roman loves doing this, and it's the best thing you can see on TV. Booker says it might not even be a character. "The apple don't fall far from the tree." Roman's finally in the comfort zone, and Booker was saying this when Roman first showed up. Roman had big shoes to fill, but he's filling them now. And Renee says look at the ace up his sleeve in Paul Heyman. Those two in synergy are unstoppable. Booker says it's the "perfect legitimizer." And Paige says Jey Uso could get involved, too. Booker says Jey's the hitman! He has that look in his eyes! With Jey, all you got to write it down and slide it to him.
But there's another title on the line, with the WWE World Championship!
The Scottish Warrior began his ascent when he won last year's Men's Rumble match, eliminating Brock Lesnar in the process. Now he's against another legend in the iconic Bill Goldberg. Goldberg has been in the title scene two years in a row. Paige's thoughts? Paige is a fan of Goldberg, but not for this. McIntyre has had a massive build, carrying Raw and WWE as THE Babyface. There are plenty of guys who have been here a long time, who want this opportunity, but they're not getting it. Goldberg challenging is not needed, but McIntyre will still win it.
Booker's thoughts on that won't be sugarcoated. This is old lion and young lion. Goldberg will always question, "What do I still have left in the tank?" But McIntyre, winning the Rumble, going after the championship, having a year run like he has in the turbulence of 2020. If Booker is betting on anyone, it's the young guy. Booker remembers Muhammed Ali saying he'd shake up the world in '64, and people would talk no more. Renee points out Goldberg's gotten into great shape, he always looks good coming out the curtain. Booker says it's like an old '69 Chevy. The outside is polished and nice, but you hit the gas and something might pop! Booker hopes it doesn't go that way, but this is going to be the test of all tests. McIntyre said he would end Goldberg's career!
So they're in agreement about McIntyre? Yes, 100%. Paige says McIntyre actually deserves it. This is his time! Speaking of, McIntyre will join us a little later, but that and even more on this very special episode!
Big E parties with Fox's Rob Stone!
They're both good, and Big E knows Rob is a cohost of Big Noon Kickoff, but they need someone to replace Urban Meyer… #ThinkBig and choose E! Wait, he wants in? Yeah, he was in the Big 10, he has the Power of Positivity, and he can beat up Matt Leinart. Well a lot of people can. Big E gets closer to Rob, and Rob says see him in the fall!
WWE Backstage talks favorite Royal Rumble moments!
Xavier Woods is here to say that many great moments surely have to do with nostalgic favorites returning, surprise entrants, or even stories of someone being #1 and winning it all. Shawn Michaels did that in 1995. But Woods' favorite was 2009, the 28th entrant came in, slid in, but was immediately eliminated! Santino Morella was a house of fire, only to be put out by Kane!
Ember Moon says her favorite was either her own first entry in 2018 while still NXT Women's Champion, or the record for fastest elimination, also done by Santino Morella. Mark Henry thinks back to 2008, John Cena's surprise return! Henry was there, saw Cena get in, and then he hit HHH just to go after Cena. Of course, Cena did Cena things and threw Henry out. Still a great moment to Henry.
Renee gives a shout out to Santino for his other great moment when "Santina" returned, only to get thrown out by Beth Phoenix. What is Booker's favorite moment? Well, Booker never won one, yet. But it's always about a certain feeling. When he left but came back in 2011, he wondered if the fans would still accept him. When he walked out, all he could remember was the pop the fans had! It was like Road Warrior '86! Booker looks around and thought someone else was in, but in the end, it was his moment and the fans let him know they missed him. When the music hits, it gets Booker shaking. Paige got chills hearing the story.
Paige's moments are 1) Edge's just last year because of her own neck surgery story, and so Edge's return was a crazy, inspiring comeback. And then 2) Three Faces of Foley. He went in as all his alter egos, and it was incredible! Paige loves Foley because Foley speaks his mind but no one gives him crap. Renee likes the moments she was in person for, and 2016 was AJ Styles making his WWE debut. But that is the fun part, is we don't know who will enter, either a debut or a return. Booker says he'll be there for Bad Bunny, but maybe if you direct him to the ring… But we might get some new favorite moments this weekend. We learn which moments are Stone Cold's favorites coming up!
It's STONE COLD! STONE COLD! STONE COLD! Steve Austin!
The one and only THREE-TIME Royal Rumble winner spoke with Ryan Satin in a trip down memory lane. What were his favorite memories? Well Stone Cold lets us know that while he won three, he didn't really like the Rumble match itself, because there's just so much going on and could go wrong.
Austin remembers San Diego, his first win, he was supposed to be in the final four, but then Rikishi gives him a clothesline, and between ropes being oily and loose, Austin slips and falls out way too early! He was getting that push, but then he goes and messes it up! He and HBK were supposed to be part of things, and Austin had no choice. He gave HBK a look and a wave before leaving and HBK just looked back with surprise. Austin didn't care for Rumbles, but is glad he somehow won those three. The rest of this interview is available on the various social media accounts of WWE on Fox.
Bad Bunny and Booker T went viral!
42 MILLION VIEWS for the song and video about him, the former King of the Ring got to jam out with one of the fastest rising stars today. How did this even come together? The wrestling business is universal, of course, you never know who you'll influence. Booker remembers growing up with karate movies, and if they didn't make him a certain way, he wasn't into it. That's how he wrestled, and it would seem a young kid in Puerto Rico was watching Booker T and said he was cool. The King Booker run definitely did that for Bad Bunny, and Booker is humbled for "bonito" helping him stay relevant.
How was that video making process? Well to crossover into something else, still have some moves, Booker says he was a dancer back in the day but that's another story for another time. But to be in the business, have a young guy saying Booker is the guy, that's humbling. Talk about a rub. But will Bad Bunny play him to the ring? Oh c'mon now. Booker will just be in his fatigues, be part of the performance all jacked, #BigDaddyLatty!
Renee interviews Drew McIntyre!
The WWE World Champion sits down for the camera and they say hey. He has the title by his side, and is excited to talk to her after so long. Renee is happy to talk the Year of McIntyre. Royal Rumble 2020, McIntyre gets in, stares down Lesnar, Ricochet low blows Lesnar, but McIntyre tops it off with a Claymore that ejects Lesnar from the ring! How much does McIntyre feel that launched things for him? That was the moment where McIntyre got the world's attention. He felt like Lady Gaga in A Star is Born, that scene where she's just slightly off stage and there's that moment on her face where it's now or never, and that was that moment for McIntyre.
McIntyre has been hearing he's the future for half his life, "Drew's the future," but he was worried he'd be the past and never the present. That moment in the Rumble was that moment when he was the now. An incredible moment, but then COVID and no fans while he's at the top. How hard was that? Initially, upset, angry, a "woe is me" attitude, but once what McIntyre understood what was really going on with the world, he was disappointed in himself and realized the gravity of things. This was the most important thing in his career and in the WWE to carry forward. He pushed ahead, innovate and adapt, and he'd look at the camera to break the fourth wall or come up with some catchphrases.
They put on the best show they could, but no fans were coming, so the ThunderDome was born! That brought fans back virtually and is how things are going for now. There will be limited fans for Mania so McIntyre can finally walk out, raise the belt and finally say, "Whew, what a year!"
The panel discusses McIntyre's year.
A now two-time champion, what does everyone think of his run from January 2020 to now? Paige has known McIntyre since she was 11 years old, so he's grown, joined WWE, left, come back, and has done everything he can to carry things with no fans around. Knowing him that early on, could she see something special? Well it's obvious there's something special, he's huge! He's this monster of a man! Braun Strowman and McIntyre are on that level. But McIntyre was so humble, stayed that way even now, and that shows volumes to who he is as a person.
Where does McIntyre take things from here, then? Booker says McIntyre's always been his guy, but seeing him go, rebuild and return, it says something. McIntyre's confidence is through the roof, and that's what being champion does to you. It makes or breaks, and Booker sees it as McIntyre is "a grown ass man." McIntyre knows what the business is about. This is what Booker tells the young people about and McIntyre's figured it out. It all has connected. The torch has finally been handed to him. And McIntyre didn't give up like others might. McIntyre is the star of the show now! And we can't wait to see what is next for him, especially against Goldberg.
But speaking of what's next, we are getting the Backstage exclusive match, Tamina VS Natalya, for the coveted 30th spot in the Women's Royal Rumble match!
Women's Royal Rumble Match 30th Spot: Natalya VS Tamina!
Only three people have entered at 30 and won, and those are certified legends in The Undertaker, John Cena and Triple H! Could one of these second generation superstars take that spot and be the first woman to do it?
The bell rings and the two circle. These two only just became tag team partners, hopefully this doesn't hurt that relationship. They tie up, Tamina powers Natty to ropes but lets off clean. They circle again, tie back up and Natty waistlocks. Tamina pries the hold open, butt bumps Natty away, but Natty headlocks. Tamina blocks the takeover, but Natty fights off the back suplex. Tamina powers out, runs Natty over, and stares Natty down as Natty gets to a corner. Natty gets up, wants Tamina to take it easy because they're friends and tag partners, but Tamina kicks low and hard! Tamina wrenches, wristlocks, and reels Natty in to ram shoulders!
Tamina keeps on the wristlock, yanks on the arm, but Natty rolls, handsprings, only for Tamina to throw her down by her hair! "Who do you think you are, huh?!" Tamina brings Natty up but Natty throws hands! Tamina shoves, and SUPERKICKS Natty down! Tamina covers, TWO! Natty still lives and gets away to a corner but Tamina keeps her cool. Tamina storms over to stomp away, but the ref counts and she lets off. Tamina digs her boots in, the ref counts again, and Tamina goes corner to corner to HIP ATTACK! Cover, TWO!! Natty survives again but Tamina grows annoyed. Tamina stalks Natty, grabs an arm and has a high keylock.
Tamina thrashes Natty around, Natty endures, and Natty fights up only for Tamina to knee low! Tamina suplexes, covers, TWO! Tamina drags Natty up but Natty cradle counters, TWO! Tamina CLOBBERS Natty with an elbow! Natty gets to ropes, and Tamina chokes her! The ref counts, Tamina lets off, and Tamina brings Natty up to fireman's carry. Natty fights to a sunset flip, ONE, and Natty has the legs. Tamina boots Natty away, runs in at the corner, but Natty dodges to POST Tamina! Roll-up, Natty wins!
Winner: Natalya, by pinfall (Entrant #30 in the 2021 Women's Royal Rumble)
The Queen of Harts triumphs and is now poised to pounce in the Women's Rumble!
The panel discusses this result! What an advantage! Paige loves Natty, one of the best ever. Maybe she wins and shocks us all. Booker congratulates Natty, but Tamina had her shot. That will be something she'll be thinking for the next year. Will Natty capitalize on this opportunity? And we're moments away from learning the first two entrants in the Men's Rumble!
Backstage shares Booker's Buffalo Bills prediction.
Josh Allen is setting franchise records and is an MVP candidate! Stefon Diggs, a gamechanger! Mahomes is in trouble! The Bills are going to celebrate! BOOKENDS THROUGH TABLES!! Chiefs are OVA, SUCKAAAA~!
But uh, sadly it didn't go that way. What happened? Booker says it is what it is, but they had a hell of a run! Just didn't get it done and those guys went through tables for nothing. Renee says Booker backing the Bills got him in trouble with another legend. Christian Okoye says that was the wrong team! Pick the right team: the Chiefs! Don't be wrong! The Chiefs showed up! GRR~! Booker's rebuttal? Well, Allen, the Bills, they knocked on the door, but are going to see Tom Brady go back to the mountaintop against the kid, Mahomes, all in the home of WrestleMania 37, Raymond James Stadium!
No more teasing, the time has come!
It was mentioned earlier several times, but we are going to learn who the #1 and #2 entries to the Men's Royal Rumble match will be! And here it is… Countdown says 4, 3, 2, 1!! First, the Viper, Randy Orton!! He's been dealing with a lot lately, but now he'll have to get through 29 other superstars! And the first one he'll be against is… 4, 3, 2, 1!! THE RATED R SUPERSTAR, EEEEDGE~! There's a lot going into this already, will either of them make it to the end? Paige is already saying Edge wins. Booker says Edge is coming back from another injury, this will be a tough test. Orton is right there with him, Orton is at the top of his game, he could do it.
So again, who wins the Rumbles? Paige goes with Edge because of how inspirational! He's been in this business a long time, he'll find a way. Booker gives the rub to BIG E! Big E should represent with that new attitude and how he is the Intercontinental Championship. Renee goes with her Talking Smack cohost, Daniel Bryan! Fingers crossed! And for the women, Paige says Bianca Belair. The right story and she skyrockets. But Booker says Rhea Ripley, who has taken things by storm, is going to be big! Bianca, #TheRip, 28 other stars, it's gonna be GOODT! All of this and more just a day away, get on the WWE Network before 7 PM Eastern! As for Backstage, we'll see you when we see you!
---
My Thoughts:
What a great return for Backstage, and it was great to see Renee, Booker and Paige again, but there's a little bit of confusion and disappointment when it comes to how this was a Rumble special. Why give away the first two entrants to the match? I touched on this a bit when SmackDown announced this special yesterday, a lot of this was to get eyes on Backstage to see if it's worth keeping around. I mean, it seems like they're only going to do it for Big 4 (or is it Big 5 now?) PPV's, but still. I will say that Orton and Edge are interesting choices, but it does give WWE a way to continue their story from last year, which ended abruptly with "The Greatest Wrestling Match Ever" for Backlash 2020 and Edge's arm injury. I'm sure Edge and Orton can last a long time but I can't be sure either wins.
Natalya VS Tamina was a good match, though I kinda wished the Backstage panel was commentary. Renee's done commentary, Booker's done commentary, they were both pretty good, and Paige can be good enough for the one match. Natty winning does make sense, she has been the go-to veteran in the division and can be used to put over whoever is the iron-woman of the match like Bianca Belair or Charlotte Flair. Personally, I hoped Tamina was getting the win because she really hasn't gotten to do much of anything. I don't expect her to win any more than Natty, but if Tamina could've been the one putting over another, like Bianca, that'd mean a lot for both women.
All the other segments tonight were good, and I like the snippet of the Stone Cold interview. From what has been revealed and recorded on the internet, the Rumble match is mostly improvisational and so I totally get how a mistake like that could happen to even someone like Stone Cold. McIntyre's interview was good, too, to get how he felt about everything since last January. I myself feel like my optimism that McIntyre was going to get that triumphant moment for SummerSlam 2020 jinxed things, but I am glad to hear McIntyre is hopeful of even just the limited Mania attendance where fans can cheer as he walks out with the title. It is well-deserved for McIntyre given his journey even before 2020.
Mitchell's Raw Talk Report! (4/12/21)
Raw Talk faces the Nightmare!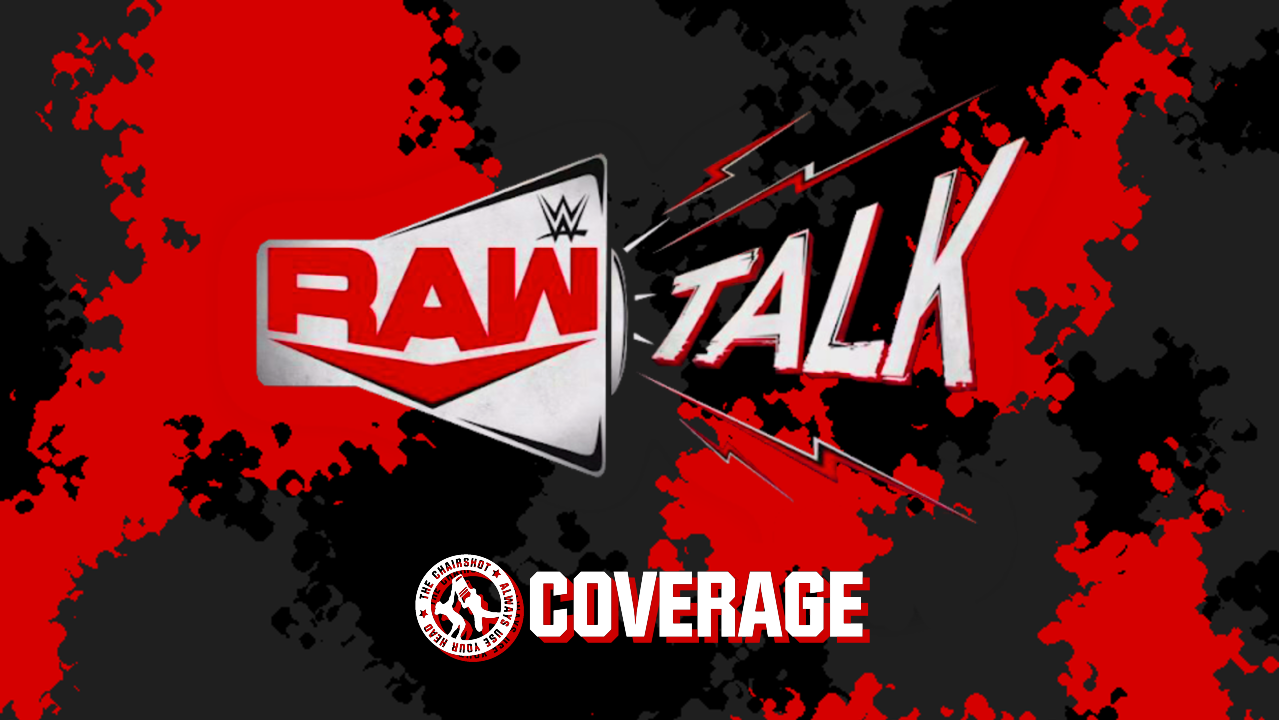 It's Raw Talk, Fella!
After a massive Monday Night After Mania, the NEW Raw Women's Champion and NEW WWE US Champion are here for some Raw Talk!
Kevin Patrick welcomes us back to the show!
A Monday full of surprises capped off WrestleMania's two nights in Tampa! Kevin welcomes us into the NEW ThunderDome, and is honored to have us here watching. What a great weekend! But Kevin is without his wonderful cohost, Xavier Woods, who had a bad weekend but a good Raw, so let's recap everything real quick. Drew McIntyre came back strong in a Triple Threat with Randy Orton and Braun Strowman! Orton hit his RKO but McIntyre hit his Claymore, BOOM! McIntyre, the Scottish Warrior, wins and is headed to #WrestleManiaBacklash, May 16th, for a chance at Bobby Lashley! But then Mace and T-Bar had their say with their double slam! This leaves so many questions for us as Raw has a shocking end!
Then, of course, the return of Bray Wyatt. But what's going on? It's all very creepy. Then Charlotte Flair returned a bit like a "petulant child," complaining about missing WrestleMania, and then when the Raw Women's Championship was on the line in a Mania rematch, Charlotte goes and spoils it all. Charlotte throws Asuka around, beats her down, then boots Rhea down! The Raw Women's Champion hits the deck as Charlotte has a big impact. Rhea will be here to talk all about that, as well as the returning Viking Raiders, but first, the NEW WWE United States Champion!
Sheamus joins Raw Talk!
The Celtic Warrior is doing good, and he's here "saving the day." Hopefully Kevin understands that this is eating into Sheamus' celebratory drinking time. Gotta make the most of it. Kevin congratulates Sheamus, and he's US Champion again. The belt is a bit stubborn but they got it on camera. Kevin touches it, and the Irishmen are very proud for Sheamus. A hat-trick for Sheamy, he got this title back a third time. Kevin met Riddle in the elevator, and Riddle showed the busted lip. Both men were battered and bruised but the Bro complimented Sheamus. Sheamus takes us back to that Brogue Heard 'Round the World, or even 'Round the Universe!
Sheamus says Riddle should just stop talking all that nonsense. That was executed with perfection. McIntyre is #1 contender to the WWE World Champion with his knock-off, that Claymore, but there's nothing like the original Brogue! Kevin says Sheamus is in such a great mood. And Sheamus wonders how Kevin Patrick ended up a man with two first names. Is that his real name? Yeah, it's real. Wow, two first names. Kevin asks if Sheamus was starting to doubt himself, given it's been five years without a title. Well there are times when you ask yourself, "Where's this going?"
Sheamus hasn't gotten an opportunity in awhile, at least not the world title, and he wondered when the next win would come. But you watch the Premier, y'know, football/soccer, NBC Sports, all that. When's the next win? When's the next meal? And then when that happens, it's just plain sailing. Sky's the limit for Sheamus, he'll keep going and going. Nice Peacock plug, huh? But what was it like, to be honest, walking out to Raymond James Stadium, with fans finally in attendance? One year, one month and one day since the WWE Universe had been there for the shows.
Sheamus says it just goes to show that we missed them, they're such a huge part of it. The fans are just a pivotal part and always have been. The superstars feed off the energy and excitement, the chants and all that. Sometimes they dictate how the match goes, but honestly, 25 thousand felt like 80 thousand. They were just as excited as everyone else was, and now after getting a test, maybe we get more as the world gets back to normal. Raw, SmackDown, etc. And they can watch the NEW United States Champion tear it up, knock people's heads off, slapping them around the gaff.
Where's Kevin from, again? Sheamus is from the hardest part of Dublin, better than the Southside where McGregor's from. Kevin's from the Northside. Maybe talk this over a pint. Sheamus would be if he didn't have to do this. But who does he want next? Anyone! He's been having banger after banger match, so anyone else who wants to have one, bring it on! Sheamus doesn't care about pecking orders, just someone step up! He'll make ya a bleeding legend! If you can last more than five minutes, you're on his way. Is that an open challenge? Even the cameraman can try if he wants! Sheamus won't pay the medical bills, though. The cameraman shakes the camera to signal, "No, thanks." Sheamus says they don't make them like they used to. But he and Kevin fist bump and Sheamus says they can catch up again later over a Guinness.
Xavier Woods joins Raw Talk!
The cohost is here! He had to shower off from the match he had! His back got beat up with backbreakers, but he and Kofi still won and so Woods had to rest up and get ready for Raw Talk! Kevin appreciates Woods, and Woods shows off his hair. But he wasn't sure if he was cohosting because no one told him! But that happens sometimes, because anything can happen in the WWE! Kevin wants to say something first. It didn't go New Day's way against Styles & Omos, but can't they talk about being at Mania with fans? The Power of Positivity! Woods has been wrestling for 17 years now, and has been part of the WWE and part of many WrestleManias. Being able to be at the event where fans were back for the first time in a year felt incredible!
When they all went out on stage for the National Anthem, just seeing people, hearing them, there is nothing like it. Woods is trying to learn bass guitar to get that back, but that energy is unmatched, and Woods cannot wait until things are back to jam-packed stadiums! Hugs, high-fives, and talking to friends! Speaking of, two friends of Woods' are here. It's THE VIKING RAIDERS!
Erik & Ivar join Raw Talk!
Woods says we needed their theme back so badly. How are they feeling? How's the body? Ivar's neck is good, if that's what you mean. But he is feeling really good. They had a great return match, so how does it feel to be back after months apart? Seven months is a long time, and an eternity when you're hurt. Erik says it was really crazy. They spent seven YEARS as a team. Some might not know, 2014, Erik's motorcycle accident should've killed him but somehow he survived. His arm was repaired, he had pins and screws, but he came back after six months and they took over the world and now WWE. Then they run hard, Ivar got hurt, out for another seven months.
They've done this before, they know how to do this, but it just feels so good to be back! And given it's Raw After Mania, it is a reset and they can step up. What can we expect from the Vikings now? Well, they showed and reminded some people. Woods, Ivar is pretty sure the tag division was reminded. Woods is excited for them. Seven months was a long time, so now the Vikings have something to prove. Woods says being in the tag division, we have a division that can be splintered, but the Vikings are a real team. The New Day talks about it a lot. They weren't just thrown together to get some nice wins. They are a real team, brothers in arms! They love and care about each other, just like the Vikings.
That feeling of being out there with your partner, winning and having momentum, what do they want now that they're back? Before going there, Erik wants to take a step back. Erik tells his wife, Sarah Logan, that they joke about Ivar being his work-wife because he's the one he sees more than anyone else second to her. Ivar is also very handsome. But without Ivar, and New Day knows what it was like when they were separated, they expect to see that person, and then they remember they're not here. It's like you're in a familiar setting but without the familiar people. It's the deep end of the pool and not knowing how to swim out. But now that they're reunited, they have a huge chip on their shoulder.
They were watching what was happening. This is the second WrestleMania they were just watching. Erik doesn't want to be on the sidelines. He wants to have the ball and score with it! He wants to be in the action! Winning, losing, doesn't matter, he's never lost the fight. That's a T-shirt right there. Erik would rather be out there fighting and losing than sitting in catering, watching others in front of 40 thousand. They were on stage for America the Beautiful, not the National Anthem, but they didn't want to correct Woods. But they were all out there. New Day ran past them full of energy, and the Vikings felt that. Goosebumps just thinking about it. But they didn't get to do what they do.
So what threat are Styles & Omos in for? Well they're like any other team. The Vikings don't do anything special. They have the winning formula by being who they are, and they will run right through everyone! No offense to New Day, but it's what they do. They don't change. Ivar wants to throw back to Woods bringing up them being a team. There are great similarities between New Day and Vikings, same story but told a little different. The New Day came together as a unit and fought to get what they got. The Vikings did it, too, just outside of WWE. In Mexico, in Japan, in Europe, and make a name for themselves to be noticed, then go through NXT to get to Raw.
It is exciting to be a team. They're not here without each other, same as the New Day. It is exciting to be here with another true team, and to know that New Day's team and the Vikings' team might meet. Woods can't wait. Gentlemanly handshake, and Kevin says it's great to have them back. A round of applause as the Vikings head out!
Rhea Ripley joins Raw Talk!
The NEW Raw Women's Champion has made history already, and Woods rocks out to her theme song. A big congratulations for her WrestleMania win against Asuka! Woods says he was losing his mind from excitement. They had her on Raw Talk before, she was very focused and intense. Seeing her on that stage, against Asuka, winning against 25 thousand, any insight into how that felt? It was incredible. Being on stage, on night one to hear the performances, it brought a tear to her eye. It was a special moment. And then fighting on night two, being with the band that sings her theme song, that's a dream come true. It was electrifying to say the least.
Rhea's still buzzing. She hasn't been able to talk to her family yet but she hopes to get their thoughts and feelings because it'll pump her back up. Woods can only imagine they're just as fired up. The entrance, that was awesome. Rhea battled her way through NXT to get to Raw, and now only does she have a shot at the title, she has the band that does her music! Does it feel different? Definitely! The song sounded different but New Year's Day is a band she's listened to for years. They were so humble and being there with them is a highlight of her life. Super rad, super cool, and winning the title was amazing.
Rhea took her opportunity, challenged Asuka and Asuka accepted. They went to Mania, Rhea took the fight to Asuka and now the title is hers. It won't go anywhere any time soon, either. Kevin asks Woods what the most impressive thing was. It was how Rhea kept focus and kept cool. There wasn't a time where Rhea was shook, and everyone's first Mania, the nerves can get to you. She was cool as ice. Rhea says she was lucky, she got her emotions out on night one and was ready for night two. She could compose herself and keep it together. Now, let's talk Raw tonight. Charlotte was a bit of a brat, but we'll talk her going after Rhea after the break.
Raw Talk returns and Kevin reintroduces Rhea. There was a WrestleMania rematch with Asuka, but Charlotte had to return and attack her. Was that disrespectful? Of course it was. Charlotte wants to come out and run her mouth? Really? And then act like Rhea won't do anything about it? Then you go and ruin the rematch? Really, Charlotte? Charlotte's so mad that Rhea took her opportunity, planned her strategy, and did just what Charlotte would've done! Charlotte wants to put Rhea down in all these different ways. But the thing is, she's just jealous. She's jealous of Rhea Ripley because Rhea Ripley is the up-and-comer, which Charlotte doesn't like. Charlotte doesn't want to be second to someone, and is scared that she's getting old and will be replaced. That's why she went and ruined the match.
Rhea is sick and tired of Charlotte. Charlotte can run her mouth, attack from behind, but in the end, Rhea is the Raw Women's Champion and is here to stay! She might be new, she might not be as experienced, but she loves this business! She has trained for this moment her entire life! Charlotte doesn't get to put Rhea down. Not anymore! Rhea is sick and tired of Charlotte, and is done with Raw Talk now. She's sick and tired of talking about Charlotte, and storms off set. Well, thank you for your time, Rhea…
Rhea does have a point about Charlotte, though, calling Rhea the snake but attacking out of nowhere. Woods breaks it down: we've seen Charlotte jump into situations to make people respect her. Charlotte must feel disrespected, because she loves the spotlight and believes it should be all on her. Seeing how Charlotte has been since NXT, this all makes sense to Charlotte. But then we have Rhea, who has been doing so much to get where she is, that makes her a target for Charlotte. Rhea is the one that Charlotte sees a lot of herself in and that might be terrifying. That leads to one thing: Charlotte going after Rhea. This is the smart game, really. And saying Charlotte's too old? Whoa.
But truly a big week for the Women's (R)Evolution! New champions from Raquel Gonzalez in NXT to Bianca Belair SmackDown to Rhea on Raw, all great stuff! And on behalf of the legend that is Woods, Kevin signs off for Raw Talk!
---
My Thoughts:
A very fun Raw Talk After Mania, and I like that it was recorded live enough that Woods wasn't even there for the first segment because he wasn't done refreshing after his match. Sheamus and Kevin had a good segment together as one Irishman to another, and I do hope that Sheamus brings back the Open Challenge like John Cena. That would get ratings up as they are desperately in need of, and can be a great way to perhaps get Keith Lee back on TV. The Viking Raiders had a really good segment, relating their story to the fans who may not have known it. War Machine to War Raiders to Viking Experience to Viking Raiders, this team being back is great for Raw and its tag division, and I would love to see these guys face New Day and Styles-Omos.
Rhea Ripley was a great double segment, technically speaking. The first part relating the joy of WrestleMania and how awesome that moment was for her, and then the sudden shift when they brought up Charlotte, it was a bit sudden, but Rhea shows she can have range. She can be someone we relate to because she's still a normal person, but then she can have the fire and the anger to match a veteran like Charlotte. There's a reason Rhea was inaugural NXT UK Women's Champion, then got to dethrone Shayna Baszler to be prime NXT Women's Champion, and has dethroned Asuka now to also get into a feud with her and Charlotte.
News From Cook's Corner 4.12.21: The E-S-T of the I-W-C
Cook taking the long week/weekend and assessing some fun aspects that came to the forefront! Check out the news!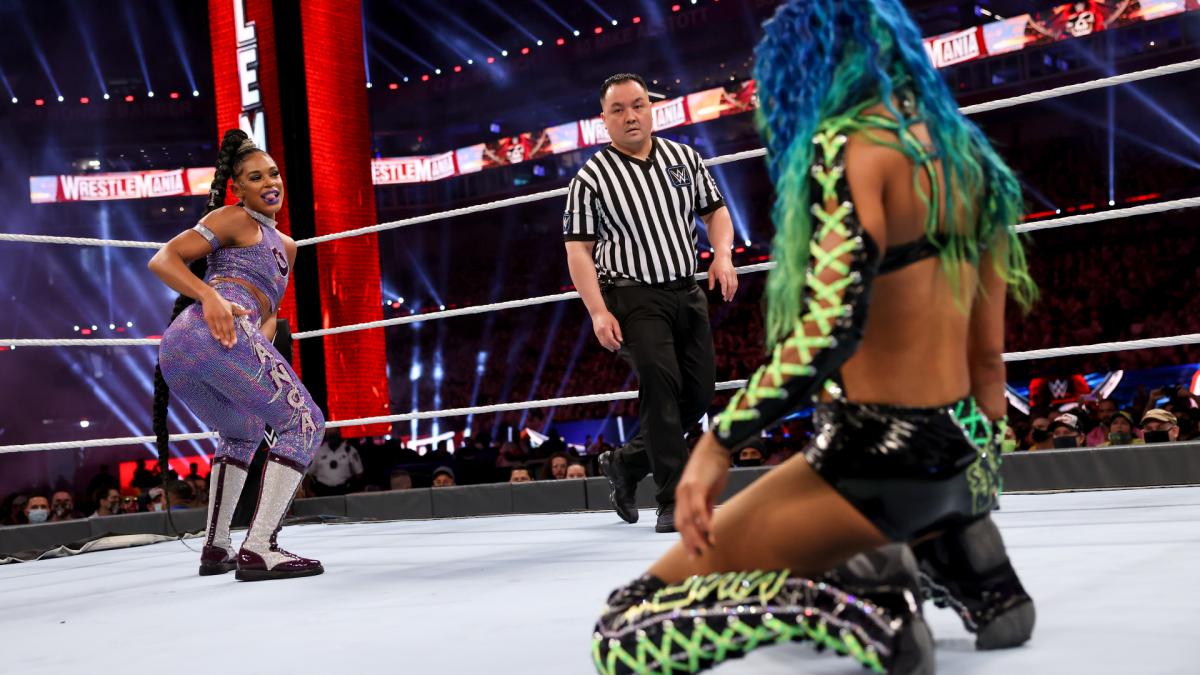 Hi, hello & welcome to News From Cook's Corner! It's been a bit of a weird week for me. While the rest of you are celebrating WrestleMania or the cornucopia of WM Weekend shows, I'm stuck working very long shifts at a job I've given notice at. So I'm a lame duck while wrestlers in Tampa are swimming in the rain like ducks. Kind of ironic, I suppose.
What that means for this column: Haven't finished the show. Watched Night One through parts of Sunday, watched the Broken Skull Sessions with Chris Jericho since I didn't get home in time to watch Night Two from the beginning. Kind of awkward since this is a news column getting posted the day after WrestleMania, but hell, I've written about stuff I haven't been watching for decades now. Gotten really good at faking it, though my exes would disagree with that notion.
(What can I say? When you're single for most of your life and getting older, sometimes you try to act like things are working in a relationship when they really aren't. Fortunately I'm over all this now and am quite happy with life as a spiritual eunuch. I'm not really sure how any of this is relevant to the column, just riffing here to fill space and give you a little update on how things are going. Those who were around back in the day remember I was quite emo about the lack of female attention. Now I've kinda had my fill and am good with it, though my friends try to make me think I'm not. I think we've riffed enough now and can start with some wrestling news.)
Anywho, here's the news!
New Announcers For Raw?
WWE likes to shake things up on multiple levels after WrestleMania most years. Sometimes that involves a change in the announce booth, and that seems to be on tap this year. WrestlingInc reported that former ESPN host Adnan Virk will be joining Raw's announce team starting this Monday, replacing Tom Phillips on play by play. Andrew Zarian added that Corey Graves will also be moving over to Raw, replacing Samoa Joe. No word yet on if this means Graves will be working both shows, or if Joe will be moving to SmackDown, or if Joe will be moving back into the ring, or if Phillips will be moving to NXT UK, NXT India & whatever other NXT pops up in the next couple of years.
Many folks I know like to make a big deal of these things, as they feel announcers are crucial to the overall enjoyment of a show. I used to as well, but the more I watch these things the less I think that they're that critically important to the sports or sports entertainment presentation. Sure, it's nice to have a legend of the business, or a dynamic presence in their prime, on the microphone talking about the action. It can get the die-hards through some rough seasons, or some less than compelling in-ring action. Does it really affect viewership? I don't think so. It's not like Los Angeles Dodgers fans stopped following their team after Vin Scully retired. On the flip side, it's not like the 50+ wrestling fan demographic has flocked to AEW Dynamite to listen to Jim Ross or Tony Schiavone.
It's what the people are talking about that matters, not the people talking about it. Which a lot of us in the talking & the writing business could stand to remember from time to time.
Why did the Hurt Business break up?
It's the question that was on everybody's minds right after Shelton Benjamin & Cedric Alexander were sent packing by Bobby Lashley & MVP. Why split them up? It was a stable that was working pretty well together, seemingly getting over with the public in the right way, and added a lot of options to Bobby Lashley's act as WWE Champion.
The answer seems to be the same answer behind every other decision WWE makes. Cause Vince McMahon said so. He decided that Alexander & Benjamin didn't deserve a push, which is pretty consistent with how their runs with WWE have gone, and that was that. Really not that surprising when you think about it. Somebody talked Vince into giving them a chance, Vince didn't see it working the way he wanted it to, and then you had King Corbin backing up Lashley for an episode of Raw.
It's a shame for Alexander & Benjamin, but it's not in the least bit surprising. We'll see if somebody else can talk Vince into giving them a chance down the road. Until then, the checks will clear.
Damian Priest Barely Made It To WrestleMania
I remember finding it kind of odd when Miz vs. Bad Bunny was announced for WrestleMania. It'd been reported for months that Miz & Bad Bunny would compete in a tag team match at the show, with John Morrison & Damian Priest as their respective tag team partners. It eventually got made into that, but what was with the pause?
Turns out that Priest had a back injury and wasn't cleared until the days leading into WrestleMania. Which is really lucky for him, as one of the points of this whole thing was to get him over. At least I think it was. Now we got everybody talking about how Bad Bunny was the best debut wrestler since Pat McAfee, which really wasn't that long ago but now feels like it happened multiple years ago.
Don't know what the odds are on Bunny & McAfee main eventing a future WrestleMania, but I rule nothing out these days.
Becky Lynch & Ronda Rousey Back Soon?
Nothing
Is
Guaranteed
Here
Tonight
Only
Now
Eternally pic.twitter.com/1snol8vvTC

— The Man (@BeckyLynchWWE) April 9, 2021
That's the word according to WWE President Nick Khan, who told Colin Cowherd as such on his radio show last week. Quite the scoop for Cowherd, who was once detested by fans for making fun of Eddie Guerrero after he died & calling wrestling fans "booger-eaters". Now, he's got WWE executives appearing on his show. Makes me feel better about getting WWE executives on my non-existent show one of these days.
Becky teased a WrestleMania Night One return on her Twitter account, but as usual with her social media teases, nothing came of it. Dave Meltzer mentioned in the Observer that at one point there were plans to have her show up in a truck during a Bayley talk show segment, but obviously the plans for a big truck were shifted to Bad Bunny. Gotta say that it feels like a misfire not having Becky return at WrestleMania in front of the live crowd if she's coming back anytime soon. If she's not, no big deal, but if she's a Night After WrestleMania surprise in the ThunderDome, it's not the same as bringing her out in front of 25,000 people.
As for Ronda, she was rumored to be coming back for this year's WrestleMania when it was taking place in Los Angeles. Dunno if that means she'll be back for WrestleMania two years from now or not.
Dabba-Kato Returns
DABBA KATO IS BACK!!!!!

Why is he dressed like Stalin though? 🤨#Wrestlemania pic.twitter.com/Yri1WohKey

— ❦ ꫝꪗ᥇𝘳𝓲ᦔ ❦ (@TheHybridEnigma) April 12, 2021
Surely you remember Dabba-Kato from his time on Raw Underground. The big fella hadn't been seen after the end of those segments until Sunday night, where he re-debuted as Commander Azeez & helped Apollo Crews win the Intercontinental Championship. I would say this pretty much guarantees that he'll be in line for a big push at the expense of Crews, but it's not like the rest of Retribution has done anything since they dropped Mustafa Ali like a bad habit.
Here's my question: The guy's first name is Babatunde. Why don't they just go with that? It just rolls off the tongue. No need to give him stuff like Dabba-Kato & Azeez when "Babatunde" is right there.
Mox vs. Gage?
PARADIGM SHIFT from Jon Moxley to Nick Gage THROUGH THE LIGHT TUBES #rSpringBreak pic.twitter.com/XgJYRtziTB

— Tripping Balls (@IsThisWrestling) April 10, 2021
The biggest news to develop from GCW's Collective weekend involved Jon Moxley making a surprise appearance to confront Nick Gage after Gage re-gained GCW's championship. Moxley had wrestled against Josh Barnett on another GCW show during the weekend, but this was the first time Moxley & Gage had crossed paths since their glory days in CZW. I don't know if they consider their CZW days "glory days", but it seemed like a good phrase to use there.
One expects that it'll lead to a match between Mox & Gage for GCW, which would be a pretty big deal for them given Mox's drawing power and the fact that Gage will be the subject of a Dark Side of the Ring episode this season, which starts next month. I also wouldn't rule out a Nick Gage appearance in AEW, as Tony Khan is a huge fan of people from that era of CZW & AEW has seen nearly everybody else in the business not contracted by WWE make an appearance at some point this year.
That's all I've got for you right now. Later this week we'll do a Fave Five for April, maybe pick up the Top 5 Quarterbacks by Franchise gimmick where we left off, and whatever else I can think of for wherever else I can think of. Thanks for reading, and keep your stick on the ice.