AJ's Elimination Chamber Results & Review: 2.21.21
AJ's back at it again with the WWE coverage! Chamber matches? Drews versus AJs? Lets see if art imitates life!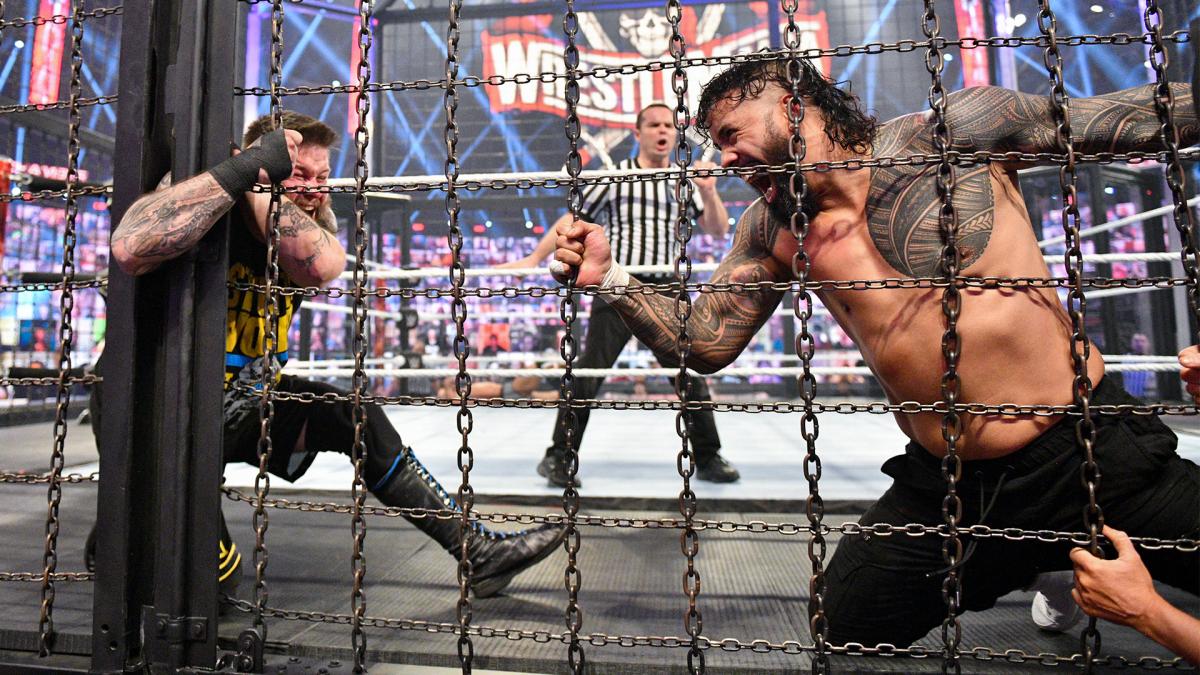 Well the Road to WrestleMania is still rolling for the last PPV on the WWE Network until it's part of Peacock. Two Elimination Chamber Matches, United States title has a change to it's participants, the Women's Tag Titles are on the line and Roman gets to pick the bones of the Universal Championship Contender Chamber winner.
Let's see how they deliver in No Way O—Sorry; No Escape 2021.
Results:
SmackDown EC Match: Jey Uso, Kevin Owens, Cesaro, Daniel Bryan, Sami Zayn & King Corbin:  Daniel Bryan wins by last eliminating Jey Uso – *** ¾
Daniel Bryan vs Roman Reigns (c) for the Universal Championship:  Roman wins via Guillotine Choke – N/A – TITLE DEFENSE!!
Matt Riddle vs John Morrison vs Bobby Lashley (c) for the United States Championship: Riddle wins via Bro-derick – *** – TITLE CHANGE!!!
Bianca Belair and Sasha Banks vs Nia Jax and Shayna Baszler (c) for the Women's Tag Team Championship:  Nia wins via Samoan Drop – ** ¼ – TITLE DEFENSE!!
Elimination Chamber Match for the WWE Championship: AJ Styles, Kofi Kingston, Sheamus, Randy Orton, Jeff Hardy & Drew McIntyre (c) – *** ¾  – TITLE DEFENSE!!
The Miz vs Drew McIntyre (c) for the WWE Championship- The Miz wins via Skullcrushing Finale – TITLE CHANGE!!!!
Review:
SmackDown Elimination Chamber Match
We start the match up with Daniel Bryan and Cesaro start things off in the match-up and I swear watching this match, they read all of Andrew's hatred for Ring of Honor because four of the competitors are form champions in ROH. Anyway, Cesaro is taking it to Bryan very early with three quick covers  early on. Daniel gets more of the pace started and the first toss out of the ring on the padding and chains happens to Cesaro. With more wrestling and back and forth going on, we finally get our first pod open with Corbin who comes in and dismantles the other two into the chainlink fencing, taking control of the match. Corbin makes a quick slip and Daniel Bryan reverses by doing the running dropkick in the corners until Cesaro counters over time and does the running European Uppercuts. Corbin has enough and does a Deep Six to both to weaken the starting two. The next one into the ring is Sami Zayn and he instantly closes he pod from Corbin, taunting him and Bryan does a running knee to Corbin into the pod. Sami proceeds to talk some smack (doesn't he know that's after SmackDowns, not in PPVs) and Cesaro shows up on the other side and takes him to town in his pod and each men in the ring are drastically weakened. After everyone gets beaten around, we have our first high spot of the chamber as Sami and Cesaro are on the wall, trying to get the upper hand on things but Sami gets stomped off of the chains and to the padding below.  Cesaro gets to attack Corbin now as Corbin catches him and we get our first elimination.
Corbin taps out to the Sharpshooter by Cesaro.
We get our 5th entrant with Kevin Owens and Sami begin to plea and get Owens on his side but we know how that song and dance goes. All men come in to beach each other up and I'm pretty sure if there was a real crowd, we would have and ROH chant. I say that only because is it 2008 Ring of Honor? Kill Steen Kill. Break people over his knee and destroy them all. Oh look Jey Uso is next up and did I say Kill Steen Kill? Because Kevin is incensed and doesn't care about the others in the ring.As the 4 others are going the normal brawling, Owens gets a case of the screw it's and does a Moonsault off the pod and does a good amount of stunners. The last one being Sami Zayn and just like the past twenty years…
Sami Zayn is eliminated Kevin Owens.

As Sami leaves, Jey goes and slams the chamber door into Owens' arm and holds it still, superkicking him over and over…
Kevin Owens is eliminated by Jey Uso.
Jey goes over to a weakened Daniel Bryan, striking his knee and tries to attack Cesaro. Cesaro catches him with a Uppercut and swings Jey into the walls before Daniel Bryan and Cesaro go back and forth again. Yes Kicks, backslides, Bryan is doing everything he can to take Cesaro out of the equation. As Bryan goes for a knee, Cesaro tries to change the momentum in his favor but finally gets it, after Daniel Bryan goes to the top rope. Cesaro outpowers Daniel Bryan with a gut buster from the top and starts to swing Daniel Bryan. Jey catches him with a superkick and splash…
Cesaro is eliminated by Jey Uso.
Daniel Bryan gets caught with a splash as well after but DB kicks out and Jey is in disbelief. Bryan favoriting his knee as Jey goes to the top of the pod and goes for another splash. Bryan gets his knees up, hurting himself but we all know, adrenaline is a hell of a drug and takes out Jey win a Running Knee.
The pod begins to raise we get match number two as the music plays…
Daniel Bryan vs Roman Reigns
The ref asks if Daniel can go, who says yes and actually catches Roman's spear into a Labell Lock. Roman breaks out and starts beating the hell out of Daniel Bryan until he's knocked out and goes for the Guillotine for the win.
Roman, in his cocky grandeur, holds the belt up and celebrates. Tell me. The person with a Spear comes in after an Elimination Chamber. Can we get the man that did that first in 2006? Oh thank you Edge. Edge comes out, Spears Reigns then points at the Mania sign. Main Event for Mania confirmed. Edge vs Roman.
Matt Riddle vs John Morrison vs Bobby Lashley
So to clarify, the pre show had a fatal four way to replace an injured Keith Lee which Johnny Drip-Drip won.
Well Lashley dominates early on, taking it to both Morrison and Riddle with easily and stands alone in the ring after taking out the other two to the floor. Every time Riddle or Morrison try to get a head of steam, Lashley shrugs it off and takes them out. Riddle and Morrison now team up to take out Lashley and get it for a brief moment of time but, Lashley is still dismantling them both, treating them like ragdolls. Once more, Riddle and Morrison go to take it to Lashley and this time it works. Morrison goes to take out Riddle now and they take it back to the ring as they start to go back and forth with the match. Lashley comes in and gets caught to Riddle's Floating Bro. Morrison pulls Riddle off, does a Starship Pain. After kicking out of it, MVP starts to talk more smack on Morrison and Morrison takes MVP's crutch and is going to use it on Lashley but drops it and goes into a Hurt Locker. Riddle actually does the intelligent thing for once, takes the crutch and takes out Lashley with it and does the Broderic to win the US Championship.
Bianca Belair and Sasha Banks vs Nia Jax and Shayna Baszler-
Nia and Bianca start and the hole jokes begin again to Nia, frequent tags to take Nia out until Shayna tags in. Bianca doing a lot of good and going back and forth before Sasha gets in. The champs take advantage and starts taking control of the match with tags to each other. After some misfunction going on to knock Bianca out, Sasha actually get the advantage back against Shayna and look so close to winning the belts until Nia gets in and dominates Bianca. The two challenges actually looking impressive and making good and frequent tags with strength and speed to boot but multiple near falls but, Reginald comes out and brings a little bit of bub… ahem Champagne for celebration. Reggie tells Sasha to use the bottle to beat Nia but the ref sees the bottle, tells Sasha to not use the bottle to win and Nia capitalizes to get the win and retain.
WWE Championship Elimination Chamber-
Jeff Hardy and Randy Orton start the match off here and are we surprised? Randy methodically taking our Hardy, inside and out of the ring. After taking a good five minute beating, Jeff finally comes back with his offense we are so familiar with over the years, hitting the mule kick and aerial offense but Orton keeps kicking out before we get our first entry from a pod being Drew McIntyre himself. Instinctively going to fight Orton before Hardy gets some punishment too from the champion. As Drew cleans up against Hardy in the outside, Randy catches McIntyre and does the Hangman DDT to slow Drew down and goes to do some back and forths until number four comes into the ring. Kofi comes out to even some of the odds as Kofi comes out and fights Orton, and catches Randy for a pinfall.
Randy Orton is eliminated by Kofi Kingston.
AJ tells Omos to pull the paneling off the pod wall and come in as Randy RKO's the world. Adam Pierce kicks Omos out of the ring and is part of the match now as AJ takes out anyone he can find. After Kofi takes out AJ on the outside, Drew and Kofi go to blows in the ring now. After Kofi gets a beat down, AJ is next… (No… no flashbacks. God no) and now taking care of Jeff Hardy before looking at Sheamus and the timer comes up for Sheamus. The two beating the hell out of each other, going to the corner and middl of the ring. Kofi and Hardy turn into fodder and take the wrath of Drew and Sheamus for interfering before they go back to fighting each other. Sheamus and Kofi get the next big pod spot but Drew gets in the middle of it and pulls Sheamus down, making sure the post for the turnbuckles hits him in his Bangers and Mash. Whenever Sheamus and Drew get together, whoever gets in the middle of it. We get a Tower of Doom spot with AJ, Jeff, Drew and Sheamus and Kofi is on the pod still. Kofi does to do a Trust Fall from the pod and attempts pins but… everyone he pins, kicks out. Kofi and Sheamus start to fight and after a quick back and forth, hit him with the Boot Kick.
Kofi eliminated by Sheamus.
Sheamus now, looks at Jeff Hardy and Hardy gets a head of stream going, giving everyone in the ring Twists of Fate and lastly tries to Swanton AJ rolls out of the way. Jeff says screw it, Whisper in the Wind to Sheamus and Drew. Swanton Bombs AJ perfectly afterward on the other side and McIntyre Claymore Kicks Jeff out of his boots and match.
Jeff Hardy eliminated by Drew McIntrye
Sheamus now determined to beat Drew and afte another back and forth, a Glasgow Kiss from McIntyre and a White Noise in return to Drew as AJ tries to take down Drew with a Springboard Senton and 450 and gets two nearfalls for it before Sheamus starts take out AJ for not finishing off Drew. Sheamus goes to the top and takes AJ out with a clothesline. Drew cuts off Sheamus doing a Brogue Kick and does the Futureshock DDT and crawling to the opposite side for the Claymore onto Sheamus. Sheamus hits the Brouge Kick but AJ hits the Phenomenal Forearm to Sheamus and goes for the pin.
Sheamus eliminated by AJ Styles.
Ah shit… I mean AJ and Drew are the final two. Styles goes for another forearm but Drew hits the Claymore in midair. Ya-da, Ya-da, Ya-da. Song and dance. My life…
AJ Styles eliminated by Drew McIntyre.
As Drew celebrates and the chamber raises, Bobby Lashley comes out and takes it to Drew McIntyre after the match. Lashley applying the Hurt Lock, spearing Drew, bashing him against the announce table and once the brutality ends, we hear the Miz's music hit.
Drew McIntyre vs The Miz
"THE MIZ IS CASHING IN HIS MONEY IN THE BANK BRIEFCASE!"
Miz goes on to DDT and attempt one pinfall against Drew but Drew kicks out at 2 when it's all said and done. Miz making sure he wastes no time, picks up Drew and hits him with the Skullcrushing Finale and we have a new WWE Champion.
Overall Score & Thoughts: 7/10
It was… alright. I like that it was five matches and not the cluster of like eight or nine we usually get but, it was well paced and worked beautifully. The tag match was going to end sloppy like because we all knew that they wouldn't drop the titles from Shayna and Nia again after just getting them back then the stupid finish kind of soured me on the match in general even though it was great tag team action. Both Chamber matches ended the way we all thought and the aftermath was also… somewhat predictable. The Roman match coming afterward and then the cash in too after Lashley attacked. Not saying it's bad but, predictability was on high alert for this one except the United States title match. I'm more surprised that they had Riddle win but hey. Maybe he can do something with it and show of his skills as United States Champion.
Lets see what Fastlane has to bring since it's next before WrestleMania.
Mitchell's WWE NXT Results & Report! (3/3/21)
Tag titles are on the line!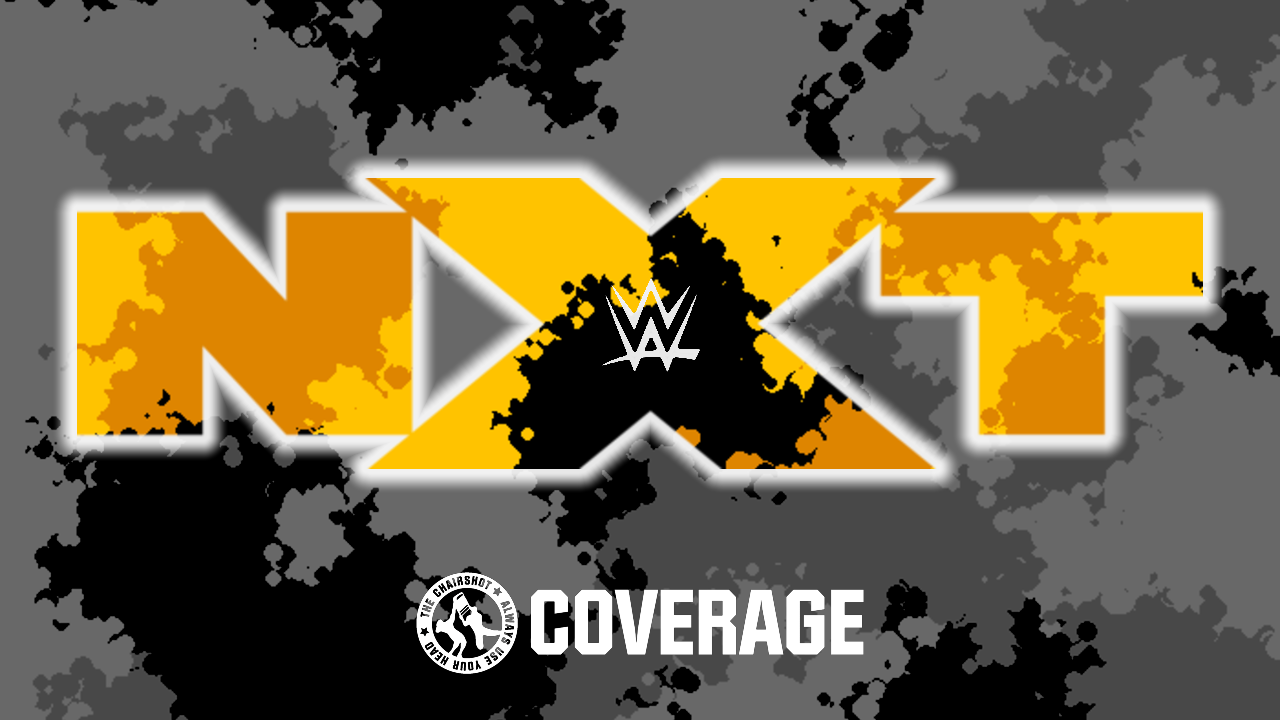 Will the WWE Women's Tag Team Championships belong to NXT?
The inaugural Women's Dusty Cup Winners, Dakota Kai & Raquel Gonzalez, challenge Nia Jax & Shayna Baszler for the titles! But will the NXT alumni show they still dominate the black 'n' yellow?
OFFICIAL RESULTS
Xia Li w/ Tian Sha VS Kayden Carter; wins.
Oney Lorcan & Danny Burch VS Timothy Thatcher & Tommaso Ciampa; win and
WWE Women's Tag Team Championships: Nia Jax & Shayna Baszler VS Dakota Kai & Raquel Gonzalez; win and
PLAY BY PLAY
[Due to scheduling conflicts, coverage of WWE NXT will begin later tonight]
Mitchell's AEW Dynamite Results & Report! (3/3/21)
Dynamite's headed for Revolution!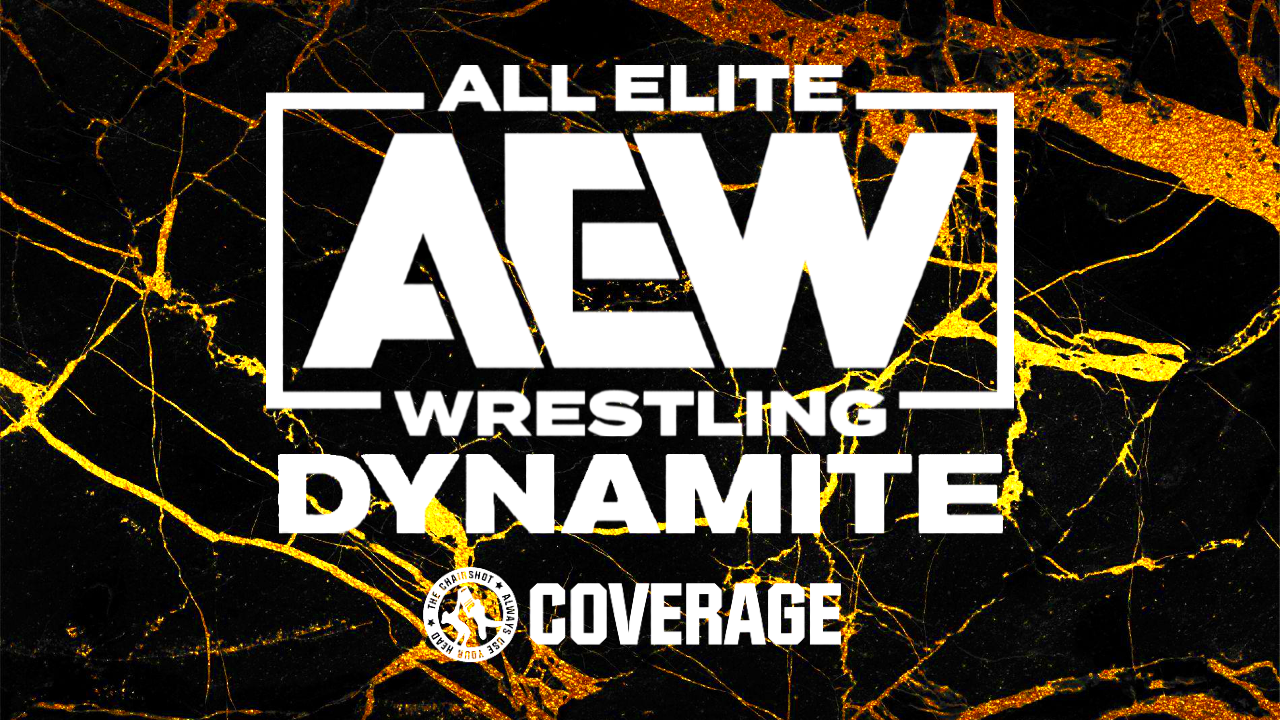 AEW's stars meet at the Crossroads!
Before the Revolution returns, AEW Dynamite ignites! And Cody Rhodes & Red Velvet meet Jade Cargill & SHAQUILLE O'NEAL in a stacked crossover Mixed Tag Match!
OFFICIAL RESULTS
Mixed Tag Match: Cody Rhodes & Red Velvet VS Jade Cargill & Shaquille O'Neal; win.
Face of the Revolution Ladder Match Qualifier: Preston Vance w/ The Dark Order VS Max Caster w/ Anthony Bowens; wins and advances to the Revolution Ladder Match.
Six Man Tag: Jurassic Express VS FTR & Tully Blanchard; win(s).
PAC & Rey Fenix VS ???
Matt Hardy & Marq Quen VS Hangman Page & John Silver; win.
AEW Women's World Title Eliminator Tournament Finals: Nyla Rose VS Ryo Mizunami; wins and will face Hikaru Shida for the title at AEW Revolution.
PLAY BY PLAY
Mixed Tag Match: Cody Rhodes & Red Velvet w/ Arn Anderson VS Jade Cargill & Shaquille O'Neal!
What a way to open the last Dynamite before Revolution! The American Nightmare's battle with Shaq has been a long time coming, and it's finally happening! Will Cody and Velvet stir it up against a duo of debuting giants?