Andrew's NJPW Castle Attack Results & Match Ratings: 2.27.21
Castle Attack is a two day event, with this first one having top tier talent; but no championship stakes. Does that hurt the show?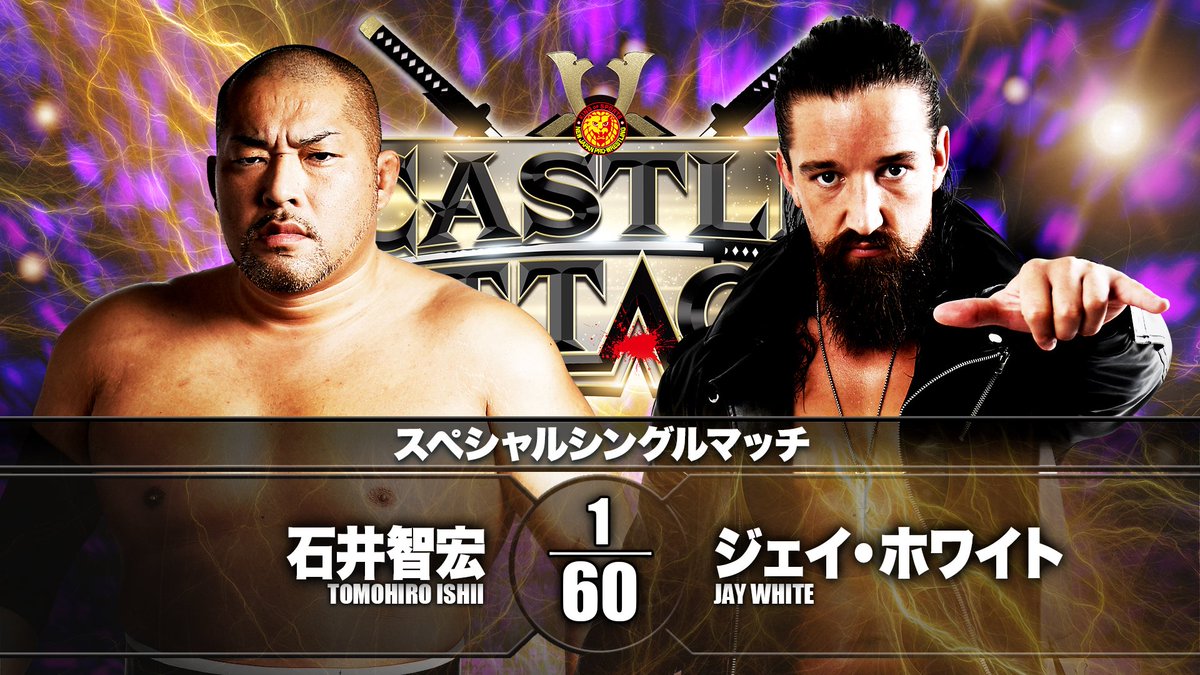 Castle Attack is a two day event, with this first one having top tier talent; but no championship stakes. Does that hurt the show?
Kazuchika Okada finally gets his hands on EVIL, Jay White gets his "get right match" against Ishii after the last month of issues, and just generally a lot of feud building. The obvious thread is all of the CHAOS versus Bullet Club going on, but I don't think any of us are excited for Tanga Loa and YOSHI-HASHI.
We also have The United Empire kicking things off to help give Great O-Khan more momentum going into his match against Hiroshi Tanahashi.
Even if the card seems a little flat, maybe we get surprised?
Ratings:
The United Empire (Will Ospreay, Jeff Cobb & Great O-Khan) vs TenCozy (Hiroyoshi Tenzan & Satoshi Kojima) & Hiroshi Tanahashi: Ospreay wins via Oscutter @10:22 – * ½
Tanga Loa w/Jado vs YOSHI-HASHI: Loa wins via Ape Shit @12:58 – (-*)
Tama Tonga vs Hirooki Goto: Goto wins via GTR @6:39 – ** ¼
KOPW 2021 Trophy: YTR Strap Match: Toru Yano (c) vs Chase Owens: Yano retains @12:50 – ** ½
Jay White vs Tomohiro Ishii: White wins via Blade Runner @25:42 – ****
Kazuchika Okada vs EVIL w/Dick Togo: Okada wins via Rainmaker @28:11 – *** ¼
Results:
The United Empire (Will Ospreay, Jeff Cobb & Great O-Khan) vs TenCozy (Hiroyoshi Tenzan & Satoshi Kojima) & Hiroshi Tanahashi
So we saw a lot of dynamics that we've grown to expect. Tenzan struggles to not use the Mongolian Chops, O-Khan continues to prove himself a credible enough threat to Tanahashi, but this was a sloppy match. Between an early awkward exchange that made it seem like O-Khan didn't know how to sell Kojima's flurry, Ospreay slipped on the rope when he was coming in toward the end; even though he kinda saved it, it was obviously screwed up.
Interactions were clumsy, the match never got exciting and really just did what these kind of matches usually do, but not even as well as most Young Lions.
Tanga Loa w/Jado vs YOSHI-HASHI
Welp, this match was straight garbage. The sad thing about this match was that Loa did a pretty solid job at trying to vocally antagonize HASHI and keep things interesting, but HASHI was in slow motion. HASHI would visibly confirm things too much, his moves were bad, kept trying to rally the crowd but they didn't respond; so there were a ton of times he waited a beat to see if the crowd would ever come alive, and they never really did.
Tanga Loa was his usual self with better verbal interactions. He kept trying to get HASHI to fight and prove what he had instead of cursing, but HASHI just fell into the waste of space mannerisms he was known for 99% of his career. He should go back to Loose Explosion on his tights, because he is the drizzling shits.
So Tama comes out to distract Hashi allowing for Loa to turn the situation and hit Ape Shit. Bullet Club beatdown ensues, Goto runs out, clears out Loa…and the referee decides to just start the match since Goto and Tama were supposed to wrestle anyway!
Tama Tonga vs Hirooki Goto
A quick start is stifled by the malaise that is known as Castle Attack so far. Tama dumps out Goto, Goto starts reviewing his life choices and why he's here today, and then spends enough time on the outside to build a bird house before Jado eventually limps over and hits him with a kendo stick shot. Like…why? Goto saw it coming. Stevie Wonder saw it coming. The terrible decisions of YOSHI-HASHI have polluted Goto's mind as well!
When things get back into the ring, at least Tama and Goto are good wrestlers. Tama hits the Tongan Twist and Veleno, but a missed Stinger Splash and countered Gun Stun gave Goto some space. Tama tried for Gun Stun again, but he got caught, Goto throws him on his shoulders Ushigoroshi style, but drops him into the GTR and lands it! So a surprising GTR gives Goto a victory from the jaws of defeat, and at least the in-ring action was serviceable enough to get the highest rating of the show so far.
I really hope the back half blows my socks off, because this is sad so far.
KOPW 2021 Trophy: YTR Strap Match: Toru Yano (c) vs Chase Owens
Now the gimmick here is instead of touch the 4 corner pads, you have to remove the 4 corner pads. So it seems like the person to remove the last pad, will be the winner.
We get a mostly expected Yano gimmick match. He made small references to his earlier gimmick of being a cheating, violent, always disqualified heel; when he started whipping Chase early and being more aggressive than we usually see. But Chase was clever using the outside to a great advantage. Yano was forced to go after Chase because Chase was going to take the pads off from outside, and then used Yano's momentum against him by ramming him into posts and barricades.
The last pad was solid comedy where both took turns knocking the other out, too far from the last pad. So we had some goofy "drag the dead body" spots. Chase nearly had things won until Yano came to, pulled him close for Oni Koroshi! Yano makes it to the corner, takes it off and the God of all KOPW continues!
Jay White vs Tomohiro Ishii
Ishii has had White's number lately, and just added to the broken status of his mental health after the Wrestle Kingdom loss. Within the first minute or so, Jay looked to have tweaked his hamstring, and that added an interesting layer to his early attack. But much like the strategic genius that he is, he lays Ishii over the barricade, and Ishii starts selling a rib injury.
Everything in this match mattered, the leg and ribs came back to play into aspects of the finishing sequence. Ishii was slow transitioning between some of his power moves since he was hampered with the rib injury, and Jay got caught a bit more than usual because his quickness was taken away.
A huge Avalanche Brainbuster after a Jumping Headbutt nearly gave Ishii the win, but a slow cover as he wanted the high stack, kept Jay alive. They fight back and forth, then we get a great counter wrestling sequence to finish the match. Ishii slips suplexes and Blade Runners, Jay slips the Brainbuster and eats a strike. It was up, down, back and forth, just hard to call until Jay finally slips a hold and catches Ishii with Blade Runner for the win!
/
🏯CASTLE ATTACK🏯大阪城大会‼️
\

両者一歩も譲らない、凄まじい死闘‼️
最後まで立っているのはどちらだ⁉️

🆚 石井智宏 × @JayWhiteNZ
📲 #njpwworld で配信中📡
👀 登録&視聴⏩https://t.co/CcdQ1XrpWA#njcattack #njpw pic.twitter.com/6TDZP5PubX

— njpwworld (@njpwworld) February 27, 2021
THANK GOD we got a match worth watching! Great pacing, solid story, this is something to watch.
Kazuchika Okada vs EVIL w/Dick Togo
Ugh, okay so we know what we get with EVIL any more right? Okada tried to eliminate Dick Togo early when he hit Double DDTs on the ramp, but then the trek back to the ring was awkward. Okada bringing EVIL back to the ring, was a microcosm of the match, where it was just very slowly paced, inactive and not a good idea.
Part of the point in this match was for Okada to finally get closure on EVIL beating him during last year's New Japan Cup; but he wanted to drag out the old aggressive EVIL. EVIL fired up late, and the crowd responded excitedly expecting something good, but it was short lived. Plus, we have Okada being a complete moron. He was shoved into Red Shoes, fights off Dick and lays EVIL out and goes for the stupid Money Clip. He goes for a submission after he was driven into the referee. This is a gap in logic so embarrassing, just so Dick could interfere again with the garrote.
All the garrote did was possibly foreshadow when Okada Tombstoned Dick, and then had a moment where he considered using the weapon. This is either a throw away for Okada to continue to be the Golden Boy, or it's a hint that darker things are on the horizon for Okada.
Either way, Fire/Thunder Driver lead to the Rainmaker again, and we're finally at a point where Okada is beating people with the move that started it all! No more Money Clip! It looks bad and it's just sad.
Overall Score: 4.25/10
At least we got one match really worth watching out of this show. Jay White versus Tomohiro Ishii is truly the only thing to watch from this whole show.
I don't know how some people didn't find the YOSHI-HASHI embarrassing, but it completely was. The opener was sloppy to the point of uselessness. Tama and Goto was just flat given how the story was being told. Then we've got the gimmicky goofball match being a highlight before the semi-main and main events. I've seen more salient card structure and match booking from Dragon Gate during the waning days of ANTIAS.
Tomorrow has to be better because if it's worse, then I think 2015 TNA would be happy to know they aren't the bottom of the barrel anymore. This show was so embarrassing I think I'm just gonna end the article with the hockey coach from Letterkenny:
Andrew's AJPW Champion Carnival Results & Match Ratings: 4.11.2021
Day 3 of the Champion Carnival had video on demand issues, so it wasn't uploaded until the 12th. Hopefully Day 3 continues the positive momentum the first two days have already created!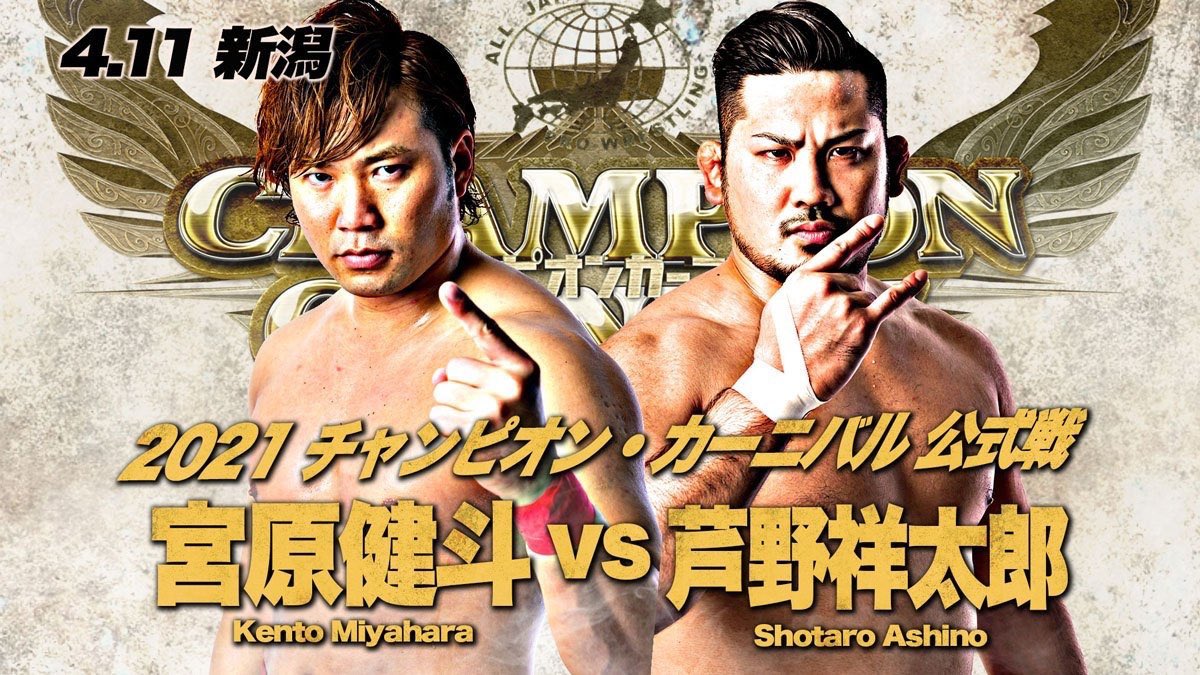 Day 3 of the Champion Carnival had video on demand issues, so it wasn't uploaded until the 12th. Hopefully Day 3 continues the positive momentum the first two days have already created!
Hard to say I wasn't a little annoyed the VOD took so long to post, but better late than never; especially when the next event isn't until the 17th.
Anyway though! Zeus looks to topple the current Triple Crown champion and continue his undefeated Carnival streak and Ashino has to do something to get off the bubble; but Kento is a big ask. We could be looking at a quick favorite to win as well as the walking dead.
Let's hope nothing too drastic happens! Check it out!
Match Ratings:
Jake Lee vs Koji Doi: Jake wins via D4C @8:10 – **
Shuji Ishikawa vs Yuma Aoyagi: Ishikawa wins via Single Leg Cradle @11:13 – ***
Kento Miyahara vs Shotaro Ashino: Ashino wins via Grapevine Ankle Lock @12:11 – *** ½
Zeus vs Suwama: Zeus wins via Jackhammer @19:52 – *** ¾
Results:
Jake Lee vs Koji Doi
Total Eclipse inner faction fighting! Since Jake is the leader, he starts off in typical heel leader fashion telling Koji to lie down and eat the pin. Koji lies down; Jake drapes himself in a cocky cover, so Koji goes for the crucifix at the 2 count. Jake snaps up and he looks shocked that Koji went against an order, but then we get to a match.
Koji does a solid job keeping Jake off balance with power attacks, Shoulder Tackles and an interesting Football Tackle with the lift and slam. Jake eats a decent amount of offense, including a few short arm Lariats, before he starts stabilizing with Knee Lifts and Yakuza Kicks.
Lucky for Jake, even though Koji countered the D4C once, after Giant Killing, Koji wasn't countering anything. Jake hits D4C and gets his second win of the tournament! Not a flashy match honestly felt a little silly at points with how quiet and echoed the arena made the match feel. Hopefully the setting doesn't continue to plague the atmosphere of the matches.
Shuji Ishikawa vs Yuma Aoyagi
Now this was decent, though the hollow quiet atmosphere of venue is really detracting from the matches. Yuma was trying to find openings, but Shuji continued to run him over and abuse him with power early. And it was during these slower spots, the deafening silence of the venue made for weird watching.
Even though Shuji hit a Scoop Slam into the corner of the arpon, multiple Tsunamis and a flashing Scoop Fire/Thunder Driver, Yuma stayed resilient. Yuma nearly made the bigger man tap in End Game, but Shuji was able to find the ropes. Yuma hits an O'Connor Roll into the Japanese Leg Clutch, Shuji manages to get out of that, goes for a Tsunami, Yuma slides and tries to scoop Shuji for a Roll-Up, but at two Shuji manages to reverse the Roll-Up, grab a single leg and keep Yuma down for a three count!
Even though I have yet to be convinced by Yuma, the fact he got a finish that still made him look strong while putting up a good fight against a decorated opponent like Ishikawa; that says a lot about his potential rise on the card.
Kento Miyahara vs Shotaro Ashino
Ashino is in the unenviable position of last place after two days. With a 0-2 record, he really REALLY needs this…and he of course has Kento as his roadblock. They've traded wins in the past, and come off as rivals who don't really like one another.
The match starts quick with Ashino shooting the half, grabbing a leg and searching for the Ankle Lock early. Kento fights out, but Kento is surprised and Ashino stays on him. Ashino pulls Kento to the ring post and wraps Kento's left leg against the post a few times. Kento fires and Snake Eyes lands Ashino into the corner of the apron.  This gives Kento plenty of time to walk off the early ankle damage and play into his cocky arrogance, all while messing with the referee and his opponent.
Whenever Ashino managed to get back in the ring, he was greeted by Blackouts to the front and back of his head. It wasn't really until Kento went for the Shutdown Suplex, that Ashino hit a second wind. Both men trade German Suplexes, Ashino continues with a Deadlift Overhead suplex and he starts building momentum back.
He teases a German from the apron to the floor, but Kento blocks, fights off and Piledrives Ashino instead. Kento fires off Blackouts as Ashino once again barely beats the count out, but after landing his ninth Blackout of the fight, Ashino grabs the left leg, rolls through and goes for the Ankle Lock. Kento tries to fight off, but Ashino refuses to let go, readjusting, rolling through, pulling Kento back into the center away from the ropes; eventually dropping down into the Grapevine. Kento has no other option but to submit!
Ashino finally gets on the board, and Kento joins him in the 1-2 portion of the standings! I wonder how much the ankle will play into the rest of Kento's carnival.
Zeus vs Suwama
Last year during Zeus' carnival winning run, he had a match with Suwama which resulted in Suwama sustaining an arm injury. Thanks to this knowledge, and the sting of a failed challenge when Suwama recovered, Zeus came out attacking the arm and trying to replicate some of his success from last year.
The beauty in Zeus' arm attacks, is not only were the Key Lock and Arm Bars effective to play on the old injury, they also inhibited Suwama from executing the Last Ride Powerbomb. Zeus' attack really did great, as well as giving him the power advantage against someone who can usually match him in that department. Zeus lifted out of Boston Crabs, met Suwama head on with Biceps Explosions and even broke out the Frog Splash a few times.
In a nice reference, Suwama was able to fight out of the Arm Trap Facelock this time, but Zeus had too much of an advantage. Zeus peppered in Chokeslams, Lariats, another Frog Splash and eventually ended the match with an impactful Jackhammer. This was a solid struggle throughout, injured only by the awkward venue setting.
Who will be the first person to hang a Carnival loss on Zeus since 2019?
Overall Score: 6.75/10
While there wasn't really a lot to complain about in terms of action, I really hated the venue. With the Japanese crowd rules of not being able to scream and having to just clap or stomp, it was very noticeably irritating in this event.  Slower moments felt empty and stupid, almost back to the empty Quarantine times, which definitely impact smaller events and smaller companies.
Aside from that, we got a lot of really great finishes. Ashino finally getting on the scoreboard AND over Kento is great. Zeus continuing his streak from last year, Jake well…doing Jake things and Shuji looking strong as a current title holder should. Otani and Sato were missed a little today, but let's check out the standings!
 Standings:
Zeus: 3-0 – (6 Points)
Shuji Ishikawa: 2-1 – (4 Points)
Jake Lee: 2-1 – (4 Points)
Shinjiro Otani: 1-1 – (2 Points)
Kohei Sato: 1-1 – (2 Points)
Shotaro Ashino: 1-2 – (2 Points)
Kento Miyahara: 1-2 – (2 Points)
Suwama: 1-2 – (2 Points)
Koji Doi: 1-2 – (2 Points)
Yuma Aoyagi: 1-2 – (2 Points)
Lucha Central Weekly: NXT Takeover Stand & Deliver…DELIVERS! Plus Too Many AEW Factions, WWE WrestleMania Week, and more!
The world of Lucha Libre comes alive on the Lucha Central Weekly podcast, discussing Takeover, AEW Factions, and more!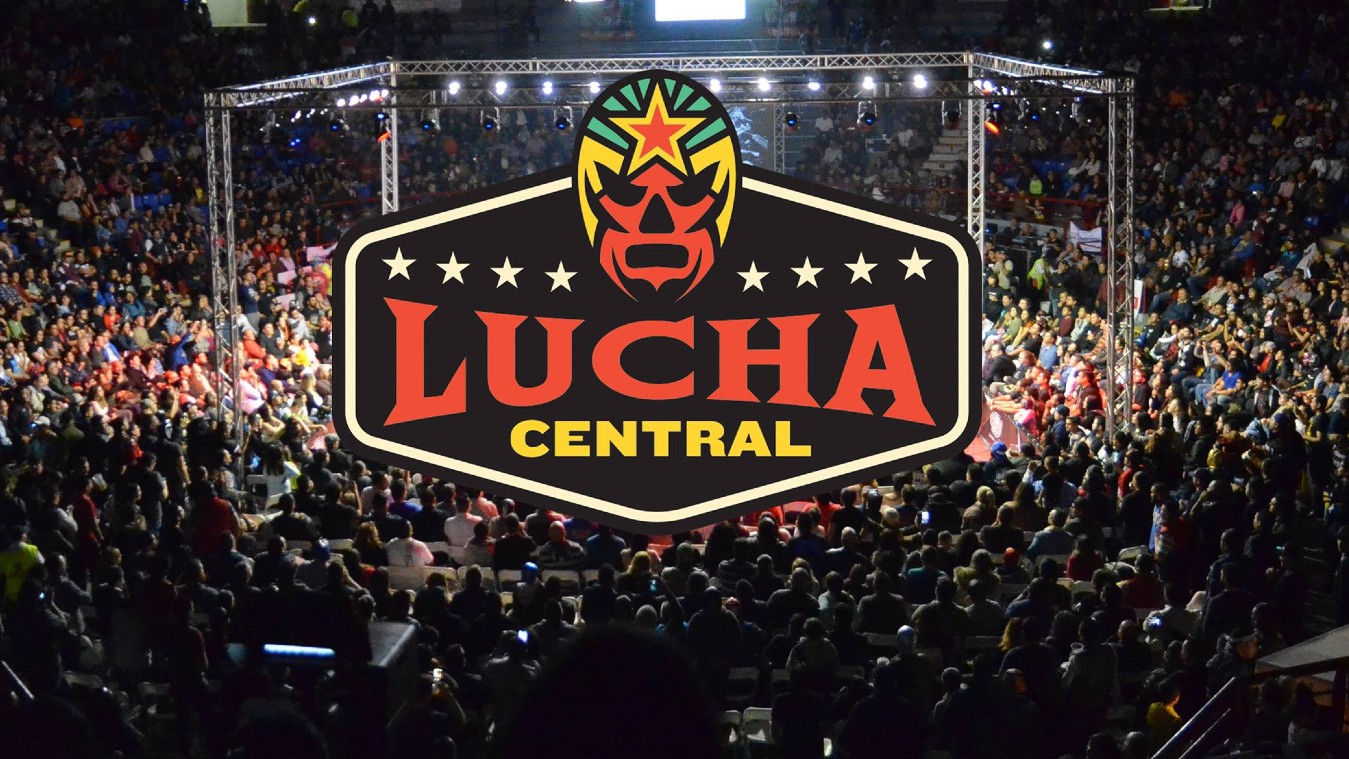 The world of Lucha Libre comes alive on the Lucha Central Weekly podcast, discussing Takeover, AEW Factions, and more!
Powered by RedCircle
Join Miranda Morales, Brendan Barr, and Dusty Murphy as they bring you another edition of Lucha Central Weekly–one just as action packed as lucha libre itself!
This week the trio discusses the abundance of factions on AEW, the week-long celebration that is WWE WrestleMania, and a look at NXT Takeover Stand & Deliver!
About Lucha Central Weekly
Your one-podcast stop for all of the week's top stories from around the world of lucha libre and lucha libre around the world. Join hosts Miranda Morales, Brendan Barr, and Dusty Murphy along with special guests as they cover Lucha Libre AAA, CMLL, top Mexico indies as well as lucha related matches in WWE, Impact Wrestling, All Elite Wrestling, Ring of Honor and beyond. Whether you are trying to dive deeper into the world of masked mayhem or you've been following for decades, you are going to find things here you won't find on any other airwaves!
About the Chairshot Radio Network
Created in 2017, the Chairshot Radio Network presents you with the best in wrestling and wrestling crossover podcasts, including POD is WAR, Women's Wrestling Talk, The #Miranda Show, Badlands' Wrestling Mount Rushmores, The Outsider's Edge, DWI Podcast, Bandwagon Nerds, the Greg DeMarco Show, 3 Man Weave, Five Rounds, The Hardy Wrestling Podcast, Turnbuckle Talk, The Reaction and more! You can find these great shows each week at theChairshot.com and through our distribution partners, including podcasting's most popular platforms.
The Chairshot: Always Use Your Head
---
The Chairshot Radio Network


Your home for the hardest hitting podcasts and radio shows!
Listen on your favorite platform!
iTunes  |  iHeart Radio  |  Google Play  |  Spotify
Listen, like, subscribe, and share!
---