Mitchell's Talking Smack Report! (2/6/21)
Literally the BIG-EST episode yet!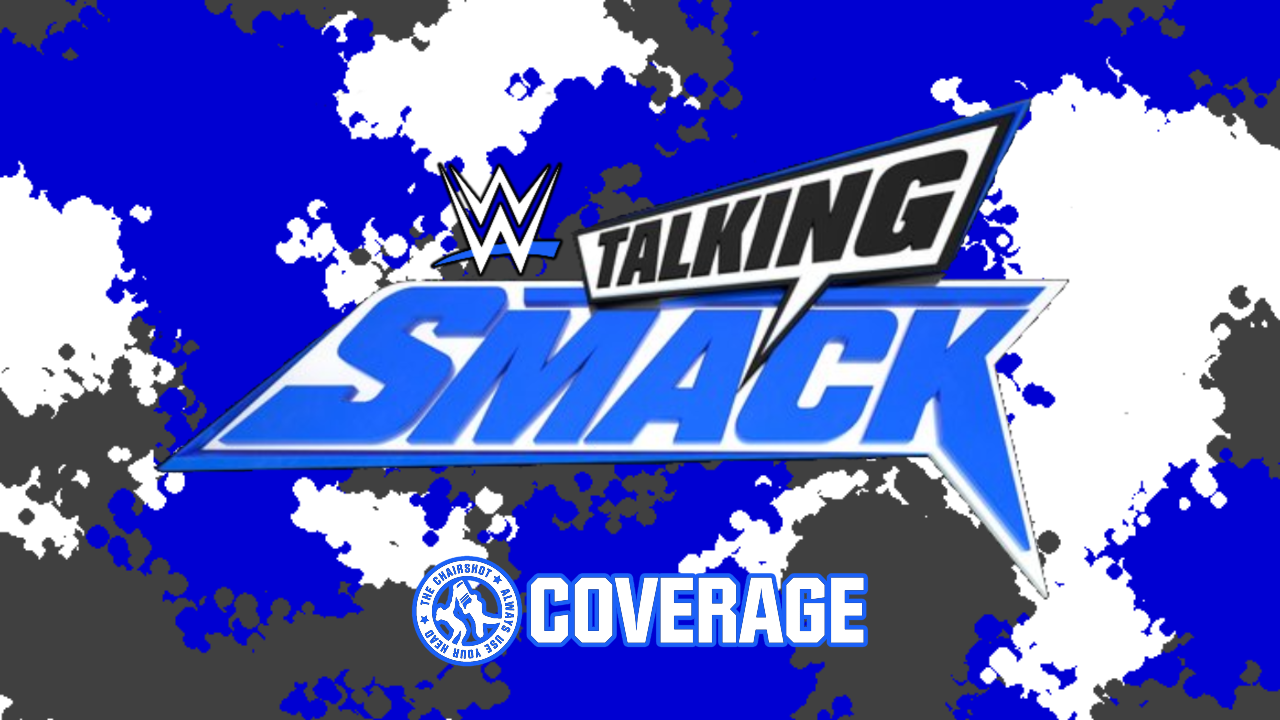 Talking Smack decides to #ThinkBig!
This really is a big episode. In fact, it could be called the biggEST episode of Talking Smack, with Big E, Bianca Belair, and even ADAM PEARCE as guests!
Kayla Braxton welcomes us to the show!
Fresh from the Royal Rumble and now on the Road to WrestleMania, SmackDown was nothing short of eventful! We heard from and saw the Women's Royal Rumble winner, Bianca Belair, then Big E retain his Intercontinental Championship. But the big story right now, and something Paul Heyman will have something to say about, SmackDown ended with Roman Reigns confronting Edge, only for Kevin Owens to make a surprising return! Has Heyman had a chance to speak with Roman since then? Heyman's conversations with the Tribal Chief are privileged information. For Kayla to ask about them is rather imposing.
The question she should be asking as a journalist is, "How does Heyman as Special Counsel to the Reigns-ing, Defending, Undisputed, Uncontroverted Universal Champion feel, now that everyone is eyeballing Roman Reigns?" Heyman tells us that everyone is watching Roman as well they should be. Edge goes to Monday Night Raw, Wednesday Night NXT and finally then Friday Night SmackDown because he is playing games with the Tribal Chief. Those games won't work, because the winner of the Royal Rumble match is promised to main event WrestleMania.
Roman is a four-time WrestleMania main-eventer, advertised for five, and showed everyone who is in charge around here just last year. The main event this year will be THE champion, THE main event, THE top box office attraction in sports, entertainment, and sports entertainment: Roman Reigns. The fact Kevin Owens screwed the fans out of Edge's answer means two things. First, and mark Heyman's words, no more chances for Kevin. Kevin can go to Raw or look at another title because he's not getting at Roman again.
And second, Edge's answer is obvious. Unless WWE is guilty of false advertising, Edge's answer HAS to be Roman Reigns, or it's just a co-main-event or whatever. Because the main event IS Roman Reigns. Kayla says Adam Pearce will be a guest, too, maybe he can speak to this. But first, the Intercontinental Champion is here!
Big E joins Talking Smack!
The champion is fired up as he sits and says he is a rare breed. A lot of humility and what not, but name someone who can make you laugh the way he makes you laugh. Or someone who can give you hard hitting matches, physicality, strength, power, speed and explosiveness. He isn't here as an "indie darling," he came from the mud, the ground up. He went into FCW, signed by WWE, with zero experience, but look at him now. Heyman says those high kicks were great. Yes, flexibility! That leg can go wherever you want it. Don't get nasty now. Heyman tried something like that once and hurt his groin. Well sorry about that.
And look, side plates! Shout out to Jonathan Davenport for designing these. Heyman congratulates Big E on his win and Kayla says that was perhaps one of the bigger hurdles he's had to overcome. Two opponents, Triple Threat, was Big E worried? Kayla, you too much! Big E doesn't worry. How many times is he going to be facing Sami and/or Apollo? They pushed him, yes, and he'll do it all over again with another person, Fatal 4 Way. Kofi Kingston gave Big E his blessing to be do this, but Big E isn't just here to be here. Big E is going to establish a legacy. This isn't the "I Made It" moment, this is the beginning of something great.
Big E put 8 years of greatness in already, but this is building on that. So when it comes to Apollo Crews, Big E mentioned the respect for him. But what about Sami Zayn's constant claims of conspiracy and such? Is Big E taking this serious? Big E surely wants to be champion come WrestleMania, so who does he see as a challenger? Big E doesn't worry about that 'Outside noise." Big E can just close the door! Good, strong, soundproof doors. Big E sits back, relaxes and watches Doom Patrol on Netflix. Kayla says Heyman has been a supporter of Big E, has given him advice, so what is his assessment at this point?
Well, Heyman told Big E before, and Big E has taken that counsel and used it to his advantage. Big E got by Apollo, just as Heyman knew he would. Big E is pretty sure Heyman was telling Apollo things, too. Heyman explains that a champion is only as great as the challengers he defeats. Apollo is a bonafide challenger. Big E is a rare breed, winning his title on the first try. Apollo couldn't because he was against Big E, and kudos to Big E. But, there's always a "but," Heyman knows Big E is the Powerhouse of Positivity so he won't be the "Nincompoop of Negativity" here, but… As the Intercontinental Champion, Big E has a chance to be part of WrestleMania. But he won't be the main event.
"Now, solidifying a legendary title reign can get you to a position for WrestleMania next year, the main event for the Universal Championship against Roman Reigns. And that's what that championship should be to you." It should be a sign that Big E is a great champion worthy of the main event, and the fact that he isn't main-eventing this year should piss him off. Doesn't it? Big E says it doesn't, actually. It motivates him, because everything Big E has done, as great as that was, it will all pale in comparison to what Big E will do this year. So Big E will see Roman Reigns in the main event in 2022, if he still has the title then.
Big E takes his leave, and Heyman is offended Big E suggested Roman will not have the title. Roman will have the title for as long as Roman wants it. But also, take your mic with your! This is so annoying! It's so simple, and disrespectful to Kayla! Heyman apologizes for Big E's rudeness. But moving on from big to perhaps the biggEST moment, it's the Women's Royal Rumble match winner!
Bianca Belair joins Talking Smack!
She's back again! She might as well be the guest every week. Kayla has talked with Bianca a lot this week, but still, how does Bianca feel? The same! It finally hit Bianca earlier when she pointed to the WrestleMania sign, a moment she always wanted. She finally stopped crying, don't make her cry again, even if they are happy tears. But she's on top of the world, so happy, this momentum is amazing. They also talked on Friday, no decision on who she'd face for WrestleMania, but what is she waiting for? Well she asked this earlier, everyone asks! Bianca says this is the biggest decision, both champions are amazing, she just can't decide yet. She will, just not today. She wanted to make a moment for Talking Smack, but not this week.
Kayla says seeing Bianca walking around, she sees that new sense of confidence. Heyman surely sees it, he is a big believer in EST. He'd be stupid if he wasn't. This IS her moment, so congratulations. Bianca had a truly wonderful performance in the Royal Rumble. She has the perfect strategy, and it's obvious because Edge is copying her! But here it is, at such a young age, and Bianca has a Mania Moment. So let everyone wait until she is ready. Bianca came into the WWE as an unknown, dominated every opponent in the ring, and moves up to "the main roster," as they call it, and then what? Mops the floor with everyone. Why? Because she is the EST, the B EST in the WWE!
So it doesn't matter who she chooses, Heyman knows Bianca, on the biggest event of the year, goes in a challenger and comes out a champion. That isn't a prediction, that's a spoiler. And then, Bianca will have a chance at such a young age to not only create a legacy, but to be what we look back on in decades from now, as the legend of Bianca Belair. Heyman says there is no one on her level, and is looking forward to her holding a title high up in the air as she begins a journey into legendary status. It is his honor to see it happen. Savor every moment, because she'll look back and see this was the moment it all started.
Bianca thanks him for this talk, because how can she follow it up? Follow it up by taking the mic, unlike Big E. Bianca agrees and heads out. And lastly, perhaps some insider information from SCRAP DADDY!
Adam Pearce joins Talking Smack!
But he doesn't look very happy about it… Kayla says this is the Road to WrestleMania, and Pearce has a lots of knowledge about the in's and out's, but then Heyman turns to Pearce and promises him Roman isn't here. And Jey Uso isn't here, either. Kayla doesn't like Heyman so she won't do anything. Anything Pearce wants to say? The floor is his. Pearce smirks and says he could ask Heyman when they're going to have that match Heyman "challenged" him to. But he won't ask that, because he won't pretend this is what he wants to do. He says we can act like he had a choice to be a guest here and that he likes sitting next to Heyman.
They'll act like Pearce has something he wants to say, but he doesn't. The reality is, the floor isn't his, the floor is always Heyman's. Heyman wants to say something to Pearce, so just get to it and Pearce can leave. Heyman says Pearce is good. Really good. Best authority figure in the WWE in decades. Heyman says here's some inside info for Pearce: "If you're not fired by next Tuesday or Wednesday, then Roman Reigns and I will have the distinct honor and pleasure of watching you get fired live next Friday on SmackDown."
Pearce may think that's hyperbole, or that it's a bluff, but Heyman puts it this way: "Edge, under your watch, is pulling everybody's strings. The tail is wagging the dog. And Edge, manipulating this situation, so that everyone has to wait for him to make his answer, to make his decision, is putting you on a direct path to the unemployment line. WWE moves forward without anybody standing in it's ways." Bruno Sammartino Era, WWE moved forward. Hulk Hogan Era, WWE moved forward. The Rock, Steve Austin, Attitude Era, WWE moved forward. John Cena Era, or even the Brock Lesnar Era in Heyman's mind, another subject for another day, but WWE moved forward.
Vince McMahon Sr. sat in the chair for many years, and WWE moved forward. Vincent Kennedy McMahon is the head now of this multi-BILLION dollar global conglomerate, and when the day comes, even without Vince McMahon, this company will move forward. But we're all supposed to wait on Edge? Under Pearce's watch? WWE waits for no one. Elimination Chamber is coming. Has Pearce even considered a main event for Raw at that PPV? The moment Edge did NOT give an answer to Drew McIntyre, Pearce should've named a main event for Raw at the Chamber to determine Drew McIntyre's opponent.
This isn't just Heyman talking. The board of directors want to advertise, promote, etc, but they can't because of Edge. Edge put Pearce in a compromising position not just with the fans, but the Chairman, Vince McMahon, who Heyman has known for 40 years! And Heyman doesn't even need to say "Mr. McMahon," he can just call him Vince. Who else can say that? Vince wants an answer. Heyman isn't confirming or denying if he's talked with Vince, but it'd be at the behest of the Tribal Chief, who doesn't like Pearce at all. Everyone wants an answer and Pearce isn't giving us that.
Heyman knows Pearce will be on Raw, and he will have no choice but to announce a main event for Elimination Chamber, for McIntyre's opponent as Raw's match for the PPV. Because otherwise, Pearce will be in a position to either head for a major advertising campaign for Elimination Chamber, or straight to the unemployment line. Heyman thinks Pearce is doing a great job, but what about the board of directors and the WWE Universe? WWE will move on without Pearce. Sonya Deville has a "mad crush" on Heyman, and would love to be in the position to make all the decisions once Pearce is gone.
The next move is Pearce's, so make it wisely for the family, the board of directors, and most importantly, the fans who pay the bills. Make a main event, or pack your bags. Talking Smack ends with Pearce soaking that all in. What will his decision be come Monday?
---
My Thoughts:
Wow, this was definitely a great episode of Talking Smack. Heyman was another strong presence, but he continues to be excellent so whatever. He had another great segment with Big E, and Big E's counter was great. Roman Reigns is great but there's no guarantee he'll be the champion this time in 2022. No one knows what'll be anything, just look at the year we got through. Bianca's segment was short but it's fine, she would've just been recycling everything she's said this whole week. Heyman was great there, that was probably genuine commentary on her career, because it is true. She's young, started with NXT, and has already reached a top level.
And then it was amazing with Pearce and Heyman. The way Heyman is posing it, is this giving away that BOTH Rumble Winners are going SmackDown? Heyman is making it like there is no other option, even though there should be, so this is really intriguing stuff. I really do hope it goes the other way, just to stick it to Heyman and Roman.
Mitchell's Raw Talk Report! (4/12/21)
Raw Talk faces the Nightmare!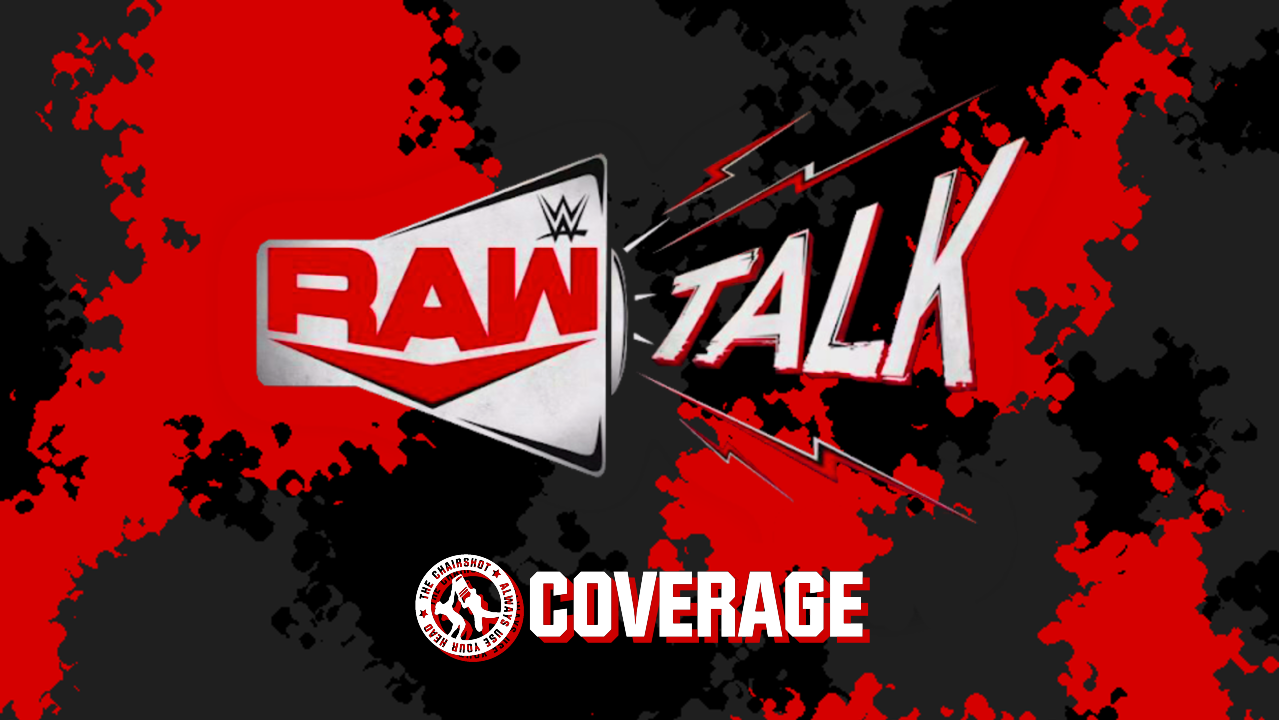 It's Raw Talk, Fella!
After a massive Monday Night After Mania, the NEW Raw Women's Champion and NEW WWE US Champion are here for some Raw Talk!
Kevin Patrick welcomes us back to the show!
A Monday full of surprises capped off WrestleMania's two nights in Tampa! Kevin welcomes us into the NEW ThunderDome, and is honored to have us here watching. What a great weekend! But Kevin is without his wonderful cohost, Xavier Woods, who had a bad weekend but a good Raw, so let's recap everything real quick. Drew McIntyre came back strong in a Triple Threat with Randy Orton and Braun Strowman! Orton hit his RKO but McIntyre hit his Claymore, BOOM! McIntyre, the Scottish Warrior, wins and is headed to #WrestleManiaBacklash, May 16th, for a chance at Bobby Lashley! But then Mace and T-Bar had their say with their double slam! This leaves so many questions for us as Raw has a shocking end!
Then, of course, the return of Bray Wyatt. But what's going on? It's all very creepy. Then Charlotte Flair returned a bit like a "petulant child," complaining about missing WrestleMania, and then when the Raw Women's Championship was on the line in a Mania rematch, Charlotte goes and spoils it all. Charlotte throws Asuka around, beats her down, then boots Rhea down! The Raw Women's Champion hits the deck as Charlotte has a big impact. Rhea will be here to talk all about that, as well as the returning Viking Raiders, but first, the NEW WWE United States Champion!
Sheamus joins Raw Talk!
The Celtic Warrior is doing good, and he's here "saving the day." Hopefully Kevin understands that this is eating into Sheamus' celebratory drinking time. Gotta make the most of it. Kevin congratulates Sheamus, and he's US Champion again. The belt is a bit stubborn but they got it on camera. Kevin touches it, and the Irishmen are very proud for Sheamus. A hat-trick for Sheamy, he got this title back a third time. Kevin met Riddle in the elevator, and Riddle showed the busted lip. Both men were battered and bruised but the Bro complimented Sheamus. Sheamus takes us back to that Brogue Heard 'Round the World, or even 'Round the Universe!
Sheamus says Riddle should just stop talking all that nonsense. That was executed with perfection. McIntyre is #1 contender to the WWE World Champion with his knock-off, that Claymore, but there's nothing like the original Brogue! Kevin says Sheamus is in such a great mood. And Sheamus wonders how Kevin Patrick ended up a man with two first names. Is that his real name? Yeah, it's real. Wow, two first names. Kevin asks if Sheamus was starting to doubt himself, given it's been five years without a title. Well there are times when you ask yourself, "Where's this going?"
Sheamus hasn't gotten an opportunity in awhile, at least not the world title, and he wondered when the next win would come. But you watch the Premier, y'know, football/soccer, NBC Sports, all that. When's the next win? When's the next meal? And then when that happens, it's just plain sailing. Sky's the limit for Sheamus, he'll keep going and going. Nice Peacock plug, huh? But what was it like, to be honest, walking out to Raymond James Stadium, with fans finally in attendance? One year, one month and one day since the WWE Universe had been there for the shows.
Sheamus says it just goes to show that we missed them, they're such a huge part of it. The fans are just a pivotal part and always have been. The superstars feed off the energy and excitement, the chants and all that. Sometimes they dictate how the match goes, but honestly, 25 thousand felt like 80 thousand. They were just as excited as everyone else was, and now after getting a test, maybe we get more as the world gets back to normal. Raw, SmackDown, etc. And they can watch the NEW United States Champion tear it up, knock people's heads off, slapping them around the gaff.
Where's Kevin from, again? Sheamus is from the hardest part of Dublin, better than the Southside where McGregor's from. Kevin's from the Northside. Maybe talk this over a pint. Sheamus would be if he didn't have to do this. But who does he want next? Anyone! He's been having banger after banger match, so anyone else who wants to have one, bring it on! Sheamus doesn't care about pecking orders, just someone step up! He'll make ya a bleeding legend! If you can last more than five minutes, you're on his way. Is that an open challenge? Even the cameraman can try if he wants! Sheamus won't pay the medical bills, though. The cameraman shakes the camera to signal, "No, thanks." Sheamus says they don't make them like they used to. But he and Kevin fist bump and Sheamus says they can catch up again later over a Guinness.
Xavier Woods joins Raw Talk!
The cohost is here! He had to shower off from the match he had! His back got beat up with backbreakers, but he and Kofi still won and so Woods had to rest up and get ready for Raw Talk! Kevin appreciates Woods, and Woods shows off his hair. But he wasn't sure if he was cohosting because no one told him! But that happens sometimes, because anything can happen in the WWE! Kevin wants to say something first. It didn't go New Day's way against Styles & Omos, but can't they talk about being at Mania with fans? The Power of Positivity! Woods has been wrestling for 17 years now, and has been part of the WWE and part of many WrestleManias. Being able to be at the event where fans were back for the first time in a year felt incredible!
When they all went out on stage for the National Anthem, just seeing people, hearing them, there is nothing like it. Woods is trying to learn bass guitar to get that back, but that energy is unmatched, and Woods cannot wait until things are back to jam-packed stadiums! Hugs, high-fives, and talking to friends! Speaking of, two friends of Woods' are here. It's THE VIKING RAIDERS!
Erik & Ivar join Raw Talk!
Woods says we needed their theme back so badly. How are they feeling? How's the body? Ivar's neck is good, if that's what you mean. But he is feeling really good. They had a great return match, so how does it feel to be back after months apart? Seven months is a long time, and an eternity when you're hurt. Erik says it was really crazy. They spent seven YEARS as a team. Some might not know, 2014, Erik's motorcycle accident should've killed him but somehow he survived. His arm was repaired, he had pins and screws, but he came back after six months and they took over the world and now WWE. Then they run hard, Ivar got hurt, out for another seven months.
They've done this before, they know how to do this, but it just feels so good to be back! And given it's Raw After Mania, it is a reset and they can step up. What can we expect from the Vikings now? Well, they showed and reminded some people. Woods, Ivar is pretty sure the tag division was reminded. Woods is excited for them. Seven months was a long time, so now the Vikings have something to prove. Woods says being in the tag division, we have a division that can be splintered, but the Vikings are a real team. The New Day talks about it a lot. They weren't just thrown together to get some nice wins. They are a real team, brothers in arms! They love and care about each other, just like the Vikings.
That feeling of being out there with your partner, winning and having momentum, what do they want now that they're back? Before going there, Erik wants to take a step back. Erik tells his wife, Sarah Logan, that they joke about Ivar being his work-wife because he's the one he sees more than anyone else second to her. Ivar is also very handsome. But without Ivar, and New Day knows what it was like when they were separated, they expect to see that person, and then they remember they're not here. It's like you're in a familiar setting but without the familiar people. It's the deep end of the pool and not knowing how to swim out. But now that they're reunited, they have a huge chip on their shoulder.
They were watching what was happening. This is the second WrestleMania they were just watching. Erik doesn't want to be on the sidelines. He wants to have the ball and score with it! He wants to be in the action! Winning, losing, doesn't matter, he's never lost the fight. That's a T-shirt right there. Erik would rather be out there fighting and losing than sitting in catering, watching others in front of 40 thousand. They were on stage for America the Beautiful, not the National Anthem, but they didn't want to correct Woods. But they were all out there. New Day ran past them full of energy, and the Vikings felt that. Goosebumps just thinking about it. But they didn't get to do what they do.
So what threat are Styles & Omos in for? Well they're like any other team. The Vikings don't do anything special. They have the winning formula by being who they are, and they will run right through everyone! No offense to New Day, but it's what they do. They don't change. Ivar wants to throw back to Woods bringing up them being a team. There are great similarities between New Day and Vikings, same story but told a little different. The New Day came together as a unit and fought to get what they got. The Vikings did it, too, just outside of WWE. In Mexico, in Japan, in Europe, and make a name for themselves to be noticed, then go through NXT to get to Raw.
It is exciting to be a team. They're not here without each other, same as the New Day. It is exciting to be here with another true team, and to know that New Day's team and the Vikings' team might meet. Woods can't wait. Gentlemanly handshake, and Kevin says it's great to have them back. A round of applause as the Vikings head out!
Rhea Ripley joins Raw Talk!
The NEW Raw Women's Champion has made history already, and Woods rocks out to her theme song. A big congratulations for her WrestleMania win against Asuka! Woods says he was losing his mind from excitement. They had her on Raw Talk before, she was very focused and intense. Seeing her on that stage, against Asuka, winning against 25 thousand, any insight into how that felt? It was incredible. Being on stage, on night one to hear the performances, it brought a tear to her eye. It was a special moment. And then fighting on night two, being with the band that sings her theme song, that's a dream come true. It was electrifying to say the least.
Rhea's still buzzing. She hasn't been able to talk to her family yet but she hopes to get their thoughts and feelings because it'll pump her back up. Woods can only imagine they're just as fired up. The entrance, that was awesome. Rhea battled her way through NXT to get to Raw, and now only does she have a shot at the title, she has the band that does her music! Does it feel different? Definitely! The song sounded different but New Year's Day is a band she's listened to for years. They were so humble and being there with them is a highlight of her life. Super rad, super cool, and winning the title was amazing.
Rhea took her opportunity, challenged Asuka and Asuka accepted. They went to Mania, Rhea took the fight to Asuka and now the title is hers. It won't go anywhere any time soon, either. Kevin asks Woods what the most impressive thing was. It was how Rhea kept focus and kept cool. There wasn't a time where Rhea was shook, and everyone's first Mania, the nerves can get to you. She was cool as ice. Rhea says she was lucky, she got her emotions out on night one and was ready for night two. She could compose herself and keep it together. Now, let's talk Raw tonight. Charlotte was a bit of a brat, but we'll talk her going after Rhea after the break.
Raw Talk returns and Kevin reintroduces Rhea. There was a WrestleMania rematch with Asuka, but Charlotte had to return and attack her. Was that disrespectful? Of course it was. Charlotte wants to come out and run her mouth? Really? And then act like Rhea won't do anything about it? Then you go and ruin the rematch? Really, Charlotte? Charlotte's so mad that Rhea took her opportunity, planned her strategy, and did just what Charlotte would've done! Charlotte wants to put Rhea down in all these different ways. But the thing is, she's just jealous. She's jealous of Rhea Ripley because Rhea Ripley is the up-and-comer, which Charlotte doesn't like. Charlotte doesn't want to be second to someone, and is scared that she's getting old and will be replaced. That's why she went and ruined the match.
Rhea is sick and tired of Charlotte. Charlotte can run her mouth, attack from behind, but in the end, Rhea is the Raw Women's Champion and is here to stay! She might be new, she might not be as experienced, but she loves this business! She has trained for this moment her entire life! Charlotte doesn't get to put Rhea down. Not anymore! Rhea is sick and tired of Charlotte, and is done with Raw Talk now. She's sick and tired of talking about Charlotte, and storms off set. Well, thank you for your time, Rhea…
Rhea does have a point about Charlotte, though, calling Rhea the snake but attacking out of nowhere. Woods breaks it down: we've seen Charlotte jump into situations to make people respect her. Charlotte must feel disrespected, because she loves the spotlight and believes it should be all on her. Seeing how Charlotte has been since NXT, this all makes sense to Charlotte. But then we have Rhea, who has been doing so much to get where she is, that makes her a target for Charlotte. Rhea is the one that Charlotte sees a lot of herself in and that might be terrifying. That leads to one thing: Charlotte going after Rhea. This is the smart game, really. And saying Charlotte's too old? Whoa.
But truly a big week for the Women's (R)Evolution! New champions from Raquel Gonzalez in NXT to Bianca Belair SmackDown to Rhea on Raw, all great stuff! And on behalf of the legend that is Woods, Kevin signs off for Raw Talk!
---
My Thoughts:
A very fun Raw Talk After Mania, and I like that it was recorded live enough that Woods wasn't even there for the first segment because he wasn't done refreshing after his match. Sheamus and Kevin had a good segment together as one Irishman to another, and I do hope that Sheamus brings back the Open Challenge like John Cena. That would get ratings up as they are desperately in need of, and can be a great way to perhaps get Keith Lee back on TV. The Viking Raiders had a really good segment, relating their story to the fans who may not have known it. War Machine to War Raiders to Viking Experience to Viking Raiders, this team being back is great for Raw and its tag division, and I would love to see these guys face New Day and Styles-Omos.
Rhea Ripley was a great double segment, technically speaking. The first part relating the joy of WrestleMania and how awesome that moment was for her, and then the sudden shift when they brought up Charlotte, it was a bit sudden, but Rhea shows she can have range. She can be someone we relate to because she's still a normal person, but then she can have the fire and the anger to match a veteran like Charlotte. There's a reason Rhea was inaugural NXT UK Women's Champion, then got to dethrone Shayna Baszler to be prime NXT Women's Champion, and has dethroned Asuka now to also get into a feud with her and Charlotte.
News From Cook's Corner 4.12.21: The E-S-T of the I-W-C
Cook taking the long week/weekend and assessing some fun aspects that came to the forefront! Check out the news!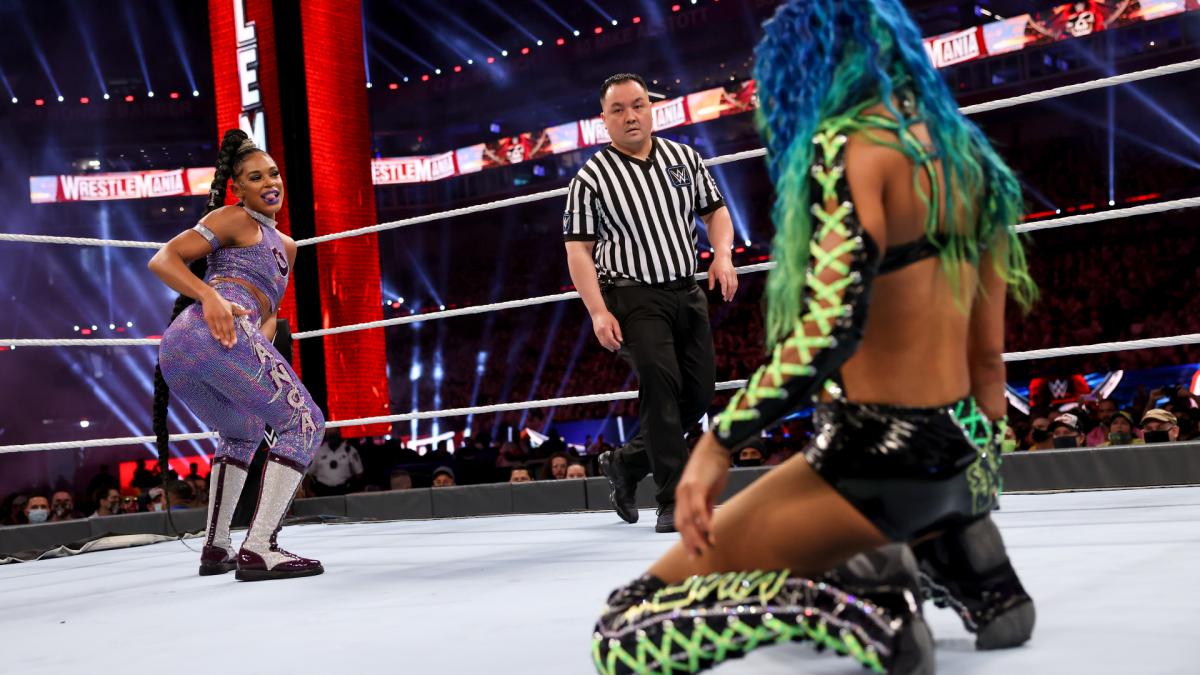 Hi, hello & welcome to News From Cook's Corner! It's been a bit of a weird week for me. While the rest of you are celebrating WrestleMania or the cornucopia of WM Weekend shows, I'm stuck working very long shifts at a job I've given notice at. So I'm a lame duck while wrestlers in Tampa are swimming in the rain like ducks. Kind of ironic, I suppose.
What that means for this column: Haven't finished the show. Watched Night One through parts of Sunday, watched the Broken Skull Sessions with Chris Jericho since I didn't get home in time to watch Night Two from the beginning. Kind of awkward since this is a news column getting posted the day after WrestleMania, but hell, I've written about stuff I haven't been watching for decades now. Gotten really good at faking it, though my exes would disagree with that notion.
(What can I say? When you're single for most of your life and getting older, sometimes you try to act like things are working in a relationship when they really aren't. Fortunately I'm over all this now and am quite happy with life as a spiritual eunuch. I'm not really sure how any of this is relevant to the column, just riffing here to fill space and give you a little update on how things are going. Those who were around back in the day remember I was quite emo about the lack of female attention. Now I've kinda had my fill and am good with it, though my friends try to make me think I'm not. I think we've riffed enough now and can start with some wrestling news.)
Anywho, here's the news!
New Announcers For Raw?
WWE likes to shake things up on multiple levels after WrestleMania most years. Sometimes that involves a change in the announce booth, and that seems to be on tap this year. WrestlingInc reported that former ESPN host Adnan Virk will be joining Raw's announce team starting this Monday, replacing Tom Phillips on play by play. Andrew Zarian added that Corey Graves will also be moving over to Raw, replacing Samoa Joe. No word yet on if this means Graves will be working both shows, or if Joe will be moving to SmackDown, or if Joe will be moving back into the ring, or if Phillips will be moving to NXT UK, NXT India & whatever other NXT pops up in the next couple of years.
Many folks I know like to make a big deal of these things, as they feel announcers are crucial to the overall enjoyment of a show. I used to as well, but the more I watch these things the less I think that they're that critically important to the sports or sports entertainment presentation. Sure, it's nice to have a legend of the business, or a dynamic presence in their prime, on the microphone talking about the action. It can get the die-hards through some rough seasons, or some less than compelling in-ring action. Does it really affect viewership? I don't think so. It's not like Los Angeles Dodgers fans stopped following their team after Vin Scully retired. On the flip side, it's not like the 50+ wrestling fan demographic has flocked to AEW Dynamite to listen to Jim Ross or Tony Schiavone.
It's what the people are talking about that matters, not the people talking about it. Which a lot of us in the talking & the writing business could stand to remember from time to time.
Why did the Hurt Business break up?
It's the question that was on everybody's minds right after Shelton Benjamin & Cedric Alexander were sent packing by Bobby Lashley & MVP. Why split them up? It was a stable that was working pretty well together, seemingly getting over with the public in the right way, and added a lot of options to Bobby Lashley's act as WWE Champion.
The answer seems to be the same answer behind every other decision WWE makes. Cause Vince McMahon said so. He decided that Alexander & Benjamin didn't deserve a push, which is pretty consistent with how their runs with WWE have gone, and that was that. Really not that surprising when you think about it. Somebody talked Vince into giving them a chance, Vince didn't see it working the way he wanted it to, and then you had King Corbin backing up Lashley for an episode of Raw.
It's a shame for Alexander & Benjamin, but it's not in the least bit surprising. We'll see if somebody else can talk Vince into giving them a chance down the road. Until then, the checks will clear.
Damian Priest Barely Made It To WrestleMania
I remember finding it kind of odd when Miz vs. Bad Bunny was announced for WrestleMania. It'd been reported for months that Miz & Bad Bunny would compete in a tag team match at the show, with John Morrison & Damian Priest as their respective tag team partners. It eventually got made into that, but what was with the pause?
Turns out that Priest had a back injury and wasn't cleared until the days leading into WrestleMania. Which is really lucky for him, as one of the points of this whole thing was to get him over. At least I think it was. Now we got everybody talking about how Bad Bunny was the best debut wrestler since Pat McAfee, which really wasn't that long ago but now feels like it happened multiple years ago.
Don't know what the odds are on Bunny & McAfee main eventing a future WrestleMania, but I rule nothing out these days.
Becky Lynch & Ronda Rousey Back Soon?
Nothing
Is
Guaranteed
Here
Tonight
Only
Now
Eternally pic.twitter.com/1snol8vvTC

— The Man (@BeckyLynchWWE) April 9, 2021
That's the word according to WWE President Nick Khan, who told Colin Cowherd as such on his radio show last week. Quite the scoop for Cowherd, who was once detested by fans for making fun of Eddie Guerrero after he died & calling wrestling fans "booger-eaters". Now, he's got WWE executives appearing on his show. Makes me feel better about getting WWE executives on my non-existent show one of these days.
Becky teased a WrestleMania Night One return on her Twitter account, but as usual with her social media teases, nothing came of it. Dave Meltzer mentioned in the Observer that at one point there were plans to have her show up in a truck during a Bayley talk show segment, but obviously the plans for a big truck were shifted to Bad Bunny. Gotta say that it feels like a misfire not having Becky return at WrestleMania in front of the live crowd if she's coming back anytime soon. If she's not, no big deal, but if she's a Night After WrestleMania surprise in the ThunderDome, it's not the same as bringing her out in front of 25,000 people.
As for Ronda, she was rumored to be coming back for this year's WrestleMania when it was taking place in Los Angeles. Dunno if that means she'll be back for WrestleMania two years from now or not.
Dabba-Kato Returns
DABBA KATO IS BACK!!!!!

Why is he dressed like Stalin though? 🤨#Wrestlemania pic.twitter.com/Yri1WohKey

— ❦ ꫝꪗ᥇𝘳𝓲ᦔ ❦ (@TheHybridEnigma) April 12, 2021
Surely you remember Dabba-Kato from his time on Raw Underground. The big fella hadn't been seen after the end of those segments until Sunday night, where he re-debuted as Commander Azeez & helped Apollo Crews win the Intercontinental Championship. I would say this pretty much guarantees that he'll be in line for a big push at the expense of Crews, but it's not like the rest of Retribution has done anything since they dropped Mustafa Ali like a bad habit.
Here's my question: The guy's first name is Babatunde. Why don't they just go with that? It just rolls off the tongue. No need to give him stuff like Dabba-Kato & Azeez when "Babatunde" is right there.
Mox vs. Gage?
PARADIGM SHIFT from Jon Moxley to Nick Gage THROUGH THE LIGHT TUBES #rSpringBreak pic.twitter.com/XgJYRtziTB

— Tripping Balls (@IsThisWrestling) April 10, 2021
The biggest news to develop from GCW's Collective weekend involved Jon Moxley making a surprise appearance to confront Nick Gage after Gage re-gained GCW's championship. Moxley had wrestled against Josh Barnett on another GCW show during the weekend, but this was the first time Moxley & Gage had crossed paths since their glory days in CZW. I don't know if they consider their CZW days "glory days", but it seemed like a good phrase to use there.
One expects that it'll lead to a match between Mox & Gage for GCW, which would be a pretty big deal for them given Mox's drawing power and the fact that Gage will be the subject of a Dark Side of the Ring episode this season, which starts next month. I also wouldn't rule out a Nick Gage appearance in AEW, as Tony Khan is a huge fan of people from that era of CZW & AEW has seen nearly everybody else in the business not contracted by WWE make an appearance at some point this year.
That's all I've got for you right now. Later this week we'll do a Fave Five for April, maybe pick up the Top 5 Quarterbacks by Franchise gimmick where we left off, and whatever else I can think of for wherever else I can think of. Thanks for reading, and keep your stick on the ice.