AJ's WWE Fastlane Results and Review 3/21/21
AJ brought NWA's return PPV a little while earlier, and now covers Fastlane as well! Which show was better? Does Daniel Bryan pull out a miracle against the Tribal Chief?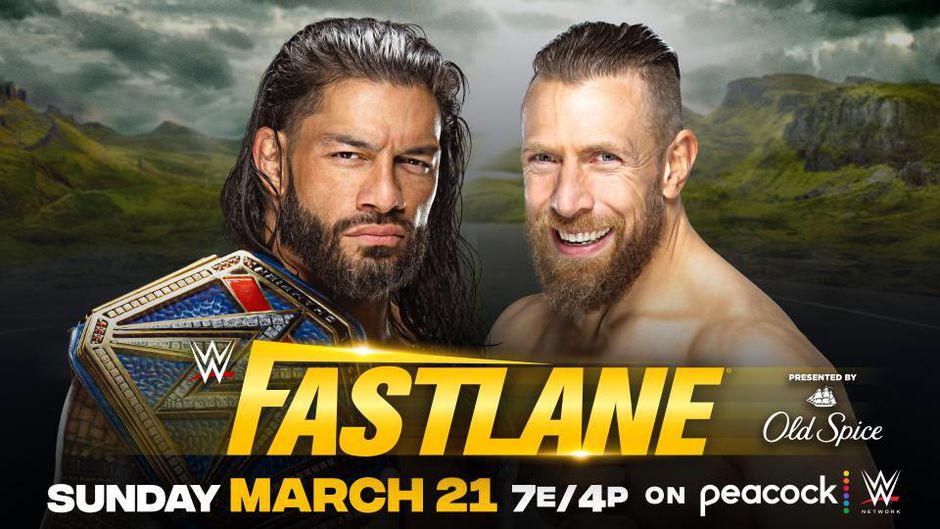 And on to part two of my phenomenal double header, this time with more fire behind it since we are three weeks away from WrestleMania. The possible rebirth of The Fiend, Daniel Bryan against Roman. The preshow had Retribution turn their backs on Mustafa Ali after falling short once again (thank God) and more tension between the SmackDown Women's Championship picture between Bianca and Sasha against the Tag Team Champions, Shayna and Nia.
What will happen? What will unfold? Will Rosenburg say Daniel Bryan vs Roman is Spear vs Spear again? Well that last one, I hope not…
Results:
Bianca Belair & Sasha Banks vs Shayna Bazler & Nia Jax (c) for the WWE Women's Tag Team Championship:  Shayna wins via Roll-Up – ** ½ – TITLE DEFENSE!!
Apollo Crews vs Big E (c) for the WWE Intercontinental Championship: Big E wins via Roll-Up(?) – * ½ TITLE DE…Defense…? I guess
Braun Strowman vs Shane McMahon: Strowman wins via Running Powerslam – **
Seth Rollins vs Shinsuke Nakamura:  Seth Rollins wins via Curb Stomp – *** ½
No Holds Barred: Drew McIntyre vs Sheamus:  Drew wins via Claymore – *** ¾
Alexa Bliss vs Randy Orton: Alexa wins by pinfall – N/A
Daniel Bryan vs Roman Reigns (c) for the WWE Universal Championship (with Edge as Special Guest Ring Enforcer):  Roman wins via pinfall – *** ¼ – TITLE DEFENSE!!
Results:
Bianca Belair & Sasha Banks vs Shayna Bazler & Nia Jax
Sasha starts fast against Bazler and makes a quick tag the Belair, taking it to Shayna in the corner with even more fast tags. Belair goes for quick pins and roll ups until Shayna breaks it with hold and submissions then Nia tags in, getting impatient with her tag partner. Nia gets a bit of a start going but it goes back to an even playing field. Shayna starts getting a decent amount of offense on Belair and gets frequent tags to weaken Belair. After taking a bunch of offense against Nia, Belair tags in Sasha to get things done against both of the champions. As the challengers get a full head of steam going after Sasha's… transition, Reggie gets involved after Bianca hit the best 450 in a while and Sasha gets distracted by him. After a good amount of outside shenanigans, Banks tags herself in, saying she's got this and she will win the match before slipping and falling short, losing the match for them in the process.
Aftermath: Sasha keeps saying that Bianca costed them the match and calling her a rookie. Bianca tries to talk back, saying it was Reggie that distracted her and then slaps Bianca and walks out. Bianca in shock saying that she needs to focus on Mania.
Apollo Crews vs Big E
The match starts off fast as Big E takes Apollo to the apron, Suicide Dive Spears Apollo and keeps taking to Crews with Apron side Splashes and not stopping, even trash talking Crews because he demanded another title match from Big E. Apollo finally gets a chances after dirty shotting Big E with a kick to the leg and muscling E with German Suplexes. Apollo continues to beat down Big E, even getting a Frog Splash off on him but, only for a two. Big E tries to get momentum in his favor with double knees but misses the corner spear. They get to the center of the ring, do a tetter-totter of a small package and… Big E wins? I think? That's what they say.
Aftermath: Apollo is livid and starts beating Big E down, doing three Angle Slams and walking out pissed off.
Braun Strowman vs Shane McMahon
Shane hurt himself before training and since Elias wanted an opportunity to prove himself to "the boss", yeah you got this Elias.
Strowman swings wildly and dismantle his new opponent. Strowman does everything he can to destroy and break Elias with strikes. Ryker tries to help as best he can as he distracts Braun. Elias has a small amount of offense with a DDT and diving Elbow but not enough to keep Strowman down. Corner splash, high angled chokeslam and then the Running Powerslam. 1, 2, 3
(And for us that love the Braun Strowman game on DWI, it looks like he got all that slime off of him with some soap from Dawwwwwwwwwwwn)
Seth Rollins vs Shinsuke Nakamura
The two go very back and forth with their match from the start but Rollins takes control with dirty tricks, knee striking Shinsuke in the face from the outside, taking it to Nakamura a decent amount only for a one count with the pinfall. Seth keeps going for gutbusters and backbreakers repetitively to slow Shinsuke, going for pinfall attempts but always kicking out. Rollins gets cocky, going for Cesaro's Swing but Nakamura gets the reverse and starts taking control, doing some knee strikes of his own, Good Vibrations and his theatric knee to the gut in the corner. Seth escapes the Inverted Exploder shortly after and starts to take offense again. Rollins lands a knee strike from the ropes and another move that Shinsuke is oh so very used to… (Thanks Tanahashi!) but gets another two count.
Both men now get to a slugfest, even ground. Obviously, Seth only watched Tanahashi and not Nakamura because you don't get into a striking match with the King of Strong Style. After a sliding German through the bottom rope and a Kinshasa attempt, Rollins counters it into a Buckle Bomb and Falcon Arrow. Shinsuke breaking out a Fireman Michinoku Driver and Inverted Exploder and gets the Kinshasa reversed again into a kicking combination on the ground and finishing it with a Curb Stomp. I guess when you take from Tanahashi's moveset, you get the Tanahashi wins lul treatment.
Drew McIntyre vs Sheamus
 The start of the match starts off like a hockey fight (or um… a Rugby Scrum? I don't think they have a hockey team in their countries) and go to the outside afterward.  If you wanted to see the definition of "That escalated quickly", this went from fighting from pillar to post to throwing them into barricades, tables and steps  with kendo sticks being tossed into the ring. Sheamus gets the first pinfall attempt as he Brogue Kicks the kendo Drew was about to swing back into Drew's face and after the pin, smacks the kendo over and over again, back and then chest. Drew gets back up after a while and then delivers a Glasgow Kiss to disarm Sheamus, crack him with the stick now and delivers a Russian Leg Sweep, digging the stick in Sheamus' eye before Sheamus powders out and traps Drew into the outside and drop toe holds drew into the steps.
They keep taking it to each other on the outside, Sheamus with the steps like Monday and then Drew putting Sheamus through a barricade. Sheamus gets the last word in this exchange to the outside with the ThunderDome and suplexing Drew on the outside, taking the breath out of him. Sheamus continues with a rolling senton where the LED Boards are at but, Drew goes one step further and throws Sheamus through the LED Screens causing actual sparks to fly. The fighting continues and both men are out of it, Sheamus gets his temper flaring up and shouts, "I should be in the Main Event of WrestleMania!" and does White Noise onto Drew through the announce table.
Sheamus brings a piece of the announce table into the ring and trash talks Drew more. Sheamus attempts the Alabama Slam (Dublin Slam? Cork? Idk what the Alabama equivalent of Ireland is) and Drew gets out of it, goes for the Futureshock DDT on the table piece and ends it with the Claymore.
Alexa Bliss vs Randy Orton
Randy goes for his signature pose in the ring as he enters and starts spitting up the black substance (play with me here, it's probably tar, vegemite or soy sauce) and asks for a towel to clean it up. Alexa comes out next with the white contacts and Bliss takes some of the Fiend's powers and makes the arena purple.
Orton goes to approach her but is stopped by a wall of fire. Alexa giggles psychotically as Randy gets pissed off and charges to the corner, hitting the post and falling to the outside. Alexa giggles again and eggs Orton to follow her on the outside as the walk methodically. Alexa looks up and stage lights fall from above to cut off Randy. Alexa keeps the "cutesy" crazy going and tells him to get in the ring as she uses the ropes as a swing or bench. Orton begrudgingly follows into the ring, Alexa blows a kiss as randy marches forward and actually played Mortal Kombat by dodging Alexa's fireball attempt. As it seems there is no more tricks, a burnt and mutilated Fiend returns to cut Randy off and appears in front of him. Bliss kicks Orton in the back and feeds Orton to the Fiend, gets a Sister Abigail and Alexa… ahem… "Pins" Randy for the win.
Daniel Bryan vs Roman Reigns
Daniel plays some mind games, trying to get into Roman's head with a single leg takedown but, Reigns isn't having it and getting more and more annoyed. Roman showing his strength in a Greco Roman Knuckle Lock and while Roman trash talks, Bryan transitions to an armbar which Roman instantly breaks out of, getting under Roman's skin more. After a little bit, Roman actually puts Roman in a headlock takedown but, Daniel slides out of it and picks apart Roman's joints and muscles. Roman gest out as fast as possible and begins to beat down Daniel to cut him off. After a couple of attacks from Roman, Bryan starts to get a good amount of steam going, rushing to the ropes and does his corner backflip until Roman does a Tilt-A-Whirl Slam to stop that momentum. Roman keeps going to the beat down, going slow and methodical as he takes firm control of the match. Each time Daniel takes a little momentum, Roman stops him by beating him outside of the ring now, getting to an eight count and going for a pinfall attempt. Roman keeps the beatdown going, demanding respect and acknowledgement as the Tribal Chief from Daniel Bryan but, now Daniel Bryan gets some offense going now. Bryan tries to go for a Frankensteiner  but Roman caught him on the drop down and puts Daniel in a Boston Crab. Daniel gets out of the crab though and gets a nearfall pin.
Both competitors now taking it to each other, Roman to the outside now as Daniel gets caught in a dive attempt, countering Roman's snake eye attempt and getting the comeback started, taking Roman to the pillar, back to the ring and hits a Missile Dropkick for a nearfall but after Roman kicks out, Bryan doesn't stop the attack. As Daniel Bryan goes for his It Kic—Yes… Yes Kicks, Roman counters it, begins his beat down on Bryan but Daniel is now quicker than that and goes for another pinfall. Romans kicks out and Bryan now trash talks, saying that Roman likes to talk, time to stop and stomps on Roman's face and neck, applying the Yes Lock after and Roman not tapping, breaking out of it into a full mount attack after. Roman delivers a powerbomb pin attempt but Daniel kicks out, both of them gasping as Roman talks to himself again, getting angry. Bryan loads the Running Knee and hits the ref as Edge now becomes the authority in the match as Roman hits the Spear against Daniel Bryan. Edge comes in as the ref now and the trash talking continues from Reigns. Daniel gets a Triangle attempt in, Roman picks him up for a Powerbomb but Daniel transitions it into the Yes Lock. Jey Uso rushes in and superkicks Edge and Daniel Bryan to save Reigns.
Jey brings a chair into the ring, takes Edge out in the corner and charges at Bryan. Bryan hits the Running Knee on Jey, Daniel picks the chair up to take Roman out but hits Edge by mistake. Roman then lands a Superman Punch but gets the Spear caught from the Labell Lock. Roman actually taps out to the lock but Edge gets up, pissed off on all belief and says… Fuck it. Hits both Daniel and Roman with the chair and storms off as both men are down.  A new ref comes in and Roman slowly drapes his arm along Daniel to get the win.
Overall Score: 7.5/10
And like that, I retire for the night. The matches weren't the worst except the Intercontinental debacle and I don't count the Alexa and Randy thing a match as we all expected. Tag match made sense, we don't have Retribution anymore so that's always a plus from the kickoff show. Drew can put Sheamus in the rear view as he gets to the main event against Bobby Lashley for one of the nights, tension rose for the SmackDown Women's Championship match at Mania with Bianca and Sasha. We don't know what Seth or Shinsuke are going to do, Big E will probably face Apollo again down the road and Shane provoked the Monster. Two things that we have learned most likely from this however… First, Daniel Bryan is probably going to get inserted into the Universal Match at Mania some way shape or form since Roman actually tapped out and the second thing that the editor can confirm that Daniel Bryan and Shane McMahon need to learn… It's probably a bad idea to piss off people named Adam that have anger issues.
That being said, I'm gonna need to relax after the Phenomenal Double Header of Pay-Per-Views I did today with some brews and if you have any thoughts that you have or feedback, let me know on Twitter @PhenomenalAJB (If they are negative though, really it was @PCTunney that said it, not me).
Mitchell's NXT Worlds Collide Results & Report! (9/4/22)
There can only be one!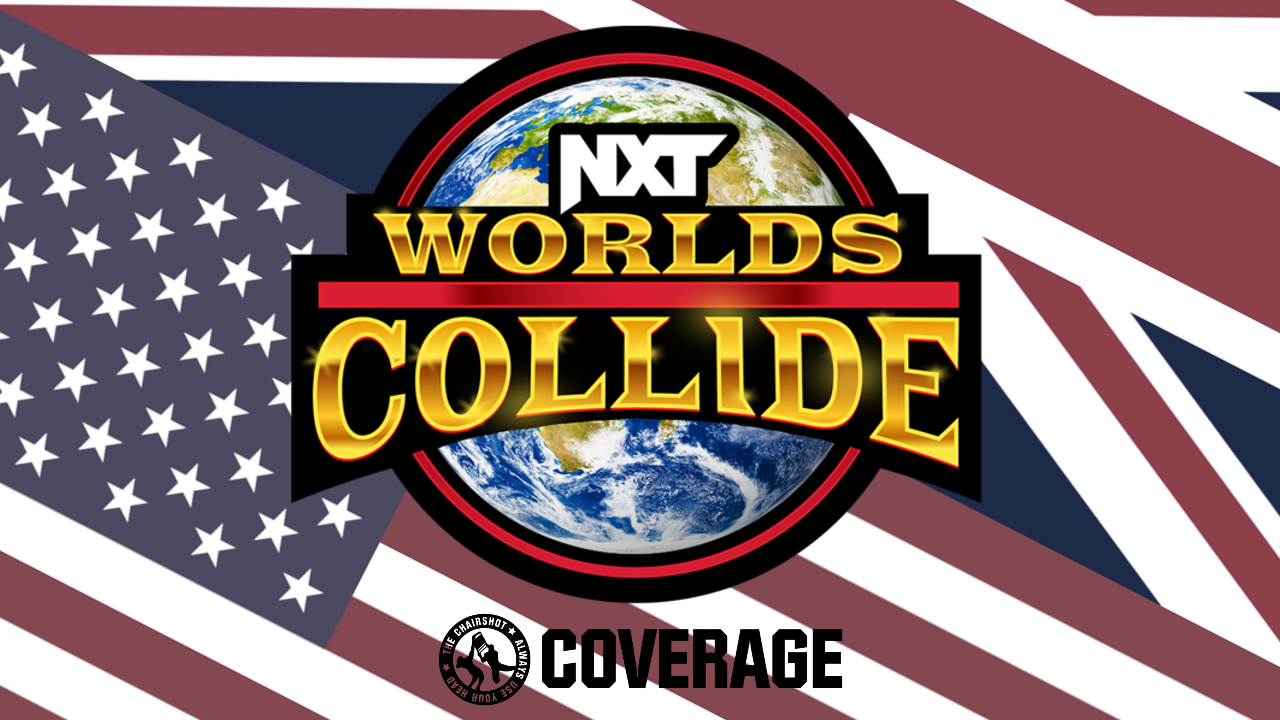 NXT and NXT UK become one!
In the wake of WWE's European expansion, NXT and NXT UK fuse their titles! Who will be the UNIFIED champions when Worlds Collide?
OFFICIAL RESULTS
NXT North American Championship: Carmelo Hayes w/ Trick Williams VS Ricochet; Hayes wins and retains the title.
NXT & NXT UK Tag Team Championships Unification Fatal 4 Way Elimination Match: The Creed Brothers VS Josh Briggs & Brooks Jensen VS Gallus VS Pretty Deadly; Pretty Deadly wins and are the Undisputed NXT Tag Team Champions.
NXT & NXT UK Women's Championships Unification Match Triple Threat: Mandy Rose VS Meiko Satomura VS Blair Davenport; Mandy wins and is the Undisputed NXT Women's Champion.
NXT Women's Tag Team Championships: Kayden Carter & Katana Chance VS "Doudrop" Piper Niven & Nikki A.S.H; Kayden & Katana win and retain the titles.
NXT & NXT UK Championships Unification Match: Bron Breakker VS Tyler Bate; Bron wins and is the Undisputed NXT Champion.
PLAY BY PLAY
It's the NXT Worlds Collide Preshow!
Join McKenzie Mitchell and Sam Roberts in discussing, analyzing and predicting all the action set for this historic event.
"Three letters that changed the game."
"You are here to see the future, and the future is now!" There are no limits, #WeAreNXT! AND NXT UK! "One expanded universe designed for evolution. Two proud champions, two revolutionary brands, no longer worlds apart." But this isn't just about NXT as Raw and SmackDown invade! The past, the future, USA and UK, the game is changing! What will happen when Worlds Collide?
NXT North American Championship: Carmelo Hayes w/ Trick Williams VS Ricochet!
The A Champion says he's beaten the best and that makes him the best, but there is One and Only problem with that: he hasn't checked off every name that's on the list! Will Ricochet prove to Carmelo that sometimes, he does miss? Or will Melo make sure this is all it is, and this is all it's ever gonna be?
As part of Melo's entrance, he has the tron show "T-shirts" with the names of those he has defeated. And he already has one ready for Ricochet! The introductions are made, the belt is raised, and we see if Melo can back up all the talk.
Melo and Ricochet circle as fans rally up and duel. They tie up, go around, Ricochet arm-drags but Melo holds on. They stand back up, Melo powers Ricochet to the ropes, but Ricochet arm-drags free. Ricochet waistlocks but Melo switches. Ricochet switches back, Melo switches again, headlocks but Ricochet slips out to headlock back. Melo slips out to headlock again, but so does Ricochet. Melo slips away again but Ricochet hits a headlock and takeover! Melo headscissors but Ricochet kips free! Roles reverse as Melo hits the takeover and Ricochet headscissors for Melo to kip free. Ricochet sweeps, covers, ONE!
Melo handsprings Ricochet blocks his kick, then Ricochet handsprings over the sweep! The two stand off and fans are fired up for "NXT! NXT!" Ricochet and Melo each talk some smack, then Melo shoves Ricochet. And pie faces! Ricochet trips Melo up! Ricochet grabs the legs, Melo kicks him away, but Ricochet handsprings over! Ricochet avoids the sweep, Melo rolls off the back, but then Ricochet returns the favor. Ricochet ducks under, handsprings back and headscissors, but Melo handsprings through, only for Ricochet to DROPKICK! Fans fire up as Ricochet just brushes himself off.
Ricochet sees Melo go to ropes, and he CHOPS him! Melo goes to a corner but Ricochet CHOPS! Ricochet snapmares, KICKS Melo in the back, then pushes him down. Cover, ONE, but Ricochet CLUBS Melo down. Trick taunts Ricochet but Ricochet KICKS Melo. Ricochet whips, Melo holds ropes and bails out! Fans boo as Melo and Trick talk it out. Ricochet rushes over but Melo HOTSHOTS his arm! Melo gets in, Ricochet headlocks, but Melo powers up. Ricochet grinds the headlock to drag Melo down, but Melo pulls Ricochet's beard. Melo powers up and powers out, but Ricochet slides out, avoiding Trick's trip up!
Ricochet calls Trick out on it but Trick plays innocent. Melo rushes in around the way but Ricochet ROCKS and CHOPS him first! Ricochet puts Melo against the barriers, and the fans help hold him there! Ricochet CHOPS Melo! Ricochet then tells Trick to back off. Ricochet puts Melo in, stares Trick down, then gets back in the ring. Melo ENZIGURIS Ricochet! Melo smirks and pushes Ricochet to a cover, ONE!! Melo is annoyed but he drags Ricochet up in the corner. Melo CHOPS Ricochet, then SLAPS him on the head! Fans are riled up as Melo drags Ricochet up and SLAMS him! Melo dribbles the ball, he shoots and he "scores."
Melo snapmares Ricochet but Ricochet handsprings through! Tiger Wall Kick, Melo ducks the roundhouse to throw Ricochet down! Ricochet kips up, but into Melo's SUPERKICK! Melo sees Ricochet is down so he hurries to cover, TWO! Ricochet flounders to a corner and "This is Awesome!" Melo runs in, but into a BOOT! Ricochet runs, dodges, handsprings but Melo follows! SPRINGBOARD LARIAT! Cover, TWO!! Fans are thunderous but Melo is frustrated. Melo talks some trash, drags Ricochet up, but Ricochet elbows free! And CHOPS! Melo ducks the haymaker to wheelbarrow, but Ricochet turns that into a victory roll, STOMP 182!
Fans are thunderous again while both men are down! Ricochet stands first, Melo follows. Ricochet clotheslines Melo against ropes, then he runs, but Melo clotheslines back! Melo runs, but Ricochet runs, DOUBLE LARIATS collide! Neither man falls so DOUBLE LARIATS collide again! Both men run, springboard DOUBLE CROSSBODY!! Fans are losing their minds over that one! Fans rally up as Ricochet and Melo stir. Melo kicks at Ricochet but both men stand up. Fans hope they "Fight Forever!" but this is just the first match of the night! Melo and Ricochet put up their dukes and approach. Melo swings but Ricochet bobs 'n' weaves!
Ricochet blocks the jump knee to UPPERCUT! Ricochet KICKS Melo again and again against the ropes! Ricochet whips, Melo rolls but Ricochet shoots in to waistlock. O'Conner, but Melo slips free, into the PELE!! Fans are electric and Ricochet is red hot! Ricochet waist on Melo, fireman's carries, for a DYNAMITE- NO, Melo blocks the kick, rolls Ricochet, but Ricochet blocks the Code Breaker! Ricochet throws Melo away, Melo ducks and spins Ricochet to suplex. Ricochet slips out and SUPERKICKS! Melo THROAT CHOPS! The ref reprimands but Melo springboards, only for Ricochet to get under, RECOIL!!! Cover, Trick tugs Melo out!
The ref didn't realize what happened but Ricochet does! Fans boo, we all know what happened, too! Ricochet tries to tell the ref, but then he WRECKS Trick with a dropkick! Trick flounders up the ramp! Ricochet tells Trick that's what he gets! Ricochet then heads back for the ring, but Melo runs in! Tilt-o-whirl FACEBUSTER! Suplex to the CUTTER! Cover, TWO!! Ricochet survives and Melo is furious! Melo has some blood in his mouth, he's tasting what it takes to beat a former North American and United States Champion! Melo hurries to a corner and climbs up top. Melo aims at Ricochet, but Ricochet springs up there first!
Ricochet has Melo caught for a JUMPING SUPERPLEX!! Fans lose their minds all over again as both men are back down! Both men rise, but Ricochet stands up first. Ricochet KICKS Melo in the chest, then pie faces! "If you wanna beat me then beat me!" Melo SLAPS Ricochet! Ricochet ROCKS Melo! Melo ROCKS Ricochet! Ricochet KICKS Melo! Melo CHOPS, Ricochet CHOPS, so Melo BOOTS! Ricochet stays up to ROCK Melo with boxing elbows! Ricochet fires up, but Melo BOOTS him again! Ricochet V-TRIGGERS! Ricochet suplexes for a BRAINBUSTER! And then a fireman's carry, DYNAMITE KICK! Melo rebounds to CODE BREAKER!! Melo crawls to a cover, TWO!!!
Melo is beside himself! But Ricochet ghost pins! TWO!!! Melo escapes by nanoseconds and Trick is freaking out! Fans again hope these two "Fight Forever!" and they might at this rate! Melo drags himself to a corner but Ricochet grabs a foot. Melo kicks Ricochet away, but Ricochet comes back. Melo CHOPS him, goes up, but Ricochet drags him down! Ricochet ROCKS Melo, goes up the corner himself, but Melo brings him down to CHOP! Melo shoves Ricochet down, goes up the corner, but Ricochet gets him again! Ricochet goes up but Melo brings him back down. Ricochet HEEL KICKS Melo! Then POISON-RANAS!!!
Fans are electric as Ricochet aims from a corner! Trick rushes in, wielding the belt! But Ricochet dodges to triangle jump DROPKICK Trick down! Ricochet hurries up top and takes aim, for the SHOOTING STAR! Melo moves! Ricochet lands on his feet but Melo cradles, MELO WINS!!
Winner: Carmelo Hayes, by pinfall (still NXT North American Champion)
Trick helps out again! Melo is given time to recover, and he snatches victory from the jaws of defeat! Will Melo continue to add to his "Hall of Shame" as the A Champion?
NXT shares footage from earlier today.
Someone brutally attacked Roderick Strong and left him laying in the middle of the parking lot! Who did this to Roddy? Are they still in the area, ready to strike again? How will this affect the mentality of the Creed Brothers ahead of their Tag Team Championship Unification Match? Speaking of…
The Creed Brothers and Demon Kemp talk backstage.
Julius says they're not going out there to be hunted, they're going out there to do the hunting. There's a reason Julius & Brutus are the NXT Tag Team Champions, and it's because they're the best team here! Kemp agrees, they can't worry about what happened to Roddy. This is about the Creeds unifying the tag team titles! Tonight, it's about Diamond Mine! But will Diamond Mine be forever with what's been going on lately?
NXT & NXT UK Tag Team Championships Unification Fatal 4 Way Elimination Match: The Creed Brothers VS Josh Briggs & Brooks Jensen w/ Fallon Henley VS Gallus VS Pretty Deadly w/ Lash Legend!
Julius & Brutus took their titles off Kit Wilson & Elton Prince, and the #CountryStrong duo kept their titles from Pretty Deadly. Pretty Deadly once upon a time took the UK titles off Mark Coffey & Wolfgang, who were the longest reigning tag team champions on either brand. But who will be THE tag team here in NXT when it's all said and done?
The introductions are made, but there's so much animosity, the teams just start brawling! Brutus has Wolfgang, Jensen has Mark, Pretty Deadly gets out of the way but they also instigate by pushing from the outside! The refs get everyone to stand down and go to their corners. In this kind of Fatal 4, only two teams are legal at a time, but Wolfgang is really wanting after, well, anyone! Briggs and Julius decide to both DROPKICK Gallus out of the ring! Now the match begins, and Julius waistlocks Briggs for a SLAM! Briggs fights up and moves around but Julius clinches for a Belly2Belly!
Julius clinches Briggs again but Briggs CLUBS him back. Julius whips, Briggs stops himself and CLUBS Julius again! Briggs scoops, and he SLAMS Julius to then SPLASH! Fans fire up but Brutus runs in, only to get run over by the bigger Briggs! Tag to Jensen and Briggs whips Julius to ropes. Jensen hits an atomic drop and Briggs BOOTS Julius down! But then Kit tags in off Jensen to cover Julius, TWO! Fans taunt Pretty Deadly but Kit scrambles away to tag in Wolfgang! Wolfgang rushes Julius, who gets around to waistlock! Brutus tags in, the Creeds hand Wolfgang off but Wolfgang throws hands. Wolfgang whips Brutus and they RAM shoulders, but neither man falls!
Brutus runs, dodges, and handsprings through Wolfgang's hip toss! Brutus shoots in to fireman's carry takeover! And then GUT WRENCH Wolfgang away! Jensen tags off Brutus, he runs but Lash trips him up! So Fallon ROCKS Lash! The ladies end up in the ring and their catfight is on! Fans fire up but Lash kicks Fallon out. Fallon and Lash brawl, Briggs and Kit separate them, but then Fallon gets loose and jumps on Kit! Elton helps out, he hits Briggs, and Lash ROCKS Fallon! Jensen turns around into Wolfgang's CROSSBODY! They both fall out of the ring, and Pretty Deadly bum rush the Creeds! But the Creeds DECK Pretty Deadly in return!
Brutus and Julius egg Pretty Deadly on, but Pretty Deadly CRISSCROSS to CLOBBER the Creeds! Fans admit that was good, but then Briggs clotheslines Pretty Deadly out! Fans fire up, Briggs gives Jensen a boost so he can FLY out onto Julius and Elton! Fans fire up with the good ol' boys as Briggs LEAPS to CLOBBER Kit! But then Gallus gets in? Wolfgang boosts Mark so he can FLY and wipe out errybody!! Fans fire up but Brutus is up! He sends Wolfgang out, goes to the corner, and he climbs up top! Brutus aims at the cluster, but Kit goes after him! Julius drags Kit back down, but Wolfgang ROCKS Brutus!
Wolfgang fires hands, climbs up, and he brings Brutus up to the top! Brutus resists but Wolfgang still hits a SUPERPLEX! Brutus tumbles all the way out as fans lose their minds! FAMOUSER from Jensen to Wolfgang! Cover, Mark breaks it in time! Briggs throws Mark out, the good ol' boys coordinate, but Pretty Deadly screw that up! Wolfgang rolls Jensen, TWO! Jensen WHEEL KICKS Wolfgang down! Jensen heads up top but Mark trips him up! Mark tags in, Gallus get Jensen up, ENZIGURI and POWERSLAM! Cover, Gallus ELIMINATES Briggs & Jensen! One down, two to go, will Gallus Boys be on top?
Pretty Deadly get in and they talk trash to Mark, but then Wolfgang gets in, too! And the Creeds! Fans sing good-bye to Briggs & Jensen while Pretty Deadly get Gallus to side with them, UK VS USA! The Creeds fight 4v2, but that's just too much even for them! Pretty Deadly and Gallus stomp away on them, kick them out of the ring, but then Gallus turn their attention to Pretty Deadly. Kit & Elton realize there was a flaw in the plan. They turn around and JOE is there! The Iron King tells Mark & Wolfgang, "Show'em who's kingdom this is!" Pretty Deadly pumps up and the brawl is on! Kit dodges Wolfgang to BOOT him down, but Mark ROCKS Kit!
Mark turns around into Elton's cradle, TWO! Mark gets around, HALF NELSON SLAM! Cover, TWO! Mark gets Elton up and suplexes but Elton gets around to O'Conner Roll! With tights! TWO! Elton UPPERCUTS Mark, then brings him around, scoop and- NO, Mark slips off and waistlocks. But Elton bucks that away, only to turn around into the GAMANGIRI! Both men are down and fans are thunderous! Mark and Elton flounders, Elton pushes Mark away and heads for his corner. Mark heads for his, but Brutus trips Kit! Brutus tags in off Elton! He POUNCES Elton out, then CLOBBERS Wolfgang! Brutus CLOBBERS him again, knees low, and CLUBS him!
Brutus TACKLES Wolfgang, time for BRUTUS SMASH! The fans fire up and Brutus pushes Wolfgang around. DEADLIFT GERMAN SUPLEX! Tag to Julius and he Electric Chair lifts Wolfgang! Brutus is up top, DIAMOND MINE DOOMSDAY!! Brutus DECKS Mark, Julius grins and SLIDING LARIATS! Cover, Diamond Mine ELIMINATES Gallus! And now it's the current NXT Tag Team Champions taking on the team they dethroned. Gallus is pissed but Hank and the security guards all get them out of the area. Julius tags out to Brutus while Pretty Deadly talks strategy, and Brutus rushes in to get after Elton!
Brutus drags Elton in but Kit DECKS Brutus! Kit EuroUppers, Brutus forearms, repeat! They keep going, but Kit kicks low then uppercuts again and again!  Kit tags Elton, Elton RAMS Brutus and Kit forearm smashes! Then fireman's carry, ASSISTED GUTBUSTER! Cover, TWO!! Elton facelocks and CLUBS Brutus, then drops ax handles! Elton drags Brutus up but Brutus throws body shots. Elton CLUBS Brutus, then tags Kit. Pretty Deadly mugs Brutus, stomps away, and Kit eggs on "Brute." Kit kicks him more, but Brutus RAMS into Kit. Kit snap suplexes, covers, TWO! Kit KNEES Brutus down, then eggs him on again.
Brutus sits up, Kit CLUBS him down. Kit CLUBS Brutus again, dares him to show us something, but Brutus rushes in! Kit block shim from getting to Julius but Brutus powers his way forward. Kit kicks the leg out! Tag to Elton but Brutus gets free! Hot tag to Julius! Julius rallies on Pretty Deadly, whips Elton, and scoops for an EXPLODER! SPINEBUSTER for Kit! Julius suplexes Elton, Elton slips out and hops on for a SLEEPER! Elton has the body scissors, but Julius reaches out! Wait, Gallus and the good ol' boys are brawling on the ramp now?! What happened backstage?! Julius snapmares free and knees Elton low.
Julius suplexes Elton, holds him up, but Elton throws knees! Julius drops to a knee, then sits down, but he keeps Elton up! Julius stands back up for a SLAM!! The straps come down and fans fire up! Julius runs in corner to corner, Elton ducks so Julius leaps up and over! Julius backflips off the corner and ANGLE SLAMS Elton! Cover, TWO!! And then the brawl CLOBBERS the ref! Security drags Gallus and the good ol' boys away but what about the ref?! Kit gets in, Julius DROPKICKS Kit back out! Only for Elton to DROPKICK Julius! Elton whips, Julius reverses but Elton dodges and springboards, into Julius' ROLLING SPINEBUSTER!
Fans fire up and Julius puts the straps back up, just to take them back down! Julius throws off his elbow pads, but Kemp gets in! Kemp SPEARS Kit as he was bringing in a chair! Fans are thunderous as Kemp and Julius hug it out! Kemp says to finish this, but then he SMACKS Julius with the chair!!! And hits an IRISH CURSE BACKBREAKER! Fans boo as the Diamond Gopher betrays Diamond Mine! Pretty Deadly is at a loss for words but Kemp gets the ref in the ring! Elton covers, the ref counts, PRETTY DEADLY WINS!!
Winners: Pretty Deadly, by pinfall (UNDISPUTED NXT Tag Team Champions)
WHAT?! Why, Kemp, why!? What happened that turned Kemp against the Diamond Mine? Is he the one who attacked Roderick Strong? And either way, will Pretty Deadly redefine the tag team division now that they hold all four belts?
Tony D'Angelo and Channing Lorenzo are having coffee.
They enjoy a good cup o' joe, but Tony D says letting Legado go was actually a good move. Stacks says they could've gotten more miles out of them, though. And Tony said himself, Elektra Lopez was doing good down at the docks. Tony says one bad fish spoils the tank. The Legados were headed in that direction. When you're the Don, you gotta know when to keep the line in the water, and when to cut bait. There's always a bigger fish. Cameron Grimes walks in, and Tony calls him over. Grimes says, "You talkin' to me?" Uh, yeah. C'mere. See, word is, Grimes is looking for friends. And a man of Grimes' stature, that's pretty enticing. Especially after Tony fired Legado.
Fired? Tony "fired" Legado? Yeah, does he have something in his ears? Here, have a biscotti and make Tony an offer. Grimes says he's not hungry. Grimes walks off and Tony is upset, but will Tony be the one to make Grimes an offer he can't refuse?
NXT & NXT UK Women's Championships Unification Match Triple Threat: Mandy Rose VS Meiko Satomura VS Blair Davenport!
The Toxic Goddess wants some respect put on her name, but continues to see things through rose colored glasses. Her reign stacked up against that of the Final Boss, Meiko Satomura, leaves something to be desired. And then the Gothic Heiress says she's the rightful ruler of all NXT! Who will be proven as THE alpha female here tonight?
The introductions are made, the belts are raised, and we see if NXT is still toxic!
Mandy watches Meiko and Blair, and they watch her. Blair kicks but Meiko blocks and Mandy ROCKS Meiko with a sucker punch! Blair and Mandy mug Meiko, but she fights them both off with forearms! Blair kicks low, Mandy CLUBS Meiko, and they double whip Meiko to ropes. They double ELBOW Meiko down, then Blair drags Meiko up. Mandy and Blair double suplex Meiko, Blair covers but Mandy shoves her away. Mandy covers but Blair shoves her away. Blair and Mandy argue, then start shoving! Meiko rolls Mandy, TWO as Blair sunset flips Meiko! TWO as Mandy ghost pins Blair, TWO!
Meiko BOOTS Mandy but Blair kicks Meiko. Blair whips but Meiko WHEEL KICKS! Mandy runs in but into a sobat! Meiko uppercuts Mandy, DECKS BLair, then waistlocks Mandy! Mandy trips Meiko but Meiko kicks her away. Mandy handsprings and basement dropkicks! Blair GAMANGIRIS Meiko, too! Blair drags Meiko out, scoops and SLAMS her, then says that's what she gets! Mandy eggs Blair on and they stand off in the ring. Fans rally up, circle, but Mandy gets around to waistlock and SLAM! Mandy drags Blair up, waistlocks, but Blair victory rolls, TWO! Blair dodges and RANAS Mandy to a corner!
Blair runs in to forearm smash! Blair snapmares and basement dropkicks! Cover, TWO! Blair is annoyed but she drags Mandy up. Mandy ROCKS Blair, Blair KNEES Mandy! Blair runs but Mandy scoops! Mandy shakes her head to FALL AWAY SLAM Blair away! Mandy then runs at the corner to RAM into Blair! And RAM again! Mandy brings Blair out and runs, but Meiko trips her up! Meiko drags Mandy out to DECK her! But Blair goes to the apron to PENALTY- NO, Meiko blocks and trips Blair! Meiko KICKS Blair into the steps, and again, and again! Meiko then goes for Mandy but Mandy RAMS her into the apron!
Mandy runs in at Blair but is sent into the steps! Blair goes up to DOUBLE STOMP Mandy down! Fans fire up and Blair gets in the ring. Meiko joins her and we finally get a bit of that 1v1 rematch both women have wanted! They approach, Meiko avoids the boot to fire off forearms! Meiko wrenches, wristlocks, then KICKS and STOs! Then KNEE DROP! Cover, TWO! Meiko gets Blair's leg and hooks it up for an STF! Blair fights the crossface, pops free and has a wristlock! Meiko rolls but Blair shifts to LA MAGISTROL! TWO, Meiko has a cover, TWO! Blair BUZZSAWS Meiko, then CLUBS her on the back!
Blair whips Meiko but Meiko reverses. Blair BOOTS back, goes up the corner, but Mandy YANKS her down! Blair hits the floor and Mandy dusts off her hands, but she's forgetting Meiko is there. Meiko waits on Mandy, so Mandy gets in the ring to go champion to champion! They tie up, Mandy fires a forearm but Meiko gives it back! They go back and forth, Meiko fires off more, then whips. Mandy ducks 'n' dodges to CLOBBER Meiko! Mandy says this is HER world! Mandy kicks Meiko around, stomps her down, then talks trash. Meiko sits up, Mandy pie faces her, but Meiko laughs that off. Mandy kicks Meiko but Meiko is right back up!
Mandy pie faces again, but Meiko stands. Mandy pie faces again but Meiko just stares her down. Mandy swings, but into a counter forearm! And another! And an UPPERCUT! Mandy ducks the buzzsaw but not the RETURN! Cover, TWO! Mandy survives but Meiko drags her up to a fireman's carry. Mandy slips off, shoves, and SPINEBUSTERS! High stack, Blair kicks it apart! Blair drags Meiko up to POST her! Blair stalks Mandy, wrenches and NORTHERN LIGHTS! Bridging cover, TWO! Blair is annoyed but she stomps Mandy around. Blair goes to the corner and climbs up. Fans rally, but Mandy ROCKS Blair!
Mandy climbs up after Blair, they brawl, Mandy CLUBS away on Blair, and then Mandy SUPERPLEXES! But Meiko is up top, FROG SPLASH! Cover, Mandy breaks it in time! Fans are thunderous as all three women are down! Fans cheer on "Women's Wrestling!" as Mandy drags Meiko up. Mandy whips, Meiko stops to PELE! Mandy staggers and Meiko fires up! Fans fire up as she forearms Blair, then forearms Mandy! Then corner to corner to forearm Blair again! And back for another to Mandy! Fans fire up as Meiko KICKS Blair, KICKS Mandy, repeat! Blair ducks, waistlocks, facelocks, suplexes, but Meiko blocks!
Mandy joins in, they double suplex but Meiko fights that to DOUBLE DDT!! Fans are thunderous as Meiko kicks Blair aside, and then runs to HANDSPRING KNEE DROP Mandy! Meiko then runs to HANDSPRING KNEE DROP, but Blair dodges! Blair BOOTS Meiko and hurries over to Mandy! Blair drags Mandy up, suplexes, but Meiko KICKS Blair! And KICKS Mandy! And Blair! BUZZSAW for Blair! Both women are flopped over, Meiok runs to DOUBLE HANDSPRING KNEE DROP! Cover on Blair, but Mandy drags Meiko off! Mandy reels Meiko in, underhooks, but Meiko fights that to a fireman's carry! DEATH VALLEY DRIVER! Cover, Blair DOUBLE STOMPS it!
Blair roars and she drags Meiko away. She has the arms, KAMI-GOYE!! Cover, TWO!!! Meiko survives and shocks everyone! Blair is furious but she drags Meiko back up. Mandy SHOTGUNS Blair! Mandy ROCKS Blair, CLUBS her and KICKS away in the corner! Mandy CLUBS Blair, whips her corner to corner, but Blair stops and elbows back! Blair goes up and up, but Meiko grabs at Mandy as Blair leaps, the missile dropkick hits Meiko! Mandy runs in to scoop, gut wrench, but Blair lands on her feet! Blair RAMS Mandy, reels her in, suplexes, but Mandy slips out! Mandy runs, but Blair rolls Mandy up, SCORPIO RISING BREAKS IT!!
Meiko drags Blair up but a KNEE FROM A ROSE OUTTA NOWHERE! Cover on Blair, MANDY WINS!
Winner: Mandy Rose, by pinfall (UNDISPUTED NXT Women's Champion)
Opportunistic as ever, the Toxic Goddess keeps her reign alive! But she pinned Blair in this win, will the Final Boss return to take this to the next level? Or will this reign of terror never, ever end?
Alba Fyre speaks.
"Lash Legend learned that you do not disrespect my heritage or my ancestors. No matter the weather, terrain or situation, those fire keepers kept those embers burning. Just like I won't let anyone extinguish my flame. Lash won't be the only woman to test me, but soon, all of them will know what she already knows: I am a warrior, and I will do whatever it takes to win. And to honor the women that surrounded that flame, from the howls and lochs of Scotland, all the way to NXT, keep your eyes peeled on the horizon. Because where there's smoke, there's Fyre!"
Backstage interview with Wes Lee.
McKenzie says over the past month, the superstars of NXT UK have been dominating the scene in NXT 2.0. But this Tuesday, Wes faces perhaps the most sadistic men from NXT UK in JD McDonagh. How does he prepare for someone with "such bad intentions?" Wes says he isn't sure you can really prepare for someone like JD. Wes saw JD's interview with McKenzie last week, and that was… uncomfortable. McKenzie confirms. Wes knows JD doesn't shoot to kill, he shoots to wound, and he loves taking pleasure in agony. That's dark. And when the bell rings, JD goes to an even darker placer.
But Wes has had his fair share of dark clouds, and the rain doesn't scare him. Wes isn't afraid to venture into the darkness. If JD wants to get weird, then let's get weird! But Wes promises, JD won't like the results. Can the Must-See Kid trump the Irish Ace at his own game?
NXT Women's Tag Team Championships: Kayden Carter & Katana Chance VS "Doudrop" Piper Niven & Nikki A.S.H!
KC Squared fought so hard time and time again to get these titles, and they will fight even harder to keep them! But will they have to put up the fight of their lives against the formidable duo that is Monday Night Raw's Celtic Connection?
The introductions are made, the belts are raised, and we see who wins in this NXT VS NXT UK proxy match!
The teams sort out and Kayden starts against Nikki. Fans rally and the two tie up. Nikki headlocks for a takeover, but Kayden fights up and powers out. Nikki runs Kayden over and strikes a pose. But Kayden trips Nikki and walks all over her. Kayden twerks at Nikki, then dodges to hip toss her! Kayden has the arm but Nikki throws Kayden by her hair! Nikki dropkicks Kayden, covers, ONE! Nikki drags Kayden up, Kayden wrenches out to CHOP! Kayden CHOPS again, then tags Katana. Kayden whips Nikki to a corner, Katana traps her and Kayden dropkicks again! Katana headlocks to a takeover and cover, ONE!
Katana keeps Nikki from Piper but Nikki powers her back! Piper tags in but Katana slips away. Katana and Piper circle, Katana dodges Piper then dodges again. Piper does corner Katana, though, but Katana slips out before the splash! Katana slingshots in, springboards up and over but Piper still runs her over! Piper soaks up the heat, and shows off her own twerk! Fans fire up that Piper can doudrop it like it's hot! Piper scoops Katana, but Katana slips off and tags Kayden. Kayden runs in but is thrown away! Piper throws Katana, too, but Kayden whips Katana back in. Katana trips Piper and Kayden mule kicks! Katana slingshot sentons and Kayden covers, TWO!
Kayden runs in, hops on and has a SLEEPER! Piper throws Kayden off, but Kayden BOOTS back! Katana tags, Piper scoops Kayden and CLOBBERS Katana! Piper then stands over Katana to SLAM Kayden on top of her! Piper runs and SENTONS them both! Piper covers Katana, TWO! Piper keeps cool and clamps onto Katana. Tag to Nikki as fans rally up. Piper bumps Katana off buckles and Nikki stomps a mudhole! The ref reprimands, Nikki lets off but throat chops! And then she RAMS into Katana! Nikki bumps Katana off buckles, tags Piper, and Piper stomps Katana more. Piper SLAPS Katana down then goes corner to corner. But Katana BOOTS Piper away!
Katana DECKS Nikki, ROCKS Piper, but Piper shoves her back. Katana BOOTS Piper and goes out, but Nikki trips her up! Nikki traps Katana in the apron skirt and fires off! The ref reprimands and counts, Nikki tells him to shut up while she gets in the ring. Tag to Piper, Piper goes around and SPLASHES Katana against the apron! Katana flops down and the ring count starts. Piper drags Katana up, puts her in, and she storms up on her. Piper keeps Katana from Kayden and CLUBS her down! Piper drags Katana up again, scoops her, and then tags Nikki. Fans rally but Piper SLAMS Katana and Nikki hits a NECK SNAPPER! Cover, TWO!
Nikki clamps onto Katana for a straitjacket and thrashes her around! Fans rally, Katana fights up and out, but Nikki swings a lariat. Katana gets around to tilt-o-whirl and RANA Nikki away! Piper tags in, CLUBS Katana down, then DECKS Kayden! BIG elbow drop! Cover, TWO! Katana toughs it out and Piper is a bit surprised. Piper drags Katana up, Nikki tells fans to shut up, and Piper tags Nikki in. Nikki RAMS into Katana, then she brings Katana around. Katana throws body shots, but Nikki keeps her from Kayden! Katana knees Nikki away but Piper tags back in! Piper storms up and brings Kanata around to whip.
Katana dodges and Piper POSTS herself! Nikki tags in, CLOBBERS Katana, but Katana avoids the elbow! Hot tag to Kayden! Kayden rallies on Niki, SPLASHES Piper, then mule kicks and SUPERKICKS Nikki! DROPKICK for Piper! Cover, TWO! Fans fire up and Kayden drags Nikki back up. Fireman's carry, but Nikki slips off! Nikki elbows Kayden, goes up the corner, TORNADO DDT! Fans rally up as both women are down! Piper tags in, she brings Kayden around, and Nikki adds on! INVERTED DDT SIDEWALK SLAM! Cover, TWO!! Kayden survives and Piper is furious! Piper drags Kayden up, scoops her, but Kayden slips off!
Kayden dodges Piper to SUPERKICK! Both women are down again and Nikki tags in! Nikki drags Kayden away but Kayden KICKS Nikki! Nikki keeps trying but Kayden rolls to send Nikki into buckles! Kayden runs in, blocks boots and puts Nikki in the ropes! Tag to Katana before the DRAPING BACKSTABBER! DOUBLE STOMP added on top!! Cover, TWO!! Nikki is showing us why she's held titles before, but Katana tags Kayden back in! Kayden stands Nikki up to turn her, Katana is up top, but Nikki shoves Kayden into Katana! Down goes Katana but Kayden hurries to get Nikki. Nikki whips Kayden into buckles!
Tag to Piper and she drags Kayden into a fireman's carry! Nikki adds up, NECKBREAKER SAMOAN DROP, aka the ASH DROP! Cover, but Katana barrels in to break it!! Fans fire up again as Katana drags Nikki up. Katana whips but Nikki throws Katana out instead! Nikki goes back to her corner and Piper snarls. Piper runs in at Kayden but into an elbow! Kayden goes up, but Piper SLAPS Kayden! Piper climbs up after Kayden, but TOXIC ATTRACTION shows up?! Gigi Dolin & Jacy Jayne run out but Nikki WRECKS them both! Then CROSSBODIES them both! But Kayden POWERBOMBS Piper!! Nikki fires off on Gigi & Jacy while Katana tags in!
HUMAN HIGHLIGHT REEL!! Cover, Jacy keeps Nikki out! KC SQUARED WIN!
Winners: Kayden Carter & Katana Chance, by pinfall (still NXT Women's Tag Team Champions)
Gigi & Jacy accomplish their mission! Kayden & Katana are still champions, but solely so Gigi & Jacy can get their revenge down the line! KC Squared get to party all the same, but will they have to worry about Toxic Attraction coming for them next?
The Dyad talk backstage.
They have a bunch more of those smiley face buttons, aka "recognition awards," and Rip Fowler says Joe Gacy really has taken this Cameron Grimes situation to heart. Jagger Reed just doesn't understand why Grimes doesn't want to be part of The Schism. Rip spots Grayson Waller walking by and asks him for a moment of his time. Waller asks if Rip's right eye is all white. What's with that tone? The eyes are the window to the soul, and Rip's soul is pure. Oh, okay. Well, Waller will leave this smiley button here for someone who needs it. Jagger says that's rather kind. Waller rolls his eyes at The Dyad, but then McKenzie finds him.
McKenzie asks if Waller intentionally raked the eyes of Apollo Crews in their match last week. The medical team says Apollo has a scratched cornea. Waller says honestly, Apollo ruined his talk show! Waller just got Apollo back. But then Waller got a call from his mum. Waller ain't afraid of no man on this planet, but Mama Waller's a different story. She gave Waller life, and it's just the two of them. Mama Waller said she was never more disgusted in him in her life. He went on television and talked about a man's heritage, wife and kids, then basically tried to blind Apollo to win. Waller was bringing down his family name. For the first time in his life, he was speechless.
And Waller said he'd call her back, but they haven't spoken since. So she's probably watching tonight. Cheers, mum, and Waller thought about what you said. And she can kiss his ass!! Waller is the only Waller bringing this name to stardom! Waller doesn't care about Apollo and his family, Waller's going home with an absolute dime piece Hooters waitress! No, wait, change it up! A swimsuit model! Either way, Waller doesn't need friends or family. He just needs the Grayson Waller Effect! Now McKenzie rolls her eyes. Will Waller ever get over himself so that he can finally get over in NXT?
NXT & NXT UK Championships Unification Match: Bron Breakker VS Tyler Bate!
This is it! The Big Booty Nephew is already a two-time champion in NXT, but the Big Strong Boy is both the inaugural and the FINAL NXT UK Champion! These men respect their brands and the legacies of their titles, and even respect each other. But in the end, there can only be one! Who will be THE NXT Champion and carry both banners into the future?
The introductions are made, the belts are raised, and as two great lineages become one, we will see who reigns supreme!
Bate and Bron circle as fans rally. Fans want "Tyler Two Belts!" but Bron smirks. They tie up, but are in a deadlock, so Bron breaks it. Fans bark it up for Bron but Bate smirks now. They circle again, feel things out, and tie up again. Bron headlocks but Bate endures the grind. Bate moves around, pries at the hold, but Bron holds on tighter. Bate fights up again, powers up but Bron still holds tight! Bate rolls it to a cover, ONE! Bron holds on, but Bate rolls it again, ONE! Bate fights up, pries at the hold again but Bron still clamps it on. Bate throws body shots, powers out, but Bron runs him over! Bate gets up but Bron headlocks for a takeover!
Bate headscissors, Bron kips free, but roles reverse as Bate hits a takeover. Bron headscissors, Bate kips free, but Bron trophy lifts! Bate slips off, kicks low, and underhooks! Bron powers out, trips and jackknife bridges, TWO! Bron gets Bate but Bate turns that to a backslide, TWO! Both men run, DOUBLE SHOULDERS take both men down! But both men kip up! Fans fire up again as the two stare down. Fans duel with barks and "BIG STRONG BOY!" Bate and Bron shake out their arms, circle again, and feel things out. Bate knuckle locks then wrenches to wrangle Bron to the mat! Bate keeps Bron down but Bron fights his way up.
Bate wrenches, arm-drags, and armlocks! Bron grits his teeth but Bate wrenches again. Bate YANKS the arm, but Bron pulls Bate's hair. Bron whips Bate to a corner, Bate goes up and under, then knuckle locks to wrench, bait, leap frog, bait again and sunset flip! TWO! Fans applaud that great display from Bate, and even Bron has to smirk. Bron and Bate reset again, tie up again collar 'n' elbow, but Bate arm-drags! Bate has the top wristlock, makes it a cover, ONE as Bron gets back up. Bron stands, arm-drags but Bate holds on tight! Bate wrangles Bron down into an omoplata! Bron turns his head so Bate hammerlocks.
Bate chinbars Bron as he fights up, then grinds the arm. Bron moves around, whips and RANAS! Fans fire up for the agility, and Bron deadlift suplexes Bate! Bron walks around with Bate then he SLAMS Bate down! Bron kips up and STANDING MOONSAULTS! Cover, TWO! Bate CHOPS Bron but Bron shrugs that off to facelock. Bate endures as Bron grinds him, then Bron gator rolls him. Fans rally up, Bron gator rolls Bate back the other way. Bate fights up, pries the hold and throws body shots. Bron knees low, whips Bate to ropes, but Bate tilt-o-whirls to RANA! Bron flounders, Bate watches him and DROPKICKS him out!
Bate builds speed and he FLIES! Direct hit at the ramp and fans fire up again! Bate checks his neck, stands back up, and he brings Bron up. Bate puts Bron in the ring as the ring count is 5 of 10. Bate aims from a corner, runs in, STANDING SHOOTING FLOP as Bron moves! Bron builds speed, and he catches Bate for a SPINEBUSTER! Fans bark and Bron paces. Bron drags Bate up, but Bate elbows him away! Bron shakes that off, grins, and RAMS Bate out of the ring! They tumble to the floor but Bron is right back up! Bron drags Bate up and into the ring at 4 of 10, then he goes up a corner. But Bate ROCKS him first!
Bate CHOPS Bron, climbs up, but Bron CLUBS Bate! Bate ROCKS Bron, climbs and brings Bron up, but Bron throws body shots! Bron shoves Bate down, then leaps, into an EXPLODER! Bate kips up and STANDING SHOOTING STARS! Cover, TWO! Bron is still in this, and fans rally up again! "This is Awesome!" as both men get up. Bate reels Bron in, but Bron fights the fireman's carry. Bron suplexes, but Bate turns that to a cradle! TWO!! Bron escapes, but Bate rams low! Bate whips, Bron reverses but Bate turns rana into POWERBOMB!! Cover, TWO!! Not quite the Tyler Driver, and that's why Bron survives!
Fans are thunderous for "NXT! NXT!" as both men are down. Bron gets to a corner, Bate is watching him stand up. Bate runs in to UPPERCUT! Bate hoists Bron up top, ROCK him, and Bate then sets Bron up. Bate CHOPS but Bron throws hands! Bate ROCKS Bron, climbs up again, but Bron fires body shots! They brawl up there, Bate powers through and clinches Bron, but Bron throws elbows! Bron shoves Bate down hard, then adjusts for a FLYING BULLDOG!! Cover, TWO!! Bron holds on to suplex, into a POWERBOMB! Cover, TWO!! Bate survives but Bron is too tired to be upset! Bron and Bate stir as the fans rally up again!
Fans duel while Bate and Bron throw hands and feet on the mat! Bate and Bron sit up to throw forearms back and forth! They stand, Bate EuroUppers, rams low, repeat! Bron throws haymakers! Bate SOBATS! Bop up, but Bron blocks Bang into a FUJIWARA!! Bate endures as Bron pushes back as hard as he can! Bate turns over and ghost pins, TWO! Back to the FUJIWARA! Bate endures again and fans fire up both ways! Bron pushes back on the arm but Bate powers up! Bate stands, slips under, fireman's carries Bron and stands up for the AIRPLANE SPIN!! Fans fire up and count along, Bate goes to ten before the DRIVER! Cover, TWO!!
Bate runs, Bron dodges, but Bate rebounds to LARIAT! Cover, TWO!! Both men are down again and fans are thunderous! Bate underhooks the arms, but Bron NORTHERN LIGHTS! Bridge, TWO! Bron pushes that arm down, TWO as Bate gets the other arm up! Bron pushes Bate down again, TWO as Bate bridges back up! Bate turns Bron around, lifts and TYLER DRIVER 97!!! Cover, TWO!?!? Bron survives and no one can believe it!! Bate gets to a corner and goes up! But Bron grabs him for the trophy lift! BREAKKER SLAM!! Cover, ROPEBREAK!! Bron miscalculated and Bate survives!
Fans are thunderous for the Big Strong Boy but Bron's straps come down! Bron vows to crush Bate once and for all! Bron aims from a corner, he runs in at Bate, but Bate KNEES Bron! Bop up, BANG HITS!! Bate underhooks, but Bron back drops! Bate lands on his feet, but Bron trophy lifts again! But Bate rolls him up! TWO!! Bate runs, rebounds, into a SPEAR!!! Cover, Bron wins!!
Winner: Bron Breakker, by pinfall (UNDISPUTED NXT Champion)
Bate came close, but Bron found the moment he needed! But there's no hard feelings here, as Bate personally brings the belts to Bron, and Bron holds up Bate's hand. We just saw Worlds Collide with incredible force, and now Bron stands atop the mountain! How much farther will Bron raise the bar in NXT?
---
My Thoughts:
A great event for NXT, but a mixed bag in the results for me, at least. In the cases of RawDown stars coming back to NXT to challenge for firmly NXT titles, I figured both of those would go NXT's way. Ricochet VS Melo was an awesome opener, I don't think it could've gone much better outside of Trick being a distraction as usual. But again, Melo was going to win, so it keeps Ricochet from looking weak to have Trick interfere and be why Ricochet lost. Likewise, the NXT Women's Tag Team Championship had a great match, but I should've figured Gigi & Jacy would have a part to play like they did just last week. Nikki & Piper lose but in a protected way, and we'll surely see Gigi & Jacy call KC Squared out this Tuesday.
I didn't know the men's tag title match was elimination until they announced it so that was a great surprise. And that really added something to how it all played out. I figured it'd come down to the Creeds and another team, but I feel like there was a missed opportunity in continuity with having Pretty Deadly win. Kemp betrayed Diamond Mine, and perhaps his reasons will have nothing to do with Gallus, but… how awesome would it have been if they made it because Kemp was joining Gallus? Kemp had that great stint in NXT UK where he palled around with Gallus, so imagine if he was a mole the entire time! But instead, Pretty Deadly does at least get more history on their resumes, being the first team to hold the NXT and NXT UK belts separately, and now at the same time.
Good promo from Wes Lee to respond to JD, they're going to have a really good match Tuesday. They kinda copy-pasted Alba Fyre's promo from last week, but it's still good. We got an interesting interaction between Grimes and Tony D'Angelo, and I'm not sure Tony should've shrugged off Legado just leaving that easily. But now, is Tony going to help Grimes against Gacy & The Schism? I feel like it should've been Edris & Malik after Grimes tried motivating them that one time. But at least we're getting some twists and turns, maybe something happens where Grimes is feuding with Gacy and Tony and we get a Triple Threat of some kind. The winner can even challenge Melo for the title at the next NXT special episode/event.
Speaking of Gacy & The Schism, we got a fairly funny interaction between The Dyad and Grayson Waller. And then Waller really turns up the Heel heat by insulting his own mom and saying he doesn't need anyone. Apollo will surely come back for revenge, but I bet there is going to be something about the scratched cornea that affects his future sight powers. The Women's Championship Triple Threat was great, and while I had hoped it was Blair so that she could piss off both champions, no, it was Mandy who won. A Triple Threat loss doesn't really hurt Meiko, but after 313 days, from last October to now September, Mandy is starting to get stale. I suppose Alba Fyre could try again 1v1 since it was a Fatal 4 Way Mandy beat her in, but Fyre seems to be taking the long route to the title.
Bron VS Bate was great stuff, of course, and was a great main event. But how could they give Bate that great entrance with the NXT UK retrospective and then still have him lose? Outside of Pretty Deadly, who started in NXT UK then moved to NXT 2.0, this was like that one year where Raw whooped SmackDown at Survivor Series. The results tonight don't exclude the NXT UK stars coming back and taking the now unified titles from Mandy and Bron, but it stings a bit for me, who watched the UK Championship Tournament in 2017 and never gave up on the UK division.
My Score: 8.7/10
Mitchell's WWE Clash at the Castle Results & Report! (9/3/22)
WWE takes over Cardiff!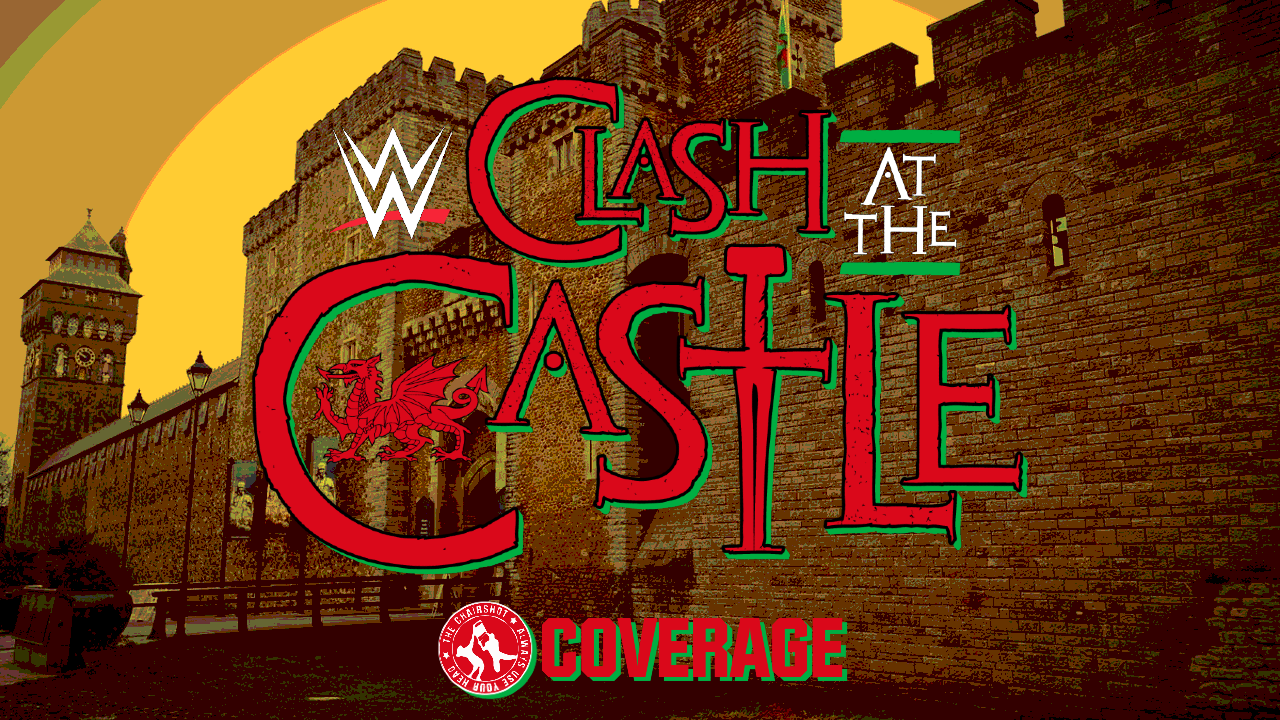 Will the Scottish Warrior dethrone the Tribal Chief?
WWE has its first major event in the UK in roughly thirty YEARS! Who will be Undisputed Universal Champion when Roman and McIntyre Clash at the Castle?
OFFICIAL RESULTS
Kickoff Show – Mad Cap Moss & The Street Profits VS The Alpha Academy & Austin Theory; Moss & The Profits win.
Six Woman Tag: Bianca Belair, Alexa Bliss & Asuka VS Bayley, Dakota Kai & Iyo Sky; Bayley, Kai & Sky win.
WWE Intercontinental Championship: GUNTHER w/ Imperium VS Sheamus w/ The Brawling Brutes; Gunther wins and retains the title.
SmackDown Women's Championship: Liv Morgan VS Shayna Baszler; Liv wins and retains the title.
Edge & Rey Mysterio w/ Dominik Mysterio VS The Judgement Day; Edge & Rey win.
Matt Riddle VS Seth Rollins; Rollins wins.
Undisputed WWE Universal Championship: Roman Reigns VS Drew McIntyre; Reigns wins and retains the title.
PLAY BY PLAY
It's the Clash at the Castle Kickoff show!
Join Jackie Redmond, Matt Camp and Peter Rosenberg in discussing, analyzing and predicting all the action for this historic event in the UK!
Wade Barrett joins the panel!
The former Intercontinental Champion of course joins in to talk about Gunther VS Sheamus for the Intercontinental Championship. What does he expect from this match? "Oh my word, when I think about the fact that I retired six years ago, sometimes I think to myself, 'Maybe I should get back in the ring.' And then I see two men like Sheamus and Gunther about to tear each other apart and I think, 'Hell no, I ain't going anywhere near a ring again. This one is gonna be a match-up you're gonna have to watch through your fingers." Barrett's faced Sheamus many times, and every single match, Barrett and Sheamus were both covered in bruises, but Sheamus kept on swinging.
As for Gunther, he's a real fighter, but he might've bitten off a bit more than he can chew with Sheamus. Matt asks Barrett, as we look at this match and Gunther telling Tyler Bate that the future of European wrestling is on Tyler, how does that not motivate Tyler and Bron Breakker to watch this match here. Yeah, it's massive. Worlds Collide is tomorrow, 4 PM Eastern. It was huge having Gunther and Finn Balor come by, even with their own hands full. The fact that NXT gets to watch Gunther VS Sheamus will surely fire everyone up for that main event.
Pete says Wade being from the UK, but neither Sheamus or Gunther is from Wales, so who has the closest thing to homefield advantage? Well, the key thing here is that this stadium will be loaded with people from across the UK. From Scotland, Ireland and the rest of Europe. Homefield advantage is going to help Sheamus and even Drew McIntyre. And yes, they're all from different countries within the UK and the isles, but their culture is all the same. They wall watch the same TV, listen tot he same music, all drink the same beer.
There is sporting rivalry, but they're all the same, just with different accents. Wade knows the English and Welsh will still support Sheamus and Drew, who will be the heroes to the next generation, just like they and Wade watched those greats from 30 years ago like the British Bulldog. The Bulldog was a big inspiration to Wade, so 30 years from now, there will be kids here today working in the WWE after seeing what Drew and Sheamus did. Katie's got chills, but she admits this impact is beyond who has the titles at the end. It's about the fans watching here today. But because this is the Kickoff, Wade has to choose: Sheamus or Gunther?
Wade wants Sheamus because Sheamus wants that title, that same title Wade held five times so that tells you how good Wade was. But Sheamus won everything else, so Wade needs something to hang his hat on. Gunther will get it done to help Wade. Will there be some bad news for Barrett later today?
Kickoff Show – Six Man Tag: Mad Cap Moss & The Street Profits VS The Alpha Academy & Austin Theory!
The action gets going already as Raging Riddick teams with Montez Ford & Angelo Dawkins against some real jokers. Will Moss & the Profits be up and give Cardiff the smoke? Or will Chad Gable, Otis and the Youngest Mr. Money in the Bank SHOOSH all of Wales?
The teams sort out and Dawkins starts against Gable. They tie up, Dawkins headlocks but Gable powers out. Dawkins runs Gable over, things keep moving, and Dawkins hurdles to whip Gable. Gable rolls Dawkins but Dawkins slips away. Things keep moving, Gable hurdles but Dawkins handsprings! Gable arm-drags but Dawkins arm-drags back! Dawkins then fakes Gable out to DECK him with that right hand! Ford mocks Gable and then Dawkins tags him in. The Profits whip Gable and DROPKICK him down! Ford kips up and taunts "For The Academy!" Ford drags Gable up, wrenches and whips, but Gable ducks 'n' dodges.
Gable catches the leap into an ANKLE LOCK! Ford endures, moves around, rolls, and throws Gable away! Theory tags in before the ENZIGURI! Ford keep son Gable but Gable reverses the whip. Ford goes up and over but Theory CHOP BLOCKS him! Theory and Gable POST Ford, and then Ford falls out of the ring! Theory soaks up the heat as fans boo. Gable tells them to SHOOSH! Theory drags Ford up and smacks him off the apron. Theory puts Ford in, fans taunt Theory, but Theory says he does NOT suck! Theory drags Ford up, ROCKS him with a left, then CHOKES him on the ropes! The fans boo but Theory soaks it up.
Theory drags Ford up and puts him in the corner. Otis tags in, Theory hands Ford off to a scoop SLAM! Otis flexes, runs, and SPLASHES! Otis tags Gable and Gable drags Ford up. Gable grinds the arm with a mounted armlock, then steps over to wrench it. Ford endures, fans rally up, and Ford reaches out. Gable DECKS Dawkins then puts Ford in the corner. Tag to Theory, he and Gable double back suplex, but Ford lands on his feet! Ford leaps but can't reach Moss! So Ford hits a DOUBLE DDT! Fans rally up, Ford crawls, hot tag to Moss! Moss rallies on Theory and the Academy! He DECKS Otis, dodges Theory then builds speed to CLOBBER him!
Moss keeps going and CLBOBERS Gable! Wales gives him a standing ovation before Moss RAMS into Theory! Theory fights off the neckbreaker to ROCK Moss! Dawkins tags in, dodges theory, hurdles him and FLYING ELBOWS! Then a CYCLONE SPLASH in the corner! ENZIGURI follows it up, then the SILENCER! Cover, TWO! Dawkins keeps focus, brings Theory up, but no Anointing! Theory fireman's carries but Dawkins shoves him away> Gable tags in, Dawkins DECKS Theory but Gable hits CHAOS THEORY! Cover, Moss breaks it! Theory slingshot SHOTGUNS Moss! Ford ENZIGURIS Theory, Otis dodges with a roll to POUNCE Ford!!
Otis roars, Moss runs in and RAMS him! Otis rebounds, Moss scoops him! For a FALL AWAY SLAM!! Wales is loving Moss! Gable returns, Moss dodges but Gable CROSSBODIES then DUMPS him out! Gable goes to the apron to get Ford and drag him up. Ford holds onto the ropes as Gable tries to German Suplex him! Dawkins gets over there and drags Gable away! Ford gets in the ring, builds speed, and FLIES! BLOCKBUSTER DOOMSDAY ONTO THE PILE! Fans are thunderous as the Profits put Gable in! Ford tags in and climbs up top! FROM THE HEAVENS!! Cover, Moss & The Profits win!
Winners: Mad Cap Moss & The Street Profits, by pinfall
What a way to kick off the action in Cardiff! Moss and the Profits got that smoke, will they get that gold on the other side of the Clash?
"In this kingdom of castles here in Wales…"
"… where history prevails and beauty transcends, something unimaginable has come alive. Sons and daughters, the time has come to ignite the fires within. To fight. Who here will be valiant? Who now will be strong? For the clash of a lifetime has begun! Heed the call. Prepare to storm. And arm for battle! For the first time in Cardiff, Wales, this is Clash at the Castle!"
Six Woman Tag: Bianca Belair, Alexa Bliss & Asuka VS Bayley, Dakota Kai & Iyo Sky!
The RawEST Women's Champion leads the way for the Five Foot Fury and the Empress of Tomorrow as they look to defend the Raw Women's Division! But will no one be ready for this combination? Or Role Model, #CobraKai and the Evil Genius take control in Cardiff?
The trios sort out and Bianca starts against Bayley. Fans sing "Hey~ Bayley! Hoo! Hah! I wanna knoOOooow, will you be my girl?" Bayley tells them shush, that's not her anymore! Bayley and Bianca circle, then Bayley sucker punches Asuka! But Bianca sucker punches Iyo! The teams pour in and the ref tells them to stand down. But Alexa SLAPS Dakota! The brawl is on!! Asuka throws Dakota out, Alexa throws Iyo out, and Bianca CLUBS away on Bayley! Bianca shoves Bayley and runs her over, then RAMS her into the corner! The ref counts, Bianca TOSSES Bayley, then DROPKICKS her down!
Bianca kips up and fans fire up! Bianca handsprings but Kai & Sky trip her up and drag her out! Fans boo but "Damage Control" regroups. Alexa ROCKS Kai but Sky kicks her back. Kai & Sky double suplex but Alexa fights it! Asuka CLUBS Kai & Sky then joins Alexa. But Bayley joins her team, only for Bianca to join hers! TRIPLE SUPLEX! Fans fire up for the RawEST, and they set DMG CTRL up. HANDSPRING MOONSAULT for all three! Triple cover, TWO! Fans rally up while DMG CTRL regroups outside. Bianca tags Alexa in and she calls Bayley out. Bayley gets in and fans keep singing. So Bayley tags out to Iyo!
Iyo and Alexa circle, fans rally up, and Alexa dodges the haymaker but Iyo blocks the kick! Iyo eggs Alexa on so Alexa SLAPS and ROCKS Iyo! Iyo kicks back, whips her to ropes, then things speed up. Alexa stops herself to stand on Iyo! Then she skateboard stomps her! Alexa lets off. Iyo gets up but into a drop toehold! INSULT 2 INJURY! Cover, TWO! Alexa drags Iyo but Iyo resists and waistlocks. Alexa fights free, but Iyo dodges and tags Bayley back in! Bayley kicks low and CLUBS away on Alexa! Bayley tells the fans to stop cheering! Bayley puts Alexa in the corner, Dakota tags in and she stomps Alexa down.
The ref counts a Dakota digs her boots in, then Bayley tags back in. Bayley stalks Alexa, but Alexa drop toeholds her! Tag to Asuka and they double whip Bayley to ROCK her, BULLDOG, and Asuka throws HIP ATTACK after HIP ATTACK! Asuka taunts Bayley but Bayley blocks the Buzzsaw to trip her up! Bayley drags Asuka up but Asuka waistlocks. Bayley bucks that while Iyo tags in. Iyo runs in, is sent out, but Bayley whips Asuka! Asuka goes up the corner to missile dropkick! Only for Iyo to SPRINGBOARD MISSILE DROPKICK! Iyo slaps Asuka around but Asuka gets mad! Asuka SLAPS, fires off palm strikes, but Iyo goes Matrix! Roll-up, TWO!
Iyo blocks the haymaker to wrench, but Asuka ducks the roundhouse only for the HEEL KICK to get her! Iyo bumps Asuka off buckles, Dakota tags in, and Dakota CLUBS away. Asuka throws body shots back as fans rally, but Dakota throws Asuka down! Cover, TWO! Dakota is annoyed but she HIP DROPS Asuka's arm. Asuka endures the armlock but Dakota bumps her off buckles. Tag to Bayley and fans fire up again! Bayley is annoyed so she tags out to Iyo! Iyo sits Asuka down and stands on her chest! The ref counts, Iyo swings to DOUBLE KNEE! Cover, TWO! Iyo steps on Asuka and tags in Bayley.
Bayley stalks Asuka, grinds her arm, but Asuka reaches for her corner! Bayley coordinates with her team, tag to Dakota and she waits. Asuka whips Bayley away, tags Alexa, and Alexa CANNONBALLS onto Bayley! But Dakota runs in to SHOTGUN Alexa! Dakota gets in the ring as the ring count climbs, and she taunts Alexa. Alexa crawls at 6 of 10, but Dakota goes out to fetch her. Cover, TWO! Dakota drags Alexa up, suplexes, then covers, TWO! Fans rally but Dakota taunts the EST. Dakota HIP DROPS Alexa, then drags her away. Dakota whips Alexa into the corner, digs her boot in, and the ref counts. Dakota lets off at 4, then tags Iyo.
Dakota mocks Bianca while Iyo stomps Alexa. Iyo drags Alexa up, wrenches, whips but Alexa blocks! Alexa and Iyo fire off forearms, and Alexa gets the edge! Alexa whips Iyo but Iyo reverses and Alexa hits buckles! Iyo drags Alexa up to whip her at the ropes, then FLAPJACKS her! Iyo kips up and covers, TWO! Bayley taunts Bianca but Iyo bumps Alexa off buckles. Iyo tags Dakota and Dakota stomps Alexa. Tag back to Iyo, she wrenches Alexa and hammerlocks the arm. Iyo sits Alexa down and keeps on the arm. Alexa endures and throws body shots. JAWBREAKER! Iyo staggers, Dakota tags in, but Alexa gives Iyo a CODE RED!
BOOT WASH from Kai! Cover, TWO!! Alexa survives that bait 'n' switch but Dakota CLUBS away on Alexa. Dakota tags Bayley in, they mug Alexa, then Dakota tags back in. Bayley whips Alexa to a corner, Dakota whips Bayley in but Alexa puts her on the apron! Alexa ELBOWS Dakota then RANAS her away! Fans fire up as Alexa crawls for her corner! But Bayley yanks Bianca down! Bayley tweaked her own knee, but then Dakota SHOTGUNS Bianca! Bayley was faking the knee, she RAMS Bianca into barriers! Alexa DDTs Dakota! Hot tags to Asuka and Iyo! MISSILE DROPKICK for yo! HIP ATTACK for Dakota! Asuka dodges and runs Bayley over!
Asuka HIP ATTACKS Iyo! Iyo fights the bulldog but the POP-UP KNEE! BACKHANDS! SOBATS! GERMAN SUPLEX!! SLIDING KICK!! Cover, DMG CTRL breaks it up!! Alexa ROCKS Dakota, but turns into a BAYLEY2BELLY! Bayley goes to her corner, Asuka blocks Iyo's kick! Iyo rolls to spike Asuka, then BUZZSAW! Tag to Bayley and she hauls Asuka up! Wrench and Iyo returns, sunset rewind, SLIDING LARIAT! Cover, TWO! Asuka gets to a corner and Bayley is frustrated. Bayley runs in but into a CODE BREAKER! Both women are down but reaching for their corners! Hot tag to Bianca!!
Bianca rallies on Bayley, DROPKICKS her, then kips up! Bianca RAMS into Bayley at the corner, and again and again! Bianca whips corner to corner, Bayley reverses, but Bianca goes up and over, handsprings and SPINEBUSTERS! Bianca STANDING MOONSAULTS! Cover, TWO! Fans rally but Bayley rakes Bianca's eyes! Tag to Dakota and she runs in. Bianca elbows Dakota, RAMS Bayley, and hoists Bayley up top! Bianca climbs up after Bayley but the ref keeps saying Bayley isn't legal. Dakota runs in, Bianca flips up and over her! Bianca RAMS Kai into Sky! Bianca runs in but Bayley POSTS her!
Bayley traps Bianca with her braid! But Asuka & Alexa get Bayley for a DOUBLE SUPERPLEX! Everyone is down and Cardiff fires up! Kai & Sky drag Alex a& Asuka out, stomp them down, then Iyo ASAI MOONSAULTS! But Bianca rolls Dakota up! TWO, and Bianca deadlifts Dakota! Dakota fights free, BOOTS back, but Bianca ROCKS her in the corner! Bianca trophy lifts Dakota and fans give a standing ovation! But Iyo runs in, so Bianca SMACK Her with Dakota's boots! FALL AWAY SLAM! Dakota grabs at ropes and Bianca grabs at her. The ref counts, Bianca lets go at 4. SCORPION- NO, Bianca turns kick into lift, and POWERBOMB!
Bianca hurries to a corner and climbs up top! Fans fire up for the 450EST- NO, Bianca has to bail out as Dakota moves! SCORPION KCIK! Then Around the World, but Bianca dodges! Torture rack, but Iyo saves Dakota from it! Bayley gets the braid! AROUND THE WORLD BOOT!! And then tag to Iyo, tag to Bayley! ROSE PLANT OVER THE MOONSAULT! Cover, DMG CTRL wins!!
Winners: Bayley, Dakota Kai & Iyo Sky, by pinfall
The Role Model just pinned the Raw Women's Champion! Granted, it was a string of attacks from all three opponents, but is this a sign that Raw is now under their control?
WWE honors the "greatest match in SummerSlam history."
Welcome the family of the British Bulldog, Davey Boy Smith, and Bret Hart himself! Bret and the Bulldog fought over the Intercontinental Championship, and look what's next!
WWE Intercontinental Championship: GUNTHER w/ Ludwig Kaiser VS Sheamus w/ The Brawling Brutes!
Der Ring General dominated European wrestling and even the UK scene, but now he wants to take over the world through this prestigious title. However, this is the one title the Celtic Warrior has yet to hold. Will Cardiff see the crowning of an ULTIMATE GRAND SLAM CHAMPION?
Ludwig makes the introductions for- Wait! Giovanni Vinci?! Formerly Fabian Aichner and formerly of Imperium, is now BACK IN Imperium! Will having his forces back at 100% help "YOUR Intercontinental Champion" stay champion?
Dunne and Ridge brawl with Ludwig and Vinci! Vinci TOSSES Dunne, Ridge CLOBBERS Ludwig, they brawl now, and things spill out of the ring! Imperium pinballs Ridge and stomps him down! But Dunne is up top to ARIHARA MOONSAULT them down! Gunther and Sheamus haven't even moved yet! The bell rings and the brawl is on in the ring! Sheamus backs Gunther down to a corner and fires off, but Gunther turns it around to CLUB away! Sheamus throws hands back, they scrap, and Gunther EuroUppers! Sheamus BOOTS and ROCKS and ROCKS Gunther again! Gunther turns things around to CHOP! And CHOP! And ROCK Sheamus!
Sheamus ROCKS Gunther back! Gunther headlocks, Sheamus powers out, they RAM shoulders, then Gunther BOOTS Sheamus down! Fans are fired up while the others are taken to the back. Gunther CLUBS Sheamus, suplexes, but Sheamus fights that to suplex Gunther! Sheamus CLUBS Gunther, ROCKS him, but Gunther kicks low. Gunther kicks low again, EuroUppers, but Sheamus fires back! Sheamus whips, Gunther reverses but Sheamus KICKS him! Sheamus mule kicks, front kicks, and Gunther goes to the apron. Fans are fire dup for Sheamus as he grabs Gunther at the ropes. But Gunther slips free and drags Sheamus down.
Sheamus kicks Gunther away, follows him around the way, and RAMS him into steel steps! The ring count starts but Sheamus fires up Cardiff. Sheamus drags Gunther up at 4 of 10, puts him in at 5, and then drags Gunther up the ropes. Fans fire up but Gunther resists. Sheamus forces Gunther to stand, and he forces those arms into the ropes! Gunther still fights, gets free and ROCKS Sheamus! Sheamus ROCKS Gunther back! And again! Sheamus steps in but Gunther puts him in the corner to CHOP! And CHOP! Sheamus shoves Gunther away, BOOTS him down, and then skins the cat to the top rope!
But Gunther CHOPS Sheamus off the corner and to the floor! Gunther goes out after Sheamus and he pulls the steel steps apart! Fans fire up as Gunther sets the steps and brings Sheamus around. Gunther CHOPS Sheamus, then scoops him to SLAM him on the steel steps! Gunther then goes into the ring as the count climbs. Sheamus drags himself back to the ring at 7 of 10 and slides in at 9! Gunther is annoyed but he looms over Sheamus. Gunther CLUBS Sheamus, stalks him to a corner, and CHOPS him! Sheamus ROCKS Gunther, Gunther CHOPS, Sheamus CHOPS! Gunther CHOPS Sheamus again and Sheamus staggers!
Gunther sits Sheamus up to CHOP him down! Gunther kicks Sheamus around and dares him to get up. Fans rally for Sheamus as he sits up, and Gunther CHOPS him! Gunther eggs Sheamus on, CHOPS him, but Sheamus throws body shots! Gunther SLAPS Sheamus, then BOOTS him down! Gunther drags Sheamus up, CHOPS him against the ropes, CHOPS and ROCKS and CHOPS again! The ref counts, Gunther CHOPS again and lets off. Sheamus leans against the ropes but stays in the ring. Sheamus grits his teeth and stands back up and the fans rally again. Gunther BOOTS and Sheamus staggers then flops down!
Gunther drags Sheamus from the ropes by a leg, then turns Sheamus over to get both legs. Sheamus resists the turn, but Gunther powers through to the BOSTON CRAB! Sheamus endures, crawls forward, but Gunther shifts into an STF! Fans boo but Sheamus still endures. Sheamus pries free of the crossface and BENDS Gunther's fingers! Gunther CLUBS Sheamus, then CHOPS him on the back! Fans boo but Gunther just soaks it all in. Gunther KNEES Sheamus in the side, BOOTS him, but fans are still rallying for the Fella! Sheamus throws body shots, but Gunther ROCKS him! Sheamus ROCKS Gunther!
Gunther dodges to ROCK Sheamus in the back! Gunther kicks and CLUBS but Sheamus CHOPS and CHOPS! Gunther wrenches the arm, and CHOPS Sheamus off his feet! Gunther holds onto the wrist while fans boo, and Gunther drags Sheamus back up. Gunther wrenches again, then CHOPS Sheamus back down. Fans boo more but Gunther drags Sheamus up again. Gunther CHOPS and Sheamus drops to a knee. Sheamus glares defiantly but Gunther wrenches again. Sheamus blocks the chop! Fans fire up and Sheamus ROCKS Gunther with forearm after forearm! Gunther wobbles but he RAMS Sheamus into a corner!
Gunther tosses Sheamus out, goes out after him, and scoops him again, to SLAM him on the floor! Sheamus writhes but Gunther drags him up, to TOSS him over the announce desk! Gunther taunts the fans then drags Sheamus up. Sheamus SMACKS Gunther off the desk! And again! And then gives him BEATS OF THE BODHRAIN!! Fans count to five but Gunther gets away into the ring! Sheamus pursues and CLOBBERS Gunther! Gunther goes to the apron, but Sheamus drags him up! Fans rally as Sheamus gives more BEATS OF THE BODHRAIN! He goes past 10 but Gunther gets away again! Sheamus goes out after Gunther, but Gunther TOSSES him over the barriers!
But Sheamus hits Gunther back! Sheamus gives Gunther MORE BEATS OF THE BODHRAIN! And he goes all the way to 15!! Gunther flounders away and Sheamus pursues! Sheamus puts Gunther in the ring, climbs up a corner, and KING KONG KNEE DROPS!! Fans fire up with Sheamus! Sheamus fireman's carries but Gunther slips off to ROCK Sheamus! Sheamus ROCKS Gunther, so Gunther CHOPS Sheamus! Sheamus ROCKS Gunther again, Gunther CHOPS Sheamus again. ROCK! CHOP! ROCK! CHOP! They speed it up and Sheamus gets the edge! But Gunther gest around to GERMAN SUPLEX! Sheamus sits back up!
Sheamus runs in, into a CHOP! Sheamus rebounds to KNEE Gunther down! Cover, TWO!! Sheamus almost had Gunther there! "This is Awesome!" and it's still going as both men stir. Sheamus watches Gunter rise, and he reels him in for the clinch. Gunther fights that off with elbows, then he CLUBS Sheamus! SLEEPER!! Gunther squeezes tight but Sheamus moves around! Sheamus drops to a knee and Gunther leans on the hold but fans rally up. Sheamus fights up, pries at the hold, but Gunther turns him around! Sheamus fights the lift and fireman's carries for WHITE NOISE! Cover, TWO!! Gunther survives again!
Fans rally harder and harder as Sheamus stands again. Gunther crawls to a corner but Sheamus takes aim. Cardiff is on its feet as Sheamus beats his chest! Gunther stands, but he dodges the Brogue to waistlock! Sheamus elbows free but Gunther SHOTGUNS him into the corner! Gunther drags Sheamus up, GENERAL BOMB! Cover, TWO!! Gunther is freaking out that Sheamus survives! Gunther stomps Sheamus down, drags him around, then stomps him some more! Gunther goes up the corner, but Sheamus hurries up to SLAP him! And CHOP him! And CHOP, and CHOP! Gunther CHOPS back but Sheamus ROCKS and CHOPS him again!
Sheamus and Gunther brawl, Gunther throwing down some hard SLAPS! Sheamus staggers away, Gunther adjusts, but Sheamus BOOTS the ropes to trip Gunther up! Sheamus then turns Gunther around and brings Gunther out on the crucifix! A shoutout to another great Intercontinental Champion! RAZOR'S EDGE!! Sheamus crawls to the cover, TWO!?! Gunther survives and Scott Hall must be looking down in a bit of disappointment. Sheamus crawls to a corner, fans are thunderous and Sheamus glares at Gunther. Gunther stands, Sheamus runs, but his back! Gunther gets Sheamus up, GENERAL BOMB!! But Gunther can't cover from his own fatigue!
Sheamus sits up! He shakes his head as Gunther gets pissed!! Gunther CLOBBERS Sheamus!!! Cover, Gunther wins!!
Winner: Gunther, by pinfall (still WWE Intercontinental Champion)
It was a war like none other, but it took one last shot to finish Sheamus off! Will Der Ring General continue to brutally and unequivocally dominate the WWE?
SmackDown Women's Championship: Liv Morgan VS Shayna Baszler!
Once again, the champion goes in an underdog. Liv cashed in on Ronda Rousey, then survived her in the rematch, and now she's going up against one of Ronda's former friends and training partners in the Queen of Spades. Will Liv keep her reign alive? Or will the Submission Magician tear the title away from whatever's left of Liv in the end?
The introductions are made, the title is raised, and we see if Liv will #TapNapOrSnap!
Liv and Shayna stare down at the bell while fans rally up. They circle, tie up, and Shayna goes right for the bad arm! Liv uses that to roll Shayna, ONE! Shayna blocks a kick, spins Liv, but Liv drops out of the sleeper to a victory roll! TWO, and Liv steals the KIRAFUDA! But Shayna easily breaks that free to get the ARMBAR! Liv moves around, Oklahoma Roll, TWO! Shayna smirks and Liv says it was that close. The two reset and circle. Liv dodges the haymaker to RANA! Shayna gets up, into a SHOTGUN from Liv! Fans fire up and Liv runs in at the ropes to SHOTGUN Shayna again!
Liv SHINING WIZARDS in a corner, rolls and runs in, but Shayna dodges. Liv BOOTS Shayna, goes up the corner and reels Shayna in. Liv hops around the ropes, but Shayna HOTSHOTS Liv down! Shayna taunts Liv and goes out after her. Liv throws hands but Shayna hammerlocks the arm and RAMS Liv into the barriers! Shayna puts Liv in and covers, TWO! Shayna rains down fists on Liv, then lets off to grab the bad arm. Shayna stands on Liv's face then twists the arm. Shayna steps over to wrench the elbow, then she YANKS the arm! Liv cries in pain and gets to ropes. Shayna taunts the champ, but Liv elbows her away!
Liv goes to a corner, BOOTS Shayna again, then goes up and over! Liv rolls, runs in, but Shayna LARIATS! Cover, TWO! Shayna taunts Liv more, twists the wrist and then the elbow. Fans rally and Liv fires off body shots! Liv fires off haymakers but Shayna shoves her away then GERMAN SUPLEXES her! And KNEES her at the ropes! Liv dangles out of the ring but Shayna drags her in to cover, TWO! Liv clutches her bad arm but Shayna paces around. Shayna lines it up, and PENALTY KICKS the bad arm! Liv flounders and writhes in pain but Shayna taunts her. Shayna dares Liv to get up like she always does.
Liv kicks Shayna, but Shayna twists the arm again! Shayna almost toys with Liv as she finds angles to bend the arm. Liv CLAWS at Shayna's other arm, but Shayna double wristlocks! Liv throws kicks while fans rally up. Shayna floats, gets the legs, but Liv boots her away! Liv avoids the kick this time, and JAWBREAKERS Shayna away! Shayna comes back, Liv ducks under, goes up, and missile dropkicks back! Fans fire up while both women are down! Liv and Shayna stir as a standing count starts. Shayna gets to ropes, drags herself up, and Liv stirs at 7 of 10. Liv kips up at 8! Liv roars and fires off haymakers! Kick and KICK and ENZIGURI!
Liv whips, Shayna reverses but Liv ducks 'n' dodges to springboard and CODE BREAKER! Cover, TWO! Shayna is still in this and Liv is frustrated. Liv drags Shayna up, but Shayna fires off hands! Shayna KICKS the leg, runs in, but Liv dodges! Shayna knees buckles, and Liv goes up. Liv leaps into a KNEE! Cover, TWO!! Shayna is furious but she taunts Liv to fight like always. Shayna drags Liv around, isolates the bad arm, lets her hair down and smiles sadistically. Shayna says that would be too easy, though. But Liv rolls through to TRIANGLE HOLD! Shayna deadlifts but Liv CLUBS away! Liv has Shayna down in an ARMBAR!!
Fans fire up as Shayna endures now! Liv wants to hurt Shayna but Shayna stacks the cover! TWO, and Liv has the ARMBAR again! Shayna clasps hands, fights back up, and STOMPS away on Liv! Gut wrench SLAM! RUNNING KNEE!! Cover, TWO!! Liv survives and fans rally up. Shayna ROCKS Liv to a corner, hoists her up top, then SLAPS her! Shayna climbs up after Liv, twists the arm, and has a double wristlock. Liv CLUBS Shayna, slips out and uses the arm to dribble Shayna off the buckles! Fans fire up and Liv lets off. Shayna is stuck up top, so Liv runs back in and SUNSET FLIP POWERBOMBS! Cover, TWO!! KIRAFUDA KLUTCH!!!
Liv claws at the hold but Shayna shifts to an ARMBAR! Shayna can only use one arm because Liv did damage back! Liv rolls to the ROPEBREAK! Shayna lets off in frustration, but she watches Liv stand. Shayna storms over, KIRAFUDA KLUTCH! Liv flails and rolls back, TWO!! Shayna kicks but misses, CODE BREAKER!! ObLIVion!!! Cover, LIV WINS!!!
Winner: Liv Morgan, by pinfall (still SmackDown Women's Champion)
Liv manages to turn the tide in an instant and takes the win! Will Liv continue to survive by the skin of her teeth and stay on top of the SmackDown Women's Division?
Edge & Rey Mysterio w/ Dominik Mysterio VS The Judgement Day!
The Rated R Superstar tried to set the new generation free, but those he taught misinterpreted his lessons and betrayed him. Now Edge and the King of Lucha look to humble the Judgement Day and teach them about respect. Will the former WWE Tag Team Championship duo rekindle that connection? Or will the Prince and the Punisher finish what they started?
Fans are so excited to see Edge, they sing his theme song! But then the Judgement Day makes their entrance and they bring the mood down. The teams sort out and Rey starts against Finn. Fans are fired up for both sides as Finn circles with Rey. Finn talks trash on Edge, but fans rally up for Rey. Rey and Finn tie up, Finn throws body shots and then bumps Rey off buckles. Finn throws body shots, CHOPS, then keeps Rey in the corner to whip corner to corner. Finn runs in to CHOP! Finn smothers Rey, the ref counts, and Finn lets off. Finn whips corner to corner, Rey goes up and over, ducks 'n' dodges, then KICKS and ROCKS Finn back!
Rey whips, Finn reverses and kicks low, to then sunset flip! Rey rolls through to BUZZSAW! Rey baits Finn in and elbows him, then tilt-o-whirls and RANAS! Finn is dizzy and he staggers to the Judgement Day corner. Tag to Priest, and fans boo. Priest calls Edge out! Fans are thunderous for that! Rey tags Edge in! Edge and Priest circle, tie up, and Priest ROCKS Edge! Edge drops to a knee, Priest tosses him to a corner to ROCK and fire off shots! Priest UPPERCUTS, then he glares at Dominik. Priest ROCKS Edge, whips him corner to corner, but Rey is a bumper to block! Edge comes back and fires off on Priest!
Fans fire up as Edge lets off, and Edge whips Priest. Finn tries to be a bumper but Edge fakes him out! Priest goes into the other corner, Edge KICKS Finn down, then he RAMS Priest and TOSSES him out! Rhea is furious but Rey tags in, Edge gives Rey a boost to ALLEY-OOP him onto the Judgement Day! Fans are fired up again as Rey puts Priest back in. Rey KICKS Priest's leg, ROCKS him, then runs. Rey QUEBRADAS, but Priest catches him to a FALCON ARROW! Priest rains down forearms but fans boo. Priest drags Rey up to BOOT him to the corner. Priest glares at Edge, runs at Rey and back elbows!
Tag to Finn and Priest snampares Rey for Finn's slingshot stomp! Finn soaks up the heat and drags Rey back up. Finn bumps Rey off buckles, RAMS into him, then tags Priest. BACKBREKER to LEG DROP! Cover, TWO! Fans rally while Priest clamps on a chinlock. Priest grinds Rey down, Rey fights up but Priest whips him to ropes. Reu KICKS back, but Priest SUPERKICKS Rey down! Priest pushes Edge but the ref has Edge stand down. Priest SPITS on Edge! Priest drags Rey away and tags in Finn. Priest whips Rey and mule kicks, Finn front kicks, Priest ROUNDHOUSES and Finn SHOTGUNS! Cover, TWO!
Finn stays on Rey and snap suplexes! Finn holds on for Uno Amigo! Fans boo as Finn CLUBS Rey down and raises his hands. Rhea laughs at the Amigo swerve, and Finn CLUBS Rey down into the chinlock. Fans rally as Rey endures and fights up. Rhea tells fans to shut up but Rey JAWBREAKERS free! Finn keeps Rey from Edge and KNEES him low! Finn whips Rey into the open corner, runs in, but Rey dropkicks the legs out! Finn hits buckles and both men are down! Fans rally up, Finn gets a foot! Rey ENZIGURIS Finn away! Priest tags in, and he BOOTS Edge down! Priest drags Rey up to TOSS him out!
The ref keeps Priest in the ring but Priest argues with her. Finn uses that to line up a shot, only for Rey to TOSS him into the crowd! Rey goes up the barriers but Priest goes up after him! Priest brings Rey around, but Rey fights the lift! Rey trips Priest up! Priest lands on his punisher! Rey hurries back to the ring, Rhea panics, and Rey is crawling! Rhea shouts at Priest to do something! Priest gets off the barrier, gets in the ring and he just manages to anchor Rey! Priest drags Rey back but Rey BOOTS Priest! Hot tags to Edge and Finn! Edge dodges Priest, CLOBBERS Finn, then CLOBBERS Priest! BOOT for Finn, FLAPJACK for Priest! IMPALER for Finn!!
Fans are thunderous again but Rhea is furious! Edge aims at Finn, but Priest is on the apron! Edge DECKS Priest, Rey SEATED ESNEONS Priest down! Edge drop toeholds Finn onto ropes! Is he really?! Edge dials it up! 619!! Rey goes up top for the FROG SPLASH!! Edge covers, Priest breaks it just in time! Priest choke grips Rey, but Rey goes up the ropes! Edge SPEARS Priest off the apron!! Both men are down and even Dom is shocked! Finn whips and slides Rey out of the ring hard! Finn snarls, but Edge HOTSHOTS him! Edge runs, into a SLINGBLADE! Rhea cheers as Finn aims, SHOTGUN!
Edge is down in the drop zone! Finn goes up top, but Dom distracts the ref! Rey fires off on Finn! Rey goes up for a SUPER STEINER! Finn hits hard but Rhea CLOBBERS Dom! Rhea RAMS Dom into barriers, then scoops him, but Rey DIVES! Direct hit and down goes Rhea!! Rey gets in, runs at Finn and RANAS him onto ropes! Now Rey dials it up, but Finn CLOBBERS Rey! And KICKS him out of the ring! Finn mocks Rey, builds speed, but Dom trips him up!! Rey dropkicks Finn onto ropes, redials, and 619!! SPEAR OUTTA NOWHERE!! Cover, Edge & Rey win!
Winners: Edge & Rey Mysterio, by pinfall
Dom wasn't sure about the team-up but he showed solidarity here in the end! The family that fights together wins together, and this is family! Rey has Dom join in on the celebration, but Dom LOW BLOWS Edge?!?! Rey is pissed but Dom is pissed at Edge! Rey tries to get Dom to please just understand, but then Dom CLOBBERS REY!! Judgement Day is laughing like this is the greatest thing ever! Fans boo but Dom doesn't care about them. Dom rips up his Mysterio shirt and storms off, why has he done this?!
Matt Riddle VS Seth Rollins!
There has been beef between the Stallion and the Visionary for months now, and after taking a detour around SummerSlam, we finally see these two throw down! Will the Bro give the Architect what he deserves for what he's done and said to him? Or will Seth Freakin' Rollins #BurnItDown in Cardiff?
The bell rings and the brawl is on! Fans fire up as the hands fly, and Riddle adds kicks! Riddle KICKS away in the corner but Rollins gest away. Riddle fires off forearms, Rollins throws body shots, they end up in a corner and Riddle fires off knees! Riddle KICKS away again, the ref has Riddle back off! They argue, but then Riddle backs down. Rollins goes out, Riddle pursues but Rollins hits back! Riddle RAMS Rollins into the apron, puts him back in the ring, and he gut wrench suplexes! Riddle holds on, drags Rollins back up and hits another gut wrench suplex! Fans fire up and Riddle storms up, into a throat chop!
Rollins runs and ROCKS Riddle with a right! Rollins CHOPS, runs, but into a KICK! Riddle drops the BROTON! And then another BROTON! Cover, TWO! Fans sing Rollins' theme but Riddle is after him at the ropes. Rollins FLAPJACK HOTSHOTS Riddle down! Rollins aims at Riddle in the corner, runs in, but into the headscissors! TRIANGLE HOLD! Rollins scrambles around, deadlifts Riddle, and runs at the ropes! But Riddle RANAS Rollins out! Riddle aims from the apron but Rollins blocks the Penalty Kick! BARRIER BOMB!! Riddle crashes hard, and a cameraman is even affected!
Rollins leaves Riddle behind, gest back in the ring, and the ring count climbs. Fans chant "We Want Tables!" but this isn't No Disqualifications! Riddle stands, Rollins DIVES and sends Riddle onto the announce table! Rollins drags Riddle up and back into the ring. Rollins drags Riddle back up, and short arm LARIATS! Fans are torn as Rollins stands over The Bro. Rollins smiles and drags Riddle up, but Riddle fires off body shots! Riddle runs, into an ELBOW! Cover, TWO! Rollins rains down fists on Riddle, but the ref reprimands about them being closed fists. Rollins argues with the ref now, and the ref warns him like he did Riddle.
Rollins kicks Riddle around, toys with him, but Riddle CHOPS and KICKS and KICKS! Rollins ducks, rolls Riddle, TWO! SUPERKICK! Cover, TWO!! Rollins suplexes for the FALCON ARROW! Cover, TWO!! Riddle survives that onslaught and Rollins is seething. Fans rally up and sing again, "OH~ OH~ OOOH~!" Rollins smiles as he stands up. Rollins runs, but into a BOOT! Riddle elbows Rollins away, goes up top, but Rollins trips him up! Rollins climbs up and grins as he brings Riddle into the dragon sleeper. Riddle fights the superplex off, throws more elbows, then adjusts. But Rollins goes out to GAMANGIRI!
Riddle is in a Tree of Woe now! Rollins climbs up, stands on Riddle's leg, and then give shim WOE STOMPS! Cover, TWO!! Rollins is annoyed but he smirks again. Rollins suplexes Riddle to put him back up top, then Rollins throws body shots. Rollins ROCKS Riddle with a right, then climbs up after him. Fans rally and duel as Riddle ROCKS Rollins back! Riddle stands Rollins up but Rollins throws body shots! SUPERPLEX, and roll through, but RIDDLE FISHERMAN BUSTERS!! Riddle and Rollins are both down and fans fire up! Rollins stands first, he storms over to Riddle but into PALM STRIKES!
Riddle BOOTS, shoots around, ripcords, FINAL FLASH! Riddle forearm smashes in the corner, then runs to forearm smash again! Rollins fights the Exploder, spins, but into the BROSPLODER! Rollins goes to the apron but Riddle triangle jumps and PENALTY KICKS! And then FLOATING BRO ATTACK! Direct hit and down goes Rollins! Riddle puts Rollins in, but Rollins kicks low! Rollins underhooks, but Riddle fireman's carries free! BRO TO SLEEP! Then Riddle gets Rollins up, POWERBOMB! Flip through, FLASH KNEE! Cover, TWO!!! Rollins survives by nanoseconds! Riddle storms up to Rollins and KICKS him into the drop zone!
Riddle gets up the corner, takes aim, FLOATING BRO onto knees!! Rollins aims, runs, but no stomp! Riddle waistlocks, Rollins switches, GERMAN SUPLEX, but Riddle lands on his feet! Rollins spins, into the TRIANGLE HOLD!! Riddle has Rollins down, Rollins endures and flails, and then Rollins stacks! TWO, Rollins tries to deadlift but Riddle hooks the leg! Riddle drags Rollins down and fans are dueling! Rollins fades, but he gets a second wind to stomp away on Riddle's face! Rollins pushes Riddle, reels him in, GOTCH HOLD, BRO DEREK!!! Cover, TWO!!! Riddle survives Rollins stealing his move!
Fans rally up as both men stir again. Rollins kicks Riddle then goes to the corner. Rollins seethes as he climbs up the corner, but Riddle moves! Rollins bails out of Phoenix Splash, Riddle ROCKS him! Rollins SUPERKICKS! Riddle ROUNDHOUSES! Rollins swings but into the spin and PELE! Riddle kips up, into the ROLLING ELBOW! Then the DREAM SMASHER! Rollins runs from the corner, into a FINAL FLASH!! Rollins staggers but PELES! Riddle still deadlift GERMAN SUPLEXES! And then Riddle drags Rollins up, but Rollins flips out of the bomb! Underhooks, PEDIGREE!!! Cover, TWO?!?!? HOW?!?!
Cardiff is thunderous as Rollins and Riddle are still fighting! Rollins is beside himself but "This is Awesome!" Rollins says this is what Riddle gets. "You're a loser! You understand me?! You're a loser! Your wife knew it, that's why she left you! These people know it, and your kids are gonna know it!" Riddle SLAPS away on Rollins!! And then fires off body shots! Rollins sends Riddle out, Riddle gets in but Rollins KICKS him in the ropes! Riddle drapes in the ropes, and Rollins drags him out! Fans cheer and jeer as Rollins hits the DRAPING DDT!! Rollins smiles, having mocked The Viper to insult Riddle.
Rollins soaks up the cheers, jeers and "OH~ OH~ OOOH~" as he hears those voices! Rollins aims, runs in, but into a SLEEPER!! Riddle has the body scissors, too! Riddle turns Rollins over to HAMMER away on his head! Riddle KICKS Rollins around, has him scrambling out of the ring, then dribbles him off the desk! Fans are fired up and Riddle grabs a chair! Riddle aims, but Rollins avoids the chairshot! Riddle gets in, CURB STOMP!!! Riddle's rage just got the better of him! Rollins aims from the corner because one is not enough! Rollins goes up the corner, Riddle stands, SUPER CURB STOMP!!! Cover, Rollins wins!!
Winner: Seth Rollins, by pinfall
The Architect had the blueprints to destroy Riddle physically and emotionally! Rollins takes down the Bro, but will he get what he really wants in a shot at the Undisputed Universal Championship?
Undisputed WWE Universal Championship: Roman Reigns VS Drew McIntyre!
It has been 734 DAYS, just over two full YEARS, of the Tribal Chief, the Head of the Table as the Reigning, Defending, Undisputed and seemingly unstoppable WWE Universal Heavyweight Champion! But the Scottish Warrior has been scratching, clawing, slashing and slaying, and now he truly gets to face Roman 1v1 after he demolished The Usos on SmackDown! Will this be the day we always remember as the day Roman's reign ended? Or will McIntyre simply be another one heaped on the pile of opponents Roman has smashed to pieces?
McIntyre makes his entrance to his original theme song, Broken Dreams!! His tron highlights his career in the WWE, from the young and brash "Chosen One" to the grizzled and gritty Scottish Warrior! McIntyre brings his sword, Angela, with him to continue to pay honor to his late mother. Then Roman makes his entrance, holding onto the belts himself since there's no Heyman to carry them. Roman still raises the belt to cue the pyro. Roman then continues to the ring, raises his finger to the sky, and then raises the belts for the second round of pyro. The introductions are finally made, the ref raises the belts, and tonight, THERE CAN ONLY BE ONE!!
Fans are thunderous as Roman and McIntyre stare down. Fans chant for "DREW! DREW! DREW!" Roman is thrown off by that and McIntyre smirks. The two circle, tie up, and are in a deadlock! Fans fire up as they both dig in their heels and neither budges! But McIntyre's height becomes his point of leverage and he pushes Roman towards a corner! Roman pushes back, but ends up against buckles! The ref counts, McIntyre lets off cleanly and allows Roman to come back. They reset and circle, and McIntyre smirks again as the fans keep on singing for him. Roman shakes his head and circles with McIntyre again.
McIntyre and Roman tie up, and Roman gets a headlock. McIntyre endures the grind, fans rally for him, and McIntyre powers out. They RAM shoulders but neither man falls! McIntyre gets in Roman's face and Roman backs off to the corner! Roman goes out to the apron to cool off and fans taunt him for it. McIntyre waits on Roman and the fans chant, "WHO ARE YA? WHO ARE YA?" Roman gets in, rushes and waistlocks but McIntyre switches! Roman fights the lift, elbows free, then headlocks again. McIntyre powers up and out, then follows to run Roman over! Roman bails out and fans are thunderous again!
"WHO ARE YA? WHO ARE YA?" echoes out again as the ring count starts. Roman tries to stay calm but the fans singing for McIntyre is still getting to him. McIntyre waits on Roman, the ring count is climbing, and Roman goes up the steel steps to step back in. Roman tells the fans to calm down but they boo. McIntyre joins in on the taunting as Roman paces. They circle again, but Roman kicks low and UPPERCUTS! McIntyre goes to a corner, Roman tells fans to hush. Roman throws haymakers, the ref counts, and Roman lets off at 4. Roman CLUBS McIntyre to the corner, fans taunt Roman more. Roman climbs up the corner to rain down fists!
But McIntyre slips out before ten to trip Roman up! McIntyre climbs up and he rains down fists! McIntyre goes all the way to nine, then winds up for TEN! Roman staggers, McIntyre runs and clotheslines him out of the ring! Roman wobbles and McIntyre goes out after him! McIntyre bumps Roman off barriers, then off the apron. McIntyre whips Roman into steel steps! The steps go tumbling and fans fire up again! McIntyre refreshes the count, drags Roman up and around, but someone is throwing water bottles? It's KARRION KROSS! Mr. Doomsday is making sure McIntyre doesn't forget he's back. McIntyre says bring it, he'll shove the bottle up Kross's-
Roman sucker punches McIntyre! And then POSTS him! Roman gets in the ring as the count climbs. McIntyre stirs at 7 of 10, drags himself up at 8, flounders at 9, but jumps in at 9.9!! Roman is shocked but he stomps away! Roman runs, BOOTS McIntyre, then BOOTS him again! Roman rains down fists, covers, ONE!! Roman snarls as McIntyre gets to the corner. Roman storms over, and he fires off the POINT-BLANK LARIATS! Roman goes all the way to ten, then he lets off as the ref reprimands. Roman brings McIntyre up to POST him! McIntyre flops to the floor and even clips the steps. The ring count climbs while fans boo.
McIntyre drags himself up with the steps, stands at 5 of 10 and drags himself in at 7! Roman is after McIntyre with haymakers! McIntyre ROCKS Roman, HOTSHOTS him, then runs in, into the LEAPING LARIAT! Cover, ONE!! Roman is shocked and fans are loving it! Roman cravats McIntyre for a neck wrench and he says he doesn't care if McIntyre's tired! McIntyre fights up, wrenches out, and kicks low! McIntyre CHOPS Roman, whips, but Roman reverses. Roman BOOTS McIntyre right down! Cover, ONE!?! Roman shakes his head in annoyance, but then he hears the fans rally and sing for McIntyre again.
Roman and McIntyre stand, McIntyre CHOPS and CHOPS and CHOPS! McIntyre whips corner to corner, Roman reverses hard! McIntyre bounces off buckles and falls to the mat! Roman checks his stinging chest and he flicks the sweat off him and onto McIntyre. "Who do you think you are, huh?" Roman pushes McIntyre around, taunts Cardiff, then eggs them all on. McIntyre CHOPS! And CHOPS! And CHOPS! Roman kicks low, fires off haymakers, and he sits McIntyre down! Fans keep booing but Roman paces around. McIntyre crawls his way over to Roman but Roman brings him up. Roman suplexes, but McIntyre fights that off!
McIntyre suplexes but Roman fights that off. Roman tries again, but McIntyre turns it around! Roman still fights, but McIntyre tries, too! Roman throws body shots and haymakers! Roman sits McIntyre back down and stomps him! Roman demands a mic? Roman gets the mic, fans boo and give thumbs down, but Roman says, "Cardiff! ACKNOWLEDGE ME!!" Fans boo even harder, and McIntyre HEADBUTTS Roman down!! That Glasgow Kiss was explosive! The ref checks both men, but both men are slowly sitting up. Fans are thunderous as McIntyre stands up. Roman stands up, too, and he ROCKS McIntyre with a right!
McIntyre ROCKS Roman with a right, but Roman ROCKS him again! McIntyre ROCKS Roman, but Roman ROCKS McIntyre! McIntyre, Roman, McIntyre, Roman, back and forth, but McIntyre gest the edge! Roman kicks low again! Roman whips, McIntyre comes back to BOOT Roman! Roman gets up but McIntyre LARIATS! McIntyre whips and OVERHEAD Belly2Belly suplexes! Then McIntyre clinches in a corner, Belly2Belly! And a NECKBREAKER! Fans fire up while both men are down again, and McIntyre KIPS UP! Fans are thunderous as "DREW! DREW! DREW!" takes aim! Forearm smash in the corner, then he hoists Roman up top!
McIntyre CHOPS Roman, climbs up after him, and brings Roman up to the very top! Roman throws body shots to fight the superplex, and he trips McIntyre up! Roman throws haymakers, but McIntyre pulls hair! Roman ROCKS McIntyre into the Tree of Woe! Roman stands up, but McIntyre sits up! SPIDER BELLY2BELLY! And then McIntyre slips out of the Tree and onto his feet! Fans fire up as McIntyre calls for the countdown! THREE! TWO! ON- Roman bails out. McIntyre goes out after Roman but Roman throws hands! Roman puts McIntyre back in, but McIntyre kicks him back! Roman fights off the Future Shock to UPPERCUT!
Roman shakes his head, runs the ropes, but into a SPINEBUSTER! Jackknife cover, TWO!! Roman survives and McIntyre is seething. McIntyre wants Roman to stand while he aims from the ropes. Roman checks his neck, McIntyre drags him up to a fireman's carry. But Roman rakes the eyes! Roman shoves McIntyre to a corner, McIntyre elbows him away. But McIntyre runs into an URENAGE! Cover, TWO!! Roman finally gets a two, so there's progress, but this still isn't enough. Roman gets to his feet and he watches McIntyre go to a corner. Roman raises his finger, #HeTheOne, and he locks 'n' loads!
McIntyre drags himself up the ropes, Roman runs in, but McIntyre turns Superman Punch into a FUTURE SHOCK!! Fans are thunderous again as McIntyre aims from the corner! The countdown! THREE! TWO! ONE!! CLAY- SUPERMAN PUNCH!! Cover, TWO!! Another close call but McIntyre is still in this! Roman fires up as the fans sing for McIntyre. Roman lets out the "OOOAH~!" and runs, into a KICK! Then they both run, SPEAR!! Cover, TWO!?!? No one can believe it, least of all Roman! Roman talks to himself, trying to calm down and figure this out. Roman shakes his head and gets back to his feet, then goes back to the corner.
Roman sees McIntyre standing up and is still in disbelief. But he clamps on the GUILLOTINE!! McIntyre is fading, but fans are thunderously cheering him on! McIntyre gest a second wind and RAMS Roman into the corner! But Roman gets the GUILLOTINE again!! Roman body scissors to add all his weight, but McIntyre is still standing! The ref checks him, and he's awake! McIntyre powers out to RAM Roman again! And then he POSTS him! Roman tumbles to the floor! But McIntyre has to remember Champion's Advantage! The count is climbing, McIntyre goes out and SPEARES Roman through the barriers!!
McIntyre drags Roman up, puts him in, and hurries to take aim! Roman moves around, McIntyre counts it down! THREE! TWO! ONE! SPEAR?!?! Cover, TWO!?!?!? HOW?!?! Cardiff is electric and sings for McIntyre again! Both men are stirring, and Roman stands first. Roman can't believe that was just two, but it was just two. McIntyre gets to a corner while Roman argues with the ref, and Roman grabs the ref! CLAYMORE FROM BEHIND, but the ref goes down, too!! "A-Town Down." AUSTIN THEORY rushes out with a ref of his own! SummerSlam didn't work, but the Youngest Mr. MITB wants to try again!
TYSON FURY DECKS THEORY!! No cash-in tonight, says the world boxing champion! But Roman has a chair! CLAYMORE!!! The ref counts, TWO!??!? Roman survives by mere nanoseconds and McIntyre can't believe it! "This is Wrestling!" as both men slowly sit up again. McIntyre sits Roman up to ROCK him with a right. Roman ROCKS McIntyre back. McIntyre ROCKS Roman, Roman ROCKS McIntyre, they throw hands faster and faster, back and forth! They stand to throw more haymakers, and then are going at the same time! It's a donnybrook!! McIntyre and Roman wobble, then fire off again!!
Both men stagger, Roman SUPERMAN PUNCHES! McIntyre stays up to GLASGOW KISS! Roman stays up, McIntyre dodges, AND SPEARS!!! McIntyre hurries to reload! CLAYMORE!!! Cover, NO!! Someone dragged the ref out!! Wait, that's SOLO SIKOA!! The Youngest Uso just screwed McIntyre!! McIntyre goes after Solo but Solo HOTSHOTS McIntyre! SPEAR!!!! Cover, the ref returns, ROMAN WINS!!
Winner: Roman Reigns, by pinfall (still Undisputed WWE Universal Champion)
Another member of the Bloodline helps Roman win! Solo Sikoa rejoins the family, but here comes TYSON FURY! Fans cheer Fury as he steps to Roman, and Roman isn't sure what to make of this. Roman puts the belts on his shoulders, and he shakes Fury's hand since Fury stopped the cash-in. There is respect across fight sports, but in the end, Roman and Solo head out, their family victorious. The reign of the Tribal Chief continues on, will there be another two years of Roman?
As for Fury, he says tough luck for Drew, and he helps him up. Fans cheer Fury showing McIntyre respect, too, and then Fury gets the mic. "Drew. All these people here tonight came to see you. I know you're feeling down right now, but you done your country and everyone here proud. That was an unbelievable fight. Well done, mate. You should be proud of yourself." Everyone here was chanting for McIntyre the entire match, that was an awesome feeling, right? So chin up, son. And at times like this, Fury can only think of one thing, and it goes something like this. "A long, long time ago, I can still remember how that music used to make me smile."
Fury sings and the fans join in for American Pie, and Fury says they were wonderful tonight! McIntyre says it didn't go the way he thought, and he should've known better when it came to Roman. But screw the Island of Relevancy, this island didn't let Drew down! Cardiff showed the world what they're made of! And Fury, McIntyre has bantered with him, but they have something in common: when they get knocked down, they keep fighting! McIntyre WILL get his hands on the Undisputed titles! But no matter the outcome, let's freakin' party! C'mon, lads! Let's get some Sweet Caroline going! Wait, are they still on the air? McIntyre is just having a laugh!
The fans sing along with McIntyre, and he says he loves 'em all! He hopes they do this again soon! Thank you! McIntyre may have lost, but Cardiff will celebrate the moment all the same! Will the Scottish Warrior keep on fighting until he finally, finally, finally has his moment?
---
My Thoughts:
What an awesome event. Something about WWE being in Cardiff is special. Even with title status quos being kept, we got above and beyond what I was expecting and it was all worthy of this moment. We got a surprise Six Man Tag in the kickoff, and that was some great stuff. When the kickoff show match is great, you know you're in for a good time. The Six Woman Tag was a great opener for the main card, and I like that we finally get the name of Bayley's trio, "Damage Control." And as I sensed, DMG CTRL wins and that sets Bayley right up to be Bianca's next challenger. Their Raw Women's Championship match will be at Extreme Rules, and who knows how it goes.
That Intercontinental Championship match was awesome! The fans loved Sheamus, Sheamus was on the doorstep of making history, but as I figured, Gunther holds on because he is just getting going. But the bigger surprise that Fabian Aichner, now Giovanni Vinci, is BACK in Imperium. They separated him from the faction as part of his NXT 2.0 rebranding, but I guess since that was more of a Vince motivated move, HHH is having them do a minor reset. Now Imperium is as it should be on RawDown, and the SmackDown Tag Division grows that much stronger with Barthel & Aichner reunited.
Liv VS Shayna was a great match, with great story in how they were battling with technical skill. Shayna almost had Liv a couple times, but that fits in Liv's story of being the survivalist underdog. Liv uses what her moveset has that Shayna doesn't in sudden impact finishers and that wins it for her. Great tag team match for Edge & Rey VS Judgement Day, and Edge & Rey winning was fine. Dom betraying Rey was of course the big deal of that segment, and I would love if Dominik Guerrero joined Judgement Day this Monday on Raw to propel this story further. Then we could see Dom and Rhea be like the new Eddie and Chyna.
Riddle VS Rollins was definitely what a heated grudge match like that should be. They were throwing hands from the bell, going all over ringside, and Rollins stealing moves from RKBRO was a great detail. Rollins had been on a PPV losing streak so it was good for him to get this win. The grudge can continue past this, but there's a good chance Rollins will get a chance to challenge Roman for Extreme Rules since he came really close the last time the two faced off.
And speaking of, McIntyre came the closest of all! I was loving the energy from the fans, and I really had hoped McIntyre was going to get this win here, but it seems they're bringing Solo up now despite there being lingering story in NXT. Having Solo in the Bloodline probably means Sami Zayn will be pushed out, which is fine because Sami can turn Face, join Kevin Owens, and they can be the ones to dethrone the Usos.
My Score: 9.2/10