AJ's WWE Fastlane Results and Review 3/21/21
AJ brought NWA's return PPV a little while earlier, and now covers Fastlane as well! Which show was better? Does Daniel Bryan pull out a miracle against the Tribal Chief?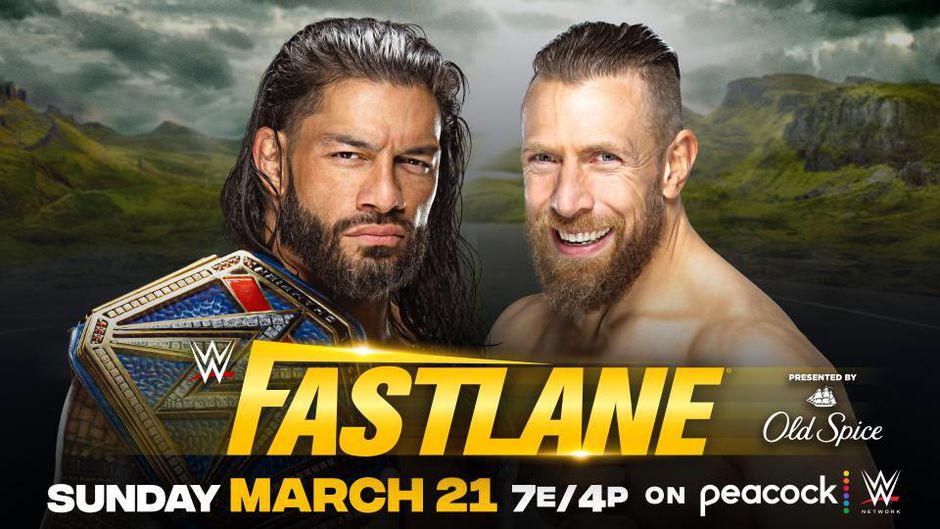 And on to part two of my phenomenal double header, this time with more fire behind it since we are three weeks away from WrestleMania. The possible rebirth of The Fiend, Daniel Bryan against Roman. The preshow had Retribution turn their backs on Mustafa Ali after falling short once again (thank God) and more tension between the SmackDown Women's Championship picture between Bianca and Sasha against the Tag Team Champions, Shayna and Nia.
What will happen? What will unfold? Will Rosenburg say Daniel Bryan vs Roman is Spear vs Spear again? Well that last one, I hope not…
Results:
Bianca Belair & Sasha Banks vs Shayna Bazler & Nia Jax (c) for the WWE Women's Tag Team Championship:  Shayna wins via Roll-Up – ** ½ – TITLE DEFENSE!!
Apollo Crews vs Big E (c) for the WWE Intercontinental Championship: Big E wins via Roll-Up(?) – * ½ TITLE DE…Defense…? I guess
Braun Strowman vs Shane McMahon: Strowman wins via Running Powerslam – **
Seth Rollins vs Shinsuke Nakamura:  Seth Rollins wins via Curb Stomp – *** ½
No Holds Barred: Drew McIntyre vs Sheamus:  Drew wins via Claymore – *** ¾
Alexa Bliss vs Randy Orton: Alexa wins by pinfall – N/A
Daniel Bryan vs Roman Reigns (c) for the WWE Universal Championship (with Edge as Special Guest Ring Enforcer):  Roman wins via pinfall – *** ¼ – TITLE DEFENSE!!
Results:
Bianca Belair & Sasha Banks vs Shayna Bazler & Nia Jax
Sasha starts fast against Bazler and makes a quick tag the Belair, taking it to Shayna in the corner with even more fast tags. Belair goes for quick pins and roll ups until Shayna breaks it with hold and submissions then Nia tags in, getting impatient with her tag partner. Nia gets a bit of a start going but it goes back to an even playing field. Shayna starts getting a decent amount of offense on Belair and gets frequent tags to weaken Belair. After taking a bunch of offense against Nia, Belair tags in Sasha to get things done against both of the champions. As the challengers get a full head of steam going after Sasha's… transition, Reggie gets involved after Bianca hit the best 450 in a while and Sasha gets distracted by him. After a good amount of outside shenanigans, Banks tags herself in, saying she's got this and she will win the match before slipping and falling short, losing the match for them in the process.
Aftermath: Sasha keeps saying that Bianca costed them the match and calling her a rookie. Bianca tries to talk back, saying it was Reggie that distracted her and then slaps Bianca and walks out. Bianca in shock saying that she needs to focus on Mania.
Apollo Crews vs Big E
The match starts off fast as Big E takes Apollo to the apron, Suicide Dive Spears Apollo and keeps taking to Crews with Apron side Splashes and not stopping, even trash talking Crews because he demanded another title match from Big E. Apollo finally gets a chances after dirty shotting Big E with a kick to the leg and muscling E with German Suplexes. Apollo continues to beat down Big E, even getting a Frog Splash off on him but, only for a two. Big E tries to get momentum in his favor with double knees but misses the corner spear. They get to the center of the ring, do a tetter-totter of a small package and… Big E wins? I think? That's what they say.
Aftermath: Apollo is livid and starts beating Big E down, doing three Angle Slams and walking out pissed off.
Braun Strowman vs Shane McMahon
Shane hurt himself before training and since Elias wanted an opportunity to prove himself to "the boss", yeah you got this Elias.
Strowman swings wildly and dismantle his new opponent. Strowman does everything he can to destroy and break Elias with strikes. Ryker tries to help as best he can as he distracts Braun. Elias has a small amount of offense with a DDT and diving Elbow but not enough to keep Strowman down. Corner splash, high angled chokeslam and then the Running Powerslam. 1, 2, 3
(And for us that love the Braun Strowman game on DWI, it looks like he got all that slime off of him with some soap from Dawwwwwwwwwwwn)
Seth Rollins vs Shinsuke Nakamura
The two go very back and forth with their match from the start but Rollins takes control with dirty tricks, knee striking Shinsuke in the face from the outside, taking it to Nakamura a decent amount only for a one count with the pinfall. Seth keeps going for gutbusters and backbreakers repetitively to slow Shinsuke, going for pinfall attempts but always kicking out. Rollins gets cocky, going for Cesaro's Swing but Nakamura gets the reverse and starts taking control, doing some knee strikes of his own, Good Vibrations and his theatric knee to the gut in the corner. Seth escapes the Inverted Exploder shortly after and starts to take offense again. Rollins lands a knee strike from the ropes and another move that Shinsuke is oh so very used to… (Thanks Tanahashi!) but gets another two count.
Both men now get to a slugfest, even ground. Obviously, Seth only watched Tanahashi and not Nakamura because you don't get into a striking match with the King of Strong Style. After a sliding German through the bottom rope and a Kinshasa attempt, Rollins counters it into a Buckle Bomb and Falcon Arrow. Shinsuke breaking out a Fireman Michinoku Driver and Inverted Exploder and gets the Kinshasa reversed again into a kicking combination on the ground and finishing it with a Curb Stomp. I guess when you take from Tanahashi's moveset, you get the Tanahashi wins lul treatment.
Drew McIntyre vs Sheamus
 The start of the match starts off like a hockey fight (or um… a Rugby Scrum? I don't think they have a hockey team in their countries) and go to the outside afterward.  If you wanted to see the definition of "That escalated quickly", this went from fighting from pillar to post to throwing them into barricades, tables and steps  with kendo sticks being tossed into the ring. Sheamus gets the first pinfall attempt as he Brogue Kicks the kendo Drew was about to swing back into Drew's face and after the pin, smacks the kendo over and over again, back and then chest. Drew gets back up after a while and then delivers a Glasgow Kiss to disarm Sheamus, crack him with the stick now and delivers a Russian Leg Sweep, digging the stick in Sheamus' eye before Sheamus powders out and traps Drew into the outside and drop toe holds drew into the steps.
They keep taking it to each other on the outside, Sheamus with the steps like Monday and then Drew putting Sheamus through a barricade. Sheamus gets the last word in this exchange to the outside with the ThunderDome and suplexing Drew on the outside, taking the breath out of him. Sheamus continues with a rolling senton where the LED Boards are at but, Drew goes one step further and throws Sheamus through the LED Screens causing actual sparks to fly. The fighting continues and both men are out of it, Sheamus gets his temper flaring up and shouts, "I should be in the Main Event of WrestleMania!" and does White Noise onto Drew through the announce table.
Sheamus brings a piece of the announce table into the ring and trash talks Drew more. Sheamus attempts the Alabama Slam (Dublin Slam? Cork? Idk what the Alabama equivalent of Ireland is) and Drew gets out of it, goes for the Futureshock DDT on the table piece and ends it with the Claymore.
Alexa Bliss vs Randy Orton
Randy goes for his signature pose in the ring as he enters and starts spitting up the black substance (play with me here, it's probably tar, vegemite or soy sauce) and asks for a towel to clean it up. Alexa comes out next with the white contacts and Bliss takes some of the Fiend's powers and makes the arena purple.
Orton goes to approach her but is stopped by a wall of fire. Alexa giggles psychotically as Randy gets pissed off and charges to the corner, hitting the post and falling to the outside. Alexa giggles again and eggs Orton to follow her on the outside as the walk methodically. Alexa looks up and stage lights fall from above to cut off Randy. Alexa keeps the "cutesy" crazy going and tells him to get in the ring as she uses the ropes as a swing or bench. Orton begrudgingly follows into the ring, Alexa blows a kiss as randy marches forward and actually played Mortal Kombat by dodging Alexa's fireball attempt. As it seems there is no more tricks, a burnt and mutilated Fiend returns to cut Randy off and appears in front of him. Bliss kicks Orton in the back and feeds Orton to the Fiend, gets a Sister Abigail and Alexa… ahem… "Pins" Randy for the win.
Daniel Bryan vs Roman Reigns
Daniel plays some mind games, trying to get into Roman's head with a single leg takedown but, Reigns isn't having it and getting more and more annoyed. Roman showing his strength in a Greco Roman Knuckle Lock and while Roman trash talks, Bryan transitions to an armbar which Roman instantly breaks out of, getting under Roman's skin more. After a little bit, Roman actually puts Roman in a headlock takedown but, Daniel slides out of it and picks apart Roman's joints and muscles. Roman gest out as fast as possible and begins to beat down Daniel to cut him off. After a couple of attacks from Roman, Bryan starts to get a good amount of steam going, rushing to the ropes and does his corner backflip until Roman does a Tilt-A-Whirl Slam to stop that momentum. Roman keeps going to the beat down, going slow and methodical as he takes firm control of the match. Each time Daniel takes a little momentum, Roman stops him by beating him outside of the ring now, getting to an eight count and going for a pinfall attempt. Roman keeps the beatdown going, demanding respect and acknowledgement as the Tribal Chief from Daniel Bryan but, now Daniel Bryan gets some offense going now. Bryan tries to go for a Frankensteiner  but Roman caught him on the drop down and puts Daniel in a Boston Crab. Daniel gets out of the crab though and gets a nearfall pin.
Both competitors now taking it to each other, Roman to the outside now as Daniel gets caught in a dive attempt, countering Roman's snake eye attempt and getting the comeback started, taking Roman to the pillar, back to the ring and hits a Missile Dropkick for a nearfall but after Roman kicks out, Bryan doesn't stop the attack. As Daniel Bryan goes for his It Kic—Yes… Yes Kicks, Roman counters it, begins his beat down on Bryan but Daniel is now quicker than that and goes for another pinfall. Romans kicks out and Bryan now trash talks, saying that Roman likes to talk, time to stop and stomps on Roman's face and neck, applying the Yes Lock after and Roman not tapping, breaking out of it into a full mount attack after. Roman delivers a powerbomb pin attempt but Daniel kicks out, both of them gasping as Roman talks to himself again, getting angry. Bryan loads the Running Knee and hits the ref as Edge now becomes the authority in the match as Roman hits the Spear against Daniel Bryan. Edge comes in as the ref now and the trash talking continues from Reigns. Daniel gets a Triangle attempt in, Roman picks him up for a Powerbomb but Daniel transitions it into the Yes Lock. Jey Uso rushes in and superkicks Edge and Daniel Bryan to save Reigns.
Jey brings a chair into the ring, takes Edge out in the corner and charges at Bryan. Bryan hits the Running Knee on Jey, Daniel picks the chair up to take Roman out but hits Edge by mistake. Roman then lands a Superman Punch but gets the Spear caught from the Labell Lock. Roman actually taps out to the lock but Edge gets up, pissed off on all belief and says… Fuck it. Hits both Daniel and Roman with the chair and storms off as both men are down.  A new ref comes in and Roman slowly drapes his arm along Daniel to get the win.
Overall Score: 7.5/10
And like that, I retire for the night. The matches weren't the worst except the Intercontinental debacle and I don't count the Alexa and Randy thing a match as we all expected. Tag match made sense, we don't have Retribution anymore so that's always a plus from the kickoff show. Drew can put Sheamus in the rear view as he gets to the main event against Bobby Lashley for one of the nights, tension rose for the SmackDown Women's Championship match at Mania with Bianca and Sasha. We don't know what Seth or Shinsuke are going to do, Big E will probably face Apollo again down the road and Shane provoked the Monster. Two things that we have learned most likely from this however… First, Daniel Bryan is probably going to get inserted into the Universal Match at Mania some way shape or form since Roman actually tapped out and the second thing that the editor can confirm that Daniel Bryan and Shane McMahon need to learn… It's probably a bad idea to piss off people named Adam that have anger issues.
That being said, I'm gonna need to relax after the Phenomenal Double Header of Pay-Per-Views I did today with some brews and if you have any thoughts that you have or feedback, let me know on Twitter @PhenomenalAJB (If they are negative though, really it was @PCTunney that said it, not me).
Mitchell's WWE Day 1 Results & Report! (1/1/22)
Who starts off the year with a win?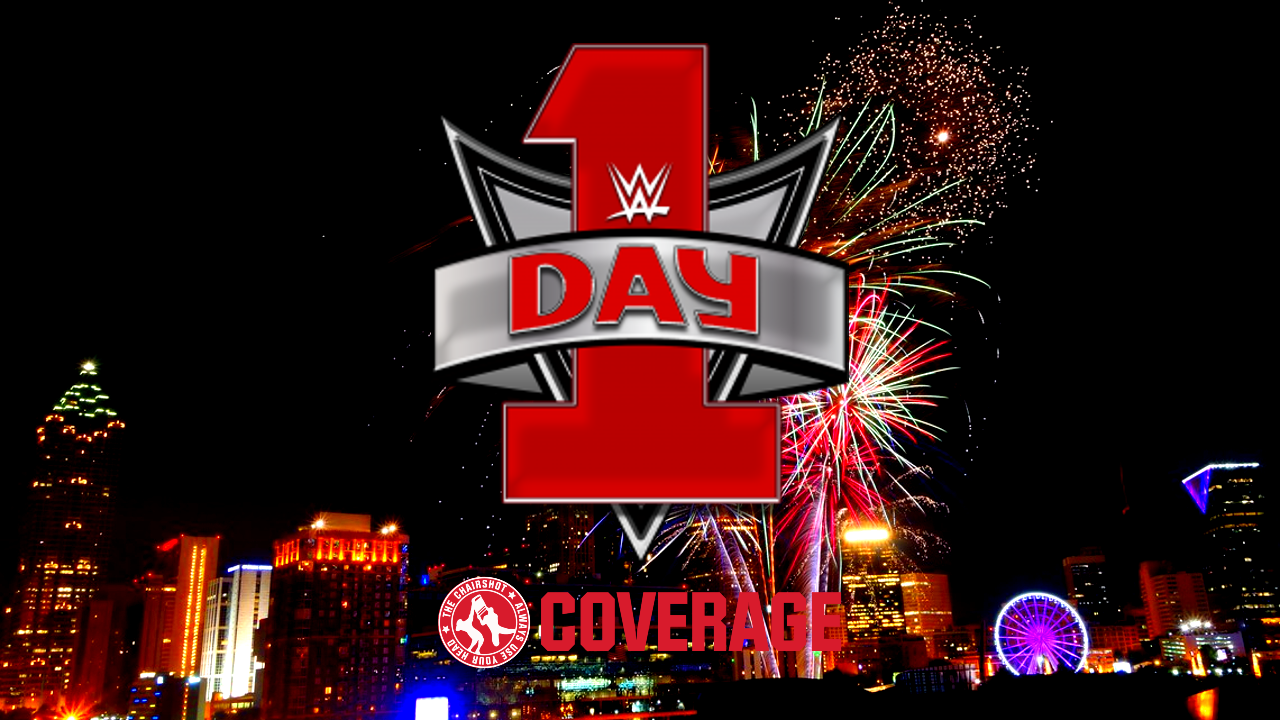 WWE starts off the New Year with a bang!
2022 is here, and WWE is celebrating with a Pay-Per-View! And things only get bigger as THE BEAST joins the WWE World Championship match!
OFFICIAL RESULTS
Kickoff Show – Cesaro & Ricochet VS Sheamus & Ridge Holland; Sheamus & Holland win.
SmackDown Tag Team Championships: The Usos VS The New Day; The Usos win and retain the titles.
Drew McIntyre VS "Mad Cap" Moss w/ "Happy" Corbin; McIntyre wins.
Raw Tag Team Championships: RKBRO VS The Street Profits; RKBRO wins and retains the titles.
Edge VS The Miz w/ Maryse; Edge wins.
Raw Women's Championship: Becky Lynch VS Liv Morgan; Becky wins and retains the title.
WWE World Championship Fatal 5 Way: Big E VS Seth Rollins VS Kevin Owens VS Bobby Lashley w/ MVP VS Brock Lesnar; Lesnar wins and becomes the new WWE World Champion.
PLAY BY PLAY
It's the Day 1 Kickoff Show!
Join Kayla Braxton, Kevin Patrick, John "Bradshaw" Layfield, Booker T and Pete Rosenberg in discussing, analyzing and predicting all of tonight's action.
BREAKING NEWS!
Brock Lesnar is NOT challenging for the WWE Universal Championship as Roman Reigns tested positive for COVID. Wish the Head of the Table a speedy recovery, but pray for the WWE World Championship match as Big E, Seth Rollins, Kevin Owens and Bobby Lashley are going to be facing THE BEAST in a now Fatal FIVE Way!
The Miz crashes the panel.
Kayla was giddy over Edge ruining Miz's vow renewal? Miz wanted to involve the WWE Universe, but Kayla laughed at that. Miz gets Edge is a beloved superstar but that is why Miz went after him. Everyone celebrates Edge's return, but why not Miz's? Well Edge has had health trials and tribulations. Miz was HERE injured, squirting people with squirt guns! He didn't take a day off! But if he took time off, would he get celebrated? But Miz didn't win Dancing with the Stars. No! Miz was revolutionary! And everyone said how great he did! Miz blames the fans for why he lost! The votes weren't there! JBL thought Miz was awesome. Yes, he was! And he is, and he will be awesome.
Edge says Miz needs to earn respect? Miz HAS earned respect! He's been here long enough to get that respect! And after he beats Edge tonight, Miz will not only earn respect, but he will deserve it from all of the fans. Booker T applauds that but Kevin Patrick asks if he's off focus because of his anger. Edge has only added fuel to Miz's fire! That's what that Brood Bath did. Miz thrives under pressure, and he will dominate Edge! He is the Miz, and the Miz is AWESOME! But will he be the winner here tonight?
Sonya Deville joins the panel.
She's dressed sharp, and she's here to talk about the Raw Women's Championship. Liv Morgan hasn't had a title, Becky Lynch is a seasoned vet, but if there's anyone ready to move up to the next level, it's Liv. Sonya sees Liv as a great friend, and she sees Liv as someone with the "It" factor. Liv is great in the ring, Sonya is excited to see Liv take on Becky again. Kevin Patrick defends Becky, "The Man," but Sonya says Liv has tenacity, she's young and hungry, and she comes from somewhere almost no one comes from. JBL says sometimes you're born in the wrong generation. Big Time Becks shows up, it's ball game!
Sonya says someone who does agree with her is the WWE Universe. The fans were behind Liv even before Liv was in the title picture. Peter says he remembers SmackDown in Texas and how the fans were reacting to her. Liv took that on and now she's here. But what he fears for is that if you're not quite ready for the opportunity when it comes, you're just back at the bottom. Booker agrees with JBL. 99.99% of the fans don't know what it's like to be in the ring. Becky has a cloak of invincibility, and Liv's one thing going for her is that she hasn't been under these bright lights and has a chance to do something special. Booker doesn't see it happening, but it'll be great to see.
Kevin brings up the family fuel Liv has, and yet Becky's used that against her. Booker says the best way to get at someone is to talk about their mama. Sonya says Becky did have to cheat, though. Kayla does note that, but she brings up Sonya's feud with Naomi. Sonya doesn't get the controversy there. Sonya was meant to have a match with Naomi, but then Naomi brought Xia Li up. Sonya signed up for a 1v1. So it's not over? There's more to come? Sonya says that when she has the suit on, she's an official. What is so hard to understand? This is decade old rules! But didn't Sonya slap Naomi? Not this suit, but a suit of authority.
Sonya says Naomi can't disrespect Naomi and Sonya keeps the superstars in line. Booker T says she can use the line, "My office hours are 9 to 5."
Backstage interview with The New Day.
King Xavier Woods & Sir Kofi Kingston have a royal proclamation from the "benevolent and magnificent" King of the Ring. To all of Woods' subjects, from the beautiful and lovely, such as Megan, to the putrid and disgusting *cough* Usos */cough* Woods proclaims that he, King Xavier, first of his name, bringer of New Days, clotter of Bloodlines and vacationer to St. Olaf, hereby declare January 1st, 2022, the day he and Sir Kofi will defeat the Usos to become WWE Tag Team Championship. And henceforth, this day shall no longer be New Year's Day. This will be New Day Day! So he has decreed, and so it shall be! So they're very confident in this match.
Must Kofi remind Megan that they have not defeated the Usos just once, nor twice, but THRICE times and will do it a fourth against those lousy, weaselly, skullduggerous rapscallions! And after handedly winning, the New Day will throw the Usos in the royal dungeon! Wait, they have a dungeon?! Yes, Woods had to drop a brick three model mine cuz his was kinda ugh. But as the Usos rot in the dungeon, the New Day will galivant as the NEW W! W! E! WORLD! TAG! TEAM! CHAMPIONS~! Huzzah! Huzzah!
Kickoff Show – Cesaro & Ricochet VS Sheamus & Ridge Holland!
Once upon a time, The Swiss Superman and The Celtic Warrior were The Bar, one of the roughest and toughest tag teams in the WWE. But time passed and now they're bitter enemies. Will having the One & Only help Cesaro get his revenge? Or will the Fella's protégé help him pummel the past into paste?
The teams sort out and Cesaro starts against Sheamus! Fans fire up as the two circle, but then Sheamus uses ropes as a defense. Sheamus talks up Holland, he is the replacement for Cesaro. So Sheamus tags Holland in. They tie up, Holland wrenches Cesaro to a wristlock, but Cesaro rolls and kips up to slip through and wrench to YANK Holland's arm. Holland kicks low, headlocks, but Cesaro powers out. Things speed up, Cesaro catches Holland to bring him around for a BACKBREAKER! Tag to Ricochet, fans fire up as Cesaro gives him the assist on the 450 SPLASH! Cover, TWO! Holland checks his face and his nose is busted!
Ricochet gets Holland up, but Holland powers Ricochet to the corner! Tag to Sheamus, Sheamus CLUBS Ricochet! Ricochet fires back with forearm sand CHOPS, but Sheamus shoves him. Ricochet kicks back, runs but into a LARIAT! Sheamus stalks Ricochet to a corner, he drags Ricochet up and back suplexes, but Ricochet lands on his feet to dropkick legs out! Ricochet runs to dropkick Sheamus down! Ricochet runs again to drop the leg, brother! Cover, TWO! Ricochet CLUBS Sheamus, wrenches and fireman's carries but Sheamus CLUBS free! Sheamus KNEES Ricochet, rams him into buckles, then drags him up to a headlock takeover.
Ricochet endures, fights up, but Sheamus wrangles him down to a cover. TWO, and fans rally up, Ricochet throws body shots, haymakers, and a CHOP! Sheamus fights through to get the clinch and IRISH CURSE BACKBREAKER! Sheamus soaks up the heat as he drags Ricochet back up. Sheamus reels Ricochet in for another IRISH CURSE BACKBREAKER! "I'm just too strong, fella." Sheamus looms over Ricochet, kicks him around, but Ricochet gets up to CHOP and punch! Ricochet runs but Sheamus CLOBBERS him! Cover, TWO! Sheamus keeps on Ricochet with a Camel Clutch, but he doesn't trap the arms.
Holland's being checked by medical and his definitely has a broken nose. He is out of this match, Sheamus is going it alone! Ricochet fights up to hit a JAWBREAKER! Ricochet is free, but Sheamus scoops for a BACKBREAKER! Sheamus taunts Cesaro but the ref keeps Cesaro back. Sheamus goes back to Ricochet, kicks him to the apron and drags him up. Sheamus gives Ricochet Beats of the Bodhrain! Sheamus goes all the way to TEN! Sheamus says, "Even without a tag partner!" Sheamus stands Ricochet back up, Ricochet HOTSHOTS him away! Ricochet hurries to step in, TORNADO DDT! Fans fire up as Ricochet crawls over, hot tag to Cesaro!
Fans fire up as Cesaro rallies on Sheamus with EuroUpper after EuroUpper! Whip corner to corner, another EUroUpper! And then back the other way! And then again, but Sheamus reverses. Cesaro stops himself to toss Sheamus up and out! Cesaro goes out and runs in around the way, to EuroUpper Sheamus against barriers! Fans fire up with Cesaro and he puts Sheamus in the ring. Cesaro climbs up, stands on the post, and then springboards to CROSSBODY! Cover, TWO! Sheamus is still in this but Cesaro calls for the swing! He gets the legs, and it begins! Fans count along as Sheamus goes around and around and around!
Cesaro stops at 15, gets the legs and has the SHARPSHOOTER! Sheamus endures, reaches out, ROPEBREAK! Cesaro lets go, drags Sheamus up and reels him in, but Sheamus powers up to back drop out! Cesaro lands on his feet but Sheamus KNEES him down! Cover, Ricochet breaks it! Ricochet brings Sheamus up but Sheamus kicks low, gets Ricochet up, but Ricochet RANAS Sheamus out! Ricochet then boots, but Sheamus blocks and reels Ricochet in! WHITE NOISE to the floor! Ricochet writhes, Sheamus goes back to the ring. Sheamus climbs up, leaps, but into a EuroUpper! Cover, TWO! Cesaro keeps cool as he brings Sheamus back up.
Cesaro throws EuroUppers and body shots to put Sheamus in a corner. Cesaro keeps going with EuroUppers, then whips corner to corner. Sheamus dodges, Cesaro POSTS himself, BROGUE!! Cover, Sheamus wins!!
Winners: Sheamus & Ridge Holland, by pinfall
Holland's nose took a hit but Sheamus finishes it for the both of them! Is 2022 going to be the Year of the Fella with this win to kickoff things off?
The first day of the New Year is here!
Quavo of Migos says this is Day 1. "A new year, a new opportunity. And what you do tonight, in MY city of Atlanta, in front of all these people, becomes the blueprint for your tomorrow. This ain't no game. This ain't about getting views man. Legacy. Opportunity." This is your time. This is your moment. This is your DESTINY! This is your Day 1. "Ya feel me?" You gotta outwork, outsmart and out hustle everyone. "Don't ever forget that."
SmackDown Tag Team Championships: The Usos VS The New Day!
Roman Reigns may be sidelined, but Jimmy & Jey are still here, holding it down. Will they do their Tribal Chief proud and keep these titles with the Bloodline? Or will King Xavier & Sir Kofi once again be on top of the tag team division with their TWELFTH title reign?
The introductions are made, the belts are raised, and we see if the Usos are the ones on Day 1!
Woods and Jimmy start and fans fire up for their hometown hero. Woods fires up Atlanta and he ties up with Jimmy. Woods wrenches, has the wristlock, but Jimmy headlocks. Woods wrenches out to a hammerlock, but Jimmy fights up but Woods wrenches him again. Woods headlocks, wrenches, arm-drags and then floats to a hammerlock. Woods chinbars Jimmy but he moves around. Woods gest the other arm and pushes Jimmy to a cover, TWO! Woods mule kicks, bumps Jimmy off buckles then throws a forearm! Tag to Kofi, they whip Jimmy to double Japanese Arm-Drag! PENALTY KICK! SENTON! SPLASH! Cover, TWO!
Kofi keeps on Jimmy as he wrenches, but Jimmy breaks free to ROCK Kofi with an uppercut! Jimmy CHOPS, runs, but Kofi follows to slide and trip Jimmy up! Kofi goes to a corner and climbs up, but Jey runs over. Kofi AX HANDLES Jey down, Jimmy kicks. Koifi blocks but Jimmy DRAGON WHIPS! Jimmy keeps the ref busy, Jey CLOBBERS Kofi! Kofi writhes, Jey tags in to fetch Kofi and put him in the ring. Jey rains down rights, but fans rally with "NEW! DAY ROCKS!" Jey drags Kofi up, back suplexes high and hard, then holds up his finger. Jey talks trash Kofi and then chokes him against ropes. The ref counts, Jey lets off but Jimmy gets a cheap shot in!
Jey looms over Kofi at the ropes, talks more trash, then drags Kofi up. Jey scoops and SLAMS Kofi, then again holds up his finger. Jey aims from the corner, "UCE!" "SO!" Jey locks 'n' loads a la Roman to HIP ATTACK! Jimmy tells Jey to do it one more time, because #WeTheOnes. Jey runs in again, but Kofi DOUBLE STOMPS Jey down! Both men are down and fans fire up! Jey and Kofi crawl, hot tag to Jimmy and he SUPERKICKS Woods first! Jimmy drags Kofi away, talks trash to the New Day fans, and Jimmy puts Kofi in the corner. Jimmy CHOPS Kofi, tags Jey, and Jey dusts off his shoe to mule kick Kofi low!
Jey says, "We the ones! We the ones!" Kofi is in the corner, Jey drags him up and hoists him up top. Jey climbs up, brings Kofi up, but Kofi throws body shots back! Jey throws hands but Kofi headbutts him away! Kofi leaps, FLYING DDT! Both men are down and Woods is back on the corner! Fans fire up as Kofi crawls over, as does Jey, hot tags to Jimmy and Woods! Woods rallies on Jimmy and Atlanta fires up for their king! Woods whips, Jimmy reverses but Woods BOOTS him back! Then the HONOR ROLL! Jey whips Woods but Woods holds ropes to then put Jey on the ropes! DROPKICK to the back!
Jimmy back suplexes, Woods lands on his feet to shove, run and tilt-o-whirl RUSSIAN LEG SWEEP! Fans fire up with the kip up as Woods powers up! He fireman's carries Jimmy for a LANDSLIDE DRIVER! Cover, TWO! Jimmy survives and bails out. Woods builds speed but Jey takes the wrecking ball dropkick! Jimmy ROCKS Woods, SMACKS him off the announce desk, then puts Woods back in. Jimmy stalks Woods, fireman's carries, but Woods slips off to shove. Jimmy uppercuts then goes up, WHIPSER IN THE WIND! Shout out to the Hardy Boyz! Cover, TWO!! Woods survives and Jimmy can't believe it!
Tag to Jey, the Usos stalk Woods, pop-up SAMOAN DROP! #AlleyUce! Cover, TWO! Woods is still in this and Jey grits his teeth. Jey stalks Woods to ropes, makes sure Woods hears the fans chanting, and then ROCKS Woods with a forearm! Woods ROCKS Jey back! Jey snarls and swings to ROCK Woods again! Woods ROCKS Jey! Jey ROCKS Woods! Woods DECKS Jey! Both men are down, Kofi drags himself up to the corner. Kofi tags in and climbs up top! Jey staggers up to his feet, Kofi CROSSBODIES! Cover, TWO! Kofi dropkicks Jimmy off the apron, dodges Jey, and hits a LEAPING LARIAT! Fans fire up with Kofi and he hits the NEW~ DAY~ BOOM DROP!
Kofi goes to a corner and fans fire up as he claps it up. "NEW! DAY ROCKS!" Jey stagger sup, but he SUPERKICKS Kofi first! Tag to Jimmy and he's up top, USO SPLASH! Cover, TWO!! Kofi survives and the Usos can't believe it! "This is Awesome!" as Jimmy grits his teeth and goes to a corner. Kofi is in the opposite, Jimmy runs in, but he pops up the stomp! Kofi's leg jams, Jimmy CHOP BLOCKS the other! Jimmy hammerlocks an arm, gets the leg, HALF CRAB! Kofi endures, crawls as best as he can with one arm and one leg, and he gets the ROPEBREAK! Jimmy holds until the ref counts 4, and then he lets Kofi go.
Jimmy drags Kofi away, tags Jey back in and Jey wants to do what they did to Kofi before. Jey drags Kofi up, but Woods drags Jimmy out! Woods throws Jimmy into barriers, then into the steel steps! Kofi rolls Jey up, TWO! Schoolboy with bridge! TWO!! Jey runs in, into SOS!! Cover, TWO!!! Kofi crawls, tags in Woods, Jey runs into DOUBLE GAMANGIRI! Woods goes up, Kofi brings Jey around, BACKBREAKER and DOUBLE STOMP!! Cover, TWO!?!? Jey survives and Atlanta can't believe it! Woods drags Jey up, shoulders him and tags in Kofi. They wanna shout out Big E but Jey shoves Woods into the corner!
Kofi jumps over, Jimmy tags in! SUPERKICK! Then DOUBLE SUPERKICKS!! Jimmy tags Jey back in, and each Uso gets a corner! DOUBLE UCE!! Cover, Woods breaks it!! The King saves this for his people! All four men are down and Atlanta is thunderous! The teams regroup and stand up. The Usos stare down with the New Day, and it fires off! They brawl, Woods throws Jimmy out to PLANCHA into a SUPERKICK! Jey hauls Kofi up in a fireman's carry, Kofi slips off but Jimmy tags in! SUPERKICK! THREE D!??! Cover, The Usos win!!
Winners: The Usos, by pinfall (still SmackDown Tag Team Champions)
Jimmy & Jey shout out tag team legends in the Dudley Boyz to defeat future legends, and are solidifying THEIR legend! What will it take to stop the Usos from reigning over the SmackDown Tag Division?
Backstage interview with Big E.
The WWE World Champion knows Lesnar is in the match for a Fatal 5, so how does he feel bout his odds? Well who had this on their New Year's bingo card? Not Big E. But he remembers Ellis Island's mantra: bring me your hungry, your tired and your poor, but apparently it has been changed into "bring me your Seths, your Bobbys, your Kevins and your BEASTS!" Tonight wont' be easy, because Big E walks through fire, and finds a way to walk out of here STILL the WWE Champion! Big E is all fired up in Atlanta, but will
Backstage interview with Migos.
"Yes, sir!" Today is Day 1 in their hometown of Atlanta, and it is the first day of 2022. This is the way to bring in the new year. They're big fans, they've been watching since they were little, and they're ready to hit the mat, the ropes, and get on the turnbuckles. There's some surprises in store, too. Kayla likes the sound of that!
Drew McIntyre VS "Mad Cap" Moss w/ "Happy" Corbin!
The Scottish Warrior will not let these hyena-human hybrids have their fun with his sword, but he'll gladly give them Claymores! Will Mad Cap Moss be able to laugh with his teeth kicked down his throat?
Corbin gets a mic to wish us a Happy New Year from the happiest man alive! He is happy because he is rich and handsome, and that makes him stand out around here. Moss hears Atlanta is the biggest city in Georgia. Didn't know they were judging that based on weight. And what else makes Corbin happy is watching his good friend, the funniest man he's ever met, turn McIntyre into a punchline. Give him another one, Moss! Well in America, when you're the greatest, you're the GOAT. But in Scotland, a goat is just McIntyre's prom date. And after Moss wins tonight, McIntyre falls so far off the map, he'll have to become "Who McIntyre?"
But no more time for laughs! Here comes McIntyre! The bell rings and the two circle. They tie up, go around, and McIntyre puts Moss in a corner. The ref counts, McIntyre lets off, Corbin complains but Moss comes back to circle with Moss again. Moss gets a waistlock, McIntyre wrenches but Moss throws a haymaker! Moss headlocks, McIntyre powers up and out, and McIntyre runs to run Moss over! McIntyre is smiling as Moss scrambles to ropes. Corbin coaches Moss up, Moss and McIntyre circle again and fans are behind McIntyre. Moss kicks low, throws hands, then stomps and punches McIntyre in the corner. The ref counts, Moss laughs as he lets off.
McIntyre gets Moss with both hands! McIntyre puts Moss in the corner and fires off! McIntyre windmills haymakers, then opens Moss' shirt to CHOP him in the chest! McIntyre whips Moss, Moss reverses but McIntyre comes back to CLOBBER Moss! Fans fire up and McIntyre dead lift suplexes Moss! Cover, TWO! McIntyre keeps cool, he brings Moss up to CHOP him again! Even Corbin's stinging from that one. McIntyre whips, Moss kicks but McIntyre clotheslines Moss out of the ring! McIntyre goes out, but Corbin plays decoy. Moss' attack still misses, and McIntyre OVERHEAD Belly2Belly suplexes Moss away!
McIntyre puts Moss in the ring at 7 of 10, Corbin distracts again and Moss BOOTS McIntyre at the ropes! Moss POSTS McIntyre and McIntyre hits the floor! Moss fetches McIntyre, puts him in the ring, then runs corner to corner to RAM into McIntyre! Moss whips corner to corner again, and rams into McIntyre again! Moss rains down rights, the ref counts, and Moss lets off at 4 to soak up the heat. Moss hauls McIntyre up to suplex him now, then covers, ONE! Moss can't believe that, and he runs and runs to run McIntyre right over! Cover, TWO! Moss clamps on with a chinlock and Corbin talks trash but McIntyre endures.
Fans rally up, McIntyre fights up, but Moss knees low. Moss whips corner to corner, runs in but McIntyre dodges and Moss hits buckles hard! McIntyre hits another suplex! Corbin is frustrated while both men are down. Moss gets up, McIntyre runs and rallies on him with big clotheslines! McIntyre whips to OVERHEAD Belly2Belly! And then clinches in the corner to OVERHEAD Belly2Belly! Then the NECKBREAKER! McIntyre kips up and fans fire up as he shakes the ropes! McIntyre kicks Moss low, but Moss slips out of Future Shock to throw forearms. McIntyre returns those, kicks and runs, but Moss follows, only to run into a POP-UP SPINEBUSTER! Cover, TWO!
McIntyre keeps his cool as he drags Moss back up. McIntyre CHOPS Moss, whips him corner to corner, but Moss reverses. McIntyre goes up and over and runs to CROSSBODY, but Moss catches him! Moss rams him into a corner then hits a FALL AWAY SLAM! Cover, TWO! Moss and Corbin are beside themselves! Moss drags McIntyre back up, turns him, but McIntyre fights that to a backslide! TWO, but McIntyre has the arms, FUTURE SHOCK! Cover, TWO! Moss survives and McIntyre is rather surprised. McIntyre puts Moss in a corner, CHOPS him again, then hoists him up top. McIntyre climbs up, CHOPS Moss again, then fires the fans up.
Moss resists the superplex, and trips McIntyre up! Corbin cheers as Moss CHOPS away on McIntyre! McIntyre falls back into a Tree of Woe, but then he sits right back up for a SPIDER SUPLEX! McIntyre headstands out of the Tree and fans are loving it! The countdown is here! THREE! TWO! ONE! But Moss BOOTS McIntyre! But then Moss runs, into a CLAYMORE!! Cover, McIntyre wins!
Winner: Drew McIntyre, by pinfall
Mad Cap Moss gave more than McIntyre expected, but McIntyre has the last laugh! Will Claymore Country leave Moss & Corbin behind to go onto bigger and better in the New Year?
Backstage interview with Kevin Owens.
"Can't I sulk in peace?" As for Lesnar being added to the match, "it's a tragedy! A travesty!" It shouldn't have happened. Originally it was Kevin, Big E & Seth Rollins. Bad enough Lashley stuck his nose in, now LESNAR? That's even worse But it's fine, because now it isn't about Kevin and Rollins working together to take out their enemies and fighting their hearts out. Now they can go after the bully, Brock! You've seen what he's done to Kevin's BEST FRIEND, Sami Zayn, right? Kevin has a better plan. Step one: oh, talk to Seth! Kevin leaves, but will he be leaving having executed this new and improved strategy?
Raw Tag Team Championships: RKBRO VS The Street Profits!
The Viper & The Stallion have been waiting, and the RKBRO-nament finals finally gave them a contender! But will will Randy Orton & Matt Riddle still be riding high? Or will Montez Ford & Angelo Dawkins finally get the smoke? But wait, RKBRO bring some homefield advantage with MIGOS! The greatest group in the world is gonna be ringside for this one!
The introductions are made, the belts are raised, and we see if Comeback Season finally comes through!
Riddle starts against Dawkins, the two of them circle and even fist bump. The two tie up, go around, Riddle headlocks but Dawkins powers out. Dawkins runs Riddle over, then drags Riddle up. Tag to Ford, whip and dropkick! Ford does push-ups before the cover, TWO! Ford clamps onto an arm, wrenches, Dawkins tags in but Riddle gets away. Riddle tags in Orton and fans fire up! Orton and Dawkins circle, feel things out, and tie up. Dawkins headlocks, Orton powers up and out, but Dawkins hurdles to back elbow! Ford fires up for Dawkins and Dawkins mocks the Orton pose!
Orton and Dawkins tie up, Dawkins headlocks but Orton powers out. Things speed up, Dawkins avoids the RKO! Orton says that was a close one! Migos likes that and Dawkins resets. Ford wants in, so Dawkins tags him in. Ford slingshots in to show off, then does a shimmy and shake as he walks. Orton isn't sure what to make of that, but he and Ford tie up. They go around, Ford puts Orton in a corner, Ford lets off to CHOP! Ford mocks Orton's pain, but then Orton pokes him in the eye! Ford swings blindly but Orton brings him up to dropkick down! Cover, TWO! Orton drags Ford around by a leg, stomps his arms, then stomps the chest!
Tag to Riddle, and Riddle gets an assist for the STANDING FLOATING BRO! Cover, TWO! Riddle talks trash with Dawkins, then brings Ford up. Riddle suplexes, Ford slips out, tag to Dawkins! Dawkins catches Riddle to RAM him into a corner! But Riddle dodges to fire off kicks! Riddle runs side to side to forearm smash! Then the other way, but Dawkins dodges to slip around, back slide to underhooks, THE SILENCER! Dawkins crawls to drag Riddle over, tag to Ford. Ford slingshots for the senton! Cover, TWO! Ford clamps on with a rear bearhug but fans rally and Riddle fights up. Riddle reaches out, Ford turns Riddle around to whip, but Riddle sunset flips!
Ford slips out to PENALTY KCK! ELBOW DROP, then a SPLASH! Cover, Orton breaks it! Ford drags Riddle over, tag to Dawkins. The Profits mug Riddle as Dawkins DECKS him! Dawkins covers, TWO! Riddle fights back with kicks but Dawkins drags him down to a ground 'n' pound! Cover, TWO! Dawkins keeps Riddle from Orton, whips him to a corner, CYCLONE SPLASH! Riddle flounders, Dawkins bumps him off buckles. Tag to Ford, Ford stomps away on Riddle. The ref counts, Ford lets off to tag in Dawkins. Ford digs his boots in, Dawkins stomps Riddle down. Dawkins drags Riddle to a cover, ONE!
Dawkins keeps Riddle away but Riddle fires off strikes! Dawkins trips Riddle but Riddle kicks him away! Riddle spins Dawkins around, PELE! Fans fire up and both men crawl, hot tags to Ford and Orton! The Apex Predator rallies on Ford, DECKS Dawkins then dodges Ford to POWERSLAM! Migos likes that, and then Orton POWERSLAMS Dawkins! Orton throws Dawkins to the apron, and he has both Profits in position! Fans fire up and Orton drags them both out onto the ropes! DOUBLE DRAPING DDTS! Fans fire up with Orton as he hears the voices in his head! Ford slowly rises, but no RKO! Roll-up, TWO!!
Ford ENZIGURIS Orton down! Riddle runs in to leap at Dawkins, but into a pump handle FALL AWAY SLAM! Dawkins runs in but is put on the apron. Riddle hits a FINAL FLASH! Riddle goes up and out to PENALTY KICK Dawkins down! Then springboard, but Ford CLOBBERS Riddle! Orton back suplexes, Ford lands on his feet to POST Orton! Orton falls out of the ring, Riddle regroups with him, Ford builds speed to FLY over the corner! Fans fire up as Ford roars! Ford puts Orton back in the ring and climbs, but Orton stops him up top! Orton climbs up to join Ford, fans fire up, but Ford resists the superplex!
Ford throws body shots on Orton then headbutts Orton down! Ford adjusts, but he has to bail out of the splash! Riddle gets in, POP-UP RKO!! Cover, RKBRO wins!
Winners: RKBRO, by pinfall (still Raw Tag Team Champions)
Offset, Takeoff and Quavo join RKBRO in the ring again to celebrate! The Profits get back up, and they show respect by shaking hands with the champions and with the special guests. Will the odd couple of Orton & Riddle continue to dominate the Raw Tag Division?
Drew McIntyre is lost backstage.
He ends up finding Megan first, so she asks him about his win over Moss and if his sights are set on Corbin. Well first, Hotlanta is rocking! Second, he's a little surprised. Moss has terrible jokes but he is one tough SOB. As for Corbin, they go way back, and Corbin may be annoying, he- He attacks! Corbin & Moss try to mug McIntyre but he fights them both off! That is, until Corbin uses a chair! Corbin JAMS then SMACKS McIntyre, then Moss fires off hands! They put the chair around McIntyre's head! Referees and security rush over but they can't stop Corbin from using a spare girder to SMASH the chair!
McIntyre sputters and Adam Pearce shouts for medical!  Did Corbin just go from Happy Corbin to Raging Corbin?
Backstage interview with Brock Lesnar.
Kayla just wants his comments on his change of plans tonight, going from Universal Championship to World Championship. "Ladies and gentlemen! My name is Brock Lesnar! And Brock Lesnar does what Brock Lesnar wants to do. Because I'm a free agent, thanks to my Advocate, Paul Heyman." So tonight, Lesnar goes to the ring, then walks out the WWE Heavyweight Champion of the World! And that's not a prediction. That, folks, is a spoiler. Is Lesnar still playing mind games with Roman even now? Or is he going to do exactly what he says to start off the New Year?
Edge VS The Miz w/ Maryse!
The Rated R Superstar is the most decorated superstar in history, but that is exactly why The Hollywood A-Lister wants after him. Miz says he surpassed Edge long ago, will he prove it here tonight? Or will Edge finally shut Miz up once and for all?
The bell rings and fans are fired up for Edge! Miz and Edge circle, tie up, and Edge gets a headlock. Miz powers out, Edge runs Miz over. Things speed up, Miz hurdles and hip tosses Edge down! Miz flexes, then gloats on the corner like he just won something! Edge gets up, circles with Miz, and the two tie up. Each man uses wrists to push the other but Edge gets the headlock. Miz works his way around, powers out but Edge runs him over. Things sped up again, Miz hurdles but Edge blocks the hip toss to hit the hip toss! And then another! Cover, TWO! CROSSFACE! Miz scrambles away and gets to ropes.
Edge and Miz reset, Miz calls for a test of strength. They knuckle lock, Miz goes to a corner and the ref calls the break. Miz hits a cheap shot, then stomps Edge down! Miz whips Edge to ropes but Edge avoids the dropkick to jackknife! TWO, and Edge against wants the crossface! Miz gets away, but come back, only for Edge to dodge the boot. Edge throws hands, whips, but Miz reverses to send Edge out! Miz then builds speed but Edge avoids the dropkick to ROCK Miz! Maryse distracts Edge, Miz POSTS him! And then RAMS him into barriers! Fans boo Miz but he puts Edge in the corner and goes up top. Miz grins as he aims, leaps, and AX HANDLES Edge down!
Miz paces around, stands on Edge's face, but the ref reprimands. Miz lets off, gets a leg and drives knees into the knee! Miz then runs to basement BOOT Edge down! Cover, TWO! Miz keeps after the leg with a standing toehold. Edge endures, keeps his shoulders off the mat, and claws at Miz. Miz cranks the foot, Edge throws haymakers, but Miz leans more weight on the hold. Edge punches again and again, Miz lets go and staggers off, but Miz comes back, only for Edge to counter punch! Edge whips, Miz reverses, then Miz runs in, but Edge dodges the A-List Lariat! Miz gets stuck, Edge drags him out, DRAPING REVERSE DDT! Cover, TWO!
Edge brings Miz up for haymakers. Edge whips, Miz ducks and dodges, but runs into a SCRAPBUSTER! Cover, TWO! Edge is slow to getting back up from the damage Miz did to his leg. Edge still stalks Miz, reels him in but Miz slips out to full nelson! Edge arm-drags free, Miz kicks low to DDT! Cover, TWO! Miz argues the count but the ref defends that it was fair. Miz sees Edge sit up, and he decides to do his own shoutout with YES KICKS! Miz kicks Edge over and over and over, then soaks up all the heat. Edge ducks the buzzsaw! Roll up, TWO! Edge wants the crossface again but Miz throws Edge out! Miz then goes to the apron, but Edge trips him up!
Edge drags Miz out from the apron, for a DRAPING IMPALER! Maryse grows concerned for Miz, Edge drags Miz up and back into the ring. Edge pushes Miz over for the cover, TWO! Fans rally up while Edge stands and Miz goes to a corner. Edge brings Miz up, whips him corner to corner and runs in, but Miz puts him on the apron. Edge's leg buckles, Miz slips under to trip him up! Edge smacks off the apron, then rests against the announce desk. Miz drags Edge up to dribble him off the announce desk! The ring count climbs as he does, and Miz hurries back in at 5 of 10!  Again, Miz gloats like he's won already, but he goes back out as Edge is on the desk.
Miz climbs up onto the table to stand Edge up. Full nelson, SKULL- NO! Edge turns it around, FACEBUSTER to the desk! Miz writhes in pain while Edge flounders on the floor. Maryse is even more worried as Edge drags Miz back into the ring. Edge goes up top to CROSSBODY! Cover, TWO! Edge drags Miz up, Miz slips around to a full nelson, but Edge victory rolls! TWO, Miz has a leg! Edge kicks Miz into a corner! Then O'Conner Rolls, TWO! Edge ends up hitting the POST! Miz CHOP BLOCKS the leg, then steps through, FIGURE FOUR! Edge endures and Maryse says this is the end! Edge grits his teeth as he sits up but Miz throws hands!
Miz pushes up on the Figure Four and Edge endures again! Edge sits back up with a wild look in his eyes! Miz SLAPS Edge, and again, but Edge just powers up! Edge works to turn things over but Miz works against him! Edge still rocks the hold back and forth, until he turns it over! Miz endures the hold now! He crawls, reaches, but pops free to get an STF! Edge slips out of that, and gets a CROSSFACE! Miz rolls through, has the legs again, but Edge throws haymakers! Miz still catapults Edge into a corner! Then a roll up, but Miz puts legs on the ropes! The ref sees that, and she stops the count! Miz thinks he won but the ref points out she said nope!
Fans chant, "You Can't Do That!" and Miz gets upset. Miz gets the leg again, but Edge reels Miz in! Miz fights but Edge still gets him down! CROSSFACE!! Miz is caught, claws around, moves around, but Edge pulls back harder! Miz rocks it to a cover, but Edge rolls it through! Miz is still in the crossface but Maryse gets Miz's leg on the rope! The ref calls the ropebreak and Maryse plays innocent! Miz is free, Maryse gets him to the outside, but Edge drags Miz up the apron! Miz HOTSHOTS Edge away, he gets back in, and slips around to BACKBREAKER to NECK- NO! Backslide, TWO!! DOUBLE BOOTS take both men down!
Maryse calls to Miz but fans are rallying behind Edge! Miz crawls closer to Maryse, gets himself up and heads for Edge. Edge throws a forearm, Miz kicks low. Edge throws a haymaker, Miz kicks low. They start throwing hands, Edge gets the edge but Miz kicks at the leg! Miz kicks Edge to the corner for more YES KICKS, and even elbows! Miz runs corner to corner, A-LIST LARIAT! Miz throws Edge down and he goes up top. Edge gets up to throw hands first! Edge climbs up to join Miz now, CLUBS him on the back, and hits a SUPER HIP TOSS! Miz writhes all the way to the other corner! But the wild look is back in Edge's eyes!
Edge goes to a corner and fans rally up! Miz stands up, but he leaps over Edge, and Edge hits the corner! Miz "tweaks" his knee, Maryse SMACKS Edge!! SKULL CRUSHING FINALE!! Cover, TWO!?! Edge survives and both Miz & Mrs. are furious! Maryse is arguing with the ref, but then look who is storming on down the ramp! BETH PHOENIX is here! And the Glamazon is PISSED! She chases Maryse around the ring and Miz is freaking out! Beth then glares at Miz, and Miz dares her to do something. But then Miz turns around into the SPEAR!! Cover, Edge wins!
Winner: Edge, by pinfall
Beth gets in the ring with Edge and this power couple stands tall! But is this far from over between the House of Rated R and the It Couple?
Backstage interview with Bobby Lashley.
Lashley's chances have just taken a real hit with Lesnar- MVP cuts Kevin off there before he says something ridiculous. "Brock Lesnar is a once in a lifetime athlete, one of the most phenomenal athletic specimens the world has ever known," and everyone is worried about how their chances have gone down. But not Lashley! Lashley is a once in a lifetime athlete, one of the most phenomenal athletic specimens the world has ever known, the yin to Lesnar's yang. Lashley welcomes the addition of Lesnar to this match, because then Lashley can say he defeated Lesnar. Lashley decimated his way into the match. Lashley will enjoy putting Lesnar in the Hurt Lock and tapping him out. New Year, NEW WWE Champion.
Raw Women's Championship: Becky Lynch VS Liv Morgan!
The Man returned to the top in less than 30 seconds, and hasn't let go of the belt since. The WWE Draft traded champion for champion, and Big Time Becks went from reigning on SmackDown to reigning on Raw. But Becky isn't the one fighting for the moment she's waited so long for, Liv is. Will Liv get back at Becky for taking a shortcut the first time around? Or is the first day of the new year the last chance for the underdog to live her dream?
The introductions are made, the belt is raised, and we see if it is finally Liv's time to shine!
Liv and Becky circle as fans rally up. They tie up, Becky powers Liv to ropes but lets off with a SLAP! Liv shoves Becky, then dodges her to run and springboard, CODE BREAKER! Becky bails out right away but Liv goes right out after her! Liv SMACKS Becky off the desk over and over and over! Liv roars and fans are fired up! Liv gets Becky back in the ring, but Becky bails out the far side. Fans boo but Liv builds speed, to DIVE into a kick! Becky gets back in, drags Liv back up, MAN HANDLE- ARM DRAG! Becky ends up in a corner, runs back out but Liv dodges to back body block! Liv rolls and runs in to SHINING WIZARD!
Becky flounders to ropes, Liv dropkicks her down! Liv steps up to DOUBLE STOMP Becky in the corner! Liv jumps and stomps all over Becky, drags her to a cover, TWO! Liv keeps cool as she watches Becky go to ropes again. Liv runs in, but no Oblivion yet! Backslide, Liv rolls through, to steal the Disarm-Her! But Becky rolls Liv up, TWO! RINGS OF SATURN!! Becky is caught, but she crawls back to get a ROPEBREAK with her foot! Liv holds until 4, Becky bails out again. Liv gets fans rallying up behind her and Becky paces in frustration. Becky goes up but Liv hits her first! Liv shoulders into a KICK!
Becky ROUNDHOUSES Liv, then goes up the corner. But Liv hits Becky first! Liv SUPER ARM-DRAGS Becky, then covers, TWO! Becky goes to a corner, Liv runs in, but misses the back body block! Becky runs back in, but Liv headscissors, only for Becky to block and SWING Liv into the buckles! Then SLAMS her in the corner! Becky hurries to get Liv in for a cover, TWO! Becky is already flustered, unsure what to do with Liv. Becky stomps Liv against ropes, digs her knee into Liv's back and chokes her on the ropes. The ref counts, Becky lets off, and Becky say she's the champion! Liv elbows Becky back! And BOOTS her!
Liv then dodges to O'Conner Roll, only for Becky to buck that. Becky throws Liv out to fire off in the ropes! Becky sobats then has Liv draped, for a GUILLOTINE LEG DROP! Cover, TWO! Becky is again flustered, then fires off forearms on Liv! Cover, TWO! Becky SLAPS Liv around, Liv hits back but Becky straddle attacks. Becky grinds Liv's face into the mat, then clamps onto the arm. Fans rally and duel, Liv fights up, and she arm-drags Becky away again. Liv flounders to the other corner. Becky runs in but Liv goes up and over! Becky comes back to hit a BECKSPLODER! Cover, ONE! Becky insists that was three but not even close.
Becky tells Liv to stay down then stomps her down. Becky soaks up the heat from the fans as Liv goes to a corner. Becky runs in to forearm smash, sobat, then tells commentary to tell us that she is the greatest! Becky jump kicks but misses! Liv CLUBS, gets the arms, WING SNAPPER into the buckles! Both women are down, fans rally up and Becky staggers over. Liv hits a JAWBREAKER to a roll-up! TWO, Becky kicks but Liv spins her to kick, KICK and dodge, THESZ PRESS! Liv fires off fast hands, Becky shoves her away but Liv ENZIGURIS! Liv goes to a corner, elbows Becky away, then goes up and up to missile dropkick! Cover, TWO!
Liv is beside herself while she and Becky are both down. Fans rally up again, Liv stalks up behind Becky and runs to springboard, but no arm-drag! Kick and BUTTERFLY SLAM! ARMBAR! But Liv clasps her hands! But Becky breaks the grip! Liv rolls to a cover, TWO! Liv is up, she gets around Becky, FLOATOVER DDT! Cover, TWO!! Becky survives and Liv is frustrated. Fans rally up, Liv feeds off the energy and she goes to the corner. Liv climbs up, Becky hits her first! Becky climbs up after Liv, throws forearms, then brings Liv up. Liv fights with body shots and she slips under. Becky throws hands, Liv CLUBS her on the back!
Liv runs and hops up to SUNSET FLIP POWERBOMB!! High stack, TWO!! Becky survives again and Liv even stumbles into buckles! Liv and Becky are both down and fans fire up! Liv focuses again, but Becky drags her into the DISARM-HER!! Liv gets the ropebreak! The ref counts, Becky holds until 4! Becky storms around, into a cradle! TWO, Becky has it, TWO!! Liv swings, into an atomic FACEBUSTER! Cover, TWO! Becky is again flustered, and then she gets angry. She throws Liv through ropes, fires off with forearms, uppercuts and hammering fists! The ref counts, Becky stops, and fans boo as Becky goes back to the corner. GUILLOTINE FLOP!
Liv goes up the corner while Becky is staggering up! Liv leaps, missile dropkick again! But Becky flops out of the ring! Liv is frustrated, another opening slipping away form her. Becky slowly gets up as the ring count climbs, but Liv builds speed to DIVE! Direct hit and down goes Becky! Fans are fired up with Liv and she gets Becky up and in! But again, Becky bails out the other side. Liv slaps herself to stay focused, and she goes back out after Becky. Becky SMACKS Liv off the desk now! And again and again and again! Becky goes into the ring and wants the count to finish this! It's 5 of 10, Liv drags herself over at 7, but in at 9! And Becky fires off stomps!
Becky tells Liv to just give up already! Becky throws Liv up and out and then goes out to whip, only for Liv ot reverse! Becky hits steel steps, Liv fires off hands, then puts Becky's hand between steps and post! Revenge for a few weeks ago as Liv stomps away on Becky's arm! Liv puts Becky in at 8 of 10 but Becky BOOTS Liv back down! Becky goes up the corner, but Liv goes up after her! SUPER ARM BREAKER! To RINGS OF SATURN!! Becky is caught as Liv pulls way back!! Becky rolls around, makes it a cover, TWO!! Becky gest to ropes, Liv gets the waistlock! The ref has them break, Liv leaps, but Becky blocks Oblivion for a MAN HANDLE SLAM!! Cover, Becky wins!!
Winner: Becky Lynch, by pinfall (still Raw Women's Champion)
One little gap and Becky slips away! But with as hard as Liv pushed her, is Big Time Becks slowly losing her grip on that gold?
Backstage interview with Seth Rollins.
The Visionary is fired up. What a night! What's "Mike" got for him? Well, any word on Lesnar being in the world title match now? Oh, yeah, yeah, yeah, yeah. This was Rollins' match, a simple 1v1. But then Kevin Owens lied his way in. Lashley bullied his way in, and now Lesnar has, well, Lesnar'd his way in! SO what'll Rollins do? What in the world is he going to do? He can't divulge his tactics, but he will say this: The four other men in this match have something in common that gives Rollins the advantage. Any idea what that is? The answer is that they're not SETH FREAKIN' ROLLINS! So what'll he do?! He'll go out there and do what he does better than anyone: stomp heads and win!
WWE World Championship Fatal 5 Way: Big E VS Seth Rollins VS Kevin Owens VS Bobby Lashley w/ MVP VS Brock Lesnar!
The Powerhouse of Positivity was meant to just face the Architect 1v1 after Seth Rollins won a #1 contender's ladder match. But the Prizefighter returned to his roots as the snake in the grass, and the Rocky Mountain Machine demanded respect in the form of a spot in this match. That was all fine and good, but when the Tribal Chief couldn't make it, the Beast shifted weight and decided he wanted in on this title match! Will Big E be able to make four opponents FEEL~ the POWER~? Or is Day 1 ending with the start of a new reign?
The introductions are made, the- wait, Rollins and Kevin go after Lesnar right away! Lashley throws Big E out but Lesnar GERMAN SUPLXES Kevin, then GERMAN SUPLEXES Rollins, then does another for Kevin! And another for Rollins! And another for Kevin! Lesnar fireman's carries Rollins but Kevin saves him from the F5, only to get another GERAM!N Big E gets past Lashley to CLOBBER Lesnar! And clothesline him out of the ring!! Fans are fired up that Big E even managed that! Big E goes out but Lashley gets him for a fireman's carry and POST! Lashley then glares at Lesnar, the one man he's yet to throw down with, and he runs in to SPEAR Lesnar through barriers!!
Fans are losing their minds as the All Mighty crushes the Beast! Lashley then gets in the ring to RAM Kevin, and hit a NECKBREAKER! Rollins runs in, but into a COMPLETE SHOT! Lashley reels Rollins in, suplexes, holds Rollins up, but Kevin SUPERKICKS Lashley! Rollins SUPERKICKS Lashley! They DOUBLE SUPERKICK Lashley and he bails out! Kevin and Rollins talk things out as Lesnar drags himself from the wreckage. Rollins builds speed to DIVE! Direct hit on Lesnar, and then he holds Lesnar down for Kevin's FROG SPLASH! Kevin and Rollins mug Lashley, too! Then they decide to pull the steel steps apart!
MVP tries to warn Lashley, but it doesn't stop Rollins & Kevin from RAMMING Lashley down! And then they RAM Lesnar with the steps! Then they clear off the announce desk! The fans are loving this as Kevin throws the hood down on Lashley and Rollins brings the base steps over. Kevin SLAMS the desk hood onto Lesnar, fans chant, "WE WANT TABLES!" Kevin and Rollins drag Lashley up and over, and they double suplex, only for Lashley to fight out! Lashley kicks and punches them away, but Big E gives Lashley an URENAGE through the table!! The champion is not going to be left out of this! But then he turns around into a SUPERKICK from Kevin!
Kevin and Rollins focus on Big E now as they put him in the ring. Rollins moves the base steps, Kevin brings Lesnar over, they DOUBLE DDT Lesnar on the steps! Kevin and Rollins go into the ring, Kevin whips Rollins into Big E's Urenag-E! Big E ELBOWS Kevin, runs, but into a POP-UP POWERBOMB! Cover, TWO! Kevin hurries and goes up top! SWANTON onto knees! But Rollins FROG SPLASHES! Cover, TWO! Rollins gets back up and fans chant, "This is Awesome!" already! Rollins waits for Big E to get up, and he ROLLING ELBOWS! Then he turns Big E for a DREAM SMASHER ELBOW! Rollins takes aim, runs in, but Lesnar gets in!
Lesnar has Rollins for an F5!! Then he gets Big E! F5!! Kevin kicks, but no Stunner! Kevin goes for a ride on the F5!! But Lashley SPEARS Lesnar! Cover, TWO?!?! Lashley can't believe Lesnar survives! Fans are going nuts as Lashley stalks Lesnar! Lesnar stands, Lashley clamps on the HURT LOCK!! Lesnar endures the full nelson, MVP feels it coming, but Big E CLOBBERS Lashley! Scoop and BIG ENDING!! Lesnar gets up, Big E scoops, but Lesnar slips out! Fireman's carry, F5!! Lesnar wins!!
Winner: Brock Lesnar, by pinfall (NEW WWE World Champion)
That was Fast & Furious 5, and it was The BEAST who conquers everyone else! Lesnar is once again the reigning, defending, undisputed WWE World Heavyweight Champion, but will he give up on the WWE Universal Championship? Or will this free agent look to become a double champion and make this his year?
---
My Thoughts:
I still stand by how I didn't really think WWE needed to cancel TLC to make this PPV a thing, and they really did everything they could to make it feel big and important. Important might be a matter of opinion, but this was definitely big and it definitely had a lot of great in-ring stuff. Ridge Holland getting a busted nose in the kickoff was a bummer for him, but the other three kept going smoothly. I thought there was going to be an audible called where the Faces won, but seems they stuck to the plan, Heels win so Holland has a win on his record, but Sheamus looks like the superhuman winning a handicap match.
I dare say tonight opened with the best match on the card. Usos VS New Day gave us another instant classic, and works out just fine that the Usos retained. The Bloodline stays on top, and surely Roman will be just fine with fighting off COVID. Lesnar being put in the world title match was a shock, but I guess since they paid him the money for this PPV, they had to use him somehow. I will say it was a great, chaotic main event with a lot of great spots. But I am not sure what to make of them giving Lesnar the title like this. Is Lesnar going to just shift over to Raw now? Is he going to go between the brands? Are we going to see a Winner Takes All match between Lesnar and Roman? I suppose we could see that at the Rumble, then the Rumble winner doesn't even have to choose.
I was hoping McIntyre VS Moss was going to turn into a squash match, but it turned into a standard one. Moss looked great in that match but of course McIntyre won. Corbin and Moss going after McIntyre backstage was brutal. I hope he becomes "Brutal Corbin" or something like that before having a No Disqualification match with McIntyre. Edge VS Miz was a good match but the pacing seemed a bit slow. The highlight was that Beth Phoenix showed up to counter Maryse, as we all hoped she would. This is definitely going to give us a huge Mixed Tag Match, probably at WrestleMania. Or maybe a series of them like when Miz & Maryse feuded with Bryan & Brie? Either way, it's going to be great to see Beth get back in the ring.
RKBRO VS Profits was really good, but it really felt like an excuse to have Migos at ringside. Those guys are cool and all, but they didn't even get to be part of commentary and just give us their reactions. RKBRO retaining makes sense, there are a lot of other teams they can still face in title matches before they lose the belts. They might even go all the way to Mania before losing the belts to a team like Rey & Dominik Mysterio. Similarly, Becky might hold onto the title until the Rumble winner faces her at Mania. Becky VS Liv tonight was about on par with their previous, but there were some good nods to that match here and there. Liv came really close here but Becky pulled it off, and now I'm thinking Bianca Belair wins the Women's Rumble again to then again main event and win on Night One.
My Score: 8.5/10
Mitchell's NXT WarGames Results & Report! (12/5/21)
Wait, it's not a TakeOver?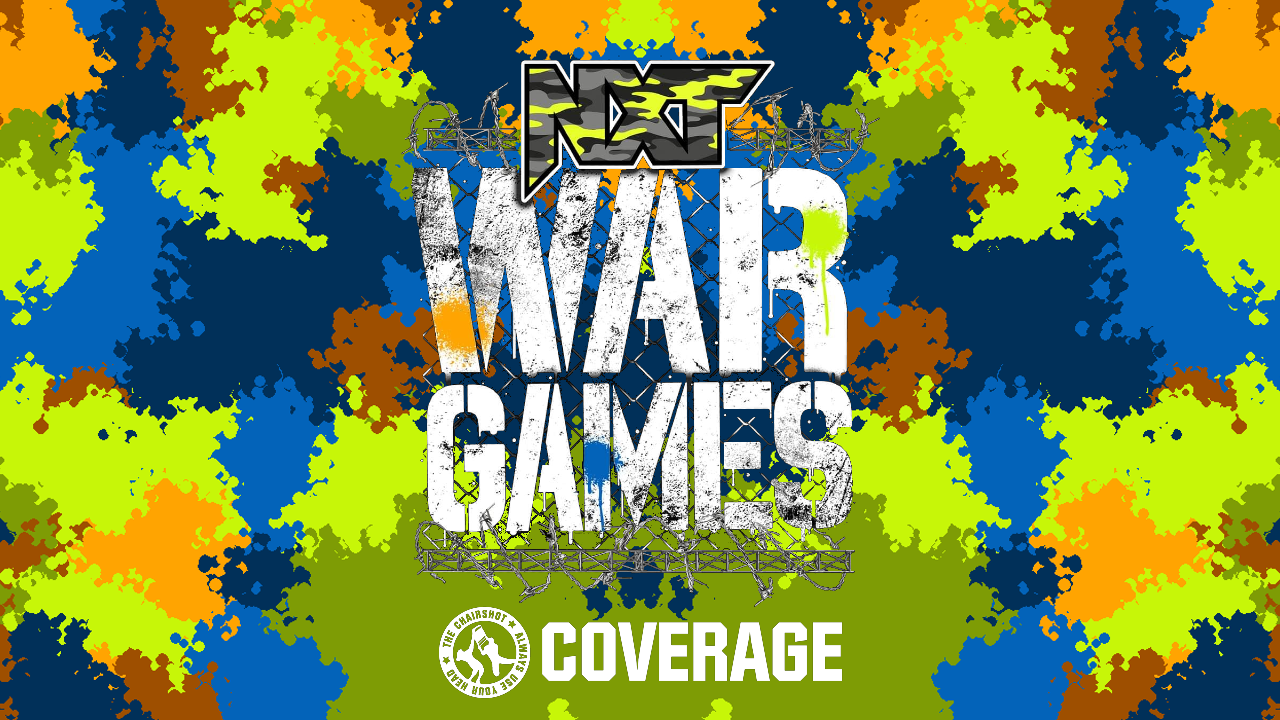 It's Old School VS New School!
NXT Champion, Tommaso Ciampa, leads a team against North American Champion, Carmelo Hayes, and the new kids on the block, in WARGAMES!!
OFFICIAL RESULTS
Women's WarGames: Io Shirai, Raquel Gonzalez, Kay Lee Ray & Cora Jade VS Dakota Kai & Toxic Attraction; Shirai, Gonzalez, KLR & Jade win.
NXT Tag Team Championships: Imperium VS Kyle O'Reilly & Von Wagner; Imperium wins and retains the titles.
Hair VS Hair: Cameron Grimes VS Duke Hudson; Grimes wins and Hudson loses his hair.
NXT Cruiserweight Championship: Roderick Strong w/ Diamond Mine VS Joe Gacy w/ Harland; Strong wins and retains the title.
Men's WarGames: Tommaso Ciampa, Johnny Gargano, Pete Dunne & LA Knight VS Carmelo Hayes, Bron Breakker, Tony D'Angelo & Grayson Waller; Hayes, Breakker, D'Angelo & Waller win.
PLAY BY PLAY
It's the NXT WarGames Kickoff show!
Join Sam Roberts and McKenzie Mitchell in discussing, analyzing and predicting all of tonight's action.
NXT shares Team "Black 'n' Gold" meeting backstage after NXT on Tuesday.
Johnny Gargano apologized to the team for not winning the WarGames advantage, but they've been at a disadvantage since day one of 2.0. Pete Dunne says it doesn't matter that Team 2.0 has the bloody advantage. Dunne's been in WarGames before, those guys don't have a clue. LA Knight says, "I dunno, man. Guys, I'm just not sure at this point. Word is on the street is maybe we bit of more than we can chew. I mean, look at 'em. They're big, they're strong. I mean, what can we do, right? WRONG! 2.0, let me talk to ya! Tonight, you got the advantage. Huh? I said, tonight you got the advantage, YEAH."
Knight wants Team 2.0 to live that up, absorb it, let it sink in. That advantage, that illusion will get shattered. These four, when they are put to pressure, when they're told no, when they're told, "We don't want you here anymore!" THAT is when they excel. Knight is with excellence! The Bruiserweight, one of the longest reigning NXT UK Champions. The FIRST NXT Triple Crown Winner, Johnny Wrestling. And the current TWO-TIME TWO-TIME NXT Champion? What does that mean? Dues paid in full, time and again. Some want to say that stuff doesn't matter. It matters to Knight! It matters to them!
So for Sunday, you ain't gotta like them or even respect them. Because once the cage comes down and the rings are in place, these four step into the ring, each and everyone of Team 2.0 gets the respect stomped outta their asses! That isn't an insult, that is just a fact of life, YEAH. Tommaso Ciampa adds that Team 2.0 knows they messed up by looking across the ring and seeing DIY. Who? D I Y. Together again! Representing black 'n' gold. And there's one thing they like to say about that: "WE are NXT." The 2.0 boys better be prepared for war. Game on.
Team 2.0 talks backstage.
Trick Williams says, "Here's what we gotta do. Strap up your boots, grab the protein shakes, because tonight, our lives are about to change forever! We goin' viral tonight." Grayson Waller likes the sound of that! But Andre Chase walks in and says if they're not talking strategy right now, then this is a #TeachableMoment! Aw man, c'mon… Just hear him out. "You don't go to war without a good game plan." And who better to be the general than Andre Chase? Chase thinks Waller should start, then- Whoa, whoa, whoa. The A Champion, Carmelo Hayes, kicks things off. When Melo shoots, he don't-
Bron Breakker shows up as he slaps Chase on the back. He asks how everyone's doing. Good. Chase is calling the shots? Y-Yeah…? Hey, Tony, what do we call guys like that? Stunatz. They all laugh at Chase and Tony says they don't need Chase's help. But maybe Chase should walk or there's gonna be problems. Alright, but don't come asking him for help later. Who even is this guy? Chase leaves, Team 2.0 fist bumps all around. Will they be ready for what Team Black 'n' Gold brings to the cage?
NXT takes a closer look at the Women's WarGames match.
Mandy Rose says Toxic Attraction has changed NXT, because Toxic Attraction is the attraction. That is why they are the faces of 2.0. And by the way, thanks, Dakota. But in regards to #CobraKai and Big Mami Cool, what started at Halloween Havoc could end here tonight. Common enemies make for unlikely allies, and Raquel Gonzalez says her team "is the definition of WarGames." Cora Jade says this is the stage where she belongs. Kay Lee Ray says they have the advantage, and Io Shirai says WarGames didn't change her, she changed WarGames. Mandy doesn't get why the other team is so confident when her team has all the gold, plus the wild card in Dakota.
Gigi Dolin says there will be no mercy, and Jacy Jayne says, "Let the Toxic Games begin!" They are ready for war! Dakota smiles at the idea that they'll all be trapped in the cage, like animals! Raquel vows her team will tear the cage down and kick some toxic ass. Who runs the NXT Women's Division after tonight? That match opens the show!
The battle lines have been drawn!
The game has changed, but the mission is the same: win. The stakes have been raised, the gates have been opened, and bad blood will boil over. NXT is in a state of WARGAMES!
Women's WarGames: Io Shirai, Raquel Gonzalez, Kay Lee Ray & Cora Jade VS Dakota Kai & Toxic Attraction!
The Evil Genius, Big Mami Cool, the Scary Queen of Scots & #GenerationJade have the advantage against #CapKota and the golden trio of women's champions. But will that help Shirai, Raquel, KLR & Cora end the arrogant attitudes of Dakota, Mandy, Gigi & Jacy?
After all their entrances, KLR goes right into the cage, and she's bringing her baseball bat! Dakota starts for her team, and she makes sure to bring some kendo sticks with her. The door closes and the teams are up in the cages in the bleachers. The bell rings and fans chant for "WAR~ GAMES!" as the clock counts down. Dakota rushes to the divide and KLR JAMS her with the bat! Dakota shoulders back into KLR, then hurries into the second ring. Dakota  blocks the superkick to throw forearms, then she whips KLR. KLR stops from hitting steel and elbows Dakota back. KLR whips, Dakota stops herself from hitting steel, but turns around into CHOPS!
KLR whips, Dakota reverses then drops down to keep KLR moving. KLR comes back to dropkick Dakota down! Fans fire up, KLR stands Dakota up and CHOPS her. KLR has Dakota in a corner and CHOPS her again! KLR brings Dakota around but Dakota denies the tornado DDT. So KLR runs up into the corner to SATELLITE DDT! KLR looms over Dakota, drags her up, and she whips, only for Dakota to reverse and send KLR into steel! KLR writhes, Dakota stomps her down at three minutes left. Dakota RAMS KLR into steel, then fetches her kendo sticks. Dakota bridges the sticks between the two rings, then SMACKS KLR with one before adding it to the bridge.
Dakota drags KLR over, RAMS her into steel again, then digs her face into the grate! Fans rally and duel, Dakota fidgets and pushes KLR under the ropes. KLR fights Dakota and kicks her away. They go to the first ring and Dakota CLUBS KLR down. Dakota drags KLR up to whip her to a corner. Dakota then goes up from the divider side, brings KLR up, but KLR fights with body shots! KLR GAMANGIRIS Dakota! Dakota kicks KLR away, hurries into the second ring and gets KLR's bat! But KLR goes up FLYING from ring to ring to take Dakota down! KLR gets the kendo stick to SMACK Dakota!
KLR decides to take advantage of Dakota's kendo stick bridge. She brings Dakota through the ropes, suplexes and GOURD BUSTER onto the sticks! Dakota writhes and we're at the last 10 seconds. Fans count it down, but Dakota JAWBREAKERS! KLR's team adds Cora Jade! Cora hurries to ringside and gets a skateboard! Cora hops in and SMACKS Dakota with the board! And again! Dakota ducks then leaps over Cora, but Cora ducks and whips to kick. Dakota blocks that but Cora ENZIGURIS! Dakota staggers, Cora waistlocks but Dakota bucks the O'Conner, only to get a SHINING WIZARD against the steel! Fans fire up with Cora and she helps KLR up.
Cora stomps Dakota in the corner, KLR adds on. Fans taunt Cora, "You Can't Skate!" Cora snapmares and KICKS Dakota in the back! KLR drags Dakota up to snapmare and KICK! Dakota scrambles away into the second ring, but Cora and KLR follow her. Dakota is in a corner, she kicks back but KLR stomps her down. KLR and Cora double suplex Dakota! Fans want that "One More Time!" and they get Dakota back up for another double suplex! KLR taunts Toxic Attraction, then she and Cora double suplex again. But Dakota makes it at DOUBLE DDT! Dakota CLUBS KLR, then hammers Cora. The countdown returns as Dakota stomps Cora, but Cora hits back.
Toxic Attraction sends Gigi to the ring! Gigi goes looking underneath and she brings out a trash can! And a duffel bag, too! She puts those in, and TOSSES the can at Cora! Cora goes down, Gigi climbs up. Gigi leaps, Cora gets under, but Gigi BOOTS her down! KLR runs in but Gigi shoves her, rounds and STO's! Dakota BOOTS KLR, Gigi hits a HALF 'N' HALF! Dakota then adds a SUPERKICK! Gigi runs in to wrench Cora and snapmare, then KICK her in the back! Dakota keeps KLR down as Gigi SWITCHBLADE KICKS Cora! Dakota digs her boot into KLR in the corner, Gigi drags Cora up to CLUB her down. Gigi bumps Cora off buckles, stomps her, then KICKS her!
Dakota and Gigi coordinate, they switch, STEREO BOOTS in the corners! Dakota stands Cora back up, she and Gigi switch again, another STEREO BOOTS! Cora hits Gigi back and throws knees, snapmare roll and basement dropkick! KLR hits Dakota back and they go to the second ring. Gigi sits up against ropes but Cora takes the trash can to put it over her. Cora runs and basement dropkicks the can! Gigi flops over, KLR gets Dakota in the Gory Especial, KLR BOMB onto the trash can! Gigi flounders out of the can, clutching her mouth! The countdown returns as Cora stomps Gigi and KLR SMACKS Dakota with the trash can.
Now Io Shirai joins the match! Dakota hits KLR back but Shirai is bringing in chairs! Cora stomps Gigi and Dakota to keep them down while KLR gets the chairs from Shirai. Shirai brings out another trash can, and the lid. Dakota corners Cora to then BOOT Shirai down! Dakota RAMS Shirai into steel! Gigi digs her boots into Shirai, then drags her up to whip her into more steel! Dakota stomps KLR, stomps Shirai, and Gigi adds on! Cora kicks back but Gigi CLUBS her down! Dakota BOOT WASHES KLR! Gigi BOOTS Cora down, Dakota CLUBS Cora. Gigi digs her boots into KLR, but Cora gets her skateboard! Only for Dakota to BOOT her down!
KLR SMACKS Gigi with the trash can, but Gigi kicks her back. Cora CLUBS Dakota, KLR ROCKS Gigi! KLR gives Gigi a GOURD BUSTER, but hen Dakota pulls KLR's hair! Cora goes up top, kicks Dakota away and then walks the ropes to RANA in the gap! Cora fires up and then runs in, only for Dakota to dodge! Gigi slips in and CLOBBERS Cora into the posts! Gigi snarls and fans are on her side as she stalks up to KLR. KLR tries to hit back but Gigi CLUBS her down. The countdown returns as Gigi KICKS KLR against ropes. Toxic Attraction sends Jacy Jayne! Dakota uses a chair while Jacy brings out a TABLE! Fans like that!
Dakota sets chairs up in a corner, Gigi makes room so she can help Jacy with the table. Dakota CLUBS KLR down, then keeps Cora and Shirai down. Jacy TOSSES the can into KLR, then BOOTS her down! KLR falls between the chairs Dakota set up, then Gigi clubs away on Cora. Cora shoves her away but Gigi RANAS Cora to ropes! Jacy runs in to KNEE Cora down! Fans chant, "Let's Get Toxic!" "Toxic Sucks!" as Gigi knees Shirai down! Gigi holds Shirai up as Jacy builds speed, but Shirai brings Gigi down and the KNEE hits Gigi! Shirai ROCKS Jacy, blocks Dakota's boot and sends it into Jacy! Shirai then SHOTEIS Dakota!
Fans fire up as Shirai runs into the corner, SHINKANSEN for Toxic Attraction! SHINKANSEN for Dakota! Shirai has the trash can lid now, FULL METAL SHINKANSEN for Toxic Attraction! FULL METAL SHINKANSEN for Dakota! Shirai makes Dakota hold the lid so that Shirai can get a big SWINGING DOUBLE KNEES! 619 for Jacy! Cora has set up the table in the second ring, and now she, KLR and Shirai have Jacy all alone! She tries to get away and Gigi reaches out, but KLR BOOTS Gigi down! Shirai ROCKS Jacy, KLR adds on! Jacy ends up on the table, and fans fire up as Cora decides to climb! The new kid wants to go extreme, and she's on the cage!
SUPER SWANTON BOMB through the table!! Fans lose their minds, and mad respect from the veterans for that one! But Cora is also clutching her arm, did she do as much damage to herself as she did to Jacy? KLR makes sure Dakota is still down in the other ring, then she ROCKS Gigi! Gigi shoves KLR but KLR kicks her and bumps her off buckles. KLR digs her boot into Gigi, Cora makes her way to the first ring. Cora tries her best with just one arm but it might be too much. KLR CHOKES Dakota with a kendo stick! Shirai says Cora is good, and she closes the door! But is this a smart move from the Evil Genius? She has the arm, and she POPS it in for Cora!!
The countdown returns as Dakota JAWBREAKERS KLR! But now, here comes RAQUEL! Ricky Desperado looks under the ring, KLR CLUBS Dakota down, Raquel finds more trash cans and hands them in to KLR. Same goes for more chairs. AND A SHOVEL! But Dakota kicks at Raquel, then closes the door! Dakota and Gigi keep the door shut on Raquel, but Raquel gets a fire extinguisher! WHOOSH, and she puts Dakota and Gigi out! Raquel gets in and rallies on them with elbows and a BOOT! Fireman's carry for Dakota, then Raquel gets a trash can! Raquel pops Dakota around and shoves her into the can! Then Raquel swings the can around!
Gigi runs over but gets BOPPED by the trash can! Raquel then TOSSES the can and Dakota with it! Raquel KICKS the can, then checks on Cora in the other ring. Shirai takes the trash can off Dakota to go up the corner with it, then up the cage! Dakota goes after Shirai to take the can away. KLR goes after Dakota, but Gigi SMACKS KLR with a kendo stick! Gigi and Jacy climb, but then Raquel adds on! DOUBLE POWERBOMB GERMAN SUPLEX, because KLR went with Toxic Attraction! Shirai kicks Dakota and Raquel catches her! SPINEBUSTER! Raquel puts the can back around Dakota and sets her up for OVER THE MOONSAULT!!
Fans fire up with Shirai and Raquel, and Raquel goes back to check on Cora. Cora gets feeling into her bad arm, but is she in any shape to fight? Gigi regroups with Dakota, the countdown returns, but we all know that Mandy Rose finally joins the fight! Mandy grins and struts as she gets right in, grabs a chair, and JAMS Raquel! Then SMACKS her on the back! Mandy sees Cora in the other ring and goes right for her. Shirai grabs at Mandy's leg but Mandy kicks her away. Mandy grins as she picks on Cora. "Does your arm hurt?" Mandy drags Cora by the arm! But Shirai CLOBBERS Mandy and kicks her away!
Toxic Attraction regroups with Dakota, but Shirai, Raquel & KLR stand in their way! WarGames truly begins now, in that it can finally end, and it is clear Cora is the target. Shirai and team dare Toxic Attraction to try when they all have a kendo stick. KLR looks at Cora, and creeps over. What is KLR thinking? Dakota jumps in and get a SMACK! KLR then tosses the stick to Cora so she can defend herself as the brawl breaks loose! Shirai is after Gigi, Mandy and Jacy mug Raquel and KLR avoids a DDT to chairs from Dakota, but she still gets knocked down by Gigi! Dakota covers, Shirai breaks it! Mandy pulls Shirai's hair but Shirai gets around to GERMAN SUPLEX! Cover, Jacy breaks it!
Jacy gets a chair, sets it down, Shirai runs in but FULL METAL SPINEBUSTER! Jacy runs but Raquel CLOBBERS her! Gigi runs at Raquel, tilt-o-whirls, but Raquel blocks the DDT with power! Raquel puts Gigi up top, SMACKS her off steel, then gets Jacy up. Raquel brings Jacy around, adds Gigi to it, but Mandy SMACKS her with a kendo stick! Toxic Attraction picks on Raquel, KICKS and SMACKS from all sides! Gigi RANAS Raquel into a chair, Jacy FULL METAL DROPKICKS! Double cover, but CORA smacks that apart! Cora has one arm to use that kendo stick with, but she retreats to the second ring as Toxic Attraction & Dakota regroup.
Cora fires off with the kendo stick on everyone! But she gets knocked down, and they sit her up for Mandy to stomp! Mandy runs, KNEE FROM A ROSE! Cover, TWO!! Cora survives and shocks everyone! Cora is surprised, too, but Mandy drags her up to go after the bad arm! Dakota keeps KLR down, Gigi & Jacy stomp Raquel, but Shirai springs up and has a kendo stick to SMACK Mandy! KLR schoolgirls Dakota into buckles! Jacy SMACKS Shirai with a chair, then Gigi BOOTS KLR against the steel. Raquel gets Jacy for a CHINGONA BOMB! Double BOOTS take Gigi and Raquel down! Cora is the only one up! She hurries to high stack Jacy, HER TEAM WINS!
Winners; Io Shirai, Raquel Gonzalez, Kay Lee Ray & Cora Jade, by pinfall
The underdog with one arm comes through for the team! What a big win for them all, will this lead everyone to bigger and better in the near future?
Team Black 'n' Gold meet in the locker room.
Ciampa says, "Boys. WarGames." Huh? WarGames! YEAH! Gargano finally gets into a WarGames. Could also be his last, but he's excited to be in one with these guys. Knight says it's his first, too, but Dunne and Ciampa have been in this before, but one thing they've all done is have that big match feeling. In the other locker room is a bunch o' boys because they ain't ever felt this before. They have a glimmer of hope because of the man-up advantage. Well someone told them the wrong damn story, YEAH! Ciampa asks Bruiserweight his input, Dunne just shrugs. Beautiful. But this is big for them. Tonight, it isn't just their moment. This is Gargano's moment. Is that to say Gargano kicks off WarGames for his team?
NXT Tag Team Championships: Imperium VS Kyle O'Reilly & Von Wagner!
Marcel Barthel & Fabian Aichner do not respect the team of #CoolKyle and big Von Wagner. It may be that they're still rather fresh as a duo. It may be that they do not show the same reverence for the ring. And it's most certainly because as Europeans, they look down on Americans. Will the Impeccable German & Pride of Italy keep the mat sacred? Or will Kyle & Von make Imperium admit in all languages that they greatly underestimated them?
The introductions are made, the belts are raised, and we're about to see if arrogance gets in the way of dominance!
The teams sort out, Kyle starts against Barthel. The two circle, fans rally up, and they tie up. Kyle waistlocks, Barthel wrenches and arm-drags Kyle to then roll and wrench to a wristlock. Kyle rolls, Barthel rolls with him! Fans duel, "Let's Go, Kyle!" "Kyle Sucks!" Kyle spins, steps through and back drops Barthel! Barthel tries to sunset flip but Kyle has the arm for an ARMBAR! Barthel hurries to high stack, ONE! Barthel whips Kyle, tags Aichner, Aichner arm-drags Kyle to a cording hold! Fans rally, Kyle fights up but Aichner wrenches. Kyle CLUBS free, ROCKS Aichner, but Aichner CHOPS and CHOPS and CHOPS back! Kyle turns it around, Aichner dodges and CHOPS again!
Aichner puts Kyle in the corner, whips him corner to corner but Kyle goes under, and KICKS Aichner down! Tag to Wagner, Kyle sets Aichner up, LEAP FROG ATTACK! Von drags Aichner up to back suplex high and hard! Cover, ONE! Von pushes Aichner down to then FALLING HEADBUTT! Cover, TWO! Von drags Aichner up, tags in Kyle, and they stomp and KICK and HEADBUTT Aichner over and over! Kyle drags Aichner up, wrenches, but Aichner gets free to CHOP! Kyle KICKS, Aichner CHOPS! Aichner blocks the kick, Kyle catches the chop! Kyle wrenches, knees low and has a facelock! Aichner fights but Kyle cranks the hold, but Barthel gets in!
Kyle kicks at Barthel and he backs off, Aichner uses that distraction to snap suplex Kyle away! Tag to Barthel, Aichner puts Kyle in a corner and Barthel whips corner to corner. Barthel runs in to EuroUpper, GAMANGIRI then HALF HATCH! Barthel hops up the corner, leaps, but into a KICK! Barthel keeps Kyle from Von to whip and ROCK, then snapmare and PENALTY KICK! Barthel holds up a finger to shout, "NEIN!" Barthel brings Kyle up but Kyle WRINGS his arm! Tag to Von and he rallies on Barthel! BIG shoulder tackle, then a scoop and SLAM! Von fires up, runs in but blocks the boot. Barthel brings Von down to KICK him away, hot tag to Aichner!
Aichner rams Von but Von stays up! Aichner CHOPS, dodges Von's lariat and catches the Thesz Press for a squat! ROLLING SENTON! Fans fire up seeing that display of strength! Aichner drags Von up, wrenches and clamps onto the arm to tag in Barthel. Aichner whips, Barthel arm-drags but Von blocks to CLOBBER Barthel! Tag to Kyle, he BOOTS Aichner, then kitchen sink knees Barthel! Kyle clinches, throws knees, then fires off KICKS and SLAPS! Leg sweep! Barthel goes to the corner, Kyle runs in to forearm smash! Wrench and ELBOW BREAKER, but Barthel forearms. Kyle fires off more heavy strikes, ROCKS Barthel, then runs, into a cheap shot from Aichner!
Barthel CLOBBERS Kyle! Fans fire up and rally as Barthel scrapes his soles on Kyle's face, then basement EuroUppers! Barthel drags Kyle up, tags Aichner, and Imperium whips Kyle to CLOBBER him! Aichner stomps Kyle around, rains down fists, then he talks trash to Von. Aichner drags Kyle up to RAM him into the corner. Tag to Barthel, Barthel whips Kyle again but Kyle ducks Aichner's clothesline to BOOT Barthel! Kyle KNEES Aichner down, and Imperium both tumble to the floor! Kyle crawls the long way across the ring, but Aichner gets in to intercept! Kyle back drops Aichner away! Hot tag to Von!
Von rallies on Imperium with big clotheslines, boots and shoulders! Aichner dodges but gets a LEG LARIAT! Von whips, Barthel reverses, Von clips Aichner to then POWERSLAM Barthel! Gut wrench SLAM for Aichner! Von DOUBLE CLOTHESLINES Imperium out! Fans fire up for Von and he fires up as he hurries out after Imperium. Von CLOBBERS Barthel, CLOBBERS Aichner, gets back in the ring to then go out and give Imperium an APRON BACK SUPLEX! Kyle runs and FLYING KNEES Aichner down! Von gets Barthel for an OLYMPIC SLAM in the ring! Cover, TWO!! Barthel survives but Von keeps his cool.
Von drags Barthel up, Barthel JAWBREAKERS! But Von choke grips! Barthel CLUBS the arm, CHOPS and kicks and CLUBS Von, then underhooks! Von blocks the suplex and throws Barthel away. HEADBUTT, and Barthel falls! Von steadies himself, storms over, but Barthel trips him into buckles! Aichner tags in, they set Wagner in the ropes, CORNER DOUBLE DROPKICK! Cover, TWO! Aichner tags Barthel back in, Barthel goes up and Aichner reels Von in. But Von back drops free! Barthel leaps, into a choke grip! CHOKE SLAM onto Aichner! Von hobbles and tags in Kyle! Kyle goes up top, KING KONG KNEE DROP to Barthel's leg! HEEL HOOK!!
Barthel endures, fans rally and duel, Barthel clubs away at Kyle's legs but Kyle pulls harder on Barthel's! Barthel drags himself over, Aichner gets up to springboard TRIANGLE MOONSAULT!! Direct hit on Kyle and fans lose their minds! Everyone is down, "This is Awesome!" Barthel puts Kyle up top, Aichner tags in! Barthel GAMANGIRIS Kyle, Aichner BOOTS Von! Barthel TOSSES Kyle to Aichner, but Kyle GUILLOTINES out of the suplex! Von runs in to clothesline Barthel and himself out of the ring! Aichner is caught in the body scissors, powers out, but Kyle makes it a cradle! Barthel tips it! TWO!! Kyle escapes, BOOTS Aichner, but Aichner BOOTS back!
Kyle and Aichner DOUBLE BOOT! Kyle yoyos, into DOUBLE LARIATS! Both men fall and fans are thunderous for "NXT! NXT!" Hot tags to Von and Barthel! Von dodges but Barthel CHOPS, kicks, and throws hands! Von throws hands back, going back and forth! Von gets the edge but Aichner gets in to CHOP BLOCK! Kyle gets in to AX 'N' SMASH Aichner! Barthel gut wrench SLAMS Kyle! Von scoops Barthel, but Barthel slips out! Barthel shoves Von, but gets caught in the HIGH LOW!! Cover, the ref is busy with Aichner! He finally sees, TWO!!! That delay saved Imperium!! Fans argue the count, but Von drags himself over to tag in Kyle.
Kyle and Von get Barthel up, Von runs, but Barthel elbows Kyle and dumps Von! Barthel hurries to tag in Aichner! Aichner runs at Kyle, Kyle ducks but Aichner goes up and up and SUPER CROSSBODIES Von!! Fans lose their minds, Aichner gets Kyle for a lift, but Kyle slips out of the bomb to BRAINBUSTER!! Cover, TWO!! INTO AN ARMBAR!! Kyle pulls the arm back, then shifts to a TRIANGLE HOLD! Aichner flails, reaches, scoots around, but Kyle throws down fists! Aichner is fading! But he gets a second wind to deadlift Kyle! Barthel tags in and goes up top! IMPERIAL BOMB!! Cover, Imperium wins!!
Winners: Imperium, by pinfall (still NXT Tag Team Champions)
What a war for the tag titles! Kyle & Von came way closer than Imperium thought they would, but they couldn't take over the tag division. Von and Kyle regroup, and fans chant, "Thank You, Kyle!" Was this the last chance for the three-time tag team champion? Von rushes at Kyle?! But Kyle's ready, and he ducks to AX 'N' SMASH Von!! Kyle shouts about Von being dumb enough to think Kyle doesn't know this game! "This is a brotherhood!" Kyle throws up the Undisputed Era symbol! And then he tells Von to SUCK IT! Kyle storms off, fans are fired up! Will Kyle teach Von what it takes to survive in NXT?
Backstage interview with El Legado Del Fantasma.
McKenzie asks them about Santos Escobar's huge match with Xyon Quinn this Tuesday. Escobar will put it this way, first in Spanish, then in English, "Xyon Quinn bit off more than he can chew." Reality hits Xyon in the face. Then what about Elektra Lopez meeting up with Xyon last week? McKenzie, they are familia. Their affairs are solved behind closed doors. And just to be clear, Elektra is a grown ass woman. What she does on her time is none of your business. Elektra storms off, Legado follows after. But will that business be settled when Escobar takes on the Gentleman Fighter on NXT?
Hair VS Hair: Cameron Grimes VS Duke Hudson!
The Carolina Cash Money Caveman took The Smug poker "master" to the cleaners in Duke's Poker Room, then messed with his head in the rematch. But now Hudson wants to humiliate Grimes and mess with Grimes' head by shaving it bald! But will that just backfire on Hudson like those card games did? Or will he not need to worry about bluffs when he can just beat Grimes down?
The bell rings and the two rush each other! Hudson RAMS Grimes into a corner, RAMS his shoulder in again and again, then bumps Grimes off buckles. Grimes turns things around to KICK and KICK and KICK! Hudson shoves Grimes down, stomps him around, then drags him up to TOSS him out of the ring! Grimes hits the steel steps pretty hard, but Hudson goes out after him. Grimes blocks the bump to SMACK Hudson off the steps! Grimes then goes from the apron to CANNONBALL! Direct hit and Hudson flounders to the ramp. Grimes gets Hudson up but Hudson RAMS him into the apron! They get in at 8 of 10, but Grimes runs to forearm smash Hudson down!
Grimes rallies with shoulders, then he runs corner to corner to- Leap into an URENAGE! Hudson rains down fists on Grimes, fans boo but Hudson paces about. Hudson sits Grimes up to JAM a knee into his back! Hudson brings Grimes up again but Grimes throws body shots. Grimes runs but Hudson pulls hair! Hudson reels Grimes in, Grimes victory rolls! TWO, and Hudson runs in but Grimes elbows him away! Grimes BOOTS Hudson, goes up and QUEBRADAS! Cover, TWO! Hudson crawls, Grimes snarls and KICKS Hudson's leg! And then KICKS him in the corner again and again! Hudson bails out and fans boo, but Grimes goes to the apron!
Hudson blocks the kick to yank Grimes down and OVERHEAD Belly2Belly suplex him to the floor! Hudson gets in as the count climbs. The count is past 5 of 10, Grimes gets up at 8 and in at 9! Hudson stomps Grimes at the ropes, drags him up and whips him to ropes to CLOBBER him with an elbow! Hudson drags Grimes up, reels him in and has a cobra twist! Grimes resists but Hudson CLAWS Grimes in the side! Fans rally as Grimes endures the stretch, and Grimes powers up to power out, only for Hudson to throw him down by his hair! Fans chant, "You Suck!" as Hudson fish hooks Grimes' face. Hudson puts Grimes in a corner to stomp away!
The ref counts, Hudson lets off, fans chant, "You're Still Dukie!" Hudson suplexes, Grimes makes it a cradle! TWO, and Hudson CLOBBERS Grimes again! Hudson sits Grimes up to JAM his knee in again, and again! Hudson eggs Grimes on, "I'm gonna shave you bald!" Fans chant "DUKIE! DUKIE!" as Hudson whips Grimes corner to corner hard! Grimes falls but fans rally up for him. Hudson stands Grimes up to reel him in, BACKBREAKER! Hudson bends Grimes back for a backbreaker rack but Grimes endures. Fans rally, Grimes fights out with fists, and Grimes gets up, only for Hudson to scoop! Grimes RANAS Hudson into ropes!
Hudson drags Grimes up by a leg, Grimes ENZIGURIS! Hudson staggers, Grimes ducks and dodges, COLLISION COURSE! Cover, TWO! Hudson survives but fans rally up for Grimes. Grimes counter punches Hudson, and again! Grimes spins Hudson to scoop, but Hudson slips out to gut wrench Grimes up! Hudson swings Grimes but Grimes makes it a DDT! Cover, TWO! Grimes grimaces while Hudson goes to the apron. Grimes goes out and PENALTY KICKS Hudson from the apron! Fans fire up, Grimes brings Hudson up and into the ring. Grimes slingshots but Hudson holds off the sunset flip and sits! Hudson has the rope and the ref sees it! Grimes finishes the sunset, TWO!!
Grimes kicks, Hudson avoids the roundhouse but not the SUPERKICK! POISON-RANA!! Fans fire up with Grimes as Hudson flounders about. Grimes runs in to BOOT in the corner! Grimes then goes up top, to CROSSBODY! Deep cover, TWO! Fans fire up as Grimes goes to a corner. Hudson stands, Grimes says, "TO! THE! MOON!" But he runs into a BOSS MAN SLAM! Cover, TWO!! Grimes survives and Hudson can't believe it! Hudson drags Grimes up, gut wrench to a crucifix, but Grimes RANAS out of Razor's Edge! Hudson hits buckles, Grimes rolls him up! With a handful of tights!! GRIMES WINS!!
Winner: Cameron Grimes, by pinfall (Duke Hudson loses his hair)
Hudson protests, Grimes cheated! But it's only cheating if you get caught! And with the barber's chair in the second ring, we all know what's coming! Hudson tries to run away but Grimes throws him into the ring! But Hudson CLOBBERS Grimes! Hudson drags Grimes up and puts him in the chair! No, this isn't the bet! Hudson is the one who should be getting sheered! Hudson grabs the electric razor, but Grimes BOOTS Hudson down! Then he hits a CAVE-IN!! Now things are as they should be as Grimes gets the razor! Grimes makes Hudson take a seat, and fans chant, "Shave Him Bald!" Grimes sets to work buzzing through Hudson's hairline!
Hudson comes to and runs away before Grimes can finish! But will he have to make the change after getting a runway down the middle of his head?
NXT Cruiserweight Championship: Roderick Strong w/ Diamond Mine VS Joe Gacy w/ Harland!
Apparently, a 205 pound weight limit is offensive? Well, NXT's Mr. Inclusion does make a point that the world should be a better place for all. But will he be able to resolve the conflict and turn this into NXT's Openweight Championship? Or will he not be able to break the Savior of the Backbreaker?
The introductions are made, the belt is raised, and we see if Strong exclusively keeps Gacy from being a champion.
Strong and Gacy tie right up, go around, and Strong puts Gacy in a corner. The ref counts, Strong lets off but shoves Gacy as he tries to hug him. Gacy says they can resolve this easily but they circle and tie up again. Strong trips Gacy and eggs him on. Gacy gets up, Strong shoves him. Gacy wants to hug it out but Strong wants to fight. So Gacy SLAPS Strong! Strong fires forearms and body shots and has Gacy on the ropes! Strong knees low, scoops and BACKBREAKER! Gacy gets up, Strong CHOPS him! Gacy flounders, Strong gets Gacy up to scoop and hits another BACKBREAKER! Strong stalks Gacy, dares him to hug him now, but Gacy wants Strong to take it easy.
Strong brings Gacy up to headlock, Gacy powers out and runs Strong over! Things speed up, Gacy shoves and CLOBBERS Strong from behind! Gacy stomps away on Strong then drops an elbow! Gacy gets Strong up to CLUB him, throw body shots, then forearms. Strong puts Gacy in a corner to CHOP! Strong tears Gacy's button-up shirt off to CHOP him! And kick him, then CHOP him again! Gacy crawls, Strong stands Gacy up to CHOP him down! Strong gets Gacy against ropes to CHOP him, but Gacy throws body shots! Strong forearms, joins Gacy on the apron, but Gacy BOOTS him down! Gacy throws off what's left of his shirt to CLUB away on Strong!
Strong flops to the floor, Gacy gets him up and in, then drops another big elbow! Gacy DECKS Strong, brings him up from the corner but Strong slips out to run. Gacy ROCKS Strong then hits a BACKBREAKER! Cover, ONE! Gacy drags Strong up, suplexes high and hard, then covers, ONE! Gacy drags Strong back up, throws a hard forearm, but Strong CHOPS! Gacy CHOPS back, then waistlocks. Strong holds onto ropes, Gacy CLUBS him! Gacy whips Strong corner to corner, Strong reverses and runs in to KNEE Gacy down! Strong hoists Gacy up top, CHOPS him again, then climbs up to join him. Strong gets Gacy up and fans fire up, for the SUPERPLEX!
Both men are down and fans fire up! Strong crawls to a cover, TWO! Only now does Harland even react by putting his hands on the apron. Strong throws forearm son Gacy but Gacy gives them back. They go back and forth, fans fire up, and Strong gets around to knee low! Fireman's carry, GUT BUSTER DROP! Strong gets Gacy back up, OLYMPIC SLAM! Cover, TWO! Fans rally up, Bivens is frustrated on Strong's behalf. Strong gets the legs, he turns Gacy over for the BOSTON CRAB! Gacy endures, powers his way around, but Strong drags Gacy away! Strong turns Gacy back over, but Gacy gets an arm and starts kicking Strong in the face! Gacy drags Strong down, CROSSFACE!!
Strong flails, scrambles, and gets the ROPEBREAK! The ref counts, Gacy lets off but runs in, to clothesline Strong out! Strong lands right by Diamond Mine and they hurry to help him, Gacy runs to FLY! Direct hit and down goes Strong AND the Creed Brothers! Gacy puts Strong in the ring, but then he stares down Ivy Niles! Niles gets her chain ready, but here comes Harland! Harland picks Niles up but Gacy tells him to let her down. Harland lets Niles free, the ring count is climbing! Gacy gets in at 8, Strong runs in but misses! Gacy knees low, gut wrenches and POWERBOMBS! High stack, TWO!!
Gacy runs, but Strong KNEES Gacy down! Gacy flounders, Strong gets him up, END OF HEARTACHE!! Cover, Strong wins!
Winner: Roderick Strong, by pinfall (still NXT Cruiserweight Champion)
Not only does Strong keep this title, he keeps it the Cruiserweight title! Will Diamond Mine never crack under pressure? Will Gacy stop trying to change the way things are done in NXT? Or will this only motivate him to try even harder?
Backstage interview with Kyle O'Reilly.
McKenzie asks what happened after their tag title loss, and Kyle says, "You know I've been in this business a long time, right? And Von Wagner, if you didn't think I smelled that turn coming from a mile away, you must be stupider than you look!" This is the first time in five years Kyle wasn't in a WarGames match, and he's hungry for some steel. So if Von wants to finish what he started, they can leave that cage up for Tuesday, because Kyle wants him inside that steel! A vicious challenge has been issued to Von, will he have the guts to take on #KillerKyle?
Men's WarGames: Tommaso Ciampa, Johnny Gargano, Pete Dunne & LA Knight VS Carmelo Hayes, Bron Breakker, Tony D'Angelo & Grayson Waller!
The battle of generations is on! Old School VS New School, Black 'n' Gold VS 2.0, the veterans who paved the way and paid their dues VS the future of sports entertainment! At least, that's how the new kids on the block want everyone to think. But will DIY, the Bruiserweight and the Million Dollar Megastar show the North American Champion, the Big Booty Nephew, the Pro-Wrestling Paizon and the 21st Century Success Story it ain't their time yet?
As promised by Trick Williams, Melo starts for his team. And as Ciampa, Johnny Freakin' Wrestling starts! Gargano even returns to his old theme song to remind us all who has been the heart of this brand all this time! Fans are thunderous already as the bell rings. Gargano wants Melo to hear the chants as he and Melo circle. "Johnny WarGames" gets the waistlock, hooks an arm, spins Melo around, and wrangles him down. Melo gets up but Gargano wrenches. Melo rolls, wrenches, but Gargano headlocks to a takeover. Melo headscissors but Gargano shrugs that off. They get up, Melo pops out the back to hammerlock and bridge.
Gargano endures but Melo rolls to have the hammerlock again. Gargano reaches back but Melo fights the headlock off. They get up, Melo wrenches again, then headlocks. Gargano throws body shots, powers out, things speed up and Gargano hurdles. Melo leaps, things keep moving, Gargano arm-drags but Melo rolls off his back. Melo shoves, springboards and FLYING ARM-DRAGS! Gargano is in a corner, he dodges Melo but Melo pops him up, but Gargano kicks off the cage to arm-drag Melo and SCHOOLBOY KICK! Fans fire up and Gargano smirks. Trick coaches Melo but Gargano brings Melo up into a corner.
Gargano CHOPS, but Melo headlocks. Gargano just CHOPS again! Melo keeps trying but Gargano CHOPS, whips corner to corner, but runs into an elbow. Melo slingshots and jumps off the second ring's ropes, into Gargano's GAMANGIRI! Melo is dazed, Gargano waits for him to rise. Gargano runs in, but Melo blocks the spear to turn Gargano around and KICK! Melo runs to the post, imploder leg drop but Gargano moves! Melo lands on his feet, Gargano slingshots but no Final Beat here! Melo TOSSES Gargano into the ring! Gargano slides, Melo slingshots over, but turns around into the SLINGSHOT SPEAR! Fans are thunderous as Gargano still has control!
Gargano drags Melo up, Melo knees low! Melo whips, Gargano reverses but Melo goes up the steel to mule kick! SPRINGBOARD LARIAT! Melo goes up the corner, but Gargano ROCKS him with a forearm! They brawl, Gargano gets the edge, but Melo kicks him away. Melo goes up again, but Gargano follows! They fight on the top rope, Gargano SMACKS Melo off the steel! And again! And again! Gargano keeps dribbling Melo off the steel! Gargano stops at 10 and springboards to SUNET POWERBOMB! But the countdown is here, and Team 2.0 sends Grayson Waller! Waller gets in, and he dares Gargano to come get some!
Gargano takes Waller up on his challenge, ducks and fires off forearms! Gargano whips, Waller reverses, Gargano tilt-o-whirls but Waller blocks to suplex! Waller runs in at the corner but Gargano BOOTS! Gargano tilt-o-whirls, Waller blocks again and BACKBREAKER, to a ROLLING ELBOW! Waller fireman's carries, pops Gargano up, but Gargano RANAS! Then schoolboy KICK! Melo gets in, Gargano forearms him, but Waller LEG LARIATS! Team 2.0 mug Gargano with stomps and hammer fists, then they go to the corners. They're mocking DIY!! Gargano sits up, but he dodges! Melo ends up kicking Waller's leg, Gargano sends Melo into Waller, NECKBREAKER DDT COMBO!
Trick's bringing stuff out from under the ring! He tosses a CHAIR up and over the cage, and it almost lands on Waller! But then Gargano goes after the chair while Trick climbs the cage! Gargano SMACKS Trick's hands! But Melo and Waller CLOBBER Gargano! Melo chokes Gargano with the chair! Gargano is busted open, Team 2.0 TOSS him into the steel! The countdown is back and the Black 'n' Gold send Pete Dunne! The Bruiserweight gets right in, ELBOWS Waller, but Melo headlocks. Dunne powers out to CLOBBER Melo! Waller runs in, Dunne sends him into a corner to GAMANGIRI! Knee drop on Waller's arm! Dunne runs to DECK Melo, then keeps going to DECK Waller!
Dunne brings Melo around, X-PLEX onto Waller! Fans fire up as Dunne stands tall. Dunne whips Waller at the steel but Waller blocks! So Dunne BENDS the fingers against the steel! Dunne lets Waller down, brings Melo up but Melo forearms Dunne. Dunne forearms back and they go back and forth. Melo SLAPS, ROCKS Dunne, then runs in, but Dunne dodges and Gargano GAMANGIRIS! Melo staggers back into Dunne's GERMAN SUPLEX! Gargano and Dunne STOMP Waller's and Melo's hands! STEREO BUZZSAWS! Gargano shrugs and Dunne nods. Dunne gets Melo, Gargano gets Waller, CROSSFACE and GargaNO Escape!
Dunne even kicks Waller in the face, and Gargano kicks Melo! Dunne and Gargano let off and fans are thunderous, "This is Awesome!" Dunne bends Waller's fingers against steel again! Gargano puts Melo in a corner, Dunne DECKS Waller! Melo ROCKS Gargano but Dunne CHOPS Melo! Dunne SLAPS Melo, Melo comes back to tilt-o-whirl FACEBUSTER! Melo sees Dune go to the second ring and springboards over, but Dunne DECKS him! Waller slingshots and somersaults to STUNNER! The countdown returns as Waller does the same to GARGANO! Team 2.0 sends Tony D'Angelo! And Tony gets right in as Trick sends in kendo sticks!
Trick brings TABLES out! Trick passes those in to Tony and Waller, they get three tables in the ring! Melo SMACKS Gargano with the kendo stick, Trick adds trash cans to the mix! Lids included! Wait, a crutch!? Trick goes way under the ring, but LUMIS appears!! Dexter Lumis, bad hand and all, has just changed the vibe! Gargano DECKS D'Angelo, and gives Lumis a thumbs up! Tony uses a chain to DECK Gargano! Melo positions things, Tony uses the chain to shut the cage door?! Then how is anyone supposed to get in, Bron included? Tony and Melo mug Gargano, Waller has Dunne in the second ring. Dunne hurries over but Melo SMACKS him down with the lid!
Melo stomps the lid into Dunne but Dunne hits him back with it. Tony and Waller mug Gargano with kendo sticks and trash can lids. Waller SMACKS Dunne down! Fans are thunderous and dueling as the countdown returns. Black 'n' Gold sends LA Knight, but the cage is shut! Waller taunts Knight, but Knight looks under the ring. Dunne and Gargano are pressed against the steel, refs try to figure out the chain and padlock. Knight starts to CLIMB! Waller intercepts but Knight knocks him down! Knight is in, and he leaps over Melo and Tony! Knight breaks through the clothesline to TOSS Melo and BOOT Tony! Fans fire up for Knight for once!
Knight whips Melo into Waller, then gives him a NECKBREAKER! But Waller CLOBBERS Knight from behind! Waller whips, Knight ducks and reels him in, RUSSIAN LEG SWEEP! Tony runs in but Knight scoops him to POWERSLAM Tony onto Waller! Knight gets a kendo stick from Dunne and he SMACKS Melo! Then another stick, to SMACK Tony! Then a trash can to put it on Waller! Dunne sends the lid over, Knight CYMBAL SMASHES Waller! Fans fire up as Dunne and Gargano DOUBLE DROPKICK Waller in the corner! Knight SMACKS Melo, SMACKS Tony, Dunne stomps a mudhole into the trash can!
Dunne then takes Waller's glove off so he can get at the fingers directly! Refs get bolt cutters to cut the chain! Dunne puts the can on Waller's hand to press it like a vice! Gargano fires off on Tony with the trash can lid! Dunne has a kendo stick and he SMACKS Waller's fingers! Knight stomps a mudhole into Melo! Dunne digs the kendo stick into Waller's ear! The countdown is back and Bron Breakker joins the match! But, the chain isn't cut yet? Bron takes the cutters and goes after the chain! Fans taunt him with "Booty Nephew" as he struggles, but he finally gets it cut! Bron rushes in, blocks the kendo stick and OVERHEAD Belly2Belly suplex Dunne!
Bron CLOBBERS Gargano, kicks Knight, then whips Knight, only for Knight to reverse. Bron ducks and dodges to POWERSLAM Knight down! Fans bark and rally for Bron but Gargano SMACKS and Dunne ENZIGURIS! Dunne KICKS Bron into the gap! Dunne brings Bron up to SLAP him! And CHOP! And CHOP! Bron scowls as he tanks the jabs, to OVERHEAD Belly2Belly Dunne into the second ring! Gargano rushes in but Bron gets Gargano for a trophy lift! Bron TOSSES Gargano at Knight and Dunne! Bron paces, goes to the second ring, and Melo rains down rights on Dunne while Bron stomps Knight. Tony rains down fists on Gargano, and there's still 90 seconds on the clock.
Melo drags Dunne up to RAM him into the table! Tony digs his boot into Gargano, Bron RAMS his shoulder into Knight. Melo gets a trash can lid to JAM Dunne. Waller has a kendo stick and he has Tony set Knight up for him. Waller SMACKS Knight right on the back, but now it's time! Fans are already singing, "Ciampa's gonna kill~ you~!" Ciampa rushes to the ring, and he kicks Waller to take the kendo stick from him! Ciampa SMACKS Waller, kicks Melo and RAMS him into steel! Ciampa tosses Waller, CLUBS Tony and Bron, then TOSSES Bron! Ciampa TOSSES Tony, then runs to PSCHO KNEE Waller! TRASH CAN LID KNEE for Bron, then for Melo, then for Tony!
Fans fire up as Ciampa gets a trash can, takes a seat on it and applauds! He then SMACKS Waller down with the trash can! Melo attacks Ciampa from behind! Melo clubs away on him, stomps away, then SMACKS him with the kendo stick! Melo says HE is the top champion, but Gargano USES THE CRUTCH! How fitting for DIY! Gargano gives Ciampa the crutch and he JAMS Bron! And JAMS Waller! And JAMS Tony! Then CRUTCH RUSSIAN LNEG SWEEP! Gargano puts Waller in the gap, Ciampa runs in to KNEE Waller into the second ring! Gargano SUPERKICKS Melo, then DIY corner clothesline Tony and Bron! And then they go the other way!
Gargano goes to the gap while Ciampa clotheslines Bron one more time. DIY goes after Tony, ENZIGURI KNEE COMBO! Ciampa clotheslines Bron again, sets up, Gargano runs in but Bron catches Gargano to SLAM him onto Ciampa! Yeah, that used to happen back in the day, too… Fans rally and duel, but they agree 'This is Awesome!" Waller SMACKS Knight around, Melo rains down hands on Gargano and Bron uses the trash can to SMACK Ciampa while Tony rains fists down on Dunne. Bron RAMS Ciampa into steel! Melo stomps the trash can lid onto Gargano while Waller & Tony LAWN DART Dunne into steel! And then RAM Knight into steel!
Waller smacks Knight and Dunne with the trash can lid, Tony gets his stomps in where he can. Fans want the tables to come into play, but 2.0 says they do this how they want. Black 'n' Gold all end up in the gap, but that seems to get a smile from Dunne. Everyone shrugs, they all stand up. They brawl with 2.0 on all sides! DIY has Melo and Bron, Knight TOSSES Waller into the first ring! Dunne brings Tony over to RAM him into Melo! Knight TOSSES Waller into the steel! Black 'n' Gold line up with their 2.0 rivals, and they ALL SPLASH against the steel! They fire off on all the new kids, alternating here and there and wherever they can! Fans are electric as Black 'n' Gold stands tall!
Ciampa moves some things around, the others throw 2.0 to the second ring. Gargano wedges a trash can into the ropes, Knight throws body shots and stomps into Bron. Gargano brings Melo up and aims at the can, for a LAWN DART! Ciampa CHOPS Waller, hoists him up top and CHOPS him again. The table is set up, Ciampa climbs up and brings Waller up, but Tony SMACKS Ciampa with a trash can lid! And again! Ciampa ends up on the table, Waller adjusts, but Knight goes up to get him! Ciampa gets out of the way in time for the SUPER OVERHEAD SUPLEX through the table!!! Waller ain't feeling so baller right now but fans lose their minds!
Dunne and Gargano hoist Melo up top in the other ring, throw haymakers on him, then climb up after him. Melo resists, then Tony and Bron join in! TOWER OF DOOM, double powerbomb and a double superplex! But Knight gets Melo for the BFT!! Cover, Tony breaks it! Everyone is down but stirring. Or rather, writhing. Knight and Bron gets up, Knight sends Bron into steel! Knight dribbles Bron against the steel! Then he drags Bron out on the ropes, but Tony kicks him down! Tony stomps away on Knight, rains down fists, and Bron adds stomps. Bron goes up, Tony reels Knight in, but Ciampa SMACKS Tony with a trash can! Then TOSSES it at Bron! And then SMACKS him!
Ciampa sets the trash can in the drop zone and climbs up after Bron. Ciampa gets Bron up, SUPER AIR RAID CRASH onto the trash can!! Cover, TWO!!! Fans are electric as everyone is down again. Tony YANKS Knight into the steel, then kicks low. FISHERMAN SCREW! Tony sets up a table while shouting to his teem to get up. Waller goes up the corner, but Tony wants him on the cage! Waller surely saw what happened to Cora Jade, but he'll still do as he's told. Knight is put on the table, SUPER BALLER ELBOW DROP!!! Tony covers, but Dunne breaks it!! Fans are loving "NXT! NXT!" for this! Dunne pushes wreckage out of the way to get after Waller.
Tony crawls to the gap, and he finds a CROWBAR?! When did that get there?! But Dunne SMACKS him with a kendo stick first! And then again! Melo sees Dunne staring him down, and he gets a lid. Melo tosses the lid, but he misses! So much for what he keeps talking about! Dunne SMACKS away on Melo with the stick! Melo grabs the stick so Dunne STOMPS it into him! And then STOMPS Melo's hand, and BOOTS him down! Melo crawls, Dunne puts the trash can lid on Melo's hand to STOMP it! Dunne hops up the corner, but Tony JAMS him with the crowbar!! Tony climbs up, CHOKES Dunne with the crowbar, then takes out Dunne's mouth piece!
Tony puts that in his pocket, to then bring Dunne around and SUPER CROWBAR NECKBREAKER!!! Fans lose their minds all over again! Bron and Ciampa brawl in the other ring while everyone else is down! They go faster and faster, Ciampa BOOTS but Bron ROCKS him! Double LARAITS, then again! Ciampa ducks, but Bron RANAS?!? Bron gets Ciampa in a choke grip, but Gargano SUPERKICKS him! But Bron gets up to choke grip Gargano! Bron trophy lifts, but Ciampa KNEES Bron! Gargano SUPERKICKS Waller, Ciampa has Waller in the ropes! Gargano aims at Bron, ONE FINAL BEAT AND WILLOW'S BELL IN STEREO!!
Fans are thunderous for "DIY! DIY!" and they aim at Bron! MEET ME AT THE CROSSROAD! Double high stack cover, but Melo drags the ref away!! Melo laughs as he takes advantage of the rules, then he rakes Ciampa's eyes, and LOW BLOWS Gargano! "I told you, Johnny. I don't miss!" But then Gargano traps Melo's arms! Gargano is holding Melo for Ciampa's PSYCHO KNEE!!! It takes Gargano out just as much, but Ciampa drags Melo up. Double underhooks, but Bron SPEARS Ciampa through a table!! Fans lose their minds again, and Bron brings down the straps! Bron trophy lifts Ciampa for the POWERSLAM!! Cover, Team 2.0 win!!
Winners: Carmelo Hayes, Bron Breakker, Tony D'Angelo & Grayson Waller, by pinfall
Say it ain't so! Bron pins the NXT Champion and wins it for his team! The new wave crashed against the shore, is it washing away the Black 'n Gold from the brand?
---
My Thoughts:
I wasn't sure what to expect from the first not TakeOver for NXT, but that change seems to only be in name only. Whatever anyone has been thinking about the 2.0 era, especially the 2.0 talent introduced, I feel like those featured on this card earned their keep. The Women's WarGames was an awesome opener, BIG respect for Cora Jade doing the riskiest spot of the match. Great story telling with the bad arm, and I just had a feeling Cora would end up getting that pin. Not sure where everyone goes from here, though you can expect Toxic Attraction to put all those titles on the line as soon as New Year's Evil 2022 in a month against any combination from the Face team tonight.
The tag title match was greater than expected, seems Von Wagner has come into his own at just the right time. I figured Imperium was winning, mostly because it was too soon for Wagner to hold gold, but also because of talk that Kyle O'Reilly has not signed a new NXT contract. Von turning on Kyle was more of a surprise, I thought this here was the "Good-Bye" match, but maybe Kyle VS Von in a cage match will be that farewell that puts Von over. Personally, I think a lot of why Kyle is moving on is because WWE didn't care to keep Bobby Fish around to do a reDRagon reunion story so that they could be tag champions again. That and RawDown is not promising at all for Kyle. It isn't all that promising for anyone, but especially not for the Undisputed Era boys.
Speaking of, Strong VS Gacy was a very good match, and it felt like a rare case where WWE did Heel VS Heel. Strong isn't Face, he still has all of Diamond Mine at ringside. Gacy isn't Face, Wade Barrett the Heel commentator was fully supporting him, and he has Harland. Harland and Niles interacting was an interesting way to basically tip things in Strong's favor. But I figured Gacy was losing so that the NXT Cruiserweight Division and its title stays in existence. Now they just need to push some Cruiserweights to be viable challengers. Too bad WWE released a lot of good choices over the last few months…
Grimes VS Hudson was a really good match, and of course Grimes wins. All that hair, it'd be a shame to cut that all away. Though that makes this feud really one sided right now. Too bad they didn't get to keep the Million Dollar Championship, Hudson would definitely want to hold that belt. And we got an awesome Men's WarGames main event. I'm a bit surprised both teams with advantage won, but I suppose that Team 2.0 was going to win since we're in NXT 2.0 and there's no going back to the black and gold color scheme. Everyone got to look great in it, such as Waller doing the risky spot like Cora did, and then DIY getting to be DIY again. But Bron getting the win and the pin on Ciampa, that's a big indicator that New Year's Evil sees a rematch of those two. Maybe the new year brings a new champion?
My Score: 9.4/10