Andrew's New Japan Cup Results & Match Ratings: 3.21.2021
New Japan Cup Finals are today! Will Ospreay versus Shingo Takagi! Can the Commonwealth Kingpin slay The Dragon?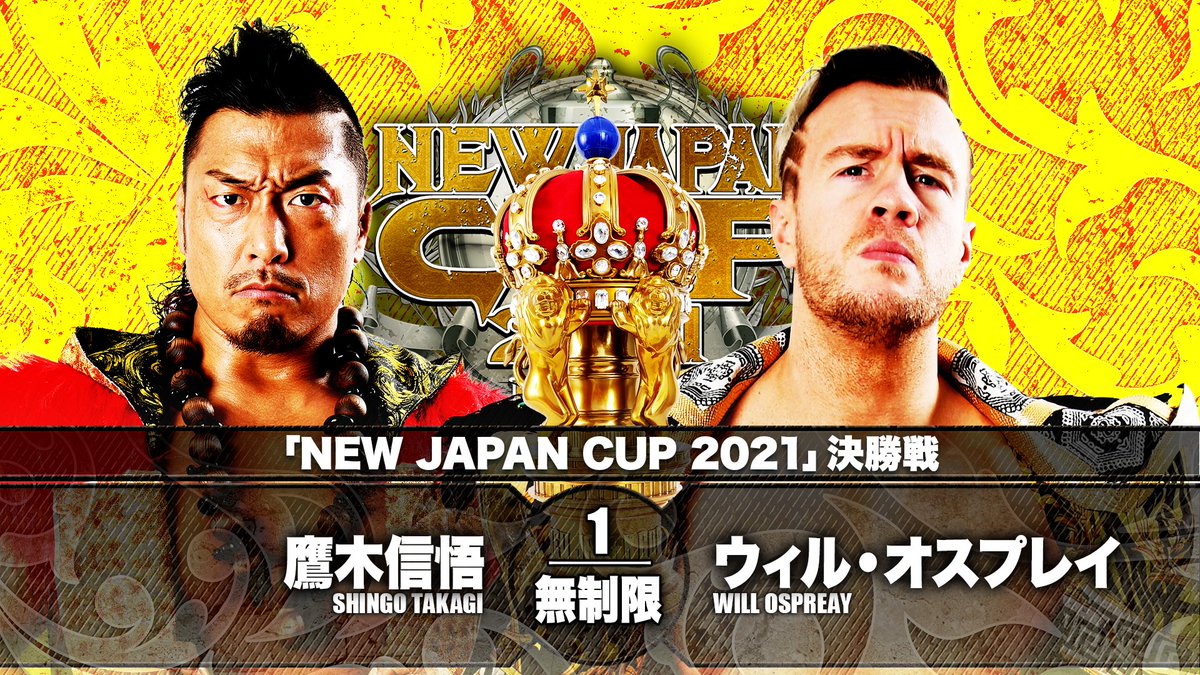 New Japan Cup Finals are today! Will Ospreay versus Shingo Takagi! Can the Commonwealth Kingpin slay The Dragon?
Let's just cut to the chase; shall we? We know a few of the undercard matches will probably lead to something at Sakura Genesis, but everyone cares about the Finals. Ospreay and Shingo have yet to have a disappointing match with each other, and this build seems engaging.
Ospreay has been my pick, so let's see if he needs to tap back into the old Aerial Assassin to win the Cup!
Ratings:
Yuya Uemura, Gabriel Kidd & Yota Tsuji vs Suzuki-Gun (ZSJ, Taichi & DOUKI): Taichi wins via Dangerous Backdrop @10:39 – ***
United Empire (Jeff Cobb & Great O-Khan) vs Tomoaki Honma & Satoshi Kojima: Cobb wins via Tour of the Islands @8:58 – ** ½
Bullet Club (KENTA, EVIL & Yujiro Takahashi) w/Dick Togo vs CHAOS (Toru Yano, YOSHI-HASHI & SHO): Yujiro wins via Pimp Juice @9:24 – ** ½
LIJ (Tetsuya Naito, BUSHI & SANADA) vs FinJuice & Toa Henare: SANADA wins via Japanese Leg Clutch @10:10 – ***
Kazuchika Okada, Hiroshi Tanahashi & Kota Ibushi vs Bullet Club (Jay White, Chase Owens & Bad Luck Fale) w/Gedo: Ibushi won via Kamigoye @11:31 – ***
NJC Finals: Will Ospreay vs Shingo Takagi: Ospreay wins via Stormbreaker @30:06 – *****
Results:
Before the first match YOH comes out to give an update on his condition. He says he's fully recovered and will be coming back at Sakura Genesis. He wants Roppongi 3k to challenge for the Jr Tag titles again, but we'll see when and/or where that happens.
Yuya Uemura, Gabriel Kidd & Yota Tsuji vs Suzuki-Gun (ZSJ, Taichi & DOUKI)
Oh look, with a team of Young Lions at least this probably means that DOUKI won't eat the pinfall.
The interesting story here was seeing Tsuji and Gabe build on their great increases in ability. Gabe and ZSJ continued from where their Cup tournament left off, with a few nice near fall cradles from Gabe and just a nice mixture of world of sport. Tsuji however was supposed to get the most shine, and it nearly went off without a hitch.
He traded blows with Taichi, fought out of an Axe Bomber; but his one major flub pissed him off during the rest of the match. He and Yuya were supposed to do a tandem assisted middle rope springboard splash, but Tsuji's feet slipped and it just looked bad. Nothing dangerous, just obviously bad/dumb looking.
Taichi finished Tsuji with the Dangerous Backdrop, but if it wasn't for the slip, this would've been fantastic overall given the dynamic.
United Empire (Jeff Cobb & Great O-Khan) vs Tomoaki Honma & Satoshi Kojima
Cobb and O-Khan continue to show themselves as a force. Honma had a lot of heart, had different moments squaring off with each member of the UE team, but he's not quite at the level of everyone else in this match.
Kojima seemed to have worked out a few amusing combinations with Honma and the head pats before the Kokeshi, but this was chalk. Kojima and Honma of course had a handful of moments, but even though both have had really solid starts to the year, they aren't on the way up like all of the United Empire.
Honma takes a Tour of the Islands, and we get to the ending we expected.
Bullet Club (KENTA, EVIL & Yujiro Takahashi) w/Dick Togo vs CHAOS (Toru Yano, YOSHI-HASHI & SHO)
Now it's about time we got a finish like this! Throughout the entire tournament, the Junior or the Young Lion ended the match eating the pin, but finally we see something that matters…oorr…okay at least as much as the NEVER 6 Man titles actually matter.
KENTA and YOSHI-HASHI continued to build on that YOSHI-HASHI NEVER push a few years ago, Dick distracts Marty Asami and Yujiro hit YOSHI-HASHI with the pimp cane. After Marty turns around, Pimp Juice and Yujiro pins YOSHI-HASHI. So it looks like we'll get a 6 Man title challenge involving Yujiro, most likely kENTA and who knows who the third will be. But with how irrelevant those titles are, and how irrelevant YOSHI-HASHI is; it's painful to think that Yujiro is an upgrade. But he is.
LIJ (Tetsuya Naito, BUSHI & SANADA) vs FinJuice & Toa Henare
Naito calls for Juice to start, and they jab and mock each other to start the festivities. They kept things light until Finlay got tagged in. We saw the usual BUSHI/Naito Sunset Dropkick combo adjusted a little bit. Instead of a Dropkick to the face, Naito aims at Finlay's busted ankle and grins after he hits the weak point.
From there on, LIJ gangs up on Finlay and Naito especially goes after the leg. With Naito's constant jabs and the attack on the injury, it would be interesting if we see Naito back on Impact Wrestling at some point challenging for the Impact tag titles.
Henare was left out of the mix until toward the end. Henare had a small opening against SANADA, but he was mostly handled and it was easy sailing, to send Henare into more rage. Henare is beside himself after the match while FinJuice just starts talking with Naito and then walk off together leaving their partner alone in his frustration.
Kazuchika Okada, Hiroshi Tanahashi & Kota Ibushi vs Bullet Club (Jay White, Chase Owens & Bad Luck Fale) w/Gedo
Tanahashi and Jay start, so I really like that we'll probably see that NEVER title match at Sakura Genesis. When Okada gets in, we see more ganging up, but we still get the tense moments of yesterday. Tanahashi and Okada work together, but Ibushi keeps getting cut off by BC cheating or he's never first to extend the hand for a tag.
A fun wrinkle is when Okada goes to body slam Fale. That's an old Okada habit from when Fale challenged Okada during his nearly 2 year reign, where he just wanted to slam the big guy. So even with Fale losing weight, he's still big and Okada has the back issues he's selling, so it was just cute to see that Okada has this weird obsession with Scoop Slamming Fale. Tana gets tagged in for some more interaction with Jay White, then Ibushi finally comes in against Chase Owens. Chase does get a little advantage, goes for the Package Piledriver, and even though Okada was ignoring the match a bit, he slides in to kick Chase for the save.
A few back and forths, Kota hits a V Trigger on Chase, then we see a Kamigoye for Kota to win the match. Okada poses for the victory on Tanahashi's side, so Ibushi is alone and then Okada just walks off.
NJC Finals: Will Ospreay vs Shingo Takagi
Ospreay starts this match off with more of a Junior style attack, which is clever since Ospreay's previous win was the BOSJ where Takagi's win is in the G1. So the psychological aspect here was fun, then Shingo has some fun when he starts going after Ospreay's nose and applying some of the power game. Shingo grabs Ospreay's nose to get him to release the ropes so he can Snake Eyes him in the corner.
Another fun nose spot was Shingo has Ospreay in the corner and alternates hands for the 5 count from Red Shoes. Then he uses both hands and grins at Red Shoes, so Red Shoes gets annoyed and smacks his hands down, which causes pain to Ospreay and Shingo points at Red Shoes like "OH! That was on you", so Red Shoes bows apologetically to Bea on the outside.
Will starts to stabilize on the outside when he goes after Shingo's heavily taped and damaged back. Ripping off the tape and dropping Shingo on the barricade in front of Ibushi on commentary. Ospreay continues to dominate a slow moving Takagi, but Takagi gets a second wind and send Ospreay flying back out with a Lariat, as Ospreay face bounces off the ring. Shingo continues the facial attacks with an Apron Snake Eyes and just driving his head into it. However, this is where Ospreay's insurance paid off, since Bea Priestley got involved getting in Shingo's way often, even pulled his hair to get him off Will.
Will set up a table, but was almost driven through it by Shingo multiple times. Bea moved it out of the way, and we got much more back and forth. Each man had third, fourth and fifth winds, this was fantastic. The table played a part later when Will got an advantage thanks to Bea again, and then hit a 450 Splash on Shingo, which had him down for a while.
Amazing transition spots, hell Ospreay literally flipped through a Pumping Bomber at one point to keep running to the ropes to hit an Oscutter. Shingo hit Made in Japan, Noshigami, he even busted out a Poison Rana, which we all know Shingo doesn't do Junior style moves very often.
.@WillOspreay "Os Cutter"

Sign up Now & Stay tuned to https://t.co/z1DNREy98D#njpw #njpwworld #njcupfinal pic.twitter.com/wAsssPjWlZ

— njpwworld (@njpwworld) March 21, 2021
Thankfully for Ospreay though, the adrenaline wore off, and Shingo eventually succumbed to all the damage, the consecutive elbow strikes and Ospreay even hit the full Hidden Blade for the first time since favoring his shoulder. Stormbreaker won the match for Ospreay, but this was a beautiful war.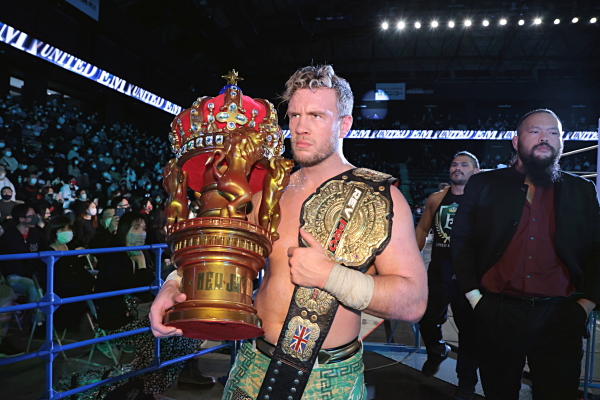 Overall Score: 8/10
We saw some possible build with the NEVER 6 Man titles, we see more tension between Ibushi and Okada, Jay made his challenge to Tanahashi more obvious, and Will Ospreay had a banger of a match with Shingo Takagi.
Also the way Will punctuated his desire to be number one was, interesting. The fact he said he loves wrestling and being be best more than anything or anyone; and then Oscutter's Bea Priestley says a lot. It's not often you see a significant other do that type of thing obviously, especially when the significant other was so integral in the tournament win.
Like I mentioned in the match rundown, every time Shingo was close to getting counted out, he was near Ibushi and they had this weird respect moment. It almost seemed like Ibushi was trying to will Shingo to the victory, but Ospreay just had too much and Shingo was too banged up.
All in all, this paid off the Cup well, and ends things nicely. For a long and rather uninteresting tournament, this day felt like a big show, felt great and I'm of course happy that my pick won the New Japan Cup!
Andrew's AJPW Champion Carnival Results & Match Ratings: 4.11.2021
Day 3 of the Champion Carnival had video on demand issues, so it wasn't uploaded until the 12th. Hopefully Day 3 continues the positive momentum the first two days have already created!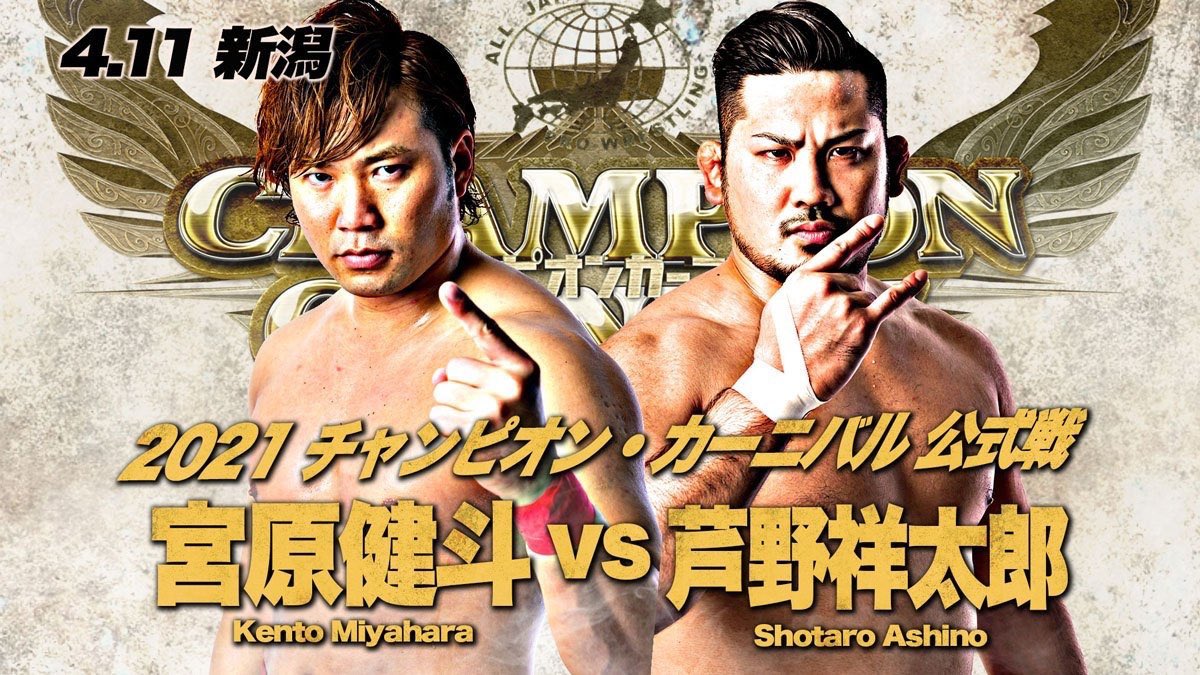 Day 3 of the Champion Carnival had video on demand issues, so it wasn't uploaded until the 12th. Hopefully Day 3 continues the positive momentum the first two days have already created!
Hard to say I wasn't a little annoyed the VOD took so long to post, but better late than never; especially when the next event isn't until the 17th.
Anyway though! Zeus looks to topple the current Triple Crown champion and continue his undefeated Carnival streak and Ashino has to do something to get off the bubble; but Kento is a big ask. We could be looking at a quick favorite to win as well as the walking dead.
Let's hope nothing too drastic happens! Check it out!
Match Ratings:
Jake Lee vs Koji Doi: Jake wins via D4C @8:10 – **
Shuji Ishikawa vs Yuma Aoyagi: Ishikawa wins via Single Leg Cradle @11:13 – ***
Kento Miyahara vs Shotaro Ashino: Ashino wins via Grapevine Ankle Lock @12:11 – *** ½
Zeus vs Suwama: Zeus wins via Jackhammer @19:52 – *** ¾
Results:
Jake Lee vs Koji Doi
Total Eclipse inner faction fighting! Since Jake is the leader, he starts off in typical heel leader fashion telling Koji to lie down and eat the pin. Koji lies down; Jake drapes himself in a cocky cover, so Koji goes for the crucifix at the 2 count. Jake snaps up and he looks shocked that Koji went against an order, but then we get to a match.
Koji does a solid job keeping Jake off balance with power attacks, Shoulder Tackles and an interesting Football Tackle with the lift and slam. Jake eats a decent amount of offense, including a few short arm Lariats, before he starts stabilizing with Knee Lifts and Yakuza Kicks.
Lucky for Jake, even though Koji countered the D4C once, after Giant Killing, Koji wasn't countering anything. Jake hits D4C and gets his second win of the tournament! Not a flashy match honestly felt a little silly at points with how quiet and echoed the arena made the match feel. Hopefully the setting doesn't continue to plague the atmosphere of the matches.
Shuji Ishikawa vs Yuma Aoyagi
Now this was decent, though the hollow quiet atmosphere of venue is really detracting from the matches. Yuma was trying to find openings, but Shuji continued to run him over and abuse him with power early. And it was during these slower spots, the deafening silence of the venue made for weird watching.
Even though Shuji hit a Scoop Slam into the corner of the arpon, multiple Tsunamis and a flashing Scoop Fire/Thunder Driver, Yuma stayed resilient. Yuma nearly made the bigger man tap in End Game, but Shuji was able to find the ropes. Yuma hits an O'Connor Roll into the Japanese Leg Clutch, Shuji manages to get out of that, goes for a Tsunami, Yuma slides and tries to scoop Shuji for a Roll-Up, but at two Shuji manages to reverse the Roll-Up, grab a single leg and keep Yuma down for a three count!
Even though I have yet to be convinced by Yuma, the fact he got a finish that still made him look strong while putting up a good fight against a decorated opponent like Ishikawa; that says a lot about his potential rise on the card.
Kento Miyahara vs Shotaro Ashino
Ashino is in the unenviable position of last place after two days. With a 0-2 record, he really REALLY needs this…and he of course has Kento as his roadblock. They've traded wins in the past, and come off as rivals who don't really like one another.
The match starts quick with Ashino shooting the half, grabbing a leg and searching for the Ankle Lock early. Kento fights out, but Kento is surprised and Ashino stays on him. Ashino pulls Kento to the ring post and wraps Kento's left leg against the post a few times. Kento fires and Snake Eyes lands Ashino into the corner of the apron.  This gives Kento plenty of time to walk off the early ankle damage and play into his cocky arrogance, all while messing with the referee and his opponent.
Whenever Ashino managed to get back in the ring, he was greeted by Blackouts to the front and back of his head. It wasn't really until Kento went for the Shutdown Suplex, that Ashino hit a second wind. Both men trade German Suplexes, Ashino continues with a Deadlift Overhead suplex and he starts building momentum back.
He teases a German from the apron to the floor, but Kento blocks, fights off and Piledrives Ashino instead. Kento fires off Blackouts as Ashino once again barely beats the count out, but after landing his ninth Blackout of the fight, Ashino grabs the left leg, rolls through and goes for the Ankle Lock. Kento tries to fight off, but Ashino refuses to let go, readjusting, rolling through, pulling Kento back into the center away from the ropes; eventually dropping down into the Grapevine. Kento has no other option but to submit!
Ashino finally gets on the board, and Kento joins him in the 1-2 portion of the standings! I wonder how much the ankle will play into the rest of Kento's carnival.
Zeus vs Suwama
Last year during Zeus' carnival winning run, he had a match with Suwama which resulted in Suwama sustaining an arm injury. Thanks to this knowledge, and the sting of a failed challenge when Suwama recovered, Zeus came out attacking the arm and trying to replicate some of his success from last year.
The beauty in Zeus' arm attacks, is not only were the Key Lock and Arm Bars effective to play on the old injury, they also inhibited Suwama from executing the Last Ride Powerbomb. Zeus' attack really did great, as well as giving him the power advantage against someone who can usually match him in that department. Zeus lifted out of Boston Crabs, met Suwama head on with Biceps Explosions and even broke out the Frog Splash a few times.
In a nice reference, Suwama was able to fight out of the Arm Trap Facelock this time, but Zeus had too much of an advantage. Zeus peppered in Chokeslams, Lariats, another Frog Splash and eventually ended the match with an impactful Jackhammer. This was a solid struggle throughout, injured only by the awkward venue setting.
Who will be the first person to hang a Carnival loss on Zeus since 2019?
Overall Score: 6.75/10
While there wasn't really a lot to complain about in terms of action, I really hated the venue. With the Japanese crowd rules of not being able to scream and having to just clap or stomp, it was very noticeably irritating in this event.  Slower moments felt empty and stupid, almost back to the empty Quarantine times, which definitely impact smaller events and smaller companies.
Aside from that, we got a lot of really great finishes. Ashino finally getting on the scoreboard AND over Kento is great. Zeus continuing his streak from last year, Jake well…doing Jake things and Shuji looking strong as a current title holder should. Otani and Sato were missed a little today, but let's check out the standings!
 Standings:
Zeus: 3-0 – (6 Points)
Shuji Ishikawa: 2-1 – (4 Points)
Jake Lee: 2-1 – (4 Points)
Shinjiro Otani: 1-1 – (2 Points)
Kohei Sato: 1-1 – (2 Points)
Shotaro Ashino: 1-2 – (2 Points)
Kento Miyahara: 1-2 – (2 Points)
Suwama: 1-2 – (2 Points)
Koji Doi: 1-2 – (2 Points)
Yuma Aoyagi: 1-2 – (2 Points)
Lucha Central Weekly: NXT Takeover Stand & Deliver…DELIVERS! Plus Too Many AEW Factions, WWE WrestleMania Week, and more!
The world of Lucha Libre comes alive on the Lucha Central Weekly podcast, discussing Takeover, AEW Factions, and more!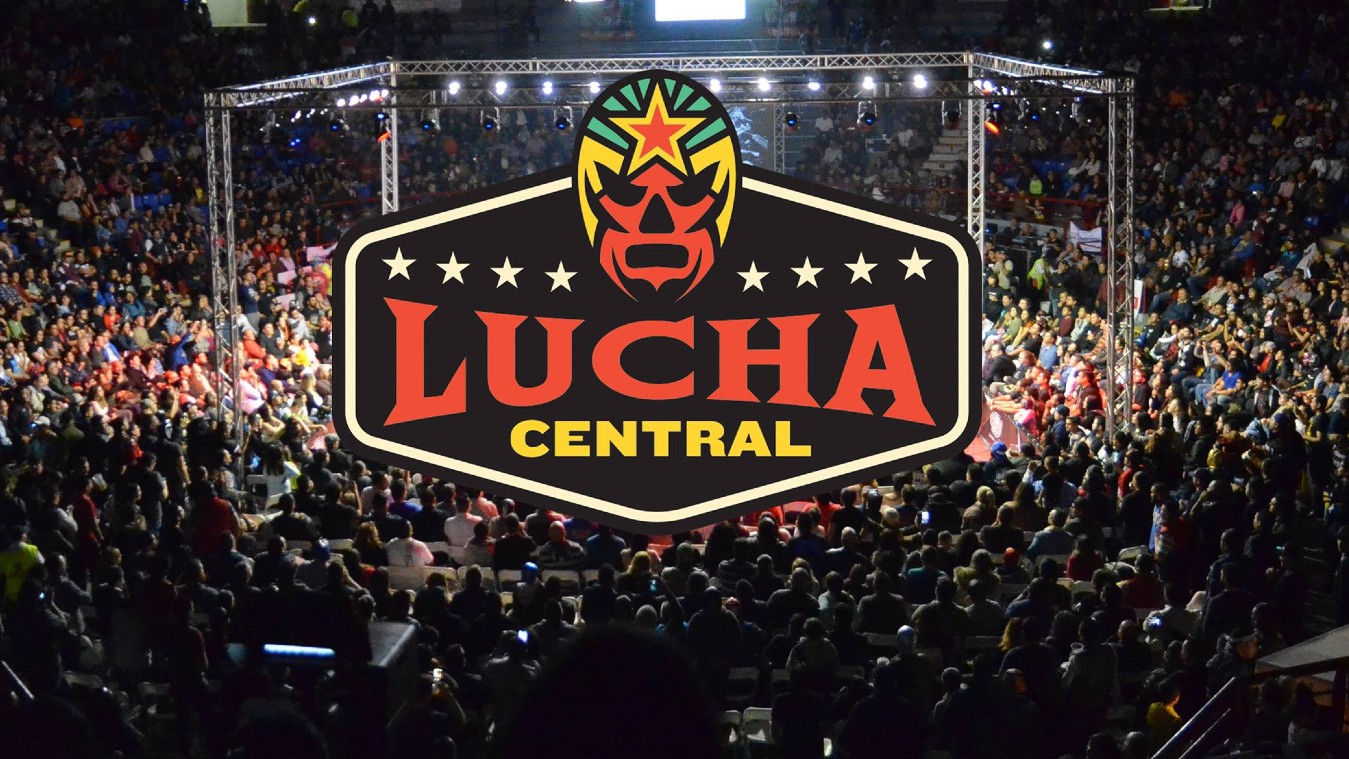 The world of Lucha Libre comes alive on the Lucha Central Weekly podcast, discussing Takeover, AEW Factions, and more!
Powered by RedCircle
Join Miranda Morales, Brendan Barr, and Dusty Murphy as they bring you another edition of Lucha Central Weekly–one just as action packed as lucha libre itself!
This week the trio discusses the abundance of factions on AEW, the week-long celebration that is WWE WrestleMania, and a look at NXT Takeover Stand & Deliver!
About Lucha Central Weekly
Your one-podcast stop for all of the week's top stories from around the world of lucha libre and lucha libre around the world. Join hosts Miranda Morales, Brendan Barr, and Dusty Murphy along with special guests as they cover Lucha Libre AAA, CMLL, top Mexico indies as well as lucha related matches in WWE, Impact Wrestling, All Elite Wrestling, Ring of Honor and beyond. Whether you are trying to dive deeper into the world of masked mayhem or you've been following for decades, you are going to find things here you won't find on any other airwaves!
About the Chairshot Radio Network
Created in 2017, the Chairshot Radio Network presents you with the best in wrestling and wrestling crossover podcasts, including POD is WAR, Women's Wrestling Talk, The #Miranda Show, Badlands' Wrestling Mount Rushmores, The Outsider's Edge, DWI Podcast, Bandwagon Nerds, the Greg DeMarco Show, 3 Man Weave, Five Rounds, The Hardy Wrestling Podcast, Turnbuckle Talk, The Reaction and more! You can find these great shows each week at theChairshot.com and through our distribution partners, including podcasting's most popular platforms.
The Chairshot: Always Use Your Head
---
The Chairshot Radio Network


Your home for the hardest hitting podcasts and radio shows!
Listen on your favorite platform!
iTunes  |  iHeart Radio  |  Google Play  |  Spotify
Listen, like, subscribe, and share!
---