BWN Nerds' Movie Review: Kong: Skull Island (2017)
The Nerds are back to a more normal format for this review! German Judge Patrcik O'Dowd returns to help Dave and guest reviewer Rey Cash on Kong: Skull Island (2017)!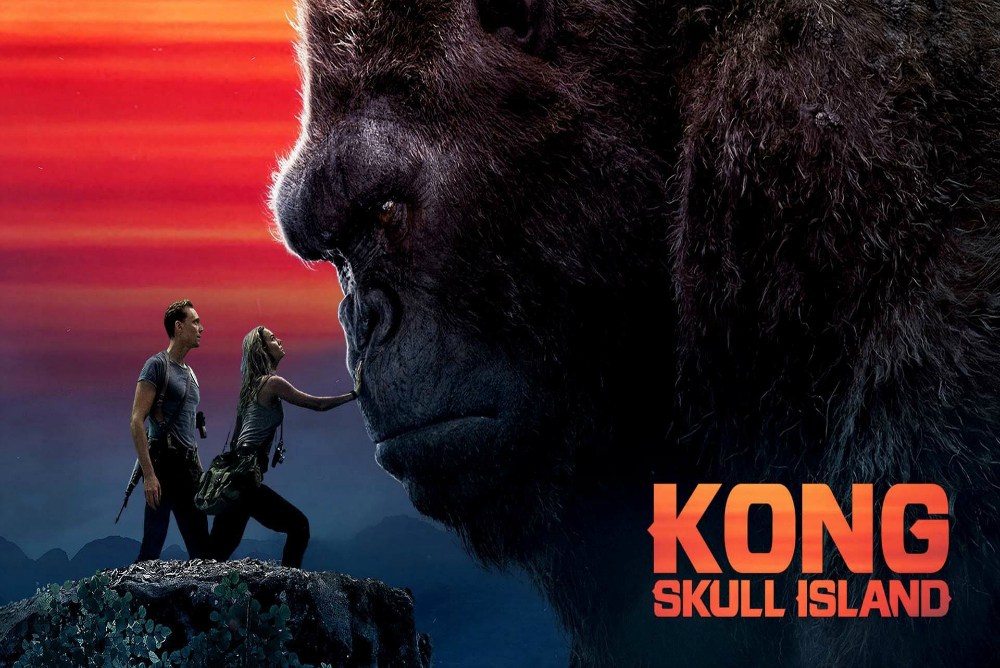 Welcome to this week's edition of the Nerd Review!  Every week the Nerds give you their take on a different classic from the Nerdosphere.  This week Dave and Patrick and, making his Nerd review debut, Rey Cash review 2017's Kong: Skull Island!!
The Flick:  Kong: Skull Island
What's it About:  A team of researchers receive a grant from the government in the wake of the Vietnam war to explore a mysterious island discovered in the Pacific Ocean.  Upon arrival to Skull Island, the team finds a lush paradise teeming with life…and a dangerous secret.
Metacritic Score: 62
The Nerds' Take on Kong: Skull Island (2017):
Patrick:  Oh my, it is good to be back!  I hope you all missed me as much as I missed writing these reviews.  Last week, Dave kicked off our Kaiju run to Godzilla vs. Kong with his review of 2014's Godzilla.  This week, we tackle the other half of the Kaiju showdown with a review of 2017's Kong: Skull Island.  I gotta say, I picked the right movie for my triumphant return.
The first rule of any good Kaiju movie is that the human characters are completely secondary to the film itself.  The movie is all about the monsters.  Forty-Five minutes into the film, Kong: Skull Island completely embraces this philosophy.  The story follows a familiar arc to those familiar with the character.  In this iteration, a pair of "geologists" convince a senator to fund a research expedition to an uncharted island in the Pacific.  The pair secure their funding, a military escort, and hire a retired SAS agent to act as a guide.  Along the way, the group is joined by a photographer and a second research team.  Of course, upon the group's arrival to the island it is revealed that the geologists are monster hunters who have been looking for proof that giant creatures exist.  And boy, do they ever.  As the team sets off seismic charges (explosives) disrupting the life on the island, Kong emerges and wipes out most of the team.  However, nothing is what it appears and as the survivors delve deeper into the island, they learn the truth behind Kong and Skull Island.
I am sure Dave will give a much more detailed plot description, so I'm just going to dive into the good.  Monster fights.  Loads and loads of monster fights.  Once we get past the ho-hum exposition of who the human characters are and get to the island, we get scene after scene of Kaiju attacking, roaring and dominating our senses.  The special effects are terrific, especially the work done to bring Kong to life.  He' terrifying and for a CGI character really carries a commanding presence.  And then there are the monster battles.  Again, the special effects team really outdid themselves.  The climactic battle between Kong and the largest of the Skull Crawlers is truly epic in scope and feel.  My only regret is that I didn't catch this movie on an IMAX screen.  I imagine the experience would have been even more magnificent than it was on my tiny television.
The cast is loaded with talent.  Tom Hiddleston plays Conrad, the former SAS operative hired as a guide for the team.  He's clearly cinched in as the human protagonist and the rational member of the group.  Brie Larson plays an antiwar photographer Mason Weaver, in a role that can best be described as minimal.  She's a part of the team, but outside being a sounding board for Conrad and the maiden to be rescued by Kong, she doesn't do much else.  Samuel L. Jackson is cast as Colonel Preston Packard, the commanding officer of the US Military escort driven mad with a desire to stop at nothing to kill Kong.  A tropey character type for sure, but necessary.  For me though the performance of the film comes from John C. Reilly.  Reilly plays Marlow, a soldier who crash landed on the island during the 1940s, yet managed to survive by endearing himself to indigenous people on the island.  He provides the audience with much needed plot points regarding the island and, more importantly, the creatures therein.  Reilly's Marlow is quirky, but not too funny, and very relatable as a man who just wants to go back home and have a hot dog.
I really, really enjoyed this iteration of the Kong Story.  As is typical for the character, Kong is the hero of the tail whereas man is the threat.  This idea is even more pronounced in this film as it is the expedition team's destruction of the island prompts Kong's hostilities.  While the human characters are the audience's anchor to the story, Kong is the star.  This film was a lot of fun and I really enjoyed it.  Totally worth the two hour run time to watch.
Patrick's Rating: 4.29/5.0
Dave After my somewhat tepid review of Godzilla last week, I went into this week's assignment with somewhat low expectations. I had never seen Kong: Skull Island before and had heard mixed things about it. After watching it though, I can say this: It is a monstrous improvement over Godzilla (pun intended) and sets the stage for Legendary's MonsterVerse much more effectively than Godzilla did.
Usually, I save a discussion of the cast for the end of these reviews. But for Kong: Skull Island, you almost have to address it at the beginning as it is the cast, and the chemistry they have, that sets this movie apart from Godzilla. There is a simple reason for that: We end up with a mini-MCU reunion here. Samuel L. Jackson plays Col. Packard, Tom Hiddleston plays James Conrad, and Brie Larson plays Mason Weaver. So, right off the bat, you have actors very familiar with each other (especially Jackson and Hiddleston from their portrayals as Nick Fury and Loki) and you can see how this familiarity translates into some exceptional performances that, to a certain extent, Godzilla lacked. Add in John Goodman and John C. Reilly and there was star power aplenty for this movie.
The premise of the movie is familiar to anyone who has been a King Kong fan at any point in their life. Bill Randa (Goodman) a high-ranking official with Monarch Corporation, with a lot of help from geologist Houston Brooks, convinces a US Senator (played by Richard Jenkins) to help fund an expedition to a strange island in the South Pacific, known as Skull Island. It is surrounded by a perpetual storm system, which has allowed it to elude discovery…. until now. Meanwhile, the Vietnam War is ending and Col. Packard is looking for one last assignment. He is asked to be the Military detail on Randa's expedition to Skull Island. Conrad is hired on an as an expert tracker while Weaver comes aboard as a photographer. Once the group reaches Skull Island, they drop seismic charges to map out the island. This pisses off Kong, a 100-foot-tall ape (roughly 50 feet taller than he has been portrayed previously), who has his way with the helicopters and kills at least half of the men on those helicopters.
The survivors are spread across the island. Packard leads a group to try to get to the crash site of one of the helicopters that has weapons on board that he feels can kill Kong. Conrad and Weaver lead a different group and they stumble across the remnants of a civilization of indigenous people. Among them is Hank Marlow (Reilly). Marlow crashed on the island with a Japanese pilot named Gunpei at the very beginning of the movie and they encountered Kong. The two men were then stranded on the island for some 28 years, ever since the end of World War II. Without a war to fight, the two men become closer than brothers and are befriended by the people of Skull Island. Gunpei eventually dies leaving Marlow to only hope and pray for an eventual return to civilization. It is here that the usual Kong lore gets tilted quite a bit. Marlow explains that Kong is a god to the people and actually protects them from a subterranean race of reptilian creatures that he calls Skullcrawlers. Many of these Skullcrawlers killed off all of Kong's species, save for him, and the natives believe that if Kong dies, an enormously large Skullcrawler that Marlow calls "The Big One" will emerge and threaten the entire planet.
This leads to some significant conflict between Packard, Conrad, Marlow, and Weaver. Packard is hell bent on killing Kong and, after the survivors are reunited, he tells them they have to go and find Chapman, one of his missing men. Chapman, meanwhile, has been devoured by a Skullcrawler. Packard leads the group into a mass grave where the skeletons of Kong's species are located. Naturally, a pack of Skullcrawlers emerge and lay waste to much of the group. Packard remains undeterred to kill Kong but once the rest of the group learn his real intentions, they are not willing to follow. The groups split up again and Packard's group is able to render Kong unconscious. But Conrad is able to intervene before Packard detonates explosives that will kill Kong. Unfortunately, all the activity attracts the attention of The Big One and this leads to a titanic showdown between Kong and The Big One. Based on the upcoming sequel, it is obvious who wins…. but it's still a damn good throw down.
This movie does a lot of things right. It is fun, fast-paced, and does a great job of introducing just enough cool creatures to give Kong a good challenge without over whelming you with too many creatures. There are several characters you really care about and Jackson does a great job of making you genuinely dislike Packard, who gradually comes unhinged as the movie goes along. What I absolutely loved about the movie were the subtle tweaks it made to Kong lore. It took several well-established elements and gave them just enough of a fresh coat of paint to make the movie really stand out. This is most notable in two places. Weaver is the person who connects with Kong the most. But even though she is a female, her connection with Kong is not on the romantic or quasi-sexual nature that it was portrayed in the 1933 original, the 1976 remake, or even the 2005 reboot (a prime example of monster/creature over saturation). It is a subtle connection and it is done very well. Then there is Kong himself. In the 1933, 1976, and 2005 movies, Kong is always the misunderstood creature who dies in the end to protect the woman he loves. It is always heartbreaking, especially in 1976 and 2005. Here though, Legendary gave us what many of us wanted: Kong as the hero who survives and, obviously, lives to fight another day. I have always been a huge fan of the 1976 movie. Kong: Skull Island was almost as good.
It is, of course, not perfect. The Skullcrawlers were cool creatures, and a big step up from the MUTOs in Godzilla. But they are still not quite the perfect antagonist. Perhaps that was intentional as man has always been Kong's most dangerous opponent. Still, something was missing from there a bit. There is some obvious romantic/sexual tension between Conrad and Weaver that never plays out that could have added an element to the story. And, similar to Bryan Cranston in Godzilla, John Goodman did not last nearly long enough. But these are really minor complaints. Kong: Skull Island is a very good movie and the true starting point for the MonsterVerse. Make sure you check out the post-credit scene that really sets the stage for Godzilla: King of the Monsters and introduces the concept that the planet has never been ours….and the monsters are about to retake it. More on that next week. As for Kong: Skull Island, this is how a reboot should be done and I highly recommend you check it out.
Dave's Rating: 4.25/5
Rey's Take:  As a younger guy, I'm not well versed on the history of King Kong movies.  I mean, I get it.  Big monkey in the wild scares small white people, and big monkey falls in love with cute white woman, then big monkey gets killed or captured trying to save white woman.  The story is very easy to digest and understand.  And that very reason is why I loved Kong: Skull Island.  It takes that ideal, the big monkey in the wild having an unnatural relationship with a white woman, but it flips it.  In this story, Kong is the good guy!  Kong is actually the hero!
Not only is Kong the hero, but there are actually 3 antagonists!  First off, there's John Goodman's government lackey Bill Randa.  Randa was so obsessed with finding Kong and the mysterious Skull Island, so much so that he knowingly put his people and the troops set to escort him in danger.  We've seen a number of movies where man meddling with science comes back to bite them, and this is no different.  Randa's exuberance soon becomes his demise, as nobody was prepared for what they were dealing with.
Secondly, we have the monster antagonists of the movie – the Skullcrawlers.  As is such in a kaiju/monster movie, the beauty is in the destruction.  And oh, what glorious destruction there is between Kong and a number of giant reptilian monsters.  This fight is what leads us to find John C. Reilly's fantastic character, Air Force Lieutenant Hank Marlow, who was stuck on Skull Island since 1944.  He's the person that lets us know, along with the quiet and workmanlike Iwi tribe, that Kong is actually their protector and is the latest in a line of Titans that used to rule the Earth.  Important foreshadowing for a certain mega movie coming out soon, wink wink.
Finally, we have the best character in the whole movie.  Samuel L. Jackson's Lieutenant Colonel Preston Packard is a ball as the angry army lifer who isn't ready to give up the life and is willing to die for his cause.  His beef with Kong isn't even rooted in logic.  He just wants to kill something.  He just wants to continue to feel like a soldier.  He essentially just wants to do his job.  And the dichotomy his brigade has between following their leader and realizing what's actually happening in front of them is just damn good movie viewing.
Most monster movies don't have much heart.  Ultimately, they're big blow up movies when it comes down to it.  This movie, however, has heart in spades.  Each character has defined character motivations.  Kong goes from being the destructive villain that must be vanquished to becoming the misunderstood hero who actually does the vanquishing.  Not often that you get that much out of a movie about a big monkey.
Rey's Rating: 4.5/5
Overall Nerds' Kong: Skull Island (2017) Rating: 4.35/5.0
Bandwagon Nerds # 74 To Binge or Not to Binge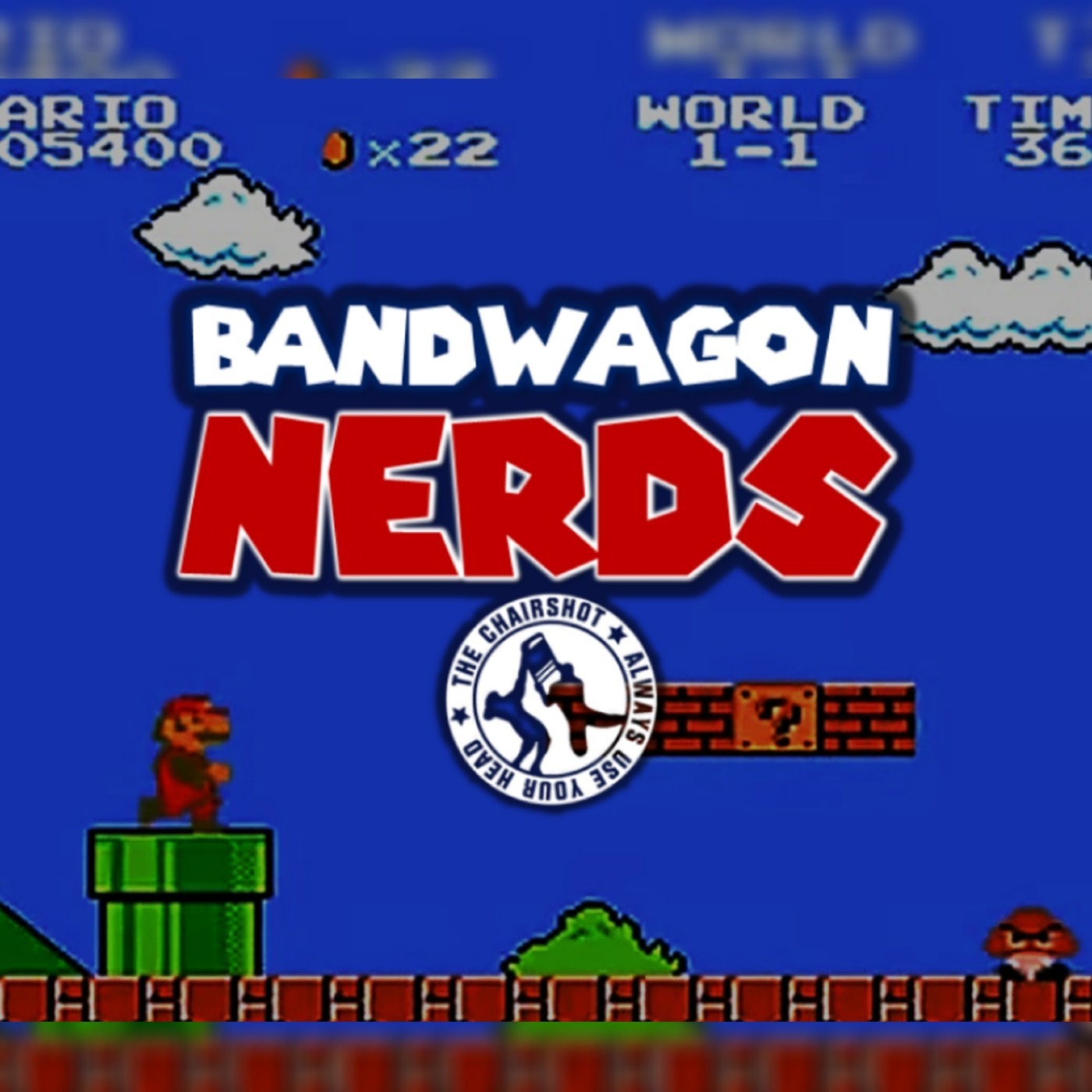 Should streaming services do episodic television?  That's the question the Nerds try to answer this week on the Bandwagon.  Patrick, Rey, Dave and PC tackle the pros and cons of a streaming service dropping entire seasons of their original programs versus dropping one episode at a time.  Is there a "right" way to do it?  The Bandwagon returns to the trailer park this week as tons of exciting trailers hit the nerdosphere this week!  The guys continue their review of The Falcon and the Winter Soldier in an episode that was light on action, but loaded nonetheless.  Finally with Wrestlemania in the rearview, the Nerds share their thoughts of Night One and their favorite Wrestlemania stories of all time.
@AttitudeAgg
@itsReyCash
@PCTunney
@ChairshotMedia
About Bandwagon Nerds
Join Patrick O'Dowd, David Ungar, and a rotating cast of guests as they keep everyone up on all things nerd, and maybe add some new nerds along the way. It's the Bandwagon Nerds Podcast!
About the Chairshot Radio Network
Created in 2017, the Chairshot Radio Network presents you with the best in wrestling and wrestling crossover podcasts, including POD is WAR, Women's Wrestling Talk, The #Miranda Show, Badlands' Wrestling Mount Rushmores, The Outsider's Edge, DWI Podcast, Bandwagon Nerds, the Greg DeMarco Show, 3 Man Weave, Five Rounds, Turnbuckle Talk, Suwama's Station, The Reaction and more! You can find these great shows each week at theChairshot.com and through our distribution partners, including podcasting's most popular platforms.
---
The Chairshot Radio Network
Your home for the hardest hitting podcasts and radio shows!
Listen on your favorite platform!
iTunes  |  iHeart Radio  |  Google Play  |  Spotify
Listen, like, subscribe, and share!
---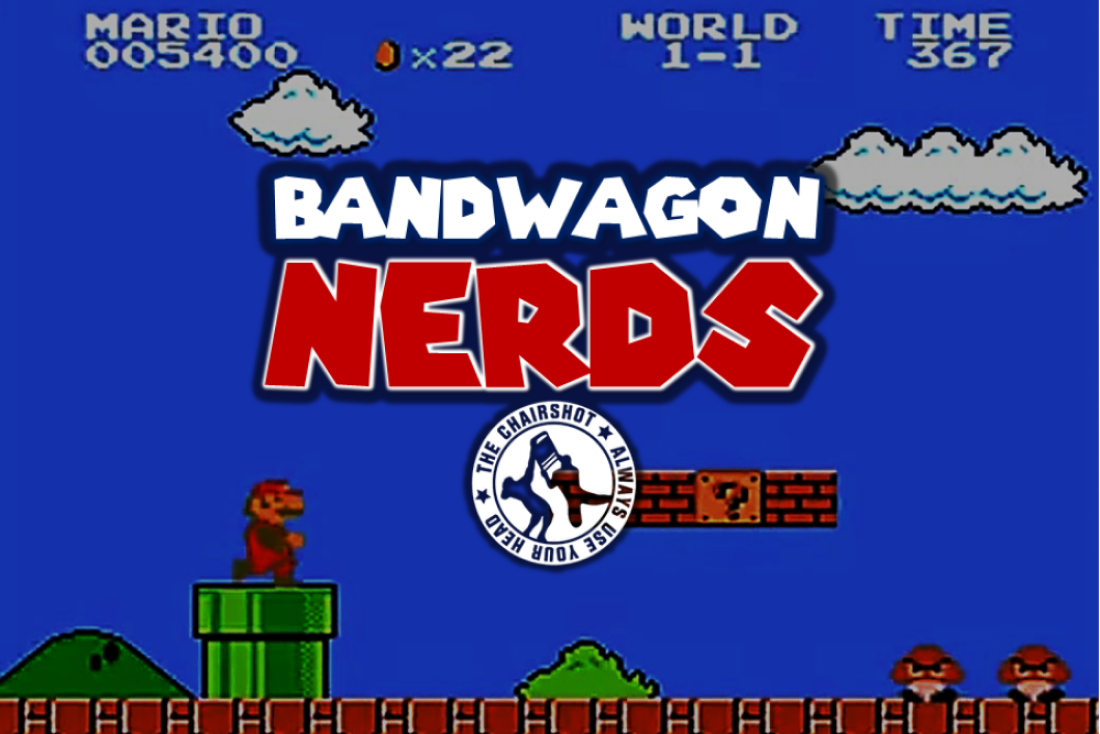 BWN Nerds' Movie Review: Godzilla vs Kong (2021)
Big boy monster throw down of the year! The Nerds return with a current movie review, and this one should be interesting. Is Dave too forgiving? Is Patrick taking his role as the German judge too seriously? Find out where the overall ratings lands between these two!
Welcome to this week's edition of the Nerd Review!  Every week the Nerds give you their take on a different movie from the Nerdosphere.  This week Dave and Patrick review the fourth installment of kaiju cinematic universe Godzilla vs. Kong!
The Flick:  Godzilla vs. Kong (2021)
What's it About:  A researcher believes a hollow world beneath the Earth's surface is the birthplace of the mighty Kaiju.  He convinces and old friend to help him take the mighty Kong to find his birthplace even if it means incurring the wrath of the King of Kaiju Godzilla.   The battle between the two alpha Kaiju could result in the end of all mankind.
Metacritic Score: 59
The Nerds' Take on Godzilla vs Kong (2021):
Dave It is time for the Main Event of Legendary's MosterVerse, the showdown we have been waiting for: Godzilla v. Kong. If you have been following along with our Nerd Reviews, then you knew this was coming. What you don't know is whether we feel the climax to the series is worth your time or not. Well allow me to give you my take on that topic.
Plot wise, it has been some five years since Godzilla defeated Ghidorah and things have been relatively quiet and peaceful. Meanwhile, on Skull Island, Monarch has created a dome like structure to observe and try and control Kong. Kong has developed a relationship with a little girl, Jia, who seems to be the last surviving member of her clan. Jia has, for lack of a better term, been adopted by Dr. Ilene Andrews. Jia is deaf and she seems able to communicate with Kong through sign language.
Halfway across the globe, Apex Cybernetics is engaged in some sort of experimentation that attracts the attention of Godzilla, who shows up and annihilates their facility in Florida. Godzilla's attack shatters humanity's notion that he is their friend. Bernie Hayes is an employee of Apex, but he also hosts a Podcast focusing on conspiracy theories involving the Titans. He is soon joined by Madison Russell (from Godzilla: King of the Monsters) who is a fan of the Podcast, and her friend Josh as they start poking around the remains of the Apex site in Florida. We soon discover that Apex is looking for a massive power source that they believe is located in Hollow Earth. Hollow Earth is really more of an Earth within the Earth (Middle Earth, perhaps?) and the quandary is how to survive the trip to Hollow Earth. Nathan Lind is a Hollow Earth expert whose brother perished in a prior expedition to Hollow Earth due to a reverse gravitational effect. But Apex has developed vehicles that can survive the voyage. They just need Kong to lead them there.
In the process of transporting Kong to Antarctica, which has an entry point to Hollow Earth, Godzilla senses his old rival and attacks. Godzilla definitely gets the better of this battle, forcing the expeditionary force to transport Kong by air to Antarctica to avoid detection by Godzilla. Kong gets the group to Hollow Earth and it becomes clear there has been an ancient rivalry between Kong's ancestors and Godzilla's. Kong discovers an axe made out of portions of Godzilla's ancestor's skins. Back on the surface, Bernie, Madison, and Josh have been whisked away to Hong Kong and they discover what Apex is really up to….Mechagodzilla. Mechagodzilla can be telepathically controlled and it is Dr. Serizawa's son who is pulling the strings, using the severed head of Ghidorah to do so. The problem is that to utilize Mechagodzilla to its full potential, they require more power, much more power to be exact. This is where the search for the Hollow Earth power source comes into play.
Mechagodzilla is activated and this attracts Godzilla. Godzilla also senses what Kong is doing in Hollow Earth and he sends a blast of atomic breath from Hong Kong to, in essence, the center of the Earth. Kong and the Hollow Earth expeditionary force follow the hole made by Godzilla to the surface. Everyone emerges in Hong Kong for a massive fight between Kong and Godzilla. Kong fares better this time around but is ultimately rendered near death by Godzilla. At about this time, Mechagodzilla is imbued with the power source from Hollow Earth and he also achieves sentience. This leads to the big brawl between Godzilla and Mechagodzilla and it is a mismatch in favor of Mechagodzilla…. until Kong is revived, evening the odds in an enormously predictable moment. Godzilla supercharges Kong's ax with his atomic breath and the two Titans take down Mechagodzilla. Godzilla and Kong show each other a sign of respect and go their separate ways. Apparently, there can be two alpha Titans after all.
Let's talk about the good stuff first: the monster fights. They are all fantastic. The battles between Kong and Godzilla feel as big as you would expect. They are titanic clashes in every sense of the word. Godzilla fans will have bragging rights after watching this movie because it is clear that Godzilla whups Kong's ass on more than one occasion. Kong fans save face though by noting that without Kong, Mechagodzilla would surely have triumphed. As for Mechagodzilla, his appearance in the movie was not a secret and he did not disappoint. The clash between Godzilla and Mechagodzilla was done very well to show just how much more powerful Mechagodzilla was and why it took the combined might of Godzilla and Kong to turn the tide. If massive Kaiju action is your thing, then Godzilla vs Kong is definitely your movie.
Now for the bad: The people. Now, I know what Patrick is going to say. That the movie shifts the focus to the people too much and detracts attention from the monsters. I know he thinks the concept of humans using a defibrillator on Kong is absurd. I am OK with those points in a movie like this. The problem I have with the people is this: They don't matter. Not at all! They are white noise in the purest sense of the word. 90% of the characters are wholly uninteresting and meaningless. They add little to the plot and just get in the way. So, to be real, Patrick and I are, to a certain extent, talking about different sides of the same coin. The exceptions to this involve Jia, who is quite important to the whole notion of establishing Kong as the "good guy", and Bernie, who is a fun character and kind of represents a microcosm of conspiracy theorists that are quite common in the real world today. Bernie epitomizes the notion that just because you are paranoid, doesn't mean they aren't watching you. But, beyond those two, the characters are quite dull and just felt very pointless.
As far as this being the series finale, I greatly enjoyed the movie. The dynamic between Kong and Godzilla is interesting and keeps you engaged, regardless of whether you are rooting for one, the other, or both. There are some interesting concepts in the movie, specifically how Hollow Earth is different than you might expect and much more interesting, no matter how far-fetched the idea might be. Interestingly, this movie really showcases just how bad ass Godzilla is. I am not sure why it took three movies to get it right, but I digress. Then there is Kong, who ends up being a multi-layered creature that is shown even more heroically than he was in Kong: Skull Island. As for me, I always favored Kong over Godzilla and I left the movie feeling fine with the outcome of everything. If there is a downside it's that it appears the MonsterVerse has come to an end, just when it was getting really good. That's too bad. As for Godzilla vs Kong, the awesome action sequences and special effects vastly outweigh the issues involving the people. This is a very good final installment (we think) in this franchise. It is the best of the movies involving Godzilla. I still liked Kong: Skull Island more, but this was a close second.
Dave's Rating: 4/5
Patrick:  Here we are again covering the fourth film in the Warner Brothers/Legendary produced Kaiju Monster universe.  And once again this film somehow finds a way to mess up a simple concept.  If you recall, in my review of Godzilla King of the Monsters I said good kaiju movies minimize the involvement of human beings in the film and let the monsters take center stage.  Unfortunately, the folks at Warner Brothers still have not quite grasped the concept here in its fourth Kaiju film. The result is an uneven film that shines when the monsters are on screen and leaves me tuning out when the focus shifts to the little primates.
In this fourth installment, we learn that Monster research organization Monarch I closely monitoring Kong.  Going so far as to create an enclosure around Skull Island so that he is safe from Godzilla.  This of course will not last because, well, humans.  One human in particular, a man named Nathan Lind comes with the backing of a mysterious tech corporation called Apex to search for "Hollow Earth." Hollow Earth is a world beneath the surface of our Earth that is believed to be the birthplace of all Kaiju.  Lind visits his friend and Monarch researcher Ilene on Skull Island.  Lind believes Kong is the key to finding this hidden world.  Despite knowing, Godzilla will attempt to kill Kong, Ilene agrees to embark on the expedition.  Of course, Godzilla attacks and we get the first of three rounds of monster battling that we paid for.
Unfortunately, to get to round two and three, the audience has to sit through overwrought dialogue and subplots all in an attempt to help the audience connect to the experience.  It's all really boring.  You know why?  PEOPLE DON'T WATCH KAIJU MOVIES FOR THE HUMANS. But, I digress.  Naturally the tech corporation Apex is not on the up and up with Lind.  Color me stunned, but Apex turns out to be the real enemy to both Kong and Godzilla.  I haven't even covered the conspiracy theory guy and his gang of teenagers trying to expose Apex from the inside.  Again, no one cares because, read it aloud…NOBODY WATCHES KAIJU MOVIES FOR THE HUMANS.
But this isn't the end of the dumb.  The audience is treated to an ancient history between Kong's ancestor and the other Kaiju where we see Kong find the ancient axe of his ancestors.  Because a monkey wielding an axe is cool looking.  Did I mention Kong can charge the thing up with Godzilla's radioactive breath?  AWESOME?  How about the humans using a high tech battery as defibrillator to revive a dying Kong?  Just dumb on top of dumb followed by more dumb.  And humans.  All of the humans.
The cast for Godzilla vs. Kong is quite the list of names.  Alexander Skarsgard essentially fills the role of human protagonist Nathan Lind.  Honestly, he is the only human character given anything to work with.  Kyle Chandler is back in his role as researcher Mark Russell, but if you blink you miss him.  Millie Bobby Brown is also back as Madison Russell, but horribly wasted in a sidekick sort of role to the previously mentioned conspiracy theorist.  She is limited to trying to discover why Godzilla has started attacking human cities.  Someone of her talent could have and should have been used better.  There are tons of other folks in this movie, and yet I struggle to understand why we needed them all.  All they do is distract from what the audience wants to see which is GODZILLA and KONG FIGHT.
Ok.  So what's good about this film?  Well, the Kaiju.  The special effects team outdid themselves crafting these battles.  Kong and Godzilla's bouts all feel epic.  I was also impressed with how much more well lit some of the night scenes were.  As Kong and Godzilla battle at night in a Chinese city, everything is well lit without appearing phony.  The choreography of the battles are terrific, albeit a little silly at times.  Again, radioactive monkey axe.  But the joy of Godzilla vs Kong is in these epic clashes.  I watched the movie on HBO Max, I can only imagine how amazing it would have appeared on an IMAX movie screen with Dolby sound shaking my eardrums.
I came into Godzilla vs. Kong with pretty low expectations.  I want to stress that I loved, loved, loved the action sequences involving the Kaiju.  Unfortunately, you have to sit through an inordinate amount of human exposition to get to those epic moments.  That's not to say the humans and their stories need to be gone entirely.  The audience does need a guide and some context.  But Godzilla v. Kong would have been so much stronger with a pared down human side of things and a focus on the monsters. It seems Warner Brothers and Legendary pictures still haven't learned the key to Kaiju: it' all about the monsters.
Patrick's Rating: 2.24/5.0
Overall Nerds' Rating on Godzilla vs Kong (2021): 3.12/5.0