Cook's Top 5: Carolina Panthers Quarterbacks
For a team barely old enough to rent a car, they've had a few interesting starting QBs and 2 Super Bowl appearances. How does Cook rank the Panther's franchise depth chart?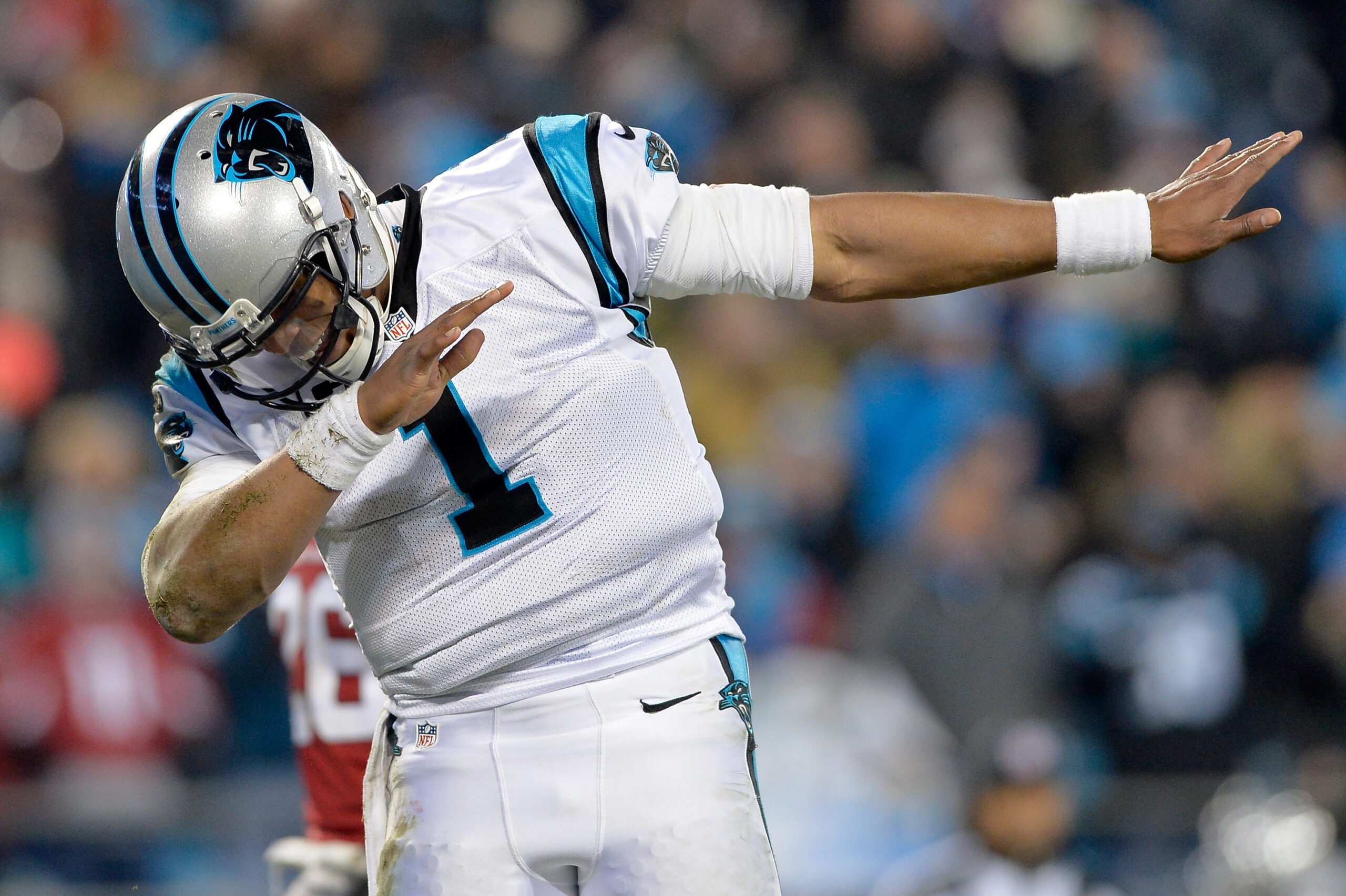 Considering that the Carolina Panthers have only been in the NFL since 1995, there's been a surprising amount of consistency at the quarterback position. Many newer franchises have bounced from quarterback to quarterback with nobody lasting all that long. Carolina has seen two players monopolize the position over a span of almost two decades.
With some franchises, it's tough to find five guys for the list due to performance. With the Panthers, it's largely due to lack of opportunity. Let's look at the five greatest Panthers quarterbacks of all time!
5. Teddy Bridgewater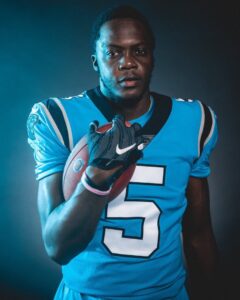 Am I being a U of L homer by including Teddy? Probably, but the numbers back me up! Teddy's Approximate Value of 12 is fifth all time among Panthers quarterbacks. His quarterback rating of 92.1 tops the list. His completion percentage of 69.1% also tops the list, and he's sixth all time in passing yards.
Teddy's main weakness is his 4-11 record, but one look at that Panthers team from 2020 tells you it wasn't all his fault.
4. Kerry Collins
Collins was the very first draft pick by the Carolina franchise when they took him fifth in the 1995 NFL Draft. I remember it well, as they traded the first overall pick to the Cincinnati Bengals, who wanted to take Ki-Jana Carter. I have nothing to say about how Ki-Jana Carter's Bengals tenure went that doesn't include multiple four-letter words that would get this column blocked on a work computer.
After three games and three losses for Frank Reich, Collins became the Panthers' starting quarterback. He had a bumpy rookie season, but really came into his own in Year 2. He was able to limit his mistakes and the Panthers made an improbable run to the NFC Championship Game their second year in existence. Collins made his first Pro Bowl appearance that season, but things would fall apart for him afterward. He led the league in interceptions in 1997, and 1998 saw him get cut by Carolina after having a breakdown fueled by alcoholism. Fortunately, Collins was able to recover and went on to have a lengthy NFL career.
3. Steve Beuerlein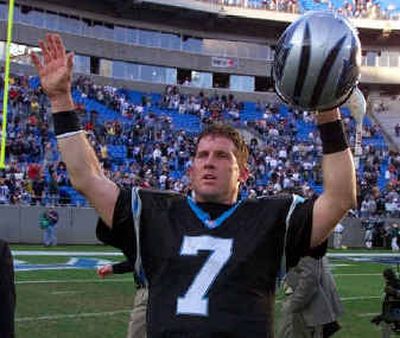 Beuerlein bounced around the NFL with varying results for the first several years of his career. He started with the Raiders, but incurred the wrath of Al Davis by holding out for more money. He then went to the Cowboys to back up Troy Aikman, then when he had some success in that role that created problems between Aikman & Jimmy Johnson. His two-season tenure in Arizona ended with Buddy Ryan blaming him for all the team's problems, and his one season in Jacksonville saw him unable to get along with Tom Coughlin.
So when Beuerlein got to Carolina and only had to deal with Kerry Collins flaming out, it was finally a chance for him to prove himself as a competent NFL quarterback. Which he did, leading the NFL in passing yards in 1999 & earning a Pro Bowl spot. '99 was by far Beuerlein's best season, throwing for over 4400 yards & 36 touchdowns. Had the Panthers managed to go better than 8-8, Beuerlein would be more fondly remembered.
2. Jake Delhomme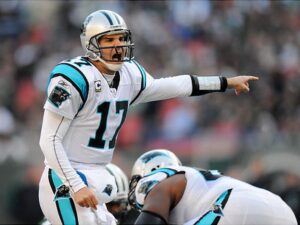 Delhomme was so lightly regarded coming out of Louisiana-Lafayette that he went undrafted in 1997. The Saints picked him up and he spent most of his time in NFL Europe. While Jake was a fan favorite in New Orleans & showed some potential in preseason games, the Saints had no interest in giving him a shot at the QB job while they had Aaron Brooks & Jeff Blake both under contract. He wound up signing with Carolina in 2003, and won himself the starting job after filling in for Rodney Peete at halftime in Week 1 by leading the Panthers back from a 17 point deficit to beat the Buccaneers.
2003 was nearly an impossible dream season for the Panthers, as Delhomme led the Panthers to the Super Bowl where they would lose by a field goal to the New England Patriots. Going to the Super Bowl two seasons after going 1-15 is nothing to sneeze at. The Panthers would have an up & down decade, but with the exception of 2007 when he was injured, Delhomme was a consistent presence in the pocket. He had career highs in touchdowns & passing yards in 2004, and made the Pro Bowl in 2005. 2008 saw him lead the Panthers to a 12-4 record, but the bloom was off the rose when he threw 18 interceptions in 11 games in 2009. Still, a tremendous run for an undrafted quarterback.
Honorable Mention: Rodney Peete
Peete had been out of the mix for a number of years before popping up in Carolina in 2002. The Panthers had gone 1-15 in 2001 with Chris Weinke starting at quarterback, and pretty much anything seemed like an improvement on paper, so the thirty-six year old got a shot. Peete did pretty well, certainly an upgrade from what they got out of the position a year earlier, and led the team to a 7-7 record in his 14 starts.
Here's something funny: People were calling Peete "old" back then. These days, 36 is just the beginning of one's athletic career.
1. Cam Newton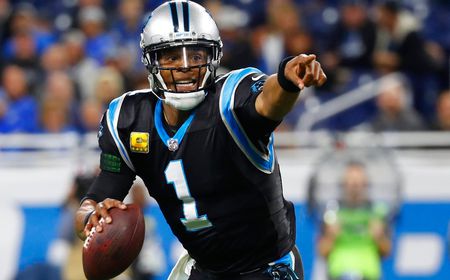 There was no doubt who the Panthers would pick with the first pick in the 2011 NFL Draft, even if they had chosen Jimmy Clausen in the second round the season before. After winning every award & championship there was to win at Auburn, Cam Newton was a no-brainer for any team with the slightest question at quarterback. A quarterback with his size & athletic ability was bound to be successful, and Newton became one of the NFL's most popular & talked about quarterbacks.
Cam collected all types of awards during his tenure in Carolina. He was the first Panther to win Offensive Rookie of the Year, and 2015 saw him become the first Panther to win the MVP & first Black quarterback to win the award outright. Newton had three Pro Bowl selections in his first nine seasons with the Panthers. With more games played than any other Panthers quarterback by a wide margin, it's no surprise he owns all the relevant passing records.
Unfortunately, Carolina never found consistent success during Cam's time there. They would be good one season, not so good the next, good again, rinse & repeat. 2015 was the organization's high water mark. 15 regular season wins and their best chance to win a Super Bowl. Another issue facing Cam: his physical playing style combined with referees' inclination not to penalize teams for abusing him combined with the Panthers' inclination not to invest in an offensive line led to him taking a good amount of punishment. Newton breaking down was bound to happen.
Thanks for reading! Join us next time when we look at the…Chicago Bears?
Oh boy.
Cook's Top 5: Arizona Cardinals Quarterbacks
Cook's Top 5: Atlanta Falcons Quarterbacks
Cook's Top 5: Baltimore Ravens Quarterbacks
Cook's Top 5: Buffalo Bills Quarterbacks
Twitter!
Cook's 2022 NFL Gambling Picks: Week 4
Cook's picks are staying marginally more 50/50 this year. Will we get a few tally marks for the good guys or continue the early season slide?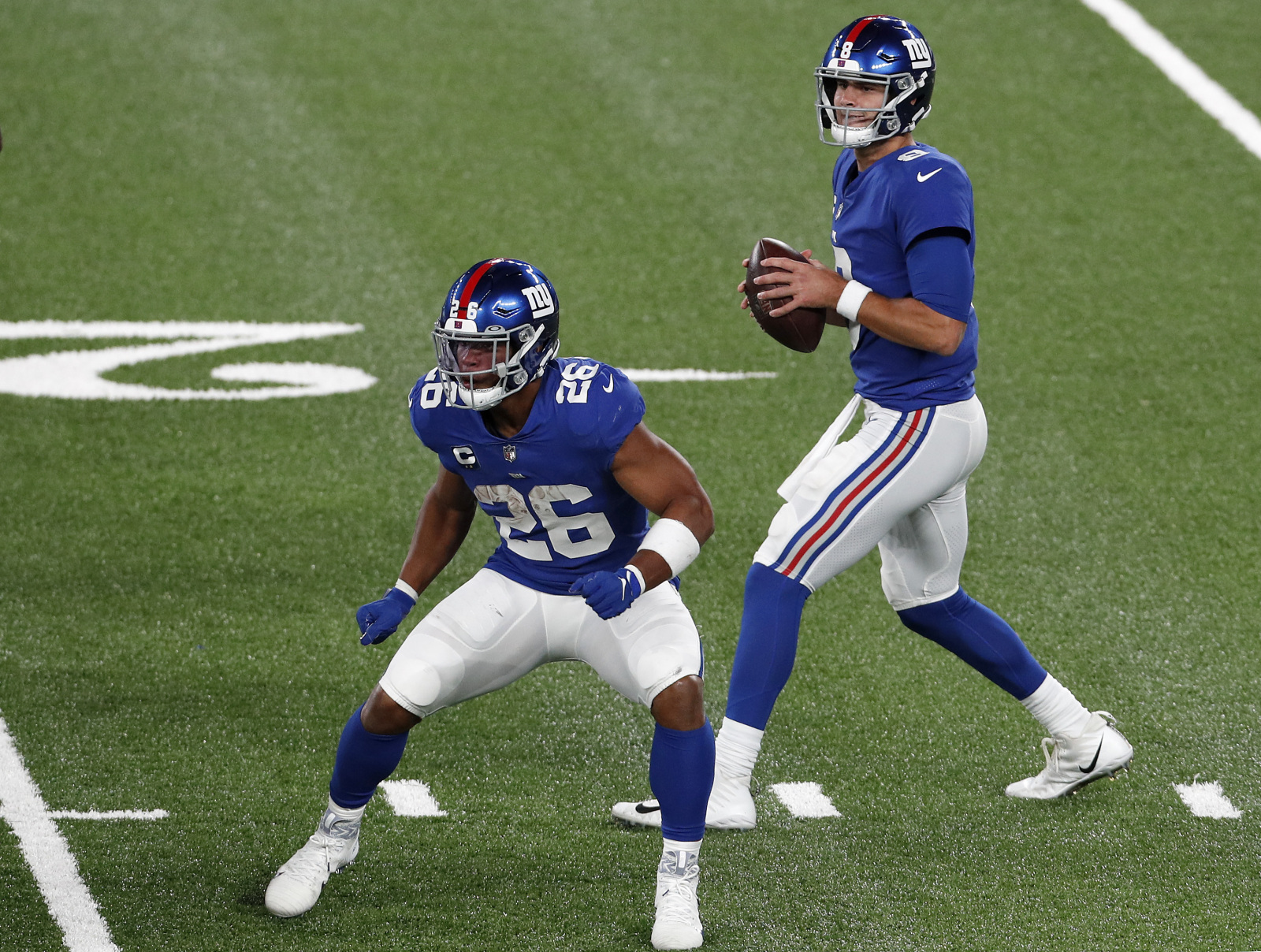 Thursday night was a pretty great night for Cincinnati fans! The Bengals got back on track with a win over the Dolphins, putting them at 2-2 and right in the mix. It wasn't a great night for Dolphins fans, or the NFL quite honestly. Tua Tagovailoa was stretchered out of the game after taking a big hit and what looked like to all the world another concussion just four days after Miami's game against the Bills where everybody thought he got a concussion but the Dolphins claimed he injured his back/ankle. They said he passed the protocol and was good to play on Thursday, but everybody wondered if that was the best idea. It wasn't.
Head injuries are a tricky thing to figure out, especially when you don't even play a doctor on the Internet. I would not want to be the person to make that decision, especially when the player in question is likely demanding to play no matter what condition they're in. I'd like to think that if I saw my future of the franchise quarterback stumbling off of the field after getting his head smashed into the ground, I would not try to claim it was a back/ankle injury and just plan on my experienced backup quarterback leading the team four days later. Then maybe I'd have a 2-point conversion play set up for him, along with other plays to give my team a better chance of victory. Bad deal by the Dolphins that didn't give them the best chance to win in Cincy, and compromised the future of their franchise.
Now we deal with the rest of Week 4. Lines are via the Vegas Insider Consensus on Friday afternoon.
Sunday, October 2
Minnesota (-3) vs. New Orleans
Can't stop watching Tottenham Hotspur Stadium go from soccer pitch to football field 🤯@ArifHasanNFL and @BenRolfePFN will be in London for the #Vikings vs. #Saints game Sunday! pic.twitter.com/svEublu8p7

— Pro Football Network (@PFN365) September 27, 2022
Yep, the Vikings & Saints are in London this week, so forget any of that noise about a homefield advantage. The Saints would probably prefer to play this game in the SuperDome, and they'd also prefer to have Jameis Winston & Michael Thomas available to practice. Thomas was declared out on Friday, and it's not looking great for Winston. Coming off a loss to the Panthers and possibly missing a couple of your key offensive starters? Not great, Bob! That said, there are worse backup options out there than Andy Dalton.
The Vikings went back on the "good" side of the ledger last week with a win over Detroit. They're still figuring things out on offense, but I expect they'll get there. I'm liking the Vikings to get some revenge for their ancestors in jolly ol' England. Did the Norsemen have issues with the Brits back in the day? Probably, they seemed to have issues with everybody.
Cleveland (-1) at Atlanta
Browns announce Myles Garrett suffered a shoulder sprain, biceps strain and minor lacerations from Monday's car accident

His status for Sunday vs. Falcons will be evaluated throughout the week pic.twitter.com/XIFBSfqeSl

— Bleacher Report (@BleacherReport) September 27, 2022
After two narrow losses to start the season, the Falcons scored a nice little win in Seattle last week. They seem to be slightly better than expected, and could pose a difficult test for a Browns team that could be missing Myles Garrett. Interesting how the media coverage & public opinion on Garrett has twisted over the past couple of days. It's gone from "OMG I hope he's ok" to "OMG this guy drives too fast and must be stopped". I don't really have an opinion on it, other than the flip-flop is pretty interesting.
Even without Garrett, the Browns have superior talent and should be able to run the ball all over the Falcons.
Buffalo (-3) at Baltimore
Lamar Jackson has more TD this season than the

Eagles
Bills
Chiefs
Dolphins
Browns
Commanders
Jaguars
Falcons
Cardinals
Rams
Chargers
Vikings
Bears
Packers
Patriots
Titans
Raders
Saints
Bengals
Panthers
Steelers
49ers
Jets
Seahawks
Giants
Colts
Buccaneers
Texans
Broncos
Cowboys pic.twitter.com/Gx9eIz9KqK

— StatMuse (@statmuse) September 26, 2022
I have to do some travelling this Sunday. It's one of those things that I'm kind of dreading, but at least I won't have to worry about missing Josh Allen vs. Lamar Jackson in a battle of two MVP candidates. WKRC would rather have us watch Cleveland vs. Atlanta in a battle of Jacoby Brissett vs. Marcus Mariota. I could be sitting home watching that or Commanders vs. Cowboys, so I guess I can't get on my friend too much for scheduling a wedding on a Sunday during football season. At least they were smart enough to not do it on a Bengals Sunday.
I might need to find somewhere to catch part of this game though, as it's two of the best teams in the AFC with some playoff implications down the road if they're vying for the top seed in the playoffs. Should be a good one. I'll take the Ravens since they'll be at home, but wouldn't be shocked if Josh Allen & company went off after their loss in Miami. They looked pretty mad, didn't they?
Washington at Dallas (-3.5)
The Commanders just allowed 9 sacks against the Eagles and now have to go on the road and face the Cowboys pass rush in Week 4.

Hide the children.

— Joe Fann (@Joe_Fann) September 27, 2022
One of the NFL's most storied rivalries, though I must admit some of the marketability has been taken out of it since Washington stopped using Native American imagery. It's still two of the most popular/hated franchises in sports going at it, and no matter what the teams look like people will watch them.
I'm done picking the Commanders after last week's debacle, so look for Cooper Rush's run of dominance to continue. My plan of setting the media up to talk endless Dak Prescott after the Cowboys go downhill when he returns seems to be working!
Seattle at Detroit (-4)
Seahawks next opponent looking good 😬 not the same old Lions

— Whitney (@trumplostsuckit) September 25, 2022
Awesome Twitter handle. The Lions have gone from being Vegas's least favorite team over the past few years to being a darling of the industry. Unfortunately, that loss against the Vikings last week wiped out a good bit of their offense. D'Andre Swift doesn't look good for Sunday, and new WR star Amon-Ra St. Brown will be out. Jared Goff will have to hope the backups are equally as effective. What I'm guessing is a low-scoring game, as the Seahawks weren't able to score an offensive touchdown the last time they were on the road.
I'll roll with the Lions, but this should be an ugly one.
LA Chargers (-5) at Houston
Is next Sunday against the Chargers a get-right game for the Texans? Chargers are banged up and the Texans beat them last year. Might have been Houston's best game.

— Brandon Scott (@brandonkscott) September 26, 2022
The Chargers are falling apart by the day. Joey Bosa has gone on the IL, taking away the best player on their defense. Justin Herbert is somewhere around 60% healthy if I had to guess. Keenan Allen might be playing this week, so that's nice. It's a mess of a team, and they're going to Houston to play a Texans team that there's no reason to have any confidence in. If I was actually a gambler, I'd stay far, far away from this mess.
Since I'm just making picks, I'll tell you to go with the Chargers, simply because they actually have some players I'd start in a fantasy lineup.
Tennessee at Indianapolis (-3.5)
The Jaguars play the Eagles this weekend. If the Colts can beat the Titans, then they will be in first place!!!

— Dan Sonnenfeldt (@ETSUColtsFanDan) September 26, 2022
This is what the AFC South has been reduced to. Fighting for first place after the JAGS lose a game. Goodness Gracious. We are talking about two teams that rose from the dead last week to beat AFC West teams, so a win for either this week would revive their playoff hopes.
We'll take the Titans at the current spread. I'm not really sure what to make of either team right now…I think they'll both be decent at some point.
Chicago at NY Giants (-3)
Both the Giants and the Bears have top 5 rushing offences in the NFL this year. They also have bottom 10 rushing defenses. 😳

Chicago vs. New York (-3.5) goes down Sunday at MetLife Stadium. pic.twitter.com/3HrZ5ItqnC

— Covers (@Covers) September 28, 2022
If you've been wanting some of that old school football with three yards and a cloud of dust, this will be the game for you! Neither team passes the ball well, so expect the running backs to get carries early and often. Unfortunately for da Bears, David Montgomery won't be playing and he happens to be their best running back. I was leaning Bears until that news broke, now I'm forced to go with the Giants. My apologies to Greg & Reby.
Jacksonville at Philadelphia (-6.5)
If the Jaguars beat the Eagles, y'all will not hear the end of me.

— Kendra Middleton (@KenniMiddleton) September 27, 2022
Those Eagles are rock & rolling right now, and Philly fans are pretty excited about it. They'll be happy to welcome former Eagles coach Doug Pederson home on Sunday, who now coaches a Jaguars team that looks a bit spicy early in the season. Two early wins over teams projected to be playoff contenders isn't what most folks were expecting from the Jags. After a struggle in Year 1, Trevor Lawrence is starting to live up to the hype in Year 2. Lawrence's counterpart on the Eagles, Jalen Hurts, is right in the middle of MVP conversation after the first three weeks. Yes, I realize MVP conversation after three weeks is a bit wild, but it's what we do in 2022.
I'd like the Jags to come in and make a game of it, but something tells me that the Eagles are going to give them the same treatment Minnesota & Washington received.
NY Jets at Pittsburgh (-3.5)
The Steelers are DOOMED.

Currently 1-2, playing the Jets this week.

The next 4 weeks:
-@ Bills
-Bucs
-@ Miami
-@ Philly

That's 4 GUARANTEED losses

— Luke Sawhook 🪚🪝 (@lukesawhook) September 27, 2022
Zach Wilson should be playing this week! Jets fans are hoping that provides a boost to their offense, and for their sake I hope they're right. If Wilson can't do much more than Joe Flacco did the first three weeks (with the notable exception of that 4th quarter against the Browns), it's a poor sign for their future. Steeler fans are hoping for a boost to their future at some point. Kenny Pickett's time is coming, but it's not going to be this week.
We'll take the Jets to get within a field goal. Should be a bowling shoe type of affair.
Arizona at Carolina (-1)
Panthers are FAVORED by 1.5pts over the Cardinals.

Im speechless.

— Bradlee 🎙 ALL_AQCESS (@BradMLee) September 27, 2022
Got the Panthers winning this one since I have to deal with a couple of Carolina fans on Sunday.
New England at Green Bay (-9.5)
A preview of Green Bay defensive coordinator Joe Barry at the conclusion of Sunday's Patriots @ Packers game after being unable to contain Brian Hoyer https://t.co/tpTBjpkxKT

— Fitzy (@FitzyGFY) September 26, 2022
If there's one thing we know this week, it's that Mac Jones is day to day. We don't really know the status of his injury, as Bill Belichick doesn't know how to read MRIs, and Jones is acting like he plans on playing this week. I assume this is the usual hocus pocus from the Patriots where they act all secretive and force their opponent to prepare for any damn thing. I would hope that the Patriots err on the side of caution and sit Jones this week. Thursday night's game was Exbibit A for why you don't run your future of the franchise quarterback out there when he's not right. Bill Belichick, football genius that he is, should be smarter than that. Fortunately, Jones was ruled out on Friday, proving that Bill Belichick is smarter than the Dolphins organization.
The Packers got a good win in Tampa Bay, though the offense is still a bit of a struggle. It's fair to wonder if Aaron Rodgers & his team can put up enough points to cover here. I'll go with the Packers at Lambeau Field since it worked out pretty well the last time we did it.
Denver at Las Vegas (-2.5)
After Eli Manning joked on Monday night's ManningCast that the Broncos should've paid their punter $235 million instead of Russell Wilson, the Denver QB responded today: pic.twitter.com/aVHntOS3Js

— Adam Schefter (@AdamSchefter) September 28, 2022
The Broncos, along with the 49ers, set football back approximately fifty years on Sunday night. Some may wish to tell you it was a great defensive struggle. I tend to think it was a battle of two offenses that couldn't do anything. Even though the Broncos went to 2-1 with the victory, you won't see as many people talking them up now as you did during the preseason when everybody thought Russell Wilson was Peyton Manning.
Meanwhile, the Raiders sit at 0-3 after a close loss in Tennessee. Doesn't get much more "must-win" in Week 4 than it is for Vegas. Davante Adams knows the pressure is on and is making some noise about it. This would be a good spot for the Raiders offense to start gelling and get a big win to get back on track. That's why I'm picking the Broncos to win a low-scoring game that annoys the heck out of everybody.
Kansas City at Tampa Bay
Presented without comment

Browns at Falcons
Jacoby Brissett vs Marcus Mariota
Over/Under: 50

Seahawks at Lions
Geno Smith vs Jared Goff
Over/Under: 50

Chiefs at Buccaneers
Patrick Mahomes vs Tom Brady
Over/Under: 45

— Heath Cummings (@heathcummingssr) September 27, 2022
NBC must have had high hopes for this game when it was booked. Mahomes! Brady! Two of the best teams of the past few years! One would have expected both of these teams to roll into Week 4 at 3-0, looking like the Super Bowl contenders they usually are. Then games started getting played. The Bucs offense doesn't look like the Bucs offense of previous years, mostly because all the WRs are hurt or getting suspended. Tom Brady can't make everybody a star, as Cole Beasley proved last week. Mike Evans' return this week should give a boost, and Tampa's defense did look good against Green Bay, but Aaron Rodgers is in the same position as Tom Brady right now. Looking for people to throw the ball to that might actually catch it.
The football analytics tell you that Kansas City is still the best team in the NFL. They tell you that the Chiefs' performance against the Colts was one of the best of Week 3, except for the part where they didn't actually win. Stats are fun, but wins are even more fun. I'm not as worried about that Chiefs offense as most seem to be. Got plenty of faith in Andy Reid & Pat Mahomes to get things at an elite level during the season, and that AFC West isn't looking as formidiable as it was during the offseason. The Chiefs will make the playoffs and be that team nobody wants to play, as they typically are.
Fortunately this game will be played in Tampa. Our thoughts are with those affected by Hurricane Ian over the past few days & beyond. I think the Chiefs have the more complete team, but sometimes emotion & intangibles play into things, and there should be enough positive vibes going the Buccaneers' way to like them this week. The game was a pick 'em at press time, and I wouldn't be shocked if it stayed that way or even moved in the Bucs' favor.
Monday, October 3
LA Rams at San Francisco (-1.5)
#49ers with their backs against the wall heading into a Monday Night show down against the Rams at Levi's Stadium.

Where have I seen this movie before?

— Akash Anavarathan (@akashanav) September 26, 2022
Yep, it was just last season that the 49ers hosted the Rams on MONDAY NIGHT IS FOOTBALL NIGHT whilst sitting at 3-5 and looking for answers. They romped the Rams 31-10, lost two games the rest of the regular season and made a run to the NFC Championship Game. So you can see why San Fran fans are hanging onto hope here.
Me, I see the Rams slowly but surely getting things right while winning games. They were my pick to win the NFC again, and while it was tempting to balk on that after Week 1, they're getting on the right track now. Maybe my mind is polluted by that awful SNF game the 49ers found a way to lose, but I'm taking the Rams.
Week 3 Results: 7-8-1
Overall Results: 22-26-1
Cook's 2022 NFL Picks: Week 4 TNF Edition
Cook chimes in with his look at the NFL Week 4 Thursday Night Football showdown between the surging Miami Dolphins and his Cincinnati Bengals!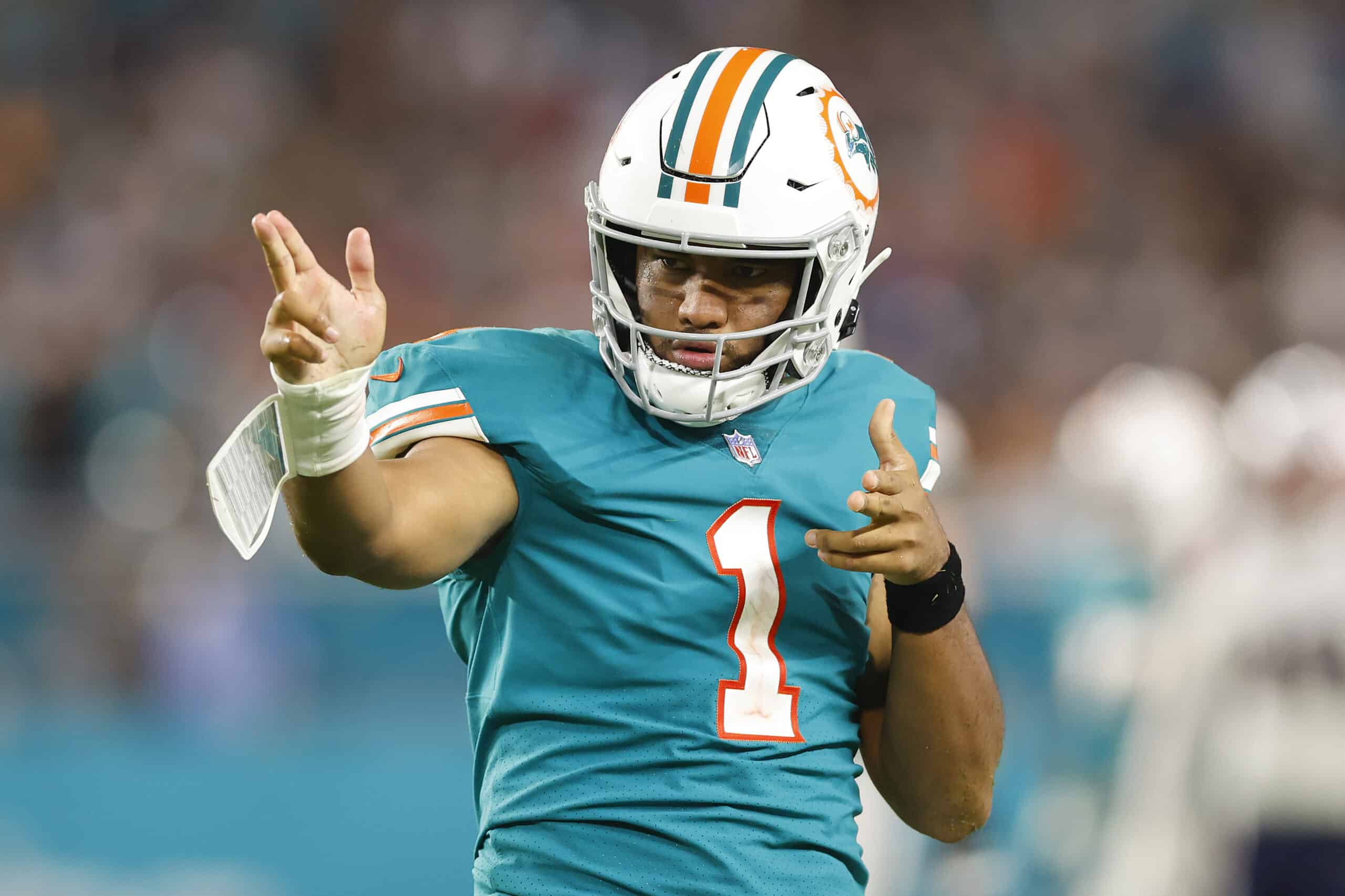 Cook chimes in with his look at the NFL Week 4 Thursday Night Football showdown between the surging Miami Dolphins and his Cincinnati Bengals!
Hi, hello and welcome to Week 4 of the National Football League! I don't want to make a habit of these TNF exclusive columns, but this Thursday night has a game that deserves such treatment. The Miami Dolphins that have taken the league by storm over the first three weeks. They did a Butt Punt and still won in Week 3. The Cincinnati Bengals that won the AFC last season. They lost their first two games in inexcusable fashion, but came back strong against the New York Football Jets. This game needs the Cook Breakdown, so let's get right to it! The line is via the Vegas Insider Consensus on Wednesday night.
Thursday, September 29
Miami at Cincinnati (-3.5)
Once Tyreek Hill was informed the Dolphins are playing the Bengals Thursday, he immediately started talking trash to Eli Apple #Bengals #Dolphins

"I owe you, boy" pic.twitter.com/FYkTa7c9k8

— Yianni Kourakis (@WPBF_Yianni) September 26, 2022
I'll be honest, as I am 95% of the time in this column. Some of these games will be difficult for me to talk about, as there are certain teams in the NFL that don't really stoke my interest. Dolphins vs. Bengals on THURSDAY NIGHT IS FOOTBALL NIGHT has all of the things going on. The Miami Dolphins have been the biggest surprise of the first three weeks. Early returns seem to show that Tyreek Hill was the most important cog of the Chiefs offense in recent years. Miami even managed to beat the Bills last week after executing the rarely seen Butt Punt, which is pretty amazing since the media told me Buffalo wouldn't lose a game this season. They're a dangerous team with a lot of tools, even if Tua Tagovailoa got hit on his head and somehow ended up with a back/ankle injury in the process.
Everything reported about the Tua injury smells like BS to me. Since he had trouble walking off the field after getting hit in the head, his ankle must have been injured too. OK. That ankle is why he fell down, sure. All I know is that the Dolphins will make sure Tua is on the field Thursday night whether he's 100% or not. This is a big week for them, as its a chance to defeat the defending AFC Champions on their home turf. A victory here would further solidify the Dolphins in the eyes of football fans. Tyreek vs. Eli Apple seems like a handicap match to me, especially with Tyreek having revenge for last year on his mind.
Are you ready Cincinnati? 😏#WearWhite | Swift Meats pic.twitter.com/qq5j4yjXkZ

— Cincinnati Bengals (@Bengals) September 27, 2022
Vegas obviously thinks that the Bengals got right against the Jets. They also know that the Bengals will be working the White Tiger gimmick, with White Bengal helmets. Isaac Curtis & Willie Anderson will be inducted into the Bengals Ring of Honor. In case you're not as familiar with Bengal lore as I am, allow me to explain. Curtis was the first great Bengal wide receiver, before Chad Johnson, Cris Collinsworth, A.J. Green and all the folks you see these days. Anderson was the second great Bengal offensive tackle after Anthony Munoz. He got a bunch of Pro Bowl slots and would have gotten more earlier in his career if voters didn't ignore the Bengals at that time. We're talking two Cincinnati Bengal living legends here. We're also talking about some awesome helmets. I know opinion on the Bengals helmets is divisive out in the unwashed masses, but to me the Bengal stripes are iconic. Switch the orange out for white, and it's a unique look.
I would love to tell you that the Bengals got right against the Jets and are ready to make another run. It's especially tempting now that Tua is whatever he is. But the Dolphins still have a ton of talent ready to go, and if there's one thing I know for sure, it's that if the Bengals end up against a backup QB they will make that man look good. The Dolphins' backup? Teddy Bridgewater.
Football fans have varying opinions on whether one should support their college players against their pro teams. My man Hodge immediately cuts off all of his Big 10 favorites once they don't get drafted by the Bears. Me, I'm a little more sentimental. Louisville has their peaks & valleys when it comes to producing NFL talent. There are some Cardinals I don't get attached to, and some I do. Lamar Jackson is one for me. Yes, he plays for an AFC North rival, but I still love him like I imagine one loves a son and want him to do well. He gave me too many positive memories. Teddy Bridgewater is in that same boat for me. He's such a wonderful person that everybody seems to love. Maybe he didn't become a top notch NFL quarterback, but he established himself as one of those backups that can stay in the league for years. If the Bengals play against him, I can't bring myself to root against him, even if he's against the pro team I grew up rooting for. Some of you won't understand this, others will smell what I'm cooking.
I'm hoping that the Bengals get a win here and turn their season around in a big way. But I see what the Dolphins are doing, and can't bet against them down more than a field goal on a wild Thursday night game.
Week 3 Results: 7-8-1
Overall Results: 22-25-1