Bodeen's Top 5 Moments: WrestleMania Night One
Much like you, Bodeen watched WrestleMania Saturday. What did he consider the Top 5 Moments? The answers are right inside!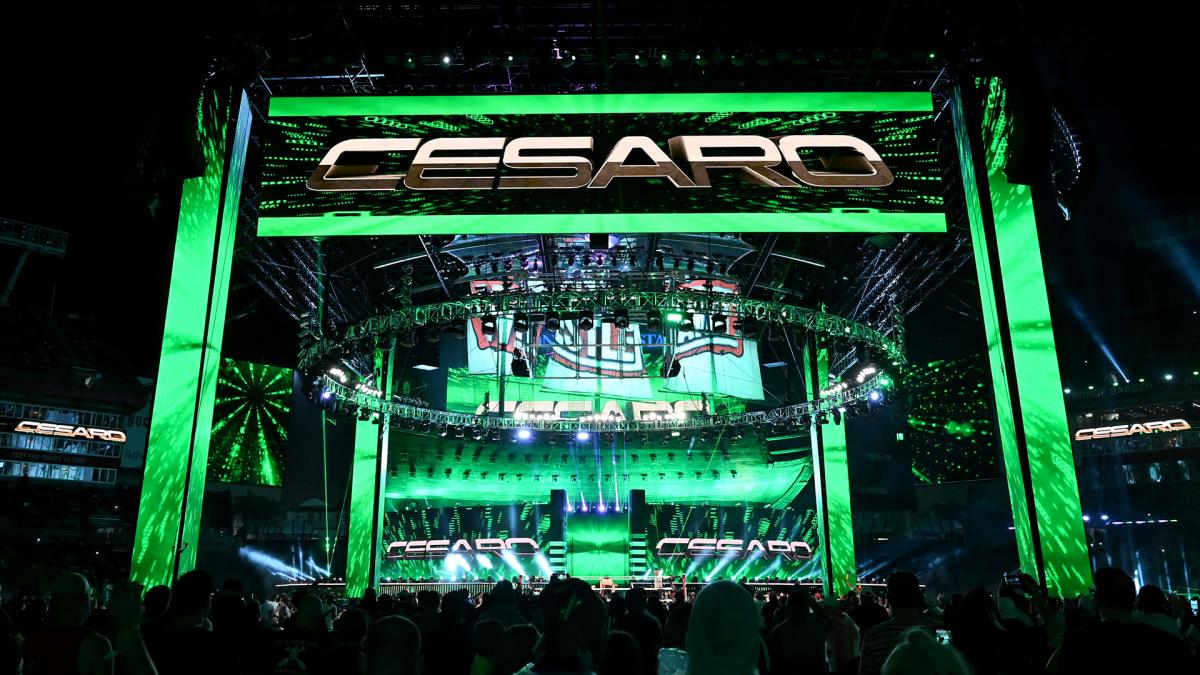 Much like you, Bodeen watched WrestleMania Saturday. What did he consider the Top 5 Moments? The answers are right inside!
After a long wait and a small scare after a rain delay, it was finally time for the crowds to return to WWE, as we saw the first night of WrestleMania 37 in front of a live crowd. However, in front of a live crowd, what superstars stood out on the first night of the showcase in the immortals. Let us find out, as we take a look at the top 5 moments that stood out on night one of WrestleMania.
5. Omos makes his WrestleMania debut against The New Day 
When Omos made his first RAW appearance outside of RAW underground, many wondered when Omos would make his in-ring debut. These questions would be answered as AJ Styles and Omos challenged Xavier Woods and Kofi Kingston for the Raw Tag Team Titles.
During the match, AJ would take the majority of the punishment from Xavier Woods and Kofi Kingston with the Phenomenal One getting little offense in. However, after AJ tagged in Omos the tide of the match would quickly change as Omos dominated The New Day.
Omos would have no reaction from the dropkicks and dives from The New Day, with Omos then throwing around both men. With Omos pinning The New Day, making AJ Styles and Omos the new Raw Tag Team Champions.
4. Bad Bunny surprises The Miz and John Morrison on his WrestleMania debut
When Bad Bunny helped Damian Priest eliminate John Morrison and The Miz at the Royal Rumble, it was the start of a feud that fans would have divided interests in as many fans hated the idea of Bad Bunny having a match against The Miz at WrestleMania. However Bad Bunny would shock fans and silence critics as he put on an amazing WrestleMania performance and without a doubt, had the best celebrity match in history.
Despite being the inexperienced one, Bad Bunny would tag himself in early in the match and would surprise The Miz with a series of moves. The Miz would then come back, grounding Bad Bunny and separating him from Damian Priest. Despite The Miz's and John Morrison's best effort, Bad Bunny would get the hot tag into Damian Priest, with Priest changing the match.
Late in the match, Bad Bunny would hit a crossbody on both men and would then hit a Canadian Destroyer outside the ring for a huge reaction from the crowd. This would leave The Miz by himself against Priest and Bad Bunny, with Bad Bunny pinning The Miz after hitting a crossbody from the top rope while Priest held Miz an electric chair position.
3. Bobby Lashley and Drew
McIntyre

open the delayed show

After more than a year of wrestling without a live crowd. Drew McIntyre and Bobby Lashley had a huge job in delivering a good performance in the first match in front of a live crowd as they opened WrestleMania. Both men would deliver a great hard-hitting match, despite the ring and outside area in the match with Bobby Lashley retaining his WWE Championship to the surprise of many.

Both men would trade punches and slams early in the match, with Lashley getting the upper hand, throwing him around the outside of the ring, into the barricades, however after Lashley smashed his shoulder on the ring post, McIntyre would target Lashley's arm throughout the match and even locked countered a spinebuster into a kimura lock, with Lashley just getting to the ropes.

Late in the match, Drew McIntyre would attempt to hit the Claymore, only for MVP to distract him. This would make Drew miss the Claymore, allowing Bobby Lashley to put McIntyre in the Hurt Lock. Despite fighting for more than a minute, McIntyre did not have enough to escape the Hurt Lock as he eventually passed out in the hold, making Bobby retain his WWE Championship.
 2. Cesaro hunts for his WrestleMania moment against Seth Rollins 
It almost seems impossible that Cesaro had never had a singles match at WrestleMania. Despite being one of the most reliable competitors in WWE, the Swiss Superman has found himself in the tag division during WrestleMania season most of the time. So after more than 5 years of waiting, Cesaro would finally get his chance to get his big WrestleMania against Seth Rollins as both men stole the show in a match that was incredible to watch from start to finish
Cesaro would waste no time in getting an advantage early in the match, upper-cutting Seth Rollins the second the bell rang. However, Rollins would quickly turn the tide, hitting Cesaro with a buckle bomb to turn the tide in the match and give himself the momentum Rollins would then dominate Cesaro throughout the match, as Cesaro attempted the Swing throughout the match, only for Rollins to counter the swing multiple times.
Rollins would continue to push Cesaro, only for Cesaro to come back and hit the Neutralizer for a near-fall. Cesaro would then attempt another Neutralizer, only for Rollins to reverse, eventually kicking Cesaro in the back of the neck. Rollins would then attempt a stomp, only for Cesaro to watch Rollins with an uppercut, Cesaro would then swing Rollins 23 times and hit a Neutralizer to pin Rollins for his WrestleMania moment.
1. Bianca Belair and Sasha Banks main event WrestleMania for the SmackDown Women's Championship    
Despite the build for the SmackDown Women's Championship feeling boring and meaningless, everyone knew the second the bell rung, both women would make everyone forget about the slow build with their incredible talent. Sasha and Bianca did a great job in main eventing the first night of WrestleMania as they told a story about's Sasha's experience facing Bianca's raw talent.
Both women would start off the match evenly, with either woman able to grab a true advantage. Eventually, Binaca got the upper hand after catching a suicide dive attempt from Banks. However, Banks would use her experience to get back into the match, using Binaca's hair to control her throughout the match.
This would later backfire on Banks, as Belair hit Banks with a brutal hair whip, allowing her to hit the KOD for a huge pop and a special moment in what was a great way to close off night one of WrestleMania 37.
These were my top 5 moments from night one of WrestleMania 37. What were your top 5 moments and what did you think of Bobby Lashley retaining his WWE Championship against Drew McIntyre? Let us know in the comments down below. 
King's WrestleMania Rewind: Charlotte Flair vs. Asuka from WrestleMania 34
Chris king is back with one of the most underrated matches in WrestleMania history–Charlotte Flair vs. Asuka!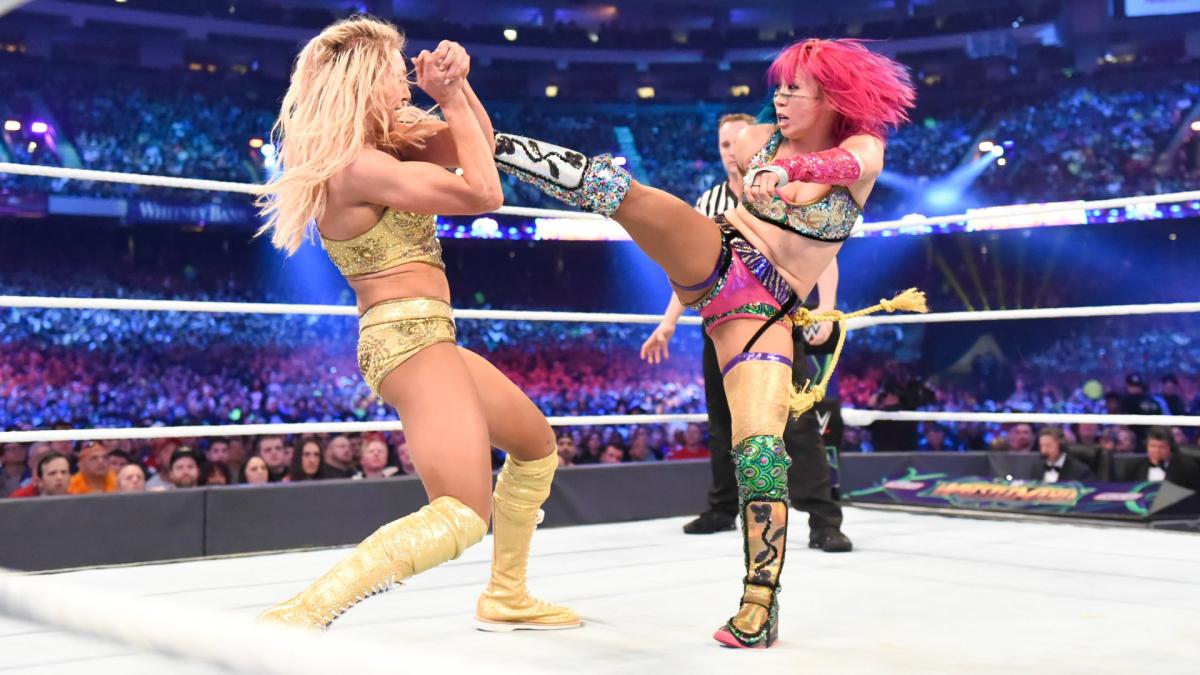 Chris king is back with one of the most underrated matches in WrestleMania history–Charlotte Flair vs. Asuka!
We look back at Charlotte Flair vs. Asuka at WWE WrestleMania 34. 'The Empress of Tomorrow' put her unprecedented and historic undefeated streak of 914 days on the line against 'The Queen's' SmackDown Women's Championship.
For years, this was considered a dream match while Asuka dominated the roster in NXT, while Flair won numerous championships on the main roster on both Raw and SmackDown. The Empress made her long-awaited debut on the September 11th episode of Raw and began to tear through the competition.
Asuka outlasted all twenty-nine other women in the historic first-ever Women's Royal Rumble match to challenge for the title of her choosing. At Fastlane, she made her choice.
The WWE Universe was so excited for this match myself included. Both superstars delivered a fantastic performance on the Grandest Stage of Them All executing counter after counter. Asuka showed off some nasty-looking kicks to her opponent, and Flair hit a thunderous Spanish Fly off the top rope. Flair was seconds away from defeat at the hands of The Empress but she locked in Figure Eight and Asuka was forced to tap out.
I can't even begin to explain how shocked I was at this outcome, as nearly everyone expected The Empress to continue her undefeated streak and walk away with the women's title. This controversial decision was the downfall of Asuka's momentum. She would ultimately win the SmackDown Women's Championship at the 2018 TLC pay-per-view in the triple-threat ladder match.
Fast forward to this year when Asuka has recently returned with her Japanese-inspired persona Kana. Kana is dangerous and ruthless and is heading into a championship with Bianca Belair at WrestleMania 39. The Empress has regained all her momentum and is highly favored to walk away with the Raw Women's Championship. Let's hope that Asuka and Belair can tear the house down and deliver an A+ grade match both women are fully capable of.
King: Dominik Mysterio Needs To Do This At WrestleMania
Chris King is here with what WWE should do with Dominik Mysterio at WrestleMania in his long-awaited match against his father Rey Mysterio Jr.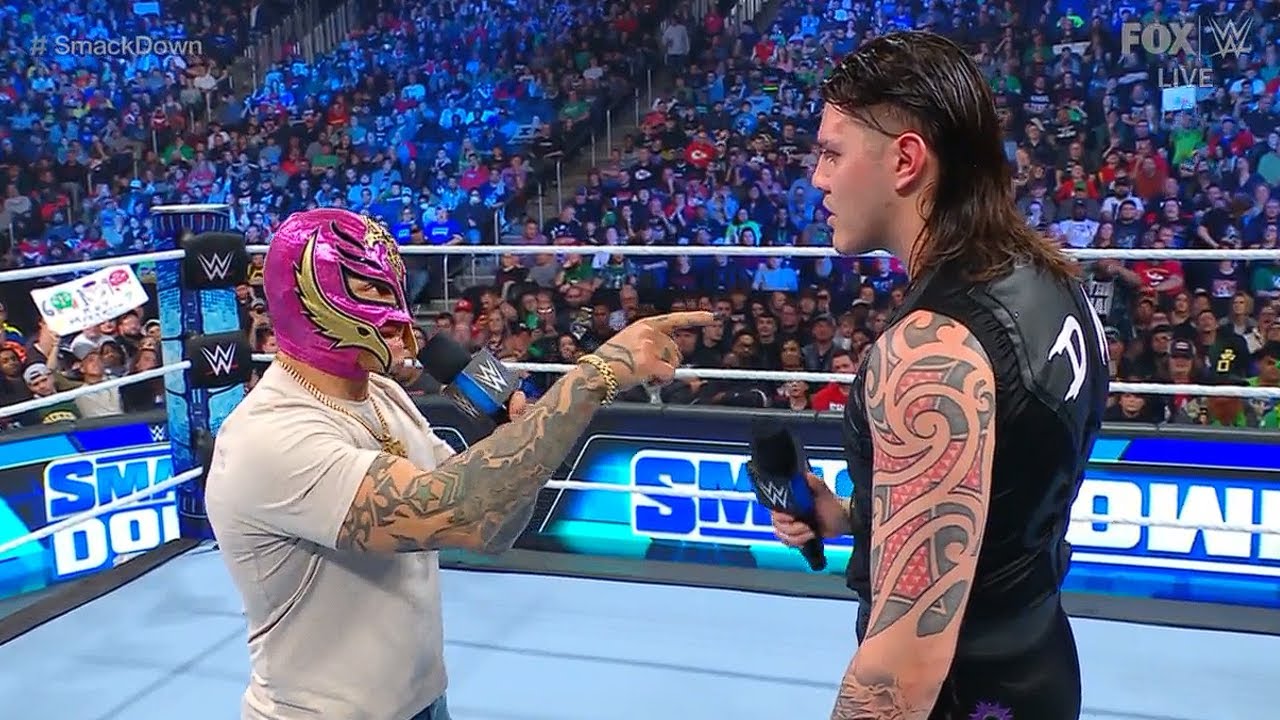 Chris King is here with what WWE should do with Dominik Mysterio at WrestleMania in his long-awaited match against his father Rey Mysterio Jr. 
On this week's episode of Friday Night SmackDown, Rey Mysterio finally snapped and beat some sense into his disrespectful punk-ass kid Dominik. The member of the Judgement Day came out to push his father again for a match on the Grandest Stage of Them All, this time with his mother and sister at ringside. The ungrateful punk told his mom to "Shut Up," as a father even I wanted to jump through the screen and whoop his ass.
Back in October of last year, Mysterio made the emotional decision to possibly quit the company but, instead, Triple H persuaded the Lucha libre superstar to move over to SmackDown to avoid his son. This came after Dominik shockingly turned on his father at Clash at the Castle. Mysterio did everything he could to refuse his despicable son's challenge for Mania but, a man can only be pushed so far. Mysterio will be inducted into the 2023 WWE Hall of Fame and I expect Dominik to embarrass his father during his speech to further this personal feud.
Yes, the WWE Universe hates Dominik and wants to see him get the ever-loving crap kicked out of him but, this feud is missing a special ingredient to capitalize on the biggest heat possible. Throughout this feud, Dominik has made mention of the legendary Eddie Guerrero on several occasions going back to the "iconic" 2005 feud.
I know WWE might not want to go this route but, Dominik MUST come out to Eddie Guerrero's theme at Mania. The disrespectful punk needs to come out in a lowrider to garner nuclear heat. It doesn't matter if The Judgement Day comes out and causes interference for Dominik to get the win, all that matters is that both superstars get the biggest payoff of this nearly year-long feud. Just imagine the Roman Reigns heat after he defeated The Undertaker and multiply that by ten. Dominik portrays the perfect heel and he truly is the missing ingredient that The Judgement Day needed to grow and evolve into a top faction.