BWN Nerds' Movie Review: Coming 2 America (2021)
The Nerds are keeping up with the times again! This week, they review Coming 2 America (2021)! Is there more success for Prince Akeem?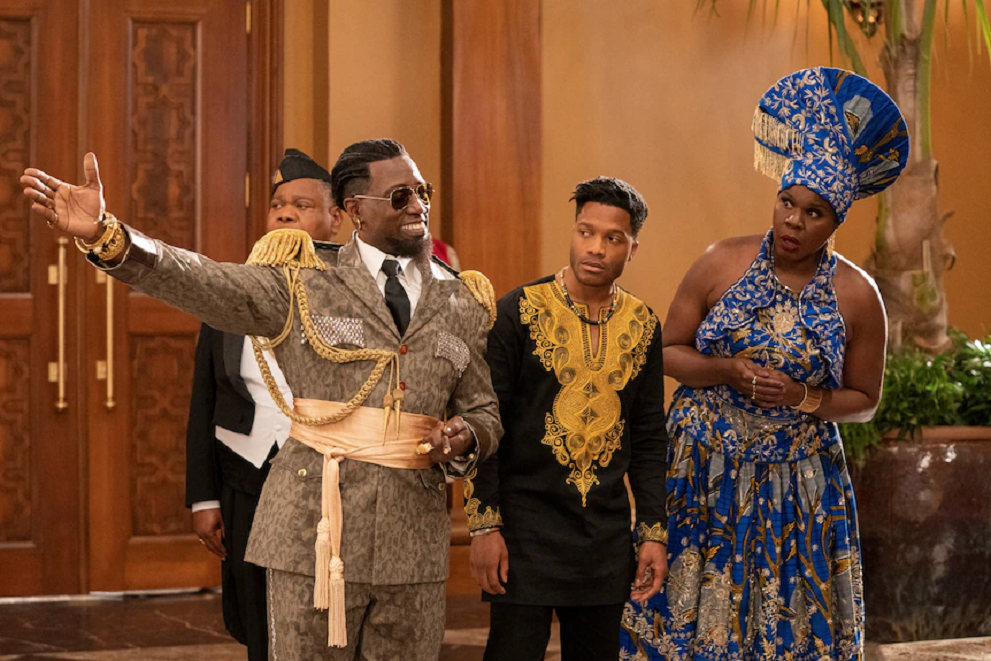 Welcome to this week's edition of the Nerd Review!  Every week the Nerds give you their take on a different movie from the Nerdosphere.  This week Dave and Patrick review the long awaited Eddie Murphy sequel Coming 2 America!
The Flick:  Coming 2 America (2021)
What's it About:  Prince Akeem returns to America some thirty years after meeting his future wife there. This time Akeem is searching for his long-lost son to bring back to Zamunda and claim his place as the future king.
Metacritic Score: 54
The Nerds' Take on Coming 2 America (2021):
Patrick:  One interesting byproduct of the Pandemic has been the swath of nostalgia pieces from the 1980s we have gotten on our streaming services.  So far, we've gotten new episodes of Cobra Kai.  Dave and I already reviewed one nostalgia fueled sequel in Bill and Ted Face the Music.  Now, we review Coming 2 America, Eddie Murphy's long anticipated sequel to his popular 80s tale of a similar, but not quite the same name.  I found this sequel to be well worth the wait, although I won't be surprised if fans of the original are disappointed by the film's comparatively softer tone and humor.
The movie picks up thirty years after the original.  Prince Akeem is married to his found love Lisa McDowell and a proud father of three daughters.  Akeem appears to have basically been ruling the kingdom in his Father's name, and things are mostly well outside of a dispute with a neighboring warlord General Izzi, whose sister Akeem rejected in order to find his bride.  On his deathbed Akeem's father tells him of an illegitimate son Akeem sired after being accidentally drugged at a club.  Since it is Zamunda's law that only a male can be crowned king, Akeem sets off to America to bring back his heir to train him to be king.
What follows is a reversal of the original Coming to Amercia.  This time the audience witness's Akeem's son Lavelle in the fish out of water role Akeem played years before.  The culture clashes lead to humorous and awkward situations as Levelle wrestles with a new culture and the burden of responsibility.  Complicating matters is Lavelle's insistence that Akeem allow Lavelle's mother and uncle come along.  All three create laughs trying to fit in with the royal family of Zamunda.  Meanwhile Akeem wrestles with the dynamic of bringing Lavelle into his otherwise happy family.  Akeem unwittingly damages his marriage as well as the relationship between himself and his eldest daughter Kiki, who aspires for the throne.
The story itself is pretty formulaic, it's easy to see how the film will resolve, but there really is no harm in that.  The film attempts to turn a satirical eye on American culture and race, however while the message is there, I found the biting humor from the original film to be missing in the sequel.  Part of the original's success was its biting humor and uncompromising take on black neighborhoods, namely Queens.  Although I did crack up at the gentrification joke told early in the film.  The film is funny in its own right, just softer than I expected.  Fans will likely love the number of callbacks Coming 2 America makes to the original.  I was impressed at the sheer volume of cast members from the original movie who appeared.  James Earl Jones in particular looks like he had a blast in his brief appearance.
Speaking of cast, there are plenty of great performances to celebrate, but I am going to cover three.  The movie really begins and ends with two men: Eddie Murphy and Arsenio Hall.  As they did in the original, they play multiple characters throughout the films, both familiar characters fans will love as well as some new ones.  Hall's turn as the Shaman Baba is particularly good.  I already mentioned him once, but James Earl Jones at 90 plus reprises his role as King Jaffe Joffer and Jones looks like he was having a ball in his brief role.  The man is beaming throughout all of his scenes, but especially during his funeral, which he request be held before he dies.  But the real show stealer for me is Wesley Snipes in the role of General Izzi.  I don't want to spoil too much, but man does he command attention when he is on the screen.  Everything is done with an over the top exuberance that will leave you in stitches.
Coming 2 America was never going to live up to the lofty bar set by its predecessor.  Coming to America was brilliant and it was always going to be a tough act to follow.  But that doesn't mean Coming 2 America isn't good, far from it.  While the humor is far tamer, there are still plenty of laughs to be had.  The writers made sure to include all kinds of throwbacks to the original in the form of cameos and throwback gags.  I found Coming 2 America to be an enjoyable ride.
Patrick's Rating: 3.83/5.0

Dave: Two weeks ago, we reviewed a sequel some 30 years in the making when we recapped Bill & Ted Face The Music. This week, we review a sequel even longer in the making. Coming 2 America is the long-awaited sequel to 1988's phenomenal Coming to America. The original was one of the most beloved comedies of the 1980's and it got a perfect 5/5 from yours truly when it was featured in the Nerds Review way back in July of 2020. Facing the near impossible task of trying to live up to that lineage what I can say is this: Coming 2 America is excellent in its own right.
It has been some 30 years since Prince Akeem wed the love of his life, Lisa, at a magnificent and magical ceremony in Zamunda. The Royal couple have three daughters and the eldest of the three, Meeka, has been training her whole life to be the heir to the kingdom. King Jaffe Joffer is still alive but on his deathbed. Ever the pinnacle of egotism, the King decides to hold his own funeral celebration while he is still alive. It is all wonderfully hilarious. But the King dies at the conclusion of the ceremony and Akeem ascends to the throne. He is immediately beset upon by General Izzi, the ruler of Nexdoria, who is trying to marry off his own son to Meeka. Meeka, meanwhile, wants nothing to do with it. Nexdoria is a much more militaristic nation than Zamunda and the threat of war between the two nations hangs heavy, especially because Akeem never had a son who, according to Zamundan law, would have been the only one eligible to inherit the throne. Or so we think. We soon discover that during Akeem and Semmi's original visit to Queens, Akeem was drugged and had sex with a woman who had his son. Sensing a way out of the situation with Izzi, Akeem travels to Queens to retrieve his son.
What makes this movie work so surprisingly well is its ability to blend elements of the original movie with new stuff. Akeem's son, Lavelle, has been scalping tickets to St. John's games outside Madison Square Garden when Akeem finds him and reveals his heritage. Everyone, including Lavelle's mother, Mary, jet back to Zamunda. This leads to great friction between Meeka and Lavelle. Lavelle is the rightful heir to the throne simply because of his gender while Meeka has been training for the role her whole life. This reveals an interesting twist to the movie: 30 years earlier, Akeem crapped on Zamundan tradition by shunning an arranged marriage, going to Queens, and finding true love. 30 years later though, Akeem has done nothing to reform some very outdated traditions and customs, specifically doing away with the law that only males can inherit the throne. This leads to great conflict between Akeem, Lisa, and Meeka. Meanwhile, Lavelle falls in love with his groomer/barber, Mirembe, even though he has been arranged to marry Izzi's daughter. There are lots of call backs to the original film here. Lavelle realizes he is being used by his father as a means to broker peace and prosperity between Zamunda and Nexdoria. He wants nothing to do with that and he flees for Queens with Miermbe. Akeem realizes he has turned into his father and goes to after his son, leaving Meeka in charge to defend Zamunda against whatever Izzi has in mind. In the end, Akeem returns to who he was at the end of the original movie, decrees that Meeka will inherit the throne as Queen, and Lavelle will be an ambassador to America. Naturally, we get a very happy ending.
I have to say…I loved this movie. There are some issues here and there though. As mentioned before, there were many elements of the original movie that were brought forward into the sequel with a few subtle twists. Lavelle and Mirembe's relationship has some elements of Akeem and Lisa's, but the movie did not take the time necessary to really develop it like they did with Akeem and Lisa. With Akeem and Lisa, much of the original movie was about them falling in love; with Lavelle and Mirembe, it just happens very suddenly and without a proper build up. It is not a huge problem, but it is there. On the other hand, Akeem is the most interesting character in the sequel. He has a lot going on. He is never really sure of who he is and whether he should be Akeem or his father until the very end of the movie. He is always trying to do what is right and what will keep his family and country safe but, in so doing, he has become perhaps too much like his father. This impacts his ability to develop a relationship with his son, right up until the very end.
One of the many things I loved about this move though is the cast. I was thrilled that roughly 90% of the original cast made it back for the sequel. This, of course, included Eddie Murphy and Aresnio Hall reprising their classic roles, including as the barbers and patrons at the Might T Sharp barber shop in Queens, along with Clint Smith. Shari Headley returned as Queen Lisa, James Earl Jones was back as King Jaffe Joffer, Louie Anderson (I guess he finally got promoted to making fries at McDowell's after all) was back as Maurice, and even John Amos reprised his role as Cleo McDowell. I cannot tell you how happy it made me to see so many familiar faces. Yes, they all looked a bit older but every one of them delivered a tremendous performance in this sequel. But the new additions were phenomenal and made the overall cast one to remember. Leslie Jones absolutely kills it as Mary Junson, Lavelle's mother. Jermaine Fowler was excellent as Lavelle. Tracy Morgan played Reem, Lavelle's uncle. Wesley Snipes was simply magnificent as General Izzi. And we even get cameos from Morgan Freeman, Colin Jost, and Dikembe Mutombo. With a cast like that, there was no way this movie was going to fail.
To say it did not fail is a gross understatement. No, it is not as good as the original. How could it be, honestly? It is not as funny as the original, but it is damn hilarious in many places. It does an excellent job of honoring the spirit, message, and humor of the original movie while adding in important modern elements such as doing away with sexism and getting rid of antiquated ways of thinking. And it makes you laugh along the way…a lot. As far as sequels go, Coming 2 America was significantly better than Bill & Ted Face the Music. It is just a shame we had to wait some 33 years to get a sequel this funny and this good. If you loved the original, you will love the sequel as well.
Dave's Rating: 4/5
Overall Nerds' Rating on Coming 2 America (2021): 3.91/5.0
Bandwagon Nerds # 74 To Binge or Not to Binge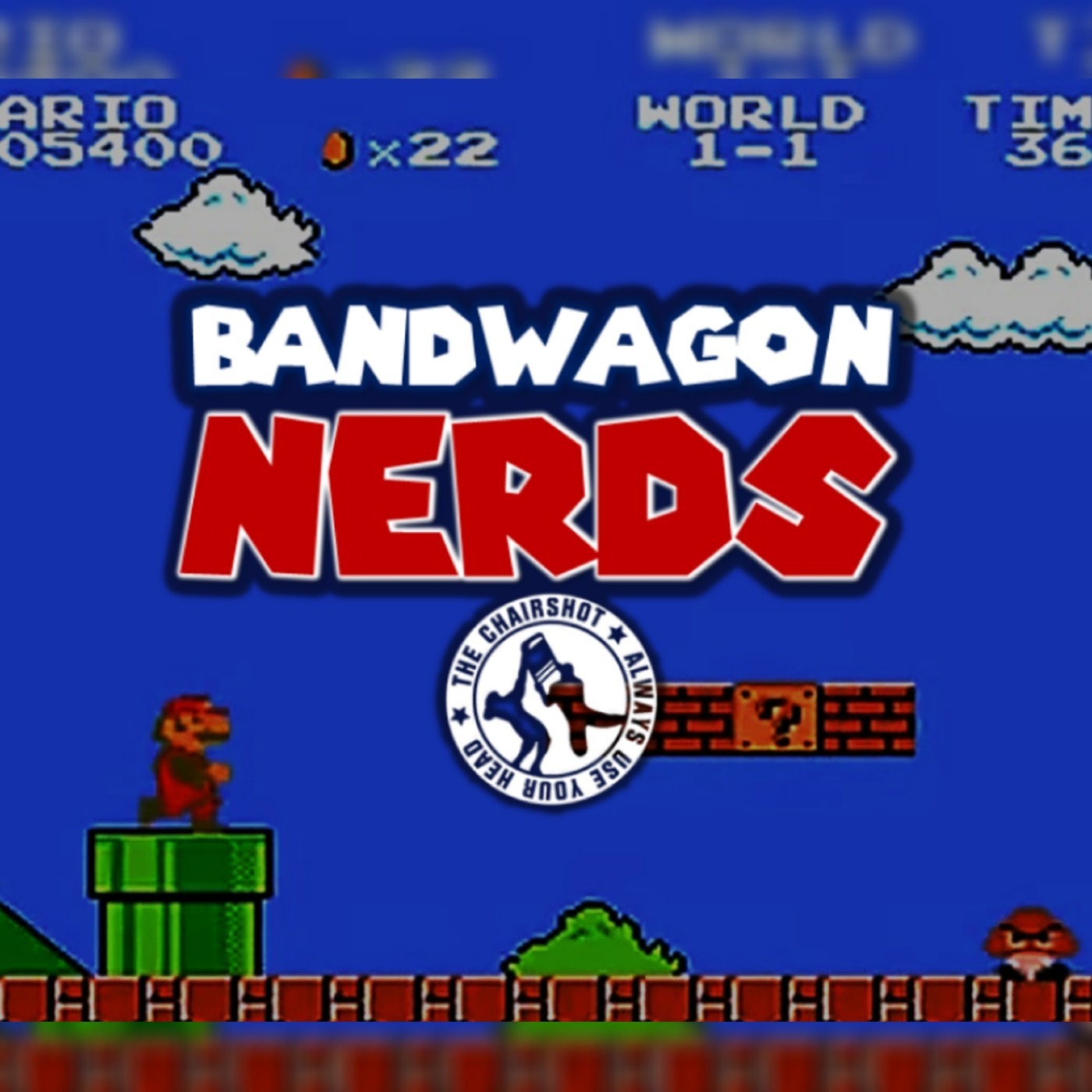 Should streaming services do episodic television?  That's the question the Nerds try to answer this week on the Bandwagon.  Patrick, Rey, Dave and PC tackle the pros and cons of a streaming service dropping entire seasons of their original programs versus dropping one episode at a time.  Is there a "right" way to do it?  The Bandwagon returns to the trailer park this week as tons of exciting trailers hit the nerdosphere this week!  The guys continue their review of The Falcon and the Winter Soldier in an episode that was light on action, but loaded nonetheless.  Finally with Wrestlemania in the rearview, the Nerds share their thoughts of Night One and their favorite Wrestlemania stories of all time.
@AttitudeAgg
@itsReyCash
@PCTunney
@ChairshotMedia
About Bandwagon Nerds
Join Patrick O'Dowd, David Ungar, and a rotating cast of guests as they keep everyone up on all things nerd, and maybe add some new nerds along the way. It's the Bandwagon Nerds Podcast!
About the Chairshot Radio Network
Created in 2017, the Chairshot Radio Network presents you with the best in wrestling and wrestling crossover podcasts, including POD is WAR, Women's Wrestling Talk, The #Miranda Show, Badlands' Wrestling Mount Rushmores, The Outsider's Edge, DWI Podcast, Bandwagon Nerds, the Greg DeMarco Show, 3 Man Weave, Five Rounds, Turnbuckle Talk, Suwama's Station, The Reaction and more! You can find these great shows each week at theChairshot.com and through our distribution partners, including podcasting's most popular platforms.
---
The Chairshot Radio Network
Your home for the hardest hitting podcasts and radio shows!
Listen on your favorite platform!
iTunes  |  iHeart Radio  |  Google Play  |  Spotify
Listen, like, subscribe, and share!
---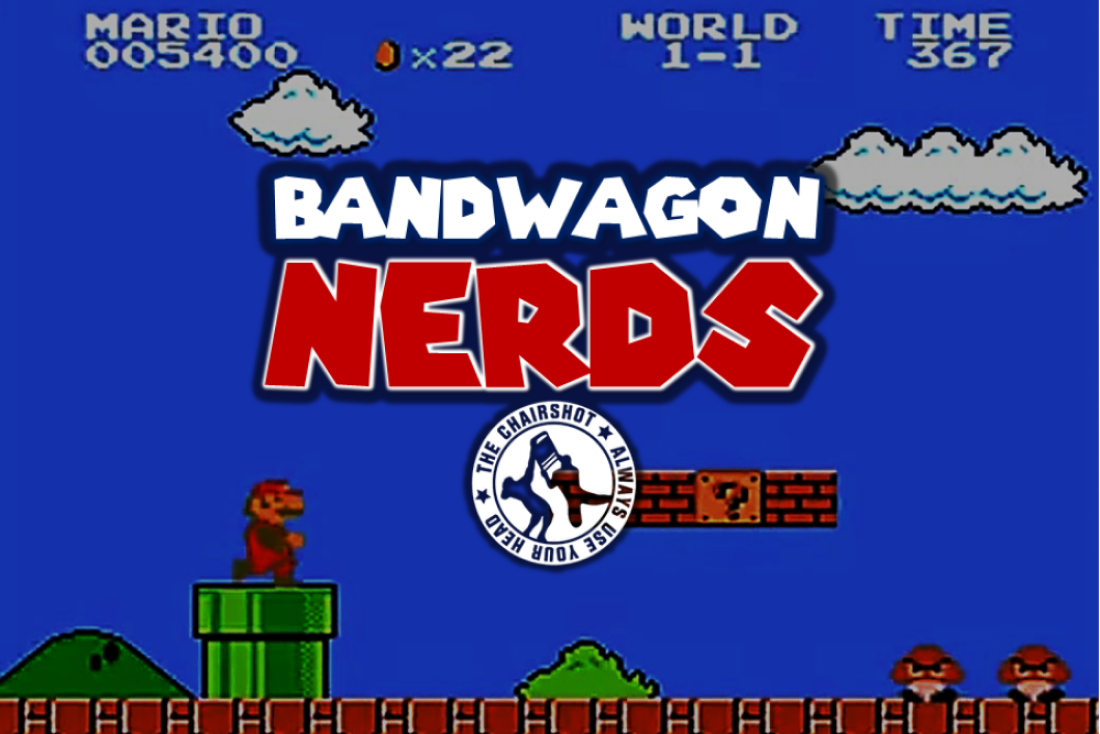 BWN Nerds' Movie Review: Godzilla vs Kong (2021)
Big boy monster throw down of the year! The Nerds return with a current movie review, and this one should be interesting. Is Dave too forgiving? Is Patrick taking his role as the German judge too seriously? Find out where the overall ratings lands between these two!
Welcome to this week's edition of the Nerd Review!  Every week the Nerds give you their take on a different movie from the Nerdosphere.  This week Dave and Patrick review the fourth installment of kaiju cinematic universe Godzilla vs. Kong!
The Flick:  Godzilla vs. Kong (2021)
What's it About:  A researcher believes a hollow world beneath the Earth's surface is the birthplace of the mighty Kaiju.  He convinces and old friend to help him take the mighty Kong to find his birthplace even if it means incurring the wrath of the King of Kaiju Godzilla.   The battle between the two alpha Kaiju could result in the end of all mankind.
Metacritic Score: 59
The Nerds' Take on Godzilla vs Kong (2021):
Dave It is time for the Main Event of Legendary's MosterVerse, the showdown we have been waiting for: Godzilla v. Kong. If you have been following along with our Nerd Reviews, then you knew this was coming. What you don't know is whether we feel the climax to the series is worth your time or not. Well allow me to give you my take on that topic.
Plot wise, it has been some five years since Godzilla defeated Ghidorah and things have been relatively quiet and peaceful. Meanwhile, on Skull Island, Monarch has created a dome like structure to observe and try and control Kong. Kong has developed a relationship with a little girl, Jia, who seems to be the last surviving member of her clan. Jia has, for lack of a better term, been adopted by Dr. Ilene Andrews. Jia is deaf and she seems able to communicate with Kong through sign language.
Halfway across the globe, Apex Cybernetics is engaged in some sort of experimentation that attracts the attention of Godzilla, who shows up and annihilates their facility in Florida. Godzilla's attack shatters humanity's notion that he is their friend. Bernie Hayes is an employee of Apex, but he also hosts a Podcast focusing on conspiracy theories involving the Titans. He is soon joined by Madison Russell (from Godzilla: King of the Monsters) who is a fan of the Podcast, and her friend Josh as they start poking around the remains of the Apex site in Florida. We soon discover that Apex is looking for a massive power source that they believe is located in Hollow Earth. Hollow Earth is really more of an Earth within the Earth (Middle Earth, perhaps?) and the quandary is how to survive the trip to Hollow Earth. Nathan Lind is a Hollow Earth expert whose brother perished in a prior expedition to Hollow Earth due to a reverse gravitational effect. But Apex has developed vehicles that can survive the voyage. They just need Kong to lead them there.
In the process of transporting Kong to Antarctica, which has an entry point to Hollow Earth, Godzilla senses his old rival and attacks. Godzilla definitely gets the better of this battle, forcing the expeditionary force to transport Kong by air to Antarctica to avoid detection by Godzilla. Kong gets the group to Hollow Earth and it becomes clear there has been an ancient rivalry between Kong's ancestors and Godzilla's. Kong discovers an axe made out of portions of Godzilla's ancestor's skins. Back on the surface, Bernie, Madison, and Josh have been whisked away to Hong Kong and they discover what Apex is really up to….Mechagodzilla. Mechagodzilla can be telepathically controlled and it is Dr. Serizawa's son who is pulling the strings, using the severed head of Ghidorah to do so. The problem is that to utilize Mechagodzilla to its full potential, they require more power, much more power to be exact. This is where the search for the Hollow Earth power source comes into play.
Mechagodzilla is activated and this attracts Godzilla. Godzilla also senses what Kong is doing in Hollow Earth and he sends a blast of atomic breath from Hong Kong to, in essence, the center of the Earth. Kong and the Hollow Earth expeditionary force follow the hole made by Godzilla to the surface. Everyone emerges in Hong Kong for a massive fight between Kong and Godzilla. Kong fares better this time around but is ultimately rendered near death by Godzilla. At about this time, Mechagodzilla is imbued with the power source from Hollow Earth and he also achieves sentience. This leads to the big brawl between Godzilla and Mechagodzilla and it is a mismatch in favor of Mechagodzilla…. until Kong is revived, evening the odds in an enormously predictable moment. Godzilla supercharges Kong's ax with his atomic breath and the two Titans take down Mechagodzilla. Godzilla and Kong show each other a sign of respect and go their separate ways. Apparently, there can be two alpha Titans after all.
Let's talk about the good stuff first: the monster fights. They are all fantastic. The battles between Kong and Godzilla feel as big as you would expect. They are titanic clashes in every sense of the word. Godzilla fans will have bragging rights after watching this movie because it is clear that Godzilla whups Kong's ass on more than one occasion. Kong fans save face though by noting that without Kong, Mechagodzilla would surely have triumphed. As for Mechagodzilla, his appearance in the movie was not a secret and he did not disappoint. The clash between Godzilla and Mechagodzilla was done very well to show just how much more powerful Mechagodzilla was and why it took the combined might of Godzilla and Kong to turn the tide. If massive Kaiju action is your thing, then Godzilla vs Kong is definitely your movie.
Now for the bad: The people. Now, I know what Patrick is going to say. That the movie shifts the focus to the people too much and detracts attention from the monsters. I know he thinks the concept of humans using a defibrillator on Kong is absurd. I am OK with those points in a movie like this. The problem I have with the people is this: They don't matter. Not at all! They are white noise in the purest sense of the word. 90% of the characters are wholly uninteresting and meaningless. They add little to the plot and just get in the way. So, to be real, Patrick and I are, to a certain extent, talking about different sides of the same coin. The exceptions to this involve Jia, who is quite important to the whole notion of establishing Kong as the "good guy", and Bernie, who is a fun character and kind of represents a microcosm of conspiracy theorists that are quite common in the real world today. Bernie epitomizes the notion that just because you are paranoid, doesn't mean they aren't watching you. But, beyond those two, the characters are quite dull and just felt very pointless.
As far as this being the series finale, I greatly enjoyed the movie. The dynamic between Kong and Godzilla is interesting and keeps you engaged, regardless of whether you are rooting for one, the other, or both. There are some interesting concepts in the movie, specifically how Hollow Earth is different than you might expect and much more interesting, no matter how far-fetched the idea might be. Interestingly, this movie really showcases just how bad ass Godzilla is. I am not sure why it took three movies to get it right, but I digress. Then there is Kong, who ends up being a multi-layered creature that is shown even more heroically than he was in Kong: Skull Island. As for me, I always favored Kong over Godzilla and I left the movie feeling fine with the outcome of everything. If there is a downside it's that it appears the MonsterVerse has come to an end, just when it was getting really good. That's too bad. As for Godzilla vs Kong, the awesome action sequences and special effects vastly outweigh the issues involving the people. This is a very good final installment (we think) in this franchise. It is the best of the movies involving Godzilla. I still liked Kong: Skull Island more, but this was a close second.
Dave's Rating: 4/5
Patrick:  Here we are again covering the fourth film in the Warner Brothers/Legendary produced Kaiju Monster universe.  And once again this film somehow finds a way to mess up a simple concept.  If you recall, in my review of Godzilla King of the Monsters I said good kaiju movies minimize the involvement of human beings in the film and let the monsters take center stage.  Unfortunately, the folks at Warner Brothers still have not quite grasped the concept here in its fourth Kaiju film. The result is an uneven film that shines when the monsters are on screen and leaves me tuning out when the focus shifts to the little primates.
In this fourth installment, we learn that Monster research organization Monarch I closely monitoring Kong.  Going so far as to create an enclosure around Skull Island so that he is safe from Godzilla.  This of course will not last because, well, humans.  One human in particular, a man named Nathan Lind comes with the backing of a mysterious tech corporation called Apex to search for "Hollow Earth." Hollow Earth is a world beneath the surface of our Earth that is believed to be the birthplace of all Kaiju.  Lind visits his friend and Monarch researcher Ilene on Skull Island.  Lind believes Kong is the key to finding this hidden world.  Despite knowing, Godzilla will attempt to kill Kong, Ilene agrees to embark on the expedition.  Of course, Godzilla attacks and we get the first of three rounds of monster battling that we paid for.
Unfortunately, to get to round two and three, the audience has to sit through overwrought dialogue and subplots all in an attempt to help the audience connect to the experience.  It's all really boring.  You know why?  PEOPLE DON'T WATCH KAIJU MOVIES FOR THE HUMANS. But, I digress.  Naturally the tech corporation Apex is not on the up and up with Lind.  Color me stunned, but Apex turns out to be the real enemy to both Kong and Godzilla.  I haven't even covered the conspiracy theory guy and his gang of teenagers trying to expose Apex from the inside.  Again, no one cares because, read it aloud…NOBODY WATCHES KAIJU MOVIES FOR THE HUMANS.
But this isn't the end of the dumb.  The audience is treated to an ancient history between Kong's ancestor and the other Kaiju where we see Kong find the ancient axe of his ancestors.  Because a monkey wielding an axe is cool looking.  Did I mention Kong can charge the thing up with Godzilla's radioactive breath?  AWESOME?  How about the humans using a high tech battery as defibrillator to revive a dying Kong?  Just dumb on top of dumb followed by more dumb.  And humans.  All of the humans.
The cast for Godzilla vs. Kong is quite the list of names.  Alexander Skarsgard essentially fills the role of human protagonist Nathan Lind.  Honestly, he is the only human character given anything to work with.  Kyle Chandler is back in his role as researcher Mark Russell, but if you blink you miss him.  Millie Bobby Brown is also back as Madison Russell, but horribly wasted in a sidekick sort of role to the previously mentioned conspiracy theorist.  She is limited to trying to discover why Godzilla has started attacking human cities.  Someone of her talent could have and should have been used better.  There are tons of other folks in this movie, and yet I struggle to understand why we needed them all.  All they do is distract from what the audience wants to see which is GODZILLA and KONG FIGHT.
Ok.  So what's good about this film?  Well, the Kaiju.  The special effects team outdid themselves crafting these battles.  Kong and Godzilla's bouts all feel epic.  I was also impressed with how much more well lit some of the night scenes were.  As Kong and Godzilla battle at night in a Chinese city, everything is well lit without appearing phony.  The choreography of the battles are terrific, albeit a little silly at times.  Again, radioactive monkey axe.  But the joy of Godzilla vs Kong is in these epic clashes.  I watched the movie on HBO Max, I can only imagine how amazing it would have appeared on an IMAX movie screen with Dolby sound shaking my eardrums.
I came into Godzilla vs. Kong with pretty low expectations.  I want to stress that I loved, loved, loved the action sequences involving the Kaiju.  Unfortunately, you have to sit through an inordinate amount of human exposition to get to those epic moments.  That's not to say the humans and their stories need to be gone entirely.  The audience does need a guide and some context.  But Godzilla v. Kong would have been so much stronger with a pared down human side of things and a focus on the monsters. It seems Warner Brothers and Legendary pictures still haven't learned the key to Kaiju: it' all about the monsters.
Patrick's Rating: 2.24/5.0
Overall Nerds' Rating on Godzilla vs Kong (2021): 3.12/5.0