Champion Carnival 2021 Preview : Will Anyone Dethrone Suwama ?
Val breaks down the 2021 Champion Carnival and gives his take on how he thinks it will shake out! Check out the AJPW round robin tournament April 9-May 3!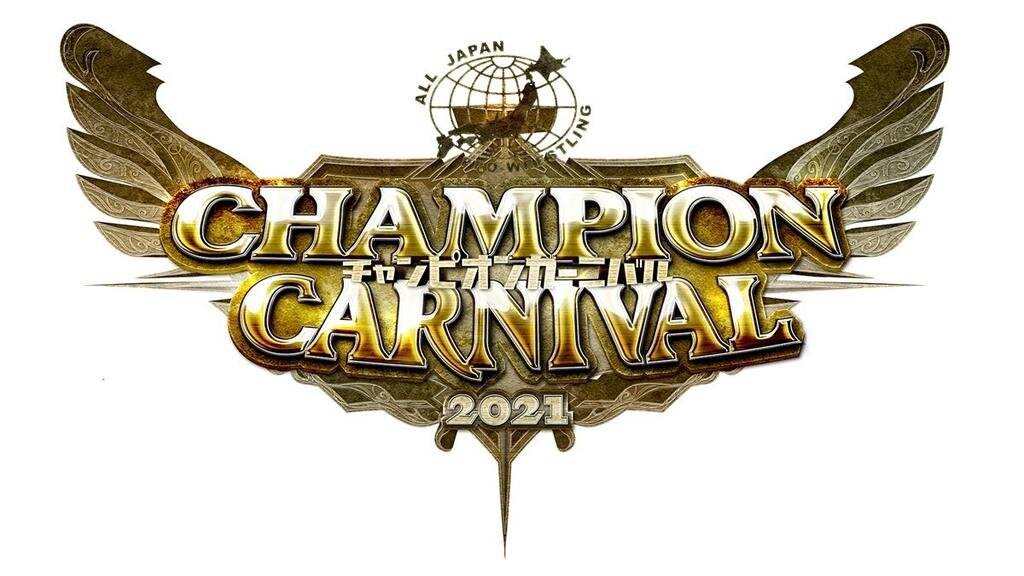 Knock knock ! It's tournament season at the door !
Here we are ladies and gentlemen, the first few tournaments of the year are starting to take place, and today we are focusing on the biggest upcoming one, All Japan's Champion Carnival !
With "new" faces entering the field, and a slightly different format yet again, what does this year's edition has in store for us ?
Let's discuss that, and more !
As mentioned in the intro, the format of this year's Carnival, once again, has changed a little bit. Thankfully we do get the tournament during the usual time period, this time from April 9th until May 3rd.
While the number of participants remains the same at ten, this time, there is no block to win, and all the competition to go through. One block, the two men with the most points make it to the finals. A rather simple formula, for a rather complex tournament to fully predict.
This year's field once again feels quite stacked, with at least 6 potential finalists !
With all of that said, let's look at all the participants !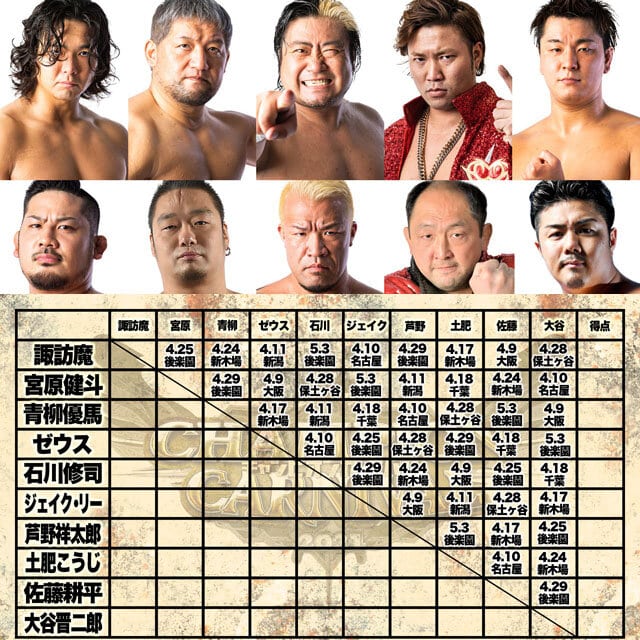 Jake Lee (Total Eclipse) ; 4th entry
Let's start with the man with all the momentum going his way as the Carnival approaches : Jake Lee. The leader of Total Eclipse, All Japan's newest faction, recently turned on Koji Iwamoto, leaving his long-time partner in Sweeper and JIN to formed this new group, with all of the now former Enfants Terribles members, at the exception of Shotaro Ashino, as well as Tajiri sliding in.
With this new shift, Lee enters the tournament with one purpose. Finally winning the tournament, and claim the Triple Crown championship for the first time. Is this the year for Jake Lee to eclipse all the competition once and for all ?
Key match-ups : Suwama, Kento Miyahara, Shotaro Ashino, Zeus.
Shuji Ishikawa ; 5th entry, GAORA TV champion
The second man we'll be talking about is Suwama's former tag team partner, and new GAORA TV champion Shuji Ishikawa. While he didn't take too much of step back in last year's CC, Ishikawa might have to this year given the stacked nature of the field. We ultimately can't take Ishikawa fully out of the equation, yet this year could be the first one where he doesn't end up within the higher half of the participants points wise.
Key match-ups : Suwama, Kohei Sato, Koji Doi.
Suwama (Evolution) ; 16th entry, Triple Crown champion
While we're onto the former Runaway Giants, let's talk about the man with a target on his back in Suwama. The Triple Crown champion has now been carrying the belt for more than a year. He'll look to cap that reign off with another big time Carnival performance, aiming for the ultimate victory. As it is often the case with champions, he most likely will fall short, but count on All Japan's veteran champion to find his way near the top of this one block.
Key match-ups : Shotaro Ashino, Jake Lee, Zeus, Shinjiro Otani.
Kento Miyahara (NEXTREAM) ; 8th entry, World Tag Team champion, 2020 finalist
As we spoke of the champion aiming for victory, here is the only man in the field to win the Carnival while being Triple Crown champion : Kento Miyahara. Now holding the World Tag Team titles alongside best mate Yuma Aoyagi, it is rather safe to say Kento won't win the Carnival this year. Reaching his fourth finals in a row isn't however, and ruling out the possibility of the current All Japan Ace making history that way wouldn't be the smartest thing to do.
Key match-ups : Jake Lee, Shotaro Ashino, Suwama, Zeus, Shinjiro Otani.
Yuma Aoyagi (NEXTREAM) ; 3rd entry, World Tag Team champion
Moving on to the other half of the World Tag Team champion and NEXTREAM lieutenant Yuma Aoyagi. Yuma has been on the rise ever since his first Triple Crown title match against Miyahara, and he now comes across as someone we can rather easily consider as a potential finalist this year. While it may still be early for Yuma to break through to such a degree, this Carnival looks like the perfect field for him to further the statement he made not only against Kento, but against Suwama as well : He definitely belongs as one of All Japan's top stars.
Key match-ups : Suwama, Shotaro Ashino, Shinjiro Otani, Koji Doi.
Shotaro Ashino ; 2nd entry
Let's now talk about the other man currently caught in the eye of the storm, the former leader of Enfants Terribles Shotaro Ashino. Not only motivated by the wish to do much better than last year, Ashino enters with the prospect of beating the man who took his faction away from him in Jake Lee, and finally get a win over Suwama.
Needless to say Ashino enters this tournament as one of the favourites to reach the finals, given his implication within All Japan's main arc going on.
Key match-ups : Suwama, Jake Lee, Kento Miyahara, Koji Doi.
Surprisingly or not, this is indeed Kohei Sato's first ever Carnival appearance ! The veteran, one half of Twin Towers alongside other participant Shuji Ishikawa, is no easy foe to take on for anyone taking part in this tournament. While it wouldn't be shocking to see Sato rack up double digit points, chances are we might actually see him take a step back, as the younger generation comes knocking hard in All Japan, and there may not be enough place around the top of this block for Sato.
One thing is assured, the tower once belonging to ZERO1 will leave broken skulls behind its path.
Key match-ups : Suwama, Shuji Ishikawa, Shinjiro Otani, Yuma Aoyagi, Jake Lee.
Zeus (Purple Haze) ; 8th entry, All Asia Tag Team champion, 2020 winner
Now let's finally look at the defending Carnival winner, and current holder of the All Asia Tag titles. Since losing to Suwama for the Triple Crown, Zeus has sort of fallen back among the hierarchy, if he ever truly climbed a few spots since his sole Triple Crown title run. If there is someone among the current All Japan stars who might fall back this year a little bit, it might very well be Zeus.
Key match-ups : Suwama, Kento Miyahara, Jake Lee, Shotaro Ashino, Yuma Aoyagi.
Shinjiro Otani ; 1st entry
And now, let's take a look at this year's wild card : The legendary Shinjiro Otani. In the field of veterans still able to work more than decently well as they get closer to 50, Otani ranks more in the upper echelon. Is there much to expect in terms of results ? Hard to say. How much will Otani impact this year's field should be one of the most interesting things to follow during this Carnival, coming across as the n°1 wild card here.
Key match-ups : Suwama, Kento Miyahara, Kohei Sato, Shotaro Ashino, Yuma Aoyagi.
Koji Doi (Total Eclipse) ; 1st entry
Finally, let's talk about the man who will, most likely, eat a lot of pinfall losses. In such a field, there will be someone taking much more losses than the others and, it's hard to not look at Doi here. Whether he does fit in such a role, like Kuma Arashi last year or does better than expected record wise, let's hope he can at least show how talented he is on what likely is All Japan's biggest stage.
Key match-ups : Shotaro Ashino, Zeus, Shuji Ishikawa, Yuma Aoyagi.
Matches to look out for :
In case this is your first Champion Carnival and / or simply don't really know which matches to look forward to, here is a list. Most of these matches should impact the standings and help shape up how the tournament will go, with a select few likely being decisive matches. And if they're not, you will almost be guaranteed a good watch !
Yuma Aoyagi vs Shinjiro Otani – April 9th
Jake Lee vs Shotaro Ashino – April 9th
Suwama vs Jake Lee – April 10th
Yuma Aoyagi vs Shotaro Ashino – April 10th
Kento Miyahara vs Shotaro Ashino – April 11th
Jake Lee vs Shinjiro Otani – April 17th
Jake Lee vs Yuma Aoyagi – April 18th
Suwama vs Yuma Aoyagi – April 24th
Kento Miyahara vs Kohei Sato – April 24th
Shotaro Ashino vs Shinjiro Otani – April 25th
Suwama vs Kento Miyahara – April 25th
Jake Lee vs Zeus – April 25th
Suwama vs Shinjiro Otani – April 28th
Zeus vs Shotaro Ashino – April 28th
Suwama vs Shotaro Ashino – April 29th
Kento Miyahara vs Yuma Aoyagi – April 29th
Kento Miyahara vs Jake Lee – May 3rd
Shotaro Ashino vs Koji Doi – May 3rd
Val's predictions and thoughts :
As I often brought up while going over each of the participants, this year's field is rather stacked and thus, more so difficult to predict in general. As you'd expect from the Champion Carnival, in a sense. However, there still is one big guideline allowing us to start somewhere.
Last month, all of Enfants Terribles turned on Shotaro Ashino, leaving him all alone while Jake Lee sided with the now leaderless Enfants, taking over leadership and ditching JIN and his longtime partner Koji Iwamoto in the process. The Lee-Ashino match-up already looked like the main story to build towards last year when the Carnival was finally held, but a different route was taken. Approximately 6 months later, this match-up got pushed towards second gear, and we enter this year's Carnival with a pretty clear "main arc" to develop.
The question being : Will the tournament revolve around this arc ?
I don't think I need to preface this : I think that yes, and I would dare say it is rather obvious, that this year's Carnival is set around Jake Lee and Shotaro Ashino. Thus, I lean towards the same finals match-up I predicted last year, which already was these two facing each other.
With that said, what about the winner of this final ?
Last year, I picked Jake Lee to win the Carnival over Ashino. That also isn't changing, for two main reasons. The first one being Jake Lee's ascent, which is obviously linked to Ashino's "downfall" here. Both men were at a bit of a critical place prior to the landscape shifting moment happening. Lee especially was struggling to find success after his losses to Miyahara, failing to beat Zeus in the Carnival last year, in the A block's deciding match. He also failed to win Real World Tag League alongside Iwamoto, as JIN came up short against NEXTREAM in the finals, failing at this stage for the second year in a row.
While Ashino comes off two losses against Suwama for the Triple Crown, the situation is different. One can afford to lose in order to keep chasing the one that cannot. The one that cannot drastically changed his ways, in what may be read as a desperate attempt at finally finding success again. Success Lee hasn't touched since September 2019 when winning the Royal Road tournament.
Therefore, according to my possibly nonsensical and illogical ramblings, Jake Lee will be the Champion Carnival winner this year. And mostly likely end up being the one to dethrone Suwama.
One other aspect I wanted to discuss rapidly in this section is : How is Yuma Aoyagi's Carnival going to look like ?
Ever since trying to prove his worth against Kento Miyahara last year, Aoyagi has only kept growing and legitimizing his status as one of the upcoming top players in All Japan. Winning RWTL alongside Kento, defeating Suwama and Shuji Ishikawa for the World Tag Team titles, and following a day later with a star-making performance against the same Suwama for the Triple Crown.
Following this match, there is little to no doubt, at least in my mind, that the Carnival should serve as a way for Aoyagi to cement what the Suwama match showcased. By putting very good to great matches of course, but that won't be enough. Yuma needs to win, and if possible against big names. He needs to end up ranking rather high in this 10 men block. Is making it into the top 5 with double digit points a fair bar to reach for the oldest of Aoyagi brothers ?
With that said, this 2021 Champion Carnival preview reaches its end. What are some of your thoughts, predictions and expectations ? Hopefully, you are looking forward to this year's edition as much as I do, as this Carnival definitely looks promising.
Andrew's AJPW Champion Carnival Results & Match Ratings: 4.11.2021
Day 3 of the Champion Carnival had video on demand issues, so it wasn't uploaded until the 12th. Hopefully Day 3 continues the positive momentum the first two days have already created!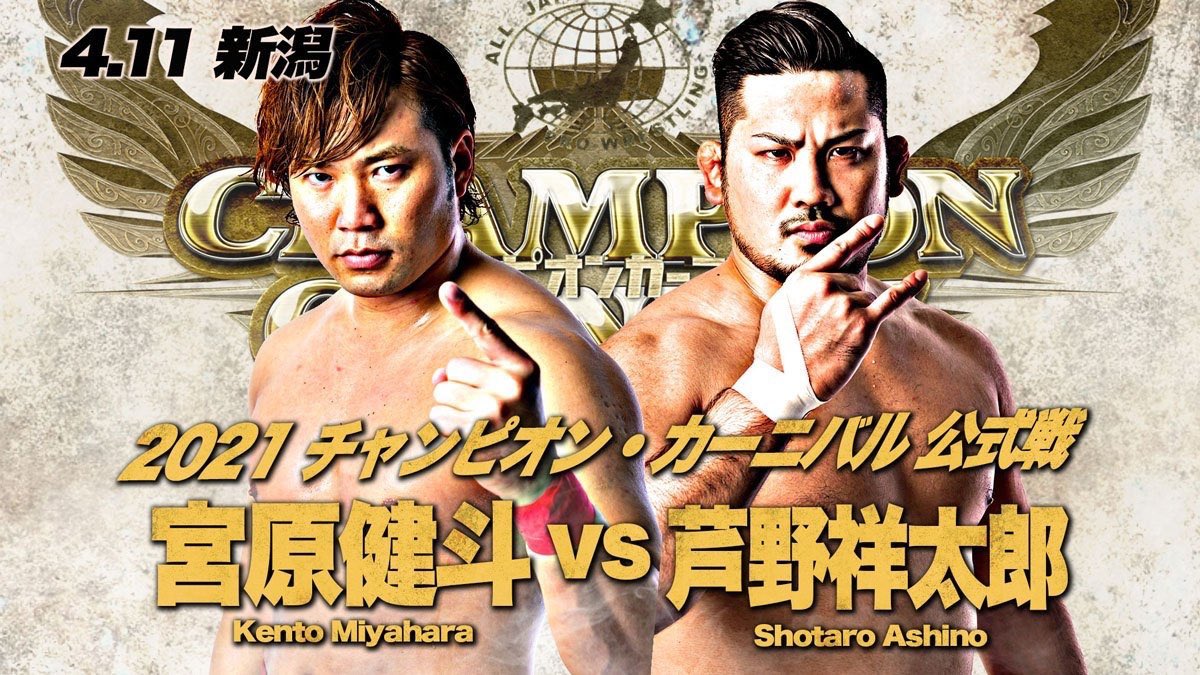 Day 3 of the Champion Carnival had video on demand issues, so it wasn't uploaded until the 12th. Hopefully Day 3 continues the positive momentum the first two days have already created!
Hard to say I wasn't a little annoyed the VOD took so long to post, but better late than never; especially when the next event isn't until the 17th.
Anyway though! Zeus looks to topple the current Triple Crown champion and continue his undefeated Carnival streak and Ashino has to do something to get off the bubble; but Kento is a big ask. We could be looking at a quick favorite to win as well as the walking dead.
Let's hope nothing too drastic happens! Check it out!
Match Ratings:
Jake Lee vs Koji Doi: Jake wins via D4C @8:10 – **
Shuji Ishikawa vs Yuma Aoyagi: Ishikawa wins via Single Leg Cradle @11:13 – ***
Kento Miyahara vs Shotaro Ashino: Ashino wins via Grapevine Ankle Lock @12:11 – *** ½
Zeus vs Suwama: Zeus wins via Jackhammer @19:52 – *** ¾
Results:
Jake Lee vs Koji Doi
Total Eclipse inner faction fighting! Since Jake is the leader, he starts off in typical heel leader fashion telling Koji to lie down and eat the pin. Koji lies down; Jake drapes himself in a cocky cover, so Koji goes for the crucifix at the 2 count. Jake snaps up and he looks shocked that Koji went against an order, but then we get to a match.
Koji does a solid job keeping Jake off balance with power attacks, Shoulder Tackles and an interesting Football Tackle with the lift and slam. Jake eats a decent amount of offense, including a few short arm Lariats, before he starts stabilizing with Knee Lifts and Yakuza Kicks.
Lucky for Jake, even though Koji countered the D4C once, after Giant Killing, Koji wasn't countering anything. Jake hits D4C and gets his second win of the tournament! Not a flashy match honestly felt a little silly at points with how quiet and echoed the arena made the match feel. Hopefully the setting doesn't continue to plague the atmosphere of the matches.
Shuji Ishikawa vs Yuma Aoyagi
Now this was decent, though the hollow quiet atmosphere of venue is really detracting from the matches. Yuma was trying to find openings, but Shuji continued to run him over and abuse him with power early. And it was during these slower spots, the deafening silence of the venue made for weird watching.
Even though Shuji hit a Scoop Slam into the corner of the arpon, multiple Tsunamis and a flashing Scoop Fire/Thunder Driver, Yuma stayed resilient. Yuma nearly made the bigger man tap in End Game, but Shuji was able to find the ropes. Yuma hits an O'Connor Roll into the Japanese Leg Clutch, Shuji manages to get out of that, goes for a Tsunami, Yuma slides and tries to scoop Shuji for a Roll-Up, but at two Shuji manages to reverse the Roll-Up, grab a single leg and keep Yuma down for a three count!
Even though I have yet to be convinced by Yuma, the fact he got a finish that still made him look strong while putting up a good fight against a decorated opponent like Ishikawa; that says a lot about his potential rise on the card.
Kento Miyahara vs Shotaro Ashino
Ashino is in the unenviable position of last place after two days. With a 0-2 record, he really REALLY needs this…and he of course has Kento as his roadblock. They've traded wins in the past, and come off as rivals who don't really like one another.
The match starts quick with Ashino shooting the half, grabbing a leg and searching for the Ankle Lock early. Kento fights out, but Kento is surprised and Ashino stays on him. Ashino pulls Kento to the ring post and wraps Kento's left leg against the post a few times. Kento fires and Snake Eyes lands Ashino into the corner of the apron.  This gives Kento plenty of time to walk off the early ankle damage and play into his cocky arrogance, all while messing with the referee and his opponent.
Whenever Ashino managed to get back in the ring, he was greeted by Blackouts to the front and back of his head. It wasn't really until Kento went for the Shutdown Suplex, that Ashino hit a second wind. Both men trade German Suplexes, Ashino continues with a Deadlift Overhead suplex and he starts building momentum back.
He teases a German from the apron to the floor, but Kento blocks, fights off and Piledrives Ashino instead. Kento fires off Blackouts as Ashino once again barely beats the count out, but after landing his ninth Blackout of the fight, Ashino grabs the left leg, rolls through and goes for the Ankle Lock. Kento tries to fight off, but Ashino refuses to let go, readjusting, rolling through, pulling Kento back into the center away from the ropes; eventually dropping down into the Grapevine. Kento has no other option but to submit!
Ashino finally gets on the board, and Kento joins him in the 1-2 portion of the standings! I wonder how much the ankle will play into the rest of Kento's carnival.
Zeus vs Suwama
Last year during Zeus' carnival winning run, he had a match with Suwama which resulted in Suwama sustaining an arm injury. Thanks to this knowledge, and the sting of a failed challenge when Suwama recovered, Zeus came out attacking the arm and trying to replicate some of his success from last year.
The beauty in Zeus' arm attacks, is not only were the Key Lock and Arm Bars effective to play on the old injury, they also inhibited Suwama from executing the Last Ride Powerbomb. Zeus' attack really did great, as well as giving him the power advantage against someone who can usually match him in that department. Zeus lifted out of Boston Crabs, met Suwama head on with Biceps Explosions and even broke out the Frog Splash a few times.
In a nice reference, Suwama was able to fight out of the Arm Trap Facelock this time, but Zeus had too much of an advantage. Zeus peppered in Chokeslams, Lariats, another Frog Splash and eventually ended the match with an impactful Jackhammer. This was a solid struggle throughout, injured only by the awkward venue setting.
Who will be the first person to hang a Carnival loss on Zeus since 2019?
Overall Score: 6.75/10
While there wasn't really a lot to complain about in terms of action, I really hated the venue. With the Japanese crowd rules of not being able to scream and having to just clap or stomp, it was very noticeably irritating in this event.  Slower moments felt empty and stupid, almost back to the empty Quarantine times, which definitely impact smaller events and smaller companies.
Aside from that, we got a lot of really great finishes. Ashino finally getting on the scoreboard AND over Kento is great. Zeus continuing his streak from last year, Jake well…doing Jake things and Shuji looking strong as a current title holder should. Otani and Sato were missed a little today, but let's check out the standings!
 Standings:
Zeus: 3-0 – (6 Points)
Shuji Ishikawa: 2-1 – (4 Points)
Jake Lee: 2-1 – (4 Points)
Shinjiro Otani: 1-1 – (2 Points)
Kohei Sato: 1-1 – (2 Points)
Shotaro Ashino: 1-2 – (2 Points)
Kento Miyahara: 1-2 – (2 Points)
Suwama: 1-2 – (2 Points)
Koji Doi: 1-2 – (2 Points)
Yuma Aoyagi: 1-2 – (2 Points)
Lucha Central Weekly: NXT Takeover Stand & Deliver…DELIVERS! Plus Too Many AEW Factions, WWE WrestleMania Week, and more!
The world of Lucha Libre comes alive on the Lucha Central Weekly podcast, discussing Takeover, AEW Factions, and more!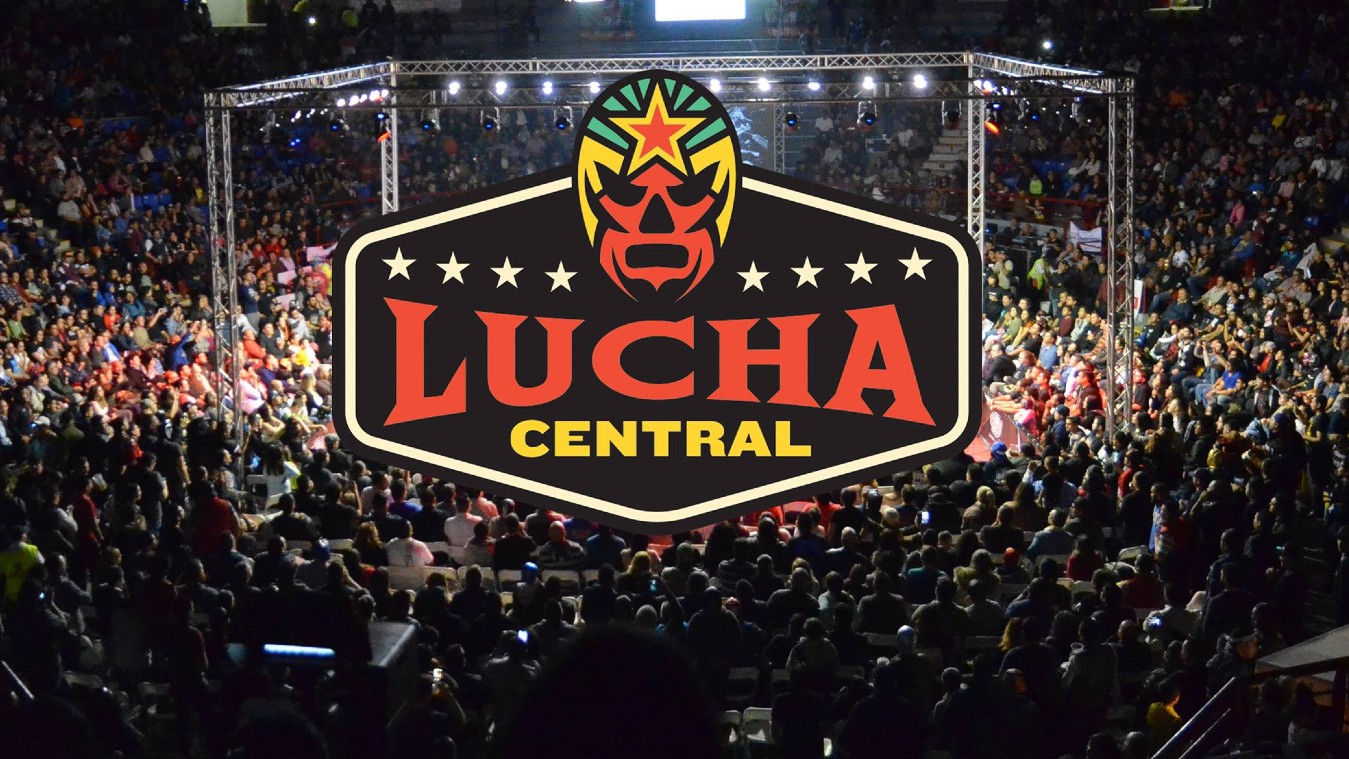 The world of Lucha Libre comes alive on the Lucha Central Weekly podcast, discussing Takeover, AEW Factions, and more!
Powered by RedCircle
Join Miranda Morales, Brendan Barr, and Dusty Murphy as they bring you another edition of Lucha Central Weekly–one just as action packed as lucha libre itself!
This week the trio discusses the abundance of factions on AEW, the week-long celebration that is WWE WrestleMania, and a look at NXT Takeover Stand & Deliver!
About Lucha Central Weekly
Your one-podcast stop for all of the week's top stories from around the world of lucha libre and lucha libre around the world. Join hosts Miranda Morales, Brendan Barr, and Dusty Murphy along with special guests as they cover Lucha Libre AAA, CMLL, top Mexico indies as well as lucha related matches in WWE, Impact Wrestling, All Elite Wrestling, Ring of Honor and beyond. Whether you are trying to dive deeper into the world of masked mayhem or you've been following for decades, you are going to find things here you won't find on any other airwaves!
About the Chairshot Radio Network
Created in 2017, the Chairshot Radio Network presents you with the best in wrestling and wrestling crossover podcasts, including POD is WAR, Women's Wrestling Talk, The #Miranda Show, Badlands' Wrestling Mount Rushmores, The Outsider's Edge, DWI Podcast, Bandwagon Nerds, the Greg DeMarco Show, 3 Man Weave, Five Rounds, The Hardy Wrestling Podcast, Turnbuckle Talk, The Reaction and more! You can find these great shows each week at theChairshot.com and through our distribution partners, including podcasting's most popular platforms.
The Chairshot: Always Use Your Head
---
The Chairshot Radio Network


Your home for the hardest hitting podcasts and radio shows!
Listen on your favorite platform!
iTunes  |  iHeart Radio  |  Google Play  |  Spotify
Listen, like, subscribe, and share!
---