Cook's WrestleMania 37 Night One Gambling Picks
Who's trying make money on guessing the predetermined scripts? If that's you, Cook gots all the lines you need. This isn't Breaking Bad; we only do betting lines!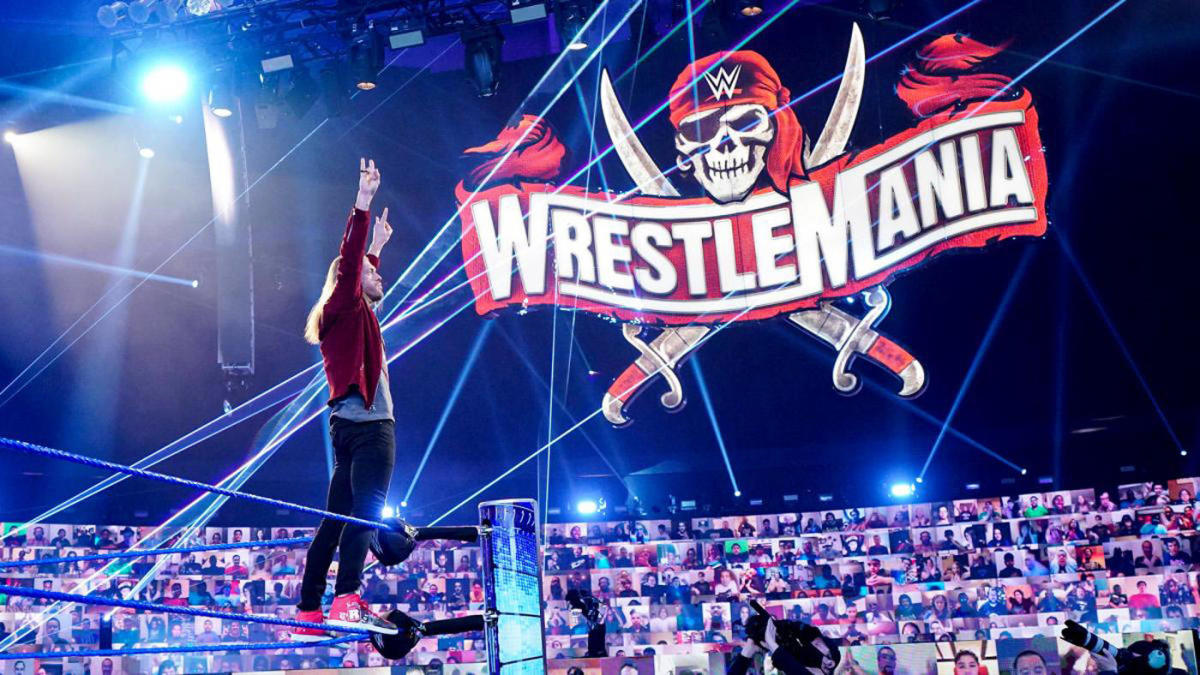 This is one of those columns that needs no real intro or explanation. Its WrestleMania! What else do you need me to tell you? Today we're talking Night One, tomorrow it'll be Night Two. Easy peezy lemon breezy.
I know that some of you prefer a 12 hour WrestleMania event, but to me, two nights is definitely the way to go. Think of it this way: instead of one night to watch the biggest show of the year, you get two. What's the downside?
Also, you can get two days to make money, if you're into the kind of thing we're talking about here. Though, I am contractually obligated to mention that my look at these matchups, with odds provided by BetOnline, is for entertainment purposes only.
Tag Team Turmoil
Lana & Naomi vs. Dana Brooke & Mandy Rose vs. The Riott Squad vs. Natalya & Tamina
History always repeats itself. #WrestleMania @TaminaSnuka pic.twitter.com/ss9FjOGYks

— Nattie (@NatbyNature) April 7, 2021
We've got a match setting up a Night 2 match here, as Nia Jax & Shayna Baszler will face the winners for the Women's Tag Team Championship. They've had some amount of issues with each team, so we can't really use that as an indicator of who will win. We also can't base it off of who will have the best match with Nia & Shayna, as that seems like a push.
We also don't have odds on this match as I write this. If some do get posted, my guess would be that Natalya & Tamina will have long odds and could be a good pick as a team WWE might want to give a little reward for their service over the years.
Bad Bunny & Damian Priest (-950) vs. The Miz & John Morrison (+500)
Dude…….#WWERaw pic.twitter.com/hE5sGI5YKC

— WWE (@WWE) April 6, 2021
We all know how this one is going, right? Bunny & Priest are the easiest pick on this two day extravaganza. I'm sure an outside celebrity lost a WrestleMania match at some point, but one isn't immediately coming to mind. I assume some are still complaining about Bad Bunny getting a WM match, I choose to be good with it since it gets Damian Priest a match too. Hopefully this all works out well for him.
Braun Strowman (-500) vs. Shane McMahon (+300)
We do this together!!!!!! #WrestleMania pic.twitter.com/rbYHQzUbm5

— Braun Strowman (@BraunStrowman) April 6, 2021
Braun is the natural pick here for obvious reasons (he's actually a wrestler), but one can easily make an argument for Shane. The usage of a steel cage rarely keeps interested outside parties out of a match, and surely Shane will have a few allies looking to make an impact on WrestleMania. We'll see Elias & Jaxson Ryker, and we'll likely see somebody else. Any big stiffs in the Performance Center not otherwise occupied could be an option for Shane here.
The thing about gambling picks: we're not always going to pick what we think will happen. I think Braun will destroy whoever gets put in his path here. But the object of this game is to make some money, and I think Shane McMahon at +300 is a good bet. Especially since I don't think this feud will be ending at WrestleMania. Still some more heat to get on this issue.
Cesaro (-300) vs. Seth Rollins (+200)
"I'm on fire. Don't touch me you'll get burned!" – @WWERollins on his #WWEHOF drip. pic.twitter.com/qNrAFkqCu5

— WWE on FOX (@WWEonFOX) April 7, 2021
Speaking of feuds that I think will extend beyond WrestleMania and will likely have the evildoer squeaking out a victory by nefarious means. I can easily talk myself into Cesaro getting a big win here, one which will lead to declarations that he's a made man and finally on the level he deserves to be at. I certainly wouldn't have a problem with that.
I think it's far more likely that Seth Rollins gets the win, and the issue between these two continues. Cesaro's big win is coming, but not at WrestleMania.
Raw Tag Team Championship Match
The New Day (+250) vs. AJ Styles & Omos (-400)
AJ Styles vs. Xavier Woods – straight out of 2008 TNA. A reminder WWE is a TNA nostalgia company. pic.twitter.com/VNU9VULZ7N

— Garrett Kidney (@garrettkidney) April 6, 2021
I've lost track of how many times I've been burnt by picking against Xavier Woods & Kofi Kingston. They have a knack for overcoming all obstacles at these major events and coming out on top. Its a good idea to keep these men featured on television, as they're positive role models for the community and I can only think of one time that one of them did something a bit embarrassing for the company.
I mean….that Jamaican accent. What were they thinking? Never mind, we got more accent stuff to talk about for Night 2, let's move on.
It is tempting to pick AJ & Omos, as there's an obvious story there hopefully leading to Omos' breakout as a singles star. That can easily be drug out though, and we don't pick against The New Day here. Their victory will be a good way to pop the crowd early in the evening.
SmackDown Women's Championship Match
Sasha Banks (+250) vs. Bianca Belair (-400)
IMPOSSIBLE, THINGS ARE HAPPENING EVERY DAY. pic.twitter.com/7iXlEA4gAe

— Mercedes Varnado (@SashaBanksWWE) April 8, 2021
This is a huge moment for Bianca, and for the Women's division in general, as the significance of two women of color fighting for a championship on the biggest show of the wrestling year can't be overlooked. Its a big f'n deal, as politicians would say.
A win here would put Bianca Belair over the top as a star in this company, and I think that's what happens here. Sasha doesn't need the championship to retain her relevancy, and it's not like any losses have hurt her standing with the people yet. She'll do whatever she can on this evening to make Bianca a star.
WWE Championship Match
Bobby Lashley (+150) vs. Drew McIntyre (-200)
"@fightbobby, how can you beat a man that will sacrifice everything?!" – @DMcIntyreWWE #WrestleMania pic.twitter.com/dFsnaKdtLl

— WWE (@WWE) April 7, 2021
People seemed legit shook when it was mentioned on Raw that this would be the main event of Night 1. Like…that wasn't obvious? As much as I like Sasha & Bianca & think they will have a fantastic match, the build of their match hasn't exactly gotten me any more excited than I was the moment after the women's Royal Rumble Match ended. Maybe y'all are more into TAG TEAM PARTNERS THAT SECRETLY HATE EACH OTHER than I am, but zero part of that whole thing seemed inspired to me. To be fair, it seemed even less inspired when Asuka & Rhea Ripley did it.
Meanwhile, this is the WWE Championship, dating back to the days of Bruno Sammartino & Buddy Rogers. Drew & Bobby's issue has been building since the Royal Rumble, and now is the time for Drew McIntyre to get the WrestleMania coronation they wanted to give him last year. Will it work?
Well, the mystery is one of the reasons we'll be paying attention.
Thanks for reading! Join me next time for Night Two!
King's WrestleMania Rewind: Charlotte Flair vs. Asuka from WrestleMania 34
Chris king is back with one of the most underrated matches in WrestleMania history–Charlotte Flair vs. Asuka!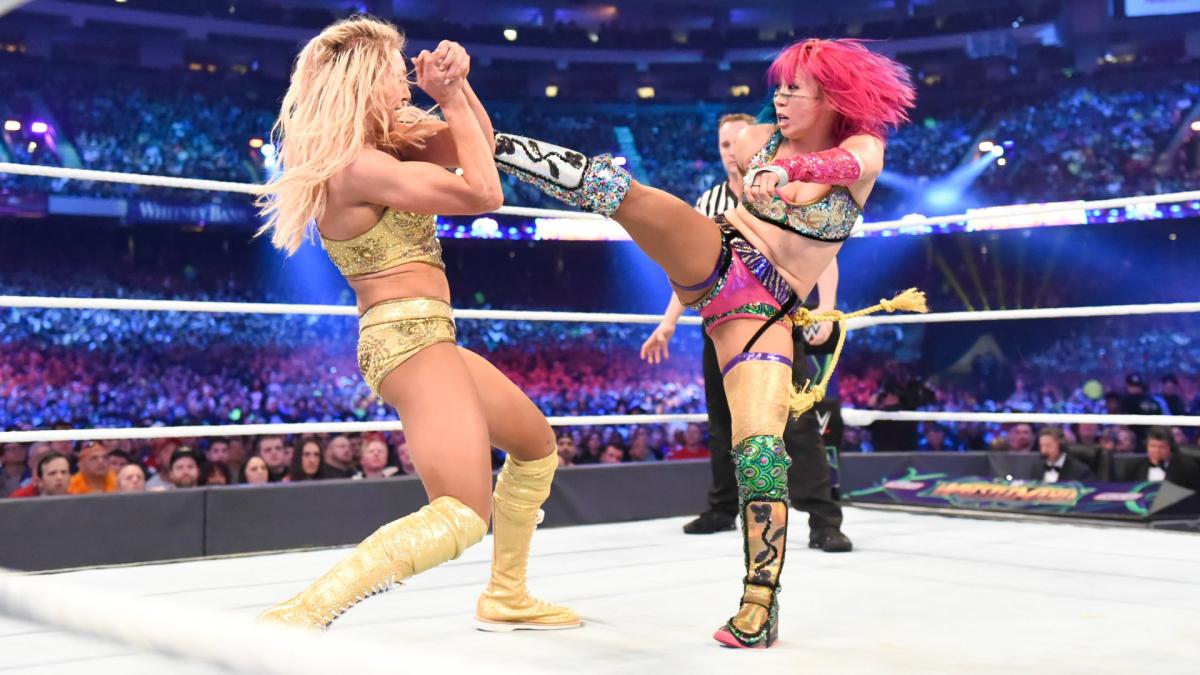 Chris king is back with one of the most underrated matches in WrestleMania history–Charlotte Flair vs. Asuka!
We look back at Charlotte Flair vs. Asuka at WWE WrestleMania 34. 'The Empress of Tomorrow' put her unprecedented and historic undefeated streak of 914 days on the line against 'The Queen's' SmackDown Women's Championship.
For years, this was considered a dream match while Asuka dominated the roster in NXT, while Flair won numerous championships on the main roster on both Raw and SmackDown. The Empress made her long-awaited debut on the September 11th episode of Raw and began to tear through the competition.
Asuka outlasted all twenty-nine other women in the historic first-ever Women's Royal Rumble match to challenge for the title of her choosing. At Fastlane, she made her choice.
The WWE Universe was so excited for this match myself included. Both superstars delivered a fantastic performance on the Grandest Stage of Them All executing counter after counter. Asuka showed off some nasty-looking kicks to her opponent, and Flair hit a thunderous Spanish Fly off the top rope. Flair was seconds away from defeat at the hands of The Empress but she locked in Figure Eight and Asuka was forced to tap out.
I can't even begin to explain how shocked I was at this outcome, as nearly everyone expected The Empress to continue her undefeated streak and walk away with the women's title. This controversial decision was the downfall of Asuka's momentum. She would ultimately win the SmackDown Women's Championship at the 2018 TLC pay-per-view in the triple-threat ladder match.
Fast forward to this year when Asuka has recently returned with her Japanese-inspired persona Kana. Kana is dangerous and ruthless and is heading into a championship with Bianca Belair at WrestleMania 39. The Empress has regained all her momentum and is highly favored to walk away with the Raw Women's Championship. Let's hope that Asuka and Belair can tear the house down and deliver an A+ grade match both women are fully capable of.
King: Dominik Mysterio Needs To Do This At WrestleMania
Chris King is here with what WWE should do with Dominik Mysterio at WrestleMania in his long-awaited match against his father Rey Mysterio Jr.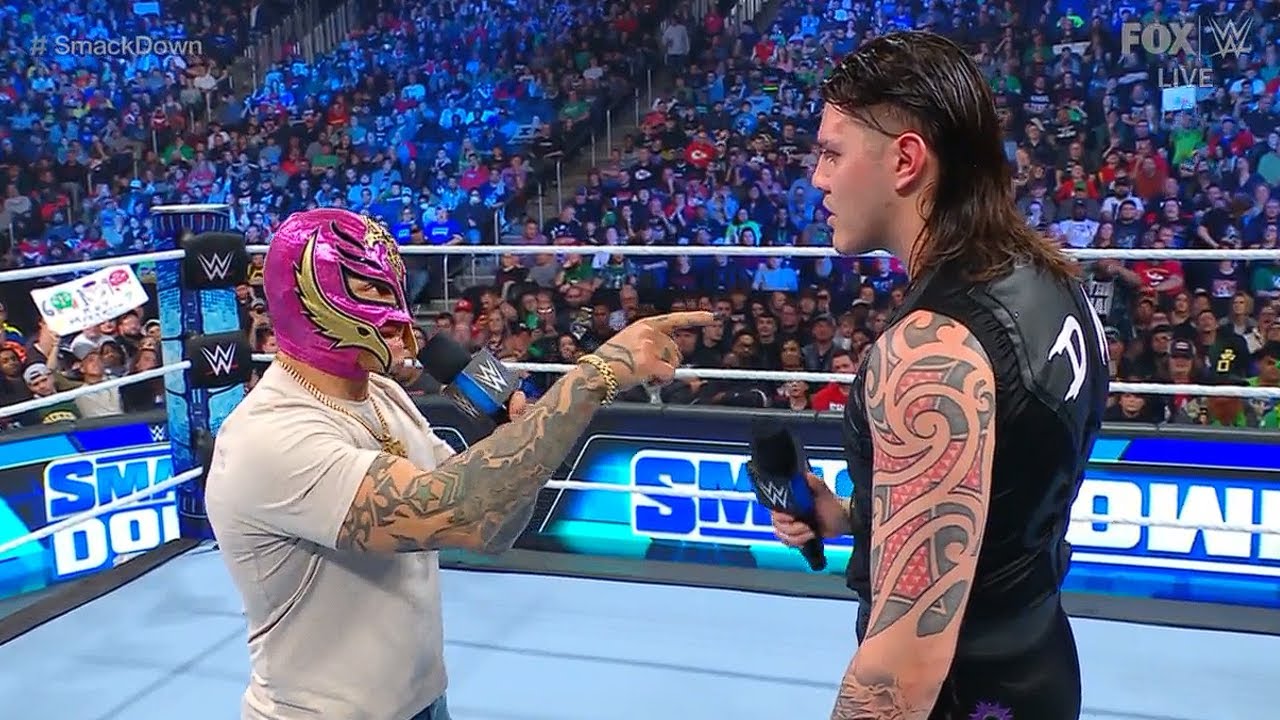 Chris King is here with what WWE should do with Dominik Mysterio at WrestleMania in his long-awaited match against his father Rey Mysterio Jr. 
On this week's episode of Friday Night SmackDown, Rey Mysterio finally snapped and beat some sense into his disrespectful punk-ass kid Dominik. The member of the Judgement Day came out to push his father again for a match on the Grandest Stage of Them All, this time with his mother and sister at ringside. The ungrateful punk told his mom to "Shut Up," as a father even I wanted to jump through the screen and whoop his ass.
Back in October of last year, Mysterio made the emotional decision to possibly quit the company but, instead, Triple H persuaded the Lucha libre superstar to move over to SmackDown to avoid his son. This came after Dominik shockingly turned on his father at Clash at the Castle. Mysterio did everything he could to refuse his despicable son's challenge for Mania but, a man can only be pushed so far. Mysterio will be inducted into the 2023 WWE Hall of Fame and I expect Dominik to embarrass his father during his speech to further this personal feud.
Yes, the WWE Universe hates Dominik and wants to see him get the ever-loving crap kicked out of him but, this feud is missing a special ingredient to capitalize on the biggest heat possible. Throughout this feud, Dominik has made mention of the legendary Eddie Guerrero on several occasions going back to the "iconic" 2005 feud.
I know WWE might not want to go this route but, Dominik MUST come out to Eddie Guerrero's theme at Mania. The disrespectful punk needs to come out in a lowrider to garner nuclear heat. It doesn't matter if The Judgement Day comes out and causes interference for Dominik to get the win, all that matters is that both superstars get the biggest payoff of this nearly year-long feud. Just imagine the Roman Reigns heat after he defeated The Undertaker and multiply that by ten. Dominik portrays the perfect heel and he truly is the missing ingredient that The Judgement Day needed to grow and evolve into a top faction.