Greg DeMarco's WWE WrestleMania Saturday Stream Of Consciousness
It's WrestleMania Saturday, and Greg DeMarco is here to see what WWE can deliver to us all!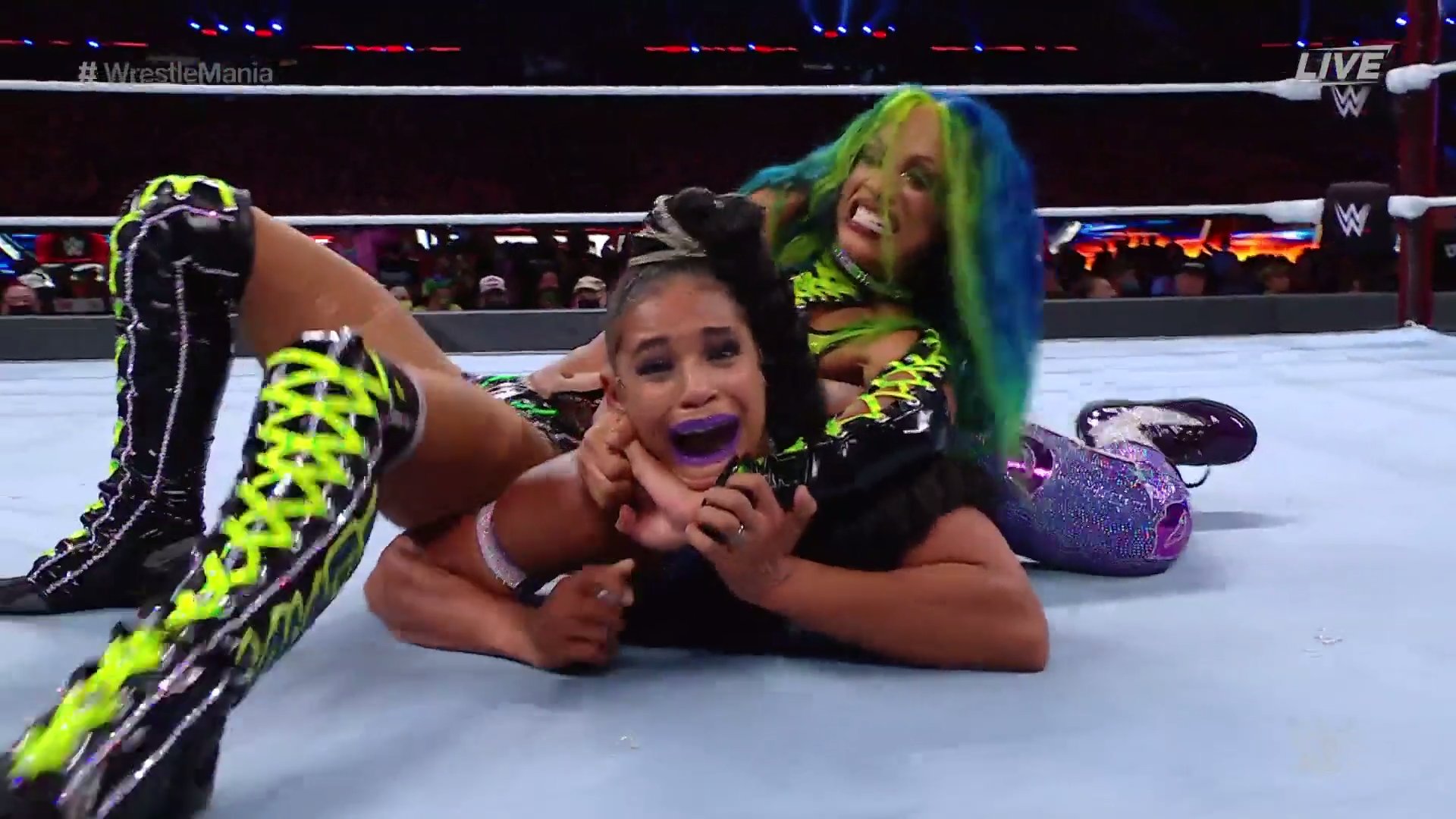 It's WrestleMania Saturday, and Greg DeMarco is here to see what WWE can deliver to us all!
WWE WrestleMania is the Showcase Of Immortals, and it's also when the WWE gets to showcase itself. With no reliance on part-timers to be found, WrestleMania Saturday features a historic main event and a ton of potential. Will it meet that potential? Read on to see what Greg DeMarco thought in real time!
(Extended) Opening Moments
Fantastic job picking up where they left off last year, and updating it for now.
Loved seeing the talent on the stage, and you could see how emotional they were.
Now, we have the rain delay. And I have to say…this is amazing. Seeing them cut promos on the fly with no script, no bullet points, no preconceived/pre-produced
Shane McMahon killed time for Bobby Lashley and Drew McIntyre, who crushed it. The New Day was fantastic, Braun Strowman did his best, Kevin Owens cut what is basically a shoot promo. So well done.
No script. No producers. Best promos I've seen in a LONG time.

— Greg DeMarco (@ChairshotGreg) April 11, 2021
Titus O'Neil and Hulk Freakin' Hogan
Do we really need Hulk Hogan at this point?
I feel for Titus, but I give him all the credit in the world for not slapping the shit out of Hogan right there.
WWE World Heavyweight Championship: Drew McIntyre vs. The Almighty Bobby Lashley (champion) w/MVP
Drew McIntyre deserves this entrance more than anyone. And you can see the emotion on his face.
Lashley needs pyro to go off when he points.
That stage looks awesome, by the way.
How do you not focus on Bobby Lashley's MMA experience when it finds it's way into the match? That has to be off limits, otherwise you know Joe would bring it up.
I don't know who does Drew's beard work, but they did him no favors.
Amazing throws and even a Northern Lights Suplex–Drew pulling out the entire moveset tonight!
Commentary team standing in front of the table, monitors probably out. They're doing a great job with this.
Crowd SOLIDLY behind The Hurt Lock.
BOB WINS!
Winner and STILL WWE World Heavyweight Champion: Bobby Lashley
Bob doesn't kick out of the Claymore, but Drew also doesn't escape the Hurt Lock. Well done all around.
Tag Team Turmoil: Lana & Naomi vs. Carmella & Billie Kay vs. The Riott Squat (Ruby Riott & Liv Morgan) vs. Dana Brooke & Mandy Rose vs. Natalya & Tamina
I bet this gets cut short for time. I am glad they're getting introductions.
We start with Naomi & Lana vs. Carmella & Billie Kay.
Billie Kay & Carmella eliminate Lana & Naomi, which makes no sense.  I have a feeling The IIconics will be back together come WWE Draft season.
The Riott Squad should really win this thing.
MATCHING TIGHTS! MATCHING TIGHTS! MATCHING TIGHTS!
Little confusion there, eh? The Riott Squad survives!
Welp, that was going well until Natalya & Tamina won. But I have a feeling Nia Jax & Shayna Baszler are retaining.
Winners: Natalya & Tamina (advance to WrestleMania Sunday to challenge Nia Jax & Shayna Baszler for the WWE Women's World Tag Team Championships)
Seth Rollins vs. Cesaro
This truly is the biggest match in Cesaro's career–but it's also one that would further cement Rollins as a Hall Of Famer.
I've been picking Cesaro here as I can imagine Rollins wants to make him in this one match.
Also, surprised that we haven't seen everyone wearing white tonight, as we typically see a lot of at WrestleMania. It's a welcomed change, I did all the black gear.
Nice to see that the Big Swing is a part of the match's storytelling.
Corkscrew Splash! Seemed less effective that way–but more impressive.
Fans REALLY want to see Cesaro get the win, and I am with them.
Stomp into European Uppercut + 23 Rotation Big Swing + Neutralizer = CESARO WINS
Winners: Cesaro
I can't tell you how happy this makes me, seeing one of my all time favorites get the duke here.
I had a feeling Seth wanted to put him over, and he truly did.
Credit to Corey Graves for going off script in how he put Cesaro's win–and career–over.
Kayla Braxton Interviews The Dirty Sawgs
Dolph Ziggler and Bobby Roode putting in hard work to put over a match when they aren't on the card. That's impressive.
Raw Tag Team Championships: Champions The New Day (Kofi Kingston & Xavier Woods) vs. AJ Styles & Omos
Remember when everyone thought they broke up The New Day? WrestleMania was the perfect time to have Big E doing that intro the way he did.
New Day is one of the acts who benefits most from having fans present.
Omos wrestling in street clothes actually makes perfect sense.
The gear in this match is 🔥🔥🔥
Especially love AJ's silver gear
Great POP for Omos after AJ literally carried this thing.
Omos' moveset is super simple–it's actually what it should be.
Korfi Kingston???
And we have our new Andre The Giant.
Winners and NEW Raw Tag Team Champions: Omos & AJ Styles
Perfect debut for Omos, and AJ doing some amazing work here. Very well done.
Steel Cage Match: Shane McMahon vs. Braun Strowman
It's time for the match that came together because Shane called Braun stupid.
I know much of Wrestling Twitter doesn't want to see this, but Braun is over with the kids and casuals, and Shane is over with the adult casuals. This match makes perfect sense.
Shane McMahon is a horrible professional wrestler.
Shane McMahon should be a horrible professional wrestler.
This one is for the kids and casual fans, see:
Yup. My kids are glued to the TV to see how far Braun can shot put Shane.

— Mary-Helen Clark (@MHClark2617) April 11, 2021
Jerry Lawler is terrible at this commentary thing.
See, Shane lost because he did something stupid. It's storytelling.
Braun is insanely over, and this match was way better than anyone will want to give it credit for.
Winner: Braun Strowman
Hall Of Famers
Nice touch having X-Pac come out first for the NWO, since it's his only induction.
The Miz & John Morrison vs. Bad Bunny & Damian Priest
The Miz should always have his standard WrestleMania entrance.
The crowd is already hyped for Damian Priest and Bad Bunny before they enter. This match could make Priest a huge star.
Hell of an entrance for Bad Bunny, and it showcased the jealousy part of the angle.
Franky Monet's husband might steal this match.
Bab Bunny obviously trained, but he focused on his spots. Apparently running the ropes and getting tossed through them wasn't part of the curriculum,
That said, this is more than worth the cost–exposure is insane. He's perfect for WrestleMania.
Priest FINALLY Gets tagged in and kills the crowd with his stupid pose. The guy can be a big star, they just need to strip away a few things.
He may not be good at running the ropes, but he can sure hit  Falcon Arrow.
And now he hits a Canadian Destroyer???
The right guys won, that's for sure.
Winners: Bad Bunny & Damian Priest
Michael Cole has no one he can compare it to?

He obviously didn't watch Pat McAfee wrestle Adam Cole.
Bad Bunny was great. Pat McAfee was better, but Bad Bunny was fantastic and perfect for this spot.
Smackdown Women's Championship: Bianca Belair vs. Champion Sasha Banks
Love that WWE treated this like a true main event, with the entrances, pyro, and more.
And the crowd is doing their part as well, making both women get emotional.
Sasha Banks is elevating her game as a performer, despite already being one of the best. This is her biggest night.
That was the greatest Suicide Dive of Sasha Banks' career, too.
Bianca Belair walking up those steps with Sasha in a Press Slam is one of the most impressive feats of strength I have ever seen.
Sasha Banks is the Shawn Michaels of the women's division.
Double Jump Tornado DDT? I LIKE IT.
Jet Pack DDT?
This isn't just a great match, it's great storytelling.
Twitter will hate this, but this is the WrestleMania 31 story.

Bianca = Roman Reigns
Sasha = Brock Lesnar

And they're telling it with brilliance.

— Greg DeMarco (@ChairshotGreg) April 11, 2021
And Bianca gets the win! Michael Cole thought Sasha kicked out, so maybe there was a screw up. At least that's what Meltzer will tell us. Great match.
Winner and NEW Smackdown Women's Champion: Bianca Belair
When you factor in the rain delay, this clocks in at just over 3 hours. Very well done by WWE. Very well done.
Overall Impressions
Plenty of memorable moments on a card that is all about memorable moments. From Bob Lashley retaining to Bianca Belair winning, plus Cesaro's big moment and Bad Bunny delivering, this show had it all. Hopefully WrestleMania Sunday can live up to what Saturday delivered.
King's WrestleMania Rewind: Stone Cold VS. Scott Hall (WrestleMania X8)
Chris King is back with another WrestleMania Rewind, looking at the NWO's Scott Hall battling Stone Cold Steve Austin at WWE WrestleMania X8 from Toronto!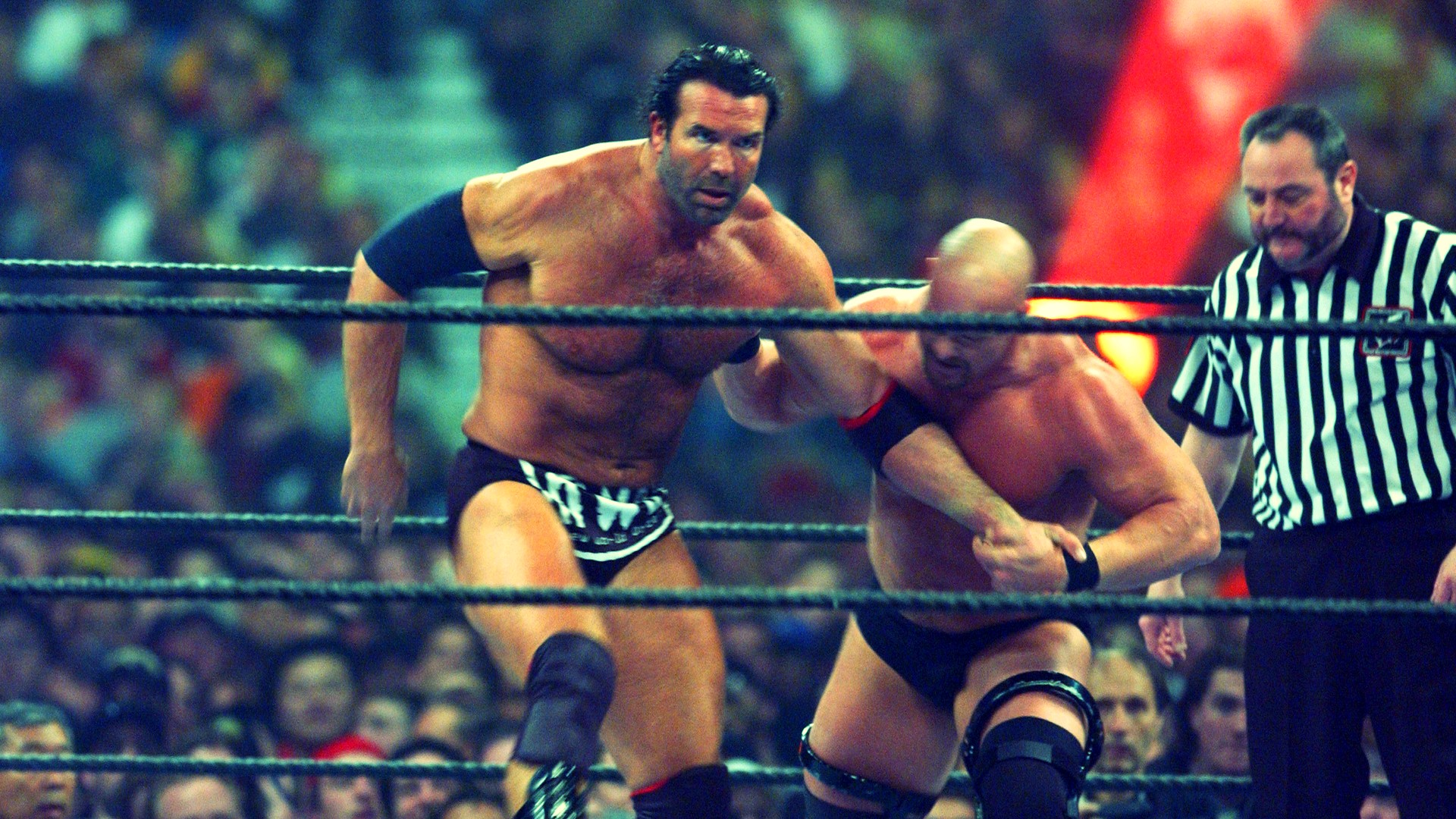 Chris King is back with another WrestleMania Rewind, looking at the NWO's Scott Hall battling Stone Cold Steve Austin at WWE WrestleMania X8 from Toronto!
Chris King is back this week with another edition of WrestleMania Rewind, where he is rewatching all the past Mania matches and feuds. This week you're in for a treat as we look back at 'Stone Cold' Steve Austin vs. Scott Hall at WrestleMania X8.
In late 2001, Vince McMahon bought out his competition WCW and acquired the rights to a plethora of talent including Booker T, Eddie Guerrero, Chris Benoit, and the iconic trio known as NWO. Hulk Hogan; Kevin Nash, and Scott Hall were hell raisers, and what better way to make a name for yourself than take out the two top superstars in the WWE The Rock, and Stone Cold?
The NWO cost Austin his chance at becoming the Undisputed Champion at No Way Out during his match with Chris Jericho. Adding insult to injury, the NWO spray-painted 'The Texas Rattlesnake' with their brand logo just like they did in WCW. As you can imagine, Austin was pissed and out for revenge against the group and primarily Scott Hall.
Hall would challenge Stone Cold to a match at WrestleMania 18. Both superstars beat the living hell out of each other leading up to this highly-anticipated match for who runs the WWE.
The glass broke and Stone Cold made his iconic entrance, and black and white NWO covered Halls' entrance alongside Kevin Nash. With the odds stacked against 'The Toughest S.O.B' could Austin or NWO prove their dominance? Sadly the NWO  broke up that very night when Hulk Hogan came to the aid of his adversary The Rock after their 'iconic' dream match. Stone Cold would ensure the victory with the Stunner. Hall would perform an Oscar-worthy sell over the finisher.
What a time to be a wrestling fan in the 2000s when nothing was impossible for WWE. Who would've thought WCW would go out of business and Hogan would make his long-awaited return to WWE?
King's WrestleMania Rewind: Seth Rollins vs. Kevin Owens (WWE WrestleMania 36)
Chris King takes a look at the most underrated WWE WrestleMania matches, and starts off with Seth Rollins battling Kevin Owens at WrestleMania 36!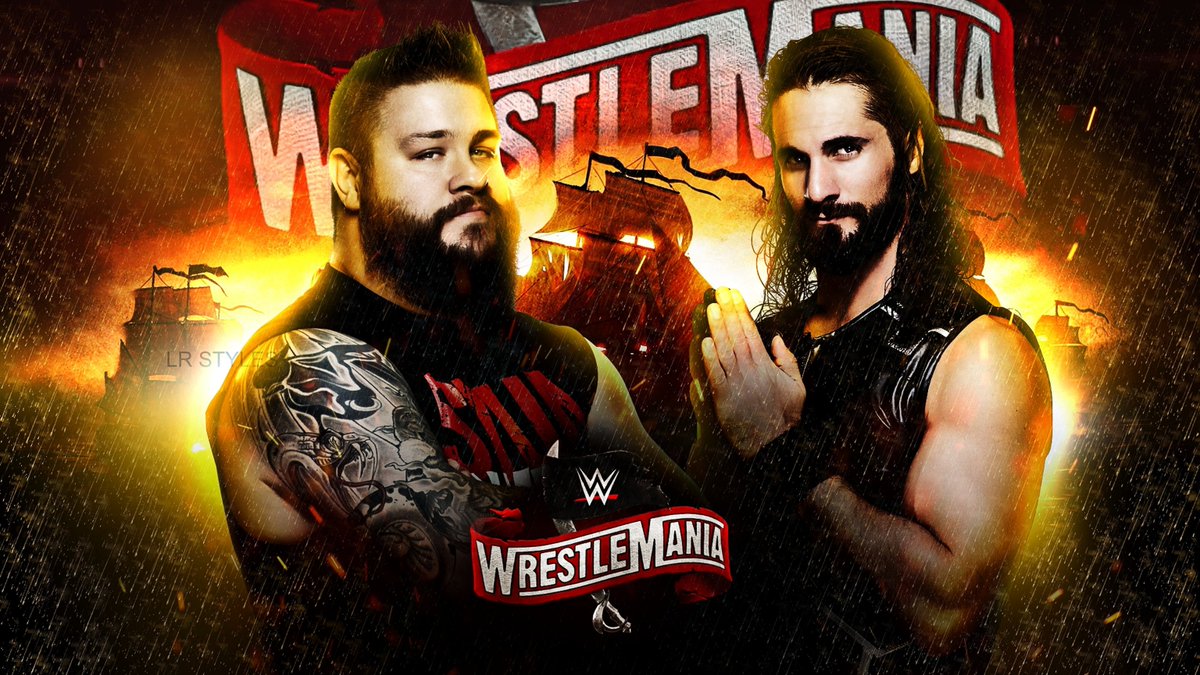 Chris King takes a look at the most underrated WWE WrestleMania matches, and starts off with Seth Rollins battling Kevin Owens in the WWE Performance Center at WrestleMania 36!
Chris King is starting a new series heading into WrestleMania season dubbed WrestleMania Rewind. Each week he'll be going back and sharing his insight over underrated matches at the Show of Shows. First up, is Kevin Owens vs. "The Monday Night Messiah" Seth Rollins at WrestleMania 36.
At the 2019 edition of Survivor Series, Rollins sacrificed himself during the men's traditional match allowing SmackDown to ultimately gain the victory. The following night the self-proclaimed Messiah, berated the whole roster but KO was not having any part of it. Owens quickly became a huge barrier in Rollins' cause for the greater good. The Authors of Pain attacked Owens with Rollins' character in question.
Owens finally had enough of his rival's mind games and torment and challenged Rollins to a match on the Grandest Stage Of Them All. Rollins mockingly accepted his challenge and the match was made official for night one of WrestleMania. Owens came out of the gate beating the holy hell out of the Monday Night Messiah trying to achieve his long-awaited moment at Mania but, Rollins tried to steal a disqualification victory by using the ring bell.
Owens hellbent on revenge provoked Rollins into turning their encounter into a no-disqualification contest where the fight could be taken all over the empty arena. The highlight of the match, was when KO used the WrestleMania sign to deliver a thunderous senton bomb through the announce table. Owens would secure the victory with a Stunner in an incredible match. Despite having no crowd during the pandemic era, both KO and Rollins put on an intense performance under the brightest lights.
In my personal opinion, this was a great feud that helped both superstars in their transformation as compelling characters for years to come.