Mitchell's Hyrule Puro-Resu News Report! (4/2/21)
Fallout from the Triforciversary!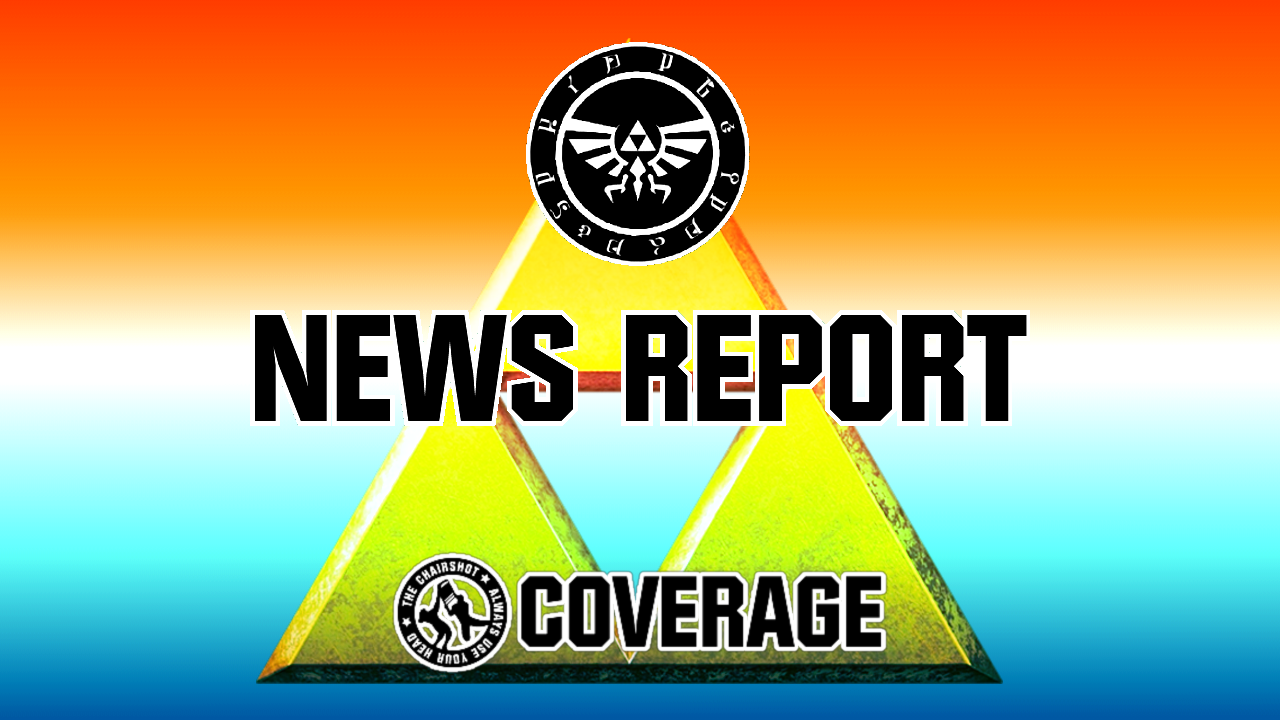 We hear from the stars of HPW in the shadow of the Anniversary!
How the Second Triforce Tournament ended sent shockwaves through all of Hyrule! What will the tournament's "winner" have to say about it?
After the Death Mountain Open Challenge:
Groose walks in, icepack on his neck.
"Hoo, boy! That Gold Lynel. He's a beast. Big, strong and mean, no wonder he was dominating the Octagon. No wonder he dominates the squared circle!" Groose was honored that HPW would choose him, but maybe they underestimated Lynel, or overestimated him. Groose will need a minute to feel 100% after this one. Groose walks away, but will he look to climb Death Mountain again?
Gold Lynel walks in, and right up to the camera.
"That was a good start. But give me better next time." With that, he walks away, grabbing another water. Who will HPW find to take on the One True Monster next time?
After the Termina Championship Fatal 4 Way #1 Contender's Match:
Teba walks in first, icepacks on neck and head.
"Well, what a great debut for me, huh? Big match, big stage, big loss. But that's okay! I can only go up from here! You'll be seeing more of me, I promise you that."
Rosso walks in next, coughing a bit.
A staff member gets Rosso water and he takes long chugs. He thanks the staff member then talks to the camera. "Anyone out there ever taken a beak to the sternum? Not gonna lie, it hurts, and really takes the air out of ya." Rosso commends all three opponents on that match, and congratulates Osphala on winning. Rosso hopes Osphala gets Igos du Ikana good whenever that HyruleMania rematch happens. Rosso then nods to everyone and hopes to see them on better circumstances next time.
Doomknocker walks in but isn't even bothering with the camera.
"Didn't get at one belt, but there's still three belts out there!" Knocker walks off, and as we know now, he found Dark Hammer and Gooma backstage.
Osphala walks in, looking very determined.
"Igos du Ikana. You used the Captain of the Guard against me at HyruleMania, all because I got that close to taking your title from you. I respected you, but that's why I didn't think you'd do it. You ruined that moment for me, for yourself, for all of us. So I'm going to ruin your reign." Will the Gleaming Yellow Light look to go down a dark path against the Termina Champion?
After the Trios Championships match:
HPW referees and officials escort trios in.
The Desert Flowers, the Ikana Royal Family and the Three Masters are still heated after how things turned into chaos, but King Nicolas Foolyere keep them from brawling backstage. They all shout at him to do something about this and he promises he will. But how is HPW going to handle the turmoil in the Trios Division?
Forged By Violence storms in next.
Iron Knuckle says, "We're not mad about how the UnderWorld Order won. That was good use of numbers and misdirection. But we're pissed at ourselves for letting that be what beats us. We're warriors, tacticians, strategists. We're smarter than this." Knuckle does commend all those other teams for coming out to pounce on an opportunity. "No guaranteed rematches in HPW. Everyone earns everything here. But that doesn't mean we won't earn our rematch."
The Doom Bringers enter.
Knocker returns with Hammer and Gooma and he feels pretty good about himself. "That's how you send a message, fellas! That's how you make a statement! That's how you stake your claim in this Division! UnderWorld Order, ya bunch of Halloween decorations, don't get comfortable! You ain't having those belts for long! See you soon." Will the Doom Bringers be the ones to challenge the uWo first?
The uWo finally enter, not in a good mood.
Hollywood ReDead shouts, "Where the hell are they?! Doom Bringers! DOOM BRINGERS! You sons o' bitches!" ReDead tips the table over and lets the water bottles fly while Death Sword speaks. "See, you boys made a mistake. You thought you could just attack from behind, pick a fight, and then let everyone else fight for you. But if you want these titles, you have to take us on directly. There won't be a dozen people in the way, it'll be 3-on-3. And your three doesn't measure up to our three." Gomess adds that "bringing doom isn't going to do a damn thing. We bring DEATH!"
ReDead stops pacing around angrily to pick a water up off the ground and chug it. Then he angrily sputters with water going everywhere, "Whatcha gonna do, brother, when the UnderWorld Order runs wild, on YOU?!"
After the Triforce Championship match:
Zelda walks in, shouldering her Goddess Championship.
"That was… That was good. I lost, but that was still a good match. Y'know, give it your all and there are no regrets." HPW media asks about the kiss. "Oh, I dunno. It was just the cheek. It's whatever." And don't think she didn't hear about posts online "shipping" the two of them together. "That's… That's inappropriate." But moving on from that and from the loss, Zelda is going to defend her championship. She is ready for whoever wants after the belt. "May, June, July, I want a match for every one of those events and beyond." Who will step up to take on this fighting Goddess?
Link walks in and sits at the table.
He sets the Triforce Championship up for cameras to see while sitting with a bottle of milk. HPW media asks if he feels good after the match, and he nods, "Yes." They noticed he hesitated when going for Light Arrow near the end. Was he worried about hurting Zelda? Link shrugs, scratches the back of his head. Did he at least enjoy the kiss? Link has a sly smirk as he looks at the camera. Another reporter asks if Link is going to be a fighting champion on the same level as Zelda. Link nods and sits up straight. Link grabs the belt but before he can say anything, there's a stir going on. That's because the Second Triforce Tournament Finals just finished in the shocking fashion we all saw!
Link listens as Hilda, Yuga and Ravio reveal their "master plan," how Hilda wishes it was going to be a double champion Zelda she was facing, and making it seem like Link is the consolation prize. All of that and "All Hail Hilda!" makes Link angry! Will he make "Her Grace" and her minions pay for what they've done? Speaking of…
After the Second Triforce Tournament Finals:
Hilda, Yuga and Ravio walk in together.
Ravio pulls out the chair for Hilda, and Yuga carries in the first-ever Triforce Tournament Trophy for her. Hilda sits down, Yuga carefully sets the trophy on the table, and Ravio uses a Ravio branded corkscrew to open up a bottle of wine, which surprisingly isn't Ravio branded. He pours a glass for Hilda, and the glass has a Ravio logo on it. Hilda swishes the wine, lets the aroma waft into her nose, then takes a sip. She seems satisfied with Ravio's selection and finally speaks. "I know no one was happy about how my associates and I made our ways to the Bracket Finals. We bent the rules, got the better of those who foolishly underestimated us, and got to compete on the Triforce Anniversary.
"Whether you like it or not, I am your second-ever winner of the Triforce Tournament. Where in the rules does it say that wrestlers can't work together in a Triple Threat? And whether you like it or not, I am going to be your next Triforce Champion." HPW let the first tournament winner, the first Triforce Champion, Link, wait a long time before he had to defend his title. Link is champion again, but Hilda won't let history repeat itself. Hilda demands that at the very next HPW event, she gets her title match. "That way, there'll still be some shine on this trophy when I set it beside the title."
Hilda takes another sip of wine, but seems a little disappointed. "Hmm… Doesn't last that long, does it? Much like Link's reign!" Hilda laughs, splashes a staff member with the wine, then leaves with Ravio and Yuga following behind. Will Her Grace soon crown herself the Champion of Hyrule?
---
My Thoughts:
And we're off! Year two of HPW, and we've already got Link VS Hilda on the schedule. I have stuff planned for May already, mostly around that match and the Trios Championships, but I should be able to squeeze in another Gold Lynel match, and maybe something for the HPW Women's Division. I don't know if there are a lot of possibilities, but there are some good ones to choose from.
Bandwagon Nerds # 74 To Binge or Not to Binge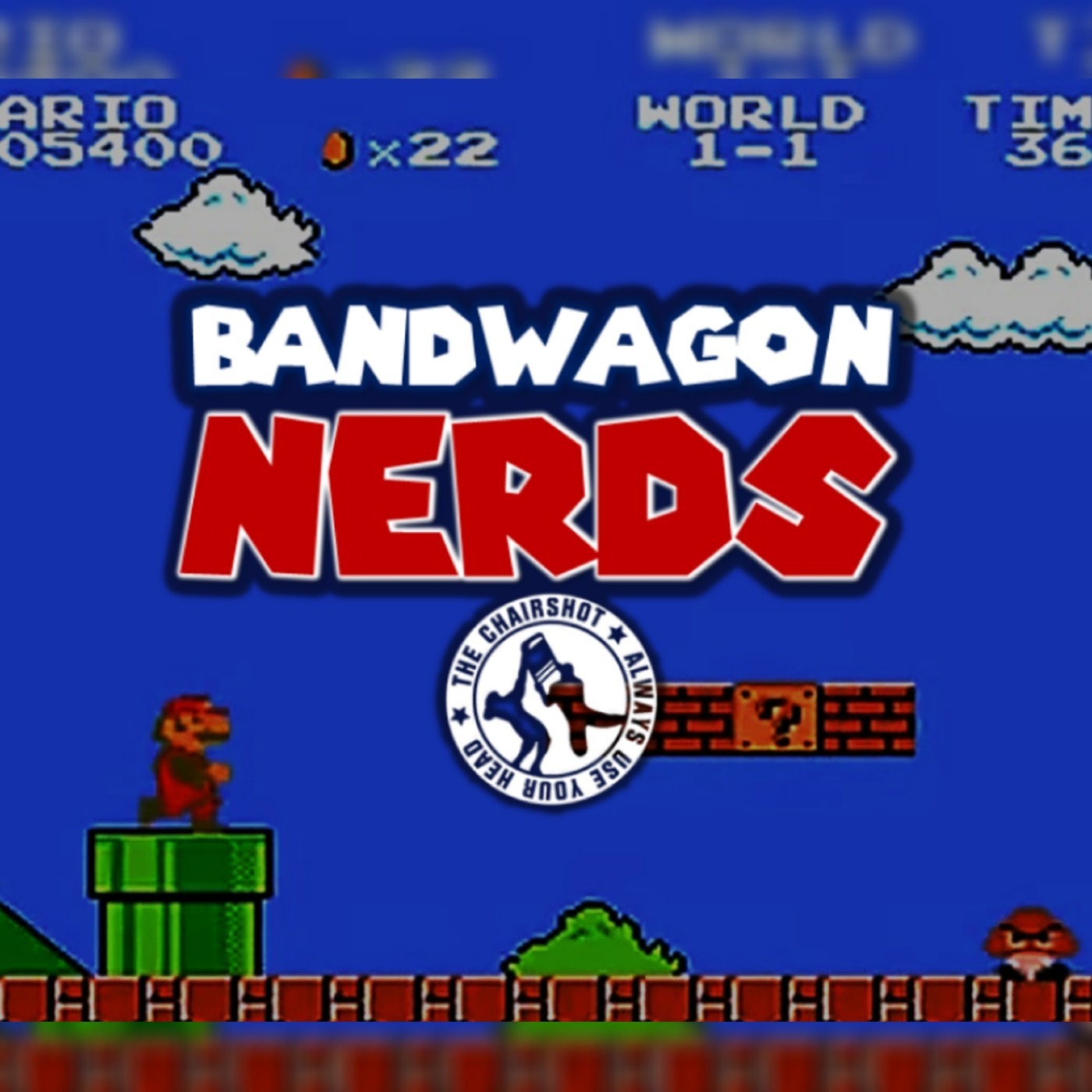 Should streaming services do episodic television?  That's the question the Nerds try to answer this week on the Bandwagon.  Patrick, Rey, Dave and PC tackle the pros and cons of a streaming service dropping entire seasons of their original programs versus dropping one episode at a time.  Is there a "right" way to do it?  The Bandwagon returns to the trailer park this week as tons of exciting trailers hit the nerdosphere this week!  The guys continue their review of The Falcon and the Winter Soldier in an episode that was light on action, but loaded nonetheless.  Finally with Wrestlemania in the rearview, the Nerds share their thoughts of Night One and their favorite Wrestlemania stories of all time.
@AttitudeAgg
@itsReyCash
@PCTunney
@ChairshotMedia
About Bandwagon Nerds
Join Patrick O'Dowd, David Ungar, and a rotating cast of guests as they keep everyone up on all things nerd, and maybe add some new nerds along the way. It's the Bandwagon Nerds Podcast!
About the Chairshot Radio Network
Created in 2017, the Chairshot Radio Network presents you with the best in wrestling and wrestling crossover podcasts, including POD is WAR, Women's Wrestling Talk, The #Miranda Show, Badlands' Wrestling Mount Rushmores, The Outsider's Edge, DWI Podcast, Bandwagon Nerds, the Greg DeMarco Show, 3 Man Weave, Five Rounds, Turnbuckle Talk, Suwama's Station, The Reaction and more! You can find these great shows each week at theChairshot.com and through our distribution partners, including podcasting's most popular platforms.
---
The Chairshot Radio Network
Your home for the hardest hitting podcasts and radio shows!
Listen on your favorite platform!
iTunes  |  iHeart Radio  |  Google Play  |  Spotify
Listen, like, subscribe, and share!
---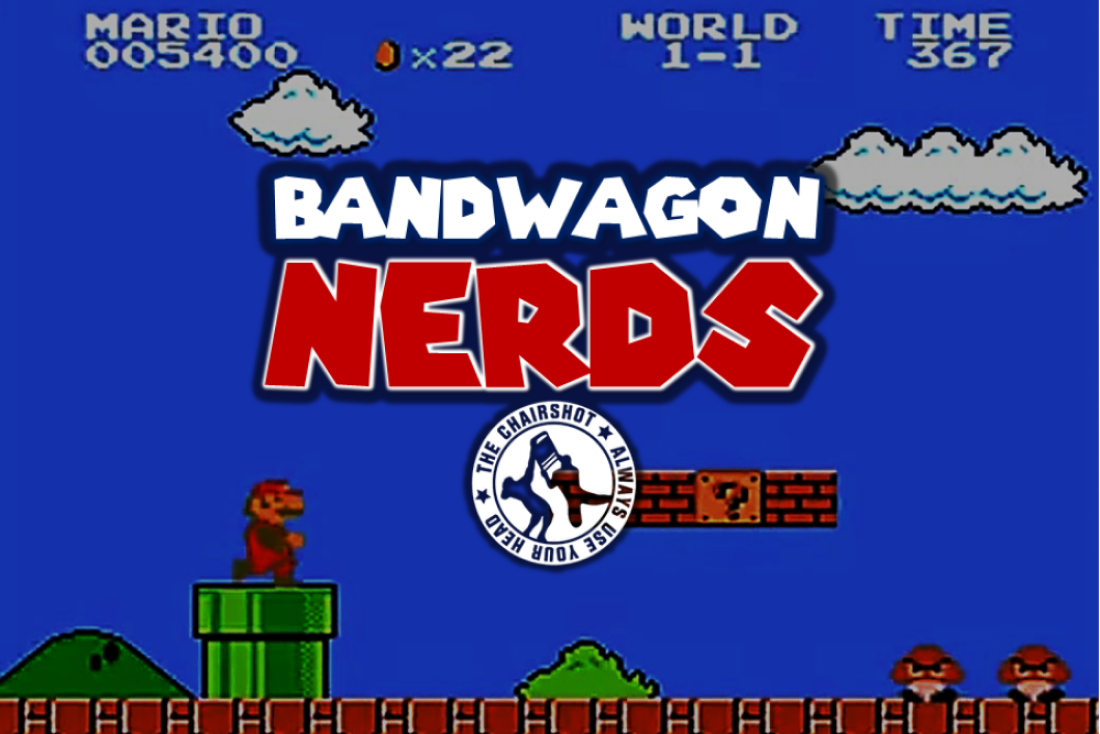 Mitchell's Hyrule Puro-Resu News Report! (4/6/21)
The Trios Division takes a hike!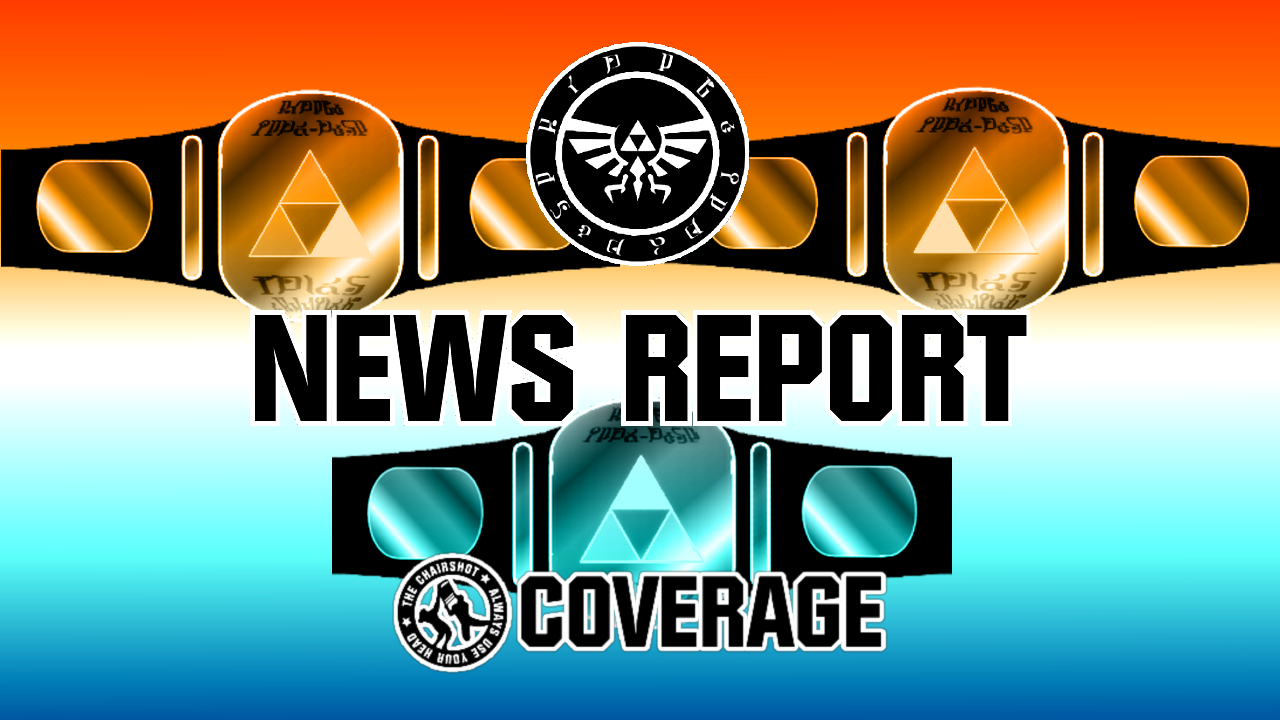 HPW has a plan for the Trios Division in May!
After the chaotic moment following the Anniversary event's HPW Trios Championship match, a decision has been made! What is in store for champions and challengers next month?
HPW announces the May event venue!
Using their various social media outlets, HPW released a video starring newest correspondent, Agitha. "Hiyo~! I'm here in front of Hyrule Puro-Resu's next location, The Great Hyrule Forest~! YAAAY~!"
"Spring is in the air and HPW is going enjoy the fresh greenery!" Agitha takes a deep breath in through her nose and sighs happily as she exhales through her mouth. "I love it!" This event will be on 5/15, and Agitha gives us a quick rundown of the coming May event's match card: The HPW Triforce Championship will be on the line as Link defends against Hilda; HPW promises to find a worthy opponent for Gold Lynel to defend his HPW Death Mountain Championship; and there will be an HPW Goddess Championship #1 Contender's match to determine Zelda's next challenger!
"But perhaps biggest of all will be a very special contender's match to determine the UnderWorld Order's first challengers! It will be a Gauntlet Match inside… THE LOST WOODS!"
"Yes, the legendary, infamous and even a bit scary Lost Woods will be the location of a HUGE match to name #1 Contenders to the HPW Trios Championships!" All the teams from the brawl after the Trios Championship match at the Triforce Anniversary event will be participants! The Desert Flowers, the Three Masters, the Ikana Royal Family's Stal-Kid, Sir Hurr & Sir Durr, the Doom Bringers, and former champions Forged By Violence will all battle for a chance at the uWo in June!
Agitha now explains the way this Lost Woods Gauntlet Match will work: The order will be determined by lottery, the two first teams will start outside the Lost Woods, and the team that scores the fall will go in to find the third entrant. Then the team to score a fall at that point goes further into the woods, takes on the fourth entrant, and again to face the fifth entrant, where the last team standing will exit the other side. "Just make sure not to get lost in the meantime~! See you then~! Bye-bye~!" Which team will have the best luck? Which team will have the strongest resolve? We'll all find out at HPW: Lost (in the) Woods!
---
My Thoughts:
Another themed event and another big gimmick match are coming! The way the Lost Woods Gauntlet match works is a bit odd, a bit convoluted, but that feels like the one way to make it work. This will be a lot of fun, though, I'm sure of it.