AJ's WrestleMania Backlash Results & Review 5/16/21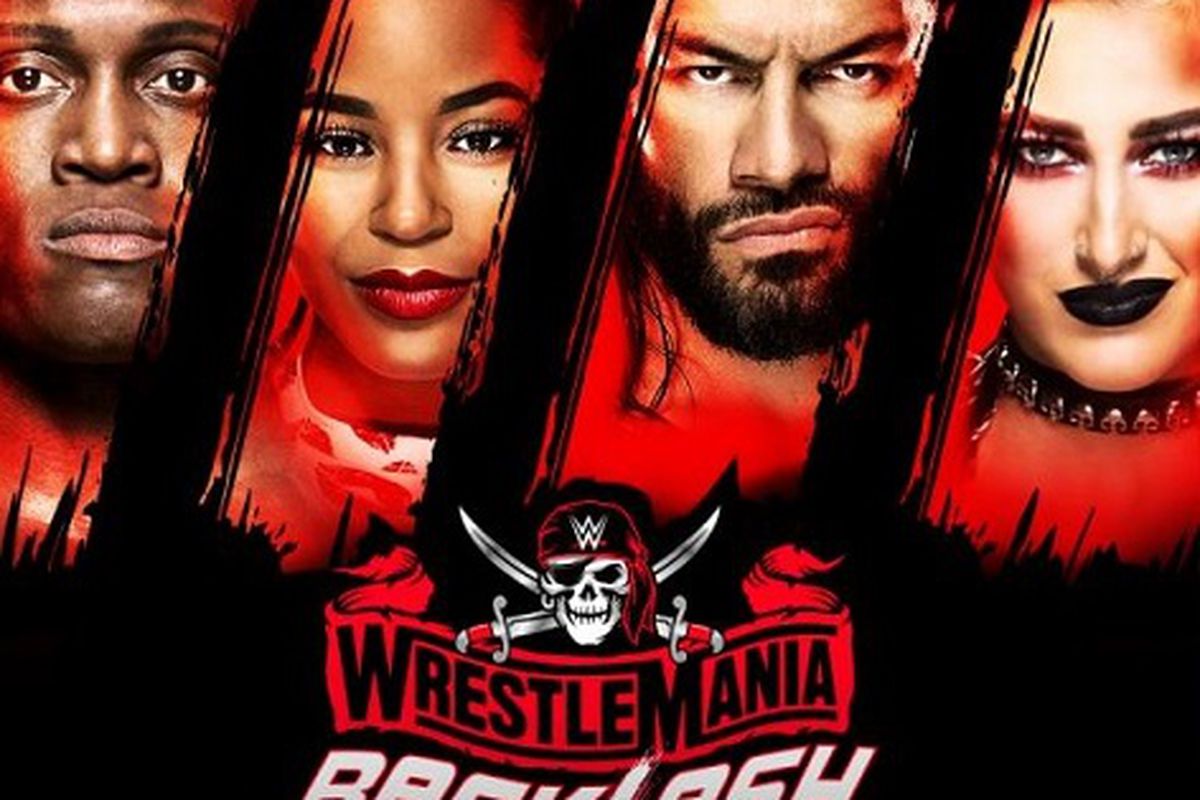 Here we go everyone, the Backlash of WrestleMania also known as WrestleMania Backlash for tonight, oh my God. I am smart.
Al lthat being said we have 5 title matches and a unique Lumberjack Match to boot so let's get the show on the road!
…and hopefully I don't get any Backlash on these bad jokes.
Results
Asuka vs Charlotte Flair vs Rhea Ripley (c) for the Raw Women's Championship – Rhea Ripley wins via Riptide – *** – TITLE DEFENSE!!
Los Mysterios vs Dirty Dawgs(c) for the SmackDown Tag Team Championships – Dominik Mysterio wins via Frog Splash – ** ¾ – TITLE CHANGE!!!
LumberJack Match: The Miz vs Damien Priest – Damien Priest wins via The Reckoning – N/A(?)
Bayley vs Bianca Belair(c) for the SmackDown Women's Championship – Bianca Belair wins via Roll-Up – ** * ¼ – TITLE DEFENSE!!
Braun Strowman vs Drew McIntyre vs Bobby Lashley (c)(w/ MVP) for the WWE Championship – Lashley wins via Spear – *** ½ – TITLE DEFENSE!!
Cesaro vs Roman Reigns(c) (w/ Paul Heyman) for the Universal Championship – Roman Reigns wins via Guillotine Choke – **** – TITLE DEFENSE!!
Review
Asuka vs Charlotte Flair vs Rhea Ripley
All three women go around, sizing each other up until Charlotte rolls out and the other two give chase and catch the Queen, removing her early before we get a WrestleMania rematch. Rhea gets the upper hand and gets rid of Asuka and we get a Backlash of WrestleMania two years ago with Rhea and Charlotte. Listen… you know I'm gonna make these jokes because adding BackLash to the end is a joke. Bear with me.
Asuka gets in the middle of it and now the match inside the ring revolves to Asuka and Charlotte as Flair gets the advantage early on until the barrage of Asuka rocks Charlotte with strikes and gets an armbar in to take it to Charlotte's arm. Rhea breaks the submission attempt and each woman gets a burst of offense in until Rhea gets the offense going and taking the Queen down. Asuka and Rhea give each other and make everything an even ground.
After back and forths and teetering for who can get the advantage, Rhea in the end hits a Riptide on Asuka, no Charlotte in sight, on the outside of the ring and we get the Nightmare retaining the championship.
Los Mysterios vs Dirty Dawgs
In the Preshow, the Dirty Dawgs punked out then took out Dominik Mysterio so Rey is going to go at it alone.
Mysterio takes incentive and attacks both guys but gets distracted by both champions. Whenever he attacks Dolph, Roode comes in to intercept and vice versa when they come in. Once the energy goes those, Rey is taking a massive beating since it's two against one. When it looked like Rey was going for a comeback but the numbers game is getting to the underdog.
Frequent tags into the champs keep causing Rey unable to mount a comeback really and it's a losing effort it seems as he gets a Wheelbarrow Fame-asser, Superkick in the outside and barely get a breath in from countering a double team attempt. Dominik comes out after that to make sure Rey can tag and get a breath but it's worrying Rey since Dominik is hurt. Roode still taking it to Rey though as Rey gets some offense started and once creating seperation from Roode, Dominik tags himself in and tries to take it to Roode hits a Spinebuster and tags Ziggler in to try to put Dominik away.
Robert Roode tries to trash talk Dominik in his corner and Dom catches Ziggler with a superkick. Roode and Rey are in now as Rey comes in like a house of fire, tags Dom back in and takes care of Ziggler so Dominik can hit (His Real Dad's) Frog Splash to give the win to the Mysterios.
The Miz vs Damien Priest
Now to clarify as to why the Lumberjacks are Zombies, it's to promote Batista's newest movie 'Army of the Dead'.
The match starts off with Miz getting freaked out by the "Lumberjacks" and runs as Damien gets attacks this time and actually fights them off. Miz plays up the fact that Zombies are… well fucking Zombies. Nobody wants to fuck with Zombies without a shotgun or Barbed Wire Bat… and gets this a different. Zombies don't typically interfere until Priest breaks a Figure Four attempt and… actually… fight the zombies… together.
Alright, I'm gonna need a beer for this one or… more. Priest gets an advantage and because Miz cleared the way for him. John Morrison actually fights off the Zombies until he gets captured in the outside. Priest lands the victory shortly after and Zombies come in to devour The Miz in the ring… Hopefully to record to be Johnny Cage.
Bayley vs Bianca Belair
Both women try to get the advantage in a waist hold but Bianca tosses out Bayley and gets the early advantage with her –ests to the longest reigning SmackDown Women's Champion. Any time Bayley slides out, Bianca gets back to her and takes it to Bayley. Any tactic that Bayley tries to use, fails until she grabs the earring of Bianca to finally take control. More and more of Bayley's hubris comes in and actually works in her favor, even puts an exclamation point with damage to the outside and attacks the back of the champ.
Bayley tries to get a pin on her and Bianca actually out powers her to the outside to kick out, getting a comeback going, using the power and speed to get an advantage for a short amount of time until Bayley takes Bianca down and hits the Macho Elbow and keeps the offense going. Bayley failed to listen to Bianca's warning of "Don't Touch My Hair" and after Bayley grabs it, does a Ripcord Rose Planter attempt and was caught slipping and was rolled up.
Drew McIntyre vs Braun Strowman vs Bobby Lashley
Lashley is trying to get Drew on his side to take down Braun Strowman and it works slightly as they hit a double suplex but we got three boy bois in there. They are going to dismantle and beat each other down. Lashley and McIntyre fight on the outside for a bit until Braun makes a massive save and takes down the two guys and takes it to Lashley inside. After Strowman beats down Lashley and Lashley tries to hit a Hurt Lock, Drew comes in and makes everything even to all again. The two former WWE Champions go to take apart Braun.
Each men gets heavy offense and finally with triple threat ruling, weapons are used and even the outside from them. Braun brings the steps in and once Braun is out of the picture, Drew actually threw Lashley into the LED Board. As Drew looks on from the carnage, Braun comes in and takes Drew down and brings him back to the ring for more damage. Braun does some massive damage to Drew until Braun goes to the well too many times with the splash.
After Drew hits a Claymore from reversing a Running Powerslam, Lashley returns to remove Drew and hits a Spear onto Braun for the win.
Cesaro vs Roman Reigns
Both men try to get the upper hand on the other in a collar and elbow and still no true advantage from either man, even making Roman powder out to get a breather and confidence back as he comes back in and gets the fight started on Cesaro but, Cesaro catches Roman with the Springboard European Uppercut and both start to fight each other over and over. Cesaro does something to his arm when getting dumped out and Roman takes firm control of the match now, taking the power out of the challenger and taking it to Cesaro more and more.
Cesaro gets an advantage and sees an opening, actually making the Tribal Chief stumbles and even fall with a Sharpshooter attempt, a suicide dive and crossbody to take down Roman. Roman keeps going to the arm of Cesaro though, cutting the power and even putting more fight to Cesaro and damaging his arm but Reigns keeps damaging it, even shit talking Daniel Bryan with the look at the hard cam. Roman now, getting his hubris going and costs him after a while as Cesaro gets back into it with Upperkicks and strikes, ignoring his arm damage as much as he can and deadlift suplexes Roman from the apron to the ring for a two.
Cesaro keeps going to his offense that he is used to and once he goes for the Neutralizer, his arms gives out and it's back to Roman's Empire but he took too much time. Roman gets caught though with the Uppercut and gets caught into a Sharpshooter and into a Crossface. Roman breaks out of the crossface and starts wailing on Cesaro, landing a sit out Powerbomb and continues the punching assault and gets his Guillotine in again and Cesaro tries to use his strength once again to break the Choke but to no avail as it's locked back in for the end.
Aftermath: Jey runs out after the match to acknowledge Roman as his chief and takes down Cesaro even further after the match. As Jey ascends to the top for a splash, Seth Rollins comes out, laughs with Roman and beats down Cesaro as well now with his Peter Max suit and beats Cesaro down with a chair on the outside to basically break the arm of Cesaro and stomps on him to close the show.
Overall Score: 6.5/10
Well… all the right people won in my opinion. Rhea, Los Mysterios, Roman in a damn good match… I can't really complain. I mean I can with the Zombie thing because it was basically a giant ad for Batista's new movie but… it could write off Miz for being in a movie of his own… maybe one with a Hollywood Role perhaps because he's awesome? I'm saying he should be Johnny Cage in the second Mortal Kombat movie, argue among yourselves on that, I'm not breaking on that opinion.
Everything else though was solid enough. The only gripes I have is some of the matches went on too long but they had a condensed card for once and the fact that Seth Rollins came in to take apart Cesaro more. That was just… off to me but I have been watching a company actually shit on themselves product wise every week for a month so… I can't really judge on an awkward ending.
Mitchell's WWE Royal Rumble Results & Report! (1/28/23)
Three! Two! One! BRRR!!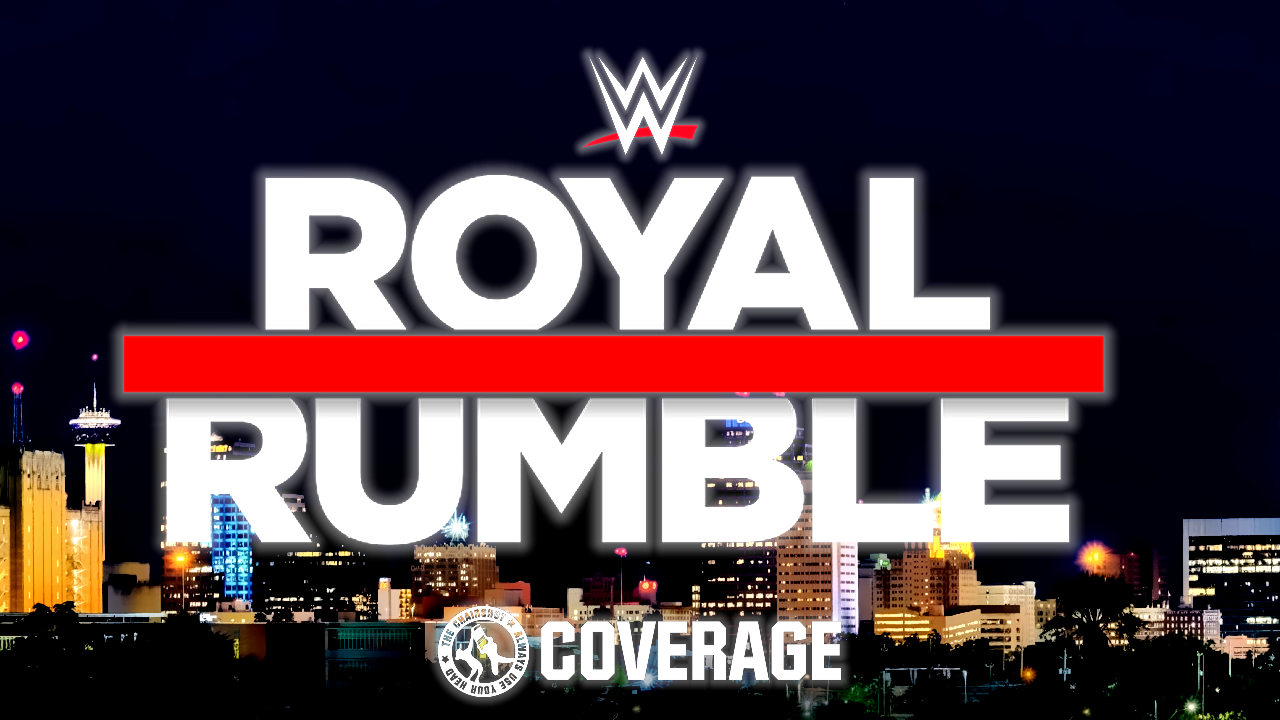 The Road to WrestleMania goes through San Antonio!
The Royal Rumble can change a superstar's career, but Kevin Owens looks to change everything by dethroning Roman Reigns as Universal Champion! Will the Prizefighter #StunTheWorld?
OFFICIAL RESULTS
2023 Men's Royal Rumble match: Cody Rhodes wins and will challenge for the Universal title at WrestleMania 39.
Pitch Black Match: Bray Wyatt VS LA Knight; Wyatt wins.
Raw Women's Championship: Bianca Belair VS Alexa Bliss; Bianca wins and retains the title.
2023 Women's Royal Rumble match: Rhea Ripley wins and will challenge for a title at WrestleMania 39.
Undisputed WWE Universal Championship: Roman Reigns w/ Paul Heyman & Sami Zayn VS Kevin Owens; Roman wins and retains the title.
PLAY BY PLAY
It's the Royal Rumble Kickoff Show!
Join Kayla Braxton, Kevin Patrick, Jerry "The King" Lawler, Booker T and Peter Rosenberg in discussing, analyzing and predicting all the action going down tonight!
WWE shares some of the women drawing their Rumble numbers.
Lacey Evans doesn't like what she got. But Zelina Vega has a good feeling. And she was right! Will that mean we see La Muneca late in the game?
WWE shares Roman Reigns' segment from The Tonight Show with Jimmy Fallon.
Fallon remembers predicting Roman Reigns would be on his show with two belts, and it's true! Fallon brings up Roman's match with Kevin and Roman laughs. Roman's strategy: don't change anything. Roman's been beating up Kevin for years now, it's practically on his to-do list. The Tribal Chief got big applause for that, will things go to plan?
The Bloodline sits in their suite.
Sami Zayn finds himself literally in the middle of everything. Roman says he can't wrap his head around this. The Tribal Chief gives an order, the Bloodline follows those orders. "It's a recipe that works. That's why we are where we are today. I give you one instruction for the week and you can't follow instructions." Why does Roman have to continually tell Sami things like he's a child? Smarten him up, PLEASE! Sami stammers, but Jey says it was his doing. What? Sami doesn't want Jey to continue but Jey explains, Adam Pearce kicked the Usos out. Jey tried calling Roman but he was on the private jet or at the Fallon show, he couldn't get a hold of Roman.
So Jey called an audible and called Sami to the building. Sami answered the call for the Bloodline, he was there for the family. For the family? Yeah, Uce. The whole time. Sami was there for the Bloodline? Yes, Uce. Why are we even talking about last night? This is about tonight. Fight night! Sami breathes easy and Roman says the game plan is easy: win. NO one goes out there with Roman. Tonight's a big night. Except Sami. He's with Roman the whole night. Really? Yes, all the way to the ring. Roman will show Sami the way. The Usos stay in the back, tonight is Sami's night. Is Sami ready? Yeah, let's do it! Another close call, but just how thin is that ice Sami's walking on?
JBL interrupts Greg Miller.
JBL talks trash the host of This is Awesome, on the show This is Awesome, and on Greg's home state of Missouri, but then says he doesn't mean any of it. If Greg were drowning, JBL would throw a bowling ball. JBL claims he has changed, saying he's no longer the guy who did those horrible things to Eddie Guerrero, Rey Mysterio and The Undertaker. He wants to be friends with Greg! Here's a pie. To the face! Greg says this was not awesome. But make sure to watch the new episode of This is Awesome on Peacock and the WWE Network! This time, it's of course all about the Royal Rumble!
The golden WWE title belt is spotted!
And "Fluffy" Gabriel Iglesias joins the panel with it. He feels bad, he must be taking some kid's Make-A-Wish. Fluffy's pick for the Rumble is Rey Mysterio! Kayla outs him as saying Dominik before but he says that's putting words in his mouth. Dom deserves a spanking. Peter asks what Fluffy would do to Dom if he was his son. One, taken off the will. Two, no more invites for the holidays. Kevin Patrick says the world is jelly of Dom cuz he's got Rhea Ripley. But last year we got Bad Bunny and Johnny Knoxville. Is Fluffy in the Rumble? Fans want to see that! The only way to find out is to watch. Booker likes that answer.
Kayla segues to more number drawings. Kofi feels out the vibes, and he picks. He likes what he got. Santos Escobar looks even happier. And Drew McIntyre… Well, doesn't seem that good. Wade Barrett says he got some BAD NEWS then. Will the Scottish Warrior be able to defy the odds and take it all?
Country Rock artist Hardy speaks.
"I know what it's like to make a name for yourself. To be on the road, grinding. Success don't come easy. You gotta fight for it. Better hope you got ice in your veins. Because if you freeze under pressure, it could be lights out. This gig is all about seizing the moment. So tonight, when opportunity knocks on your door, man, you kick that thing down! Thirty men, thirty women, two epic matches, the winners punch their tickets to the Grandest Stage of Them All, WrestleMania. So, who's ready to make a name for themselves? Let's RUMBLE~!"
PAT MCAFEE IS BACK!
Corey Graves is upset with Michael Cole but this is a complete surprise to Cole, too! Pat is dressed to impress, because he's joining commentary! And he tells Corey to "SUCK IT!" San Antonio chants, "Welcome Back!" and McAfee thanks them as he gets his chair.
2023 Men's Royal Rumble match!
The tradition continues, and it opens the night! In a field of thirty, only one can punch their golden ticket to WrestleMania! Who survives in San Antonio to headline in Hollywood?
The first man out is… GUNTHER! Der Ring General is still WWE Intercontinental Champion, but is he going to go after the Universal title on top of it? And second out is… SHEAMUS! The Celtic Warrior is the birthday boy, but he's got his work cut out for him going up against a familiar foe. The bell rings and the two circle. San Antonio fires up as the two step to each other. They talk a little smack, and then the haymakers start flying! They go back and forth, forearm for forearm, but Sheamus gets the edge. Sheamus whips, Gunther reverses and they RAM shoulders! Gunther kicks low, runs, but Sheamus RAMS him back!
Sheamus throws hands, runs, but into a CHOP! Gunther goes to dump Sheamus! Sheamus holds on, claws at Gunther's face, and saves himself. Sheamus throws hands, then hits an IRISH CURSE BACKBREAKER! Sheamus goes to dump Gunther now! Gunther holds on, even as Sheamus throws knees. The countdown is here already, Sheamus and Gunther still scrap, and third out is… THE MIZ! The Hollywood A-Lister just found himself in a kaiju movie so he takes his time swaggering to the ring. Miz stays back as Sheamus rushes the ropes. But then Gunther blindsides him! Sheamus holds on, but Miz helps out!
Sheamus BOOTS Miz away, ROCKS Gunther, then hurries back in. But then Miz grabs at Sheamus! Sheamus elbows Miz away and then Sheamus goes out under the ropes! Sheamus chases Miz into the ring, and into a CHOP from Gunther! Sheamus CLOBBERS Gunther, then ROCKS Miz! Sheamus fires hands, but Gunther turns him around. Sheamus dodges and the CHOP hits Miz! Sheamus swings but Gunther dodges and Miz takes the body shot! Gunther BOOTS Sheamus, hauls him up, but Miz goes after them both! The countdown is back, and fourth in is… The New Day's KOFI KINGSTON!
Kofi rushes in as Gunther throws hands on Miz. Kofi climbs the steps, climbs the corner, then SUPER CROSSBODIES Gunther and Miz! DROPKICK for Sheamus! LEAPING LARIAT for Miz! Spin and RUSSIAN LEG SWEEP for Gunther! Fans fire up with Kofi, he runs for the NEW~ DAY~ DOUBLE BOOM DROP! Fans fire up as Kofi claps. But Sheamus blocks the spin to hoist Kofi! Kofi slips away and to safety! Sheamus nods, that was good stuff. Gunther kicks Miz, Sheamus kicks Gunther, Kofi CLUBS Miz but Gunther and Sheamus throw SLAPS! Fans rally for Kofi but Miz fights as Kofi lifts him.
The countdown is back and Kofi hits an SOS on Miz! The fifth man in is… JOHNNY GARGANO!? Johnny Wrestling's all healed up and ready to go! Gunther throws knees on Sheamus, Miz fights with Kofi, but Gargano slingshot SPEARS Kofi! ENZIGURI for Gunther! Miz tosses Gargano but Gargano skins the cat! GAMANGIRI for Miz, into the ONE FINAL BEAT! Gargano has the fans fired up as he brings Miz up. Gargano throws Miz out but Miz holds onto the ropes! Miz swings, but Gargano hooks him in the ropes! Sheamus walks over, Gargano lets Sheamus handle Miz. BEATS OF THE BODHRAIN! Fans count along, Sheamus goes past TEN to TWENTY-FIVE!!
Gargano SUPERKICKS, Miz holds on! Sheamus BROGUES Miz and ELIMINATES him! Gunther goes after Sheamus but Gargano and Kofi help Sheamus! The countdown is back, number six is… XAVIER WOODS! Kofi has back-up while Gargano goes after Gunther. Woods and Kofi go after both of them, then they work together on Gunther. Double wrench, double kick, DOUBLE BULLDOG! DOUBLE DROPKICKS for Sheamus! Woods snapmares Gargano, Kofi PENALTY KCIKS! Woods SLIDING LARIATS! Kofi SPLASHES! Woods MACHO ELBOW DROPS! Fans fire up for ya bois, but then they look at each other.
Woods and Kofi wonder if it's the right time. They put up their dukes, and then Kofi wheelbarrows! Woods blocks, and they just booty bongo! But Sheamus mule kicks Woods! Gunther ROCKS Kofi! The big men go to throw out the New Day but the countdown is back! Number seven is… KARRION KROSS! Doomsday has come to the Rumble! Kross storms right to the ring while the New Day mugs Sheamus and Gunther stomps Gargano. Kross CLOBBERS Woods, and again, and then BOOTS him! Kofi runs in, but into an EXPLODER! Kross runs to clothesline Woods in the corner, then elbow and ROLLING ELBOW!
Woods wobbles, but Gunther CHOPS Kross! Gunther brings Kross up but Kross throws a forearm. Gunther hits back, they brawl, Kross BOOTS! Gunther BOOTS back! Kross ROCKS Gunther, Gunther CLOBBERS Kross! But Kross gets up to hit an EXPLODER! Sheamus storms up on Kross to fire forearms with him! Fans fire up while New Day go after Gargano and Gunther. Kross bumps Sheamus off buckles, hoists him up, but Sheamus fights back. The countdown is back and number eight is… "SHOOOOSH~!" Master Chad Gable! Fans boo as Gable hurries to the ring. Kross holds onto ropes, the New Day focus on Sheamus.
Gargano hits Woods, then swings on Gable. Gable throat chops Gargano and says "SHOOSH!" He does the same to Kofi, then he hits an EXPLODER on Gargano! And then an EXPLODER on Kofi! Woods ROCKS Kross, Gargano spins Woods around. Woods pries the waistlock, and he tells Gable to "SHOOSH~!" They circle, grapple, Woods sprawls and floats but Gable slips out. Fans fire up for this exchange while Sheamus dumps Gunther out! Gunther holds on, Kross fights off Gargano. Gable hits a GERMAN SUPLEX on Woods! The countdown is back and number nine is… DREW MCINTYRE! The Scottish Warrior is here!
McIntyre won back in 2020, he surely wants to win another one! McIntyre storms in, he CLOBBERS Gable, OVERHEAD Belly2Belly suplexes Kofi, then gives an OVERHEAD suplex to Woods! GLASGOW KISS for Gable! INVERTED ALABAMA SLAM for Gargano onto Gable! Kross fires hands but he get a GLASGOW KISS! And a CLAYMORE! Kross goes up and out, McIntyre ELIMINATES him!! But then Gunther stares McIntyre down! They brawl, CHOP back and forth, and Gunther swings but into a FUTURE SHOCK! The countdown is back, number ten is… SANTOS ESCOBAR! The Emperor of Lucha makes his Rumble debut!
Escobar runs in to RANA Woods! And he KNEES Kofi! Gable knees Escobar and whips but Escobar blocks. Gable throws forearms, whips, but Escobar goes up and out, and Sheamus hits him! Sheamus grabs at Escobar but Escobar fights free to GAMANGIRI! Escobar goes up to CROSSBODY Gable! McIntyre and Woods are after Gunther but he resists. Escobar BOOTS Gargano, but Gargano GAMANGIRIS back! Gargano and Gable try to throw Escobar out but Escobar fights. Woods and McIntyre mug Gunther, Gable CHOPS Sheamus. McIntyre grabs Gable and Sheamus CHOPS him! The countdown is back, number eleven is… ANGELO DAWKINS!
Fans fire up as the Curse of Greatness has his Spurs jersey on to ELBOW Escobar! Dawkins ROCKS McIntyre, ELBOWS Sheamus, and CYCLONE SPLASHES McIntyre! GAMANGIRI! Dawkins gives Gable the SILENCER! Sheamus dumps Woods out, but Woods keeps a foot up! Woods slips in, McIntyre and Gunther brawl. Gunther CHOPS Woods, UPPERCUTS Kofi, then throws Woods! Woods holds on again, Kofi runs in but is sent into Woods! Woods and Kofi have some Silly String, but then Gunther BOOTS and ELIMINATES Woods! Kofi goes after Gunther but Escobar attacks Kofi!
Escobar whips, follows, then catches Kofi to toss him, but only to get DOUBLE STOMPS! Gunther throws Kofi! Gunther BLASTS Kofi off the apron and Kofi hits an armchair! It is a rough landing but is Kofi out? The Celtic Connection mug McIntyre while the countdown is back. HERE COMES LESNAR!!! The Beast is a two-time winner, will he join Stone Cold as a THREE-TIME winner? McIntyre, Sheamus and just about everyone is ready as Lesnar enters! Lesnar takes on the Celtics at the same time! TACKLE for Sheamus, GERMAN SUPLEX for McIntyre! GERMAN SUPLEX for Sheamus! GERMAN SUPLEX for Dawkins!
Escobar leaps, into Lesnar's arms! And he gets a FALL AWAY SLAM out of the ring! Lesnar ELIMINATES Escobar, then TOSSES and ELIMINATES Dawkins! Gable hops on for a SLEEPER, but Lesnar TOSSES him to ELIMINATE Gable!! And another GERMAN SUPLEX for McIntyre! A BELLY2BELLY for Sheamus! But Gunther is up! Fans are thunderous as two of the biggest men ever meet! The countdown is back, number 13 is BOBBY LASHLEY! Gunther brawls with Lesnar but the All Mighty is coming for Lesnar! Lesnar OVERHEAD suplexes Gunther, but Lashley SPEARS Lesnar!! Gargano staggers up into a SPINEBUSTER!
SPEAR for McIntyre! SPEAR for Sheamus! URENAGE for Gunther! But Lesnar fireman's carries Lashley! Lashley slips off, shoves, and LARIATS Lesnar out!! Lashley ELIMINATES Lesnar!! San Antonio is going nuts as Lesnar himself is rather stunned. Forget that, Lesnar is PISSED! He tears apart the desk but Lashley dares him to do something about it. The countdown is back, and number 14 is… BARON CORBIN! JBL's protégé is here, but Lesnar SMASHES the desk with steel steps!! Lesnar then BLASTS Corbin! And then gives him an F5 to the floor!! Lesnar is fuming while the Celtics are after Lashley.
Gunther CLUBS Sheamus, CHOPS him, and security rushes out to stop Lesnar. COMPLETE SHOT for McIntyre from Lashley, but Lesnar grabs a ref! Lesnar TOSSES the ref over the barriers! Adam Pearce and officials are trying to stop Lesnar but he storms off through the crowd. The countdown is back again, number 15 is… SETH ROLLINS! San Antonio sings the Visionary's song, "OH~ OHH~ OHHH~!" Rollins sees Corbin is just now getting up at ringside. Rollins drags Corbin up and into the ring, then SUPERKICKS him! Corbin staggers, Rollins clotheslines Corbin out and ELIMINATES him! Pat loves that!
Fans sing while Sheamus and Rollins start throwing forearms! The countdown is back, number 16 is… OTIS! Gable's number one guy is here but a little late to help Gable. Gunther has McIntyre and Lashley after him, Rollins throws hands on Sheamus but Sheamus resists the lift. Otis slips in, Gargano runs at him, but into a WRECKER ELBOW! Otis scoops McIntyre, WORLD'S STRONGEST SLAM! Sheamus runs in, into an EXPLODER! Otis rips his shirt off and fans fire up! SPLASH for Gargano, and Gargano falls over. Otis sees that, and he decides to rev up the CATERPILLAR! The countdown is back, and number 17 is… REY MYSTERIO!
Fans fire up as the King of Lucha is here, but will he last another hour like he did back in the day? Wait, where is he? Rollins SUPERKICKS Lashley, then SUPERKICKS again! Rollins CHOPS Gunther, clotheslines Lashley, then ELBOWS Gunther! Rollins LARIATS Lashley, but runs into a scoop! Lashley pops Rollins around but he slips off to shove and ELIMINATE Lashley!! Fans are stunned! Otis dodges Gunther, runs in and SPLASHES! Gunther is down, here comes the CATERPILLAR! Otis thrusts the hips, then climbs up. But Gunther goes after Otis! The Celtics go after everyone, and the countdown is back! Number 18 is… DOMINIK Mysterio!
Wait, Dom is wearing one of his dad's masks! Did Dom do what we think he just did?! Did he take out his dad to keep him out of the match!? Wait, the Celtics DUMP and ELIMINATE Otis!! Gargano and Rollins throw hands while the Celtics stomp Gunther. Dom takes his time going to the ring, Rollins BUCKLE BOMBS Gargano! Dom taunts everyone in the ring, does some jumping jacks, but Sheamus is watching him. Gunther and Rollins brawl, McIntyre goes after Gargano. Gunther throws Rollins out but Rollins holds onto ropes. Rollins kicks Gunther away while Gargano resists being thrown out!
Dom finally slides in and fires hands on Sheamus! But they don't do much. The countdown is back and number 19 is… ELIAS! The Drifter is here, Corey is annoyed and Pat is fired up! Rollins stomps Dom, Sheamus helps out. Elias slides in, stomps Gargano, then stomps McIntyre. Elias BLASTS Rollins and then fires off on Gunther. Elias has his guitar, SMASH HIT on Gunther! But then he gets a DOUBLE HEADBUTT from the Celtics! Sheamus and McIntyre aim from the corners, BROGUE-MORE!! They TOSS and ELIMINATE Elias! Gargano fires off hands on Dom, the Celtics mug Rollins, and the countdown is back. Number 20 is… FINN BALOR!
Dom has back-up now as the Prince of Judgment Day heads to the ring. Rollins holds onto ropes as Sheamus and Gargano go after him. SLINGBLADE for McIntyre! Finn throws McIntyre but Sheamus makes the save. Sheamus scoops Finn but Finn turns that to an ELBOW DROP DDT! Finn tackles Rollins, throws hands, but Gargano SUPERKICKS Finn! Gargano throws Finn out but Finn holds on! Gargano throws hands, runs, but Dom CLOBBERS Gargano! Dom whips Gargano up and out, but Gargano holds on! Gargano ROCKS Dom, ROCKS him again, then slingshots, into a SHOTGUN from Fin!
Finn and Dom TOSS Gargano and ELIMINATE him! Judgment Day and Celtic Connection stare down, then the brawl is on! The countdown is back, and number 21 is… BOOKER T?!?! San Antonio fires up as Booker gets his "invite!" Booker swaggers up, Finn runs in but gets a LEG LARIAT! Dom fires hands but Booker reverses to a HOOK KICK! Finn runs in, into a BOOKEND! Fans are thunderous, for the SPINAROONI~! Sheamus can't help but smile. But Gunther TOSSES Booker out and ELIMINATES him! Boo! But Gunther is cornered by the Celtics again. The countdown is back, and number 22 is… DAMIAN PRIEST!
The Judgment Day is at full power as the Punisher is here! And he CLOBBERS Sheamus! And CLUBS McIntyre! Priest fires off on McIntyre but Gunther is after him. Priest ROCKS Gunther, then helps Dom up. Judgment Day mugs Rollins, then they mug Gunther! And then they mug Sheamus! And then they split off, BACKBREAKER and LEG DROP for Rollins! The countdown is back and number 23 is… MONTEZ FORD! Fans fire up as Ford also has his Spurs jersey on. Judgment Day still beats down everyone else, and McIntyre resists Priest throwing him out, Ford GAMANGIRIS Finn, and TOSSES Dom!
Dom holds on but Ford DECKS him! Dom clings to the ropes, Priest runs in but Ford dodges! CHOP! Ford then ENZIGURIS and Priest staggers! Finn kicks low, whips, but Ford skins the cat! Fans fire up and Ford says his prayers. Finn runs in but into a haymaker! Priest choke grips, to SOUTH OF HEAVEN Ford out and ELIMINATES him! Fans boo and Ford is annoyed, but now Judgment Day has all their enemies going after them! The countdown is back, number 24 is… EDGE!! The Rated R Superstar has made the R stand for ROYAL RUMBLE! Judgment Day freaks out as Edge storms up! SPEAR for Priest! SPEAR for Finn!
Dom DROPKICKS Edge onto ropes! Dom dials it up, into a SPEAR!! Edge TOSSES Priest to ELIMINATE him! Edge TOSSES Finn to ELIMINATE him! Edge glares at Rollins and fans are thunderous! But then Dom ROCKS Edge, whips, but Edge reverses! Dom tumbles out, Finn and Priest drag Edge out to ELIMINATE him! Fans boo as the Judgment Day beat down Edge! Rollins stomps Dom, the countdown is back, and number 25 is… AUSTIN THEORY! The Now of the WWE is now in the Rumble. Dom clings to ropes as Rollins tries to kick him out. Edge CLOBBERS Priest and Finn at the ramp!
Fans fire up as Edge chases Finn down! Edge CLOBBERS Finn, ROCKS Priest, the brawl continues to the dugout! But then Rhea Ripley CLOBBERS Edge!! BUT HERE COMES BETH!! The Glamazon is back from that Con-Chair-To, and she's bringing hell with her! Rhea runs in, into a SPEAR!! Security rushes back out, they get Edge & Beth to leave. Rollins brawls with Gunther but Theory runs in. Theory ELBOWS Rollins, and he hits an AOI SHOUDO! Theory DECKS Dom, throws hands on McIntyre, but the countdown is back. Number 26 is… OMOS! The Nigerian Giant has MVP by his side, and MVP has already guaranteed a win.
Omos storms his way up to the ring while the Celtics mug Theory. Dom and Rollins brawl, but the Celtics turn their attention to Omos. They fire off hands but he shoves them back to DOUBLE LARIAT! "This is MY house!" Omos BOOTS Theory, BOOTS Dom, then scoops Theory for a SIDEWALK SLAM! Omos talks more trash, but Gunther is back! CHOP! And CHOP! Omos scowls and choke grips! OMOS CHOKE SLAMS GUNTHER!! The countdown is back, and number 27 is… BRAUN!! The Monster of All Monsters is here, and he knows what it takes to topple a giant! Omos goes after Rollis, McIntyre goes after Omos but Omos HEADBUTTS back!
Braun and Omos lock eyes now, and fans fire up! Braun gets the fans even more fired up, but Omos pie faces Braun! Braun ROCKS Omos, Omos ROCKS Braun, they brawl with haymakers and forearms! Braun throat chops then ROCKS Omos! But then Omos shakes his head. Omos swings, Braun dodges, and Braun LARIATS Omos up and out to ELIMINATE him!! So much for MVP's guarantee! Braun then ROCKS Gunther, stomps Theory, and RAMS into Rollins! Braun lifts Rollins, Theory tries to get away from the Celtics, and Gunther has Dom! Dom holds on, Theory gets away but only to run into Braun!
The Celtics are after Rollins while Braun TOSSES Theory! Braun BOOTS Gunther, DECKS Dom, and the countdown is back. Number 28 is… RICOCHET! The King of Flight is here, backing up his tag partner in Braun. Of course, this is every man for himself, will they work together? Braun coordinates with Ricochet, RAILGUN to Dom! ENZIGURI on top! Theory lariats Braun but Braun dodges budge! Braun ROCKS Theory, Ricochet DECKS Theory, and the tag partners chest bump. But then the Celtics RAM Braun into Ricochet! They go after the Monster, but he shoves back! Double choke grips, but they slip free to dump Braun out!
Braun holds on, Gunther lurks. Braun stands up, but he gets DOUBLE BEATS OF THE BODHRAINS! Gunther HEADBUTTS McIntyre and TOSSES him! McIntyre holds on but Gunther is after him! Sheamus KNEES Gunther and saves McIntyre! Rollins is after Theory, Ricochet is after Dom. ROLLING SENTON for Gunther! Theory is on the apron but Rollins throws hands. Theory shoulders in and steps back into the ring. Gunther puts Sheamus on the apron but Sheamus holds on. McIntyre ROCKS Ricochet, Gunther CHOPS Sheamus! McIntyre saves Sheamus now! McIntyre ROCKS Gunther, but Gunther DUMPS them both out! DOUBLE ELIMINATION!!
Fans boo as the Celtic Connection realizes what happened. The countdown is back, number 29 is… LOGAN PAUL!?! The ImPAULsive Influencer is back, fired up to have another big moment! Logan runs to the ring, ready to take on anyone! All the others see the spotlight hog, and they all MUG Logan Paul! Fans love it! Ricochet drags Logan up to throw him out! Logan lands on the apron, shoulders into Ricochet, then slingshots in to BUCKSHOT! But Gunther CHOPS Logan, gut wrenches, and lifts him onto the ropes! Logan holds on, KICKS Gunther, and gets back in. But now he stares down Braun!
Fans fire up as Logan grins. Braun swings, Logan dodges and fires off body shots! Braun ROCKS Logan back, scoops him, and hits a MONSTER SLAM!! Ricochet adds a STANDING SHOOTING STAR! Braun tosses Logan out but Logan stays on the apron. Number 30 is finally here, and it just has to be… CODY RHODES! The American Nightmare promised he'd return, and it has come true! Cody even gets pyro! Cody slides in and he CLOBBERS Theory! CLOBBERS Dom! Kicks and UPPERCUTS Braun! Theory fireman's carries, Cody slips off and dodges to springboard, CODY CUTTER!! Off comes the weight belt! Free souvenir for a fan!
Dom kicks Cody, reels him in, and suplexes! Uno amigo! Dom suplexes again, Dos Amigos! Fans boo as Dom gives us Latino Heat! THREE AMI- NO, CROSS RHODES!! Cody TOSSES and ELIMINATES Dom!! But Braun gets Cody for a MONSTER BOMB! Gunther scoops Braun!? For a LAST SYMPHONY! But Ricochet hits a RUNNING SLICED BREAD! Theory hits a kick and a toss on Ricochet but he holds onto ropes! GAMANGIRI! Ricochet and Logan are across the ring from each other, they talk some trash, and they both springboard for DOUBLE FLYING LARIATS!!! Fans lose their minds over that one!
Cody drags Ricochet up to toss him! Ricochet holds on, "This is Awesome!" as Cody goes after the hands. Braun makes the save for his tag partner, but Cody dumps Braun out! Cody ELIMINATES Braun!! Ricochet body scissors Cody but Cody fights back! They brawl at the ropes, Theory CLOBBERS Ricochet to ELIMINATE him! We have our final four! Cody fires off on Theory while Rollins and Gunther catch their breath. Cody climbs up to rain down hands on Theory, and he goes all the way to TEN! Rollins elbows Gunther, Cody drags Theory up. Cody whips Theory to a corner, Theory reverses! Cody goes up and out, shoulders back in and slingshots to sunset flip!
Cody lets Rollins CURB STOMP Theory!! Theory staggers, Cody clotheslines and ELIMINATES him!! The irony that Cody and Rollins worked together! And they stare down, but also look at Gunther. Rollins asks how the pec feels. Cody isn't gonna steal the spotlight from Rollins twice! Fans sing and Rollins wants Cody to listen. They circle, but Gunther CLUBS Rollins! Gunther ROCKS Cody, CLUBS him, but Rollins and Cody work together to mug Gunther! They mule kick, UPPERCUT, and then PEDIGREE! And then Cody hits a PEDIGREE! Rollins is annoyed but he and Cody circle again as fans fire up!
Rollins and Cody throw hands, but Gunther has the new ironman record, surpassing Rey Mysterio's 62 minutes! Cody jabs, flips, flops 'n' flies, but Rollins ROCKS him first! Rollins and Cody fires off, Rollins swings but into a CROSS- NO, Snapmare! CURB- NO, Cody dodges! Rollins blocks a kick to SUPERKICK! Cody is on the ropes, Rollins wants him to come back. Kick and underhooks, but LOGAN is back?! Logan TOSSES Rollins out to ELIMINATE him!! Logan was never out but he just took out Rollins!! Fans boo and Rollins is stunned. Logan is now part of the final three, soaking up the heat.
Logan stomps Gunther, then stomps Cody. Logan says he's going to WrestleMania, but Cody gets him for a CROSS RHODES!! Cody TOSSES and ELIMINATES Logan!! Gunther, the number one entry! Cody, the number 30th! Fans are electric as American Nightmare and Austrian Anomaly square off! Cody waistlocks, Gunther elbows and CHOPS back! Gunther whips corner to corner but Cody goes up and over. Cody ROCKS Gunther with haymakers, but Gunther CHOPS again! Gunther scoops, Cody slips free and fires off hands! Gunther CHOPS again! Cody goes to a corner, Gunther CHOPS him again!
Cody staggers but fans rally up! Gunther CHOPS again! Cody drops to his knees, has blood in his mouth, but Gunther UPPERCUTS him! Gunther runs in, but Cody dodges! Gunther ends up on the apron, Cody hits a DISASTER- LARIAT from Gunther!! Gunther steps back in, then he storms up on Cody. Gunther CLUBS Cody in the chest, but Cody throws body shots! Cody throws hands and CHOPS, but Gunther scoops to put Cody on the top rope! Gunther BENDS Cody, then CHOPS him! Then stands on the corner to STAND ON CODY!! Cody falls to the apron! Cody holds on as Gunther stomps him!
Gunther drags Cody up but Cody shoulders into Gunther! Cody CLUBS Gunther, climbs up top, but Gunther CHOPS him! Gunther climbs up after Cody, to CLUB him on the back, and then reel him in. SUPER BUTTERFLY SUPLEX!! Both men are down but Gunther forces himself up. Fans rally and Gunther KICKS Cody down! Fans rally for Cody but Gunther pie faces him. Cody fires up and fans fire up with him! Cody eggs Gunther on, they CHOP and CHOP! Cody kicks, RHODES UPPERCUTS, then CODY CUTTERS! Cody LARIATS but Gunther lands safe on the apron! Cody grits his teeth, storms up on Gunther, and fans are thunderous!
Gunther ROCKS Cody, steps in, but into a DRAGON SCREW! Gunther wobbles, Cody fires off forearms! Cody throws body shots, puts Gunther's legs in the ropes, and fans fire up! Shoutout to big brother Dustin, with the deep breath and SHATTERED DREAMS!! Gunther falls but Cody drags Gunther up. Gunther CHOPS, Cody ROCKS Gunther, then Cody rolls, only for Gunther to SHOTGUN him down!! Gunther drags Cody up, GENERAL BOMB!! Gunther sputters, he drags Cody up again, and TOSSES Cody! But Cody holds on! Gunther is after Cody's arms, he CLUBS Cody on the shoulder, then stands Cody back up.
Gunther CHOPS Cody but Cody CHOPS back! Gunther CHOPS again, and wraps on a SLEEPER!! Cody endures, fights the hold, and he drags Gunther over the ropes to join him! Fans are going nuts but Gunther lets go! Gunther is back in the ring but Cody climbs up. Cody leaps, into a CHOP! Gunther scoops, but Cody makes it a CROSS RHODES!! Cody LARIATS and ELIMINATES Gunther!! CODY WINS!!
Winner: Cody Rhodes, at number 30 (headed to WrestleMania 39 in Hollywood)
From undesirable to undeniable, the American Nightmare has the biggest comeback in a long, long time! Will he achieve a dream and take the world title on the Grandest Stage of Them All?
Pitch Black Match: Bray Wyatt VS LA Knight!
No disqualifications? YEAH! No count-outs? YEAH! No way of knowing what's going to happen with the lights down low? YEAH!! But with Uncle Howdy lurking in the shadows, will Bray be the one in control?
The fireflies come out as the piano plays. The door is there, with the light glowing behind it. The door swings open, and out walks Bray, with heavy eye-black around the eyes. Bray enters the ring, puts the lantern out, and for now, the lights are up. The fans rally up and the bell rings. The lights change to be black light and lasers, and we see glowing paint on Bray's body! Knight himself is glowing because of his yellow tights, but Bray CLOBBERS him! Bray rains down fists, CHOKES Knight, then lets off to drag Knight up. Bray CLUBS Knight, stomps him, and drags him up. Bray grins and fans fire up as Bray suplex TOSSES Knight away!
Bray stalks Knight, drags him up and ROCKS him with a right! Bray CHOPS Knight in a corner, stalks him to another corner, and hoists him up top. TWO-HAND OVERHEAD TOSS!! Knight bails out and fans fire up as Bray has a wild look on his face. Bray goes out after Knight, bumps him off barriers, and then brings him around. Bray whips Knight but he reverses, and Bray hits steel steps! Bray tumbles up and over and Knight hurries to move those steel steps. Knight brings those steps to the announce desk, but Bray CLOBBERS Knight over the barriers! Bray clears the desk, there's all sorts of glowing bits splattering around!
Bray CLUBS Knight, drags him up, and CLUBS him against the barriers. Bray drags Knight up the steel steps, but Knight fights the suplex! Knight HOTSHOTS Bray off the barriers, then hurries back up to FLYING BULLDOG through the desk!! It's an explosion of glowing particles and fans fire up! Knight scrambles away while Bray is still in the wreckage. Knight gets in the ring, but then Bray brings out a TOOLBOX! A flashback to his match with Seth Rollins! Knight stomps Bray at the ropes, throws hands, but Bray choke grips! Bray CHOKE- NO, Knight knees free, cravats, but Bray shoves him right out of the ring!
Bray stands back up, fans fire up and he storms over, but Knight KENDO STICK SMACKS Bray! Knight goes up to FLYING KENDO SMACK! Knight swings again, but Bray catches him! SISTER ABIGAIL!! Cover, Bray wins!!
Winner: Bray Wyatt, by pinfall
The inner darkness was on display in this neon nightmare, will the Mega Star learn to leave well enough alone from now on? But then Bray puts on a new mask?! Bray stalks Knight but Knight grabs the kendo stick! Knight runs from Predator Bray and they go to the barriers. Knight SMACKS Bray, but Bray keeps storming up on him! Knight runs through the crowd, SMACKS Bray again, but Bray keeps hunting him! They go around behind the stage, there are White Rabbit symbols all over the place! Bray gets the MANDIBLE CLAW clamped on! Bray SMOTHERS Knight! Knight goes night-night and Bray lets him go. And there, in the rafters, is UNCLE HOWDY!
Howdy waves hi to Bray, and Bray nods. Bray looms over Knight, and then Howdy SUPER ELBOW DROPS onto Knight!! They crash down and there's an EXPLOSION of pyro! And the puppets, Huskis the Pig Boy, Ramblin' Rabbit, Mercy the Buzzard and Abby the Witch are watching from the rafters! Fans lose their minds, did Knight just lose his soul!?
Tonight's attendance: 51,338!
Raw Women's Championship: Bianca Belair VS Alexa Bliss!
We just saw how Uncle Howdy's influence empowered Bray Wyatt, but Twisted Miss Bliss insists no one is pulling her strings. Will Alexa prove that she is in control? Or will she need Howdy's help in dethroning the EST of the WWE?
The introductions are made, the belt is raised, and we see who is really the scariEST on Raw!
The bell rings and ALexa rushes in! They brawl with fast hands and fans fire up! Bianca RAMS Alexa into the corner, and again, then hits a short arm LARIAT! Bianca huffs and puffs and then hauls Alexa up to HIP TOSS! Bianca RAMS Alexa into the corner again, then climbs up top. Fans fire up as Bianca rains down fists! Alexa slips out at 5 to trip Bianca up and then dump her down! And then dropkick her for good measure! Alexa KICKS Bianca around, then snapmares her for another KICK! Bianca writhes but Alexa gets her for a BOW 'N' ARROW! Bianca endures, but Alexa pulls the braid for added pressure!
The ref reprimands and counts, and Alexa kicks Bianca as she lets off at 4. Alexa stomps Bianca in a corner, lets off at 4 again, and Bianca goes to ropes. Alexa runs in to DOUBLE KNEE Bianca in the back! Cover, ONE!! Bianca is the toughEST but Alexa laughs as she clamps on a chinlock. Bianca endures, fans rally up, and Bianca fights up. But Alexa CLAWS Bianca's face! Alexa keeps on the chinlock but fans rally. Bianca fights up, pries free and arm-drags Alexa away! Bianca runs in, Alexa dodges but Bianca blocks the roll-up! Alexa kicks the leg then KICKS Bianca down! Cover, TWO! Alexa clamps back on with a chinlock.
Bianca endures as Alexa says, "You couldn't just leave it alone, could you?" Bianca grabs at Alexa but Alexa thrashes Bianca around. Fans rally, Bianca fights up, and Bianca RAMS Alexa into buckles! Alexa lets go, pulls the hair, and has a HANGING SLEEPER! Bianca kicks and flails, the ref reprimands, but Bianca carries Alexa as a backpack! She spins Alexa around to then suplex high and hard! Fans fire up while both women are down! Bianca and Alexa snarl, they rush at each other, and Bianca wrenches to kick low, knee low and ROCK Alexa! Bianca CLUBS away, TOSSES Alexa then DROPKICKS her! Bianca kips up and fans fire up!
Bianca has Alexa in a corner, climbs up again and rains down fists! Fans count along and Bianca goes all the way to TEN! Then past that to FIFTEEN! Bianca backflips, runs in, but Alexa dodges! Bianca grabs Alexa by her hair now, reels her in, and has a HANGING SLEEPER of her own! Alexa endures, Bianca lets go at 4, and then grabs the arms for a SURFBOARD STOMP! Bianca runs to handspring MOONSAULT onto knees! Alexa saves herself, and then runs. Bianca dodges, Alexa tilt-o-whirls but Bianca blocks to make it a FACEBUSTER! Handspring MOONSAULT! Cover, TWO! Alexa shows her own toughness but Bianca keeps cool.
Bianca torture racks Alexa but Alexa fights free! Alexa KICKS a leg out, then SLAPS, ROCKS and KNEES Bianca, to SHOT- NO, Bianca blocks the dropkick to roll Alexa and reel her in! But Alexa fights free of the bomb to KICK and BLISS-DT! Cover, TWO!! Bianca survives, continuing to show she is the toughEST! Alexa KICKS and KICKS and KICKS Bianca, showing she's perhaps the meanEST. Alexa sits Bianca up to SLAP her! Insult2Injury 2.0! Cover, TWO! Alexa drags Bianca up by her hair, looks at her own hand, but Bianca blocks the claw! Alexa slips free of the wrench, clinches, but Bianca powers out! Torture rack, KISS OF DEATH!! Cover, Bianca wins!
Winner: Bianca Belair, by pinfall (still Raw Women's Champion)
For a moment, it seemed like Alexa was giving into Uncle Howdy, but that cost her! Bianca is still the RawEST Women's Champion, will she be waiting on the Women's Royal Rumble match to find her WrestleMania
As for Alexa, visions of the playground return. And then Uncle Howdy laughs from the screen as he shows her the past. "Do you feel in charge? Do you feel in charge?" Alexa's face is frightened, but will she run away from or run towards the darkness?
2023 Women's Royal Rumble match!
Charlotte Flair has the SmackDown Women's Championship, and we just saw Bianca Belair retain the Raw Women's Championship. The winner of this match has their choice between the two, who survives the field of 30 to be the one headed to WrestleMania?
The first one out is… RHEA RIPLEY! It seems Mami isn't going to let Beth Phoenix's spear stop her from eradicating the Road to WrestleMania. Out second is… LIV MORGAN! She wanted to be number one, but this is all relative when she will also have to take on all comers. The bell rings and fans rally up as the two stare down. Liv says she's going to Mania, and Rhea just smirks. They fire off hands and fans fire up! Rhea gets the edge, she CLUBS Liv, then she TOSSES Liv to a corner! Rhea dusts herself off, runs in but Liv dodges! Liv fires off hands, Rhea shoves her away, and then BOOTS her down!
Rhea looks to the Mania sign, fans rally up, and Rhea drags Liv up. Rhea reels Liv in, suplexes her, but Liv slips free! Liv hits a BACKSTABBER! Liv back body blocks in a corner, comes back to SHINING WIZARD, and then she snapmares Rhea. The countdown is here, Liv LEAPS, but into Rhea's arms! Rhea suplexes Liv while number three is… DANA BROOKE! The Flex Appeal has not missed a Rumble yet, but will she win this one? Liv ENZIGURIS Rhea down so Dana better hurry! Dana runs down the ramp, hurries up a corner, and she DOUBLE MISSILE DROPKICKS! Liv goes to a corner, Rhea to the other!
Dana handsprings in to back elbow Liv! And then handsprings the other way, but Rhea catches her! Rhea hits a back suplex but Dana lands on her feet to POST Rhea! Liv kicks Dana, whips her to ropes, but Dana reverses to hip toss! Dana handsprings and basement dropkicks Liv down! Liv goes to a corner, Dana runs in but into an elbow. Liv goes up and kicks, but Dana blocks! Dana ROCKS Liv, climbs up after her, but the two brawl. The countdown is back as Dana SUPERPLEXES Liv! Number four is… EMMA! The Aussie with Attitude wants to make it #AllAboutMe, and she's finally in a Women's Rumble!
Emma rushes in, Rhea gut wrenches but Dana turns it into a NECKBREAKER! Emma HOTSHOTS Rhea at the ropes! Rhea runs back in but Emma dodges the boot to tilt-o-whirl RUSSIAN LEG SWEEP! Dana and Emma work together as old friends, whip and handspring elbow for Rhea! Emma whips Liv in, she SHINING WIZARDS Rhea! Emma runs in, EMMAMITE SANDWICH! Emma drags Rhea up, Liv and Dana help out, Mami has a 3v1! The countdown is back as Rhea fights free! Number five is… SHAYNA BASZLER! The Queen of Spades promised to #TapNapOrSnap all 29 others, and she's got her pick of the bunch!
Shayna kicks Emma, to gut wrench and SLAM her! Rhea storms up but Shayna wrenches the arm to a double wristlock! They're on the ropes, Liv goes to dump them both out! Shayna ELBOWS Liv but Liv kicks, BOOTS and ENZIGURIS, only to end up in an ANKLE LOCK! Liv rolls through but Shayna KICKS her down! Shayna swings Dana for a BACKBREAKER, dragon sleeper, and NECKBREAKER! Shayna isolates an arm to STOMP it! Dana writhes but Shayna stalks her. The countdown is back, number six is… Damage Control's BAYLEY! The Role Model swaggers while Liv and Dana lift Shayna.
Emma and Rhea brawl, Bayley slides in but into ObLIVion!! Liv throws Bayley up and out but Bayley clings to ropes! Liv stomps away, then bumps her off buckles. Bayley ROCKS Liv, kicks her and ROCKS her again. Emma BOOTS Rhea, Bayley tells fans to shut up and she stomps away on Liv. Emma stomps Shayna, Bayley CLUBSL Emma. Bayley stomps Liv, the countdown is back. Number seven is… B-FAB! Hit Row's leading lady makes her Rumble debut, swaggers her way to the ring while the others brawl. Liv ROCKS Rhea, Shayna CLUBS Dana, B-Fab DECKS Emma! B-Fab throws Liv away, ROCKS Shayna, then BOOTS Liv!
Dana runs in but B-Fab scoops her and SLAMS her! B-Fab wrenches Bayley to HOOK KICK! Rhea runs in, ducks the hook kick and HEADBUTTS B-Fab! Rhea TOSSES and ELIMINATES B-Fab! Rhea has a bloody nose but she smiles all the same. Bayley is after Liv but Liv SPANKS her away. Dana ROCKS Liv, the countdown is back, and number eight is… NXT WOMEN'S CHAMPION, ROXANNE PEREZ!! Texas fires up for their own, and the Prodigy makes her Rumble debut! She climbs up top, and CROSSBODIES Dana down! Roxie fires up, she UPPERCUTS Shayna, then rolls to dodge Emma. Emma ends up hitting Shayna, Roxie UPPERCUTS her!
Rhea whips but Roxie tilt-o-whirls and goes around to RANA! Fans fire up with the kip up! But Bayley whips! Roxie reverses, rolls her, and CLOBBERS her! Roxie CLUBS away on Bayley, throws her over but Bayley clings to ropes. Emma and Liv help out, as does Dana, but Bayley slips back in. They all stomp Bayley but the countdown is back. Number nine is… DAKOTA KAI! Bayley has back-up from her DMG CTRL teammate! #CobraKai rushes in, DECKS Liv, ROCKS Shayna, ROCKS Dana, CLUBS Roxie and CLUBS Emma! Kai then hits an IRISH CURSE BACKBREAKER on Roxie! And a SCORPION KICK to Emma!
Bayley and Dakota stand together and fans boo. But DMG CTRL gets mugged! Liv stomps Dakota, Dana and Emma lift Bayley. Bayley clings to the top rope, fights free, and then helps Dakota with Liv. Liv throws kicks, the countdown is back again. Number ten is… IYO SKY! DMG CTRL is now at 100% as the Evil Genius rushes out! Roxie and Emma lift Bayley, Liv and Dana stomp Kai. Sky springboards to DOUBLE MISSILE DROPKICK Liv and Dana! Sky stomps Shayna, ROCKS Emma, but Shayna hits Sky back! These two are no strangers, Shayna whips but Sky ducks 'n' dodges and handsprings through to then SHOTGUN dropkick!
sky kips up and fans fire up while DMG CTRL focuses on Emma! Emma clings to ropes, kicks DMG CTRL away, then Dana helps Emma skin the cat. But DMG CTRL DUMPS and ELIMINATES Dana! Emma fires off on each of them, dodges Bayley but is put on the apron. Kai BOOTS and ELIMINATES Emma! But Roxie dumps Kai out! DMG CTRL hurries to attack Roxie and save Kai! Roxie fires off hands on all three of them! Roxie runs, goes up and over but Bayley catches her! ASSISTED SHOTGUN sends Roxie out, DMG CTRL ELIMINATES her! Fans boo but the countdown is back. Number 11 is… NATALYA!
The Queen of Harts is here and the Queen of Spades is a bit worried! Natty is back after Shayna broke her nose months ago! Natty storms right in and DECKS Bayley, DECKS Kai, and DECKS Sky! DISCUS for Liv! Shayna CLUBS Natty, drags her up, and RAMS her into a corner! Shayna fires off hands, hoists her up, but Natty clings to ropes. Natty CLUBS Shayna, Bayley stomps Liv, Kai & Sky mug Rhea. DMG CTRL mugs Rhea, Liv and Shayna work together on Natty. The countdown is back, number 12 is… CANDICE LERAE! The Poison Pixie has a bone to pick with DMG CTRL, and Liv fights them off.
Candice back body blocks Kai! Candice puts Sky on the apron, blocks a boot and puts Kai outside! Bayley runs in but Candice doges! Bayley hits Kai & Sky but they cling to ropes! Candice suplexes Bayley, but Shayna KNEES Candice down! Shayna also remembers Candice from their past, and she throws hands. DMG CTRL regroups to go after Rhea, but now Natty and Shayna square off. Natty SLAPS Shayna, then ducks the haymaker to GERMAN SUPLEX! Natty storms up but Shayna throws hands. Shayna puts Natty on the apron, runs in, but Natty dodges the knee! Natty dumps Shayna up and out, but Shayna holds ropes!!
Shayna grabs Natty in a KIRAFUDA KLUTCH! DMG CTRL help get Natty out, but then they BLAST them both off! DMG CTRL ELIMINATES both Natty and Shayna! The countdown is back, number 13 is… ZOEY STARK! The Hunter of NXT is here for her own debut! Stark has a lot of prey, and she rushes right in to CLOBBER Bayley! SUPERKICK for Liv! HEEL KICK for Kai! And a DRAGON SUPLEX for her former tag partner, Sky! Stark kips up, but Rhea throws her out! Stark lands on the apron, ROUNDHOUSES Rhea, and then slingshots in for an ARABIAN SENTON! Stark drags Rhea up and has her on the ropes!
Rhea fights off Stark while DMG CTRL mugs Liv. Candice helps Liv but that's still 3v2! The countdown is back, number 14 is… XIA LI! The Protector is now the Eliminator, and she's looking to make that literal tonight! But the ref won't let her bring the Bo staff in, so she shoves the staff into the ref! Xia BOOTS Candice, HEEL KICKS Liv, and blocks a kick from Stark to shove her down! ROLLING KICK for Rhea, and then a STEP-UP ELBOW in the corner! Xia roars and fans fire up, but DMG CTRL pounces on her! They mug Xia, they go back after Candice, but Candice turns double suplex into DOUBLE NECKBREAKER!
Bayley CLOBBERS Candice, scoops her, but Candice slips free before the assisted shotgun! Sky ends up in ropes, Candice CHOPS Kai and Bayley! Sky gets back in, DMG CTRL goes after Candice! Candice goes up top and BOOTS Bayley away, but Sky's SHOTEI sends Candice tumbling to the floor! Sky ELIMINATES Candice! Fans boo but DMG CTRL is all fired up. The countdown is back, number 15 is… BECKY LYNCH!? The Man has come 'round, and DMG CTRL is freaking out! Becky storms right to the ring, DMG CTRL slides out under the ropes, but Becky DECKS Kai and DECKS Sky! Becky goes right after Bayley and the brawl is on!
Fans fire up as Becky fires off on Bayley, bumps her off buckles and stomps a mudhole in! Becky drags Bayley up, throws her but Bayley reverses! Becky goes through the second rope, drags Bayley out from the bottom rope, and then RAMS her into the apron! Becky DECKS Kai and DECKS Sky again, but the 3v1 catches up to her! Fans boo as DMG CTRL drag Becky up to RAM her into barriers! Then they drag Becky up to TOSS Becky over the desk! The refs reprimand but there's nothing they can do. The countdown is back, number 16 is… TEGAN NOX! The Welsh Firecracker is here, ready to pop off!
DMG CTRL goes in to beat up on Stark and Liv, and Nox gest on the corner! Nox MOLLY-GO-ROUNDS Rhea! And UPPERCUTS Stark! And UPPERCUTS Xia! And UPPERCUTS Kai into Sky! Another shot for Xia, another for Stark, then a CANNONBALL for Kai & Sky! Nox brings Xia out for a GOURD BUSTER! Bayley CLUBS Rhea, Nox KNEES Kai! Stark runs in, Liv ROCKS her! Liv and Nox work together, LIV IN MOTION on Stark! SHINIEST WIZARD! Liv & Nox drag Stark up, but the countdown is back. Number 17 is… ASUKA!! The Empress of Tomorrow is back from her soul searching, and she has an even fiercer kabuki mask!
Asuka takes off the mask to reveal DEMON CLOWN ASUKA! Once upon a time is right here and right now! Everyone is shocked as Asuka steps into the ring. Liv and NOx rush in, Asuka dodges to run them over! POP-UP KNEE for Liv! Stark KICKS but Asuka just takes it! GERMAN SUPLEX! Bayley runs in but misses the sliding lariat! Asuka smiles and Bayley is speechless. Asuka spins, Bayley pie faces! Asuka just grins as she stares Bayley down. Fans are thunderous for Asuka, and she URAKENS! URAKENS! SOBATGS! KICKS! URAKENS! And HEEL KICKS!! Asuka throws Bayley out but she clings to the ropes!
Asuka drags Bayley up, Bayley HOTSHOTS her! Nox UPPERCUTS Asuka, runs, but into a spin! Backslide, roll through, SUPERKICK from Nox! Nox runs in but is put on the apron! ROUNDHOUSE! Nox falls, Asuka ELIMINATES her! But DMG CTRL is after her! The countdown is back, number 18 is… PIPER NIVEN! She dropped the Doudrop, and is reedy to be the Scottish Viper! DMG CTRL mugs Xia, Asuka has Bayley, but Piper storms in to CLOBBER Bayley! She CLOBBERS Kai! She CLOBBERS Sky! She wrenches Stark to RAM her, then whips her into a corner! BIG back elbow, and then Xia runs in, into an URENAGE! And SENTON!
Piper swings but Bayley dodges but Piper scoops her. Bayley slips off, but Piper elbows her! Piper scoops Liv to SLAM her on Bayley! Then she SPLASHES them both! Fans fire up, the countdown is back, and number 19 is… TAMINA! Nobody meana, and the Daughter of Superfly is right after Piper! Fans fire up, but then DMG CTRL steps up. Piper and Tamina DECK them, then DECK Liv! They throw hands with each other, Tamina UPPERCUTS! Piper runs in, Tamina dodges to SUPERKICK! Kai CHOP BLOCKS Tamina and DMG CTRL mugs her! Becky goes after DMG CTRL! Fans fire up as Becky fires off on Bayley!
Kai goes after Becky, scoops but Becky slips out! Becky catches Sky, DOUBLE DDT COMBO! The countdown is back and number 20 is… "Shh… It's Chelsea." CHELSEA GREEN, that is! The Hot Mess is back in the WWE and fans fire up! Bayley and Becky brawl, but Chelsea slides in, only for Rhea to TOSS her and ELIMINATE her! Well, thanks for coming, Chelsea… Becky dumps Bayley over, Kai CLUBS her! Becky TOSSES and ELIMINATES Kai! Becky kicks Bayley, TOSSES Sky, and ELIMINATES her! But then Bayley TOSSES and ELIMINATES Becky!! But then Liv DUMPS and ELIMINATES Bayley!! And now Becky brawls with DMG CTRL!
DMG CTRL dumps Becky into the crowd but she comes back to drag Bayley over! The brawling continues, they go off into the night, and Rhea is after Asuka. Tamina is after Piper, Stark digs a knee into Xia, but the countdown is back. Number 21 is… ZELINA VEGA! La Muneca is cosplaying Juri from Street Fighter, in honor of getting to be part of Street Fighter VI. Vega hits a DESTROYER on Rhea! Piper scoops Vega and puts her on the apron! Vega ROUNDHOUSES, trips Piper, and says she's going to Mania! But Xia and Tamina are both on the apron with her… Xia and Vega go Street Fighter on the edge! But Veg blocks a boot, throws Xia down and stomps her!
Vega lifts Xia up with her foot, to HEEL KICK her and ELIMINATE her! Vega then gets in with a FLYING CODE BREAKER to Piper! The countdown is back, and number 22 is… RAQUEL RODRIGUEZ! Big Mami Cool has Texas behind her as she storms to the ring. Raquel slides in, scoops Vega, BOOTS Tamina, then gives Vega SNAKE EYES! LARIAT for Liv, LARIAT for Piper! Raquel swings, Rhea dodges, but that LEFT comes in! Raquel roars, dodges Stark, and catches the crossbody! FALL AWAY SLAM! Raquel catches Asuka, for a SPINNING POWERSLAM! Fans fire up but Vega CHOP BLOCKS Raquel!
Raquel is mad, and she picks Vega up with both hands! Raquel puts Vega up top but Vega hits back! The countdown is back as Vega FLYING RANAS Raquel! Number 23 is… MIA YIM! Michin is here, ready to prove she IS the Head Baddie In Charge! Mia hurries to the ring, shoulders into Stark and then TORNADO DDTs! SHOTGUN for Tamina! ROCK for Liv! ENZIGURI for Raquel! HEEL KICK for Asuka! Tilt-o-whirl DDT for Rhea! Tamina UPPERCUTS Mia down! And Piper SENTONS! Piper drags Mia up and throws her at the ropes but Mia holds on. Raquel lifts Stark, Stark fights back and steps in. Stark kicks Raquel and bumps her off buckles.
The countdown is back as Mia, Vega and Asuka gang up on Piper. Number 24 is… LACEY EVANS! The Model Soldier returned on SmackDown, and now she returns to the Rumble. Lacey gest in, dodges Tamina and BOOTS Piper! WOMAN's RIGHT for Tamina! Lacey TOSSES Liv onto Tamina! Lacey goes up and headstands, for the BRONCO BUSTER on Liv! Asuka nd Mia brawl, Tamina CLUBS Lacey and throws her over the top rope! Lacey ROCKS Tamina back! Lacey shoulders into Stark, sweeps the legs, and then slingshot elbow drops! Lacey salutes but fans are torn. Liv, Rhea and Raquel mug Piper, the countdown is back, and number 25 is… MICHELLE MCCOOL!?
McCool is in the crowd, but turns out she's dressed to compete! She hops the barriers, brawls with Tamina, and POSTS her! McCool catches Liv for an OVERHEAD Suplex! McCool UPPERCUTS Piper, blocks a Rana and hits a STYLES CLASH! McCool KNEES Mia in a corner, KNEES Piper in the other, and fans fire up! But Tamina kicks McCool, whips, but McCool reverses! Tamina goes up and out, holds on, but McCool BOOTS her down and ELIMINATES her! Rhea brawls with McCool but McCool KNEES her! Liv KNEES Asuka in a corner, the countdown is back, and number 26 is… INDI HARTWELL!
NXT's #IndiWrestling is here, ready to be Impressive! Indi slides in, CLOBBERS Stark, CLOBBERS Liv, BOOTS Mia, and kicks Raquel to CLUB and JAB! Indi dodges Stark to SPINEBUSTER! Indi points to the Mania sign, and then she hoists Lacey up. Lacey throws elbows, Liv brawls with McCool. Lacey CHOKES Indi, Raquel hoists Rhea by her legs. Piper and Asuka claw at each other, and the countdown is back. Number 27 is… SONYA DEVILLE! Sonya is getting a title match next Friday, will this golden ticket be her insurance policy? Sonya takes her time as Stark brawls with Mia. Mia throat chops and CLUBS Stark down, then wrenches for SOLE FOOD!
Sonya slides in, she KNEES Stark down! Sonya drags Stark up to toss her out and ELIMINATE her! "Stay in NXT, honey." Sonya runs to KNEE Raquel down! Sonya turns around, Asuka SOBATS! Asuka KICKS, KICKS and KICKS, but Sonya blocks! Sonya ROCKS Asuka, gives back those KICKS, then runs, but Asuka follows! Sonya dodges, both women duck a kick, but then DOUBLE ROUNDHOUSES take them both down! Fans fire up while Mia and Indi brawl. Vega boots Lacy while upside-down! Lacey blocks the drop toehold and stomps Vega! Lacey drags Vega up the corner to a COBRA CLUTCH!!
Vega flails, but she fades out! Lacey drags Vega over the top rope and DUMPS her! Lacey ELIMINATES Vega! The countdown is back, and number 28 is… SHOTZI BLACKHEART! The wild child is back, and so is her #TCB tank! Shotzi hurries to the ring, time to Take Care o' Bidness! Shotzi climbs the corner to CROSSBODY Raquel and Piper down! Shotzi brawls with Mia, ROUNDHOUSES her, but Raquel whips her! Shotzi springboards to wheelbarrow and put Rhea on the ropes! Shotzi kicks Lacey, suplexes her and hangs her out to dry! Sonya tosses Shotzi but Shotzi holds on! Indi runs in, Sonya dumps her out!
Indi ROCKS Sonya, springboards but Sonya shoves her down! Sonya ELIMINATES Indi! Fans boo but Raquel storms up to go after Sonya! Raquel hoists Sonya up, the countdown is back, and number 29 is… NIKKI CROSS! Anarchy has come to the Rumble! Nikki runs in to CLOBBER Shotzi! Sonya drags Nikki up but Nikki ROCKS her! She DECKS Liv, and basically hits everyone once as she makes a lap around the ring! Nikki whips around her jacket and fans fire up! Nikki kicks Shotzi, and hits the PURGE! Nikki drags Shotzi up, but that's dead weight after hitting that neckbreaker. Lacey CLUBS Nikki while Raquel CLUBS Sonya down.
Piper is after McCool, and the countdown is back. Number 30 is… NIA JAX?!? The Irresistible Force returns to the WWE!! All eyes are on her as she storms down the ramp, and she smiles at all the attention. Nia gets in the ring, fans fire up, and Nia says SHE is going to Mania! But uh, her egging them on has them go at her, 11 against one! But Nia EXPLODES out! Nia CLOBBERS Nikki, CLOBBERS Mia, HEADBUTTS Sonya, and then stares Raquel down! Fans are thunderous again, and they throw hands! Raquel gets the edge, then scoops! But Nia fights free to HEADBUTT Raquel down! Liv runs in, but into a fireman's carry!
Liv flails, gets a SLEEPER, but Nia THROWS her away! "I'm back, bitch!!" Nia HEADBUTTS McCool but the URAKEN and CODE BREAKER stagger her! ANOTHER CODE BREAKER! Rhea scoops Nia?! The slam wasn't that strong, but Rhea kicks and CLUBS away on Nia! Pump handle, for the RIPTIDE?!?! Fans lose their minds as Rhea and everyone else drags Nia up! They ALL ELIMINATE Nia!! Nia is pissed but fans love it! But then Nikki goes after McCool, and everyone else break off into their brawling! Fans taunt Nia with "Hey hey hey, good-bye~!" Nikki clings to ropes as McCool lift her.
Sonya is after Asuka, Shotzi fights off Lacey, and Raquel fireman's carries Lacey! Raquel puts Lacey on the apron but Lacey HOTSHOTS back! Raquel swings, Lacey ducks, but the LEFT knocks her down! Raquel ELIMINATES Lacey! But then Asuka KICKS Raquel! Raquel scowls but Asuka KICKS, KICKS and URAKENS! But Raquel trips Asuka,  deadlifts her, but Asuka fights free! ARMBAR TAKEDOWN!! Raquel endures, fights up, deadlifts again, for a TEXANA BOMB to the outside! Asuka lands safe, Sonya goes after Raquel but Raquel whips Sonya out! Asuka ROCKS Sonya, Sonya ROCKS back! Raquel runs in, into DOUBLE KICKS!
Asuka BOOTS Sonya, and POP-UP KNEES! Sonya BOOTS back, but runs into a ROUNDHOUSE! Sonya falls, ASUKA ELIMINATES her! Guess Sonya will have to rely on her shot next week. Rhea DUMPS McCool out to ELIMINATE her! Shotzi fights against Mia but Mia puts her on the outside. Mia wenches for SOLE FOOD! Shotzi falls, Mia ELIMINATES her! But then Piper TOSSES Mia onto Shotzi to ELIMINATE her! Piper and Raquel stare down, they RAM each other! Piper wrenches to a clinch and SAIDO! Piper runs into the corner, CANNONBALL! Piper then climbs up the corner, for the VADER- NO, Raquel blocks and tosses Piper out!
Piper is on the apron, Raquel BOOTS her down and ELIMINATES her! Fans fire up, but Rhea runs in! Raquel blocks the bot, hoists Rhea up, and TEXANA BOMBS her! But Rhea headscissors Raquel to bring her out! Rhea BOOTS and ELIMINATES Raquel!! Nikki is after Asuka but Rhea dumps each of them out! They're both on the apron, they both ROCK Rhea with forearm after forearm! Nikki and Asuka brawl now, Nikki HOTSHOTS Asuka, then drapes her out. Liv BLASTS Nikki and ELIMINATES her!! The final three are Asuka and the two women who started this match in Rhea and Liv!
Fans rally up, Asuka and Liv are both loving this! Even Rhea grins, she's getting into it, too! They all circle, Rhea swing but Asuka dodges to ROCK Liv! Asuka mule kicks Rhea, mule kicks Liv, but Liv dodges to wheelbarrow. Rhea TOSSES her at Asuka for a CODE BREAKER! Rhea throws Liv, Liv throws Rhea! Rhea HEADBUTTS Liv, drags her up onto the ropes and to the apron! They brawl out there, Rhea BOOTS Liv, but Asuka runs in! HIP ATTACK is caught! Rhea turns Asuka around, suplexes her out, but Asuka is on the apron now! They continue to brawl, Rhea ducks as Asuka BLOWS BLUE MIST! Liv gets a face full!!
Liv sits, Rhea BOOTS Asuka down to ELIMINATE her! Rhea grins and stands back up. Liv reaches out blindly but Rhea drags her up, CODE BREAKER!! Rhea dangles over the floor! Liv hurries to find her way, and she punches the hands! But Rhea reaches up to RANA Liv, and WIN!!
Winner: Rhea Ripley, at number one (headed to WrestleMania 39 in Hollywood)
One hour, one minute and three seconds is the historic run Rhea had in this match, to win! Will Rhea eradicate whichever champion she chooses on the Grandest Stage of Them All?
Country Rock star, Hardy, is here live!
And he's here to perform his hit song, the official 2023 Royal Rumble theme, Sold Out!
Undisputed WWE Universal Championship: Roman Reigns w/ Paul Heyman & Sami Zayn VS Kevin Owens!
The Honorary Uce has found himself stuck between The Bloodline and his best frenemy. He wants to prove his loyalty and value to the Tribal Chief, but there is a "final test" still to come. Will Sami pass that test? Will Roman retain the title? Or will the Prizefighter #StunTheWorld by finally ending the reign of terror?
Fans lift their fingers for the Tribal Chief. As Roman decreed earlier, only the Wise Man and Sami are with him for the entrance. Roman raises the belts for the pyro, then continues to the ring. Once again, Roman lifts the belts for more pyro. The introductions are made, the belts are raised, and we see who is truly Head of the Table!
The bell rings and Kevin stares Roman down. Sami paces outside while Heyman watches closely. Roman says he's gonna teach Kevin a lesson as he and Kevin circle. Fans cheer on "SAMI USO!" and Kevin says that must annoy Roman. Roman and Kevin circle, tie up, and go around. Roman headlocks, Kevin powers out but Roman runs Kevin over! Kevin gets up quickly enough and Roman tells Sami that this is Roman teaching Kevin a lesson. Sami says it is, and Roman circles with Kevin again. They tie up, go around again, and Roman headlocks again. Kevin powers out again, but Roman runs Kevin over again!
Kevin gets up, shakes out the arm, and Roman is talking more trash. Kevin goes to a corner and catches his breath. They reset, fans rally up, and the two tie up. Roman headlocks again, Kevin powers out again, but Kevin drops down to then CLOBBER Roman! And SENTON! Fans fire up with Kevin as he says "SUCK IT!" Kevin stomps away on Roman, goes corner to corner and runs back in, CANNONBALL! Fans fire up while Roman bails out. Kevin goes out to ROCK Roman! And CLUB him! Kevin follows Roman around the way to throw hands. Roman ROCKS Kevin in return, and HEADBUTTS! Kevin CHOPS, ROCKS, but Roman kicks back!
Roman whips, Kevin reverses, and Roman hits barriers! Kevin then CLOBBERS Roman again! Fans fire up and Kevin SENTONS again! Kevin drags Roman up, puts him in the ring, and he throws hands. Roman staggers, Kevin taunts him and throws more hands. Kevin throws body shots in the corner, but lets off as the ref counts. Kevin whips corner to corner, Roman reverses and Kevin hits buckles hard! Kevin tumbles up and down the corner, and Roman stands him back up. URENAGE! Cover, TWO! Kevin just gets that shoulder up and Roman is annoyed. Sami coaches Roman, and Roman stalks Kevin to ropes.
Roman CHOKES Kevin, the ref counts, and Roman lets off at 4. Sami moves aside as Roman goes out after Kevin. Fans rally as Roman runs for the DRIVE-BY DROPKICK! Cover, TWO! Kevin is hanging tough and Roman is annoyed, and maybe even confused. Roman throws crossface forearms, then clamps on a chinlock. Kevin endures, fights up, and he throws body shots. But Roman ROCKS Kevin with an uppercut! Heyman says that was a good one! Kevin ends up in a corner, and Roman CHOPS! And point-blank LARIATS again and again! Roman goes all the way to nine, then runs, into a forearm!
Kevin throws more hands, Roman ROCKS Kevin back, and they brawl with forearms back and forth! Kevin gets the edge, runs, but into a BOOT! Kevin wobbles, Roman runs, but into a LARIAT! Fans fire up and Roman sits up, rather stunned! Kevin ROCKS, CHOPS and repeat! Kevin whips, Roman KICKS back! Roman runs, but Kevin LARIATS Roman up and out of the ring! Kevin then goes to the apron, to FROG SPLASH to the floor! Kevin hurries to haul Roman into the ring and then climbs a corner! Another FROG SPLASH!! Cover, TWO!! Heyman and Sami look worried but Roman is still in this.
Kevin goes to ropes and stands up while Roman sputters and coughs. Kevin aims from the corner and wants Roman to stand up. "Get up, you manipulative piece of crap!" Roman stands, Kevin runs in, but the superkick is blocked! Roman reels Kevin in, SIT-OUT POWERBOMB! Cover, TWO!! Kevin survives but both men are down while fans rally up. Sami argues the count with the ref but the ref says it was fair. Roman raises his finger and San Antonio joins in, #HeTheOne. Roman locks 'n' loads, runs in, SUPER- NO, Kevin dodges and gets around, GERMAN SUPLEX! Roman is in the corner, Kevin runs in, SUPERMAN PUNCH! Cover, TWO!!
Heyman is frustrated and Sami also seems worried. Kevin and Roman stir, and Roman sits up. Fans rally, Roman doesn't like that, but he goes back to a corner. Roman aims again, "OOOAH~!" Roman runs in, but Kevin POSTS him!! SUPERKICK!! Kevin goes up top, for a SWANTON BOMB!! Cover, TWO!! Roman survives and Heyman is beside himself with stress. Kevin stomps Roman, then goes back to the corner. Heyman shouts at Roman to get up as Kevin climbs again. Heyman PLEADS, and Roman stands to UPPERCUT Kevin! Roman ROCKS Kevin again, climbs up after him, but Kevin hits back with haymakers!
The two brawl up top, Kevin gets the edge, and Roman staggers away. But Roman comes back to ROCK Kevin, then climbs back up! But Kevin throws body shots and headbutts! Kevin ELBOWS Roman down! Roman is in the drop zone, Kevin adjusts, BEST MOON- NO, Kevin slips and falls, but onto Roman anyway! Elbow drop, then Kevin climbs back up, BEST MOONSAULT FLOP!! Roman avoids disaster, and SPEARS Kevin down!! Cover, TWO!?! Roman can't believe that Kevin survives both his own mistake and Roman's best shot! Fans rally up as Kevin sits up. Roman goes to the corner and says he's ending this!
Fans are torn as Roman reloads, "OOOAH~!" But he runs into a KICK! STUN- NO, Roman shoves Kevin into the ref! The ref goes down, Roman runs in, POP-UP POWRBOMB! Cover, but again, no ref! Kevin would've won twice over by now! Kevin realizes the error in his calculations, and he calls for someone to show up. Kevin drags Roman up, but Roman LOW BLOWS!! Roman then shouts at Sami to do something! Sami says he was told to do nothing but be here! Well Roman's telling him NOW, GET A CHAIR! Sami does as told and goes looking. Heyman helps him look under the ring, but then Sami hesitates?
Sami gives Roman the chair after all, and says he can do it. But Kevin hits a STUNNER!! Ref is back, cover, TWO!?!?! Roman survives and Sam is freaking out! Did he just cost Roman or save him!? Kevin drags Roman back up, whips him to ropes, POP-UP- SUPERMAN PUNCH!! SPEAR!!! Cover, TWO!??!?! Kevin survives and everyone is shocked!! San Antonio is thunderous as Kevin rolls out of the ring while Roman can't even believe this! Sami is there as Kevin crawls to barriers and fans chant "This is Awesome!" Kevin stands up, Sami tells him to just stay down. Kevin refuses, and he grabs at Sami. Is Kevin remembering when Sami was his friend?
Roman runs in, and he SPEARS Kevin through the barriers!! Roman drags Kevin back up, puts him back in, but then Kevin flops right back out! Kevin flounders to steel steps and Roman says it's time to hurt Kevin. Roman storms up, and THROWS Kevin on the steps!! Kevin clutches his head and neck and even Sami is aghast! Roman drags Kevin up again, to SLAM him on the steps!! Fans boo but Roman drags Kevin back up. Heyman looks at Sami and says this is what happens to those who defy the Tribal Chief. Roman puts Kevin back in the ring, and Heyman says this is why he worships the Tribal Chief. ACKNOWLEDGE HIM!!
Sami raises his finger but fans boo. Roman looms over Kevin, drags him up again, and he slaps Kevin around. Roman is toying with Kevin now, but Kevin SLAPS back! Roman SPEARS Kevin down!! Cover, Roman wins!
Winner: Roman Reigns, by pinfall (still Undisputed WWE Universal Champion)
The Tribal Chief is still on top, but Sami seems conflicted. The Usos and Solo arrive to celebrate with Roman, but they stand over the battered Kevin Owens. Jey gives Sami the ley, but Roman has him hold on. Fans boo but Roman says they're not done. Now comes the final test. The Usos beat up on Kevin, fans boo, but Roman has Sami watch. The Usos pick Kevin apart like piranhas, and ONE AND DONE!! Roman has his arm around Sami as they watch the Usos drag Kevin into a corner. Jey puts the chair around Kevin's neck! They're gonna have Solo do what he did to Matt Riddle! Solo runs in, HIP ATTACK!!!
Roman tells Sami to hold on. He goes to Heyman, and Heyman brings out handcuffs! TWO PAIRS EVEN! Roman grins as he swaggers up to Kevin with the cuffs. He has the Usos cuff Kevin to the ropes, forcing him to stand up! Fans boo but now the Usos SUPERKICK Kevin over and over and over! Then a DOUBLE SUPERKICK tops it off! And then ANOTHER DOUBLE SUPERKICK! Roman has the Usos stop, fans chant for "SAMI! SAMI!" but Roman has a chair. Roman says Sami is HIS family, not Kevin's. You disrespect the family, you disrespect Roman. Roman is trying to make Sami's life better and Kevin is holding him back.
Roman swings, but Sami stands in the way!! Sami tells them to stop, Kevin is done. They beat him down more than enough. The Tribal Chief is still champion, this is beneath him. It's enough, and Roman is better than that. Roman cools off, and he agrees. This is beneath him, so Sami should do it. He holds the chair out but Sami doesn't want that. Roman says Sami should. Heyman says this is Sami's moment. This is the test! But Sami says it's not necessary. Roman says Sami will, or he's not one of them. Sami is Bloodline, but Kevin doesn't care about him! Kevin's an anchor on Sami's career! Roman loves Sami! Roman gives Sami everything!
The ring is YOURS when you're Bloodline. Or doe Sami wanna go back to doing Jackass wrestling?! Sami thinks about it, he lifts the chair, and Roman tells him to pull the trigger! Is Sami crying? What's wrong with you!? Roman pushes Sami around, "DO YOU THINK THIS IS A GAME?! THIS IS MY LIFE!!" Roman tells Sami to do this! Sami nods, lifts the chair, and he HITS ROMAN!!!! Fans are going NUTS after seeing that! Sami says he's sorry, but Jey is furious! How could Sami do this after Jey stood up for him!? Jimmy SUPERKICKS Sami down!! Jey said Sami was his brother, but no! The USOS are brothers! Jimmy beats down Sami as fans boo!
Solo pushes Jimmy off so HE can beat on Sami! SAMOAN SPIKE!!! Roman tells them to keep on him, and Solo and Jimmy mug Sami! Roman is emotional as he says he gave Sami the world and this is how Sami repays him!! Fans chant for Jey, what is JEY going to do? Jey is mulling this over in the corner but Jimmy tells him Sami ain't his brother! Jimmy and Solo are his brothers! The Bloodline is his family! Roman stares Jey down, and Jey BAILS!? Jey is emotional, but he's walking away?! Fans are thunderous as Jey takes a stand, and the Bloodline can't believe it! Roman tells Sami this is HIS fault! CHAIR SHOT! CHAIR SHOT! CHAIR SHOT!!
Roman just BEATS on Sami with the chair! And then with his fists! Roman rips away the Honorary Uce shirt, Sami is no longer even THAT! Jimmy gives Roman his ley, and Roman looms over Sami. Fans chant "F YOU ROMAN!" and that confounds Roman most of all. But Roman drops petals on Sami like it's a funeral. Jimmy leaves what's left of the Honorary Uce shirt on Sami, and then KNEES Kevin down! The Bloodline leaves while the fans are in an uproar! What does this mean for the future of the family?
---
My Thoughts:
What a wild Royal Rumble! The Men's Rumble opening was a bit surprising but it turned out great. Of course Edge is back again, and his story with the Judgment Day is back again. And that was an awesome moment with Beth giving Rhea a Spear. I really hope we get a Mixed Tag of Edge & Beth VS Rhea & Dom before what I'd assume is Edge VS Finn at Mania. Logan Paul showing up was an interesting surprise, and what a great spot of him and Ricochet colliding in the air! Love him or hate him, Logan's legit. Plus, his interaction with Rollins makes me think that's a Mania match right there. Logan and Rollins have similar styles and builds, that'll be a really good match.
And whether you wanted him to or not, Cody Rhodes was back in the Royal Rumble, and he won the Royal Rumble. I didn't think he'd be #30, but I suppose that's WWE being careful with him. At the same time, what an awesome showing for Gunther, starting #1, setting the new Ironman record at about 70 minutes, and being one of the final two while doing it. Gunther is still Intercontinental Champion, this could really boost his stock going into Mania for who he faces. Though honestly, he had great interactions with a lot of other big men, I would love McIntyre or Sheamus to get that match after things finish up with the Viking Raiders.
The Pitch Black Match was a lot different than I expected, but in a great way. Going with black light to use all sorts of hidden ink and make everything glow, especially the ropes and Knight's tights, was such a cool aesthetic. However, as a match, this was borderline a squash because Bray was never fazed by what Knight did to him. Though, that table spot was great, and those little flecks that exploded out were interesting. And just when I thought Howdy wasn't gonna get involved, he does a wild, Jeff Hardy meets Shane McMahon type stage dive. I hope whoever was Howdy here is okay, I think he overshot the target, but that was still pretty good.
And then I expected more Howdy shenanigans in the Bianca VS Alexa match, but perhaps they didn't have a Howdy understudy ready. Bianca VS Alexa as a match was also a bit less than what I hoped for. Bianca winning was fine, and now Alexa has a crisis of confidence in a new way, where she isn't sure if she is capable of winning without that supernatural assistance. The Women's Rumble was also awesome, and we got some great returns. McCool being in the crowd before being revealed as a surprise entrant was a fun move. Chelsea Green back to be thrown out immediately was both hilarious and a bit mean. And wow, Nia Jax? Would not have seen that coming.
Good showing from the NXT entrants, but it also felt like Sonya Deville made it her mission to get rid of them. Of course Becky went after DMG CTRL, and of course they basically canceled themselves out of the match. And Asuka showing up with her original gimmick from her Joshi career in Japan was awesome stuff. It was the right move to have her be in the final three, and it was great that they let Liv start the match and get that close to the end. But Rhea was also the right choice to win, she is of course going to choose Bianca and that can also bring Street Profits into a story with Judgment Day, as I've been saying on the Raw articles.
And of course, just incredible stuff with the Bloodline's story. In terms of the match, I really thought there was going to be more internal conflict for Sami, but I do appreciate commentary pointing out that it was all being told through Sami's facial expressions. Roman winning was expected, and Sami's "final test" being what came after was a great move. The fans had such great energy that really added to the entire moment, because they wanted to see it, and we got what we wanted in Sami standing up to Roman and hitting Roman! But of course, after the beating put on Kevin and having him trapped, Sami was not getting out of there.
But then in another great twist, Jey stands up for himself! He couldn't save Sami, he couldn't fight his family, but he could choose to wash his hands of it. What I thought was going to be Kevin & Sami VS The Usos could now transform into Kevin & Sami VS Jimmy & Solo. The Usos still have to defend their SmackDown Tag Team Championships, and it feels like it's going to be against Braun & Ricochet once that tag tournament finishes up. But we could get a story very similar to "KofiMania." Kofi had to jump through hoops to get at Daniel Bryan's world title, so Sami & Kevin could have to get through Jimmy & Solo to get at Roman. Hell, Jey might help Sami & Kevin do just that. WrestleMania's going to be two nights, HHH seems to be considering splitting the undisputed titles, Roman could end up facing Cody for the world title and Sami for the universal title.
My Score: 9.1/10
Mitchell's WWE Tribute to the Troops Results & Report! (12/17/22)
Happy 20th Anniversary!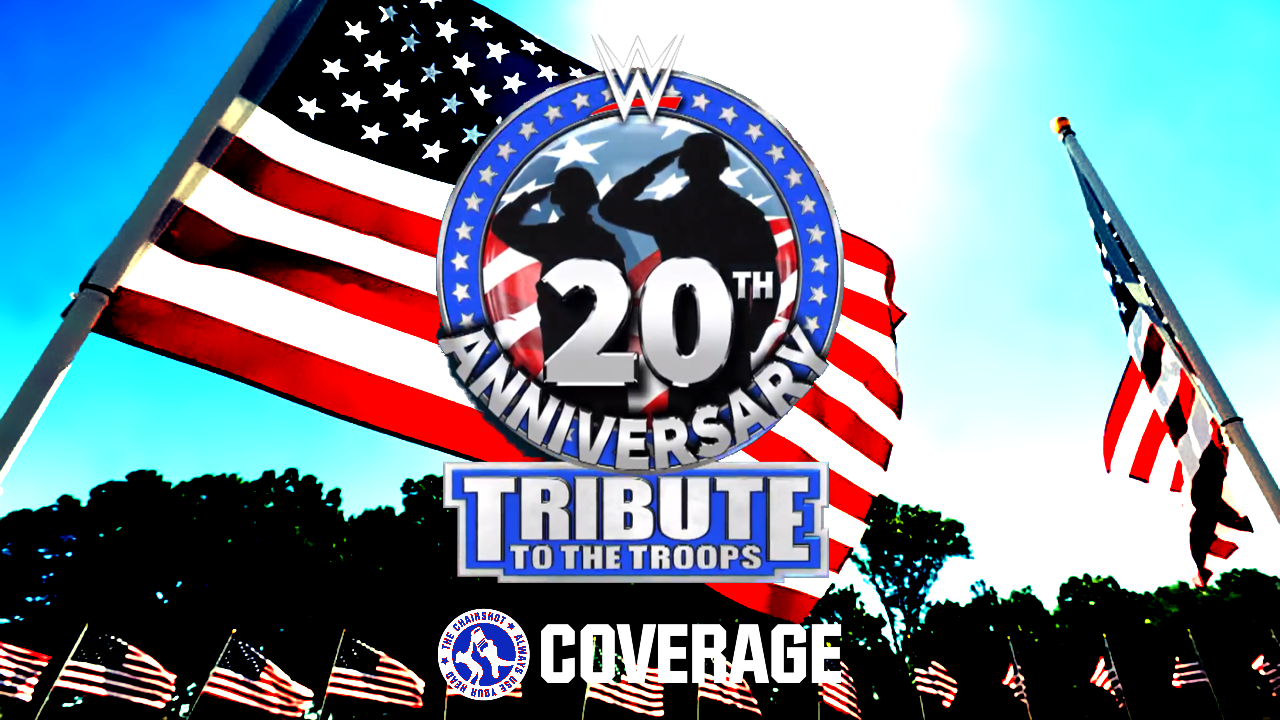 It's the TWENTIETH Tribute to the Troops Special!
Ever since 2002, the WWE has given a taste of home to those fighting to protect America's freedoms. This is the 20th Anniversary of Tribute to the Troops!
OFFICIAL RESULTS
Braun Strowman VS LA Knight; Braun wins.
Emma & Tamina VS Ronda Rousey & Shayna Baszler; Ronda & Shayna win.
Six Man Tag: Ricochet, Sheamus & Drew McIntyre VS Imperium; Ricochet, Sheamus & McIntyre win.
PLAY BY PLAY
Welcome to Tribute to the Troops!
The Indiana National Guard Ceremonial Unit color guard accompany Chief Warrant Officer Dennis White, Army. He was in Joint Base Balad, Iraq, in 2009 and was part of that year's Tribute to the Troops! And just like back then, White sings the National Anthem.
Over 80 years ago, a tradition began.
"A tribute to the men and women stationed far and wide who serve our nation." For 20 years, the WWE has continued that tradition. For all that give, this is a way to give back. Superstars and legends honored the greatest fighting force on the face of the Earth, wherever they are all over the world. And now, we celebrate that 20th anniversary!
Braun Strowman VS LA Knight!
For the first time ever, The Monster of All Monster faces off with the Mega Star, YEAH! But given the spooky happenings last night on SmackDown, will Knight be able to focus on Braun? Or will he #GetTheseHands?
The bell rings and fans rally up for Braun. Braun gets them to fire up more and Knight scowls. They tie up, Knight waistlocks then headlocks. Braun powers out and runs Knight over! Fans fire up as Knight scrambles to a corner. Braun TOSSES Knight across the way! Braun runs in at the corner, but Knight POSTS him! Knight then CHOP BLOCKS the leg! Braun crawls to ropes but Knight kicks the leg out! Fans boo but Knight rains down fists. Knight stomps the bad leg, but Braun kicks him out of the ring with the good leg! Braun snarls, storms over, but Knight HOTSHOTS Braun away!
Knight hurries back in and runs, into a BOOT from Braun! Braun runs to run Knight over! The bad leg slows Braun down but he still whips Knight to ropes. Knight kicks the back drop away, runs again and dropkicks, but Braun dodges! Braun drops an elbow! Braun then says he's done, and he rips off his shirt! He kicks Knight, reels him in, and hits the MONSTER BOMB!! Cover, Braun Strowman wins!
Winner: Braun Strowman, by pinfall
You can only push a monster so far before he loses his cool! Will Braun use this momentum to get after the WWE Intercontinental Championship? Will Knight only feel worse after everything Uncle Howdy's been doing to him?
WWE introduces Midshipman Morgan Prigmore.
Coming from a multi-generational Marine family, Morgan Prigmore knows the United States flag represents so much more than the states. It represents liberty, freedom, and the pursuit of being better. One thing that separates the USA from the rest of the world is that the US is always improving. That is why she wants to serve and protect those freedoms and rights. The Marine Corps always drew her eye, ever since hearing stories from her grandfather. She made him a promise before he passed, and now she's here at Annapolis. She chose to serve her country, and Colonel JP McDonough says caring for others is who she is.
She is the Fall Semester Brigade Commander, representing the Midshipman in all things, from physical mission to academics. She is not only able to hold the position, but she is concerned for individuals. She is the one her peers look to for answers. That is symbolic for what they will face in the fleet. This isn't a career or a degree, any of them could pay the ultimate price to protect this country. Morgan knows she isn't the first, all the men and women of the service have been selfless from the beginning. She sees a passion to serve, to treat people right, and to do things that no other group is willing to do.
Surrounded by all that love and dedication, they're all motivated to do better and be better, and that is truly an honor. Graduation is in Spring and she'll be headed to Quantico, let's all cheer Morgan Prigmore on in her journey!
Emma & Tamina VS Ronda Rousey & Shayna Baszler!
The Aussie with attitude teams up with an old friend to take on some common enemies! The Baddest Women on the Planet have been doing whatever they want to whoever they want, but will they learn that no one's meana than Tamina and Emma?
Tribute to the Troops returns and Emma & Tamina have made their entrance. The teams sort out and the Daughter of Superfly starts against the Queen of Spades. The two tie up, Tamina powers Shayna into a corner, but lets off as the ref counts. Shayna turns things around, grinds her forearms in, but lets off at 4 to trip Tamina. Fans boo but Shayna swaggers to taunt Tamina. Tamina storms up but into a headlock! Tamina powers up, throws Shayna away, and Emma is there. Shayna turns around, dodges Tamina, but she watches out for that Superkick! Ronda tags in and fans are torn as the SmackDown Women's Champion stares down Tamina.
But wait, Emma wants in! Ronda wants Emma, too, so Tamina tags Emma. Emma and Ronda meet again, they tie up, and Ronda throws Emma down. Emma kangaroo kicks Ronda away, dodges her, then tilt-o-whirls to a RUSSIAN LEG SWEEP! Ronda gets to a corner, Emma whips her corner to corner but Ronda reverses. Ronda runs in but is send into buckles! Emma then reels Ronda into the TARANTULA! The ref counts but fans fire up! Emma lets off at 4 and Ronda flops down. Emma climbs up but Shayna drags Ronda out to save her. Emma just adjusts to SUPER CROSSBODY them both! Fans fire up with Emma while Tribute to the Troops goes to break.
Tribute to the Troops returns again and Ronda SLAMS Emma down hard! Cover, TWO! Tag to Shayna, but Emma fights back with elbows and boots! Emma BOOTS Ronda again, crawls for her corner, but Shayna drags her back! Shayna swings but Tamina avoids it! Emma slides under, hot tag to Tamina! Tamina ROCKS Shayna, bumps her off buckles, then runs her over with an elbow! Tamina aims, Shayna stands, SUPERKICK! Cover, Ronda breaks it! Emma kicks Ronda and throws her out, then keep son her outside. But Ronda whips Emma hard into barriers! Shayna rolls Tamina up, TWO!
Shayna runs into a fireman's carry, SAMOAN DROP! Cover, TWO!! Shayna survives and Tamina grows frustrated. Tamina hurries to a corner and climbs up top! Fans fire up but Shayna GAMANGIRIS Tamina first! Shayna goes up, CLUBS her, then brings her up. Tamina fights back, and HEADBUTTS Shayna away! Shayna distracts the ref, Ronda hurries up to KICK Tamina! Shayna then hurries to DUMP Tamina down, KIRAFUDA KLUTCH!! Tamina taps, Shayna & Ronda win!
Winners: Ronda Rousey & Shayna Baszler, by pinfall
But Shayna doesn't let off until she feels like it's been enough! The bullies win again, will they be looking to have more than just the SmackDown Women's Championship in the New Year?
WWE introduces Master Sergeant Matthew Williams.
The Medal of Honor represents the greatest our nation has to offer. The USA is the greatest country on Earth, and going to work knowing you're participating in the greater good and providing freedom, then you're doing something greater than you. HE was part of the best of the best in the Green Berets. April 6th, 2008, the mission was to capture and kill a high value target, but that turned into just getting out alive. The chopper couldn't land, they had to jump out, and then it all broke loose. Williams knew they were pinned down but he got the team up the mountain, fought back, and helped wounded soldiers. Williams kept going up and down the mountain for six hours.
President Donald Trump honored and awarded Matthew Williams with the Medal of Honor, and Williams' new mission was to represent his team and what the medal means. For someone to go out and die for those beside them, that ultimate willingness to serve and protect, Williams hopes he represents that legacy and puts a positive light on those who serve and have served.
WWE looks back on 20 years of Tribute to the Troops.
John Cena narrates as footage plays of the Naval Air Station in Jacksonville, Florida back in 2003. WWE superstars and staff volunteered time to entertain those who risk it all to defend America's freedoms. And no one then expected this was just the first step of a 20 year journey. Tensions were high as they were headed into a warzone. Final destination: Camp Victory, Baghdad, Iraq. Vince McMahan said on behalf of the WWE and the United States, "Thank you." It was bringing a piece of home to those so far from home. And 20 years later, it is a tradition like no other.
From Baghdad to the US, the WWE will go to thank the troops who serve and remain steadfast. It is a debt that can never be fully repaid, but as we celebrate 20 years of Tribute to the Troops, we have one message: Thank you for protecting the freedoms of the United States of America.
WWE introduces Bradley Fighting Vehicle Commander Steven Green.
He loves the USA, this is his home and he will defined it no matter what. He trains soldiers in the making at Fort Stewart, Georgia. Green isn't just a leader, but a counselor, mentor and teacher. He grew up in a military family, his father was Navy. He saw how his father was as a leader and learned a lot from him. Green is the first one up, last one out, and is always there for his trainees. His men know they are better soldiers thanks to his training. Green also works with armored vehicles and light tanks. When he's in one of those, Green feels like he could take on the world. The Bradley has always been near and dear to him.
Green signed up to put his life on the line so there is no one harmed back home. He wants everyone to have the freedom and opportunity to live out their dream. This passion has been with him as a young boy, and it isn't going away any time soon.
Six Man Tag: Ricochet, Sheamus & Drew McIntyre VS Imperium!
The One and Only fought as hard as anyone could, but Der Ring General was just too tough! Gunther still holds the WWE Intercontinental Championship, but now Ricochet has back-up! Will the Celtic Connection be just what the King of Flight needs to turn the tables? Or will having Ludwig Kaiser & Giovanni Vinci be just what Gunther needs to keep the momentum going?
Tribute to the Troops returns as Ricochet makes his entrance, followed by Sheamus and then McIntyre. The teams sort out and the Pride of Italy starts against Ricochet. They tie up, Ricochet waistlocks then headlocks. Vinci powers out but Ricochet rolls off his back, rolls under and handsprings to headscissor! Vinci gets up, into a DROPKICK! Fans fire up and Ricochet brings Vinci up to wrench the arm. Vinci chinbars back, Ludwig tags in, whip and arm-drag! Kaiser scrapes his soles off Ricochet's face! Fans boo but Ludwig runs, and he blocks a boot! Ludwig shouts, "NEIN!" and then UPPERCUT!
Ludwig bumps Ricochet off buckles, tags Vinci back in, and Vinci slaps Ricochet around. Vinci kicks and toys with Ricochet but Ricochet hits haymakers! Vinci shoves, Ricochet BLASTS Ludwig, and Ricochet escapes a scoop! He ELBOWS Vinci but Ludwig grabs a foot! Ricochet kicks Ludwig away but Vinci CLOBBERS Ricochet! Vinci drags Ricochet up to RAM him into buckles! Tag back to Ludwig, he taunts McIntyre and Sheamus while Vinci POSTS Ricochet! Then Imperium meets at the corner, TRIPLE BOOTS! Ricochet flops down and Imperium stands tall while fans boo, and Tribute to the Troops goes to break.
Tribute to the Troops returns once again and Imperium mugs Ricochet as Gunther kicks him in the ribs! Gunther stomps Ricochet, glares at McIntyre and Sheamus, then turns back to Ricochet. Gunther puts Ricochet in a corner to CLUB him down! Gunther digs his boot in, the ref counts and Gunther lets off at 4. Gunther shoves Ricochet to CLUB him on the back! Ricochet snarls as he drags himself up but Gunther drags him up to shove again, but Ricochet ROCKS Gunther! Ricochet laps but Gunther catches him to keep him from the Celtics! SPINEBUSTER, into a BOSTON CRAB! Ricochet endures and fans rally!
Ricochet claws his way forward, brings Gunther with him, but Gunther drags Ricochet back to STOMP him down! Gunther paces while Imperium applauds. Fans boo but Gunther tags Ludwig. Ludwig drags Ricochet to a knee drop! Ludwig drags Ricochet up by his ears, bumps him off buckles, and Ricochet shakes out the cobwebs. Ludwig CHOKES Ricochet on the ropes! The ref counts, Ludwig lets off, but Sheamus gets the fans to rally up. Ludwig drags Ricochet up, tags Gunther, and Imperium mugs Ricochet again. Gunther wraps on a SLEEPER! Ricochet fights up to hit a JAWBREAKER! Ludwig swings, misses, and Ricochet DECKS him!
Vinci rushes in but Ricochet whips him out! Gunther BOOTS Ricochet back down! Gunther says this is done, and he hauls Ricochet up. Ricochet slips out of the bomb, ducks the lariat, but Imperium trip the Celtic Connection! McIntyre is sent into steel steps! Gunther brings Ricochet up again, but Ricochet SUNSET BOMBS! Cover, TWO!! Fans fire up and Sheamus is back, but Tribute to the Troops goes to break!
Tribute to the Troops returns once more, and Sheamus is rallying on Imperium! He CLOBBERS Ludwig, CLOBBERS Vinci, then hits Ludwig in a corner! Vinci BOOTS but Sheamus scoops and SLAMS him! Then Sheamus scoops and SLAMS Ludwig! Fans fire up with The Fella, and he has Ludwig on the ropes! Fans fire up for the BEATS OF THE BODHRAIN! Sheamus goes all the way to nine, winds up, and hits TEN! Vinci runs in, but into WHITE NOISE! Gunther tags and CHOPS Sheamus down! Cover, TWO! McIntyre and Gunther stare down, McIntyre steps in but the ref keeps him back. Sheamus HEADBUTTS Gunther!
Sheamus staggers over, hot tag to McIntyre! Fans fire up as the Scottish Warrior has Gunther in his sights! Gunther wants McIntyre to hold on, and then they fire off CHOP for CHOP back and forth! Gunther swings, McIntyre ducks it and CLOBBERS Gunther! And again! McIntyre clinches to OVERHEAD Belly2Belly! McIntyre dodges again to NECKBREAKER! McIntyre kips up and fans fire up! McIntyre goes to a corner and the countdown starts! Three! Two! One! LARIAT from Gunther!! Gunther crawls over now, hot tag to Vinci! Vinci drags McIntyre up, tags Ludwig, and Ludwig hops up. Vinci brings McIntyre in, but McIntyre back drops free!
Ludwig leaps but McIntyre DECKS him! Ricochet builds speed to FLY onto Vinci and Gunther! Fans fire up again as McIntyre tags Sheamus! The countdown is back, "Three! Two! One!" BROGUE-MORE!!! Tag to Ricochet, and he goes up top! SHOOTING STAR PRESS!! Cover, Ricochet & The Celtic Connection win!
Winners: Ricochet, Sheamus & Drew McIntyre, by pinfall
A huge win for redemption! The Impeccable German could not withstand that assault, he loses this one for Der Ring General! And with the Miracle on 34th Street Fight next week, will Ricochet redeem himself more with Braun Strowman by his side? Will we see Tribute to the Troops go another 20 years?
---
My Thoughts:
A really fun Tribute to the Troops here, but being another afternoon showing kinda shows this isn't as big as it used to be. It was programmed right after a NCAA basketball game that went long so it was delayed by over twenty minutes. Granted, these are pre-recorded, but still. Great profiles on select members of the military, and great memories of the past Tribute to the Troops specials, especially getting to see footage of past superstars like Eddie Guerrero and Cryme Tyme. Really fun matches, but of course Braun won against Knight and of course Ronda & Shayna beat Emma & Tamina. And obviously, we finish strong and happy with the Six Man Tag, the Faces winning so fans can be cheering to end the show. I just wish this wasn't on Fox.
My Score: 8.4/10