Bodeen's Top 5 Moments: WWE RAW (5/10/21)
With WrestleMania Backlash this coming weekend, Bodeen lists out his Top 5 moments from WWE Raw!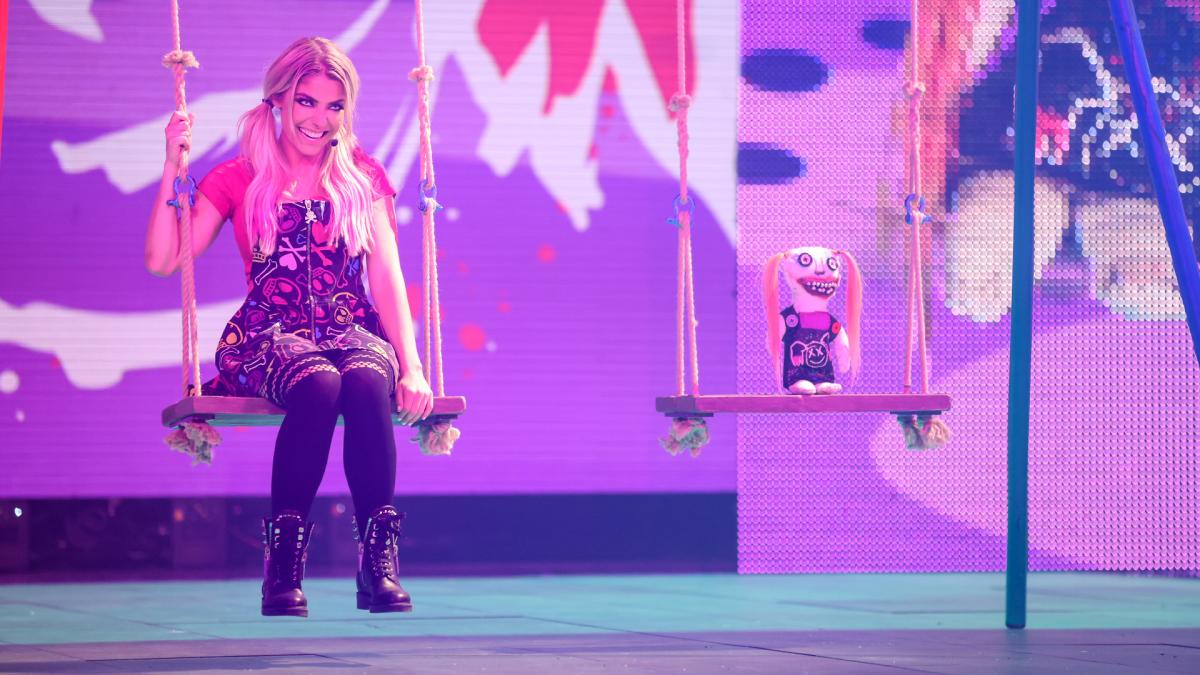 With just a few days to go until WrestleMania Backlash, Monday Night RAW once again came from us from the ThunderDome as the go-home show for WrestleMania Backlash. While not as bad as previous weeks, Raw once again felt slow and painful to go through as RAW once was again hurt by rematches from previous RAW episodes, multi-person tag team matches, as well as a slow pacing as RAW's three-hour time slot, continued to hurt the flagship show. Despite all the negatives, I am here to once again bring you the positives for RAW as I once again bring you the top 5 moments from this week's edition of Monday Night RAW ahead of WrestleMania Backlash.
5. Humberto Carrillo and the United States Champion, Sheamus push each other to the limit 
Before Humberto Carrillo and Sheamus could face each other, The United States Champion would cut a short promo just before the match on his Championship reign as well as talk about Humberto Carrillo and Mansoor talking about how dominant he was after giving both men a Brogue Kick last week on RAW. Humberto would start the match strong against The United States Champion as he sent Sheamus outside the ring, however, The United States Champion would quickly regain the advantage as he threw Carrillo over the barricade near the timekeeper's area as RAW went to an ad break.
Sheamus would continue to inflict pain on Humberto Carrillo with Sheamus taking Carrillo to the rope to hit the Beats of the Bodhran on Carrillo. However, Carrillo would fight back and would eventually hit The Celtic Warrior with a slingshot sunset flip powerbomb with both men landing outside the ring awkwardly as Sheamus's body landed on the knees on Carrillo. This would eventually lead to the referee calling for the bell as the match was called a no-contest with Carrillo's status being unknown as it was not clear as he suffered a legitimate injury after the referee called the match off.
While it is unfortunate that the match was called short due to a booking decision or a legitimate injury suffered by Carrillo. Both men still put on a solid effort in the short time they had with Carrillo looking like a legitimate threat as he pushed The United States Champion to his limit. With Carrillo potentially being injured after the bump, it will be extremely interesting to see who the next challenger for Sheamus's United States Championship will be.
4. Randy Orton, Riddle, Xavior Woods and Kofi Kingston take on AJ Styles, Omos, Elias and Jaxson Ryker in an eight-man tag team match 
After Jaxson Ryker and Elias were defeated by Riddle and Randy Orton and Omos and AJ Styles defeated The New Day all eight men would have a chance to face each other in an eight men tag team match. All eight men would put on a solid match as the massive Omos continued to look strong once again as he dominated The New Day once again. The match also did a solid job in advancing the tag team story of Riddle and Randy Orton as Riddle and Orton continue to rise up the tag team division as they continue to work well together. Before the match started, Riddle would talk to The New Day backstage talking about his reaction to seeing The Viper get tomatoes thrown at him by Ryker and Elias last week. This would lead to Orton confronting The King Of Bros telling him how he found killing legends and burning people fun showing his sadistic side to Riddle.
Riddle and Elias would start the match off for their teams with The King Of Bros getting the early advantage over Elias. However, the momentum would quickly change as Elias tagged in the giant Omos who dominated Riddle despite Riddle's best efforts. Omos would then once again dominate The New Day making quick work of Woods and Kingston. The Viper would confront Omos as both men stared at each other to send us to the ad break. After the ad break Elias, Styles and Ryker would continue to work over Riddle. Riddle would then tag in Woods but the heels would quickly get the upper hand over Woods.
Woods would continue to fight on for his team and would eventually get the hot tag to Riddle who took the fight to the team of heels, leading to Riddle hitting the Bro-Derek on Elias. Omos would stop the pin with the match breaking down with Riddle tagging Orton in the chaos. Orton would then wait outside the ring as The New Day distracted Omos by attacking AJ Styles outside the ring. This would allow Orton to hit the RKO on a vulnerable Elias to get the win for his team. After the match, Orton would show his true colours as he gave an RKO to Kofi Kingston and Xavier Woods before leaving Riddle in the ring as RK-Bro remains to be undefeated despite the massive difference in attitudes between Orton and Riddle.
3. John Morrison and Damien Priest fight for the stipulation ahead of The Miz's match with Priest 
After Damien Priest beat John Morrison in a solid match last week, Priest would talk to WWE official Adam Pearce this week with Damien Priest adding high stakes for his rematch against Morrison this week with the stakes being the winner gets to choose the stipulation for the match between The Miz and Damien Priest at WrestleMania Backlash. Despite The Miz's objection to this, John Morrison would accept the challenge further creating miscommunication between the two men as The Miz cost John Morrison his match against Damien Priest last week on RAW after Miz accidentally distracted the referee when Morrison had Priest pinned for a three count. Both men would exchange strikes early in the match with both men showing off their agility in the process, however, the numbers game would hurt Priest as Morrison sent Priest outside the ring allowing The Miz to hit a cheap shot on The Archer Of Infamy outside the ring with Morrison following the cheap shot up with a neck breaker for a close nearfall.
The Archer Of Infamy would then fight back against Morrison hitting Morrison with a roundhouse kick then would hit Morrison with the Shinjiro Otani spinning wheel kick. Both men would continue to go back and forth late in the match Preist hitting Morrison with a diving spinning wheel kick late in the match for another nearfall. Unfortunately for Morrison, The Miz would once again cost him the match as The Miz distracted the referee when Priest tried to connect with Hit The Lights, however, Morrison would reverse it into a crucifix pin for a 3 count only for The Miz's distraction to cost Morrison, allowing Priest to connect with Hit The Lights to pin Morrison for the win with Priest later going back to Adam Pearce later in the night and making his match against The Miz a lumberjack match so that The Miz cannot run away from Priest in their match.
This was a great match from two men who work extremely well together as their agility and style mix incredibly well. The continued miscommunication between John Morrison and The Miz continues to be an interesting dynamic as both men continue to get in each other's way. It will be interesting to see if this will lead to either The Miz breaking up with John Morrison, or Morrison breaking up with The Miz and becoming a singles star for the first time since his recent return to WWE.
2. Shelton Benjamin and Cedric Alexander face each other in a grudge match
Shelton Benjamin would have a chance to get revenge on his previous tag team partner as Benjamin took on Alexander this week after Alexander insulted Benjamin, breaking up with his tag team partner, blaming Shelton with their recent poor form. Both men would put on a great match as they told a simple but effective story in the time they were given. Alexander would start off the match strong against Benjamin with Alexander taking out the knee of Benjamin after hitting him with a dragon screw through the ropes then locking in a heel lock on Benjamin, inflicting more pain on the injured leg of Benjamin.
Despite Benjamin's best efforts, Cedric Alexander would cut off Benjamin every time he tried to get back into the match. Benjamin would continue to get dominated by Alexander as Alexander began to insult a hurt Benjamin. Alexander would continue to run his mouth as he even called out the announce table. Unfortunately for Alexander, his ego would cost him the match as it allowed Benjamin to recover to hit the t-bone suplex on Alexander for the win over his former tag team partner.
This short match told a simple but extremely effective story as it made Cedric Alexander look strong in a sense as he dominated his former tag team partner, while still showing the inexperience of Alexander as his ego and trash-talking cost him the match. Hopefully, this is not the last we see of Alexander and Benjamin on tv as both men struggled to remain relevant before joining The Hurt Business despite both men being extremely talented and gifted.
1. Drew Mcintyre and The All-Mighty Bobby Lashley face each other in a WrestleMania rematch 
Drew Mcintyre would have a chance to get revenge on the All-Mighty WWE Champion Bobby Lashley this week on RAW as both men main evented RAW this week in a rematch to their match at WrestleMania this week. Before the match happened MVP, would once again play a factor heading into the WWE Championship match at WrestleMania Backlash this Sunday as MVP confronted The Monster Among Man, Braun Strowman. MVP would talk about Drew Mcintyre costing Braun Strowman his match against Bobby Lashley the previous week. MVP would then suggest that Strowman and Bobby Lashley should team up and take out Drew Mcintyre making their match at WrestleMania Backlash a singles match. Strowman would tell MVP to leave with Strowman not giving a straight answer. MVP would later get more time on the mic as he talked about how Bobby Lashley beat Drew at WrestleMania and how Lashley will stay WWE Champion at WrestleMania with MVP once again doing a great job at being the manager for Bobby Lashley as his skills on the mic are a highlight for RAW every week.
Things would start off hot between Lashley and Mcintyre as Lashley tried to put Drew in The Hurt Lock early up in the match with Drew reversing. Both men would go back and forth, showcasing their incredible strength as they put on a great main event. Late in the match, Lashley would throw Mcintyre into the ring post face first. Lashley would then attempt a spear only for Drew to send Lashley into the turnbuckle and do a Ric Flair flip in the process. Mcintyre would then hit the leaping neck breaker and would try to hit the Future Shock DDT only for Lashley to block it. Lashley would then attempt to put Drew in the Hurt Lock, once again with Drew reversing and surviving a fisherman suplex from Lashley to hit the Claymore on Lashley only for The Monster Among Men, Braun Strowman to come out and attack Drew.
Strowman would then go and help Lashley to his feet and looked ready to accept the offer from MVP earlier in the night, however, Strowman would show he wanted to side with no one as he suddenly hit Lashley with a running powerslam. Strowman would then hit another powerslam on Drew, however, Strowman wasn't done there as he hit Lashley with a powerslam through the barricade and would hit another powerslam on Drew as he stood tall against Lashley and Strowman as RAW went off the air.
These were my top 5 moments from an average but improved edition of Monday Night RAW this week. What were your top 5 moments from Monday Night RAW this week and what are your predictions and thoughts for the RAW matches heading into WrestleMania Backlash? Let us know in the comment section down below. 
King's WrestleMania Rewind: Charlotte Flair vs. Asuka from WrestleMania 34
Chris king is back with one of the most underrated matches in WrestleMania history–Charlotte Flair vs. Asuka!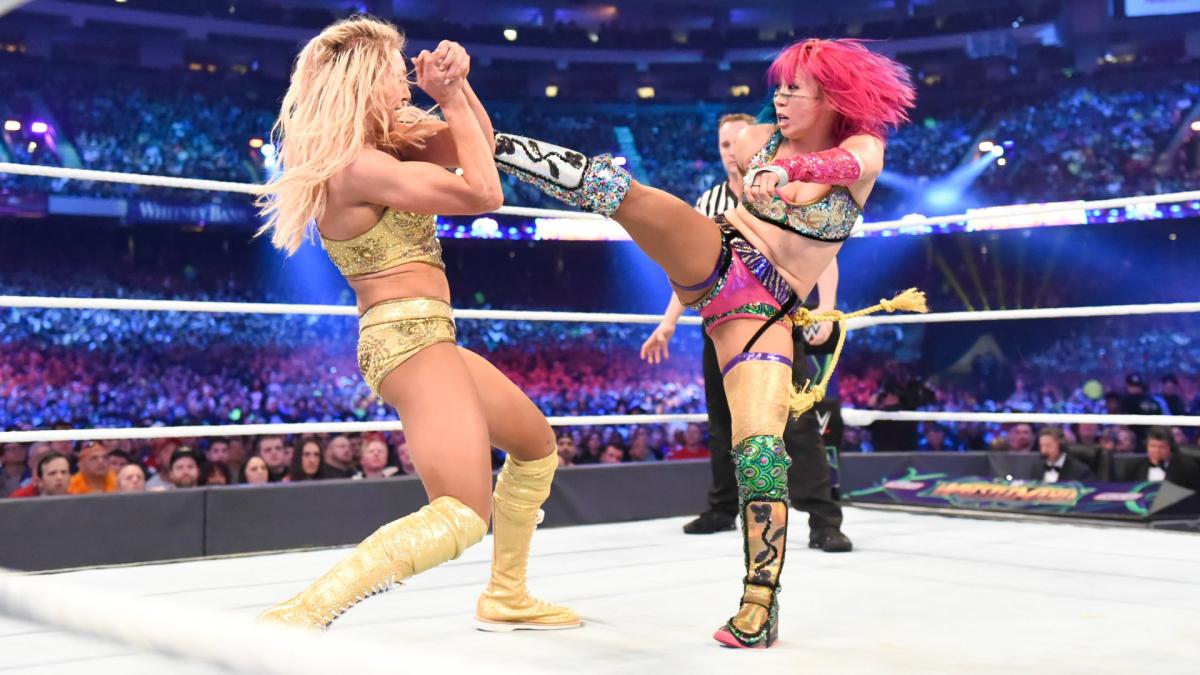 Chris king is back with one of the most underrated matches in WrestleMania history–Charlotte Flair vs. Asuka!
We look back at Charlotte Flair vs. Asuka at WWE WrestleMania 34. 'The Empress of Tomorrow' put her unprecedented and historic undefeated streak of 914 days on the line against 'The Queen's' SmackDown Women's Championship.
For years, this was considered a dream match while Asuka dominated the roster in NXT, while Flair won numerous championships on the main roster on both Raw and SmackDown. The Empress made her long-awaited debut on the September 11th episode of Raw and began to tear through the competition.
Asuka outlasted all twenty-nine other women in the historic first-ever Women's Royal Rumble match to challenge for the title of her choosing. At Fastlane, she made her choice.
The WWE Universe was so excited for this match myself included. Both superstars delivered a fantastic performance on the Grandest Stage of Them All executing counter after counter. Asuka showed off some nasty-looking kicks to her opponent, and Flair hit a thunderous Spanish Fly off the top rope. Flair was seconds away from defeat at the hands of The Empress but she locked in Figure Eight and Asuka was forced to tap out.
I can't even begin to explain how shocked I was at this outcome, as nearly everyone expected The Empress to continue her undefeated streak and walk away with the women's title. This controversial decision was the downfall of Asuka's momentum. She would ultimately win the SmackDown Women's Championship at the 2018 TLC pay-per-view in the triple-threat ladder match.
Fast forward to this year when Asuka has recently returned with her Japanese-inspired persona Kana. Kana is dangerous and ruthless and is heading into a championship with Bianca Belair at WrestleMania 39. The Empress has regained all her momentum and is highly favored to walk away with the Raw Women's Championship. Let's hope that Asuka and Belair can tear the house down and deliver an A+ grade match both women are fully capable of.
King: Dominik Mysterio Needs To Do This At WrestleMania
Chris King is here with what WWE should do with Dominik Mysterio at WrestleMania in his long-awaited match against his father Rey Mysterio Jr.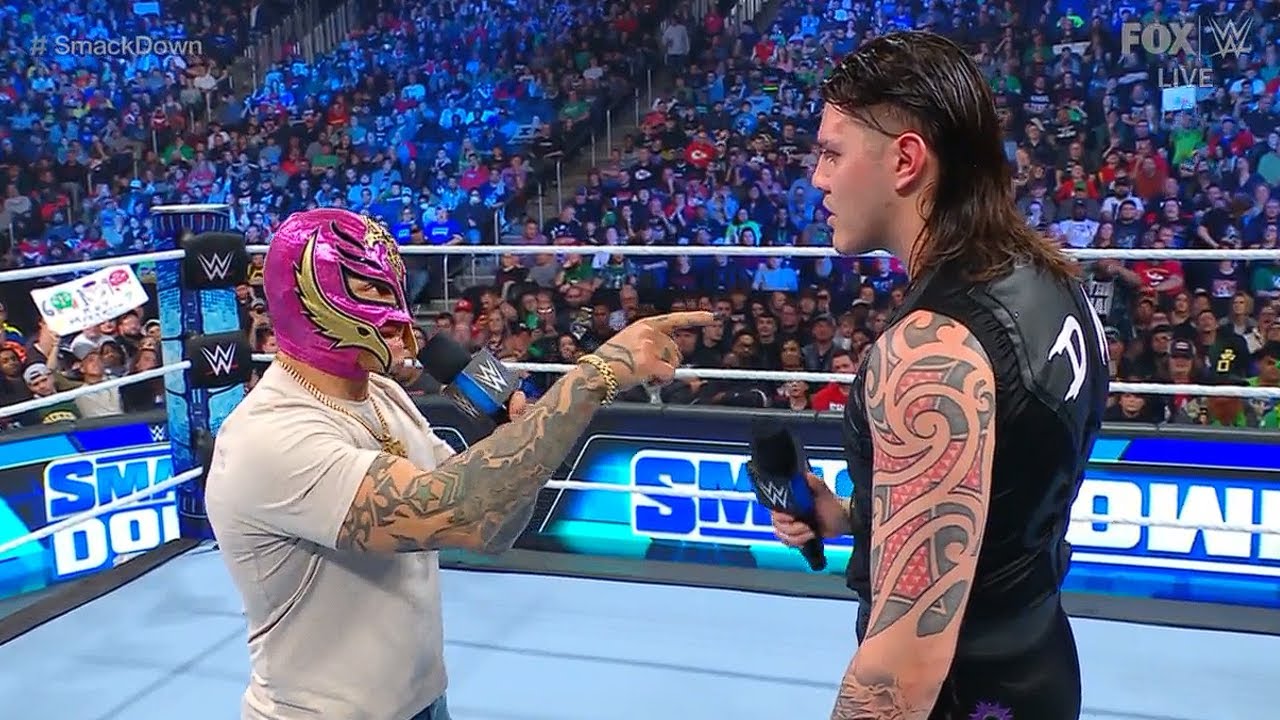 Chris King is here with what WWE should do with Dominik Mysterio at WrestleMania in his long-awaited match against his father Rey Mysterio Jr. 
On this week's episode of Friday Night SmackDown, Rey Mysterio finally snapped and beat some sense into his disrespectful punk-ass kid Dominik. The member of the Judgement Day came out to push his father again for a match on the Grandest Stage of Them All, this time with his mother and sister at ringside. The ungrateful punk told his mom to "Shut Up," as a father even I wanted to jump through the screen and whoop his ass.
Back in October of last year, Mysterio made the emotional decision to possibly quit the company but, instead, Triple H persuaded the Lucha libre superstar to move over to SmackDown to avoid his son. This came after Dominik shockingly turned on his father at Clash at the Castle. Mysterio did everything he could to refuse his despicable son's challenge for Mania but, a man can only be pushed so far. Mysterio will be inducted into the 2023 WWE Hall of Fame and I expect Dominik to embarrass his father during his speech to further this personal feud.
Yes, the WWE Universe hates Dominik and wants to see him get the ever-loving crap kicked out of him but, this feud is missing a special ingredient to capitalize on the biggest heat possible. Throughout this feud, Dominik has made mention of the legendary Eddie Guerrero on several occasions going back to the "iconic" 2005 feud.
I know WWE might not want to go this route but, Dominik MUST come out to Eddie Guerrero's theme at Mania. The disrespectful punk needs to come out in a lowrider to garner nuclear heat. It doesn't matter if The Judgement Day comes out and causes interference for Dominik to get the win, all that matters is that both superstars get the biggest payoff of this nearly year-long feud. Just imagine the Roman Reigns heat after he defeated The Undertaker and multiply that by ten. Dominik portrays the perfect heel and he truly is the missing ingredient that The Judgement Day needed to grow and evolve into a top faction.