AJ's Hell in a Cell Ratings & Review: 6.20.2021
With Roman giving away one match on SmackDown, does that take any of the heat out of Hell in a Cell 2021? Let's see what AJ thought!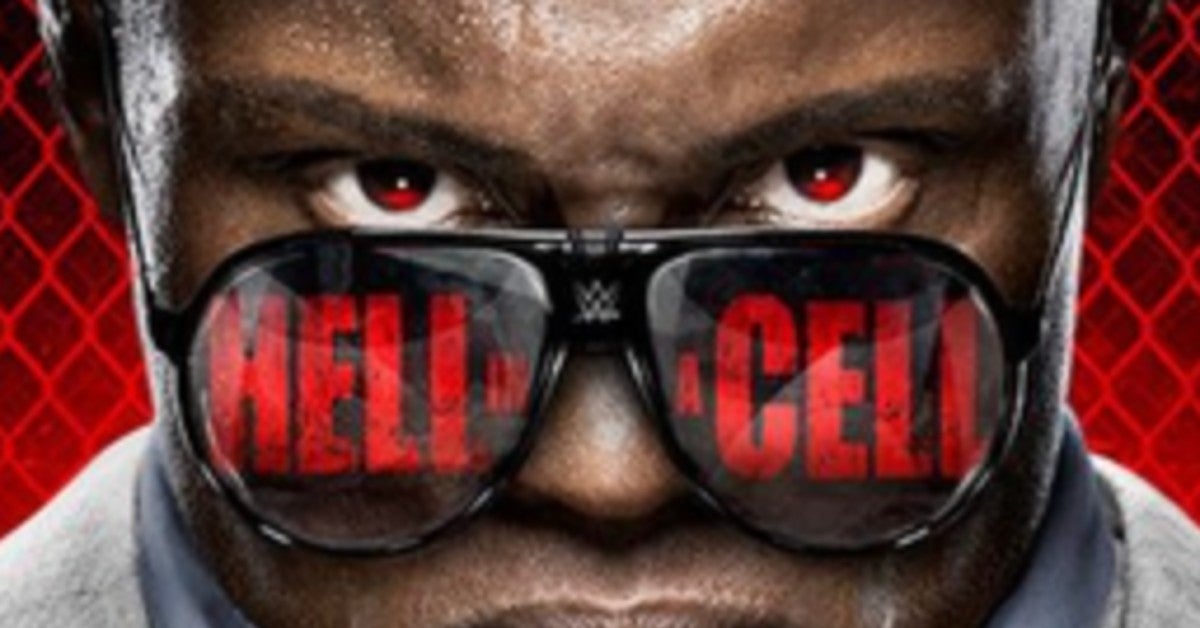 Well I guess Halloween came early because Hell In A Cell is typically in October since it became a standalone Pay Per View (don't tell my girlfriend that Halloween came early or my house will be covered in darkness) so this should be… different to say the least.
Lashley and McIntyre at it for the last time, Bliss and Shayna continuing their Lilly feud, the SmackDown Women's Championship is contended in Hell In A Cell and Rhea is going to combat The Queen one more time to make sure the WrestleMania match from last year was just a fluke. Let's see if the will be a good Pay-Per-View without the Tribal Chief in an official match or if this card will be… well… Hell.
Results:
Hell In A Cell: Bayley vs Bianca Belair(c) for the SmackDown Women's Championship – Bianca wins via Kiss of Death – *** ½ – TITLE DEFENSE!!
Seth Rollins vs Cesaro – Rollins wins via Small Package – *** ¾
Alexa Bliss vs Shayna Bazler (w/ Reginald & Nia Jax) – * ½
Sami Zayn vs Kevin Owens – Sami Zayn wins via Helluva Kick – ***
Charlotte Flair vs Rhea Ripley(c) for the Raw Women's Championship – Charlotte wins via DQ – **
Hell In A Cell: Drew McIntyre vs Bobby Lashley(c) for the WWE Championship – Lashley wins via Roll-Up – *** ½ – TITLE DEFENSE!!
Review:
Bayley vs Bianca Belair-
Bianca starts it off first, giving Bayley a couple of scoop slams and taking Bayley down with a clothesline and Bayley starts the mind games outside of the ring and brings two chairs in after distracting Bianca. Bayley uses a slow swing with one of the chairs and Bianca takes full control of the match until a Superplex attempt goes wrong for the Champ as Bayley bashes Bianca's shoulder into posts and starts to target her arm now. Bayley keeps getting a ruthless attack on Bianca until some separation is caused by the champion and now the assault on Bayley comes on the outside but Bayley actually bites Bianca off of her and gets a Kendo Stick to take a shot at Belair and does a Sunset Flip Powerbomb on the Cell Wall.
Bayley now sets the Double Kendo Sticks that she failed to set up last year after that but Bianca waited long enough to put Bayley through the sticks and bashes a chair into Bayley's back but also takes too much time and gets the chair back into her face and getting the aggression back on the champion, even laughing at Bianca as she ties the long braid on the chair. Bianca now breaks some separation between her and Bayley but gets the hair off the chair and now on Bayley's wrist to pull Bayley in for close attacks. Bianca unties her hair from Bayley and as Bayley pleads with the ref to leave, Bianca kicks Bayley's head into the cell and laughs back at her. Bayley introduces a ladder after some more separation and after sidestepping and tug of war with the ladder, more damage is done to the champ in the ladder. Bayley hits her Roseplant finisher with Bianca in the ladder but the knee gives out of the challenger and can't get the instant pin.
Bianca gets one last gasp of wind with one last separation from Bayley, she lands a Senton Bomb on Bayley on the ladder and then uses the ladder one more time with the Kiss of Death.
Seth Rollins vs Cesaro-
Rollins goes at the attack on Cesaro from the entrance, beating each other down before rolling into the ring again and the bell rings. Seth goes for his strieks but it's not enough for the Cesaro's strength and even his agility as Seth is reeling from the bat, inside and out. Rollins finally sees and opening against Cesaro's strikes and gets cheap with the attacks and digging his weight into Cesaro's face but after a while, Cesaro's strength comes back with a deadlift Vertical Suplex to get some separation but takes too much time and Rollins comes back to take and fight Cesaro inside and out with knee strikes and some punches as well.
Cesaro gets an attack going from Seth's strikes and bursts out with some more damage to Seth's face, takes off the possibly weighted glove of Rollins, punts the glove into the stands (Pat would love that on commentary for the brand) and has Seth reeling again from the strikes and even a scoop slam for a nearfall. Rollins catches Cesaro from the top and gets the fight going for Rollins, kicks, strikes and looking like Osperay with a forearm shot to the back of Cesaro's head. As Cesaro is dazed, Seth starts to trash talk and goes to more of the offense, more strikes to the back of Cesaro's head to stun him. Seth, after another nearfall, takes too much time and goes for the Curb Stomp but Cesaro gets a burst of energy to stand up and take Seth off his feet.
After they get back to their feet, Cesaro takes Rollins down and swings him around and places the Sharpshooter in. Seth, crawls over to the ropes but it gets switched into a Crossface. As Cesaro centers Rollins again, they begin a tug of war, a battle for position as a Sharpshooter attempt has Seth catches Cesaro in a Small Package and gets the win finally.
Alexa Bliss vs Shayna Bazler-
Oh wow… this doesn't look like a supernatural match… Um… okay. Hopefully a fair rating.
Reggie surprises Alexa from the beginning with a distraction and Shayna goes on the attack as Alexa is unphased and attacks Bazler with knee strikes and a senton as Alexa kind of… stuns Reggie in the outside but Shayna takes it to Bliss and Alexa… laughs. Even taking the Gutwrench Slam of Shayna and is also breaks out of Shayna's different submissions and joint damage but the stomp actually looks to phase Bliss… for few seconds until she laughs and makes people get entranced by a gaze and takes Bazler down. Bliss actually damages and takes Shayna out as Reggie goes to take her down and entrances Nia to attack Reginald on the outside. (There's the supernatural shit…)
A Sister Abigail but as a DDT instead of a Flatliner and Twisted Bliss and the vexed vixen of Bliss gets the win.
Sami Zayn vs Kevin Owens-
Who will win the millionth fight against the Generic Wrestler and The Bringer of Disaster?
Well Kevin takes it to Sami quickly but it's vocally apparent that the Nigerian Nails to the throat on SmackDown is making Owens struggle a little. Sami still gets absolutely rocked with strikes and not letting Sami get any offense going until Sami makes it with the ropes. Now that Sami Zayn is taking it to Owens, even clotheslining him to make him cough and gag more on the damage that was previously done. Sami tries a suplex but Owens still fights off Zayn and takes a Suplex with Kevin getting some offense going. Sami now lures Kevin to the ropes and decapitates him and lands a Tope con Hilo on Kevin and Sami has firm control again as Kevin might actually be hurt as the match happens.
Sami strikes over and over before Kevin gets out of the ring and ironically a second wind, another breath of life as Owens takes down Sami but as he continues the onslaught on the outside, Sami gets his knees up from a Senton attempt and gets the advantage again. As both men know what the other can do, the signature moves of each come in, Owens already hit a Cannonball but a Stunner attempt comes in and Sami catches it into a Half and Half suplex and when Kevin rolls back outside, he lures Sami into a Stunner on the outside and gets in after a 9 count to the outside.
As both men get some fight and attacks on each other, Sami capitalizes on weakness to the throat of Kevin Owens and hitting a Helluva Kick to finish off Kevin Owens, still reeled and coughing as he is down for the three count. (Owens actually looks like he messed up his shoulder in that match so, hopefully it's nothing too drastic as he talked to the Ref as Sami showboated.)
Rhea Ripley vs Charlotte Flair
Charlotte decides to sneak attack Rhea right away before the bell by distracting her with the belt and forcing Rhea out of the ring. Charlotte takes it to the champion a lot, not letting her get an advantage as the match goes on. Charlotte keeps talking about lessons that she'll teach Rhea with being champion. Flair not quitting on the assault on the Nightmare and after Rhea moves out of the way from an attack to tweak Charlotte's knee from a landing and the champ starts getting the advantage and takes it to Flair. Flair though gets another quick burst of energy and wind as she hits Natural Selection and goes to hit Rhea more and more with the offense, even going for the moonsault, missing the first but hitting the second rotation on the ground, just being more aggressive than usual onto the Women's Champion.
Each time Rhea gets a burst of offense, Charlotte answers back with more of the aggression until Rhea lands the superplex and gets a form of momentum. As Charlotte makes a small mistake in the corner and gets hit by a Riptide, she luckily gets her foot on the ropes and breaks the pin. Rhea chases the Queen on the outside and it costs her, taking more damage to the knee and Charlotte takes control again. Charlotte puts the Figure Four on, maybe even the Figure Eight but Rhea is able to drag them both outside and Rhea tosses the table cover into Charlotte for a Disqualification.
(Aftermath: Rhea and Charlotte continue to fight back into the ring after referees try to break them up and Rhea hits a Riptide on Flair.)
Drew McIntyre vs Bobby Lashley-
Lashley goes to get a weapon but Drew makes chase and attacks him on the outside of the ring, shredding Bobby's face into the steel and doing damage until Drew takes too much time to get the steps and getting attacked. Lashley gets some offense going again but Drew gets a split with a Suplex into the cage and bashing the Steel Steps into Bobby's face over and over again and continues the relentless assault against the champion. MVP tries to get things situated for Lashley and hands the cane to Lashley through the cage and gets some form of offense going but each time, Drew makes sure he puts Bobby down with destructive moves against the cage and an Air Raid Crash into the steps.
Drew sets up a table on the outside of the ring and goes to do more of the attack to the outside of the ring and into the cell as more and more weapons get added in with chairs. Drew lets his anger full him over time hits moves onto the chairs like a Reverse Alabama Slam and every time Lashley gets some offense started, Bobby gets absolutely rocked and messed up each moment by the Scotsman.
Lashley finally gets some form of separation and an advantage on the outside of the ring and MVP gets involved, sliding a Kendo Stick in between Drew and a cage wall. Lashley gets more and more damage in with another Kendo Stick but as both Drew and Lashley get more and more aggressive in the ring, they take the referee out with a chairshot (ayyyyye we go in the ThunderDome event everyone) and Drew hits the Future Shock.
The ref outside gets the door unlocked to start the count after a Claymore Kick but MVP comes in and suffers after the door is locked back with MVP inside Hell In A Cell. MVP gets rocked by a Claymore and Drew goes back to the outside to dish out more punishment but, Lashley catches him in a Hurt Locker. On the outside, Drew tries to get a separation going, he drives Bobby into the table and cage hard as Drew begins to stand tall again. Driving the steel chair harder and harder each time to Bobby's back to weaken him until he readies another Claymore but Lashley drops down and catches the wind as Lashley makes more offense on the outside, putting McIntyre into a table and drags the lifeless body in the ring and misses his Spear this time. McInytre hits a Future Shock and readies a Claymore until MVP grabs the leg of McIntyre just to get rolled up by the champion.
Final Rating: 5/10
It was…… okay. The Hell in a Cell Matches were amazing because they could actually do more, Bayley referenced her massive botch from last year and pre-planned which was great telling of that, MVP interfering was predictable but the match was still lived up to the Hell that was within the Cell and the Ring of Honor Alumni matches were great too because there was chemistry, actual storytelling and call backs to either storyline they are in or what happened at an earlier event.
The two things that massively soured me though… You have an MMA Fighter in the ring that can actually do damage, very talented in the squared circle and the octagon. She doesn't need supernatural crap to be in a story, she's good already on her own. If you want her in a story, break her off of Nia and Reggie or something, not a doll and Alexa making everyone watch a tape so she can crawl out of a well in seven days. Two, people wanted to cry and complain that Karrion Kross made everyone look weak and In Your House (he didn't, they just used everything they had while he waited in the shadows in my own opinion) but, Charlotte flat out embarrassed Rhea. Like… that was me fifteen years ago getting a temper tantrum on my brother levels of embarrassment during this match. Was I supposed to feel bad for Rhea? Was that an attempt at a heel turn? Was that… I don't know what that was other than embarrassing. You're going into AEW involvement of IMPACT levels of embarrassment. Figure it out, pheasants.
Mitchell's WWE SummerSlam Results & Report! (7/30/22)
Will Nashville become Suplex City?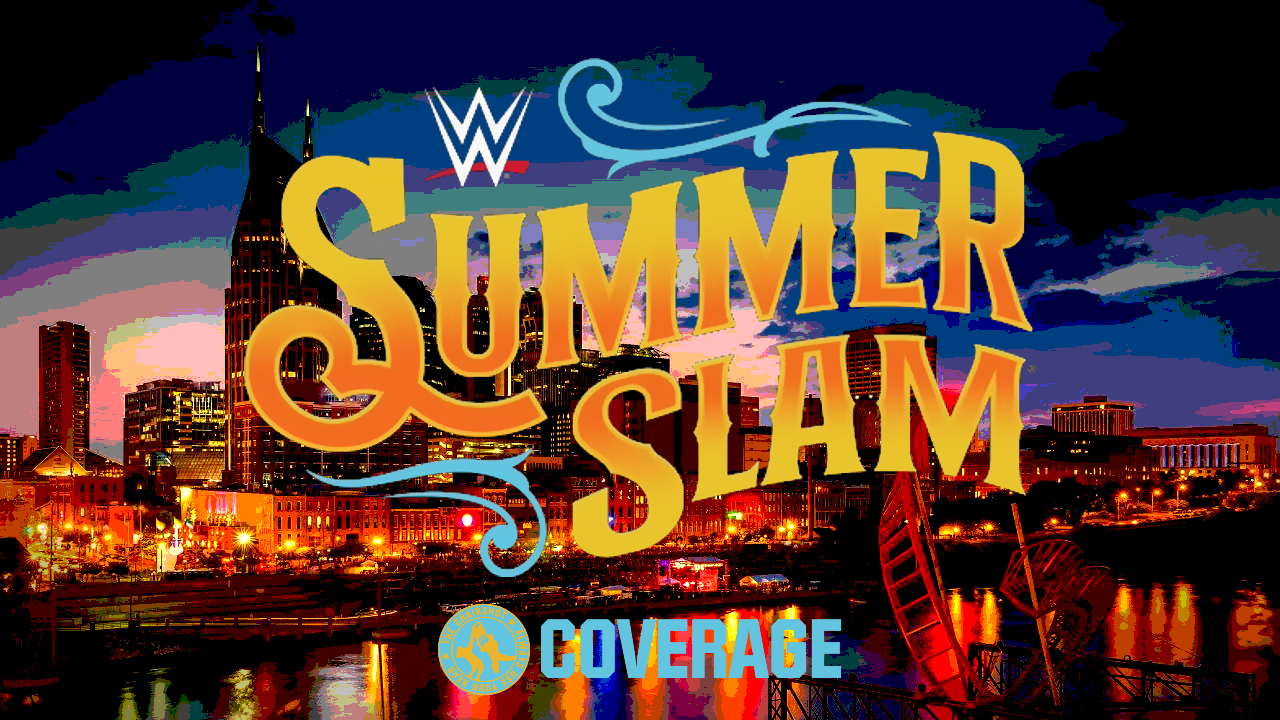 Last chance, Last Man Standing!
Roman Reigns and Brock Lesnar once again battle for the top prize in WWE, but this year's SummerSlam is to be the last time! Will the Tribal Chief or the Beast be standing tall to end it all?
OFFICIAL RESULTS
Raw Women's Championship: Bianca Belair VS Becky Lynch; Belair wins and retains the title.
Logan Paul VS The Miz w/ Tommaso Ciampa; Logan wins.
WWE United States Championship: Bobby Lashley VS (Austin) Theory; Lashley wins and retains the title.
No Disqualification Tag: The Mysterios VS The Judgement Day; The Mysterios win.
Pat McAfee VS Happy Corbin; McAfee wins.
Undisputed WWE Tag Team Championships: The Usos VS The Street Profits, Special Guest Referee Jeff Jarrett; The Usos win and retain the titles.
SmackDown Women's Championship: Liv Morgan VS Ronda Rousey; Liv wins and retains the title.
Undisputed WWE Universal Championship: Roman Reigns w/ Paul Heyman VS Brock Lesnar; Roman wins and retains the titles.
PLAY BY PLAY
It's the SummerSlam Kickoff Show!
Join Kayla Braxton, Jerry "The King" Lawler, Booker T, Kevin Patrick and Peter Rosenberg in discussing, analyzing and predicting all the action here tonight.
Backstage interview with (Austin) Theory.
Sarah says the Youngest Mr. MITB Ever has a huge night ahead of him. but with everything that's happened the last few weeks, how does he fee He feels that this is his time. After tonight, we will be in the Theory Era! Theory vows to take back the WWE US Championship from Bobby Lashley, then he cashes in his little friend, the MITB contract. Brock Lesnar and Roman Reigns will destroy each other, and Theory will walk down to the ring to become the Youngest Universal Champion in history. And that is #AllDay!
Please welcome the WWE Global Ambassador, Titus O'Neil!
Nashville is fired up for the Real Deal, and he wants to be the first one to welcome us to the biggest party of the summer, SummerSlam! The WWE has a motto, "Put smiles on people's faces." But tonight, they have a chance to honor three non-profits that are doing amazing work that not only put smiles on people's faces, but hope in people's hearts. The WWE Community Champion Showcase is honoring Meals of Hope, Pencil and Musicians on Call! And it's SummerSlam, right? So we're doing things a little differently. So not only are these organizations honored with the title belts, but in partnership with Pure Life, each organization is gifted $20,000!! So let's get ready for a good time! Get ready for SummerSlam!
One more mysterious video.
Rain in reverse. blinking lights. The writing in blood. More images of superstars and legends of the past. "I AM COMING TO NITE!" As in, TONIGHT, on SummerSlam? Do you think you know who this is?
If you came for a crazy party, you came to the right place.
This is the biggest event of the summer, with the action always on tap where top shelf names give you top shelf smiles. But to top these charts, you have to be the best of the best. And if you ain't that, then you best get the hell outta the ring. This is SummerSlam!
Raw Women's Championship: Bianca Belair VS Becky Lynch!
Last year's SummerSlam saw perhaps the craziEST moment in SummerSlam history! The EST was SmackDown Women's Champion, and first she thought she was facing Sasha Banks. Then she thought she was facing Carmella. But then she ended up facing The Man, who suckered her into a 26 second defeat! But the tables have turned, and now Becky is trying to make a Big Time Comeback. Will she sucker Bianca in again? Or will Bianca stay the RawEST Women's Champion to finish her comeback story?
The introductions are made, the belt is raised, and one way or another, the opening number is going to be a smash hit!
Fans fire up with the bell as Bianca and Becky stare down. They circle, tie up, and Bianca powers Becky back, but Becky slips away. Becky and Bianca circle again, tie up, and Becky waistlocks to a headlock to a waistlock to a headlock! But Bianca throws Becky away! Fans fire up while Becky seethes. She rushes in but Bianca waistlocks to SLAM her down! Bianca keeps on Becky, Becky reaches around to facelock. Bianca fights up, fans duel and Bianca powers Becky back. Becky goes up the corner to sunset flip but Bianca rolls through and handsprings! Bianca eggs Becky on then runs her over!
Bianca runs, handsprings but Becky gets up. Bianca dodges her but Becky yanks the hurdle out of the air! Becky omoplatas one arm and YANKS the other! Bianca clutches that arm but Becky drags her up to wrench and YANK the arm again. Becky keeps on the arm, YANKS it, wrenches, then WRINGS Bianca into ropes! Bianca writhes and Becky taunts her. Becky drags Bianca up by the bad arm, and hits an ARM CODE BREAKER! Bianca flounders to a corner while Becky grins. Fans boo but Becky stalks Bianca to ropes. Becky drags Bianca by the arm, hooks the arm and TWEAKS it! Bianca gets away to a corner but Becky is after her with hands and kicks!
Becky brings Bianca up, wrenches and WRINGS, but Bianca handsprings! And DROPKICKS! Then chicken wings! GlamEST Slam to a STANDING MOONSAULT! Cover, TWO! Becky bails out while Bianca shakes out her arm. Bianca shakes her head and pursues Becky at the barriers. Torture rack, KISS OF- NO, Becky lands on her feet to HOTSHOT Bianca on the barriers! And then climbs up, to drop the MAN'S LEG! Guillotine style! Becky gets Bianca back in the ring fast, covers, TWO! Bianca survives and Becky is annoyed. Fans rally, Becky has Bianca in a corner, and gives her a BECKSPLODER!
Bianca tumbles but Becky paces. Becky stalks Bianca to the other corner, brings her up and clinches to scoop and- NO, Bianca fights the suplex with elbows! Bianca suplexes, but Becky turns it to a cradle! TWO! Becky runs, ducks 'n' dodges, tilt-o-whirls and has the bad arm! Bianca shoves Becky away to a corner, then runs in, but only into buckles. Becky KICKS then CLUBS Bianca down! Cover, TWO! Becky snarls but she stalks Bianca again. Becky kicks Bianca in the corner, then kicks her against ropes. Fans rally up but Becky throws hands. Bianca ROCKS Becky back, and again! Becky shoves, then gets the leg! Becky goes for a leg sweep but Bianca jumps over!
Bianca blocks a kick but Becky uses that to reel Bianca in for a takedown! Bianca fights off the armbar! Becky makes it a cover, TWO! Becky runs and dropkicks Bianca out of the ring! Becky runs in again, fires off forearms and uppercuts and a SOBAT! Becky goes up the corner while Bianca's in the ropes, GUILLO- POWERBOMB!! Bianca turned that around midair! Fans rally up while both women are down! Bianca goes back to the apron, Becky rushes over but into a shoulder! Bianca throws a forearm but Becky hits back! Becky WRECKS Bianca with a dropkick and fans duel. Becky leaps from the apron, but into chicken wings! APRON GLAM SLAM!
Bianca then runs in, but Becky throws her up! Bianca handsprings with the ropes to suplex Becky! Becky slips off to shove Bianca into the corner. Bianca and Becky tug-o-war over the hair, Bianca uses it to YANK Becky into the post! Bianca then suplexes Becky high and hard to the floor! The ring count is 5 of 10 but Bianca puts Becky in the ring. Bianca wants to win this fair and square! HANDPSRING MOONSAULT! Cover, TWO! Bianca is frustrated but she RAMS into Becky at the corner! Bianca throws her shoulder in again and again, then whips corner to corner, Becky reverses, Bianca goes up and over, but Becky elbows her!
Becky goes up, leaps, CROSSBODY, but Bianca rolls through! Bianca carries Becky and fans fire up! Trophy Lift, but the bad arm gives up! Becky BOOTS Bianca, then goes up the corner, for the DIAMOND DUST! Cover, TWO!! Bianca survives the rolling cutter, and fans rally up again. Becky gets her own bad arm moving, and she CLUBS Bianca. Bianca ROCKS Becky but Becky hits back! Fans fire up as Bianca gest the edge but Becky knees low! Becky runs, but Bianca ROCKS her at the ropes! Bianca runs, but Becky uses the braid to pull her back! Bianca elbows Becky, Becky comes back to RANA, but Bianca blocks! And deadlifts to ALLEY-OOP!
Bianca hurries to grab Becky for the Torture Rack! Becky holds ropes, rolls through, and has the arm! DISARM-HER!! But Bianca fights it! She moves around to get the ROPEBREAK! The ref reprimands, Becky still holds so Bianca drags her out of the ring, into the torture rack! KISS OF DEATH to the floor!! Fans fire up and Bianca drags Becky back up. But Becky's dead weight and one arm isn't enough! Bianca goes into the ring at 8, but Becky springs to life at 9! Bianca can't believe Becky got back in! Bianca refocuses, and she hurries after Becky to torture rack again! KISS OF- NO, Becky lands out again!
Becky BOOTS, runs, but into a SPINEBUSTER! Bianca drags Becky to a drop zone and climbs up the corner! Fans fire up as Bianca aims, but Becky gets up to knock her down! Becky climbs up after Bianca, fires off haymakers, but Bianca hits back. Becky still brings Bianca up but Bianca fires off body shots! Becky drops but has the braid! Becky yanks Bianca off the top, into a MANHANDLE SLAM!! Cover, TWO!?!? Bianca survives and no one can believe it! Becky is beside herself but she hurries to throw hands on Bianca. Becky CLUBS Bianca, but Bianca blocks! Becky steps over, but Bianca rolls her, TWO!
Bianca waistlocks and O'Conner Rolls, TWO! Bianca goes up the corner, Becky CLUBS her first! Becky goes up after her, clinches, but Bianca fights it to a SUPER SPANISH FLY!! And then a torture rack! KISS OF DEATH!!! Cover, Bianca wins!!
Winner: Bianca Belair, by pinfall (still Raw Women's Champion)
The story has come full circle! Bianca lost one title to Becky, but she held onto this one! Does this mean Bianca is bigger than Big Time? As for Becky, she offers a handshake. Bianca isn't sure if she can trust Becky given last year's SummerSlam. Fans are also torn, but Bianca accepts the handshake! They hug it out and fans cheer the sportsmanship. But then, what is next for Becky in her own comeback story?
Wait, is that BAYLEY!? The Role Model has been gone for a year, and now she's back! Fans are all fired up to see her return, and Bayley goes right to the ring. "DING DONG! Hello, Bianca! You remember me?" But wait! Is that DAKOTA KAI!?! She disappeared from NXT after losing to Mandy Rose, but she's coming right up to the ring, too! It seems Bayley isn't surprised, she knew this was coming. WAIT! IO SHIRAI!?! The Evil Genius also disappeared from NXT, and now she's here!! And now, Io, Bayley and Kai are all going together! They get in the ring to tell Bianca that Bayley wasn't going to come back like alone! She has the best in the world!
Wait, Becky is standing by Bianca's side?! The Man isn't going to let her old pal, Bayley, just trample on her moment with Bianca! Big Time Becks and the EST want to have at it, but Bayley and her new buddies bail out. Will it only be a matter of time before Bayley, Shirai and Kai take over Monday Night Raw?
Logan Paul VS The Miz w/ Maryse & Tommaso Ciampa!
The social media sensation became a WWE superstar with help from the Hollywood A-Lister, only to be betrayed on the biggest stage of them all! Now Logan wants his revenge during the biggest party of the summer! Will Logan's run be truly must-see? Or will Miz stop this #ImPAULsive behavior once and for all?
The bell rings and Miz circles with Logan. The fans taunt Miz with "TINY BALLS!" but Miz shrugs that off. He ties up with Logan, pushes him to ropes, and Miz hooks Logan's arms in the ropes. Miz pats Logan on the head as he lets off, and he gloats about the supposedly big balls he has. Logan and Miz circle again, tie up, and Miz waistlocks. Miz spins Logan, wrenches, arm-drags then runs to fake Logan out. Miz scuffs Logan and smiles. Miz mocks Logan's shadow boxing but Logan just shrugs that off, too. Logan and Miz go again, Miz waistlocks, but Logan switches to SLAM Miz down! Logan brings Miz up and Miz elbows hard!
Miz knees low, whips Logan to ropes, but Logan slips out of the scoop to fireman's carry takeover! Miz flounders, Logan fakes him out, then scuffs him! Fans fire up but Miz is fuming!  Miz swings, misses, blocks a boot, but Logan bobs 'n' weaves then fires off body shots! Logan mocks Miz's "awesome," then dares Miz to get up. Miz comes back, Logan hurdles, hurdles, drops with the splits, and ducks the buzzsaw! Roll up, TWO! Miz hurries up but Logan runs in, to clothesline Miz out of the ring! Logan then slingshots to MOONSAULT! Direct hit at the ramp and fans fire up! Miz is dazed, but also a bit surprised!
Logan puts Miz in but Miz turns things around to kick! And CHOP! Miz stands Logan up to CHOP again! Miz holds his hand up, but Logan ducks the chop to CHOP and CHOP and CHOP in return! Logan CHOPS so hard, his armband comes off! Logan whips, Miz reverses but Logan BOOTS! Logan goes up but Miz sweeps the legs! DRAPING CODE BREAKER! Ciampa tells Miz that was awesome, and Miz stalks Logan along the ropes. Miz stomps Logan at the ropes, lets off as the ref counts, then KICKS Logan in the side. Miz puts Logan on the ropes and CHOKES him! The ref counts, Miz claws Logan's eyes as he lets off.
The ref reprimands Miz but Ciampa gets a cheap shot in! Miz plays dumb, then brings Logan around to hip drop. Miz claws Logan's face, drags him up into a chinlock, but Logan endures. Fans mock Miz and the "TINY BALLS!" but Logan fires off body shots. Miz puts Logan in the corner to fire off KICK after KICK then haymaker after haymaker! Miz lets off as the ref counts, and fans boo as Miz soaks up the heat. Miz runs in but Logan dodges! Miz knees buckles, Logan counter punches to ROCK Miz! And again! Miz shoves Logan, Logan BOOTS back! Logan goes up the corner to BLOCKBUSTER! Direct hit and both men are down!
A standing count begins as both men stir. Logan sits up at 5, Miz follows, and Logan stands at 6. Logan LARIATS, then LARIATS again! Then he scoops Miz to hit a RUNNING POWERSLAM! Cover, TWO!! Logan catches his breath while Miz crawls away. Logan paces around Miz, and PENALTY KICKS! And PENALTY KICKS! And again, and again! Miz ducks the buzzsaw but Logan CHOP BLOCKS Miz down! Logan has the legs, grins and steps through, for the FIGURE FOUR! Miz endures, Logan thrashes the hold, Miz has his shoulders down! TWO, and Miz reaches for ropes! Miz drags himself and Logan around, ROPEBREAK!
Logan lets off fast, and fans rally up as Logan goes corner to corner. Miz puts Logan on the apron but Logan ROCKS Miz! Miz stagers, Logan leaps, CROSSBODY! But no cover, STANDING MOONSAULT! Cover, TWO!! Miz winces and crawls to the corner, but Logan stalks behind him. Miz elbows Logan away, BOOTS him to a corner, and Miz runs, but into an elbow! Miz distracts the ref, Ciampa is on the apron! But the ref spots him, and EJECTS him!! Ciampa is furious and storms around, and grabs a chair! Ciampa takes a seat, but here comes AJ STYLES! Ciampa gets out of his seat to look for Styles, but where is he? PHENOMENAL FOREARM from the crowd side!
Styles fires off on Ciampa and takes him around to TOSS over barriers! Ciampa and Styles brawl in the crowd! Miz gets up, Logan hits a PHENOMENAL FOREARM of his own! Cover, TWO!! Miz survives and Logan is furious, but Logan pursues Miz out of the ring. Logan tells Miz to get his ass up, then drags him around. Logan gets an idea, and decides to clear off the announce desk! The ring count is climbing, but Logan drags Miz up to put him on the table. Logan gets in the ring, goes to a corner and climbs, but Maryse shouts at Logan! Logan just throws the corner crossbar cover at her! Logan hits a SUPER FROG SPLASH TO THE DESK!!!
Fans are losing their minds as Logan invokes the spirit of Shane O'Mac with that one! But did he do as much damage to himself as he did Miz and the desk? Maryse distracts the ref while Logan gets Miz in the ring to cover! Logan would've won by now! Logan yells at Maryse, but Logan grabs his necklace! Miz swings, Logan dodges! Maryse almost gets hit!! Logan gets Miz, SKULL CRUSHING FINALE!! Cover, Logan wins!!
Winner: Logan Paul, by pinfall
With Miz's own move, Logan has his revenge! Logan unloaded on the A-Lister, is this the start of a new must-see career in the WWE?
Maximum Male Models finish a photoshoot.
They're parched. All this modeling is making them thirsty. Maxxine Dupri demands her boys get water. Ah, yes. Pure Life! After a long day under the bright lights, they need something cool and refreshing to quench that thirst. Pure Life promotes hydration. And who doesn't want hydrated skin? This is all they need to perform their perfect poses. Pure Life is the official water of Maximum Male Models, and the WWE.
WWE United States Championship: Bobby Lashley VS (Austin) Theory!
The All Mighty took this title from the Youngest WWE United States Champion Ever, but "Daddy" got Theory the MITB contract to make up for it. Will Lashley show that Vince or no Vince, Theory is going to feel the pain in the Hurt Lock? Or can Theory grab this prize on the way to the top prize?
The introductions are made, and Theory ATTACKS Lashley off the corner! Theory wants the bell, the ref checks on Lashley first. Lashley says he wants this match, so the bell rings. Theory rushes in, fires off body shots and CLUBS Lashley, but Lashley stays up! Theory keeps throwing forearms but Lashley elbows him away. Lashley blocks a boot, but Theory ROCKS Lashley with a left! SOMERSAULT BLOCKBUSTER! Cover, ONE!! Theory rains down fists on Lashley while fans tell them how they feel. Theory stomps Lashley, rains down fists, and shouts, "I don't need my daddy!" Theory drags Lashley up, reels him in, but Lashley suplexes first!
Theory slips out, ROCKS Lashley, runs but Lashley hurdles! Lashley CLOBBERS Theory, CLOBBERS him again, then hits a MILE HIGH SPINEBUSTER! Theory flounders and fans fire up! Lashley aims as Theory is in the corner, and Lashley runs in, but Theory bails out! Theory wants his briefcase to leave and focus on Roman VS Lesnar. But Lashley intercepts him at the ramp! Theory is afraid and he throws the briefcase. Lashley swats it, CLUBS Theory and RAMS him into barriers! Lashley drags Theory up, RAMS him in again, then drags Theory up to put in the ring. Lashley gets in but Theory gets out, and Theory slingshots in to SHOTGUN! Cover, TWO!
Theory grins and mocks Lashley's pose. Theory runs in at Lashley, but into a COMPLETE SHOT! Lashley catches his breath while Theory flounders again. Fans rally behind Lashley, Theory throws a haymaker. Lashley hits Theory back, Theory throws another! Lashley hits back, Theory hits again, repeat! They keep throwing hands back and forth and the fans fire up as Lashley gets the edge! Theory swings, Lashley ducks but the back elbow come sin! Theory runs, into a scoop! And a POWERSLAM! Fans fire up with Lashley and Lashley runs in at Theory, but Theory goes up and over! Lashley POSTS himself!
Theory slingshots in again, but into a the trophy lift!! Then the HURT LOCK!!! Theory taps with both hands, Lashley wins!
Winner: Bobby Lashley, by submission (still WWE US Champion)
So much for part one of Theory's plan! Will Lashley continue to dominate as United States Champion? Will Theory be able to regroup and focus on part two of tonight?
No Disqualification Tag: The Mysterios VS The Judgement Day!
This has been going on for over a month now, and it will only end when one side is destroyed! Will Rey & Dominik keep their lucha libre legacy alive? Or will they be nothing but dust and bones after dealing with Damian Priest & Finn Balor?
The second Rey & Dom are in the ring, the Judgement Day attacks! But Rey & Dom are ready and the brawl is on! Dom has Damian, Rey has the Prince! But Damian throws Dom, throws fists, and Finn does the same to Rey! Judgement Day soaks up the heat and Rhea applauds. But fans boo, until Rey BOOTS Finn, then BOOTS Priest! Rey tilt-o-whirl RANAS Finn, Dominic DROPKICKS Priest! Priest stays up but Dom dumps him out! Rey feeds Finn to Dom to throw out, and then Rey slingshots to hold ropes open! Dom DIVES and takes out Priest! Fans fire up and Rey mule kicks Finn to ASAI MOONSAULT!
Fans fire up again and Rhea is frustrated! Dom puts Finn in, climbs up a corner, and Dom CROSSBODIES! Cover, TWO! Dom drags Finn up, bumps him off buckles and he tags Rey in. The Mysterios DOUBLE RUSSIAN LEG SWEEP, then Rey runs to wheelbarrow with Dom, VICTORY ROLL SPLASH! Cover, TWO! Fans fire up, Rey brings Finn up and wrenches the arm. Tag to Dom, the Mysterios mug Finn, and Dom knuckle locks to go up and up and FLYING ARM-DRAG! Priest swipes at Dom but Dom ROCKS him! Finn whips Dom into Priest's KNEE! Finn DECKS Rey, and he grins as he has Dom all alone.
Finn KICKS Dom, stomps him down at the ropes, and soaks up the heat from Nashville. Finn CHOKES Dom on the ropes, then he lets off to tag in Priest. Finn scoops Dom for a BACKBREAKER, and Priest adds a LEG DROP! Cover, TWO! Fans rally but Priest DECKS Dom down! Priest digs his knee into Dom and pulls him back. Dom endures, fights up, but Priest keeps him from Rey. Dom throws body shots, but Priest ROUNDHOUSES Dom down! Priest DECKS Rey for good measure, then waits on Dom to get up. Finn puts Dom in the corner, Priest hits a big back elbow! Tag to Finn, BROKEN ARROW to slingshot STOMP!
Rhea likes what she sees, and Finn mocks Latino Heat. Finn drags Dom up, snap suplexes, and then holds on for Uno Amigo! Finn then CLUBS Dom just to mess with fans. Finn CHOPS Dom in a corner, CHOPS him again, and RAMS a shoulder in. Rhea mocks Dom's pain, Finn CHOPS him and throws body shots and CHOPS again! Finn whips corner to corner, runs in and CHOPS again! Fans rally but Finn bumps Dom off buckles. Finn talks trash on Dom and his dad, but Dom shoves back and hits a NECKBREAKER! Both men are down, fans rally up, hot tags to Priest and Rey! Rey ducks, dodges and CROSSBODIES!
Rey kicks Priest, whips, but Priest reverses. Rey dodges, Priest hits buckles! Rey shoulders in, goes up top and SEATED SENTONS! Fans fire up as Rey basement dropkicks! Rey DECKS Finn, then baits Priest into a BOOT! Wheelbarrow and a BULLDOG! Rey KICKS Finn before he could bring the chair in! Rey has the chair, he JAMS Priest with it, then SMACKS him with it! Fans fire up for that one! Rey sees Finn, baseball slide CHAIR SPLASH onto Finn! Rey then gets back up, GAMANGIRIS Priest, and slingshots, but into Priest's arms! Priest and Rey scrap, Rey slips off but runs into a SUPERKICK! Cover, TWO!
Priest catches his breath and looms over Rey. Priest drags Rey up, clamps on a choke grip, but Rey slips out of the slam to victory roll Priest onto ropes! But Finn tags in to LARIAT Rey! No 619 yet, and Finn runs in at Rey to SHOTGUN him into buckles! Rey is down, Finn goes up! But Dom returns to anchor Finn! Finn CLUBS away until Dom lets go, but Rey ROCKS Finn back! Rey climbs up, HEADBUTTS Finn, and SUPER STEINERS! Cover, Priest breaks it! Priest drags Rey up, reels him in, calls his shot, but Rey drops. Priest brings him back up, but Dom saves Rey from the crucifix! Then gives Rey a boost to RANA Priest onto ropes!
Dom dropkicks Finn onto ropes! Fans fire up as the Mysterios dial it up, but Rhea disconnects those calls! Rhea gets Dom for an Electric Chair SLAM onto the apron!! Finn calls to Priest, Priest choke grips Rey! SOUTH OF HEAVEN, and Rhea fetches a chair. But wait! There's FIRE on stage! And rising from the ground is EDGE!! The Rated R Superstar is summoning the powers of The Brood and the Attitude Era, and he is like a bat outta hell going to the ring! Priest hurries to intercept but Edge BOOTS him down! Then Edge SPEARS Finn!! And he dodges Priest to SPEAR him, too! Fans are loving it as Edge drop toeholds Finn onto ropes!
Rey and Dom regroup, they dial it up, DOUBLE 619!! FROG SPLASH! Cover, the Mysterios win!
Winners: The Mysterios, by pinfall
The Judgement Day pays for what they did to their former leader! The legendary Edge stands alongside the legendary Rey Mysterio, will they and Dominik destroy what Judgement Day has become?
Pat McAfee VS Happy Corbin!
Football teammates who went their separate ways, it's borderline fate that brought them back together, as enemies. McAfee's all about having a good time, but will he be having a great time when he puts "Bum Ass Corbin" in his place? Or will Corbin be an even happier Corbin when he actually backs up his words and beats McAfee?
As part of Corbin's entrance, a men's choir sings "BUM ASS CORBIN!" Clearly that was McAfee's doing. And then the choir shifts to a Seven Nation Army remix for McAfee! The bell rings and fans fire up for McAfee. Corbin says McAfee is nothing but his mouth, so he should just go take a seat on commentary. But fans chant, "BUM ASS CORBIN!" so we know how they feel. Corbin shoves McAfee, but McAfee SUPERKICKS him! And then ROCKS him with haymakers! McAfee has Corbin in a corner but Corbin knees low and puts McAfee in the corner. Corbin runs in, into a BOOT! McAfee goes up to FLYING RANA!
McAfee clotheslines Corbin up and out of the ring! Fans fire up while McAfee goes out after Corbin. But Corbin RAMS McAfee into the apron! Corbin whips, McAfee reverses and POSTS Corbin! McAfee stomps Corbin, puts him in the ring, and then gets in to stomp him at the ropes. McAfee drags Corbin up to hoist onto the top rope. McAfee throws hands, then climbs up after Corbin. McAfee climbs up even higher but Corbin throws body shots! Corbin shoves McAfee, but McAfee backflips through! But Corbin SHOTGUNS?! Both men show off they can do anything, and Corbin stomps away on McAfee!
Fans boo but Corbin drags McAfee up to put in the corner. Corbin fires off body shots, lets off as the ref counts, and Corbin goes corner to corner to SPLASH! Corbin TOSSES McAfee across the ring, then he soaks up the heat. Corbin taunts McAfee to get up, and he tells Michael Cole, "How's your boy doing?" Corbin fires off haymakers, CLUBS McAfee, then tosses him out! Corbin goes out to RAM McAfee into barriers! Corbin brings McAfee around to RAM into more barriers, then refreshes the ring count. Corbin drags McAfee up and puts him in to then cover, TWO! Corbin sarcastically applauds McAfee but fans boo Corbin.
Corbin drags McAfee up, but McAfee throws body shots! McAfee runs, but into a DEEP SIX! Cover, TWO!! Corbin argues with the ref but McAfee survived fair and square! McAfee crawls to a corner, Corbin runs in, but McAfee dodges! Corbin slides out, slides in, but into a dropkick! McAfee then slingshots to PLANCHA! Direct hit and both men are down! McAfee hurries up and after Corbin but Corbin fires off haymakers and forearms! Corbin TOSSES McAfee across the desk! Corbin then dribbles McAfee off the desk while taunting Maggle! Corbin refreshes the ring count again then grabs a headset to say, "Hey, Tim! Hey, Sally! You watching your boy!"
Corbin is taunting Mr. & Mrs. McAfee as Corbin rains down fists! Cole says Corbin's parents are the ones who are embarrassed! But Corbin shoves Cole into taking a seat! Corbin rains down fists on McAfee, then drags McAfee into the ring. Corbin glares at Cole but Cole tells him to focus on McAfee. Corbin says the Titans are never going to the Super Bowl! Corbin climbs up a corner, which isn't usually his thing… McAfee springs up after him! Fans fire up as McAfee gets Corbin up for the SUPERPLEX!! McAfee crawls to a cover, TWO!! Fans fire up for McAfee while he and Corbin stir. McAfee and Corbin rise and the fans fire up more.
Corbin fires off a haymaker, but McAfee hits back! Corbin hits McAfee again, but McAfee hits back! Corbin hits, McAfee hits, and fans fire up as McAfee fires off! But Corbin RAMS McAfee into a corner! Corbin goes corner to corner but McAfee moves, Corbin POSTS himself! Corbin flops out of the ring while the ref checks on McAfee. The ring count starts but McAfee rises. McAfee sees the corner, and he climbs it! McAfee aims at Corbin, to SUPER SWANTON!! #ForTheBrand!! Fans are losing their minds as McAfee hits Corbin down! McAfee gets Corbin in, goes back up the corner, and has to leap over Corbin!
McAfee comes back, slips out of End of Days and ROCKS Corbin! Corbin stumbles into the ref! The ref goes down, Corbin and McAfee look around! McAfee LOW BLOWS Corbin! Payback from SmackDown! "SUCK IT!" McAfee goes up and fans fire up as McAfee hits a PANAMA SUNRISE!! McAfee wins!!
Winner: Pat McAfee, by pinfall
Another amazing performance from McAfee! 2-1 overall in the WWE, is McAfee the best commentator turned wrestler ever?
Drew McIntyre is here!
The Scottish Warrior is the NEW #1 Contender to the Undisputed WWE Universal Champion after SmackDown's incredible Irish Donnybrook! And now he and his sword, Angela, are headed to the ring! "Nashville, how the hell are you?" They cheer so they're doing great. "I love this place. Broadway, Music City, home of the Titans, who are in the house tonight! In fact, I love this place so much, it's the home of the new #1 contender for the Undisputed Championship, Drew McIntyre!" Did y'all see that match between him and Sheamus? It was a war for 30 minutes, both men beating the hell out of each other with whatever they could get their hands on!
But McIntyre says it was worth it! Why? Because now McIntyre has his shot at the title! Let's talk about that title and its main event, Brock Lesnar VS Roman Reigns, for the FIRST TIME EVER! Uh, well, in Nashville, at least. With both titles on the line, and in a Last Man Standing Match, and in front of this kid named Colt! Fans chant for "COLT! COLT! COLT!" and McIntyre high-fives him. But that min event will be a battle. It won't matter who wins, because at Clash at the Castle, McIntyre beats dat ass and takes those titles! Now, let him raise his magic sword and see what happens. Three! Two! One! BOOM! Will there be fireworks in Cardiff when McIntyre takes on whoever is champion?
Jeff Jarrett makes his way to the ring.
Nashville cheers their own Double J, and he is all suited up to be the official for this next title match!
Undisputed WWE Tag Team Championships: The Usos VS The Street Profits, Special Guest Referee Jeff Jarrett!
Money in the Bank didn't become known for a tag title match but for the shoulder being up at the end of it! And because of that, there has been a need for a slightly higher standard of shot calling. In steps J E Double F, J A Double R E Double T, ain't he great? But will having a legend like Jarrett really change the fortunes of the Profits? Or will Jimmy & Jey still be the ones holding the unified Raw & SmackDown Tag Team Championships?
Angelo Dawkins & Montez Ford get the Tennessee Titans' cheer squad with them for their entrance, but the Usos only need the belts. The introductions are made, one red and one blue belt each is raised, and we see if this match is truly undisputed!
The teams sort out and Jimmy starts against Dawkins. They circle, tie up, and Jimmy puts Dawkins in a corner to fire off haymakers! Jarrett counts, then he pulls Jimmy off when he doesn't listen. Remember, five count! Jimmy storms up on Dawkins but Dawkins ROCKS Jimmy! Dawkins fires off hands, Jarrett counts, but he pulls Dawkins back, too. Dawkins storms up on Jimmy, Jimmy CLUBS him, Jey tags in. Dawkins whips but Jimmy reverses to a BACKBREKER! Jey adds an AX HANDLE! Cover, TWO! Jey stays between the Profits, then ROCKS Dawkins with an uppercut! Dawkins ends up in Usos territory as Jimmy tags in.
Jey RAMS into Dawkins, Jimmy taunts Ford then forearm smashes Dawkins! Jarrett tells Jey to exit, one in and one out! Jimmy stays on Dawkins by stomping a hand. Jimmy CHOKES Dawkins, Jarrett counts and Jimmy stops at 4. But Jey hits a sucker punch behind Jarrett's back all the same! Jimmy clamps on a chinlock and he grinds Dawkins down. Dawkins endures, fans rally up, but Jimmy squeezes tight. Dawkins fights up but Jimmy wrangles him back down! Jimmy leans on the hold but Dawkins fights up. Dawkins throws body shots but Jimmy ROCKS him with an uppercut! Jimmy rains down fists in the corner, but lets off as Jarrett counts.
Jarrett reminds Jimmy of the five count, but Jimmy raises the finger, #WeTheOnes. Jimmy gets the fans chanting "UCE! SO!" and he runs corner to corner to HIP ATTACK! Jimmy says, "All day! All damn day!" Jey says to do it again, so Jimmy goes back to the corner. "UCE! SO!" Jimmy runs in, but Dawkins dodges! And GAMANGIRIS! Fans fire up while both men are down! Dawkins and Jimmy crawl while Jarrett starts a standing count. Hot tags to Jey and Ford! Ford GAMANGIRIS Jey, then CROSSBODIES! Cover, TWO! Ford dodges Jey then follows to LARIAT! Fans fire up, Ford mule kicks and front kicks to ENZIGURI!
Ford drags Jey up, back suplexes high and hard! Ford handsprings, flexes and STANDING MOONSAULTS! Cover, TWO! Jey is still in this but Ford snarls. Ford smacks Jey with his own shirt, then drags him up. Ford CHOPS Jey, then waistlocks. Jey switches, back suplexes, but Ford lands on his feet! Jey mule kicks, uppercuts, but Ford dodges to RUNNING BLOCKBUSTER! Cover, TWO! Ford seethes and he stalks Jey to a corner. Ford CHOPS Jey, pie faces him around, then whips corner to corner. Jey reverses, avoids Ford going up and over and shoves him into buckles! POP-UP NECKBREAKER! Cover, TWO!
Jey is annoyed now but he tags Jimmy in. The Usos bring Ford up, they double whip, but Ford holds ropes! Ford then dumps both Usos out! Hot tag to Dawkins and Dawkins brings down the straps! Dawkins builds speed to FLY! Direct hit into the LED barriers! Fans fire up as Dawkins puts Jimmy in, for the SILENCER! Cover, TWO!! Jimmy survives and Dawkins can't believe it! Dawkins drags Jimmy up but Jimmy kicks. Dawkins blocks but the DRAGON WHIP hits! Ford tags in, Dawkins ducks the superkick to POUNCE BACK SUPLEX COMBO! Cover, TWO!! Ford argues with Jarrett but Jarrett says that was fair.
Tag back to Dawkins and Ford climbs the corner. Dawkins Electric Chair Lifts Jimmy, but Jimmy fights! Ford leaps over, Jey SUPERKICKS him! Jimmy SUPERKICKS Dawkins! Tag to Jey, and the Usos DOUBLE SUPERKICK! Jey drags Dawkins around, tags Jimmy back in, and Jimmy goes up! USO SPLASH! Cover, TWO!! Now Jimmy argues but Jarrett says two is two! Jimmy talks with Jey, tags Jey in, and the Usos take opposite corners. They climb up, for the DOUBLE UCE!! Jey covers, Ford breaks it!! Fans are fired up as all four men are down! Jarrett starts a standing count on the legal men, and we're already at 5 of 10!
The Usos and Profits all get up. Jimmy grabs Ford and they stand at 7. Jimmy whips, Ford reverses and sends Jimmy out. Jey sends Ford out but Ford holds on! Jey aims, but Dawkins dodges! Jarrett catches the kick this time, feeds Jey to THE ANOINTING! Hot tag to Ford! FROM THE HEAVENS!! But Ford's ribs hold him back! Ford flounders to the cover, TWO!?!? Ford can't believe how close that was! No one can! But "This is Awesome!" as Jarrett argues with Ford. Ford talks trash on Jarrett but he tags Dawkins in. Ford stalks Jey but Jimmy gets him out of there! So Ford DIVES into a DOUBLE SUPERKICK! The Usos TOSS Ford over the barriers!
But Dawkins runs in! But into DOUBLE SUPERKICKS! The Usos put Dawkins in, Jimmy tags, and they DOUBLE SUPERKICK Dawkins again! Pop-up, ONE AND DONE!! Cover, The Usos wins!!
Winners: The Usos, by pinfall (still Undisputed WWE Tag Team Champions)
Jarrett called this down the middle, this isn't on him! The Usos are just that damn good! Will anyone ever dethrone Jimmy & Jey? Or are they the ones then, now and forever?
Matt Riddle is here?!
The Bro jumps in from the crowd and fans go wild! "So I'm not medically cleared to compete tonight." He tells security to shut up as he says Randy Orton always told him not to take crap from trash like Seth Rollin! So Rollins, get your ass out here! Fans fire up for Riddle, and here comes Seth Rollins! The Visionary has Adam Pearce and other officials trying to stop him, but Rollins wants to accept Riddle's challenge! Rollins sprints past in his creamsicle outfit and Riddle meets him at the ramp! The brawl is on!! Riddle ROCKS Rollins, KICKS him towards the ring, and gets him in the ring! Riddle KICKS and KICKS and KICKS!
Rollins blocks then DECKS Riddle! Rollins aims, refs and officials freak out, but the CURB STOMP hits!! Riddle's neck injury could be aggravated or worse! But Rollins just laughs and fans sing "OH~ OH~ OHHH~!" Rollins bails out and swaggers his way back up the ramp. Did the Bro bite off more than he can chew?
SmackDown Women's Championship: Liv Morgan VS Ronda Rousey!
After scratching and clawing, this young woman from New Jersey finally got to live the dream. She won the Ms. Money in the Bank contract, and then cashed in that same night to take this title from the Baddest Woman on the Planet. However, Ronda is right back for a rematch, and this time, she's 100%! Will Ronda rip off Liv's limbs to get the belt back? Or can Liv prove being an underdog isn't a death sentence?
The introductions are made, the belt is raised, and we see if Liv can keep the dream alive!
Liv and Ronda tie up but Ronda throws hands and throws Liv! Ronda dares Liv to get up and Liv does. Liv dodges one hand but not the rest! Ronda corners Liv but Liv shoves her away. Liv goes up and over but Ronda step-up KNEES! Ronda gets a leg, but Liv moves around, so Ronda fisherman SUPLEXES! Cover, TWO! Liv gets ropes and the ref has Ronda stay back. Ronda shrugs, but Liv fires off hands in return! Liv kicks low, ROCKS and ENZIGURIS Ronda, but Ronda BOOTS Liv right down! Ronda rolls to the fireman's carry, but Liv elbows free! Liv gives Ronda a CODE BREAKER! Liv runs in at the ropes, but Ronda has a SLEEPER!
Ronda SLAMS Liv, gest the arm, but Liv moves around! Ronda still wants it, Liv rolls Ronda up, ONE! Ronda gets the arm again, for a double wristlock! Liv endures, Ronda shifts her grip and talks some trash, ARMBAR! But Liv rolls Ronda up! TWO, into a RINGS OF SATURN! Liv busting out a submission of her own! But Ronda grits her teeth, fights up to her feet, but Liv hits a CURCIFI DRIVER! Cover, TWO!! Ronda survives and she flounders to a corner. Liv DOUBLE STOMPS her down! Ronda gets to ropes, and gets a HANGING ARMBAR! Liv endures, Ronda lets off at the ref's count of 4! Ronda hurries back in, and she THRWOS Liv down!
Ronda gets the arm, drags Liv to the center, and Ronda asks if fans want a souvenir! ARMBAR!! Liv bridges, kicks, flails, drags herself over, to the ROPEBREAK! Fans fire up and Ronda lets off in frustration. Liv is against ropes but Ronda throws hands! Then she throws Liv! ARMBAR!! Liv endures and bridges again, kicks around and rolls to the ROPEBREAK! Fans fire up and Ronda is getting even more frustrated. Ronda sees Liv go to another corner, the ref checks on Liv, but Liv doesn't want this to stop the match! Liv swears her arm is okay, and then she dares Ronda to bring it! Ronda fires up and runs in, steps up and around to RANA Liv into the ARMBAR!!
Liv endures, stands up, gets Ronda  on her shoulders! Cover, while Liv taps, but LIV WINS!!!
Winner: Liv Morgan, by pinfall (still SmackDown Women's Champion)
Ronda protests, she knows Liv was tapping! But what was the timing of it? The three or the tap? The replay shows the tapping started at two! But it doesn't change anything, replays don't matter in WWE! But Ronda DECKS Liv! Ronda puts Liv in the armbar! Then she throws the ref!! And puts him in the ARMBAR!! Ronda's snapped but she might snap an arm first! Officials rush out but Ronda tells them to back off or get some of that! The ref didn't do his job in Ronda's opinion, but will Ronda have to fight her way back up? And as for Liv, she survived by a split second. Will she be able to stay that lucky against the rest of the SmackDown roster?
"Kane," Glenn Jacobs is here!
He is glad to announce that tonight's attendance in Nashville's Nissan Stadium is 48,449! Thank you, WWE Universe! And of course, Kane makes the corner posts burst with flames!
Undisputed WWE Universal Championship: Roman Reigns w/ Paul Heyman VS Brock Lesnar!
After seven YEARS, this rivalry finally has its conclusion. The Tribal Chief thought he had put The Beast away at WrestleMania 38 when he became the reigning, defending, Undisputed WWE Universal Champion. But Lesnar came back again, promising to give Roman the country ass kicking he deserves. Will Lesnar end this last chapter as the Last Man Standing? Or will everyone, even Lesnar, have to acknowledge Roman Reigns?
Roman of course has The Wise Man, Paul Heyman, and his cousins, The Usos, so that all three undisputed champions of WWE can stand together with the belts and the pyro. But only the Special Counsel goes with Roman to the ring, holding the blue belt as a banner for The Bloodline. Then Roman holds up the belts for the second round of pyro. Heyman hands over a mic, and Roman says, "Nashville… SummerSlam! ACKNOWLEDGE ME!" Nashville is torn but there are plenty of fans cheering. Then Lesnar makes his entrance and everyone fires up! And that's also because Lesnar gets his flannel on and rides a big tractor to the ring!
Lesnar parks the tractor at ringside, with the front loader raised! Lesnar climbs the loader to get in the ring! Roman wants that tractor out of here, but it's not exactly stopping them from doing anything, right? The introductions are finally made, with Lesnar introducing himself as "a big ass country boy, weighing 285 pounds, coming here tonight to kick Roman Reigns' ass, and the Last Man Standing! Ladies and gentlemen, BRRROCK! LESNARR!" Surprisingly, Heyman doesn't take over Roman's intro. The black 'n' blue belts are raised, and then Lesnar LEAPS from the loader to CLOBBER Roman!! Lesnar rains down fists and the bell rings!
Roman pushes Lesnar away, but Lesnar clotheslines Roman out of the ring! Lesnar then pursues, and he OVERHEAD Belly2Belly Suplexes! And so it begins! Lesnar brings Roman around to RAM into steel steps, stalks him around the way, and he moves steps aside to drag Roman up, for another OVERHEAD Belly2Belly! That's two and Roman is down! The count starts but Roman pushes himself up at 5 of 10. Lesnar stalks Roman again, and CLOBBERS him against barriers! Lesnar then hauls ROman up to SLAM on the barriers, and Roman flops into the crowd. Lesnar grins as the count starts and he pursues Roman through the crowd.
Lesnar brings Roman over to one of the canopy supports, to snap suplex Roman onto it! Roman is down, the count begins again, but he stirs at 5 of 10. Lesnar hops up to join Roman as he stands, and Lesnar fireman's carries! Roman claws Lesnar's face to get free, then he POSTS Lesnar with the truss! Roman checks his back, then storms up on Lesnar. Roman reels Lesnar in, but Lesnar RAMS Roman into the truss! Then Lesnar TOSSES Roman onto a cameraman! Roman is down and the count starts again. Roman flounders at 4 of 10 so Lesnar storms up on him. Lesnar DUMPS Roman over the barriers and back to ringside.
Lesnar stumbles getting over the barriers, but he GERMAN SUPLEXES Roman to the floor! That's about four suplexes total, Music City is definitely Suplex City. Roman is down while Lesnar looks under the ring. Fans fire up as a TABLE is brought out! Roman stands at 6 of 10 but Lesnar stands the table up. Lesnar makes sure it is sturdy, and Heyman creeps up on him? Lesnar glares at Heyman and Heyman begs for mercy! Lesnar leaves Heyman alone, he has to get Roman first. Roman fireman's carries to SAMOAN DROP Lesnar through the table! The Wise Man tricks Lesnar again! Roman gets up while Lesnar stirs.
The count is 8 of 10 but Lesnar stands up. Roman grabs the top half of the steel steps, and he RAMS Lesnar down, onto the wreckage of the table! Lesnar is down again, Roman brings out a new table! Roman stands that table up while Lesnar manages to stand at about 5 of 10. Roman drags Lesnar over, t URENAGE through the table! The count starts again but Lesnar sits up at 5. Lesnar stands at 7, but Roman is right there to put Lesnar in the ring. Roman locks 'n' loads, takes aim from the corner, SUPERMAN PUNCH! Lesnar staggers but only drops to a knee! Roman reloads, runs back in, SUPERMAN PUNCH!
Lesnar drops but is right back up! Roman fires up, "OOAH~!" SPEAR!! But Roman can't cover, he has to let the count start! The count reaches 5 while Lesnar is down, but Lesnar does sit up at 7! Lesnar powers his way up at 8, and Roman can't believe it! Roman "OOAH~" and runs in, but into a fireman's carry! But Roman slips off, shoves, and runs in, only for Lesnar to toss Roman out! Roman almost hits table wreckage on the way down! The count is on both men but Roman rolls out at 5 to stand. Roman is still down at 7 but stands at 8. Lesnar storms over after Roman, brings him around, and SPINEBUSTERS Roman on what's left of a table!!
Another standing count as Lesnar staggers away, and Roman is still down at 5. Lesnar moves the tractor?! The loader is lowered, Roman manages to stand at 8 of 10. Lesnar comes back for Roman and RAMS him with steel steps! Payback from a moment ago and Roman staggers around the way. Lesnar grabs whatever is left of another table, to SMACK Roman with it! Roman goes down! The count climbs and Lesnar smiles. Fans fire up as the count is 7, but Roman sits up! Roman pushes up off the steel at 9! Lesnar sighs, but he drags Roman around the way and to the tractor. Lesnar puts Roman in the loader! And then gets the tractor to raise it!!
Roman is high above the ground, and Lesnar lifts him over the ring! Lesnar DUMPS Roman out of the loader!! Roman crashes down on the mat from about eight feet up! The count starts, but Roman sits up at 5. Roman stands at 7, so Lesnar hurries back into the ring. "This is Awesome!" as Lesnar GERMAN SUPLEXES Roman! Roman flounders, Roman GERMAN SUPLEXES again! Roman flounders again but Lesnar is right on him! GERMAN SUPLEX! Lesnar is starting to tire himself out with these, but Roman is the one down on the mat! The count is 5 of 10, then 8! Roman manages to stand at 9!
Lesnar is right after Roman with a fireman's carry! F5!! But again, it is up to the ten count! Lesnar waits in a corner as he watches Roman down at 5. Roman's down at 8, but he slowly sits up. Roman flounders up at 9.9!! Lesnar is beside himself, but Roman is leaning against ropes. Fireman's carry, F- GUILLOTINE!! Roman has Lesnar caught!! No ropebreaks to stop this, but wait! Lesnar powers out to GUILLOTINE Roman right back!! Now Roman is the one having to worry about no ropebreaks! Heyman is worrying for Roman, too! The ref is checking Roman, he is out, but Lesnar has to let the count start!
Lesnar lets Roman go, the count begins, and Lesnar watches like a hawk. The count is 5, then 7, then 9! Roman stands at 9.99999!!! Lesnar thinks that was it, but somehow Roman is conscious! Lesnar goes right back to the tractor, backs it up, lowers the loader, and MOVES THE RING?!?! And TIPS IT?!?! Roman tumbles right out!!! This is the first time anyone anywhere can say they've seen anything like this!! The count starts, fans are losing their minds, and Roman drags himself up the barriers to stand at 8! But Lesnar is right there, and he clears off the annoucne desk! But THE USOS attack!!
Lesnar OVERHEAD Belly2Belly Suplexes Jimmy, then does the same to Jey! The Usos have rough landings, but Heyman tells Lesnar to stop! Twenty YEARS, Heyman has had it with this! Heyman gives Lesnar the belt and says he is the winner! Just leave the Tribal Chief alone! NOPE! Lesnar gets Heyman up, for an F5 THROUGH THE DESK!! But Roman SPEARS Lesnar!!! Everyone is down but the referee, and he counts! The count is 5! Then 7! Then 8! But both monsters stand at 9!! Roman flops right back down, Lesnar flounders, and HERE COMES THEORY!!! Nashville is booing and freaking out at the same time!
Theory and a ref of his own are here, MITB contract in hand! And Theory CLOBBERS Roman with the briefcase!! But Lesnar gets Theory with an F5 on the briefcase!! Lesnar is standing, Jimmy & Jey DOUBLE SUPERKICK!! The count starts again, Roman is standing against the tipped over ring! Lesnar flounders but we're at 5 of 10! Roman counts along, we're at 7! EIGHT! NINE!! Lesnar stands at 9.9999999, but into a SPEAR onto the belts!! Lesnar is down again, the count restarts! Lesnar is up at 9 again?!?!? Roman is furious! He SMACKS Theory for what he tried to pull, then he BASHES Lesnar with the briefcase again and again!
Roman is just windmilling the case! "COUNT HIS ASS NOW!" Lesnar is down as the ref counts again. We reach 5, and then 7. Lesnar is conscious, but he's still down! Lesnar staggers up at 9 again?!?! Is he truly a beast?! BELT SHOT from Roman!! Cole wishes the ref would count faster! Lesnar is still down at 6 of 10, but he sputters alive at 7! Roman is beside himself as Lesnar gets up again!!! What does Roman have to do!?! Roman has the other belt, he shouts, "You ain't ever coming back! YOU ain't welcome here!" BELT SHOT!! And then the Usos help Roman bury Lesnar alive under wreckage! Roman STANDS on the pile, Lesnar can't get up! ROMAN WINS!
Winner: Roman Reigns (still Undisputed WWE Universal Champion)
Of course this is how it ends! Roman used Heyman, the Usos, everything at ringside, and even Theory distracting Lesnar with his cash-in attempt to finish off the Alpha Male of Our Species! Will the Tribal Chief ever lose these titles with such a stacked deck? Will Lesnar ever return to the WWE after this?
---
My Thoughts:
What a wild night! Firstly, I was surprised the Raw Women's Championship opened the night, but we got an awesome match out of Bianca VS Becky. A great story told over the last 11 months, and this was a great culmination. Bianca wins but Becky doesn't go further Heel by attacking her like a sore loser. If anything, Becky turned face, especially with the shocking return of Bayley, and FINALLY the call-ups of Dakota Kai and Io Shirai. I have a feeling we're getting a name change since Corey Graves was calling her "Io/Iyo Sky." It's whatever, I just wish they didn't have to. But this is going to be great for Raw, with Bayley, Io and Kai as a trio. Bayley's the singles champion contender, Kai & "Sky" can be tag title contenders.
Logan VS Miz was really good stuff, but I feel like Logan was almost going too hard at parts. And it was great for AJ Styles to get involved after his own beef with Miz. Logan wins, but I feel like things are only going to escalate from here. Maybe a tag match? Either way, Styles VS Ciampa 1v1 is going to be awesome, especially with HHH in charge to give those guys time to wrestle on the level they can wrestle. Then I actually really like that Lashley VS Theory was short and kinda one-sided. Lashley was not about to let Theory just take the belt back after only a month and let that inflate his ego. Now Lashley can take on any number of contenders through the rest of the year.
We got a rather Zoolander-esque product plug from Maximum Male Models, so that was something. Really good No Disqualification Tag from Mysterios and Judgement Day, but I had a feeling that Edge would make his return here. His only somewhat cryptic vignettes were all leading to this somehow or another, and of course he wants revenge on the faction that beat him down. Edge reuniting with Rey is cool, but is this going to turn into Dom being pushed to the background? Is there going to be a third male member of the Judgement Day under Finn? Or will both those things happen when this compels Dom to see things the Judgement Day's way?
We got great stuff out of McAfee VS Corbin, especially with Corey and Cole each taking a side on commentary. McAfee did some great stuff in the match, with the ranas and the big swanton off the top. Also a great shout out to Adam Cole hitting a variation on the Panama Sunrise. Not sure if this really ends it since McAfee and Corbin are both on SmackDown, but maybe someone gives Corbin a hard time for losing to McAfee and that becomes Corbin's new feud. We also got an awesome tag match, with Jarrett doing very well as special guest ref. There wasn't a lot of controversy, other than each team being a bit selfish that he should've given them a better count. In the end, the Usos won, which is a shame for Profits, but maybe there's a split in the works after all.
If it wasn't clear before, Riddle being hurt and his match with Rollins being cancelled was all kayfabe. Riddle showed up here tonight, he had a brawl with Rollins, and Rollins got the better of him. Still seems a bit odd they pulled this angle at all but whatever, adds more heat for when they finally do have the match, and it probably saved this PPV's run time about 20 minutes. Not having a substitute in Riddle's place is okay, actually, it would've just felt like the "mystery opponent" angle at WrestleMania.
A great match for the SmackDown Women's Championship, and I really like how they played it. Ronda of course dominated, we all expected something like that. But Liv tapping out right before the three count was a great way to put controversy in this. Ronda fans still cheered her snapping and beating up Liv and the ref, so who knows where Ronda goes from here. Liv is free to take on anyone now, though I can't really be sure who. Maybe Charlotte Flair returns soon? There's great story there from way back when Charlotte told Liv Morgan to figure herself out. Liv has figured herself out, and now she can show Charlotte who she is!
And of course, an awesome main event! Lesnar bringing a tractor was wild already, but then he jumps off the loader, then uses the tractor to TIP THE WHOLE RING! I meant it when I said no one's seen anything like that anywhere ever, that is one for the ages. Also, I don't think anyone anywhere else could get away with tipping a ring over with a tractor other than Lesnar in WWE. I suppose this was WWE going all out for Lesnar since this was his last time facing Roman for the title(s).
I did like that Theory tried but didn't even get a chance to cash-in. How would that have even worked with the ring tipped over like that? And a Triple Threat Last Man Standing doesn't even make sense anyway. Still really lame that Roman had to use all of his resources to win, but it was really the only way to stop Lesnar after he became Godzilla in that match. Now McIntyre can dethrone Roman, and then maybe Theory tries to cash-in again to get back at McIntyre for all the Claymores. Clash at the Castle is going to be awesome stuff.
My Score: 9/10
Mitchell's WWE Money in the Bank Results & Report! (7/2/22)
VIVA LAS VEGAS!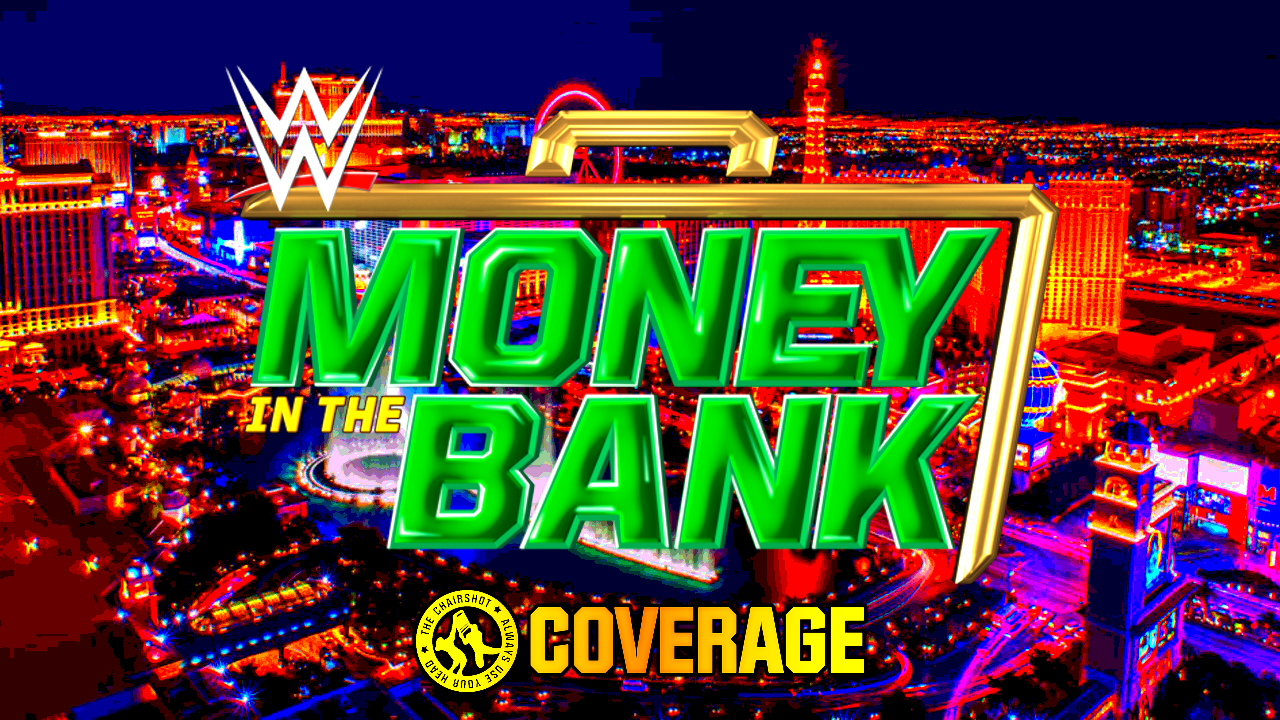 Who gets lucky and hits the jackpot?
WWE Money in the Bank is back, and what better place to put it all on the line than Las Vegas! Who will become this year's Mr. & Ms. MITB?
OFFICIAL RESULTS
Women's Money in the Bank Ladder Match: Becky Lynch VS Asuka VS Alexa Bliss VS Liv Morgan VS Lacey Evans VS Raquel Rodriguez VS Shotzi Blackheart; Liv wins and is Ms. MITB 2022.
WWE United States Championship: (Austin) Theory VS Bobby Lashley; Lashley wins and is the new WWE US Champion.
Raw Women's Championship: Bianca Belair VS Carmella; Belair wins and retains the title.
Undisputed WWE Tag Team Championships: The Usos VS The Street Profits; The Usos win and retain the titles.
SmackDown Women's Championship: Ronda Rousey VS Natalya; Rousey wins and retains the title.
SmackDown Women's Championship Cash-In: Ronda Rousey VS Liv Morgan; Liv wins and is the new SmackDown Women's Champion.
Men's Money in the Bank Ladder Match: Drew McIntyre VS Sheamus VS Matt Riddle VS Seth Rollins VS Mad Cap Moss VS Sami Zayn VS Omos w/ MVP VS (Austin) Theory; Theory wins and is Mr. MITB 2022.
PLAY BY PLAY
It's the Money in the Bank Kickoff Show!
Join Kayla Braxton, Kevin Patrick, Booker T, John "Bradshaw" Layfield & Peter Rosenberg as they discuss, analyze and predict all the action tonight!
The Street Profits crash the panel!
They want to know what's going on, and Montez Ford gets on the desk. Angelo Dawkins would but he's scared the glass will break. Ford asks if we at home can hear the fans in Vegas. He doesn't need to say nothing else. He's on a panel of Hall of Famers and beautiful people, and the bright lights are on as THEY WANT THE SMOKE! Ford hops off the table and Kayla formally welcomes them. Ford says hi to everyone, elbow bumps with K-Peezy, and Kayla says this is going to be the biggest match of their careers. Ford says damn right. His household could bring back all the gold! You can call them the NEW Undisputed WWE Tag Team Champions! AND, they're hitting the strip! They're gonna party tonight~!
Kevin Patrick brings up how on SmackDown, the Usos said the Profits walk like them, talk like them and there was a shot of all four. They're all physical specimens, but the Profits are bigger and stronger. However, where is the confidence level going against such an experienced and skilled tag team who has been at the summit as long as the Usos? Fans get photo ops but Booker says there's no time for that. Booker wants to know what makes the Profits think they can win. So what Kevin asked? JBL says no, Kevin was kissing up! Booker says the Usos trained under, well, Booker T. They know what it takes to win and keep winning. Why do the Profits think they're going to win?
Dawkins likes that question. He reminds Booker of when Dawkins got hired. It was an NXT house show. Dawkins asked how to make it, to get better. Booker said to "detox" from everything before coming to NXT. Dawkins did that on Raw, on Smackdown, and now they can be THE champions. The Usos ain't ever seen Profits like these. They'll dance in the street! Booker sees that difference. They look GOODT! JACKED! Get that paper! Kayla wishes them luck and thanks the Profits, and asks if they'll stay for the predictions. Kevin says Profits. Booker says… Choose wisely, King! Well no offense, until you beat the champs, all else is irrelevant. Book goes with the Usos.
JBL agrees with Booker, the Usos are just that dominant. Peter says that they're going to war. All the DJs of Vegas, we are celebrating a Profits victory! The Profits are ready, but will they be standing tall against the Bloodline?
Vegas, baby! The city built on risk and reward!
But to win here, you also need something else: luck. It ignites a spark of opportunity, and it isn't about risk VS reward, it's about always looking up. You climb the ladder, grab the prize and change your future! Tonight is the night to go for broke, to take chances, and to take it all! So, you wanna get lucky?
Women's Money in the Bank Ladder Match: Becky Lynch VS Asuka VS Alexa Bliss VS Liv Morgan VS Lacey Evans VS Raquel Rodriguez VS Shotzi Blackheart!
Big Time Becks fought for the longest time to get in on this match, but she finally did it last Monday Night Raw! Will her Big Time Comeback carry her to the top? Or will not even the Luck of the Irish defy these one-outta-seven odds?
The bell rings and all seven stare down. Lacey goes out first but soon everyone follows to get a ladder! Raquel and Shotzi brawl, but Asuka and Becky are still in the ring. They brawl, Asuka gets the edge but Becky hits back! Becky ducks a backhand and a lariat to then WRECK Lacey! Becky avoids Asuka's dropkick but Asuka fights off the Urenage! Asuka fires off kick after kick then she HIP ATTACKS Raquel away! SLIDING KICK for Becky! Liv and Alexa brawl, Shotzi gets a ladder in but Asuka snatches it from her! Becky CLOBBERS Asuka onto the ladder! Becky swaggers while dragging in another ladder.
Shotzi is after Raquel, Raquel smacks Shotzi off the apron. Becky throws the ladder but Asuka avoids being crushed by it! Asuka SMACKS Becky off the ladder, POP-UP KNEES Liv, and Liv falls on the ladder. Asuka goes after Raquel but Raquel BOOTS her down! Raquel sees the ladder, and deadlifts it, with Liv and Becky on it, to then SLAM them both down! Lacey gets in but Raquel BOOTS her away. Alexa runs in but Raquel WRECKS her with the ladder! Raquel holds the ladder up, but Becky avoids it slamming down on her! Becky SOBATS, Liv KICKS, and they work together to kick Raquel! But Raquel blocks their double suplex to double suplex them ON the ladder!!
Fans are thunderous as Ricky Desperado clears the ring and gets another ladder. Shotzi grabs it, too, but Raquel uses the ladder to drag Shotzi in! Alexa gets in, Raquel elbows her away, Shotzi avoids the battering ram! Shotzi leaps to CROSSBODY Alexa! Raquel brings the ladder back around but Shotzi grabs it. They tug-o-war but Asuka and Lacey join in> Three against one, they RAM Raquel into a corner! Shotzi then elbows Asuka, DECKS Lacey, nd runs up the ladder. She stumbles a moment but gets back up to DDT Raquel into the rungs! Liv copies Shotzi to SHOTGUN her away! Lacey CLOBBERS Liv onto the ladder! SWINGING BRONCO BUSTER on the ladder!
Asuka HIP ATTACKS Lacey onto it! Becky SHOTGUNS Asuka onto the pile, and goes up to drop the MAN'S LEG on everyone! Raquel is still stuck, Alexa goes up to CANNONBALL onto everyone else! Fans are thunderous while all seven women are down! "This is Awesome!" as Alexa gets up, stands a ladder up, and starts to climb. Raquel hurries after, the tallest woman after the shortest! Alexa fights free to KICK away on Raquel, SLAP, ROCK and KNEE, then tilt-o-whirl RANA into a ladder! Fans fire up again as Alexa traps Raquel with one of the other ladders. Asuka returns, Alexa ducks a kick but misses her haymaker, Asuka GERMAN SUPLEXES!
Asuka snarls, Shotzi kicks her low and reels her in! But Asuka blocks the suplex, turns it around, but Shotzi blocks! Asuka HIP TOSSES Shotzi onto the ladder! Raquel gets sandwiched between ladder and buckles, too! Asuka goes to the standing ladder, but Lacey SMACKS her off rungs! Lacey climbs, but Asuka stays on the ladder. They fight, but Becky shoves the ladder over! Asuka and Lacey go after Becky together, but Lacey ducks a back hand. Asuka avoids a sweep, Lacey avoids one back, and Lacey CLOBBERS Becky with the uppercut! Lacey drop toeholds Becky against a ladder! Becky bails out and Lacey works on standing the main ladder back up.
Fans are torn as Lacey takes her time, but Shotzi drags her down! Shotzi hurries up, but Lacey stops Shotzi! Lacey goes up again but Shotzi drags her back down. Shotzi dribbles Lacey off the mat, goes back up, but Lacey hurries up the other side. They meet at the top, throw hands, and Lacey SMACKS Shotzi off the top! Lacey smiles as she sees the prize, has the hook, but Raquel gets up and under her! Raquel and Lacey paw at the case, but Liv is there to fire off haymakers on them both! Liv climbs on top of Raquel, has the case, but Raquel throws body shots! Liv sunset flip POWERBOMBS LACEY! Raquel is still on the rungs, and she sees the prize!
Fans lose their minds over Liv and Lacey while Shotzi drags Raquel through a rung! Raquel is stuck in a Tree of Woe! Shotzi CHOPS her, climbs over her, and STOMPS her down! Raquel flops out of the rungs, but Alexa is climbing! Shotzi Electric Chair Lifts Alexa to SMACK her into the ladder! The ladder falls over and Alexa flops out of the ring. Shotzi resets the ladder as best she can, climbs up, but Becky stops her! They fight up top, Becky SMACKS Shotzi off the rungs and Shotzi falls! Becky repositions the ladder to be right under the case, and climbs again. But Shotzi YANKS Becky right off! Shotzi snarls and gets another ladder involved.
Shotzi SMACKS Becky off that other ladder, then sets her on it. Shotzi climbs, for the SUPER SENTON onto only the ladder!! Becky avoided disaster, but Asuka ROUNDHOUSES Becky down! Asuka climbs, but Raquel drags her back down. Raquel CLUBS Asuka, climbs up, but Asuka drags her back down. They brawl, tip the ladder over, and then Raquel throws Asuka out. But Asuka drags Raquel out of the ring! Raquel CLOBBERS Asuka! Raquel grabs a ladder, then clears off the desk! Raquel makes a ladder bridge between ring and desk, then clears some space. Asuka attacks back! But Raquel SMACKS Asuka off the desk!
Raquel climbs up, deadlifts Asuka up to join her, but Asuka fights free! SOBAT! ROUND- NO, Raquel blocks the kick! Asuka fights free of the bomb to LEAP, FLYING ARMBAR!! Asuka has Raquel down in a TRIANGLE HOLD! But Raquel deadlifts again! Asuka lets go, tilt-o-whirls, but Raquel fights the crucifix. It's an IRON OCTOPUS instead! Becky BOOTS Raquel and Asuka! Asuka is on the ladder, Becky DECKS Raquel, and then she looks to an even taller ladder! Fans fire up as Becky grins and brings that ladder over. Becky climbs up high, to drop THE MAN'S LEG!! Both women fall off the ladder bridge and fans lose their minds again!
Asuka and Becky are down, "This is Awesome!" and Shotzi finds her way back into the ring! She drags a ladder in but Alexa and Lacey join her. Raquel gets in, everyone has a ladder, but Alexa SMACKS Raquel with hers. Lacey and Shotzi set theirs up side by side but Lacey throws Shotzi down. And Alexa! But they go after Lacey! Raquel climbs, the others pursue, they all brawl up top! Becky sneaks in to tip a ladder, Shotzi and Raquel get hung out to dry! Then the same for Alexa and Lacey on the other end! Becky climbs and fans go nuts! But here comes Liv! Becky kicks her away so Liv hurries to get one of the other ladders!
Liv climbs that ladder just to go after Becky! But Becky tops Liv! Liv bounces off ropes to tip back! Liv BOOTS Becky, climbs up and reaches! LIV WINS!!
Winner: Liv Morgan (2022 Ms. Money in the Bank)
The fans are thunderous for this huge moment! Liv overcame the doubters and the haters, and now she has the golden ticket! Will she go on to be a new Women's Champion? As for Becky, she's having a Big Time MELTDOWN! Is the comeback done?
WWE United States Championship: (Austin) Theory VS Bobby Lashley!
The Youngest United States Champion in WWE History, the newest Chosen One, sure thinks he can do whatever he wants, whenever he wants, and at the expense of whoever is around him. Will he find that's not the case when taking on The All Mighty? Or will Theory be taking another round of victory selfies on the Vegas strip?
The introductions are made, the belt is raised, and we see who is truly championship material!
The bell rings and fans are fired up, but Theory tries to literally flex on Lashley. Fans rally for "BOBBY! BOBBY!" Lashley and Theory tie up, and Lashley SHOVES Theory away! Theory tumbles and bails out in frustration, then wants Lashley to back off so he can get in. The ring count starts, Theory slowly climbs onto the apron, and fans rally for Lashley more. Theory rushes in, into a MILE HIGH SPINEBUSTER! Theory flounders, Lashley aims, but Theory bails out before the spear. Fans boo but Lashley grabs Theory at the apron! Theory breaks free but Lashley throat chops him! Lashley runs to BLAST Theory off the apron!
Fans fire up, Lashley lets Theory deal with the ring count, then goes after him at 4 of 10. Lashley fireman's carries, Theory grabs the barriers! Lashley pries him free but Theory fights off the posting! Theory fights free, POSTS Lashley, then RAMS Lashley into the barriers! Theory gets in and wants the count to climb faster! The count is 6 of 10, fans boo, but Lashley is up at 7 and in at 8. Theory is on Lashley, throws hands, and Lashley goes back out. Theory follows Lashley, but fans chant, "Theory Sucks!" Theory whips but Lashley reverses! Theory jumps up the steps, tot he apron, then BOOTS Lashley!
Theory leaps, but into a fireman's carry! Lashley drops to a knee but gets Theory back up, to POST him! Fans fire up and Lashley puts Theory back in. Fans fire up as Lashley aims again. Lashley runs in but Theory cowers in fear! The fans boo and Lashley is annoyed. Theory tries to kick low but Lashley blocks! Lashley ELBOWS Theory, smacks Theory off buckles, and more buckles, and then climbs up to rain down fists! Theory slips free quick to trip Lashley up! Theory runs, to CLOBBER Lashley! Fans boo but Theory snarls as he DECKS Lashley! Cover, ONE!! Theory is furious and he drags Lashley around.
Theory stomps Lashley while talking trash. Theory stands Lashley up to CLOBBER him again! Fans boo but Theory shakes his head. Theory drags Lashley up, hoists him to the top rope, and he throws more hands. Theory talks more trash, before the ARABIAN- NO, Lashley blocks the press, elbows Theory to the apron, but Theory SUPERKICKS Lashley down! Theory hurries in to cover, ONE!! Theory rains down more fists in anger, and he shouts "I am the champion!" Fans boo more as Theory looms over Lashley. Theory drives elbows in then clamps on a chinlock. Lashley endures and the fans rally up.
Theory leans on the hold, but Lashley grits his teeth and fights back up. Theory throws Lashley down hard! "That's all day!" Theory talks more trash but Lashley still endures. Lashley fights up, fans rally behind him, and Lashley gets to his feet. Theory knees low and throws Lashley down again to go right back to the chinlock. Lashley fights up again, Theory gets worried and Lashley fireman's carries! Theory slips off, waistlocks, but Lashley switches! HURT- NO, Theory drops to KICK Lashley, but Lashley starts rallying with big hands! OVERHEAD Belly2Belly! Theory flounders to a corner, Lashley runs in to clotheslines! Lashley keeps moving and he RAMS into Theory!
Fans fire up again as Lashley drags Theory up. Lashley suplexes Theory, but Theory slips out and goes to the apron. Fans boo but Lashley is after Theory. Theory HOTSHOTS Lashley away! Somersault jump, into a TROPHY LIFT! And a POWERSLAM!! Cover, TWO! Theory survives and Lashley is a bit surprised. But Lashley waits for Theory to stand back up. Theory rises, Lashley reels him back in, Canadian Rack for the DOM- NO, Theory lands on his feet! Lashley ducks the Penalty Kick to roll up, TWO! Theory drop toeholds Lashley into buckles! Theory slingshots to somersault, SHOTGUN! Cover, TWO! Theory is growing frustrated with Lashley's endurance.
Fans rally behind Lashley but Theory says A-Town Down! Theory drags Lashley up, fireman's carries, but Lashley slips off to roll him! TWO!! Theory escapes, but runs into a scoop! Theory rakes eyes! Theory runs, and steals the SPEAR! Theory drags Lashley up to a fireman's carry! But Lashley slips off again, HURT LOCK!!! Theory flails, but he TAPS! Lashley WINS!!
Winner: Bobby Lashley, by submission (NEW WWE United States Champion)
The Rocky Mountain Machine just made Theory into the youngest former US Champion in WWE history! Will this newest All Mighty Reign be his strongest yet?
Backstage interview with Liv Morgan.
Sarah congratulates Liv on the win and becoming Miss MITB, but has she decided on which title she is after? Liv says she can cash in any time over the next YEAR, so the possibilities are endless. But she only gets one shot, and she has never wanted anything more than to be champion. WrestleMania sounds good, but for now, she'll focus on celebrating. Will Liv live her best life and finally get the gold?
Raw Women's Championship: Bianca Belair VS Carmella!
The RawEST Women's Champion was all ready for the Judgement Day's Brutal Eradicator, but injuries do happen. Rhea Ripley will be back one day, but her loss is a golden opportunity for the (self-proclaimed) Most Beautiful Woman in the WWE. Will Mella be money once again? Or will looks and past accolades only get her so far against the strongEST, the fastEST, the roughEST, the toughEST, the quickEST, and the BEST in WWE today?
The introductions are made, the belt is raised, and we see who looks their best with that championship around their waist!
The bell rings and the two circle. They tie up, Bianca waistlocks to SLAM Mella, then holds on. Mella scrambles but can't get free, and Bianca SLAMS her again. Bianca still holds on, brings Mella up again, but Mella elbows then switches. Bianca switches and throws Mella to the apron. Bianca eggs Mella on but Mella fixes her hair first. Mella gets in, but Bianca is right on her! Mella kicks Bianca away, throws her down by her hair, but Bianca kips up! Bianca shoves Mella, Mella shoves back. Bianca shoves harder, Mella knees low! Mella talks trash, brings Bianca up and whips her to a corner, but Bianca goes up and over and handsprings to say, "Kiss this!"
Fans fire up, Mella runs in but Bianca goes up and over to dropkick! And kip up! Fans fire up and Bianca says "Kiss this!" again. Bianca RAMS into Mella, and again, Mella clubs back but Bianca lets off. Mella SLAPS Bianca, Bianca rushes in but Mella dodges. Mella tilt-o-whirls but no Mella-Go-Round here! BACKBREAKER, and then a second! Bianca shows she IS the StrongEST, and then she handsprings, but Mella moves! Mella bails all the way out and Bianca sighs. Fans boo but Mella takes time to compose herself. Bianca goes out after Mella and runs her over! Bianca brings Mella up to put her back in the ring, but Mella scurries away.
Mella is back on the apron, Bianca storms over but into a HOTSHOT! And a FABULOUS KICK! Mella covers, TWO! Mella argues the count, then she fires off fists in the corner. The ref counts, Mella lets off at 4, and argues again. Mella bumps Bianca off her boot, then talks trash while digging palms into Bianca's face. Mella fires off back elbow after back elbow, then grins as she swaggers corner to corner. "Mella! Is! Money!" BRONCO BUSTER! Cover, TWO! Mella goes after Bianca's arm in a chicken wing, and has a very unique armlock. Bianca endures, even as Mella stomps her! Fans rally, Bianca pushes this to a cover, TWO!
Bianca gets to a corner, elbows Mella away then slips out to the apron to bump Mella off buckles! Bianca slingshots in and spins Mella around to scoop! Mella fights off and throws Bianca down by her hair! Mella swaggers again, soaks up the heat, but she runs into a LARIAT! Bianca fires up, CLUBS away on Mella, then suplexes! Bianca holds Mella up and marches a bit, before the SLAM! Fans fire up after the "LongEST Suplex," and then Bianca RAMS into Mella at the corner. Bianca climbs up to rain down fists! Fans count along, and Bianca gets all the way to nine, to backflip and DECK Mella with the tenth!
Fans fire up and Bianca gets Mella up to whip her to a corner. Bianca runs in but Mella dodges and Bianca POSTS herself! Mella gets Bianca in a cradle, TWO! Schoolgirl with feet on the ropes! TWO!! FABULOUS KICK!! Cover, TWO!! Mella is mad again but she stalks Bianca. Mella says Bianca is the tackiEST, the cheapEST, and then she SLAPS Bianca! Bianca ROCKS Mella, torture racks her, for the KISS OF DEATH!!! Cover, Bianca wins!
Winner: Bianca Belair, by pinfall (still Raw Women's Champion)
Mella just showed that you should never make Bianca the maddEST in the ring, because she will take you out! Will Bianca keep this reign running until it is the longEST? But then Mella YANKS Bianca down and fires off on her! Mella is the sorEST loser! Mella leaves Bianca down and out while fans boo, but will Bianca get the sweetEST revenge for that?
Alexa Bliss hangs out with Lily in her locker room.
But uh, where'd all this stuff come from? What's Lily been up top? Oh, she bought it all, huh? How? Oh, she has a WWE Credit One Bank Visa card! Did she get Alexa anything? In the box? What's in the box? What' sin the box? Oh… Wow… Teeny, tiny skates. That was nice of her, but uh, ask for her size first next time.
Undisputed WWE Tag Team Championships: The Usos VS The Street Profits!
Jimmy & Jey are here to represent the Bloodline while the Tribal Chief prepares for SummerSlam and Brock Lesnar. But are they be prepared for a more focused, more aggressive and more passionate Montez Ford & Angelo Dawkins? Or will there be no smoke, and will the Profits be down when the Usos are the ones?
The Usos have mics, and Jimmy says they're in Sin City and the Usos are feeling really lucky! Jimmy is putting all the chips on red! Nah, Uce. Then how about on black? Nah, Uce. Then let's put it all on the Bloodline! The Profits are the twos, and #WeTheOnes! But the Profits make their entrance, high five the fans, and then join the Usos in the ring. The introductions are made, the red AND blue belts are raised, and we see who leaves Las Vegas with them all!
The teams sort out and Dawkins starts against Jimmy. Fans rally and duel as Jimmy talks trash on Dawkins. Dawkins jaws back and the two circle. They tie up, Dawkins headlocks, but Jimmy powers his way to a headlock. Dawkins powers out and fans rally, "We Want the Smoke!" Jimmy runs Dawkins over, and the Usos raise the fingers to the sky. Dawkins resets and keeps cool as he circles with Jimmy again. They tie up, Dawkins waistlocks to headlock, but Jimmy powers out. Dawkins runs Jimmy over and stirs it up. Things speed up, Jimmy hurdles and Dawkins handsprings! Dawkins DROPKICKS Jimmy then DECKS Jey!
ANOINTING! Tag to Ford! He's up top fast, but Jimmy bails out faster! Fans fire up for the Profits as Ford says "SUCK IT!" The ring count climbs but Ford keeps saying "SUCK IT!" The Usos return, Jimmy tags Jey, and Ford says fine, he ain't scared. Fans rally as the Right Hand Man circles with Tez and the two circle. They tie up, are in a deadlock, but Jey headlocks. Ford powers up while fans chant for Pat McAfee. Jey reverses the whip but Ford runs Jey over! Ford glares down at Jey, glares at Jimmy, then runs. Things speed up, Jey CLOBBERS Ford! Jey stands Ford up to whip corner to corner, but Ford goes up and over!
Ford DROPKICKS Jey down, then kips up to tell Jimmy, "SUCK IT!" The ref keeps Jimmy back, Ford wrenches Jey and tags Dawkins. They double whip, Dawkins runs Jey over, then BACK SUPLEX SPLASH! Cover, TWO! Dawkins throws off the headbands to drag Jey up. Dawkins wrenches, then ROCKS Jey! And ROCKS him again. Dawkins shoves and ROCKS Jey, but Jimmy tags in. Jey reverses the whip, the Usos DOUBLE SPINEBUSTER Dawkins down! Jimmy talks trash while Dawkins bails out. Jimmy DECKS him off the apron, then builds speed to DIVE! Direct hit and Dawkins hits barriers!
Jimmy gets back in the ring, tags Jey, and both Usos fetch Dawkins. The Usos drag Dawkins over to DOUBLE SUPLEX him into the post! The Usos leave Dawkins behind and get in at the ring count of 7. Dawkins is up and in at 9, but Jey looms over him. Jimmy tells Ford to "SUCK IT" now, and Jey taunts Dawkins. Dawkins slowly gets up, Jey throws a hand but Dawkins ROCKS Jey with a counter punch! And another! Jey DECKS Dawkins with an uppercut! Dawkins flounders to a corner, Jey stays laser focused, then Jey runs in to RAM into Dawkins! Tag to Jimmy, he taunts Ford then ROCKS Dawkins!
Dawkins drops and Jimmy paces around. Jimmy dares Dawkins to go to Ford, but then he stomps Dawkins' hand! Jimmy stalks Dawkins to ropes, CHOKES him, the ref counts but Jimmy lets off at 4. Jey gets a cheap shot in! Jimmy rains down fists on Dawkins, then raises the finger. Jimmy taunts Ford's entrance, calls for "UCE! SO! UCE! SO!" Jimmy runs in but Dawkins DECKS him!! Both men are down and fans fire up! Both men crawl, find their way to their corners, hot tags to Jey and Ford! Fans fire up as Ford GAMANGIRIS Jey! Ford climbs up to CROSS- SUPERKICK!! Jey covers, TWO!! Jey is furious but Ford survives!
Jey looms over Ford, fans rally up for the Profits, but Jey taunts Ford to tag Dawkins while he's not there. Jey stands Ford up, whips him corner to corner hard, and Ford bounces off buckles! Jey CHOKES Ford against ropes, lets off at 4, and Jimmy gets a DRIVE-BY DROPKICK! A shoutout to Roman with that cheap shot, and fans boo as Jey raises the finger to the sky. Ford flounders against ropes, Jey tags Jimmy, and the Usos coordinate for the BACKBREAKER AX HANDLE COMBO! Cover, TWO! Jimmy is annoyed but he stalks Ford. Ford swings wild but is punch drunk. Jimmy stands Ford up to CHOP him in the corner!
Jimmy keeps close to Ford, ties him up in the ropes, and CHOPS him again! Ford flounders and Jimmy CHOKES him again! The ref counts, Jimmy lets off at 4, CHOKES him some more, grinds his forearms in, then lets off again. Tag to Jey, and Jimmy drags Ford out. The Usos SPLIT the wishbone! Fans boo while the Usos take their time pacing around Ford. Jey tells Ford to say "Suck It" now. Jey clamps on a chinlock and he fires off crossface forearms! Jey clamps the chinlock back on, dares Ford to talk more trash, but Ford still endures. The fans rally up, Ford fights up, but Jey facelocks to keep him from Dawkins.
Fans rally as the Profits are fingertips away, but Jey throws Ford down! SUPERKICK to Dawkins just because! Tag to Jimmy, fans chant and duel, "Let's Go, Usos!" "USOS SUCK!" Ford fights back with big hands! He ROCKS Jey, fires off on Jimmy, but Jimmy keeps Ford from his corner with a whip. Ford is on the apron, he shoulders into Jimmy, "SUCK IT!" Slingshot into the UPPERCUT! Jimmy goes out to the apron, drags Ford up, and says he's got this. But Ford blocks the suplex! Ford throws body shots, and snap suplexes Jimmy to the apron! Ford writhes, the ring count climbs, and Dawkins is back on the corner!
Fans fire up as Ford crawls his way over! Hot tag to Dawkins! The Curse of Greatness is unleashed as he FLIES onto the Usos!! Dawkins puts Jimmy in, rallies on him with big clotheslines, but Jimmy UPPERCUTS! Jimmy whips, Dawkins hurdles then FLYING ELBOWS! Fans fire up with Dawkins and he runs in at the corner, CYCLONE SPLASH! ENZIGURI! And then the SILENCER! Cover, TWO!! Jimmy survives but Dawkins knows he's close. Jimmy bails back out and Dawkins goes out the side. Dawkins runs in around the way, and he RAMS both Usos down! Dawkins puts Jimmy in and drags Jimmy up.
ANOIN- NO! Jimmy ROCKS Dawkins, Ford tags in! Jimmy dodges his Cyclone, but Dawkins POUNCES Jimmy to a BACK SUPLEX from Ford! Cover, TWO!! Jimmy survives that shot from outta nowhere, but Ford snarls. "This is Awesome!" as Ford drags Jimmy up and mule kicks! Front kicks! But Jimmy ducks the enziguri! Jey tags in but so does Dawkins! ENZIGURI for Jimmy! Dawkins ROCKS Jey, and hoists him up! "SUCK IT!" DOOMSDAY BLOCKBUSTER!! Cover, TWO?!? Jey survives and Dawkins cannot believe it! Neither can Vegas! Dawkins gets back up and brings Jey around. Dawkins ROCKS Jey, but Jey ROCKS Dawkins!
Dawkins wobbles, comes back and he ROCKS Jey! Jey comes back, to ROCK Dawkins! Jey talks trash, Dawkins staggers to ROCK Jey! Jey kicks, Dawkins blocks, but the DRAGON WHIP hits back! Jey tags Jimmy, Dawkins dodges to ROCK Jimmy! He ROCKS Jey, puts him in the Electric Chair, but he forgets Jimmy is legal! Ford tags in, Jimmy saves Jey and they POST Dawkins! Ford leaps over the Usos, but runs into DOUBLE SUPERKICKS! Cover, TWO!?!? Ford shocks Vegas now! "This is Awesome!" and Jimmy tags Jey in. The Usos aim at Ford as he wobbles on his feet, POP-UP- RANA!! Ford then TOSSES Jey!
Ford realizes he has a target, and he goes corner to corner to FLY OVER THE POST!! Direct hit on BOTH Usos and the fans are thunderous! Ford puts Jey in, hurries to tag Dawkins, and then Dawkins tags Ford! THE ANOINTING! FROM THE HEAVENS!!! Cover, Jimmy breaks it!! Jimmy saves the title reign and Vegas is going nuts! Dawkins returns, both teams regroup, and fans hope they "FIGHT FOREVER!" This has to end somehow, though, and the four stand up. The teams stare down, fans fire up, and here comes the brawl! Dawkins tosses Jimmy, Ford CLUBS away on Jey, Dawkins goes out but Jimmy SUPERKICKS him!
Jimmy TOSSES Dawkins into the timekeeper's area! Jey fireman's carries Ford but he slips off. Jimmy tags in, Ford SUPERKICKS Jey! The Usos regroup, DOUBLE SUPERKICK! Then whip and ONE D!! Cover, The Usos win!
Winners: The Usos, by pinfall (still Undisputed WWE Tag Team Champions)
This epic battle came down to a slug fest, and in the end, the knockout shot came from the Usos! Jimmy & Jey move on, keeping the Bloodline golden! Will their reign ever end? Or are they the ones then, now and forever together?
Wait, a replay shows Ford got his shoulder up! It was barely up, but whether an inch or a foot, it was up! The Profits feel cheated, will they be able to get another go down the line?
A spooky video plays.
Some… familiar imagery, perhaps. A few crosses, a church, and… a medal? What does it all mean?
SmackDown Women's Championship: Ronda Rousey VS Natalya!
The Baddest Woman on the Planet refuses to be disrespected, and yet that is what the Queen of Harts has been doing ever since she became #1 contender. But both women know when to get serious, and they're each out to break the other apart. Will it be the Armbar or the Sharpshooter that wins the big one in Vegas?
The introductions are made, the title is raised, and we see if Ronda wins in Vegas again!
The bell rings and the two tie up. They go around, end up on ropes, Natty has Ronda on the ropes but she lets off to shove her. Ronda laughs that off and resets with Natty. They tie up, Natty headlocks and hits a takeover. Ronda fights up, hammerlocks, but Natty slips around to switch the hammerlock on Ronda. Ronda goes to ropes, steps through and she ties Natty's arm up on the ropes! The ref counts, Ronda lets off and Ronda asks Natty what's wrong. Natty and Ronda reset, tie up, and Natty waistlocks. Ronda slips out to hammerlock but Natty slips around to fireman's carry takeover!
Natty keeps on Ronda's arm, but Ronda fights up. Natty wrenches to wristlock but Ronda rolls and steps over to wrench and wristlock back. Ronda strikes a pose to mock Natty, but Natty rolls and handsprings to slip through and power up. Ronda holds onto the arm and drags Natty down to a cover, TWO! Ronda hurries to crucifix, TWO! Natty has a foot, ANKLE LOCK! Natty grins as she uses the same hold Ronda learned from Kurt Angle. Natty keeps Ronda from ropes but Ronda picks the ankle for a trip and ANKLE LOCK! Natty endures now, rolls to throw Ronda away, then hurries to snapmare.
Natty runs to step on Ronda, and basement- NO, Ronda blocks dropkick to have the ANKLE LOCK! Ronda says Natty just couldn't help herself! But Natty gets the ROPEBREAK! Ronda lets off and Natty throws a fit. Natty tells everyone to shut up, especially McAfee. Ronda rushes out to chase Natty back into the ring! Natty goes for  leg, Natty gets away, and Natty uses ropes for defense. Ronda backs off, and Natty SLAPS her! But Ronda shoves Natty to go after the arm. Natty reverses the whip to send Ronda into ropes! Natty aims, DISCUS LARIAT! Cover, TWO! Natty stomps Ronda, talks trash to her, and rains down fists!
Natty drags Ronda up by her hair while fans boo, and Natty bumps Ronda off buckles. Fans rally but Natty throws hard body shots and stomps. The ref counts, Natty lets off at 4 to soak up the heat, then she goes back to SLAP Ronda again! Natty snapmares Ronda and clamps on a chinlock. Ronda endures as Natty leans on her. Ronda fights up and fans rally, but Natty throws Ronda down. Natty tells the ref to shut up and then she stomps Ronda around. Natty drags Ronda over to a corner to fire off haymakers! The ref counts again, Natty lets off at 4, runs in and ducks the elbow to rebound back suplex.
Ronda turns that into an arm-drag, but Natty counters with one of her own! Natty grins as she still has control, but Ronda endures the armlock. Natty CLUBS Ronda in the ribs but fans rally for Ronda. Ronda fights up, Natty clamps onto a cobra twist! Ronda endures again, slips out and puts the cobra twist on Natty! Ronda throws down elbows and fists, too! Natty endures, SLAPS Ronda on the leg and then puts the cobra twist back on Ronda! Fans boo as Ronda endures again. Ronda powers up to step over and throw Natty down! Natty scrambles to avoid the armbar! Natty gets to a corner, runs back in and she LARIATS Ronda down!
Ronda crawls to ropes but Natty is after her. Natty brings Ronda up and whips her to a corner. Natty runs in but into an elbow! Natty tries again but Ronda kicks her and LARIATS back! Ronda rallies with more, and she catches Natty's discus into a SAYANAGI! Natty gets to a corner, Ronda runs in, SHINING WIZARD! Ronda snapmares Natty then BOOTS her down! Ronda fires up, jackknife rolls to fireman's carry, PIPER- NO, Natty cranks an arm to escape! O'Conner Roll, TWO and Ronda rolls Natty! TWO, Natty steals the ARMBAR! Ronda clasps hands to fight it off, and she gets the legs to steal the SHARPSHOOTER! Ronda even flexes!
Natty endures, reaches out, but Ronda sits deep! Natty manages to crawl forward and get the ROPEBREAK! Ronda lets go, Natty leans on the ropes, and Ronda taunts her. "You're gonna tap out with your rack out!" Natty SLAPS Ronda, so Ronda SLAPS Natty! SAYANAGI, and Ronda asks the fans if they want a souvenir. But Natty throws Ronda out of the ring! Ronda tumbles hard and clutches a leg! Natty fires off on the leg with kicks and stomps! Natty brings Ronda up, sits her on the apron, to get the legs! Natty says she's gonna break Ronda! APRON SHARPSHOOTER!! Ronda endures, the ref counts, but Ronda rolls and POSTS Natty!
Natty flops to the floor and Ronda crawls away. The ring count is climbing past 5 of 10, Natty stands at 8 and gets in at 9! Ronda is annoyed, but she hobbles over to drag Natty up. Fireman's carry, but the leg won't let her stand! Ronda still wants to, but Natty sunset flips! Ronda says bad move! Ronda has the ARM- NO, Natty rolls through and steps through! SHARPSHOOT- NO, Ronda gets the leg to an ANKLE LOCK!! Natty endures, reaches out, Ronda drags her way from ropes! Natty tries the other side, Ronda drops to grapevine! But Natty turns that into a SHARP- NO, Ronda drags Natty into a STANDING ARMBAR!! Natty is fading, she TAPS! Ronda wins!
Winner: Ronda Rousey, by submission (still SmackDown Women's Champion)
Rowdy Ronda retains after withstanding everything Natty could come up with! Wait, LIV rushes in!! Ms. MITB wants to go after a wounded Ronda! Ronda can't believe this, but it is happening!!
SmackDown Women's Championship Cash-In: Ronda Rousey VS Liv Morgan!
Ronda says screw it, it's on! The bell rings, Liv kicks, but into an ANKLE LOCK!! Liv flails, scrambles, but Ronda loses grip! Ronda hurries to get the foot back, ANKLE LOCK! Liv reaches, Ronda drags her away from ropes, but Liv kicks the bad leg!! Roll-up, LIV WINS!!
Winner: Liv Morgan, by pinfall (NEW SmackDown Women's Champion)
HOLY CRAP! From Ms. MITB to NEW champion! Ronda admits defeat, and even shows respect to the savvy of Liv Morgan. The world celebrates with Liv finally grabbing gold in the WWE, will we all #WatchHer reign?
Men's Money in the Bank Ladder Match: Drew McIntyre VS Sheamus VS Matt Riddle VS Seth Rollins VS Mad Cap Moss VS Sami Zayn VS Omos w/ MVP!
Everyone knows Roman Reigns VS Brock Lesnar in a Last Man Standing match is going to be the perfect target for a Money in the Bank cash-in. The only question is, who will be taking aim at the Tribal Chief and/or Beast of Suplex City? The Scottish Warrior, the Celtic Warrior, the Stallion, the Visionary, the Jokester and the Nigerian Giant are all looking up, but who will be looking down from the top of a ladder as the NEW Mr. MITB?
Wait, Adam Pearce stops this from getting started. He wants to comment how amazing tonight has been already in Vegas. Fans cheer because that's true. And Pearce says what better way to cap this off than by adding to this main event! In Vegas terms, Pearce sees our seven and raises us one more! Ladies and gentlemen, the EIGHTH man is… THEORY! This is Vince's doing, we all know it! But Theory is grinning as he walks out, now just a match away from having an even bigger prize than the one he lost. The bell rings, fans call BS but Riddle rushes after Rollins! Rollins runs away, but Riddle, Sheamus, McIntyre and Moss go after Omos!
Omos powers his way out, CLOBBERS McIntyre, CLOBBERS Sheamus, BOOTS Moss and SLAMS Riddle! Omos scoops McINtyre to SLAM him down! Omos goes out to fetch a ladder, but Theory and Rollins rush him! Omos CLOBBERS them! Omos RAMS Sheamus with a ladder, RAMS McIntyre, then goes to the ring. Moss and Riddle rush out but Omos lifts the ladder! Then Omos RAMS them going backwards, and Omos TOSSES the ladder into the ring! Omos says this is a done deal, but Sami is lurking, the only one who avoided Omos' wrath. Sheamus gets in to CLUB away on Omos! Omos KNEES Sheamus then CLUBS him down.
Rollins gets up but Omos DECKS him! Theory is up but Omos BLASTS him! Riddle jumps on for a GUILLOTINE! Omos endures and powers Riddle around for a SLAM! Moss fires off hands, Omos knees him low and tosses him out. Omos talks some trash, but he turns around into a CLAYMORE! Omos tumbles out and fans fire up with McIntyre! McIntyre hurries to get the ladder up and climb! But Sheamus drags his frenemy down and tosses him out! Sheamus climbs, but McIntyre is back in to bring him down. Sheamus shoves, so McIntyre fires a haymaker! They brawl, warrior to warrior, but Theory climbs! The frenemies go after the common threat!
They drag Theory down, CLOBBER him, and then CHOP him! Theory flops out of the ring, Sheamus has Theory on the apron! But McIntyre shoves Sheamus aside to give Theory BEATS OF TE BODHRAIN! Sheamus shoves McIntyre away to give BEATS OF THE BODHRAIN! McIntyre gets another turn, then Sheamus shoves Theory down. The frenemies argue, and then they brawl! Rollins CLOBBERS them with a ladder of his own! Rollins hurries to clear the ring, and then he CHUCKS the ladder onto them both! Riddle CLOBBERS Rollins! Riddle fires hands but Rollins rakes eyes! Rollins rams Riddle into the ladder and it falls over!
Rollins hurries to get that ladder, fold it up, and bring Riddle over. Rollins sets Riddle up with underhooks, but Riddle back drops Rollins onto the ladder! And then a BROTON on Rollins and the ladder! Rollins rolls away but Sami tosses Riddle! The Master Strategist wants to snipe this from everyone! He climbs, but Moss drags Sami down! Moss RAMS Sami into the corner! But Sami drop toeholds Moss into the ladder! Sami hurries to reset the ladder, to SLAM it down on Moss! Fans fire up and Sami puts the ladder in a corner. But Moss SMACKS Sami off the rungs! then RAMS Sami in the other corner!
Moss fires off hands, stomps, and roars! Moss then whips Sami into the ladder! Sami tumbles up and down and Moss looms over him. Moss stands the ladder up, climbs up, but Riddle hurries after. Omos returns as they reach the top! Omos reaches up to drag Moss down and CLUB him in the chest! Riddle touches the case, but Omos YANKS him down, into a POWERSLAM! Omos climbs, but Theory LEAPS, into a choke grip! And a CHOKE SLAM! Omos says this is his now, and he climbs up! But Moss tries to tip the ladder! Omos is too heavy for that, but McIntyre helps out! Omos hops off but they clothesline him out!
Sheamus CLOBBERS Omos with a ladder! Riddle helps out! They DOUBLE RAM Omos and send him to the ramp! They toss ladders ON Omos to bury him under steel! Fans fire up as the colossus is finally down! But then Sheamus CLOBBERS everyone else! Wait, Rollins is setting up a ladder to take advantage! Sami rushes in to fire off on Rollins, and Sheamus rushes in with a ladder of his own. Rollins and Sami brawl, Sheamus sets up right next to them. Sheamus climbs, Sami fights him and Rollins. Theory returns and climbs up, now it's a brawl of four men! Sheamus and Theory shove Rollins and Sami down!
Theory smacks Sheamus off rungs! Sheamus drops! But Moss yanks him down to hit a FALL AWAY SLAM! Moss hurries up the ladder now, reaches out, but Sami is on the corner. Moss hurries to intercept Sami with haymakers, then he gets a spare ladder to RAM Sami! Moss sets the ladder up sideways in the ropes but Sami kicks away on Moss. Sami stomps Moss, then steps over Moss, only for Moss to grab him! POWERBOMB on the ladder! Moss climbs now and but McIntyre hurries up the other side! McIntyre ROCKS Moss but Moss hits back! They brawl, fans fire up, it's fast and furious up at the very top!
McIntyre HEADBUTTS Moss down! McIntyre has the case, but Sheamus shakes the ladder! Sheamus tips it over but McIntyre lands on his feet. But Sheamus fireman's carries to WHITE NOISE! Sheamus sets the ladder up in the corner, but Riddle CLUBS him! And KICKS him! The hometown hero fires off on Sheamus, but Sheamus ROCKS Riddle, and hits an IRISH CURSE BACKBREAKER! Sheamus fires up and he SMACKS Riddle off the rungs. Sheamus throws haymakers, aims from a corner, but Riddle sends the Brogue into the rungs! ROUNDHOUSE, and a DRAPING DDT! Riddle shouts out Randy before repositioning the ladder.
McIntyre waistlocks but Riddle switches to ripcord and FINAL FLASH! Moss returns, but Riddle spins him for a PELE! Riddle kips up to POWERSLAM Rollins! Riddle roars but Theory whips him at the ladder. But Riddle goes up! Riddle kicks Theory away, and then goes to the very top, for a SUPER FLOATING BRO ATTACK!! Riddle takes everyone out and fans lose their minds!! But OMOS rises from the ladder pile outside! Omos storms into the ring, snarls as he BOOTS Moss, HEABUTTS McIntyre, CLOBBERS Rollins, and KNEES Riddle low. Moss fires off but Omos tosses him. McIntyre CLUBS away but Omos tosses him!
Omos gets the ladder, starts to climb, but Riddle jumps on for a SLEEPER! Omos stays up, throws Riddle off, but is still wobbly. Theory sneaks in to climb the ladder! Omos grabs him with both hands! Omos brings Theory away from the ladder for the MOUNTAINTOP CHOKE SLAM! Omos goes back to the ladder again but Sheamus BROGUES him! Sami HELLUVA KICKS Omos in the corner! Riddle jumps on for a HANGING ARMBAR! Moss helps DUMP Omos out of the ring! McIntyre runs in to HEADBUTT Omos! Omos staggers, so Rollins gives him an APRON CURB STOMP!! Omos is still standing!?
Everyone works together to clear the desk! Vegas is thunderous as they bring Omos over! SEXTUPLET POWERBOMB through the desk!!! Fans are losing their minds even more than before over that one! The other six then see each other, and they all brawl! Sheamus and McIntyre, Riddle and Rollins, Sami and Moss! Sami WRECKS Moss and gets in the ring! McIntyre finishes with Sheamus to stop Sami's climb! McIntyre RAMS Sami into the ladder! Sheamus brings another one in and he CHUCKS it at McIntyre! Sheamus sets that ladder up on the top rope, and then he brings McIntyre up.
Fans hope these guys "FIGHT FOREVER!" Sheamus whips but McIntyre reverses into FUTURE SHOCK! McIntyre then stands a ladder on Sheamus to pin him down! McIntyre climbs up, fans fire up, but PETE DUNNE rushes out! The Bruiserweight goes after McIntyre on the ladder! SLEEPER!! McIntyre holds on, still climbs, but Dunne FISHHOOKS him! Dunne brings McIntyre down with this sleeper hold, and Sheamus is free of the ladder now. BROGUE!! Dunne suffers, too, but Sheamus drags McIntyre over to trap him under the ladder! Sheamus climbs, touches the briefcase, but McIntyre bench presses the ladder up! Sheamus falls to the floor!
McIntyre is up, he CLAYMORES Dunne! Kip up and Vegas is electric for McIntyre! McIntyre stands the ladder up, climbs up, but Sheamus stops him! Sheamus throws body shots, climbs, but McIntyre climbs the other side! They meet at the top, fire off haymakers, but Sami is back! Sami tips the ladder, both Sheamus and McIntyre hit the ladder on the top rope!! Everyone else is down and Sami hurries to reset the ladder! Sami climbs up, has the case, but MOSS returns! Moss TOSSES Sami, gets the case, but Rollins tips the ladder! Moss HOTSHOTS off the ropes! And flounders into a CURB STOMP!!
Rollins hurries to reset the ladder and climb! But Riddle RAMS Rollins with another ladder! Riddle stands this HUGE ladder up, and hurries to climb it while Rollins is down. Rollins gets back up, grabs Riddle, punches at him, but Riddle still reaches out. Rollins CLUBS Riddle, SWATS him down, and finishes the climb! Rollins touches the case, but can't find the hook! Riddle is back up, for a SUPER RKO!!! Vegas is volcanic! Riddle rises again, he drags himself up the ladder, and Vegas is going nuts for their hometown bro! But THEORY returns! Theory climbs the other side, and he pie faces Riddle!
Theory throws hands, Riddle hits back! They brawl up top, Riddle CHOPS and SLAPS and CHOPS Theory! Theory SMACKS Riddle off the rungs! Theory SHOVES Riddle down! Theory reaches out, get the case, and WINS!
Winner: (Austin) Theory (2022 Mr. Money in the Bank)
And of course, Theory takes a selfie! Will Theory be taking even more selfies when he cashes in on whoever is Undisputed Universal Champion?
---
My Thoughts:
Once again, Vincent Kennedy McMahon and team serve up a PPV pizza with wonderful things, only for that last bite to be a stuffed crust full of grape jelly and tuna. Vince, in kayfabe and reality, went out of his way to ruin all the good will MITB 2022 was building. Theory VS Lashley is a very good US Championship match, and it is awesome that Lashley won, but Vegas had it right, Theory getting in was utter BS. And then, him WINNING it is BS of the highest order! The only silver lining, and I mean ONLY, is that if Theory does the Last Man Standing cash-in that everyone brought up, it backfires and he gets his ass kicked by both Roman and Lesnar.
Aside from the dumbass crap Vince gave us, everything else was great. Leading with the Women's MITB match was a sign of a cash-in, and after an awesome albeit rough and scary match (thank God Shotzi is okay), Liv winning was a great move. Becky got to give us quite the meltdown after, and then each Women's Championship match had the cash-in possibility on it. Bianca VS Mella was very good, but I figured Bianca would win. Mella attacking Bianca after was a decent cash-in tease, but it seems Liv didn't think it wasn't good enough. And then, while a good chunk of Ronda VS Natty ground down to a slog, they managed to make the ending exciting.
Liv cashing in here was quite the surprise. It almost look like Liv was going to fail, and then MITB 2022 would've really sucked, but they made the right choice on this one and gave Liv the win. This is a moment Liv and many fans have been waiting for, and now Liv moves back to SmackDown to give us something fresh in the Women's Division. SummerSlam is going to be pretty wild, with Becky desperate to get back up, and maybe big returns to SmackDown like Charlotte or Bayley. Charlotte would be great, they can finally call back to when Charlotte and Liv feuded during the Riott Squad days and Charlotte was the first to say Liv would have to find herself before becoming champion.
The Usos VS Profits was an awesome tag title match, and while it looked like the Profits were going to get this, I should've figured the Usos would retain. But I will say, it is good on them to make a point of Ford getting his shoulder up. They can make this the reason for a rematch at SummerSlam, and maybe then there will be a stipulation on the match like they said there was going to be on this one. Hell, I bet they undid all that because they made a mistake and set that up too soon. And then, the right call needs to be made again where Profits win. The Usos will get to one year as tag team champions, and then they hand things off to another great team. And again, there's always the chase to get the belts back, so that Usos can be two-time undisputed tag champions.
My Score: 8.1/10