AJ's Hell in a Cell Ratings & Review: 6.20.2021
With Roman giving away one match on SmackDown, does that take any of the heat out of Hell in a Cell 2021? Let's see what AJ thought!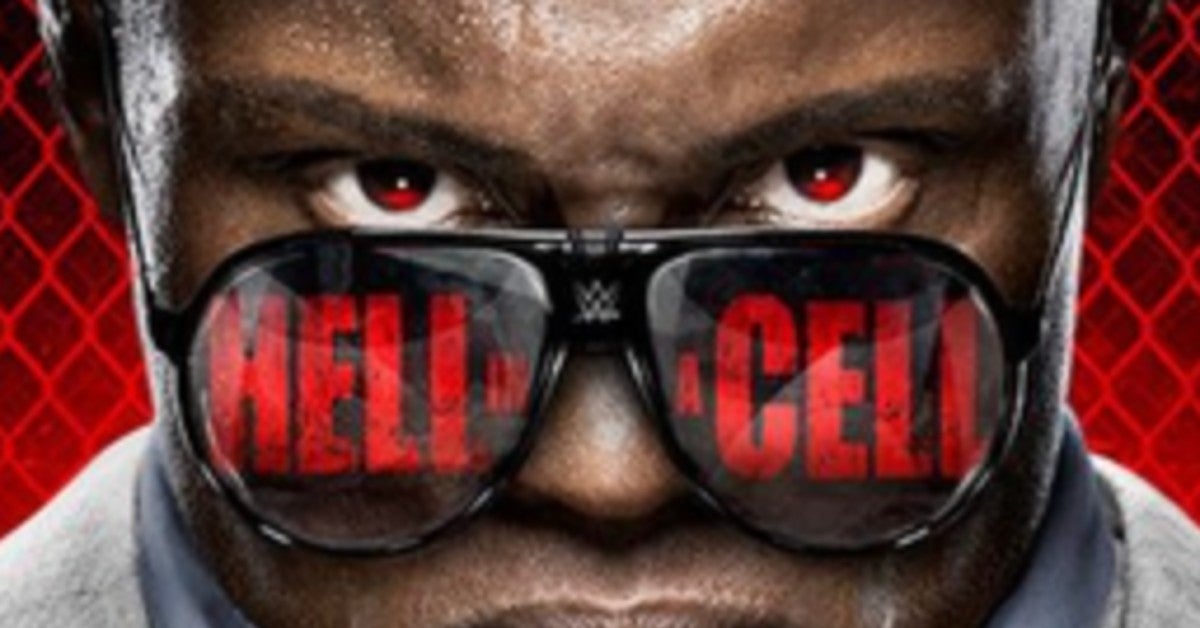 Well I guess Halloween came early because Hell In A Cell is typically in October since it became a standalone Pay Per View (don't tell my girlfriend that Halloween came early or my house will be covered in darkness) so this should be… different to say the least.
Lashley and McIntyre at it for the last time, Bliss and Shayna continuing their Lilly feud, the SmackDown Women's Championship is contended in Hell In A Cell and Rhea is going to combat The Queen one more time to make sure the WrestleMania match from last year was just a fluke. Let's see if the will be a good Pay-Per-View without the Tribal Chief in an official match or if this card will be… well… Hell.
Results:
Hell In A Cell: Bayley vs Bianca Belair(c) for the SmackDown Women's Championship – Bianca wins via Kiss of Death – *** ½ – TITLE DEFENSE!!
Seth Rollins vs Cesaro – Rollins wins via Small Package – *** ¾
Alexa Bliss vs Shayna Bazler (w/ Reginald & Nia Jax) – * ½
Sami Zayn vs Kevin Owens – Sami Zayn wins via Helluva Kick – ***
Charlotte Flair vs Rhea Ripley(c) for the Raw Women's Championship – Charlotte wins via DQ – **
Hell In A Cell: Drew McIntyre vs Bobby Lashley(c) for the WWE Championship – Lashley wins via Roll-Up – *** ½ – TITLE DEFENSE!!
Review:
Bayley vs Bianca Belair-
Bianca starts it off first, giving Bayley a couple of scoop slams and taking Bayley down with a clothesline and Bayley starts the mind games outside of the ring and brings two chairs in after distracting Bianca. Bayley uses a slow swing with one of the chairs and Bianca takes full control of the match until a Superplex attempt goes wrong for the Champ as Bayley bashes Bianca's shoulder into posts and starts to target her arm now. Bayley keeps getting a ruthless attack on Bianca until some separation is caused by the champion and now the assault on Bayley comes on the outside but Bayley actually bites Bianca off of her and gets a Kendo Stick to take a shot at Belair and does a Sunset Flip Powerbomb on the Cell Wall.
Bayley now sets the Double Kendo Sticks that she failed to set up last year after that but Bianca waited long enough to put Bayley through the sticks and bashes a chair into Bayley's back but also takes too much time and gets the chair back into her face and getting the aggression back on the champion, even laughing at Bianca as she ties the long braid on the chair. Bianca now breaks some separation between her and Bayley but gets the hair off the chair and now on Bayley's wrist to pull Bayley in for close attacks. Bianca unties her hair from Bayley and as Bayley pleads with the ref to leave, Bianca kicks Bayley's head into the cell and laughs back at her. Bayley introduces a ladder after some more separation and after sidestepping and tug of war with the ladder, more damage is done to the champ in the ladder. Bayley hits her Roseplant finisher with Bianca in the ladder but the knee gives out of the challenger and can't get the instant pin.
Bianca gets one last gasp of wind with one last separation from Bayley, she lands a Senton Bomb on Bayley on the ladder and then uses the ladder one more time with the Kiss of Death.
Seth Rollins vs Cesaro-
Rollins goes at the attack on Cesaro from the entrance, beating each other down before rolling into the ring again and the bell rings. Seth goes for his strieks but it's not enough for the Cesaro's strength and even his agility as Seth is reeling from the bat, inside and out. Rollins finally sees and opening against Cesaro's strikes and gets cheap with the attacks and digging his weight into Cesaro's face but after a while, Cesaro's strength comes back with a deadlift Vertical Suplex to get some separation but takes too much time and Rollins comes back to take and fight Cesaro inside and out with knee strikes and some punches as well.
Cesaro gets an attack going from Seth's strikes and bursts out with some more damage to Seth's face, takes off the possibly weighted glove of Rollins, punts the glove into the stands (Pat would love that on commentary for the brand) and has Seth reeling again from the strikes and even a scoop slam for a nearfall. Rollins catches Cesaro from the top and gets the fight going for Rollins, kicks, strikes and looking like Osperay with a forearm shot to the back of Cesaro's head. As Cesaro is dazed, Seth starts to trash talk and goes to more of the offense, more strikes to the back of Cesaro's head to stun him. Seth, after another nearfall, takes too much time and goes for the Curb Stomp but Cesaro gets a burst of energy to stand up and take Seth off his feet.
After they get back to their feet, Cesaro takes Rollins down and swings him around and places the Sharpshooter in. Seth, crawls over to the ropes but it gets switched into a Crossface. As Cesaro centers Rollins again, they begin a tug of war, a battle for position as a Sharpshooter attempt has Seth catches Cesaro in a Small Package and gets the win finally.
Alexa Bliss vs Shayna Bazler-
Oh wow… this doesn't look like a supernatural match… Um… okay. Hopefully a fair rating.
Reggie surprises Alexa from the beginning with a distraction and Shayna goes on the attack as Alexa is unphased and attacks Bazler with knee strikes and a senton as Alexa kind of… stuns Reggie in the outside but Shayna takes it to Bliss and Alexa… laughs. Even taking the Gutwrench Slam of Shayna and is also breaks out of Shayna's different submissions and joint damage but the stomp actually looks to phase Bliss… for few seconds until she laughs and makes people get entranced by a gaze and takes Bazler down. Bliss actually damages and takes Shayna out as Reggie goes to take her down and entrances Nia to attack Reginald on the outside. (There's the supernatural shit…)
A Sister Abigail but as a DDT instead of a Flatliner and Twisted Bliss and the vexed vixen of Bliss gets the win.
Sami Zayn vs Kevin Owens-
Who will win the millionth fight against the Generic Wrestler and The Bringer of Disaster?
Well Kevin takes it to Sami quickly but it's vocally apparent that the Nigerian Nails to the throat on SmackDown is making Owens struggle a little. Sami still gets absolutely rocked with strikes and not letting Sami get any offense going until Sami makes it with the ropes. Now that Sami Zayn is taking it to Owens, even clotheslining him to make him cough and gag more on the damage that was previously done. Sami tries a suplex but Owens still fights off Zayn and takes a Suplex with Kevin getting some offense going. Sami now lures Kevin to the ropes and decapitates him and lands a Tope con Hilo on Kevin and Sami has firm control again as Kevin might actually be hurt as the match happens.
Sami strikes over and over before Kevin gets out of the ring and ironically a second wind, another breath of life as Owens takes down Sami but as he continues the onslaught on the outside, Sami gets his knees up from a Senton attempt and gets the advantage again. As both men know what the other can do, the signature moves of each come in, Owens already hit a Cannonball but a Stunner attempt comes in and Sami catches it into a Half and Half suplex and when Kevin rolls back outside, he lures Sami into a Stunner on the outside and gets in after a 9 count to the outside.
As both men get some fight and attacks on each other, Sami capitalizes on weakness to the throat of Kevin Owens and hitting a Helluva Kick to finish off Kevin Owens, still reeled and coughing as he is down for the three count. (Owens actually looks like he messed up his shoulder in that match so, hopefully it's nothing too drastic as he talked to the Ref as Sami showboated.)
Rhea Ripley vs Charlotte Flair
Charlotte decides to sneak attack Rhea right away before the bell by distracting her with the belt and forcing Rhea out of the ring. Charlotte takes it to the champion a lot, not letting her get an advantage as the match goes on. Charlotte keeps talking about lessons that she'll teach Rhea with being champion. Flair not quitting on the assault on the Nightmare and after Rhea moves out of the way from an attack to tweak Charlotte's knee from a landing and the champ starts getting the advantage and takes it to Flair. Flair though gets another quick burst of energy and wind as she hits Natural Selection and goes to hit Rhea more and more with the offense, even going for the moonsault, missing the first but hitting the second rotation on the ground, just being more aggressive than usual onto the Women's Champion.
Each time Rhea gets a burst of offense, Charlotte answers back with more of the aggression until Rhea lands the superplex and gets a form of momentum. As Charlotte makes a small mistake in the corner and gets hit by a Riptide, she luckily gets her foot on the ropes and breaks the pin. Rhea chases the Queen on the outside and it costs her, taking more damage to the knee and Charlotte takes control again. Charlotte puts the Figure Four on, maybe even the Figure Eight but Rhea is able to drag them both outside and Rhea tosses the table cover into Charlotte for a Disqualification.
(Aftermath: Rhea and Charlotte continue to fight back into the ring after referees try to break them up and Rhea hits a Riptide on Flair.)
Drew McIntyre vs Bobby Lashley-
Lashley goes to get a weapon but Drew makes chase and attacks him on the outside of the ring, shredding Bobby's face into the steel and doing damage until Drew takes too much time to get the steps and getting attacked. Lashley gets some offense going again but Drew gets a split with a Suplex into the cage and bashing the Steel Steps into Bobby's face over and over again and continues the relentless assault against the champion. MVP tries to get things situated for Lashley and hands the cane to Lashley through the cage and gets some form of offense going but each time, Drew makes sure he puts Bobby down with destructive moves against the cage and an Air Raid Crash into the steps.
Drew sets up a table on the outside of the ring and goes to do more of the attack to the outside of the ring and into the cell as more and more weapons get added in with chairs. Drew lets his anger full him over time hits moves onto the chairs like a Reverse Alabama Slam and every time Lashley gets some offense started, Bobby gets absolutely rocked and messed up each moment by the Scotsman.
Lashley finally gets some form of separation and an advantage on the outside of the ring and MVP gets involved, sliding a Kendo Stick in between Drew and a cage wall. Lashley gets more and more damage in with another Kendo Stick but as both Drew and Lashley get more and more aggressive in the ring, they take the referee out with a chairshot (ayyyyye we go in the ThunderDome event everyone) and Drew hits the Future Shock.
The ref outside gets the door unlocked to start the count after a Claymore Kick but MVP comes in and suffers after the door is locked back with MVP inside Hell In A Cell. MVP gets rocked by a Claymore and Drew goes back to the outside to dish out more punishment but, Lashley catches him in a Hurt Locker. On the outside, Drew tries to get a separation going, he drives Bobby into the table and cage hard as Drew begins to stand tall again. Driving the steel chair harder and harder each time to Bobby's back to weaken him until he readies another Claymore but Lashley drops down and catches the wind as Lashley makes more offense on the outside, putting McIntyre into a table and drags the lifeless body in the ring and misses his Spear this time. McInytre hits a Future Shock and readies a Claymore until MVP grabs the leg of McIntyre just to get rolled up by the champion.
Final Rating: 5/10
It was…… okay. The Hell in a Cell Matches were amazing because they could actually do more, Bayley referenced her massive botch from last year and pre-planned which was great telling of that, MVP interfering was predictable but the match was still lived up to the Hell that was within the Cell and the Ring of Honor Alumni matches were great too because there was chemistry, actual storytelling and call backs to either storyline they are in or what happened at an earlier event.
The two things that massively soured me though… You have an MMA Fighter in the ring that can actually do damage, very talented in the squared circle and the octagon. She doesn't need supernatural crap to be in a story, she's good already on her own. If you want her in a story, break her off of Nia and Reggie or something, not a doll and Alexa making everyone watch a tape so she can crawl out of a well in seven days. Two, people wanted to cry and complain that Karrion Kross made everyone look weak and In Your House (he didn't, they just used everything they had while he waited in the shadows in my own opinion) but, Charlotte flat out embarrassed Rhea. Like… that was me fifteen years ago getting a temper tantrum on my brother levels of embarrassment during this match. Was I supposed to feel bad for Rhea? Was that an attempt at a heel turn? Was that… I don't know what that was other than embarrassing. You're going into AEW involvement of IMPACT levels of embarrassment. Figure it out, pheasants.
AJ's SummerSlam 2021 Results & Review
Well moving forward the narrative will be about how WWE counters AEWs big moves. So did WWE plan for any big returns? Good matches? Was this SummerSlam one to remember?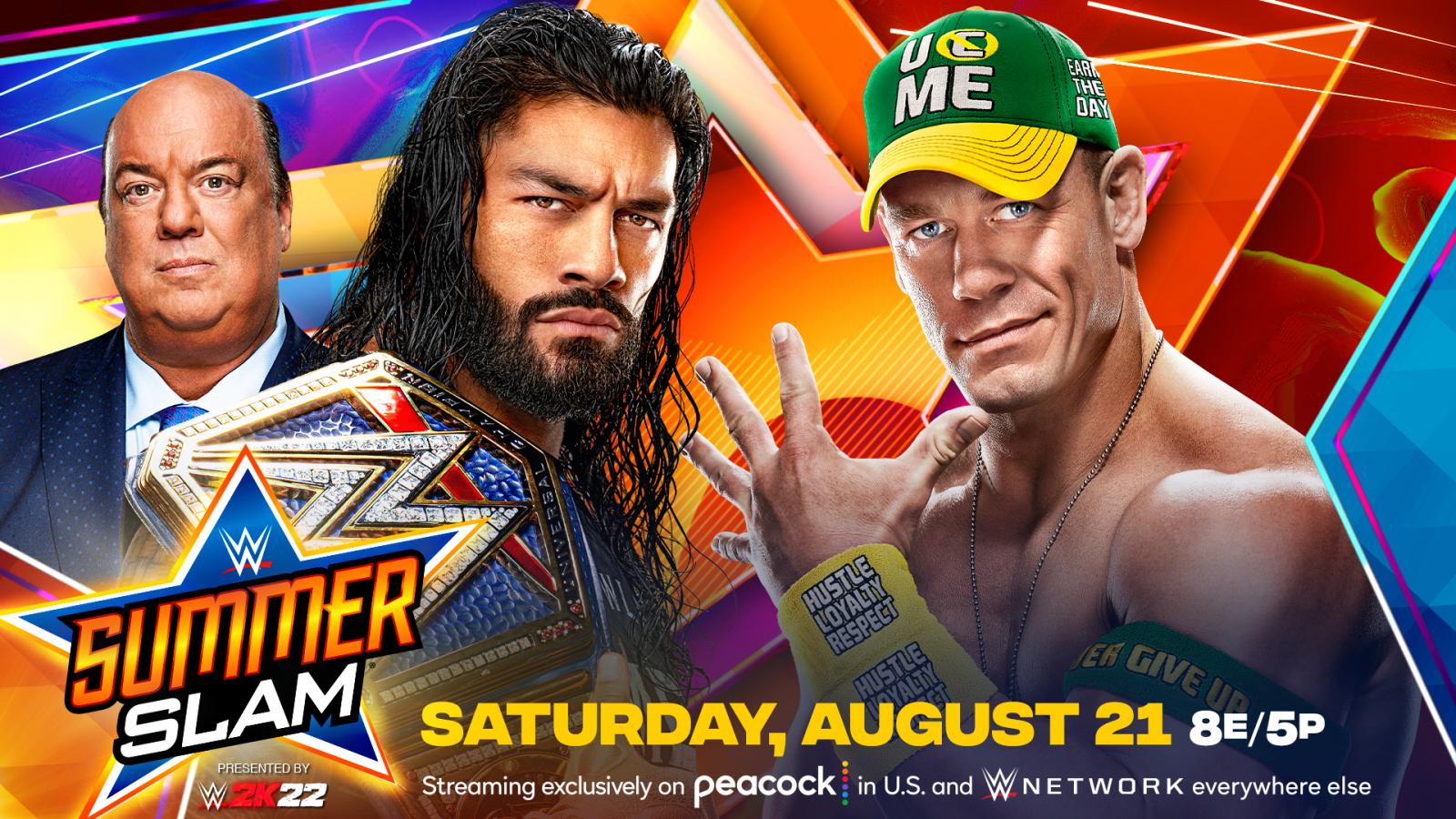 Well moving forward the narrative will be about how WWE counters AEWs big moves. So did WWE plan for any big returns? Good matches? Was this SummerSlam one to remember?
Welcome everyone to SummerSlam where the old people are getting the world title opportunities and we get the fun matches done early that everyone will talk about for weeks, it must be 2021! As much as I kid, we do have a decent card tonight and fun matches to boot. Cena facing Reigns, Goldberg facing Lashley and much more so lets go on and let's get No Sleep Till Brooklyn going!!!
…Oh they aren't in New York? Uhhh Viva Las Vegas? Viva Las Vegas! Let's get the main show started!
Results:
RK-Bro vs AJ Styles and Omos(c) for the RAW Tag Tea m Championships – RK-Bro wins via RKO – *** ½  – TITLE CHANGE!!!
Eva Marie(w/ Doudrop)  vs Alexa Bliss – Alexa Bliss wins via DDT – *
Damien Priest vs Sheamus(c) for the United States Championship – Damien Priest wins via Reckoning – *** ¼ – TITLE CHANGE!!!
Los Mysterios vs The Usos(c) for the SmackDown Tag Team Championships – The Usos win via Splash – ** ¾ – TITLE DEFENSE!!
Bianca Belair(c) vs ??? for the SmackDown Women's Championship – ??? wins via Uranage – SQUASH – TITLE CHANGE!!!
Jinder Mahal vs Drew McIntyre – McIntyre wins via Claymore Kick – ** ¼
Charlotte Flair vs Rhea Ripley vs Nikki ASH(c) for the RAW Women's Championship – Charlotte wins via Figure 8 – ** ¾ – TITLE CHANGE!!!
Edge vs Seth Rollins – Edge wins via Arm Capture Sleeper – **** ¾
Goldberg vs Bobby Lashley(c) for the WWE Championship – Lashley wins via Ref Stoppage – *** – TITLE DEFENSE!!
John Cena vs Roman Reigns (c) (w/ Paul Heyman) for the WWE Universal Championship – **** ½ – TITLE DEFENSE!!
Review:
RK-Bro vs AJ Styles and Omos-
Randy and AJ start off the match and making things happen in the beginning and Orton gets the advantage right away and tags Riddle in and Orton also assists Riddle on a standing Broton. AJ gets frustrated and tags Omos in to manhandle Riddle and does so efficiently. Riddle actually gets a little bit of offense and tries to put the big man in a sleeper but to no avail as Omos slams Riddle off him and Styles tags in, continuing the work. Riddle makes a form of separation with a knee strike and tags Orton in and he attacks AJ and Omos like a house of fire and when coiled, Omos pulls AJ out and Riddle makes chance against Omos and they get the big guy stunned for a good while as Styles tries to finish off Orton in the ring after eliminating Riddle from competition. We have old faithful for the win, an RKO out of nowhere.
Eva Marie vs Alexa Bliss –
Eva tries to charge at Alexa Bliss but Bliss moves out of the way constantly from Eva's attacks. As soon as Eva gets a form of offense started, she goes to attack the doll and Bliss snaps on her. Bliss goes for a Twisted Bliss but Eva dodges it and tries to actually win, pinning Alexa regardless for a two. Alexa gets a separation and gets a DDT off to beat Eva. Hooray… the crowd goes mild!!! At least Doudrop got heres and had some fun in the expense of Eva so… that's good.
Damien Priest vs Sheamus-
Both men starting off in the ol' Collar and Elbow, Sheamus gets a headlock takedown and both men are showing they are evenly matched with power and size but Sheamus is more crafty than Priest in the early fight but Priest gets it going shortly after.  Priest gets a good momentum started but with the step up Tope he does, he did something to his back and Sheamus now takes advantage of that injury, going for the back and shoulders of Damien Priest.
Sheamus keeps the attack on the back going more and more, even when Priest gets separation, Sheamus continues until Sheamus stops the Beats and talks some shit before getting attacked by Priest, getting the momentum swing in his favor, kicks and strikes stunning Sheamus, diving Wheel Kick to knock the champion off but Sheamus gets a reversal of the Reckoning and tries to fly himself as Priest catches him but catches Priest and reverses whatever he has in mind as Priest is reeling again. Sheamus gets ready for the Brogue Kick but Priest gets a kick of his own off to hit the South Side of Heaven. Both men evenly matched still, even with the back injury as Sheamus goes to now do a Heel Hook but Priest rips the protective mask from Sheamus and goes for the face of the champion and Damien gives Sheamus a little bit of Reckoning to win the United States Championship.
Los Mysterios vs The Usos
(I missed the opening of the match due to Peacock sucking the suffix of it's name so bear with me for this one. I caught up to Dominik facing off against the Usos as Dom did his real dad's signature, the Three Amigos.)
Dominik gets his momentum going with the Three Amigos and tries to get things going but the brothers gets rocked in a two on one as the Usos start to take full control. Dom breaks away and gets to Rey so he can get the fight going for his team, doing a two on one of his own but he has experience in that department throughout his career. Even with some superkicks and even a splash but Rey doesn't stay down as Dom comes in and picks off Jey Uso with the double splash and Jimmy took too much time and Rey gets the advantage now, hitting 619 but Jimmy gets the knees up for the splash and the Usos hit the Superkicks and a splash to keep the tag team championships.
After this, we have a nice little SmackDahn celebration for King Nakamura and his Intercontinental Championship victory last night along with Rick Booooooooooooooooooooooogs on the Guitar and Pat McAfee on the table. This is the sole reason why SmackDahn is better than RAW. I'm just gonna say it.
Bianca Belair vs ??? –
Apparently there is no match against Sasha Banks but there is a rematch that Bianca had… against Carmella. Bianca gets a microphone and says she'll face Sasha another time but she's going to beat the hell out of Carmella until we hear the Mom's Music. I mean the Man. Becky Lynch returns before the bell rings. Becky gets the standing ovation and begins to take apart Carmella to eliminate her from this match it seems. Becky asks if the EST wants to fight The Man and we got a match!
Becky goes to do a handshake, snuffs Belair with a strike and does a variant of a Rock Bottom and wins. There is no surprise. That's it. New Champ. Its cool, don't get me wrong. That was just the match. I'm here to cover matches.
Jinder Mahal vs Drew McIntyre-
Drew starts off fast with the ruthless attacks back and forth as Drew already reads the Claymore Countdown but Jinder rolls out. Drew is just man handling Jinder, even trying to bait him in and after that, Jinder gets control after a heavy kick to the head and takes it to Drew over and over but even then, it won't matter because Drew still takes over and does his own version of Suplex City and lands a Future Shock DDT to weaken Jidner Mahal, landing the Claymore and making quick work of his former bandmate.
(Aftermath: Drew grabs the sword and attempts to swing it at the goons, telling them I Remember The Chairshot. Good to see we go all the way to Scotland for fans)
Charlotte vs Rhea Ripley vs Nikki ASH –
Charlotte just shoves Nikki thinking she is nothing and Rhea goes to defend her and kick Charlotte but now Nikki actually fights for herself until Charlotte dumps her out and we get the match of 2021, Charlotte against Rhea. Nikki comes back to the match to fight the challengers but Charlotte is in the ring so Flair gets in and gets the momentum, fighting Rhea more and just ignoring Nikki like she is a fly or a weapon too as she tosses Nikki into Rhea to stagger them both, missing a Moonsault though and after more offense from Nikki and Rhea, Charlotte returns and it's Rhea vs Charlotte again. Rhea and Charlotte fight more in the ring and Rhea is dumped out of the ring this time and Nikki comes to take charge.
Nikki has a good amount of offense going, Tornado DDTs but Charlotte catches Nikki for the Fallaway Slam but Rhea returns to do a German Suplex to gain the advantage. Rhea and Charlotte comes to the outside of the ring and fight each other by the announce table but Nikki comes in and does a cross body to take them all down. They return to the ring and Ripley and Nikki try a double suplex on Charlotte but Flair gets the Double DDT on them and does some chops as they take it and go to the outside. Charlotte gets to the top rope and does the Corkscrew Moonsault to take the other two down. The two after a breather, get in the ring and remove Charlotte for a little bit before Rhea gets her submission move to both of them, Charlotte reverses it and puts the Figure 8 on Rhea and Nikki breaks it up. She does her swinging neckbreaker on Charlotte but Rhea breaks it up this time. Nikki removes Rhea from the match and Charlotte… well Charlotte wins lol because Figure 8, tap out… nobody can break it. Ya-da, Ya-da, Ya-da. Death, Taxes, Flairs. That's all.
Edge vs Seth Rollins-
Edge comes out to the Brood theme with the fire and sunglasses, even wearing a darker attire before Metalingus playing for the rest.
Rollins goes wild, trying to the get neck of Edge but the Hall of Famer gets the first advantage to take Seth out and out of the ring. Every move that Seth tries to do, Edge counters because all Rollins does is trying to get the neck of Edge. This time out of the ring, Edge takes it to Seth this time before getting caught and driven head first into the posts and steel steps to take the neck out this time and now Seth's got the advantage with neckbreakers and slingblades. Each strike that Rollins does, is a direct hit to the neck over and over with the match solely on Rollins' favor.
Since Rollins started getting cocky though, Edge comes back and takes it to his competitor but when the go to the top for a move, Seth takes advantage and splashes Edge, looking for the stomp but Edge rolls out of the way. Rollins talks trash again but Edge catches Rollins as both of them land hard on te ring with a swinging Neckbreaker from Edge. Edge now gets the advantage and deals the Edge-O-Cution to Seth to cause Seth to reel but Rollins turns things around to bait Edge in but, Edge catches a Superkick from Seth and hits the Edge-O-Matic but still to no avail. Edge goes to the top rope now as Seth jumps up and does his Superplex/Falcon Arrow combination but no avail of a victory either.
Rollins sets up the Stomp again but Edge moves out of the way of the Stomp, Seth tries to turn it into a Pedigree but Edge spins out of it for a Glam Slam. Seth baits Edge to the ropes and hits a neckbreaker through the ropes, trying for another stomp but Edge catches Seth, stuns him on the apron and lands a Suicide Spear like it's WrestleMania 21 again against Foley but Edge keeps it up and takes it to Rollins and goes for a Spear but gets caught into a Pedigree but again to a nearfall. Rollins goes for a Phoenix Splash but Edge dodges and hits the Spear onto Rollins but another nearfall happens and Edge is shocked. Edge tries everything now to win and beat Seth, reversing one more Stomp attempt and even bringing the Edgeucator back to get a submission victory but Rollins rolls out and now gets a Crossface started. Seth tries to break out and get an advantage but Edge opens his arms, bashes Seth's head into the mat and puts an Arm Captured Headlock and Rollins taps out.
(Adam Joseph beating an Architect… Hopefully DPP doesn't read this)
The Miz and Morrison have a promo for the DripStick 2000 but they don't have it but apparently Xavier found it, looking like Razor Ramon, even doing the Survey bit of Scott Hall and sprays them both to get the championships started.
Bobby Lashley vs Goldberg-
Goldberg and Lashley start with a Collar and Elbow tie up and… now Goldberg turns into Goldberg once again. At least he added different slams into his arsenal and even a short arm lariat. Lashley gets a little offense started and looks to do the Jackhammer, Golderbg stops in and Lashley goes to the top and gets tossed off the top and readies the Spear but MVP helps Lashley out but takes a Spear on the outside this time.
MVP is the only reason why Lashley has a shot because of the shots with the cane to ruin Goldberg's knee. Like… to the point of dismantling someone leg. Like how to ruin my knee… The ref stopped it though because Goldberg can't stand. Damn old age.
(Aftermath: MVP tosses a chair in the ring and starts breaking the knee down more and more. Gage comes in to stop the assault and Lashley tosses him aside and puts him in the Hurt Lock.)
John Cena vs Roman Reigns-
Both men size each other up in the beginning as Cena gets a headlock in and Reigns knocks him down but now Cena is getting cocky now with some roll ups and gets cheeky before Roman gets actually pissed off and knocks Cena down with some punches and Roman just walks around, telling the crowd to acknowledge him but Cena keeps getting some cheeky roll ups started again and takes Cena back down. Reigns getting more of a beat down started and keeps Cena grounded more and more but once he applies a chinlock, Cena breaks out a little but, gets kicked down again. More shit talking going as Roman just tosses Cena around pillar to post, Suplexs over and over and taking him to the outside before Cena mounts his usual comeback until Roman tosses John into the steps. Roman asks for the title and stands on the steps with the championship raised high, already calling it done as Cena rolls back into the ring and Roman goes back in too as Cena goes for one more roll up for another near fall.
Roman goes back to the talking and Cena grabs him in a Fireman's Carry for the AA but Roman gets out of it and lands the DDT for a nearfall of his own. He tells the camera that he ain't going to be able to do anything for movies as John Cena is picked back up and we get an attempt of the old comeback before getting smacked upside the head by Roman. Cena gets up slowly, grabbing the legs of Roman for ANOTHER roll up and Roman gets out and puts Cena in a Sleeper Hold but Cena gets to a vertical base quickly. Roman wraps his legs around him to bring him back down and drops again but Cena gets up again and breaks the hold this time, hitting a Lariat to drop Roman and we are back to square one.
Both of them get up and now we finally get Cena's comeback, the shoulder tackles, the slam, waves the You Can't See Me before Roman puts the Guillotine. Roman releases it and hits that Superman Punch with the Gilded Fist. The spear is ready and Cena counters it, hits the Five Knuckle Shuffle and the Attitude Adjustment but for a two! Cena now, puts the STF in but Roman grabs the rope to break it. As things look like it's in Cena's favor and following Roman to the outside, Roman hits a Drive By as Cena gets down and charges around to hit Spear to the outside but Cena catches him and does an Attitude Adjustment through the table and tried to roll him in quickly in the ring to win but gets another two count. John Cena now goes to the tope rope but Roman catches him into a powerbomb and a pin for another pin attempt. Roman gets back up and cocks the fist for another Superman Punch but Cena rolls him up again but Roman gets angry again, getting the Spear ready and misses Cena, hitting the post as Cena drags Roman to the top for a Super Attitude Adjustment but Roman kicks out one… more… time…
Cena stands up and does the OOOO Ah that Reigns does but Reigns catches the charge that Cena is doing and they go to a slugfest until Reigns hits two Superman Punches and readies another Spear, landing this one and getting the victory.
(Aftermath: Reigns grabs the belt to lift it up high until we hear that familiar asskicking tune. Brock… Lesnar… HAS RETURNED!)
Final Thoughts-
When things are looking down in WWE, go to the older guys right? The most entertaining matches at SummerSlam have been all the main event scene of the mid 2000's. Super Cena, Randy finding a personality, Edge dismantling Seth Rollins and the cherry on top, that pop that the Beast Incarnate got was electric. Don't get me wrong, a lot of the matches were great and well deserved but, the matches of the night that caught my eye was basically the super class of OVW and Edge. This can only mean one thing in particular… what is going to happen now on SmackDahn since Brock Lesnar is back and Paul Heyman is standing in his way? That is going to lead up to a lot of fun matches but, let's also not forget that… we might have more Goldberg since Lashley kinda beat up Gage. Put him in a submission but y'know, still. Goldberg could get pissed off and we see the old Goldberg for a little bit. Who knows, that's why we have weekly episodic television shows right?! SummerSlam was amazing but let's see what the NXT Stars have to bring for the next night of action.
AJ's Money In The Bank 2021 Results & Review
As told on DWI, AJ is back to covering WWE events! With fans in attendance for the first time since Mania, you have to assume WWE has something big in store. Check out the Money in the Bank review!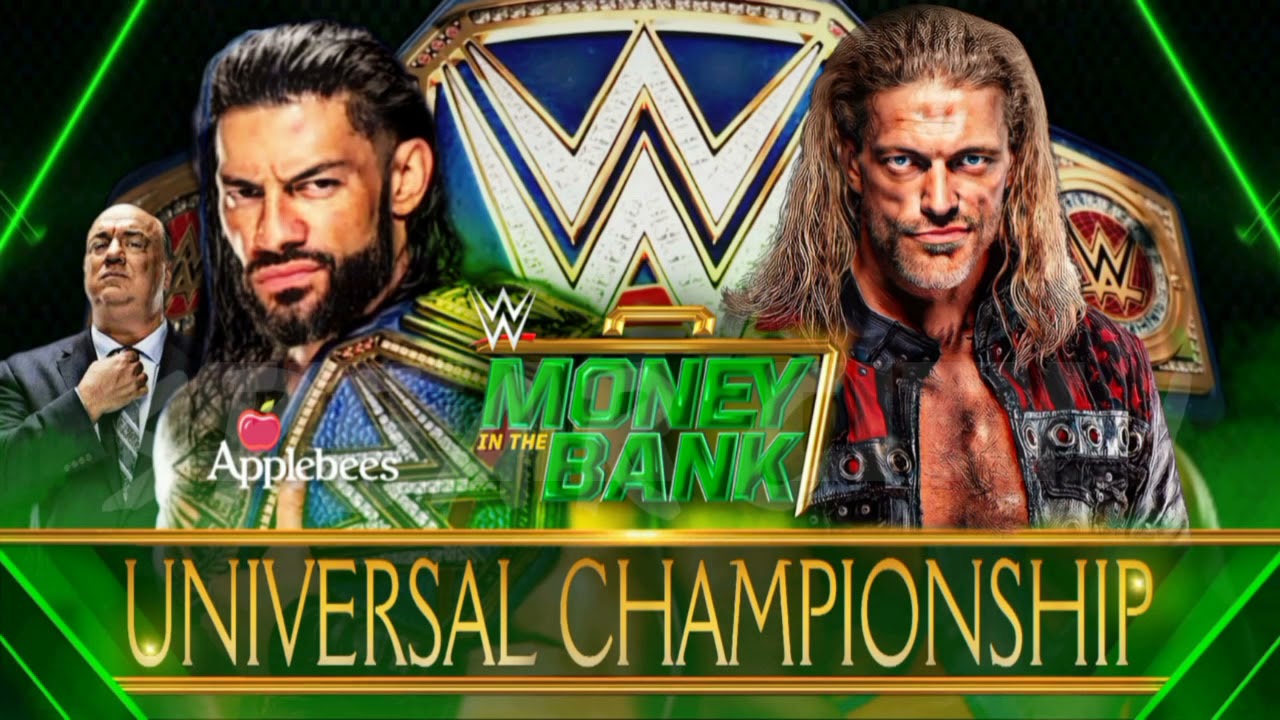 It's good to see the fans back for the Bank. Money In The Bank that is! Aaaaaaaand I lost the audience.

Actually looking down this card, it doesn't seem like a bad show at all, It's just up to the wrestlers themselves to put on a good match. Two Money In The Banks, Two World Championship matches and some others down the way. Let's see who will get that briefcase and who knows… maybe we see a same day cash in.
Results:
Money In The Bank: Alexa Bliss vs Liv Morgan vs Nikki A.S.H. vs Natalya vs Tamina vs Zelina Vega vs Naomi vs Asuka – Nikki A.S.H. becomes

Miss Money In The Bank –

** ½

Viking Raiders vs AJ Styles & Omos (c) for the RAW Tag Team Championships – Omos wins via Two-Handed Chokeslam –

*** ¼

–

TITLE DEFENSE!!

Kofi Kingston vs Bobby Lashley (w/ MVP) (c) for the WWE Championship – Bobby Lashley wins via Hurt Locker –

**

  –

TITLE DEFENSE!!

Charlotte Flair vs Rhea Ripley (c) for the RAW Women's Championship – Charlotte Flair wins via Figure Eight –

***

–

TITLE CHANGE!!!

Money In The Bank: Kevin Owens vs Riddle vs Shinsuke Nakamura vs Ricochet vs John Morrison vs Big E vs Seth Rollins vs Drew McIntyre – Big E becomes

Mister Money In The Bank – *** ¾
Edge vs Roman Reigns (w/ Paul Heyman) (c) for the Universal Championship – Roman Reigns wins via Spear – **** ¼ – TITLE DEFENSE!!
Review:

Women's Money in the Bank-

Everyone but Alexa scrambles outside to grab a ladder as Bliss kind of just…. Stands on the top rope and being her demented self before everyone lands a move on everyone until Tamina and Alexa are the last two left and Tamina uses the ladder to take apart Alexa and try to put a ladder up before she has to take out Liv and Zelina before Asuka and Tamina are the two fighting it out in the ring. As they take out the powerhouse, Nattie and Liv prop the ladder in a tug of war as everyone else gets hit by the ladder.

Alexa comes in after Nattie pins Liv in the corner with the ladder, taking it to the two until it's the only one in the ring. As Alexa puts the ladder up, Zelina comes in and gets possessed and almost wins until Natalya comes in and all chaos breaks loose again.

People try to burying Bliss under ladders so there is no funny business after hell breaks loose and Liv comes up and tries to win it all for herself until chaos breaks again and everyone tries to climb up but Liv Morgan actually fights everyone off so she can possibly win and as everyone goes to climb ladders and the last one to climb up, wins it. In Almost SuperHero fashion, pulls the briefcase to victory.

Viking Raiders vs AJ Styles & Omos-

(Wow… three shows and all the Bullet Club leaders in that span? Must be Christmas for the IWC)

Erik and AJ start the match up and wastes no time tagging in the big muscle to see what happens in short time but Erik tags Ivar in and Omos takes BOTH of them down. AJ gets excited seeing the display of destruction and takes it to Ivar early until Styles now gets the beatdown from the Raiders.

AJ gets some separation going and actually takes it to the challengers but the strength of the Raiders gets the advantage back to them but every time Omos comes in, he keeps taking them apart over and over no matter what. When AJ comes in though, the Vikings take advantage with constant tags. Now that AJ made an ill fated tag, the Raiders actually take down and take Omos out of the ring. After a Viking Experience to AJ, Omos just yeets Erik into the pin attempt, gets the pin and the big man remains dominant with a Double Handed Chokeslam.
Bobby Lashley vs Kofi Kingston-

MVP picked the leg of Kofi to start and tried to give Lashley and advantage but Kofi leaps over and tries to make quick work with the champ but Lashley is having none of it as he proceeds to dismantle Kofi inside and outside of the ring. Everytime the crowd tries to amp Kofi up, Bobby Lashley strikes harder and even applies the Hurt Lock but Kofi manages to escape.

It's all for nothing though as the offense continues and Lashley makes Kofi wish he just faced Brock Lesnar when SmackDown went to FOX because Lashley did three Dominators and another Hurt Lock.

Charlotte Flair vs Rhea Ripley-

Both Women go into a Collar and Elbow and very even based as usual but we had some early fun in the heckling as the crowd chants "We want Becky!" and Charlotte made me want her to win by giving the entire crowd the One Gun Salute.

The two are very even in the match up after, giving each other a good amount of offense each, obviously Charlotte targeting Rhea's leg in the match up and after a while, Flair gets an advantage going forward but Rhea shows some anger and strength to show she can fight. Charlotte showing that she is crafty as always and gets reversal after reversal to whatever Rhea does and even tries to get a cheap victory with feet on the rope but the ref sees it and it goes back to Rhea's favor for a moment but Charlotte gets a Super Natural Selection off and gets another near fall (and the crowd chants this is awesome… so much for wanting Becky, right?) Charlotte goes to extreme means and kicks the steel steps into Rhea's damaged leg and after that… PC Tunney was right.

Charlotte Flair wins… Lul.
Men's Money In The Bank-

Instead of everyone scrambling to get a ladder, everyone fights each other until the only two in the ring are Drew and Big, showing their strength to each other as people come running in to cut them off but all men go down after Big E does his Suicide Spear. Owens and Shinsuke come in now to start a new fight but Morrison shows off his parkour ability on Nakamura to stop him but fails as both men fighting on the ladder and Rollins knocks them both down from the ladder. Morrison and Rollins now work together to take everyone down in and out of the ring until Kevin Owens stops the momentum for a little bit until they do a double Suplex into the ladder to him.

As always though, Rollins breaks the alliance and gets an RK…B…ro? Screw it. RK BRO FROM RIDDLE TO ROLLINS and we get Shinsuke in to fight Riddle before getting double Claymore'd and Big E gets Future Shocked for his efforts.

Drew does a Tope Con Hilo to take all other competitors out of the match before going up and Jinder's goons come out to pull McIntyre off the ladder and drag him out.

Riddle goes up now as Ricochet catches him, Riddle drops and pushes Ricochet off the ladder to take the other competitors out with a leap of faith and get back to the ring. Rollins sets up a ladder next to the and Big E takes him down and now when Riddle gets pulled off, RK Bros all around before Rollins stomps on Riddle and Nakamura comes in next to clean house. Morrison meets Nakamura on the ladder and stuns him as Owens cleans everyone out before climbing the ladder. Rollins catches him so he can powerbomb Owens from the ladder in the ring to the propped ladder outside.

Rollins climbs up to get the briefcase but, Big E catches Rollins, hits a Big Ending off the ladder and Big E becomes Mister Money In The Bank!

Edge vs Roman Reigns-

And the crowd acknowledges Roman and cheering Edge on as well… This is gonna be interesting.

Both men feel each other out in the corner a bit with some belittling but Roman gets the first strike but Edge the opportunist he is, takes the offense in the arms of Roman. Edge makes chase but falls into a Samoan Drop and the beat down from Roman happens on the outside for an eight count from the outside. Edge comes back in and the domination comes back in and beats Edge down more and tosses him back in the ring, outside to the announce table, keeps beating him down and sends him Edge back inside the ring and keeps the domination going.

As Roman shit talks the whole time in a headlock to Edge, Edge tries to come back but gets a shot to the mouth and a drive by to stun Edge again, making light work again but Edge kicks out. Roman just cocks the Gilded Fist and tries to hit the Superman Punch but gets reversed into a Backslide Pin and a double big boot to make this even again as they slug it out. Roman goes for an uppercut and Edge hits the Edge-O-Matic to get momentum going and an Edge-O-Cution to get a near fall. Edge keeps going, putting Roman in the Tree of Woe and then an STF and transitions into Crossface for a rope break.

Edge goes for a Spear but Reigns puts the Guillotine on and has Edge fading slowly until Edge drives him through the ropes to the outside. Roman gets up first and tries to Spear Edge through the barricade but Edge rolls out, stops the ref's count and Spears Roman himself through the barricade, carrying Roman back into the ring for a near fall. Roman gets a reverse and lands the Superman Punch to knock down Edge and the referee in the process and Roman takes advantage by getting the piece of the chair and Edge fights off the rod in the mouth and does the Crossface with the chair piece. The Usos try to come out to stop it but Los Mysterios comes out to save them and the Crossface continues until Rollins comes in to kick Edge's head in.

Roman rolls off and tries to hit the spear after but Edge comes back and hits his Spear on Roman. Edge comes back to do another Spear but Rollins returns and costs Edge the match.
Aftermath: Rollins tells Roman he would have lost if it wasn't for him but Roman stands there and Edge beats the shit out of Rollins to chase him off and Roman gets a microphone after.

Roman says that The World can acknowledge him before We Can C his next challenger is as John Cena comes out after and poses to everyone.

Final Score: 8/10

With the first pay per view with an audience and it lived up to it perfectly. Nikki winning like someone taking advantage of the AI in any WWE Video Game. Bobby showing he is Almighty and stomping the hell out of Kofimania II, Electric Boogaloo, Big E winning the Money In The Bank is a nice touch. Charlotte winning is… well Charlotte winning and Omos being the towering giant that can't be stopped is always a sight to see but that main event.

That worked out so well. The pace of the match, the storytelling. I'm not a fan of Rollins coming out, even though he did tell us he would be a part of the main event. It just seemed off to me but John Cena coming in after that match to… step up to the Tribal Chief. That was a Chef's Kiss. It just goes to show that after a while, we will miss John Cena after a long period of time but, too much Omega puts everyone to sleep.