AJ's Impact Results & Review 6/17/21
After a successful event for Against All Odds, we have some questions to be answered. What will happen with the X Division Championship after the Fatal Five Way match? With Callihan "fired", what's going to happen with the Slammiversary main event? And where in the world is Carmen Sandiego?!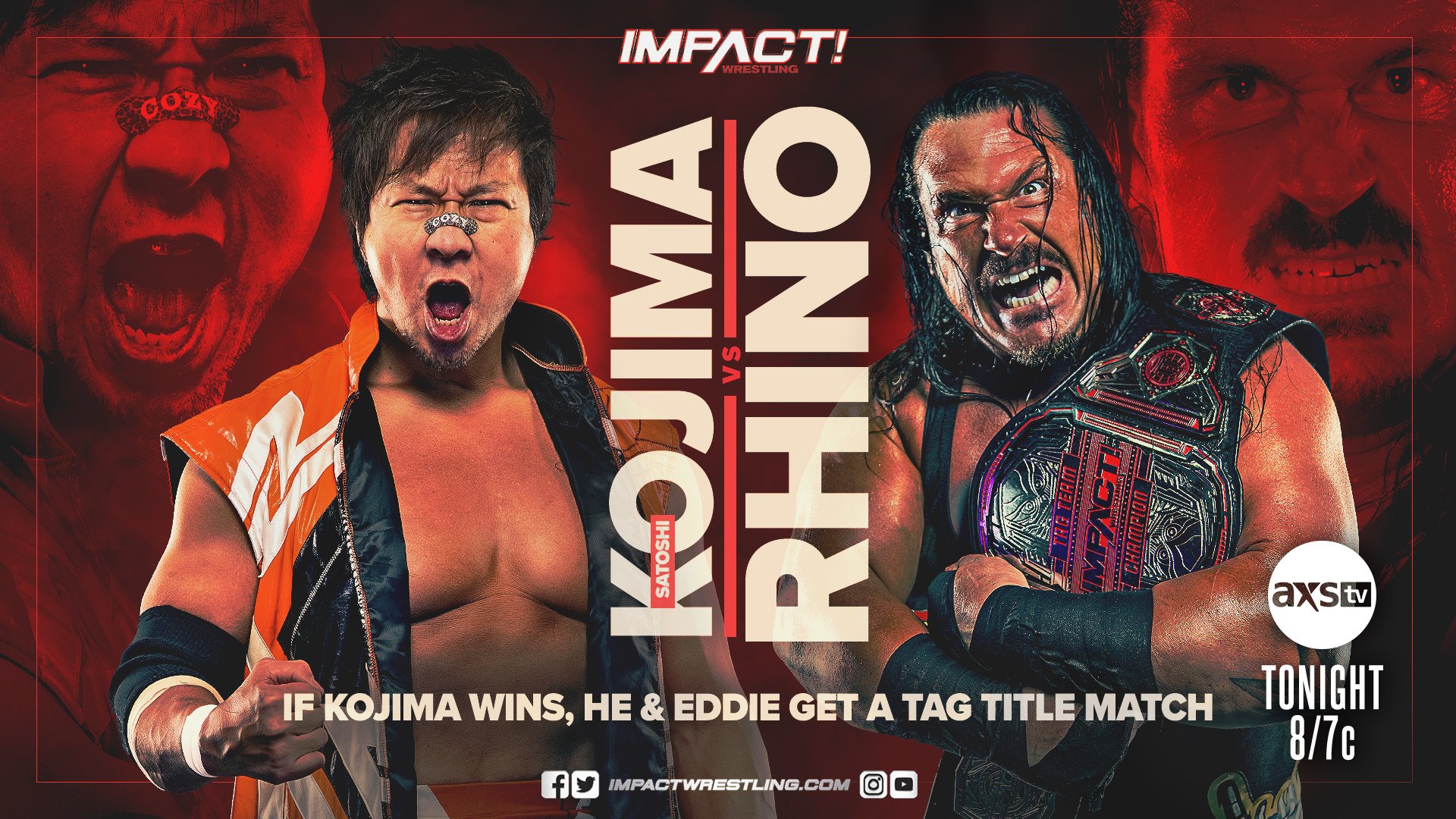 After a successful event for Against All Odds, we have some questions to be answered. What will happen with the X Division Championship after the Fatal Five Way match? With Callihan "fired", what's going to happen with the Slammiversary main event? And where in the world is Carmen Sandiego?!
Okay that last one was for my own stupidity but with so many actual questions, we still have a show. Kojima versus Rhino, Josh Alexander against Mad Man Fulton and one of the questions asked will be addressed today with Slammiversary looming in the distance.
The Anthem board are sending a representative to IMPACT tonight but @TheMooseNation is still furious with @ScottDAmore. #IMPACTonAXSTV pic.twitter.com/IzV7CLrC3u

— IMPACT (@IMPACTWRESTLING) June 18, 2021
Results:
TJP (w/ Fallah Bahh) vs Black Taurus (w/ Crazzy Steve) – TJP wins via Mamba Splash – ** ¾
Madman Fulton (w/ Ace Austin) vs Josh Alexander – Josh won via Divine Intervention – ***
Steve Maclin vs Jason Page – Steve Maclin wins via Lifting Inverted DDT – N/A
Tenille Dashwood (w/ Kaleb with a K) vs Rachael Ellering – Tenille wins via Crucifix Pin – *** ¼
Kojima vs Rhino (w/ Violent By Design) – Kojima wins via Cozy Lariat – *** ½
Review:
TJP vs Black Taurus-
TJP tries to do something kind of dumb and try to outpower with a collar and elbow against Black Taurus but uses his strength in speed against his bigger opponent but Taurus actually steps up after an ARM Drag and shows his speed and agility as well. TJP actually looks like he has a disadvantage because he doesn't have a true upper hand in the match.
TJP goes on to get more of his edge in his offense and after picking the pace up in the match, he lands a Mamba Splash to put an end to it. Taurus proved himself with a good showing and his athletics, hopefully they can use him more.
(Aftermath: Moose runs down and takes TJP out to get Scott D'Amore's attention since a representative is on it's way. As security comes out to get Moose out of the ring, Chris Sabin comes in to give a recipt to Moose after dismantling him in the match from Under Siege in May.)
Madman Fulton vs Josh Alexander-
Fulton goes… well mad and tries to take a strike early on Alexander but, Josh is quicker than the colossus and escapes for a decent amount of time until Fulton catches Alexander and lands a suplex to shift the momentum and takes apart the reigning X Division Champion with strength and power. After a good amount of damage to Josh Alexander, he gets separation and starts to fight back, picking apart Fulton and with some form of Divine Intervention, Alexander gets the win.
(Aftermath: Ace comes in to beat down Josh and each competitor comes in one by one to fight each other but in the back Rohit and Ace made a deal and now the X Division competitors have to deal with not just Madman Fulton but the also have to deal with Mahabali Shera too.)
Steve Maclin vs Jason Page
Just gonna say it. People need to have a new last name that isn't Page anymore. Diamond Dallas has too many kids in wrestling…
Steve Maclin is just going with a pure aggression route and not giving his opponent a chance with his hard strikes and power and finishing it with a lifted inverted DDT to take down his a challenger. Quick. Simple. Easy. On to the next guy.

.@TheDonCallis doesn't think @ScottDAmore can put his emotions and empathy for the wrestlers aside when hard decisions need to be made. #IMPACTonAXSTV pic.twitter.com/gkzXneWHzX

— IMPACT (@IMPACTWRESTLING) June 18, 2021
Tenille Dashwood vs Rachael Ellering –
Both ladies go for collar and elbows and Ellering gets the better of both exchanges of the hold and uses her technical prowess to take Tenille down over and over again, seeming like she can't get an upper hand. Of course Tenille gets the cheap and dirty advantage against Rachael with a hair pull but to no avail when Rachael gets back to a vertical base.
The match continues on and now with the interference of Kaleb…with a K, Tenille gets the advantage with more cheap tricks but Rachael actually shows her grit and defiance more and more. The cheap dirty tactics keep Tenille in the fight and ultimately Kaleb is the reason why this match ends.
👀#IMPACTonAXSTV @RealTSteelz @HoganKnowsBest3 pic.twitter.com/f6aX94qMMp

— IMPACT (@IMPACTWRESTLING) June 18, 2021
Kojima vs Rhino-
Like each match going on tonight, a collar and elbow is the start and the stronger of the two get the early advantage. Anytime Kojima tries to get separation, Rhino outpowers him more until a lucky strike gets Rhino to regather with the rest of Violent by Design. After Rhino regains his thoughts, he takes it to Rhino once again and keeps getting attacks and strikes going. Kojima getting more and more of an advantage and distance from Rhino after a Gore attempt and after a cutter and a quick pull of the pad, got a little Cozy and hits the Lariat to defeat Rhino.
With that victory, Eddie Edwards and Satoshi Kojima have a number one contendership against the Tag Team Champions next week.
After D'Lo and Josh Matthews run down some of next week's card, Sami Callihan hijacks the show and demands answers right now for what happened at Against All Odds. Security tries to remove Sami Callihan before Scott D'Amore comes out to defuse the situation and the Anthem Representative and the diffusion is… worked.
Callis comes in now to say that Sami Callihan is the problem and his firing of him. Scott is now snapping and tries to manipulate Scott but Tommy Dreamer comes out and reveals that he went to Anthem and is the representative for Anthem. Sami Callihan has been reinstated for the match but someone has to be fired. Scott is getting upset and angry that Tommy might have to fire him but… DON CALLIS HAS BEEN FIRED IMMEDIATELY FROM IMPACT WRESTLING!
Don storms off in a huff and Sami catches him backstage and gives a very clear and verbal warning that Kenny Omega is a dead man walking.
Final Thoughts-
Not bad for the post Against All Odds show and we have some championship matches lined up for the coming future. Kojima and Eddie will get a shot against Violent By Design's Tag Titles. At Slammiversary: TJP, Petey Williams, Ace Austin, Rohit Raju, Trey Miguel and Josh Alexander will go for the X Division Championship in Ultimate X and with Sami back into Impact, we still have a main event for the big show! All around a good show and setting pieces into places for the major show of Impact Wrestling. My only hope now is AEW can work around some things and with Renee and Jon's daughter being born, maybe Sami needs to fend off the goons with some old ultraviolet buddies on the other brand.
Andrew's IMPACT Wrestling Results & Match Ratings: 8.4.2022
With Emergence as next week, we get to see where the chips finally start falling. We know the World Title match. Does anything else get shaken up?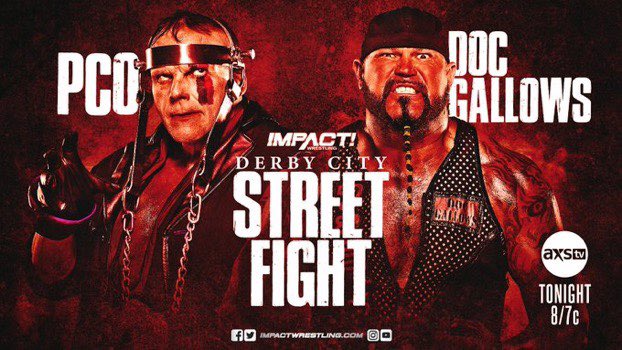 It's IMPACT Thursday again folks! The Motor City Machine Guns are in tag team action! PCO is in the main event and we get to see if Masha continues her rampage!
I guess we also can't overlook the announcement that went out earlier about Madison Rayne joining AEW, so does that mean she's going to get written out of IMPACT in the next few weeks, or will she be working with both companies? Lots of interesting potential tonight!
Let's start with Killer Kelly's vignette about her debut first though:
.@Kelly_WP makes her in ring debut NEXT WEEK on #IMPACTonAXSTV! pic.twitter.com/ViEXQPc5yN

— IMPACT (@IMPACTWRESTLING) August 5, 2022
Ratings:
Deonna Purrazzo vs Rosemary w/ Jessicka & Taya: Deonna wins via Double Leg Cradle – **
Digital Media Championship: Brian Myers (c) vs Black Taurus w/Crazzy Steve: Myers retains via Dirty Roll-Up – ** 1/2
Gisele Shaw vs Masha Slamovich: Masha wins via Russian Death Device – **
Deaner & Joe Doering vs The Motor City Machine Guns: Sabin wins via Cradle – ***
Raj Singh vs Sami Callihan: Sami wins via Crossface Chickenwing – Squash
Derby City Street Fight: PCO vs Doc Gallows: PCO wins via Avalanche Thumbtack Fist Drop – *** 1/4
Results:
Deonna Purrazzo vs Rosemary w/ Jessicka & Taya
Rosemary starts with more of the bruiser style, even hitting a Corner Bulldog, before Deonna starts to slowly build her position. Deonna was applying most of her anticipated offense before Rosemary caught moments with her Upside Down and dual strike spot when Rosemary's Shotgun Kick connected at the same time as Deonna's Pump Kick. Deonna tries the Fujiwara, Rosemary rolls to counter, Deonna gets kicked out of the ring, bad mouths the stupid party and causes Jessicka to get angry. Rosemary hits the Spear for a visible pinfall, but Jessicka has the referee distracted. By the time the referee is disengaged, Deonna hits a Double Leg Cradle for the inadvertent cheap win.
.@TheEddieEdwards has questions about @PCOisNotHuman! #IMPACTonAXSTV pic.twitter.com/tYXKHQdCfI

— IMPACT (@IMPACTWRESTLING) August 5, 2022
Digital Media Championship: Brian Myers (c) vs Black Taurus w/Crazzy Steve
Myers has a few moments where he was on the early receiving end, but starts to turn it around and put the boots to Taurus. It's not until a Back Roll into a few quick strikes, Dropkick and then the Tope con Hilo. Taurus is trying to reestablish himself as a mid card threat at least, but he's been eating so many losses or in low impact angles, it's hard to believe.
Commercial hits and Taurus loses any moment with Myers smacking him around and pulling off his Baseball Slide Trip. Backdrop gives Myers a near fall, but we're not quite done yet here. Myers gets a little cocky, Drop Toe Hold in the corner has Myers eat the turnbuckle. Corner Tiger Feint, into a Missile Dropkick for 2. Quick Kick, into Edgecution from Myers gives him a two.
Roster Cut attempt, countered by the Spear from Black Taurus for 2. Black Taurus goes for PowerBull, Myers pokes the eyes through the mask, Roll-Up with the ropes and Myers retains.
Bhupinder comes out, throws Myers back in the ring, Steve and Taurus get in a few pot shots, Bhupinder hits the Gargoyle Spear and then pose over Myers. Not exactly a normal babyface position, but should get Bhupinder title shot soon. 
Gisele Shaw vs Masha Slamovich
Gisele tries to use the ropes like Toru Yano, then Masha gets her in a full mount ground and pound. Gisele tries to reverse an Irish Whip with a wrist clutch break and a Backfist, Masha ducks, lands her own Backfist. Gisele goes to the corner, leaps over and catches Masha with a Knee Strike for a near fall. The first near fall in Masha's Impact career.
Strikes into a German Suplex Hold, but Gisele kicks out. Russian Death Device gives Masha another win, but the most competitive so far.
ImpactPlus Flashback Moments: 4/5/2016 – Gail Kim vs Jade vs Madison Rayne – Knockouts Championship Match
Deaner & Joe Doering vs The Motor City Machine Guns
Shelley and Deaner start, but before they lock up, Doering jumps Shelley and Deaner wipes out Sabin. VBD tries to keep Shelley in a corner, but Shelley works out with some quick action and Sabin climbs back up and strings a few moves together. Missile Dropkick/Flatliner for a near fall. Shelley gets knocked off the ropes by Doering, Deaner hits a TKO Jawbreaker into a Lariat for 2. Doering gets tagged in, Rebound Elbow, Shelley kicks out at 1.
After some normal focus on Shelley, Deaner gets tagged back in, the Shinsuke Style Corner Drape Knee Lift, Deaner goes for a Standing Headbutt, but misses. Sabin gets the hot tag, takes out Doering and starts lighting up Deaner. MCMG quick attacks, Guerrilla Warfare, into the Five Hole Dive to wipe out Doering. Deaner tries to sneak a win but Sabin is legal so the pinfall attempt on Shelley doesn't matter, Sabin flies in with the rolling cradle to turn one pinfall into another. Sabin wins!
Kushida comes out for the save when Doering and Deaner do their usual post match beatdown, but Eric Young hits the ring to take out Kushida.
Raj Singh vs Sami Callihan
Sami doesn't take this match seriously, which he shouldn't. So Raj manages a little quick offense and a 1 count before Callihan baits him into a bad corner Splash and then rocks him with combination strikes. Cactus Driver '97 into a Crossface Chickenwing, and Raj taps immediately.
Sami calls out Moose and Maclin, Moose's music plays, but Maclin shows up on the ramp. Moose is in the ring, goes for the Lights Out Spear, but Sami dodges. Maclin hits the ring, they try for the numbers game but Sami fights them both off. Thumbs Up, Thumbs Down but Maclin hits the Low Blow. Lights Out from Moose, K.I.A. from Maclin, and Sami is left laying. 
Derby City Street Fight: PCO vs Doc Gallows
Gallows tries to take it outside of the ring fast and right at PCO, but PCO gets the momentum back and drives LG into the steps and the ramp. PCO sets up two chairs, throws Gallows into the ring to try and Suplex him back out, but as PCO climbs up, Gallows charges with the Big Boot and sends PCO through his chairs.
Commercial break allows LG to throw a few chairs into the ring, as PCO chucks a Wet Floor sign at Gallows' head, then goes for a few Sabu style chair throws and dueling Chairshots. LG tries to put a pile of chairs legs first, but PCO stops him then sets up 6 chairs with Spines aligned, drapes Gallows on the chairs, goes to the top rope and LG tosses PCO into the spines of all the chairs. Very close near fall where PCO barely grabs the ropes and the referee allows it to break the count.
PCO Chokeslams Gallows through a table and then goes looking for toys. He passes a drum set, to cut the ring skirt and canvas, to expose the wood, most likely. Gallows empties a trash can as PCO hears it and runs over to pepper Gallows with multiple trash can shots, LG has Festus face as he crumples. Honestly PCO is taking soo damn long to expose the ring, its starting to make an already ridiculous match even more so. PCO does sent LG head first into the bass drum. PCO is looking to hit the  Deanimator on the exposed apron. LG gets up, goozles PCO and then Chokeslams him back into the ring and the ring caves in at the impact point of PCO.
10 Count starts, PCO comes back to life at 9, strike exchange. Reverse DDT from PCO on the partly expose mat. He loads up a glove with thumb tacks, hits an Avalanche First Drop with tacks. Gallows falls into the hole, PCO stands on him and the ref counts the pinfall.
This was ridiculous to the point of being a bit stupid…but it was entertaining and the crowd seemed to be into it.
Overall Score: 7.25/10
There was a decent amount of storyline movement, decent matches with an assortment of gimmicks and characters you don't see weekly; as well as fan favorites. PCO is beloved by most of the hard core crowd, Motor City Machine Guns are always a high point and Myers getting his comeuppance got a decent pop. We also got to see a little chink in the armor of Masha Slamovich with Gisele putting up a little more of a fight, as well as Killer Kelly giving us a little more into her persona. Is she a little schizophrenic with the repeating her lines in Portuguese? How scary is she? Will she dethrone Masha as the monster of the Knockouts?
Also even if the set up seemed coordinated, the way Moose and Maclin interact; doesn't really scream working together. They could have a common enemy and conveniently work out for the other. Either way, there's enough threads to get us through to Emergence and maybe even sustain into Bound For Glory. Josh Alexander got a lot of weird things being said to, and said by him.
Andrew's IMPACT Results & Match Ratings: 7.28.2022
Kushida makes his Impact debut (2015 was a GFW Amped taping, don't act like it counts)!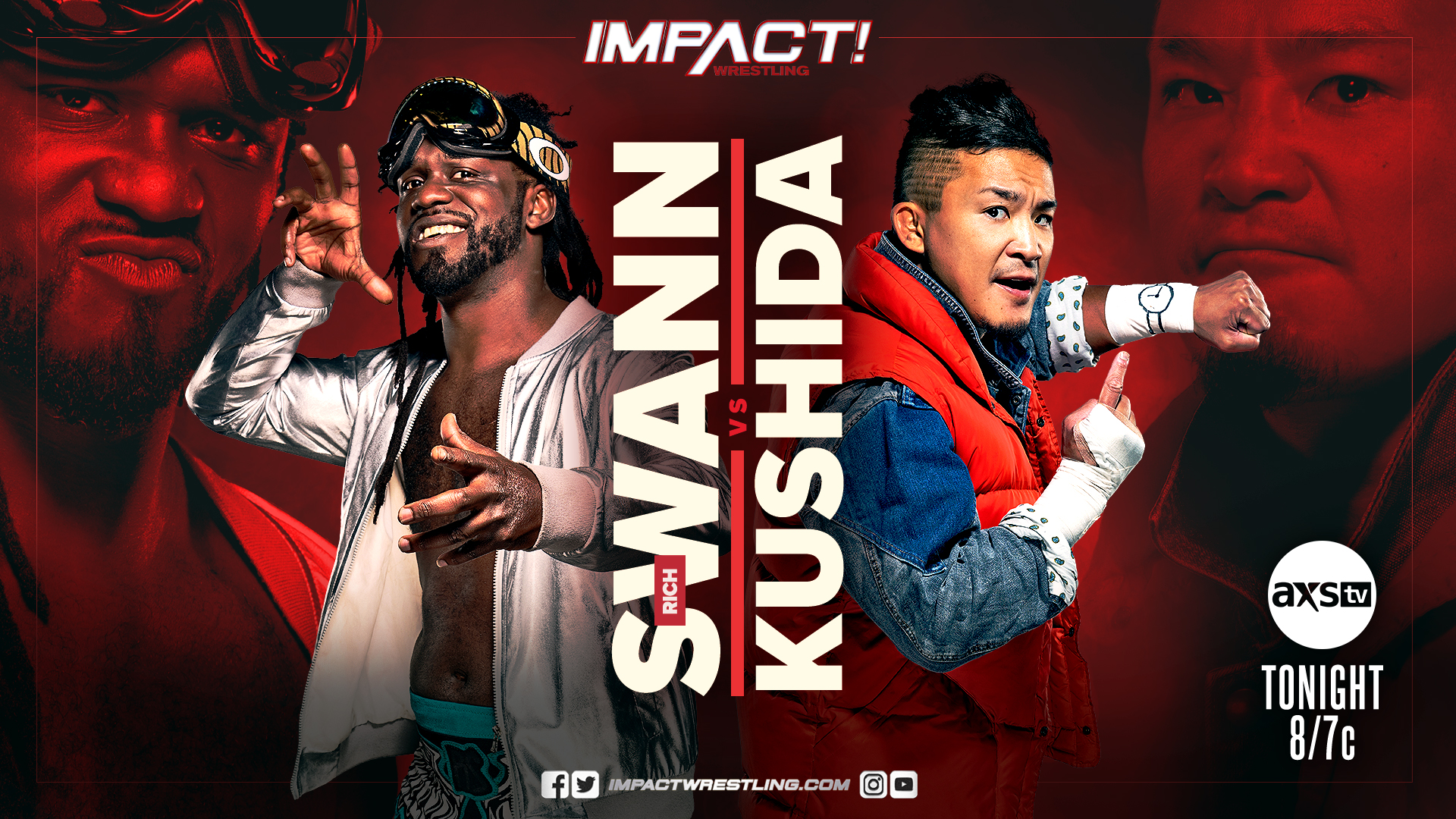 The Guns show last week ended about as well as any long standing TNA fan could ask for. Alex Shelley finally gets the overdue rub for a World title shot. It also turned out to be a good way to have Kushida make his IMPACT debut with the save. 
Tonight should be good since we've only got a few more weeks until Emergence, we know the main event; but there are so many potential variables, the rest of the card could go in many directions. Also does Gisele Shaw get murdered by Masha tonight, or does she find a way out of the death note? 
.@MeanGiaMiller caught up with @Walking_Weapon to talk about his match with @fakekinkade at #EMERGENCE!

Get tickets and be there LIVE: https://t.co/c7juX5weK7#IMPACTonAXSTV pic.twitter.com/uGIOunk6VR

— IMPACT (@IMPACTWRESTLING) July 29, 2022
Ratings:
Eddie Edwards w/Honor No More vs Ace Austin w/Chris Bey: Eddie wins via Die Hard Driver – *** ¾ 

Laredo Kid & Trey Miguel vs Johnny Swinger & Zicky Dice: Laredo wins via Frog Splash – *

Showcase Match: Tiffany Nieves vs Jada Stone: Nieves wins via Dirty Stack Cradle – *

Shera w/Raj Singh vs Josh Alexander: Josh wins via Ankle Lock – * ½ 

Rich Swann vs Kushida: Kushida wins via Avalanche Hoverboard Lock – ****
Results:
Eddie Edwards w/Honor No More vs Ace Austin w/Chris Bey
Ace plays to the crowd and Eddie attacks him quickly to try and make an example of Ace. But Ace fights back using his agility and unique offense, turning a counter into a La Magistral attempt that Eddie kicks out of quickly. Ace starts toying with Eddie, even pulling out the playing card between the fingers as we remember two things: 1. This is heel versus heel – 2. Ace tried to bang Eddie's wife a few years ago. 
Counter wrestling gives Eddie a decent length control spot before Ace starts rolling (literally) and going for a few quick strikes and a crisp Dropkick to change up the pace. Ace Spiderman's and then Eddie misses him between the ropes, Fosbury Flop from Ace for a pretty solid crowd pop. Slides back in Eddie, Triangle Guillotine Leg Drop for a near fall. Ace charges the corner, misses, Gamengiri from Eddie, Backpack Stunner gives Eddie the near fall. Ace is playing the babyface role more clearly after the initial heel tactics, but that's to be expected. Boston Knee Party misses, head capture Mushroom Stomp, Kenny hops on the apron to distract Ace, Bey tries to neutralize Kenny, the ref ejects them both but not before each man makes their presence more felt.
Spinning Heel Kick from Ace, charge for The Fold and Eddie hits the release Overhead Belly to Belly into the corner as we go to commercial. Coming back, Eddie is lighting up Ace with wrist control chops and a short arm lariat. Three consecutive pinfall attempts from Eddie to try and wear down Ace, as Ace keeps fighting back. A few quick Forearms from Ace, attempted Triangle Kick misses and Eddie hits a Gowan Lariat. Boston Knee Party miss again, Triangle Kick lands for a 2 count. Ace calls for The Fold, Eddie grans the ref so Ace gets frustrated, tries something, Eddie counters out, Ganso Bomb, into TIger Driver into Die Hard Driver for the win!
Check out what happened with @WeAreRosemary and @thetayavalkyrie interrupted @FearHavok's party invite to @ImChelseaGreen and @DeonnaPurrazzo on #IMPACTonAXSTV! pic.twitter.com/lvi2dk5QdU

— IMPACT (@IMPACTWRESTLING) July 29, 2022
Laredo Kid & Trey Miguel vs Johnny Swinger & Zicky Dice
So it's nice to see that Laredo Kid has fallen into irrelevance so far that he's in a gimmick comedy match. At least Laredo will finally get a win. 
Trey and Zicky start, Zicky actually rolls through some of the offense Lucha style and does a little bit of the Eddie Guerrero shoulder shake. Rehwoldt gets a little perturbed and then Swinger and ZIcky put on gimp masks and think they have twin magic going on. Demolition they ain't…but it's a little amusing. Swinger tries to switch places but Trey knows and Zicky does get an attack of opportunity. 
I do appreciate the safe word, Pulp Fiction and fun references that commentary is making to try and fill in for a match that is obviously not competitive. It was a little amusing, but honestly went too long for a match that had literally zero suspense. 
.@Myers_Wrestling is STILL doing everything he can to duck @bhupindergujj4r.. but he can't duck @Taurusoriginal NEXT WEEK on #IMPACTonAXSTV! #IMPACTWRESTLING pic.twitter.com/Tuj4Oaa8x7

— IMPACT (@IMPACTWRESTLING) July 29, 2022
Showcase Match: Tiffany Nieves vs Jada Stone
Tasha Steelz comes out to commentary, and Stone comes out looking like she took inspiration from Harlem Heat's attire, but she's also playing the happy babyface. 
Nieves is the pompous one trying to take over quickly and not letting Stone even enjoy the moment just yet. Nieves is working her over, pulling hair and stomping. Jada does a little Matrix counter, Cartwheel Kick, Headscissors, Split Legged Moonsault takes too long and wipes out. Russian Leg Sweep, stack cradle and Nieves grabs the rope for the dirty pinfall victory. 
Killer Kelly's music hits and she saunters down to the ring. She smiles at Nieves as Nieves gets in her face, a shove, then Kelly hits the Pump Kick into a  Key Lock Sleeper, dispensing with Nieves; then Kelly hits the John Woo on Stone and the Double Underhook Facebuster lays out Stone. Kelly leaves her mark. 
Shera w/Raj Singh vs Josh Alexander
A quick shoving match leads Shera to try and intimidate Josh but Josh turns it around and won't be intimidated. After an across the ring hip toss, Josh grabs the ropes, kicks Shera and then tries to Lariat him over the ropes. It takes three running lariats, but he finally gets Shera over. Josh works him over on the outside, they come back in, Shera tries to regain some ground, Josh fights him off, grabs the ankle and makes the lion tap with the correct amount of ease.
"THIS ISN'T OVER"

Honor No More is FURIOUS! @TheEddieEdwards @MattTaven @KennyKingPb2 @MattTaven @TheHorrorKingVM @RealMikeBennett @MariaLKanellis#IMPACTonAXSTV pic.twitter.com/8kkqUMUFN1

— IMPACT (@IMPACTWRESTLING) July 29, 2022
Raj is still in the ring complaining about how Josh took things too far and should've been disqualified. Lights go out, Sami stuffs Raj into the mat and then addresses the Maclin & Moose situation. 
Ric Flair Moment of the Week: Impact 6/17/2010 Jay Lethal "WOO" Off
Rich Swann vs Kushida
Swann admitted last week that he feels he's gotten his groove back after a great 2021 but then falling off a bit after losing the World title to Kenny Omega. This will be a good test for both men.
Kushida got most of the crowd support, Swann even tried to see if the support would volley, but Kushida has the obvious fan excitement. Starting with some quick mat wrestling, Kushida almost gets a position, but Rich spins out of it. Lots of mat and chain wrestling that is just going back and forth but nothing impactful yet.
Float overs, leg trips, bat aways, dueling Dropkick Spot, and both take time to stare at each other. The mirror match has been going on these first few minutes and then Kushida goes for his Inoki influence kicking at the legs, doing the full guard and then jumping on Swann and forcing the test of strength. Kushida eats a little from Rich and then two big Liger influenced SHOTEIS sends RIch to powder, and then a little more Liger reference with the pose and quick feet in the middle. 
Commercial break brings us back to Kushida tying up Rich and a little bit of a modified layout Rings of Saturn before Rich hits a Twisting Dropkick to try and shake out some of the pain. Open hand strike exchange until Rich hits the Sole Butt sending Kushida retreating into the corner. A few big Bicycle Kicks send Kushida to powder, Kushida tries to fight back, Rich gets him against the post and then Rich misses with a chop. Kushida slowly starts trying to find a way back into the match after Rich missed the chop. But not before Rich manages to get in 10 Count Punches and then a little hesitation Bitch Slap. Dueling Crossbody sends both men spilling to the mat. But it does finally give Kushida a chance for continuous offense. 
Big kicks, rope run lariat, Pele Kick, Running Shotei, Bulldog Shoulder Breaker into a Cross Armbreaker which as Rich tries to roll, Kushida turns it into a Russian Armbar before Rich can get to the ropes. Hammerlock Neck Crank, into a Dropkick right to the wrist, a few traded shots and a Sliding Kick to the Left Arm of Rich gives another small breather for both men. Swann with the combination kicks out of the corner, Neckbreaker, Stepover Back Kick for 2. 
Rich goes to the middle rope, Phoenix, MISS! Soccer Ball Kick to the left arm, Cartwheel Dropkick, Hoverboard – blocked by Rich into a Belly to Back Suplex. Kicks, Rich plucks Kushida off the top rope with a Headscissor. Kushida rocks Rich with the Back Handspring Kick, climbs up with him… Avalanche Hoverboard Lock and Kushida wins! 
Overall Score: 6.75/10
Two great matches to bookend the show, but some definite weirdness in between. A gimmick tag match just to keep Swinger and Zicky's Dungeon storyline active, but fairly useless for the other two guys. A random local talent match that was used to debut the beautiful and vicious Killer Kelly. So I'm happy to see Kelly, but the segment was a little meh. And Josh having a warm up match with a mid carder who always gets attempted to be billed as a monster for like 3 minutes and then ends up jobbing into obscurity. 
I did appreciate getting to see more of the Jessicka character. The C and K cause she's SIICK line was pretty great. A bunch of people including Johnny Gargano putting over Alex Shelley for finally getting an overdue World Title shot was nice. Honor No More getting hunted by Heath while trying to devise their own way to get what they want really has a screw job written all over it. Now I don't feel like Honor No More has overstayed their usefulness, I just feel like they didn't get the chance to capitalize on any early heat. Plus somehow, Impact has made me like Taven. So if they disband and he leaves for AEW or something, I'm never gonna watch him again cause I'd rather get a ghost pepper hot sauce enema than watch AEW. 
But either way, the show opened and closed great, had weird in-ring action in the middle, but solid segments for other stories. A well rounded show all things considered.