Andrew's NJPW Wrestle Grand Slam Results & Match Ratings: 7.25.2021
When the Kota's away, the Ace will play! Wrestle Grand Slam gets an unexpected main event! Can the Dragon get his win back, and keep his World title?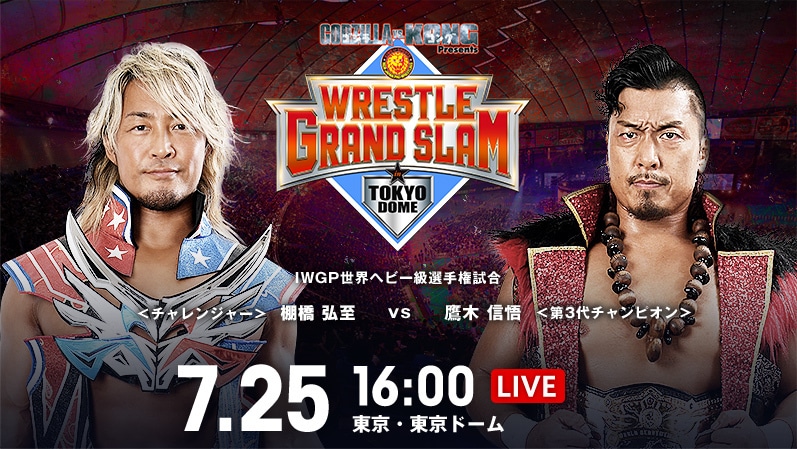 So most of us have heard that Kota Ibushi is out because of aspiration pneumonia. But the show must go on, and the Dragon needs an opponent. Who better than the man who beat him when he was NEVER Openweight champion, and the Ace of the Universe, Hiroshi Tanahashi!
Should be well worth the price of admission. We get a Tokyo Dome special, with the New Japan Rambo, the Heavyweight & Junior Heavyweight tag titles, the Junior Heavyweight title and the recasted main event should make for a solid show.
Let's see if the first really big event feel can finally start getting New Japan back on the right track!
Ratings:
KOPW 2021 New Japan Rambo w/Handcuffs: Chase Owens wins via Package Piledriver @35:35 – *** – TROPHY CHANGE!
IWGP Junior Heavyweight Tag Titles: Mega Coaches (Rocky Romero & Ryusuke Taguchi) vs Bullet Club (Taiji Ishimori & ELP) (c): ELP retains via CR2 @20:56 – *** ½
IWGP Junior Heavyweight Championship: El Desperado (c) vs Robbie Eagles: Eagles wins via Ron Miller Special @19:56 – *** ¾ – TITLE CHANGE!!
Jeff Cobb vs Kazuchika Okada: Okada wins via Double Legged Cradle @19:23 – ****
IWGP Heavyweight Tag Titles: LIJ (Tetsuya Naito & SANADA) (c) vs Dangerous Tekkers (ZSJ & Taichi) w/Miho Abe: Tekkers win via European Clutch @37:58 – **** – TITLE CHANGE!!!
IWGP World Heavyweight Championship: Shingo Takagi (c) vs Hiroshi Tanahashi: Shingo retains via Last of the Dragon @37:26 – **** ¼
Results:
KOPW 2021 New Japan Rambo w/Handcuffs
Chase Owens kicks things off with an angry Great-O-Khan. After the usual early offense spots, Tomoaki Honma comes out next. Togi Makabe is fourth, so we'll see if GBH teams up or if Makabe remembers the January 4th Rambo. GBH seem to be on the same page to start with, and Douki is numero 5. First match in a hot minute because he's been filming a movie, but Makabe is the first eliminated. Here comes Tiger Mask IV! Honma got handcuffed so…he's out…I'm pretty sure. Heel Master number 7, Kanemaru could play interesting spoiler here.
Eighth entrant is…ooohh…MINORU SUZUKI! The first real player, but if we've learned anything about the KOPW stuff, the higher card wrestlers tend to lose in goofy ways. SHO is 9, and it's interesting to see that we're now hitting a small run of bigger names. YOH is 10th, and this feels like a good setup for Suzuki to get screwed since RPG3k can team up. BLUE JUSTICE at 11! Again, we're seeing a few bigger names, so this should be interesting. I wonder if we'll get any past names or surprise entrants.
Suzuki and Nagata go back to their drunk dads at the bar-be-que fight! Speaking of dads, Satoshi Kojima is 12. Suzuki and Nagata went over the rope to fight on the apron, SHO & YOH hit dual thrust kicks which knocks off Suzuki but Nagata holds on. So look…RPG3k was Suzuki's undoing. God…dammit…Nappa.
Hiroyoshi Tenzan shows up as O-Khan eliminates SHO, YOH and Kanemaru. Well TenCozy is around and O-Khan still has history there. BUSHI is 14, ugh, talk about disappointment compared to who's come in lately. Kojima accidentally eliminates Tenzan when they try to double team O-Khan, but O-Khan moves. Master Wato comes in, right as O-Khan eliminates Kojima. Tiger Mask and BUSHI have a similar idea, so it's interesting to see them work together a bit.
O-Khan eliminates Tiger Mask, BUSHI is eliminated and Dick Togo is 16…coming out to EVIL's music. So that was a cute swerve. O-Khan eliminates Wato and DOUKI with double Dominators, and a double pin. Tomohiro Ishii is 17 and he's ready to kill Togo! Ahh it's amazing! Yujiro's theme gets to play and now The Tokyo Pimps is 18! YOSHI-HASHI is…next, and now I fall asleep until the next entrant. Yujiro trips Ishii so he's eliminated off the apron, and as Togo postures, HASHI eliminates him. 20 is Hirooki Goto! They cut to Ishii chasing Togo to the back with a chair in hand.
KENTA is 21! Okay so this could be a real threat to the KoPW trophy. KENTA low bridge eliminates Goto. 22, last entrant is of course the Sublime Master Thief Toru Yano! O-Khan eliminates Nagata via handcuffs on the outside. Yano rushes O-Khan and handcuffs him immediately! O-Khan may still have an elimination record at…I believe 8. KENTA gets handcuffed by HASHI and continues the gimmick of "the good wrestlers" lose to dumb stuff.
YOSHI-HASHI, Toru Yano, Chase Owens and Yujiro Takahashi are the last four. But Chase and Yujiro team up to handcuff HASHI. Yujiro gets eliminated, KENTA keeps trying to interfere for Bullet Club. BC bumps the ref, Yujiro hits Yano with the Pimp Cane, Chase uses powder to blind Yano and then Jewel Heist, V Trigger and Package Piledriver finally gives Chase the win! Yano has finally lost the KOPW trophy after a year!
IWGP Junior Heavyweight Tag Titles: Mega Coaches (Rocky Romero & Ryusuke Taguchi) vs Bullet Club (Taiji Ishimori & ELP) (c)
The Mega Coaches had a plan more to expose ELP than to win straight up. After early fake outs from both teams, it took a while, but the match picked up solidly. We even got to see a throwback to Apollo 55 with Black Hole Vacation.
Rocky played towards their earlier encounters with a Hurricanrana near fall, ELP hit a great Springboard Moonsault but landed funny on the loaded foot. The Bullet Club duo went for an Electric Chair combination attack, but Rocky turns it into a Springboard Lariat that causes Taiji to Poison Rana ELP. Hell Taiji even makes reference to his old Sailor Boy gimmick during the Avalanche Back Rakes.
There was a lot of fun back and forth, Taguchi was able to catch the loaded boot to knock out Taiji; then he went to work on getting the boot off. When Taguchi finally gets the boot, he tries to show the referee, but Taiji recovered enough to run interference, ELP hits a Low Blow, followed by CR2, and the Bullet Club boys retain!
IWGP Junior Heavyweight Championship: El Desperado (c) vs Robbie Eagles
Despy came out with a really good game plan where he focused on Eagles' left leg. Which works since a lot of Eagles' offense is high flying or based around leg locks. The major thread though, was that Eagles came in fighting for Australia. He barely made it out before the new lockdown went into place, and Australia in general has had a rough last few years. If Eagles wins, he'd be the first Australian wrestler to hold NJPW gold.
Eagles sells Despy's attacks well, as he's limping and selling the leg only a few minutes into the match. Despy is relentless, but Eagles' heart continues to shine through. Eventually Eagles gets space when they go to the outside, hitting the Apron Rewind Tiger Feint to send Despy over the guardrail and buy time. Despy tries to go for Stretch Mufflers, Escalero and Numero Dos multiple times, but Eagles manages to find a way out.
Eagles throws everything at Despy. Some of the offense wasn't pretty, and he sold the knee masterfully as he grits his teeth, powers through the pain and aims to win in an upset just like the man his submission is named after. Eagles hits the 450 Splash on the leg, then locks in the Ron Miller Special, pulls back twice as Despy fights, hits the knee a few more times; sinks in the Ron Miller Special one more time, and Desperado taps out!
Jeff Cobb vs Kazuchika Okada
Cobb matched Okada early, which seemed to throw Okada off his game. A heavy focus on attack to the back were also what Cobb brought to the table. Cobb hit a corner Dropkick while Okada was perched sending him to the outside, and then Surfing on Okada's back.
A good bit of this match was Okada getting pummeled and finding moments to catch his breath. Lifting Cobb was never really in the books, but Shotgun Dropkicks, the Million Dollar Dropkick and a quick attempt at the Money Clip gave him time to think during the match.
This was that version of Jeff Cobb that was missing before he signed with NJPW, but he's done a damn good job keeping his quality high this year. Okada ate every move in the book, aside from Tour of the Islands. We see great glimmers that Okada is starting to heal and recover. His Dropkicks are looking better, his resilience is getting closer to that Superman level, and he's having better matches.
After dodging the Tour of the Islands a handful of times, Okada tries the Neckbreaker, but Cobb floats over Sunset style, but Okada sits down, hooks the legs and wins with a wrestling move during the Olympics on the Olympian! Okada has pulled this off a few times, against Suzuki and maybe most notably, how he won the 1 fall in the 2 out of the 3 falls match with Kenny Omega.
Cobb brought a great fight, but Okada is still Okada.
IWGP Heavyweight Tag Titles: LIJ (Tetsuya Naito & SANADA) (c) vs Dangerous Tekkers (ZSJ & Taichi) w/Miho Abe
This was an interesting start to the match. LIJ and the Tekkers have this weird love/hate relationship were they really do fight like siblings. ZSJ and Taichi buttered up SANADA a little to try and get a rematch, and Naito is always game to mess with people. ZSJ came into the match with his knee being worked on, so they had a target, which they chose to attack slowly.
Naito and ZSJ start and mess with each other, as SANADA and Taichi continue their own personal rivalry around respect and pec dancing.
Most of Naito's offense focused on ZSJ's knee, but a huge portion of this match felt more like a tornado tag. We saw plenty of time where all four men were in the ring at the same time. Dueling submissions, stereo submissions, everyone hitting a finish/signature, just a lot of hard work. Call backs galore to previous encounters, but unless I blinked, no cheating. The beauty of the Tekkers this year have been that they are more tweeners than heels.
SANADA cut off Taichi at many times, but we saw great babyface moments from the Suzuki-Gun duo. ZSJ asking Red Shoes to stop the double knockout count so they could finish it correctly, Taichi imploring Zack that what ended up being the ending sequence was "their last chance". So there was great desperation, great mutual needling. ZSJ pulled off the counter he couldn't figure out when they lost the belts; and ends up surprising Naito by turning a Destino into the European Clutch.
If it wasn't nearly 40 minutes, this match would've ranked higher. It told a great story, great desperation and all four men looked great…but damn did it last forever.
IWGP World Heavyweight Championship: Shingo Takagi (c) vs Hiroshi Tanahashi
As I said in the beginning, Tanahashi technically did have a win over Takagi to help validate this beyond beating KENTA on the road to events. Early on, we saw the effects of Tanahashi's age and the 25 minute ordeal against KENTA; and he didn't quite have the spring to land early offense. So the match did start off a little rough.
In typical Tanahashi fashion though, he powers through and gets better as the match pushes forward. His desperation attacks were well-timed and looked great. Tana had callbacks and all of his finishers and signatures come to mind. Texas Cloverhold was used to weaken Takagi's base, just like earlier in the year, Slingblade countered Last of the Dragon once, and Dragon Suplex, were all kicked out of. These all won Tanahashi titles in the past and Takagi overtook them. The major moment was when Tana hit the first High Fly Flow to take Takagi off his feet, but Takagi grabbed the Ace's foot. He refused to let him hit the follow up, so Tana smacked him around more and even pulled out the reference to Ibushi with a Kamigoye! God uses the move invented to surpass him!
A second High Fly Flow…BUT TAKAGI KICKED OUT! That's the first time, in quite a long time that anyone kicked out of the sequential High Fly Flow. Also as we saw during his match with KENTA, Shibata handed Tanahashi a few new moves as well. The corner Dropkick and a resounding Headbutt kept Tanahashi alive at many times in the match.
This had a lot of moments of the "old gunslinger" style of fight, but I feel like that's been consistent with Tanahashi the last 3 or 4 years. Tana took a beating, even ate Stay Dream, and kept kicking. A desperation strike exchange turned into Takagi getting the better of it and putting down the Ace with Last of the Dragon.
After the match Takagi did acknowledge this only really makes them even, and they need a rubber match in the future. However, before Takagi can finish all his thoughts, lights go out, EVIL has a video message claiming he's next. When the lights come back up, EVIL is in the ring and attacks Shingo!
Overall Score: 7.25/10
Holy over indulgence Batman! Every damn match was basically 20 minutes or more…this has to stop. We really don't need over 4 hours when there's no huge return or challenge. I miss the days where everything below the main was 10-20 minutes, like how NOAH does it. Sure the last 2 could go 25+, that's fine. But everything shouldn't go 20+, no matter how good the matches are, my brain starts to melt when everything has 10 minutes of "story work or setting the table" and then we get to the real meat and potatoes of the match.
That being said, a few title changes, solid work from all and our Holy Emperor Taichi with gold again makes me happy. Robbie Eagles is a great story, great feel good moment and he's a damn good wrestler so it's not like they just threw him a bone for clout. Also Toru Yano finally being unseated as the KOPW Trophy owner is well, something, right? Do I care about Chase Owens? Nope. Could this make him more interesting and help him up the card? I suppose.
So we got a lot of good ring work, it just definitely feels like a chore by the time you hit intermission and know the last 2 matches go like an hour and half between VTR, entrances and the matches themselves.
Mitchell's WWE NXT Results & Report! (9/21/21)
Is Kushida's time up?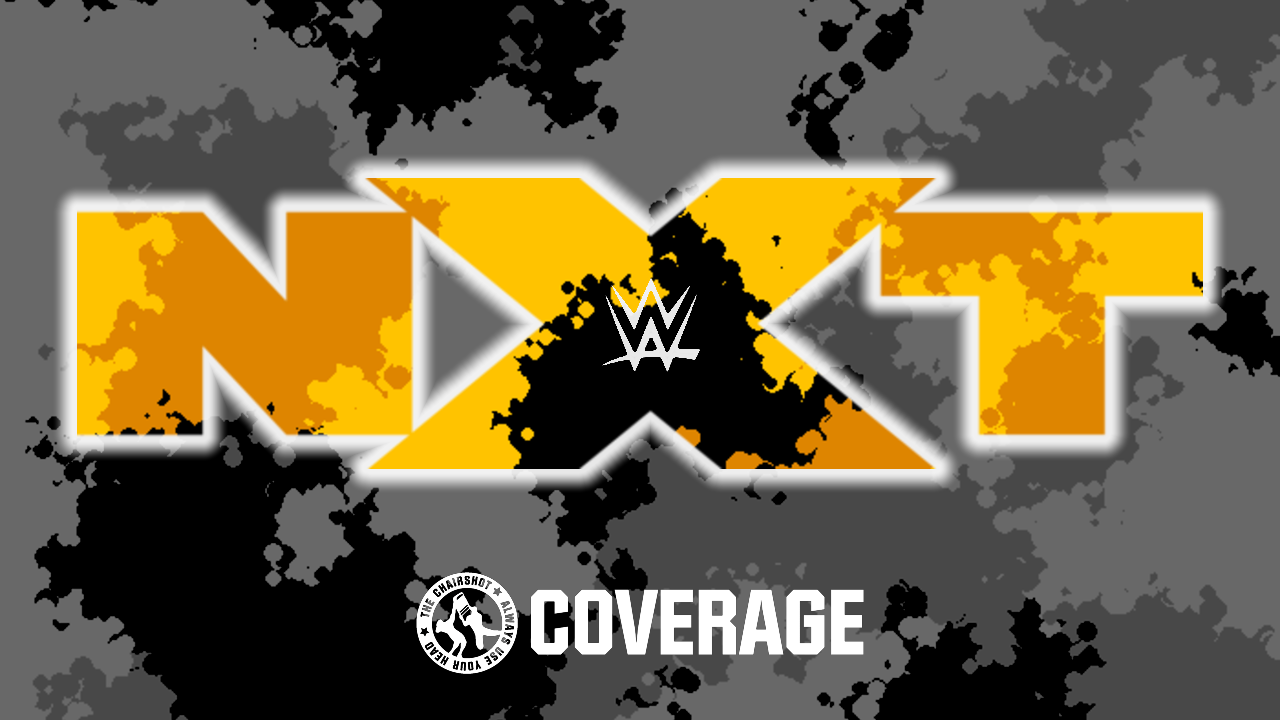 The NXT Cruiserweight Championship takes center stage!
It may be a new era for NXT, but the Cruiserweight Championship still belongs to Kushida! Will Roderick Strong break the reign and take over the division?
OFFICIAL RESULTS
NXT Cruiserweight Championship: KUSHIDA VS Roderick Strong w/ The Diamond Mine; Strong wins and becomes the new NXT Cruiserweight Champion.
Kay Lee Ray VS Amari Miller; KLR wins.
Dante Chen VS Trey Baxter; Chen wins.
Cameron Grimes VS Joe Gacy; Grimes wins.
Elektra Lopez w/ Legado del Fantasma VS Anna Scheer; Lopez wins.
Odyssey Jones VS LA Knight; wins.
Tommaso Ciampa & Bron Breakker VS Pete Dunne & Ridge Holland; win.
PLAY BY PLAY
NXT opens with a lot of new stars in the ring.
Carmelo Hayes, Trick Williams, Odyssey Jones, Bron Breakker, Joe Gacy, Josh Briggs and Brooks Jensen are waiting as the  NEW NXT Champion walks out! Tommaso Ciampa, Goldie in his arms, fires up the CWC and he joins these new guns in the ring. Fans are fired up for the champ and he says, "908 days, man, and on day 908, I reclaimed my spot at the top of the mountain and took back the title that I never lost in the first place! It has been a long, long journey," and from neck surgery to tonight, "it was worth every damn second!" This moment here makes it worth it. Ciampa gets to say to each and every man in the ring, fan in the arena and fan at home that once again, Ciampa is YOUR NXT Champion!
Fans chant "Daddy's Home!" but Ciampa hushes everyone. "I missed you, too." Ciampa loves what's going on with NXT 2.0! The energy is contagious, there are fresh faces, and fans like this, too. These young men and women are busting their asses day in and day out, ready to show the world just how damn good they are! Ciampa looks at Melo, "when Melo shoots, he don't miss." Odyssey Jones, Bron Breakker, the list goes on and on. Then there's Ciampa, and we already know he is, was and always will be Mr. NXT! Now they can all give themselves a fresh coat of paint and put on "2.0" but one thing that hasn't changed is the passion.
Ciampa looks around, Alicia is NXT, Barrett is NXT, and everyone in the ring is NXT! And of course, there's the fans. They are the heartbeat and the soul of this place! The fans are the reason Ciampa gets to do what it is he does. Ciampa is so damn happy to have fans back and holding the title to represent this brand! With Ciampa holding the title, NXT 2.0 just became THE A-SHOW! So do Ciampa a solid: tell the world, and make them hear you and feel you, "WE ARE! N! X! T!" But here comes Cameron Grimes! "All this energy has got ol' Cameron Grimes fired up!" And that fire will build with that championship, and he'll go TO~ THE~ MOON~!
But Joe Gacy asks "Mr. Grimes" that as charitable that would be for Ciampa to give Grimes a shot- LA Knight interrupts. "Lemme talk to ya!" He's looking at a heap of happy hot garbage when all the incels know they should be chanting "You Deserve It!" to Knight. But Odyssey tells Knight, "Last week, you lost twice in the same day! What're you talking about, man? Shut up!" But here comes Pete Dunne and Ridge Holland! The Bruiserweight and Northern Grit storm right up to the ring, but they have Briggs & Jensen in their face. "So here we are, NXT 2.0. All these fresh new faces. SO let me give you all a piece of advice that I got: make a name for yourself."
But Dunne says the problem is, he looks and sees "a bunch of geezers who are scared to throw the first punch." Ciampa throws a forearm! And a brawl breaks out! Grimes stomps Gacy, Holland goes after Breakker, other superstars rush out to get them some! Hudson is after Trick, Grayson Waller and the Grizzled Young Veterans grab at who they can, and the ring clears aside from Breakker, Ciampa, Dunne and Holland. Ciampa ROCKS then TOSSES Dunne, Breakker does the same to Holland! The champion stands tall, as does the brightest of the new wave. Will they be the ones to give Dunne & Holland the fight they want?
Meanwhile, the women's division is heating up backstage!
Elektra Lopez and B-Fab are jawing, but Amari Miller isn't backing down from Kay Lee Ray! The shoving begins and turns to scrapping! Security hurries to break this up before it gets any worse, but the brawling continues in the ring, too! Breaker and Ciampa again DECK and eject Dunne & Holland, but then Breakker asks, "Where ya going?" The fans want to see this fight continue, so how about the two bitches grow balls and face Breakker & Ciampa TONIGHT?! Fans like the sound of that! Will NXT General Manager, William Regal, make it happen?
NXT Cruiserweight Championship: KUSHIDA VS Roderick Strong w/ The Diamond Mine!
The Time Splitter and the Savior of the Backbreaker have waited for this long enough, so they're going to keep the energy of the night going by opening the card! Will the Super Junior still be champion? Or will the Diamond Mine finally strike gold?
The introductions are made, the belt is raised, and we see who cracks under the pressure!
Strong rushes in but Kushida avoids the knee. Kushida drops down to throw kicks but Strong stays just out of reach. Kushida stands back up, they tie up, fight for control, Strong blocks a takedown to get a takedown, but Kushida fights the lateral press. Strong facelocks, gator rolls, but Kushida gets a toehold. Strong fights back with a chinlock but Kushida fights free of that. Strong wants an arm but Kushida gets away and fans cheer as the two reset. They tie up with knuckle locks and have a test of strength, but Kushida gets a takedown. Strong fights the press so Kushida throws down hands. Kushida still goes in but Strong turns it around with a clinch.
They fight up, Strong headlocks and shifts, but Kushida powers up and out, only for Strong to run him over. Things speed up, Kushida hip tosses to an ARMBAR! Strong fights to get up and make it a cover, ONE! Kushida has a short arm scissor and turns it into an ARM TWIST! Kushida keeps the omoplata, gets the other arm and falls back to SNAP! Strong bails out and is furious as NXT goes to break.
NXT returns and the two clinch again. Strong knees low and puts Kushida in a corner, but Kushida kicks back. Kushida runs in after an arm but Strong turns that to an OLYMPIC- NO! Kushida arm-drags Strong away! Strong comes back but Kushida WRINGS out the arm! Strong gets to his feet, Kushida dodges him to SHOTEI! And SHOTEI! Atomic drop and a whip to a hip toss! Cartwheel basement dropkick! Fans fire up and Kushida winds up, FASTBALL! Strong is down, but he dodges the Penalty Kick to CHOP back! Kushida ends up in a corner, Strong hurries over and puts Kushida up top. Strong climbs but Kushida gets the arm for a KIMURA! FALLING ARMBAR DDT!
Fans are fired up as Kushida and Strong slowly rise. Kushida aims from the corner, PENALTY KICK to the bad arm! Strong staggers about, but he BOOTS back from the ropes! Strong hurries to bring Kushida in, BACKBREAKER, to the OLYMPIC SLAM! Cover, TWO!! Kushida is still in this and Strong grows frustrated. The Diamond Mine coaches him up, fans are rallying and dueling, Strong runs to give forearm after forearm. But the bad arm makes things worse! Kushida kicks, Strong fires off CHOP after CHOP, then another forearm! Back suplex, but Kushida arm-drags out of the slam to get the KIMURA! Not quite the Hoverboard as Strong moves around to change leverage!
But Kushida throws Strong over! Strong keeps moving, he gets up, but Kushida gets the body scissors! HOVERBOARD!! Strong is down, Bivens helps him get the ropebreak!! The ref sees it, he calls it and Kushida lets off. Kushida already suspects Bivens! The ref is busy with Bivens as Kushida runs, but the Creed Brothers drag him out! And Ivy Niles hits a SUPERWOMAN PUNCH! The brothers put Kushida back in for Strong's KNEE! END OF HEARTACHE!! Cover, Strong wins!
Winner: Roderick Strong, by pinfall (NEW NXT Cruiserweight Champion)
The Diamond Mine might as well have all their names on that belt with all the assists Strong just got! But now that they have a taste of gold, how long until Julius, Brutus and Ivy all get something for themselves?
But wait, here comes Grayson Waller! "Hey, chill, chill. Let's hear it for the new champ, yeah?" Waller says after what happened to his boy, Drake Maverick, he's starting to realize that NXT 2.0 is a jungle. But if anyone was built to survive in the jungle, it was Grayson Waller. So instead of just sitting in the back and waiting, Waller's here to take one. So what does Strong say to a match with him for the title next week? Bivens says, "How dare you interrupt the champion's celebration?" If we're talking next week… Oh, gotta check in with daddy first? Bivens mocks Waller's taunt, then talks with Strong.
Decision made! Next week, Diamond Mine shows Waller why they run NXT! Will Waller be baller and make it a slam dunk on his first try?
NXT hears from Tony D'Angelo.
He talks about the years spent on the docks, watching his uncles make some handshake deals. Some "business arrangements," if you will. The family made many investments up and down the Atlantic, and his Uncle Paulie always told Tony, "There's two things we take seriously: business, and family." When it comes to sports, they were dead serious. Add a new item to that list: Tony's success in the WWE. D'Angelo is on his way, will any wise guys try to start something with him?
NXT hears from Josh Briggs & Brooks Jensen.
Big bad Briggs first met Brooks at Johnathan's Pub the same night Briggs lost in the Breakout Tournament. Briggs was just trying to blow off some steam. He got three deep when some idiot, aka Brooks, bumps into him and so they start swinging. They got black eyes, loose teeth, and there's still some blood somewhere on the bar. Brooks' hands are like bricks, so Briggs learned to respect him. Brooks says if you can knock him onto a pool table and beat him down off it, you've got his respect, too. From where these boys are from, you throw hands, shake hands, and become friends. They love to fight and love to drink.
In the 2.0 era, it doesn't matter if it's a street fight, bar fight or dog fight, you fight these two, you're in for a bad night. If you start something, Briggs & Jensen are going to end it! Will they fight until they end up contending for the tag titles?
Kay Lee Ray VS Amari Miller!
The Scary Queen of Scots isn't letting that confrontation with the new girl go, and now it's going down in the ring! Will KLR show Amari and everyone else in the NXT Women's Division why she was NXT UK Women's Champion for so long?
NXT returns and Amari makes her entrance. The all star athlete from KC, MO is all smiles now, feeling the vibe, but will she learn why KLR is a killer? The bell rings, Miller dodges KLR then eggs her on as she fires forearms. KLR shoves Miller away but Miller elbows back. Miller reels KLR in for a NECKBREAKER! Cover, TWO! Miller gets KLR up and whips, but KLR reverses and ROCKS Miller with a forearm! KLR whips, dropkicks Miller down, then stomps Miller around. KLR covers, ONE! KLR drags Miller up, CLUBS her down, then gets her up again for a GOURD BUSTER! KLR scowls as she kicks Miller to a corner.
KLR eggs Miller on now, drags her up to CLUB her down again, and fans rally up. Miller throws body shots, KLR CLUBS her again. KLR brings Miller around, but Miller jawbreakers free! KLR blocks the heel kick to the Gory Especial, GORY BOMB! Cover, KLR wins!
Winner: Kay Lee Ray, by pinfall
And that is why KLR is here in NXT prime! Will she keep climbing the ranks until she's the one facing Raquel Gonzalez for the title?
Backstage interview with Bron Breakker.
McKenzie asks Bron about his huge tag team match alongside Ciampa. How is he feeling? Oh, tonight's huge! He's getting in the ring with the top three guys in the world! Bron heard what Ciampa said, and those words hold a lot of weight. Ciampa walks over to say it's sink or swim. Ready to get in the deep end, big fish? Hell yeah! Bron's ready to kick some ass! And who better to do it with than the champ? Bron gives Ciampa a smack on the shoulder, but will he watch where his eyes drift in regards to Goldie?
Xyon Quinn walks into the CWC.
He talks with a few female superstars about their training, and they ask him the next time he'll be in the ring. He's hoping very soon. They note how good he looks in the ring and he thanks them. He gets the door as a gentleman, but someone tries to cut them off. Quinn has the guy wait, ladies first. Chivalry's dead, bro. Yeah? Quinn SMASHES the guy into the door! Quinn is a gentleman but also a warrior, will this be a lesson to everyone else?
Dante Chen VS Trey Baxter!
The first Singapore superstar in the WWE makes his debut as the 2.0 era ushers in more new names! But will #AllHeart rain on the parade as he still tries to make a name for himself?
The bell rings and Chen ties up with Trey. They go around, Chen powers Trey to a corner and fans duel. Chen lets off, Trey BOOTS him and then gets around to a BACKBREAKER to HALF 'N' HALF! Trey hurries to a corner and up top, but Chen anchors a foot. Trey kicks at Chen but Chen holds on. Trey gets Chen to let go but has to leap over him. Chen turns around into a cradle, TWO! Chen dead lifts Trey for a SIT-OUT CRADLE DDT! Cover, Chen wins!
Winner: Dante Chen, by pinfall
Trey may be all heart but Chen won in the blink of an eye! Will this young star take NXT by storm?
NXT has a message from "Chase University."
Andre Chase welcomes students to day one of a place of higher learning. They've chosen his course to get ahead in the careers. The first lesson is on Odyssey Jones and how he failed to get ahead by losing the finals of the Breakout Tournament. Roll film. Chase didn't take kindly to Jones embarrassing him at the #InDex Wedding, but look at how embarrassing this weak cover was. Carmelo Hayes easily rolled Jones up, and there is the face of a loser. Chase teaches the fundamentals: a lateral press with all the weight on the shoulders. Lights, please, there's a question. Didn't Jones beat Chase in the first round?
What's your name again? Steve. Well, Steve, who did you ever beat?! WHO THE F DID YOU EVER BEAT!? Get the F out of here! Don't you disrespect him! Chase throws chairs around, is class going to be canceled?
NXT has a medical update on Kyle O'Reilly.
His ribs are reinjured and he will be week to week on whether or not he can compete.
NXT also has an update on Triple H!
The Game tweeted himself that he has been "blown away by the outreach and support from so many people." HHH is recovering, doing well and so very grateful for all the love in his life, especially from the NXT crew. Also, Steph and the girls loved the snacks they sent. HHH hopes to see us soon, and we hope to see him again, too.
NXT returns and Joe Gacy is in the ring.
"Tonight, this ring is a safe space. NXT 2.0 is full of conflict, from the smallest microaggression to the most heinous grudges. This is a place where we settle our differences." Gacy comes to us tonight with a mindset of conflict resolution, where he doesn't need to use "male privilege" to get what he wants. Gacy understands that life isn't fair. But he believes we can achieve unity and tolerance for us all. Gacy can be the man that will show us we can achieve peace in this safe space. That starts tonight!
Cameron Grimes VS Joe Gacy!
The Carolina Cash Money Caveman is ready to take 2.0 #ToTheMoon, but will he have to resolve this conflict he started with Gacy? Or will Gacy's old wild man antics find their way back to the surface?
The bell rings, the two circle and grapple. Grimes gets a leg, Gacy facelocks but Grimes wrenches and has a wristlock. Gacy powers Grimes to ropes, lets off with the ropebreak, but Grimes ducks the sucker punch! Pacifist, huh? Grimes arm-drags Gacy down, grinds the armlock, and wrangles Gacy down. Gacy headscissors, Grimes kips free and says #KissMahGrits! Gacy laughs that off, but then swings on Grimes again. Grimes waistlocks but Gacy bucks the O'Conner Roll, only to run into a BOOT! Fans fire up as Grimes runs in but into a boot from Gacy! Gacy whips Grimes in, corner splashes to a BIG Urenage! Gacy works to keep his cool but fans rally for Grimes.
Gacy wraps on a chinlock, grinds Grimes down, but fans rally up behind Grimes. Grimes fights up, throws body shots, then powers out. Gacy runs in but only gets buckles, Grimes runs to rally with forearm smashes! Grimes eggs Gacy on but Gacy dodges, handsprings and LARIATS! Cover, TWO! Grimes survives and Gacy is surprised. Gacy fires up, gets Grimes up but Grimes evades the powerbomb to ROUNDHOUSE! Gacy comes back to BOOT! Grimes stays up so Gacy runs to forearm smash! Gacy keeps moving, but runs right into a CAVE-IN! Cover, Grimes wins!
Winner: Cameron Grimes, by pinfall
Gacy didn't find peace or victory tonight and Grimes has the momentum he wants! But then Gacy stands up, and offers a handshake. Grimes says no thanks, so Gacy hugs him! Gacy leaves it at that, is he going to keep preaching conflict resolution while Grimes goes for the gold?
NXT hears from Von Wagner.
"Last week didn't go my way. You can either bitch 'n' moan, or you can put in the work." He's an unconventional man with unconventional methods. His journey in NXT has only just begun, will this towering man find his way back up to the top of the mountain?
Elektra Lopez w/ Legado del Fantasma VS Anna Scheer!
Santos Escobar, Joaquin Wilde & Raul Mendoza accompany Elektra to the ring. Despite the scuffle with B-Fab in the back, that beef's being put on the back burner for now. Will Anna be the one paying the price for the fire B-Fab's lit inside Lopez?
The bell rings and Lopez takes her time with her jacket. She circles with Scheer, then kicks hard and CLUBS her down! Lopez CLUBS Scheer, runs and runs her over, then runs to do it again! Lopez drags Scheer up, throws her by her pigtails, then tells her, "You are nobody!" Lopez throws Scheer down by her hair, then looms over her. Lopez scoops and SLAMS Scheer, but Scheer throws forearms back! Scheer runs and leaps, but into Lopez's arms! SWINGING SIDE SLAM! Lopez hauls Scheer back up to snap suplex! Roll through, wrench and BLUE THUNDER BOMB! Cover, Lopez wins!
Winner: Elektra Lopez, by pinfall
Scheer felt the sheer dominance of Lopez, but Escobar gets a mic to speak. "Class. Elegance. Sophistication. Fuego! And raw power to command silence and respect. And all of this under the umbrella of one word: familia!" Escobar tells Lopez that she completes Legado del Fantasma. Lopez takes the mic to speak now, saying, "What I did here tonight was just a little taste of what the First Lady of Legado del Fantasma, Elektra Lopez, La Madrina, is going to unleash on B-Fab and NXT 2.0." Fans like the sound of that! Lopez tells B-Fab that she can keep talking, "but we all know that that's all it is." And if B-Fab doesn't like, then she can get her skinny ass out to the ring!
But speaking of Hit Row, here they come! But B-Fab isn't with the boys. She rushes in from the crowd to scrap with Lopez! Lopez turns things around but B-Fab comes back! Hit Row and Legado separate the two but fans want to "Let Them Fight!" B-Fab says it's cool, but then she fires off on Lopez again! Hit Row and Legado get B-Fab and Lopez to back down, but this has to explode some time! When will these two finally get to have it out in the ring?
Cora Jade checks in on Trey Baxter.
She gives him a big hug and asks what's wrong. What, she didn't see? Well how long have they been together? He knows she still loves him. Chen came in looking like a superhero but whatever. Chin up, Trey. Then she gives him a big kiss to cheer him up. Trey does have a reason to smile, and then thinks on "superhero." Will #AllHeart show he can be super in the 2.0 Era?
Mitchell's AEW Dark Results & Report! (9/21/21)
Never was a cloudy day~!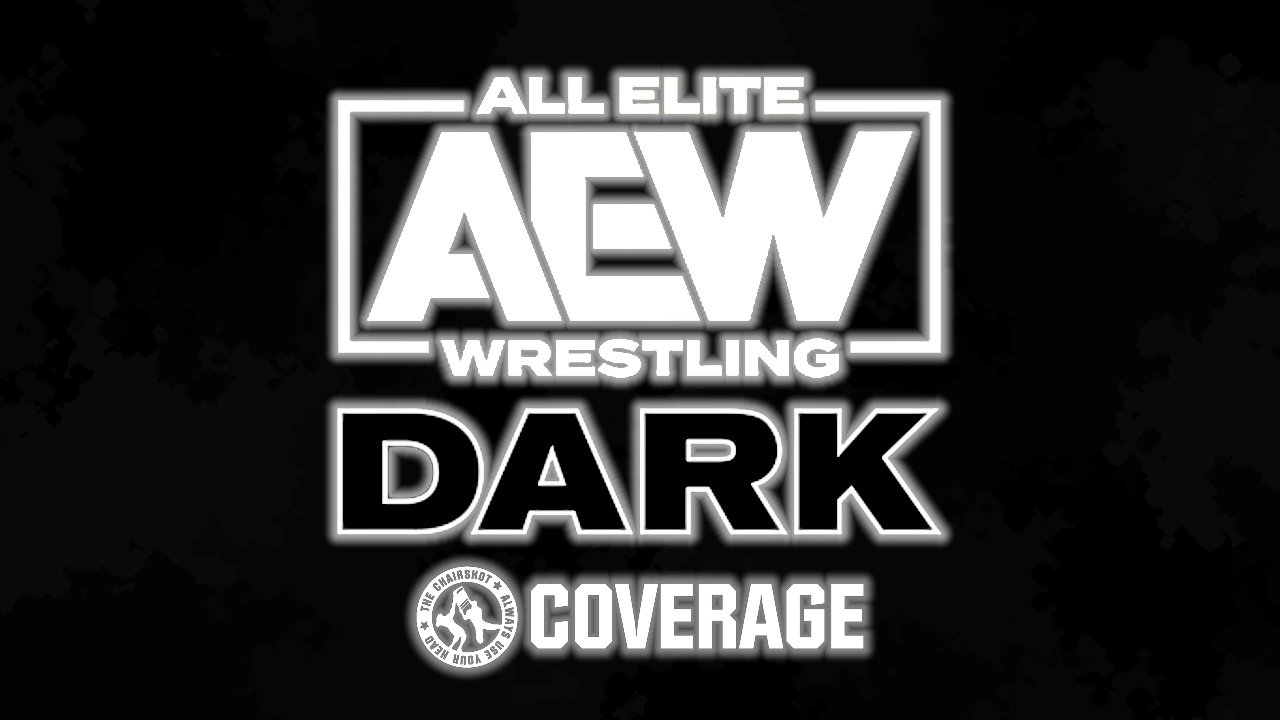 Universal Studio stays Dark!
Ba-dee-ya~! September gets Dark but there are plenty of stars ready to shine! Who builds momentum going into AEW's Grand Slam week?
OFFICIAL RESULTS
Santana & Ortiz VS Chaos Project; win(s).
Joey Janela w/ Kayla Rossi VS Dillon McQueen; wins.
Lee Johnson & Brock Anderson VS Luke Curtis & Cameron Stewart; win.
Tay Conti VS Marina Tucker; wins.
Ryan Nemeth & Peter Avalon w/ The Wingmen VS John Silver & Alex Reynolds w/ The Dark Order; win.
Colt Cabana w/ The Dark Order VS JD Drake w/ The Wingmen; wins.
Wardlow VS JDX; wins.
Daniel Garcia w/ 2point0 VS Alan Angels w/ The Dark Order; wins.
Lance Archer VS Marcus Kross; wins.
The Bunny w/ Penelope Ford VS Xtina Kay; wins.
Six Man Tag: The Factory VS Darian Bengston, Cole Karter & Sean Maluta; win(s).
Eddie Kingston VS Bear Bronson; wins.
Big Swole VS Allie Katch; wins.
FTR w/ Tully Blanchard VS Stallion Rogers & Anthony Greene; win(s).
QUICK NOTES
AEW is pumping up Dark again, but this is a pretty big week for them being in New York for Dynamite and Rampage and paving the way towards the anniversary and the start of "season three." Great to see a lot of fresh match-ups just within the established roster, such as the various Dark Order matches. Garcia VS Angels is probably going to be a show stealer in and of itself. Kingston VS Bear Bronson sounds like another great one, and I like that former WWE Cruiserweights are showing up somewhere. Curt Stallion & August Grey deserved better chances than WWE's Prick Khan gave them, so maybe Tony Khan can at least find them a place to be within the various partnerships, even if it's with Impact or NWA.