Bodeen's Top 5 Moments: Money In The Bank
WWE brings live fans back to PPV with Money In The Bank 2021! You know who won the briefcases, but who shined for Bodeen?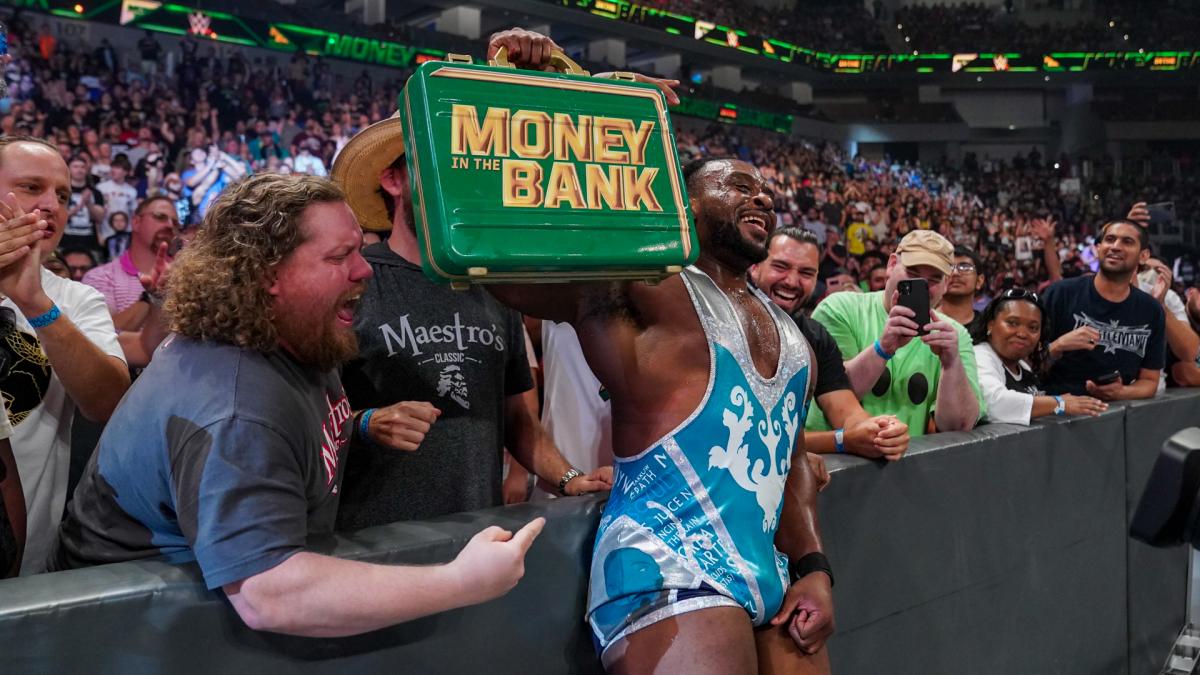 WWE brings live fans back to PPV with Money In The Bank 2021! You know who won the briefcases, but who shined for Bodeen?
With the help of a packed returning crowd, WWE delivered an amazing show as Money In The Bank delivered at every point and had no weak points, being one of the best WWE Pay-Per-Views in recent memory. So on a show that featured a great main event between Roman Reigns and Edge for the Universal Championship as well as two chaotic Money In The Bank matches and more what moments truly stood out? Well, let's waste no time and look at the top 5 moments from Money In The Bank this year.
5. The Usos and the Mysterios battle for the SmackDown Tag Team titles on the preshow  
Despite being on preshow this match felt special and felt like it was on the main card, while it was disappointing to see the Mysterios lose the Tag Team titles so soon and there is the big controversy around Jimmy Uso's DUI and if he should be allowed to be given the Tag Team title so soon, I am still putting this match on the top 5 list regardless on the outside factors, mainly because it was a great match that did a great job in hyping up the live Texas crowd.
The Mysterios would get the upper hand early in the match when Dominik took down Jimmy Usos with a series of arm drags with Rey tagging himself in to hit a double team on Jimmy Uso. The Mysterios controlled the Usos throughout the early section of the match but a cheap shot from Jey Uso on Rey outside the ring changed the momentum in the match and gave Jimmy and Jey Uso the upper hand. Both teams went back and forth it was a great back team match with neither team having the advantage for too long. Late in the match, Rey Mysterio put Jey in position for a 619, only for Jimmy to take the bullet for his brother, allowing Jey to recover and hit the superkick on Rey followed up with a splash only for a close 2 count and a massive pop.
The Usos would then attempt to finish things with a double Uso splash but Dominik would make the save, attacking Jimmy, forcing Jey to attack Dominik. Jimmy would then roll up Rey near the ropes, with Jey coming back in the ring to put extra leverage on the pin, helping Jimmy get the pinfall victory as both men became Tag Team Champions once again.
4. Bobby Lashley dominates Kofi Kingston and retains his WWE Championship 
After Bobby Lashley got rid of the women and the champagne it was time for Bobby Lashley to become the all-mighty once again as he dominated Kofi Kingston, destroying Kingston in just a few minutes to retain his WWE Championship. While a lot of people did not like this match as it was basically a squash match, personally I loved it, Lashley destroying Kofi was a great way for Lashley to look dominant as he heads towards his potential match with Goldberg at Summerslam
Despite Kingston hitting Lashley with an early double stomp, Lashey dominated Kingston throughout the match cutting off Kingston at every corner in a match that gave flashbacks to when Brock Lesnar destroyed John Cena at SummerSlam. The crowd's support for Kofi would do nothing as Lashley hit Kofi with three dominators and then finished things with the Hurt Lock, making Kofi pass out with the crowd being completely shocked as the referee called for the bell.
Not only was this match a great way to make Bobby Lashley look strong ahead of his WWE Championship match against Goldberg at Summerslam it was a great shocking moment and caught the fans off guard, however, but there was also still one big surprise scheduled for later in the night…
3. Charlotte takes on Rhea Ripley for the RAW's Women Championship  
Charlotte and Rhea Ripley would once again get a chance to face each other at Money In The Bank as both women put on a fantastic match for the RAW Women's Championship. Before either woman got a chance to get some offence in, chants of "we want Becky" would be heard all around the arena with Charlotte answering these chants with a "suck it" gesture then flipping off the whole crowd, forcing the Network and Peacock streams to cut to black to censor it, which feel a little strange. Both women put on an amazing match with the strengths of Rhea and Charlotte being showcased as with a spot involving Rhea's raw power being an example of this as she was able to lift Charlotte up in an awkward position, allowing her to hit a vertical suplex on Charlotte.
Late in the match, Charlotte climbed the top rope to get ready for a moonsault, but Rhea was able to recover and started to attack Charlotte on the top rope. Both women trades strikes, forcing Rhea to back down and go back down to the mat, this would allow Charlotte to hit a super Natural Selection from the top rope only to get a close nearfall with the crowd going crazy. Charlotte then tried locking in the figure eight on Ripley, but Ripley was able to reverse sending Charlotte outside the ring. Ripley attempted to follow The Queen outside the ring, but Charlotte used her experience and crafty nature to her advantage and slammed Rhea's head straight into the ring post. Ripley would then trap the legs of Ripley in the gap between the ring post and the stairs with Charlotte then kicking the stairs into Ripley's legs to take out Ripley's legs, allowing her to lock in the figure eight submission to force Rhea to tap out to The Queen once again as Charlotte became Raw Women's Champion once again.
While it does feel a little disappointing that Ripley lost Charlotte once again, she still put up a great fight and pushed The Queen to the limits, hopefully, Rhea can still remain in the main event on RAW and does not end up being dropped to RAW's poorly booked women's mid-card.
2. Big E wins a chaotic Money In The Bank match    
Thankfully, living in Australia I was able to watch Money In The Bank on the original WWE Network, meaning a had no problems with streaming the show. Unfortanly I have seen that those in America who were forced to watch on Peacock had multiple streaming problems during this match. For a multi-million dollar company to still be having issues months after the Peacock and WWE deal is simply terrible and honestly an apology should be given to fans who are forced to watch through Peacock. Now onto the positive side of things, this was an incredible match and was the most stacked Money In The Bank ladder match card in recent memory with all eight men involved having a chance to shine at some point in the match. Early in the match, all eight men would go back and forth as there was chaos everywhere, but Seth Rollins and John Morrison would gain control as the kings of drip teamed up to take out the rest of the competition, with Rollins breaking the alliance after he hit John Morrison with a ladder.
During the match, Drew Mcintyre seemed to have things in hand after he hit a double Claymore kick on Shinsuke Nakamura and Riddle after both men had a great exchange of strikes and counters. Drew then took out Big E with a future shock DDT, with Drew then taking out Ricochet with an Alabama slam on a ladder with Drew finishing things off with a suicide dive outside the ring and then hitting a Glasgow Kiss headbutt on Seth Rollins. As Drew climbed the ladder alone, Veer and Shanky hit the ring to pull Drew off the ladder as Jinder Mahal appeared to take out Drew with a steel chair. After several chair shots, Veer and Shanky dragged Drew to the back, taking The Scottish Warrior out of the match. Riddle tried to use the chaos to his advantage and climbed the ladder only for Ricochet to come out of nowhere, jumping from the top rope onto the ladder. Both men brawled on top of the ladder with Riddle getting the upper hand. Riddle tried tipping the ladder but Ricochet managed to land his feet on the ropes and then dove onto the wrestlers outside the ring for an amazing spot.
All the remaining men in the match came close to grabbing the precious Money In The Bank but one by one that all got taken out. Seth Rollins seemed to be the last man standing after he took out Kevin Owens by powerbombing him outside the ring onto a bridged ladder, but as Rollins made the climb, Big E would come out of nowhere and hit a massive Big Ending off a ladder, allowing Big E to climb the ladder and grab the Money In The Bank Briefcase getting one of the biggest pops in the night. Big E winning was a great choice and having him take the pin on SmackDown in the fatal-4-way match was a great way to make the win more surprising. Big E is sure to have a great feud with either Roman Reigns or Bobby Lashley, especially as a feud with Roman Reigns can lead to The New Day getting involved with the Usos, putting another chapter in their long and amazing rivalry. After the match, Seth Rollins would be asked about his loss in the match, with Seth losing his mind over the simple question. Seth would then calm down, stating that he was done waiting and that he was next in line for a shot at the Universal Championship.
1. Edge and Roman Reigns battle in the main event as Money In The Bank ends in a huge surprise   
After Daniel Bryan made his way into the match between Edge and Roman Reigns at WrestleMania 37, fans would finally get to see the match that was originally planned for WrestleMania as Edge took on Roman Reigns one-on-one for the Universal Championship. Right of the bat, this felt like a big main event with the entrances, the stare down and the hyped crowd, making the match feel important. Edge would try to use his experience and mind games to get in the head of Roman, but Roman proved why he was Universal Champion and begin to regain control and then started controlling.
Roman Reigns would continue to control Edge throughout the match while taunting the crowd, with one hilarious moment occurring when the fans started a "you can't wrestle chant" towards Roman, only for Roman to laugh and tell the crowd "I'm winning." Edge would get back into the match after Roman missed a spear outside the ring, sending him into the barricade in the corner. Edge reset the count and proceeded to spear Roman through another barricade, dragging Roman back into the ring for a close 2 count. Chaos then occurred after a superman punch on Edge forced Edge to collapse on the referee taking down the ref. Roman tried to lock in the crossface with the chair leg, but Edge was one step ahead and managed to lock in the chair leg crossface on Roman, The Usos would try to interfere but the Mysterios took both men out as Edge continued to put the crossface on Roman, only stopping after Seth Rollins came out and superkicked Edge. Despite being superkicked Edge reversed Roman's spear attempt with a spear of his own, but Roman would just manage to kick out at 2 after it took extra time for the replacement referee to run out from the entrance ramp to make the count. As both men recovered Seth Rollins would interfere yet again, appearing on the apron with Edge taking him out with a big boot, allowing Roman to recover and hit a spear on Edge to score the pin for the win, in a chaotic and somewhat overbooked finish to the match.
After the match, Seth Rollins and Edge brawled through the arena, to the back as Roman grabbed the microphone, telling the live crowd it was time for them to acknowledge him. As Roman and Heyman went to leave the ring, John Cena's theme song would hit for the biggest pop of the night. Cena then made his entrance, staring down Roman to finish a great night of wrestling.
These were my top 5 moments from Money In The Bank. What were your top 5 moments and what did you think of Money In The Bank as well as the streaming issues that many people suffered on Peacock? Let us know in the comments below.
King's Greatest Hits Of Jeff Hardy
As he battles his demons, Chris King looks at some more positive moments in Jeff Hardy's career!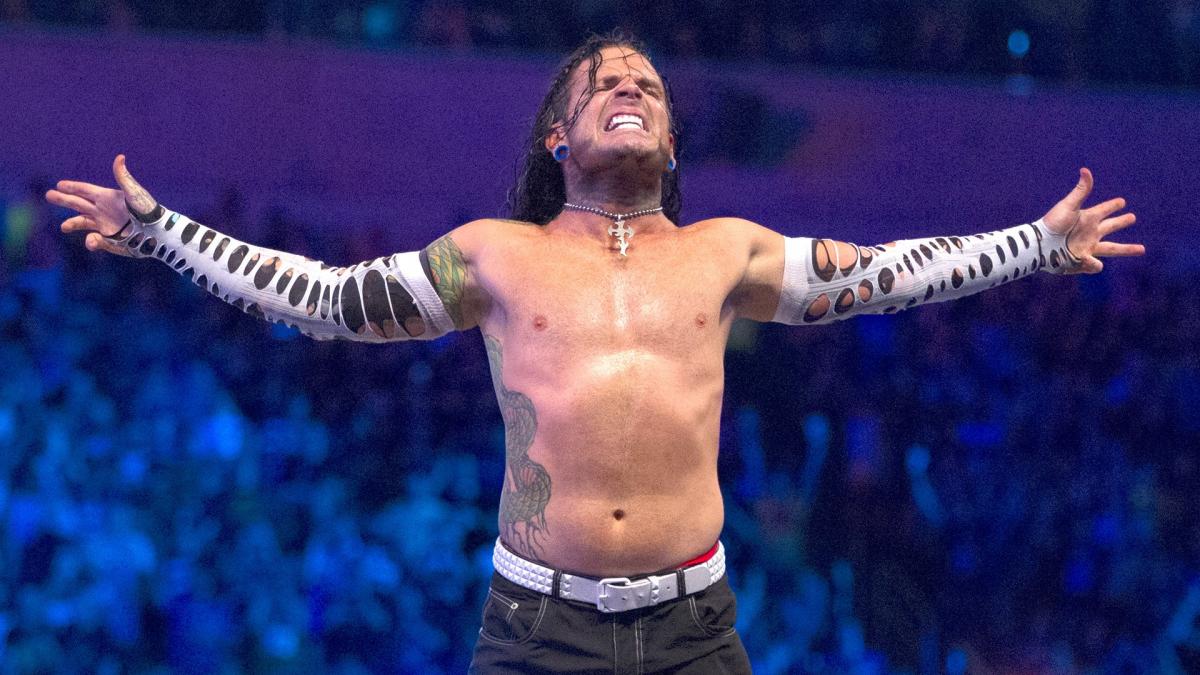 I'm sure by now you've heard the disturbing news that former WWE superstar and recent AEW signee Jeff Hardy, was arrested again for multiple charges including a DUI.  Hardy has had a hard and tragic road of recovery throughout the years in multiple wrestling promotions.
Not too long ago, Hardy walked out on WWE after they were rumored to have offered the former world champion to go to treatment for his substance abuse issues. Hardy refused and said that he was better but, as we saw the demons are still lurking and got the best of him again.
I have seen some nasty comments and even some distasteful memes about the AEW superstar and felt compelled to go against the grain. Instead of kicking a man when he's down, I'm going to put together a greatest hits for the "Charismatic Enigma."
Jeff Hardy & The TLC Match
Everyone can say that Shawn Michaels and Razor Ramon helped innovate the iconic ladder match and you are right, but Jeff Hardy and his death-defying stunts changed the concept of the match forever. The Hardy Boyz vs. The Dudley Boyz vs. Edge & Christian and their iconic TLC match should have their wing in the Hall of Fame. The risks all six superstars took for the adoration of the crowd could have ended all of their illustrious careers. In the words of Vince McMahon, It's such good shit!
Jeff Hardy Earns The Undertaker's Respect
On the July 1st, 2002 episode of Monday Night Raw, Hardy delivered the performance of a lifetime nearly winning the WWE Undisputed Championship from The Undertaker in an incredible ladder match. The young up-and-comer was faced with his greatest task yet, challenging for the most prestigious title in sports entertainment. Hardy showed that without a shadow of a doubt he deserved to be in the main event scene, but came within minutes of defeating Taker. At the time of the match, Hardy was still finding his footing as a singles competitor and earned the respect of the champion and legend.
Swanton Bomb From The Heavens
When I think of the daredevil Jeff Hardy, I can't help but think of this one crazy-as-hell stunt. At WWE One Night Stand 2008, Hardy faced off against the juggernaut Umaga in a falls count anywhere match. This match was so insane as both superstars fought into the parking lot. Hardy is one of the craziest and bravest superstars, hit a Swanton Bomb off a damn stage truck onto Umaga. It's one of the wildest things you'll ever see.
Hardy Wins The WWE Championship 
In 2008, Hardy finally made his way to the main event title picture alongside partner Triple H. HHH was Hardy's mentor in some sort of way which led to the daredevil achieving his lifelong dream of becoming WWE champion. At the 2008 Armageddon pay-per-view, Hardy would face HHH and longtime rival Edge in a triple-threat match for the title. In what was a great match between all three superstars, Hardy delivered a Swanton Bomb to Edge to win the illustrious championship.
Straight Edge Problems For Hardy
The following year, Hardy found himself in the way of young-up-and-comer CM Punk who is looking to make an example out of him. Punk had won the Money in the Bank briefcase for the second year in a row and took advantage of Hardy to win the world title. What started as mutual respect between both superstars changed drastically, when Punk started throwing jabs at Hardy for his drug and substance abuse real-life issues. Punk would form his infamous stable known as the Straight Edge Society. This is a very underrated feud and you should go back and watch it in its entirety. The promos are gold.
The Hardy Boyz Return To WWE
Both Matt and Jeff Hardy found success in multiple other wrestling promotions including Ring of Honor, and TNA during their time away from WWE. Both brothers were struggling with their vices and made poor life choices but straightened up their act over the years. In 2017, the Hardy Boyz would face longtime rivals The Young Bucks in ROH. The following night the adored tag team would make their incredible return to WWE at WrestleMania 33. Matt and Jeff would be named the final team in the Fatal 4-way ladder match for the Raw Tag Team Championships. The pop these two received was insane and very much deserved. They would go on to win the match and win the titles to capitalize on their momentum.
Jeffery Nero Hardy Makes AEW Debut
From 2017-to 2022 Jeff Hardy would find himself pigeonholed in the mid-card title picture. He would have feuds with a plethora of superstars including Samoa Joe, and Randy Orton. Orton and Hardy had a nasty Hell in a Cell match back in 2018. Earlier this year, Hardy was seen running around after the 24/7 Championship, which was disappointing to see. After being genuinely unhappy in WWE, Hardy would make his AEW debut on the March 9th episode of AEW Dynamite. Hardy would come to the aid of his brother and longtime partner.
This week news broke that Hardy had been arrested for multiple charges including a DUI. While it's easy to beat a man while he's down, how about we uplift and try to encourage him to get the help he needs.
As a longtime wrestling fan, I have the utmost respect for Hardy and wish him the best of luck in his battle with addiction.
DeMarco's Things I Learned From WWE Smackdown On FOX (June 17, 2022)
Greg DeMarco presents what he learned watching WWE Smackdown On FOX for June 17, 2022, featuring Matt Riddle, Vince McMahon, Pat McAfee, and more!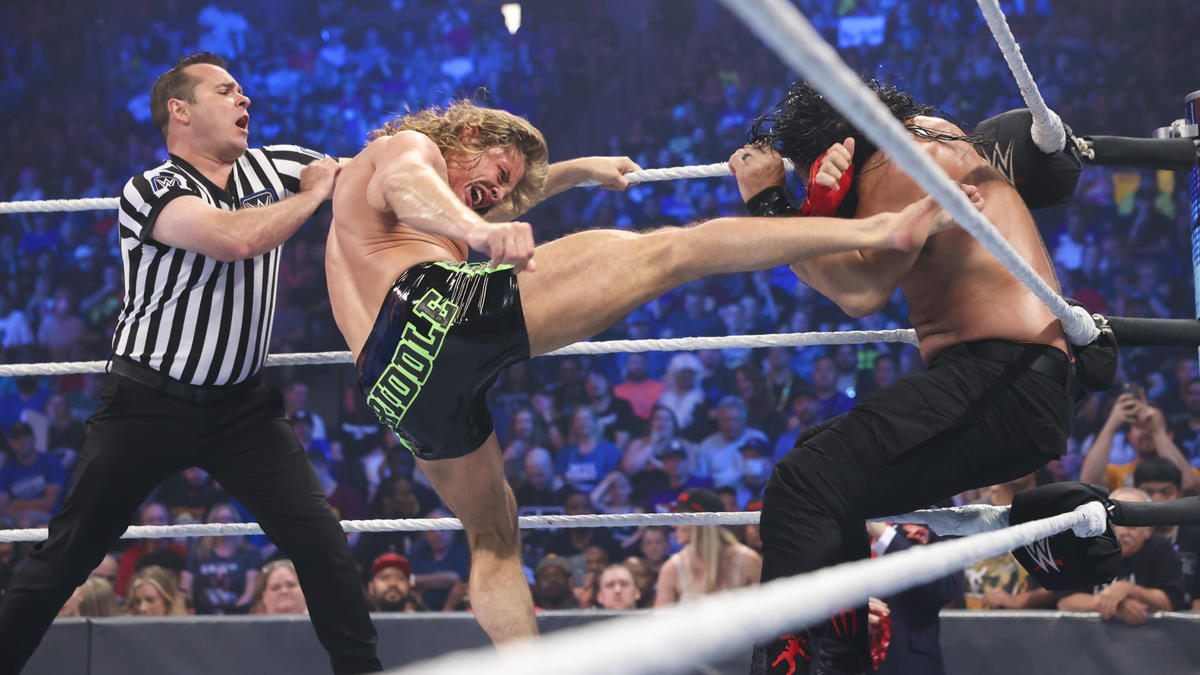 Greg DeMarco presents what he learned watching WWE Smackdown On FOX for June 17, 2022, featuring Matt Riddle, Vince McMahon, Pat McAfee, and more!
WWE presented Smackdown on Friday night, June 17, 2022, from "Moneyapolis" featuring the "big fight feel" main event between Roman Reigns and Matt Riddle, with The Tribal Chief's Undisputed WWE Universal Championship on the line. We also continued down the road to Money In The Bank in Vegas.
RK-Bro Is Effectively Done
The video package and all of Matt Riddle's tributes to Randy Orton are just a little bit too much. Riddle does "too much" very well–in fact, it's his character. But the amount of tribute being played to Randy Orton seems to be a set-up for Orton's eventual return (whenever that might be) OPPOSITE Riddle. Maybe it's in the Royal Rumble, maybe after.
Regardless of how it happens (and much of that has to do with his surgery and rehabilitation process), I think we are closer than ever to a heel Randy Orton opposing the babyface Matt Riddle.
Madcap Moss Is Undeniably Over
"Madcap just might be a guy." – Pat McAfee
Pat McAfee knows what he's talking about on this one–Madcap is indeed a guy. Riddick Moss always had the tools, just had injury issues. Since making his return to competition as Baron "Happy" Corbin's sidekick, all Moss has done is prove his worth to WWE. He's got a good look. He can cut a good promo. He's vastly a underrated in-ring storyteller. And above all else, he has "it."
WWE is always looking to add to the main event rotation, but it seems harder to crack that right now. But Madcap Moss has what it takes to do just that.
Montez Ford Is Gonna Be A (Solo) Star
The Street Profits are a fantastic act, and are insanely over. But Montez is a guy–a guy who the company can build around. While I feel bad for Angelo Dawkins, I (along with so many others) see Ford being a solo star.
We're Getting Baron Corbin vs. Pat McAfee At SummerSlam
It's the perfect set-up:
Baron Corbin is highly regarded within the organization as one of the safest workers around, a point that has been made by Randy Orton himself.
Pat McAfee is a big-moment superstar, and SummerSlam is the moment for him.
And for the record, I love it. While I an a big time purveyor of "Baron Corbin Sucks," I know what he can do in the ring. And him vs. Pat McAfee would have Nashville rocking–and that is what McAfee in the ring is all about.
Vince McMahon Is Literally A Man Of Steel
If you have listened to any of Bruce Prichard's podcasts, you know Vince McMahon believes you "don't sell." Not in the ring, but whenever the world has turned against you in any way–including lawsuits and investigations–you don't sell it. You hold your head high, and live above it all.
That's exactly what the boss did when opening up WWE Smackdown On FOX. It's entirely possible that the plan changed along the way, and we were going to get "Mr. McMahon" at some point–but what happened is trademark Vince. Not the character, but the man. And if we expected anything else, we haven't been paying attention.
Matt Riddle Is Now A Made Man
Matt Riddle and Roman Reigns delivered a pay per view (or premium live event…pick your poison) quality main event on WWE Smackdown on FOX, on a night where the world was likely watching. Tonight was his moment, and even in a loss, he delivered.
With a singular world champion–and one who likely isn't losing anytime soon–it's hard to say when Riddle could become a world champ. But the stipulation added to tonight's match (which wasn't discussed enough on air) means that Matt Riddle now cannot challenge Roman Reigns again (that's how the graphic showed it). That screams a Money In The Bank or Royal Rumble win to me.
It's also highly possible that a Seth Rollins wins the Money In The Bank briefcase, and his cash in splits the titles back up, opening the door for Riddle come next spring.
Either way–one fact remains true: Matt Riddle is now a made man, and doing it on his own.