Bodeen's Top 5 Moments: WWE NXT (7/14/2021)
NXT Championship match and more… all part of Bodeen's WWE NXT Top 5 Moments!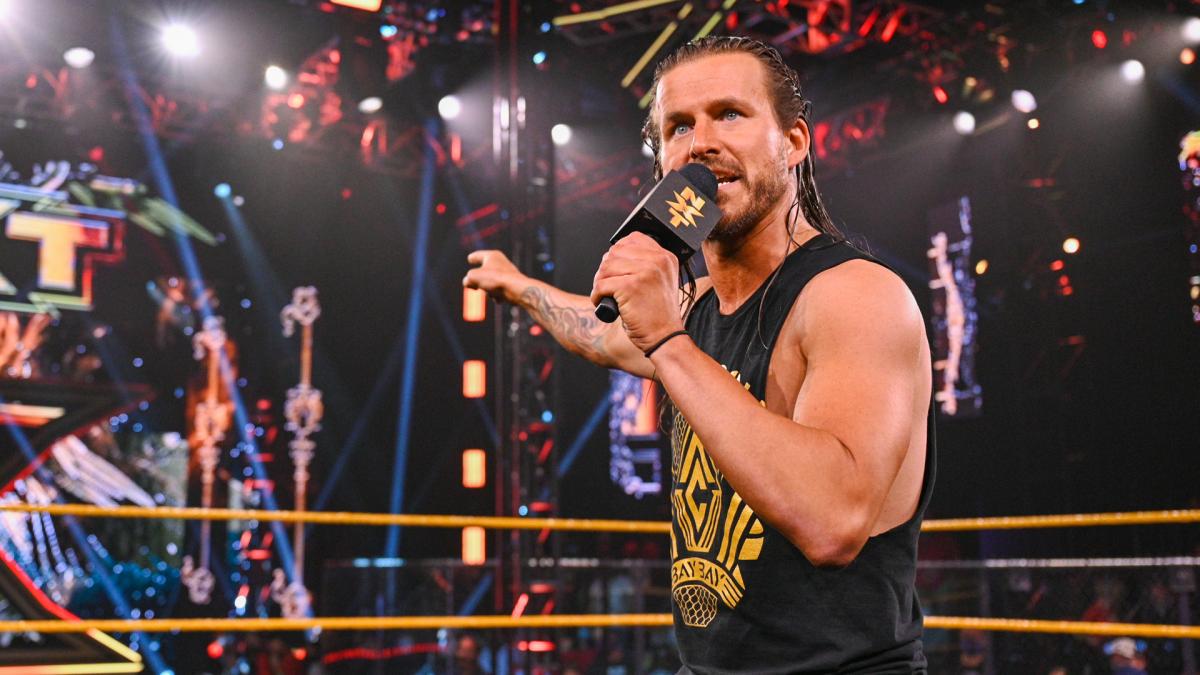 NXT Championship match and more… all part of Bodeen's WWE NXT Top 5 Moments!
As Raw and SmackDown begin to return to the road, NXT came to us from the Capital Wrestling Centre this week as fans were treated to a big night of action as Ember Moon and Dakota Kai faced each other in a solid opening match, as well as former Undisputed ERA members, Roderick Strong and Bobby Fish coming face to face for the first time ever in months with Johnny Gargano and Karrion Kross finishing things off for the night with a great main event for the NXT Championship as Samoa Joe looking on as the special guest referee as tensions between Kross and Joe continue to grow.
But what moments stood out above all on this action-packed edition of the black and yellow brand? Let's find out right again as it is time to look at the top 5 moments from NXT this week.
5. Duke Hudson takes on Ikemen Jiro to open the NXT Breakout Tournament
NXT constantly receives a lot of criticism for its ability to make new talent with some fans thinking NXT has a dependency on independent talent such as Adam Cole who already have a big name for themselves. However, the NXT Breakout tournament has proven that NXT can still to develop new talent as they once again announced another tournament with the opening match taking place this week as Duke Hudson and Ikeman Jiro took on each other in a great match with both men doing a great job in showcasing their ability.
The match was the ultimate mix of styles as Duke Hudson was all about basic strikes and raw power, taking out the flash and glamour as Ikeman Jiro was the complete opposite wearing a flashy bright jacket and constantly using his agility and speed to get the upper hand throughout the match with Jiro even taunting the young Australian in the match, using this to his advantage as he got the upper hand against an overly aggressive Duke Hudson even Jiro even doing a tribute to his trainer,  Tajiri by applying the Tarantula submission on the ropes. However, Hudson's raw power and strength were too much for Jiro as late in the match Jiro hit Hudson with a flurry of strikes only to be caught in a side-walk slam to give Hudson the win, advancing him to the next round of the tournament.
This was a great match between the two men as they did a great job in showcasing their styles. Personally, I feel Hudson winning was the right choice. Hudson's raw style is a great sight to see in a wrestling scene that is focused on high-flying wrestling. Despite the loss, Ikeman Jiro has some great potential in NXT and does not need to win the breakout tournament to become a star, as his fun attitude and charisma is great to watch.
4. Ember Moon and Dakota Kai open the show in a great opening match 
Ember Moon and Dakota Kai would open NXT this week with both women putting on a great main event as they did battle as the NXT Woman's Champion Raquel Gonzalez watched on from ringside. Both women would have an aggressive start to the match, talking trash to each other and exchanging holds as they tried to get the upper hand over each other. After several minutes of back and forth action between the two women, Ember Moon would get the upper hand hitting Dakota Kai with a  pump kick, a neckbreaker and a suplex with Moon finishing things off with a crossbody for the top rope for a 2 count as Requel Gonzalez watched on.
Kai would quickly turn things back in her favour and would hit a running boot in the corner, dragging Moon to the middle on the ring, only to get a close 2 count to her surprise. Both women continued to go back and forth late in the match exchanging strikes, however, Kai would ultimately get the win hitting Ember with the GTK for the win over Moon in a great opening contest. After the match, Xia Li came out and ignored Dakota Kai and she went faced to face with Requel Gonzalez with a match for the NXT Women's Title being made official for next week's edition of NXT.
Xia Li's title opportunity is surprising, while it is great to see Li get an opportunity for the NXT Women's Championship it does feel a little sudden, especially as there has been no build between Gonzalez and Li at all. This will most likely mean that NXT will want to make both women look strong next week on NXT and have the title match be a no-contest, most likely ending due to interference from Dakota Kai. While small gripe I have is how little of a mention there was of Shotzi and Nox. While Ember Moon did say she was happy for their pair to make their SmackDown debuts last week I would have loved to see one final interaction between the two women, especially as they were a great tag team to watch and help put the NXT Women's Tag Team Championship on the map. However, I do understand that the decision to move Shotzi and Nox could have been a sudden choice and with COVID restrictions and SmackDown just about to go on the road, there was a good chance the company could not do anything.
3. Santos Escobar and Dexter Lumis face each other as love grows between Lumis and Indi Hartwell  
Love would continue to blossom between Indi Hartwell and Dexter Lumis once again after Lumis took on Santos Escobar in a fantastic match. Early in the match, Escobar would try to get the early advantage against the mysterious Lumis dropping Lumis with a shoulder but Lumis would get right back up and hit Escobar with the Thesz Press, sending Escobar outside the ring with Lumis never taking his eyes off Santos. A furious Escobar tried to have Joaquin Wilde and Raul Mendoza attack Lumis only for Lumis to not be in the ring, with Lumis then appearing under the ring, grabbing Escobar's foot spooking Escobar yet again.
Santos would get the upper hand throughout the match thanks to Joaquin Wilde and Raul Mendoza constantly interfering. Despite his best efforts, the number game would prove too much for Dexter Lumis as Joaquin Wilde and Raul Mendoza distracted the referee when Lumis had Escobar trapped in the silence, allowing Escobar to tap with the referee's knowledge. Wilde would then attack Lumis outside the ring whilst the referee was distracted, allowing Escobar to recover and hit the Phantom Driver to score the pinfall victory over Lumis. After the match, Legado del Fantasma's celebration would be cut short as Hit Row came out as both groups talked trash with Legado del Fantasma walking to the back.
Later in the night, it was revealed that Indi Hartwell came out and tried to help Lumis to the back by carrying him but would struggle and drop him to the floor creating an awkward moment as Lumis and Hartwell looked at each other. Before anything could happen, Candice LeRae would come out and separate Indi from Lumis as love continues to grow between Indi and Dexter.
2. LA Knight sends Cameron Grimes to the broom 
After Cameron Grimes lost to LA Knight in a great match last week, it was time for Cameron Grimes to be sent to the broom as Cameron Grimes became LA Knight's personal butler. Despite being in a bad position Grimes would look on the bright side of things putting on a smile and eventually getting the upper hand over The Million Dollar Champion.
Things got off to a rocky start for Grimes, as Grimes was late for his first day of work for LA Knight, however, Grimes would keep a smile on his face and tell Knight that he was a man of his word and that he was going to hold up his end of the deal. Unfortatanly for Cameron Grimes, LA Knight wanted to make the best out of this opportunity as he sent Grimes to the back and had forced the rough-looking Grimes to have a makeover. However, Cameron Grimes would love his new look as LA Knight's plan to humiliate Grimes backfired. Grimes would eventually be sent to work by LA Knight with Knight forcing Cameron Grimes to mow his lawn. Despite the daunting task, Grimes would get the last laugh yet again as he managed to find a kid to do his work for him, using his fortune to his advantage. A furious LA Knight would berate Grimes, slapping the money that Grimes tried to pay the child with, with Knight then yelling at the child, the child would then retaliate kicking Knight in the leg as Grimes made the best of his opportunity and used a rake to sweep the money, sending Knight into the pool.
This was a great series of segments between the two men. It was great to see Grimes have a smile on his face throughout and eventually get the upper hand over LA Knight, despite being in a weaker position. Hopefully, we see more of this pair in the future and see plenty of segments like this in the future as both men have plenty of charisma and chemistry working together.
1. Johnny Gargano and Karrion Kross battle for the NXT Championship with Samoa Joe as special guest referee. 
Tensions between Samoa Joe and the NXT Champion, Karrion Kross would continue to grow this week as Samoa Joe was appointed special guest referee for the NXT Championship match between Johnny Gargano and Karrion Kross. Gargano and Kross would put on a great match as Gargano embraced the Johnny Wrestling of old embracing the fans as he pushed Kross throughout the match.
Gargano would show no fear against Kross, attacking the NXT Champion during the match introduction, however, Kross would get the upper hand sending Gargano to the corner and hitting Gargano with a snap suplex. Despite Gargano managing to hit Kross with a dropkick outside the ring and following it up with a running flip from the apron, Kross would get right back up and attack Gargano with Kross picking up Gargano by his neck and slamming him back into the edge of the announce table. Kross would then dominate Gargano throughout the match but Gargano would mount a comeback and embrace the Johnny Wrestling of old, hit Kross with a slingshot spear and hitting Kross with a suicide dive. However, Kross would then get the upper hand as he blocked One Final Beat and hit a Northern Lights suplex and hit a vertical suplex to regain control. Late in the match, Kross would apply the Kross Jacket on Gargano with Gargano just making it to the ropes. It would create more tension between Samoa Joe and Karrion Kross as Joe put his hands on Kross after Kross refused to break the hold. Both men would argue yet again after Kross tried to attack Gargano with steel steps outside the ring forcing Joe to put his hands on Kross yet again. This would allow Gargano to hit the suicide dive into a DDT on Kross, with Gargano throwing Kross back in the ring and following it up with One Final Beat for a nearfall.
Gargano would continue to embrace the Johnny Wrestling of old, attempting a DIY superkick but Kross would reverse it and would dominate Gargano, hitting Gargano with suplexes and powerbomb. Kross would then go to the corner and finish things with an elbow to the back of the neck to retain the NXT Championship. After the match, Joe and Kross would argue yet again with Kross putting Joe in the Kross jacket to close the show.
These were my top 5 moments from another action-packed edition of the black and yellow brand. What were your top 5 moments from NXT and as RAW and SmackDown begin to return to live crowds on the road, what would your thoughts be for NXT returning home to Full Sail University and leaving the Capital Wrestling Centre? Let us know your thoughts and opinions in the comment section down below 
Top 5 World Championship Reigns In The WWE Modern Era (1984 to Present)
See the lists developed by PC Tunney, Greg DeMarco, and Patrick O'Dowd as they determine the five best world championship reigns in the modern era of WWE!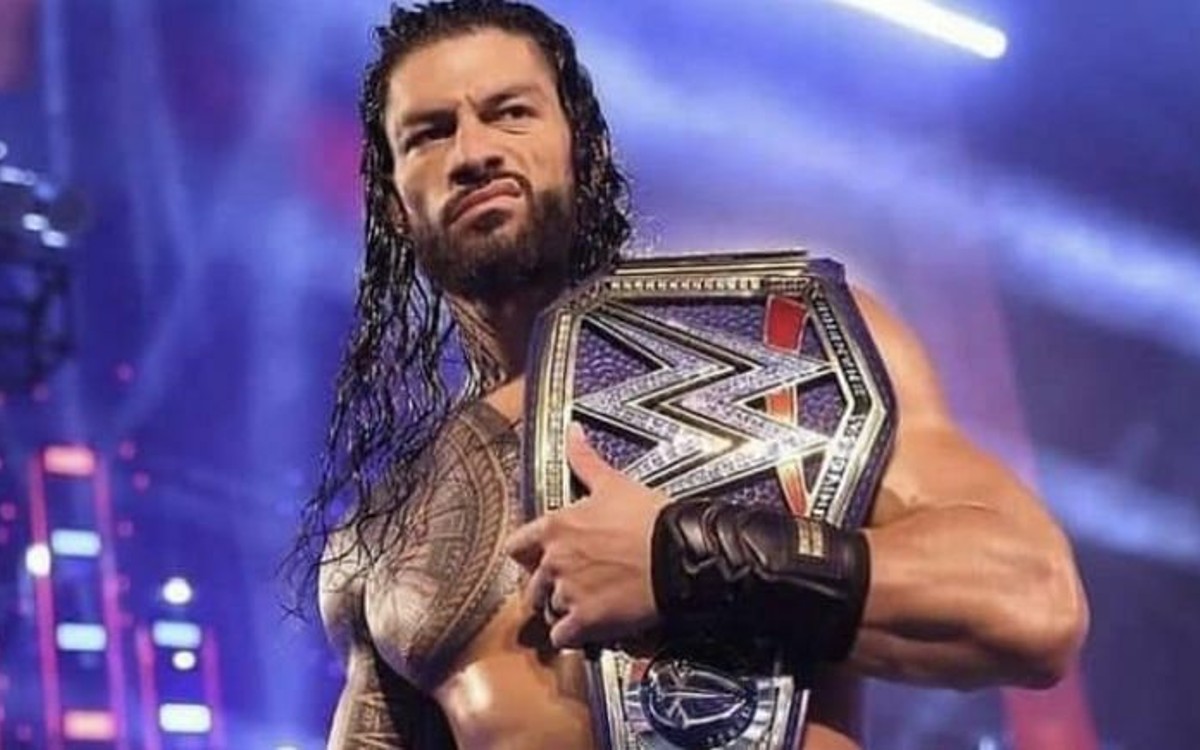 See the lists developed by PC Tunney, Greg DeMarco, and Patrick O'Dowd as they determine the five best world championship reigns in the modern era of WWE!
Wrestling is one of the most fun topics under which we can rank nearly everything. A simple Google search will reveal entire websites devoted to rankings–wrestling or otherwise.
PC Tunney devised an idea, and I developed a name. Thus, the Impromptu Wrestling Convo (aka, The IWC) was born. The first topic? Top 5 World Championship Reigns In The WWE Modern Era.
PC Tunney, Patrick O'Dowd, and myself each came up with our Top 5, and came together to reveal them on this special podcast (see it above, and below). Definitely give it a listen. But here you can also read our composite list, and see who ranked in our Top 5.
Grading Criteria:
Points were assigned for the rankings: 5 points for #1, 4 points for #2, and so on.
Ties would likely have been left as ties, but (luckily for me) there were no ties in the Top 5, making that part easy.
Any reign starting with Hulk Hogan's first was eligible to be included.
And now, the list!
Powered by RedCircle
Top 5 World Championship Reigns In The WWE Modern Era
5. Brock Lesnar, 2014
Starting with his dismantling of John Cena at SummerSlam (which was supposed to be Daniel Bryan), Brock Lesnar had a reign that included an incredible triple threat match with Seth Rollins and John Cena at the 2015 Royal Runble, and of course the WrestleMania 31 main event clash with Roman Reigns that ended in Seth Rollins' iconic cash-in. This reign is mainly notable for how it starts and how it finishes, as there was but one bright spot in the middle.
4. John Cena, 2005
Not the longest John Cena world title reign, but Cena's run as WWE Champion started at WrestleMania 21 and ended with the first ever Money In The Bank cash-in at New Year's Revolution. This cemented Cena as the top dog in WWE, complete with a move to Raw in the draft, and the emergence of "Super Cena."
3. CM Punk, 2011
454 Days that no one will ever forget, CM Punk dominated WWE television in a reign that was ultimately cut short by The Rock. Punk didn't main event WrestleMania 28, facing Chris Jericho before the "Once In A Lifetime" clash between The Rock and John Cena. This ended at the following Royal Rumble at the hands of The Rock, who would go on to lose that title to Rumble winner John Cena at WrestleMania 29.
2. Roman Reigns, 2020
The present-day WWE Universal Champion nearly tops the list, but what remains to be seen is just how long he holds the title, and how it ends. Roman Reigns is on a monumental ride, with no signs of slowing down. We will see if the emergence of a new megastar ends this journey, or if Hollywood comes calling first. Either way, this will end up being acknowledged as one of the all time great championship reigns.
1. Hulk Hogan, 1984
Hulk Hogan began his 1,474 day reign as WWF Champion on January 23, 1984, defeating The Iron Sheik in Madison Square Garden. Hogan would kick off the Rock-N-Wrestling Era, launching WWE into a stratosphere not seen by any other wrestling company, ever. Outside of an 83 week stretch, no one could touch WWE, and that stretch was fronted by Hogan himself. His reign ended in controversy (something about Andre The Giant selling the championship to Ted Dibiase, evil twin referees, and a tournament at WrestleMania IV), but it still goes down as the greatest ever.
Others getting mentioned:
Jinder Mahal, 2016 (yes, that was mine)
Brock Lesnar, 2017 (by PC Tunney)
Randy Savage, 1988 (Patrick O'Dowd's)
John Cena, 2006 (by Tunney)
To see how each talent was listed, and by who, I made this chart. Keep in mind, a "5" means they were #1 on that person's list, a "4" is #2, "3" is #3, "2" is #4, and a "1" is #5.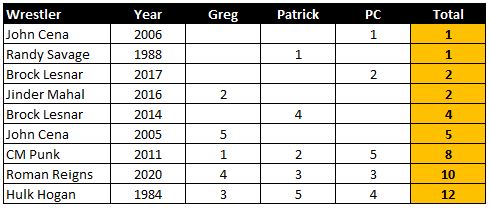 What are your thoughts? Drop them in the comments below, or on social media! Also, give the podcast a listen, it's streaming throughout this article.
News From Cook's Corner 1.17.22: Gory Self-Mutilation
AEW tried to catch lightning in a bottle for the second time. Did it work? What other news struck last week?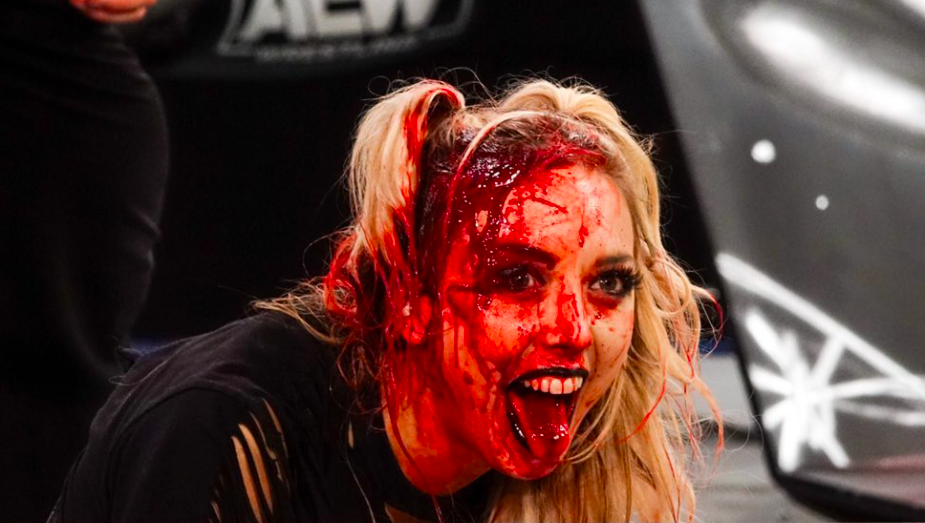 Hi, hello & welcome to News From Cook's Corner! We've got a short column for you this week, which most of you were probably expecting when the Cincinnati Bengals actually on a playoff game. Nah, I didn't party too much, just had an allergic reaction with my eye again. We've done this before. This time I'm pretty sure it had something to do with cleaning my bookshelf and rearranging my books. Hadn't done that in awhile, so there was a ton of duct. Sitting down and looking at a computer screen sucks, so we have to limit it as much as possible.
There's still a couple things that warrant discussion though, so let's get to it.
WWE On The Offensive
Looks like this week's top stories are about WWE trying to do things to undermine wrestling promotions. We start with Major League Wrestling, who has filed a federal anti-trust lawsuit against WWE claiming that WWE has interfered with their ability to make various media rights deals.
Some of the highlights:
-Former WWE executive Susan Levison allegedly warned an executive from VICE that Vince McMahon was "pissed" they were airing MLW programming. MLW claims that WWE had leverage over VICE due to the Dark Side of the Ring series often being focused on WWE subject matter.
-MLW alleges that when WWE found out about their agreement with Tubi, WWE threatened to stop doing business with Fox. The fallout from the Tubi agreement falling through led to a drop in ticket sales & event cancellations & delays.
-As an example of WWE's anticompetitive behavior, MLW cited AEW being held out of two arenas in the Cincinnati market due to pressure from WWE. Jon Moxley wrote in his book that the Heritage Bank Center on Cincy's riverfront refused to book AEW due to WWE influence. I don't know the other, could be the BB&T Arena across the river on the campus of Northern Kentucky University where WWE has held house shows. AEW wound up running the Fifth Third Arena on the campus of the University of Cincinnati, and outdrew the Raw taping held at the HBC just prior.
-Apparently starting in early 2020, WWE started trying to poach MLW wrestlers that were under contract, and aired footage of an MLW wrestler without MLW's consent. (Somebody would have to fill me in on this one, I haven't the slightest idea who this would be.) MLW also claims that WWE sought to prevent wrestlers from working with MLW by refusing to hire wrestlers that had worked there, and that one MLW wrestler demanded to be released early from his contract so he could join WWE.
Do I think that at least some of these allegations are true? Having followed pro wrestling for over thirty years and having read up on the history of WWE…you betcha!
I don't think there's a question that WWE has resorted to any means necessary to drive potential competitors out of their market. They've been doing this since taking most of the territories' top stars back in the mid-1980s. It's been a monopoly for nearly two decades for a reason. The main question I have: Will a judge actually care, or will they throw it out of court because it's silly pro wrestling?
How do you think WWE slips under the radar on things that other media companies & sports leagues actually have to deal with? People have been trained to not take WWE seriously. As much as people like us obsess over the rasslin' business, people that don't "get it" are happy to ignore it. Vince McMahon can do any darn thing he wants, and the reaction from folks outside the wrestling bubble will be non-existent. It's wrestling! To outsiders, the whole damn thing is an outlaw mudshow.
AEW = Gory Self-Mutilation
The Toronto Sun did an article on All Elite Wrestling over the weekend, talking about their status as a competitor to WWE. They asked WWE for comment & got one:
"If you look at the gory self-mutilation that bloodied several women in the December 31 event on TNT, it quickly becomes clear that these are very different businesses. We had an edgier product in the `Attitude' era and in a 2022 world, we don't believe that type of dangerous and brutal display is appealing to network partners, sponsors, venues, children, or the general public as a whole."
A few notes here:
1. I've been doing this stuff longer than I care to admit, and I never thought of asking WWE for comment on something. Should I start asking people for comments on topics I'm writing about? I doubt I'd get any answers, but it might be worth a shot.
2. This has been WWE's strategy when asked about AEW for some time now. We remember Vince McMahon using the phrase "Blood & Guts" to describe the promotion on a conference call. They know that people get squeamish about blood, especially when it comes to blood coming from women. The Fabulous Moolah never busted anybody open on television, and she trained most of the women for years. People aren't used to seeing it, and they often get uncomfortable with things they aren't used to seeing.
3. Most people find other people bleeding pretty gross. There's a reason why deathmatch wrestling is a niche produxct. People that love it really, really love it, but it's a very small percentage of the marketplace.
4. WWE's belief is that advertisers & media companies aren't big on blood, so they make sure to mention AEW's apparent lust for the red stuff whenever the subject comes up. Their hope is that advertisers will shy away from advertising with AEW, and media companies won't give AEW big money when their current deal with WarnerMedia is up.
5. Thus far, whenever Tony Khan is criticized on something, he doubles down on it. So there's a pretty good chance that we're going to see even more matches with female bleeding. AEW's female workers seem happy to do it.
🐇🔪🖤 pic.twitter.com/WswDnqeKQ5

— The Bunny 🐇 (@AllieWrestling) January 15, 2022
6. WWE could be called out as being hypocritical on this front, but there aren't many people that will hold them accountable.
It'll be interesting to see how this goes. All I know for sure is that the smack talk between these two promotions and their fans is just beginning. Think it's tocic now? Wait a couple of years.
Welp, that's all for this week. Thanks for reading! Join me later in the week for some Divisional Round picks. Until then, keep your stick on the ice.
In Memoriam: Pete was a longtime reader from back in the day. From my dealings with him he was a kind person that knew how to use his head. When you've written things on the Internet as long as I have, you learn that's a rare thing. From what I've read from people that knew him in real life, he was the same way off the computer. Sadly he passed away from cancer on Friday night. Pete was always about serving others, as he was a U.S. Air Force veteran & a regular blood donor. He will be missed.