BWN Nerds' Movie Review: Howard the Duck (1986)
PC Tunney weighs in on an 80s classic that seems to have turned the Nerds a little upside down. Do they laugh at a master of Quack Fu?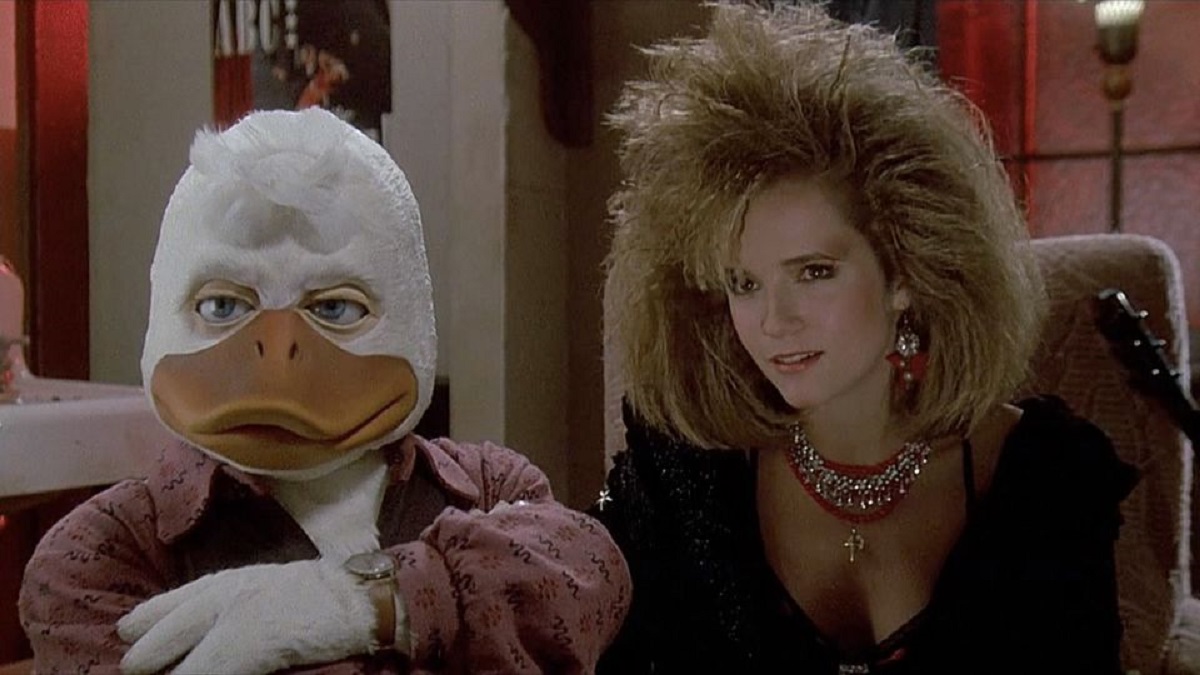 Welcome to this week's edition of the Nerd Review!  Every week the Nerds give you their take on a different movie from the Nerdosphere.  This week, Dave and Patrick for the first time welcome PC Tunney who couldn't pass up the opportunity to review his favorite DC, I mean Marvel movie, Howard the Duck
The Flick:  Howard the Duck (1986)
What's it About:  Howard the Duck was settling in for an evening at home when a mysterious beam rips him from his home and drops him on another planet…Earth.  Befriended by the lovely musician Beverly, Howard quickly learns he may be destined to save Earth and possibly the Universe.
Metacritic Score: 28
The Nerds' Take on Howard the Duck (1986):
Dave: As a child of the 80's, I have often gone on record as saying that the 80's were the greatest decade in history for music, movies, and TV. 1986's Howard The Duck is a not so subtle reminder that not everything from the 1980's was gold.
From the moment that PC Tunney mistakenly thought that Howard The Duck was a DC hero, this movie was on our radar. Of course, Howard is actually a Marvel character who achieved an unexpected following in the late 70's and early 80's. This led George Lucas and Marvel to turn Howard into a live-action movie. Howard The Duck is, technically speaking, the very first Marvel movie. It is clear that Marvel has learned a lot since this initial foray as this first attempt led to a very odd movie to say the least.
In Howard The Duck, Howard is just chilling on Duck World, a parallel world to our own where ducks have evolved from mere water fowl to more humanoid like creatures who maintained their duck like appearance. As Howard is perusing the latest issue of PlayDuck he is ripped from his living room by some sort of laser beam and teleported across the cosmos to Earth where he crash lands in……Cleveland of all places. He soon meets Beverly, a struggling musician. Beverly takes an active interest in Howard and tries to help him get back to his home world. Along the way, the two get involved with Phil Blumberet, a janitor at a local lab, and Dr. Walter Jenning. Jenning explains that a malfunction with a laser spectroscope they were using was what caused Howard to be brought to Earth. When they try to reverse the process, a different portal is opened and a Dark Overlord comes through. The Dark Overlord takes possession of Jenning's body and has designs on opening the portal again so that the rest of his demon buddies can also come to Earth and take over. This creates the primary conflict for the movie as Howard, Beverly, and Phil all combine to foil this evil plan and save the day.
The problems with this movie are plentiful. The movie is just odd in so many ways. Granted, a lot of super-hero movies are odd but this one is different. It takes a long while for things to really get going and when we finally get there, the plot is just not that interesting or original. Even by 1986 standards, the notion of a dark menace threatening the world had been done many times before and, in general, done much better. The dialog is pretty weak, especially from Beverly. Her reactions to various events are very predictable, annoying, and over the top, even by 80's standards. The movie is too campy for its own good. Compare and contrast Howard The Duck to Flash Gordon.  The latter shows how campiness can equate to a classic. Howard The Duck almost seems like it was going out of its way to be campy and it just does not work. It has to be noted that not even Lea Thompson (who played Beverly) or the magnificent Tim Robbins (who plays Phil) could salvage some of the more awkward moments in the movie. Ultimately, I felt very bored and uninterested in a lot of what was going on. The special effects (with the exception of Howard) are just bad. This is particularly surprising because George Lucas is the Executive Producer and this movie comes out nearly a full decade after Lucas redefined special effects with Star Wars. It just all adds up to a subpar experience on many levels.
Now, it is not all bad. Howard is done quite well and the special effects here are good as you genuinely believe that this is Howard The Duck. They also made Howard look a lot like he did in the comics, especially his team ups with the Guardians of the Galaxy. Howard does not really have super powers, per se, but he is a master of Quack Fu and I thought the movie captured this pretty well. But there are other places where the movie could have stayed truer to the comics and I think that would have helped. In the comics, Howard ends up in the Everglades first, has an adventure, and then ends up in Cleveland where he and Beverly end up in a very odd relationship, to say the least. The movie dances around this relationship in many places and does it in a way that is a bit uncomfortable to watch. That aside though, the movie falls into the familiar trap of trying to merge story lines together in the belief that it will make for a more compelling movie. As we have seen with titles such as Spider-Man 3 or Batman v Superman, which does not usually work out so well. Such is the case here as the merging of Howard's origin story with a subsequent adventure makes the movie feel disjointed and uneven.
I know there are many people who absolutely love this movie. I am not one of them. I love the Howard The Duck character and there is enough stuff going on with the direction the MCU is presently heading that we may very well see more of Howard than a barely noticeable cameo of him walking through a portal near the end of Endgame or a nod to him in Guardians. There are some fun moments in Howard The Duck (such as the Ultralight chase scene) but, sadly, I cannot really give this one my stamp of approval.
Dave's Rating: 2.25/5
PC Tunney: While you can find me all over this website, I rarely put the figurative or literal pen to paper. Apparently, all it took was an epic fail on my part and a duck named Howard. I have long enjoyed this movie's title character and George Lucas' big screen plot. Before I get into the movie, let me give you a little known piece of Lucas history. Prior to this movie Mr. Lucas had just built his $50 million dollar Skywalker Ranch and was counting on this Marvel of a duck to lighten that monetary blow. After the movie basically bombed at the box office Lucas resorted to selling his newly founded CGI animation division to good friend Steve Jobs to get his pocket book right again. We now know this division as Pixar Animation Studios.
As a wrestling and comic fan all my life it is easier for me to suspend my disbelief than most. However, I do get the disconnect the majority of movie goers displayed via low box office numbers. Scientists make space laser. Said laser brings an anthropomorphic duck to earth from a planet where ducks and not apes evolve into the dominant species. Duck finds up and coming all girl rock band. Lead singer helps duck save the universe. Although I can tell you the less you think about it the better your movie watching experience will get.
Going back and watching this movie so many years later the thing I enjoyed most was the cast surrounding Howard. Lea Thompson as Beverly Switzler is a definite highlight of the film. Sweet, sassy and sexy are all easily portrayed by the up and coming actress of the time. Jeffery Jones, best known for playing the principle in Ferris Buehler's Day Off, easily lends his acting talent to his role as scientist Dr. Walter Jenning and soon to be villainous Dark Overlord. Tim Robbins delivers the best performance of the movie for me. Playing the young aspiring scientist, Phil Blumburtt, whose quirks and aspirations both help and hurt his ability to connect with the people he has surrounded himself with. Let's not forget a young Holly Robinson(Peete) as part of this cast as well. A real treat to see these three accomplished actors delivering there craft some thirty-five years ago.
My favorite part of the movie is before Howard gets pulled from his home planet. Living a seemingly relatable humanoid-duck life. A job that is bearable, parents that are overbearing, a fridge full of beer and the latest copy of Playduck. When Bev goes through Howard's wallet (post laser trip to earth) finding some ID, a Bloomingduck's card, bills that have presidents with bills and a seemingly duck tailored condemn… I was hooked!
Is this an Oscar worthy film filled with performances of a lifetime? No. Does this movie display the greatest movie magic of its time? No. Where this film delivers is in imagination, comedy and the ability to connect with a duck who feels more like an everyday guy trying to make heads and tails of a crazy situation. So cheers to you Howard the Duck and thanks for saving the world!
Tunney's Rating: 4/5
Patrick: George Lucas is a beloved figure in cinema and over many years during his storied career he has entertained millions with his vivid science fiction films.  Howard the Duck is not one of those movies.  Made in 1986 George Lucas carries an Executive Producer credit on this clunker of a film made well after the magic of Return of the Jedi.  Panned by critics, Lucas made every effort to distance himself from this Marvel property directed by William Huyck.  Eight year old Patrick didn't care about any of that.  Patrick loved him some Howard the Duck.  As I sit here typing what will be a surprisingly positive review, it's clear that the kid in me is still thoroughly entertained by this movie.
Based on the Marvel comic of the same name, Howard the Duck follows the titular foul as he is pulled from his home planet of anthropomorphic ducks by a mysterious light.  Howard is thrust through the Universe before landing on Earth in the city of Cleveland.  Lost and alone, Howard meets the lovely musician Beverly, who take Howard in and tries to help Howard find his way home.  Beverly takes Howard to her friend and not quite a scientist Phil for help.  Through Phil, Howard meets scientist Dr. William Jenning.  Jenning was responsible for firing the laser into space that pulled Howard to Earth.  Jenning agrees to fire the laser a second time to send Howard home.  Unfortunately when he does, Jennings accidentally pulls one of the Dark Overlords of the Universe to Earth.  The Overlord possesses Jennings and proceeds to try to and bring more of his fellow Overlords to Earth and destroy mankind.  Only Howard can hope to save the day.
I was legitimately surprised at some of the actors who appeared in this film.  Front and center is Lea Thompson who plays Beverly.  She brings a wholesome sweetness that is entertaining, if not a bit overdone.  A young Tim Robbins plays Phil, and frankly is a complete ham for most of the film.  Granted, what should we expect of any performance out of this film?  The best human actor has to go to famed character actor Jeffrey Jones as Dr. Jennings.  Jone is probably most famous as the evil principle Ed Rooney from Ferris Bueller's Day Off.  Here he plays a kindly scientist well until being possessed by the dark Overlord.  Jones dives into the transformation and really chews up every moment of the film he is in.  It was clear he was having a blast making energy puns and shooting lasers from his eyes.
The real magic in the movie comes from bringing Howard to life.  The original plan was for Howard to be a completely digital character, however the technology of the time just wasn't up to the task.  This forced Huyck to move toward traditional puppetry as well as an actor in a suit.  Interestingly Lucasfilm developed the Howard puppet and he was constantly evolving over the course of the production.  Considering the ambitious nature of the task at hand, the result was a surprisingly strong looking creature.  It really was a film ahead of its time, maybe a bit too far ahead.
Ok, let's face it.  This movie is kinda dumb.  But it really is super fun in an off the wall, bonkers sort of way.  It's not hard to see why kids connected to this movie.   The film is loaded with duck puns that speak to a childish mind.  And the puppetry behind the creation of Howard is top notch for its time.  Kids everywhere were entertained by this thing.  Heck during the rewatch, the little O'Dowd was sucked in and could not be pulled away, so there was definitely something to the movie.  There's a second piece though too.  The movie is also a wee bit disturbing.  There are hints of bestiality, things get pretty dark when the Overlord comes on the scene, and there's just a ton of bizarre humor that fans of the comic probably appreciated, but really hurt the movie's mainstream potential.  For example, why in the world is there a sushi/country style diner in Cleveland?  The answer: it's weird and might elicit a chuckle.
And ultimately, that's why I think Howard the Duck failed.  Mainstream audiences just weren't ready for the bizarre world of Howard.  I wonder what would have happened had this movie been made a decade later.  When Howard appeared in three MCU films, fans actually were excited to see him.  Tastes have changed and I think the cult status Howard achieved in the eighties may have been more profitable had it been release today.
Patrick's Rating: 3.32/5.0
Overall Nerds' Rating for Howard the Duck (1986): 3.19/5.0
Bandwagon Nerds #138: Cookouts & Premiere Dates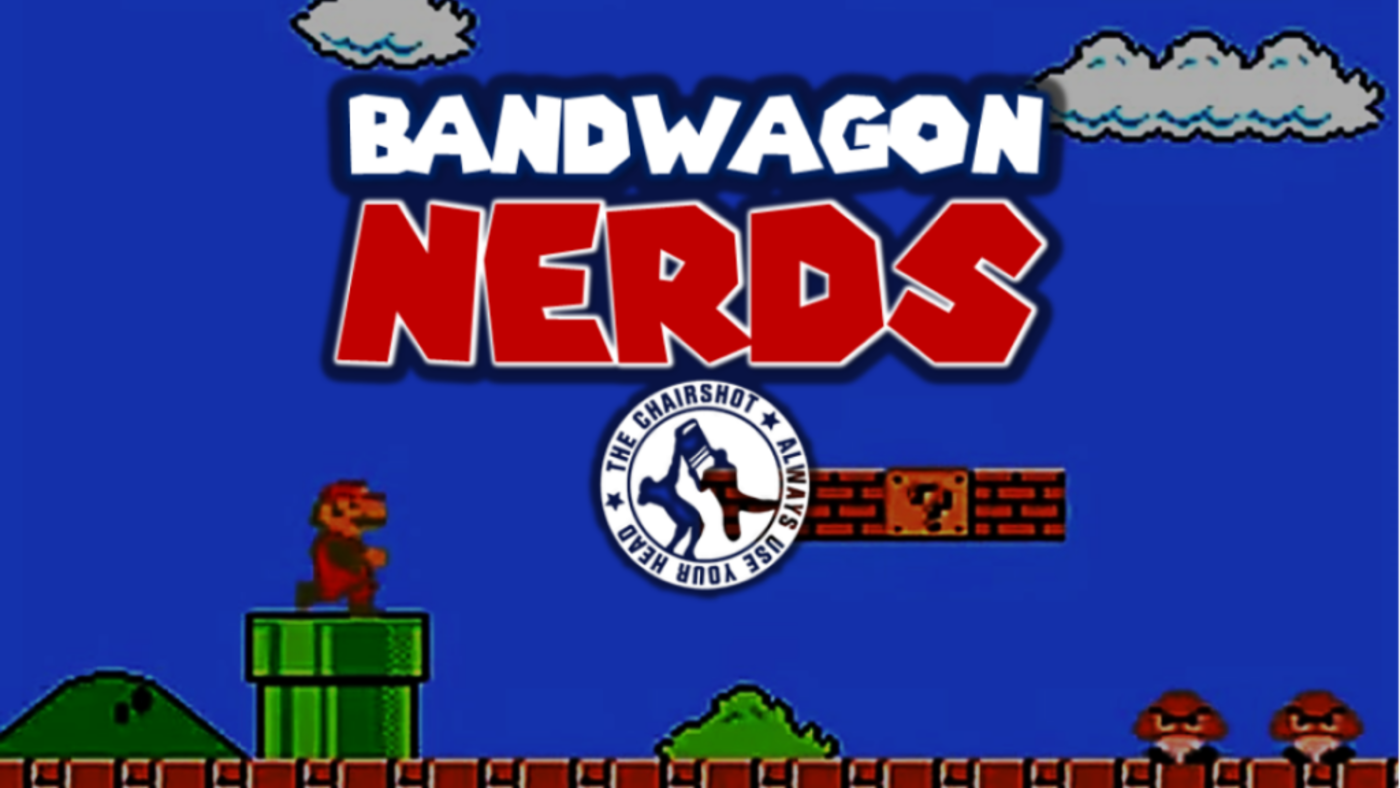 David Ungar returns from vacation and PC Tunney is heading to a cookout this week on the Bandwagon.  Patrick does his best to keep the guys focused with a review of the penultimate episode of The Boys season 3 and News around the Nerdosphere!  This week is dominated by release dates from Lucasfilm, Warner Brothers and NBC.  The guys ponder problems facing the upcoming the Star Wars films and discuss what upcoming shows they will (and won't) watch this fall.  Plus, all kinds of casting rumors are swirling around the MCU, the Nerds tell you which ones are worth buying and which ones are duds.
@WrestlngRealist

@AttitudeAgg
@itsReyCash
@PCTunney
@ViolentAesop
@therealcplatt
@ChairshotMedia
About Bandwagon Nerds
Join Patrick O'Dowd, David Ungar, PC Tunney and Rey Cash as they keep everyone up on all things nerd, and maybe add some new nerds along the way. It's the Bandwagon Nerds Podcast!
About the Chairshot Radio Network
Created in 2017, the Chairshot Radio Network presents you with the best in wrestling and wrestling crossover podcasts, including POD is WAR, Women's Wrestling Talk, The #Miranda Show, Badlands' Wrestling Mount Rushmores, The Outsider's Edge, DWI Podcast, Bandwagon Nerds, the Greg DeMarco Show, 3 Man Weave, Five Rounds, Turnbuckle Talk, Suwama's Station, The Reaction and more! You can find these great shows each week at theChairshot.com and through our distribution partners, including podcasting's most popular platforms.
---
The Chairshot Radio Network
Your home for the hardest hitting podcasts and radio shows!
Listen on your favorite platform!
iTunes  |  iHeart Radio  |  Google Play  |  Spotify
Listen, like, subscribe, and share!
---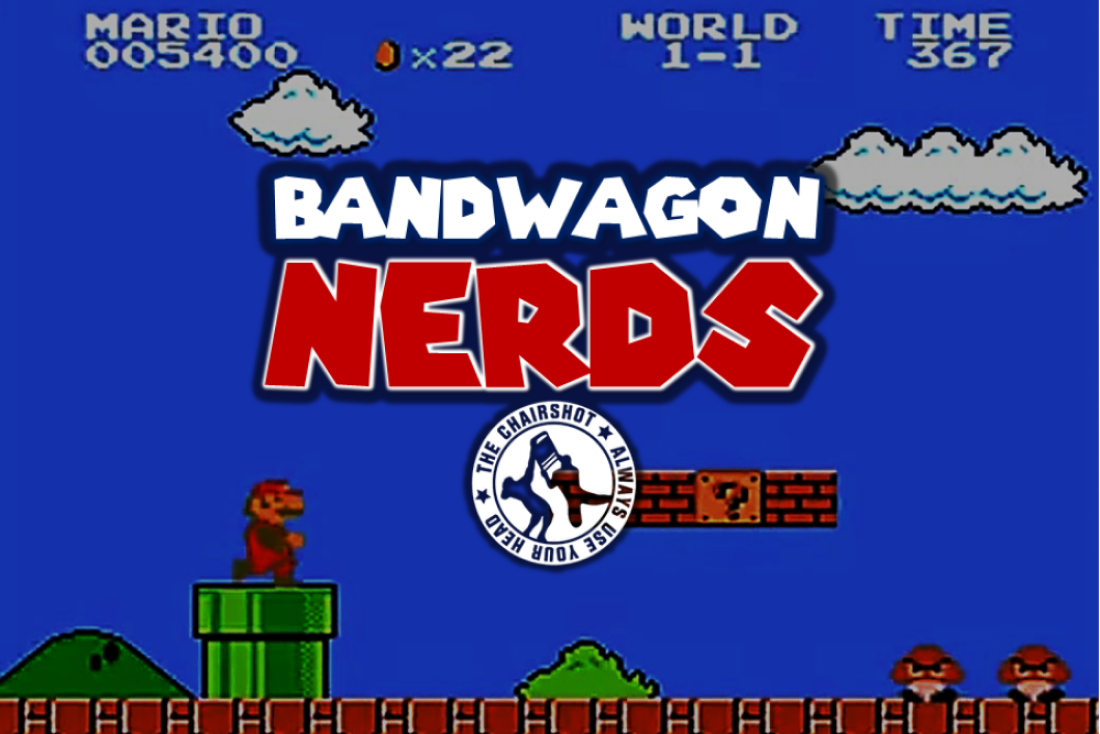 Chairshot Radio 5 by 5: SNL Films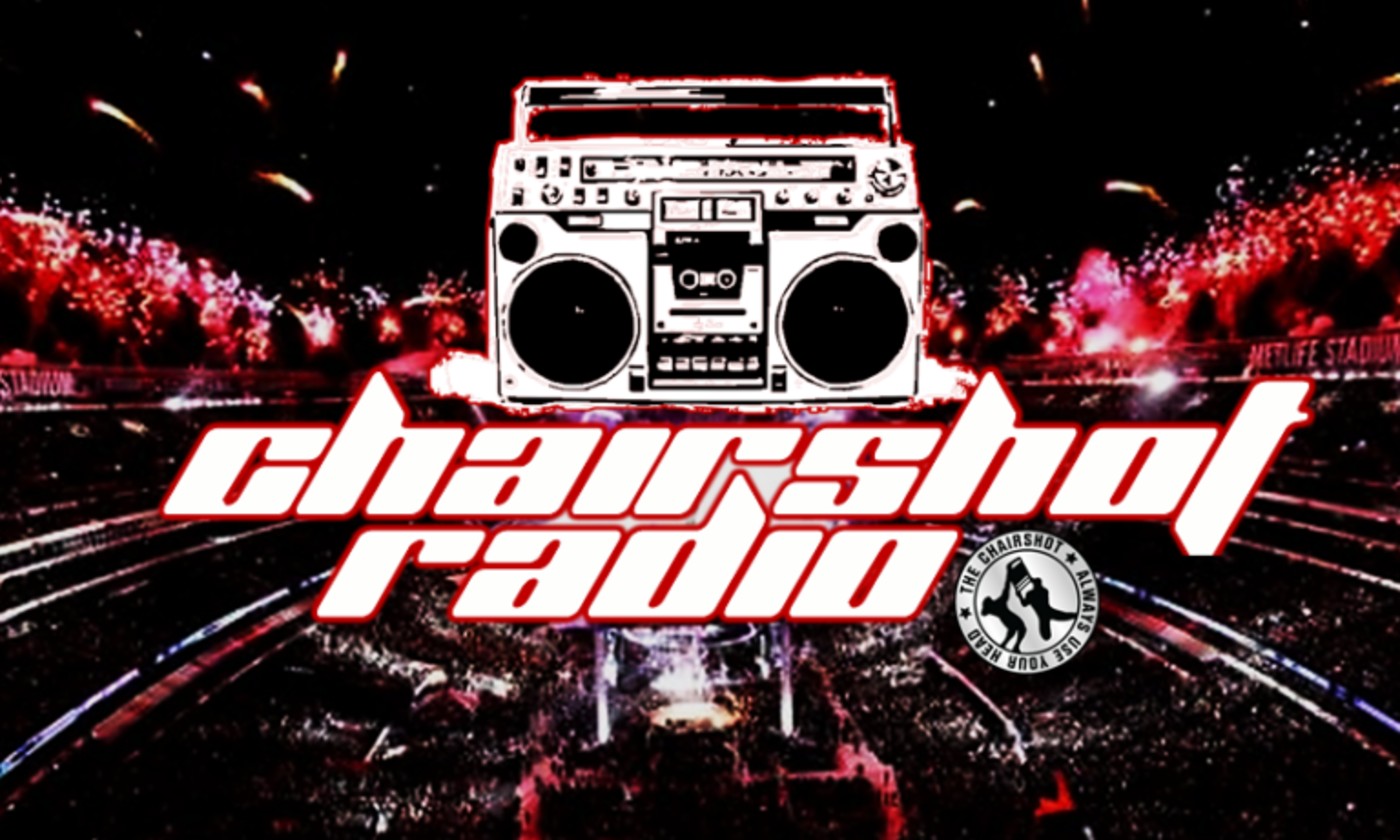 With Dave and Patrick both on vacation this week, Hockey Talk had to take a pause and will be back to reflect on the Stanley Cup Finals next week.  We all knows that means another edition of the Five by Five!  This week, "Mr. Saturday Night" PC Tunney returns to the show with Patrick to give you their list of the Five Best and Five worst SNL movies of all time.
Powered by RedCircle
About Chairshot Radio
The rebirth of Chairshot Radio will see a rotating cast of hosts delivering you new shows and content. Sports, Entertainment, and Sports Entertainment is the umbrella under which we seek to invade your earballs. So sit back, relax and LET US IN…
For the latest, greatest and up to date in everything pro wrestling, sports and entertainment head to TheChairshot.com and remember to ALWAYS #UseYourHead.
About the Chairshot Radio Network
Created in 2017, the Chairshot Radio Network presents you with the best in wrestling and wrestling crossover podcasts, including POD is WAR, Women's Wrestling Talk, Chairshot Radio daily editions, The #Miranda Show, Badlands' Wrestling Mount Rushmores, The Outsider's Edge, DWI Podcast, Bandwagon Nerds, the Greg DeMarco Show, 3 Man Weave, Five Rounds, Turnbuckle Talk, The Reaction and more! You can find these great shows each week at theChairshot.com and through our distribution partners, including podcasting's most popular platforms.
The Chairshot Radio Network
Your home for the hardest hitting podcasts and radio shows!
Listen on your favorite platform!
iTunes  |  iHeart Radio  |  Google Play  |  Spotify
Listen, like, subscribe, and share!
---