Andrew's AAA Triplemania 29 Results & Match Ratings: 8.14.2021
Triplemania 29 has some excitement thanks to Kenny Omega, Andrade and Deonna Purrazzo. What else goes on? Do we get a classic Lucha de Apuestas match?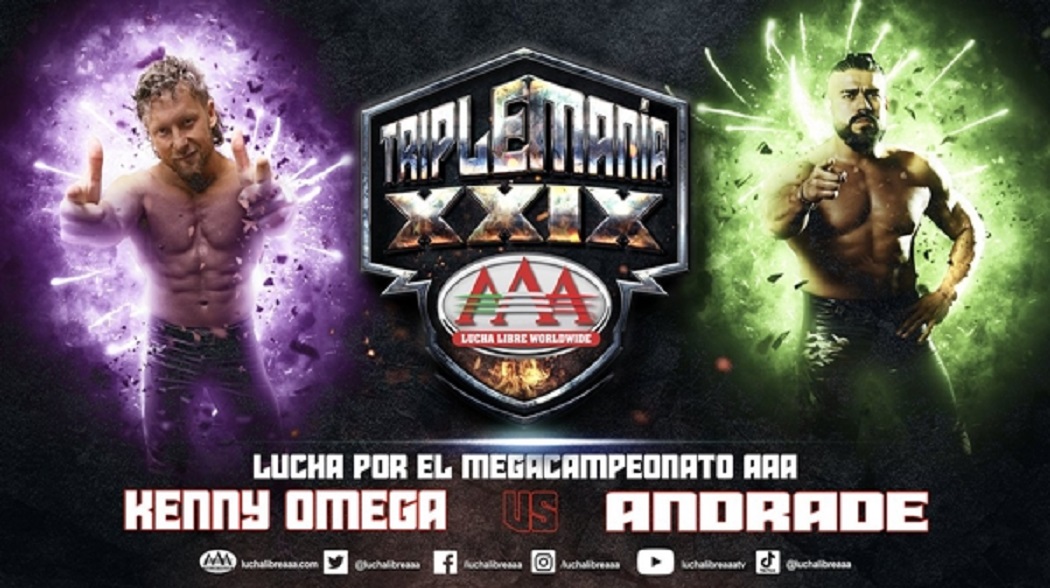 Now thanks to Andrade and Kenny Omega, Triplemania was on people's radar again for the first time in a while. I mean the last time I covered it was Triplemania 27 (combination of pandemic and a terrible card gave me no interest in 28). So let's see what the show looks like!
Around the same time Andrade made his challenge known for the Mega Championship, Deonna Purrazzo stepped up to Faby Apache to increase the global impact of the matches. So a big storyline beyond the obvious, is if Deonna Purrazzo can continue her dominance south of the border.
The tag title match should be a highlight as well since we're all aware of the Lucha Bros, Vikingo has made waves here or there and Laredo Kid has been on most people's radar. Taurus with the mystery partner is always threatening, but we'll see who he gets. There was a Tweet of Brian Cage on his way to Mexico…so we'll see where he slots.
Lucha de Apuestas is a Lucha tradition, so it always makes sense for that to be the main event. Psycho and Escoprion have a thin storyline at best. My understanding is it ties back to Psycho's father Brazo de Plata and some interesting stories that Rey Escorpion hasn't really been able to adequately pay off the last few years. They've had a few matches in the past, they've been trying to raise the stakes with worked shoot video attacks, but we'll see. It might not have the historical weight that like Dr. Wagner vs Psycho Clown or Dr. Wagner vs Blue Demon Jr; but is should still be a damn good match.
Ratings:
Marvel Lucha Libre: Team Leyender Americana vs Team Terror Purpra: Technicos win – ***
Copa Bardahl: Mr. Iguana – *
Champion vs Champion: Knockouts Championship/Reina de Reinas Championship: Deonna Purrazzo (c) vs Faby Apache (c): Deonna wins via Venus de Milo – *** ¼ – TITLE CHANGE!!
AAA World Tag Team Titles: Lucha Bros (c) vs Taurus & Brian Cage vs Jinetes del Aire (Hijo del Vikingo & Laredo Kid): Lucha Bros retain via Fear Factor Zero – ****
Team AAA (Pagano, Chessman & Murder Clown) vs La Empresa (Puma King, DMT Azul & Sam Adonis): La Empresa wins via Sucking Less or…Better? – ¼*
AAA Mega Championship: Kenny Omega (c) vs Andrade el Idolo: Omega retains via One Winged Angel – *** ¾
Lucha de Apuestas: Mask vs Hair: Psycho Clown vs Rey Escorpion: Psycho Clown wins via Escalera Sunset Roll- **** ½
Results:
Marvel Lucha Libre: Team Leyender Americana vs Team Terror Purpra
Yes even with anyone's limited understanding of Spanish, Marvel Lucha Libre is very simply, Marvel inspired Luchadors. So it's team Captain America vs Team Thanos.
This was…this was definitely something that wouldn't fly in the states, and I don't just mean for possible trademark issues. This was just a lot of fun high spots, different moments where "oh no the bad guys were winning" but then the good guys made a comeback.
Hell this made me think of the parade fight in Jingle All the Way with Turbo Man and the little color coded cronies. It was amusing, then right before Thanos (possibly Brian Cage) won, the Hulk crashed through a wall and kept Thanos at bay while Spiderman and Cap hit a combination move to pin Venom.
Afterwards, Loki was on the screen basically saying it's only just begun, typical bad guy stuff. This was…I suppose slightly better than the usual Keys to the Future match we got in previous years.
Copa Bardahl
Mysteziz Jr shows up first carrying his lucha masked little one, followed by Carta Brava Jr, who I'm pretty sure is married to Super Porky's daughter Goya Kong, so he might be a dark horse to win. Mysteziz (Caristico/Sin Cara) I thought was still in CMLL, so I wasn't expecting him at all. Aramis comes out next while Mysteziz and Brava aren't doing anything of high difficulty. Tito Santana comes out! No not the former WWE wrestler, the Poder del Norte member, so Brava has some help. Drago is next out, I don't think anyone got eliminated yet…but this has been quick so far. Nino Hambuguesa is next and it's not in a tag match with Big Mami for a change! Macho Cota Jr is next, Jesus, all of Poder del Norte is out there. Super Fly and La Parka Negra…just come out. Mr Iguana is next…I think the random run ins were disposed of. But as usual with the Battle Royal, this is a crazy mess…oh there goes Drago.
Aramis eliminated himself to jump onto La Parka Negra? Pipenella Escarlata is out next while I still try to figure out why Aramis pulled a Mil Mascaras and why Poder del Norte looks like crap when they have all 3 of their members in there. Nino eliminates all the Norte members except Carta, but Carta eliminates Nino. Villano III Jr, oh yeah I forgot he existed. Octagon Jr is randomly at the announce table, while Escarlata keeps trying to for kisses. Mamba comes out next. Argenis is next and I have no clue who that is. Villano gets eliminated, Escarlata eliminates Mamba while they get eliminated at the same time.
Argenis takes Mysteziz on a trip outside of the ring off the top corner via a Spanish Fly into a pile of people. Brava and Iguana are the last two, Brava looks to have it all locked up until Iguana breaks the submission with…his rubber iguana or something? Then he goes up into an Electric Chair position, Tornado Bulldog and…Mr. Iguana wins. Dude…what?
It's an awful mess, but it's like a car crash…or Jersey Shore. I just…can't…look away.
Neuva Generacion Dinamita walk out to notable surprise from commentary and the crowd even pops a bit more than they have all night so far. A big steal from CMLL, as they beat the hell out Iguana, hit a triple tandem finisher and then wipe out security, referees, Mysteziz (I think) then Octagon Jr flips into the ring only to get punched in the face and destroyed. So they definitely made the impact of an outsider group leaving a mark on AAA mainstays.
After NGD say their piece, Poder del Norte come out to square off which is a little silly since they just got wrecked with a teamwork advantage. But La Empresaalso hit the ring ahead of their match to beat down Poder del Norte which adds heat to La Empressa's later match and seems like a pretty decent force to be reckoned with. God…Poder del Norte suck.
Champion vs Champion: Knockouts Championship/Reina de Reinas Championship: Deonna Purrazzo (c) vs Faby Apache (c)
Faby comes out with Lady Shani, and Deonna has Lady Maravilla, but then we see the crappy crooked referee Tirante is the referee. So we know this will be heavily slanted towards Deonna.
The early going is decent chain wrestling, which seems pretty even until Faby catches Deonna with a Snap DDT. Then we get an assortment of Maravilla, Tirante and Deonna causing shortcut moments for the Rudos. It's not really taking away from the wrestling, it's just speeding up the desperation since Faby is 1 v 3 for a lot of this.
Faby does find great hope spots early, even countering Deonna's float over Fujiwara, into a Reverse Figure Four. A quick tie up, turns into a spinning DDT for Faby, then an Enzuigiri, and a slow count from Tirante. Deonna gets a small flurry and that turns into a quick count near fall. Lots of great chain wrestling from the women, where they duck lariats and go into locomotion suplexes.
Deonna attempts Queen's Gambit, Faby counters and hits a Butterfly Piledriver. Then Faby goes to the top rope, but the referee is helping Deonna up, so Faby hits a Tijeras on Tirante. Then Maravilla attacks, but Faby Superkicks her, Tirante attacks with a Lariat, but Faby ducks, hits a Sattelite Arm Drag…yes on the referee, and Faby looks strong but the numbers catch up to her. Deonna hits Queen's Gambit, Maravilla attacks Shani so she can't make a save then Deonna applies the Venus de Milo and Faby apparently submits. Or at least that's what Tirante said.
So Deonna is now double champion! Como se dice, Virtuosa en Espanol?
AAA World Tag Team Titles: Lucha Bros (c) vs Taurus & Brian Cage vs Jinetes del Aire (Hijo del Vikingo & Laredo Kid)
Well stab me with a rusty knife and call is macaroni, because this match started crazy and never stopped. Fenix, Laredo and Taurus technically started the match, too bad it broke down 6 seconds in.  And from then we just get a ton of spots and a ton of "POR POQUITO".
Cage looked like a monster, catching Laredo with Penta on his back, doing the combination Fallaway/Samoan Drop. Then a later spot had him catch Vikingo mid flip and Jackhammer him. Vikingo and Laredo did a great job at making the most of the Air Riders name. So much high impact, inverted Springboards, 450s, 054s, Shooting Star Pressed, 720 from Vikingo and it was all only for a near fall.
Lucha Bros pulled off their signatures, Penta Driver, Double Superkick, Penta's strut, Animo, attempted the Spiked Fear Factor, but Laredo kid hit the Tijeras on Fenix and Vikingo almost won with another 720. Taurus and Cage stop that, Taurus hits an Avalanche Scoop Slam, but Penta runs up Taurus' back, Mexican Destroyers Cage, then they focus on the Air Riders, Fear Factor Zero and the Lucha Bros retain!
Now I walked away to get a drink, and come back and see Konnan approaching Kenny Omega with a business proposition. Okay…not sure if this will just further the ongoing angle with him and Vampiro, or if we're going elsewhere.
Team AAA (Pagano, Chessman & Murder Clown) vs La Empresa (Puma King, DMT Azul & Sam Adonis)
Okay this match…is a trashcan. Sam Adonis starts talking crap to Marisela Pena on the outside, then we get the 3v3 donnybrook. And just a lot of sloppy crash spots, botched moves, double clutched dives, but it's what you get with Chessman and Pagano.
Garbage, ladders and tables in the ring, stupidity, oh look Chessman and Pagano attack each other because it's not like they didn't have a match at the last Triplemania. Talk about the worst way to try and cloak a turn. I don't even care how La Empresa won, this match sucked.
AAA Mega Championship: Kenny Omega (c) vs Andrade el Idolo
We knew Konnan was gonna come out with Kenny because of his idea. But Andrade has a manager too! RIC FLAIR!
Now he changed his suspenders, but the referee is still Tirantes, so we know to expect a slant for the Rudos. This started off really solid, Andrade and Omega traded shots, traded ego and were pretty even, but Omega managed to get a small advantage when Idolo went for the Moonsault and Omega just shoved him off to the outside. He followed the push up with dropping Idolo on the guardrail and then into the chairs in the front row.
It took Idolo a while to start fighting back, but it wasn't a cake walk. Idolo counters You Can't Escape, pulls off a Triangle Tornillo, the Running Knees and even counters the Avalanche Dragon Suplex by Backflipping through it.
Tirante's involvement took a lot away from this match. The quick counts, the favoritism just seemed excessive, probably because that's been Omega's entire gimmick for the last few months; so it's just old. In the Deonna match it felt more like it just sped up the clock instead of inhibiting the action.
Konnan got involved, throws in the title, Flair gets in, grabs the title away; Flair and Andrade bounce Omega back and forth with chops, Double Figure Four spot, but Tirante comes to from the bump, kicks out Flair and stays conveniently distracted for Omega to grab the title again. This is just another stupid finish to most of Omega's title defenses, regardless of the belt.
I hope this is just a way to draw it out for Andrade to have a match on an AEW show for the Mega.
Lucha de Apuestas: Mask vs Hair: Psycho Clown vs Rey Escorpion
So for those who don't know, Brazo de Plata and Super Porky were the same wrestler. Thus, before this they did a nice memorial to him, with a video package and a few framed pictures. Rey Escorpion heels this up hard from the beginning, talks crap, then interrupts Psycho by cracking him with his own father's picture.
This whole match felt like a personal fight, it was rough, it was dirty, but it felt like a bar fight. Escorpion beat the hell out of psycho with chairs, baking sheets and tables. Psycho almost started a comeback after nearly getting his mask ripped off his face, but Escorpion cuts off the Dive with light tubes crashing over his head. Psycho was bleeding and just getting decimated for such a long time.
Psycho finally caught Escorpion with a Sole Butt and a few moves to try and get something going. Psycho finally hits his Dive, and then has a small run of offense. He hits a Face Wash with a baking sheet on Escoprion's face, a Tope con Tornillo, and then Escorpion manages to get a bottle. Escorpion swings, misses, Psycho grabs the bottle and cracks Escorpion. Then he slices him up with the broken bottle and the bar fight continues.
This was just a great dirty fight, lots of well-placed weapons to get across the personal feel and desperation, not just to have them littered in the ring. They both even hit great wrestling moves amidst the fighting. One really great spot being Escoprion is perched on the top, Psycho climbs up either looking for a Spanish Fly or Frankensteiner, Escorpion fights him off so now Clown is facing in toward the ring on the middle ropes, and Escorpion jumps from the corner into the Tijeras.
Eventually Escorpions faction jumps in to beat on Clown, but Clown fights back. His sister, Goya Kong was on the outside for him, and she comes into the ring with a hammer (questionable since they're playing face, so I was suspect immediately). Psycho seems all for the usage, but Goya turns on her own brother! Escorpion rolls up Psycho, and only gets a two! Escorpion throws Psycho into the ropes, Psycho flips up and over into a Sunset Flip pinfall.
Overall Score: 6/10
At the end Escorpion seemed to bury the hatchet, Psycho seemed to put Escorpion over pretty hard. Maybe Escorpion and Psycho will join forces? My Spanish is pretty good, but not when it's spoken quickly with a few different accents. So I'm curious was really came from that beyond seemingly putting the nail in the coffin.
This show though, God was it over booked with some garbage matches thrown in as well. I will say that the tag match was really great, Nueva Generecion Dinamita is a huge get and that main event was gorgeous. Poder del Norte do need just disband, they were damn embarrassing and I haven't followed AAA in a couple years.
Having to remember that Lucha Libre is portrayed differently, this was a fun show all things considered. There were still 2 matches that were hot garbage and gave me big Triplemania 25 vibes (which ain't good). So it wasn't a bad show, but it was definitely awkward at times and could have been a ton better.
Andrew's IMPACT Results & Match Ratings: 10.21.2021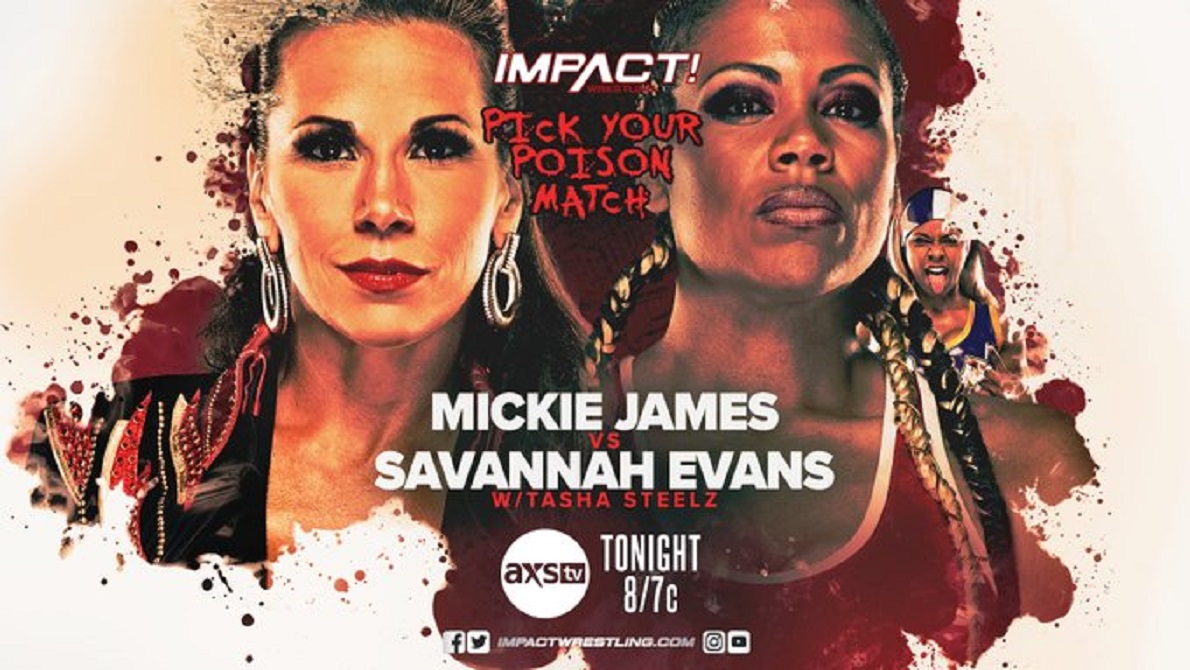 Bound for Glory is on Saturday! How does IMPACT! hype us up for one of their crowning PPVs of the year?!
We get to see Mickie in an IMPACT ring for the first since 2015, Heath tries to get answers out of Rhino and we'll probably see a lot of Josh Alexander and Christian Cage fleshing out the last little bits of the World Title match.
Aside from that, do we get anything of note to talk about, or is it just an appetizer for the real show on Saturday?
.@sambeale23 and @mannylemons have been CUT from The Learning Tree. #IMPACTonAXSTV @ZickyDice @isThatVsK @Myers_Wrestling pic.twitter.com/CKY8Bqzj0k

— IMPACT (@IMPACTWRESTLING) October 22, 2021
Ratings:
Bullet Club (Chris Bey & Hikuleo) vs FinJuice: NO CONTEST/Double Pinfall – ***
Jordynne Grace & Fallah Bahh vs Tenille Dashwood & John Skyler vs Chelsea Green & Crazzy Steve: Tenille wins via Spotlight Kick – ***
Pick Your Poison: Savannah Evans w/Tasha Steelz vs Mickie James: Mickie wins via Mick DDT – *** ¼
Alex Zayne vs Trey Miguel: Miguel wins via Meteora – ** ¾
Results:
The Insiders Stream on YouTube didn't start until about 9:00pm, I'm not sure why IMPACT constantly has issues, but YouTube is not a hard platform to utilize. These delays are inane and embarrassing.
Bullet Club (Chris Bey & Hikuleo) vs FinJuice
Bey and Leo try some trickery early, but Finlay keeps pace. When Leo gets back into the match he starts throwing Finlay around a bit, which opens up opportunity for Bey. Bey looks to get flashy, but Finlay manages to get Juice in and Juice comes in hot. He nearly flips Bey out of the ring, takes Leo off the apron and tags in Finlay for some tandem work.
Leo breaks up the pinfall and then throws out Juice. Finlay grabs Bey in a Backbreaker/STO combination but Bey's feet bump the referee. Leo chokeslams Finlay, puts Bey on top, but it takes the new referee too long to show up and it's only a two count. We see Hikuleo trying to finish things, while the new referee tries to wake up the original referee. Leo gets double teamed, Juice Rolls Up Leo and then Bey Rolls Up Finlay, both referees count a 3 count for the different pinfalls. So we get a little call back to Beer Money and Motor City Machine Guns if we're staying within TNA Universe.
This will probably end up a triple threat, unlike the MCMG/Beer Money double pinfall which ended in overtime.
There's a long segment with Josh Alexander giving us his story. It's not a bad segment, but the only advantage to the show starting late means I got to rewind for the match and speed through most of this. Alexander is a great story, but I already mostly know it, and would really like to see him win at Bound for Glory. Get the title back on a wrestler on the actual IMPACT roster.
Jordynne Grace & Fallah Bahh vs Tenille Dashwood & John Skyler vs Chelsea Green & Crazzy Steve:
This is a Digital Media Championship preliminary match. I find it interesting that there's 3 men and 3 women. So instead of one or two for "inclusion" it's actually an even spread. The way the teams are broken apart is interesting too where it's Power vs Crazy vs Opportunistic.
The gimmicks actually paid off in the match. Jodynne massacred kids, but then things started to get a little messy. Fallah gets a handle on things, squishes the world, and then looks to BAHHnzai Drop on Tenille but Kaleb gets involved. A little more confusion, Steve hits King Kill 33 on Fallah, but Skyler pulls Steve out of the ring. Tenille hits the Spotlight Kick and the Opportunistic team win because well…there was an opportunity.
.@HEATHXXII's kids want their Uncle Rhino back. #IMPACTonAXSTV @Rhyno313 pic.twitter.com/Tx3lE1IW3a

— IMPACT (@IMPACTWRESTLING) October 22, 2021
Pick Your Poison: Savannah Evans w/Tasha Steelz vs Mickie James
Mickie takes a moment to absorb the accolades from the crowd first, and then we see a quick strategy twist. Savannah looks for a few Haymakers and using her reach to her advantage, where Mickie just finds a few quick strikes and interesting angles to land some offense. Mickie looked to be building some momentum, and then Tasha got involved.
Savannah starts to dominate after the assist from her second. Big Bear Hug in the middle has Savannah just ragdolling Mickie until she can land a few choice Forearms. Mickie fights out, Sole Butts, a few nice attacks and Mickie hits the Avalanche Thesz Press, but only a 2 count. Deonna's music plays as Savannah kicks out, Mickie is distracted and then we see Savannah lay in some big shots. The Full Nelson Bomb only gets Savannah a 2. Mick Kick rocks Mickie and then Mick DDT for the win. Hardcore Country wins the match.
Deonna walks down, mouths off…actually pushes Mickie…so I'm confused about the no contact clause…but then Rehwoldt shows up behind Mickie and wipes her out.
.@DramaKingMatt will be banned from ringside at #BoundForGlory. #IMPACTonAXSTV @ScottDAmore @DeonnaPurrazzo pic.twitter.com/fcbCY318wM

— IMPACT (@IMPACTWRESTLING) October 22, 2021
Alex Zayne vs Trey Miguel
The Sauce against the other guy who can't speak but likes to try to use food analogies and sucks at it, aka, Trey Miguel. He's like a Young Will Ospreay with less ability to talk…so no upside at the moment cause Ospreay was pretty awful up until a year or two ago.
So this is just a lot of counters, blocks, Arm Wringers, not much direct offense, just a lot of choreographed spots. This feels like a much slower paced version of a Ricochet/Ospreay match from 2016. Zayne is a more fluid wrestler, and he just makes everything look good. Miguel does a weird Cradled Octopus but Zayne responds with a Handspring Frankensteiner, as an early highlight spot.
Miguel in Ospreay fashion hits the Cheeky Nandos, into the corner stuck Tiger Feint, Meteora and Trey wins.
Thankfully Maclin attacks Trey after the match so I feel generally better. Bullet Club comes out and take out both Maclin and Trey. El Phantasmo just baby faced himself in my house.
Show ends with the usual talking segment hyping the World Title match. Alexander gets a "You Deserve It" from the crowd and portrays himself as the everyman fighting for his boys. Christian's music hits and Captain Charisma vacuum shows up to stir a pot that doesn't need to be stirred.
Christian taking the experienced thrives under pressure condescending veteran angle is…annoying. Like I said a few weeks ago, the boxes they are trying to play in, I don't love. Alexander does flip the script nicely talking about how people classified him as nothing more than a Tag Team guy, and "sounding familiar" strikes a chord with Christian. Small scuffle as Christian tries to snip back, but it's fairly paint by numbers.
Overall Score: 5/10
Low key? This was a pretty lame episode for an Impact Go Home. The matches weren't really anything special, with the most happening during Pick Your Poison, but it effectively being a non-issue. The YouTube delay of course hurt my enjoyment of the show, but even without the delay, I don't really feel like this would've registered much higher on my scale.
I am looking forward to Bound for Glory because of who's in the matches, but this episode didn't help sell it. Thankfully it's already sold out, and most people probably decided if they were purchasing it by now.
When it comes down to it, I'm expecting quite a few title changes, even though I'm figuring that Mickie's involvement is more of a one off to give the rub to younger talent and cement her dominant reign. Alexander I would love to see win the belt and The IInspiration would do wonders and put an immediate spotlight on a division that has floundered behind a lack of real teams and no real direction.
So I'll see all of you on Saturday for Bound for Glory!
Mitchell's NJPW G1 Climax 31 Results & Report! (10/21/21)
Will history be denied in the Climax?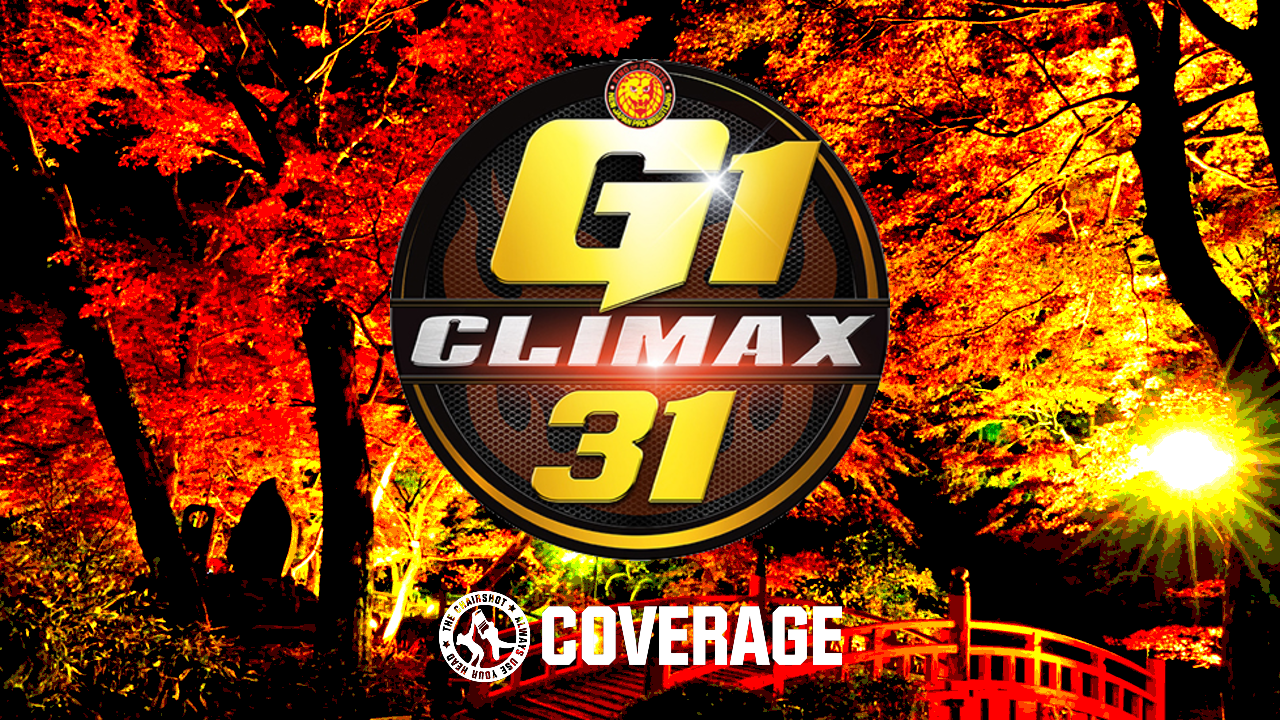 The Autumn heatwave comes to a head right here!
NJPW could see something never before seen! The Golden Star makes a fourth finals appearance, but will he have a historic THREEPEAT in the G1?
NOTE: NJPW no longer wants to feed AXS TV now that it is with Anthem and Impact Wrestling. But never fear, I will cover NJPW in the spirit of AXS in providing the most important matches of the show.
OFFICIAL RESULTS
The United Empire VS Toru Yano & Yuji Nagata; Yano & Nagata win.
Six Man Tag: Chaos VS House of Torture; House of Torture wins.
Special Exhibition: Zack Sabre Jr. VS Katsuyori Shibata; Time Limit Draw.
G1 Climax 31 Finals: Kota Ibushi VS Kazuchika Okada; Okada wins and has the Right to Challenge for the IWGP World Heavyweight Championship.
PLAY BY PLAY
The United Empire VS Toru Yano & Yuji Nagata!
Jeff Cobb was so close to the G1 finals but he still fell short. Will he and Great-O-Khan unleash their frustrations on the Producer and Blue Justice? Or will their woes only continue on the final night?
Cobb and Khan stand still at center during Yano's long introduction. The teams sort out and Khan calls Yano out. Fans rally up, Yano starts with Khan and the two circle. Yano is a bit scared of Khan but then Khan attacks from behind! Khan stomps and CLUBS Yano in a corner, rakes his eyes, then lets off as the ref counts. Khan whips Yano corner to corner but Yano reverses, and goes to untie the corner pad! Yano gets the buckle pad off, Khan runs corner to corner but Yano dodges! Khan hits bare buckles, Yano slaps Khan on the back of his head! Fans rally up as Yano runs, but Khan BOOTS him down!
Khan drags Yano up by his ears, the ref counts and Khan throws Yano out. Cobb gets in to DECK Nagata! The United Empire goes out, Khan SMACKS Yano with the buckle pad! Khan stomps Yano at the railing, then storms off. Cobb stomps Nagata, fans rally up, and a ring count begins. Khan drags Yano up and puts him in, then CHOKES him! The ref reprimands, Khan lets go at 4, and he taunts Yano with his ponytail before he stomps him down. Fans rally up for "Y T R! Y T R!" but Khan drags Yano up and to the corner. Cobb tags in and headbutts Yano in the side! Cobb slaps Yano around, brings him up and ROCKS him with a forearm.
Cobb headbutts Yano down, drags him to a cover, TWO! Another try, TWO! Cobb is annoyed but fans rally up as he drags Yano around. Cobb hoists Yano up and RAMS him into a corner! Then goes corner to corner, but chooses not to use the bare buckles as he rams Yano in again! And again! Fans fire up for that showing of strength, and Cobb taunts Yano. Fans rally, Yano throws body shots, but Cobb eggs him on. Yano throws a forearm, Cobb knees him down! Yano pulls hair, Cobb ROCKS him with a right! Cobb whips but Yano reverses to throw Cobb down by his hair! Hot tag to Nagata! Nagata BOOTS Cobb, BOOTS Khan then KICKS away on Cobb!
Nagata whips Cobb but Cobb reverses, only for Nagata to come back with a BOOT! Nagata brings Cobb up but Cobb blocks the exploder, so Nagata ENZIGURIS! Cobb staggers, fans rally for Nagata and he runs in to SHINING WIZARD in the corner! Nagata reels Cobb in but Cobb fights off the exploder. Nagata throws forearms, whips but Cobb reverses to DROPKICK! Fans rally up and Cobb tags in Khan. Khan and Cobb coordinate, Khan CLUBS and stomps Nagata. The United Empire double whip then Cobb whips Khan in, but Nagata dodges to BOOT Cobb down! Khan dodges the boot but Nagata holds off the iron claw!
Khan keeps trying but Nagata throws the claw away. Nagata fakes Khan out to dropkick Khan's leg! Nagata then dodges Khan's clothesline to hit an EXPLODER! Fans fire up and Nagata tags in Yano! Yano fires up and whips Khan. Khan reverses but Yano stops himself from hitting the bare buckles, only for Khan to RAM him in! Khan whips Yano to ropes, Yano holds ropes and dodges Khan to clinch and BELLY2BELLY! Fans rally, Yano drags Khan up and dodges the claw to Fireman's Carry Takeover! But Khan returns the Fireman's Carry Takeover! Fans fire up, Khan elbows Nagata down and Cobb joins in.
The United Empire double whip Yano, Khan runs in and clotheslines! Cobb runs in to back elbow! Cobb gut wrench suplexes Yano, then Khan gut wrench suplexes Yano back! Cover, but Nagata breaks it! Cobb throws hands on Nagata then throws Nagata out. Cobb keeps after Nagata with a choke against railing! Fans rally up as Khan pushes Yano towards his boot! But the ref is distracted by Nagata whipping Cobb into railing and Yano LOW BLOWS Khan! Cover, Yano & Nagata win!!
Winners: Toru Yano & Yuji Nagata, by pinfall
The United Empire got ahead of itself and now they've lost again! Will they ever be able to face their leader, Will Ospreay, like this?
Six Man Tag: Chaos VS House of Torture!
Tomohiro Ishii fell in the ninth but Hirooki Goto & YOSHI-HASHI finished strong. Now they go back to focusing on being NEVER Openweight Six Man Tag Team Champions. Will they win together in this non-title match? Or will the King of Darkness lead Tokyo Pimp and High Voltage to victory in their first trios outing?
Sho still has a Chaos towel and looks at it. It hasn't been updated, it still has his name on it. He throws it down and stomps on it! And a brawl breaks out! Hashi throws Evil out, Ishii is after Yujiro, and Goto goes after Sho in the ring. The bell rings and Goto stomps away in the corner. The ref counts as Goto digs his boot in but Goto lets off to then stomp Sho more. Goto stands Sho up to CHOP him, then whips him corner to corner. Goto runs in to clothesline, then he feeds Sho to Hashi's CHOP! Sho sputters and crawls but Goto-Hashi fire off on him. They double whip but Sho holds ropes, and then Evil and Yujiro get in to throw them down! Sho DECKS Ishii, then stomps away on Goto!
Evil and Yujiro go after Ishii and Hashi, then Sho stomps Goto out of the ring. Sho goes after Goto's bad arm with elbows, and Evil RAMS Ishii into railing in front of commentary! The ref is busy watching Sho and Goto so Evil gets a chair to dig it into Ishii's neck! Sho digs his heel into Goto, the ref reprimands, but Yujiro whips Hashi into railing on the other side. Sho stomps Goto but fans rally up for Chaos. Goto hits back but Sho CLUBS away on him! Sho drags Goto up and puts him in the ring. Sho whips him in, and surprise! The blue corner's buckles are bare! Standard Bullet Club fare at this point. Evil tags in and he stands on Goto's head.
Hashi gets in and goes after Evil but Evil rakes Hashi's eyes! Evil throws Hashi out but distracts the ref so that Dick Togo can whip Hashi hard into railing! Evil drags Goto up, CLUBS the bad arm, then gives him toying kicks. Fans rally up for Goto as Evil drags him up. Evil CLUBS the bad arm, tags in Yujiro, and Yujiro drives an elbow into the bad arm. Yujiro wraps the arm around ropes while Sho distracts the ref. Yujiro lets off to bring Goto around and snapmare. Yujiro runs to basement boot the bad arm! Cover, TWO! Fans rally up, Yujiro stomps Goto to the ropes but Goto kicks back. Yujiro knees low, tags in Sho, and Sho taunts Ishii before he mugs Goto.
Sho stomps and digs his heel into Goto's bad arm! Sho even uses the ropes! Ishii gets in but the ref works to keep him back. Sho taunts Ishii but Ishii still backs down. Fans rally, Goto rises, but Sho slaps him. Goto throws elbows and CHOPS! Sho elbows the bad arm again and again! Goto drops to a knee, Sho wrenches the good arm and KICKS away. But Goto blocks a kick, so Sho rakes his eyes! Sho runs, Goto follows and LARIATS! Both men are down and fans rally up again! Goto crawls, hot tag to Ishii! Ishii storms in after Sho, drags him up but Sho throws forearms! Ishii just ROCKS Sho! Yujiro runs in but Ishii ROCKS him, too!
Ishii whips, Yujiro reverses and Evil catches Ishii. Yujiro runs in but Ishii boots him first! Ishii elbows Evil away and then baits Yujiro in! Yujiro falls for it, Ishii sends him at Evil! Ishii whips and sends Yujiro in again! Evil holds on but Ishii baits Yujiro in again! Yujiro runs but Ishii dodges and the BOOT sends Evil down! Ishii runs and CLOBBERS Yujiro! Fans fire up as Ishii stands tall and goes back to Sho. Ishii CHOPS high on Sho and the ref reprimands but Ishii still CHOPS! Sho gasps and sputters, Ishii stands him up to CHOP him and slap him! Ishii drags Sho up to suplex, but Sho slips out to waistlock. Ishii elbows away until he's free, then runs into Sho's kitchen sink knee!
Sho stomps Ishii to a corner, stomps away on him and digs in boots. The ref reprimands, counts, but Sho lets off at 4. Sho comes back to KICK Ishii but Ishii stands right up! Ishii throws forearms but Sho gives them back. Fans fire up as the two go back and forth, and Ishii gets the edge! Sho wobbles, Ishii runs but Sho JUMP KNEES! Sho whips Ishii into the bare buckles! But Ishii swats the clothesline away, only to swing into a waistlock. Sho shoves Ishii to ropes and Evil trips him up! Sho runs to basement dropkick! Evil tags in, Sho goes after Goto-Hashi! Yujiro and Evil whip Ishii into a corner, Yujiro runs in to BOOT! Sho adds a clothesline, then Evil adds his own!
Evil brings Ishii out to a FISHERMAN BUSTER! Cover, TWO! Evil is furious but the ref defends his count. Fans rally up for "I-SHI-I!" but Evil drags him back up. Evil fireman's carries but Ishii fights free to shove Evil into Hashi's forearm! Then Ishii reels Evil in for a BIG back suplex! Both men are down, fans rally up, hot tag to Hashi! Hashi runs but Evil blocks the clothesline, so Hashi CHOPS! Evil rebounds but Hashi forearms, kicks and CHOPS! Evil spins, into a SUPERKICK! Evil falls, Sho gets in but gets a mule kick! Yujiro runs in but gets a BACKSTABBER! Fans fire up with Hashi but Evil kicks and runs. Hashi ducks and dodges to LARIAT!
Hashi drags Evil up with a sleeper, then half nelsons and pump handles. Evil fights, grabs the ref, and Dick gets on the apron with the SPOILER CHOKER! Evil distracts the ref but Goto trips Dick! Hashi is free, Goto gets in but Evil kicks first. Evil runs, but into the fireman's carry! Evil slips off, runs at Goto but Goto dodges and Hashi SUPERKICKS! Goto reels Evil in, HEADSHOT to Hashi's METEORA! Fans fire up, Goto gets Evil up, dragon sleeper and Hashi picks Evil up, G Y W!! But Dick distracts the ref from the cover! Chaos would've won by now! Yujiro gets in to shove Hashi into the ref! CANE SHOT for Goto! CANE SHOT for Hashi!
But Ishii gets in to GERMAN SUPLEX Yujiro! Sho gets in to CHAIRSHOT Ishii! CHAIRSHOT to Hashi's head!! Evil drags Hashi up and reels him in, EVERYTHING IS EVIL!! Dick gets the ref up and he counts the cover, House of Torture wins!
Winners: House of Torture, by pinfall
Bullet Club's newest sub-faction just pinned the champions! And now they add insult to injury! SPOILER CHOKER for Goto! Sho reels Ishii in for the CROSS ARM DRIVER! Yujiro chokes Hashi with the pimp cane! Evil grabs the NEVER Openweight Six Man belts, and hands one each to Sho and Yujiro. The HOT boys stand tall, will they soon take gold away from Chaos?
Zack Sabre Jr heads to the ring.
It's not really clear what the Submission Master is doing here. He missed out on the finals, and he isn't dressed in his usual gear. Wait is that Katsuyori Shibata?!?! He's got wrist tape, a kneepad, and a wrestling towel, but this can't be! Is he coming back to wrestling?!
Special Exhibition: Zack Sabre Jr. VS Katsuyori Shibata!
Fans are thunderous already and the bell rings! ZSJ and Shibata circle, feel things out, collar 'n' elbow but Shibata gets a waistlock. ZSJ moves around, Shibata keeps on him. ZSJ switches Shibata scrambles free and fans cheer. Shibata goes for a leg sweep, has a leg guard when it misses, but ZSJ works on getting through it. ZSJ facelocks, armlocks, goes back to the facelock as Shibata stands, but Shibata hits a takedown. ZSJ keeps Shibata back with a body scissors, but Shibata shifts around. ZSJ holds off the lateral press but Shibata manages a top mount. ZSJ tries to fight it with his legs but Shibata gets away. The two stand off and fans are thunderous again!
Shibata and ZSJ knuckle lock, Shibata gets a leg. Shibata gets under the leg and trips ZSJ up to then get a FIGURE FOUR! ZSJ fights it to the last, using his own head to block. Shibata fights through but ZSJ toeholds! Shibata has that kneepad for a reason and he lets off as he clutches his knee. ZSJ keeps on the foot, makes it a standing toehold and again uses his own head for leverage. Shibata rolls, reels ZSJ in for a headlock takeover but ZSJ headscissors! Shibata moves around, headstands and pops free to have ZSJ's leg for a toehold. ZSJ grabs at Shibata but Shibata has the same standing toehold. ZSJ rolls and tries to use the same trick Shibata did but Shibata holds that off!
Shibata rolls ZSJ, the two stand off again and fans cheer. ZSJ and Shibata reset, tie up with knuckle locks, and Shibata brings ZSJ to his knees. ZSJ fights up but Shibata powers him down again. ZSJ spins things around to a straitjacket stretch! Shibata turns it around onto ZSJ and sits him down. ZSJ wriggles, spins Shibata around and brings him down. ZSJ hooks Shibata's legs and brings him into a STRAITJACKET SURFBOARD! Shibata gets his legs free and rolls back to put the straitjacket back on ZSJ! ZSJ stands up, wiggles the straitjacket down and gets a headlock. Shibata powers up but ZSJ holds on tight!
Fans rally for "SHI-BA-TA!" and he powers out to get a SLEEPER!! ZSJ fights up, but Shibata goes for the Cobra Twist! ZSJ holds that off, switches and puts the twist on Shibata! Shibata fights, ZSJ does everything he can to get leverage, but Shibata switches back to the IRON OCTOPUS! But the bell rings because time's up!!
Time Limit Draw
Fans are thunderous as ZSJ and Shibata let off and reset to their corners. The ref raises both men's hands, and Shibata offers a handshake. ZSJ accepts it, and fans cheer even more! ZSJ takes his leave, and Shibata gets the mic to speak to the crowd. "Zack. Thank you." Shibata then passionately promises that this isn't the last time we see him back in the ring! Is the Wrestler to be believed? Is he on the mend back to wrestling shape?
G1 Climax 31 Finals: Kota Ibushi VS Kazuchika Okada!
The Golden Star has made history already by making it to the finals four years in a row. But he wants to make further history by winning three in a row! Will that be the headline of the year? Or will the Rainmaker rain on that parade to reestablish himself?
The bell rings and the clapping for "I-BU-SHI!" "O-KA-DA!" is thunderous as the two stare down. Okada and Ibushi slowly circle, approach, feel things out, and Okada backs away. They circle more, approach again and feel things out again. Ibushi shoots in but Okada blocks with a facelock. Ibushi slips around to a waistlock, Okada switches, but Ibushi wrenches the arm to a wristlock. Okada rolls and trips Ibushi to have a toehold. Ibushi tries to headscissor but Okada fights that off as he cranks the hold. Ibushi gets a chinlock and pries Okada off the foot. Okada stands up, Ibushi hits a takeover but now Okada headscissors. Ibushi kips free and fans cheer the standoff!
Okada and Ibushi go back to their corners, then approach again. They circle, tie up, Okada headlocks and grinds Ibushi down. Ibushi hooks a leg but Okada keeps on the headlock. Ibushi rolls but can't get the cover so he gets Okada with a headlock. Okada fights off Ibushi trapping an arm, gets a headscissor and he clamps on tight. Okada pushes up to put on pressure but Ibushi endures. Ibushi kips, moves around, and he pops out to then get a headlock. Okada rolls it to a cover, ONE! Ibushi holds on, Okada fights up, pries at the hold, but Ibushi clamps it back on. Okada pushes with wrists to put Ibushi on the ropes and Red Shoes calls the ropebreak.
Ibushi lets go, Okada lets off slowly, and then he whips! Okada drops, hurdles, Ibushi leaps over, ducks and dodges, but Ibushi fakes out the dropkick! Okada lands on his feet, avoid the V-Trigger and gets around to wristlock! Ibushi avoid the Rainmaker and fans are thunderous again as the two stand off. Okada and Ibushi reset, approach, feel things out, and they feel things out. They knuckle lock, Ibushi kicks low then KICKS Okada off is feet! Ibushi wraps on a chinlock and grinds Okada down. Ibushi then gets Okada's arms for a motorcycle stretch, with a knee in Okada's back. Okada scoots forward but Ibushi uses a chicken wing and crossface!
Okada turns to block the hold but Ibushi hops on for a rear mount. Ibushi goes to a sleeper and body scissors, but Okada fights to the ropebreak! Ibushi lets off, but then he stomps Okada down! Fans rally up, Ibushi drags Okada up and CLUBS Okada on the back! Ibushi stands Okada up to whip but Okada reverses and FLAPJACKS! Fans rally again, "I-BU-SHI!" "O-KA-DA!" as Okada stalks Ibushi. Okada drags Ibushi up, turns him and hits a NECKBREAKER! Cover, TWO! Okada paces and brings Ibushi up but Ibushi scrambles away to ropes. Okada stomps him down, brings him back up, and snapmares to run for the basement dropkick!
Okada drags Ibushi back up, ROCKS him with a right, but Ibushi glares and throws a forearm back. Okada eggs Ibushi on and Ibushi throws more forearms. Okada takes those to knee low, then scoop SLAM! Okada goes to the apron to slingshot senton! Cover, ONE!! Okada clamps right on with a chinlock and fans rally again. Ibushi endures, fights up and throws body shots. Okada CLUBS Ibushi on the back, brings him around and ROCKS him with a forearm to the back! Fans rally up as Ibushi is in the corner. Okada stands Ibushi up to throw back elbows. Okada then whips Ibushi corner to corner, runs in, but Ibushi dodges! Ibushi comes back but Okada BOOTS him!
Okada runs but into a dropkick! Fans rally up while both men are down! Ibushi rises but Okada follows. Ibushi throws forearm after forearm then whips, but Okada reverses, only for Ibushi to GAMANGIRI! Fans rally, Ibushi fires off a strike fest, then ROUNDHOUSES Okada down! STANDING MOONSAULT! Cover, TWO! Fans keep rallying as Ibushi gets up. Okada bails out but Ibushi pursues. Okada kicks low and whips Ibushi into railing! Ibushi falls in a heap but Okada brings him up to whip him the other way. Ibushi reverses and Okada stops himself, only to swing into a HALF 'N' HALF to the floor!
Both men are down on the outside and Red Shoes checks on them. They're both okay to continue and a ring count starts. Ibushi stands at 4, brings Okada up at 7, and puts him in at 9 of 20. Ibushi aims, springboards and missile dropkicks! Okada flounders to a corner, Ibushi runs in, but Okada dodges! Okada puts Ibushi up top to dropkick him to the floor! Fans rally up as both men are down. Okada goes out after Ibushi, throws a EuroUpper, then brings Ibushi around the way to the ramp, for a DDT! Red Shoes checks but Ibushi is somehow okay. Okada takes a moment while the ring count climbs to catch his breath and get up.
Okada goes into the ring at 8 of 20 then leaves the rest on Ibushi. Ibushi stirs at 13, rises at 15, stands at 16 but Okada goes out to put him in. Fans cheer as this continues in the ring, and Okada SHOTGUNS Ibushi into the other corner! Okada drags Ibushi up, reels him in and wrenches to the MONEY CLIP! Ibushi endures, throws body shots with his free arm and RAMS Okada into the buckle! Ibushi is free, he throws more elbows then runs, but Okada dropkicks him down! MONEY CLIP! Ibushi endures again, fights his way up, reaches for ropes, but Okada lets him go to scoop and SPINNING TOMBSTONE! And back to the MONEY CLIP!!
Ibushi endures, fans keep rallying and Ibushi fights for the ropes. But Okada drags him away! Ibushi pounds the mat and fans rally up. Ibushi reaches out again but Okada hits a BACK2BACKBREAKER! And back to the MONEY CLIP!! Ibushi scrambles and gets the ROPEBREAK! Okada lets go in frustration but fans are thunderous again. Okada brings Ibushi up, scoops and SLAMS him, then goes to the corner. Okada climbs, aims, MACHO ELBOW DROP! And… Rainmaker Pose! Okada stalks Ibushi, drags him up and ripcords, but Ibushi ducks! Okada ducks the roundhouse, tries again, Ibushi LARIATS first!!
Fans rally hard as ever as Ibushi gets Okada's wrists. Okada throws a forearm but Ibushi gives it back! Ibushi eggs Okada on so Okada forearms again! Ibushi forearms back, Okada gives another! Ibushi forearms, Okada forearms, and they pick up speed. Fans rally as Okada eggs Ibushi on, the forearms keep going, Ibushi ROCKS Okada then fires off a flurry! Okada staggers but stays up and Ibushi grins! Is this Kowai Ibushi!? Okada roars but runs into a RANA! Okada bails out and fans are thunderous as Ibushi goes to the apron. Ibushi rallies the fans and ARIHARA MOONSAULTS!! Direct hit at the ramp and fans stay fired up!
Ibushi drags Okada up, puts him in, and he drags Okada up to reel him in. SIT-OUT POWERBOMB! Cover, TWO! Ibushi keeps his focus and gets the wrists. Okada shoots in to avoid Kami-Goye but Ibushi CLUBS away! Okada ducks the buzzsaw to backslide but Ibushi rolls through! Ibushi ducks the lariat to ripcord ROUNDHOUSE! Ibushi keeps the wrists, to V-TRIGGER! KENNY~! Ibushi gets both wrists, KAMIGOYE!! Cover, TWO!! Okada survives and fans are thunderous again! Ibushi brings the kneepad down and vows to end it this time. Ibushi drags Okada up with wristlocks but Okada shoots in to back drop and sit on the cover, TWO!!
Ibushi is surprised he escaped, but he runs in, only for Okada to dodge. Okada ducks the lariat, spins but Ibushi LARIATS again! Fans rally hard as ever, Ibushi puts Okada in a drop zone and goes to the corner. Ibushi climbs up, to PHOENIX FLOP!! Okada avoids the splash and fans are electric as both men are down! Okada sits up in the corner, Red Shoes checks on Ibushi, and he calls it?!? Ibushi can't continue, Okada wins!!!
Winner: Kazuchika Okada, by referee's stoppage (G1 Climax 31 Winner)
Medics hurry out to check on Ibushi as he clutches an arm. Okada lets Young Lions help, and this isn't really how anyone wanted this one to go. Shingo Takagi even gets off commentary to be at ringside for this. Either way, the Rainmaker wins the 31st G1. Okada checks on Ibushi and fans clap for Ibushi as medics help him up. The injury does seem to be Ibushi's right arm, and that complicates his ability to exit, so the bottom rope has to be undone. At the same time, Red Shoes and timekeeper Abe-san set up the NJPW flag and G1 trophy. Okada checks with Ibushi and assures him it's alright. Fans clap to assure Ibushi the same, and he manages to exit the ring.
Red Shoes raises Okada's hand in victory and now things can be a celebration. Okada is presented with the trophy and banner by the NJPW president, then they stand together for the photo op. Okada gets his solo photo op and fans cheer. Okada then takes a moment and gets the mic. "G1 Climax!" This match ended in a referee stoppage, but all the same, Okada sticks out his chest with pride in saying he won. Okada and Ibushi fought with heart and pride all over Japan, and in the end, the result is what matters, a win is a win, and Okada has won. He thanks the fans for their support in this hot, hot Autumn.
So now, Okada's eyes are set on the Tokyo Dome, but also on showing us he is the CENTER of NJPW's world! It is on him to tear it up! Okada vows to once again carry NJPW on his back. Okada wants to say that this is the end, but first, he hopes Ibushi can come back so they can do this again properly. And as the G1 Champion, Okada will say this to management. "Make sure that I get to re-assault Kota Ibushi again, so that I can face Ibushi and make sure I am the fourth IWGP World Heavyweight Champion." Okada wants to be IWGP Heavyweight Champion if he can't be world champion, as he waits for Ibushi. And of course, he'll make it rain all over NJPW!
Okada strikes his pose and the streamers fly! Okada is fired up for the road to WrestleKingdom 16, will he make it to the goal of the Tokyo Dome?
---
My Thoughts:
That was a rough ending for the main event given how great it was going, but this was still an overall great event. I chose to skip the 8 Man Tags because in many ways, NJPW uses those as filler. I believe Bullet Club won theirs while Los Ingobernables de Japon won the other. I kept the first two matches, though, because I was curious. For one, I thought Cobb & Khan were going to rebound but Yano gets another one over on Khan. The Six Man Tag was really good stuff, even with the usual antics of Evil and Dick. But in the end, the House of Torture winning of course sets up a Six Man title match for Power Struggle (and hopefully not a random Road to event). Hard to say who wins that at this point but it wouldn't surprise me if House of Torture cheats to take those belts.
As I said, a rough ending to what was building to be an epic match between Okada and Ibushi. Ibushi really went hot into that Phoenix Splash and that is clearly what injured his arm around the forearm to wrist area. Who knows if Okada was meant to win before, but that's just how it goes. Okada now carries the Right to Challenge and might owe Tama Tonga a shot at that with Tama being the only one who beat Okada during the round robin. I'm pretty sure Okada holds onto the Right to Challenge to have another match with Takagi that at this point could go either way.
My Score: 8.9/10