Andrew's NWA Empowerrr Results & Match Ratings: 8.28.2021
Mickie James put this all into motion, and NWA made it happen! But, how was the execution? 3 title matches should make for a hell of a show!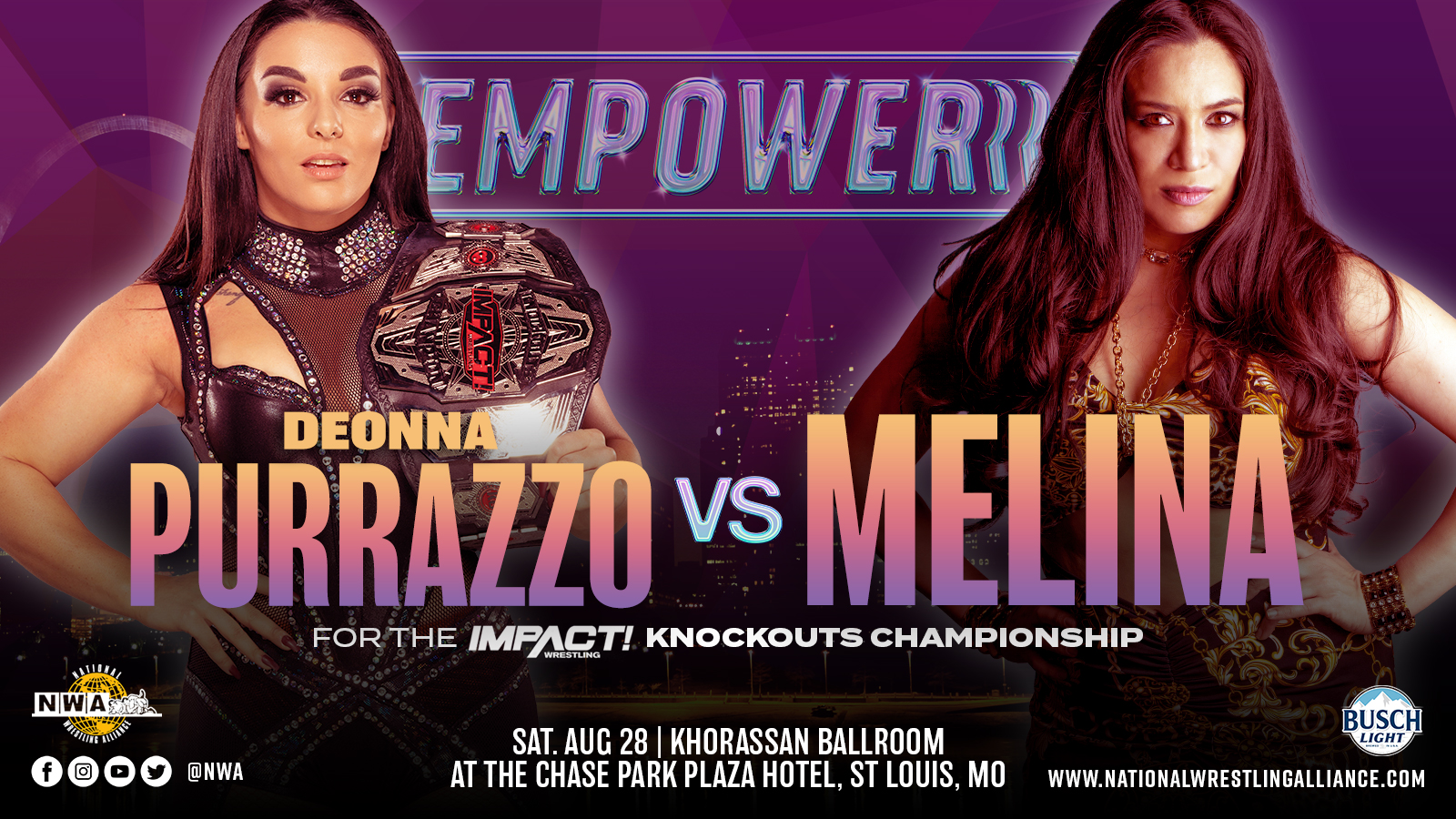 So with a spoonful of gimmick and a spoonful of spite, Mickie James spear headed this idea for an all women's pay-per-view. The NWA decided to back it in a package with NWA 73, and now let's see what we got.
We've got some inter-promotional stuff with AEW, AAA and Impact represented. Melina's trying to prove herself against IMPACT's Virtuosa, Layla Hirsch fights the uphill battle against the Brickhouse Kamille and the NWA Women's Tag Tournament finals are all tonight!
Three big title matches, a number one contender's battle royal and who knows what else is in store. Did Mickie call in any favors from friends? Who might show up?
Let's check it out!
Head back to 1⃣9⃣5⃣8⃣ before Sunday's #NW73

The @nwa tag team champions are dressed in style. Will they still wear the titles around their waist when they face La Rebelión?

Order the discount bundle on #FITE and SAVE!

[ https://t.co/v2KZpFYsZI | Aug 28-29 ]

Unlimited Replays* pic.twitter.com/i8yx6VKKqP

— FITE (@FiteTV) August 28, 2021
Ratings:
Kylie Rae vs Chik Tormenta vs Diamante: Diamante wins via Code Red – * ¾
Semi-Finals for NWA Women's Tag Titles: Hell on Heels (Renee Michelle & Sahara 7) vs The Hex (Allysin Kay & Marti Belle): Hex wins via HEXecution – ** ¾
Semi-Finals for NWA Women's Tag Titles: The Freebabes vs Red Velvet & Kilynn King: Kilynn King wins via Kingdom Falls – *** ¼
Impact Knockouts Championship: Deonna Purrazzo (c) vs Melina: Deonna retains via Orienteering with Napalm Death – *** ¾  
Finals for NWA Women's Tag Team Championship: Red Velvet & Kilynn King vs The Hex (Allysin Kay & Marti Belle): The Hex win via AK-47/Running Boot Tandem – *** ¼ – TITLE CHANGE!!!
NWA World Women's Championship: Kamille (c) vs Legit Layla Hirsch: Kamille retains via Spear – ****
10 Woman Women's Invitational: Chelsea Green wins via Unprettier – ***
Results:
To kick off the Mickie James comes out with what sounded like a bullet pointed sales pitch, but she got taken by the moment and when the crowd fed into the appreciation, it was nice to see Mickie pivot and just be very honest. Velvet Sky on commentary was choked up for a while afterward. It's kinda nice to hear the real emotions.
Kylie Rae vs Chik Tormenta vs Diamante
NWA versus Triple A vs AEW is how the show kicks off the wrestling tonight! After a triple Grecco Roman Knucklelock, we see a slightly delayed Double Superkick to send Tormenta to the outside, and then we see some Arm Drags of different flavors, but the timing seems suspect. This opening volley is really staggered and not fluid at all. Diamante can't even pull off a Sattelite Russian Leg Sweep on Tormenta without a small hiccup.
Things finally seem to smooth out when Kylie grabs Diamante into a Samoan Drop, but Tormenta German Suplexes Kylie. Then we also get a Tower of Doom spot, where Tormenta holds on and goes for the pinfall on Diamante. This match started to pick up rhythm a little, but Kylie was late to a backslide attempt spot on Tormenta so that looked a little awkward.
Kylie hits the Kylie Special on Diamante, causing Diamante to powder, Tormenta is perched on the top rope, takes entirely too long, Kylie dodges. Kylie transitions a Crucifix into Smile to the Finish; but Diamante throws a weapon into the ring to distract the referee, takes out Kylie and then Code Red on Tormenta, and AEW wins.
Hell on Heels (Renee Michelle & Sahara 7) vs The Hex (Allysin Kay & Marti Belle)
The early on Hockey Fight goes the ways of Hell on Heels, until Allysin comes back in and evens things out. When people get back to corners, Marti and Allysin use frequent tags just to continuously stomp on Renee. Sahara 7 finally breaks things up and Renee pops out angry.
After the Heels get the tag, a nice tandem Rocket Launcher style move into Renee Superkicking Marti's teeth through her head. Either the Heels are always scrappy or the palpable anger leads to thinking there might be a small level of stiff strikes.
Jesus, this definitely felt like more of a fight than choreographed wrestling we've become accustomed to lately. Even if some moves weren't hit clean, the tension was there and the blind side aspect of some of the strikes helped to keep this match flowing. Yes it wasn't really pretty, even though all the competitors are, it was heavily effective.
The Freebabes vs Red Velvet & Kilynn King
So the Freebabes are Jazzy Yang (Jimmy Wang Yang's daughter), Miranda Gordy (Terry Gordy's daughter) and Hollyhood Haley J (daughter of Amazing Maria). Kinda interesting to see a whole unit of second generation women's wrestlers.
Red Velvet starts things off with some quick attacks and her "stirring it up" taunt. King comes in and the more exciting action is the Hoss battle. Cause much like her father, Miranda is a thick enforcer, so King's height is neutralized a little bit. King does pop me when she hits the Pump handle Power Slam (The Meltdown from Wrath in WCW). It was a good show of power from King since she did it to Gordy, but Miranda kicked out of the tandem attack afterward and asserted her power.
Hollyhood distracted from the outside and did a great job as the annoying little cute manager style of heel. But this was a really solid match. Great tandem moves, easy logic and tag team psychology of trying to keep Red Velvet isolated. Velvet managed to roll toward King, she got grabbed, spin kick to free herself from Gordy and then we get King back in. Yang takes Velvet out of the ring, runs back to the corner to try and take advantage of the numbers advantage; but King counters, then hits Kingdom Falls on Yang for the win.
Gail Kim comes out and immediately hits the self-deprecating angle to the promo saying "talking wasn't always my thing", which yeah…Gail is a great wrestler but her promos were always kinda sus. Taryn Terrell and some back up comes down to basically tell Gail she can leave since NWA is Taryn's place. Taryn and her little crew are about to beat down Gail, but Awesome Kong hits the ring! Her and Gail stare each other down, but then Kong backs up Gail and kills Taryn's crew.
Gail runs off Taryn, Kong stalks Gail behind her and tells Gail to get back in and grabs the microphone from her. She pokes fun with the "I'm not much for words", and then shows more of the personality we all know from shoot interviews. They have a really sweet moment, Kong says something like if she'd get off the couch for anyone, and it's Gail. She does say she's done, but I think she meant with what she had to say not retiring. Gail and Kong active together would be awesome though.
Awesome Kong announces she is done with pro wrestling and wanted to go out with Gail Kim.❤#NWAEmpowerrr | #EMPOWERRR pic.twitter.com/lKMbboQqFf

— 𝐃𝐫𝐚𝐕𝐞𝐧 (@WrestlingCovers) August 29, 2021
Impact Knockouts Championship: Deonna Purrazzo (c) vs Melina
Melina comes out in a golden outfit and veil, they even have some paparazzi come out for the lower budget MnM entrance. Deonna comes out and she's in black and leopard print. It's a little funny that I've seen some people make jokes about both being able to the tell the two apart, and they wear very similar outfits.
The early scrap is very even. Melina hits a quick Thesz Press, focuses mostly on strikes and bounces Deonna's head off the turnbuckles. It isn't really until Melina goes to the top rope and jumps, where Deonna catches her and hits a nice Jacknife Powerbomb counter. Deonna sets the pace and starts torquing the arms of Melina and focusing body parts. Melina tries to kick back while in the corner, but Deonna catches the foot and gives her an icy glare and drops the ankle over her shoulder. Deonna hits the "WOO" and goes for a Figure Four, but Melina gets to the ropes. Spinning Toe Hold from Deonna keeps the focus and the old school references going, but Melina manages to roll her up to force Deonna to break the submission.
After posting herself, Melina fires up, Deonna finds her way back in, but Melina is incensed. Double Knees across the middle ropes in the corner from Melina, matchbook cover, and nearly a 3, but only nearly. Melina goes for the Irish Whip, Deonna stops it, Russian Leg Sweep, roll through and then Deonna's sadistic side is there. No Fujiwara…Tequila Sunrise!
Melina hits a Roundhouse Kick, Deonna Pumpkick, but Melina can't pull of the Last Call. Then her knee gives out on her as she tries to run the ropes and Deonna attacks the injury. The referee stays on Melina trying to see if she'll quit or have to be saved from herself, but Melina won't let the referee call for the bell. Melina fights through, it gets a little rough at times while she sells and tries to fight. Almost catches Deonna after Moonlight Drive but she can't cover immediately so only a near fall.
Primal Scream attempt, Deonna counters, Fujiwara, then Melina fights to the ropes, Venus de Milo…and Melina keeps fighting so Deonna grabs the bad leg, pulls back on the while keeping the arm barred, and Melina is forced to submit.
MadUSA comes out for commentary during the Finals of the NWA Women's Tag tournament.
Red Velvet & Kilynn King vs The Hex (Allysin Kay & Marti Belle)
King and Kay have their power battle very similarly to how King and Gordy did. Kay lost the power fight pretty quickly and then she was beat on for most of the match. King showed off her power and Velvet showed off great agility and athleticism. Kay almost pulls back a comeback, but Red Velvet counters the Piledriver attempt with a Bell Clap…but with her thighs, transitioned into a Stunner, but then she hits the ropes and gets caught by Allysin in a Spinebuster.
After Marti gets tagged in, she brings amps up the pace on King, but King tries to lay out Marti. Tags in Velvet, Velvet misses the Frog Splash. Allysin comes back in, attempts HEXecution, but King stops it. Allysin goes for AK-47, King tries to get involved, but Allysin uses Velvet as a weapon. Marti is back in, tandem Running Boot/AK-47, and the NWA team is the victorious!
MadUSA hits the ring to present the belts, and honestly MadUSA was a nice addition to commentary. Helped fill out legitimate color instead of whatever Velvet Skye is supposed to be doing.
NWA World Women's Championship: Kamille (c) vs Legit Layla Hirsch
This match hit the gas at the right time. Kamille dominated so much of this match. Layla had small flurries where she'd have to throw her entire body at Kamille or catch her, but Kamille never really took too many steps back. Layla hits a Corkscrew Avalanche German Suplex from the corner and that's when we start to see Layla make some believers. Layla worked over Kamille's arm for the Cross Arm Breaker, Leap Frogged the first Spear attempt and rattled the champion with V Triggers. Big haymakers, hunting for the arm and even kicking out of the Torture Rack Bomb kept Layla going strong.
Kamille gets dropped to a knee, Layla rushes for a Shotgun Dropkick, but Kamille catches her like a baby and literally just chucks her. Layla lands a little funny, but when she gets up, she gets flattened with a Spear and Kamille retains. Very impressive match and Kamille looked exhausted after the match.
10 Woman Women's Invitational
Should be noted the only way to eliminate people is Pinfall or Submission.
Chelsea Green and Kiera Hogan start off the Battle Royale style match for number 1 contender for the Kamille's title. First 30 seconds or so is just both women locked in a collar & elbow tie up, even dropping down with the gator roll as they stay connected. Bianca Carelli is the third entrant, which yes, is Santino Marella's daughter.
After Carelli hit with a few okay Judo/power moves, we get one of the worst roll up situations I've ever seen. Like it was just messy, awful, and lost. Thunder Kitty is next, whose gimmick is apparently that she's a 100 year old wrestler. Jennacide is next, with Taryn escorting her down. Bianca is the first eliminated by Jennacide, and that's probably for the best. Bianca is attractive, but she's greener than goose shit. Lady Frost is sixth. Jennacide eliminates the century old wrestler. Frost decides to not go into the ring, and the camera work decides to shit the bed. There is too much time focused on Frost and not the ring action. Whoever is in control of which camera to go to, sucks. Kiera and Chelsea smartly start to team up on Jennacide. Debbie Malenko is…wait…fu-what? Debbie Malenko?! Jamie Senegal is next up!
The good thing Malenko brought, beyond legitimacy and experience…she got Lady Frost in the ring! Frost hits a beautiful Yang Time, and then Debbie Malenko locks in the STF to get Frost to tap. Malenko puts Chelsea in the Surfboard, but Kiera Hogan pins Debbie while she's in mid move to eliminate Malenko. Masha Slamovich is next to last. Slamovich hits the Spinning Heel Kick, Chelsea hits a Curb Stomp and Jamie Senegal with a Back Handspring Shining Wizard takes out Jennacide.
Tootie Lynn is the last entry. Masha eliminates Jamie. Another Tower of Doom, which has Slamovich float through on Kiera and eliminates Kiera ( Boo, Boo Wendy, Boo Wendy Testaburger). Tootie counters Masha's Powerbomb with a Hurricanrana and Slamovich is eliminated! Home town hero versus one of the favorites. Chelsea wins after an Unprettier!
Overall Score: 7.75/10
Chelsea Green has a good chance at taking advantage of the weakened Kamille, so that makes the NWA 73 card a little more interesting. As for the show, aside from the God awful mess that was the first match, the rest of the show was a really good night of wrestling. Different styles of matches, a lot of classic wrestling, fun moments with women that wrestling fans know and it wasn't over burdened with outside talent going over.
Marti Belle got to fulfill her promo dream of being the first OFFICIALLY recognized Dominican champion, Melina put on a hell of a match against one of the best wrestlers out there today and Kamille showed vulnerability in a David and Goliath style match that went from paint by numbers to really awesome at just the right point. Also being the long time TNArmy member that I am, Taryn with her new makeshift Dollhouse against Gail was nice, and then Awesome Kong showing up made it better. Hopefully Kong still has a little left in the gas tank, because she got one of the biggest pops all night.
The only real awful parts were the first match and the first like…60% of the Invitational, but the last bit definitely over performed. I went in with tempered expectations and I came out thoroughly entertained. Damn good job Mickie James, Jazz, MadUSA and Gail Kim.
Mitchell's NXT WarGames Results & Report! (12/5/21)
Wait, it's not a TakeOver?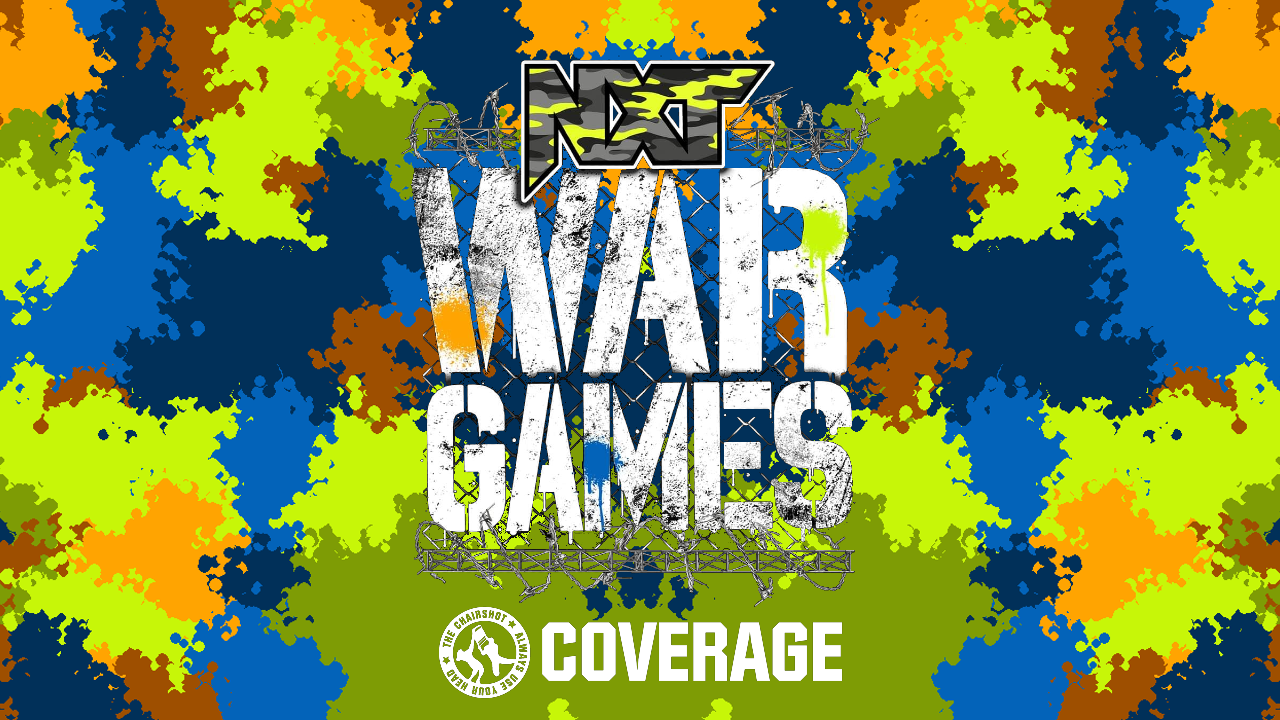 It's Old School VS New School!
NXT Champion, Tommaso Ciampa, leads a team against North American Champion, Carmelo Hayes, and the new kids on the block, in WARGAMES!!
OFFICIAL RESULTS
Women's WarGames: Io Shirai, Raquel Gonzalez, Kay Lee Ray & Cora Jade VS Dakota Kai & Toxic Attraction; Shirai, Gonzalez, KLR & Jade win.
NXT Tag Team Championships: Imperium VS Kyle O'Reilly & Von Wagner; Imperium wins and retains the titles.
Hair VS Hair: Cameron Grimes VS Duke Hudson; Grimes wins and Hudson loses his hair.
NXT Cruiserweight Championship: Roderick Strong w/ Diamond Mine VS Joe Gacy w/ Harland; Strong wins and retains the title.
Men's WarGames: Tommaso Ciampa, Johnny Gargano, Pete Dunne & LA Knight VS Carmelo Hayes, Bron Breakker, Tony D'Angelo & Grayson Waller; win.
PLAY BY PLAY
It's the NXT WarGames Kickoff show!
Join Sam Roberts and McKenzie Mitchell in discussing, analyzing and predicting all of tonight's action.
NXT shares Team "Black 'n' Gold" meeting backstage after NXT on Tuesday.
Johnny Gargano apologized to the team for not winning the WarGames advantage, but they've been at a disadvantage since day one of 2.0. Pete Dunne says it doesn't matter that Team 2.0 has the bloody advantage. Dunne's been in WarGames before, those guys don't have a clue. LA Knight says, "I dunno, man. Guys, I'm just not sure at this point. Word is on the street is maybe we bit of more than we can chew. I mean, look at 'em. They're big, they're strong. I mean, what can we do, right? WRONG! 2.0, let me talk to ya! Tonight, you got the advantage. Huh? I said, tonight you got the advantage, YEAH."
Knight wants Team 2.0 to live that up, absorb it, let it sink in. That advantage, that illusion will get shattered. These four, when they are put to pressure, when they're told no, when they're told, "We don't want you here anymore!" THAT is when they excel. Knight is with excellence! The Bruiserweight, one of the longest reigning NXT UK Champions. The FIRST NXT Triple Crown Winner, Johnny Wrestling. And the current TWO-TIME TWO-TIME NXT Champion? What does that mean? Dues paid in full, time and again. Some want to say that stuff doesn't matter. It matters to Knight! It matters to them!
So for Sunday, you ain't gotta like them or even respect them. Because once the cage comes down and the rings are in place, these four step into the ring, each and everyone of Team 2.0 gets the respect stomped outta their asses! That isn't an insult, that is just a fact of life, YEAH. Tommaso Ciampa adds that Team 2.0 knows they messed up by looking across the ring and seeing DIY. Who? D I Y. Together again! Representing black 'n' gold. And there's one thing they like to say about that: "WE are NXT." The 2.0 boys better be prepared for war. Game on.
Team 2.0 talks backstage.
Trick Williams says, "Here's what we gotta do. Strap up your boots, grab the protein shakes, because tonight, our lives are about to change forever! We goin' viral tonight." Grayson Waller likes the sound of that! But Andre Chase walks in and says if they're not talking strategy right now, then this is a #TeachableMoment! Aw man, c'mon… Just hear him out. "You don't go to war without a good game plan." And who better to be the general than Andre Chase? Chase thinks Waller should start, then- Whoa, whoa, whoa. The A Champion, Carmelo Hayes, kicks things off. When Melo shoots, he don't-
Bron Breakker shows up as he slaps Chase on the back. He asks how everyone's doing. Good. Chase is calling the shots? Y-Yeah…? Hey, Tony, what do we call guys like that? Stunatz. They all laugh at Chase and Tony says they don't need Chase's help. But maybe Chase should walk or there's gonna be problems. Alright, but don't come asking him for help later. Who even is this guy? Chase leaves, Team 2.0 fist bumps all around. Will they be ready for what Team Black 'n' Gold brings to the cage?
NXT takes a closer look at the Women's WarGames match.
Mandy Rose says Toxic Attraction has changed NXT, because Toxic Attraction is the attraction. That is why they are the faces of 2.0. And by the way, thanks, Dakota. But in regards to #CobraKai and Big Mami Cool, what started at Halloween Havoc could end here tonight. Common enemies make for unlikely allies, and Raquel Gonzalez says her team "is the definition of WarGames." Cora Jade says this is the stage where she belongs. Kay Lee Ray says they have the advantage, and Io Shirai says WarGames didn't change her, she changed WarGames. Mandy doesn't get why the other team is so confident when her team has all the gold, plus the wild card in Dakota.
Gigi Dolin says there will be no mercy, and Jacy Jayne says, "Let the Toxic Games begin!" They are ready for war! Dakota smiles at the idea that they'll all be trapped in the cage, like animals! Raquel vows her team will tear the cage down and kick some toxic ass. Who runs the NXT Women's Division after tonight? That match opens the show!
The battle lines have been drawn!
The game has changed, but the mission is the same: win. The stakes have been raised, the gates have been opened, and bad blood will boil over. NXT is in a state of WARGAMES!
Women's WarGames: Io Shirai, Raquel Gonzalez, Kay Lee Ray & Cora Jade VS Dakota Kai & Toxic Attraction!
The Evil Genius, Big Mami Cool, the Scary Queen of Scots & #GenerationJade have the advantage against #CapKota and the golden trio of women's champions. But will that help Shirai, Raquel, KLR & Cora end the arrogant attitudes of Dakota, Mandy, Gigi & Jacy?
After all their entrances, KLR goes right into the cage, and she's bringing her baseball bat! Dakota starts for her team, and she makes sure to bring some kendo sticks with her. The door closes and the teams are up in the cages in the bleachers. The bell rings and fans chant for "WAR~ GAMES!" as the clock counts down. Dakota rushes to the divide and KLR JAMS her with the bat! Dakota shoulders back into KLR, then hurries into the second ring. Dakota  blocks the superkick to throw forearms, then she whips KLR. KLR stops from hitting steel and elbows Dakota back. KLR whips, Dakota stops herself from hitting steel, but turns around into CHOPS!
KLR whips, Dakota reverses then drops down to keep KLR moving. KLR comes back to dropkick Dakota down! Fans fire up, KLR stands Dakota up and CHOPS her. KLR has Dakota in a corner and CHOPS her again! KLR brings Dakota around but Dakota denies the tornado DDT. So KLR runs up into the corner to SATELLITE DDT! KLR looms over Dakota, drags her up, and she whips, only for Dakota to reverse and send KLR into steel! KLR writhes, Dakota stomps her down at three minutes left. Dakota RAMS KLR into steel, then fetches her kendo sticks. Dakota bridges the sticks between the two rings, then SMACKS KLR with one before adding it to the bridge.
Dakota drags KLR over, RAMS her into steel again, then digs her face into the grate! Fans rally and duel, Dakota fidgets and pushes KLR under the ropes. KLR fights Dakota and kicks her away. They go to the first ring and Dakota CLUBS KLR down. Dakota drags KLR up to whip her to a corner. Dakota then goes up from the divider side, brings KLR up, but KLR fights with body shots! KLR GAMANGIRIS Dakota! Dakota kicks KLR away, hurries into the second ring and gets KLR's bat! But KLR goes up FLYING from ring to ring to take Dakota down! KLR gets the kendo stick to SMACK Dakota!
KLR decides to take advantage of Dakota's kendo stick bridge. She brings Dakota through the ropes, suplexes and GOURD BUSTER onto the sticks! Dakota writhes and we're at the last 10 seconds. Fans count it down, but Dakota JAWBREAKERS! KLR's team adds Cora Jade! Cora hurries to ringside and gets a skateboard! Cora hops in and SMACKS Dakota with the board! And again! Dakota ducks then leaps over Cora, but Cora ducks and whips to kick. Dakota blocks that but Cora ENZIGURIS! Dakota staggers, Cora waistlocks but Dakota bucks the O'Conner, only to get a SHINING WIZARD against the steel! Fans fire up with Cora and she helps KLR up.
Cora stomps Dakota in the corner, KLR adds on. Fans taunt Cora, "You Can't Skate!" Cora snapmares and KICKS Dakota in the back! KLR drags Dakota up to snapmare and KICK! Dakota scrambles away into the second ring, but Cora and KLR follow her. Dakota is in a corner, she kicks back but KLR stomps her down. KLR and Cora double suplex Dakota! Fans want that "One More Time!" and they get Dakota back up for another double suplex! KLR taunts Toxic Attraction, then she and Cora double suplex again. But Dakota makes it at DOUBLE DDT! Dakota CLUBS KLR, then hammers Cora. The countdown returns as Dakota stomps Cora, but Cora hits back.
Toxic Attraction sends Gigi to the ring! Gigi goes looking underneath and she brings out a trash can! And a duffel bag, too! She puts those in, and TOSSES the can at Cora! Cora goes down, Gigi climbs up. Gigi leaps, Cora gets under, but Gigi BOOTS her down! KLR runs in but Gigi shoves her, rounds and STO's! Dakota BOOTS KLR, Gigi hits a HALF 'N' HALF! Dakota then adds a SUPERKICK! Gigi runs in to wrench Cora and snapmare, then KICK her in the back! Dakota keeps KLR down as Gigi SWITCHBLADE KICKS Cora! Dakota digs her boot into KLR in the corner, Gigi drags Cora up to CLUB her down. Gigi bumps Cora off buckles, stomps her, then KICKS her!
Dakota and Gigi coordinate, they switch, STEREO BOOTS in the corners! Dakota stands Cora back up, she and Gigi switch again, another STEREO BOOTS! Cora hits Gigi back and throws knees, snapmare roll and basement dropkick! KLR hits Dakota back and they go to the second ring. Gigi sits up against ropes but Cora takes the trash can to put it over her. Cora runs and basement dropkicks the can! Gigi flops over, KLR gets Dakota in the Gory Especial, KLR BOMB onto the trash can! Gigi flounders out of the can, clutching her mouth! The countdown returns as Cora stomps Gigi and KLR SMACKS Dakota with the trash can.
Now Io Shirai joins the match! Dakota hits KLR back but Shirai is bringing in chairs! Cora stomps Gigi and Dakota to keep them down while KLR gets the chairs from Shirai. Shirai brings out another trash can, and the lid. Dakota corners Cora to then BOOT Shirai down! Dakota RAMS Shirai into steel! Gigi digs her boots into Shirai, then drags her up to whip her into more steel! Dakota stomps KLR, stomps Shirai, and Gigi adds on! Cora kicks back but Gigi CLUBS her down! Dakota BOOT WASHES KLR! Gigi BOOTS Cora down, Dakota CLUBS Cora. Gigi digs her boots into KLR, but Cora gets her skateboard! Only for Dakota to BOOT her down!
KLR SMACKS Gigi with the trash can, but Gigi kicks her back. Cora CLUBS Dakota, KLR ROCKS Gigi! KLR gives Gigi a GOURD BUSTER, but hen Dakota pulls KLR's hair! Cora goes up top, kicks Dakota away and then walks the ropes to RANA in the gap! Cora fires up and then runs in, only for Dakota to dodge! Gigi slips in and CLOBBERS Cora into the posts! Gigi snarls and fans are on her side as she stalks up to KLR. KLR tries to hit back but Gigi CLUBS her down. The countdown returns as Gigi KICKS KLR against ropes. Toxic Attraction sends Jacy Jayne! Dakota uses a chair while Jacy brings out a TABLE! Fans like that!
Dakota sets chairs up in a corner, Gigi makes room so she can help Jacy with the table. Dakota CLUBS KLR down, then keeps Cora and Shirai down. Jacy TOSSES the can into KLR, then BOOTS her down! KLR falls between the chairs Dakota set up, then Gigi clubs away on Cora. Cora shoves her away but Gigi RANAS Cora to ropes! Jacy runs in to KNEE Cora down! Fans chant, "Let's Get Toxic!" "Toxic Sucks!" as Gigi knees Shirai down! Gigi holds Shirai up as Jacy builds speed, but Shirai brings Gigi down and the KNEE hits Gigi! Shirai ROCKS Jacy, blocks Dakota's boot and sends it into Jacy! Shirai then SHOTEIS Dakota!
Fans fire up as Shirai runs into the corner, SHINKANSEN for Toxic Attraction! SHINKANSEN for Dakota! Shirai has the trash can lid now, FULL METAL SHINKANSEN for Toxic Attraction! FULL METAL SHINKANSEN for Dakota! Shirai makes Dakota hold the lid so that Shirai can get a big SWINGING DOUBLE KNEES! 619 for Jacy! Cora has set up the table in the second ring, and now she, KLR and Shirai have Jacy all alone! She tries to get away and Gigi reaches out, but KLR BOOTS Gigi down! Shirai ROCKS Jacy, KLR adds on! Jacy ends up on the table, and fans fire up as Cora decides to climb! The new kid wants to go extreme, and she's on the cage!
SUPER SWANTON BOMB through the table!! Fans lose their minds, and mad respect from the veterans for that one! But Cora is also clutching her arm, did she do as much damage to herself as she did to Jacy? KLR makes sure Dakota is still down in the other ring, then she ROCKS Gigi! Gigi shoves KLR but KLR kicks her and bumps her off buckles. KLR digs her boot into Gigi, Cora makes her way to the first ring. Cora tries her best with just one arm but it might be too much. KLR CHOKES Dakota with a kendo stick! Shirai says Cora is good, and she closes the door! But is this a smart move from the Evil Genius? She has the arm, and she POPS it in for Cora!!
The countdown returns as Dakota JAWBREAKERS KLR! But now, here comes RAQUEL! Ricky Desperado looks under the ring, KLR CLUBS Dakota down, Raquel finds more trash cans and hands them in to KLR. Same goes for more chairs. AND A SHOVEL! But Dakota kicks at Raquel, then closes the door! Dakota and Gigi keep the door shut on Raquel, but Raquel gets a fire extinguisher! WHOOSH, and she puts Dakota and Gigi out! Raquel gets in and rallies on them with elbows and a BOOT! Fireman's carry for Dakota, then Raquel gets a trash can! Raquel pops Dakota around and shoves her into the can! Then Raquel swings the can around!
Gigi runs over but gets BOPPED by the trash can! Raquel then TOSSES the can and Dakota with it! Raquel KICKS the can, then checks on Cora in the other ring. Shirai takes the trash can off Dakota to go up the corner with it, then up the cage! Dakota goes after Shirai to take the can away. KLR goes after Dakota, but Gigi SMACKS KLR with a kendo stick! Gigi and Jacy climb, but then Raquel adds on! DOUBLE POWERBOMB GERMAN SUPLEX, because KLR went with Toxic Attraction! Shirai kicks Dakota and Raquel catches her! SPINEBUSTER! Raquel puts the can back around Dakota and sets her up for OVER THE MOONSAULT!!
Fans fire up with Shirai and Raquel, and Raquel goes back to check on Cora. Cora gets feeling into her bad arm, but is she in any shape to fight? Gigi regroups with Dakota, the countdown returns, but we all know that Mandy Rose finally joins the fight! Mandy grins and struts as she gets right in, grabs a chair, and JAMS Raquel! Then SMACKS her on the back! Mandy sees Cora in the other ring and goes right for her. Shirai grabs at Mandy's leg but Mandy kicks her away. Mandy grins as she picks on Cora. "Does your arm hurt?" Mandy drags Cora by the arm! But Shirai CLOBBERS Mandy and kicks her away!
Toxic Attraction regroups with Dakota, but Shirai, Raquel & KLR stand in their way! WarGames truly begins now, in that it can finally end, and it is clear Cora is the target. Shirai and team dare Toxic Attraction to try when they all have a kendo stick. KLR looks at Cora, and creeps over. What is KLR thinking? Dakota jumps in and get a SMACK! KLR then tosses the stick to Cora so she can defend herself as the brawl breaks loose! Shirai is after Gigi, Mandy and Jacy mug Raquel and KLR avoids a DDT to chairs from Dakota, but she still gets knocked down by Gigi! Dakota covers, Shirai breaks it! Mandy pulls Shirai's hair but Shirai gets around to GERMAN SUPLEX! Cover, Jacy breaks it!
Jacy gets a chair, sets it down, Shirai runs in but FULL METAL SPINEBUSTER! Jacy runs but Raquel CLOBBERS her! Gigi runs at Raquel, tilt-o-whirls, but Raquel blocks the DDT with power! Raquel puts Gigi up top, SMACKS her off steel, then gets Jacy up. Raquel brings Jacy around, adds Gigi to it, but Mandy SMACKS her with a kendo stick! Toxic Attraction picks on Raquel, KICKS and SMACKS from all sides! Gigi RANAS Raquel into a chair, Jacy FULL METAL DROPKICKS! Double cover, but CORA smacks that apart! Cora has one arm to use that kendo stick with, but she retreats to the second ring as Toxic Attraction & Dakota regroup.
Cora fires off with the kendo stick on everyone! But she gets knocked down, and they sit her up for Mandy to stomp! Mandy runs, KNEE FROM A ROSE! Cover, TWO!! Cora survives and shocks everyone! Cora is surprised, too, but Mandy drags her up to go after the bad arm! Dakota keeps KLR down, Gigi & Jacy stomp Raquel, but Shirai springs up and has a kendo stick to SMACK Mandy! KLR schoolgirls Dakota into buckles! Jacy SMACKS Shirai with a chair, then Gigi BOOTS KLR against the steel. Raquel gets Jacy for a CHINGONA BOMB! Double BOOTS take Gigi and Raquel down! Cora is the only one up! She hurries to high stack Jacy, HER TEAM WINS!
Winners; Io Shirai, Raquel Gonzalez, Kay Lee Ray & Cora Jade, by pinfall
The underdog with one arm comes through for the team! What a big win for them all, will this lead everyone to bigger and better in the near future?
Team Black 'n' Gold meet in the locker room.
Ciampa says, "Boys. WarGames." Huh? WarGames! YEAH! Gargano finally gets into a WarGames. Could also be his last, but he's excited to be in one with these guys. Knight says it's his first, too, but Dunne and Ciampa have been in this before, but one thing they've all done is have that big match feeling. In the other locker room is a bunch o' boys because they ain't ever felt this before. They have a glimmer of hope because of the man-up advantage. Well someone told them the wrong damn story, YEAH! Ciampa asks Bruiserweight his input, Dunne just shrugs. Beautiful. But this is big for them. Tonight, it isn't just their moment. This is Gargano's moment. Is that to say Gargano kicks off WarGames for his team?
NXT Tag Team Championships: Imperium VS Kyle O'Reilly & Von Wagner!
Marcel Barthel & Fabian Aichner do not respect the team of #CoolKyle and big Von Wagner. It may be that they're still rather fresh as a duo. It may be that they do not show the same reverence for the ring. And it's most certainly because as Europeans, they look down on Americans. Will the Impeccable German & Pride of Italy keep the mat sacred? Or will Kyle & Von make Imperium admit in all languages that they greatly underestimated them?
The introductions are made, the belts are raised, and we're about to see if arrogance gets in the way of dominance!
The teams sort out, Kyle starts against Barthel. The two circle, fans rally up, and they tie up. Kyle waistlocks, Barthel wrenches and arm-drags Kyle to then roll and wrench to a wristlock. Kyle rolls, Barthel rolls with him! Fans duel, "Let's Go, Kyle!" "Kyle Sucks!" Kyle spins, steps through and back drops Barthel! Barthel tries to sunset flip but Kyle has the arm for an ARMBAR! Barthel hurries to high stack, ONE! Barthel whips Kyle, tags Aichner, Aichner arm-drags Kyle to a cording hold! Fans rally, Kyle fights up but Aichner wrenches. Kyle CLUBS free, ROCKS Aichner, but Aichner CHOPS and CHOPS and CHOPS back! Kyle turns it around, Aichner dodges and CHOPS again!
Aichner puts Kyle in the corner, whips him corner to corner but Kyle goes under, and KICKS Aichner down! Tag to Wagner, Kyle sets Aichner up, LEAP FROG ATTACK! Von drags Aichner up to back suplex high and hard! Cover, ONE! Von pushes Aichner down to then FALLING HEADBUTT! Cover, TWO! Von drags Aichner up, tags in Kyle, and they stomp and KICK and HEADBUTT Aichner over and over! Kyle drags Aichner up, wrenches, but Aichner gets free to CHOP! Kyle KICKS, Aichner CHOPS! Aichner blocks the kick, Kyle catches the chop! Kyle wrenches, knees low and has a facelock! Aichner fights but Kyle cranks the hold, but Barthel gets in!
Kyle kicks at Barthel and he backs off, Aichner uses that distraction to snap suplex Kyle away! Tag to Barthel, Aichner puts Kyle in a corner and Barthel whips corner to corner. Barthel runs in to EuroUpper, GAMANGIRI then HALF HATCH! Barthel hops up the corner, leaps, but into a KICK! Barthel keeps Kyle from Von to whip and ROCK, then snapmare and PENALTY KICK! Barthel holds up a finger to shout, "NEIN!" Barthel brings Kyle up but Kyle WRINGS his arm! Tag to Von and he rallies on Barthel! BIG shoulder tackle, then a scoop and SLAM! Von fires up, runs in but blocks the boot. Barthel brings Von down to KICK him away, hot tag to Aichner!
Aichner rams Von but Von stays up! Aichner CHOPS, dodges Von's lariat and catches the Thesz Press for a squat! ROLLING SENTON! Fans fire up seeing that display of strength! Aichner drags Von up, wrenches and clamps onto the arm to tag in Barthel. Aichner whips, Barthel arm-drags but Von blocks to CLOBBER Barthel! Tag to Kyle, he BOOTS Aichner, then kitchen sink knees Barthel! Kyle clinches, throws knees, then fires off KICKS and SLAPS! Leg sweep! Barthel goes to the corner, Kyle runs in to forearm smash! Wrench and ELBOW BREAKER, but Barthel forearms. Kyle fires off more heavy strikes, ROCKS Barthel, then runs, into a cheap shot from Aichner!
Barthel CLOBBERS Kyle! Fans fire up and rally as Barthel scrapes his soles on Kyle's face, then basement EuroUppers! Barthel drags Kyle up, tags Aichner, and Imperium whips Kyle to CLOBBER him! Aichner stomps Kyle around, rains down fists, then he talks trash to Von. Aichner drags Kyle up to RAM him into the corner. Tag to Barthel, Barthel whips Kyle again but Kyle ducks Aichner's clothesline to BOOT Barthel! Kyle KNEES Aichner down, and Imperium both tumble to the floor! Kyle crawls the long way across the ring, but Aichner gets in to intercept! Kyle back drops Aichner away! Hot tag to Von!
Von rallies on Imperium with big clotheslines, boots and shoulders! Aichner dodges but gets a LEG LARIAT! Von whips, Barthel reverses, Von clips Aichner to then POWERSLAM Barthel! Gut wrench SLAM for Aichner! Von DOUBLE CLOTHESLINES Imperium out! Fans fire up for Von and he fires up as he hurries out after Imperium. Von CLOBBERS Barthel, CLOBBERS Aichner, gets back in the ring to then go out and give Imperium an APRON BACK SUPLEX! Kyle runs and FLYING KNEES Aichner down! Von gets Barthel for an OLYMPIC SLAM in the ring! Cover, TWO!! Barthel survives but Von keeps his cool.
Von drags Barthel up, Barthel JAWBREAKERS! But Von choke grips! Barthel CLUBS the arm, CHOPS and kicks and CLUBS Von, then underhooks! Von blocks the suplex and throws Barthel away. HEADBUTT, and Barthel falls! Von steadies himself, storms over, but Barthel trips him into buckles! Aichner tags in, they set Wagner in the ropes, CORNER DOUBLE DROPKICK! Cover, TWO! Aichner tags Barthel back in, Barthel goes up and Aichner reels Von in. But Von back drops free! Barthel leaps, into a choke grip! CHOKE SLAM onto Aichner! Von hobbles and tags in Kyle! Kyle goes up top, KING KONG KNEE DROP to Barthel's leg! HEEL HOOK!!
Barthel endures, fans rally and duel, Barthel clubs away at Kyle's legs but Kyle pulls harder on Barthel's! Barthel drags himself over, Aichner gets up to springboard TRIANGLE MOONSAULT!! Direct hit on Kyle and fans lose their minds! Everyone is down, "This is Awesome!" Barthel puts Kyle up top, Aichner tags in! Barthel GAMANGIRIS Kyle, Aichner BOOTS Von! Barthel TOSSES Kyle to Aichner, but Kyle GUILLOTINES out of the suplex! Von runs in to clothesline Barthel and himself out of the ring! Aichner is caught in the body scissors, powers out, but Kyle makes it a cradle! Barthel tips it! TWO!! Kyle escapes, BOOTS Aichner, but Aichner BOOTS back!
Kyle and Aichner DOUBLE BOOT! Kyle yoyos, into DOUBLE LARIATS! Both men fall and fans are thunderous for "NXT! NXT!" Hot tags to Von and Barthel! Von dodges but Barthel CHOPS, kicks, and throws hands! Von throws hands back, going back and forth! Von gets the edge but Aichner gets in to CHOP BLOCK! Kyle gets in to AX 'N' SMASH Aichner! Barthel gut wrench SLAMS Kyle! Von scoops Barthel, but Barthel slips out! Barthel shoves Von, but gets caught in the HIGH LOW!! Cover, the ref is busy with Aichner! He finally sees, TWO!!! That delay saved Imperium!! Fans argue the count, but Von drags himself over to tag in Kyle.
Kyle and Von get Barthel up, Von runs, but Barthel elbows Kyle and dumps Von! Barthel hurries to tag in Aichner! Aichner runs at Kyle, Kyle ducks but Aichner goes up and up and SUPER CROSSBODIES Von!! Fans lose their minds, Aichner gets Kyle for a lift, but Kyle slips out of the bomb to BRAINBUSTER!! Cover, TWO!! INTO AN ARMBAR!! Kyle pulls the arm back, then shifts to a TRIANGLE HOLD! Aichner flails, reaches, scoots around, but Kyle throws down fists! Aichner is fading! But he gets a second wind to deadlift Kyle! Barthel tags in and goes up top! IMPERIAL BOMB!! Cover, Imperium wins!!
Winners: Imperium, by pinfall (still NXT Tag Team Champions)
What a war for the tag titles! Kyle & Von came way closer than Imperium thought they would, but they couldn't take over the tag division. Von and Kyle regroup, and fans chant, "Thank You, Kyle!" Was this the last chance for the three-time tag team champion? Von rushes at Kyle?! But Kyle's ready, and he ducks to AX 'N' SMASH Von!! Kyle shouts about Von being dumb enough to think Kyle doesn't know this game! "This is a brotherhood!" Kyle throws up the Undisputed Era symbol! And then he tells Von to SUCK IT! Kyle storms off, fans are fired up! Will Kyle teach Von what it takes to survive in NXT?
Backstage interview with El Legado Del Fantasma.
McKenzie asks them about Santos Escobar's huge match with Xyon Quinn this Tuesday. Escobar will put it this way, first in Spanish, then in English, "Xyon Quinn bit off more than he can chew." Reality hits Xyon in the face. Then what about Elektra Lopez meeting up with Xyon last week? McKenzie, they are familia. Their affairs are solved behind closed doors. And just to be clear, Elektra is a grown ass woman. What she does on her time is none of your business. Elektra storms off, Legado follows after. But will that business be settled when Escobar takes on the Gentleman Fighter on NXT?
Hair VS Hair: Cameron Grimes VS Duke Hudson!
The Carolina Cash Money Caveman took The Smug poker "master" to the cleaners in Duke's Poker Room, then messed with his head in the rematch. But now Hudson wants to humiliate Grimes and mess with Grimes' head by shaving it bald! But will that just backfire on Hudson like those card games did? Or will he not need to worry about bluffs when he can just beat Grimes down?
The bell rings and the two rush each other! Hudson RAMS Grimes into a corner, RAMS his shoulder in again and again, then bumps Grimes off buckles. Grimes turns things around to KICK and KICK and KICK! Hudson shoves Grimes down, stomps him around, then drags him up to TOSS him out of the ring! Grimes hits the steel steps pretty hard, but Hudson goes out after him. Grimes blocks the bump to SMACK Hudson off the steps! Grimes then goes from the apron to CANNONBALL! Direct hit and Hudson flounders to the ramp. Grimes gets Hudson up but Hudson RAMS him into the apron! They get in at 8 of 10, but Grimes runs to forearm smash Hudson down!
Grimes rallies with shoulders, then he runs corner to corner to- Leap into an URENAGE! Hudson rains down fists on Grimes, fans boo but Hudson paces about. Hudson sits Grimes up to JAM a knee into his back! Hudson brings Grimes up again but Grimes throws body shots. Grimes runs but Hudson pulls hair! Hudson reels Grimes in, Grimes victory rolls! TWO, and Hudson runs in but Grimes elbows him away! Grimes BOOTS Hudson, goes up and QUEBRADAS! Cover, TWO! Hudson crawls, Grimes snarls and KICKS Hudson's leg! And then KICKS him in the corner again and again! Hudson bails out and fans boo, but Grimes goes to the apron!
Hudson blocks the kick to yank Grimes down and OVERHEAD Belly2Belly suplex him to the floor! Hudson gets in as the count climbs. The count is past 5 of 10, Grimes gets up at 8 and in at 9! Hudson stomps Grimes at the ropes, drags him up and whips him to ropes to CLOBBER him with an elbow! Hudson drags Grimes up, reels him in and has a cobra twist! Grimes resists but Hudson CLAWS Grimes in the side! Fans rally as Grimes endures the stretch, and Grimes powers up to power out, only for Hudson to throw him down by his hair! Fans chant, "You Suck!" as Hudson fish hooks Grimes' face. Hudson puts Grimes in a corner to stomp away!
The ref counts, Hudson lets off, fans chant, "You're Still Dukie!" Hudson suplexes, Grimes makes it a cradle! TWO, and Hudson CLOBBERS Grimes again! Hudson sits Grimes up to JAM his knee in again, and again! Hudson eggs Grimes on, "I'm gonna shave you bald!" Fans chant "DUKIE! DUKIE!" as Hudson whips Grimes corner to corner hard! Grimes falls but fans rally up for him. Hudson stands Grimes up to reel him in, BACKBREAKER! Hudson bends Grimes back for a backbreaker rack but Grimes endures. Fans rally, Grimes fights out with fists, and Grimes gets up, only for Hudson to scoop! Grimes RANAS Hudson into ropes!
Hudson drags Grimes up by a leg, Grimes ENZIGURIS! Hudson staggers, Grimes ducks and dodges, COLLISION COURSE! Cover, TWO! Hudson survives but fans rally up for Grimes. Grimes counter punches Hudson, and again! Grimes spins Hudson to scoop, but Hudson slips out to gut wrench Grimes up! Hudson swings Grimes but Grimes makes it a DDT! Cover, TWO! Grimes grimaces while Hudson goes to the apron. Grimes goes out and PENALTY KICKS Hudson from the apron! Fans fire up, Grimes brings Hudson up and into the ring. Grimes slingshots but Hudson holds off the sunset flip and sits! Hudson has the rope and the ref sees it! Grimes finishes the sunset, TWO!!
Grimes kicks, Hudson avoids the roundhouse but not the SUPERKICK! POISON-RANA!! Fans fire up with Grimes as Hudson flounders about. Grimes runs in to BOOT in the corner! Grimes then goes up top, to CROSSBODY! Deep cover, TWO! Fans fire up as Grimes goes to a corner. Hudson stands, Grimes says, "TO! THE! MOON!" But he runs into a BOSS MAN SLAM! Cover, TWO!! Grimes survives and Hudson can't believe it! Hudson drags Grimes up, gut wrench to a crucifix, but Grimes RANAS out of Razor's Edge! Hudson hits buckles, Grimes rolls him up! With a handful of tights!! GRIMES WINS!!
Winner: Cameron Grimes, by pinfall (Duke Hudson loses his hair)
Hudson protests, Grimes cheated! But it's only cheating if you get caught! And with the barber's chair in the second ring, we all know what's coming! Hudson tries to run away but Grimes throws him into the ring! But Hudson CLOBBERS Grimes! Hudson drags Grimes up and puts him in the chair! No, this isn't the bet! Hudson is the one who should be getting sheered! Hudson grabs the electric razor, but Grimes BOOTS Hudson down! Then he hits a CAVE-IN!! Now things are as they should be as Grimes gets the razor! Grimes makes Hudson take a seat, and fans chant, "Shave Him Bald!" Grimes sets to work buzzing through Hudson's hairline!
Hudson comes to and runs away before Grimes can finish! But will he have to make the change after getting a runway down the middle of his head?
NXT Cruiserweight Championship: Roderick Strong w/ Diamond Mine VS Joe Gacy w/ Harland!
Apparently, a 205 pound weight limit is offensive? Well, NXT's Mr. Inclusion does make a point that the world should be a better place for all. But will he be able to resolve the conflict and turn this into NXT's Openweight Championship? Or will he not be able to break the Savior of the Backbreaker?
The introductions are made, the belt is raised, and we see if Strong exclusively keeps Gacy from being a champion.
Strong and Gacy tie right up, go around, and Strong puts Gacy in a corner. The ref counts, Strong lets off but shoves Gacy as he tries to hug him. Gacy says they can resolve this easily but they circle and tie up again. Strong trips Gacy and eggs him on. Gacy gets up, Strong shoves him. Gacy wants to hug it out but Strong wants to fight. So Gacy SLAPS Strong! Strong fires forearms and body shots and has Gacy on the ropes! Strong knees low, scoops and BACKBREAKER! Gacy gets up, Strong CHOPS him! Gacy flounders, Strong gets Gacy up to scoop and hits another BACKBREAKER! Strong stalks Gacy, dares him to hug him now, but Gacy wants Strong to take it easy.
Strong brings Gacy up to headlock, Gacy powers out and runs Strong over! Things speed up, Gacy shoves and CLOBBERS Strong from behind! Gacy stomps away on Strong then drops an elbow! Gacy gets Strong up to CLUB him, throw body shots, then forearms. Strong puts Gacy in a corner to CHOP! Strong tears Gacy's button-up shirt off to CHOP him! And kick him, then CHOP him again! Gacy crawls, Strong stands Gacy up to CHOP him down! Strong gets Gacy against ropes to CHOP him, but Gacy throws body shots! Strong forearms, joins Gacy on the apron, but Gacy BOOTS him down! Gacy throws off what's left of his shirt to CLUB away on Strong!
Strong flops to the floor, Gacy gets him up and in, then drops another big elbow! Gacy DECKS Strong, brings him up from the corner but Strong slips out to run. Gacy ROCKS Strong then hits a BACKBREAKER! Cover, ONE! Gacy drags Strong up, suplexes high and hard, then covers, ONE! Gacy drags Strong back up, throws a hard forearm, but Strong CHOPS! Gacy CHOPS back, then waistlocks. Strong holds onto ropes, Gacy CLUBS him! Gacy whips Strong corner to corner, Strong reverses and runs in to KNEE Gacy down! Strong hoists Gacy up top, CHOPS him again, then climbs up to join him. Strong gets Gacy up and fans fire up, for the SUPERPLEX!
Both men are down and fans fire up! Strong crawls to a cover, TWO! Only now does Harland even react by putting his hands on the apron. Strong throws forearm son Gacy but Gacy gives them back. They go back and forth, fans fire up, and Strong gets around to knee low! Fireman's carry, GUT BUSTER DROP! Strong gets Gacy back up, OLYMPIC SLAM! Cover, TWO! Fans rally up, Bivens is frustrated on Strong's behalf. Strong gets the legs, he turns Gacy over for the BOSTON CRAB! Gacy endures, powers his way around, but Strong drags Gacy away! Strong turns Gacy back over, but Gacy gets an arm and starts kicking Strong in the face! Gacy drags Strong down, CROSSFACE!!
Strong flails, scrambles, and gets the ROPEBREAK! The ref counts, Gacy lets off but runs in, to clothesline Strong out! Strong lands right by Diamond Mine and they hurry to help him, Gacy runs to FLY! Direct hit and down goes Strong AND the Creed Brothers! Gacy puts Strong in the ring, but then he stares down Ivy Niles! Niles gets her chain ready, but here comes Harland! Harland picks Niles up but Gacy tells him to let her down. Harland lets Niles free, the ring count is climbing! Gacy gets in at 8, Strong runs in but misses! Gacy knees low, gut wrenches and POWERBOMBS! High stack, TWO!!
Gacy runs, but Strong KNEES Gacy down! Gacy flounders, Strong gets him up, END OF HEARTACHE!! Cover, Strong wins!
Winner: Roderick Strong, by pinfall (still NXT Cruiserweight Champion)
Not only does Strong keep this title, he keeps it the Cruiserweight title! Will Diamond Mine never crack under pressure? Will Gacy stop trying to change the way things are done in NXT? Or will this only motivate him to try even harder?
Backstage interview with Kyle O'Reilly.
McKenzie asks what happened after their tag title loss, and Kyle says, "You know I've been in this business a long time, right? And Von Wagner, if you didn't think I smelled that turn coming from a mile away, you must be stupider than you look!" This is the first time in five years Kyle wasn't in a WarGames match, and he's hungry for some steel. So if Von wants to finish what he started, they can leave that cage up for Tuesday, because Kyle wants him inside that steel! A vicious challenge has been issued to Von, will he have the guts to take on #KillerKyle?
Men's WarGames: Tommaso Ciampa, Johnny Gargano, Pete Dunne & LA Knight VS Carmelo Hayes, Bron Breakker, Tony D'Angelo & Grayson Waller!
The battle of generations is on! Old School VS New School, Black 'n' Gold VS 2.0, the veterans who paved the way and paid their dues VS the future of sports entertainment! At least, that's how the new kids on the block want everyone to think. But will DIY, the Bruiserweight and the Million Dollar Megastar show the North American Champion, the Big Booty Nephew, the Pro-Wrestling Paizon and the 21st Century Success Story it ain't their time yet?
Mitchell's NJPW WTL x BOSJ Results & Report! (12/5/21)
BOSJ, Round 9!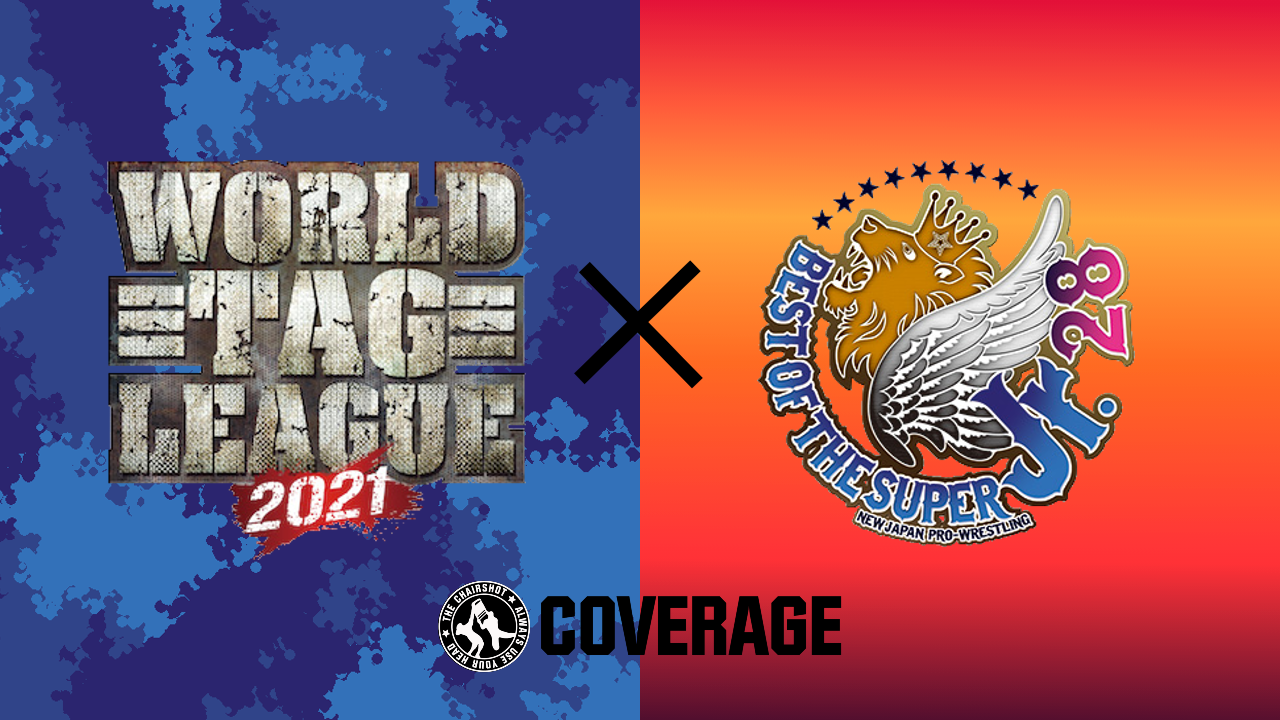 Will the IWGP Junior Heavyweight Champion finally take over?
We're entering the Best of the Super Juniors homestretch, but El Desperado still isn't in the lead! Will he get closer to that with a win over Bushi?
OFFICIAL RESULTS
Best of the Super Juniors 28: DOUKI VS Taiji Ishimori; Ishimori wins.
Best of the Super Juniors 28: YOH VS Yoshinobu Kanemaru; Yoh wins.
Best of the Super Juniors 28: Ryusuke Taguchi VS El Phantasmo; ELP wins.
Best of the Super Juniors 28: Robbie Eagles VS SHO; Eagles wins.
Best of the Super Juniors 28: Hiromu Takahashi VS Master Wato; Hiromu wins.
Best of the Super Juniors 28: BUSHI VS El Desperado; Desperado wins.
PLAY BY PLAY
Here are the current BOSJ 28 standings!
SHO: 6-2, 12 points
El Desperado: 4-3-1, 9 points
Hiromu Takahashi: 4-3-1, 9 points
Yoshinobu Kanemaru: 4-4, 8 points
Ryusuke Taguchi: 4-4, 8 points
Robbie Eagles: 4-4, 8 points
El Phantasmo: 4-4, 8 points
Bushi: 4-4, 8 points
Taiji Ishimori: 4-4, 8 points
YOH: 4-4, 8 points
Master Wato: 3-5, 6 points
Douki: 2-6, 4 points [ELIMINATED]
Best of the Super Juniors 28: DOUKI VS Taiji Ishimori!
Japones Del Mal is not in the running, but he can be a spoiler for everyone he faces next! Will Bone Soldier Reborn be the first run Douki ruins?
The bell rings and Taiji goes right at Douki with a low kick! Taiji whips, Douki reverses, Douki hurdles and rolls back but Taiji throws him down, only for Douki kip up and arm-drag Taiji away. Douki blocks the haymaker to knuckle lock, CHOP, go up and up and FLYING ARM-DRAG! Taiji bails out, Douki slingshots to the apron but Taiji disrupts the asai moonsault! Fans cheer the exchange, and Taiji drags Douki up to whip him into railing. Taiji wraps Douki's arm around railing and pulls! The ref reprimands, Taiji hammerlocks the arm to POST Douki's shoulder! While the ref checks on Douki, Taiji goes to the blue corner and unties the buckle pad. The Bullet Club special comes into play!
A ring count starts, Douki slowly gets up and stands at 10 of 20. Douki gets in at 11 but Taiji is right on him. Taiji wrenches the arm, hammerlocks, and RAMS Douki into the bare buckles! Douki writhes, the ref reprimands, but Taiji covers, ONE! Fans cheer but Taiji traps an arm to pull on the other. Douki endures as Taiji moves the arm around, then Taiji SNAPS it back! Douki writhes and clutches his shoulder but Taiji looms over him. Taiji slaps Douki around, brings him up, but Douki throws body shots and CHOPS! Taiji CLUBS Douki, drags him up and scoops, but Douki slips off to roll-up! TWO and Taiji BOOTS Douki! Taiji runs but into a dropkick!
Both men are down and fans rally up. Taiji goes to a corner, Douki goes to the other. Douki runs in to clothesline, then he runs, only for Taiji to dodge. Douki wheelbarrows and arm-drags, then dodges to springboard back elbow! Fans fire up as Douki runs and he DOUBLE STOMPS Taiji down! Cover, TWO! Douki drags Taiji up, hooks him up, but Taiji resists the Gory Especial. Douki spins Taiji around, knees him low then whips, but Taiji handsprings to NEURALIZER! Both men are down again and fans rally back up. Taiji and Douki go to opposite corners again, and this time Taiji runs corner to corner.
Taiji blocks boots, puts Douki in the ropes to ENZIGURI and SLIDING GERMAN! Cover, TWO! Taiji drags Douki up, and POSTS him in the bare corner! Taiji then drags Douki back to wrench the bad arm, ELBOW BREAKER! Taiji runs, but Douki blocks the boot to hook Taiji up! Gory Especial, DOTON NO JUTSU! Cover, TWO! Taiji rushes in but into the ITALIAN STRETCH #32! Taiji endures, fans rally up, and Taiji reaches out to ropebreak! Douki lets go, goes to the apron, and takes aim. Slingshot, but no Daybreak! Taiji powers Douki up and around to CIPHER- NO! Douki turns that into a wheelbarrow! But Taiji fights the full nelson and switches, but Douki elbows him away.
Douki goes to run but Taiji reels him in. Douki breaks free, mule kicks and ENZIGURIS! Both men are down again and fans rally back up. Douki goes back to the apron, slingshot, DAYBREAK! Cover, TWO! Taiji survives but Douki fires up! Fans rally up more and Douki brings Taiji into the wheelbarrow. Taiji arm-drags then FUJIWARA! BONE LOCK!! Douki endures, crawls, but Taiji rolls Douki away from ropes! Taiji facelocks but Douki slips out and rolls him up, TWO! ITALIAN STRETCH #32! Taiji fights up but Douki pulls harder on the hold! Fans rally, Taiji starts to fade, but he fights back up. Douki rolls him from ropes but Taiji drags Douki up!
Douki fights Bloody Cross to torture rack, but Taiji slips out of the swinging slam! Taiji tilt-o-whirls for the takedown! BONE LOCK!! Douki crawls, Taiji rolls him from ropes and pulls way back! Douki taps, Taiji wins!
Winner: Taiji Ishimori, by submission (gains 2 points; Douki earns 0)
The Bone Solder is still alive in the BOSJ! Will he still have a chance to reach the finals this year?
Best of the Super Juniors 28: YOH VS Yoshinobu Kanemaru!
Direct Drive broke even by getting a huge win over the IWGP Junior Heavyweight Champion! But will the Heel Master get revenge on El Desperado's behalf? Or will Yoh continue this incredible comeback run?
Yoh makes his entrance and Kanemaru attacks! Kanemaru kicks and CLUBS Yoh against the railing, the ref reprimands but Kanemaru whips Yoh into railing! The bell rings to get this on record as Kanemaru stomps Yoh down. Kanemaru drags Yoh up to CLUB him on the neck, then whips him towards more railing. But Yoh grabs the post to swing himself into the ring! Kanemaru hurries to the apron, Yoh dropkicks him down! Yoh then PLANCHAS! Direct hit and fans fire up with Yoh! Yoh stomps Kanemaru now, then drags him up to put in the ring. Fans cheer as Yoh continues to stomp Kanemaru. Yoh drags Kanemaru up to forearm, whip, pass and drop toehold!
Yoh adds the basement dropkick, covers, TWO! Yoh drags Kanemaru back up, CLUBS him on the neck now, and fans rally up. Yoh snapmares to chinlock but Kanemaru endures. Kanemaru fights up, pries at the hold, but Yoh squeezes tighter. Kanemaru powers up but can't power out as Yoh holds tight! Yoh grinds the hold, Kanemaru fights up and throws body shots. Kanemaru gets the leg for a SHINBREAKER! He holds on to CLUB the leg, then dropkick it out! Yoh writhes but Kanemaru stomps Yoh. Kanemaru gets the leg, drags Yoh around and YANKS the leg. Kanemaru gets the leg again to drop elbows on the knee and then trap it in a toehold.
Yoh endures, fights back with a chinlock but Kanemaru twists the foot. The fans rally, Yoh drives elbowsinto Kanemaru but Kanemaru pulls on the foot more. Yoh drags himself and Kanemaru over to the ropebreak! Kanemaru lets go at 4, then stomps the leg. Yoh goes to the apron but Kanemaru still drops a knee on the bad knee! Kanemaru baseball slide dropkicks Yoh to the floor! Fans rally up while Kanemaru watches Yoh. The ring count starts but Kanemaru goes out to CLUB Yoh's leg! Kanemaru wraps the leg around railing and BOOTS the railing to jam the leg! Yoh falls over but Kanemaru just SMASHES the knee into the floor!
Yoh clutches his knee and Kanemaru leaves him behind as the ring count starts again. The count is 10 of 20 before Yoh gets up. Yoh hobbles in at 12, Kanemaru has the leg to trip Yoh and turn him for a HALF CRAB! Yoh endures, powers out, reaches out, crawls his way over, and gets the ROPEBREAK! Kanemaru lets go in frustration, and he stomps Yoh's leg again. Kanemaru kicks Yoh, then stomps the leg. Yoh CHOPS back, but Kanemaru kicks the leg out! Yoh writhes, Kanemaru kicks at Yoh again. Kanemaru throws a haymaker but Yoh comes back with a forearm. Kanemaru kicks the leg again, runs, but Yoh blocks the boot! Kanemaru rakes the eyes!
Kanemaru whips but Yoh FLYING FOREARMS back! Both men are down and fans rally up. Kanemaru rolls to a corner, Yoh drags himself up. Yoh runs in and back elbows, then wrenches an arm, only for Kanemaru to duck the clothesline. Kanemaru waistlocks, Yoh switches, but Kanemaru elbows free. Kanemaru runs, but Yoh handsprings to dodge! But the bad leg slows him down! Yoh still dodges the clothesline to NECKBREAKER! Yoh gets Kanemaru back up, FALCON ARROW! Cover, TWO! Fans rally up, Yoh stands and brings Kanemaru around. Yoh full nelsons but Kanemaru breaks free, only to end up in a waistlock.
Kanemaru holds off the lift, mule kicks the leg, but Yoh EuroUppers. Yoh runs, Kanemaru dodges and runs, tilt-o-whirl, but Yoh shoves Kanemaru away. Kanemaru ducks the superkick and dropkicks Yoh's leg out again! Fans rally but Kanemaru gets the FIGURE FOUR! Yoh endures as Kanemaru puts as much pressure as he can on the hold! Fans rally as Yoh reaches out. Yoh pries at the hold but Kanemaru applies more pressure. Yoh moves around, crawls over, but Kanemaru drags him away from ropes! Kanemaru pulls on Yoh's foot but Yoh keeps reaching and crawling! ROPEBREAK! Kanemaru lets go at 4, drags Yoh back up, and scoops for BRITISH FALL! Cover, TWO!
Fans rally up but Kanemaru drags Yoh around to crotch lift for a FACEBUSTER! High stack, TWO! Yoh is still in this but Kanemaru goes up the corner! Kanemaru waits for Yoh to stand, DEEP- NO! Yoh gets around, but Kanemaru denies the O'Conner Roll. Tilt-o-whirl DDT! Yoh staggers, dodges, and SUPERKICKS! Both men are down and fans fire up! Fans rally as both men stir. Yoh gets up and fires himself up! Yoh drags Kanemaru up, underhooks the arms, but Kanemaru blocks and slips out to victory roll! TWO and Yoh sits on the cover, TWO! Kanemaru has the victory roll back, TWO! Dropkick to the leg!
Kanemaru gets the legs and steps through, but Yoh rolls him back into the FIVE STAR CLUTCH! YOH WINS!!
Winner: Yoh, by pinfall (gains 2 points; Kanemaru earns 0)
Another shocker for Direct Drive! Is Yoh going to propel himself to the top with this momentum?
Best of the Super Juniors 28: Ryusuke Taguchi VS El Phantasmo!
The Funky Weapon lost to the Ticking Timebomb while The Headbanga asserted Bullet Club dominance over the Murder Machine. But now, Taguchi and ELP meet again after their IWGP Junior Heavyweight Tag Team Championship rivalry. Will Taguchi win and expose "that" in ELP's boot? Or will his pursuit of the truth cost him the match?
Taguchi does a jump off the corner and then holds his right foot. ELP already knows he's just mocking his "not" loaded boot. ELP holds his sunglasses out to a fan, but then makes him reach. ELP says too bad, and then gives the glasses to Milano Collection AT. ELP then says this is a clean match, there's nothing in his boot. The bell rings, fans rally and the two dance around to the clapping. They get the fans to rally a bit more, and it's starting to look like a 2D fighter with how these two are approaching. They tie up, are in a deadlock, but ELP gets around to waistlock. Taguchi pries the hold open and wrenches to wristlock. ELP rolls, kips up and wrenches back.
Taguchi rolls, kips but falls. Taguchi keeps trying but he can't quite get up. The ref helps Taguchi kip up and Taguchi wrenches! ELP gets away and tells the ref he can't help Taguchi! "No! No! Bad referee." ELP is saying Taguchi is cheating but Taguchi gives the ref a thumbs up. ELP and Taguchi reset, fans rally up, and ELP gets them on the "E! L P!" rhythm. ELP gets around to waistlock then headlock Taguchi. Taguchi powers out, things speed up, Taguchi keeps ELP moving, but then ELP whips Taguchi to turn the tables. ELP keeps Taguchi moving with the bypass and drop down but Taguchi seems to be slowing down. Fans rally and they keep going!
Taguchi trips over ELP and ELP covers, TWO! ELP shows off with jumping jacks and fans rally back up. ELP drags Taguchi up, ROCKS him with a right, then another. Taguchi ends up in a corner, ELP whips but Taguchi reverses. ELP goes up and over, rolls back, and cartwheels to show off more. ELP even handstands and jumps out of the ring to strut about. ELP then slingshots back into the ring to do drop steps and a Quebrada! ELP poses and fans applaud. ELP takes a bow, then he dares Taguchi to show his athleticism. ELP whips Taguchi corner to corner, Taguchi goes up and over and rolls and cartwheels, then shows off his dance moves.
Taguchi then rolls out to dance around ringside as fans rally, then Taguchi gets back in to hop up, but then hop down. Fans cheer as Taguchi strikes a pose. ELP asks, "You guys think that's good? Sugoi, huh? BOO!" ELP shoves Taguchi so Taguchi shoves back. ELP pushes a shoulder, so Taguchi pushes back. ELP pats Taguchi on the face and Taguchi pretends like it hurt. Taguchi gives ELP a bit of a pec check, so ELP "kicks" Taguchi in the shins. Not quite Freshly Squeezed but Taguchi says something and ELP asks for a translation. Taguchi is simply saying ELP kicked him. ELP returns the pec check, and some slaps.
Taguchi wants to purple nurple but ELP slaps the hands away and stomps the foot! Taguchi clutches his foot, surely "that" is in ELP's boot after all! Taguchi has wobbly legs, but ELP BITES Taguchi's hand! Knuckle lock, CHOP, and ELP goes up and up and jumps around to then leap and PURPLE NURPLE! Then DOUBLE! The ref reprimands, ELP lets off and argues with the ref. ELP swings but Taguchi blocks the chop! Taguchi knuckle locks, he goes up and up, then tightrope walks! Fans rally as he goes slowly and carefully, but ELP says he's got him. Fans rally up more, Taguchi tries the jump trick but ends up crotching himself!
ELP shoves Taguchi down and out, and Taguchi is stiff as a board! ELP goes out to fetch Taguchi but he isn't even sure if Taguchi is okay. ELP drags Taguchi up and into the ring, then struts around on the apron as fans rally up. ELP has them change to the "E! L P!" rhythm again before he slingshots, only for Taguchi to slowly roll away. So ELP handstands and walks for the SENTON! Cover, TWO! ELP drags Taguchi up, wrenches and wristlocks, then shouts for Taguchi to tap out. Taguchi fights up, throws body shots, then runs, ducks and dodges, but ELP avoids the hip attack! Taguchi crashes and burns! ELP drags Taguchi back up, wrenches and wristlocks again, then hammerlocks.
Taguchi steps through the ropes, then back in to have ELP's arm wrapped around ropes! Taguchi hip attacks the arm! Taguchi runs, into an atomic drop! But ELP holds that foot, "that" is a bit double-edged. Taguchi HIP ATTACKS ELP down! Fans fire up as Taguchi hip attacks ELP against the ropes, then again! Then slide for the APRON HIP! Taguchi aims as fans rally up, and Taguchi springboards for the MISSILE HIP! Cover, TWO! Taguchi drags ELP up, snap suplexes, Uno Amigo! Then Dos Amigos! THREE AMIGOS! Cover, TWO! Taguchi calls upon the powers of Strong Style! "OHYA~!" Taguchi runs in, but ELP rolls him up! TWO! ELP rakes Taguchi's eyes!
ELP tunes up the band, but Taguchi blocks and rolls ELP! TWO, Taguchi backslides! TWO! Taguchi small packages, TWO and ELP has the package! TWO and it's back to Taguchi! ROLLING PACKAGE! They end up breaking, and both men stagger around dizzily. ELP wants a timeout! Taguchi says no, but his enziguri whiffs! ELP drags Taguchi up, straitjacket torture rack, SWINGING- No, wait, that just makes ELP dizzier. ELP falls out of the ring, Taguchi gets in the ropes to stay in. ELP gets back and Taguchi is stuck? ELP tunes up, but Taguchi drops to avoid Sudden Death! ELP crotches himself on ropes and Taguchi covers! TWO, and ELP low blows as he kicks out!
ELP drags himself to the apron and dry heaves from getting hit low. ELP claims he needs to clean up but Taguchi grabs him. The ref is looking to see if ELP actually barfed, and ELP fakes Taguchi out to mule kick low! ELP wrenches the wristlock, Taguchi taps!! ELP WINS!
Winner: El Phantasmo, by submission (gains 2 points; Taguchi earns 0)
ELP used trickery, but the record book is going to show that Taguchi tapped out to a simple wristlock! Will this ensure the Headbanga is the Best of the Super Juniors?
Best of the Super Juniors 28: Robbie Eagles VS SHO!
All of Chaos was betrayed when High Voltage joined the House of Torture. Will the Sniper of the Skies get his own revenge on the Murder Machine? Or will he be just another victim of Sho's dark side?
The bell rings and Sho offers "Robbie-chan" a handshake. Robbie isn't trusting that at all, so Sho tries a Too Sweet. Eagles kicks that, so Sho goes to ropes. The ref has Eagles stay back, but Eagles chases Sho around the ring. Sho stays near the ropes so Eagles has to stay back. Eagles dodges the sucker punch! Eagles wrenches Sho to a wristlock but Sho wrenches back, only for Eagles to roll and wrench Sho. Sho drops, trips Eagles and has the leg to then get the arm. Sho wrenches, Eagles uses ropes to flip through and wrench back! Eagles hammerlocks and fans cheer, but Sho hammerlocks back. Eagles reaches back to headlock and hit the takeover. Sho pulls hair, the ref reprimands.
Sho kicks around, gets the headscissor, but Eagles moves around to headstand and pop free. Eagles steps through but Sho kicks him away. Sho goes to ropes again but Eagles storms over. Sho rakes Eagles' eyes! The ref counts, Sho stops at 4, and Eagles drops back. Sho stands on Eagles against the ropes, the ref counts, and Sho stops at 4. Sho brings Eagles up but Eagles blocks the whip. Sho rakes eyes! Sho whips, Eagles reverses to go up and around but Sho blocks the arm-drag. Sho whips, Eagles ducks and dodges but Sho blocks the rana! Sho brings Eagles up but Eagles pops off to back elbow. Eagles goes up to FLYING RANA! Sho gets up, into a WHEEL KICK!
Eagles kips up and Sho scrambles! Fans rally as Eagles builds speed, but Eagles fakes Sho out. Eagles runs and DIVES, but Sho makes a Young Lion take the hit! Sho then kicks Eagles and whips him into railing! Sho laughs at the Young Lion's pain while he gets Eagles up and chokes him with his own bandana! Eagles throws elbows but can't get free. The ref sees this and counts, Sho lets go at 4. Sho drags Eagles up, puts him in the ring, and stomps Eagles down. Sho brings Eagles up, bumps him off buckle then stomps away. Sho digs his boots in, the ref reprimands and counts, but Sho lets off at 4. Eagles CHOPS Sho, and chops again, and again!
Eagles throws forearms and ROCKS Sho, but Sho rakes Eagles' eyes! Sho shoves Eagles down then storms around. Eagles flounders, Sho gets the wrist and twists! Sho even bends the fingers! The ref counts, Sho lets go to bring Eagles up and around. Sho suplexes but Eagles blocks. Eagles suplexes but Sho blocks to bend the fingers! The ref counts, Sho CLUBS Eagles' hand, then brings Eagles up for a suplex. Eagles slips out to rolling kick the leg, and BLINDSIDE CLOTHESLINE! Sho bails out, fans fire up and Eagles builds speed to DIVE! Direct hit and they both crash into railing! Eagles checks on Milano Collection and he's okay, so Eagles fires up.
Sho drags himself away but Eagles follows. Sho wants mercy but Eagles CHOPS him instead. The ring count climbs, Eagles drags Sho up and into the ring. Fans fire up as Eagles aims, springboards, and dropkicks the legs out! Eagles runs to PENALTY KICK! Cover, TWO! Fans fire up with Eagles and he runs corner to corner to DOUBLE KNEE! Sho BOOTS back but Eagles 619's the legs out! Eagles then goes corner to corner again, METEORA! Cover, TWO! Eagles drags Sho by a leg, Sho wants mercy and Eagles says this IS mercy. But Sho grabs Eagles' bandana! Eagles gives Sho a spinning toehold! Eagles rolls Sho, hooks him up, but Sho pushes Eagles at the ref!
Sho runs in, Eagles saves the ref to ROUNDHOUSE, SUPERKICK and PELE Sho down! Fans fire up, Eagles drags Sho around, cravat but Sho shoves him away. Eagles goes to the apron, springboards in, but Sho again shoves the ref at him! Eagles pushes the ref aside, but Sho SPEARS him down! Sho drags Eagles up, reels him in and double pump handles, but Eagles slips out of Shock Arrow! So Sho drags him down to SNAKE BITE! Eagles stays on his feet as fans rally, and he moves around to the ROPEBREAK! Sho lets go at 4 and Eagles flops down. Fans fire up as Eagles sputters but Sho twists the wrist again. Sho wrenches, kicks, kicks and KICKS away on Eagles' chest!
Eagles falls over but Sho shakes his head. Sho drags Eagles up to kick, KICK and SUPER- NO! Eagles blocks to CHOP and hook, TURBO BACKPACK! Cover, TWO!! Eagles rolls to SUPERKICK Sho back down! Eagles goes up top and 450 FLOPS! Sho avoids the splash just in time and fans rally up as Eagles stirs. Sho runs in to PENALTY KICK the arm! Sho then has the arm for a KIMURA! Eagles moves around, waistlocks, but Sho switches. Eagles mule kicks the leg, cravats, SHIRA- NO! Sho shoves Eagles into the ref! Then GERMAN SUPLEXES Eagles down! Sho crawls his way to his corner, and he gets the wrench! Fans rally up as Eagles rises, but Sho takes aim.
Eagles ducks the wrench to dropkick Sho's legs out! Fans fire up and Eagles has the wrench! The ref sees the wrench and wants Eagles to drop it. Eagles wants to use it but the ref stops him! So Sho reels Eagles in! Eagles blocks the low blow to SHIRA- NO, Sho slips out and elbows. Sho waistlocks but Eagles victory rolls! TWO, but Eagles schoolboys with bridge, TWO! Step through, RON MILLER SPECIAL!! Sho endures, flails, reaches out, but Eagles drags him away! Fans fire up as Eagles puts more pressure! Sho taps, Eagles wins!!
Winner: Robbie Eagles, by submission (gains 2 points; Sho earns 0)
Now that is a shocker! The Murder Machine's lead is slipping, will he end up not making it to the finals? As for Eagles, is this win going to help him fly higher than ever?
Best of the Super Juniors 28: Hiromu Takahashi VS Master Wato!
Both Ticking Timebomb and Way of the Grandmaster won last round, but while one is so close to the top, the other is on the bubble. Will Hiromu pop that bubble for Wato? Or will his plans for the back-to-back tournament finals blow up in his face?
Hiromu's page for Wato in his guide book reminds Wato of his brutal loss to Sho and his failed World Tag League run with Hiroyoshi Tenzan. The bell rings and fans rally as the two circle. They approach, Wato tests the waters with a kick but Hiromu avoids it. They tie up, Hiromu powers Wato to ropes and the ref calls for the break. Hiromu lets off slowly, but Wato avoids the chop to kick Hiromu! Wato CHOPS Hiromu, KICKS him agains tropes, then whips Hiromu to ropes. Hiromu reverses. hurdles, Wato leaps, and things keep moving. Hiromu follows Wato to RANA, but Wato handsprings through. Hiromu avoids the Penalty Kick, waistlocks, but Wato switches.
Hiromu elbows free, whips and corner clotheslines, then runs, but into the back elbow, uppercut and sobat! Fans cheer Wato and rally up as Wato stalks Hiromu. Hiromu sits up, Wato KICKS him! And KICKS! And KICKS! Hiromu eggs him on so Wato KICKS again! Wato runs but into a boot! Hiromu hops up to HANGING HEADSCISSOR! The ref counts, Hiromu lets go at 4 to drag Wato out and RAM him into railing! Hiromu brings Wato around and whips him at the post! Wato swings around the post to get in the ring! Hiromu gets on the apron, Wato dropkicks him down! Fans fire up as Wato aims, PLANCHA but Hiromu gets clear! Hiromu then whips Wato into railing!
Wato falls on the floor, Hiromu drags Wato up and brings him around to snap suplex to the floor! A ring count starts, Hiromu drags Wato up at 6 of 20 and puts him on the apron at 8. Hiromu hooks Wato's arm sin the ropes and fans rally up. Hiromu gets space to run in and DRIVE-BY DROPKICK! Hiromu drags Wato around, has the legs, for a ROPE GUILLOTINE! Wato clutches his throat, Hiromu drags him to a cover, TWO! Wato is still in this and fans rally up. Hiromu drags Wato up, but Wato CHOPS! Wato forearms, Hiromu DECKS him! Hiromu drags Wato up to scoop and SLAM! Hiromu gets the legs again, ties them up, and hits a Texas Cloverleaf LEG DDT!
Wato writhes, Hiromu gets the leg for a toehold, then a modified ARMBAR! Wato endures this unique submission, he reaches out for ropes, but Hiromu pulls him back in! Wato still fights so Hiromu rolls him to a cover, TWO! Fans cheer and rally up as Hiromu drags Wato up. Hiromu CHOPS Wato, CHOPS again, then whips. Wato blocks by holding ropes, so Hiromu CHOPS him again. Hiromu whips, Wato holds ropes and boots back. Wato BOOTS again, then runs in to RANA Hiromu down! Hiromu bails out, fans rally up and Wato builds speed to TORNILLO! Direct hit and fans fire up while both men are down on the outside.
The ring count starts, Wato crawls over to Hiromu at 5 of 20, drags him up at 10, and then puts him in at 12. Fans rally as Wato aims from the apron. Wato springboards for the FLYING UPPERCUT! Wato fiers up and fans rally as he waits on Hiromu. Hiromu rises, Wato KICKS him from all sides! SUPERKICK! Cover, TWO! Wato drags Hiromu up, wrenches, hooks Hiromu up, but Hiromu fights the Mouse Trap, so Wato makes it an OCTOPUS! Hiromu endures, Wato brings him from ropes, MOUSE- NO! Hiromu fireman's carries, but Wato slips out. Wato runs in but Hiromu dodges to corner clothesline! Snapmare and basement dropkick!
Fans rally up, Hiromu gets up and drags Wato up. Hiromu fireman's carries but Wato fights. Hiromu throws Wato, Wato lands on his feet to knee low. Hiromu catches Wato's clothesline to swing him around and jump, D! Wato is caught in the triangle hold and Hiromu squeezes tight! Fans rally as Wato endures, moves around, rolls, but Hiromu rolls Wato away from ropes! Wato high stacks, dead lifts, but Hiromu lets go to ROLLING ELBOW! Hiromu runs but Wato BOOTS! Wato runs but Hiromu LARIATS! Hiromu runs but Wato boots the lariat away to ROUNDHOUSE! Hiromu goes down and fans fire up with Wato!
Wato drags Hiromu up, wrenches and hooks him up, MOUSE TRAP DRIVER! Cover, TWO!! Hiromu escapes but Wato goes to the corner. Wato climbs, but Hiromu rolls away. So Wato goes for the COUP DE GRACE instead!! Cover, TWO!! Hiromu ends up in another drop zone, Wato goes up top! R P P FLOPS!! Hiromu and Wato are both down and fans rally back up. They are in opposite corners, but Hiromu drags himself up. Wato also rises, runs in, but avoids the overhead suplex! Wato goes up but Hiromu drags him down with a waistlock but Wato switches. Wato avoids the elbow to kick, kick, sobat and KICK!
Hiromu mule kicks, front kicks, but Wato ducks the superkick to SUPERKICK! Hiromu HIGH ANGLE GERMAN! Bridging cover, TWO!! Hiromu survives but fans fire up again! Wato gets up, and he waints on Hiromu to get up. Hiromu guards but Wato kicks him in the back! Hiromu catches the kick to the front, but Wato ducks the clothesline. Hiromu SUPERKICKS! Hiromu roars, runs, but Wato slips around to tilt-o-whirl, only for Hiromu to block! DYNAMITE PLUNGER! Fans fire up while both men are down. Hiromu sits up, grits his teeth, and he drags Wato back up. Wato fights the suplex, wrenches, SCREW HIGH- NO, HIROMU-CHAN BOMBER!
But Wato roars and rises! Hiromu ducks a kick to GERMAN SUPLEX! Hiromu roars, fans fire up and Wato flounders. Hiromu runs, but into a snap cradle! TWO!! Hiromu escapes, Wato CHOPS! Hiromu staggers into a SLAP! And then another! Hiromu SLAPS back! Wato kicks but misses, Hiromu suplexes, VICTORY ROYALE! Cover, TWO! Wato survives, fans fire up, and Hiromu slaps himself to get back up. Hiromu drags Wato up, dragon sleeper, but Wato slips out of the suplex to tilt-o-whirl roll-up. Hiromu rolls through, HIROMU-CHAN BOMBER!! Hiromu fires up and fans are thunderous as he gets Wato up. Dragon sleeper, inverted suplex, TIMEBOMB II!! Cover, Hiromu wins!
Winner: Hiromu Takahashi, by pinfall (gains 2 points, Wato earns 0)
The bubble has burst and Wato's run is done! But will Hiromu be able to stay afloat until the end?
Best of the Super Juniors 28: BUSHI VS El Desperado!
The Black Mask has built back up to break even at 4-4, and he's just behind the Rogue Luchador. Will Bushi get a huge win over the IWGP Junior Heavyweight Champion? Or will Desperado start establishing that he IS the Best of the Super Juniors?
Bushi attacks during Desperado's introduction! He stomps away, the bell rings, and Bushi kicks Desperado around. Desperado gets up, they start throwing forearms back and forth! Fans fire up as they go faster, then Bushi ROCKS Desperado. Bushi talks trash but Desperado rakes the eyes! Desperado whips, Bushi RANAS! Desperado bails out, Bushi runs but Desperado ducks the baseball slide to RAM Bushi into railing! Desperado then DECKS Bushi as payback for how this started. Desperado stomps Bushi, also as payback. Desperado looks around and brings out some chairs from under the ring! Desperado brings one over but Red Shoes stops him.
Desperado pushes Red Shoes aside but Bushi dropkicks the chair into Desperado! Desperado clutches his ribs, Bushi stomps him down. Bushi drags Desperado up and whips him into railing! Desperado falls back, Bushi brings him around to CLUB him on the neck. Bushi RAMS Desperado into the apron, then stalks him as Desperado goes around the way. Bushi stomps Desperado, puts him in the ring, stomps him over and over, then takes off his shirt to CHOKE him! The ref counts, Bushi lets go to then cravat and NECKBREAKER! Cover, ONE!! Bushi keeps cool while fans rally up. Bushi drags Desperado up, brings him around, hangs him out to dry on the ropes then CLUBS him.
Bushi goes to the corner to dropkick Desperado down! Fans rally up, Bushi drags Desperado through the ropes, but Desperado denies the DDT and shoves Bushi down! Desperado then runs and DIVES! Direct hit and they both hit railing! Both men are down and fans fire up! Desperado rises as fans rally, and he goes back to where he left the chairs. Desperado puts one chair on Bushi's leg, then has the other chair. CON-CHAIR-TO to Bushi's leg! Red Shoes reprimands but the damage is already done! Desperado drags Bushi up and puts him in the ring. Desperado kicks railing in frustration while he talks some trash on Bushi.
Desperado then gets in the ring, taunts Bushi, then gets the leg to YANK it! Desperado stands on the knee, Bushi pulls at Desprado's mask but Desperado RAKES his eye! Desperado SPLASHES the leg! Cover, TWO! Bushi rolls away, Desperado drags him into a chinlock. Bushi endures, fans rally up, and Bushi fights up. Desperado squeezes as tight as he can and even twists on the chinlock! Bushi keeps fighting, reaches out, but Desperado rakes eyes! Bushi still gets the ropebreak! Red Shoes counts, Desperado lets off but STRADDLE ATTACKS the leg! Fans rally as Bushi writhes and clutches his knee. Desperado tells them to hush, then he drags Bushi up.
Bushi CHOPS, and CHOPS, and CHOPS! Desperado kicks the bad leg out! Bushi writhes again but Desperado gets the legs tied up for a BUTTERFLY DEATHLOCK! Bushi endures as Desperado moves around and applies pressure. Bushi sits up to dig his head into Desperado's chest, but Desperado puts even more pressure on the stretch! Bushi throws forearms in return! Desperado "falls" to apply pressure, then he shifts to a traditional Deathlock so he can taunt Bushi while reclining. Bushi endures, reaches, crawls, but he CHOPS Desperado. So Desperado sits up for the Butterfly! Bushi crawls, ROPEBREAK! Desperado lets go, and "Oops!" drops knees on Bushi's knee.
Desperado drags Bushi up, whips him corner to corner, but Bushi can't even run on the bad leg! Desperado taunts Bushi but fans rally up. Bushi drags himself up in the corner, Desperado runs in but Bushi puts him on the apron. Desperado kicks Bushi's bad leg through the ropes! Desperado drags Bushi to the apron but Bushi BOOTS Desperado into the railing! Fans fire up as Bushi aims and slingshots, FLYING RANA! Fans fire up as both men are down, and Bushi fires up as he stands! Bushi gets in the ring, manages to build speed and DIVES! Direct hit and Desperado hits railing! Both men are down again and fans rally back up.
The ring count starts and Bushi sits up at 10 of 20. Bushi stands at 12, hobbles over at 14 and brings Desperado up to put him in at 17! Fans fire up as Bushi climbs the corner. Missile dropkick! But no Bushirooni, his knee hurts too much. Bushi drags Desperado up, blocks the elbow and spins him for a DDT! Cover, TWO! Bushi drags Desperado up, reels him in, but his bad leg stops him from using the Destroyer! Desperado shoves Bushi away, rolls him up, STRETCH MUFFLER! Bushi scrambles, ROPEBREAK! Desperado thrashes the leg but lets go at 4. Desperado stomps the knee! Bushi writhes an clutches his leg again, but Desperado drags him back up.
Desperado has the leg, but Bushi CLUBS away to stop the shinbreaker. Desperado keeps Bushi from running, SHIN BREAKER, to GROUND DRAGON SCREW! STRETCH MUFFLER! Bushi endures, fans rally up, Desperado thrashes the leg more! Bushi crawls, reaches out, but Desperado drags him away! Desperado gets an arm, NUMERO DOS!! Bushi endures, reaches and crawls with his one free arm, but Desperado pulls back harder! Bushi refuses to give up here, and he gets the ROPEBREAK! Desperado lets go in frustration, but then drags Bushi away from ropes. Desperado goes up top for a FROG SPLASH! Cover, TWO!! Fans rally up, Desperado gets up, then gets Bushi.
Bushi fights Guitarra, Desperado ducks the enziguri and prevents the heel kick with a STRETCH MUFFLER! Bushi rolls to make it a cradle! TWO, Bushi dodges the clothesline to shove Desperado. Desperado holds ropes but Bushi blocks the boot! Bushi puts the leg in the rope, dropkick to the leg, then DRAPING BACKSTABBER! Desperado is down but fans fire up as Bushi goes to the apron. Bushi drags Desperado up and through the ropes, APRON DDT! Desperado is stuck in the ropes but Bushi gets in to pull him into a cover, TWO! Fans fire up again while both men are down. Bushi drags himself to a corner and climbs up. Desperado stands, Bushi leaps, but Desperado gets under!
Bushi's leg jams, Desperado dropkicks the leg out! Fans still rally as both men are still down. Desperado stands and drags Bushi up. Bushi fires a forearm! Desperado forearms back! Bushi forearms, Desperado forearms back. Fans rally as they go back and forth, faster and faster! Bushi ROCKS Desperado, but Desperado PALM STRIKES! Desperado then spins Bushi around, GUITARRA- NO, Bushi slips out! Desperado elbows Bushi, runs but Bushi boots! Bushi runs, Desperado elbows him! Desperado fakes Bushi out and SPINE- NO! Bushi fights that off, spins Desperado around, FISHER- NO, Desperado slips out to kick the bad leg!
Despereado says too bad, but he runs into a DROPKICK! Both men are down and fans fire up again! Bushi gets up and roars! Bushi gets Desperado up, CANADIAN DESTROYER! Cover, TWO!! Desperado survives and both men are down again. Fans rally up as Bushi rolls his way to a corner. Desperado goes to the other, Bushi runs in, but Desperado blocks the Code Breaker to a SPINEBUSTER! Roll and gut wrench, GUITARRA DEL ANGEL! Cover, TWO!! Bushi survives and Desperado is furious! Desperado gets Bushi up, underhooks, but no Pinche! Bushi wrenches out, enziguri misses but the heel kick hits! Backslide, Desperado rolls through to LOCO MONO!!
Desperado reels Bush in, PINCHE LOCO!! Cover, Desperado wins!
Winner: El Desperado, by pinfall (gains 2 points; Bushi earns 0)
The Black Mask falls to the Rogue Luchador! Is Bushi now on the outside looking in on the finals? Desperado doesn't wait long to get the mic, either, saying, ""I said before the Best of the Super Juniors, I would go into every match with a main event title match approach. But if my opponent doesn't feel that strongly about it, I can't carry it all on my own. Thanks for the effort, Bushi. With that, I was pushed to win this main event."
Desperado continues to say that there's a lot of talk, but no one is running away with this tournament. Who knows who'll be in the finals. But Desperado knows he will show hat it means to be Junior Heavyweight Champion. "I will be in the final, and I will win it." Desperado leaves it at that, but will he be the one determining his own future?
Here are the NEW BOSJ 28 standings!
SHO: 6-3, 12 points
El Desperado: 5-3-1, 11 points
Hiromu Takahashi: 5-3-1, 11 points
El Phantasmo: 5-4, 10 points
Robbie Eagles: 5-4, 10 points
Taiji Ishimori: 5-4, 10 points
YOH: 5-4, 10 points
Bushi: 4-5, 8 points
Ryusuke Taguchi: 4-5, 8 points
Yoshinobu Kanemaru: 4-5, 8 points
Master Wato: 3-6, 6 points [ELIMINATED]
Douki: 2-7, 4 points [ELIMINATED]
---
My Thoughts:
Another great round for BOSJ, and honestly, we could probably consider the 4-5 block as eliminated, too. Yoh getting the win over Kanemaru was a great shocker, and Taguchi VS ELP was very funny stuff. Eagles winning over Sho was another surprise, but again, Sho had a loss to give because he's that far ahead. Wato had another great match against Hiromu, but not quite on the level of the match he had with Desperado. Hiromu and Desperado staying tied makes me want to see the Triple Threat finals happen, just as I said last round.
My Score: 8.9/10