Andrew's Judgmental Album Reviews: Alien Weaponry – Tangaroa (2021)
The JAR has been in mostly western cabinets so far, now it's time to make like my wrestling tastes and wander around the globe. Our first trip is to New Zealand with Alien Weaponry's new album Tangaroa!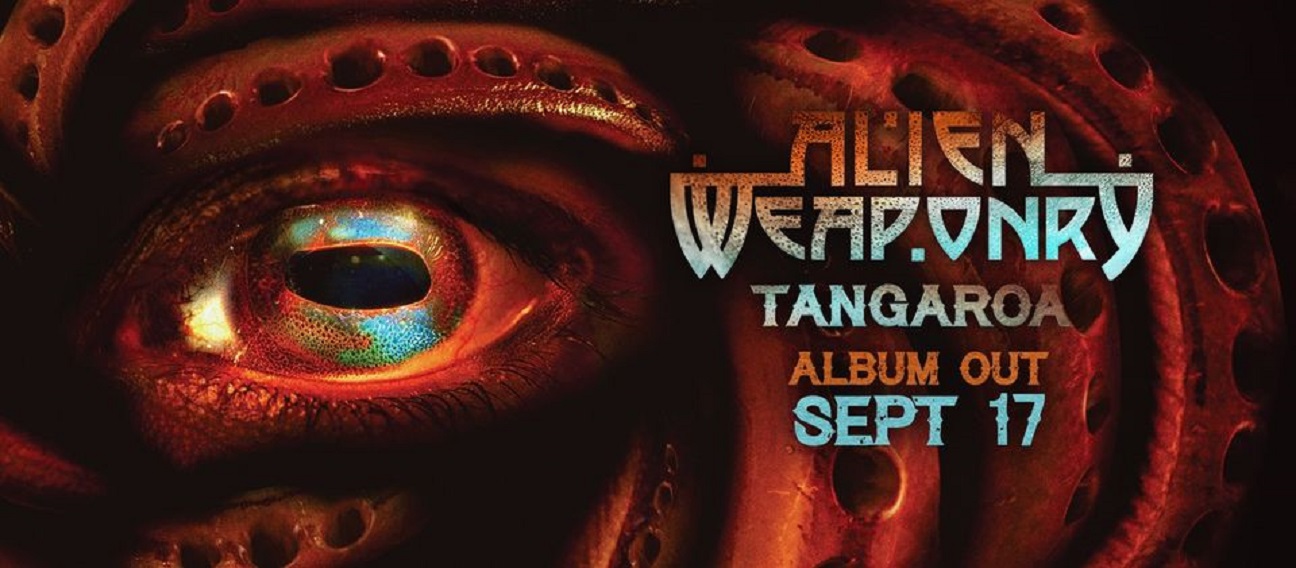 The JAR has been in mostly western cabinets so far, now it's time to make like my wrestling tastes and wander around the globe. Our first trip is to New Zealand with Alien Weaponry's new album Tangaroa!
Alien Weaponry are a band I stumbled across about 2 years ago when bands like The Hu and Shepherd's Reign were getting some traction. Off the strength of Kai Tangata and Ru Ana Te Whenua, I was really excited for their future. They are a young band where the entire 3 piece is either late teens or early 20s. So I could definitely respect that their 2018 album Tu was mostly in the Maori language, but you could hear some odd aspects in the songs. There are thrash metal attacks, some melodic heavy metal, a little nu metal sound at times; and let's just say, I hope this album is a little more focused.
Now it's time to see if the young Maori metalheads can pull off a great sophomore effort!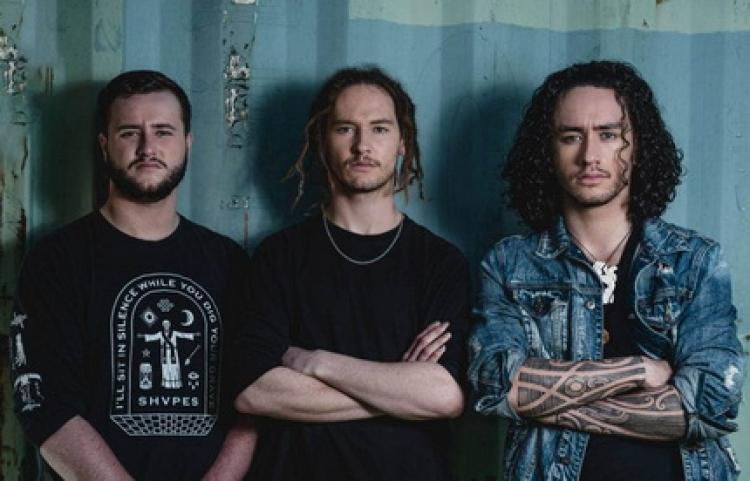 Artist: Alien Weaponry
Album: Tangaroa (2021)
Label: Napalm Records
Titokowaru starts off with pounding drums, and a nice steady guitar attack. Sonically it reminds me a bit of Urotsukidoji from Testament. So that Thrash influence is coming through nicely, but they don't lose the melodic aspect of their song structure. It's also cool to see them continuing to stay true to their heritage and give us a chanting anthemic Maori banger to lead with. The historical reference is apparently Titokowaru was a Maori tribal leader who was one of the most successful to oppose British colonization. Hatupatu has a really great downstroke riffing with the tribal sounding drums to get across the Maori tradition. Since Hatupatu is apparently is from Maori Mythology of being a legendary for chief after a cruel upbringing and outsmarting a deity. The sliding up the frets into the machine gun riffs does a great job at just making this song sound brutal.
Ahi Ka seems to mean something about long term occupation. So the first 3 songs are heavily influenced by the British Colonization and the Maori perspective on it. The interesting thing is this sounds soo much like a Sevendust song instrumentally it confused me for a second. They have this wah pedal affected spiral riff that sounds a lot like the riffing on the Animosity album. Tangaroa the titular song mixes in some English verses. Tangaroa is the God of the Sea in the Maori beliefs, so this is a song depicting humanities destruction of the world. "Undermining our own fate We're trying but we're far too late Look around you'll get an eyeful Stuck inside a vicious cycle Oceans are becoming lifeless You think you care, but you're self-righteous"; is such a great set of lyrics and that's just what's in English to be easily understood. The guitar tone is dark, the drums are heavy and really great at signifying impending doom. Sounds like it could've been very Slayer inspired.
Unforgiving starts off with the sound of a rain storm, really somber picking and the sadness of these first few moments is pretty palpable. When the vocals kick in, they are even strained in a pleading way for effect, I don't mean strained as in poor singing technique. This song is so vulnerable and sad, it encapsulates a feeling of hopelessness, depression and pessimism. The one line of "we are mortal beings that must end" is either coming to terms with the fact everyone dies, or it continues the concept of the last song that we are undermining ourselves as the human race and will be our eventual undoing. Blinded keeps the English coming which helps to connect the last few songs. Because where Unforgiving stayed somber and depressed and only picked up a little toward the end, this starts in that not heavy but guitar driven song and slowly starts to get heavier. A simple song about frustrations with authority and someone not being direct with what they're saying is JUST vague enough to apply to whatever the listener wants. Musically it's frustrated and angry without being balls to wall fury.
Kai Whatu which translates to Eye Eater, is probably a reference to a religious leader who killed and ate people's eyes. After hiding for some time he was captured and tried in a rigged trial so he was hung to death in late 1800s. Apparently he was recently pardoned so this won't be seen as dated praise of a war criminal. The interesting heavy guitar, haunted backing vocal and different drumming really gives an interesting vibe, closest correlation would be like Sepultura, but it's just really unique. Crooked Monsters continues the perspective of just watching the world slowly fall apart. Mostly an instrumental with literally one verse, but it's cool and keeps with the theme of many of these songs. Very proud of their heritage, religion and beliefs.
Now this next song goes back to machine gun riffs and almost sounds like Bullet for My Valentine. Buried Underground, is heavy angry, sparse in the lyrics but the groove is great. I like how we do see a lot of lyrical themes with undermining or feeling undermined, things falling apart, lies and the idea of falling further down a rabbit hole. The lyrical ties (at least in the English songs) are kind of a nice element. Dad is probably the worst song, but also probably relatable for many listeners and given their young age, it makes a level of sense. The way it's sung reminds me of like Suicidal Tendencies or John Bush era Anthrax. So it's heavy but the way it's sung is…hollowed out on the vocals and really whiny. Which given that it's supposed to be about a shitty father, I guess it works and the chorus/bridge aspects are a reinforced bark of anger from everyone. Again, interesting with how they structured it, I just really hate the bulk of how it is sung. Ihenga looks to be our last Maori history lesson. Being a Maori explorer who apparently named the towns and natural edifices of the northern island. It's got a groovy sludge element to it like Iced Earth or Pantera and then when the Maori lyrics kick in it sounds like a tribal hymnal. Chanted along with a really cool choral effect and a lot of pinch harmonics in some of the solo spots. But then we also get some kind of wooden flute sound, very tribal, very cool. The way these guys mix in their Maori heritage, history and what I'm assuming is more of a tribal Maori sound (I assume because it's not like I have the whole of New Zealand consulting me on this). Really groovy song.
We reach the end with Down the Rabbit Hole, and their age shows through lyrically but it is a cool sounding song. It gives off like old Mudvayne vibes with train conductor tone cymbal click, a lot of crashing fills, interesting pinch effects and a distortion on the guitars to make it crunchy and moody. Which since the lyrics are about being disrespected and overlooked until people want something, it works nicely.
The deluxe edition adds in a bunch of radio edit versions of songs on the album, but that would just be redundant to go over. Either way, this album stayed in that vein they started with Tu of being very thrash influenced but have plenty of elements or complete songs that drift towards the Nu Metal sound of 1998-2009ish. I really appreciate how they walk you through Maori history and add in aspects that seem to come off very traditional while also having songs that remind you they are kids of the current generation they just know where they came from. It's a fun balance that is very unique to this band (in my experience at least) and they do it quite well.
From Lewis de Jong's mostly solid vocals, Henry de Jong's mastery of the drum kit and complimenting the songs well and their new bassist Turanga Morgan-Edmonds being in pretty good sync with the drums and crunchier rhythms; this is a damn good effort where I think these kids can only get better!
Captain Planet metal will bring pollution down to zero? Maybe? Prolly not…
Final Judgment: 7.35/10
Andrew's Judgmental Album Reviews: Fall Out Boy – So Much (For) Stardust (2023)
The JAR decides to tackle the newest album from early 00s Emo veterans Fall Out Boy! Do the emotions resonate or fall flat?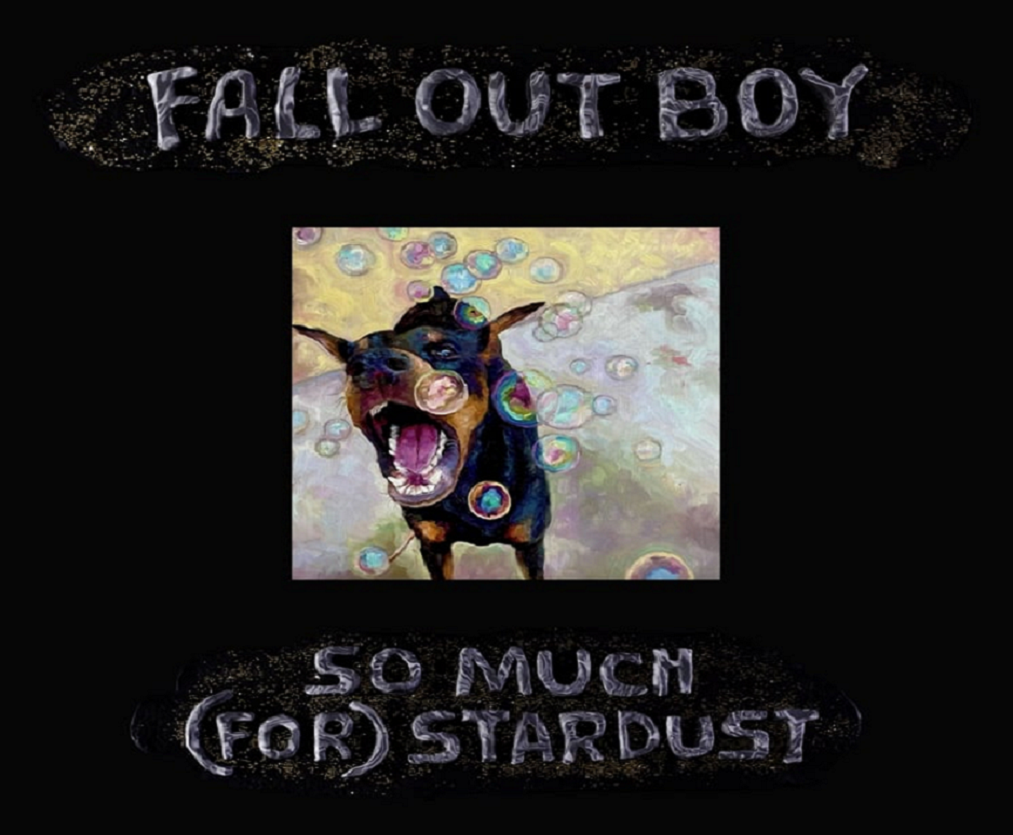 Fall Out Boy has been around over 20 years – yes I started things off that way so myself and fellow Millennials can feel even older than we already do. They were definitely a little more in that Emo/Punk vein with very early music, leaked over into more pop oriented Emo and now they're really just the theme song of Hot Topic and girls with brightly dyed hair. That's not to discredit them though, Limp Bizkit has a demographic, so do Fall Out Boy.
When it comes to my personal enjoyment, admittedly, they've grown on me over the years. I went from begrudgingly enjoying a few songs, to really enjoying Save Rock and Roll (2013) and a bunch of their more recent stuff. So I don't know if its the direction in which their sound evolved, me getting old and nostalgic or the early signs of a stroke. Either way, this should be a pretty good album, so I'm looking forward to this listen.
Fall Out Boy is: Patrick Stump (Vocals, Keyboards & Guitar), Pete Wentz (Bass & Backing Vocals), Andy Hurley (Drums & Percussion), Joe Trohman (Lead Guitar & Back Vocals)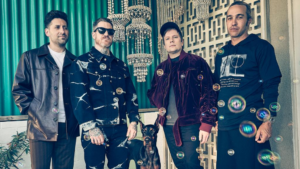 Artist: Fall Out Boy
Album: So Much (For) Stardust (2023)
Label: Fueled by Ramen
Total Track Time: 44:20
Love From the Other Side was the lead single for the album, and it definitely has a very similar sound to things like The Phoenix or Uma Thurman. It's got a weird little danceable melody, dark yet vaguely introspective lyrics and some solid heavy ambiance during breakdowns and interludes. The one line also speaks to me like an old Facebook status update; "I'll never go, I just want to be invited, oh" – the song generally seems to be about the rat race of life, a touch on the pandemic but mostly this oddly dark dance tune about things melting down. Heartbreak Feels So Good starts off with some synth and sounds like it was dragged right out of the 80s. Lyrically it frames this feeling of spending time with someone and enjoying the journey and then reveling in the catharsis of heartbreak from all of the memories. Musically the arrangement is more uptempo and dance driven, so its like dancing through the pain; and its an interesting concept. Hold Me Like a Grudge is a song I really enjoy based purely off the title. Musically it still has like nearly a Foreigner mixed with The Strokes kind of vibe. But the hook is pretty fantastic; "(You put the "fun" into dysfunction), Hold me, hold me like a grudge, The world is always spinning, and I can't keep up, whoa, Faster and faster, can't do it on my own, Part-time soulmate, full-time problem, yeah, So hold me like a grudge". I can't tell if this is a toxic relationship or just a specific kink of a song, but its groovy and I dig it.
Fake Out starts out very radio single friendly, but eventually finds its rhythm as being this depressing pop song, ala Barenaked Ladies, where its oddly positive sadness. I can't quite tell if the relationship failed or never manifested because they were too in their head about things going bad. The line about no plans made, no plans broken; is very poignant. Heaven, Iowa is a gorgeous rock ballad. I also like how the line is 'scar-crossed lovers' instead of  star-crossed. It adds a unique layer of pain and darkness to an already soaring chorus. So Good Right Now opens with a little Thurston Harris homage since the Little Bitty Pretty One is very obvious here. And it sticks around through verses breaks and gives the whole song this 50s kind of vibe. That also kind of explains the rather straight forward and lack of nuance to the lyrics really. Just feeling good right now, until things crash and burn, but just enjoy it now. The Pink Seashell (feat Ethan Hawke) this little filler song uses his line from Reality Bites as an analogy for life. Definitely seems to fit the general vibe of the album since a lot of the songs have been about making the best of the hand your dealt in life.
I Am My Own Muse starts off with a John Williams style orchestra, and then we get the breakdown as the lyrics kick in. This could be pandemic related or honestly, just a series of unfortunate events that ruins an entire year; "Smash all the guitars 'til we see all the stars, Oh, got to throw this year away, We got to throw this year away like, A bad luck charm". Flu Game is not about Michael Jordan apparently. Its more of a song about faking being okay after your dreams of a world for two come disappear. There's also a little wordplay line that I enjoy; "I can't stop, can't stop 'til we catch all your ears, though, Somewhere between Mike Tyson and Van Gogh". Its a fine song, a little forgettable (ironically), but not bad. Baby Annihilation another spoken word filler song. Continues this nihilistic mindset and fits well enough in the album.
The Kintsugi Kid (Ten Years) is a pretty interesting song about alcoholism, or at least I'm fairly sure it is. Apparently it was a chemical haze for 10 years, and this is an interesting rock song about coming out of the other side, reflected more in the musical arrangement since the lyrics are focusing more on the journey. What a Time To Be Alive has a very big Disco/Soul groove and reminds me of September by Earth, Wind & Fire. I also really enjoy the line 'everything is lit, except my serotonin'. Maybe its just my general headspace lately, but these dark lyrics with the quirky upbeat music seems to speak to me a bit. So Much (For) Stardust seems to be a song about being hard stuck in negativity. Not having the strength to pull yourself out of the bleak events and pain, being stretched thin, and just recounting how things used to be. It definitely ends the album in a darker palette which helps to remind us they still definitely have Emo tendencies; but musically the arrangements evolved to not sounding like Hot Topic chaff.
Now let me start off by saying, I did enjoy this album quite a bit. Not as much as Save Rock and Roll, mainly because they added a few weird elements. Spoken word tracks didn't feel out of place, but they are definitely filler and there were a few songs that just hit me in a very generic way. Even if I did enjoy most of the lyrics and how they painted story of the song, I can't overlook the redundancy in some topics. Its not really a negative for an Emo band to utilize negative emotions, so I can't really take too many points off, just a personal small gripe.
Either way, the lyrics have a mature understanding nature to them, the music is a little more eclectic than some may expect; but its not often I get to make Thurston Harris or Earth, Wind & Fire references. So I enjoyed the sonic buffet sampling, and its a good album. Just shy of being on my higher rated albums purely because of some of the forgettable radio songs.
Final Judgment: 7.85/10
Bandwagon Nerds #175: Affleck is DC Done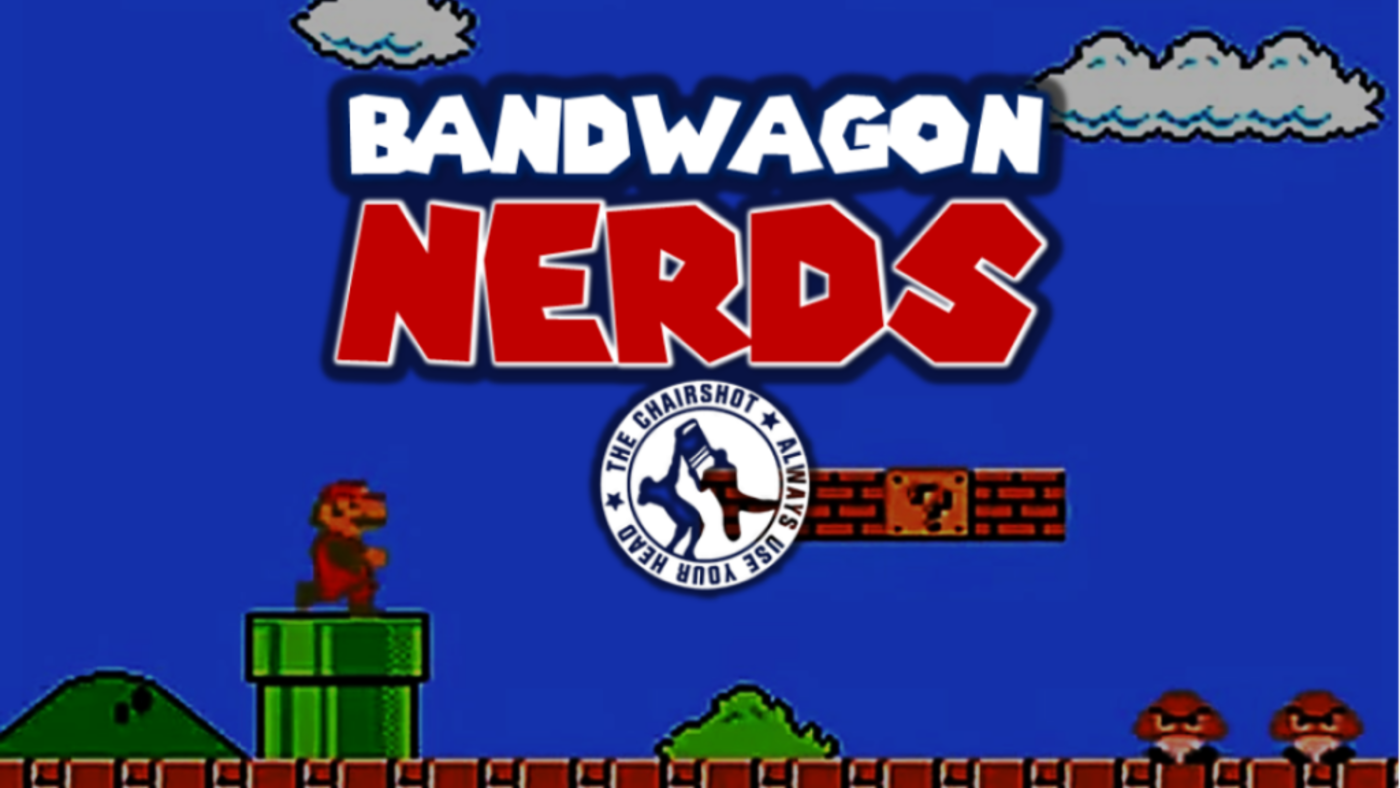 On this week's Bandwagon, Patrick, Tunney and Dave continue their coverage of The Mandalorian.  Why do the nerds think this episode may have been the best of season three so far?  Plus, the guys discuss tons of news around the Nerdosphere including the Oscars, The Last of Us and it's dynamic first season and why Ben Affleck says he is done with DC movies!
@WrestlngRealist

@AttitudeAgg
@itsReyCash
@PCTunney
@ViolentAesop
@therealcplatt
@ChairshotMedia
About Bandwagon Nerds
Join Patrick O'Dowd, David Ungar, PC Tunney and Rey Cash as they keep everyone up on all things nerd, and maybe add some new nerds along the way. It's the Bandwagon Nerds Podcast!
About the Chairshot Radio Network
Created in 2017, the Chairshot Radio Network presents you with the best in wrestling and wrestling crossover podcasts, including POD is WAR, Women's Wrestling Talk, The #Miranda Show, Badlands' Wrestling Mount Rushmores, The Outsider's Edge, DWI Podcast, Bandwagon Nerds, the Greg DeMarco Show, 3 Man Weave, Five Rounds, Turnbuckle Talk, Suwama's Station, The Reaction and more! You can find these great shows each week at theChairshot.com and through our distribution partners, including podcasting's most popular platforms.
---
The Chairshot Radio Network
Your home for the hardest hitting podcasts and radio shows!
Listen on your favorite platform!
iTunes  |  iHeart Radio  |  Google Play  |  Spotify
Listen, like, subscribe, and share!
---