(NOAH) NOAH WEEKLY NEWSLETTER VOL.140 ~ 9TH SEPTEMBER 2021
NOAH decides to rattle some feathers in Dragon Gate along with prepping for the N-1 Victory tournament! Hisame has all the information!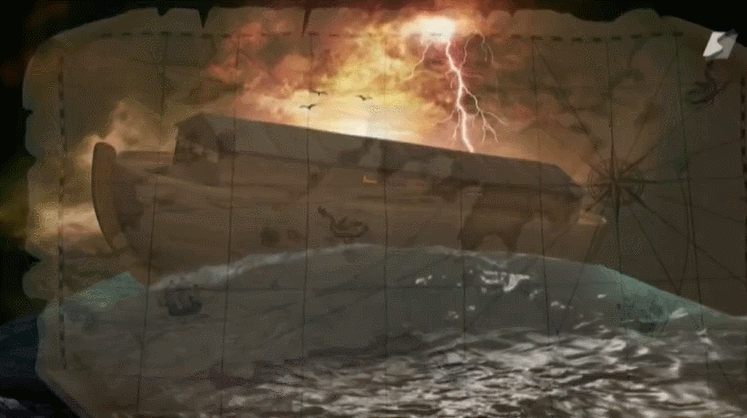 NOAH decides to rattle some feathers in Dragon Gate along with prepping for the N-1 Victory tournament! Hisame has all the information! 
NEWS
STINGER'S new challengers
With the rule that if you beat the champion(s) you can challenge the champion(s), Atsushi Kotoge challenged GHC Junior Tag Champions, Yuya Susumu and Seiki Yoshioka, after Hajime Ohara defeated Yuya Susumu in a tag match on September 3rd at Yokohama Radiant Halls. In usual style, STINGER made no comment and simply held up the belts. Backstage they were a little more talkative, saying they would accept the challenge, even though their opponents had no chance in taking the belts. Susumu wondered on his official Twitter if the opponents even knew what day it was they were asking from, but he did admit, he liked that kind of big talk. Title match will take place at Korakuen Hall on the on the 12th September.
In the same evening at Yokohama Radiant Halls, HAYATA defended the GHC Junior Heavyweight against Kotaro Suzuki in 14 minutes and 12 seconds, winning by a brutal reversal of The Tiger Driver into The Headache. After the match, Daisuke Harada rolled into the ring to challenge. Harada requested that the match take place in Osaka, which was a special place for both him and HAYATA (HAYATA has done a lot of poignant matches this year). The title match will take place on the 10th October, the same night that the winner of the N-1 VICTORY will face GHC Heavyweight Champion, Naomichi Marufuji for the title.
A six man tag was formed on the 6th September at ShinJuku FACE, which was the last pre-match for GHC Junior Tag title match. A lot of the action was between Susumu, Yoshioka, Kotoge and Ohara as NOAH want to save the fireworks between HAYATA and Harada for their singles match on the 15th September. The match was won by Yuya Susumu again over Hajime Ohara, who he made tap. After the match the usual junior brawl broke out when Susumu provoked Atsushi Kotoge with;
"Fucking challengers. You challenge by casually teaming up just because you happened to win? Don't be stupid. Hot NOAH Junior, Kotoge? What is hot? Your fire has gone out. Is it originating from your challenge? I don't have any indication. What is the new NOAH Junior? Don't show me the unfinished thing!"
Backstage Susumu said that he would make it no title match, and didn't see that it was worth even bringing the belt. Sarcastically on Twitter he asked Kotoge if he needed help creating this "new NOAH Junior" he was always talking about.
Kenoh wins the first round in the N-1 pre match
NOAH held an "N1 ROAD SCRAMBLE 4vs4 Elimination Match" between Takashi Sugiura, Kenoh, Kotaro Suzuki and Masa Kitamiya vs Kaito Kiyomiya, Daiki Inaba, Katsuhiko Nakajima and Akitoshi Saito. Kenoh and Takashi Sugiura got on better than expected and functioned as a good team just as they had once been. Akitoshi Saito was the first to be eliminated, with Kitamiya eliminated by Nakajima, Suzuki eliminating Nakajima (and by Tiger Driver) before being eliminated himself by Inaba, who was in turn eliminated by Sugiura. Sugiura was eliminated by Kiyomiya and this left Kaito Kiyomiya and Kenoh in a brutal showdown. It was so stiff that when Kiyomiya appeared on Battlemen the next day, the dark brown fading to a sickly yellow color could be seen on his jaw and neck. However, his run of questionable luck meant that he lost to Kenoh, who defeated him with a massive PFS in a match that went almost an hour. Kenoh then growled on the microphone about the N-1 being filled with some clowns (Kendo Kashin, who he said in an interview he was going to beat up so badly he couldn't wrestle in any other matches), and "some guys who should be in a nursing home". He would show "these old men" what NOAH was, and it wasn't an extension of an MMA performance. Kenoh vowed to win the N-1 fighting NOAH's fight.
Kenta Kobashi vs Mohammed Yone
In an interview with Tokyo Sports on September 5th, Kenta Kobashi made some comments about King Tany (Shuhei Taniguchi), which Mohammed Yone later labeled "scathing". The problem of what to do with Shuhei Taniguchi has been going on for a while in NOAH, with both Naomichi Marufuji and Jun Akiyama commenting on it in the past, with Kobashi saying that Taniguchi needs to leave his mark on matches, and finding the gimmick vague. When the subject was bought up, Kobashi made an angry noise. Yone said that if Kobashi was concerned about Taniguchi, when he should have called him with his worries or come to the ring and supported him, not spoken about it to the media. It's rare that anyone stands up to one of NOAH's grand seniors in this way, and it's ironic that it's "mild mannered, gentle and caring about what happens around him, took the decision not to put up with this and argued against this matter" Yone. Kobashi doesn't come from an era in wrestling when you had characters like this, so his concern for his trainee is understandable, but at the end of the day, Taniguchi is looking happier than he has done for a long time.
Kenoh "breaks into" DragonGate
Wearing his red Kongoh suit, Kenoh appeared in DragonGate on the September 8th to call out YAMATO and challenged him to a match as he is someone he has fought before and not defeated. YAMATO accepted Kenoh's challenge, but looking at how he was dressed, suggested that next time he comes to the ring dressed to fight. The match has been arranged as a tag match with Kenoh and Haoh taking on YAMATO and Masaaki Mochizuki. Date has yet to be announced, but the match will take place on Amazon Prime and be sponsored by LEC, who are also sponsors of NOAH.
Go Shiozaki update
Kenta Kobashi said he met up with Go Shiozaki recently, and said that overall his condition is much better. However, he had to tell him to have patience, train and remain calm when he trains, as Shiozaki is (naturally) "too impatient" to return. Kobashi says that this stage in his recovery is a "crucial time" and doesn't want Shiozaki coming back before he is in proper shape and getting injured again.
Junta in ZERO1
Junta Miyawaki's ZERO1 adventure came to an end when he was defeated in the semi finals of their junior league on the 9th September. Junta returns to NOAH a hero, as everyone is very proud of him for getting where he did.
NOAH launch official English Twitter & NOAH The Universal Vol 1
The official English language Twitter, NOAHGlobal has launched, it made it's official entry when NOAH launched "NOAH The Universal" on the 7th September on WrestleUniverse. Showcasing NOAH matches and Lucha from their associates in Mexico (plus El Hijo De Dr Wagner Jnr), fans from around the world tuned in. An added bonus was subtitling the post match promos in English. There being a volume 1 suggests there will be more editions.
EVENT RECAPS & POST MATCH PROMOS
Event recap: Yokohama Ovation (Friday September 3rd 2021, Yokohama Radiant Halls)
Event recap: N-1 Victory 2021 – Special Prologue (Monday September 6th, Shinjuku FACE)
ELSEWHERE IN NOAH
– Yoshinari Ogawa celebrated his 36th anniversary in wrestling quietly with flowers in the lobby of Yokohama Radiant Halls.
– Kenta Kobashi said that the person he is most interested to see return (aside from Go Shiozaki that is), would be Yoshiki Inamura. Kobashi says he reminds him of the old days when there were a lot of big guys in wrestling, and is fascinated by his tire training.
– Nioh made his return to the ring on the 3rd September
– Junta Miyawaki has made Hayabusa's Falcon Arrow his finisher. Hayabusa was good friends with Mitsuharu Misawa, Naomichi Marufuji and Mohammed Yone, and despite not being a member of NOAH (or ever being in NOAH), a remembrance ceremony was held for him when he passed away. It's good to see that a part of him lives on in NOAH's ring.
– Daisuke Harada overcame Tadasuke, Tadasuke slunk off to lick his wounds saying he would recharge and return. Harada estimates he has had about 30 singles matches with Tadasuke.
– There is a slight rivalry growing between Yasutaka Yano and Kinya Okada
– When Masa Kitamiya and Kaito Kiyomiya appeared on Battlemen, it looked very like Kitamiya was playing with his phone behind the belt…
CURRENT CHAMPIONS
THIS WEEK IN NOAH
Saturday 11th September: NOAH hold the N-1 Victory press conference, live on their official YouTube at 17.00 JST
Sunday 12th September: Night one of the N-1 Victory (11.30am JST, live on ABEMA)
Wednesday 15th September: "NOAH Sanctuary" (20.00 JST, broadcast to be announced)
Saturday 18th September: Night two of the N-1 Victory (20.00 JST, live on WrestleUniverse)
Sunday 19th September: Night three of the N-1 Victory (20.00 JST, live on WrestleUniverse)
Full schedule of the N-1 can be found here
BROADCASTS
The ABEMA broadcasts should hopefully be free and worldwide, but you can only watch them live. You must be a subscriber to watch the replays on ABEMA and I would not recommend that unless you are either based in Japan or have a VPN that you know works with ABEMA as compatible VPN and ABEMA can be notoriously difficult and expensive. I would recommend that you subscribe to WrestleUniverse (900 yen per month) rather than ABEMA.
LINKS
"Keiji Mutoh is a new student", Boston Crab or instant defeat, "Road to Triple Crown" interview with Takashi Sugiura about carving open the N-1
Memories are forgotten, but records are immortal! Keiji Mutoh aims for great achievements at the opening of the N-1 on the 12th!
"Can you see the future of NOAH in an aging league match?" Interview with Kenoh about the N-1 VICTORY 2021
NOAH's new generation ace, Kaito Kiyomiya, continues to struggle. Will the clouds clear in the NOSAWA Rongai fight? 
In the challenge of the N-1 "The enemy is myself"; interview with Keiji Mutoh who will participate in a league for the first time in 12 years
Worried Ace Kaito Kiyomiya, evoked his own "Wildness" in his determination to surpass Keiji Mutoh
GIF Credit: WrestleUniverse
PICTURE Credit: Tokyo Sports
Andrew's G1 Climax 31 FINALS Day Results & Match Ratings: 10.21.2021
Kota Ibushi looks to 3-Peat, Kazuchika Okada looks to win his first G1 in 7 years! Who will win?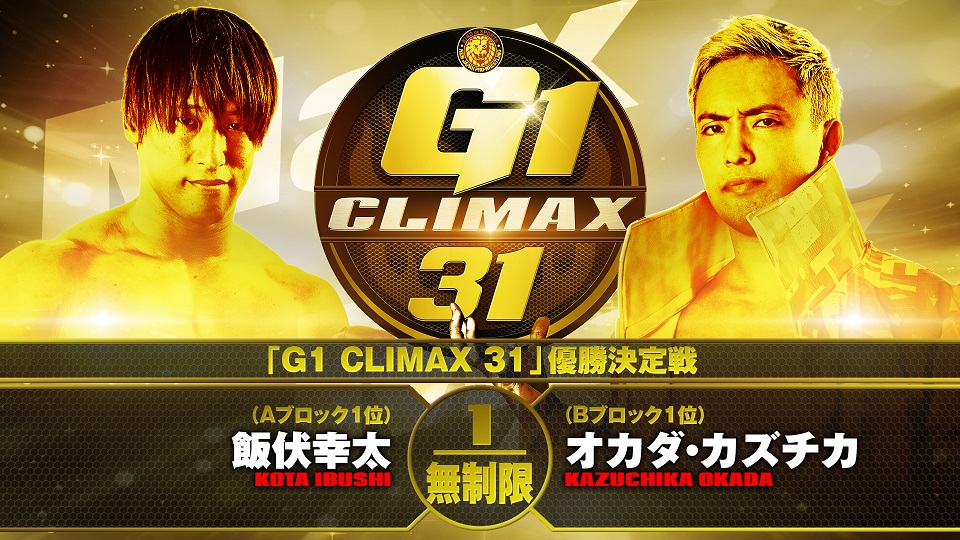 Kota Ibushi looks to 3-Peat, Kazuchika Okada looks to win his first G1 in 7 years! Who will win?
So we get a fairly basic card. A few undercard tags, the semi-main contains Shingo and most of the main players not in the Finals. Jeff Cobb goes from a shot in the Finals to the opening match, that's a big blow to the ego.
There's a few interesting threads that can be pulled at, but the major draw is the G1 Climax 31 Finals. So let's get to it!
Ratings:
Ryohei Oiwa & Kosei Fujita vs El Desperado & Yoshinobu Kanemaru: Kanemaru wins via Boston Crab @8:40 – **
United Empire (Jeff Cobb & Great-O-Khan) vs Toru Yano & Yuji Nagata: Yano wins via Roll-Up @8:29 – **
House of Torture (EVIL, SHO & Yujiro Takahashi) w/Dick Togo vs Hirooki Goto, YOSHI-HASHI & Tomohiro Ishii: EVIL wins via Everything is Evil @11:20 – * ½
KENTA, Tama Tonga, Tanga Loa & Chase Owens w/Jado vs Togi Makabe, Tomoaki Honma, Tiger Mask IV & Hiroshi Tanahashi: Chase wins via Package Piledriver @10:41 – ** ½
5 Minute UWF Rules Match::Katsuyori Shibata vs Zack Sabre Jr: Time Limit Draw @5:00 – *****
TenCozy, Ryusuke Taguchi & Master Wato vs Hiromu Takahashi, BUSHI, SANADA & Shingo Takagi: Shingo wins via Pumping Bomber @12:17 – *** ½
G1 Finals: Kota Ibushi vs Kazuchika Okada: Okada wins via Referee Stoppage @25:37 – *** ¼
Results:
Ryohei Oiwa & Kosei Fujita vs El Desperado & Yoshinobu Kanemaru
Commentary doesn't even really try to hide the fact that these Young Lions are very early in their careers and have no real chance. They are in this match to learn, build endurance and get experience.
Nothing special in this match, they give the Lions a few flash pinfall attempts but again, we all know better. More just moments of surprise cause the Suzuki-Gun duo were playing with their food. Still far too fresh in their training to show anything more than basics, and all I'll say is, they didn't embarrass themselves, so that's a positive.
United Empire (Jeff Cobb & Great-O-Khan) vs Toru Yano & Yuji Nagata
So one of the most successful teams and singles wrestlers this year, against a clown and a veteran. I mean Nagata is no slouch, but he's not in a position to be upsetting two rising stars. Maybe Yano pulls off some thievery, but I'm not really intrigued.
Early on we see the usual Yano stuff of shenanigans and turnbuckle pads going missing. Nagata gets tagged in and we get some real wrestling. However, Cobb and Nagata square off outside when they aren't the legal men, and Yano executes the miraculous shot to the Ding-Ding, and Rolls-Up O-Khan for the win!
This does continue the weird story between O-Khan and Yano, so at least there's a thread of story, but it does definitely leave Cobb in a weird spot.
House of Torture (EVIL, SHO & Yujiro Takahashi) w/Dick Togo vs Hirooki Goto, YOSHI-HASHI & Tomohiro Ishii
Early on SHO starts with the mind games having a CHAOS towel in the ring and wiping his body with it, and being generally mocking. Things start quick, turnbuckle pads are taken off, people get wrapped into ropes and I suppose this is a more tolerable usage of EVIL. House of Torture can torture the 6 man division with bad wrestling and cliché paint by numbers heel work.
Togo uses the garrot on HASHI, but HASHI and Goto manage to hit GYR on EVIL, but Dick Togo of course gets involved to distract the referee. Chairs lay out the CHOAS members, Everything is EVIL on HASHI and yeah yeah, House wins and challenge for the six mans. Ugh.
KENTA, Tama Tonga, Tanga Loa & Chase Owens w/Jado vs Togi Makabe, Tomoaki Honma, Tiger Mask IV & Hiroshi Tanahashi
So wait, we get all Bullet Club members against the veteran Hontai Squad? I mean Tanahashi has looked extremely mortal lately, and he's not really bringing a ton of back up. When Makabe is the second best one on your squad, and he's barely wrestled this year…you gotta wonder.
Makabe starts things off and we can see his back and waist heavily taped. So it looks like Makabe's part time schedule could have something to do with injuries. Injured or not, Makabe gets the most of Loa, brings in Honma, then Honma eats some offense from Tama, until Honma counters and lands a big suplex. Tiger Mask IV comes in and actually cleans house, it takes a little bit before Tama does the Double Leapfrog Haku Chop to start taking control.
Bullet Club smacks around Tiger Mask until KENTA eats a Tiger Driver (ironic, I'm aware) and then Tanahashi gets tagged in. Tanahashi works to get a measure of revenge on the Bullet Club, but  then we get some spam moments. G.o.D. tries to take out Makabe, but Makabe wipes out G.o.D. easily. Makabe brings in Honma, Honma takes it to Chase Owens, but no avail. A missed Kokeshi, a blocked Brainbuster attempt, and then C Trigger into Package Piledriver gives Chase the win.
Chase looks to be setting up a challenge, but KENTA blindsides Tanahashi with the belt. KENTA and Chase play tug of war a little, Chase tells KENTA he pinned him, KENTA says he doesn't care, and Chase relents. He says KENTA can get the first shot, but he got next.
5 Minute UWF Rules Match: Katsuyori Shibata vs Zack Sabre Jr
This…this is amazing. Shibata gets his first match in 4 years, and it's against the most perfect wrestler for Shibata to have a technical and safe exhibition match.
Since its UWF this is usually done in a points system like the old IMPACT Grand Championship. But a 1 round exhibition doesn't allow for anything beyond a Draw, but this is wonderful. It's a technical marvel with counters, submissions, references to Inoki's classic on the ground pose that we saw Great-O-Khan reference back to during the G1. This is just a great moment, and hard to do any real play by play, but it's a technical marvel. Hell, Shibata looks better than he ever has.
WAIT – After the match Shibata says "Next time I'm in the ring, I will be in my ring gear". He punctuates the line with a hard flat back bump and a kip up. …Shibata is back? SHIBATA IS BACK?!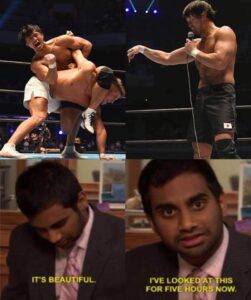 TenCozy, Ryusuke Taguchi & Master Wato vs Hiromu Takahashi, BUSHI, SANADA & Shingo Takagi
Taguchi and Hiromu start off with a good bit of comedy, before everyone not named Tenzan starts doing the Mongolian Chops, much to Tenzan's chagrin. Wato has some nice spots early before LIJ do their wonderful Bum Rush. BUSHI comes in, uses the shirt and then LIJ starts dominating Wato. Wato manages to get a little space and get Kojima in and we get Machine Gun Chops on SANADA in the corner!
Hiromu tries to block it, gets shoved in the corner for his own chops, BUSHI tries to stop it, and gets put in the corner for the Triple Stacker of Chops. Shingo looks, and then drops off the apron and decides he's just gonna let them play. Shingo does cut off Kojima before he does his signature Elbow, so Shingo didn't ignore his team, just decided he wasn't gonna fall into the dumb spot.
Signature spams, LIJ pain train, signature spam again, and then we get solid call backs. Shingo and Tenzan are the last two, Shingo uses Mongolian Chops, Tenzan responds in his own way. Some haymakers thrown, a Headbutt from Tenzan, the attempted Flying Headbutt, but Shingo cuts him off, Pumping Bomber, and Shingo wins!
G1 Finals: Kota Ibushi vs Kazuchika Okada
So they feel each other out early, and have the usual fast pace wild swings that get dodged and end in a small rest moment where they just smile and absorb the energy of the match. Before Ibushi can really get anything going, the arrogance of the Rainmaker returns. Very deliberate shots, perfectly rolling through his Slingshot Senton, and his single foot Dropkick. It's really interesting to see Okada reverting back to his old self. The 2017 form is further exemplified by Shibata's return since it helps to bring everyone back to "brighter days".
Okada goes for his corner Hip Attack, but now Ibushi gets to start a comeback. Dropkick, Roundhouse Kicks, Standing Moonsault and Okada powders. After some fighting on the outside, Okada takes control again and hits a DDT on the ramp, which has Ibushi pretty much out. Okada waits in the ring until about 18, before he decides that's not how he wants to win. Drags Ibushi in, tries the Money Clip, Ibushi won't go in comfortably, Okada rocks him, whips him into the ropes, hits the Million Dollar Dropkick, and finally gets the Money Clip sunk in. Okada is in a different aggressive form that we haven't seen since 2018 when his nearly 2 year title reign ended and he went balloon crazy.
Savage Elbow, Rainmaker Pose, Zoom Out…Wind up…Rainmaker misses and Ibushi returns with his own Lariat turning Okada inside out. Now they stand up for the strike exchange. Okada falls into an old Nakamura trap, where he starts winning the exchange, taunts the challenger and gets rocked. Ibushi grins, hits the Frankensteiner sending Okada to Powder. So now it's Moonsault time for Ibushi, and lands perfectly on Okada.
Going back inside, Ibushi looks for Kamigoye, Okada blocks and then ducks the Round Kick, goes for a Backslide, but Ibushi rolls through and kicks Okada. Okada then eats a V Trigger and a Kamigoye…but it's only 2! Okada flips Ibushi over when he attempts another Kamigoye, Double Legged Cradle, but ibushi kicks out. They lay each other out, Ibushi crawls to the top rope, Phoenix Splash and…Ibushi lands weird. He immediately grabs his arm, Red Shoes goes over to Ibushi, and after a few moments Red Shoes calls for the bell.
Okada wins the G1 off of Ibushi missing the Phoenix Splash and possibly dislocating his right arm.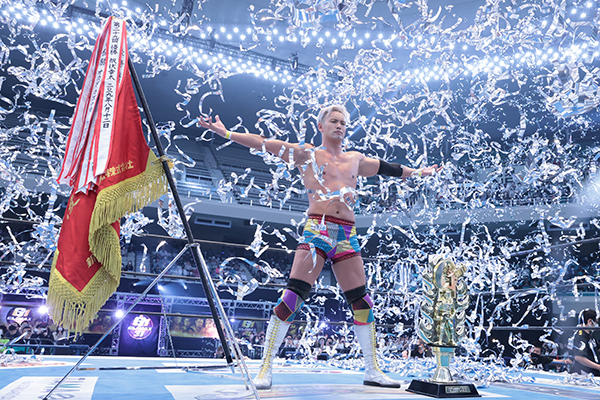 Overall Score: 7.25/10
There's a dark poetry in the ending to this year's G1. Starting with Naito's injury and ending with Ibushi's injury, just makes this a fairly cursed year which plays into the cursed aspect of this World Heavyweight Championship. In a way, this works out for the best since if this tournament was supposed to make a newer wrestler and ended the same way, there would always be an asterisk. But it's Okada, he's a proven commodity and no one will really question his victory. I really appreciated the fact that he always loomed close while Ibushi was struggling with the doctor and through his injury. He held his hand many times, even seemed to tell him it's fine, we'll do it correctly 1 more time in the future.
Katsuyori Shibata returns, Kazuchika Okada returns to the a level of prominence by winning the G1 Climax 31 and this is a nice way to remind people of the names that many of the current crop of IWC fans know. New Japan grew quickly because of AJ Styles and Kenny Omega's Bullet Clubs, but in the last few years we've seen many of the names we know fall to the back or go to different companies. This could be a return to form finally for New Japan.
Even if it ended off a failed Phoenix Splash, it could help New Japan rise from the ashes of community favor like a Phoenix.
Andrew's IMPACT Results & Match Ratings: 10.21.2021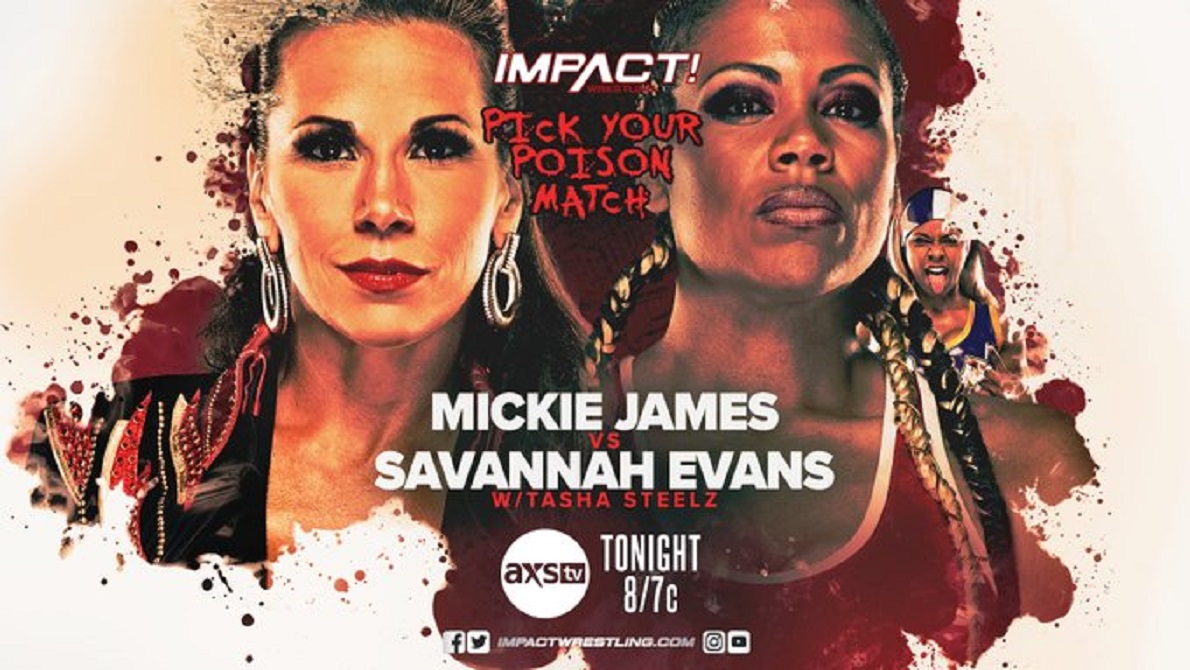 Bound for Glory is on Saturday! How does IMPACT! hype us up for one of their crowning PPVs of the year?!
We get to see Mickie in an IMPACT ring for the first since 2015, Heath tries to get answers out of Rhino and we'll probably see a lot of Josh Alexander and Christian Cage fleshing out the last little bits of the World Title match.
Aside from that, do we get anything of note to talk about, or is it just an appetizer for the real show on Saturday?
.@sambeale23 and @mannylemons have been CUT from The Learning Tree. #IMPACTonAXSTV @ZickyDice @isThatVsK @Myers_Wrestling pic.twitter.com/CKY8Bqzj0k

— IMPACT (@IMPACTWRESTLING) October 22, 2021
Ratings:
Bullet Club (Chris Bey & Hikuleo) vs FinJuice: NO CONTEST/Double Pinfall – ***
Jordynne Grace & Fallah Bahh vs Tenille Dashwood & John Skyler vs Chelsea Green & Crazzy Steve: Tenille wins via Spotlight Kick – ***
Pick Your Poison: Savannah Evans w/Tasha Steelz vs Mickie James: Mickie wins via Mick DDT – *** ¼
Alex Zayne vs Trey Miguel: Miguel wins via Meteora – ** ¾
Results:
The Insiders Stream on YouTube didn't start until about 9:00pm, I'm not sure why IMPACT constantly has issues, but YouTube is not a hard platform to utilize. These delays are inane and embarrassing.
Bullet Club (Chris Bey & Hikuleo) vs FinJuice
Bey and Leo try some trickery early, but Finlay keeps pace. When Leo gets back into the match he starts throwing Finlay around a bit, which opens up opportunity for Bey. Bey looks to get flashy, but Finlay manages to get Juice in and Juice comes in hot. He nearly flips Bey out of the ring, takes Leo off the apron and tags in Finlay for some tandem work.
Leo breaks up the pinfall and then throws out Juice. Finlay grabs Bey in a Backbreaker/STO combination but Bey's feet bump the referee. Leo chokeslams Finlay, puts Bey on top, but it takes the new referee too long to show up and it's only a two count. We see Hikuleo trying to finish things, while the new referee tries to wake up the original referee. Leo gets double teamed, Juice Rolls Up Leo and then Bey Rolls Up Finlay, both referees count a 3 count for the different pinfalls. So we get a little call back to Beer Money and Motor City Machine Guns if we're staying within TNA Universe.
This will probably end up a triple threat, unlike the MCMG/Beer Money double pinfall which ended in overtime.
There's a long segment with Josh Alexander giving us his story. It's not a bad segment, but the only advantage to the show starting late means I got to rewind for the match and speed through most of this. Alexander is a great story, but I already mostly know it, and would really like to see him win at Bound for Glory. Get the title back on a wrestler on the actual IMPACT roster.
Jordynne Grace & Fallah Bahh vs Tenille Dashwood & John Skyler vs Chelsea Green & Crazzy Steve:
This is a Digital Media Championship preliminary match. I find it interesting that there's 3 men and 3 women. So instead of one or two for "inclusion" it's actually an even spread. The way the teams are broken apart is interesting too where it's Power vs Crazy vs Opportunistic.
The gimmicks actually paid off in the match. Jodynne massacred kids, but then things started to get a little messy. Fallah gets a handle on things, squishes the world, and then looks to BAHHnzai Drop on Tenille but Kaleb gets involved. A little more confusion, Steve hits King Kill 33 on Fallah, but Skyler pulls Steve out of the ring. Tenille hits the Spotlight Kick and the Opportunistic team win because well…there was an opportunity.
.@HEATHXXII's kids want their Uncle Rhino back. #IMPACTonAXSTV @Rhyno313 pic.twitter.com/Tx3lE1IW3a

— IMPACT (@IMPACTWRESTLING) October 22, 2021
Pick Your Poison: Savannah Evans w/Tasha Steelz vs Mickie James
Mickie takes a moment to absorb the accolades from the crowd first, and then we see a quick strategy twist. Savannah looks for a few Haymakers and using her reach to her advantage, where Mickie just finds a few quick strikes and interesting angles to land some offense. Mickie looked to be building some momentum, and then Tasha got involved.
Savannah starts to dominate after the assist from her second. Big Bear Hug in the middle has Savannah just ragdolling Mickie until she can land a few choice Forearms. Mickie fights out, Sole Butts, a few nice attacks and Mickie hits the Avalanche Thesz Press, but only a 2 count. Deonna's music plays as Savannah kicks out, Mickie is distracted and then we see Savannah lay in some big shots. The Full Nelson Bomb only gets Savannah a 2. Mick Kick rocks Mickie and then Mick DDT for the win. Hardcore Country wins the match.
Deonna walks down, mouths off…actually pushes Mickie…so I'm confused about the no contact clause…but then Rehwoldt shows up behind Mickie and wipes her out.
.@DramaKingMatt will be banned from ringside at #BoundForGlory. #IMPACTonAXSTV @ScottDAmore @DeonnaPurrazzo pic.twitter.com/fcbCY318wM

— IMPACT (@IMPACTWRESTLING) October 22, 2021
Alex Zayne vs Trey Miguel
The Sauce against the other guy who can't speak but likes to try to use food analogies and sucks at it, aka, Trey Miguel. He's like a Young Will Ospreay with less ability to talk…so no upside at the moment cause Ospreay was pretty awful up until a year or two ago.
So this is just a lot of counters, blocks, Arm Wringers, not much direct offense, just a lot of choreographed spots. This feels like a much slower paced version of a Ricochet/Ospreay match from 2016. Zayne is a more fluid wrestler, and he just makes everything look good. Miguel does a weird Cradled Octopus but Zayne responds with a Handspring Frankensteiner, as an early highlight spot.
Miguel in Ospreay fashion hits the Cheeky Nandos, into the corner stuck Tiger Feint, Meteora and Trey wins.
Thankfully Maclin attacks Trey after the match so I feel generally better. Bullet Club comes out and take out both Maclin and Trey. El Phantasmo just baby faced himself in my house.
Show ends with the usual talking segment hyping the World Title match. Alexander gets a "You Deserve It" from the crowd and portrays himself as the everyman fighting for his boys. Christian's music hits and Captain Charisma vacuum shows up to stir a pot that doesn't need to be stirred.
Christian taking the experienced thrives under pressure condescending veteran angle is…annoying. Like I said a few weeks ago, the boxes they are trying to play in, I don't love. Alexander does flip the script nicely talking about how people classified him as nothing more than a Tag Team guy, and "sounding familiar" strikes a chord with Christian. Small scuffle as Christian tries to snip back, but it's fairly paint by numbers.
Overall Score: 5/10
Low key? This was a pretty lame episode for an Impact Go Home. The matches weren't really anything special, with the most happening during Pick Your Poison, but it effectively being a non-issue. The YouTube delay of course hurt my enjoyment of the show, but even without the delay, I don't really feel like this would've registered much higher on my scale.
I am looking forward to Bound for Glory because of who's in the matches, but this episode didn't help sell it. Thankfully it's already sold out, and most people probably decided if they were purchasing it by now.
When it comes down to it, I'm expecting quite a few title changes, even though I'm figuring that Mickie's involvement is more of a one off to give the rub to younger talent and cement her dominant reign. Alexander I would love to see win the belt and The IInspiration would do wonders and put an immediate spotlight on a division that has floundered behind a lack of real teams and no real direction.
So I'll see all of you on Saturday for Bound for Glory!