NXT Minus 6: The End of an Era, Part II
Brad continues to reminisce as we turn off the lights on the old NXT as NXT 2.0 takes over.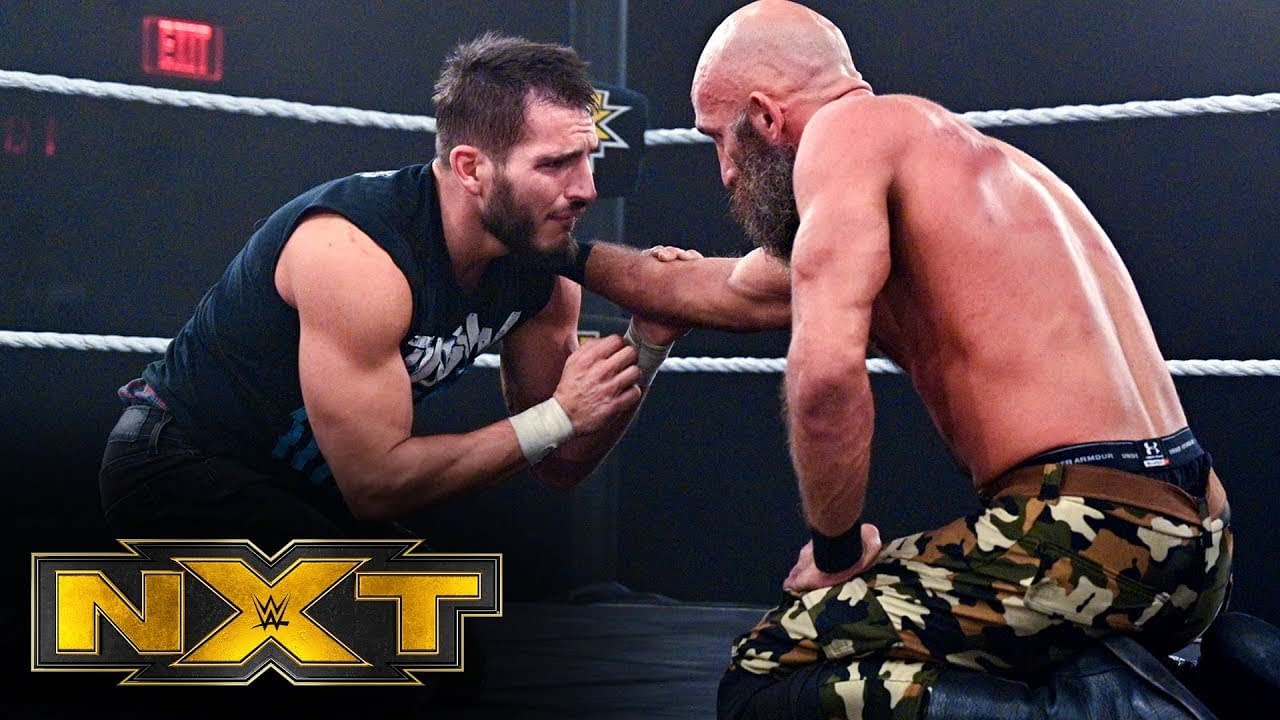 The last three years of NXT have been the most fun I've had watching wrestling since the Attitude Era. Let's look back and remember when NXT was the Black & Gold Standard of professional wrestling. Here is the best of the best.
6. Best Rivalry: Tommaso Ciampa versus Johnny Gargano      Years from now when colleges offer courses on professional wrestling, they will use this rivalry to illustrate how to tell a long term story. From their first match in the Cruiserweight Tournament to their reunion match against Mustache Mountain, everything was perfect. It produced three MOTY candidates and turned Tommaso Ciampa into one of the best heels of the last 20 years. It was all so good, I won't even let the debacle of One Final Beat tarnish what they created.   
5. Best Takeover: War Games II      The mantra of NXT was always "less is more." It makes sense that the best Takeover only had four matches. I'm not counting Matt Riddle versus Kassius Ohno. Tommaso Ciampa versus Velveteen Dream and Aleister Black versus Johnny Gargano were both MOTY candidates. If not for the overbooked ending, Kairi Sane versus Shayna Baszler would have been a MOTY candidate. The War Games match itself was a glorious car crash with action from start to finish. Less is more, and War Games II is the most. 
4. Best Match: Aleister Black versus Johnny Garagno, War Games II      People talk about being moved to tears by a piece of music or a painting. When this match was over, I had tears in my eyes. I couldn't believe two wrestlers could tell a story so good with such flawless execution. There were at least four spots I thought someone legit lost their teeth or their consciousness. Black Mass is one of my favorite finishers, and the one to end this match might be the best that Black ever hit. I give this match 6 stars, and I stand by that.  
3. Best Female Match: Sasha Banks versus Bayley, Takeover Brooklyn I      This is the match that introduced me to NXT and rekindled my love of wrestling. There are other matches just as good in terms of physical execution. However, nothing can touch these characters, the story, the moment, the historical impact of this masterpiece. Its importance to wrestling, not just women's wrestling, cannot be overstated. If you aren't a fan of this match, you aren't a wrestling fan.  
2. Best Female Wrestler: Shayna Baszler      The easy answer is undefeated Asuka. In my opinion, Baszler is the pioneer. She brought a tough, gritty reality to the ring that previously wasn't there. Her feud with Kairi Sane is one of the best in NXT history. Her feud with Io Shirai gave us arguably the best women's cage match in WWE history. Even her lesser feuds with Ember Moon, Dakota Kai and Nikki Cross gave us great matches and moments. The Queen of Spades was pure evil. Long live the Queen.
1. Best Male Wrestler: Johnny Gargano      Garagno is NXT. He went from unsigned walk-on in a random tag team to the main event. He was such a whitebread babyface we thought he couldn't be anything else. He became the Chris Jericho of NXT. Everything he did got over. Weasel heel. Overprotective father. Cocky bastard. Wearing headbands. Snapping pencils. No look high fives. It all worked for the Wednesday Knight, the Heart and Soul of NXT, Johnny Takeover, Johnny Freaking Wrestling. Maybe he is destined to be Crash Davis. I don't care. He is without question the best wrestler ever to come through NXT.   

Bonus: My Favorite NXT Moment, Kevin Owens at War Games III      I was at this show. After War Games ended, Owens left the ring without his team. I thought that was odd, so I kept my eye on him. He walked up the ramp and kissed the NXT logo on the stage backdrop, then took a bow with his team. This simple, almost unnoticed gesture says a lot about a man who could main event any promotion in the world. It says just as much about what the Black and Gold standard means to the wrestlers who made it the best wrestling on the planet. 
No matter what happens moving forward, we are lucky we had this NXT for as long as we did.
The Paradox of the Wrestling War in 2021
The IWC has been talking about a certain Friday Night and what numbers matter. Tommy Starr chimes in with his perspective on this "war".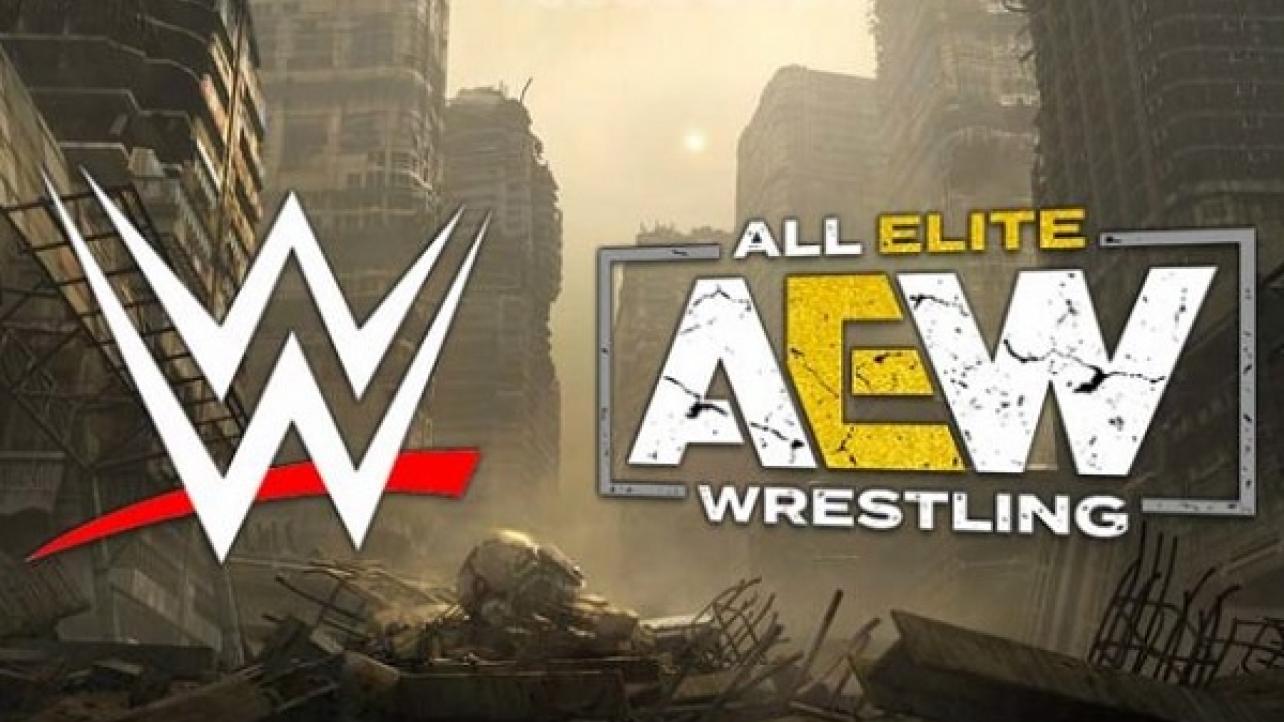 "War is peace… freedom is slavery… ignorance is strength."  These are among George Orwell's key three slogans in his novel 1984, which exemplify the ideology that when one has the power to lull individuals into false senses of security, they will blissfully ignore truth and reality to serve a perpetual agenda.
Since the inception of AEW, wrestling media has insisted on this idealistic narrative of a born-again "Monday Night Wars" comparative to that of a bygone era of professional wrestling that has not been seen since and will never be seen again.  For one reason or another, modern wrestling fans have bought into this impractical religious doctrine hook, line, and sinker, despite statistical evidence that contradict this ideology.
To put this in perspective, if there is a genuine wrestling "war" in the wrestling market today, it is not merely a war of the companies of AEW vs. WWE, rather it is a frivolous war between the oppositional fans of AEW and WWE.  The center of authority that continues to drive this animosity amongst the opposing fan bases rests at the helm of the wrestling media and the individuals within the business itself.  The manipulative narrative of the wrestling media and wrestlers in the business have managed to perpetrate a falsified creed that AEW and WWE are "at war."  It is interesting to note that this blanket statement hedges the particular element of what both companies are at war with. The common implication is the war of competition, particularly competition for viewership.  And while this narrative carries some validity, it misses the key detail of what this abstractive war revolves around.  It is a waging fight among AEW and WWE fans to try and claim superiority over the other, despite the apparent truth that both sides are failing to expand beyond their niche audiences.  Hence, neither party can credibly claim any form of superiority.  In essence, this religious irrationality to suggest that one company is directly "winning" over the other continues to miss the essential endgame of what winning a war truly looks like.
In the business world, "smart companies" understand and invest in long-term strategies of acknowledging that when they lose small battles, they allow their opposition to enjoy those smaller victories; meanwhile, they do not allow those battle losses to obstruct their long-standing progress.  So contextually, AEW would be wiser to accept that their Friday night edition of Rampage show running head to head with SmackDown lost in overall viewership numbers by approximately 288,000 viewers, despite the fact that not only was SmackDown running on a different network due to Fox coverage of the 2021 American League Championship Series, but that AEW Rampage had actually gained viewership from the previous week by about 15.14%.  Instead, wrestling media continues to propagate that overall viewership is subordinate to what truly matters in this equation, that being the key male 18-49 demographic.  What this discounts is that when one analyzes actual numbers, both shows essentially tied in the target 18-49 demographic at a 0.24.
A strategic business owner obsessed with "winning wars" understands his opposition's leader and avoids engaging in projecting irrational and petty beliefs in order to stir up his or her army.  Rather, it would be wiser to quietly and cautiously observe the opposition's decision-making to effectively counter-program and capture the attention of potential consumers.  This does not bode well for Tony Khan when he engages in social media warfare with the opposition to try and stoke a fire that merely exists in a metaphorical fantasy.  All the while, the rival niche audiences partake in nonsensical arguments over which organization "won" a war that has not, does not, and will not exist, despite a genuine hope that professional wrestling will ever reach that level of popularity again worth necessitating a war.
A true and authentic wrestling war in today's culture should be the fight to reassemble a lost and/or new audience. Per discussion of a lost audience, that insinuates both parties fight for the admiration and trust of disgruntled audiences that have since tuned the product off from their habitual consumption.  Arguably, this can be seen as a lost cause, considering most of these wrestling fans have long since distanced themselves from professional wrestling. However, a business that can successfully earn back that trust of disassociated consumers is a fruitful investment. Catering to loyal and clinging fan bases may be short-term goals, but they are not expansive business strategies.  And based on the weekly viewership numbers, ratings, and key demos for both parties, AEW and WWE continue to cater short-term appeal to their niche audiences instead of investing in long-term strategic outreach to new audiences.  The art of mastery on this level is a war worth fighting for.
Sources:
Casey, C. (2021, October 18). Who won Friday night's ratings battle between WWE smackdown and AEW Rampage? WWE. Retrieved October 20, 2021, from https://comicbook.com/wwe/news/wwe-smackdown-aew-rampage-oct-15-ratings-war-who-win-tied-demographic-smackdown-wins-audience/.

Feloni, R. (2014, August 14). 33 war strategies that will help you win in business. Business Insider. Retrieved October 20, 2021, from https://www.businessinsider.com/war-strategies-to-win-in-business-2014-8.

Thurston, B. (2021, January 15). Key demo and total audience: What are they and how much do they matter? Wrestlenomics. Retrieved October 20, 2021, from https://wrestlenomics.com/2020/07/14/key-demo-and-total-audience-what-are-they-and-how-much-do-they-matter/#:~:text=With%20a%20new%20head%2Dto,advertisers%20to%20the%20programs'%20networks.
Steve Cook's Fave Five: October 2021
From the Head Of The Table to the Future Head Of The Table, and more, Steve Cook has his Fave Five for October!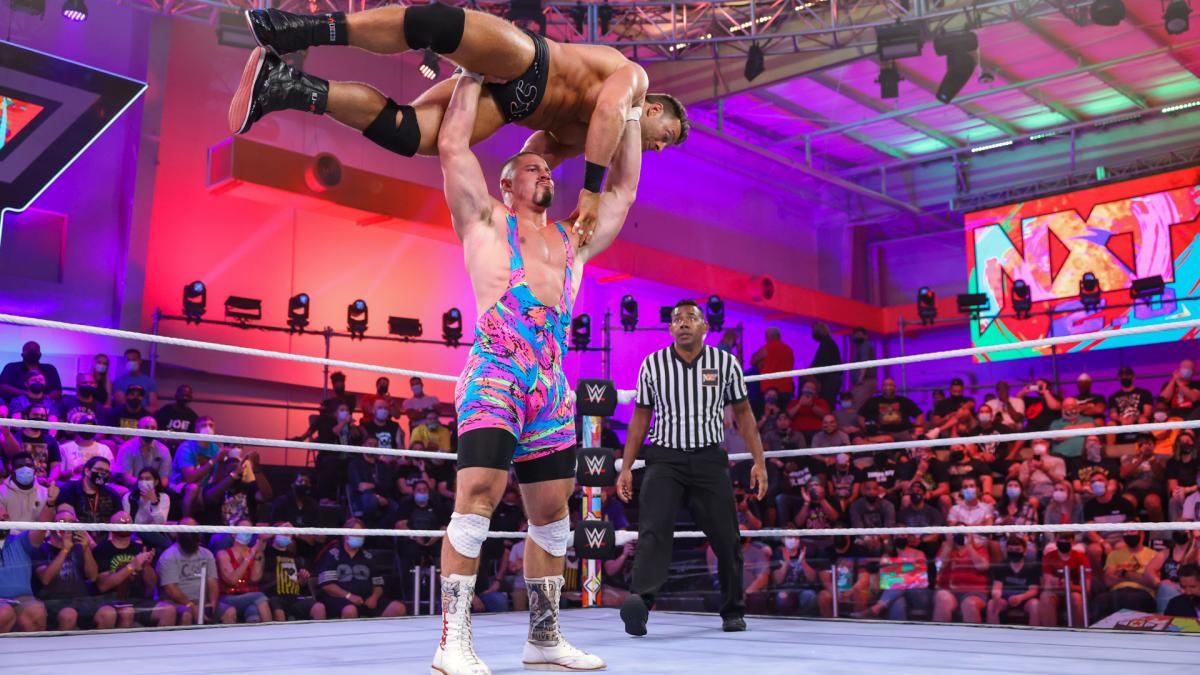 From the Head Of The Table to the Future Head Of The Table, and more, Steve Cook has his Fave Five for October!
We're more than halfway through October, and you know what that means! It's time to make a list of my five favorite wrestlers! It's either do this or write about the latest wrestling news, and as fun as it is to talk about television ratings, this seems more productive at the moment.
5. Mercedes Martinez
This trophy is a reminder to EVERYONE that I'm here to win.
The REAL prize is the @IMPACTWRESTLING knockouts title!!
Soon mi gente….SOON.#RUGGEDandTHUGGED #BRASSCITYOG #TheRealDeal pic.twitter.com/qsTt1spTxs

— Mercedes Martinez (@RealMMartinez) October 15, 2021
It's considered impolite to discuss age. At least it used to be. I'm not sure anything's considered impolite anymore based off of what I read on the Internet & see on television. People have pitched manners out the window as they've become accustomed to not worrying about getting punched in the face. There's a point I'm trying to get to here, and that point is that it's nice that women's wrestling has arrived at a place where I can write about somebody that's been wrestling about as long as I've been an online wrestling journalist, and they're kicking ass & taking names. Makes me feel a bit less creepy.
Martinez's return to the indies & emergence in Impact Wrestling has gone well. What Impact is doing with her isn't exactly rocket science: have Mercedes Martinez destroy everybody in her path to a title shot, and make people believe that whoever the champion will be between Mickie James & Deonna Purrazzo will have a difficult test on their hands. Simple, right? Throw in the incoming debut of the IInspiration, and it's pretty easy to get excited about the Knockouts Division & where it's headed.
4. Bron Breakker
Yes, the name is pretty awful. Yes, NXT 2.0 isn't exactly setting the world on fire after a few weeks. But it's tough to deny the talent of the son of Rick Steiner. Dude has the physicality & the speaking tone of his father & uncle. Not quite the size of Rick or Scott in later years, but if genetics are any indication he'll get there. It won't be long before he's NXT Champion, heck, I'm kind of surprised he didn't get drafted to Raw or SmackDown already. He's got money written all over him.
As for that pesky name issue…names aren't as big of an issue as we like to think they are. Dolph Ziggler would have been future endeavored years ago if bad names held talent back. You also have to keep in mind that WWE will probably change his name before he gets to the main roster. No need to sweat the small stuff here. This guy will be a star somewhere under some name. Probably for the best the longer he holds off using the Steiner name, given how the wrestling business works.
3. Junior Dos Santos
Junior dos Santos' first moments as a pro wrestler pic.twitter.com/KIhpYZOsCi

— Ariel Helwani (@arielhelwani) October 16, 2021
If you've followed mixed martial arts for any length of time, you know that most fighters' careers don't end in a blaze of glory. Fighters want to keep fighting, and even if the losses keep stacking up they still think they're one win away from getting back to the top. Young fighters are looking to make their names, and beating the brakes off of fighters with track records is a good way to do that. At age 37, JDS has entered that phase of his MMA career. He's lost four straight fights, all via TKO, all to younger fighters looking to make a name. He could keep doing that, or he could move on to something else while his name still has value.
Why not pro wrestling? Granted, I seem to be one of the few people writing words on wrestling websites that actually like AEW's angle with American Top Team & Dan Lambert, but JDS is the perfect fit for something like this. He's a large human being, wrestling fans by & large know who he is, and he has the type of athletic ability that should transition well to pro wrestling. He's lost a few fights, but the people he lost to are doing pretty well in UFC's heavyweight division. I'm willing to give it a chance. Also, when the inevitable AEW vs. WWE shootfight rumble happens, AEW's going to need him around.
2. Roman Reigns
CM Punk exists:

Roman Reigns: pic.twitter.com/ue88BFYlVh

— Public Enemies Podcast (@TheEnemiesPE3) October 15, 2021
It's like we said years & years ago: Turn Roman Reigns heel and people will start to like him. I don't know why the idea took so long to enact, but WWE finally turned Roman Reigns heel and people have started liking him. How about that? Amazing how these things happen. Roman's charisma has become much more apparent in his role as the Tribal Chief, Head of the Table, Big Dog, Island of Relevancy or whatever else they're calling him this week. The interactions between Roman & Brock Lesnar have made for good television, so good that I think even Patrick O'Dowd is on the Paul Heyman bandwagon these days.
That all being said, I think I'm enjoying his off-screen character more than his on-screen character these days. Reigns has taken the baton from Seth Rollins & become Mr. WWE Defender, and does it in a way that's less whiny than what Seth used to do. Perhaps a bit delusional, but much more convincing. Who would win in a shootfight between Roman & CM Punk is completely irrelevant, as last I checked none of these people were shooting in WWE or AEW rings, but he managed to make people care about it somehow. Don't hate the player, hate the game.
1. Bryan Danielson
What a BATTLE right now between @bryandanielson & @suzuki_D_minoru – Watch it NOW on a Special #AEW #BuyInLIVE on YouTube FREE: https://t.co/8ztcFqpsoN pic.twitter.com/C02HaZXFTB

— All Elite Wrestling (@AEW) October 16, 2021
I know we're supposed to care first & foremost about what company somebody works for these days. So I'm sure there are some of you out there that have decided that the man formerly known as Daniel Bryan has to be washed up and no longer one of the best wrestlers in the world. Or he's unfairly putting his life on the line outside of the welcoming bosom of WWE. Nah, it's probably just the easy "B+ player" talking point that most of the same folks went with when Bryan was still with WWE.
Me, I just care about what's going on in the ring. Whether other people like it or not has never been one of my main problems. As I've pointed out before: I don't get paid by any of these companies, and I don't get paid by other people to shill for them. All I know is that it's a joy to have Bryan Danielson back on my television, and his matches have been as good as expected. It really doesn't take all that much to make me happy, just good wrestlers doing good things.