Rob: End the Brand Split?
Rob was inspired by some of the current IWC clamoring for an end to the brand split. How does he feel about that rhetoric?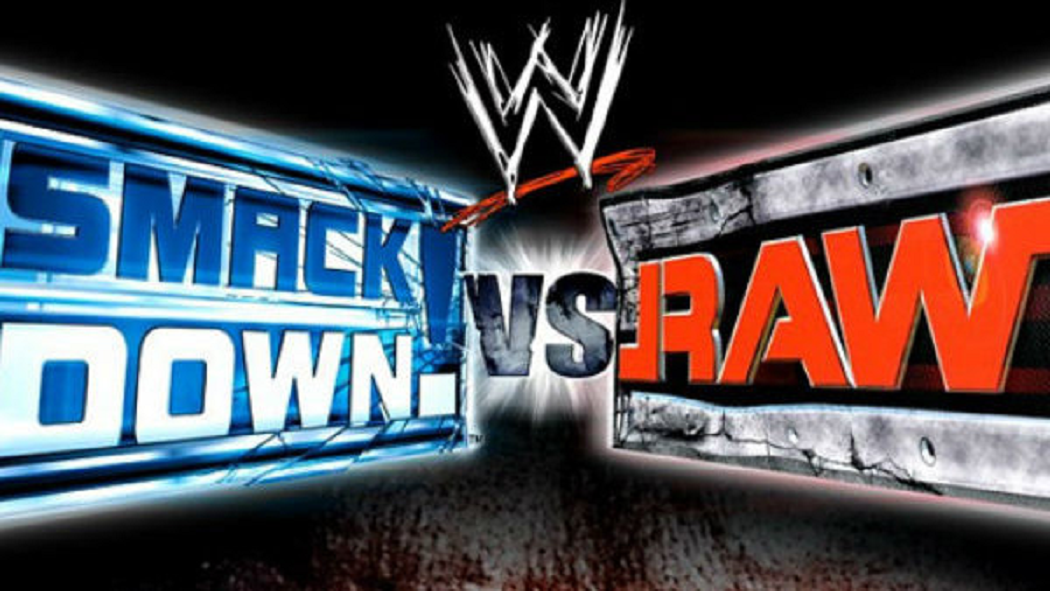 Some weird stuff happened on Twitter after SmackDown went off the air this past Friday.  A match was announced for Monday Night RAW this week featuring the Bloodline vs The New Day, and with it came two bizarre groups of tweets.  One was accusing WWE of hotshotting a pay per view worthy match out ratings fears (which is so dumb that I'm not going to even bother discussing it) and the other was a bunch of calls to end the brand split, which I find to be equally dumb but more of a worthy discussion topic.
Now before I go any further let me just say this:  the brand split is not ending.
As long as WWE is getting a billion dollars from both Fox and NBC they are going to book two shows with two separate rosters.  The only way the brand split ends is if one of the two shows gets cancelled and can't find a new home.  But as long as they are getting paid big money for each show then there are going to be two shows.  And those shows are going to have separate rosters, separate creative, etc.  But just for the sake of playing along, what exactly would it look like if they ended the brand split?  Here are some possibilities:
Double Duty
I looked at four weeks of Raw and SmackDown from  January of 2016, before the brand split happened, and what I found was that on average nine people would work both shows in one week.  But in addition to that, on average two people worked four shows over a two week period, eight would work three out of four shows over two weeks, and twelve would work two shows over a two week period. And finally one person worked seven out eight possible shows over the four weeks while four more did six out of seven over that time.  And that's not counting people who were at ringside for a tag team partner or stablemate.  There's no reason to think that would be different this time around which means that your top men and women would be working two shows lots of weeks while the rest of the roster filled in the gaps.  And since the roster usage would revert to how it was that would mean………
More releases
Please understand that were the brand split to end there would be no need for the roster to remain at it's current size.  The usage rate of talent that existed before just does not require as many people to make it work.  And remember a no brand split world is one where they are getting less TV money, which means less to pay people, which means some people will have to go.  And don't make the mistake of thinking that the only people who will get released are the ones you think aren't good enough to keep.  There will be another Braun Strowman or Aleister Black in that group.  And unlike today's landscape there will likely be fewer places for them to work because a world in which the WWE has to downsize for financial reasons is one where some of the existing companies have already gone under or have already downsized.
More wear and tear
Going back to my first point; a no brand split world is one where people are working more dates.  The top third of the roster would be working anywhere from four to seven times a month on TV; by contrast this year only Matt Riddle is working at that kind of pace.  A full brand split schedule is around 150 to 160 matches a years counting TV, pay per views and house shows.  By contrast pre-brand split Roman Reigns had 204 matches in 2013 and 213 matches in 2015.  Those 50 extra matches along with the travel that accompanies them make for a shorter career for everyone who has to do them.  They also lead to more injuries – remember WrestleMania 32 where John Cena, Seth Rollins, Randy Orton, and Cesaro were all out with injuries and the entire main event angle had to be rebooked?  Anybody want a redo of that?  I didn't think so.
A harder glass ceiling
If you think it's hard to move up now, then a no brand split world would be worse.  The last full year with no brand split, 2015, saw the pay per view main event slots split among nine people and the World title matches split among ten people.  By contrast in 2021 to date the main events have been split between 13 men and the World/Universal Title matches have been split between 16 men, with a 17th on the way in Finn Balor. In the post unification, pre brand split world 13 guys by my count were in World title matches across just over two years.
And then there's the women's side.  In 2015 the Diva's title matches were split between four women.  In 2021 the Raw and SmackDown's women's title matches were split amongst nine soon to be ten with Alexa Bliss challenging at Extreme Rules.  Ending the brand split likely would mean unifying the top men's and women's singles titles, which would in turn would mean less room in the title picture afterwards and ultimately fewer roster spots.  Why?  Because you wouldn't need as many.  Look at the current match distribution across Raw and SmackDown; that's not likely to change with no brand split so that begs the question of whether you need 10 plus women for each show (short answer: you don't).  Which means more releases, and again you can't assume that it will just be people you're not interested in seeing.
The same logic goes for tag teams, by the way.  One title means fewer title matches which means fewer teams needed which means more releases.
What's it all mean?
To be honest when I hear 'End the Brand Split', I can't think of anything that would solve.  Do you want bigger matchups more often?  A look back at the past would shoot that down real fast.  You would still get the same kind of stalling moves in the booking so as not to burn big matches out too fast.  Fewer rematches?  Not going to happen with the smaller roster that would result.  More opportunities?  Again, with a smaller roster how exactly would that happen?  A smaller roster is more likely to mean a double down on the people in the top tier not a more open door to reach it.  If the problem you have is that you only want to watch the bigger guns go at it and not be bothered with what you consider to be filler matches then I suggest you watch Main Event to get a quick recap or watch the Hulu versions of the shows on fast forward or just watch the pay per views.  But wishing to end the brand split is some short sighted thinking because for all intents and purposes you're asking for some bad times to come through to necessitate it.  There is no scenario in which business is going well AND they end brand split just because.  So think about what you really want and then try to adjust your viewing habits accordingly.
I'll end with this.  The brand split exists because the WWE is being paid to provide enough live TV content to warrant it.  Until that is no longer the case then it's going to stay, and a world where that's no longer case is one that is not as good for anyone actually working there.  So be careful what you wish for.  And that's all I got on that.  Until next time….
King's WrestleMania Rewind: Charlotte Flair vs. Asuka from WrestleMania 34
Chris king is back with one of the most underrated matches in WrestleMania history–Charlotte Flair vs. Asuka!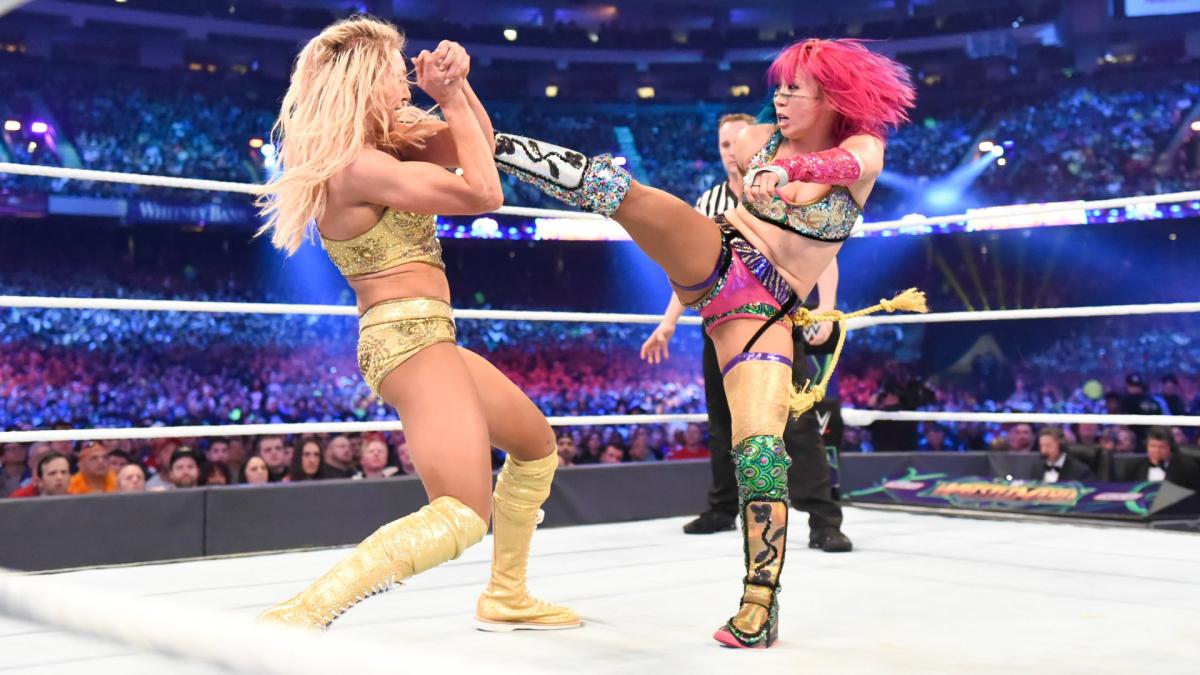 Chris king is back with one of the most underrated matches in WrestleMania history–Charlotte Flair vs. Asuka!
We look back at Charlotte Flair vs. Asuka at WWE WrestleMania 34. 'The Empress of Tomorrow' put her unprecedented and historic undefeated streak of 914 days on the line against 'The Queen's' SmackDown Women's Championship.
For years, this was considered a dream match while Asuka dominated the roster in NXT, while Flair won numerous championships on the main roster on both Raw and SmackDown. The Empress made her long-awaited debut on the September 11th episode of Raw and began to tear through the competition.
Asuka outlasted all twenty-nine other women in the historic first-ever Women's Royal Rumble match to challenge for the title of her choosing. At Fastlane, she made her choice.
The WWE Universe was so excited for this match myself included. Both superstars delivered a fantastic performance on the Grandest Stage of Them All executing counter after counter. Asuka showed off some nasty-looking kicks to her opponent, and Flair hit a thunderous Spanish Fly off the top rope. Flair was seconds away from defeat at the hands of The Empress but she locked in Figure Eight and Asuka was forced to tap out.
I can't even begin to explain how shocked I was at this outcome, as nearly everyone expected The Empress to continue her undefeated streak and walk away with the women's title. This controversial decision was the downfall of Asuka's momentum. She would ultimately win the SmackDown Women's Championship at the 2018 TLC pay-per-view in the triple-threat ladder match.
Fast forward to this year when Asuka has recently returned with her Japanese-inspired persona Kana. Kana is dangerous and ruthless and is heading into a championship with Bianca Belair at WrestleMania 39. The Empress has regained all her momentum and is highly favored to walk away with the Raw Women's Championship. Let's hope that Asuka and Belair can tear the house down and deliver an A+ grade match both women are fully capable of.
King: Dominik Mysterio Needs To Do This At WrestleMania
Chris King is here with what WWE should do with Dominik Mysterio at WrestleMania in his long-awaited match against his father Rey Mysterio Jr.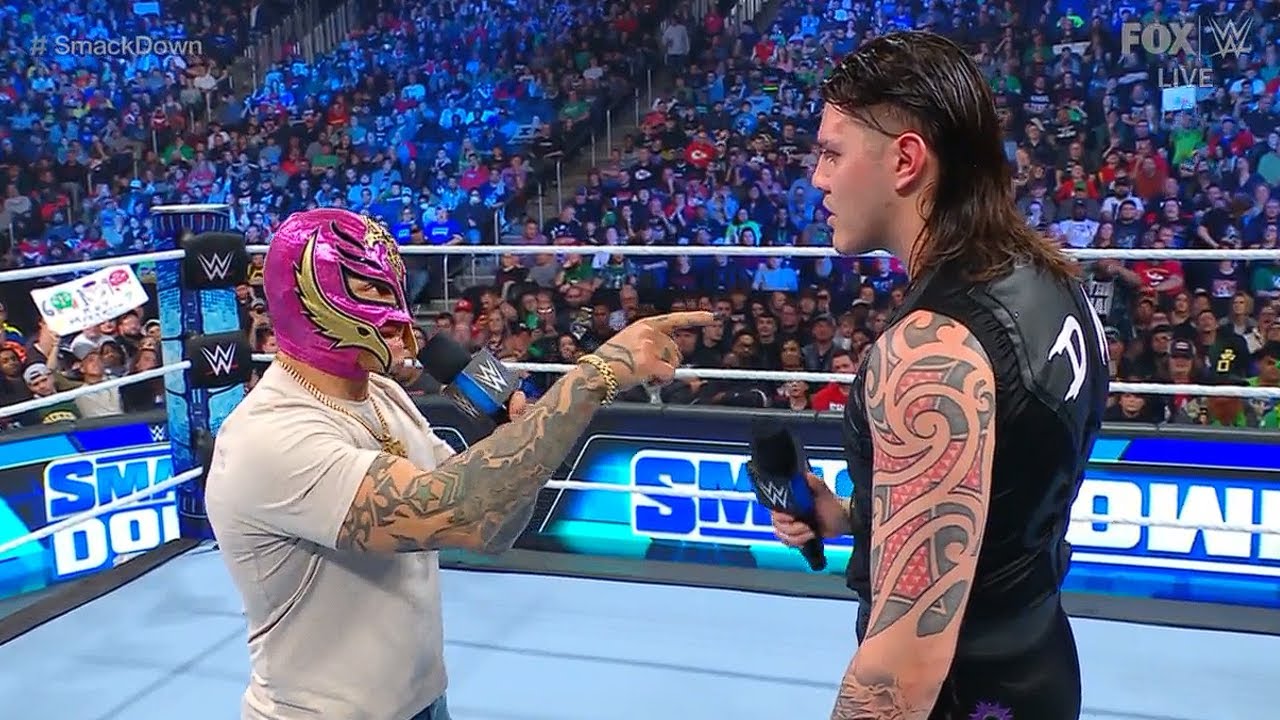 Chris King is here with what WWE should do with Dominik Mysterio at WrestleMania in his long-awaited match against his father Rey Mysterio Jr. 
On this week's episode of Friday Night SmackDown, Rey Mysterio finally snapped and beat some sense into his disrespectful punk-ass kid Dominik. The member of the Judgement Day came out to push his father again for a match on the Grandest Stage of Them All, this time with his mother and sister at ringside. The ungrateful punk told his mom to "Shut Up," as a father even I wanted to jump through the screen and whoop his ass.
Back in October of last year, Mysterio made the emotional decision to possibly quit the company but, instead, Triple H persuaded the Lucha libre superstar to move over to SmackDown to avoid his son. This came after Dominik shockingly turned on his father at Clash at the Castle. Mysterio did everything he could to refuse his despicable son's challenge for Mania but, a man can only be pushed so far. Mysterio will be inducted into the 2023 WWE Hall of Fame and I expect Dominik to embarrass his father during his speech to further this personal feud.
Yes, the WWE Universe hates Dominik and wants to see him get the ever-loving crap kicked out of him but, this feud is missing a special ingredient to capitalize on the biggest heat possible. Throughout this feud, Dominik has made mention of the legendary Eddie Guerrero on several occasions going back to the "iconic" 2005 feud.
I know WWE might not want to go this route but, Dominik MUST come out to Eddie Guerrero's theme at Mania. The disrespectful punk needs to come out in a lowrider to garner nuclear heat. It doesn't matter if The Judgement Day comes out and causes interference for Dominik to get the win, all that matters is that both superstars get the biggest payoff of this nearly year-long feud. Just imagine the Roman Reigns heat after he defeated The Undertaker and multiply that by ten. Dominik portrays the perfect heel and he truly is the missing ingredient that The Judgement Day needed to grow and evolve into a top faction.