Starr: Ideal Card for AEW Full Gear 2021
Tommy Starr decides to try his hand at a combination of Fantasy Booking and Speculation. What do you think about his card?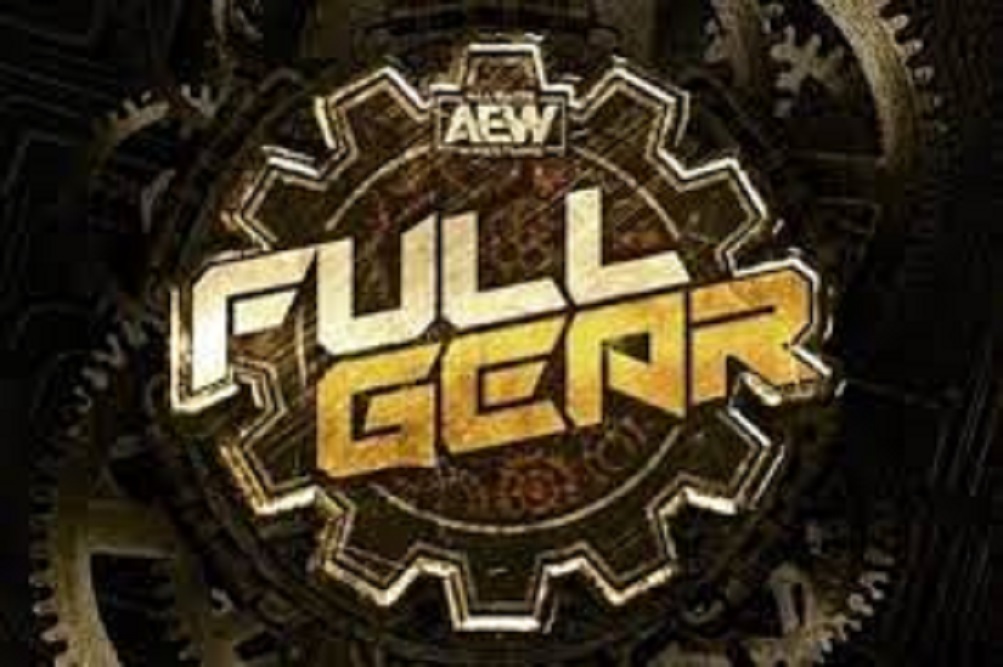 Tommy Starr decides to try his hand at a combination of Fantasy Booking and Speculation. What do you think about his card?
AEW Full Gear is scheduled for November 13, 2021, and while it seems far down the road, nine weeks is really not that far from now.  And with the current roster assembly and potential story directions AEW has at their dispense, the matches they build up for that show almost feel like endless possibilities.  However, I wanted to take this opportunity to, not merely project "a" card for Full Gear, but what I believe would be the "ideal" card for that show.  My main focus here is to ensure that all of AEW's newest acquisitions are taking part on this show in some capacity, which was something that was gravely missing from All Out.  The other important factor is that I am not completely booking this as a "dream card" scenario; rather, I am trying to utilize the fallout stories from All Out to come up with a feasible and logical card based on where AEW is at right now with its programming.
AEW World Championship: Kenny Omega (c) vs. Bryan Danielson 
This match is fairly self-explanatory, based on the All Out fallout and Omega/Danielson's in ring confrontation on Dynamite this past Wednesday.  There may be a tendency for AEW to try and hotshot this before November, but I think it is incredibly crucial that they take their time building this up over the next couple of months in order to generate as many ticket sales and pay-per-view buys as they can.  This would also be the opportune time to dish out the return of "Hangman" Adam Page and reinsert him into the title picture.  Hence, I would have Omega defeat Danielson here in order to launch Omega into his program with Page and build that up going into 2022.
The speculation from a lot of fans seems to be that Page was running cold prior to his departure from television.  And while The Dark Order did not do him any favors to keep his momentum going, Page does not necessarily have to realign himself with The Dark Order following this return.  In fact, I would have Page disassociate from that group entirely and come back as a fresh, clearheaded badass with his one focus and one goal in mind of becoming the world champion.
Projected Winner: Kenny Omega 
AEW Tag Team Championship: The Lucha Bros. (c) vs. Santana and Ortiz 
While my preference would have been to put FTR in this spot, Ortiz and Santana defeated FTR on Dynamite last week.  So, in keeping with story continuity, these two should be next in line for the title match.  Plus, there is enough history between these two teams where the production team could really highlight their past matches and put together some real intriguing promo packages to hype the feud.  I think it is too soon for the Lucha Bros. to drop the straps, and I think there is more gravity and pining to see The Jurassic Express win the titles at some point.  However, as a holdover feud with some relevant back-story, this match is not a bad option to go with.
Projected Winners: The Lucha Bros.
AEW Women's World Championship: Britt Baker D.M.D. (c) vs. Ruby Soho 
This is another "writing on the wall" scenario where, if the match is booked, Ruby would be the ideal candidate to beat Britt for the title.  She is their newest female asset, she has a lot of hype, and (*personal opinion*) with the exception of Thunder Rosa, she is probably the second best "worker" they have under contract to their women's division at the moment.
The circulating rumors of Charlotte Flair jumping aboard the AEW bandwagon have been floating around for a while, but that probability seems like it would occur further down the pike.  And with the fan support Ruby's seen since her debut at All Out, I would strike while the iron is hot.
Projected Winner: Ruby Soho 
TNT Championship: Eddie Kingston (c) vs. Andrade El Idolo
This needs context, considering the current TNT Champion is still Miro (as of 9/11).  However, one of the rumored matches for AEW's Arthur Ashe event in Queens, NY on 9/22 is the TNT Championship Rematch between Miro and Eddie Kingston.  If this ends up coming to fruition, it is highly likely that Kingston beats Miro for the title in his home state.  And from a booking standpoint, this would not be a bad call.  Miro has been a very good champion, but Kingston also has a lot of momentum as a babyface right now.  So, provided Kingston goes over in that match, I would immediately launch him into a program with someone that, unfortunately, could not work his planned match on the All Out card.
Andrade's track record in AEW has been very spotty since his debut.  He seems to have little story direction at the moment, and his promo segments/skits with Chavo Guerrero Jr. have either been underwhelming or flat out dreadful.  AEW has been playing around with the story of trying to hire The Lucha Bros. to work for his organization, and if that story manages to payoff relatively soon, this would be the perfect opportunity to have Andrade capture the TNT Championship.  In result, AEW now has a credible heel mid-card faction that carries three of their current championships.
Obviously, the one downside to this booking decision is that Kingston's title reign falls just short of two months.  However, I am of the opinion that not every title reign needs to last a significant amount of time.  There is plenty Kingston can do with the title in a month and a half before dropping it to Andrade at Full Gear.  For story purposes, for character purposes, and direction purposes, I believe it is more ideal for Andrade to be the TNT Champion, as opposed to Kingston at this point.
Projected Winner: Andrade El Idolo 
Jungle Boy, Luchasaurus, and Christian Cage vs. The Elite (The Young Bucks and Adam Cole)
In my opinion, this would perfectly fit the bill for an AEW opening PPV match.  AEW fans love the hundred mile an hour "no sell/crash dummy" spot fests, and who better to serve that up on a silver platter than The Young Bucks?  The other important note here is that it gets Adam Cole on the card, which is absolutely crucial.  And while I am not a huge fan of the idea of having the Jurassic Express lose another match, this match could serve as a protector for those two, as you could have Christian eat the pin.  And 100%, Adam Cole MUST be the guy to get the pin.
There are still circulating rumors about the possibility of AEW introducing Trios Championships at some point.  While I am very much opposed to that idea for personal reasons, you could still do this exact same match with adding the stipulation that it is for the championships.
Projected Winners: The Elite
CM Punk vs. Malakai Black 
Another rumored match for the Arthur Ashe episode of Dynamite is the rematch between Cody and Malakai Black.  At one point, I may have argued that match needed to be saved for PPV, the booking of that program has not been all that particularly compelling since Cody was written off of television.  Black has already steamrolled through every member of The Nightmare Family, and if AEW tried holding off Cody's return for another two months, they would just be dragging their feet at this point.
I think that there would be more intrigue in doing the Cody/Black rematch on 9/22, have Black defeat Cody clean for a second time, and use that as the catalyst to launch Black into a program with CM Punk.  Punk is currently in a feud with members of Team Taz (as of 9/8), but that program seems like a placeholder.  This is a real compelling program for both wrestlers, fans would absolutely pay a ticket to watch it, and best of all, you could market this as one of the main "attraction matches" for the show.  No belts, no stipulations, no additives.  Just two men with a personal beef that want to find out who the better wrestler is.
The other big selling point you could build up to this is the question of who suffers his first loss in AEW?  For sure, I would make certain that both guys go into this match with undefeated win/loss records.  This way, there is more gravity to seeing the loss.  And while you could go either way with this, I would put Black over Punk.  While Black is certainly not a "younger guy" by today's standards, he has more story direction and potential that AEW can capitalize on.  Whereas with Punk, he has already been on record saying that his main mission is to work with a certain subset of wrestlers in order to help establish them and further their careers.  While this would potentially halt the idea of Punk immediately going after the AEW World Championship, if my scenario plays out with Page returning to go after Omega, there would be no need for Punk to enter that world title picture.  Therefore, there is no reason for him to go over here in order to facilitate that "card progression."  Black has a lot more to gain than Punk does right now.
Projected Winner: Malakai Black 
Cody vs. MJF 
Speaking of Cody, I think it is time that AEW revisits this program.  It has been over a year now, they have been virtually separated from one another in every possible scenario, and they really have not uttered each other's names since their match at Revolution in 2020.  In an ideal world, I would not have had MJF tap out to Chris Jericho at All Out so that by the time we got to this point, MJF would still be riding a win streak of some sort.  However, in this scenario, this would probably be the ideal time to give this rivalry some sort of closure and put the babyface Cody over the heel MJF clean.
This would also be the opportune time to capitalize on the Wardlow face turn that has been in the works for a while now.  The teasing and dissension continues with each passing week on Dynamite between MJF and Wardlow, and if we keep that theme going over the next couple months, you can use this match as the catalyst to launch those two off into their own program following this.  Whether it is Wardlow unintentionally costing MJF the match or just flat out leaving MJF for the pickings, I would make sure this match is the launching pad for that feud after the fact.
Projected Winner: Cody
Team Taz (Powerhouse Hobbs & Ricky Starks) vs. The Varsity Blondes 
This would serve as either a second or third placement on the undercard.  AEW has been pushing these four guys to a certain extent lately, and by the time we would approach Full Gear in November, I think these teams would be ready for a key pay-per-view match.
Of the two teams, Team Taz has been the bigger focus on television.  So, I would put Hobbs and Starks over here.  However, I would continue to make Garrison and Pillman Jr. look strong, as they have been gaining a decent amount of traction in the year 2021.
Projected Winners: Team Taz
It is purely speculative, but if I had any say in AEW's story direction from now until Full Gear in November, this is the card I would put together.
King's WrestleMania Rewind: Charlotte Flair vs. Asuka from WrestleMania 34
Chris king is back with one of the most underrated matches in WrestleMania history–Charlotte Flair vs. Asuka!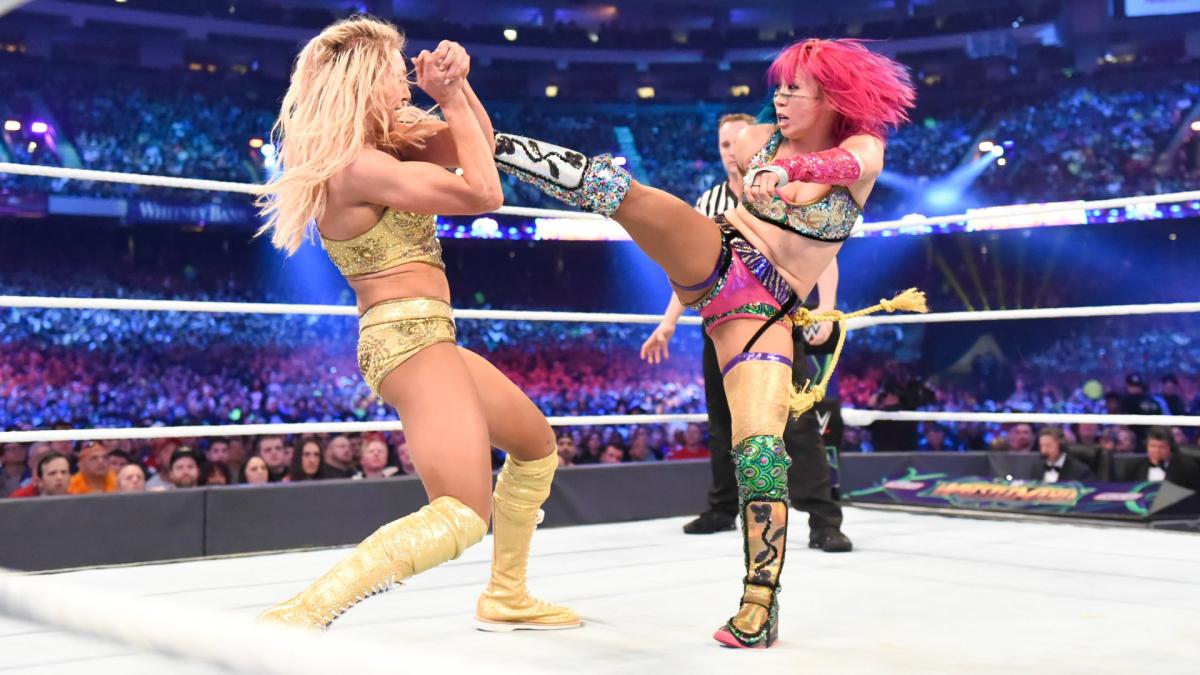 Chris king is back with one of the most underrated matches in WrestleMania history–Charlotte Flair vs. Asuka!
We look back at Charlotte Flair vs. Asuka at WWE WrestleMania 34. 'The Empress of Tomorrow' put her unprecedented and historic undefeated streak of 914 days on the line against 'The Queen's' SmackDown Women's Championship.
For years, this was considered a dream match while Asuka dominated the roster in NXT, while Flair won numerous championships on the main roster on both Raw and SmackDown. The Empress made her long-awaited debut on the September 11th episode of Raw and began to tear through the competition.
Asuka outlasted all twenty-nine other women in the historic first-ever Women's Royal Rumble match to challenge for the title of her choosing. At Fastlane, she made her choice.
The WWE Universe was so excited for this match myself included. Both superstars delivered a fantastic performance on the Grandest Stage of Them All executing counter after counter. Asuka showed off some nasty-looking kicks to her opponent, and Flair hit a thunderous Spanish Fly off the top rope. Flair was seconds away from defeat at the hands of The Empress but she locked in Figure Eight and Asuka was forced to tap out.
I can't even begin to explain how shocked I was at this outcome, as nearly everyone expected The Empress to continue her undefeated streak and walk away with the women's title. This controversial decision was the downfall of Asuka's momentum. She would ultimately win the SmackDown Women's Championship at the 2018 TLC pay-per-view in the triple-threat ladder match.
Fast forward to this year when Asuka has recently returned with her Japanese-inspired persona Kana. Kana is dangerous and ruthless and is heading into a championship with Bianca Belair at WrestleMania 39. The Empress has regained all her momentum and is highly favored to walk away with the Raw Women's Championship. Let's hope that Asuka and Belair can tear the house down and deliver an A+ grade match both women are fully capable of.
King: Dominik Mysterio Needs To Do This At WrestleMania
Chris King is here with what WWE should do with Dominik Mysterio at WrestleMania in his long-awaited match against his father Rey Mysterio Jr.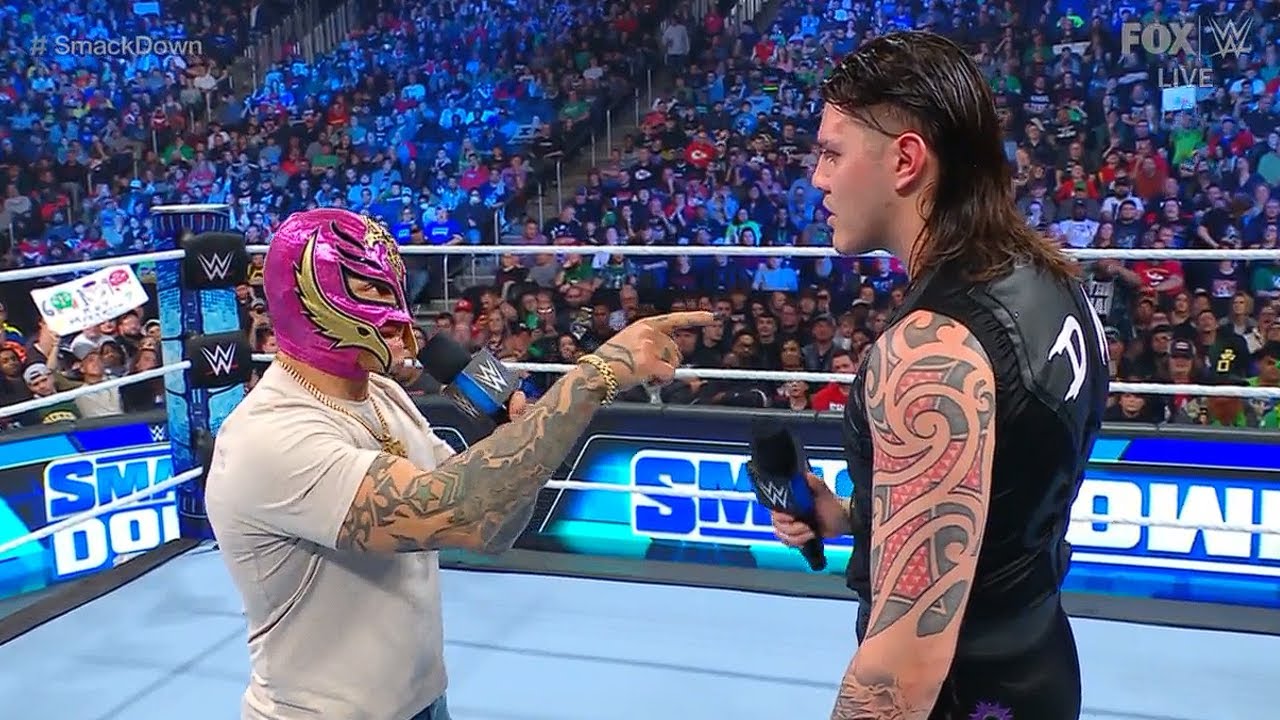 Chris King is here with what WWE should do with Dominik Mysterio at WrestleMania in his long-awaited match against his father Rey Mysterio Jr. 
On this week's episode of Friday Night SmackDown, Rey Mysterio finally snapped and beat some sense into his disrespectful punk-ass kid Dominik. The member of the Judgement Day came out to push his father again for a match on the Grandest Stage of Them All, this time with his mother and sister at ringside. The ungrateful punk told his mom to "Shut Up," as a father even I wanted to jump through the screen and whoop his ass.
Back in October of last year, Mysterio made the emotional decision to possibly quit the company but, instead, Triple H persuaded the Lucha libre superstar to move over to SmackDown to avoid his son. This came after Dominik shockingly turned on his father at Clash at the Castle. Mysterio did everything he could to refuse his despicable son's challenge for Mania but, a man can only be pushed so far. Mysterio will be inducted into the 2023 WWE Hall of Fame and I expect Dominik to embarrass his father during his speech to further this personal feud.
Yes, the WWE Universe hates Dominik and wants to see him get the ever-loving crap kicked out of him but, this feud is missing a special ingredient to capitalize on the biggest heat possible. Throughout this feud, Dominik has made mention of the legendary Eddie Guerrero on several occasions going back to the "iconic" 2005 feud.
I know WWE might not want to go this route but, Dominik MUST come out to Eddie Guerrero's theme at Mania. The disrespectful punk needs to come out in a lowrider to garner nuclear heat. It doesn't matter if The Judgement Day comes out and causes interference for Dominik to get the win, all that matters is that both superstars get the biggest payoff of this nearly year-long feud. Just imagine the Roman Reigns heat after he defeated The Undertaker and multiply that by ten. Dominik portrays the perfect heel and he truly is the missing ingredient that The Judgement Day needed to grow and evolve into a top faction.